If you're visiting Washington D.C. and in need of an in-depth itinerary, you've hit the jackpot. This 3 days in DC itinerary takes you to all the incredible historical landmarks, monuments, and powerhouse museums the city has to offer.
Washington D.C. is truly one of the United States' most exciting cities. There's so much to see and do and most of it is completely free.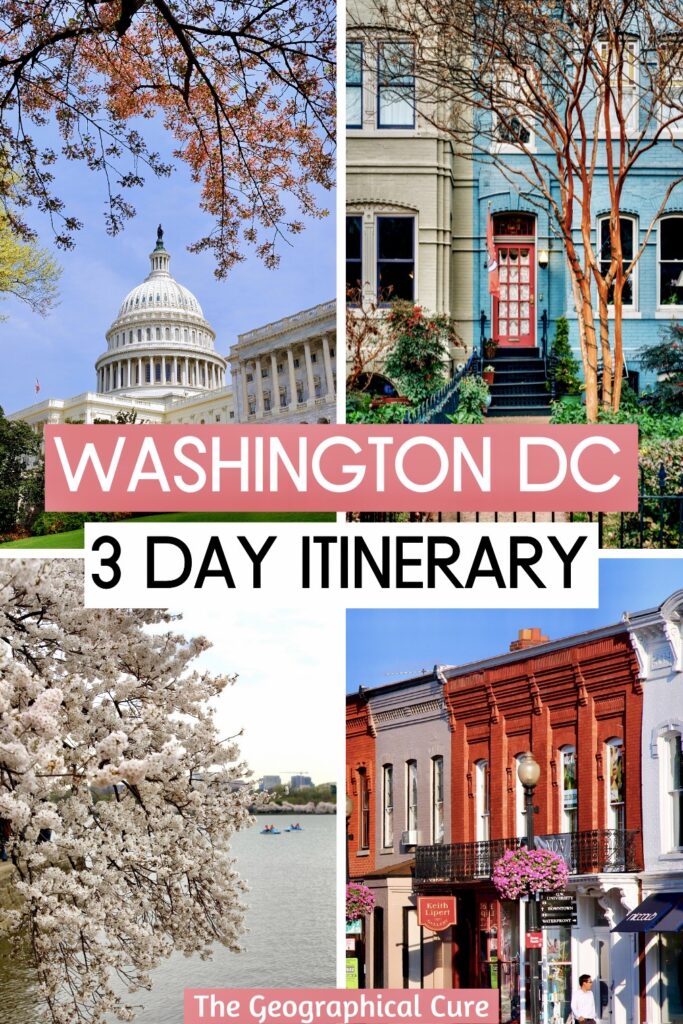 In D.C., you can cruise the National Mall, zip up the Washington Monument, tour the White House or Capitol, and admire stunning art and architecture.
This itinerary is ideal for a first time visit to Washington D.C. for someone who wants to see a lot. Of course, you can add or subtract things to fit your own interests and pace of travel.
As well as the day-by-day itinerary, I've also included loads of helpful tips to help you plan your time in the city, including how to get around and where to stay.
Overview of 3 Days In Washington D.C. Itinerary
Here's a snapshot of what you'll see with 3 days in DC.
Tidal Basin
Jefferson Memorial
Washington Monument
White House
War Memorials
Holocaust Museum
Lincoln Monument
Eastern Market
Capitol Hill
National Gallery of Art
National Archives
Museum of African American History and Culture
Evening Theater
NoMa & Union Market
DuPont Circle
Phillips Collection
Georgetown
Adam's Morgan
3 Days In Washington D.C. Itinerary
This three day Washington D.C. itinerary covers all the major attractions in the city.
Naturally, I suggest you use this itinerary as a guide. You can tailor it to suit your individual interests, needs, and pace of travel by adding or subtracting sites.
One thing you'll have to do to have an efficient visit to Washington D.C. is to book certain sites ahead of time. Otherwise, you will be disappointed.
You'll need to reserve tickets well in advance for the Capitol, the Washington Monument, The Museum of African American History and Culture, the Holocaust Memorial Museum, and any special art exhibitions you'd like to attend.
Fortunately, many of these sites are still perfectly free to visit. You just need to make a timed entry reservation, which may cost $1.
Day 1: Monuments & Museums
Tidal Basin
Start day one with a stroll around the beautiful Tidal Basin. The stroll itself takes about 45 minutes and you can stop along the way to admire some beautiful memorials.
Your first point of call is the Jefferson Memorial.
Jefferson was the primary author of the Declaration of Independence, the nation's third president, and the founder of the University of Virginia.
His memorial reflects the the of classical architecture that he adored. It was modeled after the Pantheon in Rome and designed by John Russel Pope.
There's a central rotunda with an entrance portico with Ionic columns. Inside is a regal looking Jefferson in bronze, 19 feet tall.
Next, turn left and visit the FDR Memorial, created in 1997. There are four outdoor rooms with pools and waterfalls.
Past that is the Martin Luther King Jr. Memorial, which debuted in 2011. A commanding 28 foot statue is carved into a massive boulder.
Washington Monument
The Washington Monument is an almost 555 feet tall obelisk. Architect Robert Mills designed it to honor President Washington.
When it was completed in 1884, it was the world's tallest building. It's still the tallest building in DC.
After lengthy off and on closures for the pandemic and renovations, the monument reopened to visitors in July 2021.
The monument offers up the best views in town. The observation desk and mini-museum are well worth the price of admission.
With a timed entry ticket, you can ride the elevator to the top for spectacular views of the city. You'll need to book well in advance and go through several layers of security.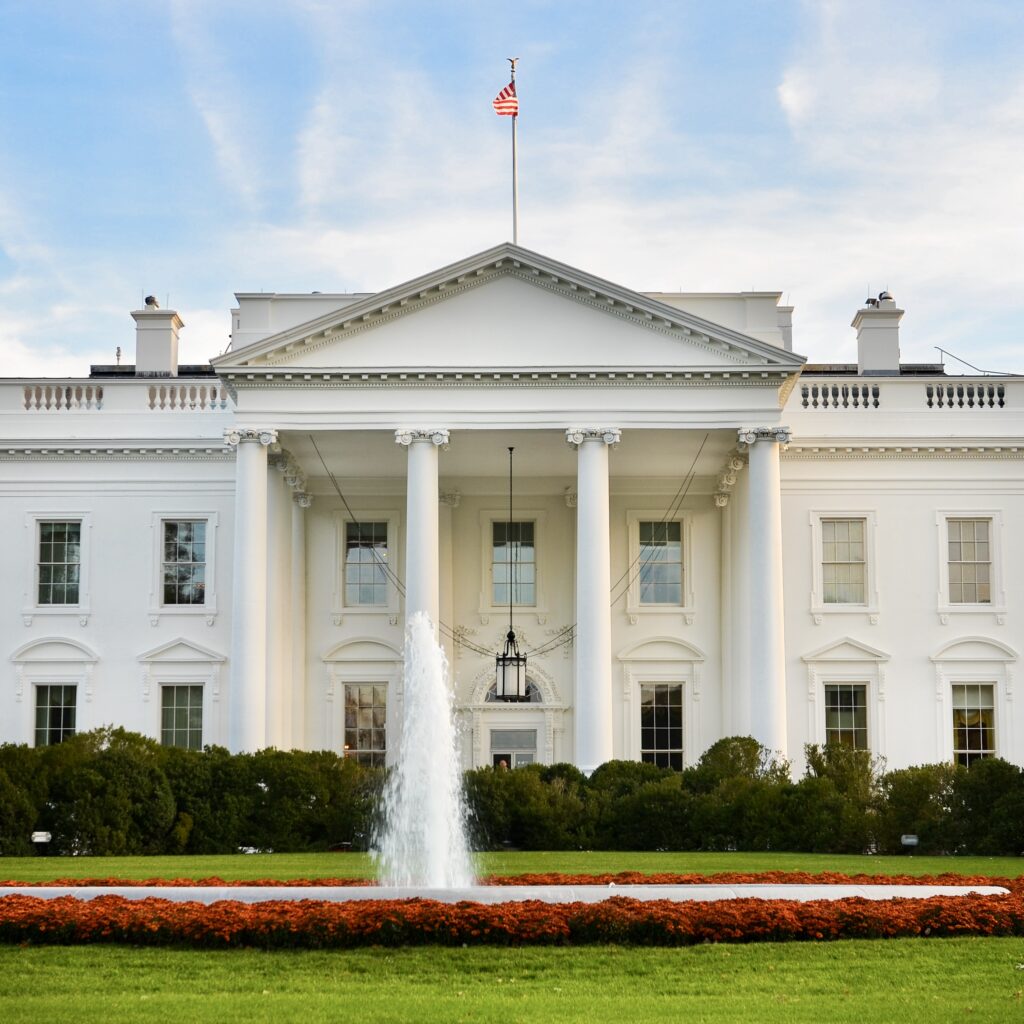 White House
From the Washington Monument, head west to the Ellipse and the White House. The White House is the #1 attraction in DC. The "People's House" is a symbol of freedom.
The White House is the President's office and residence. Its white columned porticos draw tourists from all over the world.
However, White House tours need to be planned far in advance and are difficult to snag. The first step is to request a tour through your congressperson.
You can do this up to 21-90 days in advance. You get in through a lottery system. If your tour is confirmed, you'll be given a specific entry time.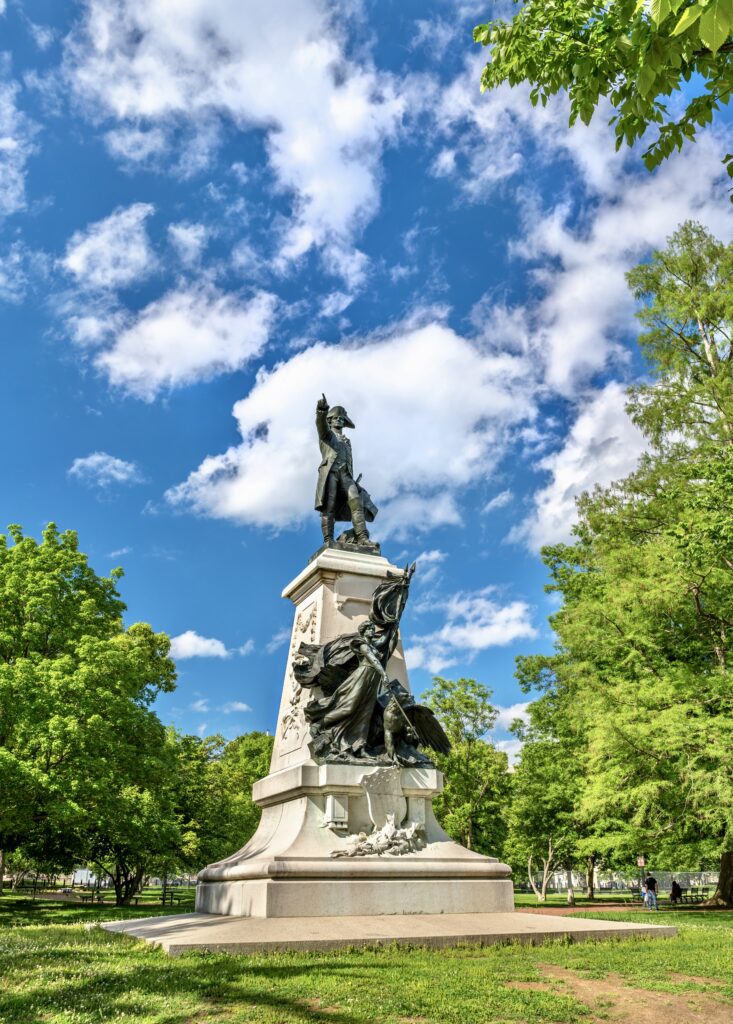 If you can't make it inside, the public White House Visitor Center provides an extensive overview of the building and its history. You can also get a good photo of it from the Ellipse or Pennsylvania Avenue.
Behind the White House is Lafayette Park. You can take a stroll and admire the statuary.
The Renwick Gallery is right next door to the park. If you like contemporary crafts and decorative arts, you should pop in for a visit. It's an underrated museum that puts on some fantastic exhibits.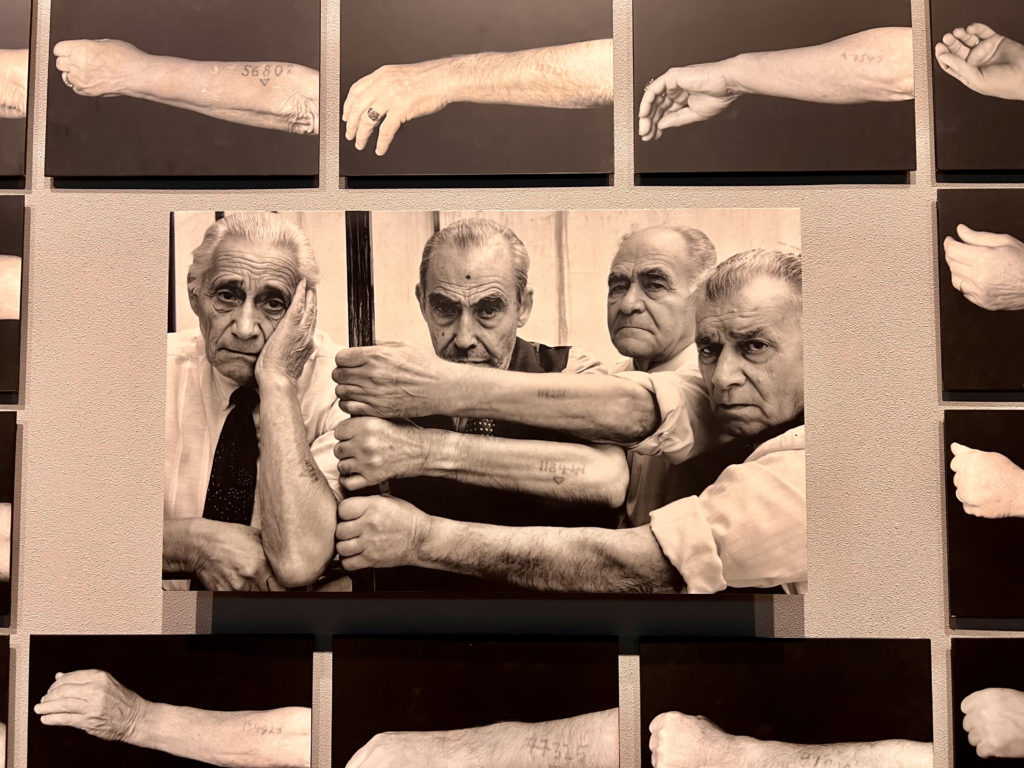 Holocaust Memorial Museum
This harrowing museum is about a 20 minute walk from the White House. Opened in 1993, it commemorates the Holocaust, one of history's biggest abominations.
With unflinching eye-opening detail, the museum documents the rise of the Nazi party and its atrocities.
The centerpiece of the museum is its permanent exhibition, simply titled The Holocaust. The exhibit covers three floors. They document the Nazis rise to power, the systematic mass execution of Jews, and the liberation of the prison camps at the end of WWII.
Though the exhibits are grim and solemn, the museum also offers hope. Its mission is to inspire citizens to confront hatred and promote human dignity.
Here's my complete guide to the Holocaust Museum. The museum is free. But you need to pre-book a time slot online for a $1 fee.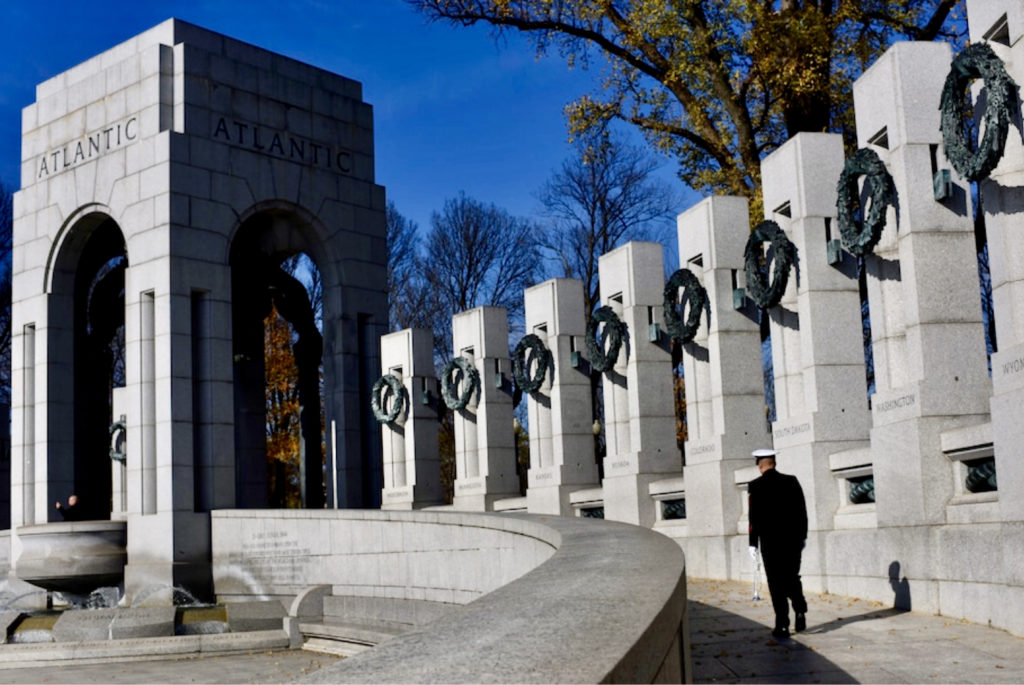 War Memorials
The National Mall offers up both war and peace. All around the western end of the mall are monuments to men and women who fought to keep American and its allies free.
Start at the WWII Memorial, which is the closest one to the Holocaust Museum that you just visited. This oval monument has 24 bas-relief panels flanking a ceremonial entrance. Granite columns represent each U.S. state.
Continue on the path to the Korean War Veterans Memorial. It's a unique monument with 7 foot tall soldiers trudging through bushes that mimic Korea's terrain.
Cross over to the iconic Vietnam Veterans Memorial. The famous black granite wall is inscribed with the names of over 58,000 soldiers who died in battle. The Vietnam Womens Memorial, with bronze sculpture of three nurses, is right next to it.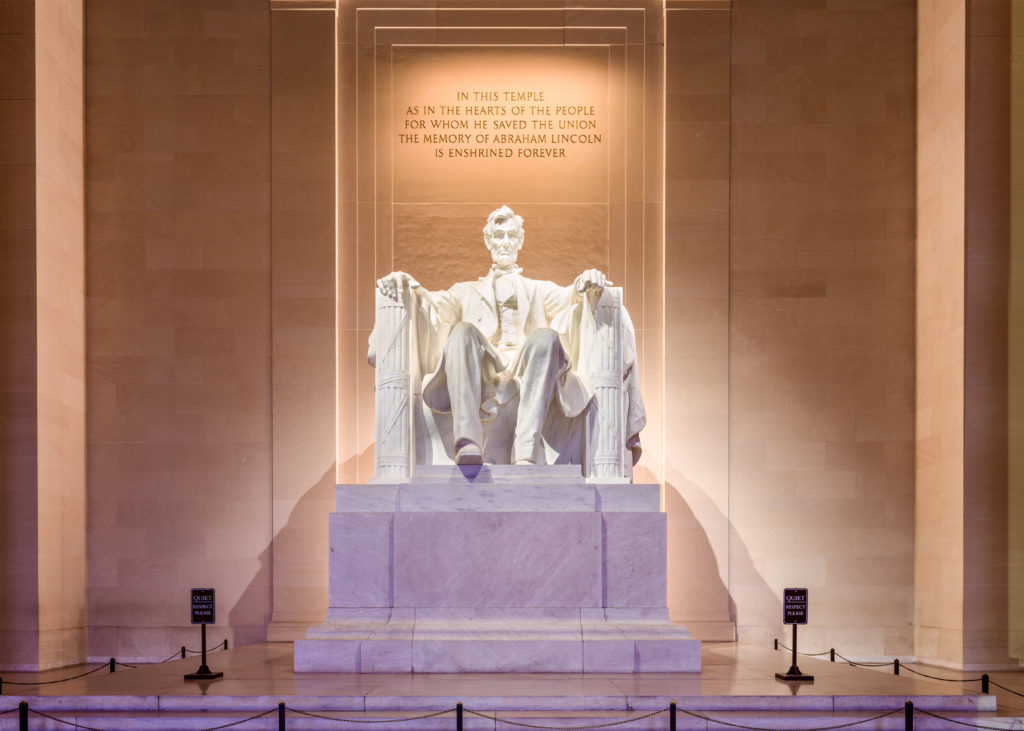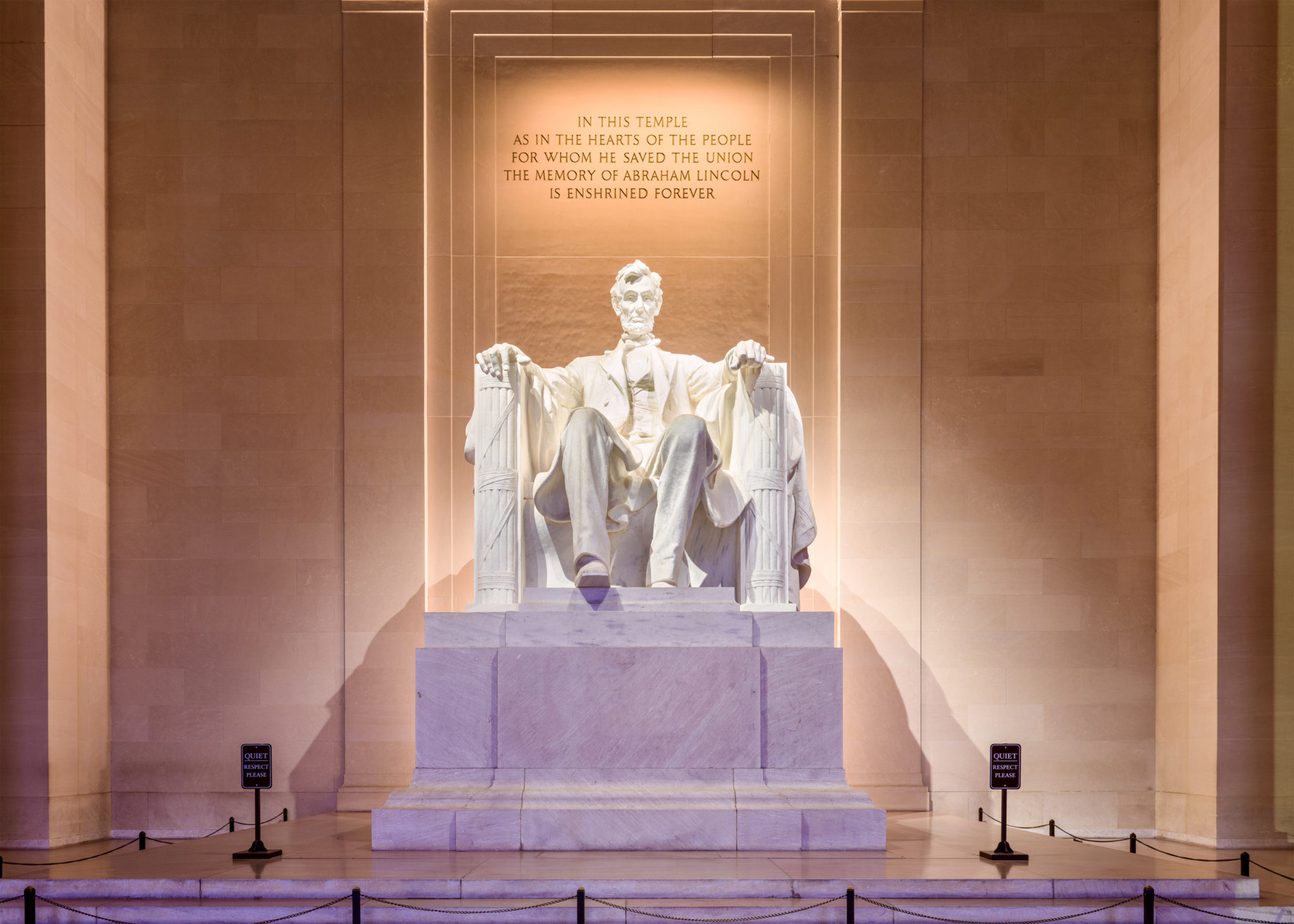 Lincoln Memorial
Finish your monument stroll with the Lincoln Memorial. It's a Parthenon-like structure that's the rock star of the National Mall. It's been recently refurbished and is just gleaming.
A 19 foot tall marble statue of Lincoln, sculpted by Daniel Chester French, sits atop a throne. It's a tribute to the hero who won the Civil War and ended slavery.
The memorial is surrounded with 36 Doric columns. The south wall is inscribed with the words from Lincoln's Gettysburg Address. The north wall is inscribed with the words from Lincoln's second inaugural address.
The Lincoln Memorial was the site of Martin Luther King Jr.'s famous "I have a Dream" speech in 1963. The memorial's steps are a great place to stop, rest, and enjoy the view.
There are plenty of restaurants for dinner not too far afield from the memorial.
Taberna del Alabardero is a fantastic Spanish restaurant with a seasonal menu. La Bise is an elegant French restaurant with modern cuisine and a pretty patio. For something more casual, try Founding Farmers or North Italia.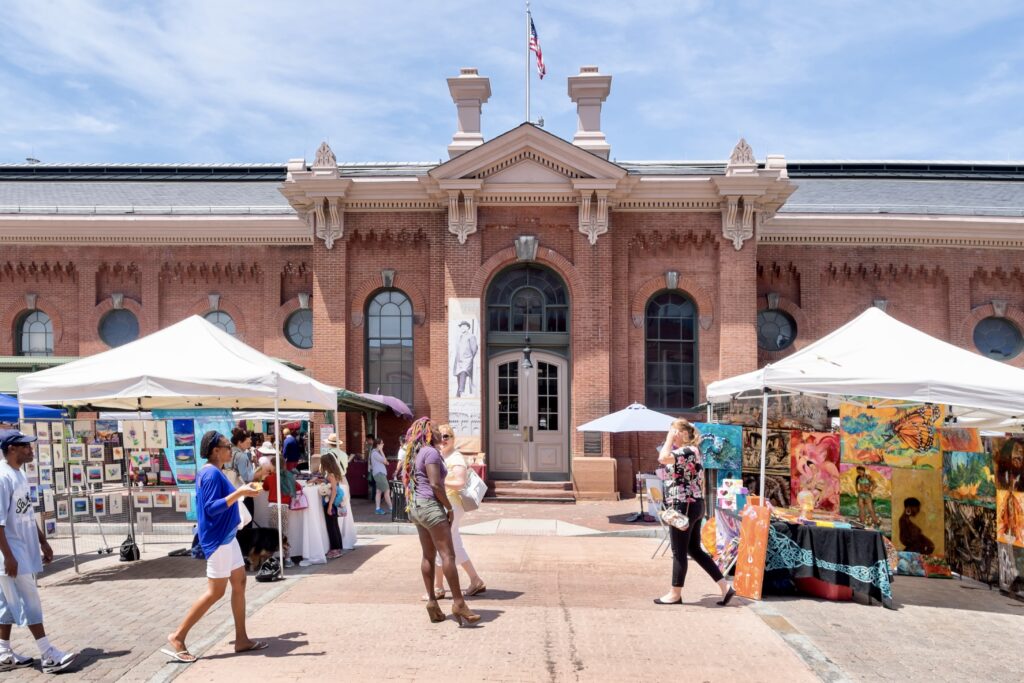 Day 2: Monuments & Museums
Eastern Market
Nothing says DC like stating your day with breakfast at the Eastern Market. It's a 143 year old site for local food vendors at 225 Seventh Street SE. Market Lunch is a great option, known for its blueberry pancakes.
Capitol Hill
Capitol Hill is the bull's eye of DC. It's home to iconic monuments and important government buildings. You'll also find a walkable neighborhood with picturesque row homes.
At the far eastern end of the mall, just over 1 mile from the Washington Monument, sits the grand domed Capitol Building. There's a reflecting pool in front of the building where you can snap your House of Cards style picture.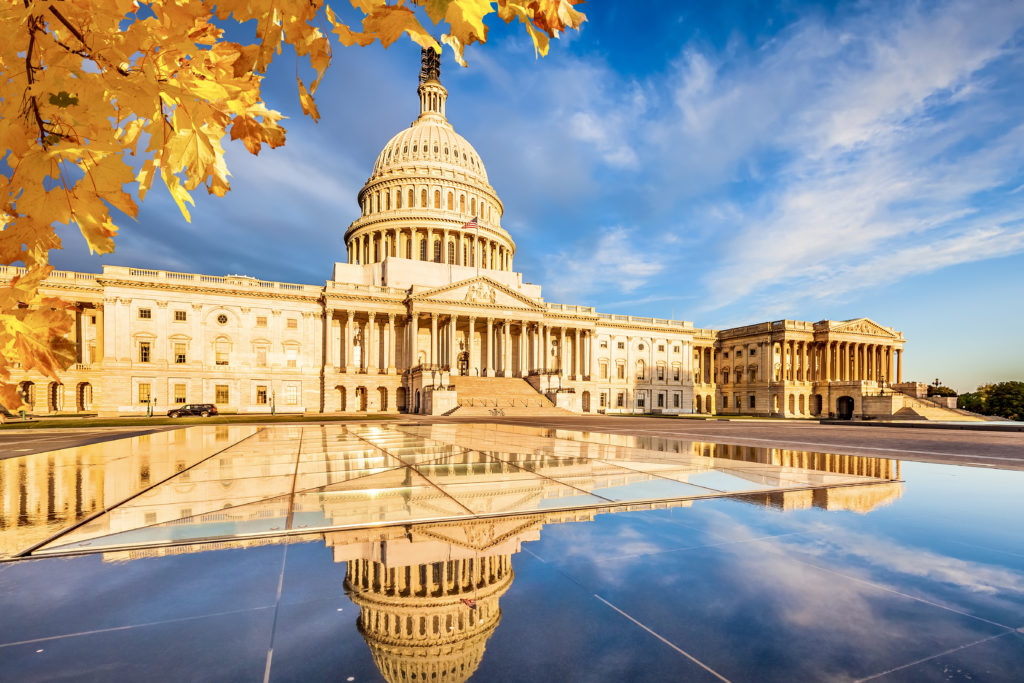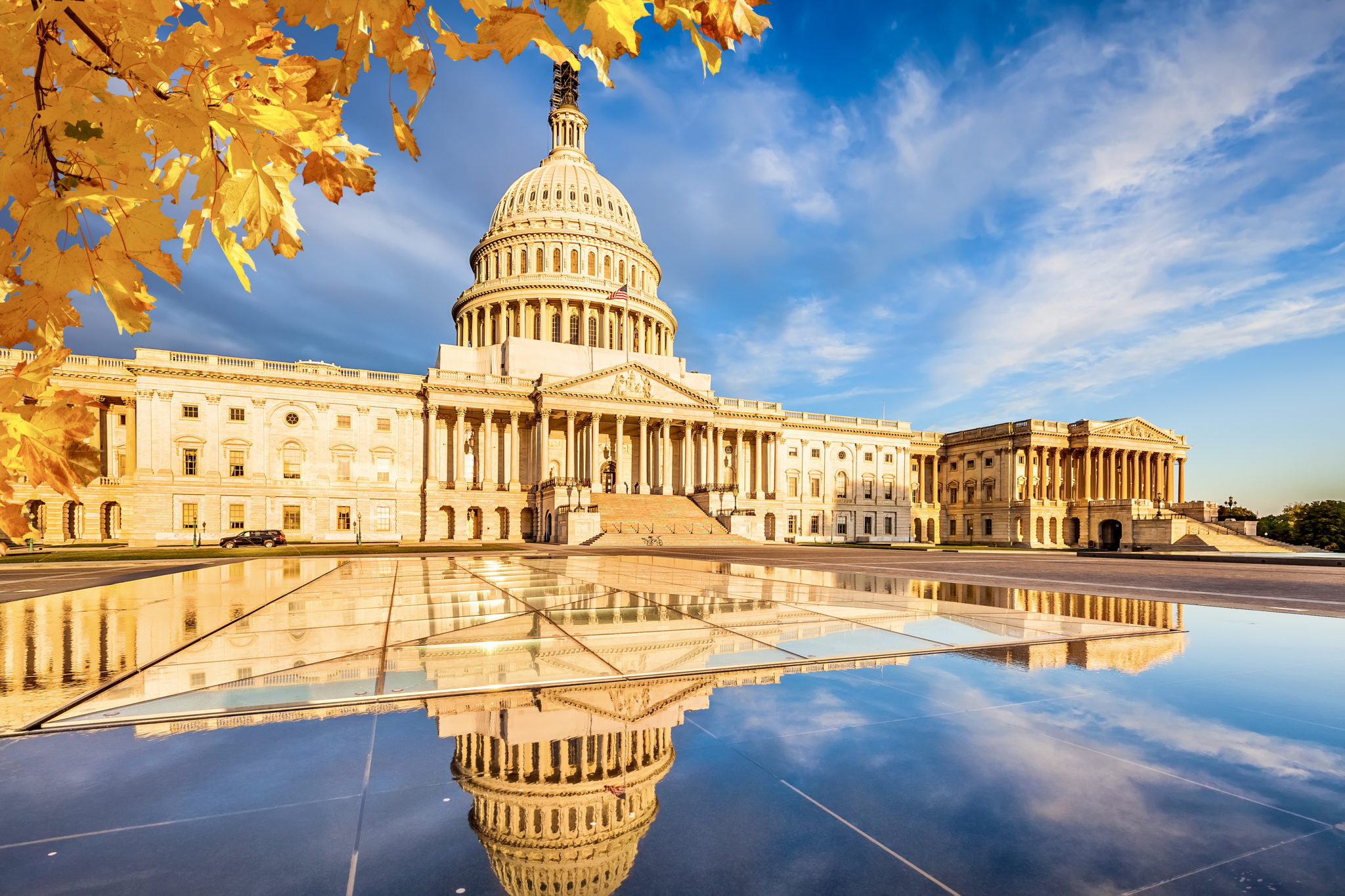 The U.S. Capitol was designed by Dr. William Thornton in 1793. It was partially burned by the British in the War of 1812, but fully restored.
The stately white dome is an eye candy icon. Right now, the Capitol is partially covered with scaffolding as a multi-year restoration project takes place.
To visit, you must pre-book free tickets online for a specific time and date. Because of increased security, the Capitol Dome is open to the public for guided tours only.
Tours are conducted from 9:00 a.m. to 4:30 p.m. Monday through Saturday. They include a look at the magnificent rotunda and the National Statuary Hall. You can only see the Senate and House galleries with a pass from your lawmaker's office.
You can also book a guided tour that takes you to the monuments and gives you skip the line access at the Capitol.
Just behind the Capitol is the US Supreme Court and Library of Congress.
You can walk through the public sections of the temple-like Supreme Court. The Great Hall has busts of the chief justices. If the court is not in session, you can look into the actual courtroom where the justices hear oral argument.
The Jefferson Building of the Library of Congress is the world's largest library. It's known as one of the most beautiful buildings in DC.
Highlights are the Main reading Room (with its gilded rotunda) and the Great Hall (with mosaics and murals). You'll need to reserve a timed entry pass to visit.
National Gallery of Art
Then, head to one of the best museums in the world — the National Gallery It's a must see with 3 days in Washington D.C.
The NGA is housed in two buildings — the East Wing and the West Wing.
The East Wing was designed by I.M. Pei and is "high Modernist" architecture. You step into a titanic skylit atrium with an Alexander Calder mobile hanging overhead.
This wing holds the modern and contemporary collections. You'll find works by Mark Rothko, Jackson Pollack, Willem de Kooning, Picasso, Henri Matisse, and Amedeo Modigliani.
The West Wing is a Neo-Classical edifice with a rotunda modeled after the Pantheon. This is where you'll find ancient art, old masters, and Impressionism.
There are superb pieces by Rembrandt, Botticelli, Fra Angelico, and Leonardo da Vinci. The da Vinci work, Ginevra de' Benci, is the only Leonardo painting in the United States.
Here's my complete guide to the National Gallery of Art, which describes 30 of the must see masterpieces and gives you tips for visiting.
If you're an art lover, you may want to book a guided tour to see all the masterpieces.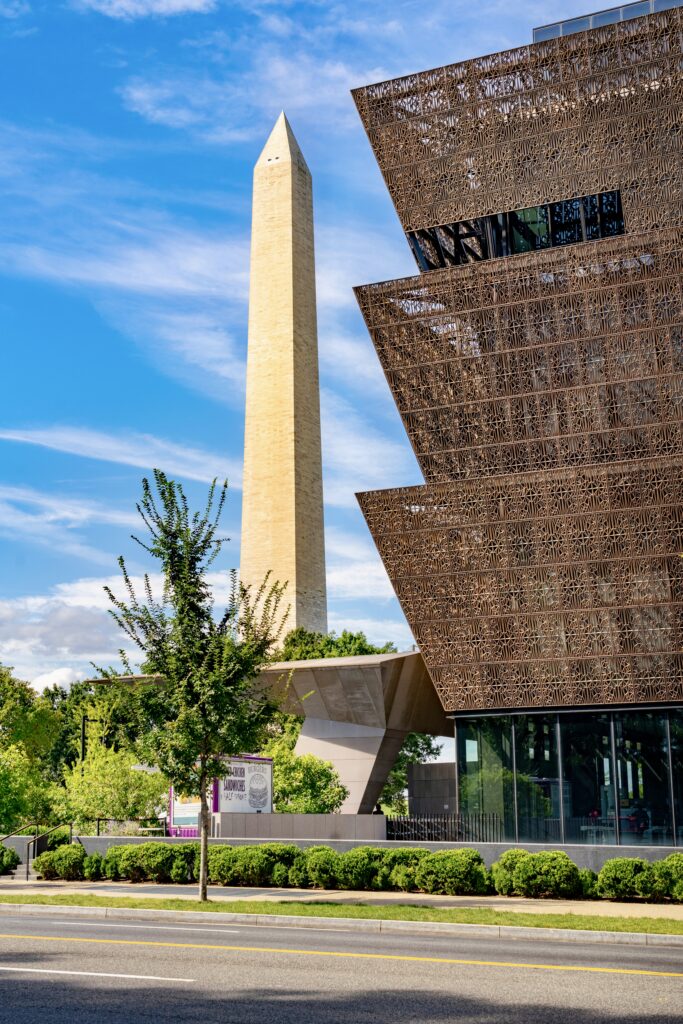 Museum of African American History and Culture
In the late afternoon, head to the National Museum of African American History and Culture. Opened in 2016, this bronze clad museum is one of DC's most popular museums. It's free, but you'll need to make a timed entry reservation to visit.
You should begin your visit in the history section. You access it by elevator from the Concourse. Three levels take you through the history of black Americans — slavery, emancipation, segregation, and the civil rights movement.
The upstairs galleries focus on African American culture and community. You'll see exhibits documenting African American art, music, and athletic achievements.
Here's my complete guide to the Museum of African American History and Culture. You may want to book a guided tour, to ensure you see everything. This 3.5 hour tour takes you to the museum and various memorials.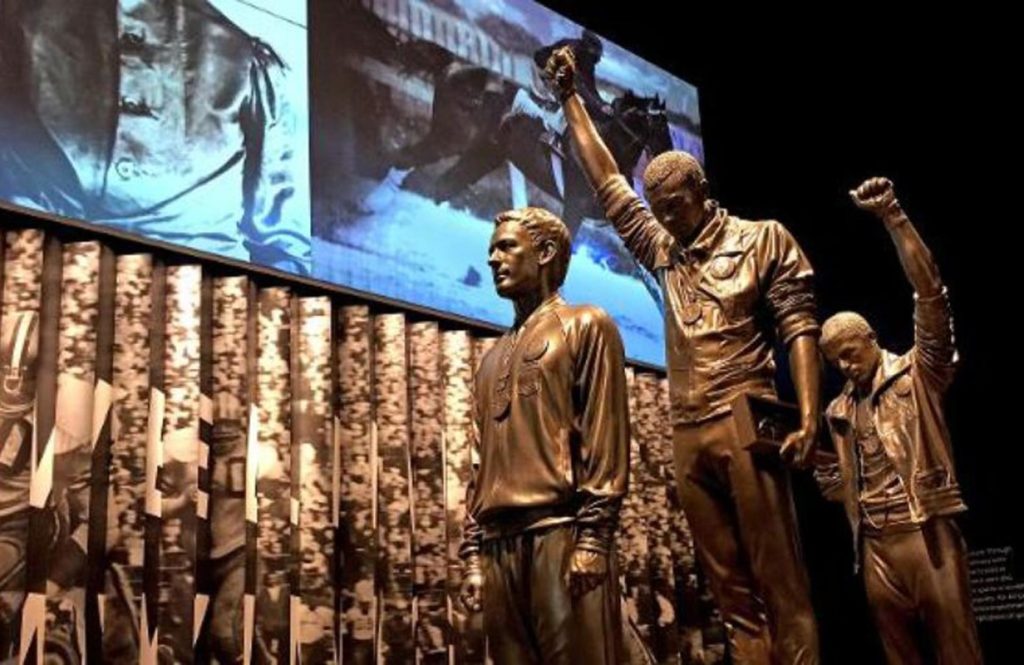 Theater District
In the evening, take in a play or a concert. The premiere performance venue in DC is the J.F. Kennedy Center for the Performing Arts.
It hosts hundreds of world-class performances each year. The venue is home to the National Symphony Orchestra, the Washington National Opera, and the Susan Farrell Ballet.
You can also catch great shows at the Arena Stage, Shakespeare Folger Theater, the Warner Theatre, and the National Theatre.
On a warm day, you could head to the Wolf Trap Center for the Performing Arts. It's an open air theater and concert center located in the suburb of Vienna (my home for years). If the weather is good, you can pack a picnic and get the lawn seats.
Day 3: Explore Neighborhoods
NoMa
NoMA is an upcoming neighborhood in DC, which is north of Massachusetts Ave NE.
This is a good place to start day 3 of your 3 days in Washington D.C., with breakfast or brunch at Union Market. Housed in a repurposed warehouse, it's a hot spot for foodies. You can peruse the stalls and find foods ranging from Burmese street eats to fresh oysters.
The National Postal Museum is also in this area. It's devoted to the history of stamp collection and the US mail service.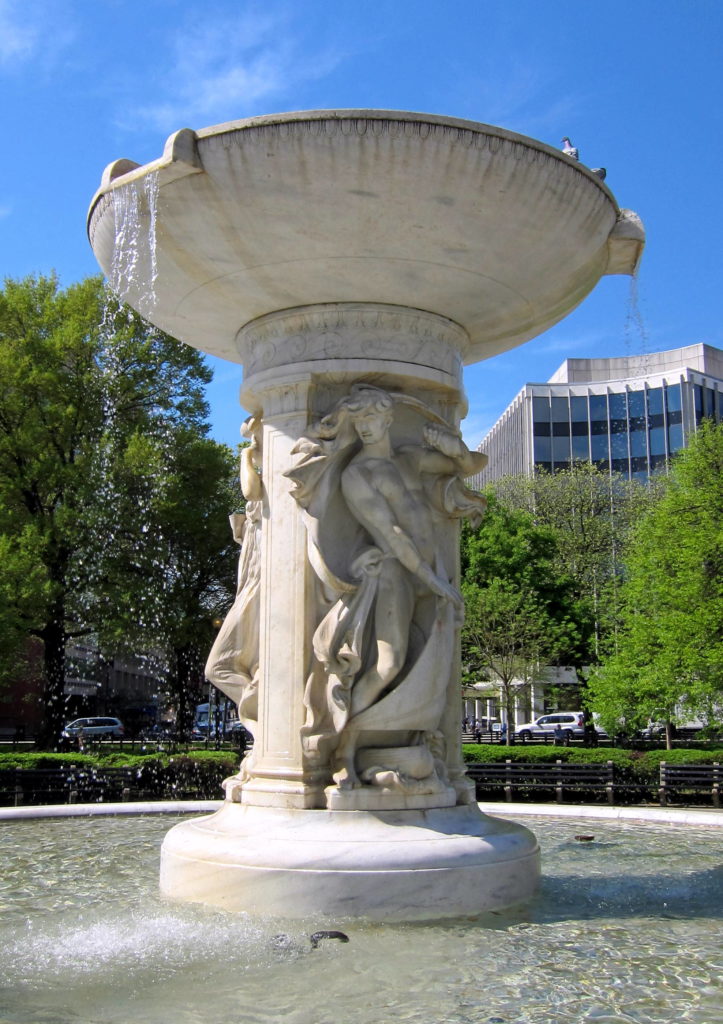 DuPont Circle
Then, head to DuPont Circle, a place that's effectively D.C.'s town square. It's a historic district and hangout spot with gorgeous architecture, cafes, and museums.
If you opt to skip Union market, you can grab brunch here at Sweetgreen. it serves up yummy veggies and leafy greens in warm and cold bowls.
You can stroll around and admire the embassies and other buildings. If you are an art lover, you will want to visit the famous Phillips Collection on the lovely tree-lined 21st Street.
The Phillips was the first modern art museum in American. Scion Duncan Phillips founded the museum in 1923 with the donation of his private art collection.
You'll find works from the late 19th century to the mid 20th century, with a few contemporary pieces.
The two must see highlights in the museum are Renior's Luncheon of the Boating Party and the Rothko Room with four luminous paintings by the Abstract Expressionist.
You should also check the Phillips' event calendar. The museum hosts a concert series, lectures by artists, and popular after 5:00 pm evening of art on the first Thursday of the month.
For more cutting edge art, head to the DuPont Underground.
Georgetown
You could easily spend half a day of your 3 day DC itinerary exploring Georgetown. It's one of the toniest areas in DC with storybook row houses covered in ivy, a mash up of Federal style mansions, and cobblestone streets.
The neighborhood has been home to famous politicians, past presidents, and 21st century jet setters.
You can walk right past their homes, the location of which you can check out on a map. Even though it's an expensive place to live, it's completely free to walk its gorgeous streets.
You can't go to Georgetown without a stroll down the main drag, M Street. It's flanked with scores of chic boutiques, cafes, restaurants, etc. It's similar to Newbury Street in Boston's Back Bay neighborhood.
If you have a sweet tooth, plan to grab a cupcake at Georgetown Cupcakes, if the line isn't too long.
If you turn right on 34th street, you can see the 75 "Exorcist Steps" from the 1973 hour movie.
If you want to book a guided tour, you can also take an architectural walking tour of Georgetown or a guided highlights tour.
Adam's Morgan
End your 3 days in Washington D.C. in Adam's Morgan. It's a short walk from the DuPont Circle metro or the Woodley Park/Adams Morgan metro station.
When I first moved to DC after law school, Adams Morgan was the hippest hangout in DC. Nowadays, it's been discovered. But it's still a multi-cultural neighborhood well worth visiting.
This is where you'll find dozens of restaurants, shops, and bars.
Have a cocktail at Jack Rose Dining Saloon. For dinner, check out Mintwood Place, Cashion's Eat Place, and Fantastic Feasts.
More Than 3 Days in Washington D.C.?
If you have more time, there are plenty of other things to do in DC.
National Zoo & National Cathedral
The Smithsonian National Zoo in Woodley Park is a great spot for kids and perfectly free to visit. You can get there via metro at the Woodley Park-Zoo/Adams Morgan metro stop.
The big attraction is the Giant Panda palace. But there are 1800 species of animals there too.
From the zoo, it's only a short walk to the National Cathedral. The Neo-Gothic cathedral was a work in progress from 1907 to 1990. The central tower is 300+ feet high and covered in gargoyles.
It's worth coughing up some cash to go in. There are some beautiful stained glass windows, gardens, and you can pay homage to Helen Keller and President Wilson, who are buried there.
Old Town Alexandria
If you've had enough of the city, you can also get out of town and head to the area's enticing suburbs or parks.
Historic Old Town Alexandria is roughly one square mile. It's a beyond charming historic neighborhood of brownstones with shutters and cobbled streets.
The Federal style houses date from the 18th and 19th century. The blue colored Spite House is the skinniest house in the US.
But Alexandria is not locked in a Colonial time warp. The old town is so attractive that it's starting to compete with Georgetown as a place to socialize, shop, and live. The main drag is King Street and this is where you'll find restaurants and boutiques.
If you're an art lover, you would visit the Torpedo Factory Art Center. It's home to the largest collection of publicly accessible working artist studios in the U.S. Guests can visit 72 artists' studios featuring painting, ceramics, jewelry, and printmaking.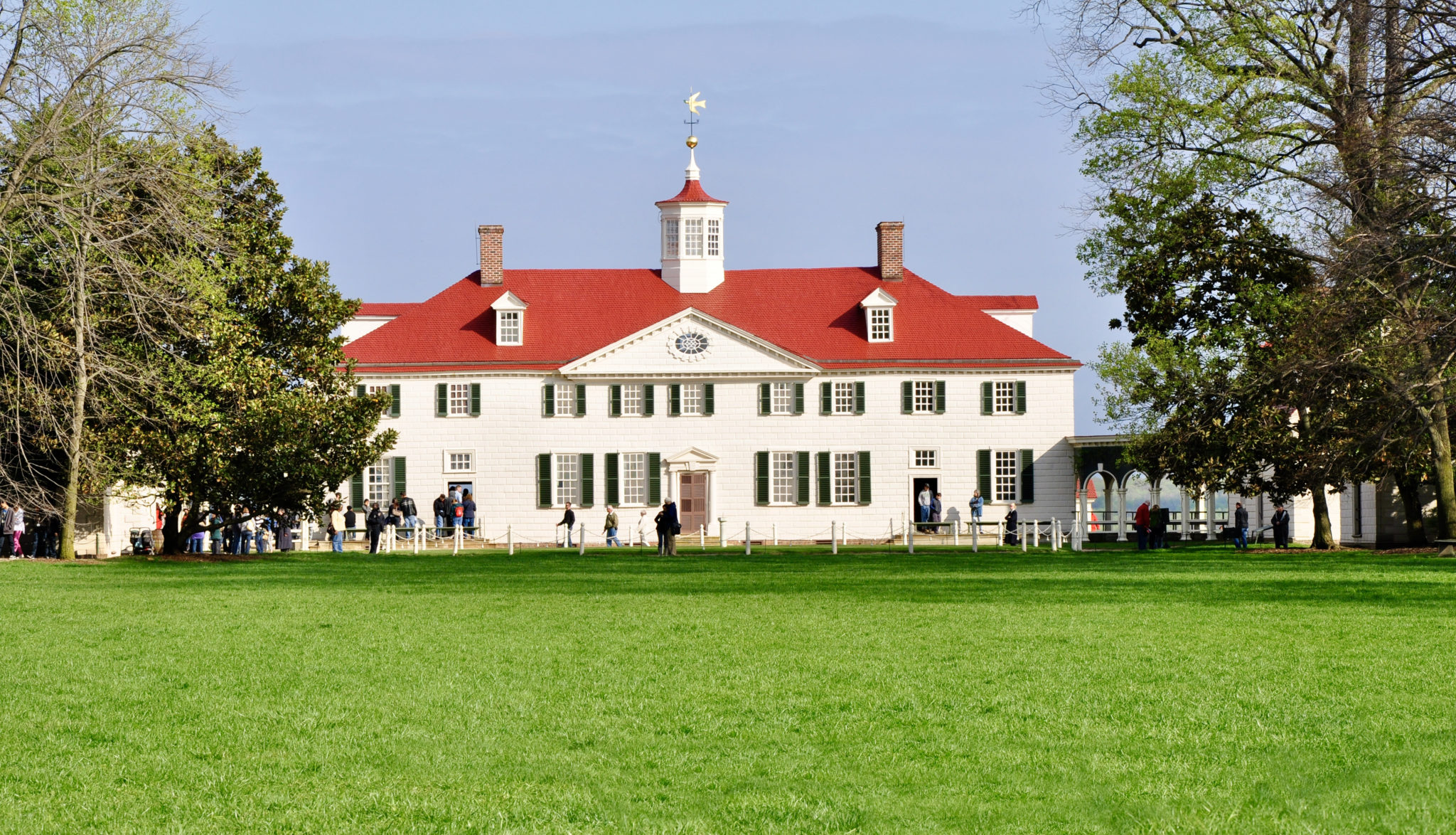 Mount Vernon
Another great option is a visit to Mount Vernon, the the 500 acre plantation estate of our first president, George Washington.
It's located along the shores of the Potomac River in Mount Vernon Virginia. You can tour of the estate and learn about the history of America's first president. The mansion is one of the iconic buildings of 18th century America.
Click here to book an admission ticket to Mount Vernon. Parking at Mount Vernon is free.
You can also book a sightseeing river cruise from Washington, D.C. or Alexandria Virginia. You can also book a 5 hour guided day tour from DC, which is a very popular thing to do.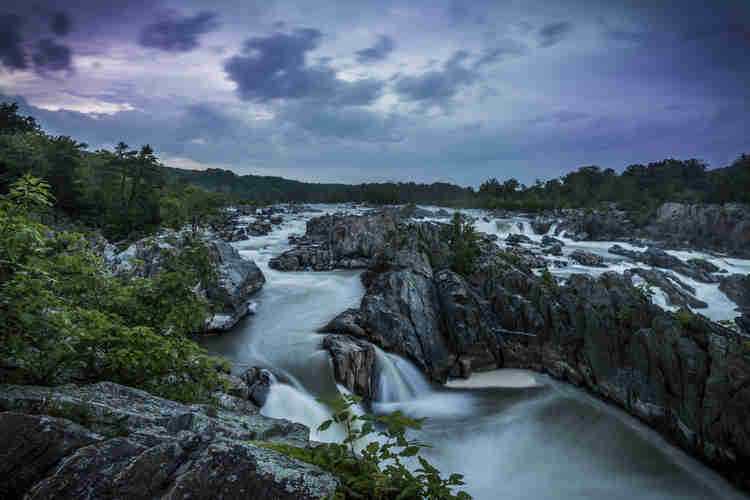 Great Falls Park
Great Falls Park is a beautiful place to get out in nature and hike.
The park has some of the most spectacular views and fall foliage in the Washington D.C. area. The 800 acre park has 15 miles of trails for hikers.
Get Falls Park is also chock full of viewpoints from 50 foot cliffs overlooking the Potomac River. Great Falls also offers 11 hiking and biking trails of varying difficulty and several picnic areas.
More Museums
Do you want to see more of DC's famous museums? For more info, I've written a guide to the best museums in Washington D.C.
I also have individual guides to some other museums that I didn't mention above: the Museum of Asian Art, the Hirshhorn Museum, the Hirshorn Sculpture Garden, the National Portrait Gallery, and the Renwick Gallery — all of which I highly recommend.
Kids may enjoy the Museum of Natural History, the Air & Space Museum, or the International Spy Museum.
Practical Information & Tips For Spending 3 Days In Washington D.C.
Here are some must know tips for your 3 days in Washington D.C. itinerary.
How To Get To Washington DC
Washington DC is served by 3 airports: Ronald Reagan National (DCA), Baltimore-Washington International (BWI), and Dulles International (IAD).
All three of them offer domestic and international flights.
DCA is the closest to downtown DC. You can hop on the metro and get there in a single ride.
How To Get Around Washington D.C.
I don't advise renting a car to explore DC. The main attractions in DC are very walkable.
Plus, parking can insanely expensive in D.C. I just paid $55 a night when I was last there to park at the Hilton National Mall. (I had no choice, I drove to DC from Pittsburgh.)
But metered parking on the street isn't too pricey and you may be able to finding parking on non-weekend days, especially in off season.
I've read that people think that D.C. traffic is terrible. But I personally don't think it's that bad in the city itself, especially if you avoid rush hour. It's the commuter arteries that are really clogged.
If you want to take public transportation, DC his an excellent metro system. The metro consists of is color coded lines.
To ride the metro, get a SmarTrip card. You pay $2 for a reusable card and add money for fares as you go. This is the handiest way to get to neighborhoods that are a bit further afield like Georgetown or Adams Morgan.
You can always hail a taxi or use the ride sharing apps Uber and Lyft. You can also rent an electric scooter. You'll see rental stations everywhere.
If you don't want to navigate the transportation system, you can book a guided tour of D.C. You can also take a bike tour, Segway tour, or electrical vehicle tour of the National Mall.
Another good option is the Hop On Hop Off Trolley or the Hop On Hop Off Big Bus. For both of them, you can book and choose a 1 day or 2 day pass online. There are stops near all the top landmarks and attractions.
Another option is to take a night tour, as the monuments are open and beautifully illuminated in the evening.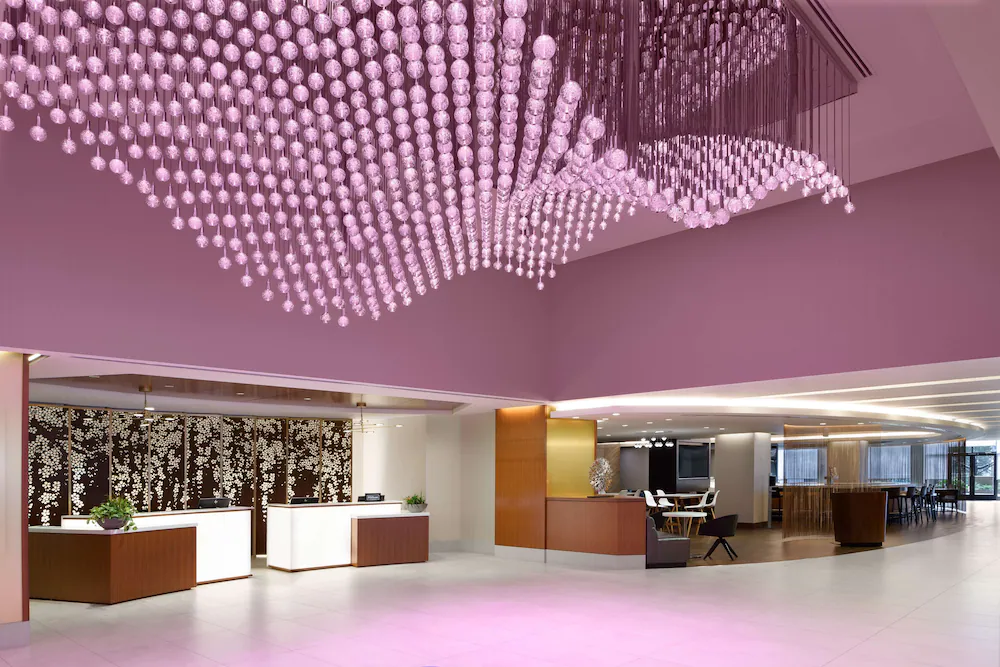 Where To Stay In Washington D.C.
With just 3 days in Washington D.C., you'll want to stay somewhere central so you don't too much waste time in transit.
The downtown hotels don't come cheap, but they will save you time. When planning, make sure you know where a metro stop is vis-a-vis your hotel.
You can check out the Mandarin Oriental, the Hilton National Mall, the Riggs Washington DC, or Hyatt Place.
If you want to stay in Georgetown, there are some really excellent options. You could book at the Fairmont Washington D.C. or the Graham Georgetown. For real luxe accommodations, check out the Four Seasons, or the Ritz Carlton.
If you want to stay in the Dupont Circle area, check out the Dupont Circle Hotel or the Royal Sonesta. It's only a 20 minute walk to the National Mall.
When To Visit Washington D.C.
DC is a year round destination. There's no bad time to visit.
It is most unpleasant in summer when it is crowded (schools are out) and hot and humid. I'd recommend going in the spring or fall.
In spring, you'll see the gorgeous cherry blossoms. You should expect the Tidal Basin to be mobbed. Over 1.5 flower gawkers trek there annually.
Peak bloom only lasts a few days. You can check out the bloom forecast. There's also a month long Cherry Blossom Festival.
In fall, it's still mild and the fall foliage is out. Even the cherry blossoms put on a show then.
Lately, I've been revisiting my former hometown in winter. While it can be a bit dreary with some rain, there are drastically fewer crowds and the hotel prices plummet.
You won't have to worry about being able to get into any of the Smithsonian museums or juggling crowds at other sites.
I hope you've enjoyed my 3 days in Washington D.C. itinerary. You may enjoy these other US travel guides and resources:
If you need a 3 day DC itinerary, pin it for later.