Planning a road trip in the Berkshires, nestled in bucolic western Massachusetts? This is the ultimate guide to all the best places to visit in the Berkshires. It covers the must visit towns, cities, parks, museums, and landmarks.
The Berkshires are a lovely area, almost ripped from paintings at a museum. The Berkshires are dusted with magic, and the perfect place for a New England road trip.
The region evokes an earlier America, with houses and architecture straight from a Norman Rockwell painting.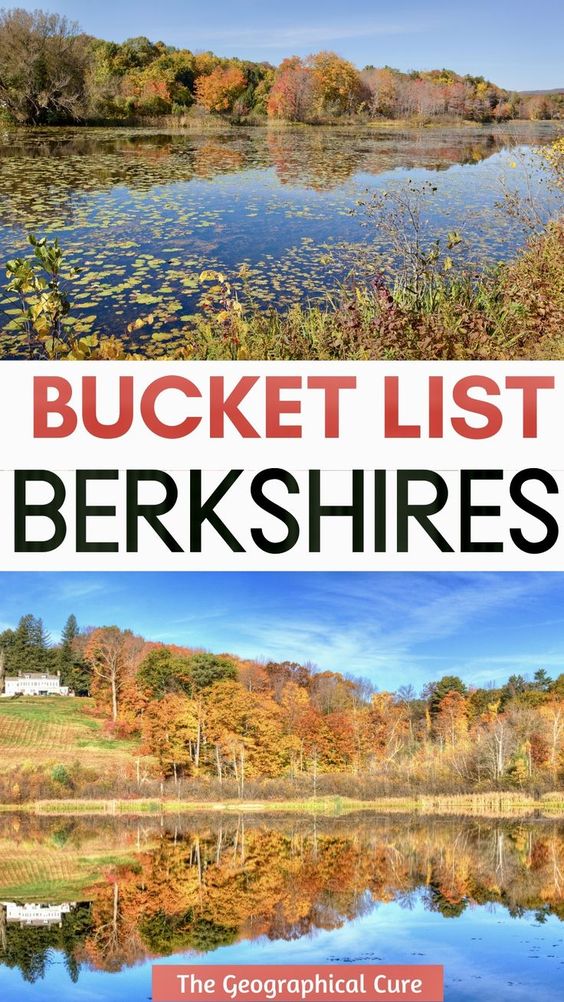 The Berkshires is a laid back region, quietly unbuttoned without the glitz or cocktail party circuit. The area was made famous by literary figures escaping the city to their turn of the century castle-cottages, set under solitary starry nights.
The Berkshires are full of winding roads with undulating meadows, deep green ellipses of hills, organic farms, and trees ablaze in autumn.
But it's definitely not just for nature lovers and leaf peepers. The Berkshires are a unique confluence of nature, historic landmarks, cultural gems, and vaunted museums.
In fact, the Berkshires are New England's premiere summer region for culture-driven travel and road trips. Wherever you go, you'll be confronted with the choice: art or the great outdoors?
Despite its rural setting, the Berkshires also have a hot foodie scene, with a hip farm to table vibe. In the Berkshires, restaurant owners source food locally from innovative farmers, grow their own herbs and micro-greens, and raise hens.
How Long Should You Spend in the Berkshires?
It depends. You could spend a busy weekend or a laid back week on a road trip through the Berkshires region. Each new mile yields new discoveries. If you're coming from Boston or New York City, budget 3 hours of driving each way.
If you're embarking on a weekend getaway, use my list of must see destinations and towns to pick and choose the places that most appeal to you in the Berkshires.
The Berkshires are small enough that you can base in one part and explore the whole region. If you want one base, choose Lenox or Stockbridge.
They're the prettiest towns, looking exactly as you'd imagine a classic New England village. Both have amazing cultural, culinary, and outdoor options. They're centrally located and within easy striking distance of the other must see sites in the Berkshires.
If you want two bases to explore the region in depth, pick North Adams in the north and Stockbridge in the south.
When Should You Go To the Berkshires?
The Berkshires are evolving into a year round destination. Summer is the busiest time in the Berkshires, when people are looking to ditch the bustling city for quieter climes.
If you're looking to attend concerts, shows, and events, aim for summer. Be sure to book festival and theater tickets in advance.
Fall is gorgeous, but also quite busy. The brilliant foliage and pleasant weather also make fall an idea time to take a fall foliage road trip in New England. In the Berkshires, the foliage typically reaches its peak in mid October.
How To Get To the Berkshires
You really need a car to visit the Berkshires. Everything requires driving. Even if you base in a town like Stockbridge, you need to drive to the local attractions.
Most people drive to the Berkshires. Depending on where you base, it's about a 2:15-2:45 drive from Boston and a 2:45-3:15 drive from New York City.
If you're flying to the Berkshires, the closest major airport is in Albany, about a 45 minute drive from Stockbridge. There are also bus and train connections to Pittsfield.
Places To Visit In The Berkshires
How best to experience the Berkshires' arts and eats ethos? Here are all the best places to visit in the Berkshires — sites, attractions, and most beautiful towns.
I've put them in the likely order you'd visit them on a Berkshires road trip, along with tips on what to see, do, eat, and where to stay in the Berkshires. And, of course, where to get your cultural fix.
Let's go sniff the mountain air, at least virtually.
1. Great Barrington
For some of the best fall foliage scenery in the Berkshires, take Route 7 and 8 from Great Barrington to North Adams (1:10 hours without stops).
You'll go past storybook farms, wooden barns, and stone walls. And through the cute towns of Stockbridge, Lee, Lennox, and Pittsfield.
Great Barrington is a town for foodies and antique hunters. It has a fashionable shopping district and excellent restaurants.
Stop in at the the Berkshire Art Gallery, which features a wide range of 19th and 20th century American and European paintings. If you're a pottery enthusiast, head 12 minutes south of Great Barrington to the nearby Sheffield Pottery.
In terms of outdoor recreation, You can head to Blueberry Hill to pick wild blueberries. For great views and relatively easy hiking, head to Monument Mountain.
Monument Mountain Summit is a 3.8 mile lightly trafficked out and back trail. It features wildflowers, but no views. If you want a vista, you need to sidetrack to Squaw Peak.
Monument Mountain is famously the setting for a double date between authors Herman Melville and Nathaniel Hawthorne. They met and hiked up the mountain. Legend holds that they were caught in a rainstorm during which Hawthorne convinced Melville to write Moby Dick.
Where to stay in Great Barrington: The Barrington, Thornewood Inn, Granville House
Where to eat in Great Barrington: Prairie Whale, Rubi's Cafe, Cheesemongers & Grocers, Meat Market, Bizen, John Andrews, cafeADAM
2. Bash Bish Falls
From Great Barrington detour 12 minutes to Bash Bish Falls in Egremont. Bash Bish is the largest single drop waterfall in Massachusetts and a must see in the Berkshires. Water is sliced in two by a massive boulder creating a picture perfect double waterfall.
At 80 foot high, it's not Niagara size. But it's still pretty. A steep 20 minute trail leads from the parking lot.
Bash Bish is on the Massachusetts-New York border. If you want a less challenging hike, drive 1 mile west to the New York side parking lot.
Picturesque Bash Bish Falls has been a popular Berkshires tourist stop since the mid 19th century. When you come upon the falls, you'll feel as though you've discovered a secret, woodland spot. But, be forewarned, there will be many other waterfall pilgrims at this uber popular hiking spot.
3. Stockbridge
Settled in 1734 by British missionaries, Stockbridge may be my favorite adorable small town in the Berkshires. It's blessed with simple charm and a fabulous line up of cultural attractions.
Three of the greatest American artists and authors called Stockbridge their home — Edna St. Vincent Millay, Herman Melville, and Norman Rockwell. James Taylor sang about the town in Sweet Baby James.
One of America's greatest treasures is the Norman Rockwell Museum. Rockwell was one of the greatest artists and illustrators in American history. Stockbridge was Rockwell's long time residence and what he called his "best studio yet."
His titular museum is home to a year round series of rotating exhibitions of Rockwell's art and Saturday Evening Post magazine covers. There are 570 Rockwell illustrations, including the famous Triple Self Portrait and Going and Coming.
A permanent exhibit is the quartet called the Four Freedoms, which will seem comfortingly familiar. The most famous of these gems is Freedom From Wont, depicting a family gathering at Thanksgiving.
Rockwell's studio was painstakingly moved intact to the grounds as well. There, you'll learn about his creative process.
At Christmas, Stockbridge charms visitors with a re-staging of Rockwell's painting from McCall's Magazine, Stockbridge Main Street at Christmas.
You can also visit Chesterwood, the home Daniel Chester House. It's the 1920s Colonial Revival house, complete with soaring studio, of the legendary sculptor and landscape architect.
Chester created the statue of President Lincoln seated in the Lincoln Memorial in Washington D.C., and you'll see plaster models in the museum.
The summer estate is beautiful, but it's Chesterwood's hiking trails that are acclaimed. Some say that Chester "sculpted the landscape as well."
After a stroll through the formal gardens, take the easy Woodland Walk carving through the wilder woods. Or, for more of a challenge, try the Ledges Trail with a steep climb to a viewpoint.
Apart from visual arts and historic, the Berkshire Theater Group provides performing arts entertainment. The IS 183 Gallery has a stash of regional and national art works.
Every summer, Stockbridge (along with the town of Lenox) hosts the Tanglewood Music Festival, a series of concerts across all musical disciplines.
Stockbridge is also home to one of the Berkshires Gilded Age "cottages," Naumkeag. You can tour this quirky 44 room mansion designed by Stanford White, famed starchitect of the time. It boasts original furnishings, rooms full of angles and curves, and captivating gardens.
To get outside in Stockbridge, drive to the end of Park Street and walk through a stone portal into another world, Ice Glen.
You'll find romantic rugged landscapes, giant tree roots, and massive Ice Age boulders. You'll need to be fit and agile to hike either the one mile out and back or two mile loop trail.
Where to stay in Stockbridge: Once Upon a Table, Truc Orient Express
Where to eat in Stockbridge: The Red Lion Inn, The Inn at Stockbridge
4. Lenox
Lenox is a pretty must visit place in the Berkshires. It's full of art galleries and upscale boutiques housed in historic buildings. It's probably the priciest place in the Berkshires.
You'll find the classic Berkshires experience and some of the region's most iconic properties — Blantyre, Wheatleigh, Canyon Ranch, and The Mount. At one point, there were so many lavish summer homes that Lenox was known as "the inland Newport."
In 1902, Edith Wharton, the first woman to win the Pulitzer Prize in Literature, built The Mount in Lenox. It was a stately country retreat for the literary lioness and her then-husband, modeled after European manses but lacking their excesses.
No gaudy entries or vulgar grand staircases for the "Lady of Lenox," who happily lived a corset free life and wrote Ethan Frome and The House of Mirth there. She did most of her writing in her third floor bedroom — in bed!
The Mount has been beautifully restored to its appearance during Wharton's tenure. The exterior is a striking white stucco, with clusters of gables and white chimneys and a roof capped with a balustrade and a cupola.
Wharton had a lot of style. You might find yourself longing for her furnishings.
Wharton had a pale pink dining room with fuchsia and gold cutlery. The house is a remarkable portrait of how the wealthy lived during this time period. It makes you think about how idyllic surroundings can inspire you as an artist.
The Mount is home to a summer lecture series, weekly bird walks, concerts, theater performances, and outdoor sculpture exhibits. Edith Wharton's library has been returned to the house, with 22 first editions of her work.
If you want a drink or light meal, head to The Mount's Terrace Cafe. Then wander in the beautifully landscaped gardens. On Friday Night Fright in September and October, a 2 hour ghost tour traverses the haunted parts of The Mount.
If you like modern art, the Frelinghuysen Morris House & Studio is also worth a Lenox look.
It's a modernist home exhibiting the works of Suzy Frelinghuysen and George L.K. Morris. It also boasts works by their cubist contemporaries — Pablo Picasso, Juan Gris, and Georges Braque.
For a long walk in the woods, head to nearby Olivia's Overlook at the center of the Yokun Ridge. The overlook is also the trailhead for several trails varying in length. You'll have great views, see wildflowers, and the pretty Monks Pond.
Where to stay in Lenox: Birchwood Inn, Blantyre, Brook farm Inn, Applegate Inn, Devonfield Inn, Gateways Inn and Restaurant
Where to eat in Lenox: Nudel, Wheatleigh, Bistro Zinc, Alpamayo, Cafe Lucia
5. Pittsfield
While not as quaint as the other Berkshires towns, there are still some things to do that are worth a stop in Pittsfield on your Berkshires itinerary.
The Berkshire Museum has undergone a major renovation. It showcases everything from a stegosaurus to Alexander Calder mobiles.
If you're a Henry Melville fan, stop in at his small yellow house, Arrowhead. The author lived in this converted warehouse during his most productive years.
He wrote Moby Dick in his second floor study. Melville built his porch on the "wrong" side of the house to better view of Mt. Greylock.
For outdoor fun, 10 minutes down the road is Ashuwillticook Rail Trail. Smack in the middle of two mountains, the 11mile trail is paved for biking, hiking, or cross country skiing.
5 miles southwest of Pittsfield is Hancock Shaker Village, a living slice of American history. It's a restoration of a religious community that flourished in the 1800s.
The adherents exhibited shaking motions while listening to sermons. You can tour the buildings, including a group dwelling house and stone barn, and watch craftsman at work.
Where to stay in Pittsfield: Overnight at the excellent choices in Lenox instead
Where to eat in Pittsfield: Elizabeth's, Enso Asian Bistro, Mission Bar and Tapas
6. North Adams
30 miles further north lies the quaint town of North Adams. It's a former manufacturing hub reinvented as a funky cutting edge art town. North Adams is known as "The Town of Steeples and Peaks," for the spires of its many churches. Come for the art, and stay for the scenery.
Visting North Adams is now one of the best things to do in the Berkshires. Its downtown is filled with art galleries, artists studios, and cute shops. Its pride and joy is Porches Inn, an eye catching row of distinctive multi-colored Victorians.
After meandering the downtown, head straight to the utterly fabulous Massachusetts Museum of Contemporary Art ("MASS MoCA"). Opened in 1999, MoCA is one of the region's foremost cultural institutions.
MOCA has an emphasis on international contemporary art. The airy industrial campus was expanded in 2017 with new modern buildings by Tadao Ando.
Works are spread out over 250,000 feet in 19 galleries in a renovated 19th century factory, making it the largest contemporary art museum in the US. MoCA is home to exciting works by Louise Bourgeois and Robert Rauschenberg.
Entire walls are decorated by Sol LeWitt. The museum also has a permanent collection with works by the likes of Manet, Constable, Bonnard, Delacroix, Ingres, and Sargent.
In the adjacent town of Adams is the Susan B. Anthony Birthplace Museum. This museum is dedicated to a woman who played a pivotal role in the suffragette movement. There's a beautiful collection of postcards commemorating the suffrage, abolition, and temperance movements.
In nearby Natural Bridge State Park, you can view the only natural white marble arch in North America. It was carved as a result of glacial melt over 13,000 years ago. A bridge spans Hudson Brook and twists through a 60 foot gorge.
You can also hike the Cascade Trail. The 1.2 mile trail follows Notch Brook up to a cascading waterfall (photo above). It's an easy one hour or so trail, with one riverbank crossing.
Where to stay in North Adams: Porches Inn, Topia Inn, Tourists
Where to eat in North Adams: Gramercy Bistro, Grazie, Public Eat and Drink
7. Williamstown
Just next door to North Adams is the college town of Williamstown, home to Williams College. Williams College is one of the "Little Ivies," known for its ivy covered buildings, Gothic chapel, and beautiful architecture. It's one of the best places to visit in the Berkshires.
Williamstown is also home to the Clark Art Institute, a must visit in the Berkshires. It's one of the United State's best museums, focusing on historic European and American art.
The amazing museum has been fully renovated and expanded in a mix of architectural styles.
The museum is home to some beautiful works by John Singer Sargent and Winslow Homer and a world class collection of French Impressionist paintings (30 Renoir paintings!)
The Clark Institute is located on a 140 acre compound. It has well marked (and free) hiking trails for year round exploration.
The well manicured paths wind through woods, cresting at the top of Stone Hill. From there, you'll have a beautiful panoramic views of Williamstown and Vermont's Green Mountains.
At the Williams College Museum of Art you'll find modern and contemporary art to admire.
If you're visiting in the summer months, you can attend the Williamstown Theatre Festival, a 2002 Tony award winner for outstanding regional theater. Williams College offers concerts, recitals, and theatrical productions.
If you didn't hike at the Clark Institute, try Pine Cobble Trail. The 3.2 mile trail is a steadily ascending climb to the 1,894 foot summit. From the top, you'll have beautiful views of Williamstown and North Adams.
Where to stay in Williamstown: Orchards Hotel, River Bend Farm, House at Sweet Brook Farm
Where to eat in Williamstown: A Frame Bakery, Coyote Flaco, Mezze Bistro & Bar, '6 House Pub
8. Mt. Greylock State Reservation
Head back to Notch Road and continue your descent from Williamstown. The road leads to Mt. Greylock State Reservation, one of the best places to visit in the Berkshires.
Its centerpiece is a 3,491 foot peak. You can drive up to the summit for Massachusetts' highest viewing point, which features views of 5 states on a good day.
There are plenty of marked hiking trails at Mt. Greylock as well, many starting from the parking lot at the mountain's base. The trails range from easy to aggressive. Click here for the online trail map.
At the top, there's a War Tower Memorial for WWII veterans, a panoramic view, and Bascom Lodge where you can eat lunch.
dmission to Mount Greylock State Reservation is free. But you'll have to pay for parking.
Where to stay in Mt. Greylock: Bascom Lodge
Where to eat near Mt. Greylock: Bascom Lodge, Eat on North, Powder Hounds Restaurant
9. Lanesborough | Lakeview Orchard | Cheshire
Then descend back down, exit the park, and take Route 7. Turn left on Summer Street and pull into the small town of Lanesborough, where you'll see pastures and horse farms.
A slight detour off Summer Street takes you to Lakeview Orchard. There, you can pick your own bushel of apples and sip on apple cider. You can also buy pies or grab a sandwich here. The orchard is renowned for its apple cider donuts.
If you have kids, stop in at Whitney's Farm Market in Cheshire. In the fall, there's a corn maze, pumpkin picking, and hayrides. The farm also has a large market with baked goods and a deli.
If you want to some adventure, head to Ramblewild. It's one of the largest tree to tree aerial adventure parks in the northeast US. You can zipline, climb, and swing through 11 acres of forest.
Where to stay in Lanesborough: There are better lodging options in Williamstown. Otherwise, try the Harbor House Inn in Cheshire.
Where to eat in Lanesborough: Old Forge Restaurant
10. Berkshire Festivals
The Berkshires usually have a a packed festival calendar. They celebrate gifted artisans, agricultural harvests, and food | music | art. Here are some of the most popular festivals in the summer and fall seasons:
Tanglewood Music Festival — the 200 acre summer home of the Boston Symphony Orchestra, hosting concerts by world famous musicians in its 200 acre spread
Jacob's Pillow Dance Festival — showcasing world renowned performers of ballet, modern, and international dance
Shakespeare & Company — the annual repertory season is held in the evenings at The Mount
FreshGrass Festival — a bluegrass festival held at MoCA in North Adams
Berkshires Botanical Garden Harvest Festival — one of the most popular fall festivals in Stockbridge celebrating the harvest and crafts
Lenox Apple Squeeze — street festival celebrating the apple harvest in Lenox
I hope you've enjoyed my guide to the best places to visit in the Berkshires. If you'd like to take other US road trips or need some US destination inspiration, I have other guides you may enjoy:
If you'd like to visit the Berkshires in Massachusetts, pin it for later.