Heading to Pittsburgh Pennsylvania for a visit or weekend getaway? Here's my local's guide to visiting the Steel City, with the 40+ top attractions and best things to do and see.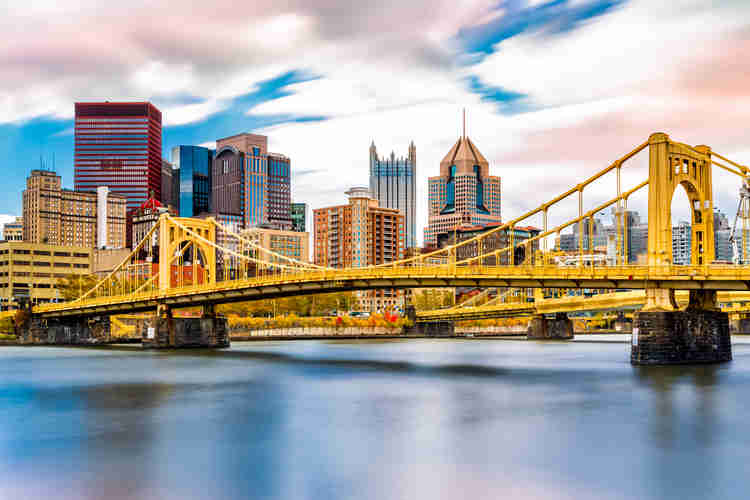 Rachel Carson Bridge with the Pittsburgh skyline
I also give you a rundown of the best restaurants in Pittsburgh and tips for visiting.
Pittsburgh is a town that was built on steel and the Steelers. But Pittsburgh's reputation as a gritty city is as old as petticoats.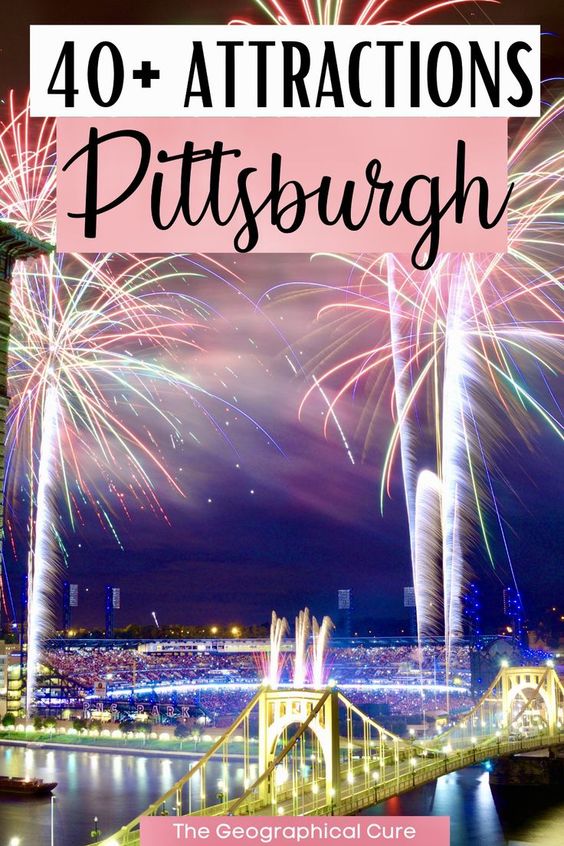 These days, the city thrives on culture as well. Formerly a Rust Belt baby, Pittsburgh is now a cultural and artistic hub. It's also a foodie town.
Formerly, the go to meal in Pittsburgh was a French fry stuffed sandwich. Now, there are gourmet and international restaurants, from budget to expensive.
Pittsburgh is sometimes overshadowed by the much larger city of Philadelphia in the east. But Pittsburgh also has a wealth of fine art and architecture. Some of Pittsburgh's top attractions are its world class museums and cultural centers.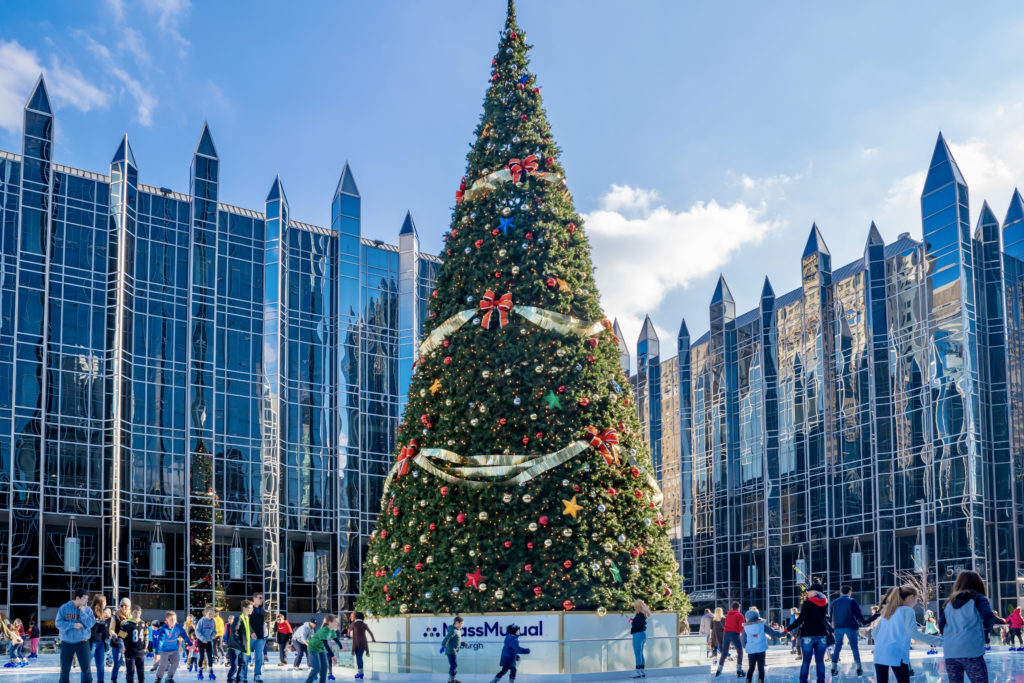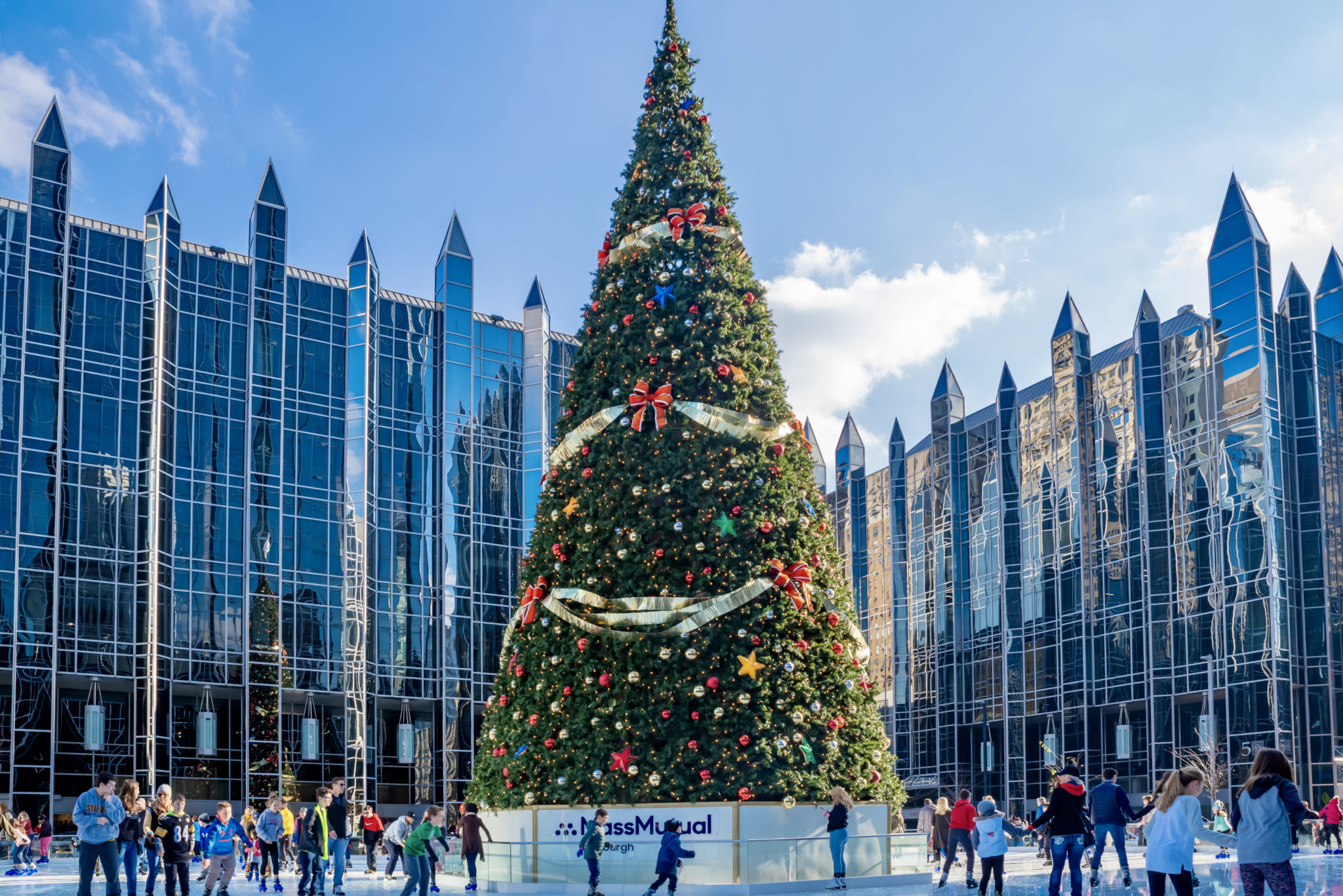 To top that off, Pittsburgh is beautiful situated. This hilly city sits at the crux of three rivers — the Allegheny, Monongahela, and Ohio. The city is a visual feast, with a rugged topography and an enviable skyline.
Pittsburgh's not as ancient as places like Lisbon. But its natural setting –with rivers, viewpoints, and vistas — bear a resemblance. If Pittsburgh were in Europe, the city would be wildly popular.
Pittsburgh is also a city of many neighborhoods. There's pockets of cuteness sprinkled all over the city. You need a car or Uber to explore them properly.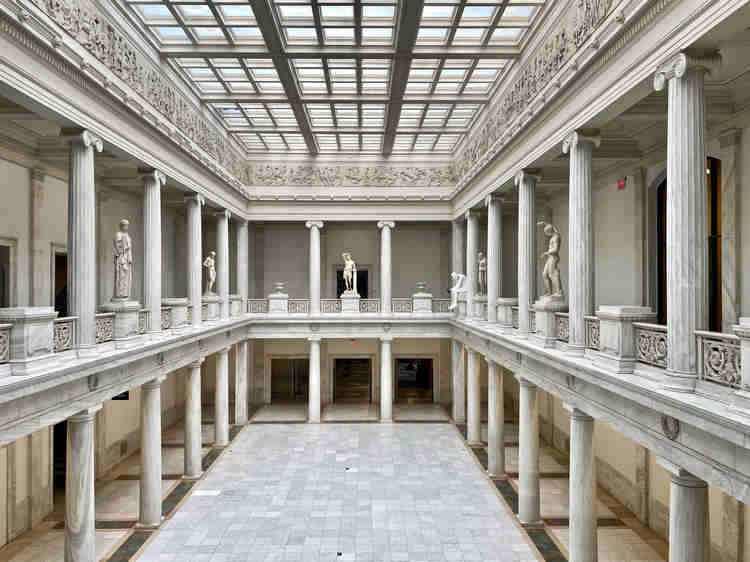 Hall of Sculptures in the Carnegie Museum of Art
Best Things To Do In Pittsburgh Pennsylvania
Here are my picks for the 40+ best things to do and see in Pittsburgh. I take you on a tour of all the top must visit sites, attractions, museums, and landmarks in Pittsburgh.
You'll discover all the best destinations in Pittsburgh — where to eat, stay, and play on your Pittsburgh getaway. I also give you a long list of the best restaurants in Pittsburgh by neighborhood.
It's possible to hit the highlights of Pittsburgh in 2-3 days. A really thorough exploration could take a week.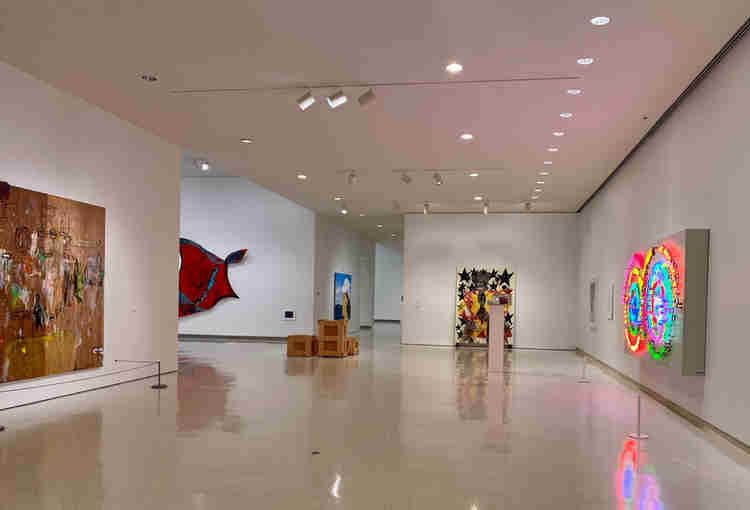 1. Carnegie Museum of Art
You may not think the "Steel City" of Pittsburgh is an art mecca. But for a small city, the beloved Carnegie Museum of Art ("CMOA") packs a surprisingly art punch, with international flair.
For art lovers, it's easily one of the best things to do in Pittsburgh.
The Carnegie was founded by industrialist and philanthropist Andrew Carnegie in 1895. This gorgeous museum is in Pittsburgh's lively Oakland neighborhood near the University of Pittsburgh and Carnegie Mellon University.
There are many wings and dozens of galleries. The wide ranging collection is devoted to art from ancient times to cutting edge contemporary works.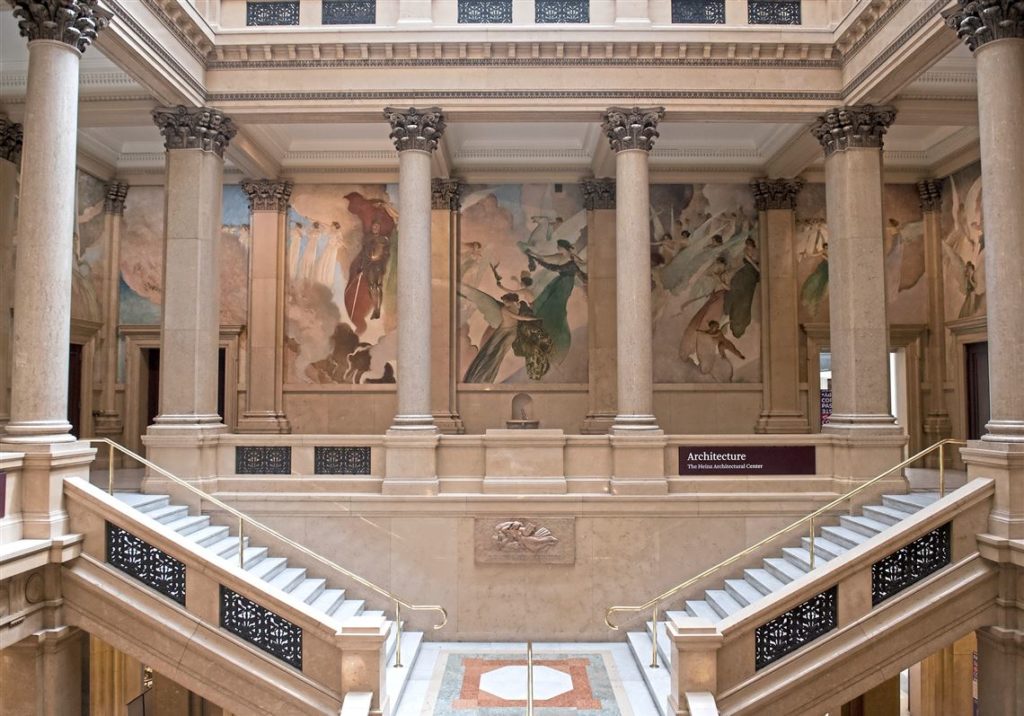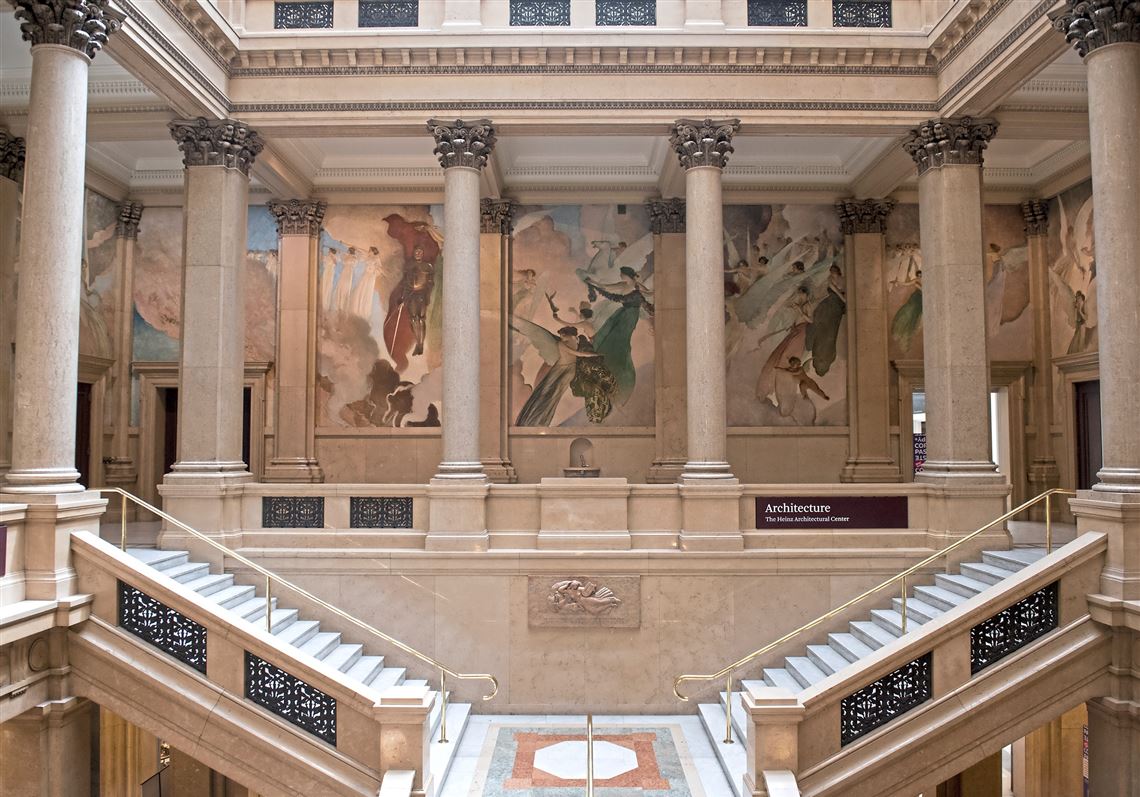 Launched in 1974, the Scaife Galleries are CMOA's crown jewel. Sarah Mellon Scaife was a sister of Pittsburgh tycoon Richard Mellon.
She gifted the massive Beaux Art galleries and a slew of important works to CMOA, nearly doubling its space.
The Impressionist works on display include pieces by top shelf names like Monet, Manet, Pissarro, Renoir, Degas, and Matisse.
A unique part of the Carnegie is the Hall of Architecture. As part of his effort to "bring the world to Pittsburgh," Carnegie commissioned plaster copies of some of the world's most iconic buildings and sculptures.
They were created by master craftsmen. If the citizens of Pittsburgh couldn't get to Europe, they could at least see what they were missing.
Architectural cast collections were incredibly popular in the late Victorian era. Their popularity subsequent waned.
Now, the Carnegie has one of the world's best collections, rivaling the Victorian & Albert Museum in London.
Here's my complete guide to the Carnegie Museum of Art.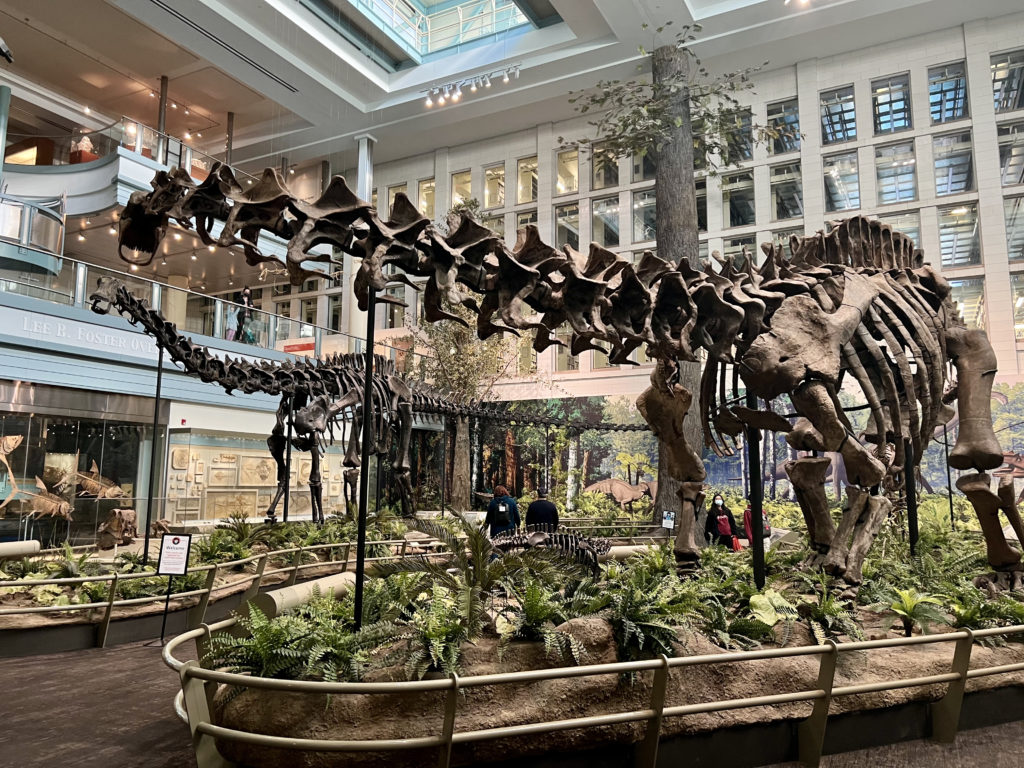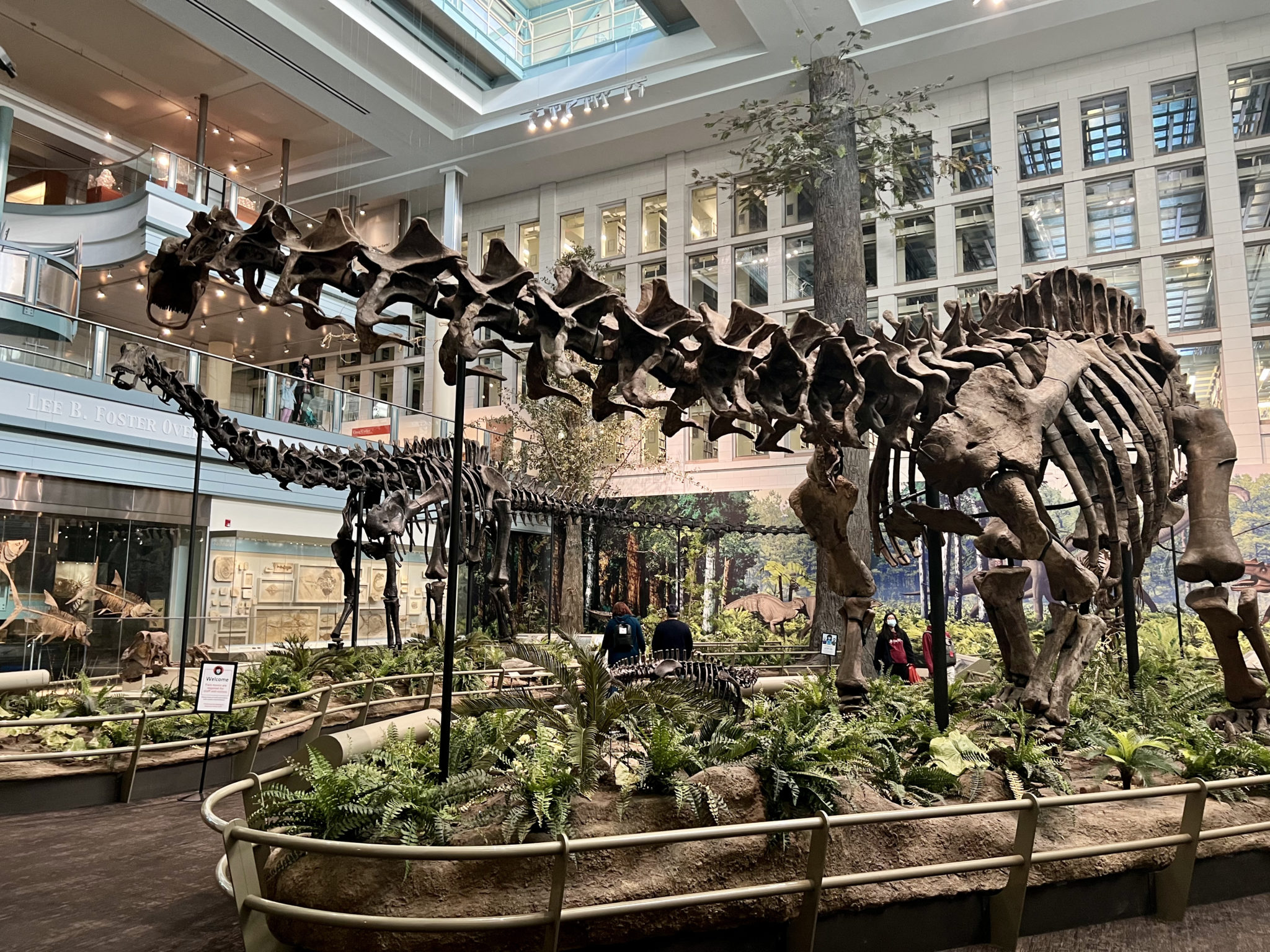 2. Carnegie Museum of Natural History
The Carnegie Museum of Natural History is a top attraction in Pittsburgh for kids. The museum has an extraordinary collection of dinosaur fossils. It's one of the best collections in the United States.
The permanent collection explores every facet of the natural world. You'll see dinosaur skeletons, minerals, Egyptian artifacts, and sea creatures.
The premiere exhibit is the Diplodocus Carnegie. A bone digging crew financed by Carnegie dug the 84 foot skeleton out of the dirt in southwestern Wyoming.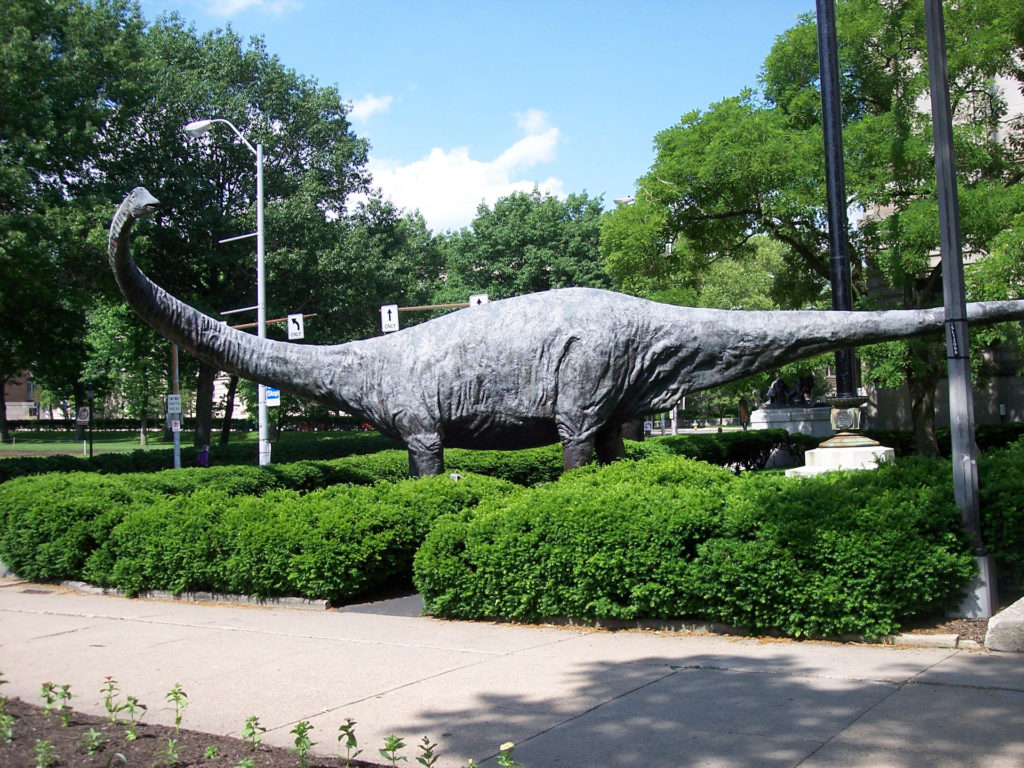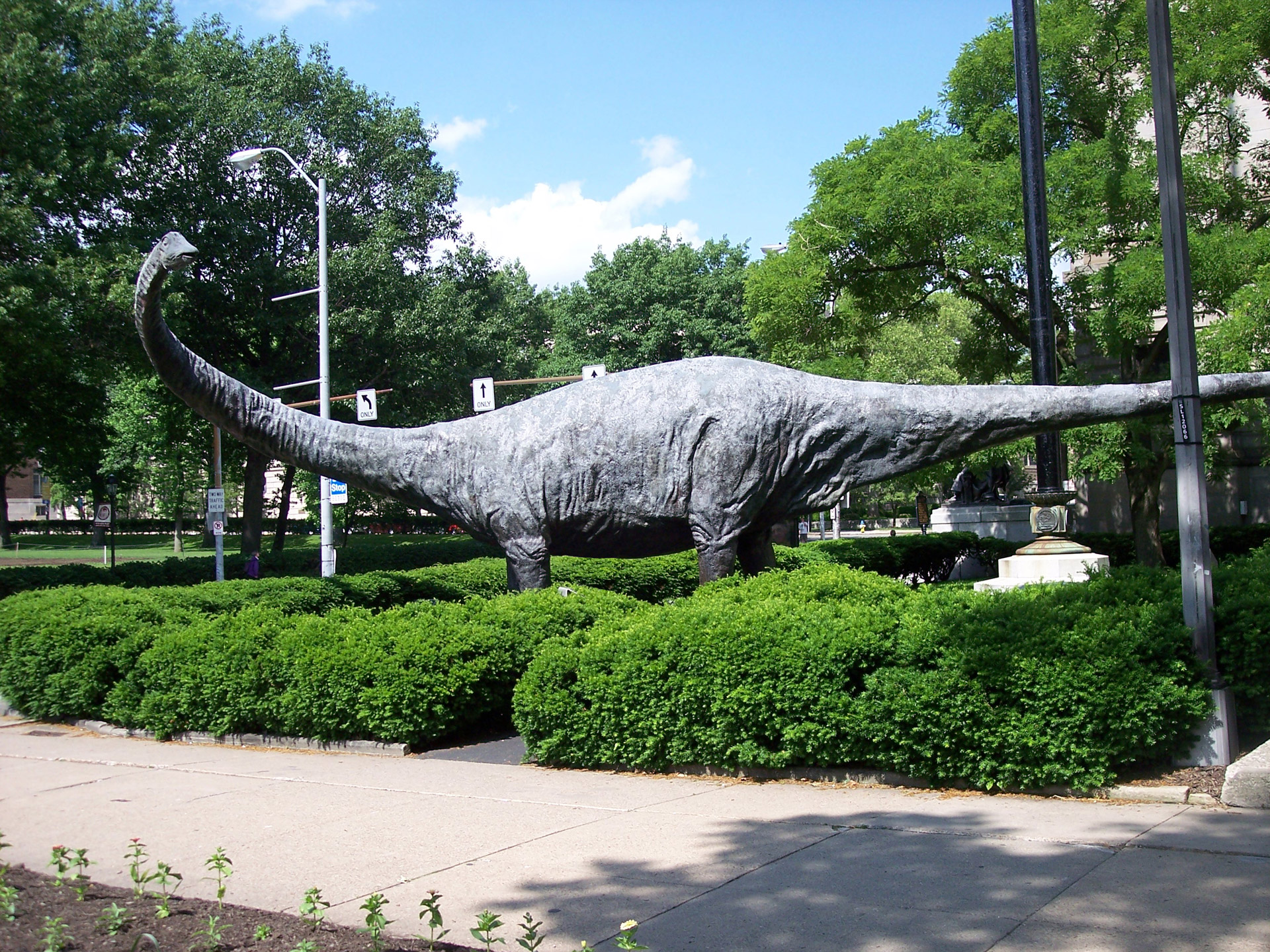 The sauropod is nicknamed "Dippy." The life size dinosaur sculpture in front of the museum captures Dippy as he would have looked in real life.
There are also exhibits that explore the flora and fauna of Pennsylvania and the United States.
The Museum of Natural History is housed in the same building as the Carnegie Museum of Art. There are two cafes onsite. One is quite chic. You can also lounge in the museum's lovely sculpture garden.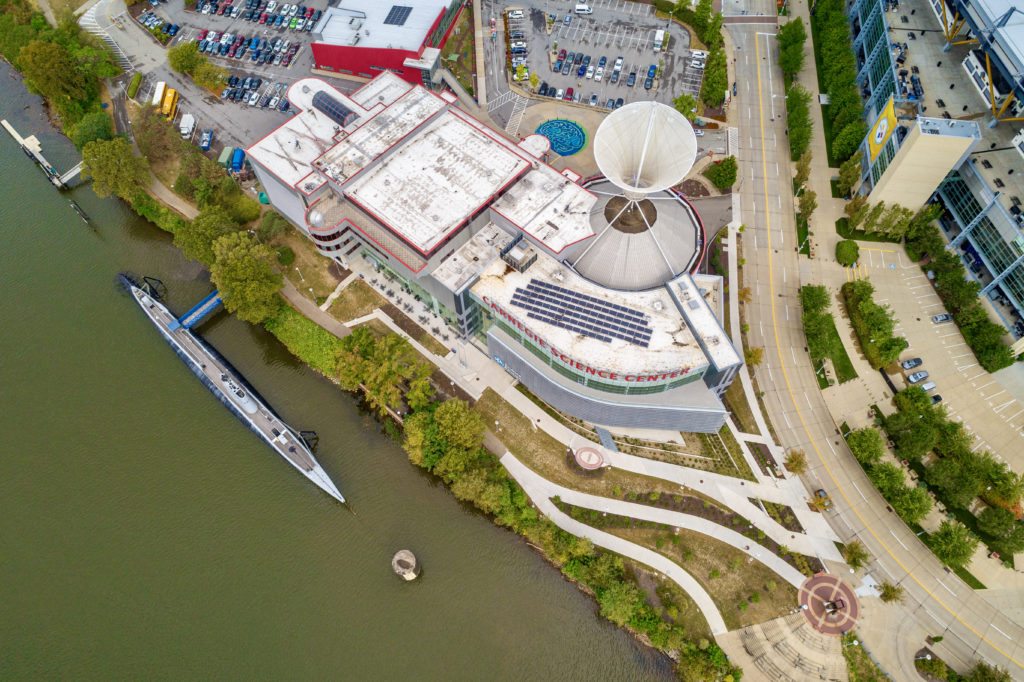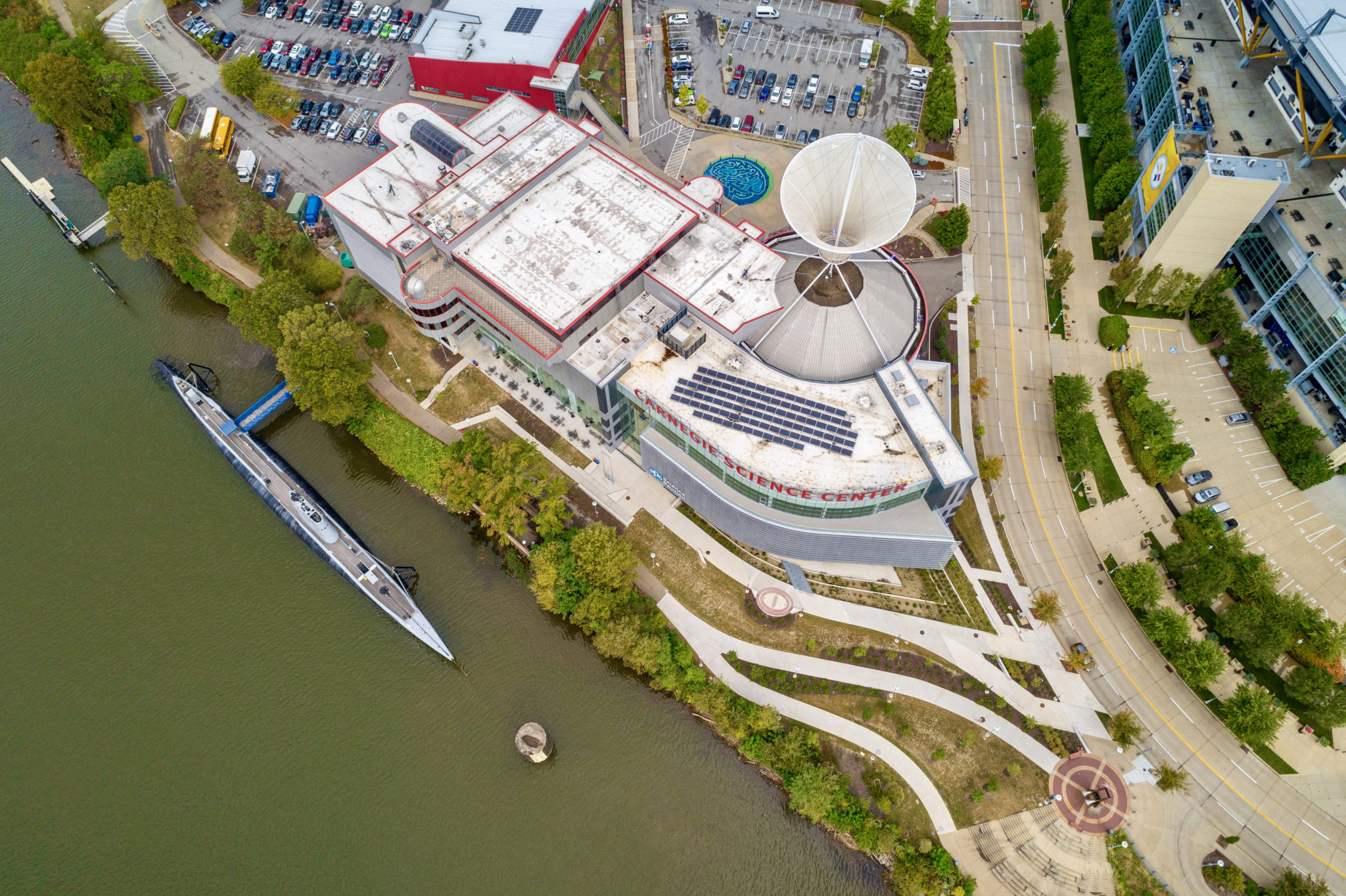 3. Carnegie Science Center
The Carnegie Science Center is one of the best things to do in Pittsburgh for families.
Spread over four floors, the museum has hundreds of interactive exhibits. They explain everything from natural science, to artificial intelligence, to scientific principles, to human anatomy.
Aside from the displays, you can visit a submarine, the Blue Planetarium, the OmniMax Theater, and the sports center. At the later, you can zip line, rock climb, or take a virtual roller coaster ride.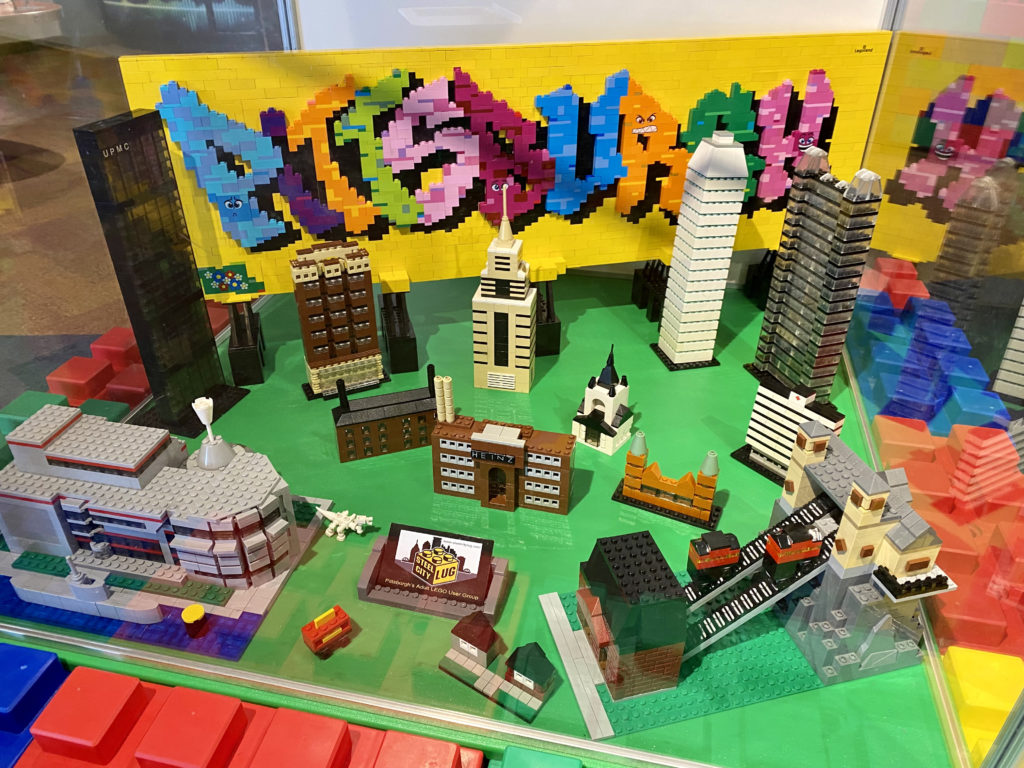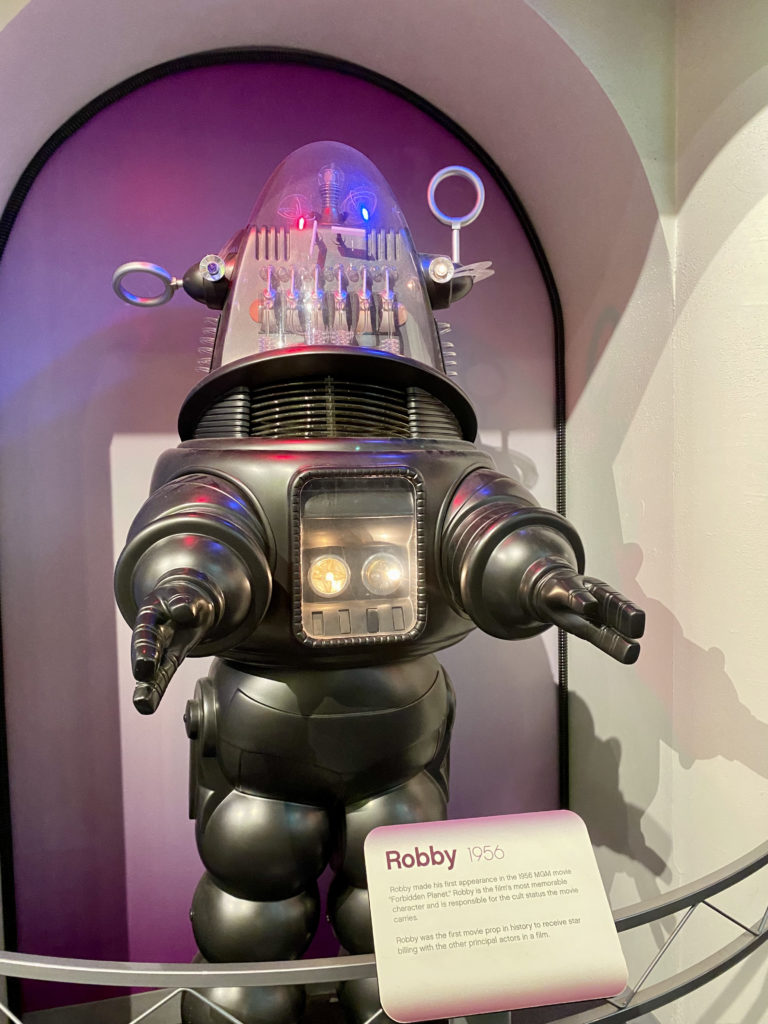 One thing to keep in mind when you purchase your ticket is that there are separate charges for certain attractions. For example, a visit to the submarine is included in your ticket.
But you still have to book a time slot when you check in. Or, you'll have to wait in line.
The planetarium and OmniMax are also separate charges. Check the schedule to see what's playing every half hour to hour. Tailor your visit around those time slots.
4. Andy Warhol Museum
The Warhol Museum is my favorite museum in Pittsburgh. It's a fabulous single artist museum that celebrates Pittsburgh's hippest native son, Andy Warhol.
As the Prince of Pop, Warhol made himself a world famous artist. Warhol was a true iconoclast and performance artist. He was a hugely significant artist of the second half of the 20th century.
Warhol challenged traditional norms of what constituted art. He cannily merged superficial commerce and fine art.
Warhol was unashamedly obsessed with beauty and fame, how they were linked, and how to capture the duo in a shocking way.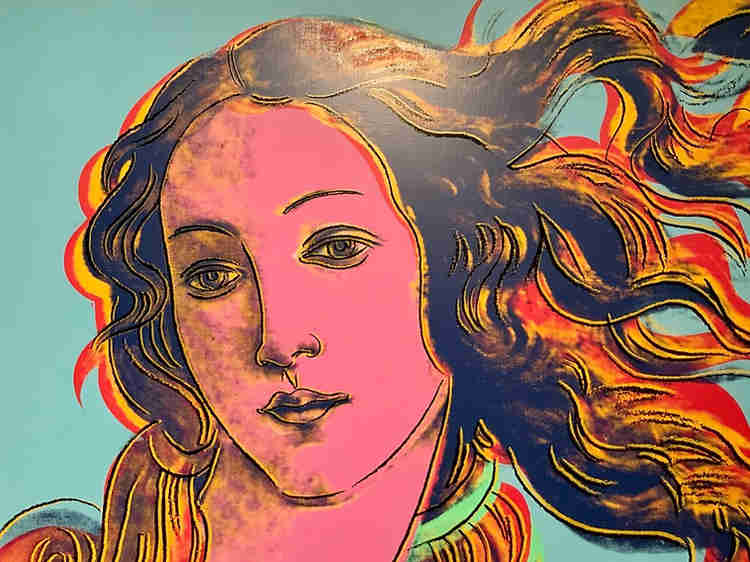 Pittsburgh's Warhol museum is the only one of its kind in the United States. It's housed in a chic urban venue. It boasts a veritable treasure trove of Warhol art and archives.
Opened in 1994, the Warhol Museum is an immersive and well curated museum. If you're a Warholic, you may think you've fallen into a fancified version of the factory.
The museum has 7 floors, with the art work displayed in chronological order. Four of them showcase a decade of Warhol art per floor. You start from the top and work your way down. You can see the entire evolution of Warhol's oeuvre.
You'll see seminal works from the 1940s to Warhol's death in 1987, with explanations of Warhol's creative process. The museum also has a permanent room on the 4th floor for viewing Warho's films.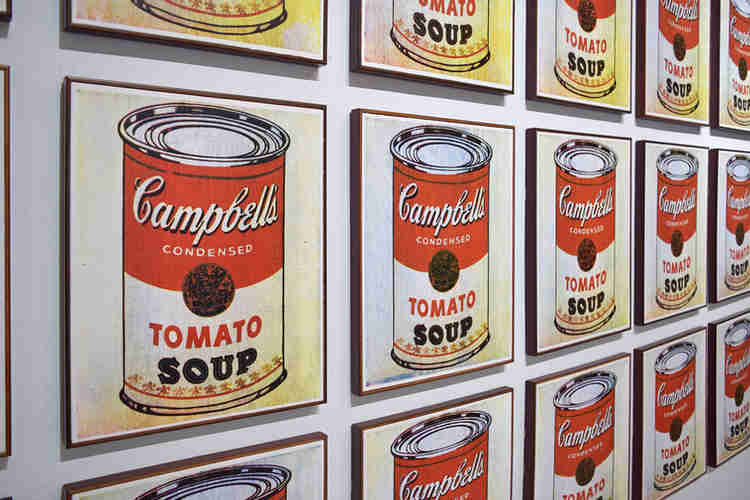 There's gallery after gallery of paintings, sculptures, photographs, drawings, and Warhol's personal knickknacks.
Some of the drawings are by Warhol's talented mother, Julia. The Warhol archives document his life with scrapbooks, newspaper articles, photographs, and Warhol's time capsules (with 300,000 of Warhol's possesions).
Click here for my complete guide to the Andy Warhol Museum in Pittsburgh.
For rabid Warhol fans, Warhol's grave is also in Pittsburgh in the suburb of Bethel Park.
It's an active shrine. People are constantly leaving soup cans, Coke bottles, and wigs. A local artist collects the notes people leave in languages from all over the world.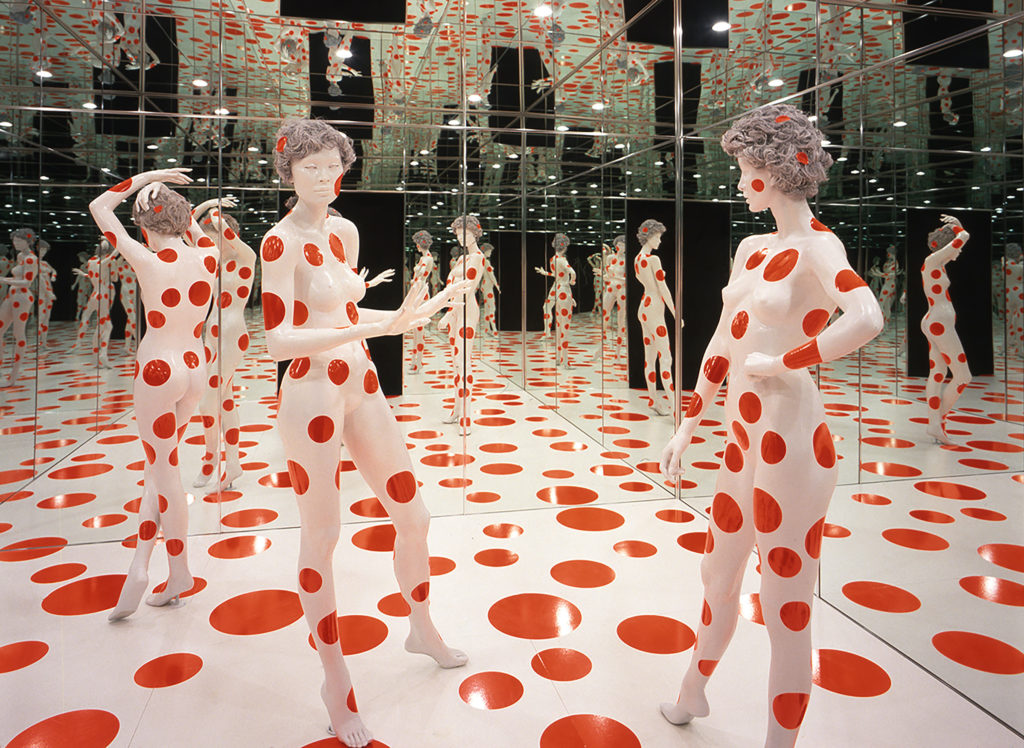 5. The Mattress Factory
The Mattress Factory is a unique museum. It's Pittsburgh's premiere alternative art space and an unusual thing to do in Pittsburgh.
The museum is housed in a former industrial building. It's become a mecca for wacked out installation art.
The Mattress Factory doesn't even call itself a museum. Instead, it uses the phrase "Laboratory."
The space provides an immersive experience, with engaging displays of modern and contemporary art. The museum aims to plunge you into "the creative vision of artists from around the world." There are both temporary and permanent installations.
The light-bending Infinity Room (shown above) is wildly popular. To see it, you'll need to don booties or socks because the floors need to be protected.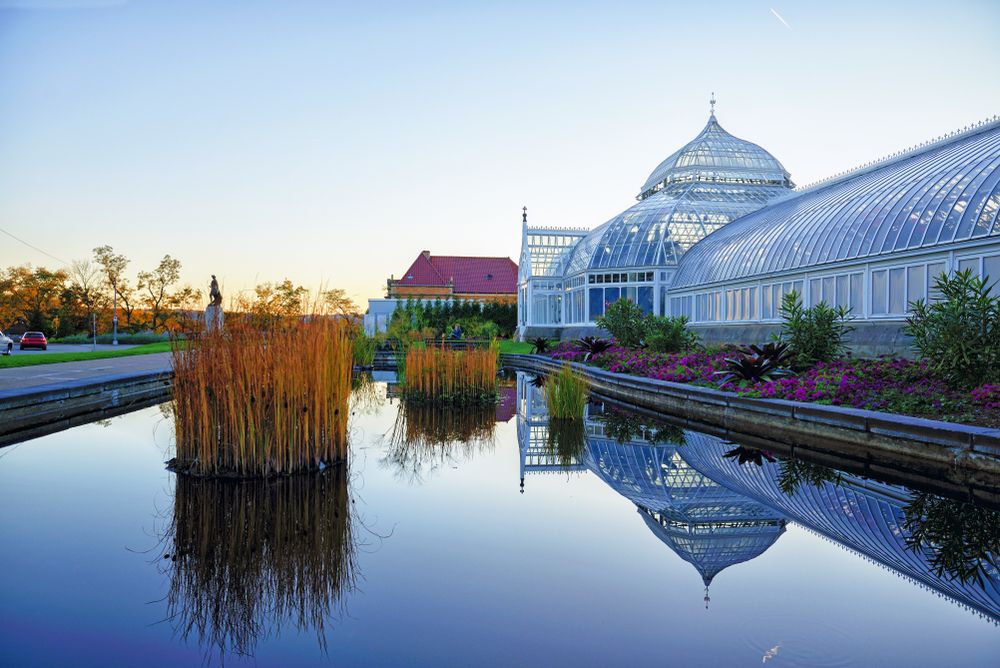 6. Phipps Conservatory and Botanical Gardens
Need some flower power? Set in beautiful Schenley Park, Phipps Conservatory is a beautiful and tranquil botanical garden. The glass, stone, and steel building is dubbed the "crystal palace."
Phipps is definitely one of Pittsburgh's most beautiful must visit attractions. The conservatory has staggeringly lush floral collections, glass art, and themed exhibits.
Phipps Conservatory is one of the few remaining public gardens that still produces full scale season flower shows year round.
The beautiful Outdoor Gardens are free to the public. Inside, the Victorian greenhouse has a wide ranging collection of 14 indoor gardens.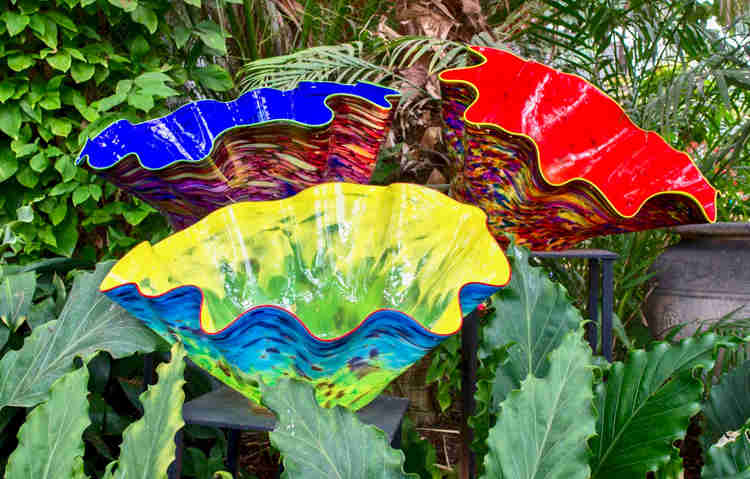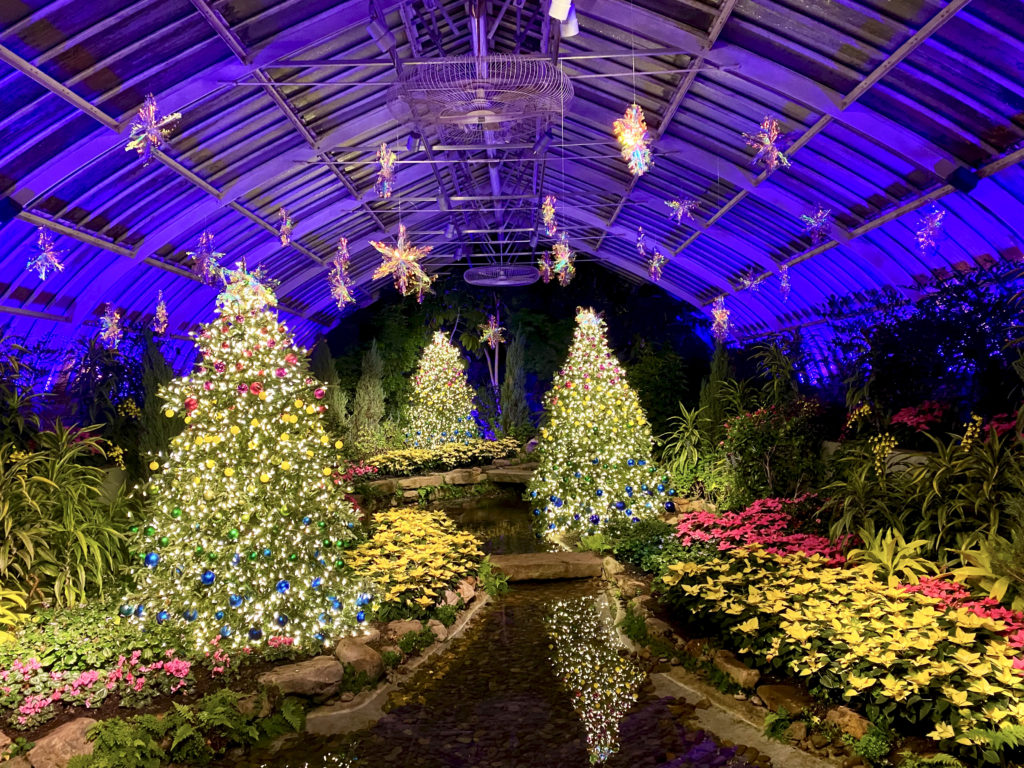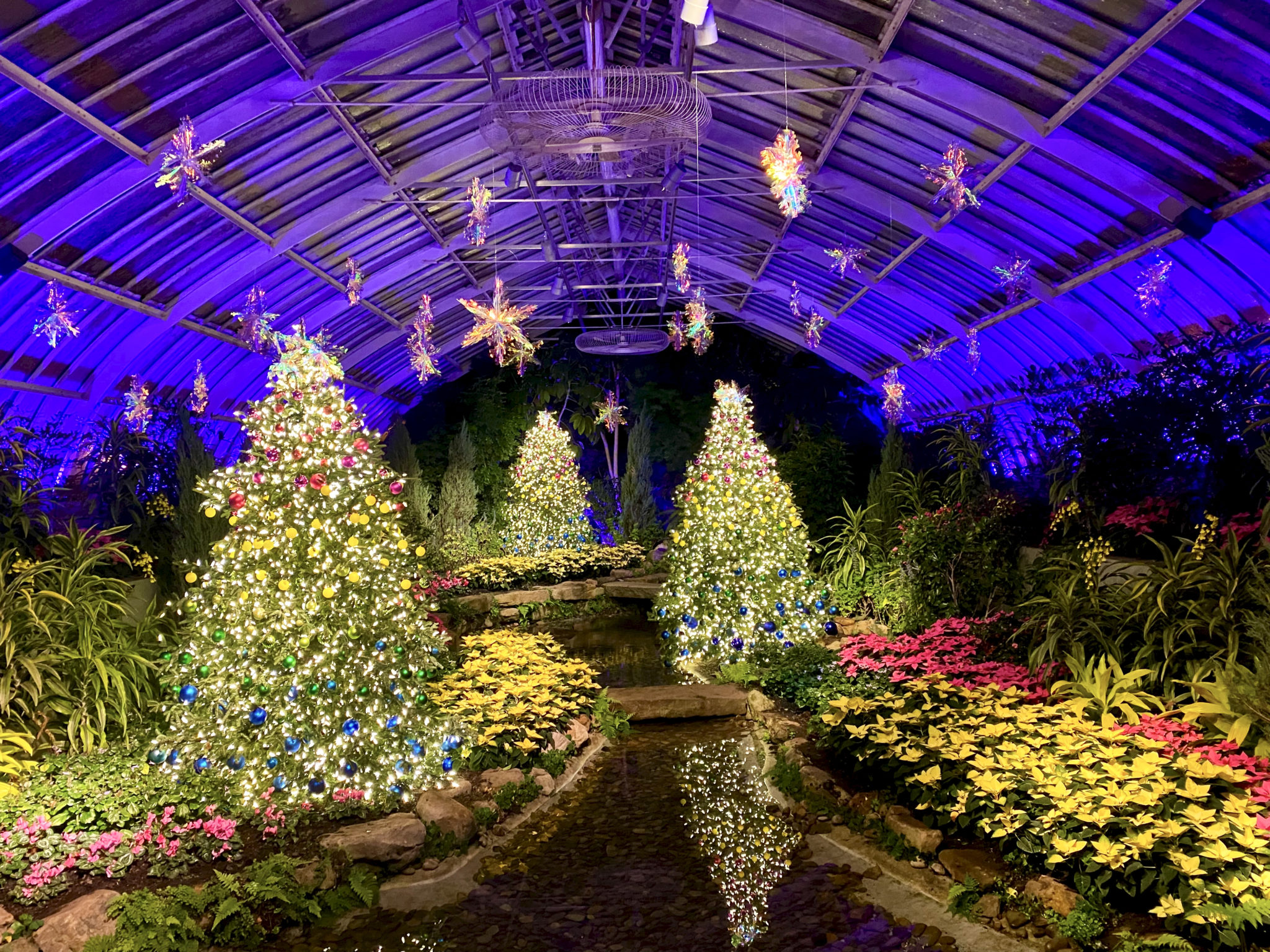 The well manicured exhibits range from rare miniature orchids to massive palm trees. There's astonishing attention to detail in each room.
In addition to the permanent displays, Phipps has temporary exhibits celebrating each season. This makes Phipps a great place for repeat visits.
Phipps is especially twinkly and beautiful during the winter holidays when it hosts its annual Winter Flower and Garden Light Show.
Phipps also has a beautiful collection of glass art from renowned Seattle glass artist Dale Chihuly.
Here's my complete guide to visiting Phipps Conservatory.
Address: 1 Schenley Park, Pittsburgh PA 15213
7. First Presbyterian Church
The beautiful First Presbyterian Church is in downtown Pittsburgh. It was built in 1773. There's still an active congregation.
The church's claim to fame is its Tiffany stained glass windows. Tiffany Studios designed 13 of the church's 26 foot x 7 foot stained glass windows (now insured for $2 million). The windows were hand-painted, making them unique among Tiffany windows.
The Tiffany windows, however, are just a few of the 253 stained and leaded glass windows throughout the sandstone church.
You'll also find two 80 foot ceiling beams and a pair of 2 ton, 30 foot oak doors in the sanctuary.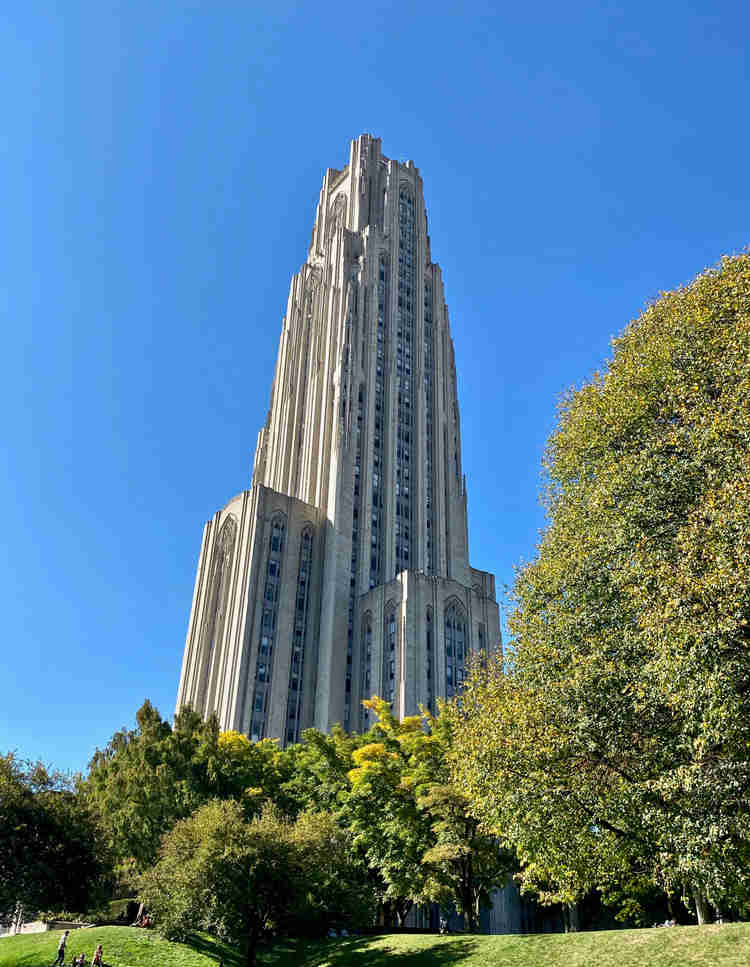 8. Cathedral of Learning
The Cathedral of Learning is one of Pittsburgh's most iconic landmarks. It was built in a Gothic Revival style. The exterior was polished up in 2007.
The Neo-Gothic cathedral is over 42 stories high. It's a lone skyscraper in the area that houses many of the University of Pittsburgh's classes. And, in fact, it's the second tallest university building in the world.
You enter into the stunning Commons Room. It's a beautiful church-like three story foyer. The cathedral houses classrooms, administrative offices, and libraries.
The best part of the cathedral is the Nationality Rooms. They are themed class rooms from different time periods around the world. Each room is decorated to honor a specific ethnicity that contributed to Pittsburgh's development.
You can't visit the classrooms when they're in use. It's best to visit on the weekend or during summer break. During the holidays, the rooms are dressed up in holiday finery.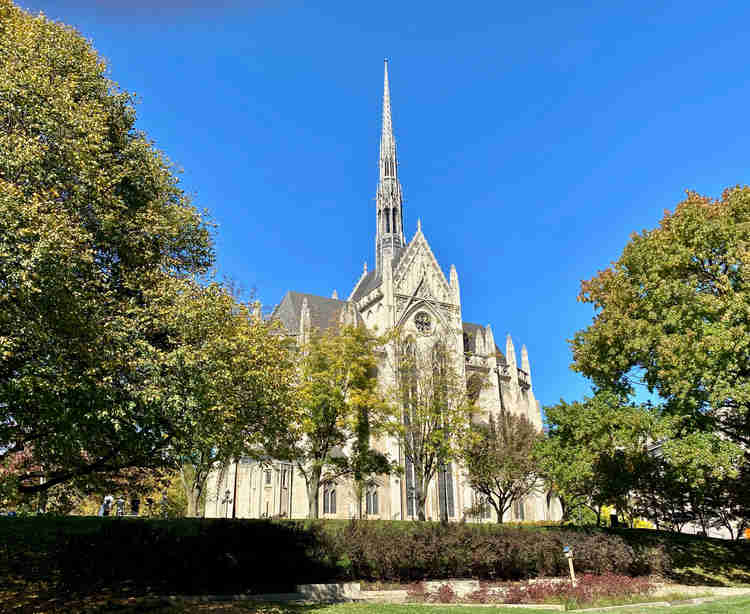 9. Heinz Memorial Chapel
Heinz Memorial Chapel is right next to the Cathedral of Learning. It's a tiny gem. But still one of the most striking churches in Pennsylvania.
The chapel was built between 1933-38. It's an impressive ode to the Flamboyant Gothic style from the Middle Ages.
The chapel was built with funds donated by Henry John Heinz, the founder of the H.J. Heinz Company.
The chapel honors Heinz and his mother, Anna Margaretta Heinz. Today, it is used by the University of Pittsburgh for a variety of functions, both university related and religious.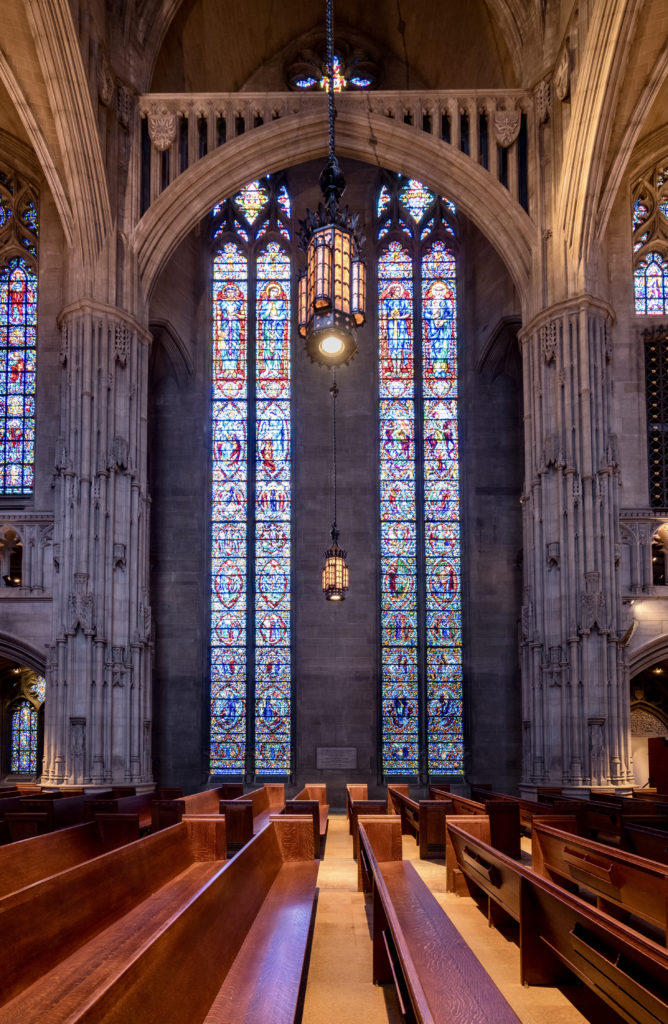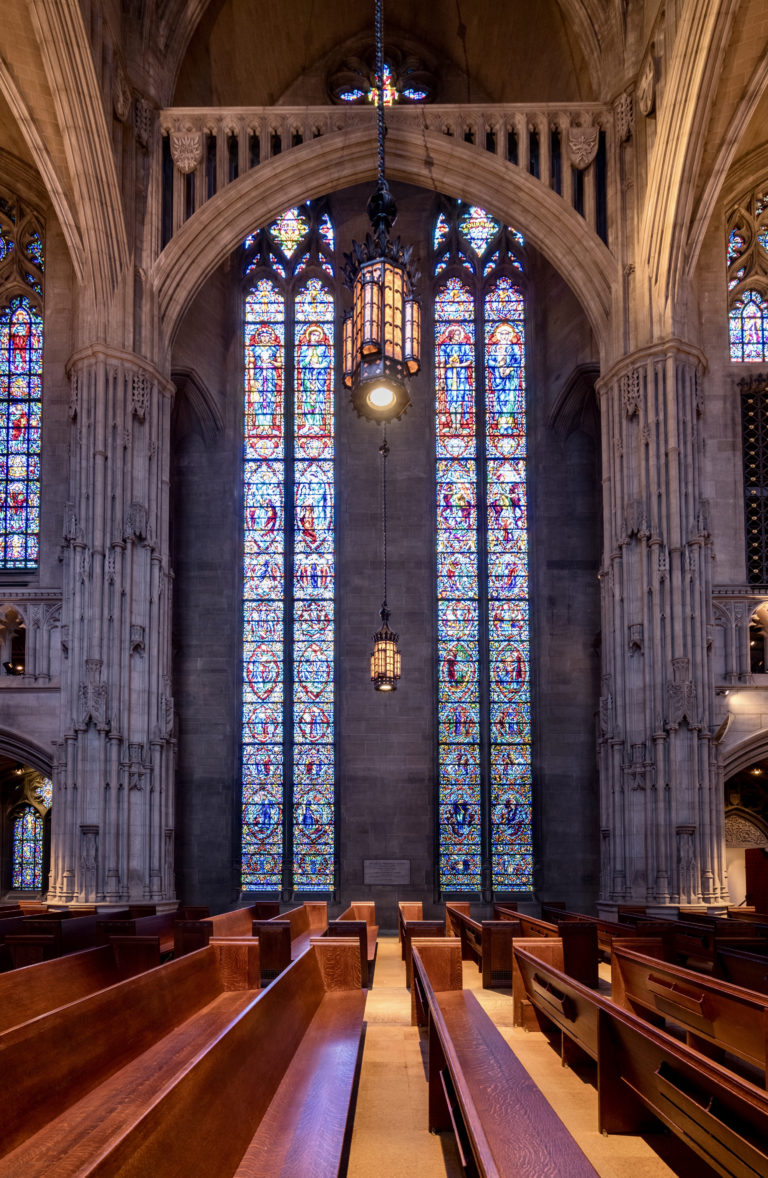 The chapel was designed by the same architect responsible for the Cathedral of Learning. Inside are some of the world's tallest stained glass windows. They're simply breathtaking, reminiscent of Sainte-Chapelle in Paris.
Because it's so beautiful, the chapel is a popular place for weddings.
The chapel is only open to the University of Pittsburgh community and not the general public. But you can book a small group tour by emailing the university.
Click here for a virtual tour of Heinz Chapel.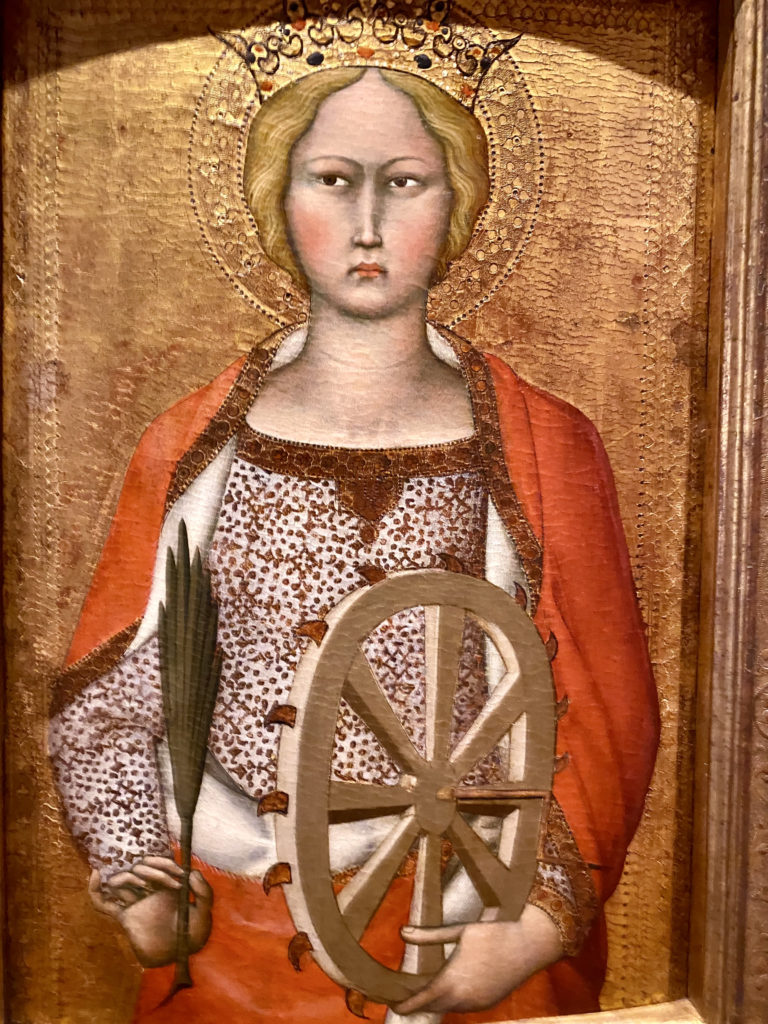 10. Frick Art & Historical Center
Another wonderful Pittsburgh attraction for art lovers is the Frick Pittsburgh. The Frick is a small free museum in the Point Breeze neighborhood.
It's housed in a lovely Italian Renaissance style building. The museum was built by Helen Clay Frick to house her fine and decorative art collection.
The museum houses a collection of old masters. There's a special emphasis on the early Renaissance and 18th century French painting. There are some masterpieces by luminaries such as Fragonard and Rubens.
There's an extremely rare painting by Cimabue, a proto-Renaissance painter from Florence called The Flagellation of Christ. And a sweet nativity scene attributed to the Master of the Scrovegni Chapel Presbytery.
The Frick also hosts some great temporary exhibitions. I recently went to one on Frieda Kahlo and the Victorian Radicals.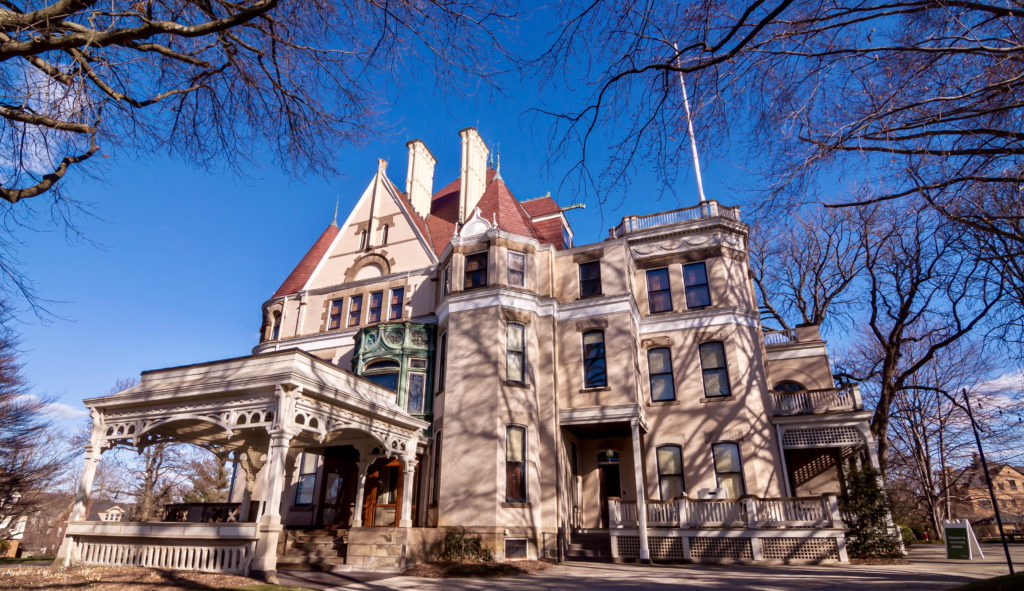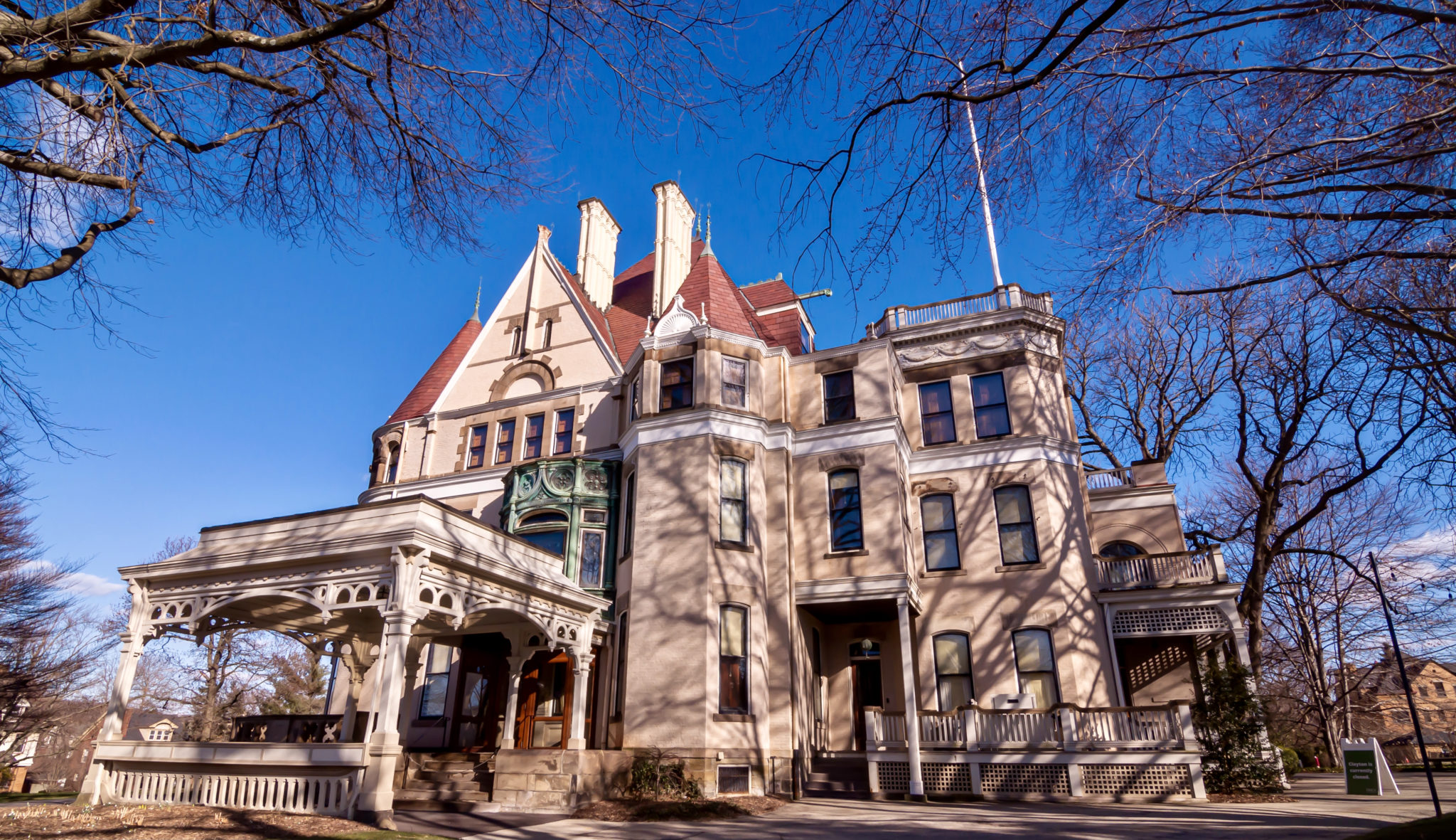 11. Clayton Mansion
Along with his swanky NYC digs, Henry Clay Frick had a place in Pittsburgh. It's an Italianate house called the Clayton Mansion. The house is on the corner of Penn and South Homewood avenues.
The Clayton House is not a grand Italian palazzo like you might find in Venice. But presidents have been entertained in this house-museum.
The museum consists of 23 meticulously restored rooms. There are more than 90% of the original period furnishings.
The only way to visit the museum is via a docent led tour. To take a virtual tour of the Frick, click here. The Clayton House is currently closed for further restoration.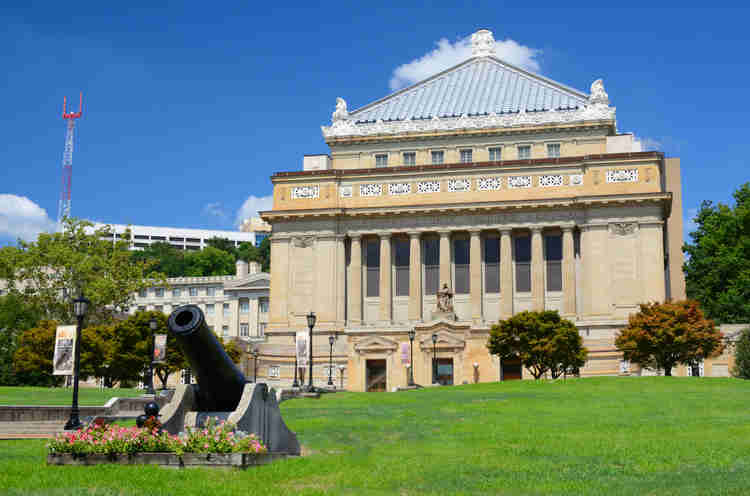 12. Soldiers & Sailors Memorial Hall
Soldiers & Sailors is a museum in Oakland. Opened in 1910, it was originally a tribute to local Civil War veterans.
The museum has since broadened its scope to include everyone who has served in the US military.
There are four exhibit-filled galleries. The Slave to Soldier exhibit in the Gettysburg Room is a highlight. It explores the experiences of African Americans in the military.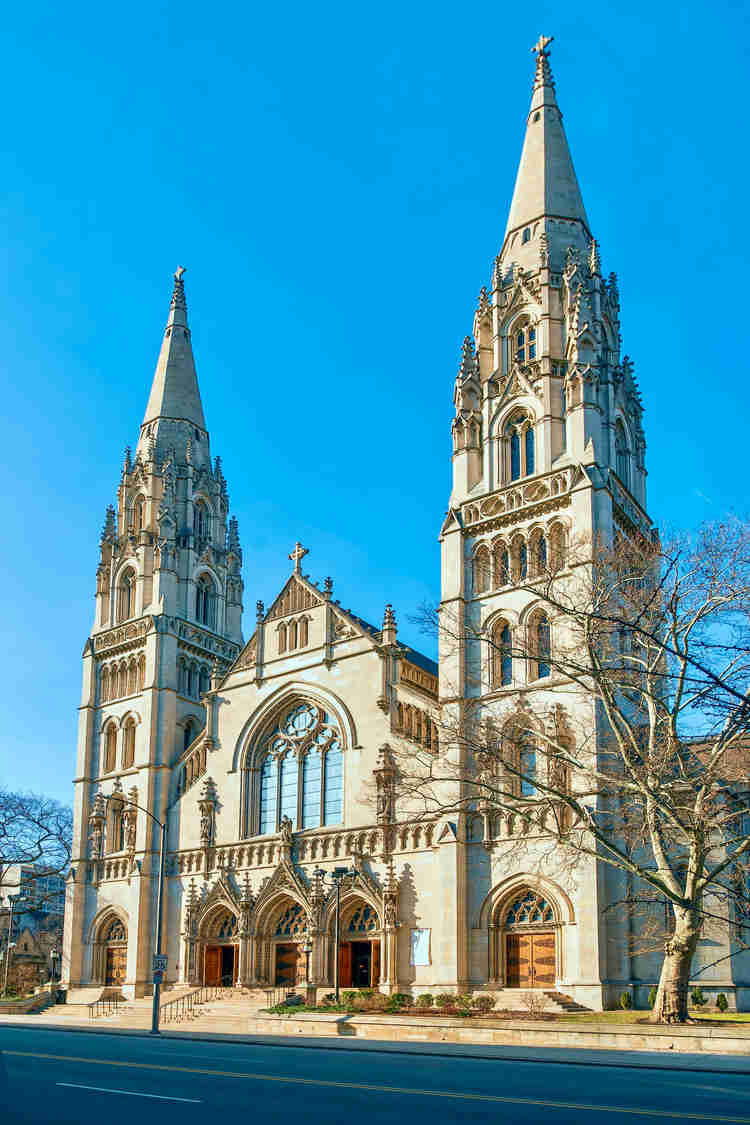 13. Saint Paul Cathedral
St. Paul Cathedral was established in 1834. It's the principle Catholic church in Pittsburgh, home to over 600,000 Catholics. St. Paul is one of Pittsburgh's architectural landmarks.
The pile of a church is located on Fifth Avenue between the University of Pittsburgh and Carnegie Mellon University. It's a popular wedding venue.
The limestone cathedral was built over 3 years, completed in 1906. St. Paul's was built in a Gothic Revival style. It has a frilly triple portal like you would find in a cathedral in France.
Inside, there are 186 stained glass windows, double side aisles, and vaulted arches. The cathedral underwent an $8 million restoration in 2005.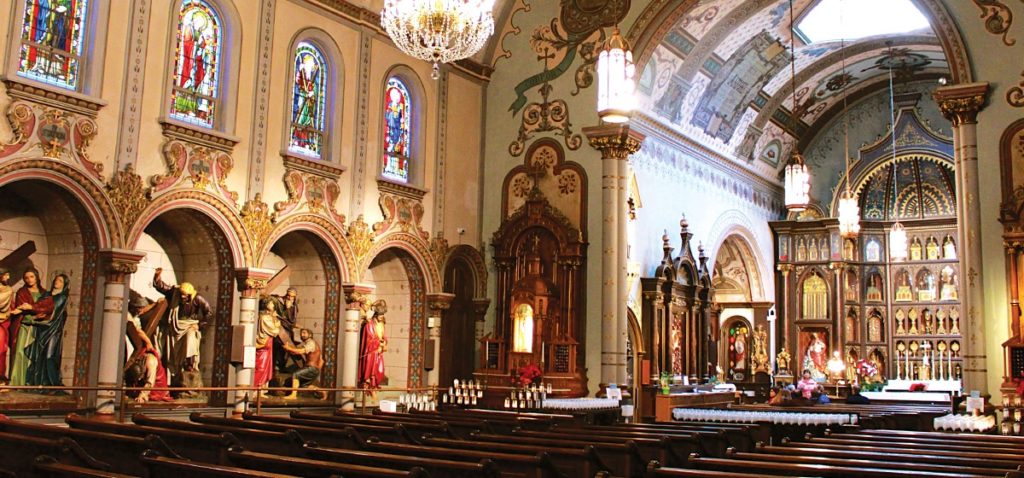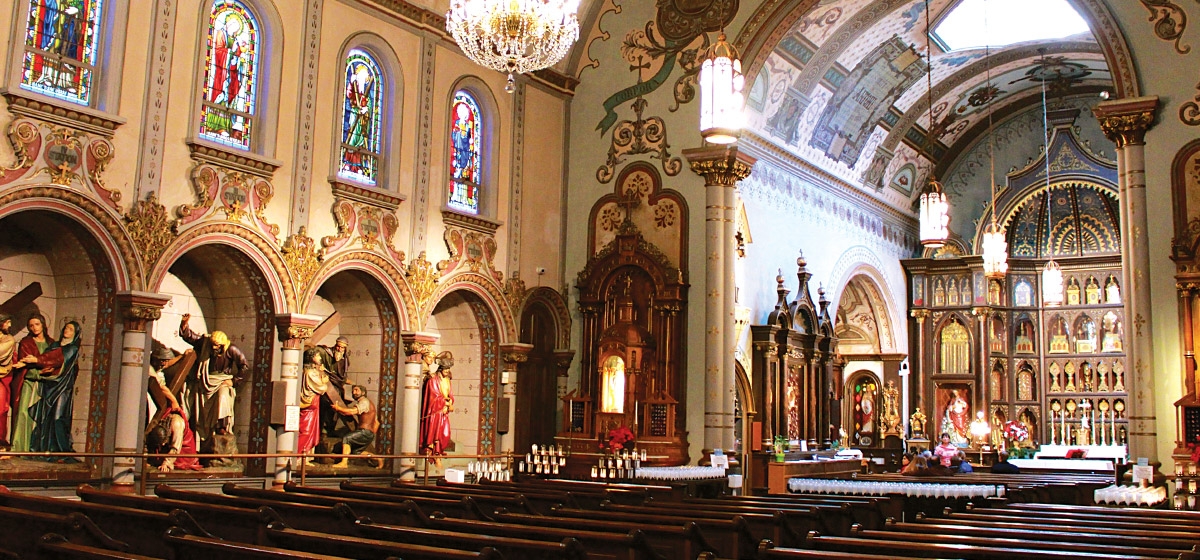 14. Saint Anthony Chapel
Saint Anthony Chapel holds the world's most extensive collection of publicly revered Christian relics outside the Vatican Museums.
The fantastic collection is displayed in handcrafted solid walnut reliquaries, arranged in altars and side areas.
The chapel has been designated by the Pittsburgh culture and foundation of monuments as a historic site. Except for Friday, visitors to Saint Anthony's may take a one hour guided tour of the chapel each day.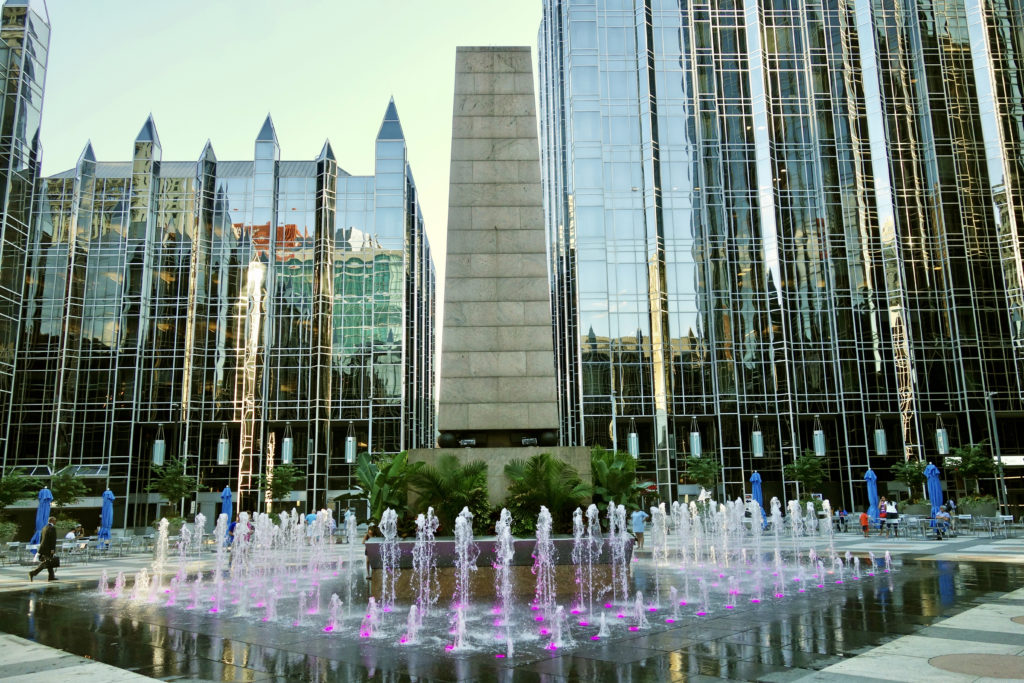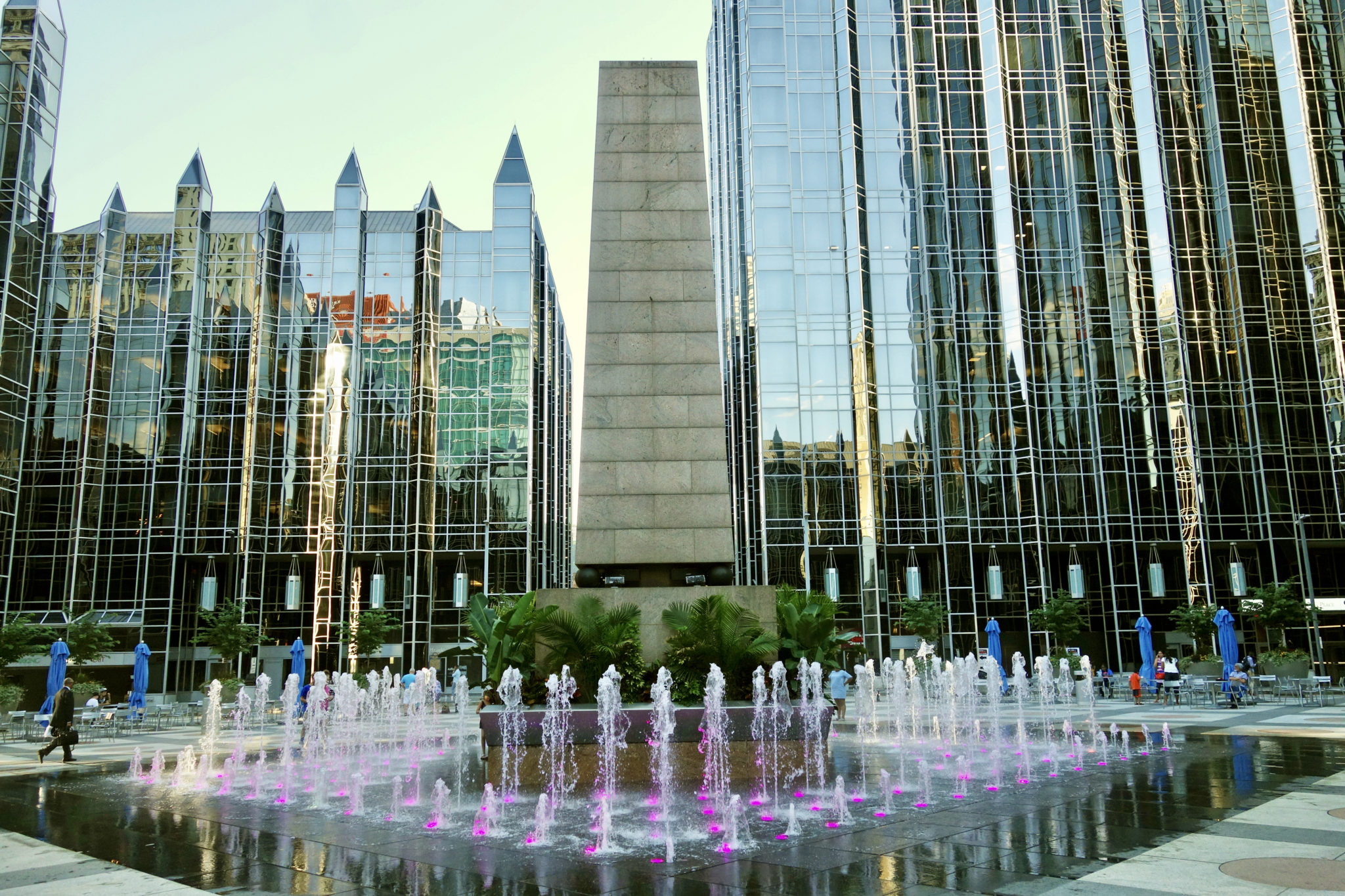 15. PPG Place
The PPG Place Plaza is a one acre space in downtown Pittsburgh. It's a year round attraction that's akin to a mini Rockefeller Center.
The plaza is home to the PPG Building, the most interesting modern architecture in Pittsburgh. The beautiful Modern meets Gothic building is a veritable castle of shimmering glass.
During the winter months, there's an ice rink during the winter months. The plaza is decked out for the holidays.
In summer, there's a unique water fountain. Water pulses from the surface up to a height of over fifteen feet, with no barrier between the fountain and the rest of the plaza. The water disappears into the plaza surface and is recycled.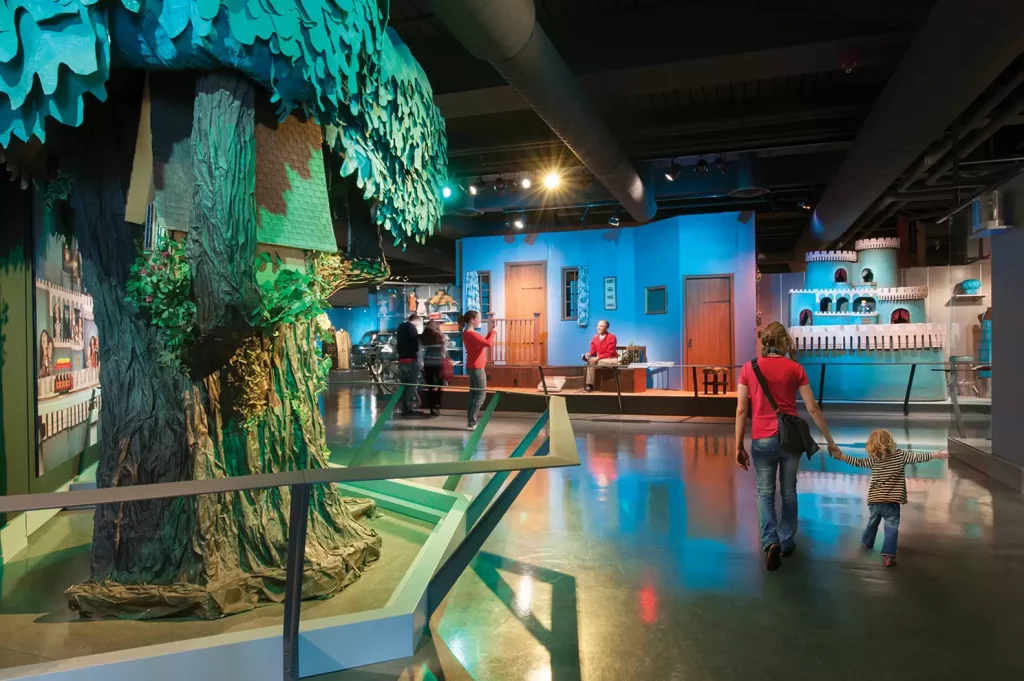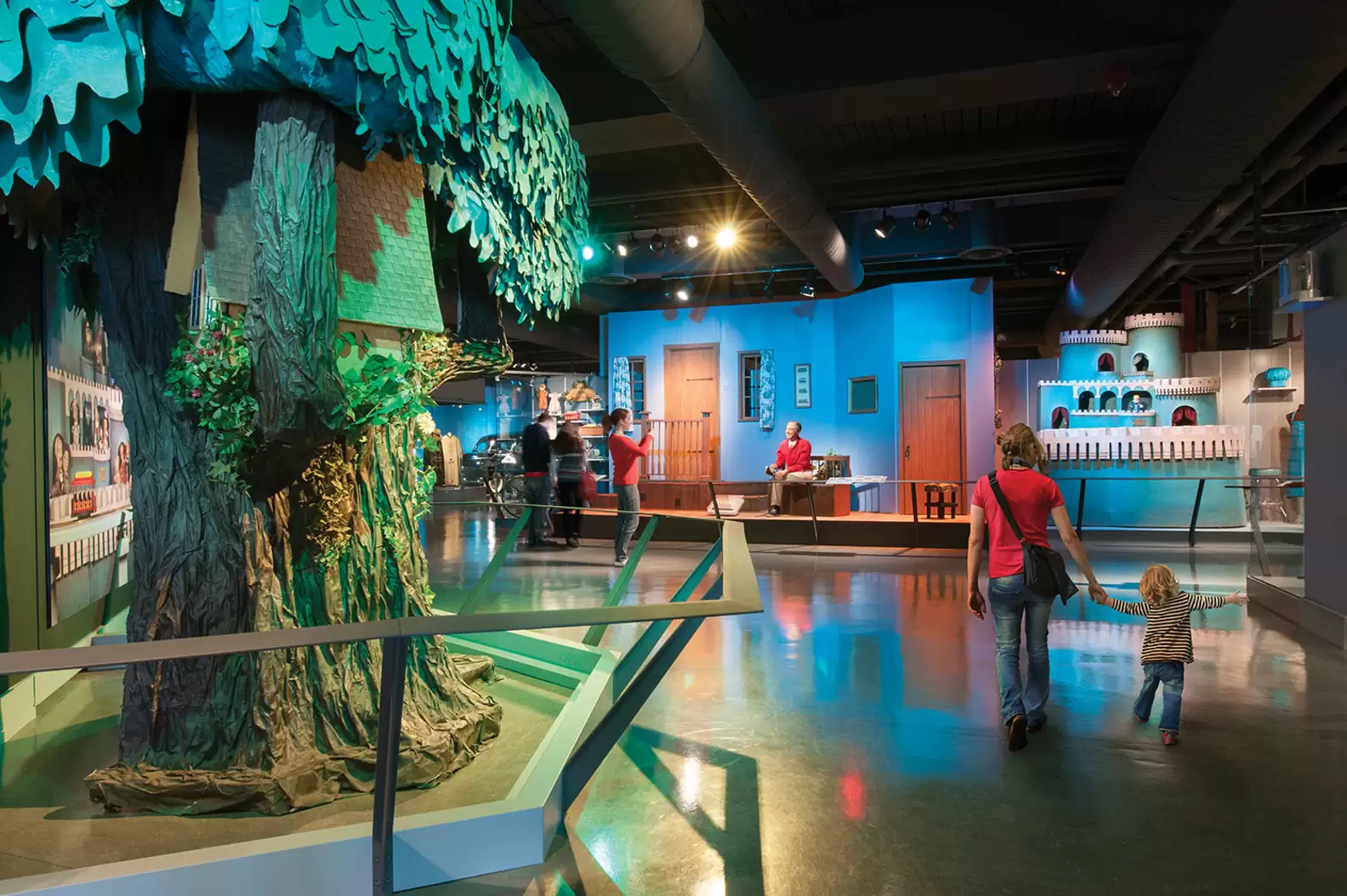 16. Senator John Heinz History Center
The John Heinz History Center is housed in a former icehouse in the Strip District. The history museum is dedicated to telling Pittsburgh's history from the pre-revolutionary era to the present day.
The museum is packed with kid friendly exhibits. It houses the original set from the TV show Mister Rogers' Neighborhood.
Another permanent exhibit is dedicated to the H.J. Heinz Company. It shows the company's evolution from a horseradish manufacturer to one of the world's largest food and beverage companies.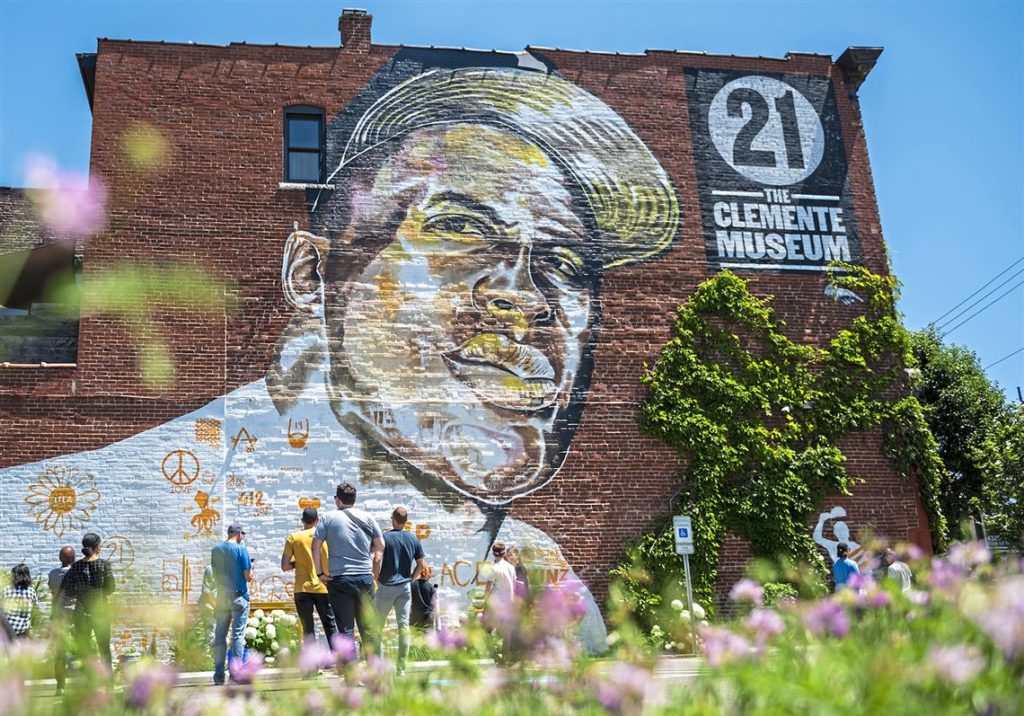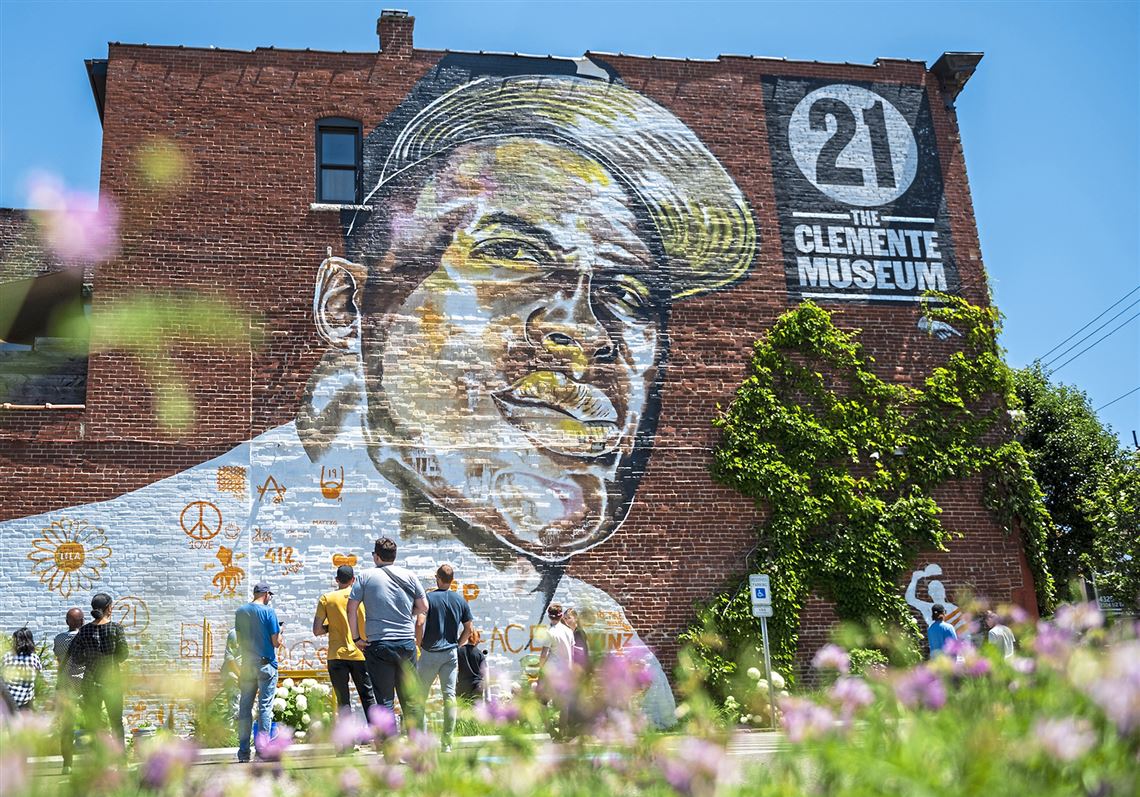 17. Roberto Clemente Museum
I don't know about my readers. But, in my life, I've been a rabid baseball fan. I spent years in fantasy baseball leagues.
During that time, I had a mad crush on Roberto Clemente. Roberto is Pittsburgh's favorite baseball player.
Deservedly, Clemente has his own museum. The Roberto Clemente Museum showcases the world's largest exhibited collection of baseball artifacts. Naturally, there's a focus on the great right fielder.
Clemente came to the Pirates in 1954. He was a great baseball player who was inducted into the Baseball Hall of Fame. But his story goes beyond his vaunted stats.
Clemente was a humanitarian. He lost his life en route to help earthquake victims in Nicaragua.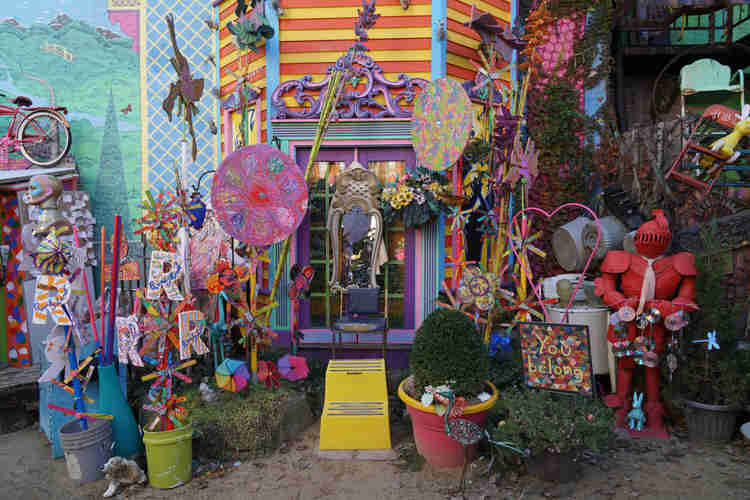 18. Randyland
This quirky Pittsburgh neighborhood is a psychedelic street art dream. Randyland is a recycled art kingdom. It's a child-like world created by local artist and neighborhood renovator Randy Gilson.
It's one of the most flamboyant — and free — spectacles in Pittsburgh. Gilson called it his "house of junk and joy."
Essentially, every square inch of Gilson's candy colored building is brightly painted and decorated with found objects — flamingos, mannequins, lawn furniture, banana plants, etc. The found object space functions as the home, garden, and artist space for Gilson and fellow creators.
But Randyland isn't just confined to Gilson's crazy house. Gilson has spread his artistic influence to all surrounding areas. Gilson's "streetscapes" have transformed vacant lots into anti-depressant public parks and community gardens.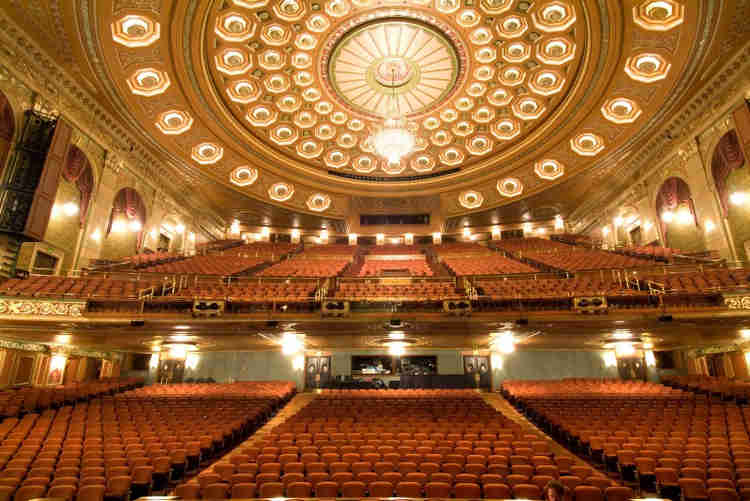 19. Benedum Center
The Benedum Center is your go to spot for Broadway shows or plays. It's the centerpiece of Pittsburgh's cultural district.
The Benedum Center was built in 1928. It was intended to be a "movie palace version of Versailles."
The theater seats almost 3,000 people. It's been perfectly restored.
The signature piece is the massive chandelier in the center of the theater. It's 10 feet high and 12 feet wide.
As befitting a Versailles-wannabe, the Grand Lobby is also a pretty sparkler. There's original marble and woodwork. The mirrors at the staircase landing are 18 feet high.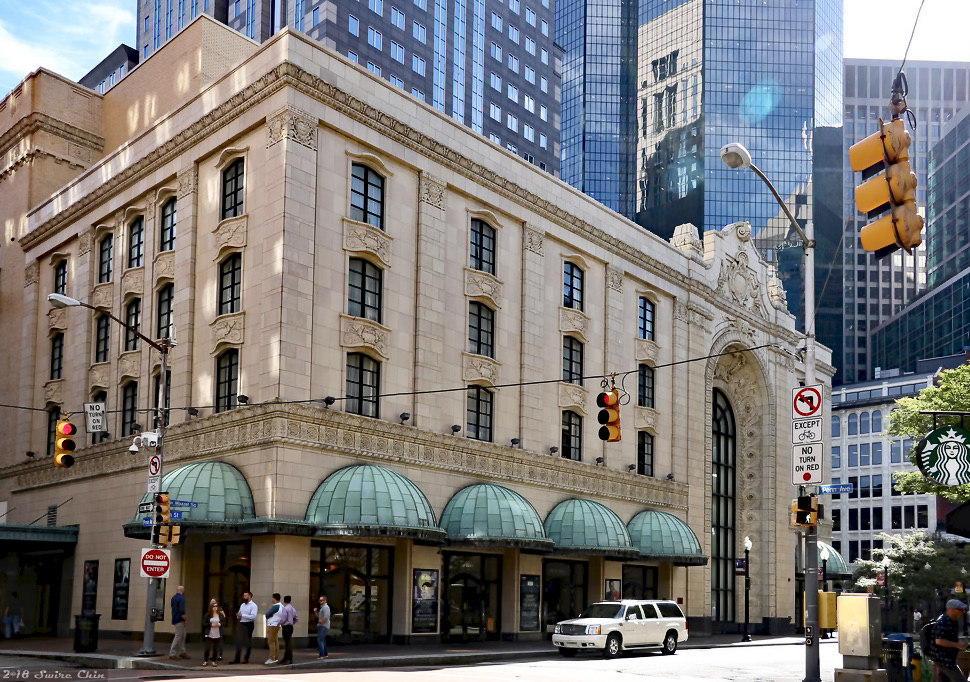 20. Heinz Hall
Heinz Hall is a stunning concert hall and showplace. The world class venue is home to the Pittsburgh Symphony Orchestra.
Like the Benedum Center, Heinz Hall is an architectural beauty.
Heinz Hall began life as a movie theater in 1927. Then, it was completely renovated and turned into performing arts venue in 1971.
Heinz Hall is designed and decorated in a French Court style. You'll see marble, crystal, chandeliers, and gold leaf detailing everywhere.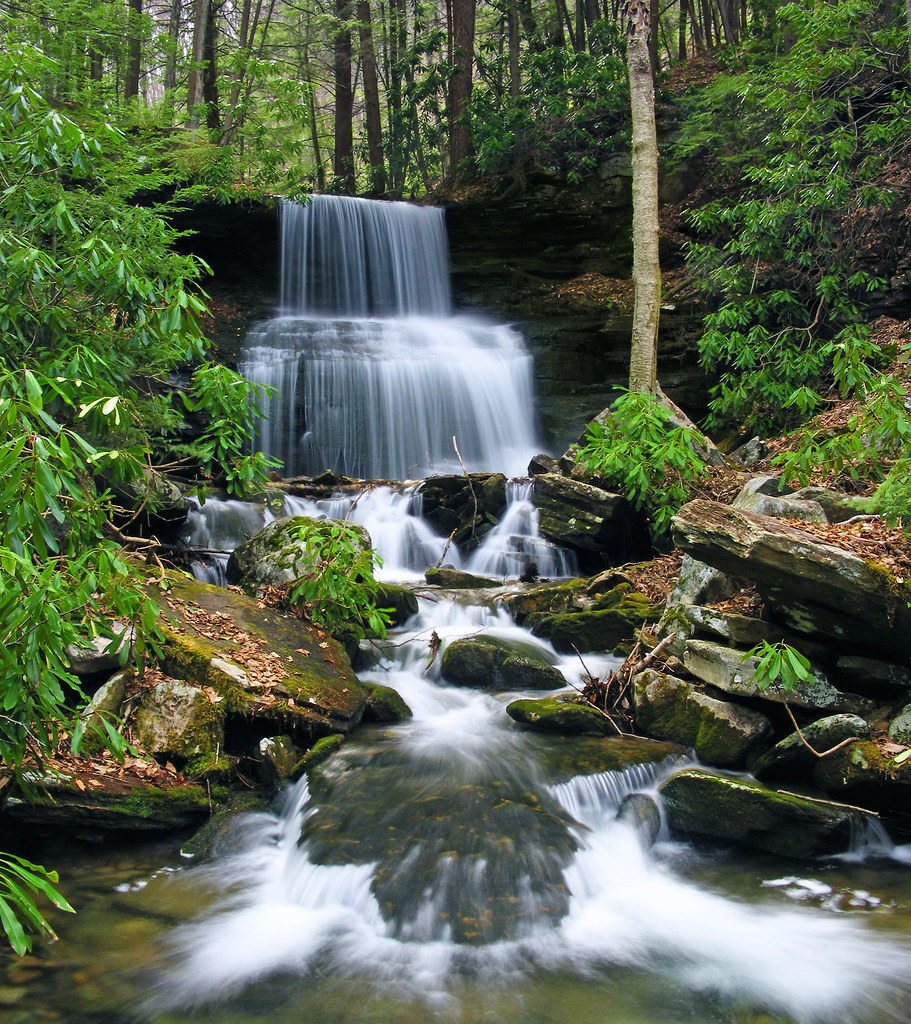 21. Hike in Fall Run Park
Fall Run Park is a beautiful park north of the city. It's an uncrowded hiking space.
The out and back trail is a mere one mile long. But the trail leads to a 25 foot drop waterfall.
The trail has been restored. Now, there are wide paths and bridges to help you along.
Not far from the park is the Aspinwall Riverfront Park. I've had some great food from a food truck there, Farmer X Baker.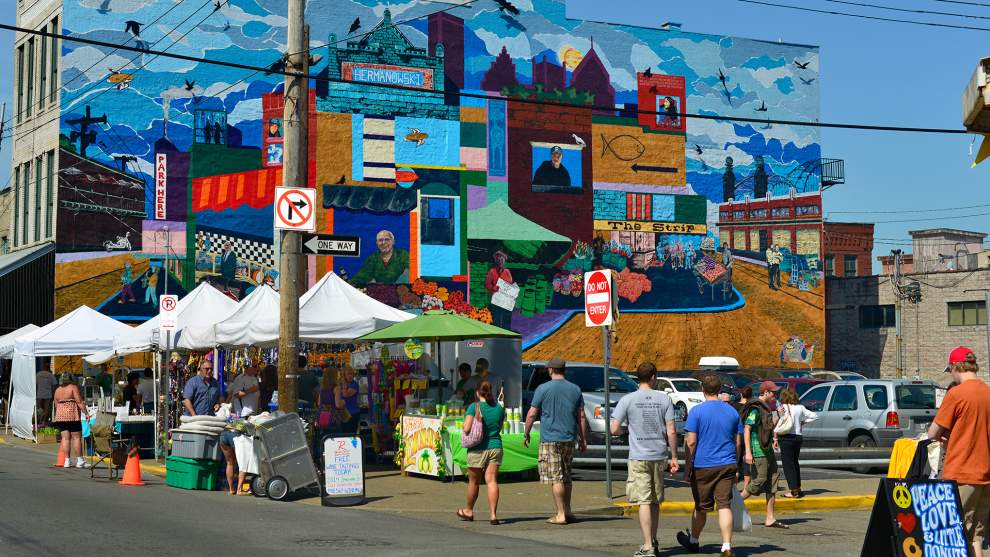 22. Wander in the Strip District
Just shy of the city center is the Strip District. It runs from 11th to 33rd street. The Strip is a must visit attraction in Pittsburgh.
The Strip District was historically a wholesale produce district. Today, it'a a quirky and treasured market and food spot.
You'll find meat purveyors, specialty shops, and popular bars and restaurants. You'll also find the odd antique or crafts shop.
The Strip District has some of the same vibes you'd expect in Shoreditch in London. The shops and restaurant are a ragtag assemblage strung down Small Street and Penn Avenue.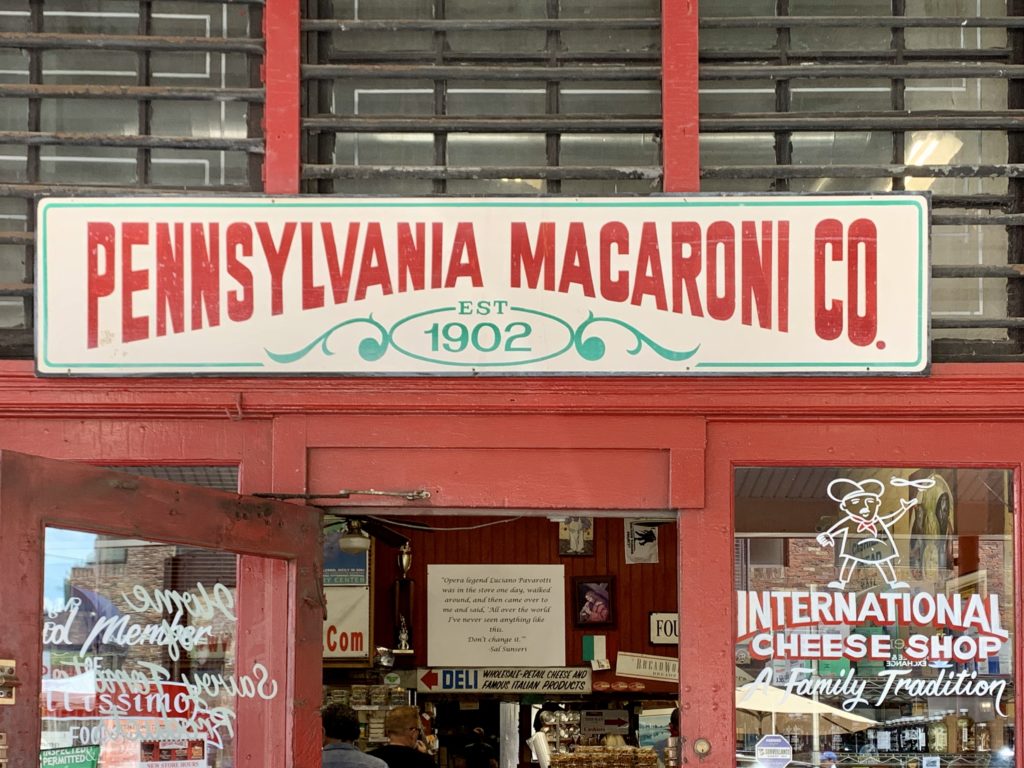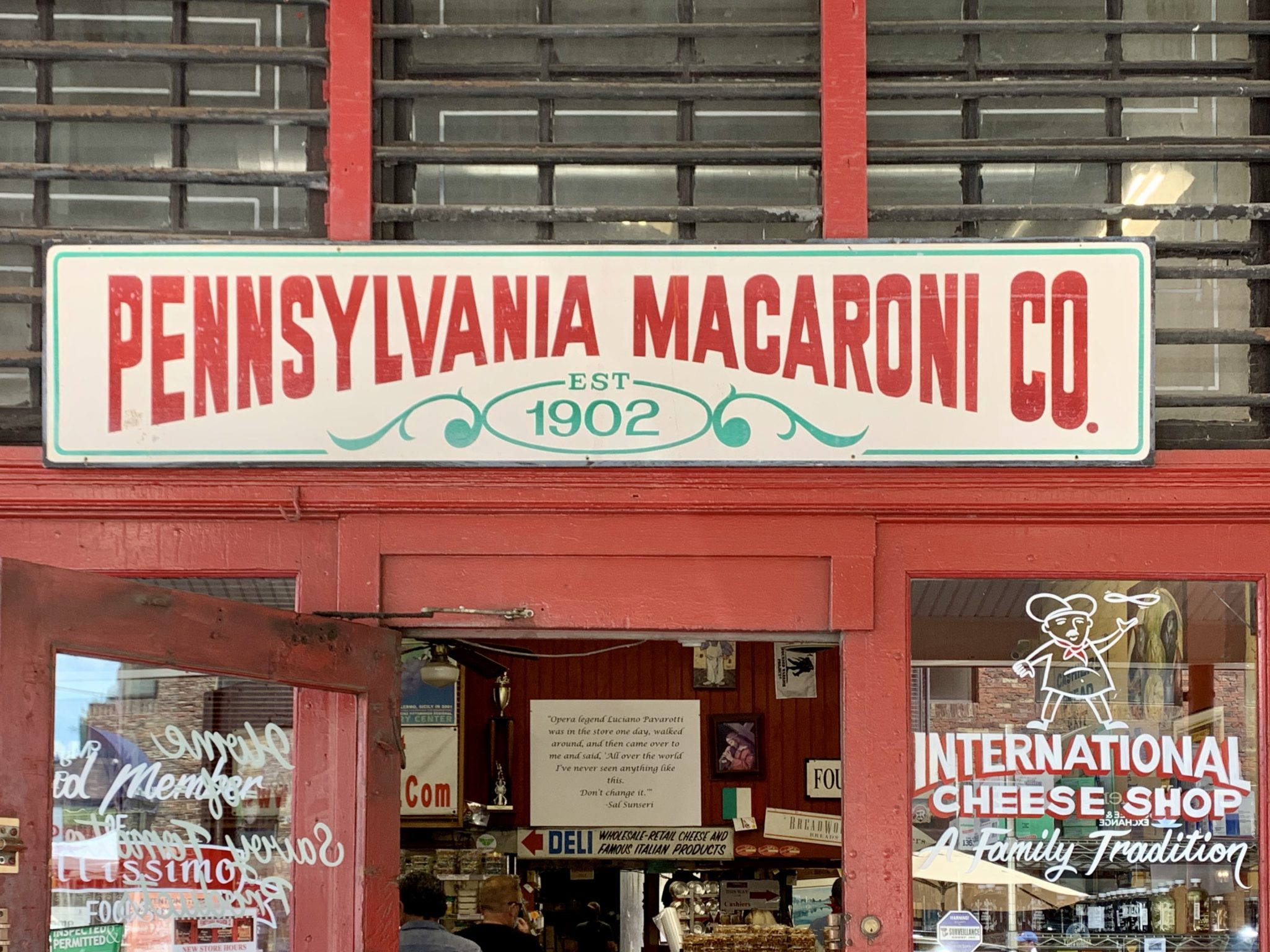 The Strip District is a great place to go grocery shopping, especially if you like Italian or specialty ethnic ingredients.
Pennsylvania Macaroni Company is practically an institution. It's a family run grocery with thousands of items, including a legendary selection of cheeses.
Enrico Biscotti Company is another good spot. If you have a sweet tooth, I love Peace, Love and Little Donuts.
Finally, for the best nightcaps, hop over to Bar Marco. It's one of the best places to go in Pittsburgh for cocktails.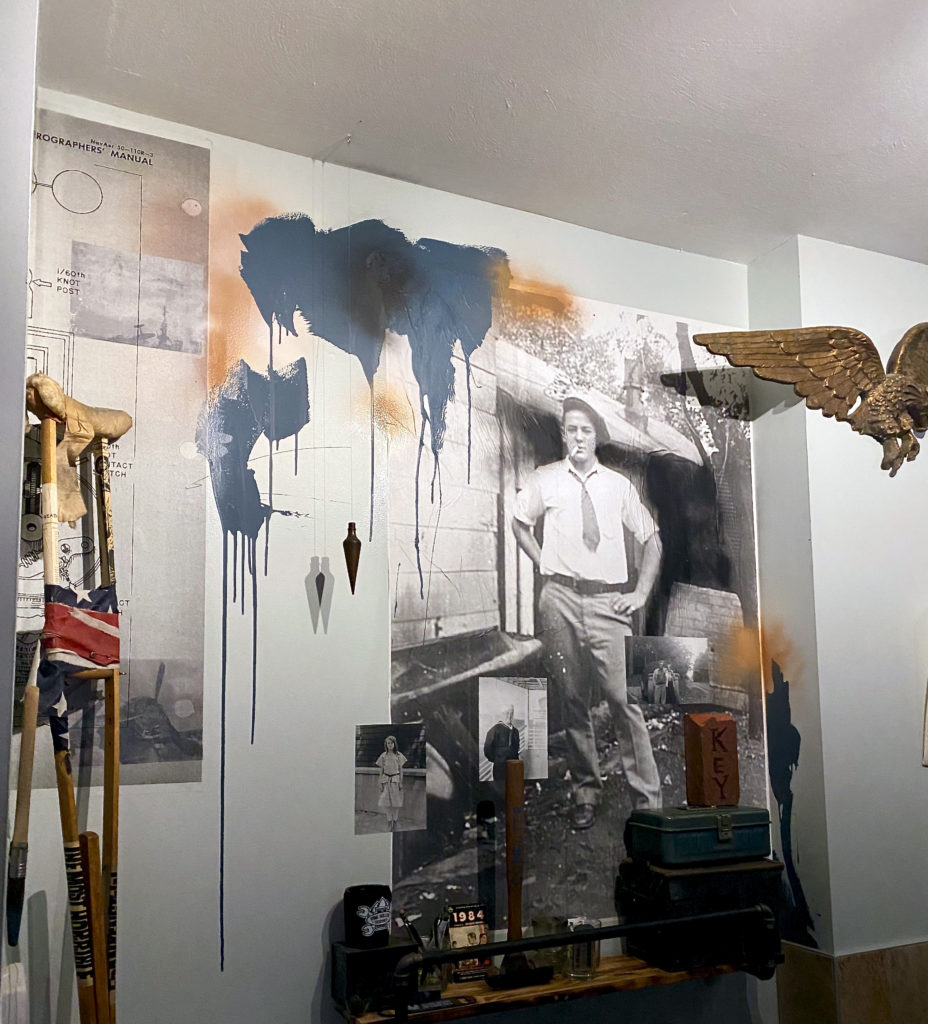 23. Explore Lawrenceville
Lawrence is a hipster mecca. It's a gentrifying area of Pittsburgh.
Whenever I go, there's something new. There's a constant arts-driven urban revitalization. That makes the neighborhood one of the best places to visit in Pittsburgh.
Lawrenceville is an eminently walkable neighborhood. The main drag is Butler Street. You'll find loads of vintage and one-of-a-kind shops, along with plenty of restaurants.
Lawrenceville is probably my favorite neighborhood to go for drinks and dinner, as you'll see in my restaurant listings below.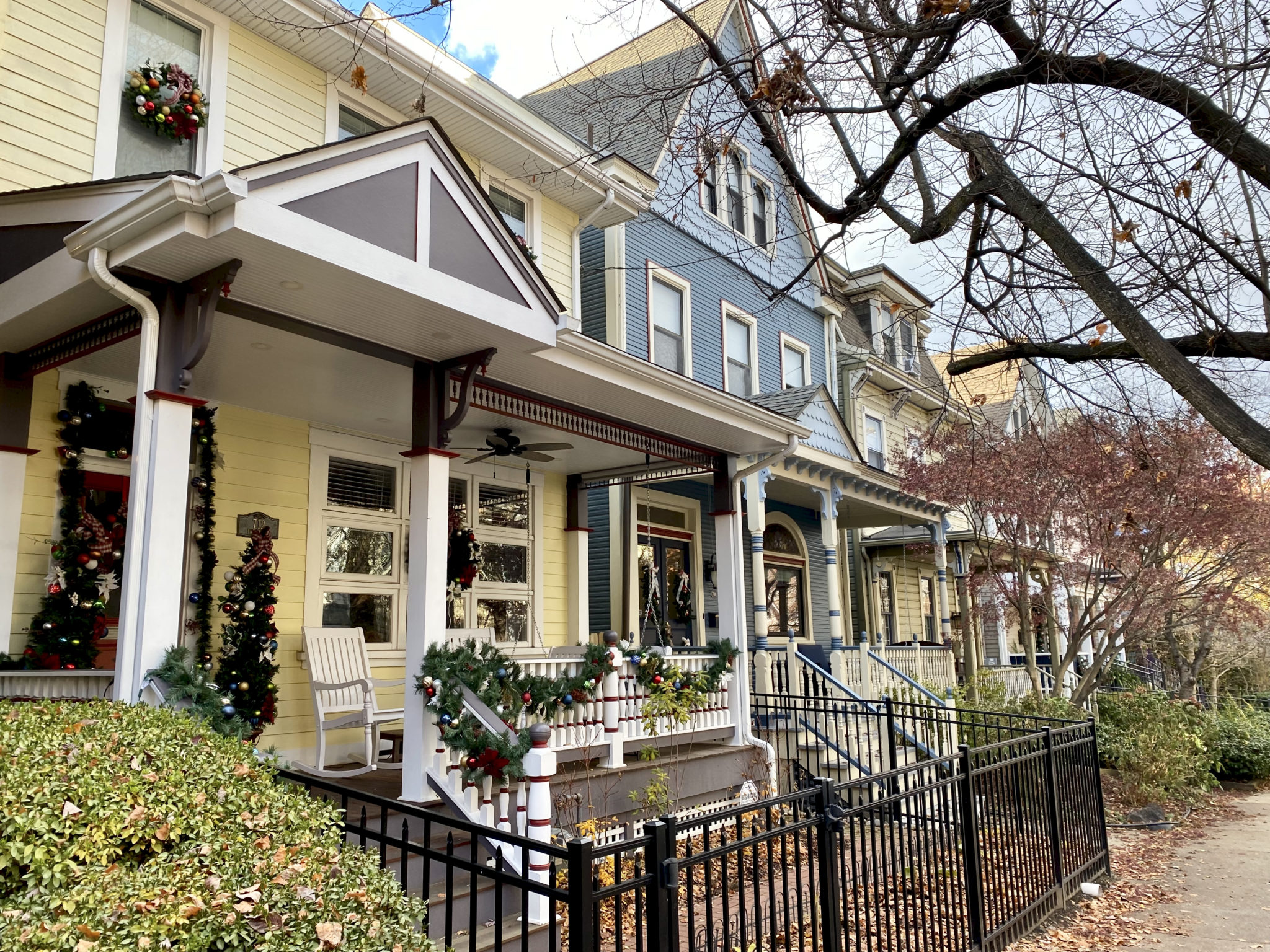 24. Explore Shadyside
Shadyside is another must visit neighborhood in Pittsburgh. It's a combination of restored Victorian mansions and student apartments in historic buildings. My daughter lives there right now in an apartment in a colorful Victorian complex.
Shadyside is one of the trendier neighborhoods in Pittsburgh. There are some beautiful places to stroll.
Walnut Street and Ellsworth Avenue offer up yoga studios, bookstores, boutiques, local eateries, and some galleries.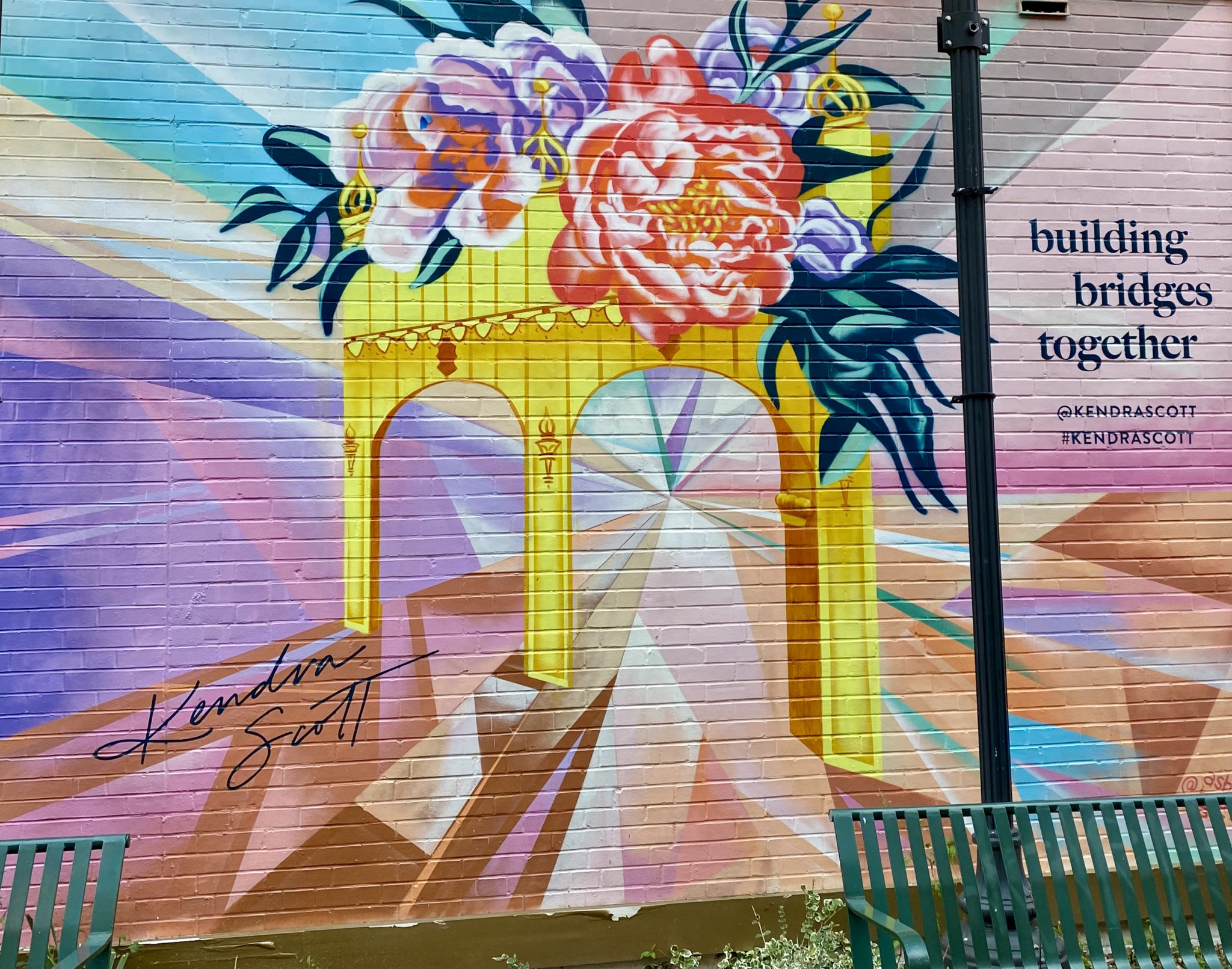 There are recognizable names like Apple, Lululemon, Banana Republic, and Athleta. But there are also independent local boutiques. Toadflax is an utterly adorable store with plants and cool gifts.
Be sure to check out Roslyn Place. It's a short street off of Ellsworth Avenue.
Roslyn Place is one of the country's only remaining wooden streets. The tiny cul-de-sac is "paved" using 26,000 oak blocks.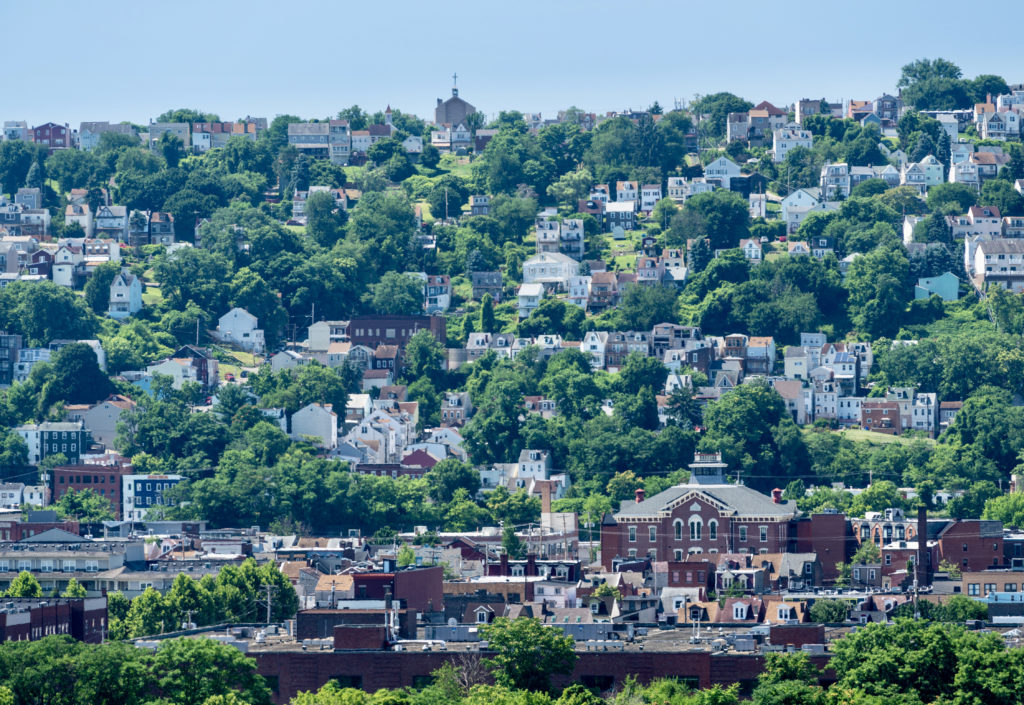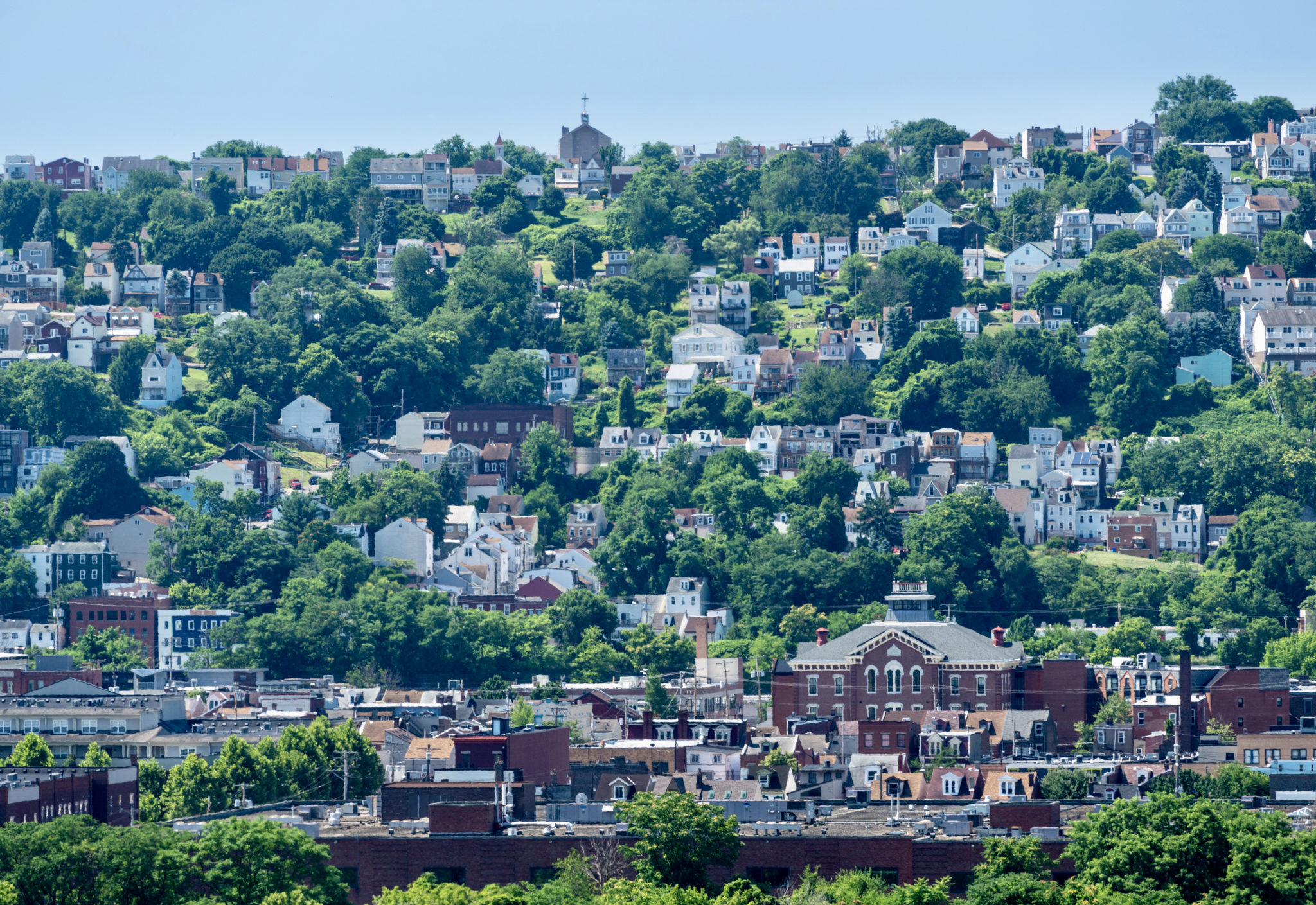 25. Explore South Side
The South Side is one of Pittsburgh's cool neighborhoods. Not as hip as Lawrenceville, but still cool.
East Carson is the main drag and a designated historic landmark. But there are four micro-neighborhoods in this part of Pittsburgh.
The shopping options are endless. The South Side Works is a large open air complex with a move theater, the Cheesecake Factory, and the Hofbrau House.
You'll also find class shops like Urban Outfitters, cocktail bars like Acacia, good eateries, and great music venues like The Smiling Moose.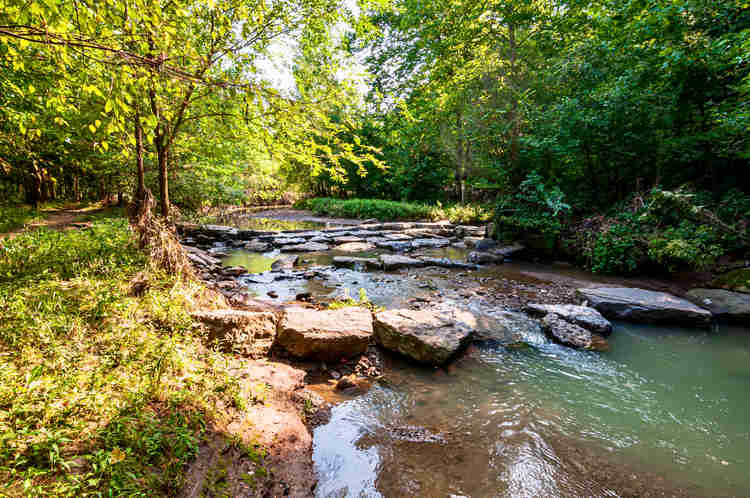 Nine Mile Run, a stream in Frick Park
26. Hike in Frick Park
Frick Park is one of my favorite green spaces and a top attraction in Pittsburgh. It's the perfect bucolic escape from the city. You can hike and bike to your heart's content in this sanctuary.
The park has hundreds of acres. 644 to be exact. It stretches from the Pointe Breeze neighborhood down to the Monongahela River.
The park has miles of hiking trails, the famous "blue slide" playground, red clay tennis courts, etc. There are several entrances. There's a parking lot by the tennis courts.
After you've got your nature fix, head to Pointe Brugge for a delicious brunch or lunch.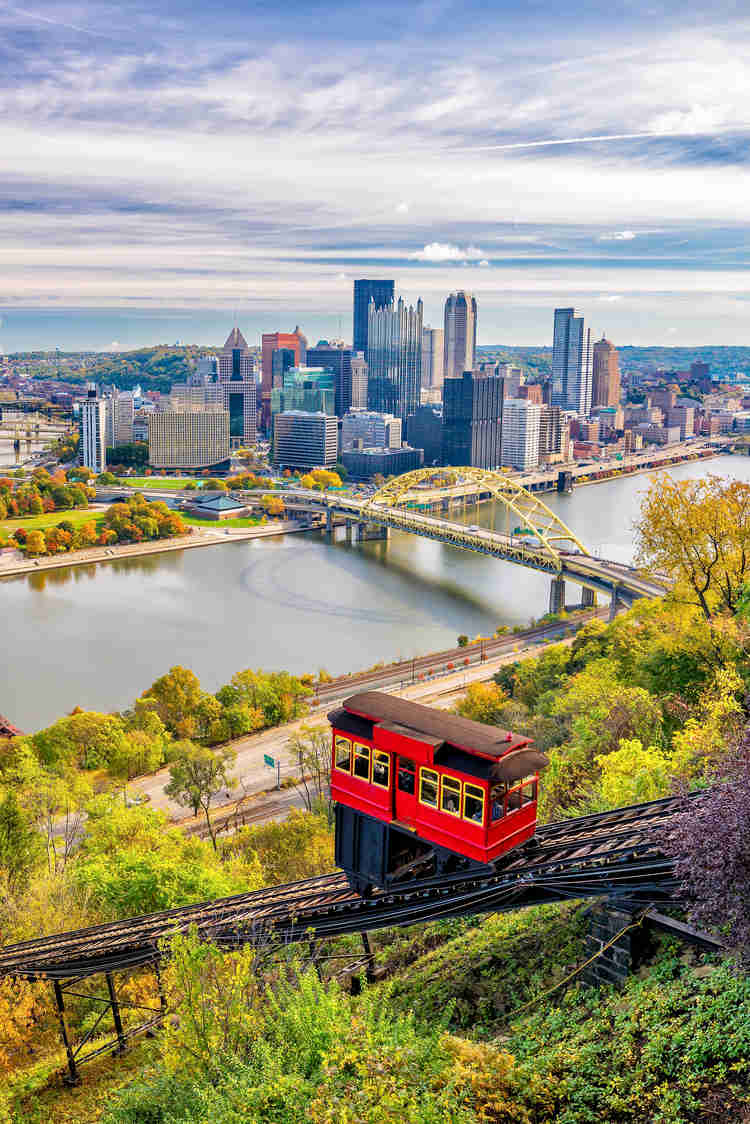 27. Duquesne Incline
Riding the Duquesne Incline is easily one of the best things to do in Pittsburgh. Especially if you want to experience a slice of the city's long history. And enjoy one of the world's best urban vistas.
The wooden cable cars were first used to transport workers back in the 1800s. They've now been renovated and are open to the public.
Once you arrive at Duquesne, there's a small onsite museum. You can learn about the history of incline and many details about how the incline operates.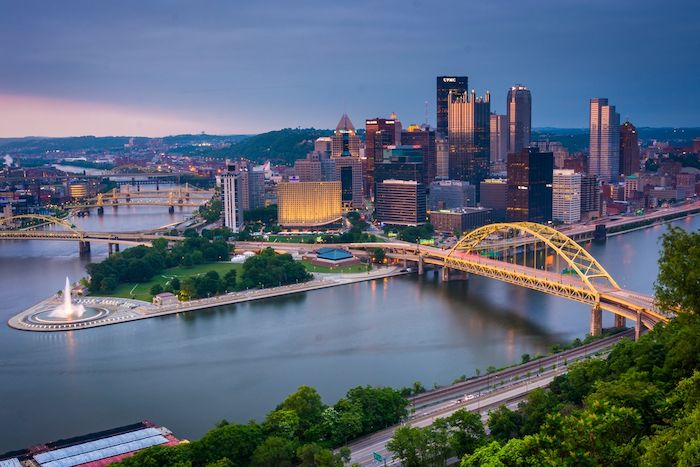 But the best part is the ride up. At the top, you're treated to gorgeous views of the city from Grandview Overlook in the Mount Washington neighborhood.
Grandview Park probably has the best view Pittsburgh. During the summer, the park hosts movies and music festivals. But no matter what the view is worth it!
If you don't want to take the incline, just drive up.
Directly across from the Monterey Bay restaurant is a life size bronze statue of George Washington and the Indian leader Guyasuta. The Point of View statue was unveiled in 2006.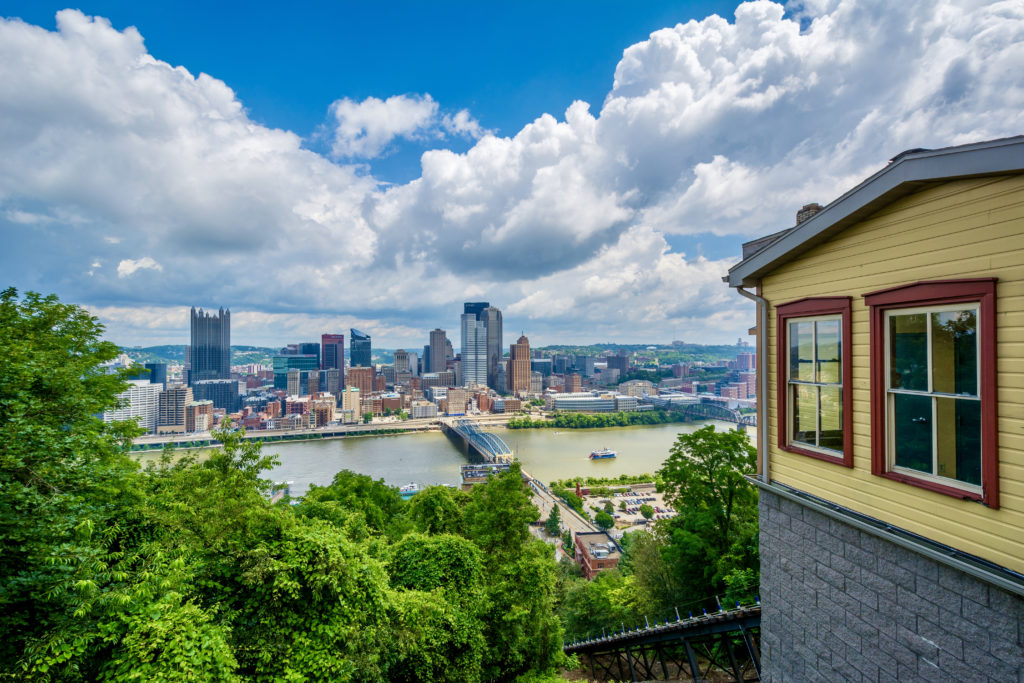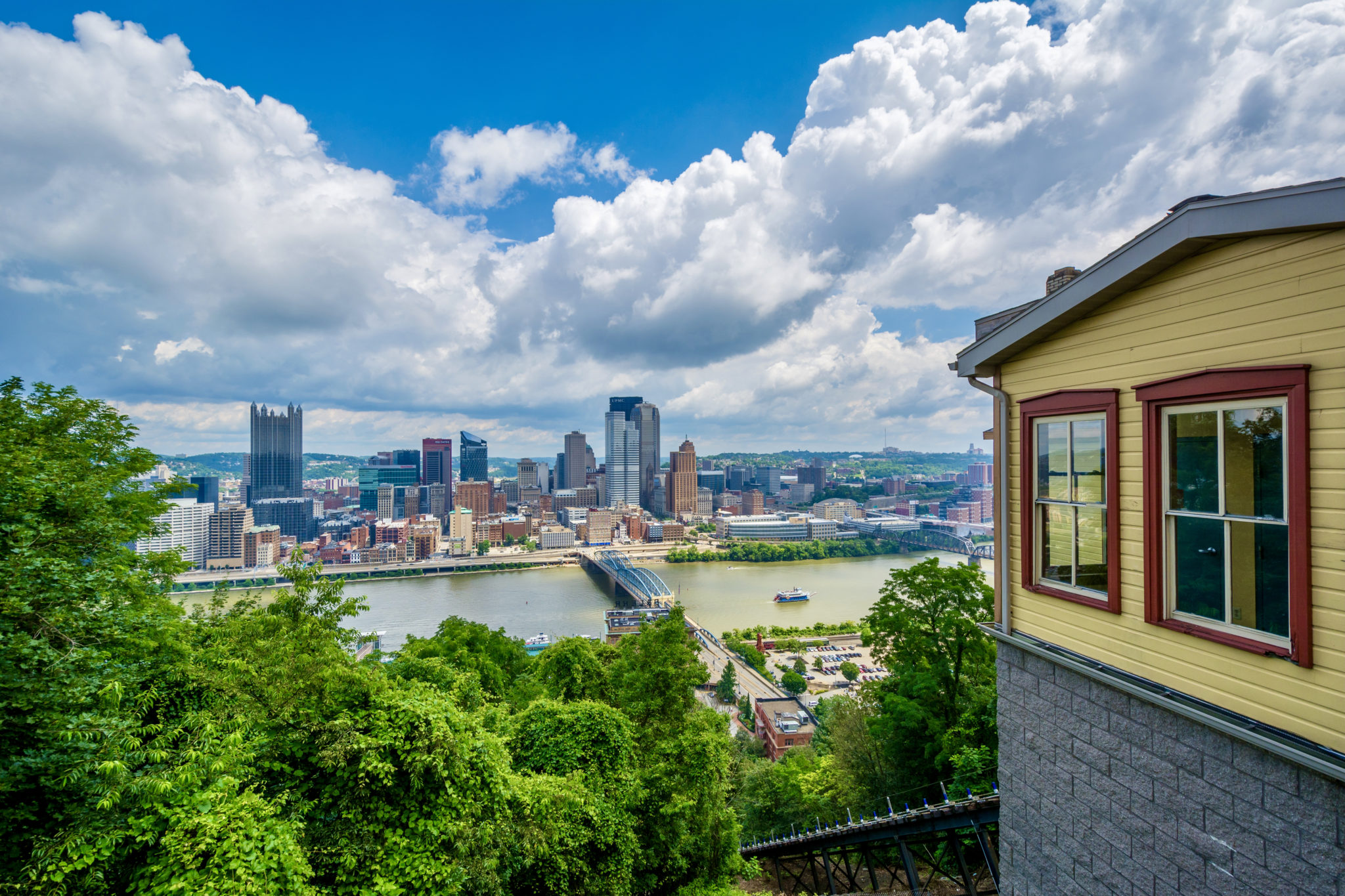 28. Monongahela Incline
The other 19th century incline in Pittsburgh is the Monongahela Incline. It's the oldest and steepest incline in the United States. The incline is three years older than its more famous counterparts in San Francisco.
The incline began operating in 1870. The incline creaks and groans like a wooden rollercoaster.
You hop on board at the lower station near the Smithfield Street Bridge and across the street from Station Square.
Like the Duquesne Incline, customers are deposited on Grandview Avenue.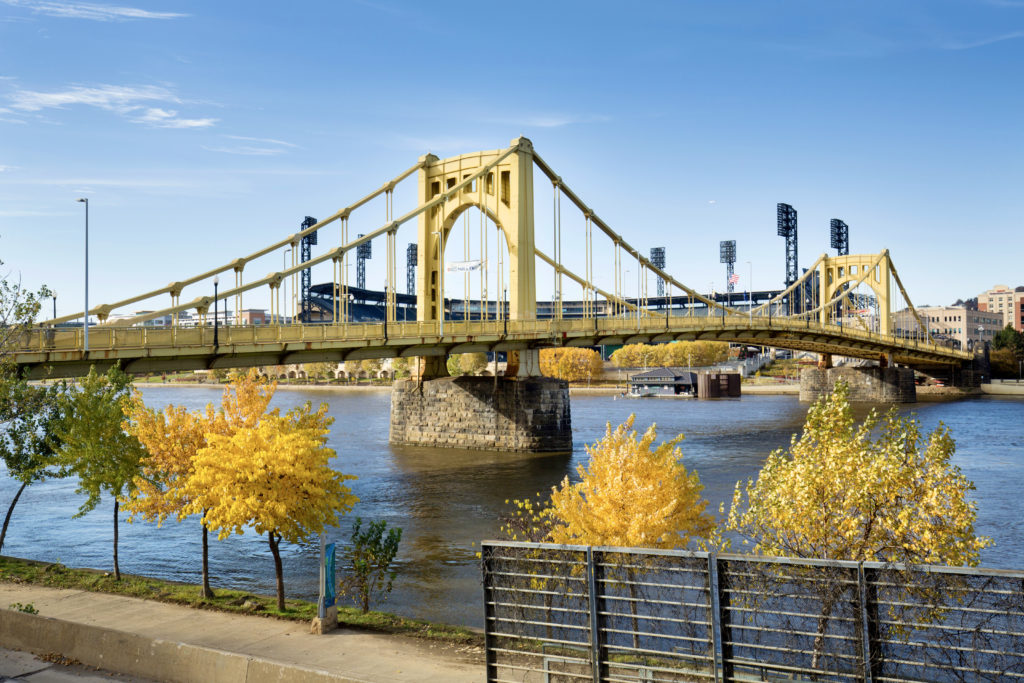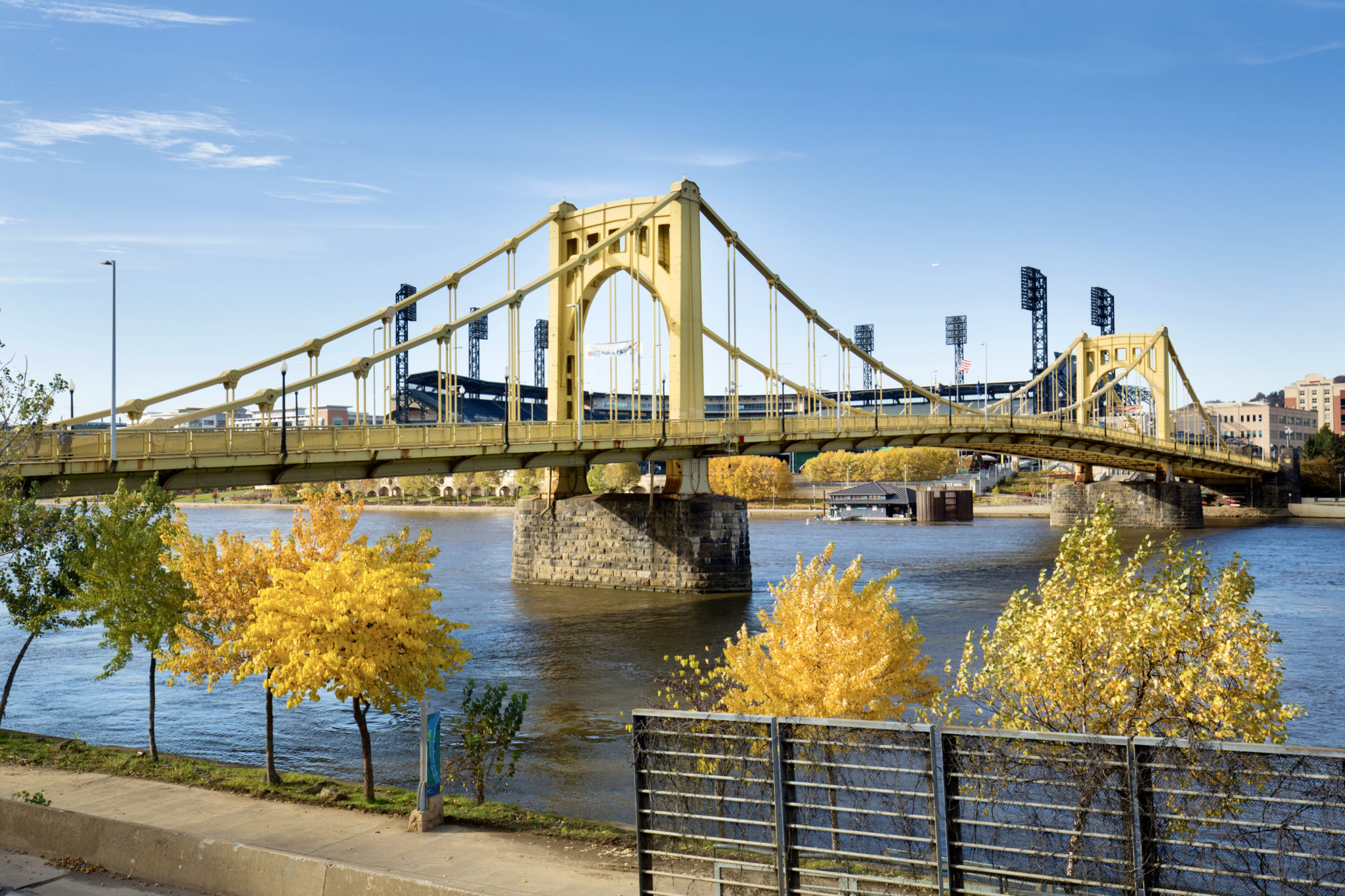 29. Pittsburgh Bridges
One of the best things about Pittsburgh is that it's set on three rivers. The city is known as the "City of Bridges."
There's over 446 bridges in Pittsburgh. That's more than any city in the world including Venice.
The most famous golden bridges are an identical trio — the Andy Warhol Bridge, Roberto Clement Bridge, and the Rachel Carson Bridge.
Honestly, my least favorite bridge is the Fort Pitt Bridge. There's a rapid merging of four lanes of traffic in a few hundred feet.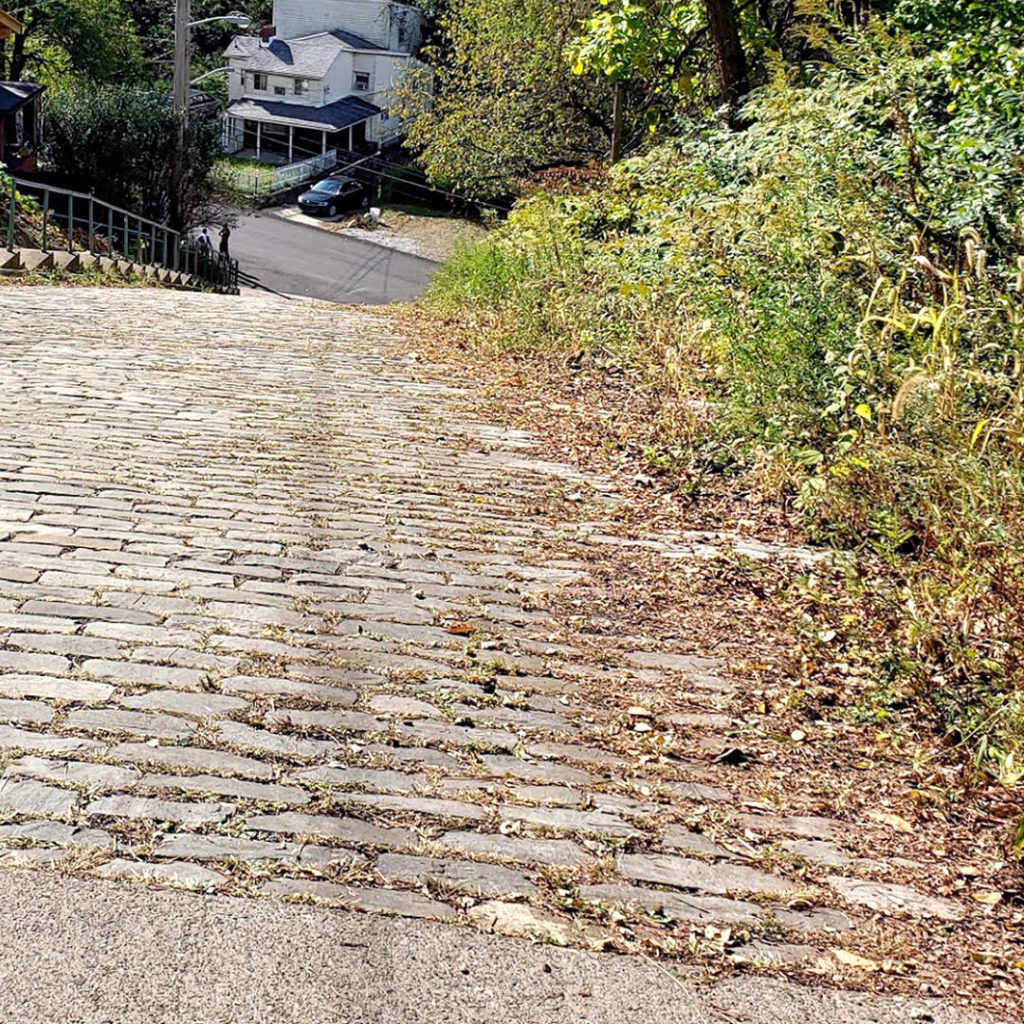 30. Canton Avenue
Canton Avenue is in Pittsburgh's Beechview neighborhood. In a city full of hills, Canton is the United States' steepest street. If a heart pumping hike is what you're after, you can test your mettle here.
But, be forewarned, Canton Avenue takes no prisoners. This cobblestone beast has a 37 percent grade.
Bikers seem to like the challenge. At least my husband does. He says you need strong legs and a light bike.
Canton Avenue is part of the Dirty Dozen, a grueling bike race in Pittsburgh for hard core climbers.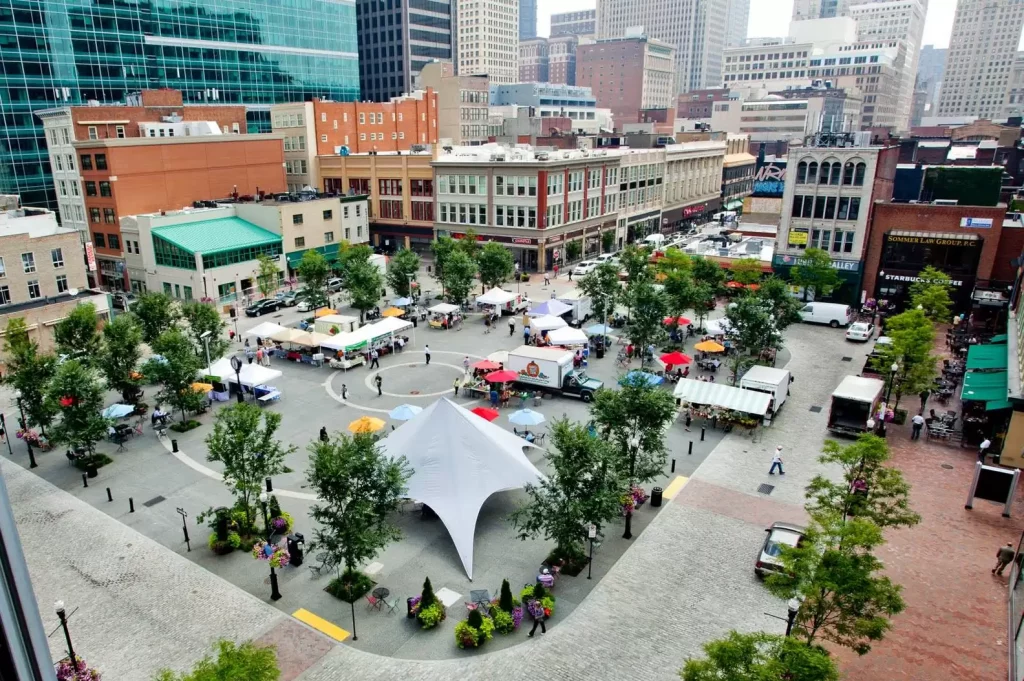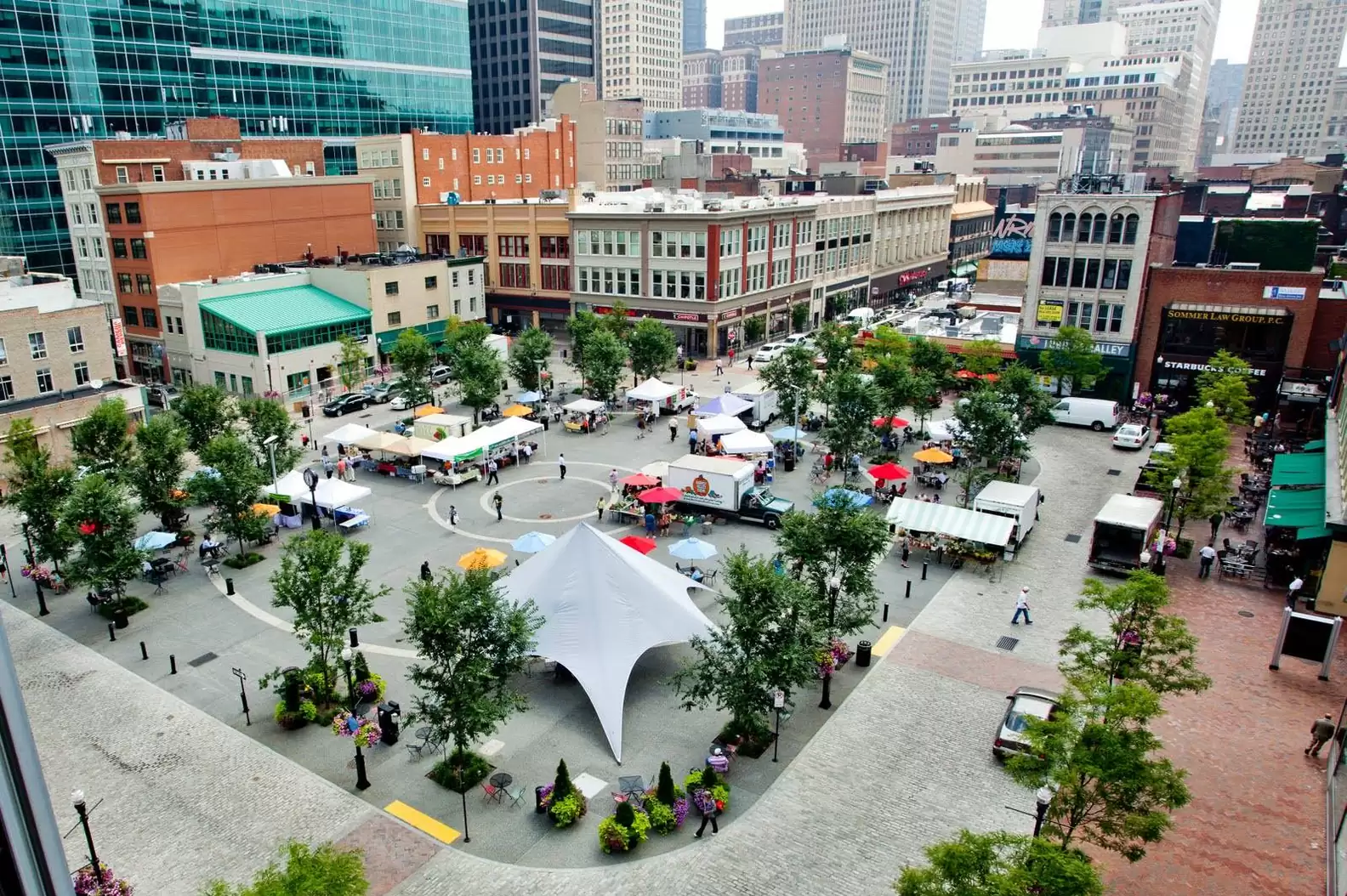 31. Market Square
Market Square is the center of downtown Pittsburgh.
I think it's most beautiful during the holidays. There are Christmas markets set up for shopping, just as in Paris or Vienna in the winter.
During the rest of the year, there's plenty to do at this Pittsburgh attraction. There are art installations, pop-up events, and chairs for lounging and people-watching in the summer.
There are plenty of restaurants on Market Square too. Pizzaiolo Primo is a good Italian spot. Then, there are the classics like Morton's Steak House and McCormick and Schmicks Seafood.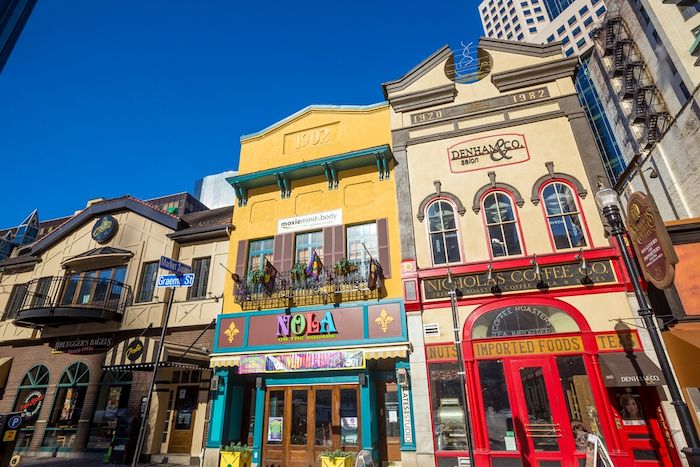 32. Brew Pubs in Pittsburgh
Pittsburgh isn't Bavaria Germany. By any stretch, having been there. But it still has quite a few craft breweries.
The top spot is the Hofbrauhaus in the South Side. It was designed to emulate the original brewhouse concept launched in Munich Germany.
You'll be served German beer amids live entertainment from lederhosen-clad performers.
Another popular spot is the Church Brew Works. It's a microbrewery and restaurant housed in a restored 1902 church. The setting is sublime. But it can be very noisy and crowded.
Click here for a guide to all of Pittsburgh's craft breweries.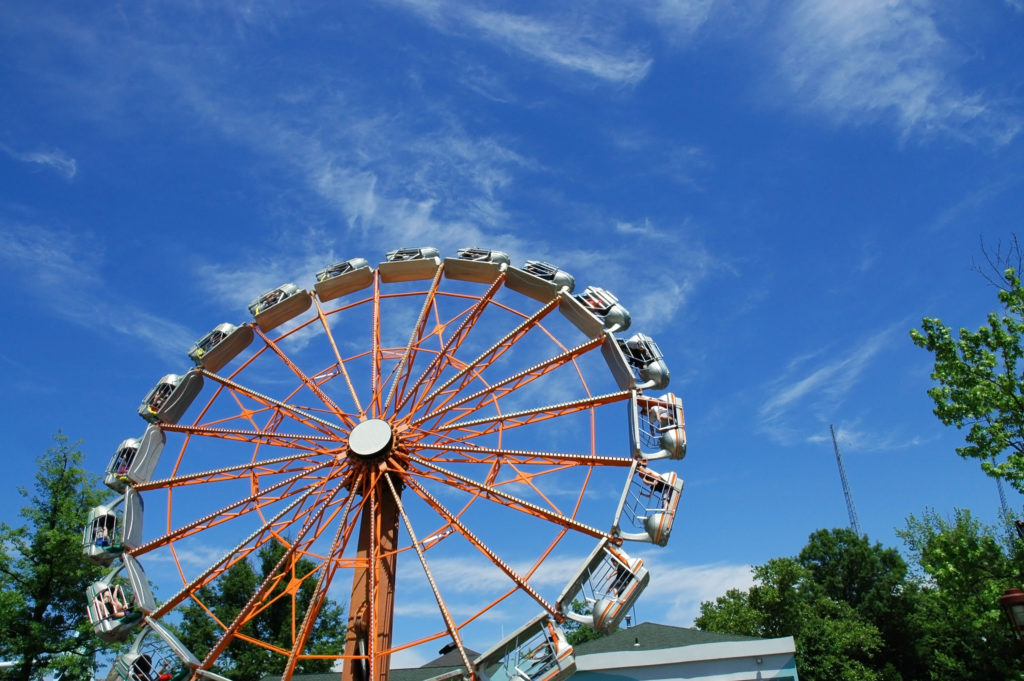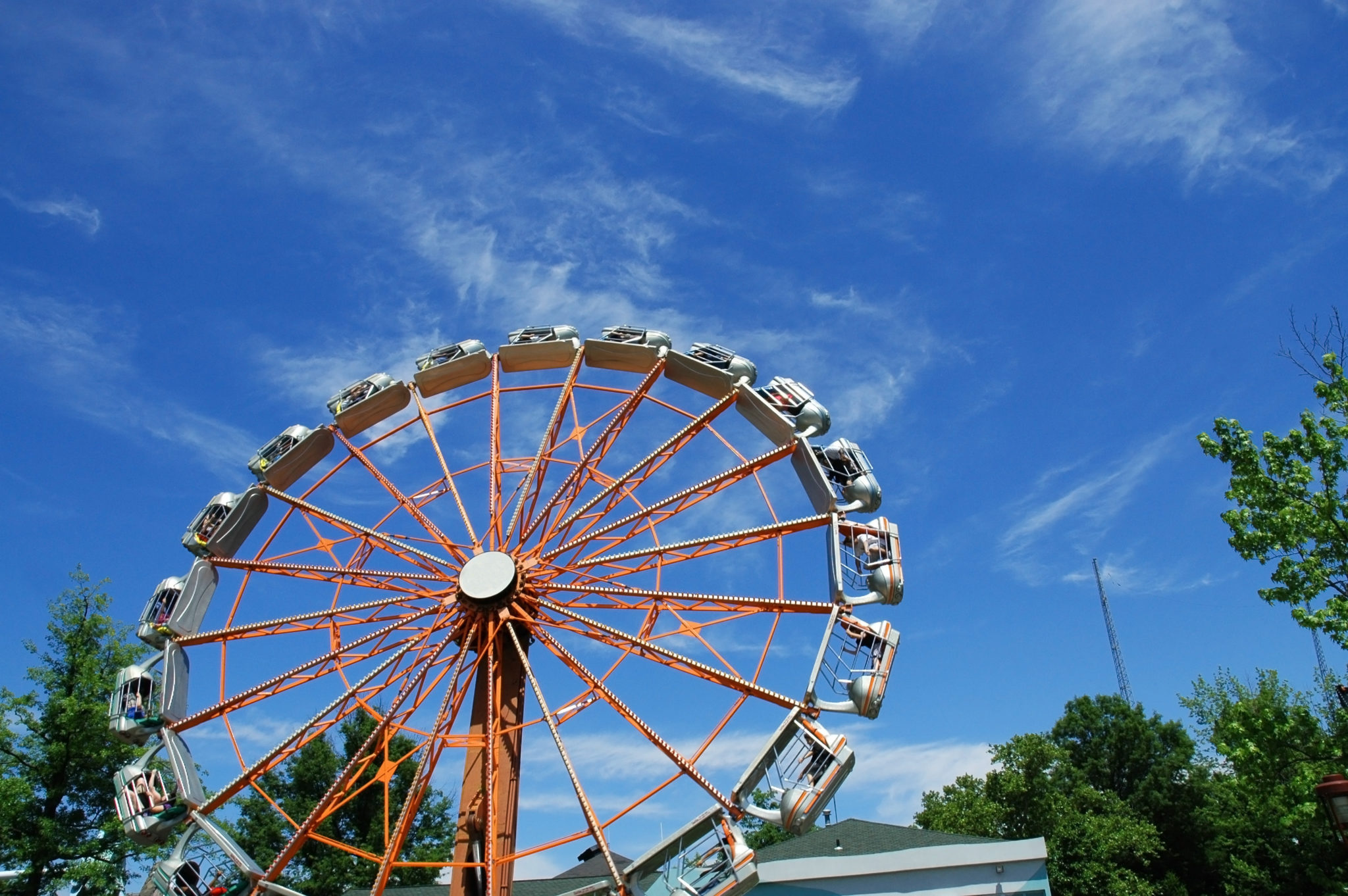 33. Kennywood
No Pittsburgh post would be complete without a mention of Kennywood. Kennywood is a large amusement park. It's a favorite attraction in Pittsburgh for kids and teens.
Kennywood has been a Pittsburgh thrill for decades. Its classic rides were built in the early 20th century. A popular throwback is Thunderbolt, a wooden roller coaster.
The other rides which you can enjoy here include the Pittsburgh plunge water, the Phantom's Revenge roller coaster, carousels, water rides, a 3D experience, and a 4D theatre and paddle boats.
You would need to spend at least an entire day here in order to truly enjoy this adventurous Park.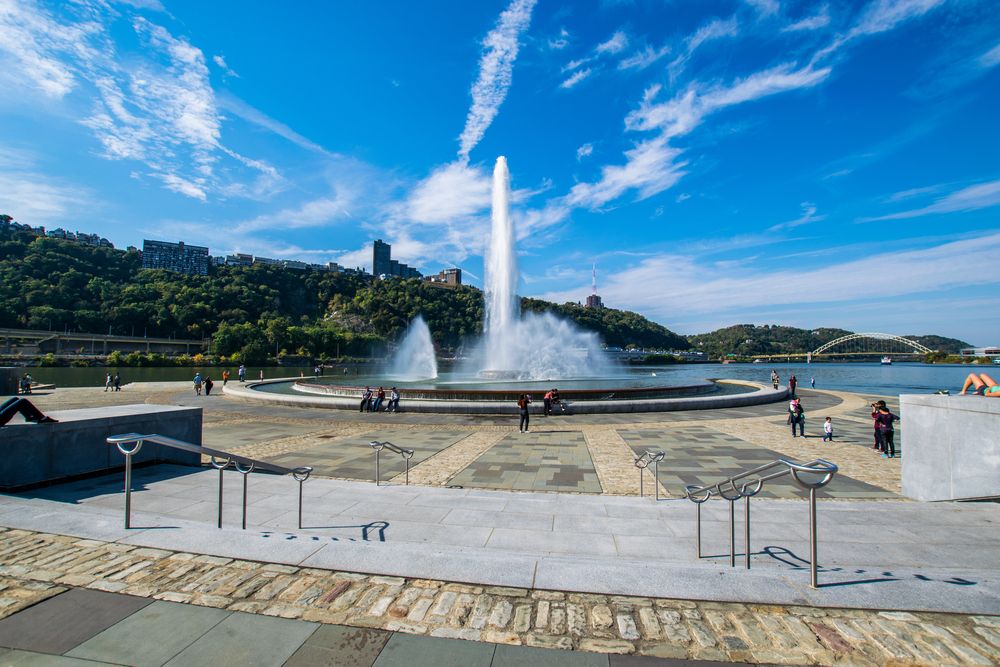 34. Point State Park
The "Point" is where the Monanghela and Allegheny rivers converge. Point State Park is known for its refreshing lush green gardens. It's also a lovely place to watch the sunset.
The Point is also a historic site. It was a landmark during the French and Indian war of the late 18th century.
The park contains beautiful riverfront promenades and a 150 tall fountain, which is a great photo opportunity. The park is home to festivals, picnics, and concerts.
The Fort Pitt Museum is situated within the vicinity. Its exhibits tell the story of the early history of Pittsburgh.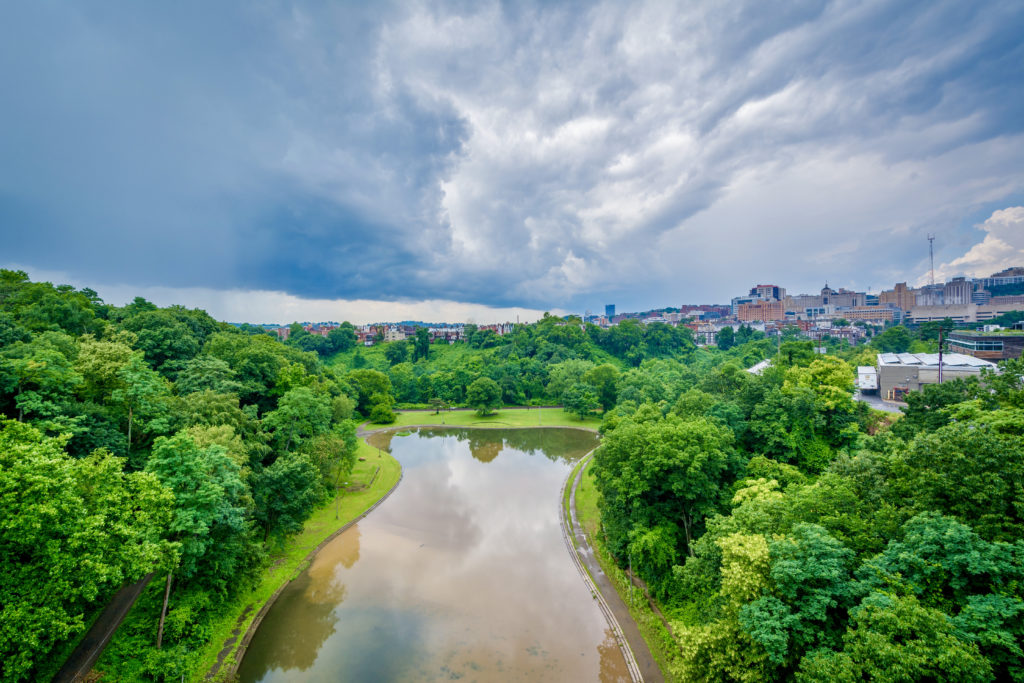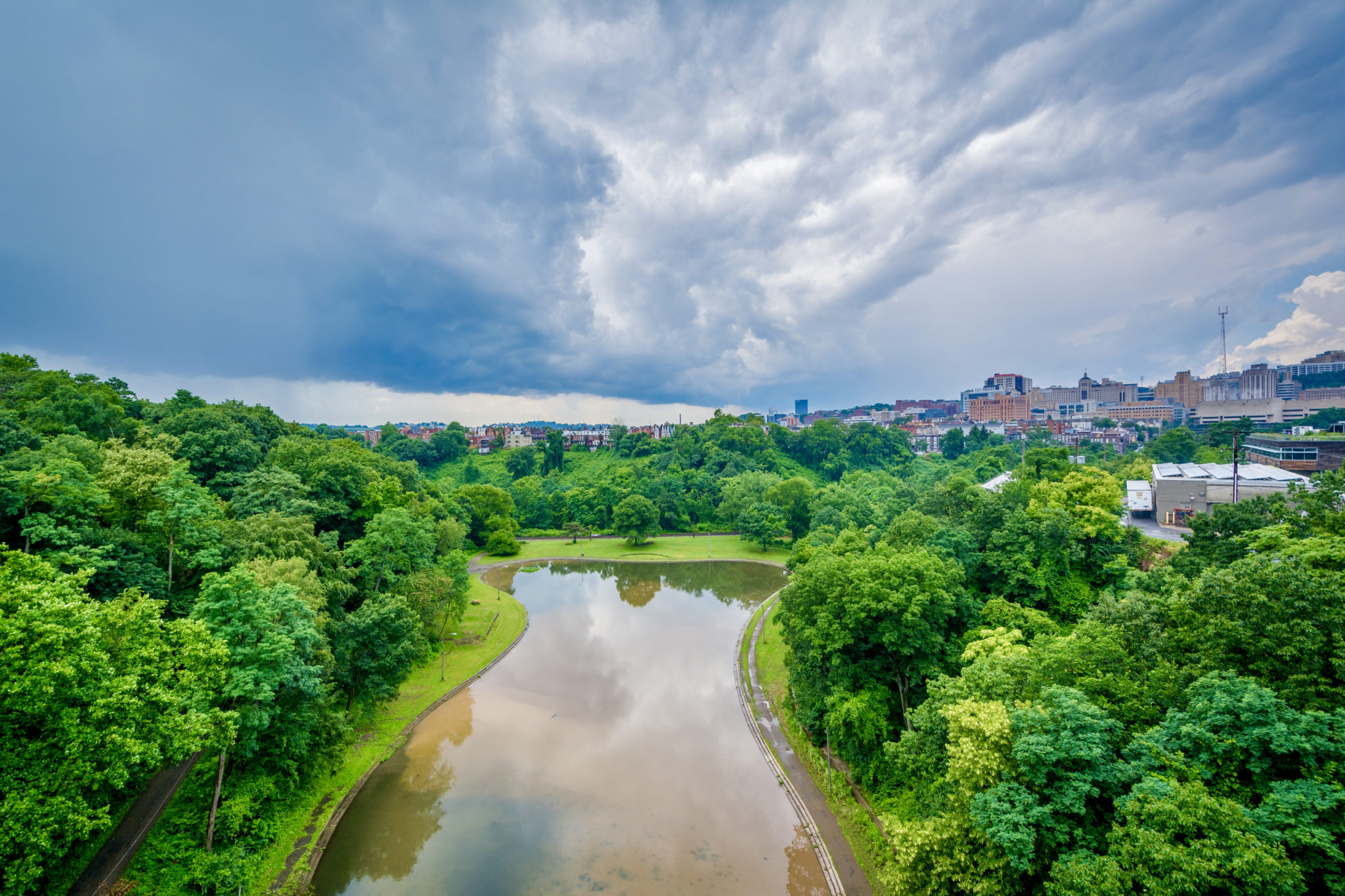 35. Schenly Park
Schenley Park is a pretty municipal park in Pittsburgh's Oakland neighborhood. In 2011, the park was named as one of the "America's Coolest City Parks" by the popular travel magazine, Travel + Leisure.
Schenley was created in 1889 with land donated by heiress Mary Schenley. She was a Pittsburgh-based heiress and philanthropist.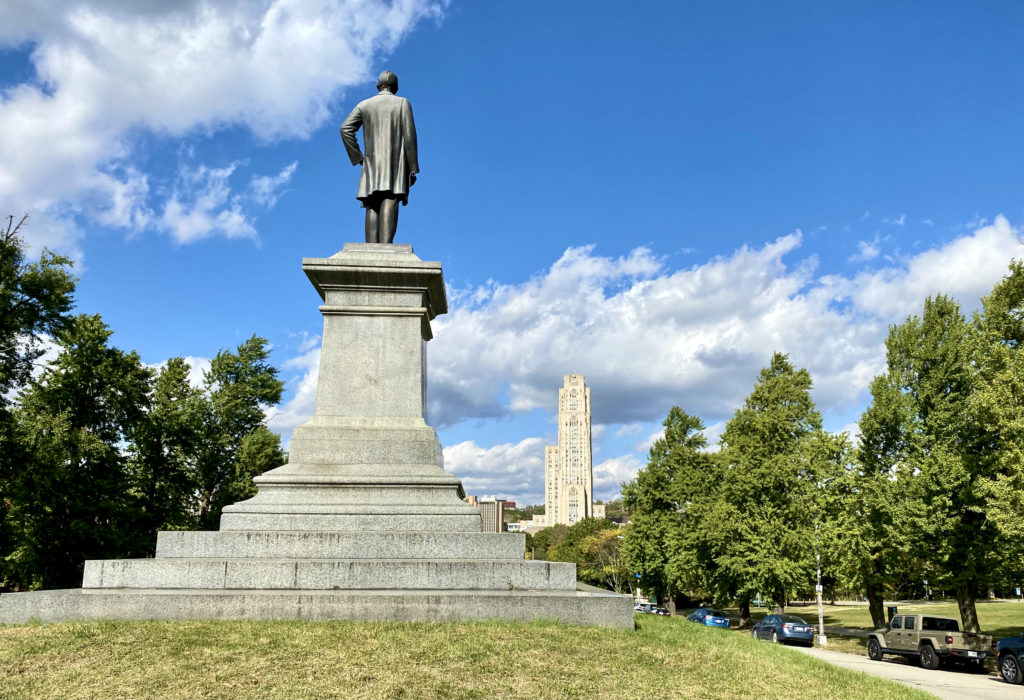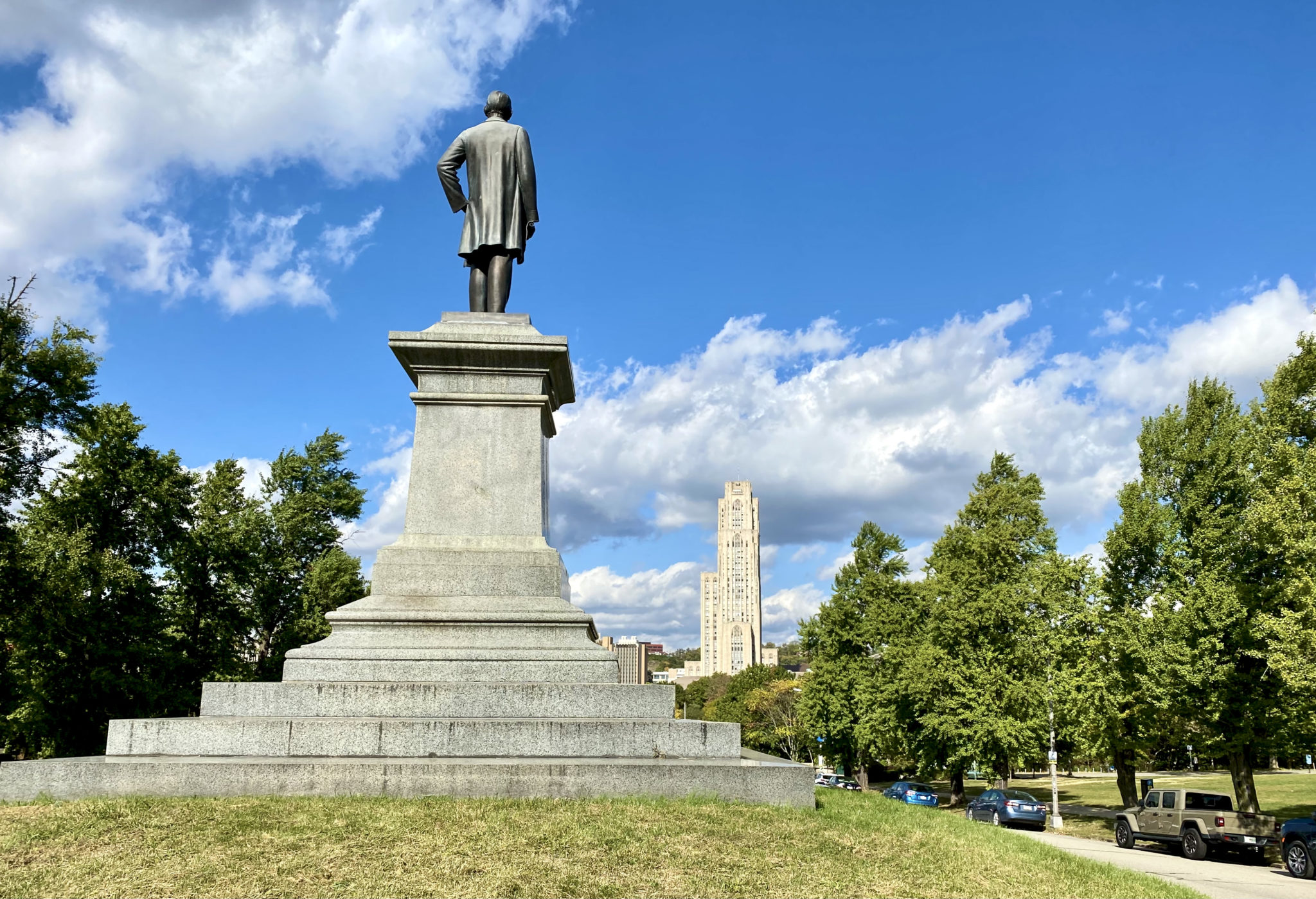 The park has 456 acres of trails, woods, a lake, and a golf course. It's surrounded by University of Pittsburgh campus and Carnegie Mellon University campuses. But it's an oasis of quietude.
The park has many attractions. Those include a plaza, a large pond, a conservatory, tennis courts, soccer field, playgrounds, a public swimming pool, and a golf course.
In the winter, the action shifts to the Schenley Park Skating Rink. The rink is generally open from early November to late March.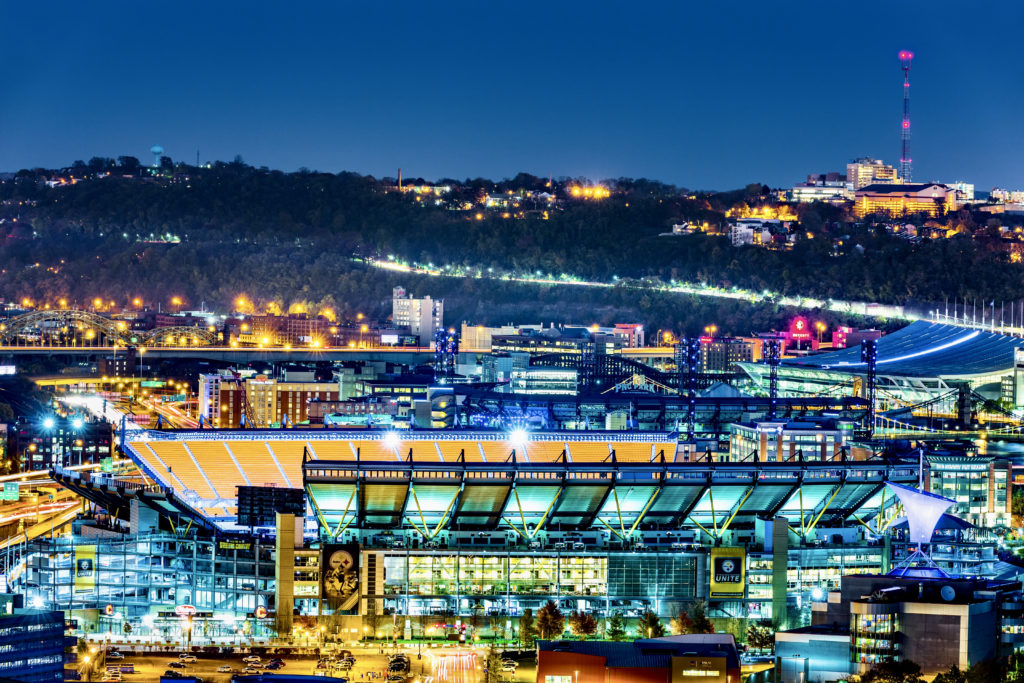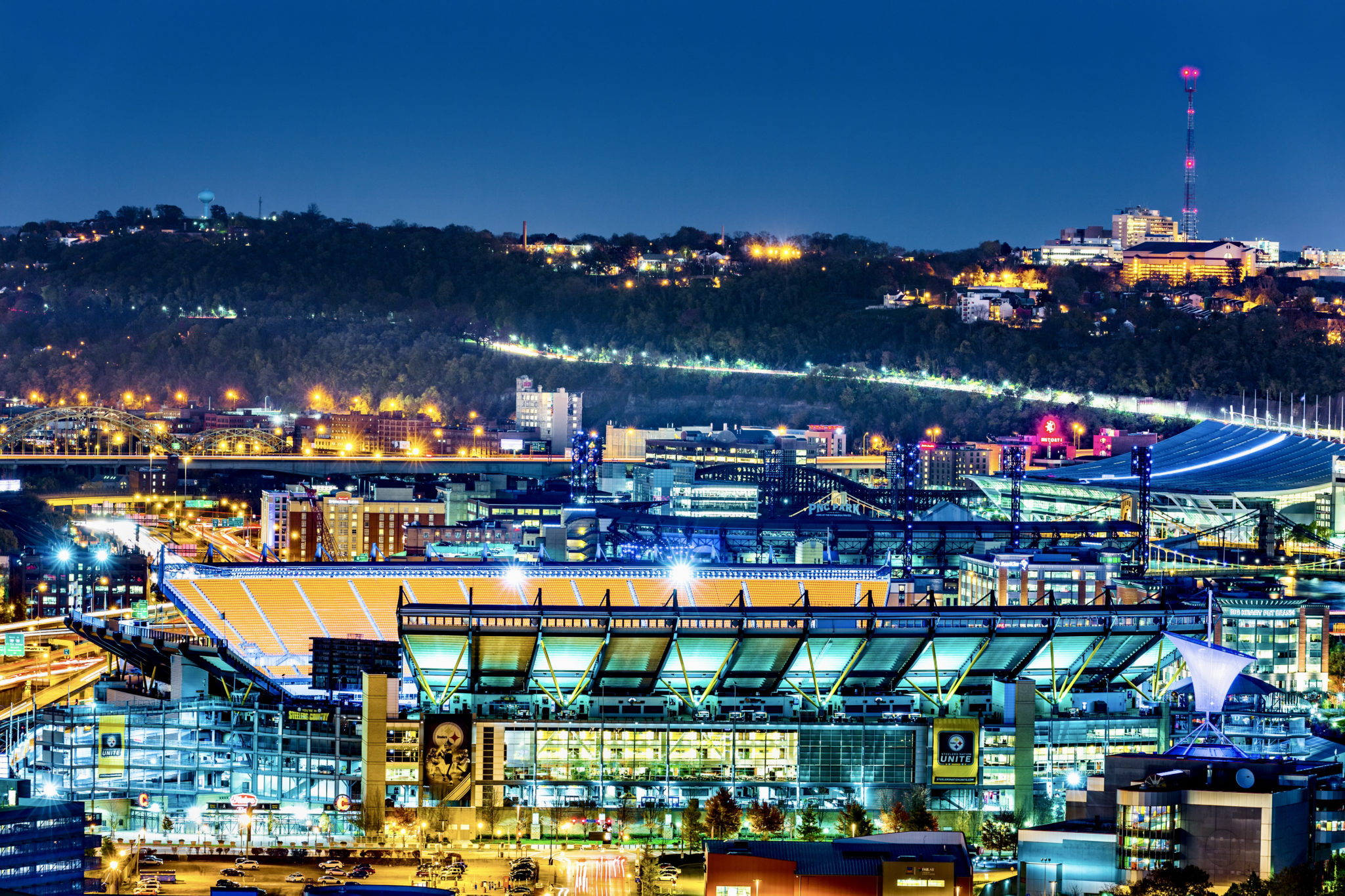 36. Sports Venues
Are you a sport fan? Pittsburgh wears its sporting pride proudly with three centrally located arenas. On game days, the populace is clad in the trademark black and gold color scheme used by the Pittsburgh sporting teams.
Heinz Field stadium is the home of the Pittsburgh Steelers football team. Founded in 1933 by Art Rooney, the Steelers are the fifth oldest team in the NFL.
PNC Park is home to the Pittsburgh Pirates, a team which dates to the late 1800s. The arena also hosts a variety of concerts and events.
Art Rooney had a lot of clout in the sports word. In the mid 1960s, he successfully made a bid for a National Hockey League franchise. The team was named the "Penguins" to match its PPG Paints Arena called the "Igloo."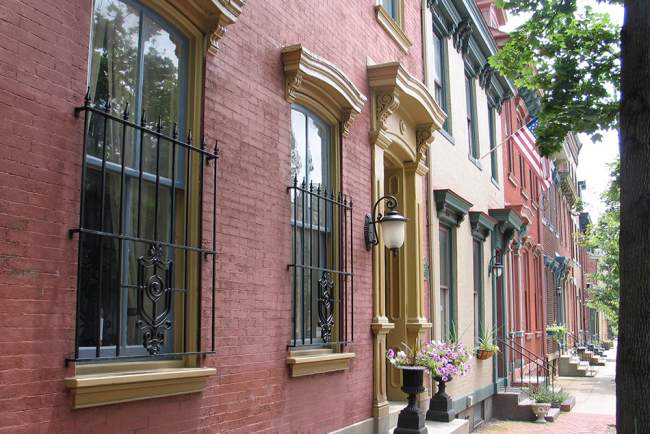 37. Mexican War District
The Mexican War Streets is a beautiful and historic neighborhood with plenty to offer. It's kind of a gentrified bohemian row house neighborhood with many writers, artists, eclectic personalities and interesting people.
The surrounding streets were named from people and places of the Mexican-American War, hence the current name, the Mexican War Streets.
From the architecture to the artistic attractions, a whole day can be spent exploring this North Side neighborhood.
Attractions in this district include the Mattress Factory, Randyland, the beautiful architecture, and the popular Commonplace Coffee.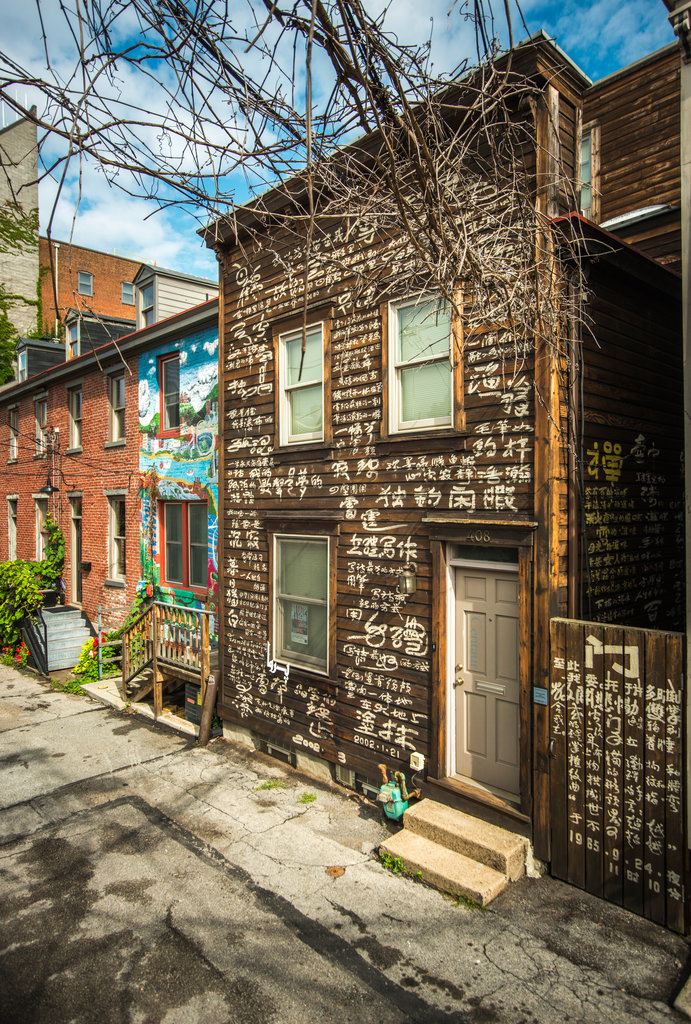 38. City of Asylum
City of Asylum is an organization that gives sanctuary to writers persecuted in their home countries.
A dissident poet from China, Huang Xiang, lived in one of the organization's houses on Sampsonia Way. Now it's called "House Poem," because he painted his anthology on it in Chinese characters.
But the City of Asylum is more than just a writer's sanctuary. It's a thriving community that participates with the poetry, art, or music that's being created in its living spaces.
The organization now has a neighborhood literary center. There, you can enjoy free performances, a cafe, a book store.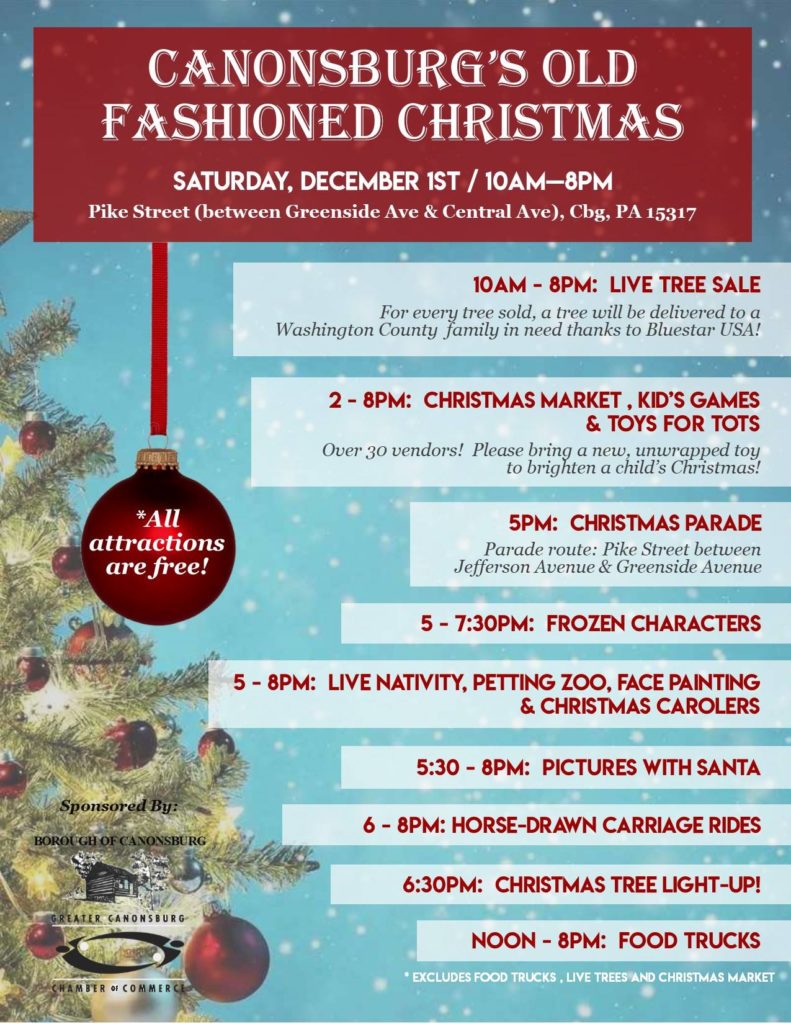 39. Canonsburg
Just southwest of the city lies the suburb of Canonsburg. The town is a small quaint borough with plenty to do.
Canonsburg is most well known for its Old Fashioned Christmas event. The state pitches it as "Holiday Hallmark Move-esque location."
It's a two day event. Festivities include a tree lighting ceremony, Christmas parade, food truck court, and live entertainment. Naturally, you can meet Santa at the North Pole.
40. Fallingwater
Fallingwater is UNESCO site in Pennsylvania. It was designed by the famous architect Frank Lloyd Wright. Fallingwater is likely the most significant building of the 20th century.
Fallingwater is nestled in a bucolic setting. It sits atop a cascading waterfall.
Fallingwater is eye-grabbing and visually stunning. It's a marriage of modern architecture and a wild landscape that blurs the line between the indoor and outdoor.
The house is the apotheosis of Wright's long lasting obsession with nature and a must visit architectural site in the US.
Here's my complete guide to visiting Fallingwater. Fallingwater is about 1.5 hours from Pittsburgh. You need to make a reservation in advance.


41. Polymath Park: Wright Overnight
If you really want to live the Wright way, head 23 miles down the road to another Wright-designed house, Polymath Park. There, you'll find four houses designed by Wright.
These homes reflect Wright's Usonian ethos. The term "Usonian" refers to Wright's concept of building planned communities of affordable homes.
Wright wanted the small homes to have the same design benefits as a grand mansion. The homes feature native stone, clerestory windows, and Wright's trademark Arts & Crafts style.
You can stay overnight, go for dinner, or book a guided tour.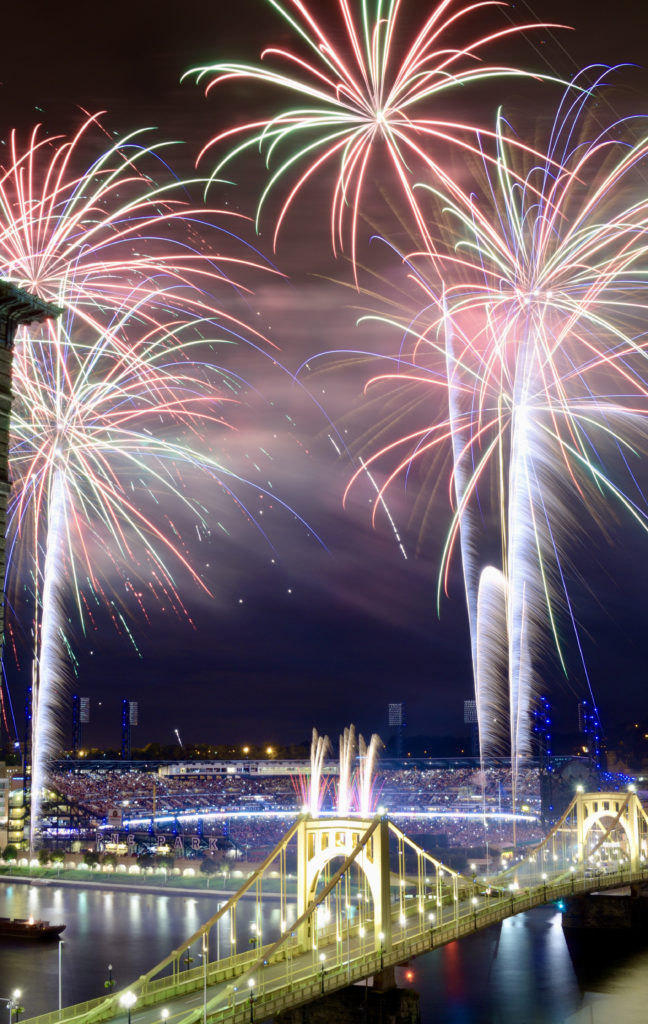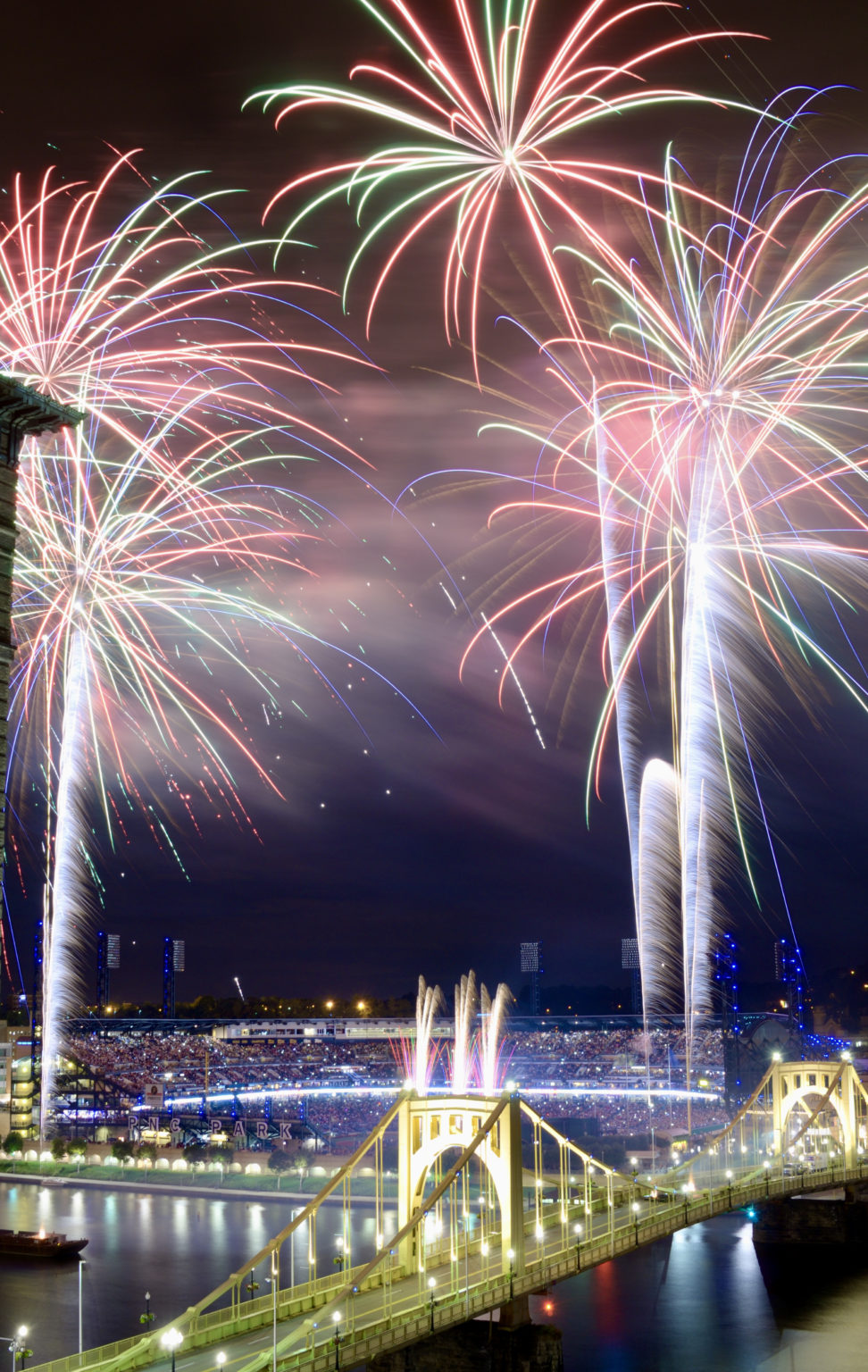 42. Boating
Naturally, as a city on three rivers, boating is a popular thing to do in Pittsburgh. There are approximately 30 marinas in Pittsburgh.
The city boasts the second largest number of registered pleasure boats in the country. There are mooring spots in the South Side and North Shore. The water is a great place to watch July 4th fireworks.
If you don't have your own boat, take a ride on the Gateway Clipper Fleet. It's based in Station Square. Gateway has five riverboats and an array of sightseeing cruise options.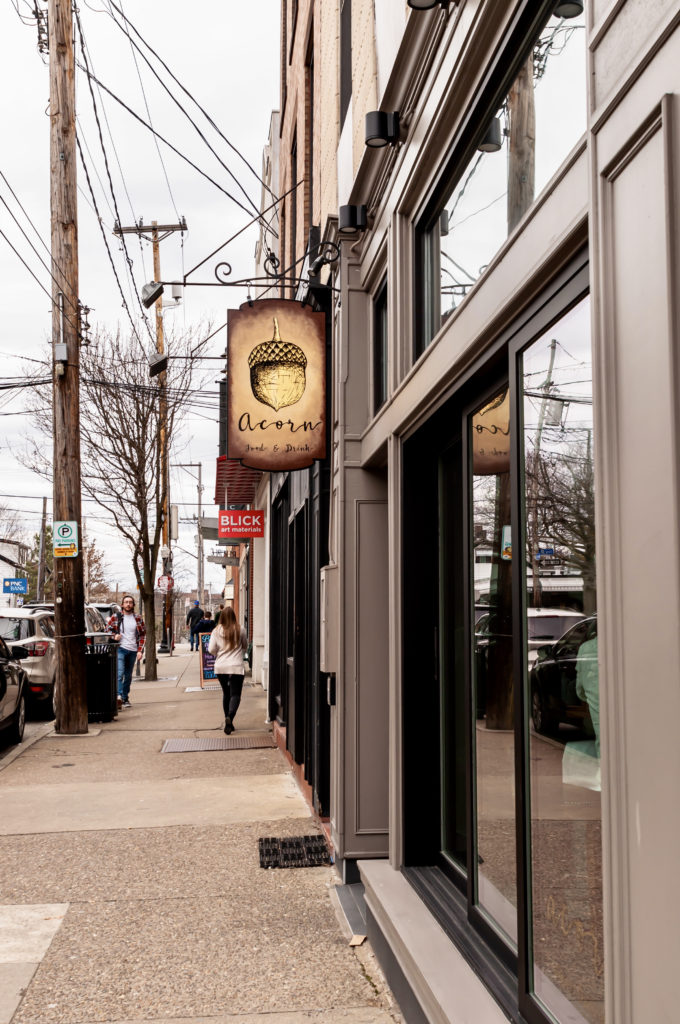 43. Best Restaurants In Pittsburgh
I've lived in Pittsburgh nine years now. And I'm a real foodie.
Years ago, the coolest thing you could do in Pittsburgh was put French fries on your salad or sandwich. Those days are long gone.
Pittsburgh now has serious culinary cred, with a farm to table vibe moving in. In 2019, the city earned the title Food City of the Year.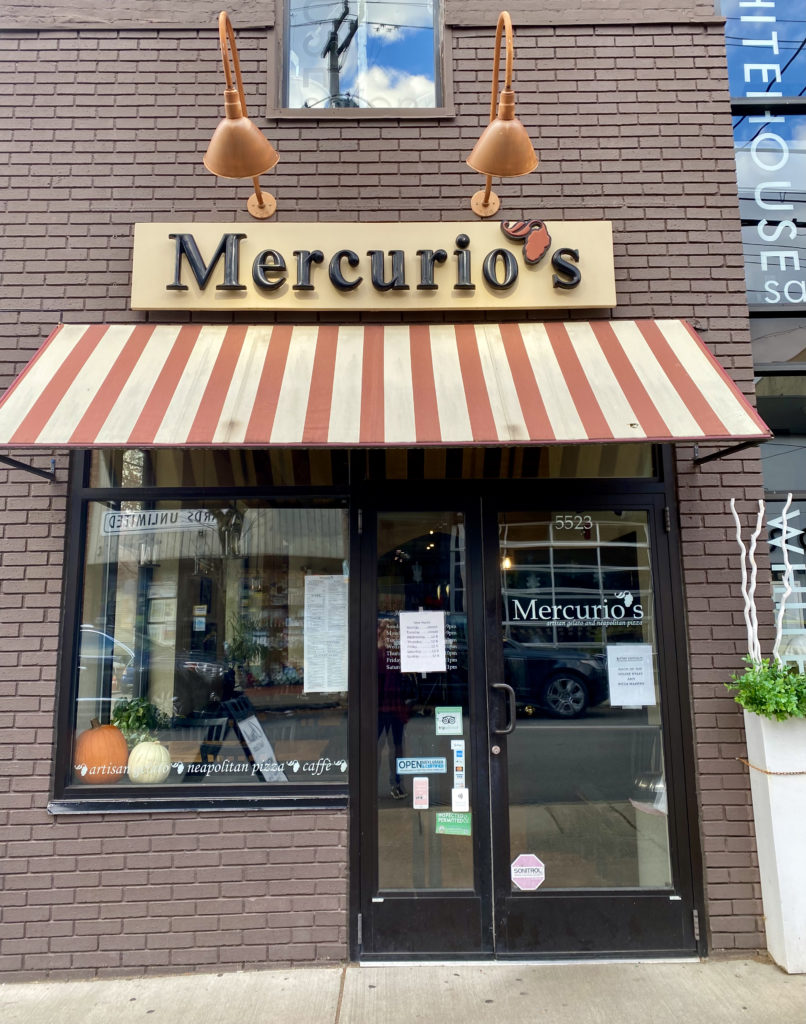 You can eat your way through Pittsburgh like a herd of goats, the food scene's that good. The restaurants alone are reasons to visit Pittsburgh.
Here's a breakdown of the best restaurants in Pittsburgh by neighborhood. I also include some of the fun wine and cocktail bars around town.
You'll find fine dining as well as hole-in-the-wall spots.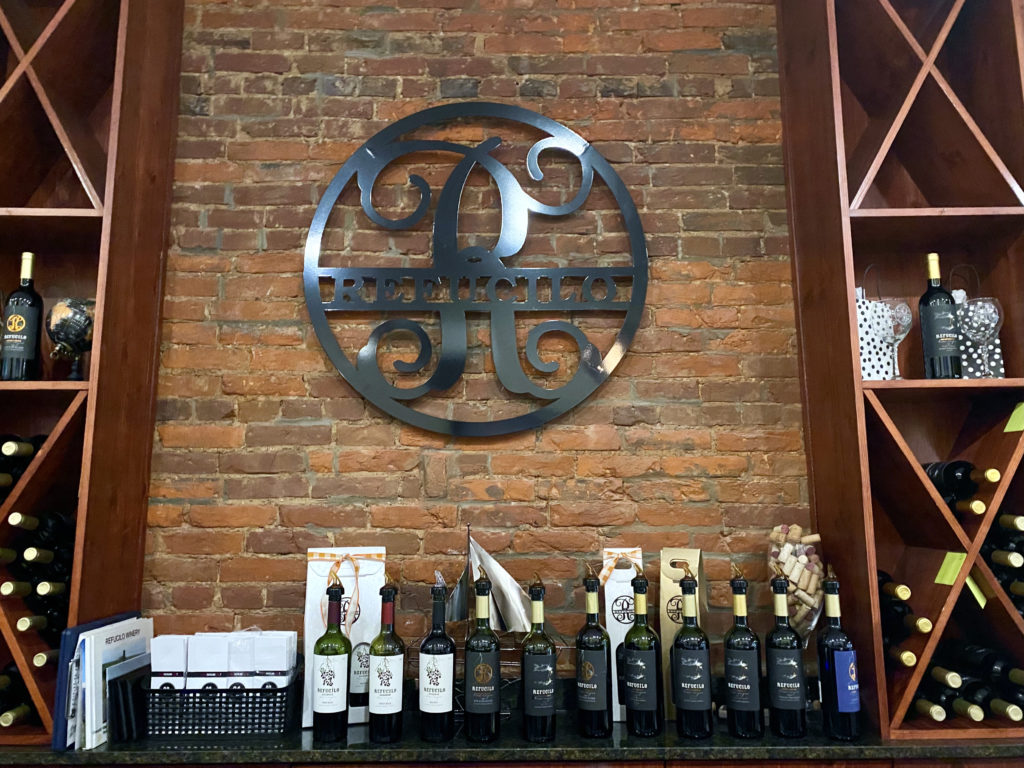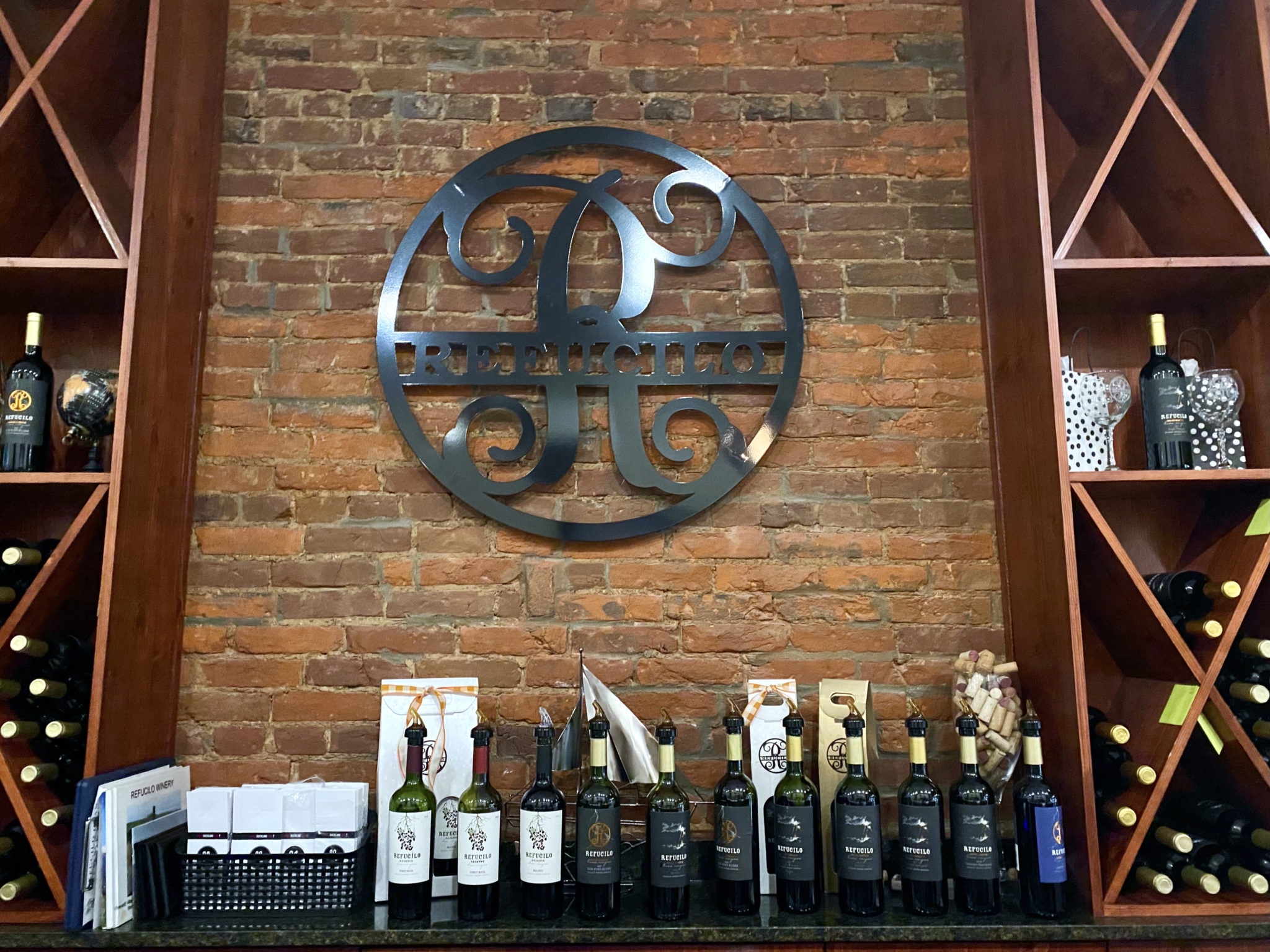 1. South Hills:
2. Shadyside:
3. North Side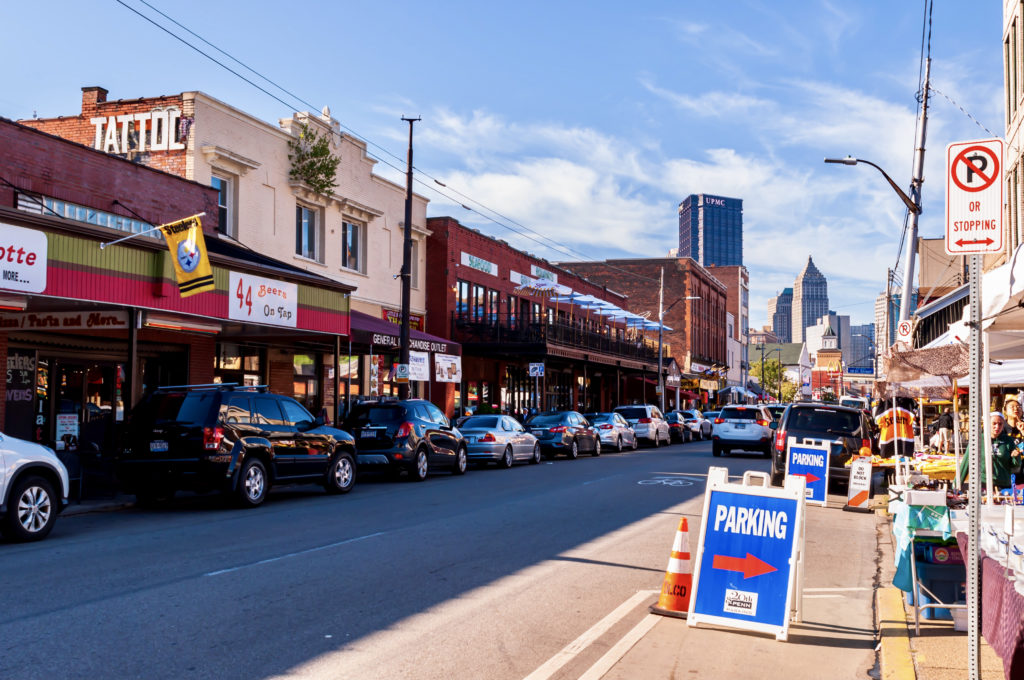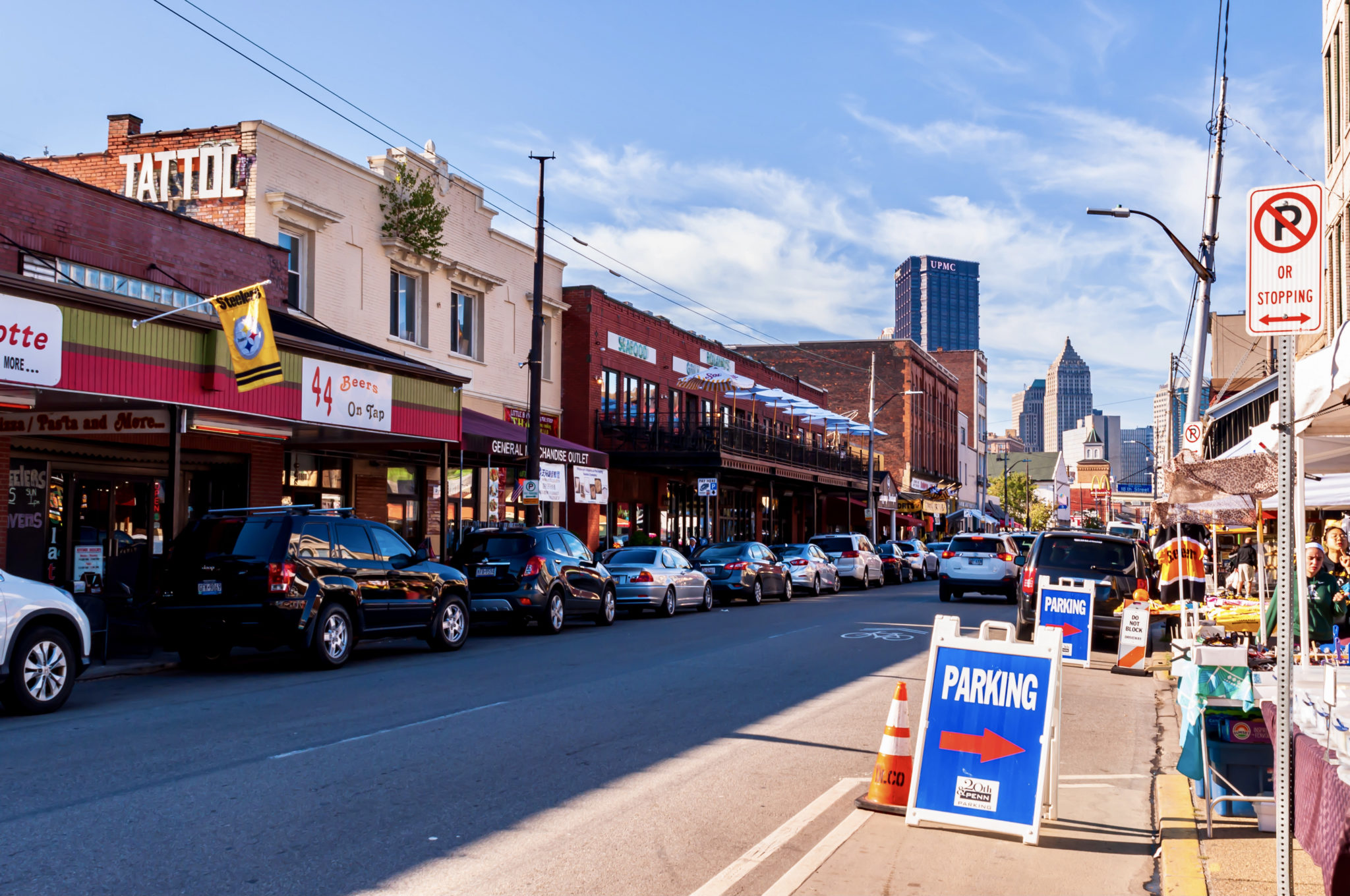 3. Strip District
4. Lawrenceville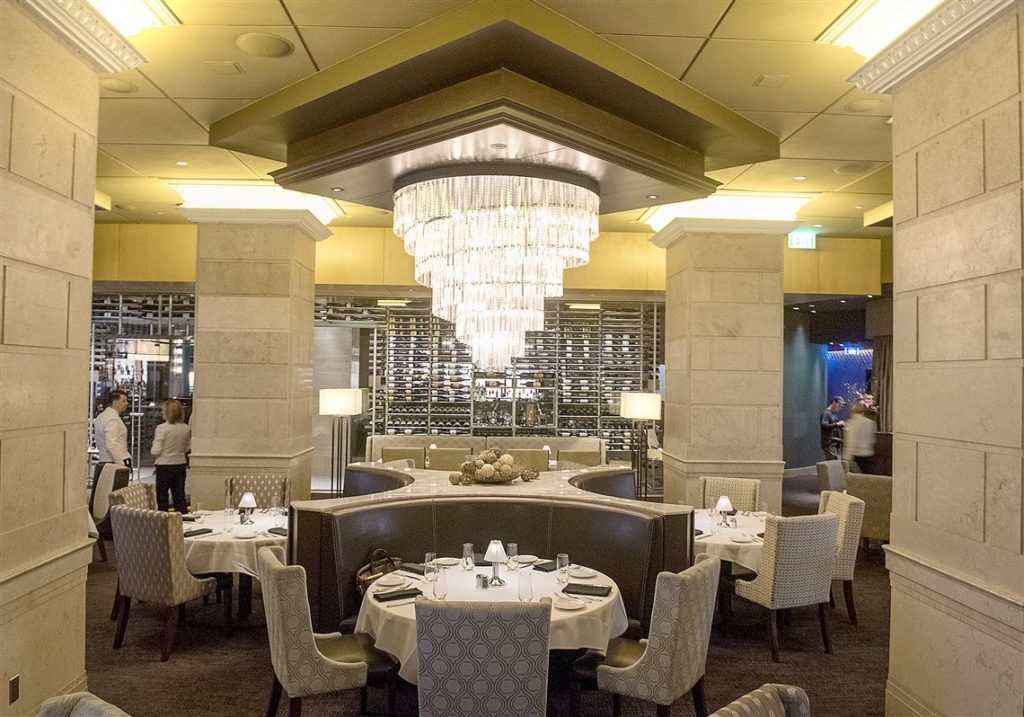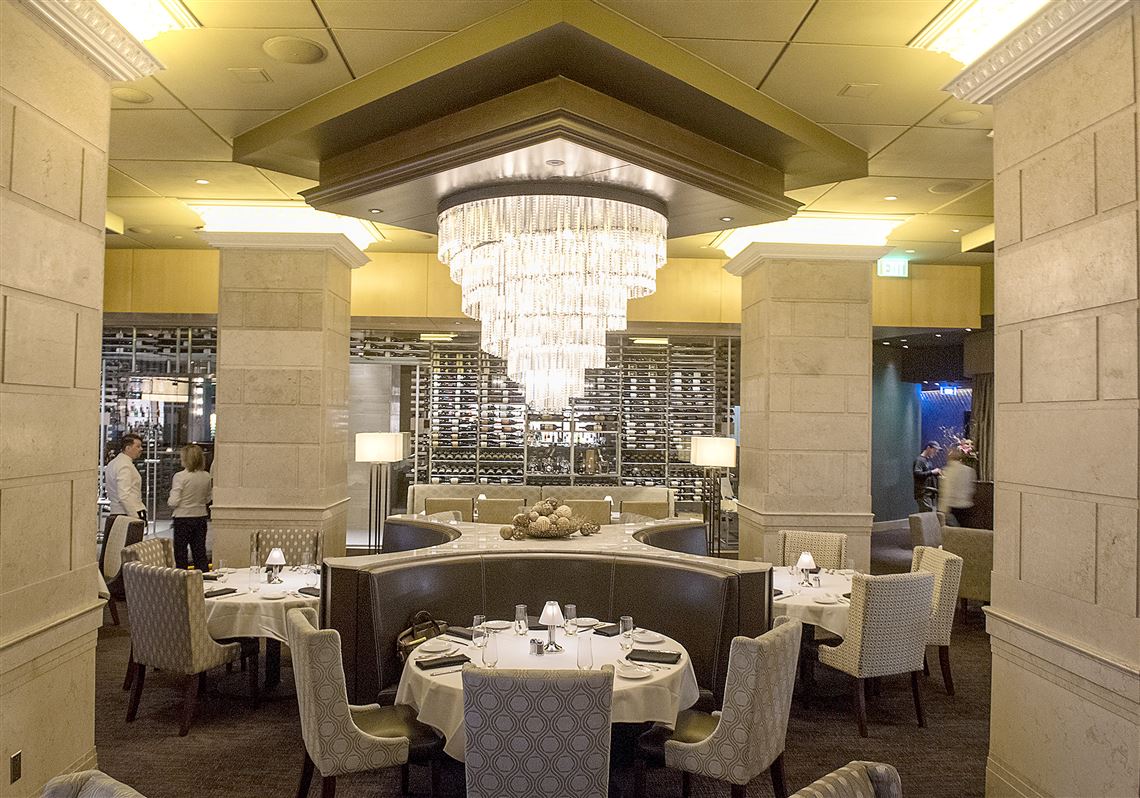 5. Downtown:
6. Mount Washington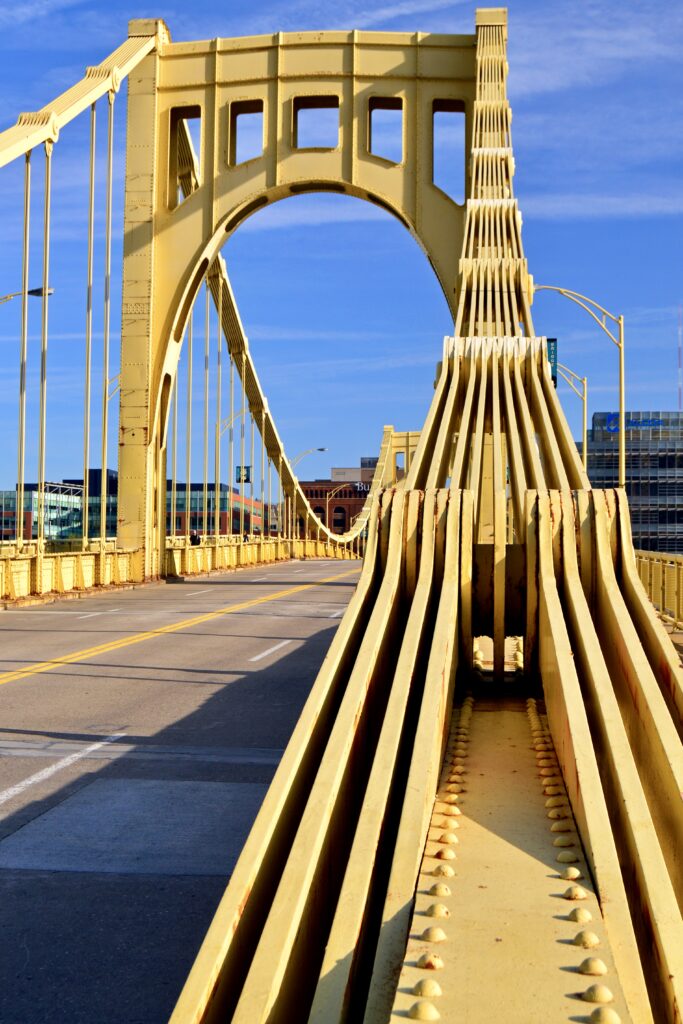 Tips For Visiting Pittsburgh
Here are some must know tips for discovering all the best things to do in Pittsburgh.
1. How To Get To Pittsburgh
If you're coming from far afield, Pittsburgh has an international airport. From there, you can take a taxi or Uber into the city center.
2. Where To Stay in Pittsburgh
I'm a fan of the Kimpton boutique chain. So, I would recommend the Kimpton Hotel Monaco Pittsburgh. It's a trademark Klimpton with some whimsy and a bold color scheme.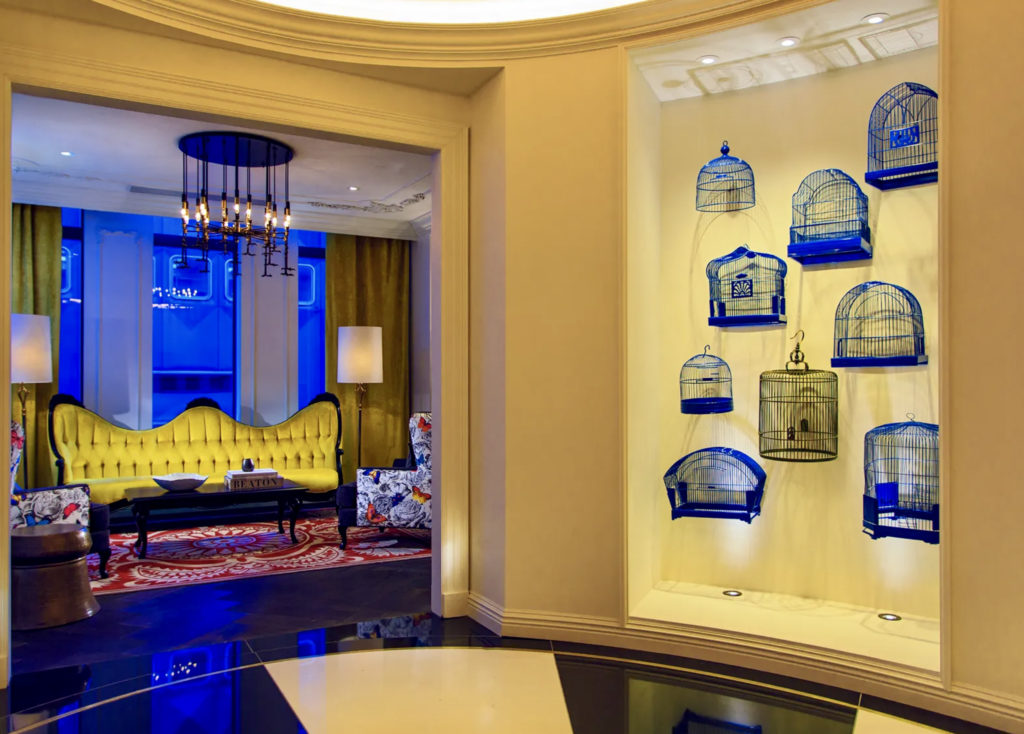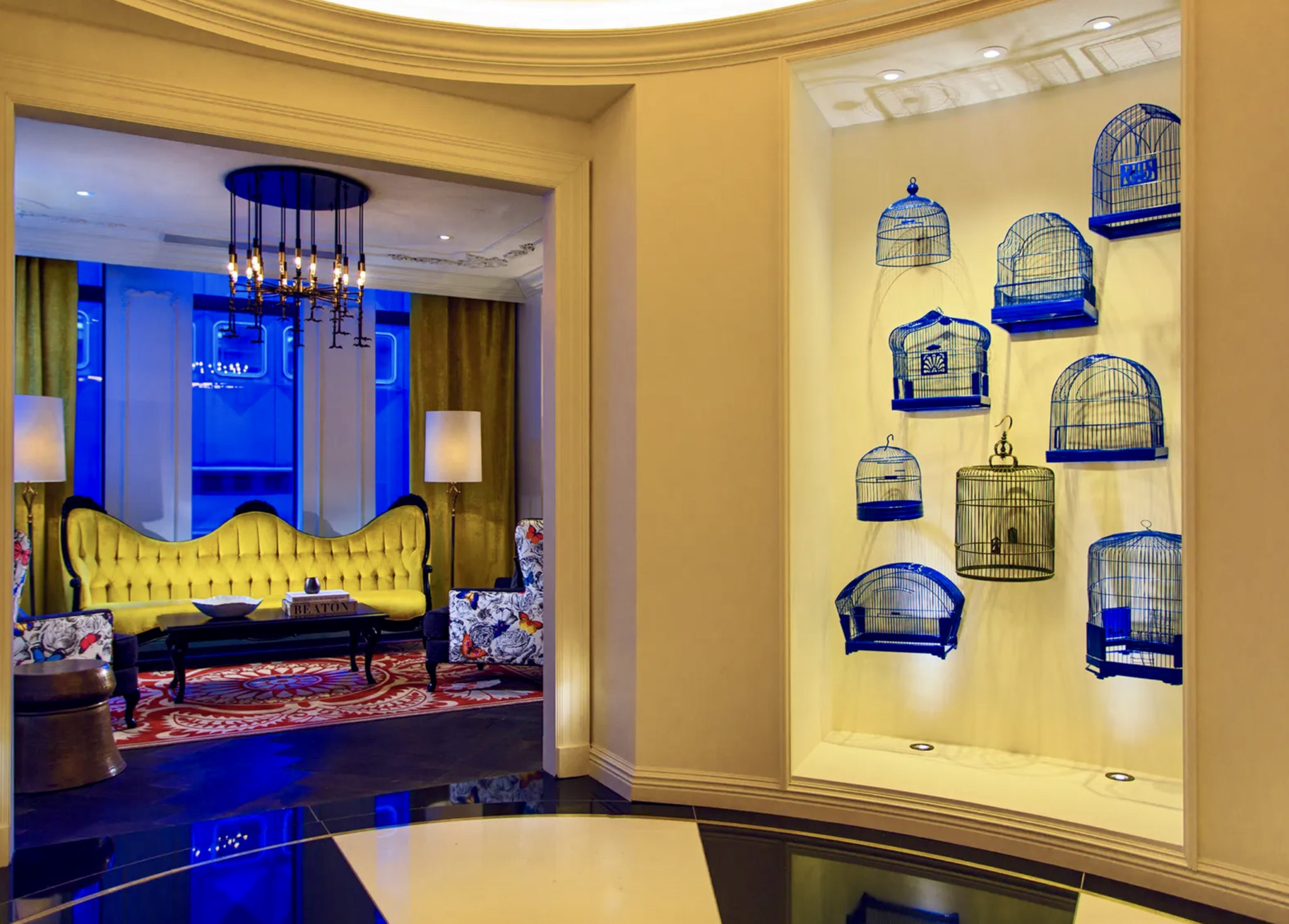 The Distrikt Hotel is another great option. At the District, historic meet modern and posh meet minimalism.
My previous favorite hotel was the Ace Hotel, a place I regularly went for brunch. But the hotelier closed during the pandemic.
The hotel has recently reopened with new management and a new name. It's now called Kasa at the Maverick. Of course, you'll also find a Hilton Garden Inn and a Marriott.
If you want to stay in Oakland near the colleges, check out the Oaklander Hotel.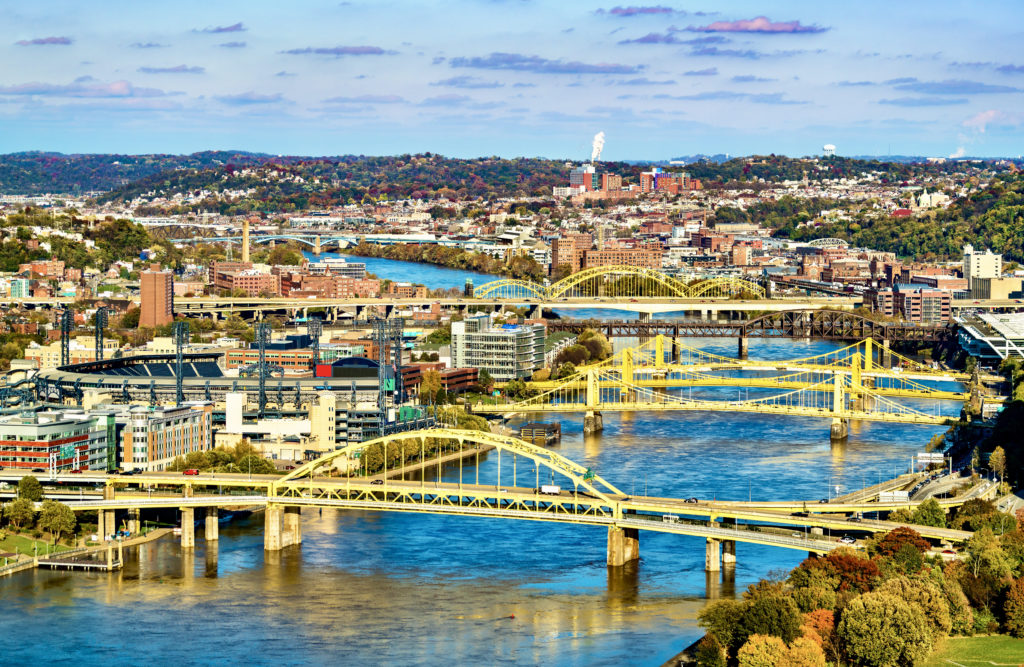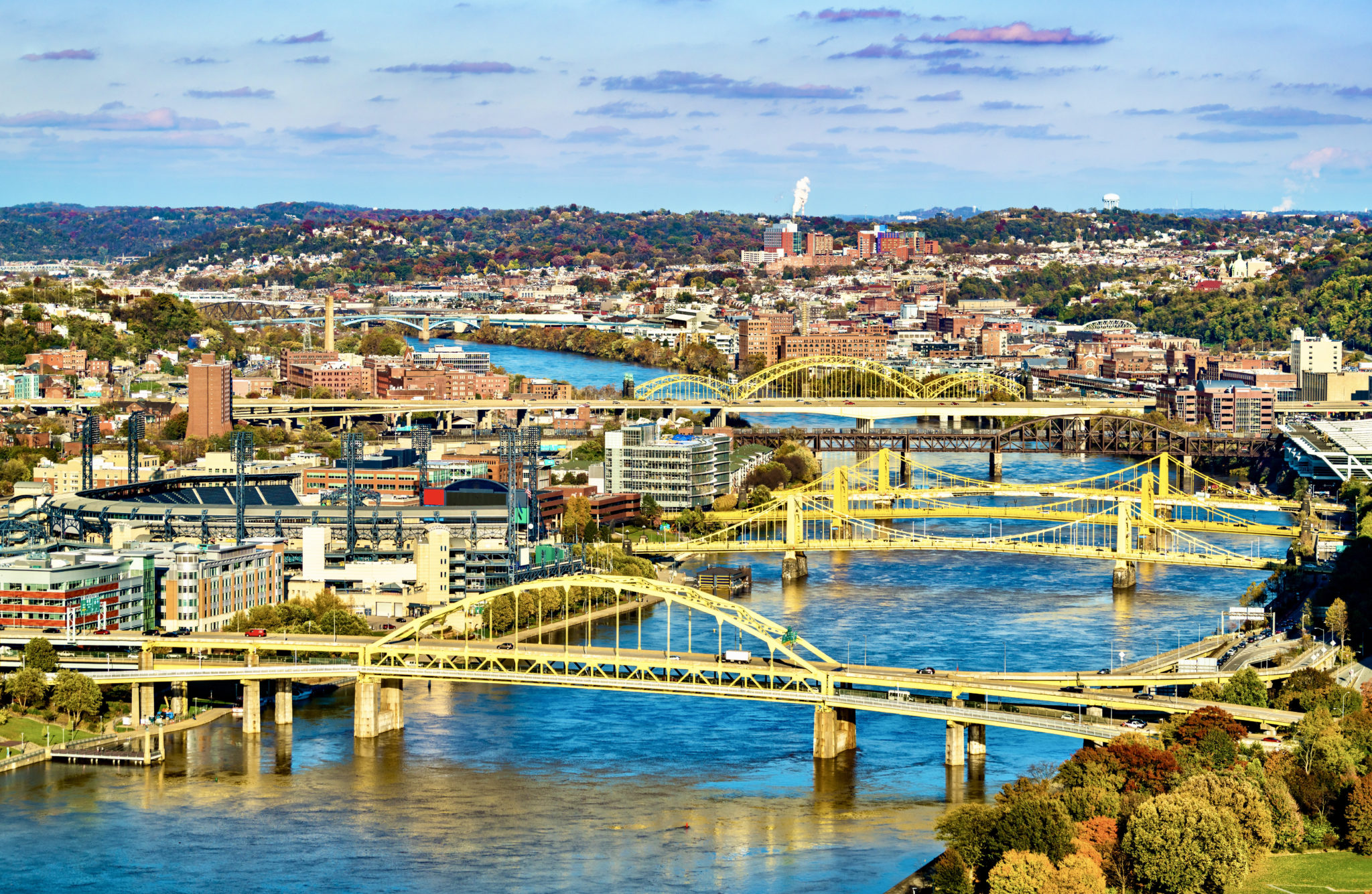 3. When To Visit Pittsburgh
Pittsburgh has all four seasons to enjoy. So you can pick whichever one best suits you.
Personally, I think the best time to visit Pittsburgh is fall. The weather is perfect, sometimes even surprisingly mild. This year, we had fall colors and 70 degree temperatures in October.
Fall is also fairly dry too, without much rain. It doesn't really turn chilly until mid November.
As you might expect, the summers are hot and sunny in Pittsburgh. You'll have long days to get the most out of your sightseeing.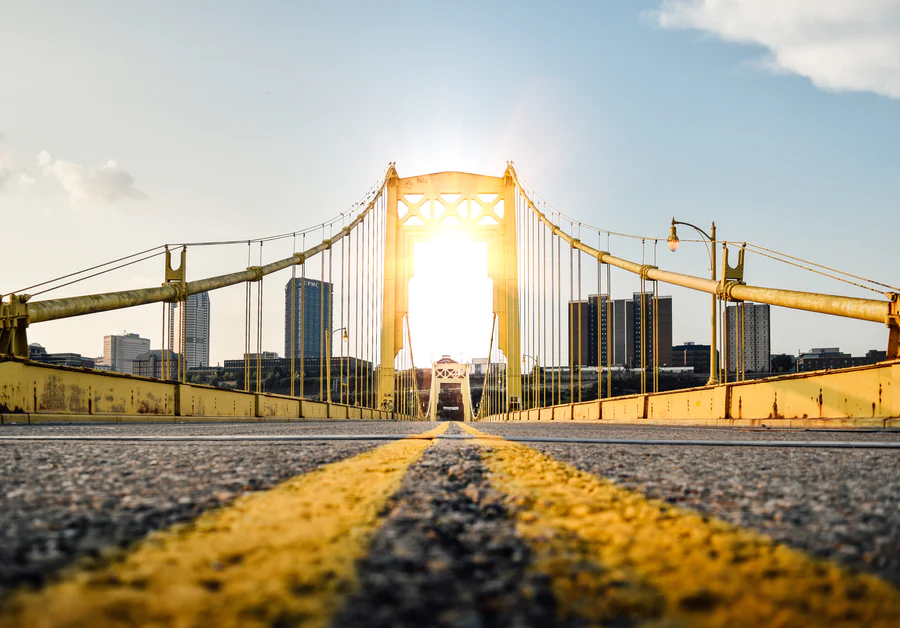 Winter isn't actually a bad time to visit Pittsburgh either. Pittsburgh doesn't get frigidly cold like other popular cities.
But you can expect gray skies in winter. Pittsburgh isn't known for its winter sunshine.
On the upside, there are plenty of holiday activities and fun Christmas things to do in Pittsburgh in winter.
Late spring is a great time to see Pittsburgh's many attractions. May is the best month. March and April can sometimes be rainy.
4. Getting Around Pittsburgh
I'm not going to lie … Pittsburgh can be a challenging city to get around in. There are hills, uncommon street grids, and loads of one way streets.
The myriad bridges can be insane to traverse. They seem to go everywhere except where you're headed. If you get in the wrong lane or can't instantly move four lanes over, you may well be detoured.
Use your phone GPS to get the most accurate directions.
Pittsburgh has limited public transportation. The subway, such as it is, is called the T.
But it doesn't go to that many places. And the buses are slow. Another option is the hop on hop off tourist bus.
Don't just hang out in the downtown area, no matter how convenient it is. Pittsburgh's neighborhoods are what make the city's "gritty but quirky" vibe shine the brightest.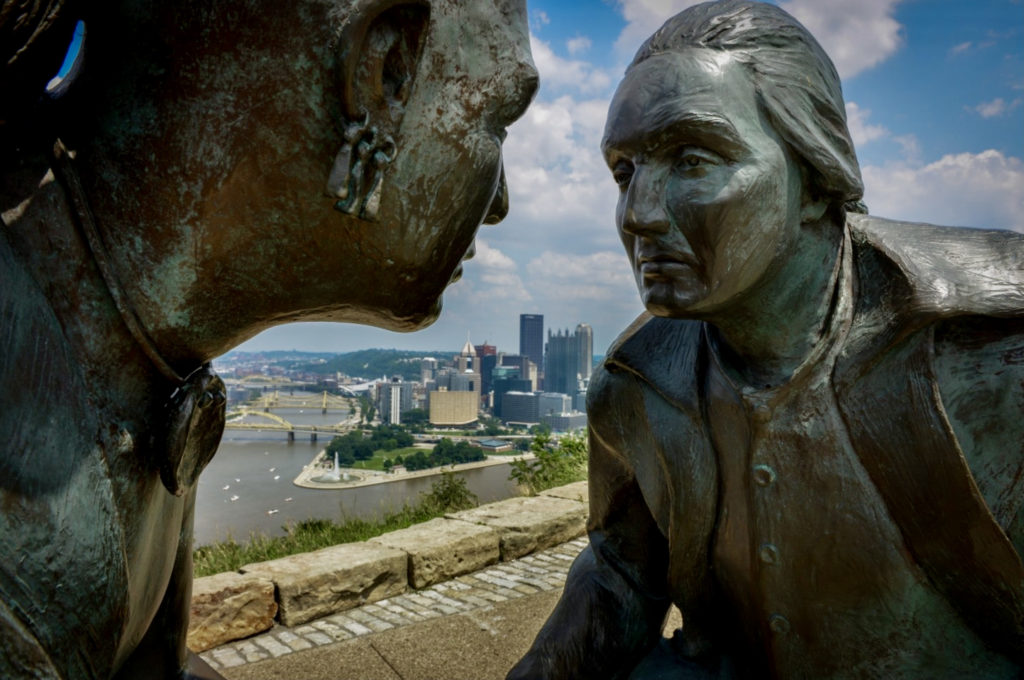 I hope you've enjoyed my guide to the best things to do and see in Pittsburgh. You may enjoy these other United States travel guides and resources:
If you'd like to visit the top attractions in Pittsburgh, pin it for later.