Looking for a one day itinerary for visiting Providence Rhode Island. Look no further!
In 24 hours, this Providence travel guide covers the must visit attractions, landmarks, charming neighborhoods, and museums in Providence.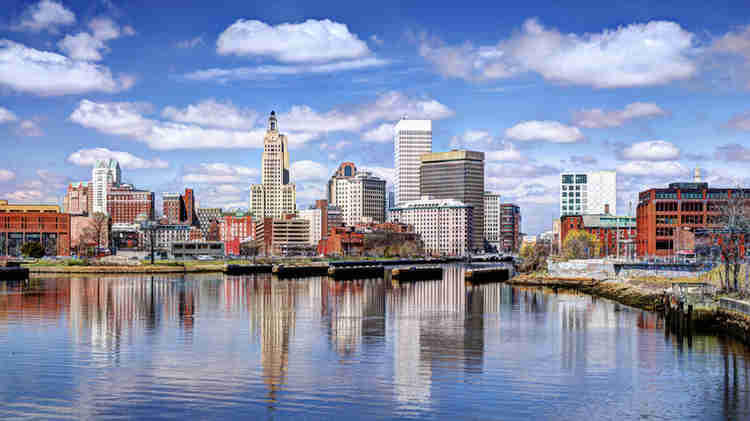 You'll get a step by step itinerary for exploring Providence. I tell you all the best things to see, do, and eat in Providence. The city is very walkable, so you can certainly get a sampling of its culture in one day.
Nicknamed the "cooler city" by GQ, Providence is one of the best towns on the East Coast. Providence is home to an Ivy League college, design schools, and a culinary institute.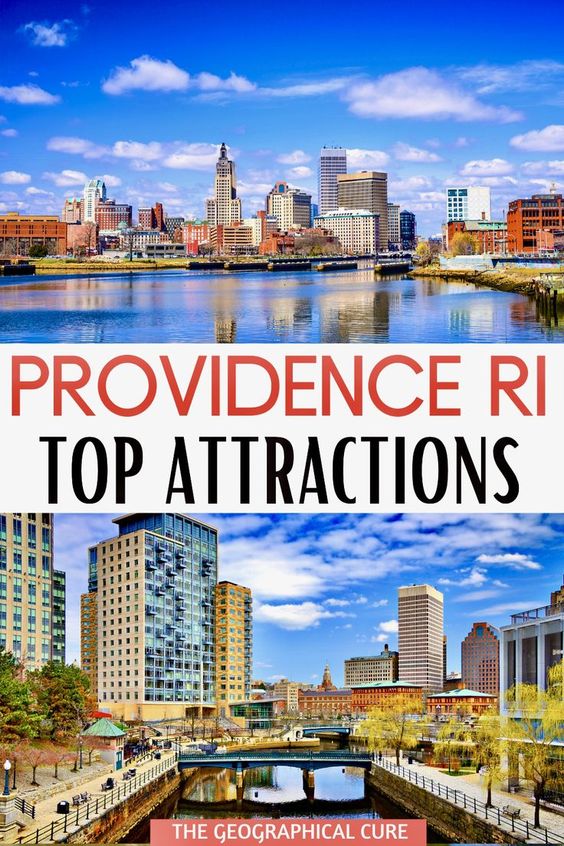 The city is a hodgepodge. It combines big city sophistication with small town charm.
It has a vibrant local culture, celebrated restaurants, and sparkling waterfront parks. Providence is full of historic Yankee monuments, but also has a young and funky vibe.
READ: Guide To Wright's Masterpiece, Fallingwater
Providence was founded by Roger Williams. He was a rebel and creative thinker who dared to defy the rules and define his destiny. 400 years later, Providence maintains this ethos with a thriving arts community.
Providence is a town of innovative writers, painters, musicians, sculptors, dancers, architects, and fashion designers. The art work of local and national artists is shown in approachable galleries throughout city.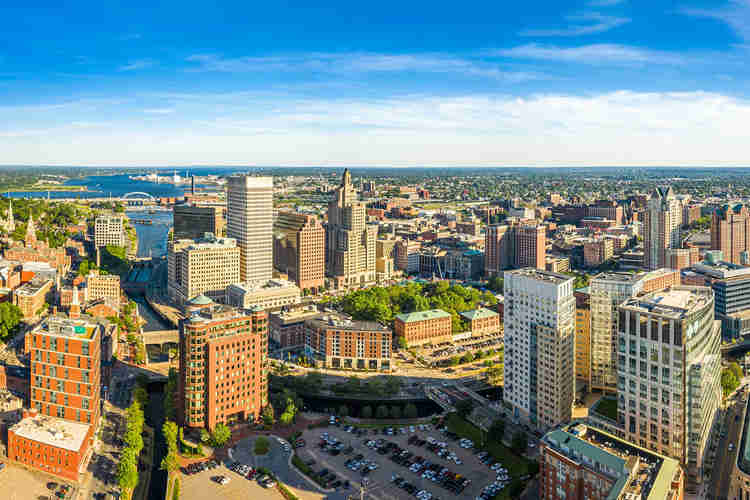 A Short History of Providence
Providence is a historic city, one of the oldest in the United States. The capital of Rhode Island is located in the northeast part of the state.
Providence was founded in 1636 by the renegade preacher Roger Williams. Williams was forced to flee the Massachusetts Bay Colony due to religious persecution. After landing in Providence, he embraced a willingness to accept every element of society.
Under his leadership, Providence became a place for religious refuge and free thinking. It was one of the original 13 colonies. And Providence was the first colony to declare independence from England.
Because Providence is set on the water, it became a New World seaport and manufacturing center. With trade booming, affluent merchants built some of the beautiful brick mansions on College Hill.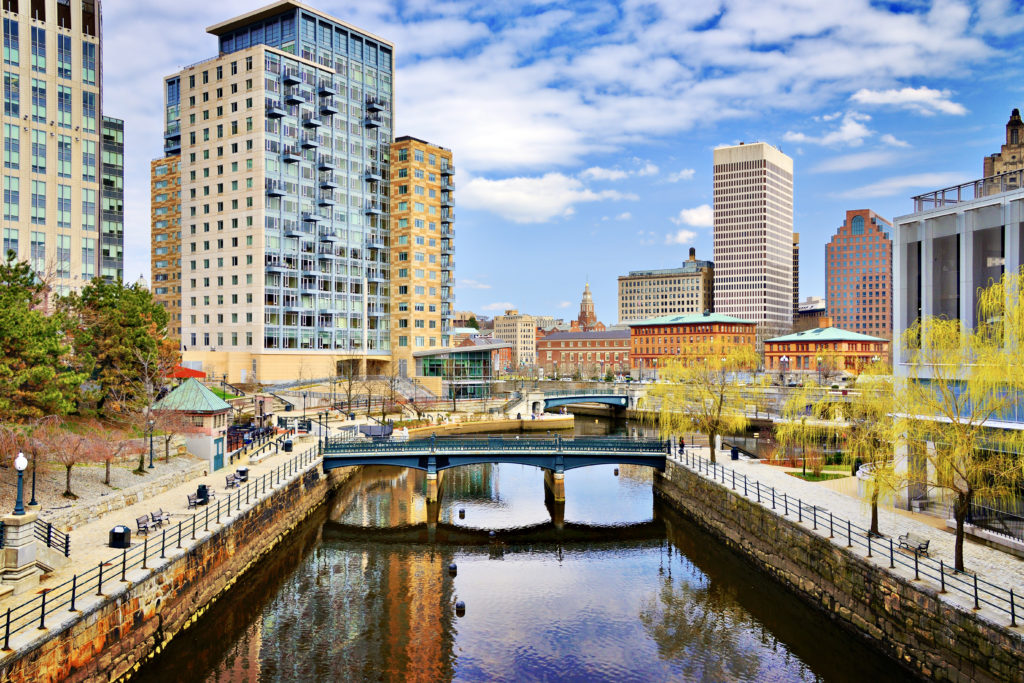 During the Civil War, Providence supported the Union cause. The city also developed a transit system and industry continued to prosper.
Today, Providence is the largest city and capital of the tiny state of Rhode Island. It's the third largest city in New England, after Boston and Worcester. Yet, with only 200,000 residents, Providence still has a small town feel.
One Day In Providence Itinerary
Here's what I think is the best way to spend one day in Providence. I've included all the top attractions in Providence.
You may not be able to fit them all in just one day. But this list of things to do in Providence will at least give you some destination inspiration and a plan of attack.
You start your one day in Providence in Federal Hill, cross the river to Downtown, and then head to beautiful College Hill.
You may want to book a welcome to Providence walking tour to get oriented.
1. 8:00 AM Breakfast At The Grange
Start your one day in Providence off with breakfast at The Grange. It's a hip vegetarian breakfast and brunch spot. The restaurant has a seasonal menu that feature locally-sourced fresh produce.
The restaurant has a salvaged and upcycled decor. Aside from scrumptious food, the Grange has both a cocktail bar and a juice bar.
If you don't want to sit down to eat, you can grab a delectable pastry at Scialo Bros Bakery instead. It's a nearly century old family run bakery.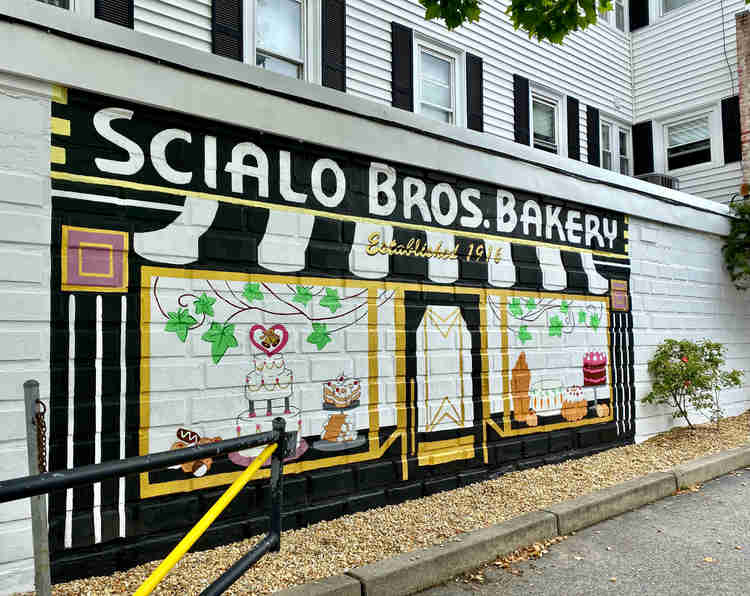 2. 9:00 AM: Federal Hill
Federal Hill is dubbed "One of the Five Best Little Italys in the U.S." Just called "The Hill," it's main drag is Atwells Avenue. Federal Hill is a must visit and must dine destination on your Providence itinerary.
You'll find loads of knockout eateries there. More than 100 restaurants, boutiques, and galleries show off the city's Italian influence with an inventive spirit.
The main square is DePasquale Plaza, where people are always dining alfresco. If you're in Providence in early June, you can eat and enjoy live music during the Federal Hill Stroll.
Head to the East Side to encounter Providence's Colonial past. You'll be greeted by grand 18th and 19th century homes, cobblestone streets, and flickering street lamps.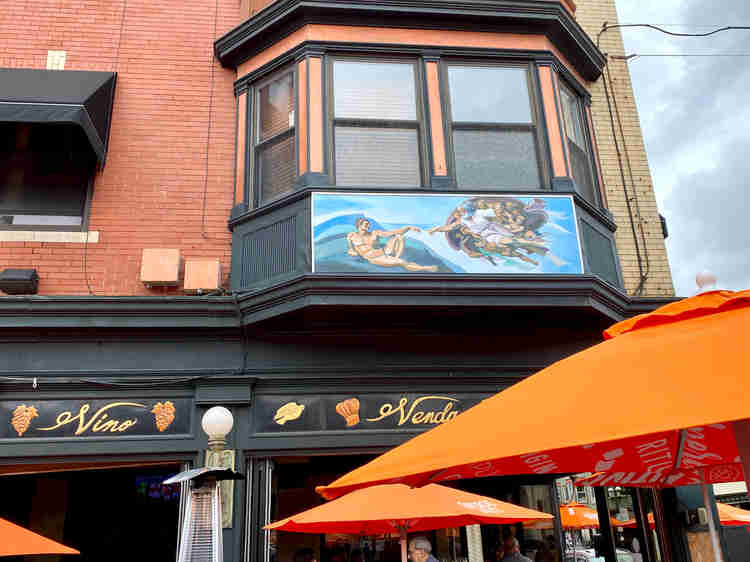 3. 10:00 Plant City
If you skipped breakfast on Federal Hill, on your way across the river to downtown, stop for brunch or a coffee at Plant City on Water Street.
Or just pop in to check it out. This place is fantastic.
Plant City is the world's first plant-based vegan food hall and marketplace.
There are four restaurants and three bars. They were created by internationally-acclaimed chef Matthew Kenney. There's also a coffee bar, bakery, and market.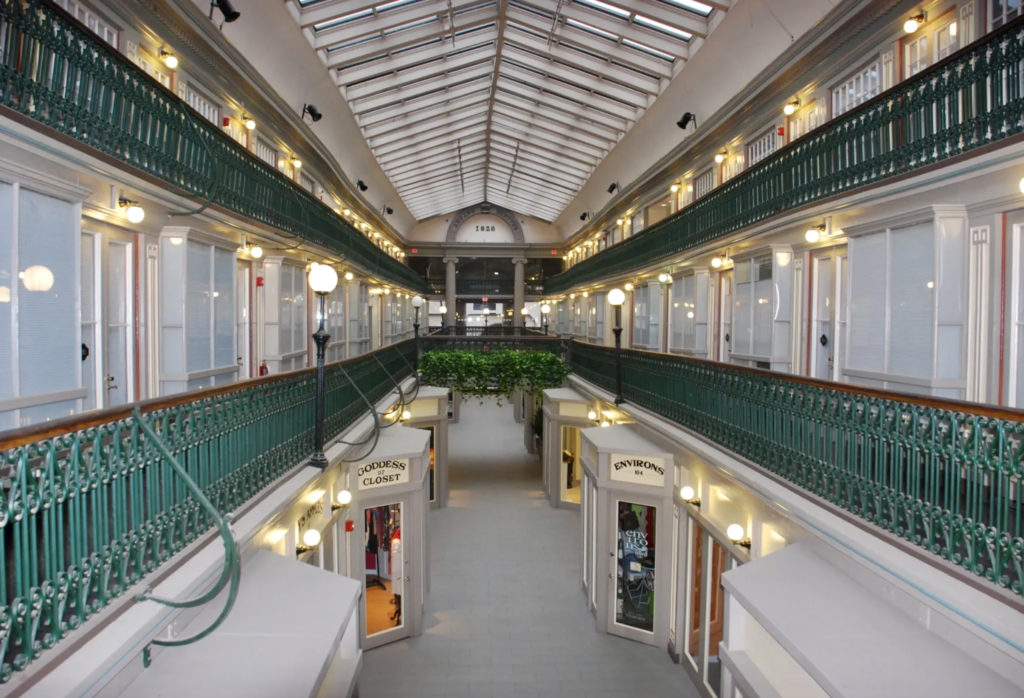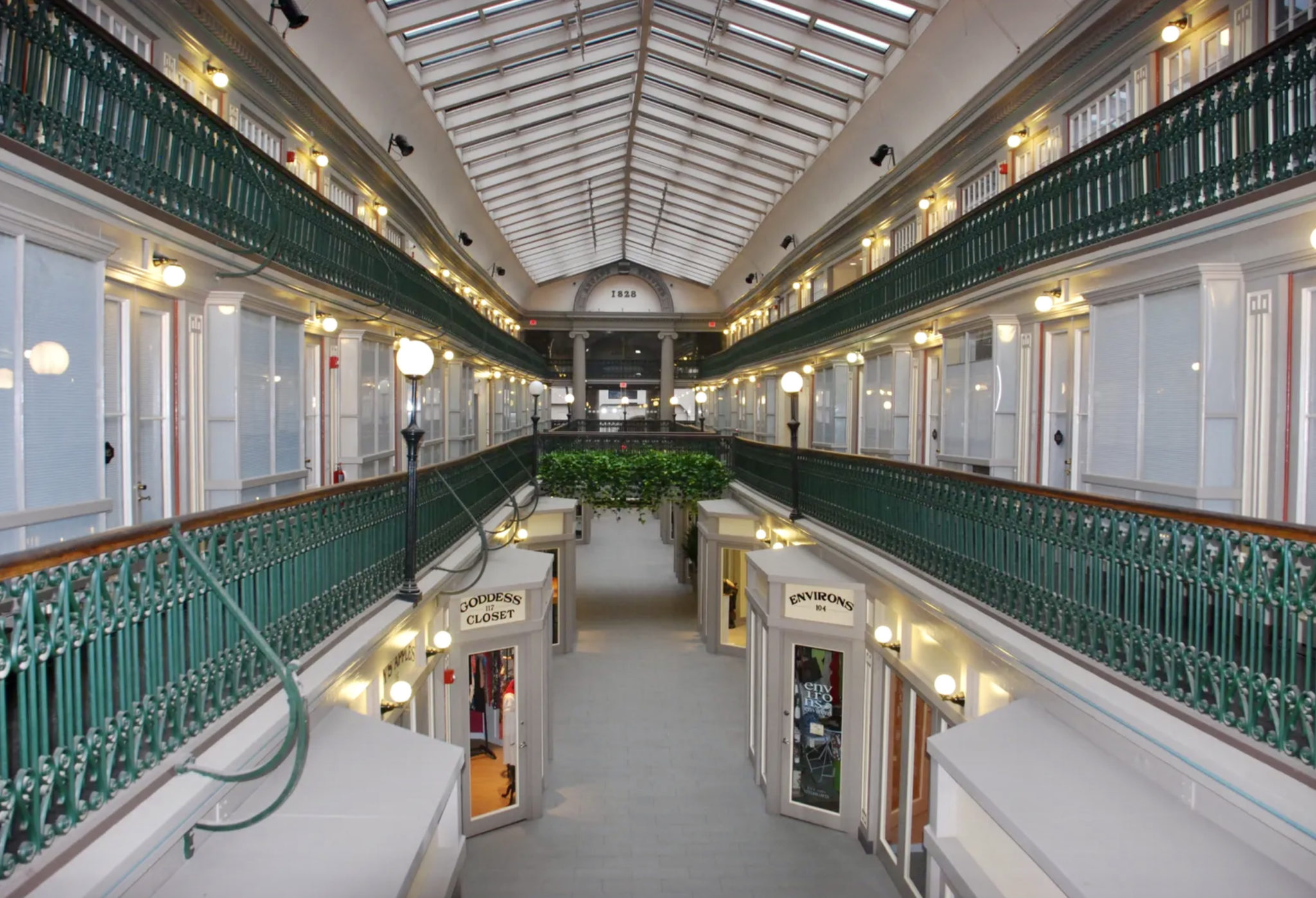 4. 11:00 PM: Downtown or "Downcity"
At noon, head to downtown Providence. In this area of Providence, you find some gorgeous Art Deco, Beaux-Arts, and late Victorian buildings.
The Arcade is the most prominent landmark. It was America's first shopping mall, built in 1828. The Greek Revival building is now on the National Register of Historic Places.
The Arcade is a retail hub and loft complex. It's home to "micro lofts" (small living spaces) on the two upper levels and "micro retailers" on the bottom floor. The retailers are mostly independent with local roots.
There are also several restaurants, which get especially busy at noon. And the Arcade is home to the Providence's Winter Farmers Market. Downcity is the perfect place to take a guided food tour to sample the local cuisines.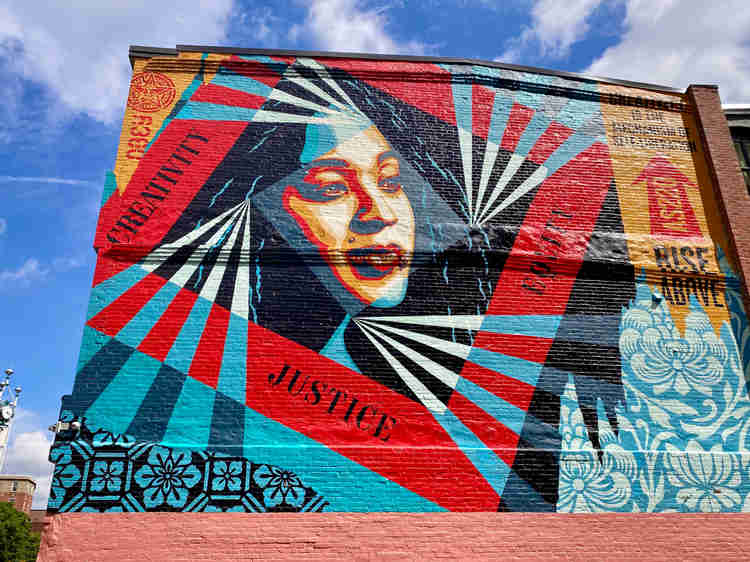 5. Downcity Arts District
Then, head to the Arts District. This area is home to Providence's performing art venues and visual arts destinations. It's also home to some beautiful street murals.
The Arts District is a great place to shop and eat as well. Westminster Street is the most eclectic shopping area. It's a charismatic, brick-lined metropolitan street bedecked in trees and string lights
If you need a coffee or cool drink, pop into Small Point Cafe or Sydney. They're both adorable cafes.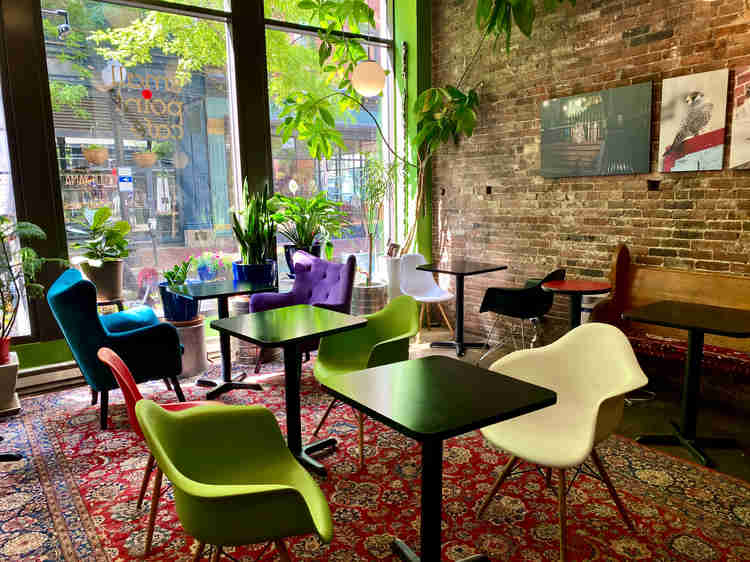 Small Point Cafe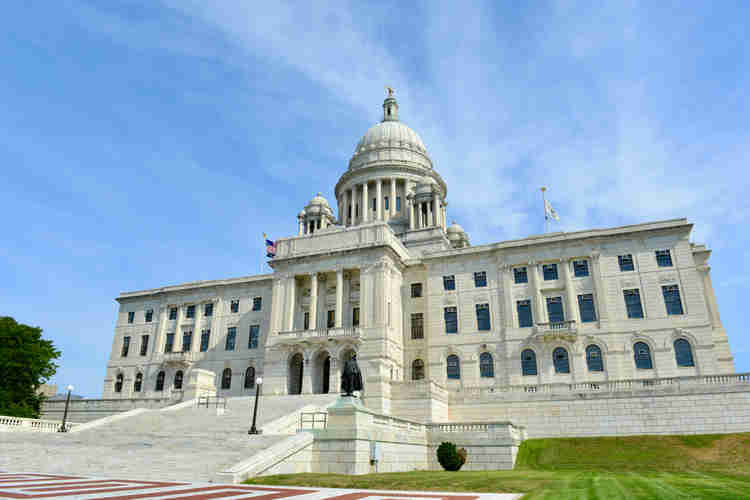 6. Rhode Island State House
If you're interested in architecture, tour the Rhode Island State House. It's one of the grandest statehouses in the United States.
Built from 1895-1904, this majestic Neo-Classical domed building is clad in white Georgia marble. It was constructed during Rhode Island's industrial prosperity.
A Providence landmark, the state house has the world's fourth largest self-supported dome. It was inspired by the dome of St. Peter's Basilica in Rome.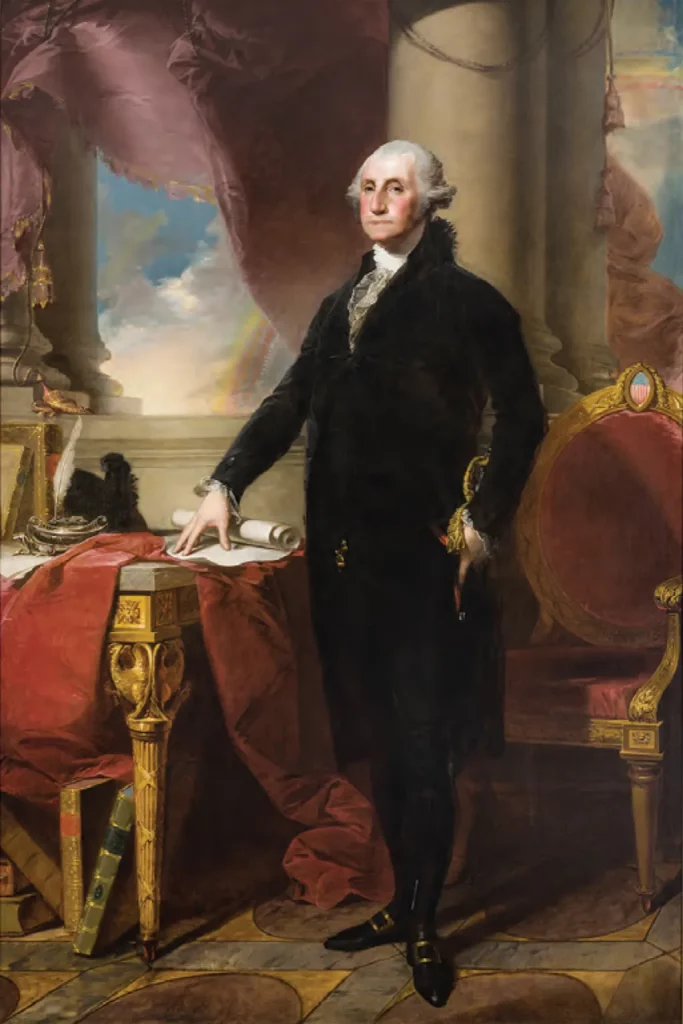 You can visit the state house on your own or via a free guided tour. You'll see The Four Freedoms painting by James Allen King, inside the dome.
Gilbert Stuart's famed Portrait of George Washington (shown above) hangs in the Governor's State Room.
There's also a gun from the battle of Gettysburg and a replica of the Liberty Bell in Philadelphia.
READ: 2 Day Itinerary for Philadelphia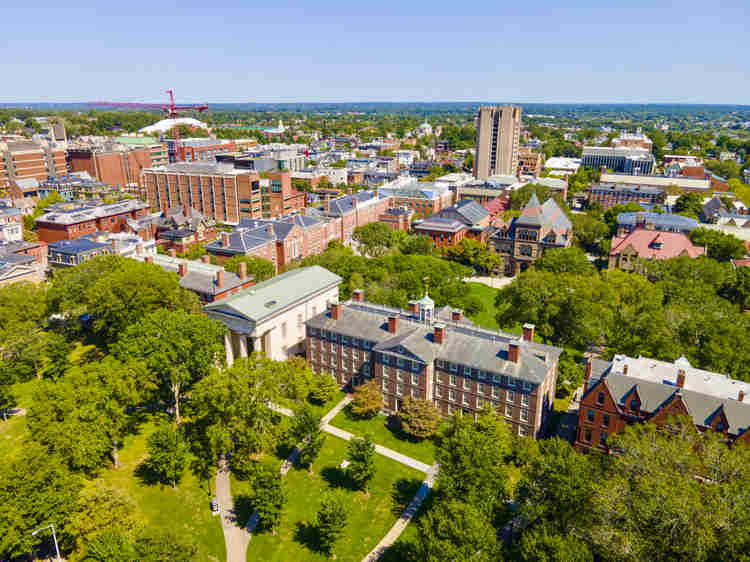 7. 12:00 PM: College Hill
At midday, head to the next stop on your 2 day in Providence itinerary, beautiful College Hill. This is Providence's showcase neighborhood. Its name comes from being home to Brown University and the Rhode Island School of Design.
College Hill is an amazing example of historic preservation. It's one of the country's finest urban strolling areas. You'll find pristine mansions and period gas lamps.
The main drag is Thayer Street. Thayer is an eclectic shopping and dining area. It's home to plenty of eateries, from casual to chic.
If it's lunchtime, settle in for a meal at Kabob and Curry. Or, get a falafel to go at East Side Pockets.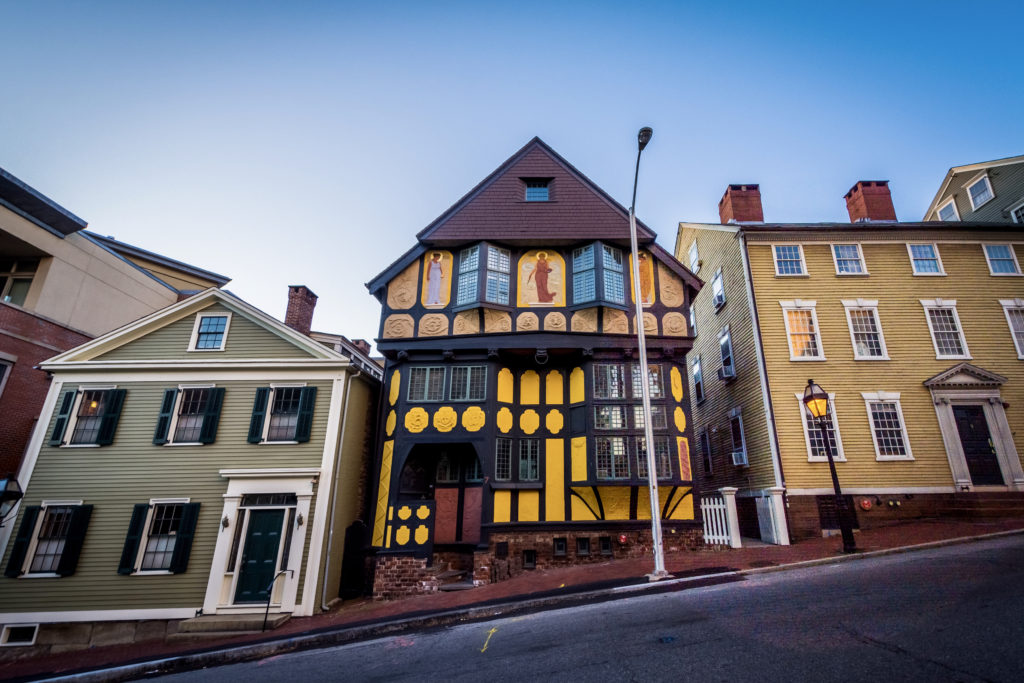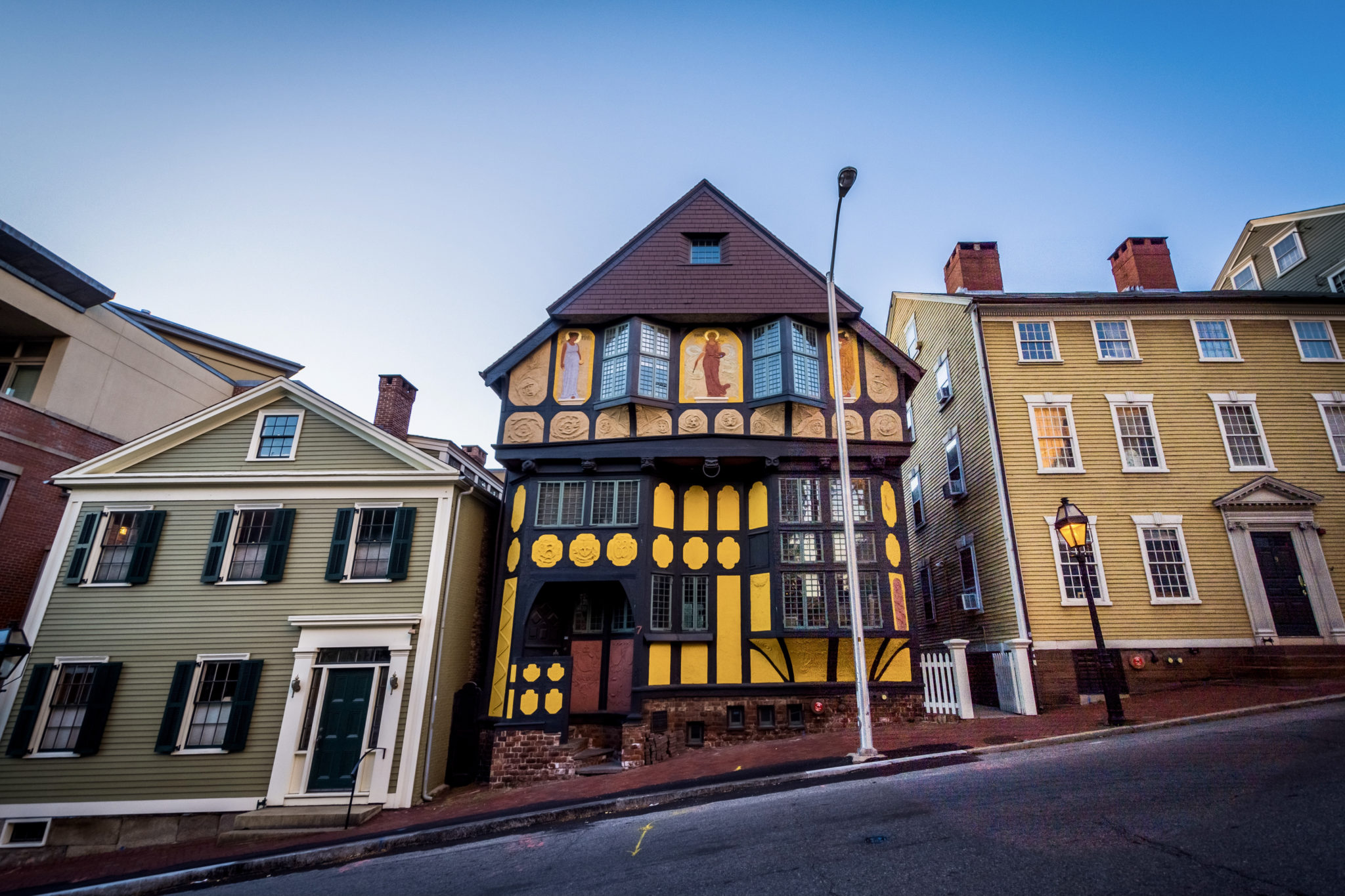 8. Fleur de Lys Studio
Be sure to see the Fleur de Lys Building on Thomas Street on College Hill.
This home is a historic first example of Arts & Crafts architecture in the United States. It's a nice change from the intense Colonialism of College Hill.
The facade is covered with hand carved faux reliefs in bright yellow and beige. There's a sunken doorway and bulging window bays.
The eccentric building was founded by Sydney Burleigh as a studio and workplace for himself and the Providence Art Club. Today, it still houses artists studios.
There are plenty of other beautiful historic homes along Thomas Street.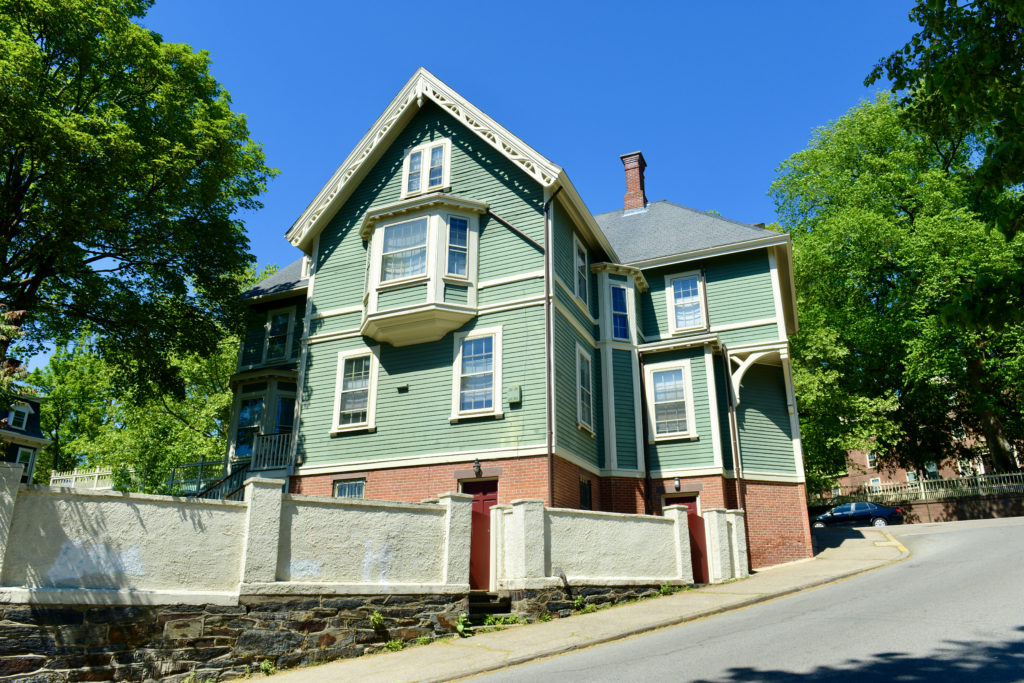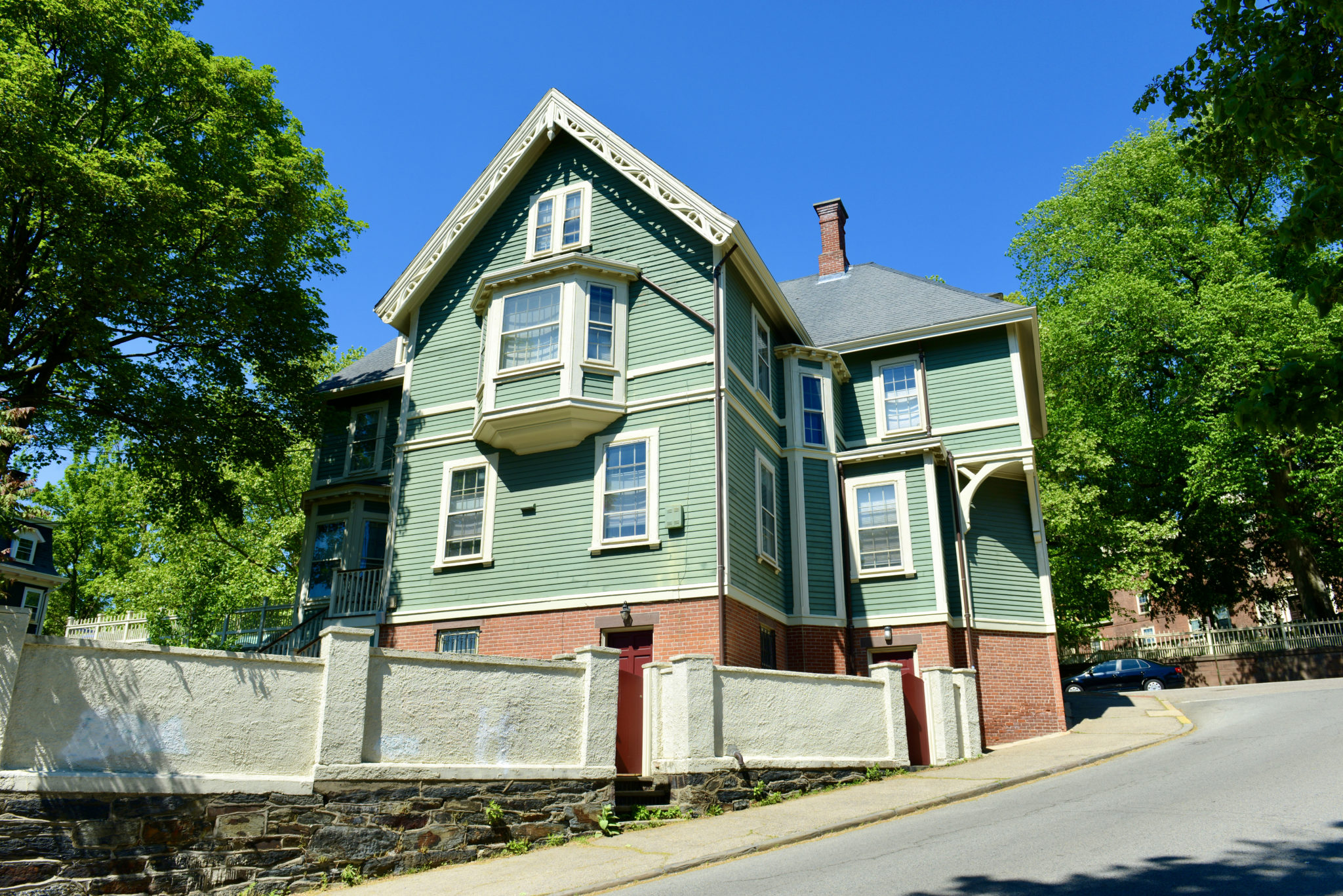 9. Benefit Street
Just a few steps from Thomas Street, you arrive at Benefit Street. It's a postcard perfect street that runs for 1.2 miles next to the Brown University campus. The locals refer to it as the "Mile of History."
The cobblestone lane lays claim to one of the highest concentrations of Colonials in the United States.
This most inviting street in Providence is rich in period architecture from the Colonial and Victorian eras. It's effectively an outdoor museum for architecture lovers, with well-preserved homes from the 1700s and 1800s.
The Providence Preservation Society has a walking tour booklet you can pick up for a self-guided tour. If you can't walk down Benefit Street, at least drive down it.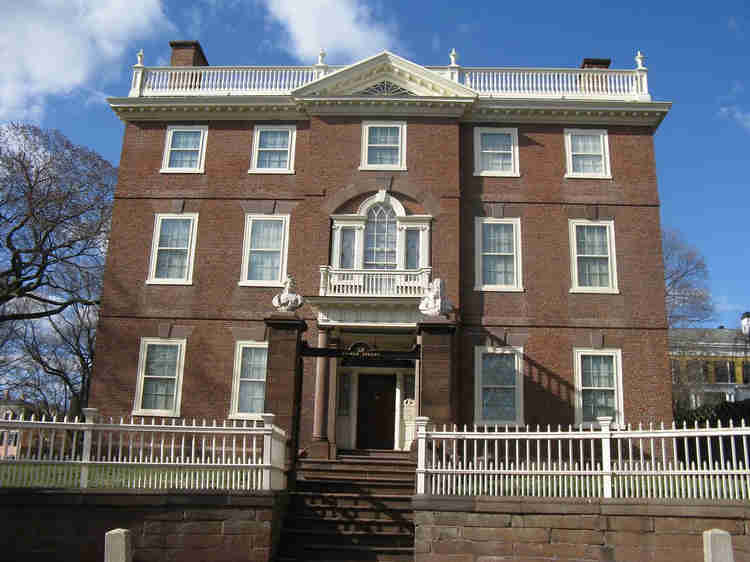 10. The John Brown House
The magnificent John Brown House was the first mansion built in Providence. The house is named after the original owner, the merchant and statesman John Brown.
It's a textbook example of the Georgian Colonial style of architecture.
A visit to the house-museum is like a walk through Rhode Island history. You'll find period artifacts, original furniture, antique maps, and an 18th century carriage known as "Washington's Chariot."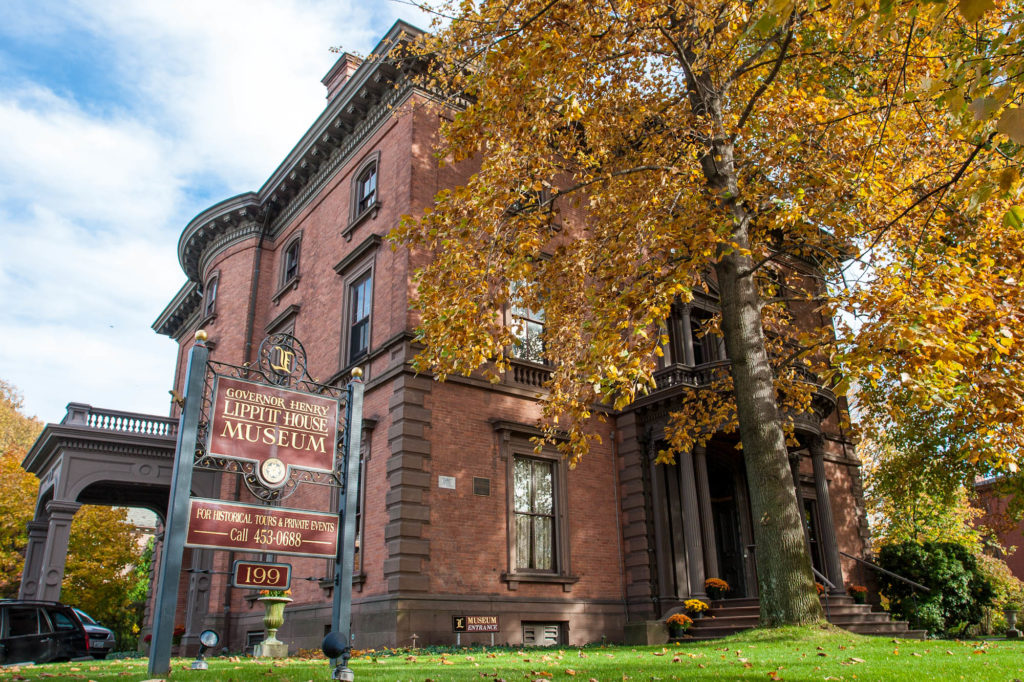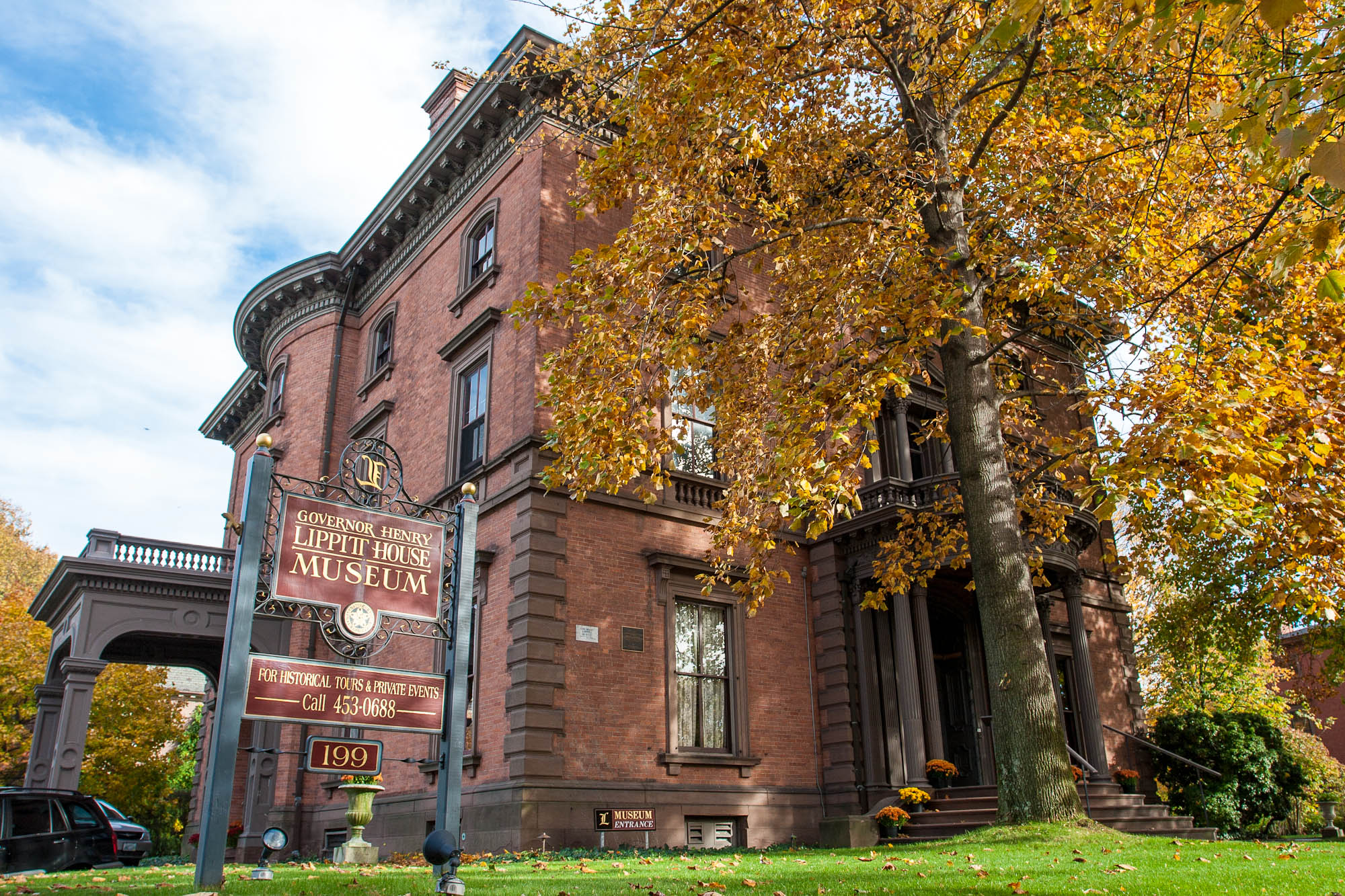 11. Governor Henry Lippitt House
The Lippet House is Providence's premiere Victorian house museum. A National Historic Landmark, the Italianate-style Lippitt House was built for textile magnate and Rhode Island Governor (1875-1877) Henry Lippitt.
The museum captures the brilliance of Victorian design during Providence's "Golden Age."
The interior is high Victorian in decoration. Visitors choose between a self-guided tour and a guided tour offered on the hour.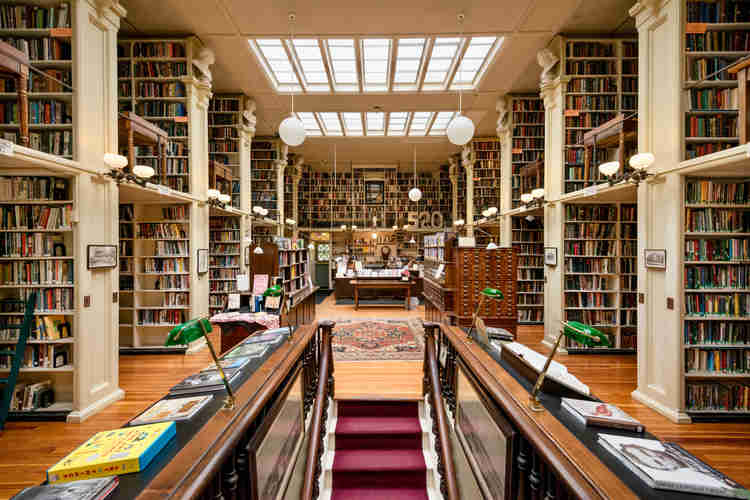 Providence Athenaeum
12. Providence Athenaeum
Who doesn't love a beautiful library? The Providence Athenaeum is a historic Victorian membership library that's open to the public.
The Greek Revival style building was once frequented by the likes of Edgar Allan Poe, who courted poet Sarah Helen Whitman there.
Browse its beautiful stacks or curl up in a cozy reading room. Say hello to the bust of H.P. Lovecraft, the master of American horror fiction. The athenaeum also has a collection of Whitman's stories and writings.
READ: Guide To the Boston Athenaeum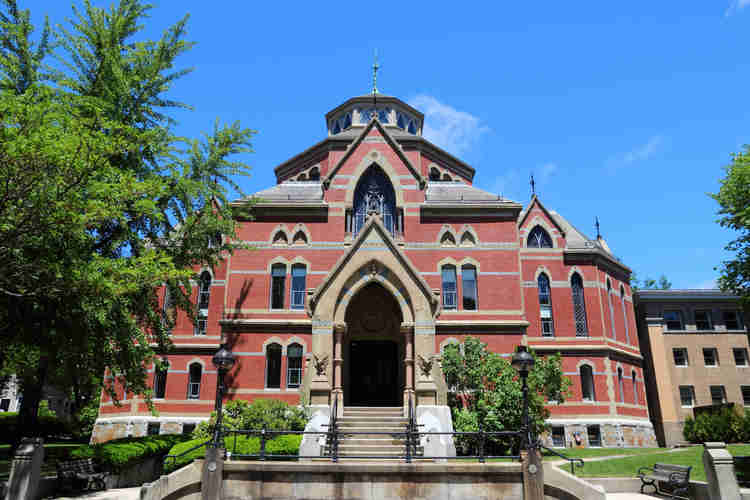 13. 2:00 PM: Brown University
Next, head up College Street to Brown University's Van Wickle Gates. Dedicated in 1901, the iron and brick gates are the ornamental entrance to the college.
Brown was founded in 1764. It's one of the the nine Ivy League colleges, founded before the American Revolution.
You can lounge under the big trees on the Main Green or admire the John Hay Library's stunning reading room. After touring the campus, mingle with the crowds on bustling Thayer Street.
Just a few blocks from campus is Wickenden Street. It's a quirky neighborhood, packed with cafes and restaurants. Its much quainter than Thayer Street.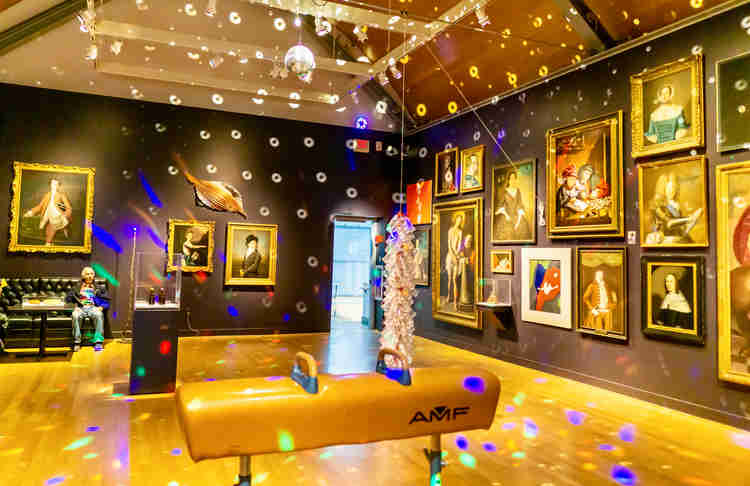 14. 4:00 PM: Rhode Island School of Design Museum
The Rhode Island School of Design Museum (pronounced RIZ-dee) is a must visit attraction in Providence for culture vultures. It could easily consume a chunk of your day.
The acclaimed museum gives you a crash course in art history. RISD houses everything from ancient artifacts to contemporary works by notable masters of the art world.
The museum has more than 100,000 art works. About 1/4 of that total is on display at any given time.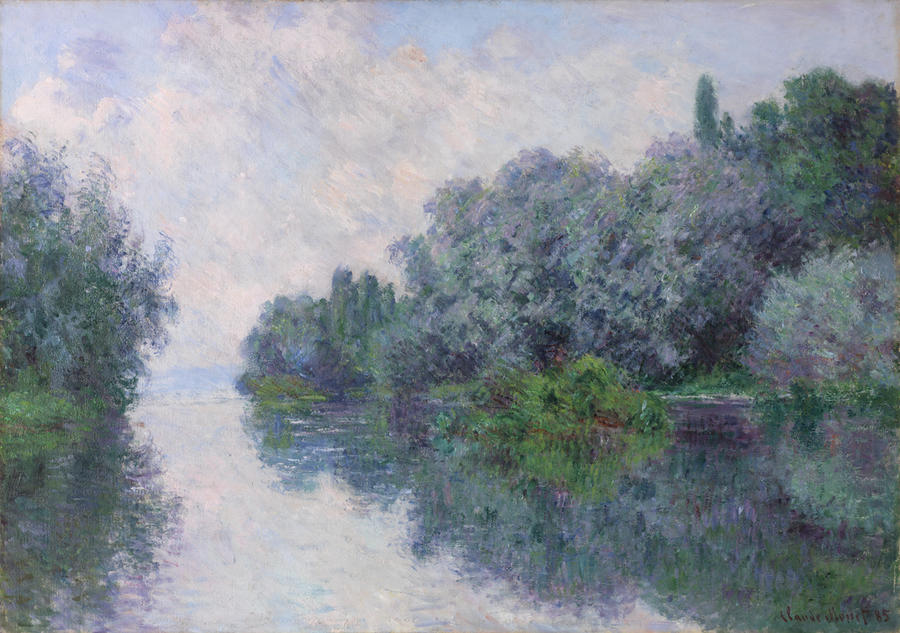 You can admire paintings by luminaries like Monet, Manet, Turner, Picasso, Degas, and other Impressionists.
You'll also find Egyptian and Asian artifacts, a 12th century 10 foot Buddha, midcentury modern Eames furniture, and Frank Lloyd Wright stained glass.
READ: Guide To Wright's Masterpiece, Fallingwater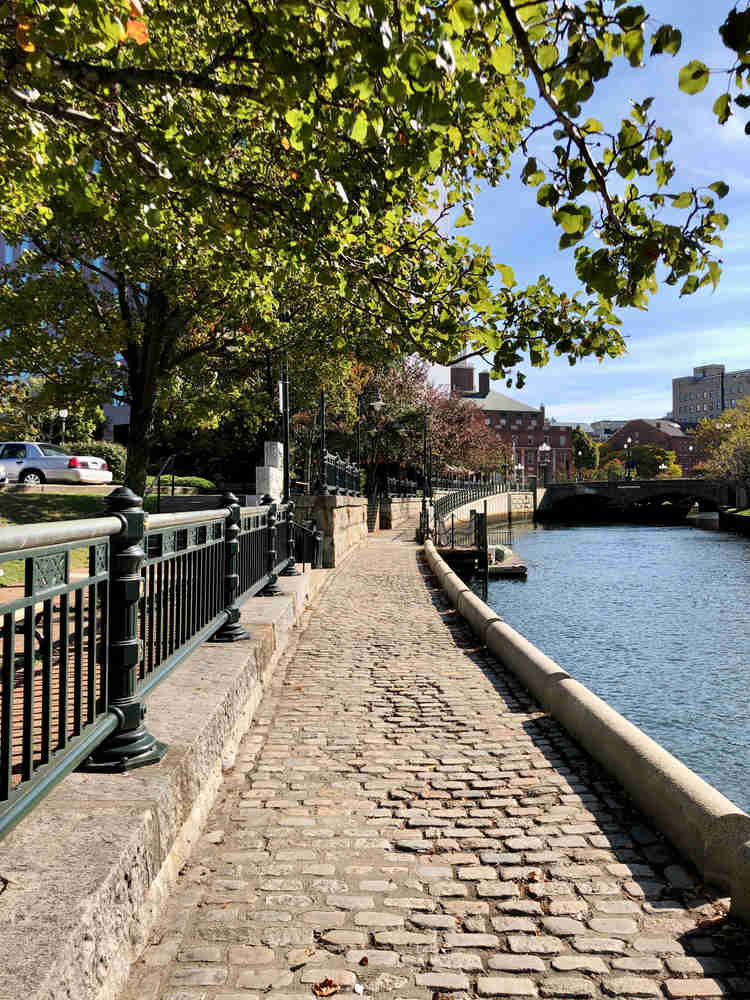 15. 6:00 PM: Waterplace Park or Boat Ride
If you have time before dinner, take a stroll down the RiverWalk to Waterplace Park. The riverfront has seen a dramatic change, with a significant reclamation effort. Now, slim elegant bridges lit up with candelabras cross the river.
There's a network of cobbled trails. Along the way, you'll see plaques noting historic events or buildings that used to be there.
If you'd like a luxurious ride on the water, find La Gondola Providence at One Citizens Plaza. You can ride in an authentic Venetian gondola. These stunning black vessels are adorned with hand-sculpted ornaments. The gondoliers dress in traditional striped uniform.
READ: 2 Days in Venice Itinerary
Rides along the river last approximately 40 minutes. You can bring along wine or prosecco. Advance reservations are mandatory. This is a popular thing to do in Providence.
Alternatively, you can book a twilight river cruise.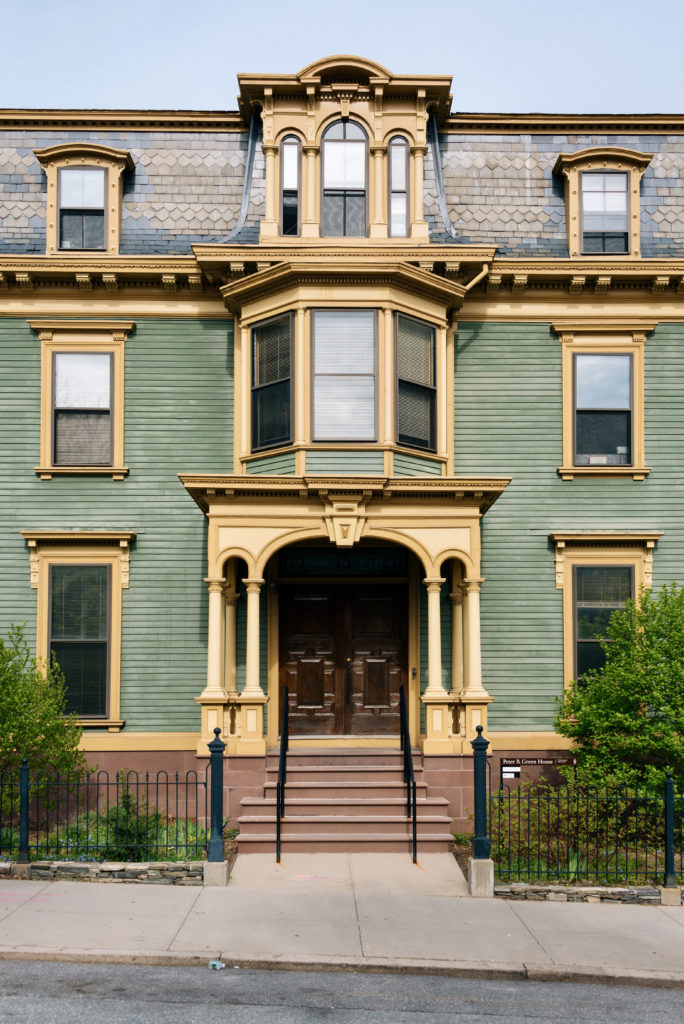 16. 7:00 PM: Restaurants for Dinner
Where should you eat with one day in Providence? Providence has a diverse and innovative restaurant scene. But Italian cuisine reigns supreme.
If you're in the mood for Italian, head back to Federal Hill. Try Siena, Enoteca Umberto, or Trattoria Zooma. Federal Hill is also home to Bucktown, which serves up comfort food with southern flair.
There are loads of good restaurants on Hope Street — Ran Zan, India, and Three Sisters.
If you want views, try Skyline at Waterplace. If you crave French cuisine, check in at Chez Pascal, where you'll find traditional French food with Rhode Island ingredients.
For an unpretentious place with great seafood, try Oberlin in downtown Providence. The chef is a James Beard Award nominee.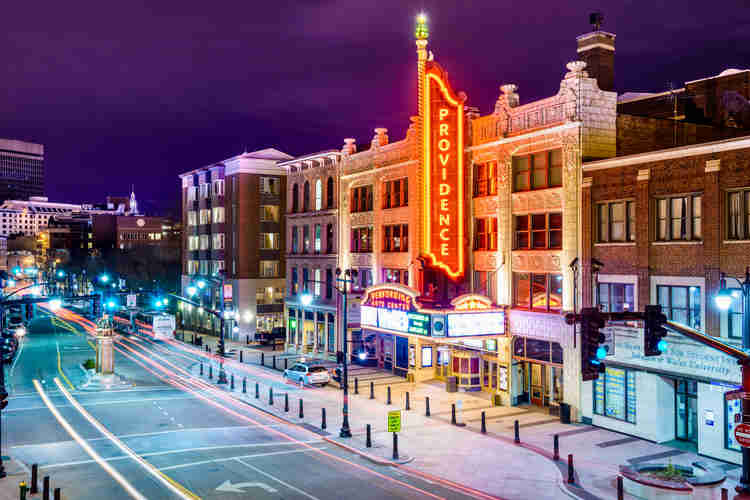 17. Evening Art Performance
End your one day in Providence with a quality theater performance.
Providence has several cultural venues — Providence Performing Arts Center ("PPAC"), the Veterans Memorial Auditorium (called the "VETS"), Trinity Repertory Company, or the Columbus Theatre.
The PPAC is a gorgeous theater. This is where you'll find the traveling Broadway shows. The arena only seats 3,000, so you need to book in advance.
The Columbus Theater opened in 1926. It was modeled after an 1880s Italian opera house. Chubby cherubs float in the ceiling above red carpeted aisles. The theater features folk and indie acts.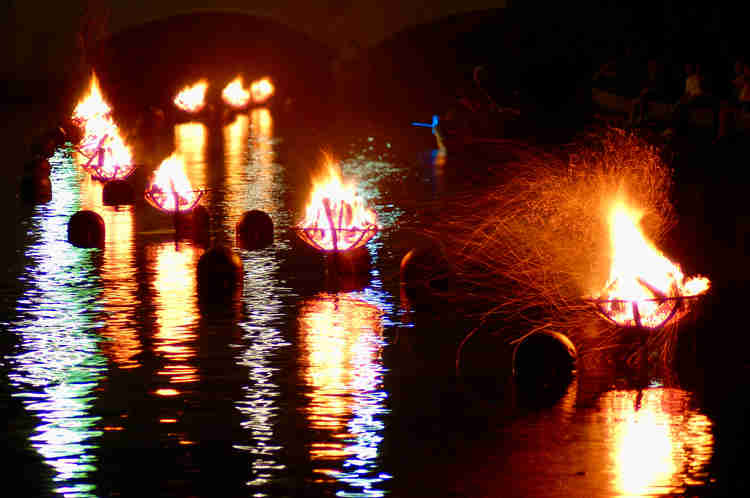 WaterFire in Providence
18. WaterFire
If you are in Providence between May and November, you'll be treated to Providence's signature attraction: WaterFire.
During WaterFire, the river is lit with over 80 bonfires that sit on braziers anchored in the middle of the water. The fires stretch from Waterplace Park to South Main Street Park.
WaterFire takes place twice a month. It's basically a big street party. There will be live entertainment and food trucks. You'll also see fire spinners and living statues.
If you want to skip the crowds, have dinner with views of WaterFire. One good place is Hemenway's.
If you miss WaterFire, you can still take an evening cruise down the river.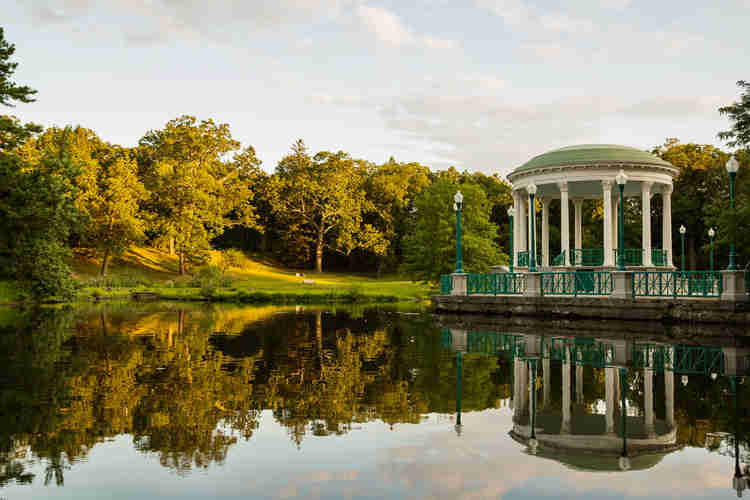 Roger Williams Park
More Time in Providence?
If you have ore than one day in Providence, there are some other splendid things to see and do near Providence.
1. Roger Williams Park
Head to Roger Williams Park, a true people pleaser. You can't walk there. But buses run there frequently from downtown Providence.
The park spans an impressive 435 acres of land in Providence. It's covered in beautiful gardens, lakes, walking trails, and greenhouses. All this loveliness makes the park one of the nicest green spots in the city.
As well as the flora and fauna here, you will also find period buildings. They include the original bandstand from 1915 and the Betsy Williams Cottage built in 1773.
For young children, the park has a carousel as well as train rides. The park is also the home of the Museum of Natural History and the Roger Williams Park Zoo. In October, there's a Jack-o-Lantern Spectacular.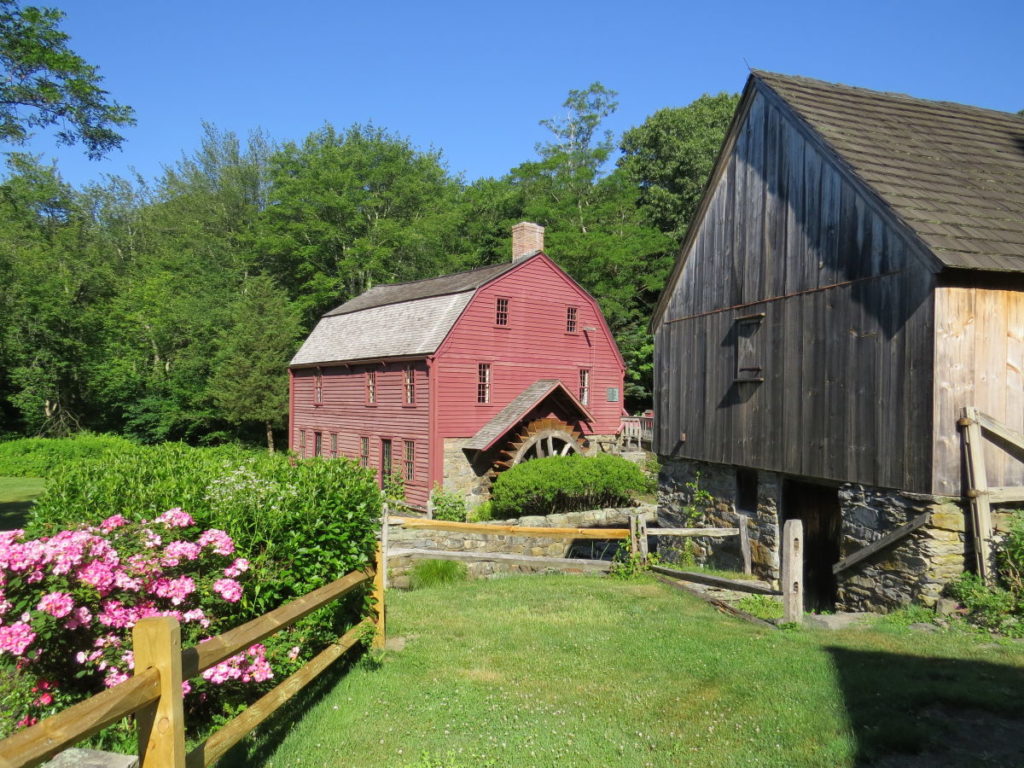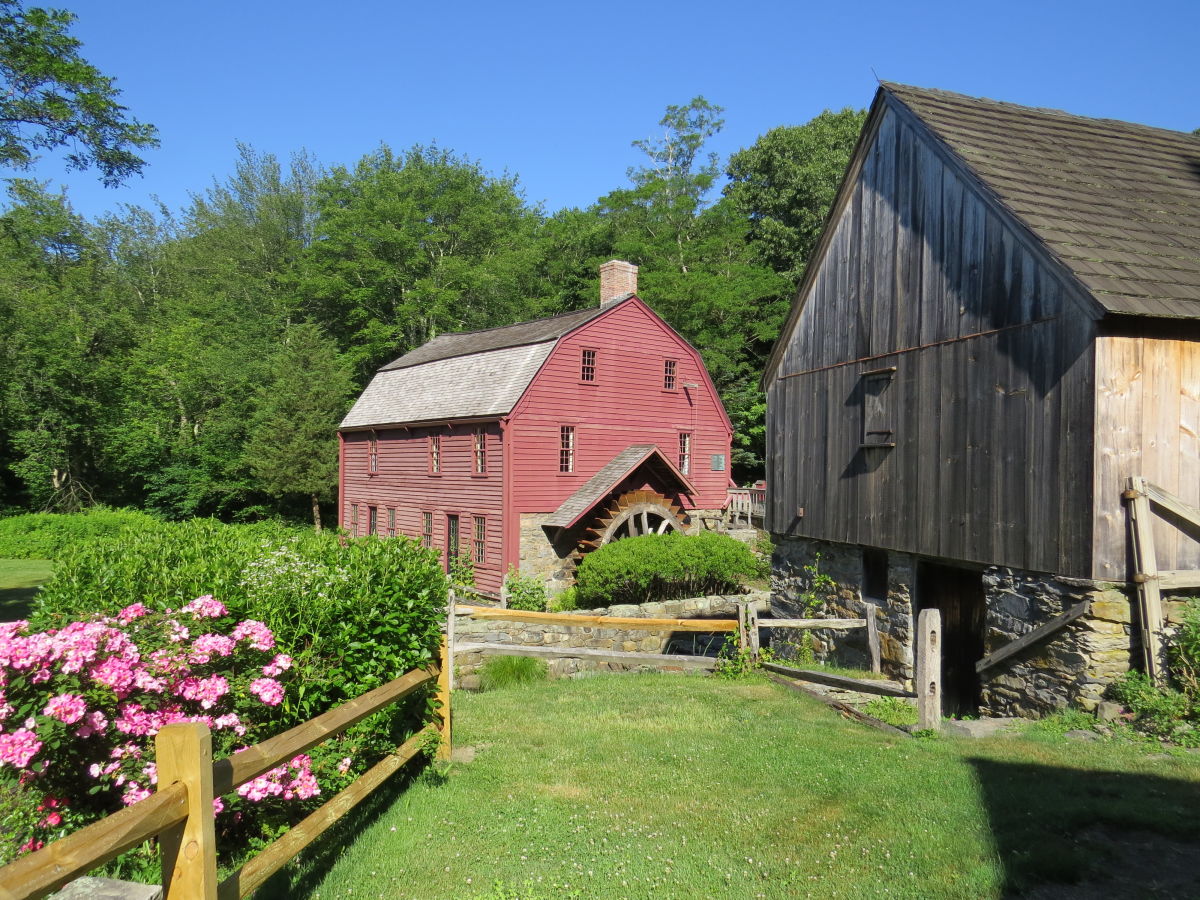 2. Gilbert Stuart Museum
Another good option is a visit to the Gilbert Stuart Museum, about 40 minutes outside Providence. Gilbert Stuart was one of 18th century America's master portrait artists.
Stuart is best known for his unfinished Athenaeum portrait of George Washington. This is the image seen on the U.S. one dollar bill. The famous portrait is in the National Portrait Gallery in Washington, D.C.
The Stuart house-museum is set in an authentically restored and furnished 1750 house. It was the home of the Stuart family.
In the Bell Art Gallery, you can view original works by Stuart, his daughter Jane Stuart, and changing themed exhibits of original artwork.
3. Newport
The Tony coastal town of Newport is just 40 minutes from Providence. Newport is a one of the most beautiful towns in New England. Founded in 1639, Newport is a treasure trove of historic European-style mansions set against ocean views.
Think the Gilded Age's Astors, Vanderbilts, and Kennedys — the families who built the first palatial mansions in the US. Most of the mansions are on Bellevue Avenue and a few are on the waterfront.
Built by Cornelius Vanderbilt, Breakers Mansion is Rhode Island's #1 attraction. It's located on the scenic Newport Cliff Walk, which combines mansions and ocean views. You can take a 3 hour trolley tour of the mansions, with admission to Breakers.
The Newport Art Museum is the core of the creative community. The Artists' Open Space serves up local and regional shows year round. There's a dozen commercial galleries in town as well. Island Art is the best, noted for its contemporary pieces.
4. Plimoth Plantation
If you want to really step back in time, head to Plimoth Plantation in Plymouth Massachusetts. It's approximately one hour from Providence.
The plantation is a living museum that aims to explore the daily lives of the Colonial Americans. The village has been carefully recreated, with thatched roofs and giant open fireplaces.
The actors in the museum are in period costume and never step out of character. You can watch them performing 17th century tasks including building, gardening, and military exercises.
Click here to book a ticket and guided tour of the plantation.
READ: Best Places To Visit in Massachusetts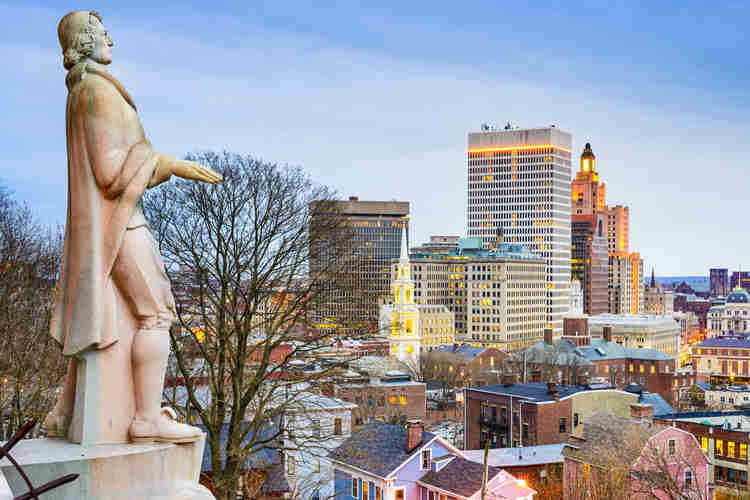 Tips For A One Day In Providence Itinerary
1. How To Get To Providence
There's not an airport in Providence. if you're flying, the nearest airport is the T.F. Green Airport in Warwick. The airport is a 10 minute drive from Providence.
2. How To Get Around Providence
Providence is a very walkable city. You can access the main site sites on foot. Click here to book a guided walking tour of Providence.
But you may want to have a car to cross the river to or from Federal Hill.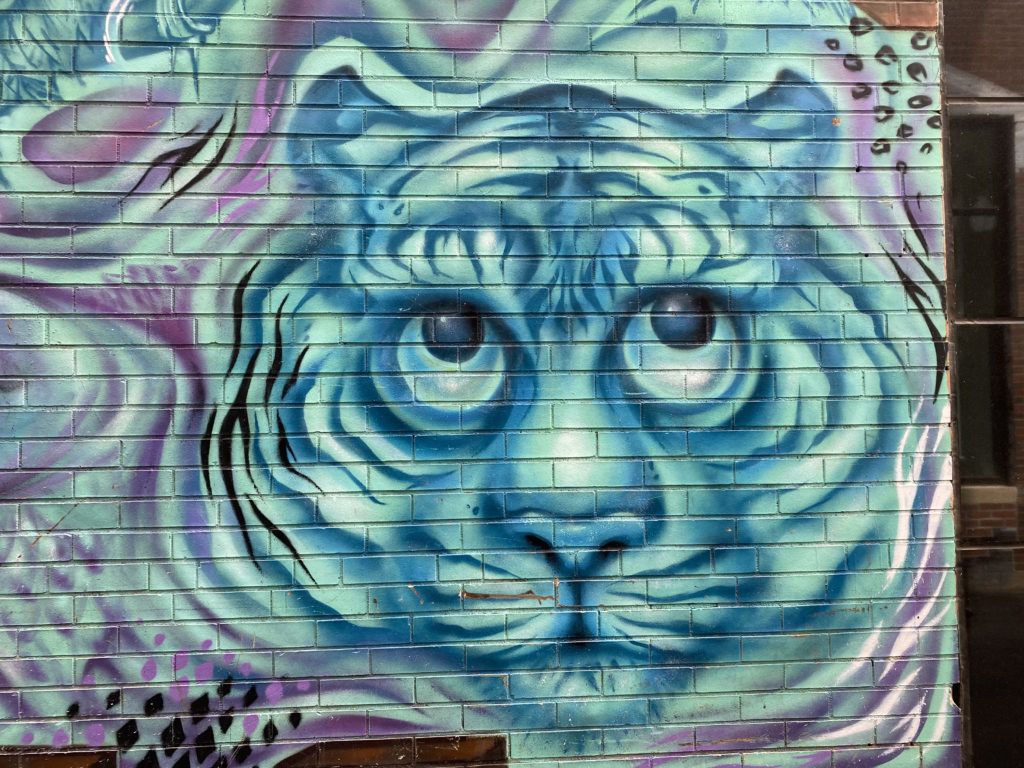 I drove around Providence. It was was fairly easy to find parking. There's also a bus system.
3. Where To Stay In Providence
If you plan to stay overnight in Providence, check into the centrally-located Renaissance Providence Hotel. It's a stately Neo-Classical building with some rooms overlooking the Rhode Island State House.
Another good option is the legendary Biltmore Hotel. Once a magnet for celebrities, the hotel has gotten a makeover as the Graduate Providence. It has an ornate lobby and a glass elevator that provides great views of the city.
You can also check out the Hilton Garden Inn, the Marriot Providence Downtown, and Aloft Providence Downtown.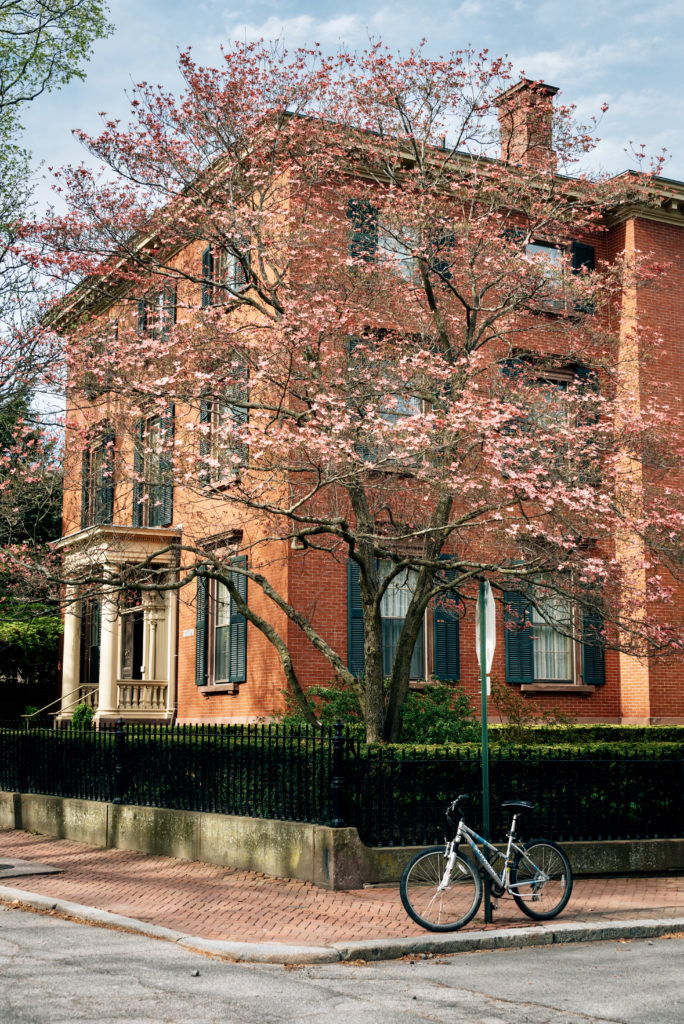 I hope you've enjoyed my one day itinerary for the top attractions in Providence Rhode Island. You may enjoy these other New England travel guides and resources:
​If you'd a Providence itinerary, pin it for later.