Here's my guide to 75+ must see art works in Europe, for your Europe art bucket list.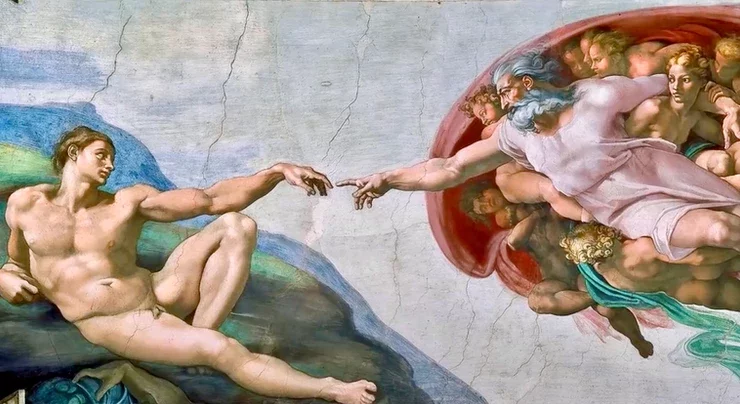 These amazing works of European art are the most important and beautiful works of art in Europe. Some of these masterpieces changed the course of art history.
In this guide, I take you on a chronological tour of the greatest art of Europe, from ancient Greece through the Renaissance to the 20th century. Knowing about these magnificent European art treasures will either stoke your wanderlust or lend depth to your museum-viewing.
READ: Tips For Visiting a Museum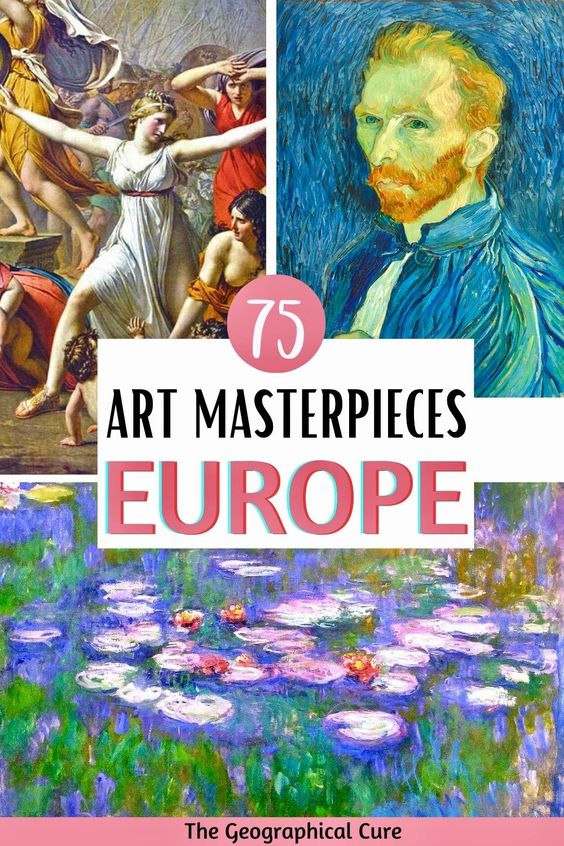 The Best Art asterpieces in Europe M
Here are my picks for 75 must see masterpieces that should be on your bucket list for Europe. I tell you about the art works and where to find them in Europe.
You'll travel to the art cities of Paris, London, Rome, Madrid, Florence, and more. You'll tour many of Europe's must visit museums.
READ: Top Cities in Europe for Art Lovers
Believe it or not, it's not so easy to narrow it down to 75 masterpieces in Europe when you're surveying the entire history of Western art.
I've written about many of these masterpieces in Europe and the museums they're in. I've linked to my relevant blog articles in case you want to know more about a specific piece.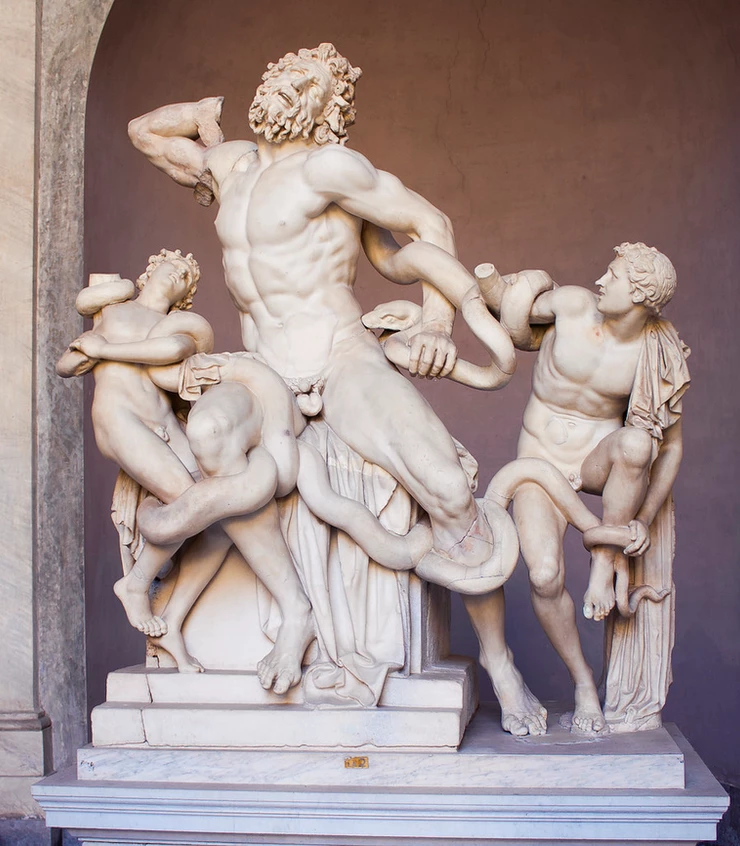 Art Masterpieces of Ancient Greece
1. Laocoon | Vatican Museums, Vatican City
Laocoön is one of the world's most ancient and valuable sculptures. It's a marble masterpiece from Greece's Hellenistic period. It likely dates back as far as 323 B.C.
The sculpture was famously unearthed in the Esquiline Vineyard in 1506. Happily, Michelangelo recognized its significance and pressed for its restoration.
Laocoön is based on an ancient Greek myth. In it, the priest Laocoön and his sons are attacked by a serpent sent by either Poseidon or Athena. It's a tormented, action packed vignette. To no avail, three figures desperately try to untangle themselves from a serpent.
READ: Guide To the Vatican Museums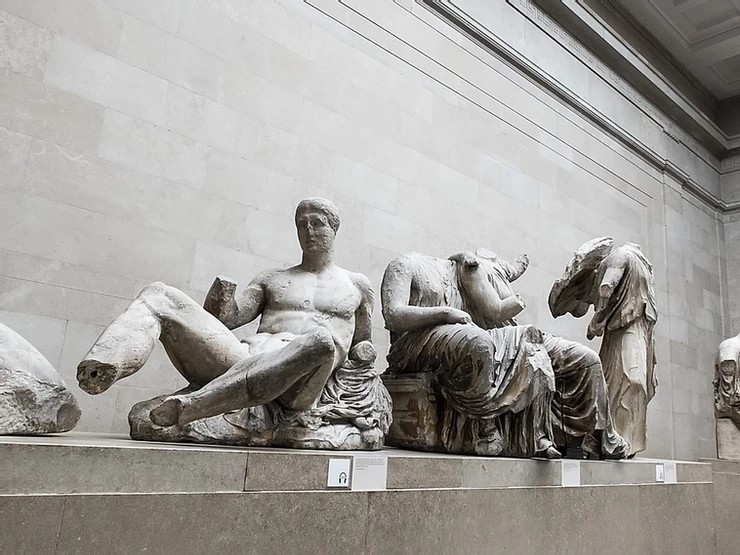 2. Elgin Marbles | British Museum, London & Acropolis Museum, Athens
The "Elgin Marbles" are the beautiful friezes and sculptures that once adorned the Parthenon on the Acropolis of Athens, built between 447 and 438 B.C.
The Parthenon was decorated with the finest art of its day, conceived and carved by master sculptor Phidias.
The east and west pediments had magnificent friezes (decorative horizontal bands), which depicted an Athenian religious process. They were meant to be a continuous narrative of the Athenian gods.
The marbles can now be seen in the British Museum in London and the Acopolis Museum in Athens.
READ: Guide To the Best Museums in London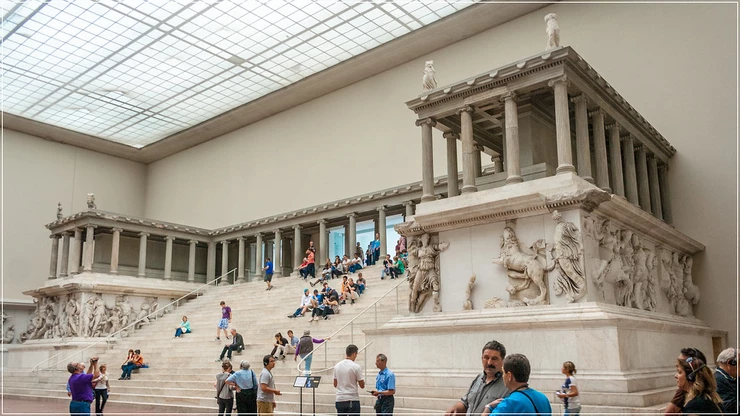 3. Pergamon Altar | Pergamon Museum, Berlin Germany
Perhaps the star attraction of Berlin's Museum Island is the beautiful Pergamon Museum. The museum takes its name from its marquee attraction — the stunning Pergamon Altar.
The altar's architectural framework is impressive. It consists of a monumental structure surrounded by columns and accessed by a grand staircase.
The most eye-catching feature is undoubtedly the wraparound marble frieze. It depicts the mythological battle between the Gods of Mount Olympus and Giants.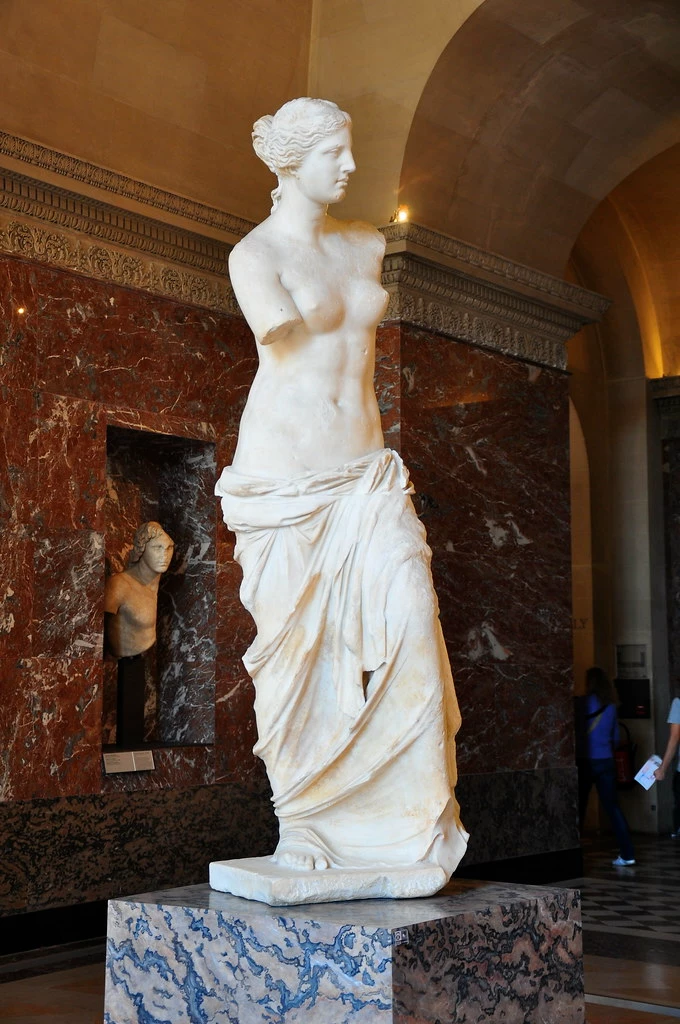 4. Venus de Milo | Louvre, Paris
Perhaps the most beautiful Hellenistic sculpture located in the Louvre is the Venus de Milo.
The goddess of love was discovered in 1820 on the island of Melos. The artist who created Venus was Alexander of Antioch.
Venus has an idealized form. Unfortunately, her arms and metal jewelry are long lost. Venus has an erotic feel, with her clothing falling around her sensual curves. Her body displays a spiral contrapposto position.
READ: Underrated Masterpieces of the Louvre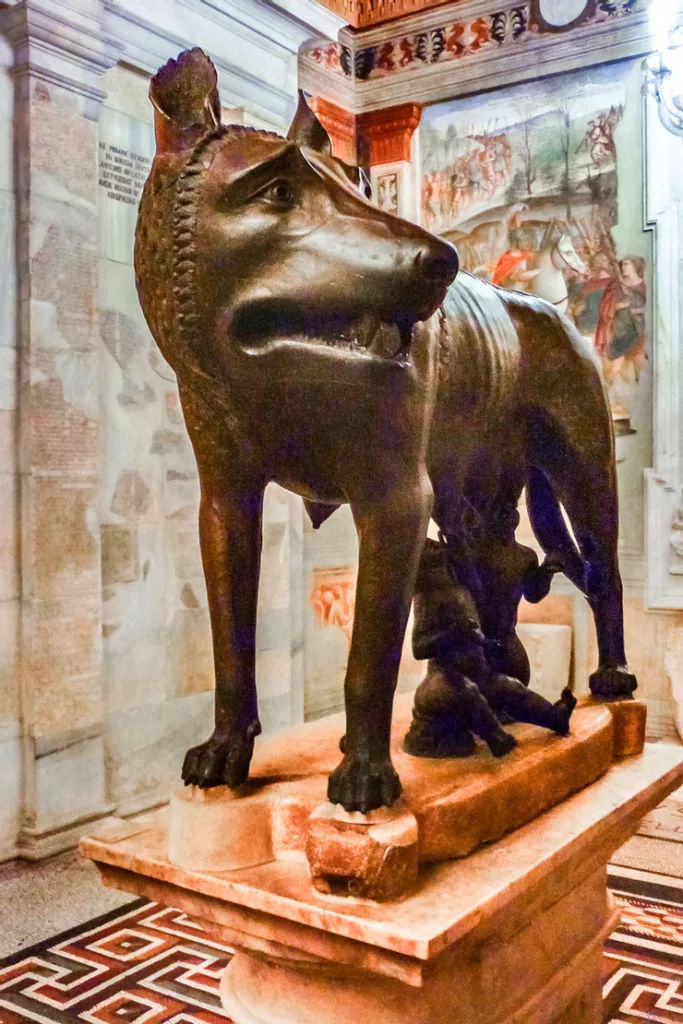 Art Masterpieces of Ancient Rome
5. Capitoline She-Wolf | Capitoline Museums, Rome
The Capitoline She-Wolf is a bronze masterpiece in Europe dating from the 5th century BC. Now, that's ancient. Pope Sixtus IV donated it to the museum. The She Wolf then became the symbol of ancient empire of Rome. It's a powerful image.
Legend holds that Rome was founded by the twins Romulus and Remus. The boys were abandoned by their mother.
But they were suckled by a kind she-wolf and then rescued by either shepard or river god. The figures of Romulus and Remus as infants were added to the sculpture to enhance the legend.
READ: Guide To the Capitoline Museums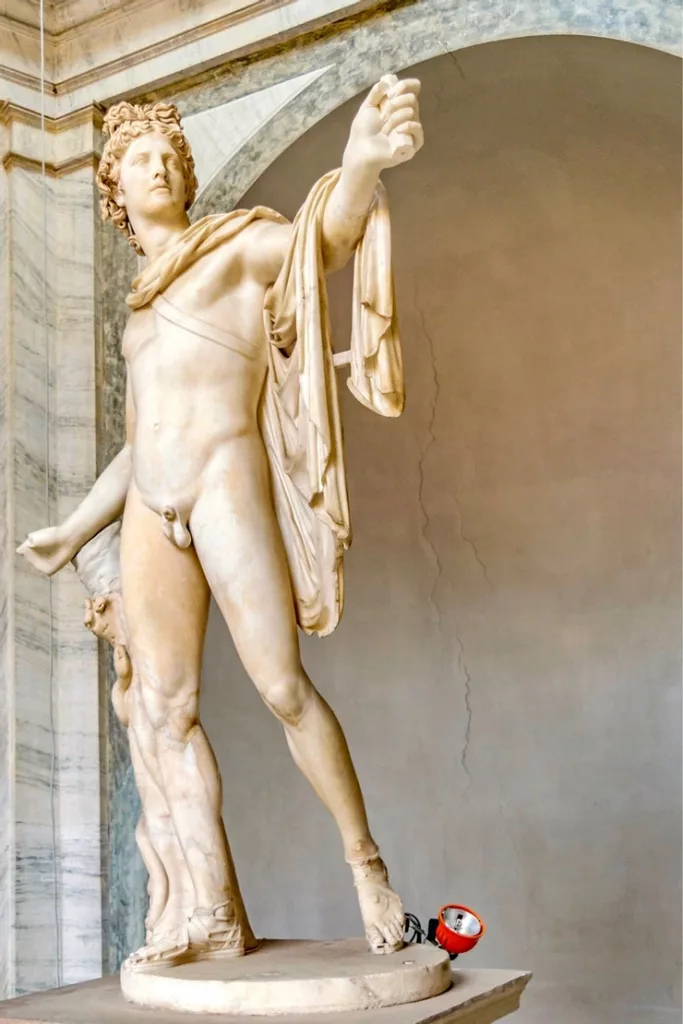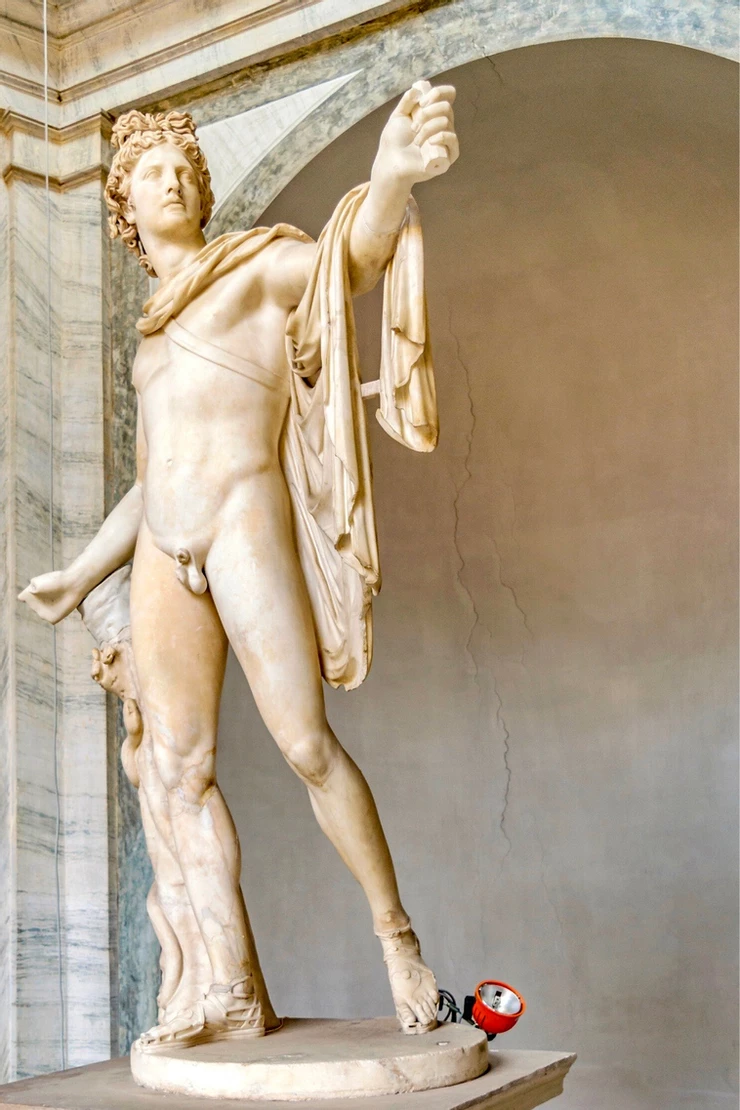 6. Apollo Belvedere | Vatican Museums, Vatican City
Apollo Belvedere is a famous sculpture from antiquity, certainly the most famous sculpture in the Vatican Museums. It's a Roman copy of Leochares' bronze original from the 2nd century.
Critics recognized it as Roman because Apollo is wearing distinctively Roman sandals. The identity of the sculptor is unknown.
The larger than life marble sculpture shows the god Apollo in a martial pose, having just shot an arrow. He may originally have been carrying one.
The work is anatomically realistic and brilliantly executed. Apollo Belvedere is considered the epitome of masculine beauty and athleticism.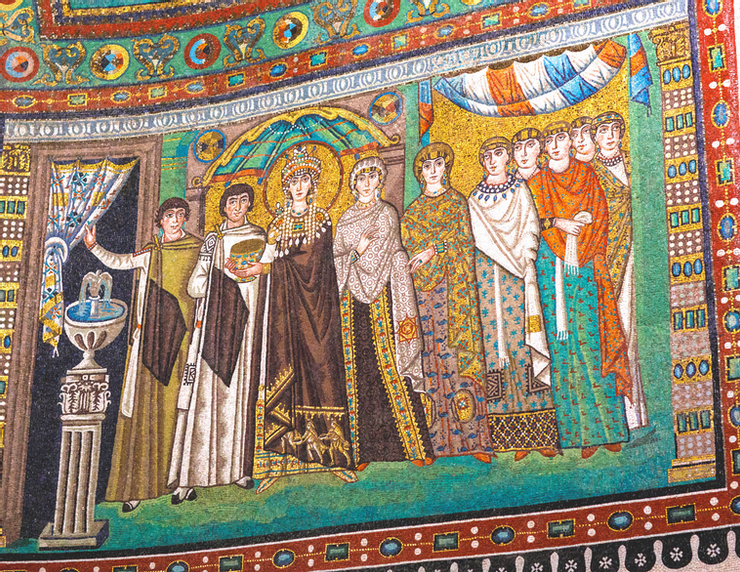 7. Justinian and Theodora Mosaics | Basilica of San Vitale, Ravenna Italy
Ravenna's pièce de résistance are two famous mosaic panels dedicated to the Emperor Justinian and his wife Theodora. They show the pair making offerings to Jesus against a field of gold.
They are both resplendent in fine capes and jewels, proving to the world that the Byzantine Empire is back in charge. Though the pair were both from lowly origins, Justinian and Theodora wear halos, testifying to their role in the divine.
Justinian conflates himself with Christ and Theodora gives off mother Mary vibes. The message is clear: the peace and prosperity of the Byzantine Empire is brought to you by both the emperor and God.
READ: Guide To the Mosaics of Ravenna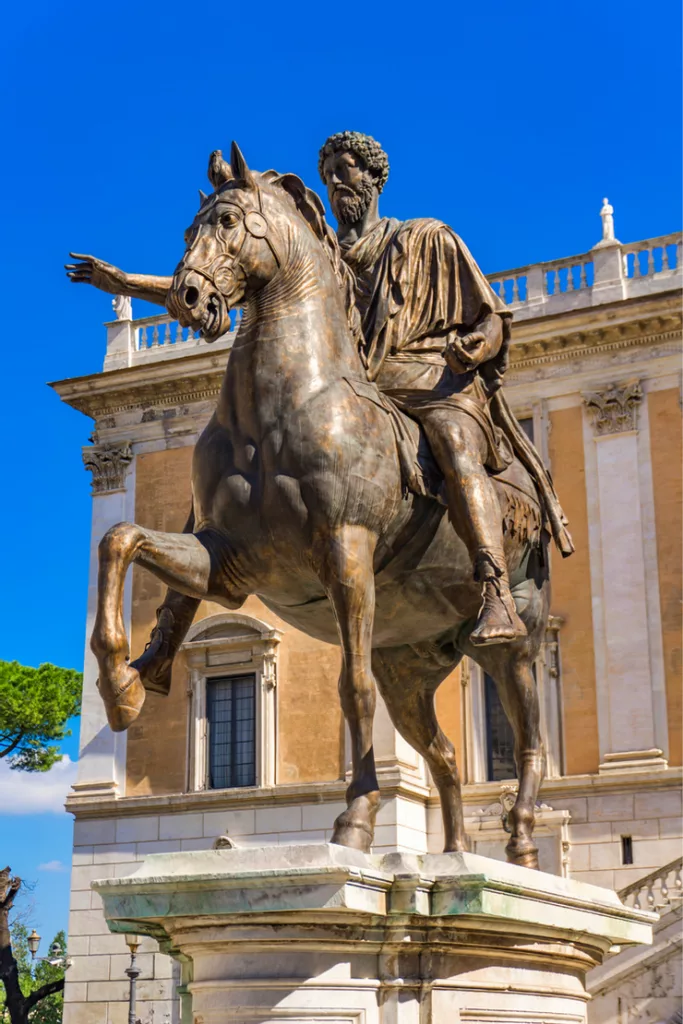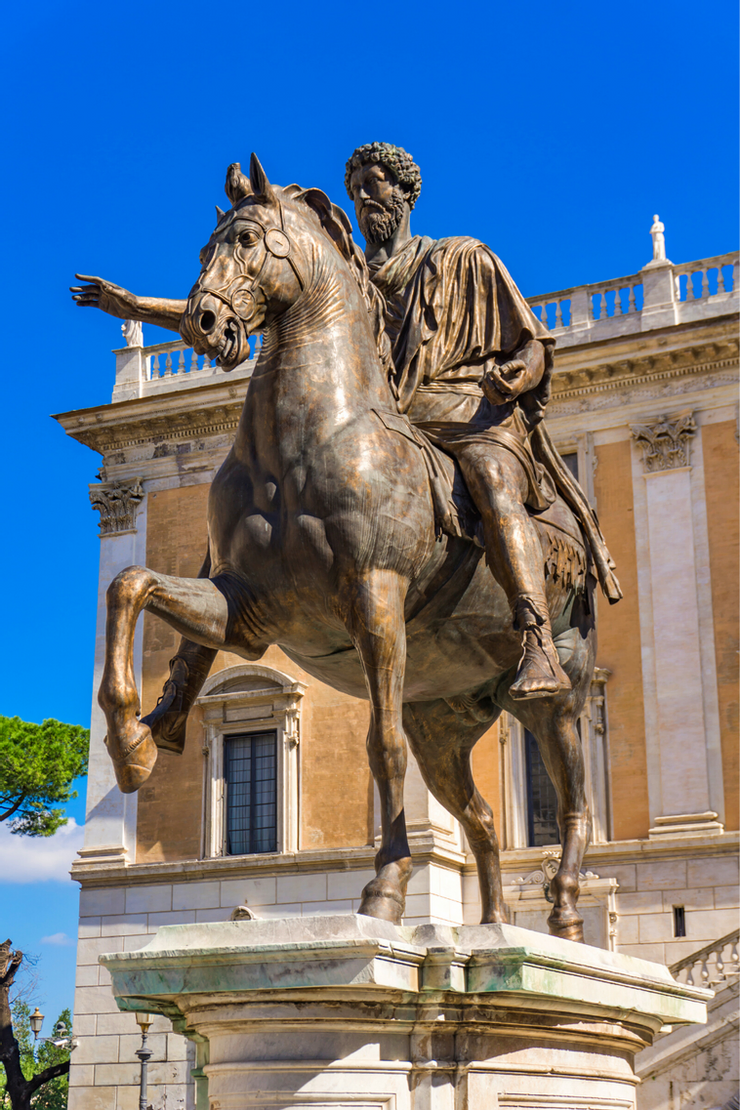 8. Equestrian Statue of Marcus Aurelius | Capitoline Museums, Rome
This statue is antiquity's greatest surviving equestrian statue. Equestrian statues were popular in imperial Rome.
They celebrated an emperor's civic and military accomplishments, and were often copied on coins. The horse is particularly compelling, caught in a moment of movement.
This masterpiece in Europe originally may have graced the Roman Forum before being moved to the center of the Piazza del Campidoglio. Now, there's now a 16th century copy in that spot. The original is protected from the elements in a modern glass hall in the Captitoline Museums.
READ: Guide To the Best Museums in Rome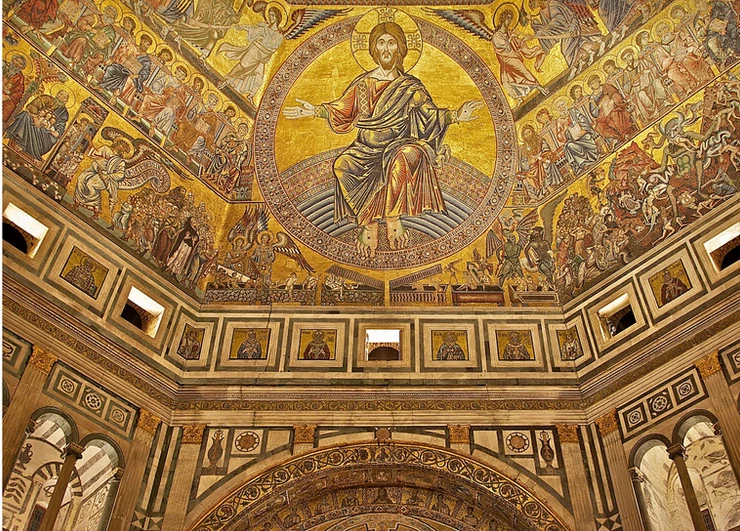 Medieval Art Masterpieces
9. Judgement Day | Florence Baptistery, Florence Italy
Florence's Baptistery dates from 1059, it's over a thousand years old. To locals, the Baptistery is Florence's most significant monument. It's adorned with the famous golden "Gates of Paradise" designed by Lorenzo Ghiberti and nicknamed by Michelangelo.
The highlight of the Baptistery is a stunning golden Byzantine style ceiling fresco. The mosaic tells the story of the Last Judgement, the apocalyptic tale where Jesus determines who will go to heaven and hell.
Jesus is 19 feet tall. There's a shockingly low number of people depicted as heading to heaven.
The Baptistery's hell is a disturbing image, a rare graphic detail in the Middle Ages. Hell is shown as the place where the wicked get what they deserve, roasted in eternal flames with monsters and snakes. Satan has bodies dangling from his mouth.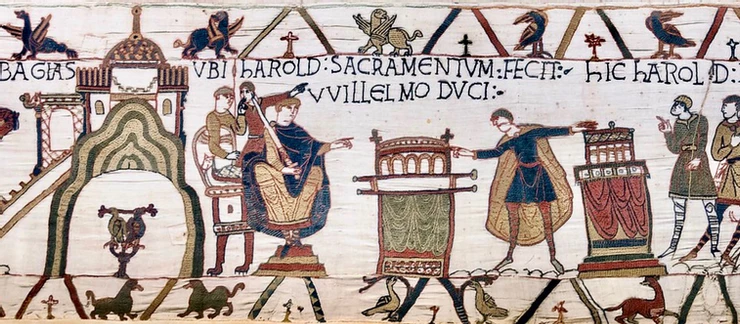 10. Bayeux Tapestry | Bayeux Tapestry Museum, Bayeux France
Most people go to Bayeux to see the thousand year old, and exceedingly long (230 feet), Bayeux Tapestry. The tapestry is housed in the Bayeux Tapestry Museum.
The tapestry chronicles the events leading up to William the Conqueror's invasion of France. In 50 scenes, it depicts the battle of Hastings and the showdown between William and King Harold II.
It's unclear when the the Bayeux Tapestry (actually an embroidery) was created. But historians speculate that it was not long after the events it depicts.
The tapestry is remarkably well-preserved given its age, though it has been restored several times. The tapestry was most likely created by William's queen, Matilda, and her court.
READ: One Week Itinerary for Normandy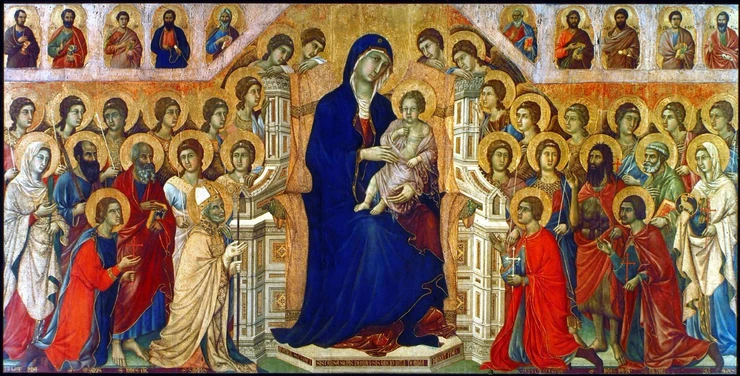 11. Duccio's Maesta, Siena Cathedral, Siena Italy
Duccio's Maesta is the most famous Italian painting from the International Gothic period. It's the most precious art work ever created in Siena. The Maesta is a famous painting in the course of art history, the last great medieval altarpiece.
The Maesta was 17 x 16 feet, a massive double sided altarpiece covered in gold and glitter.
In the front portion of the Maesta, you see a majestic Mary seated on a throne. Swaddled in translucent drapery, Jesus looks nothing like a baby. More like a wise old man, who's almost standing up.
READ: Guide To Siena Cathedral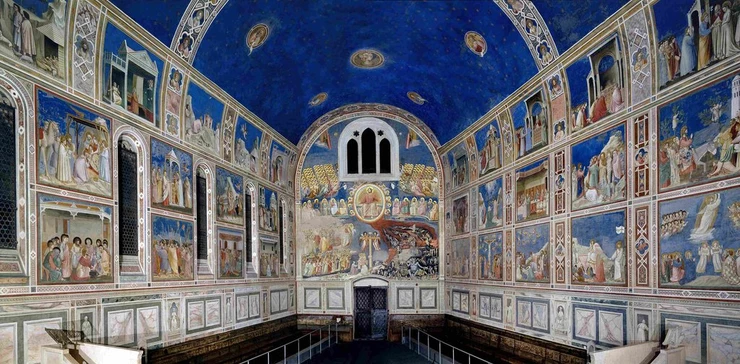 12. Giotto's Scrovegni Chapel | Padua, Italy
The Scrovegni Chapel in Padua is wallpapered with exquisite frescos by Giotto, the greatest painter of the 14th century. The chapel is one of the world's greatest art works. It became a UNESCO world heritage site in 2021.
READ: Guide To the Best UNESCO Sites in Europe
Giotto painted a cycle of 39 frescos depicting the lives of Mary and Jesus in 1303-05. It's a precious masterpiece of Italian art, as stunning in person as the Sistine Chapel in the Vatican Museums.
His Scrovegni frescos were a watershed moment in art history. In its realism, the chapel is considered one of the first examples of "modern art" and profoundly influenced subsequent Renaissance painters.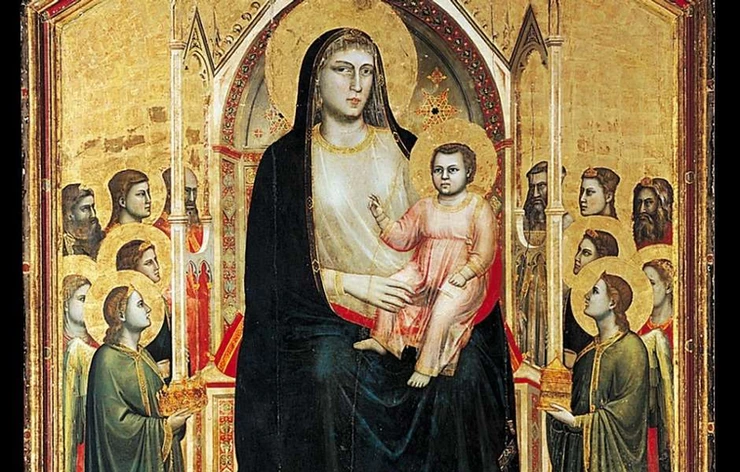 13. Giotto's Ognissanti Madonna | Uffizi Gallery, Florence
Giotto was the most important painter of the 14the century. He was the first painter to successfully break away from the Byzantine style of painting.
With Cimabue as his teacher, Giotto adopted a more natural, rather than supernatural, style. His madonnas didn't look like unreal aliens.
Giotto laid the foundation for two centuries of subsequent Renaissance painting. He's most famous for his frescos in Padua's Scrovegni Chapel.
But this beautiful painting is also well known. It's called the Ognissanti Madonna because it previously hung in an altar in Florence's Ognissanti Church.
READ: Guide To the Uffizi Gallery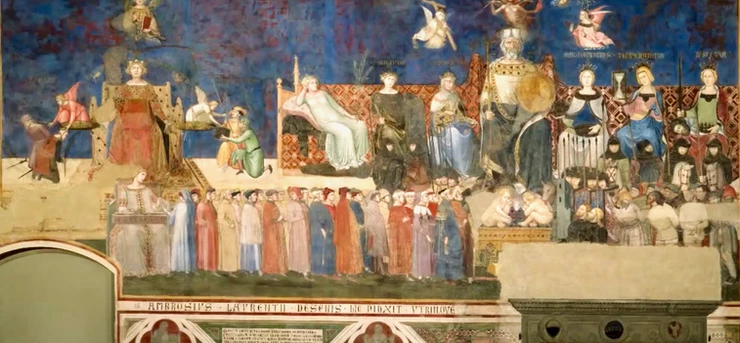 14. Lorenzetti's Allegory of Good and Bad Government | Palazzo Pubblico, Siena Italy
The magnificent Palazzo Pubblico sits proudly in one of Europe's most beautiful medieval squares, the Piazza del Campo in Siena. The palace holds one of the most important secular fresco cycles from the middle ages — the Allegory of Good and Bad Government.
This is one of the most marvelous, poignant, and timeless fresco cycles in Italy. It's the only secular painting of everyday urban and rural life that exists from the Middle Ages. It's an incredibly significant work.
Created in 1337-41, the didactic paintings are about what actually goes into a good government. The frescos are both a promise and a threat. They remind the city council how to govern in a moral way.
READ: Guide To Palazzo Pubblico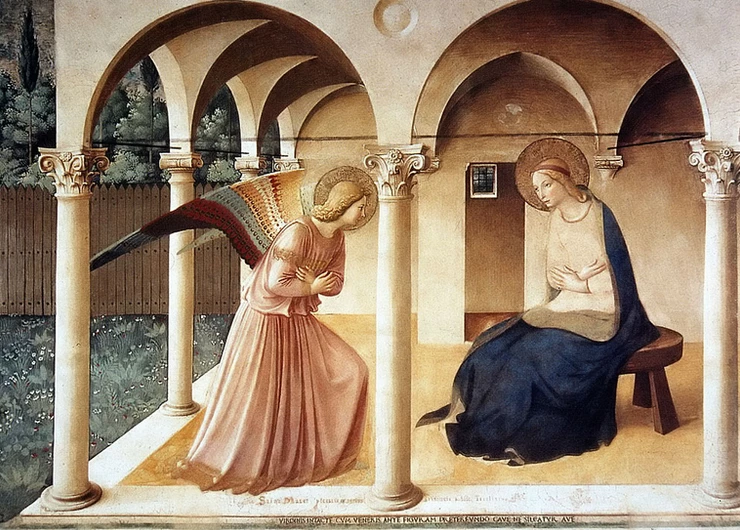 15. Fra Angelico's Annunciation | San Marco Monastery, Florence
Fra Angelico's The Annunciation is one of the most celebrated images of Western art. The Annunciation is a celestial masterpiece.
It depicts an intimate moment and spiritual reflection. This is not an art work that tells you how to feel. Rather, it summons you into its world.
The Virgin Mary greets the Angel Gabriel in a walled garden with Corinthian columns, evoking the Garden of Eden. Gabriel delivers the big news — that Mary will give birth to Christ.
The fresco isn't opulent. Mary's clothes are pale. She's slumped over, as if she's fearful or already having morning sickness. The only elaborate image is Gabriel's wings, embellished with peacock eyes.
READ: Guide To San Marco Monastery
16. Lady and the Unicorn Tapestries | Cluny Museum, Paris
The highlight of Paris' Cluny Museum is the 15th century series of tapestries called The Lady and the Unicorn. Each piece celebrates one of the five senses. The fanciful work, with sensual undertones, helped usher in the humanistic Renaissance.
In medieval lore, unicorns were solitary creatures that could only be tamed by a virgin. In secular society, unicorns symbolized how a man was drawn to his love interest. In religion, the unicorn was a symbol of Christ.
These exquisite and mysterious tapestries were inspired by both all these traditions. They give us a peek at life from a time when the people of Paris were just stepping out of medieval darkness.
READ: Guide To the Best Museums in Paris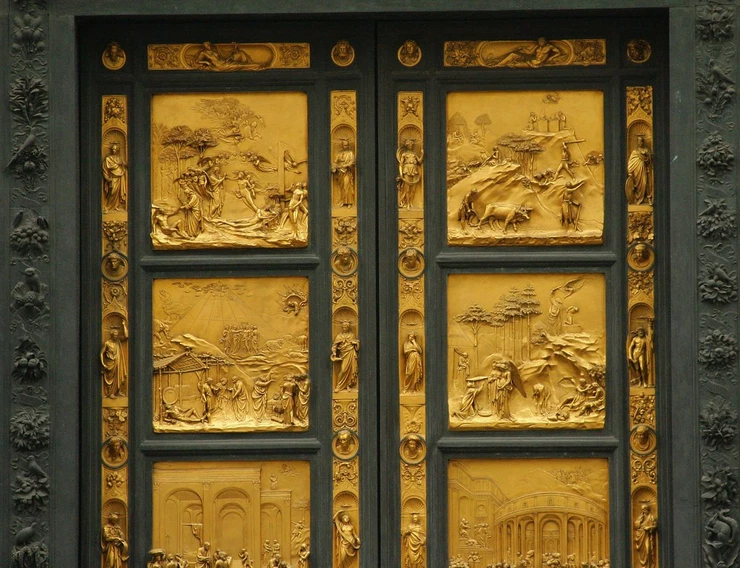 17. Ghiberti's Gates of Paradise | Duomo Museum, Florence
Nicknamed by Michelangelo, Ghiberti's Gates of Paradise once adorned the front doors of the Baptistery in Florence. The originals are a masterpiece of the Early Renaissance, with a clarity of line and illusionism. Now, they're in the fabulous Duomo Museum.
The doors are massive. There are ten square scenes of relief sculpture, displayed in two lines.
They depict Old Testament scenes from left to right and from top to bottom. The doors are framed with 24 small bronze busts of famous Florentines, including Ghiberti's self-portrait.
READ: Guide To Florence's Opera dell'Duomo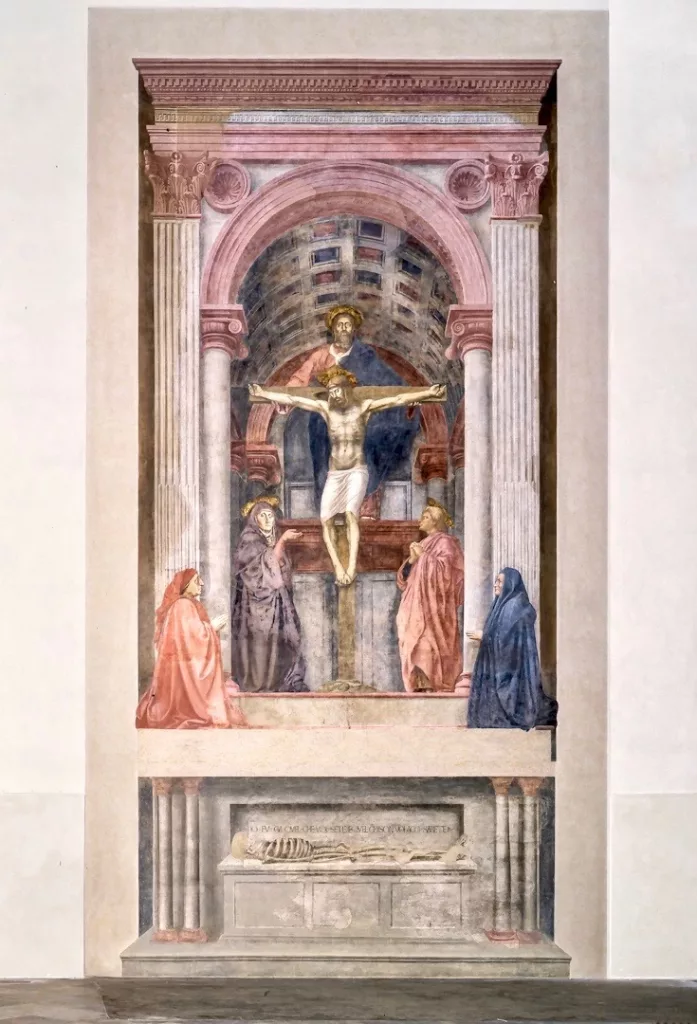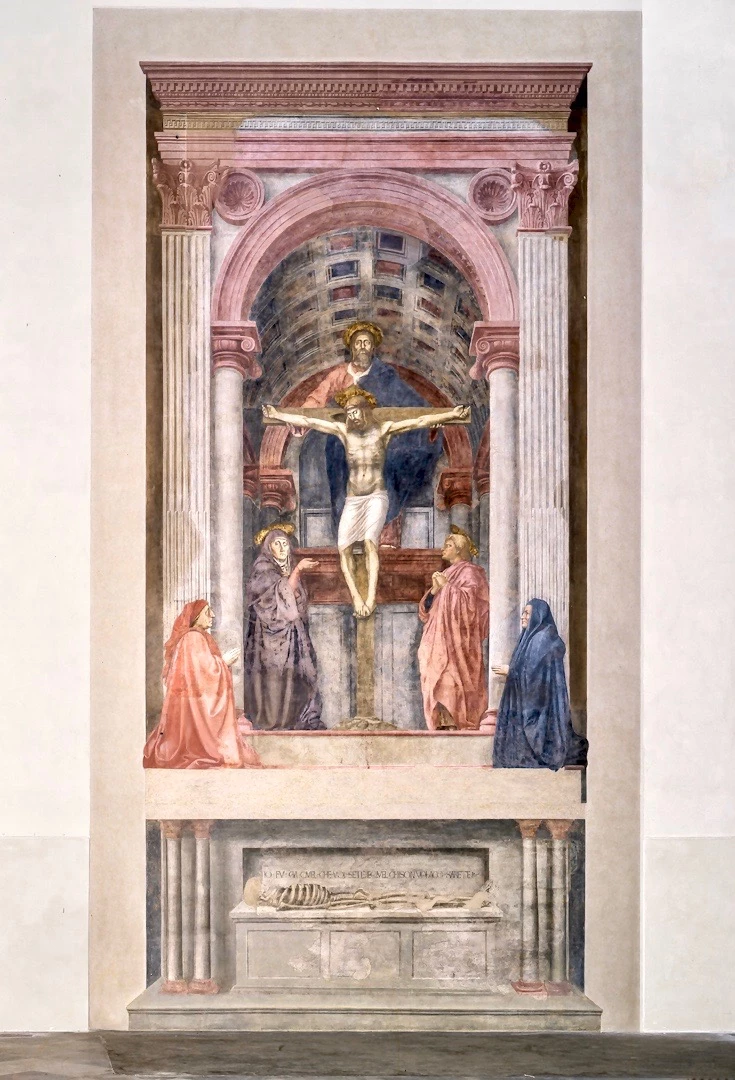 Art Masterpieces of the Renaissance
18. Masaccio's Holy Trinity | Santa Maria Novella, Florence
The Basilica of Santa Maria Novella in Florence holds one of the most famous paintings in Italy, the Holy Trinity by Masaccio. Masaccio was an early Renaissance superhero. He tragically died young of malaria at only 27.
This painting is hugely important. Art historians consider it the first true Renaissance painting. In it, Masaccio pioneered the use of single point perspective.
He departed from the International Gothic style. He created believable people in believable spaces. He forever changed the course of Western painting.
READ: Guide To Beautiful Chapels in Italy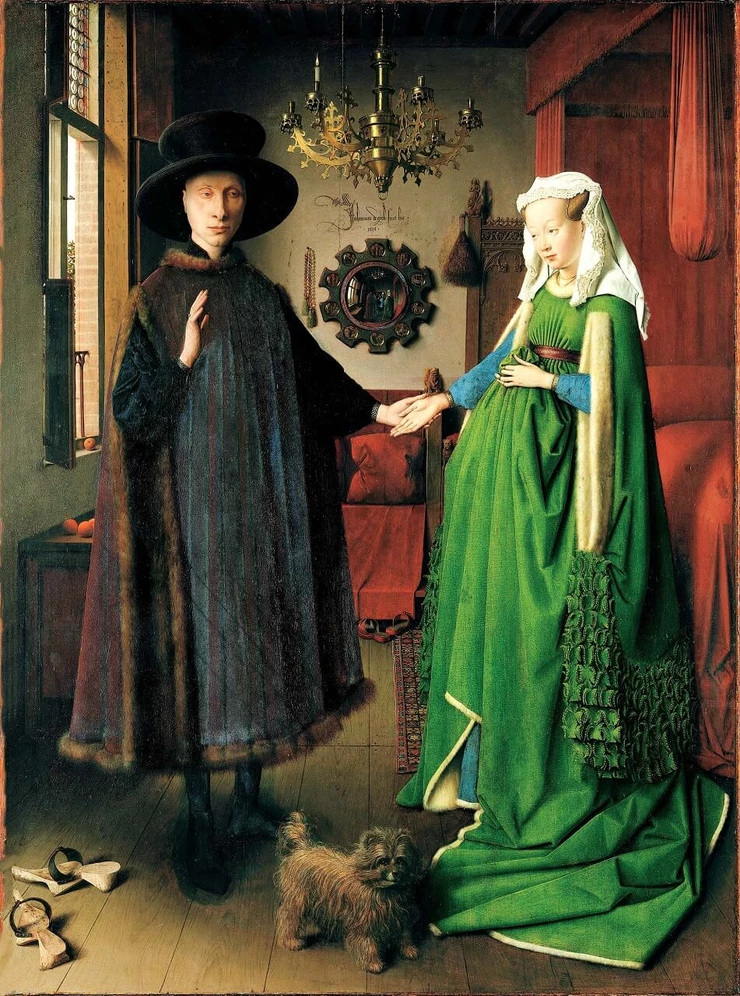 19. Van Eyck's The Arnolfini Portrait | National Gallery, London
Contrary to popular belief, the Renaissance didn't just happen in Florence. It was happening simultaneously in Northern Europe. This portrait may be the world's first oil, rather than tempera, painting.
The Arnolfini Portrait is a stunning full length double portrait with astonishing realism. Presumably, it's a portrait of a wealthy merchant and his wife in their upscale apartment in Bruges.
Some think it's a wedding scene. Others think it was a portrait intended to show off the family's wealth. It may be the first in the genre of interior paintings of everyday life.
In the center back, a mirror glistens, proving a tour de force of perspective. Reflected in the glass are miniaturized versions of the couple. The room itself has a sophisticated orthogonal perspective. Van Eyck's vivid color palette is on display.
READ: Guide To London's National Gallery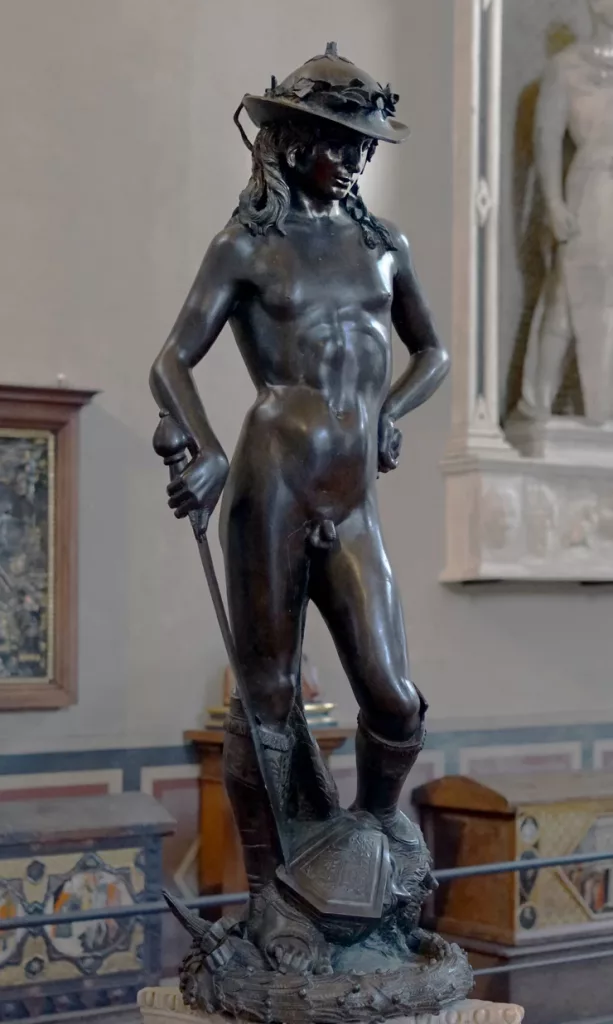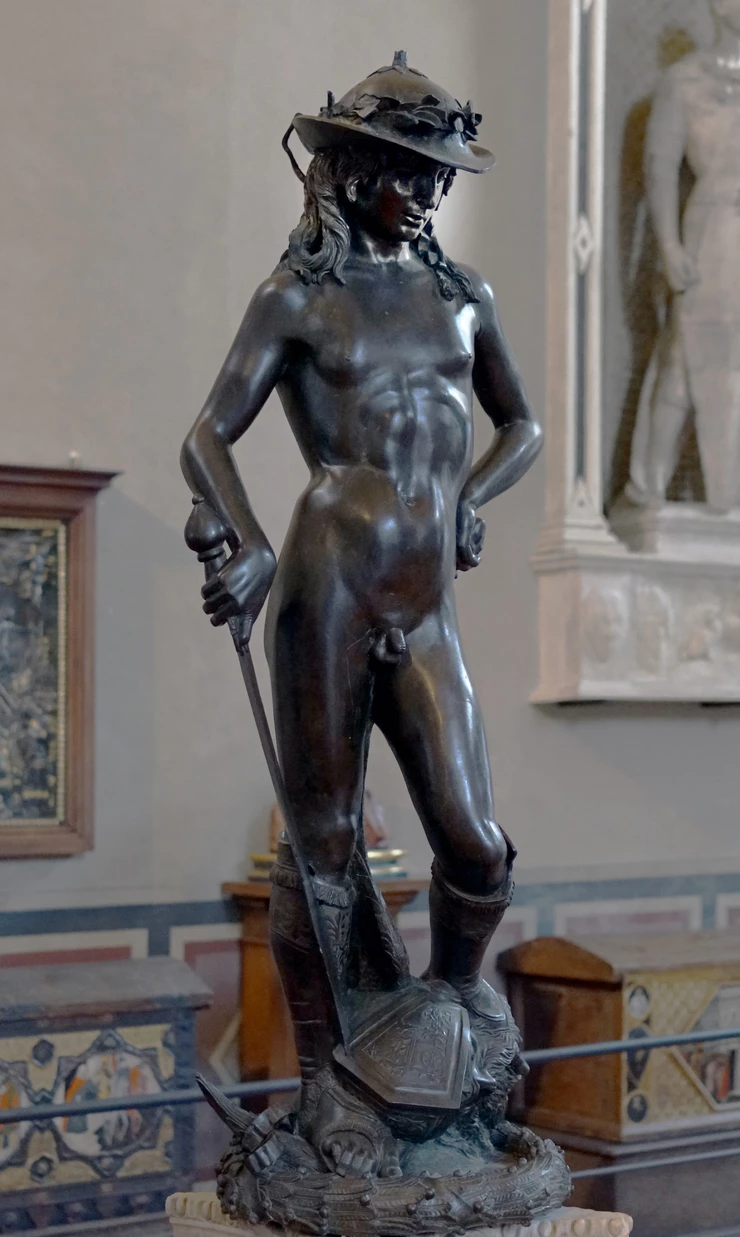 20. Donatello's Bronze David | Bargello Museum, Florence
Donatello was the greatest sculptor of the 14th century. Commissioned by Cosimo de Medici, the beautiful Bronze David is Donatello's best work.
Bronze David is the first freestanding nude sculpture since Greco-Roman times. It was a radical depiction of the biblical story of David and Goliath.
A life-like Bronze David elegantly reinterprets the classical canon. It wasn't the usual heroic rendering, with a powerful giant slayer.
There's nothing modest about Bronze David. It's simultaneously eroticized and androgynized. The piece was created for a private environment, where it would be acceptably cheeky. It's nicknamed Puss 'n Boots.
READ: Guide To the Bargello Museum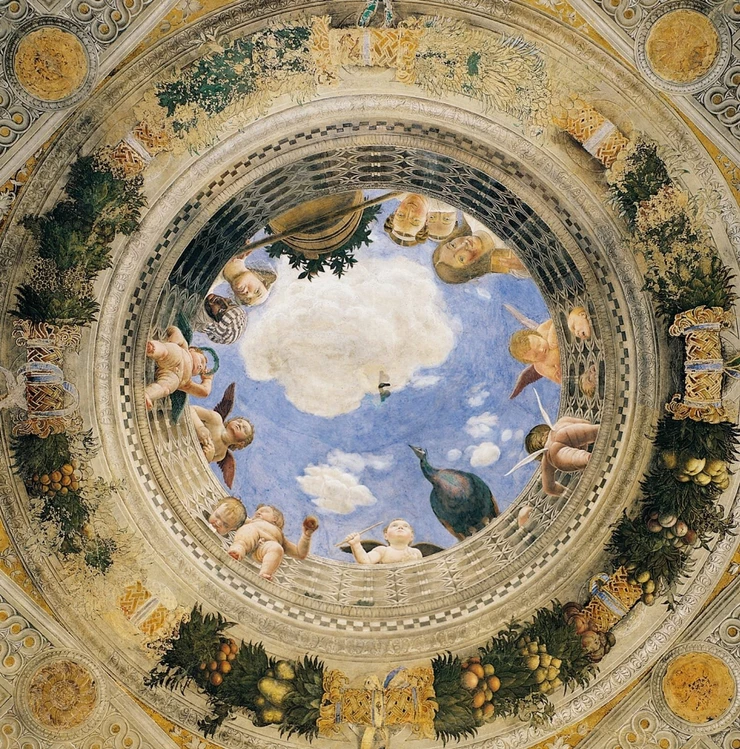 21. Mantegna's Camera degli Sposi | Ducal Palace, Mantua Italy
The UNESCO-listed Camera degli Sposi is a magical room frescoed with illusionistic paintings in the Ducal Palace of Mantua. It's a hugely influential masterpiece from the Early Renaissance.
The Camera is considered the first trompe l'oeil in the history of painting. For its beauty and uniqueness, the Camera became a UNESCO site in 2008.
The storytelling frescos were created between 1465-74. They contain portraits of the Gonzaga family, with a vivid and revealing look at court life in the 15th century. Mantegna effectively transformed the small interior room into an elegant open air pavilion.
The ceiling is the most celebrated part of the Camera degli Sposi. It's adorned with fictive, but hyperrealistic, ribs and relief panels to give a sense of decoration over the medieval vaults.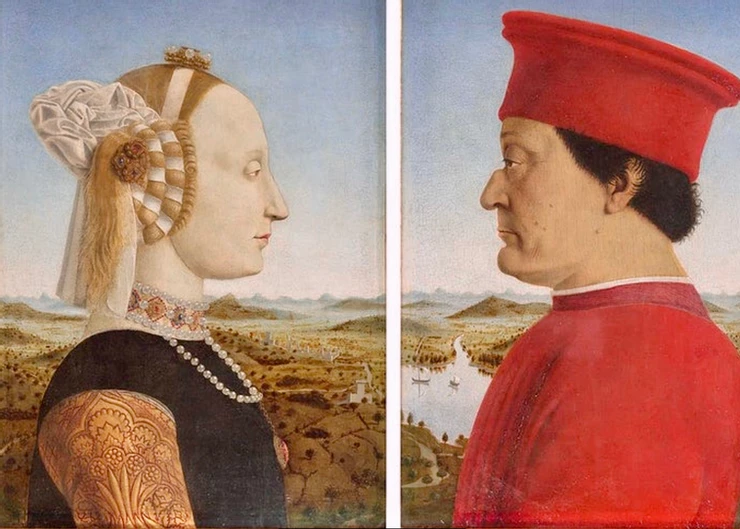 22. Piero della Francesca, The Duke and Duchess of Urbino | Uffizi Gallery, Florence
Piero della Francesca is an admired 15th century Italian painter. He used a cool color palette and sense of geometry and formality to create his works. In addition to being an artist, Piero was a mathematical theorist.
This double portrait in Florence's Uffizi Gallery used to be a diptych. It was hinged like a book, with landscape scenes painted on the back. The painting is one of the most celebrated portraits of the Renaissance.
It's a strange juxtaposition and unflattering portrayal of the couple. The couple is together, but apart. Only a background landscape, rare for that time in painting, connects them.
READ: Guide to the Piero della Francesca Trail
23. Botticelli's Primavera | Uffizi Gallery, Florence
Sandro Botticelli is the undisputed master of the early Renaissance period. Botticelli's Primavera, also known as the Allegory of Spring, is a painting filled with symbolism.
Venus is in the center of an orange grove with a half circle enveloping her. The choice of an orange grove is significant because the Medici, Botticelli's chief employer, had adopted the orange tree as their family symbol.
On Venus' left, the Three Graces (who represent chastity, beauty, and love) dance in celebration, while Mars dissipates the clouds. The translucent drapery of their clothing is incredible.
Even their hair is interwoven with pearls. On the right, Zephyrus is in hot pursuit of his intended, a nymph who transforms into Flora.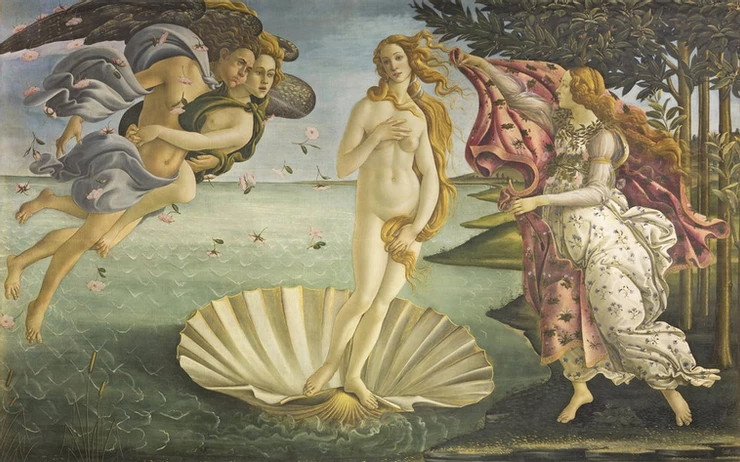 24. Botticelli's Birth of Venus | Uffizi Gallery, Florence
Botticelli's Birth of Venus is the Uffizi's most famous art work, akin to the Mona Lisa in Paris. Commissioned by Florence's reigning Medici family, the work was revolutionary.
The beautiful Birth of Venus is a dreamlike celebration of beauty and love. It's a lush, richly symbolic, and a groundbreaking piece. It was the first large scale painting of a nude woman in almost 1000 years. The nudity wasn't religious either; it was pagan.
Botticelli was a highly skilled painter and had an understanding of human anatomy. But he also made objectively beautiful paintings with luminous pastel colors.
Even Venus' hair is gleaming and highlighted. Venus' nakedness is idealized and innocent, not erotic. The model for Venus was reputedly Simonetta Vespucci, the most beautiful woman in Florence.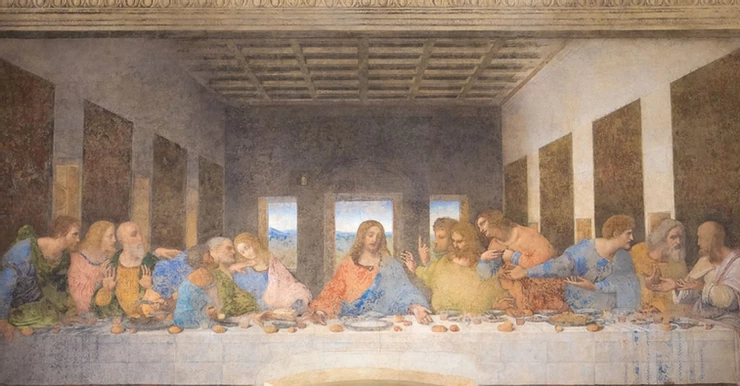 25. Leonardo's The Last Supper | Santa Marie delle Grazie, Milan Italy
The Last Supper is one of the Europe's most iconic masterpieces. It's housed in the refectory of Santa Maria delle Grazie in Milan Italy. No painting is so familiar, save for the Mona Lisa at the Louvre.
Painted by Leonardo da Vinci, the billboard size painting is a Renaissance masterpiece. The Last Supper is a fresco telling a bible story.
The work is enormous, measuring 15 by 29 feet. It covers the entire wall of the refectory (dining hall) in the Convent of Santa Maria delle Grazie.
The Last Supper depicts the last meal Jesus took with his apostles. The fresco shows the climactic moment after Christ announces his imminent death. The fresco is filled with psychological tension, an insightful painting of real men.
READ: Guide To Visting Leonardo's The Last Supper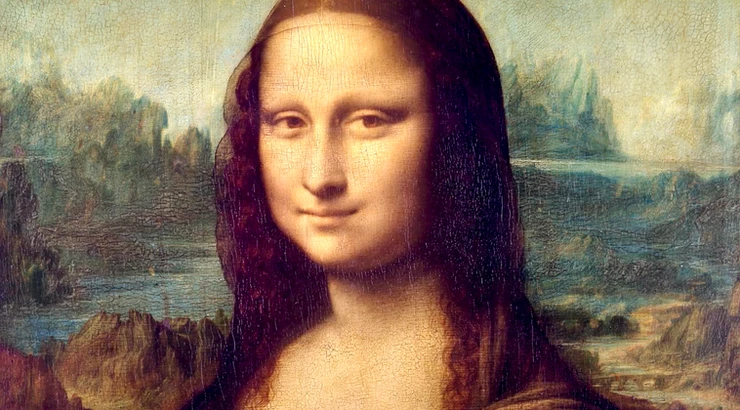 26. Leonardo's Mona Lisa | Louvre, Paris
Leonardo's famous Mona Lisa is a famed Renaissance masterpiece, which hangs in the Louvre. It's one of the most famous, maybe THE most famous painting, in art history.
Leonardo painted the Mona Lisa sometime between 1503-19. At the time, he was living in Florence, a city dubbed the "Cradle of the Renaissance."
The 30 x 21 inch Mona Lisa now hangs under shatterproof glass on a freestanding blue wall. It's visited by millions of people each year in Paris.
They come to see her enigmatic smile and admire a key moment in Renaissance history when Leonardo perfected the technique of sfumato.
READ: Guide To the Mona Lisa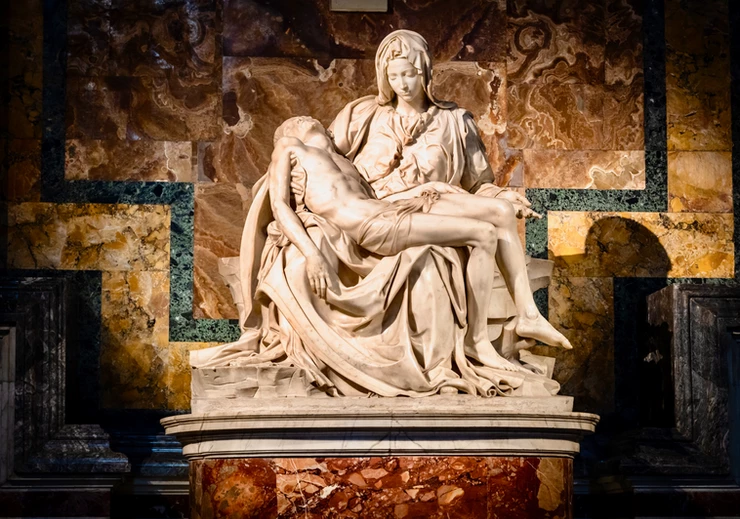 27. Michelangelo's Pieta | St. Peter's Basilica, Rome
The Pieta was the statue that launched Michelangelo's career. Michelangelo's Pieta is behind bullet proof glass in St. Peter's Basilica in Rome. It's one of the most visited art masterpieces in Europe.
The Pieta was a popular subject among northern European artists. It means pity or compassion. The pietas depicts Mary sorrowfully contemplating her son's dead body, which she holds on her lap.
Michelangelo's Pieta itself is tragically beautiful, a moving sculpture in which stone seems soft. And just look at Mary's exquisite face … It's quite a piece for a 23 year old. Michelangelo's signature is across Mary's sash. It's the only work the artist ever signed.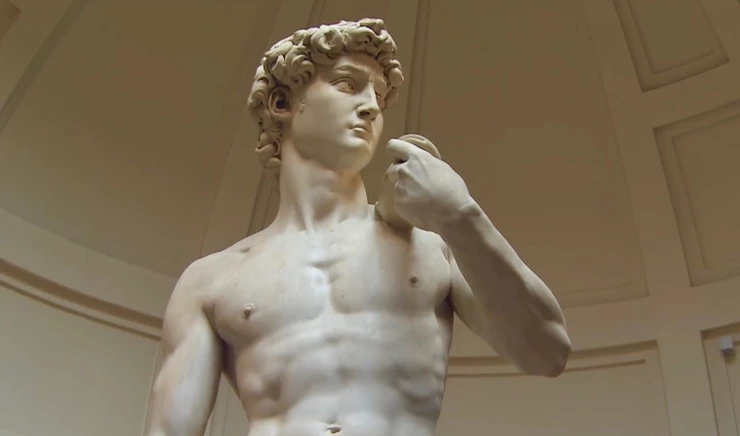 28. Michelangelo's David | Accademia Gallery, Florence
Michelangelo's David is at Galleria dell'Accademia in Florence. David is perhaps the world's most famous sculpture.
The 17 foot Renaissance statue is considered the embodiment of male beauty, a Calvin Klein-like model of physical perfection.
David is based on an Old Testament story of an underdog and his giant competitor. The statue was commissioned for Florence's Duomo. But it ended up guarding the entrance to the Palazzo Vecchio instead. Now, it's safely inside.
READ: Guide to Seeing Michelangelo's David at the Accademia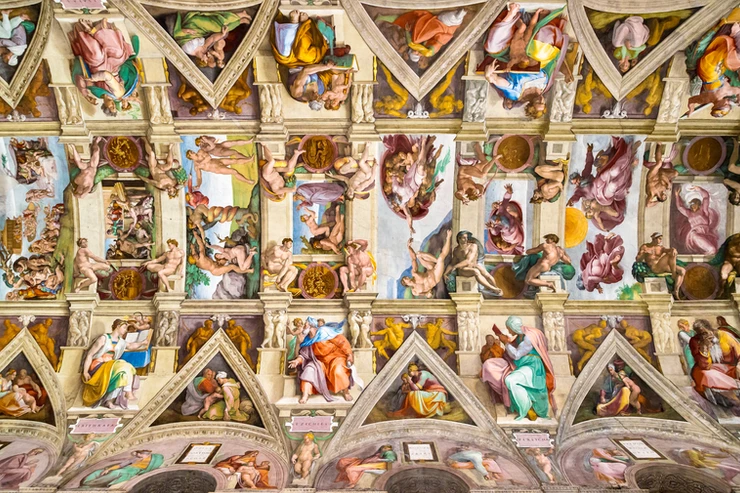 29. Michelangelo's Sistine Chapel Frescos | Vatican Museums, Vatican City
Michelangelo's stunning Sistine Chapel frescos are the undisputed highlight of a visit to the Vatican Museums in Rome. The chapel boasts some of the most famous paintings in the history of art, including the Creation of Adam. It's a room of unrivaled artistic creation.
At the highest point of the ceiling is a central band with nine scenes from the Book of Genesis. There are 175 separate pictorial fields on the ceiling.
Michelangelo created a complex stage set with levels of reality. The main panels are framed with prophets, sybils, ignudi, and architectural elements.
In 1536, 24 years after he had finished painting the ceiling, Michelangelo returned to the Sistine Chapel. At age 61, Pope Clement VII summoned him to paint The Last Judgment on the altar wall. It took him 5 years to complete the powerful fresco.
It's an overwhelming composition, set in azure blue background. The majority of the figures painted in the scenes were nude (and later given underpants).
In the middle, Christ decides who's been naughty and nice. He looks decidedly different than usual. He's shown as excessively youthful, buff, smoothly shaven, and floating on clouds.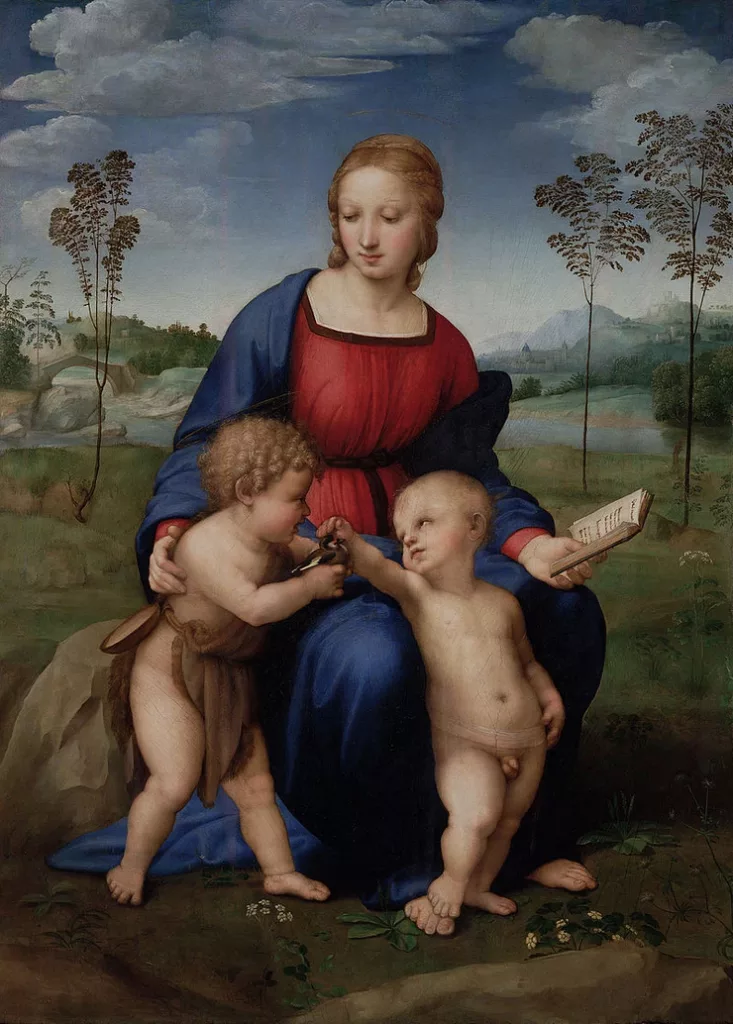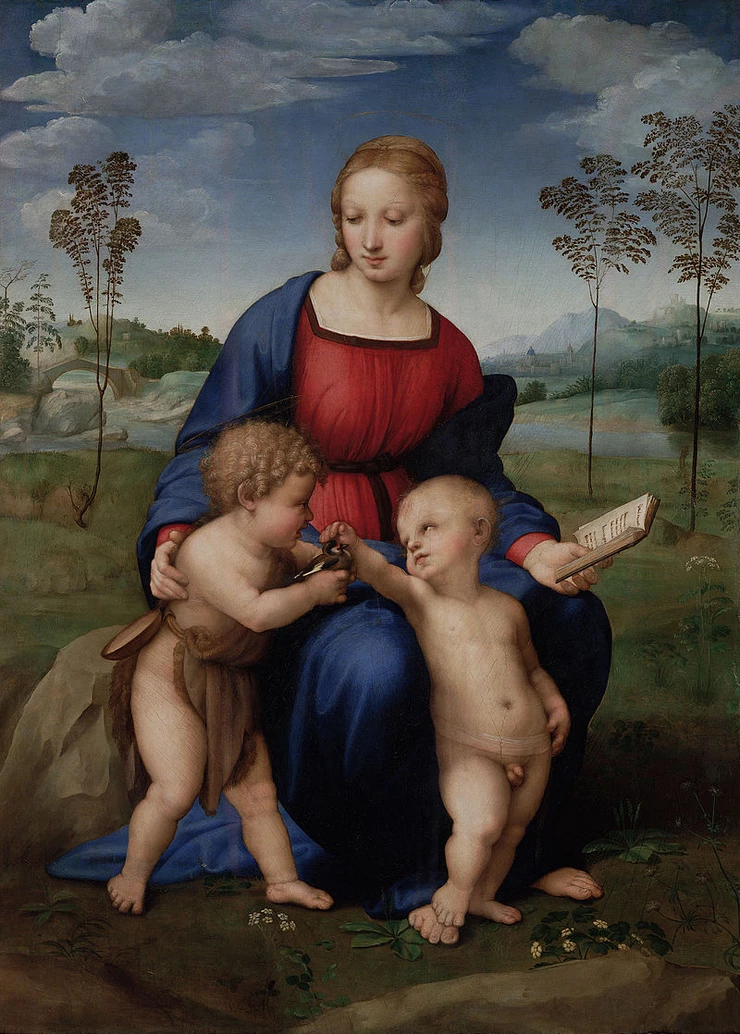 30. Raphael's Madonna of the Goldfinch | Uffizi Gallery, Florence
Raphael was another prodigious talent of the Italian Renaissance, producing a series of masterpieces before his premature death at the age of 37. The Uffizi contains one of his loveliest paintings, the serene Madonna of the Goldfinch.
The painting shows Mary with two chubby kids, a young Christ and John the Baptist, under a halo of clouds. The goldfinch is a potent symbol of the passion of Christ, of Christ's suffering.
You can see a tenderness between mother and child. Christ puts his foot on his mother's foot, as he (rather amusingly) stands in a staged and artificially elegant contrapposto pose. The Madonna doesn't sit on a throne anymore, but a rock. Nature has taken on the expression of God, without kingly symbols.
READ: Guide To the Famous Paintings of Raphael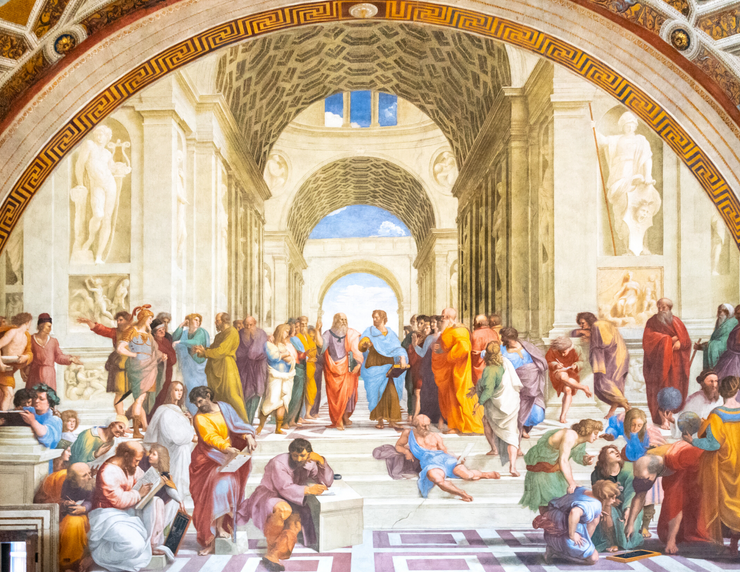 31. Raphael's School of Athens | Vatican Museums, Vatican City
The School of Athens is the undisputed star of the Raphael Rooms in the Vatican Museums. School of Athens is Raphael's most famous and beloved painting and a must see masterpiece in Europe.
Painted when he was just a young prodigy, the painting has come to symbolize the marriage of art, philosophy, and science — a hallmark of the Italian Renaissance.
In it, an idealized throng of the great philosophers from the classical world are gathered together, despite living at different times. The cast members converse, argue, scribble, read, and declaim on a sprawling film-like set. The viewer is fully engulfed in the painting, in theatrical style.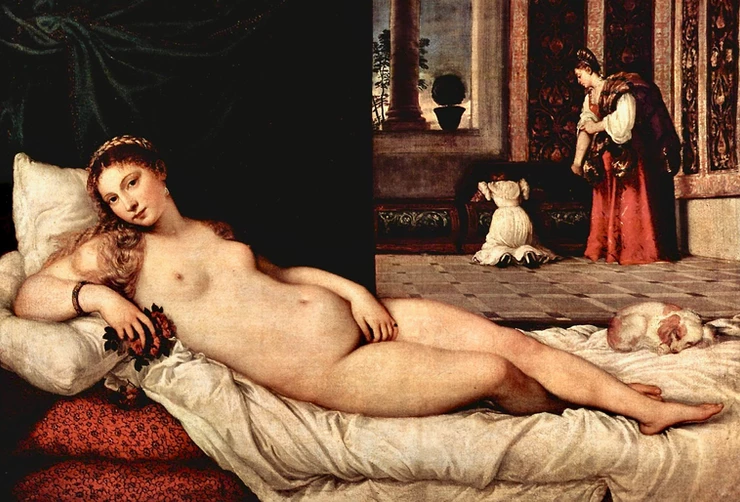 32. Titian's Venus of Urbino | Uffizi Gallery, Florence
Titian was a Renaissance artist based in Venice, who set the standard for the reclinng nude. His paintings are more sensual than what his contemporaries produced in Rome and Florence.
In Venus of Urbino, Titian created one of the most famous — and provocative — nudes of all time. Reputedly, the flat out sexy portrait depicted a popular Venetian call girl. By depicting her as the mythological Venus, Titian got away with it.
In the painting, a beautiful and languid Venus stares directly back at us, almost coyly. She's in an opulent domestic setting. There's a softness to the layers of paint, which makes it more sensual. Titan also uses chiaroscuro (contrasts of light and dark) to contrast Venus' skin with the dark rich background.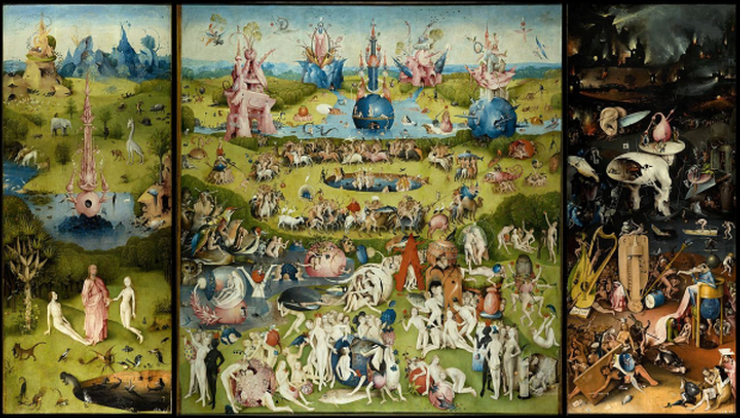 33. Bosch's Garden of Earthly Delights | Prado Museum, Madrid
In The Garden of Earthly Delights triptych, Bosch depicts an indecipherable freakish world full of temptations. It's a cryptic triptych that art scholars have analyzed for centuries.
It's likely a creation and damnation image — populated with hybrid naked creatures, amorous acts, and hallucinatory horrors. It's safe to say it wasn't an altarpiece. It's unclear whether Bosch meant to celebrate or condemn the earthly delights.
Despite its seemingly shocking content, the painting was popular at the time. There is evidence that the painting was displayed in prominent locations and that tapestries and copies were made of Bosch's seminal work.
READ: Guide To the Prado Museum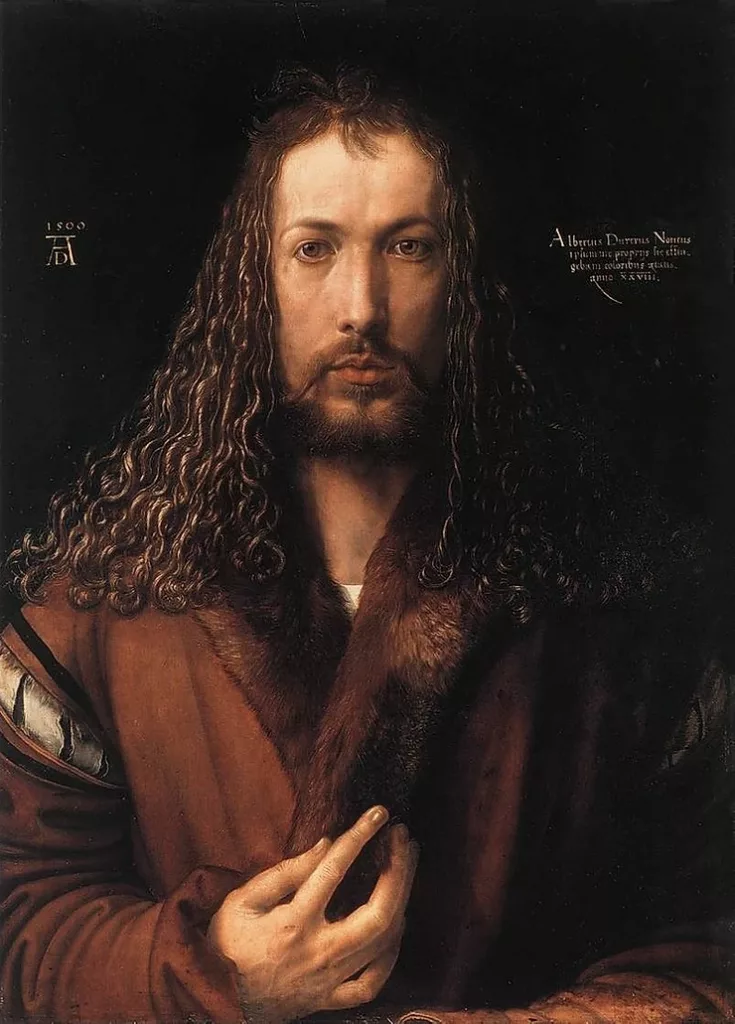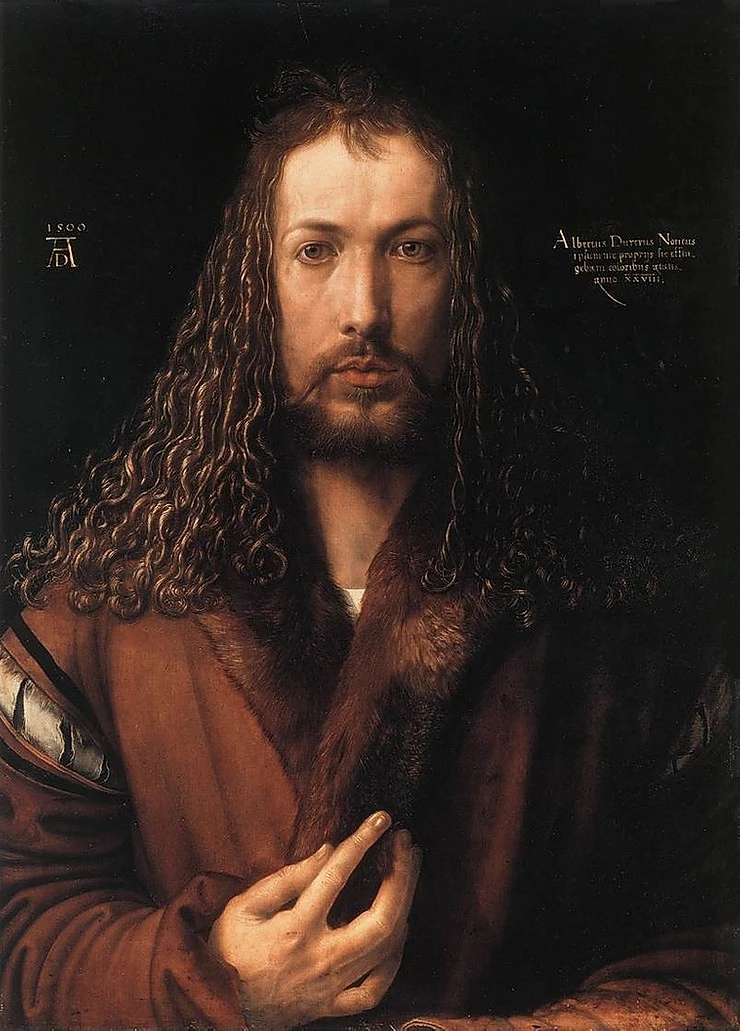 34. Durer's Self Portrait in Fur Coat | Alte Pinakothek, Munich
The Nuremberg-based Albrecht Durer was a multi-talented genius, and he thought so himself. But his most groundbreaking works were his self-portraits.
He could even be considered the pioneer of the selfie, at least in Europe. After this portrait, self portraits became a trend in the art world.
Durer was only 28 when he painted Self Portrait in a Fur Coat. It's an awfully self assured rendering. Durer almost conflated himself with Jesus.
It's reminiscent of Leonardo da Vici's disputed Salvator Mundi portrait. Recently returned from Italy, Durer clearly wanted a statement piece to announce that the Northern European Renaissance artists were just as good as the Italian Renaissance artists.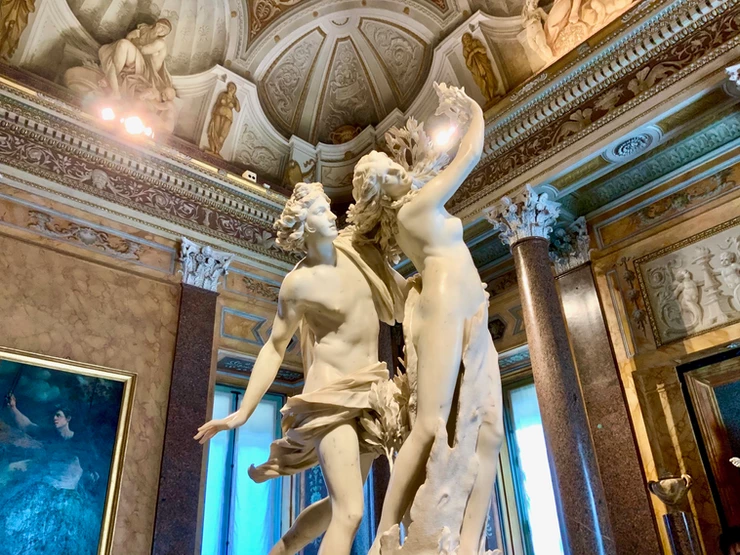 Art Masterpieces of the Baroque Era
35. Bernini, Apollo & Daphne | Borghese Gallery, Rome
Apollo and Daphne is one of Bernini's most magnificent sculptures, a star of the Borghese Gallery in Rome. It was inspired by a passage in Ovid's Metamorphoses where a mischievous Cupid holds sway.
Apollo is struck by Cupid's golden arrow. Overwhelmed by lust, he chases after Daphne. But Daphne's simultaneously been stuck by a lead arrow of disgust. She cries out to her father, a river god, for help. He transforms her into a laurel tree.
Bernini captures the intense action of the dramatic moment, with the pair's arms and legs moving in space and Daphne partially transformed into a tree. The details are so good that it seems real rather than merely mythological. Newly renovated, the sculpture looks absolutely pristine.
READ: Guide To the Bernini Trail in Rome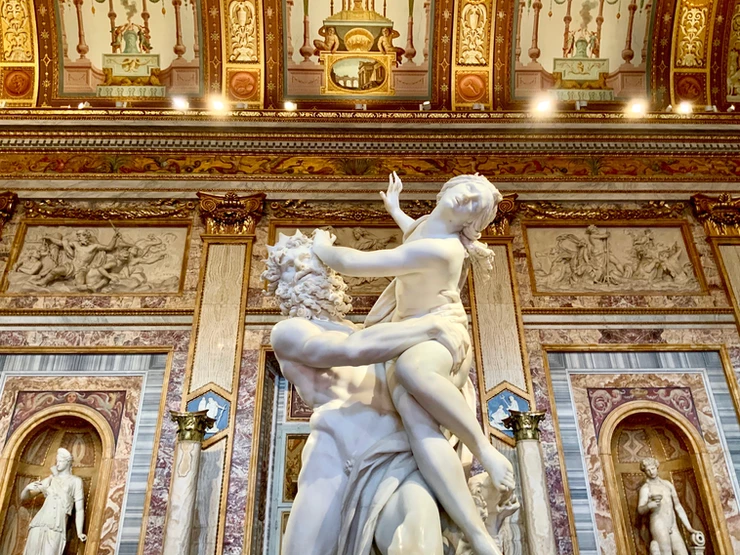 36. Bernini's Rape of Persephone | Borghese Gallery, Rome
This stunning sculpture was created when Bernini was only 24. He takes the classic story of the abduction of Persephone from Roman mythology as his theme. The title is clickbait. In ancient terminology, "rape" means kidnapping.
Pluto, king of the underworld, falls passionately in love with Persephone. He abducts her. Bernini captures the climatic moment in visceral life-like detail.
Pluto seizes a crying Persephone. Terrified, she fights to free herself from her molester. You can see indentations in Persephone's leg where Pluto grasps her. Cerebus, the three-headed guard dog, sits at Persephone's leg barking.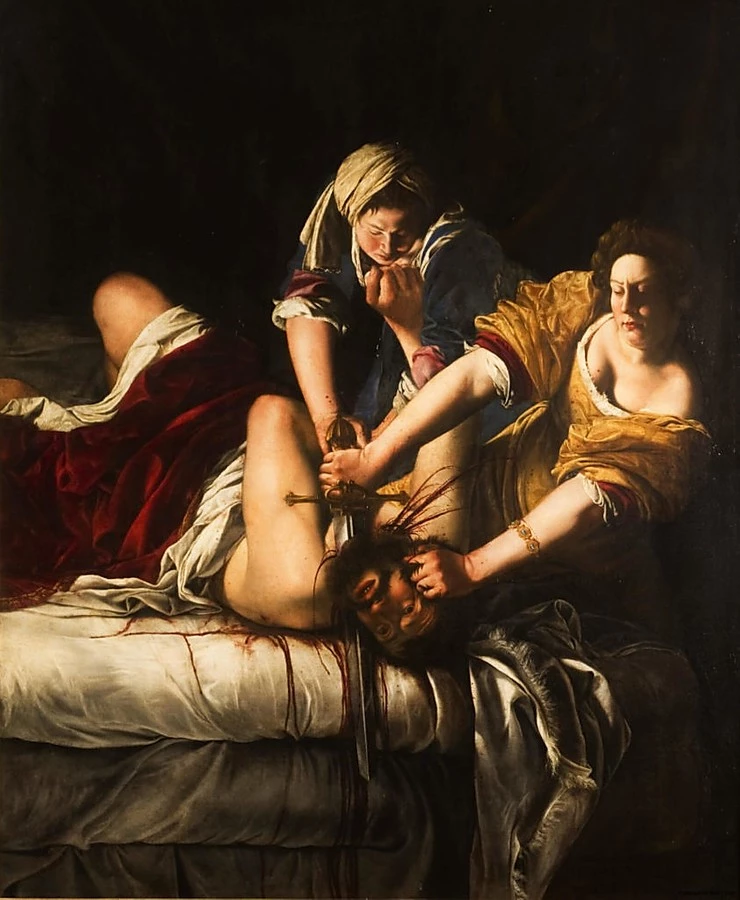 37. Artemisia Gentileschi, Judith and Holofernes | Uffizi Gallery, Florence
Gentileschi was one of the most talented painters of the Baroque period, rivaling Caravaggio himself. Judith Beheading Holofernes is her masterpiece. It tells a classic bible story of a widow slaying a general to save her village.
Artemisia's version is bloody, a shockingly violent beheading. The focus of the painting is Judith, not Holofernes. He looks to be almost dead, his limbs visually cut off and body radically foreshortened.
Judith is depicted as a muscle-y determined woman on a mission. She's not subtle or disgusted. She's out to get her man with a large sword and rolled up sleeves.
READ: Guide To Artemisia Gentileschi and Her Art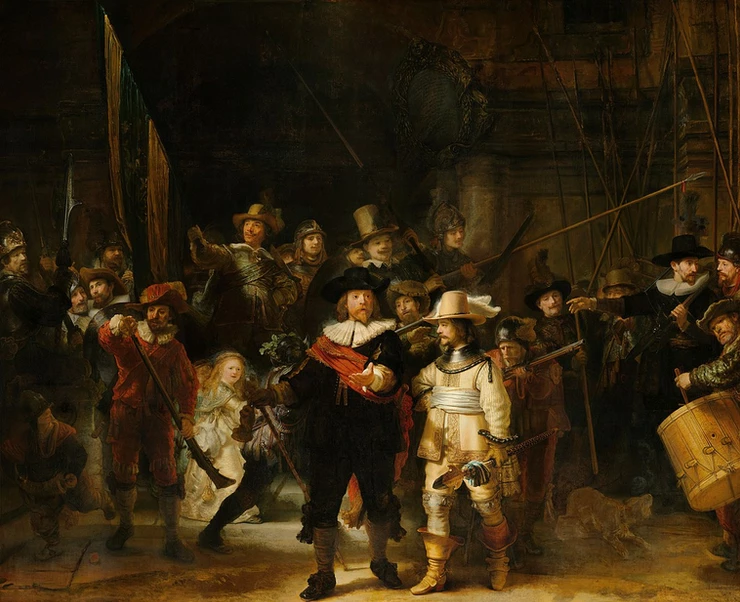 38. Rembrandt's The Night Watch | Rijksmuseum, Amsterdam
This famous painting is Rembrandt's largest and most famous painting. It hangs in a custom- built room in Amsterdam's Rijksmuseum. It's one of the greatest portraits of the Dutch Baroque period, called the "Dutch Golden Age."
The painting is group portrait of a local shooting company. These portraits were common. But Rembrandt painted the scene on a massive level, showing his mastery of light and shading.
Compared to other civic paintings, Rembrandt's Night Watch stands out in terms of its originality. Rembrandt animates his portrait. It's an action shot with the civic guards ready to spring into action.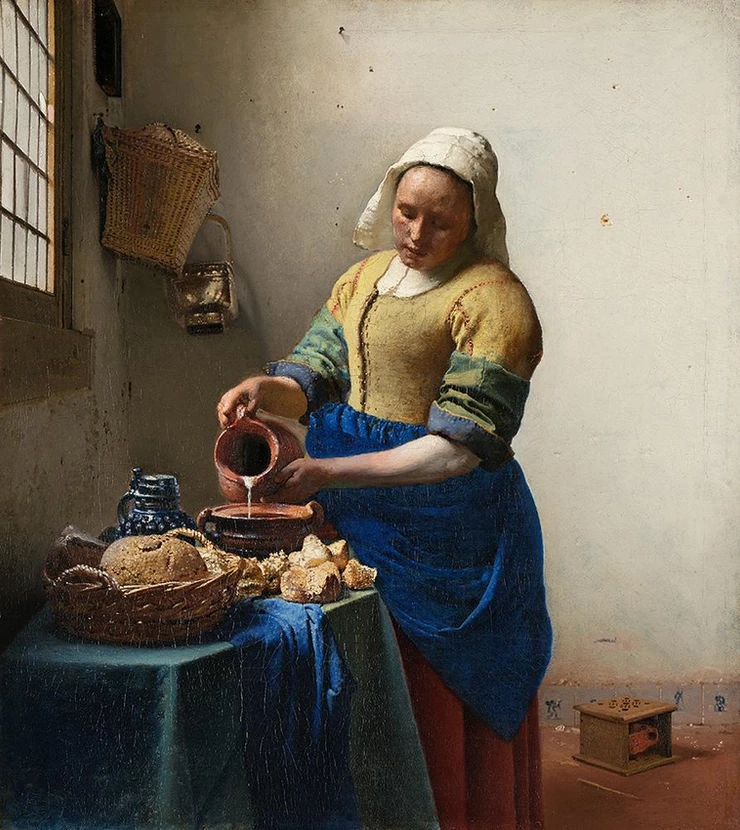 39. Vermeer's The Milk Maid | Rijksmuseum, Amsterdam
The Milkmaid is one of Vermeer's best known paintings, a quiet work showing a single figure in a domestic interior. In this work, Vermeer captures a scene of everyday life. The maid pours milk in concentrated fashion, as if it's a critical task.
Vermeer's composition is exquisitely designed. The kitchen itself is convincing, thanks to Vermeer's subtle use of perspective and light.
During Vermeer's time, milkmaids were regarded as amorous floozies. But Vermeer paints her as virtuous and steady working girl.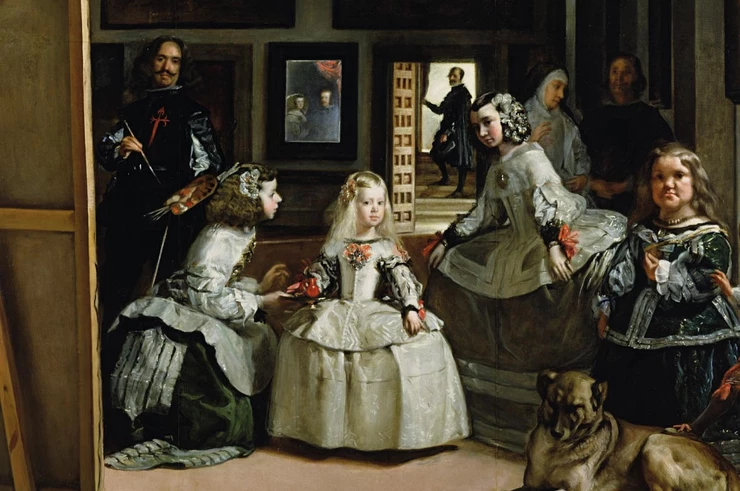 40. Diego Velazquez's Las Meninas | Prado Museum, Madrid
Velazquez was the court painter of Philip IV in Madrid. The king was an avid supporter of the arts. He was known as the "Poet King."
During his career, he turned out dozens of portraits of the royal family. This one almost looks like a polaroid and is Velazquez's culminating work.
It's populated by an odd cast of characters — a nun, a dwarf, the artist himself, a princess. The king and queen are seen in the background, reflected in a mirror. There's a lot of space devoted to the ceiling.
The painting is so unusual and intimate that it may have been an imaged scene. It's unclear whether the Las Meninas is a self-portrait, a royal portrait, or a picture of a time when the princess spontaneously came to Velazquez's studio.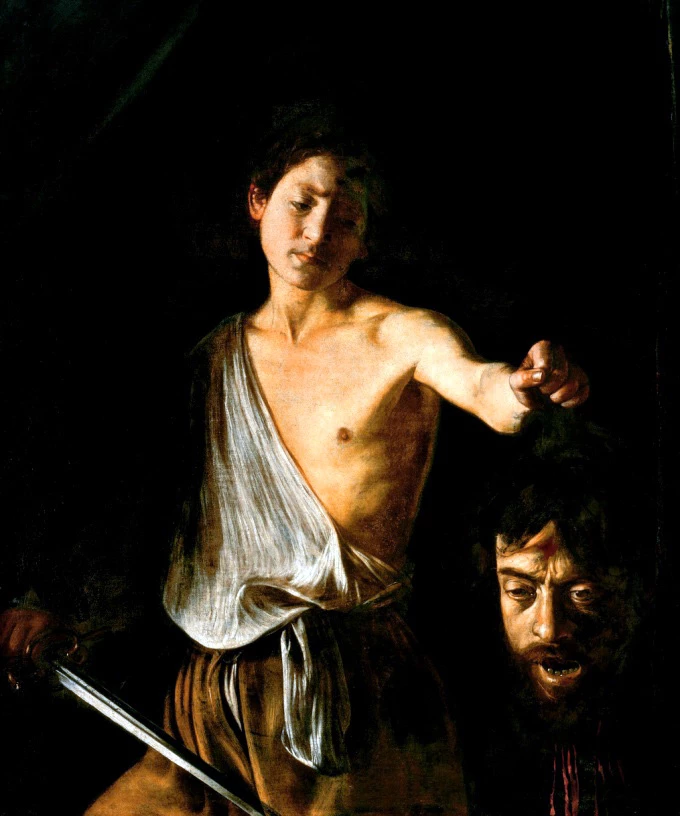 41. Caravaggio's David with the Head of Goliath | Borghese Gallery, Rome
The Borghese Gallery in Rome owns six Caravaggio paintings. It's the greatest collection of Caravaggio masterpieces anywhere in the world. Caravaggio pioneered Baroque painting, much as Bernini pioneered Baroque sculpture.
Caravaggio was a bit of a rogue, leading a reckless rock star life. In 1606, he got into a brawl and may have killed a man. He fled Rome to escape prosecution. Then, he created this brilliant painting of uncompromising realism and, perhaps, of a guilty conscience.
In it, David carries the severed head of Goliath, having conquered his superior foe. Caravaggio painted his own face on the grisly Goliath. The painting is renowned for its use of chiaroscuro, which sets light colors against a dark background for maximum dramatic effect.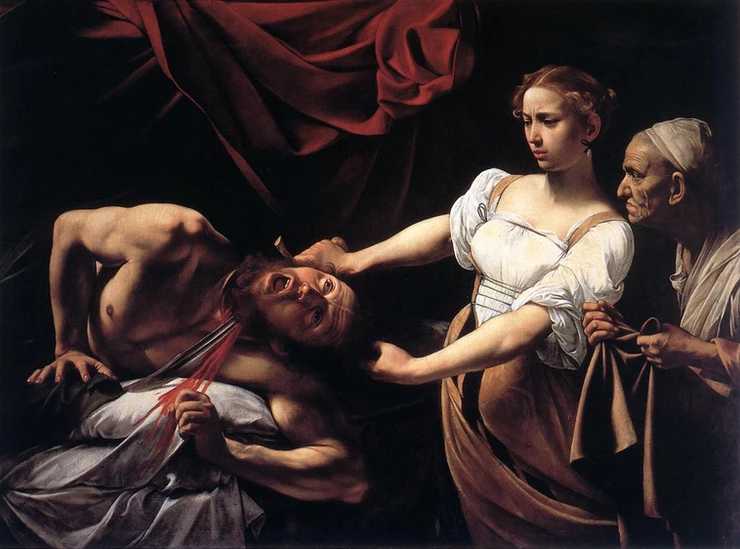 42. Caravaggio's Judith Beheading Holofernes | Palazzo Barberini, Rome
Judith Beheading Holofernes is one of Caravaggio's most famous paintings housed in Rome's underrated Palazzo Barberini. This painting shows a classic (and juicy) biblical scene, popular with many artists. As I mentioned above, in this tale, a heroic woman beheads the Assyrian warlord who's besieged her town in Israel.
Typically, a widowed Judith is portrayed as virtuous, delicate, or almost disgusted by her murderous task. The actual act of beheading wasn't even depicted.
Caravaggio's rendering is audacious. He shows Judith as beautiful and horrified (not nun-like) and a nude Holofernes in his last second of consciousness.
The grizzled and intense servant leans forward to retrieve the soon-to-be disembodied head. The entire scene is violent and naturalistic.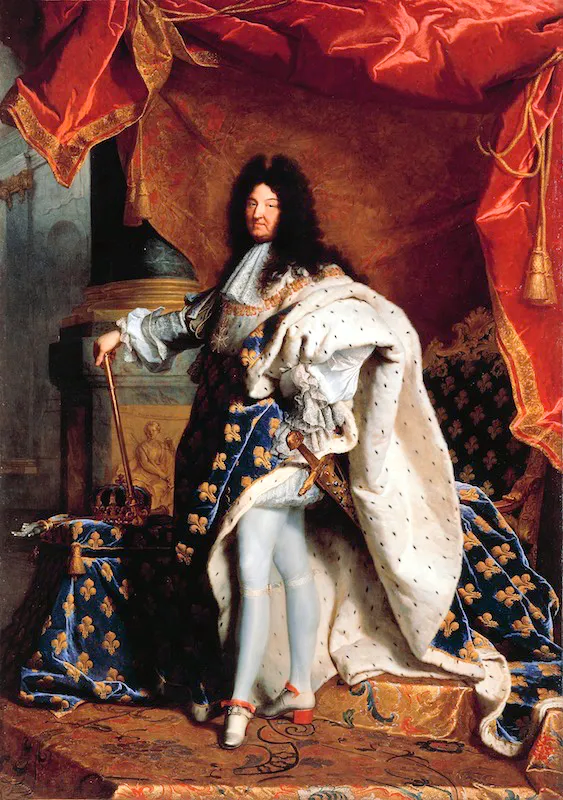 43. Rigaud's Louis XIV | Louvre, Paris
Hyacinthe Rigaud was the principal court painter to the Sun King, Louis XIV. This painting was a propaganda piece.
It was intended to cement the king's claim to rule by divine right. Rigaud's monumental painting is a life-size full-body portrait of Louis XIV.
The 63 year old king is at the height of his power. Louis' pose makes him seem tall and allows him to literally look down on the viewer. The over-the-top opulence of the furnishings and clothing reinforce the notion of the monarch's supremacy.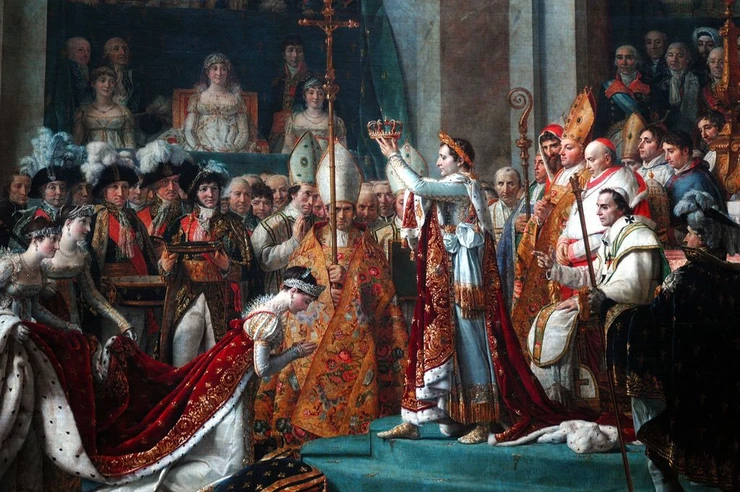 Art Masterpieces of the 19th Century
44. Jacques Louis-David's Coronation of Napoleon | Louvre, Paris
This painting is just massive, 32 x 20 feet. It's set in 1804. Having conquered most of Europe, Napoleon returns to Paris to be crowned in Notre Dame.
Departing from tradition, Napoleon takes the crown from the pope and places it on his own head. Napoleon commissioned David to capture the momentous occasion in paint. David delivers with grand Neo-Classical style painting.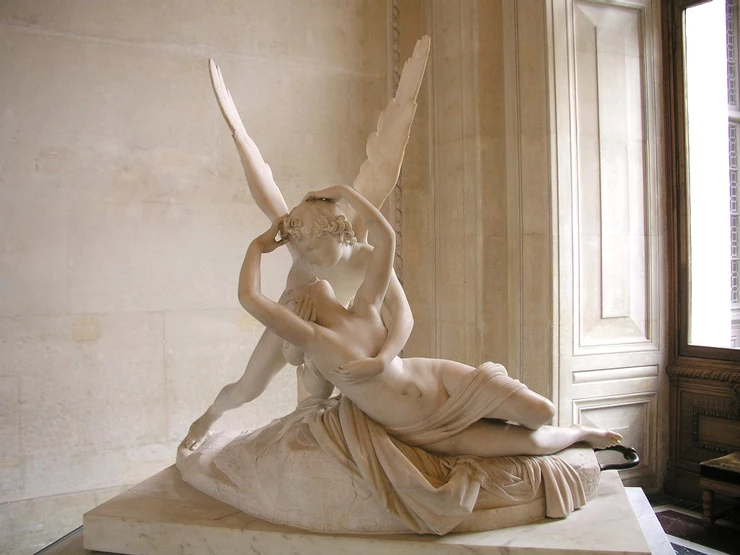 45. Antoni Canova, Psyche Revived by Cupid's Kiss | Louvre, Paris
Canova was greatest sculptor form Venice. He was inspired by classical antiquities in Rome. Eventually, Napoleon summoned him to Paris to become his court sculptor.
Canova sculpted in the Neo-Classical style, creating stunningly beautiful images of Greek gods and goddesses. His style became the toast of Europe.
In Psyche, he uses a complex composition that's interesting from every angle. Cupid cradles Psyche tenderly in a moment of perfect romance.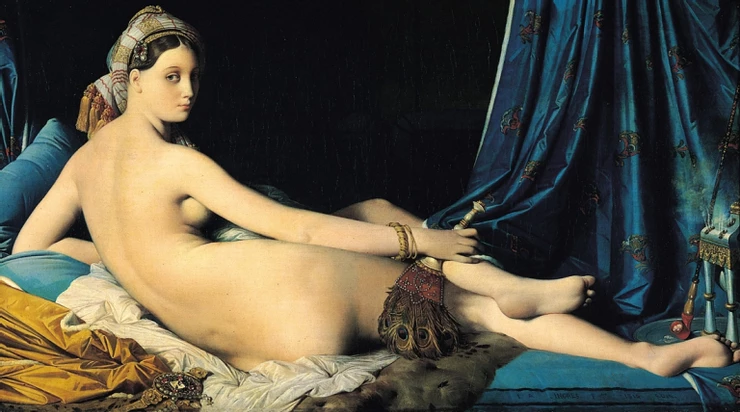 46. Ingre's La Grande Odalisque | Louvre, Paris
In this groundbreaking Louvre portrait, Ingres portrays a languid nude in a sumptuous interior. As the title suggests, she's an odalisque, a female slave or concubine in an Ottoman sultan's household.
The nude seems to follow Titian's Venus of Urbino of 1538. But this is no classical setting and its elongated figure departs from realistic anatomy. This painting marks the first spark of the Romantic era of art history.
Instead, Ingres provides a whiff of cool and aloof eroticism, which is accentuated by the exotic context. The peacock fan, the turban, the enormous pearls, and the hookah refer us to the French conception of the Orient.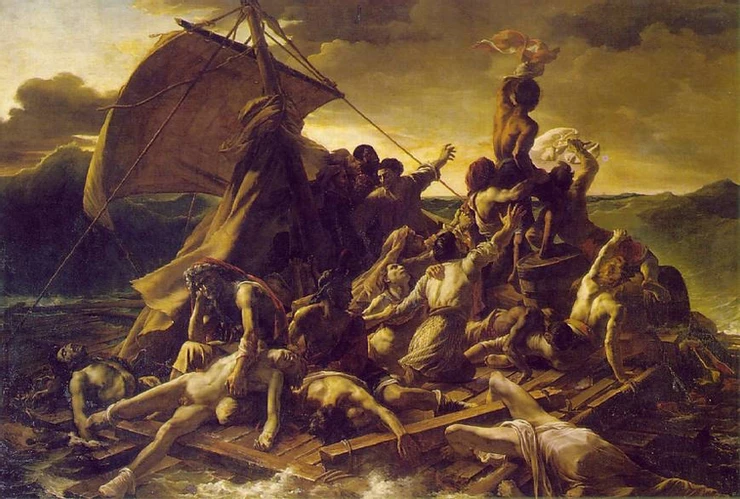 47. Gericault's Raft of the Medusa | Louvre, Paris
The Raft of the Medusa is not your typical Salon painting. It depicts a gruesome tale of an ill-piloted ship. It was based on a true store of international tragedy, a tale of incompetence and cannibalism. The grisly episode inspired one of the greatest, and biggest, paintings of the 19th century.
Gericault ended up painting a vast tableau of gruesome figures. With it, Gericault became one of the first artists to document a grim event torn from the headlines.
Gericault's painting shocked the world. It was not only an unconventional Salon work, but also an indictment of the French government. It was different than anything seen before.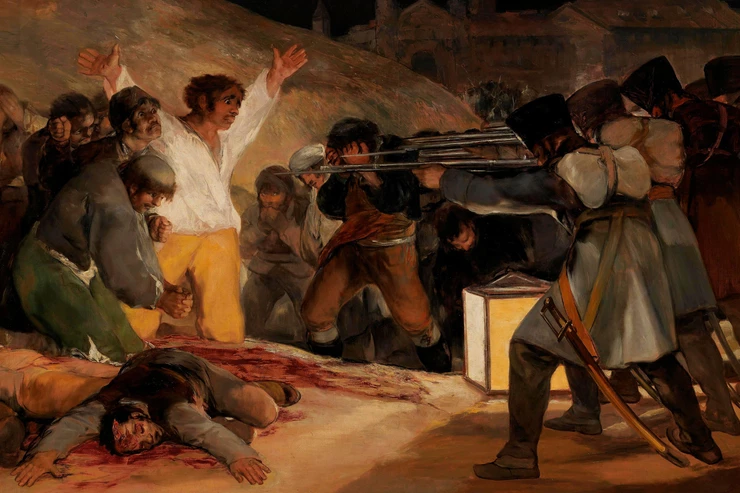 48. Goya's The Third of May | Prado Museum, Madrid
Napoleon's invasion of France and the horrors of war left a profound impression on the Spanish artist Goya. He created two commissioned pantings commemorating the Spanish uprising: The Second of May 1808 and The Third of May 1808.
They're both in the Prado and decidedly not your typical Salon paintings.
The Third of May 1808 is Goya's most famous work and perhaps the best painting in the Prado. In it, Goya depicts man's inhumanity to man, not a bloodless heroic affair.
It's an emotionally charged painting. The central figure, an anti hero with baffled raised arms, is killed on the side of the road like an animal by anonymous gunmen.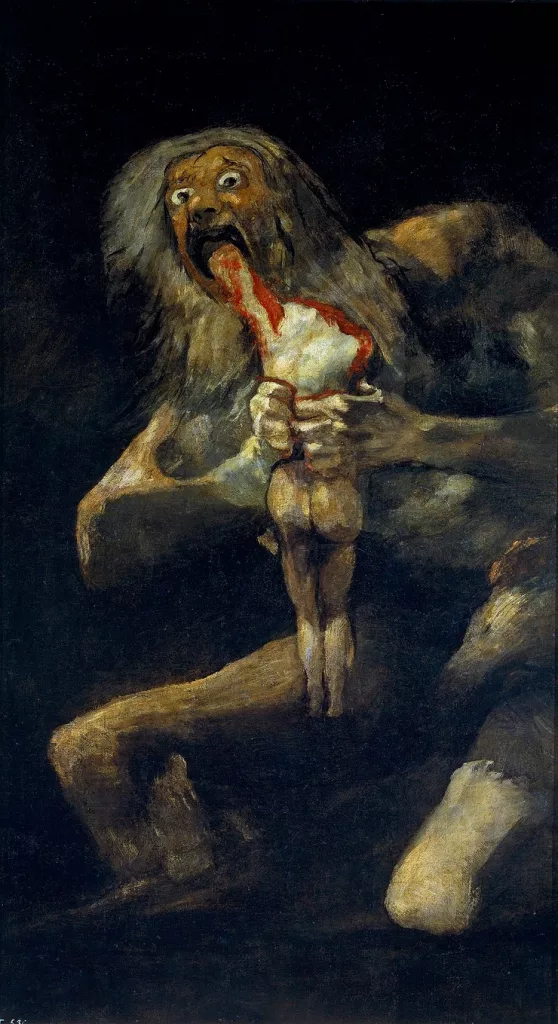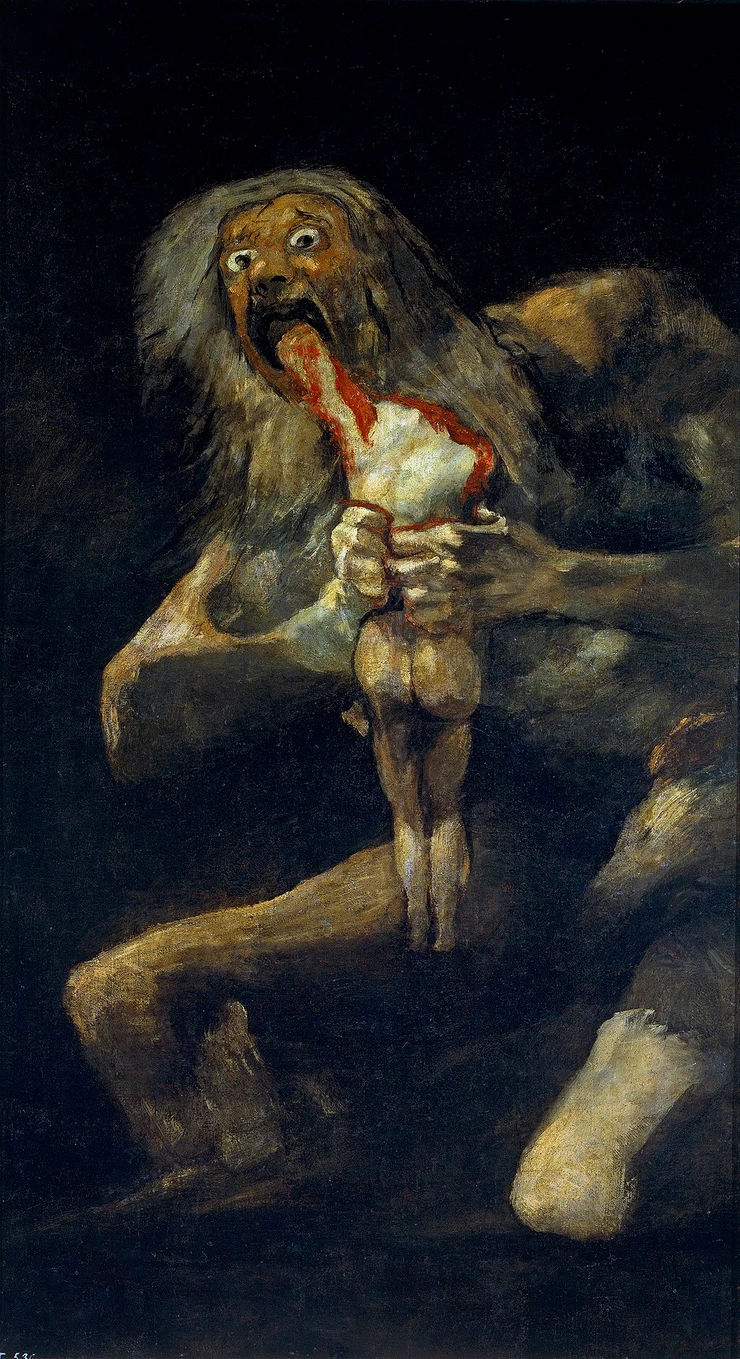 49. Goya's Saturn Devouring His Son | Prado Museum, Madrid
Goya's infamous and startling "Black Paintings" date from late in his career. The Black Paintings are some of the most disturbing artworks ever made. They depict existential despondency over the human condition and edge-of-death despair.
The most famous and disturbing Black Painting is undoubtedly Saturn Devouring His Son, based on Roman mythology. To avoid being overthrown by his own son, Saturn swallowed his children whole.
Perhaps the most striking detail of the painting is Saturn's evident distress. He has a crazed, anguish look on his face. He looks shocked at his own monstrousness.
READ: Guide To Goya's Black Paintings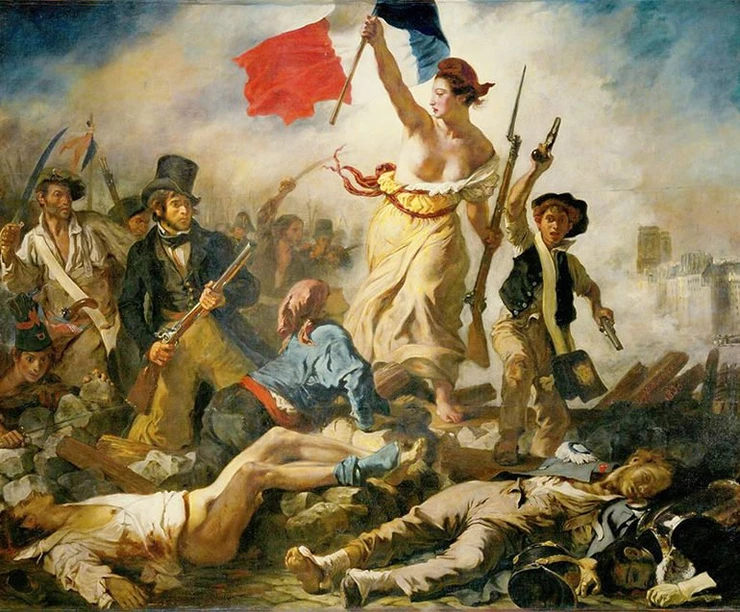 50. Delacroix's Liberty Leading the People | Louvre, Paris
This is Delacroix's most famous painting. And it's one of the most popular paintings in the Louvre.
The energetic lady carrying the French flag, nicknamed Marianne, is the very symbol of the French Revolution. Delacroix captures a frenetic moment, when Parisians have taken to the street to protest oppression.
The painting is executed in the colors of the French flag. It's a classic of the Romantic period. And it's romantic, with bold colors, a stirring scene, and guns blazing.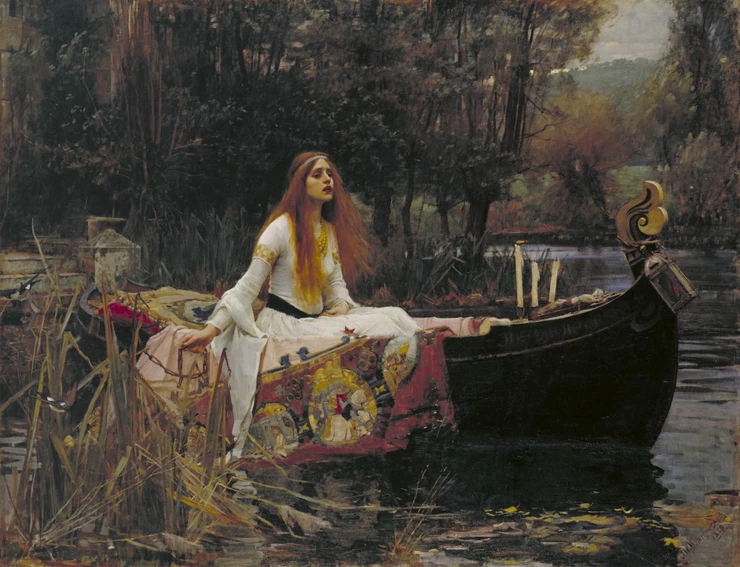 51. Waterhouse, The Lady of Shalott | Tate Britian, London
Waterhouse's gorgeous painting in the Tate Britain is reminiscent of the Pre-Raphaelites.
The subject is a vulnerable young red-haired woman in white gown. She's floating to her doom, adrift in a river setting reminiscent of John Everett Millais's Ophelia of 1852.
Waterhouse's chosen subject, the Lady of Shalott, comes from Lord Alfred Tennyson's Arthurian poem of the same name.
Waterhouse's technique, though, varies from the Pre-Raphaelites. He uses loose impressionistic strokes, presaging French Impressionism.
READ: Guide to Pre-Raphaelite Paintings in London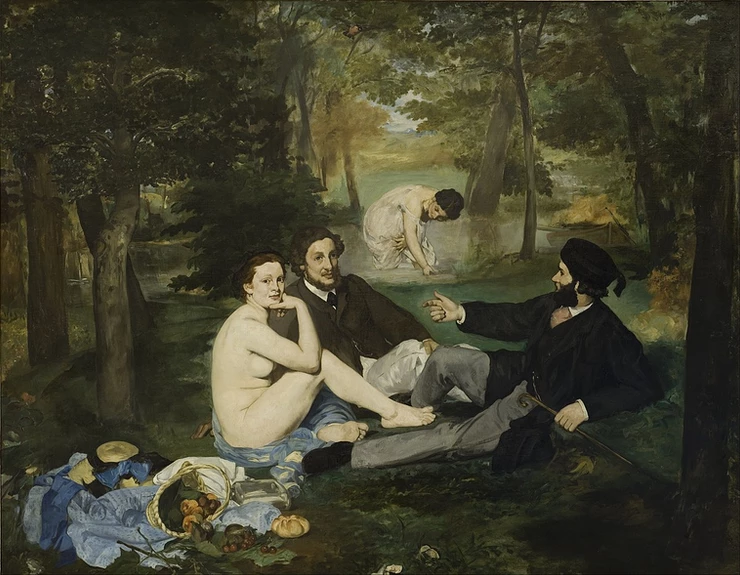 52. Manet's Luncheon on the Grass | Orsay Museum, Paris
Manet had a huge impact on the development of modernism. He led a bohemian life and scandalized the official Salon with his utter disregard for academic conventions and his strikingly modern images of urban life.
This large scale masterpiece in Europe was inspired by Titian's Pastoral Concert. The anonymous female nude was deemed shockingly modern at the time.
She wasn't based on a mythological figure, as was the prevailing fashion. She stares straight at the viewer without quibble. Manet's brushstrokes are loose and unfinished. The perspective is off, intentionally so.
READ: Masterpieces of the Musee d'Orsay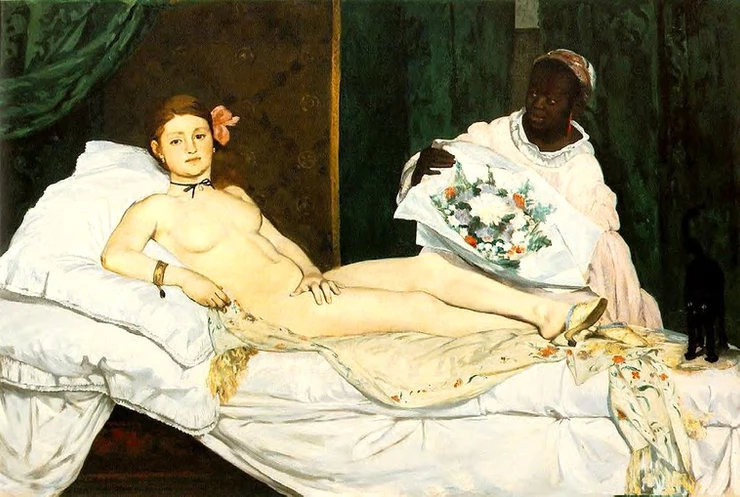 53. Manet's Olympia | Orsay Museum, Paris
Like Luncheon on the Grass, Manet's Olympia sparked an uproar of disapproval. it received an overwhelmingly negative critical response.
Olympia features a nude woman reclining on a lounge brazenly looking back at the viewer. Critics thought the painting mocked academic traditions, robbing the nude of the typical mythological scaffolding.
Unlike Titian's masterpiece, Manet's nude was washed out, flat looking, appeared rapidly executed, and (horrors) was likely a trashy prostitute. In creating Olympia, Manet traded in illusionism and fussy controlled paint for a frankness of expression and a radically modern subject.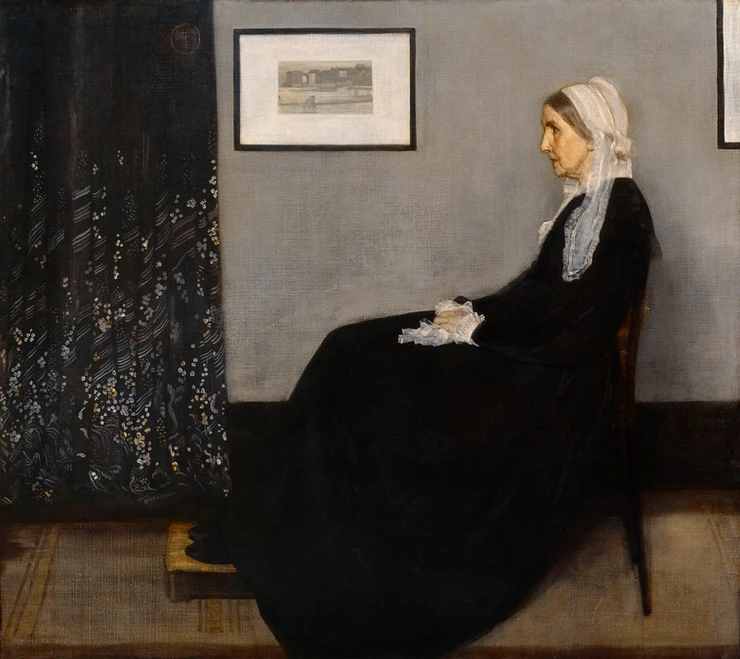 54. James Whistler, Whistler's Mother | Orsay Museum, Paris
James Whistler was an expat from the United States. He settled in England, struck up a friendship with Monet, and led a generally disreputable life. In this painting, Whistler gives us a meticulous study of his mother, staring enigmatically into the distance.
Whistler's Mother actually has a conceptual title, Arrangement in Grey and Black No. 1. On the surface, the painting appears traditional. It's sometimes dubbed the "Victorian Mona Lisa." And it's become an icon for that reason. But looks can be deceiving
Whistler actually had no interest in painting something "motherly." Or even in portraiture. Rather, his work is characterized by the radical use of simple coloring. In this painting, he explores the interplay of back and gray.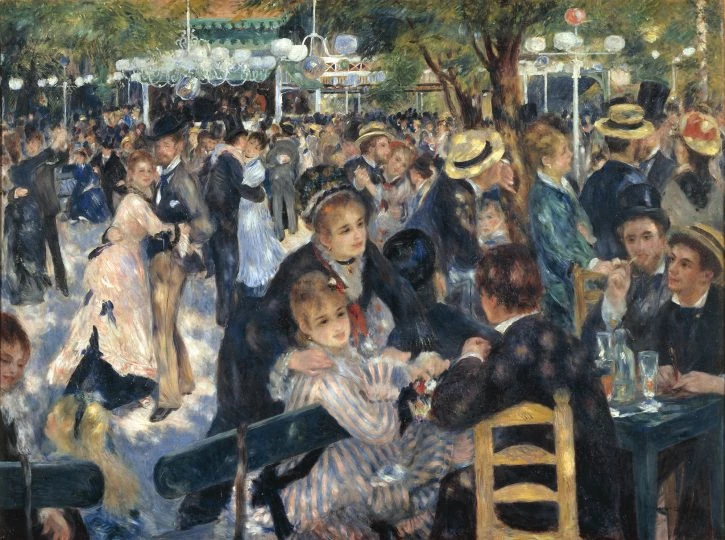 55. Renoir's Dance at the Moulin de la Galette | Orsay Museum, Paris
Renoir was a prolific French artist and a key founder of Impressionism. His work has the movement's characteristic pastel colors and loose brushwork. Renoir is most known for his depictions of women, Parisian society, domestic scenes, nudes, and dance paintings.
The Moulin de la Galette is a a pleasure scene set in Montmartre. People are socializing, flirting, and dancing, most likely at a beer hall.
There's no central focus, an unusual choice. Rather, there are many vignettes, capturing intimate moments. What made the painting radical at the time was the kaleidoscope of colors, sun dappled and loosely brushed.
READ: 3 Day Impressionism Trail in Paris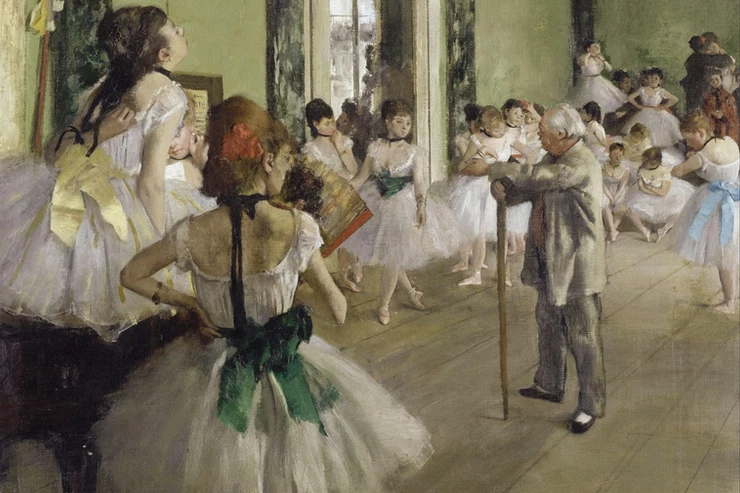 56. Degas' The Dance Class | Orsay Museum, Paris
No one captures ballerinas at work better than Edgar Degas. This work represents the most ambitious paintings Degas devoted to the theme of the dance. He gives you an unposed behind the scenes peak at a dance rehearsal.
A large group of women, ballerinas, and their mothers, wait while a dancer executes an move for her examination. Jules Perrot, a famous ballet master, conducts the class. The imaginary scene is set in a rehearsal room in the old Paris Opera.
Degas wasn't a formal member of the Impressionists. He didn't paint outside. But, in this painting, he adopts their loose brush strokes and gives a "snapshot" of a moment.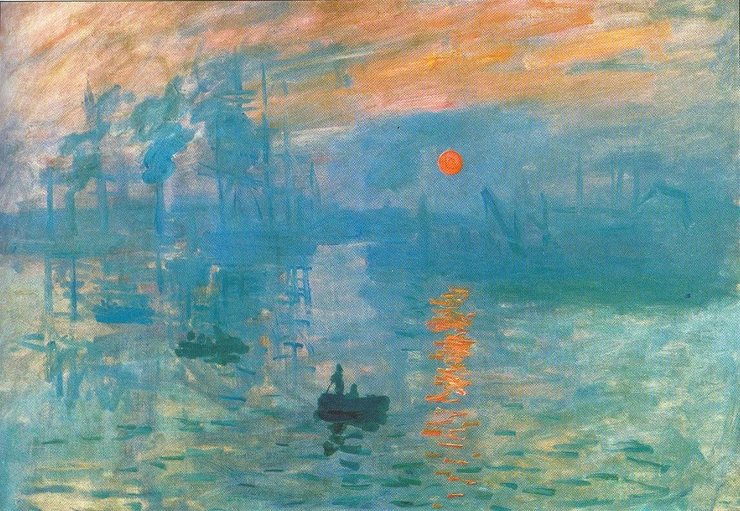 57. Monet's Impression Sunrise | Marmottan Monet Museum, Paris
Claude Monet's painting, Impression Sunrise, gave birth to the name of a movement. It was first shown at what was derogatorily dubbed the "Exhibition of the Impressionists" in 1874. The painting is now a highlight of the Musée Marmottan Monet, a Paris hidden gem.
Monet's painting, Impression: Sunrise, shocked the public. One sneering critic decried the work as nothing more than an "impression," worse than wallpaper.
The insult stuck and gave birth to the name of the radical movement. Now, this famous masterpiece in Europe is the most famous in the Marmottan collection.
READ: Guide To Monet Trail in Paris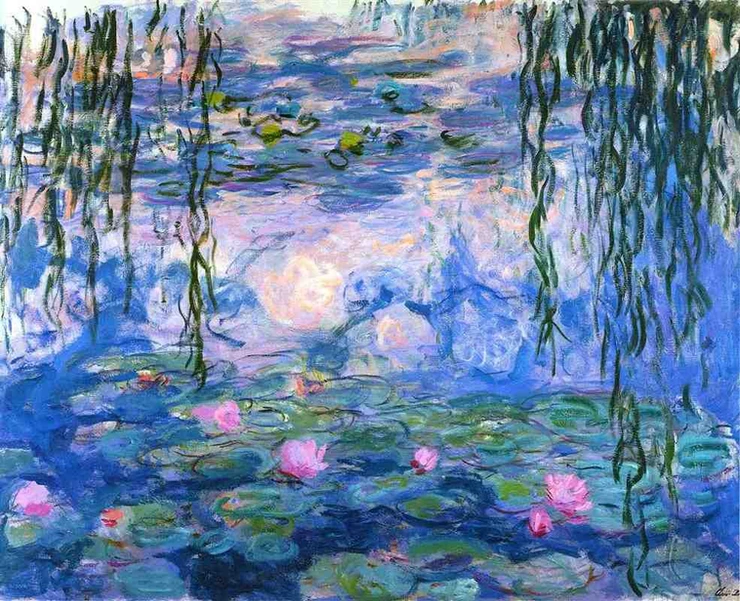 58. Monet's Water Lilies | Marmottan Museum & Orangerie Museum, Paris
Claude Monet's large scale water lily canvases are ravishing. They are a panorama of light and water, a distillation of an enchanted garden. There is a sense of audacity and physicality not present in Monet's earlier Impressionism paintings.
The intensely-colored lilies are a theater-like recreation of the experience of physically being at a pond. Monet used a simplified composition and focused on pure vivid color,
For years following Monet's death, his water lily paintings were largely ignored with many paintings gathering dust in his Giverny studio in Normandy. Then, in the 1950s, with the rise of Abstract Expressionism, interest in the pieces rose.
READ: Guide To Musee Marmotton Monet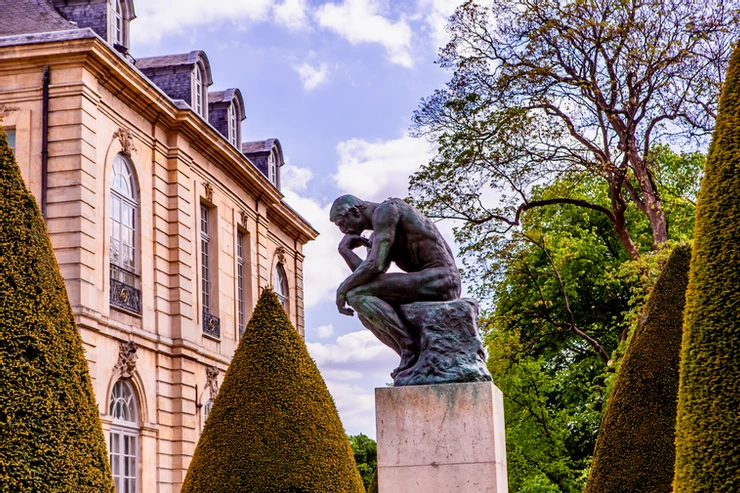 59. Rodin's The Thinker | Rodin Museum, Paris
The Thinker is Rodin's other most well known sculpture. Over 50 casts were made of the tense sculpture, making its presence known world wide.
The seated figure is a contemplative, melancholy man. The sculpture is highly influenced by Michelangelo, but also seems modern.
Rodin said "my Thinker thinks not only with his brain, with his knitted brow, his distended nostrils, and compressed lips, but with every muscle of his arms, back, and legs, with his clenched fist and gripping toes."
READ: Guide To the Rodin Museum in Paris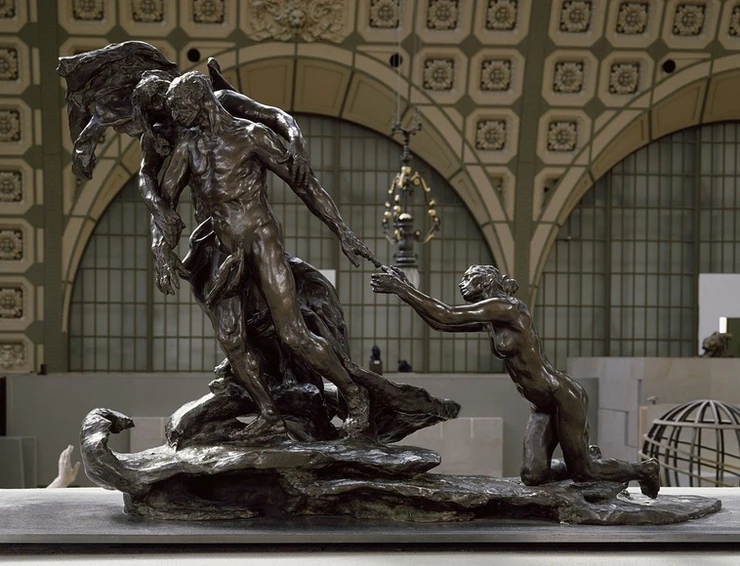 60. Camille Claudel's The Age of Maturity | Orsay Museum, Paris
Camille Claudel's masterpiece is The Age of Maturity, housed in the Musee d'Orsay in Paris. Claudel was the lover and muse of famed French sculptor Auguste Rodin. When he refused to abandon his wife, Claudel broke off their long term affair.
The Age of Maturity can be interpreted as an allegory on aging or as a wrenching autobiographical love triangle. It depicts three naked figures. A young woman on her knees implores an older man not to be led away by a hooded older woman.
The sculpture could portray a reluctant Rodin being led away from a devastated Claudel. Or, it could show a mature man leaving his youth and moving towards the inescapable forces of old age and death. Either way, The Age of Maturity is a thought-provoking symbolic work.
READ: Guide To the Art Works of Camille Claudel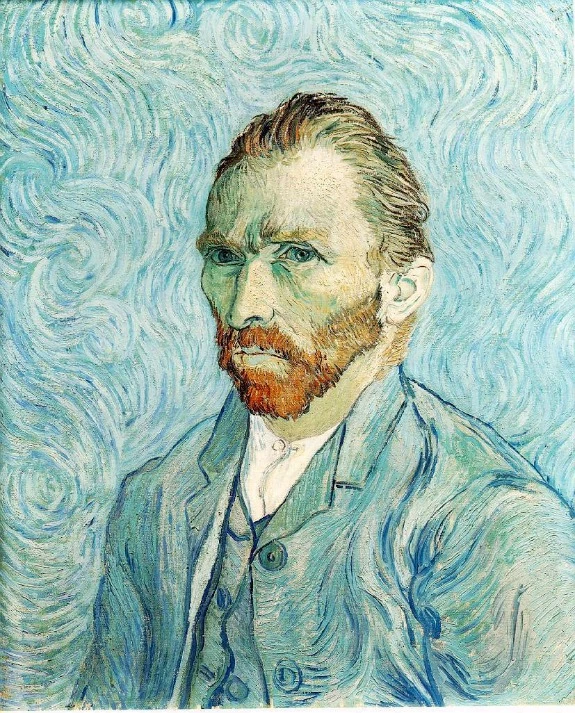 61. Van Gogh's Self Portrait | Orsay Museum, Paris
Van Gogh painted over 43 self portraits. This one, one of his last, was created at a time when Van Gogh was feeling healthier. He had just checked himself out of the St. Remy asylum and was headed north to Auvers-sur-Oise outside Paris.
The background is filled with waves and spirals. The painting has tense brushstrokes. The dominant colors are mint green and turquoise.
His features are gaunt and grizzled, framed in contrasting orange shades. Van Gogh himself is immobile, but everything else in the painting is like an undulating force field.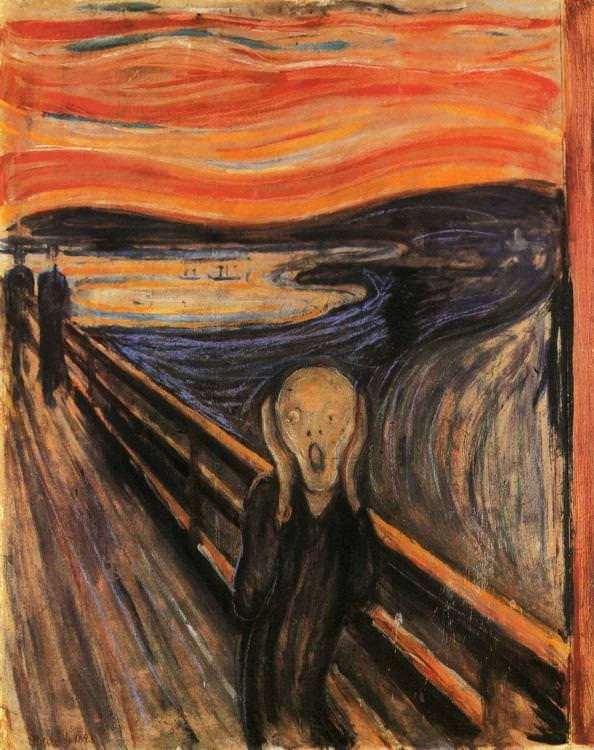 62. Munch's The Scream | Munch Museum & National Museum, Oslo
The open mouthed agonized face of the waif-like figure in Edvard Munch's The Scream has become an iconic image of art.
It's effectively the Mona Lisa of the modern art world. In what Munch described as a "soul painting," he reveals an honest and perhaps even ugly glimpse of his inner anxiety.
As in any true expressionist painting, The Scream vibrates with swirling color and overwhelming feeling and emotion. There are three versions of the The Scream in Europe. Two are at the National Gallery Oslo and one is at the Munch Museum in Oslo.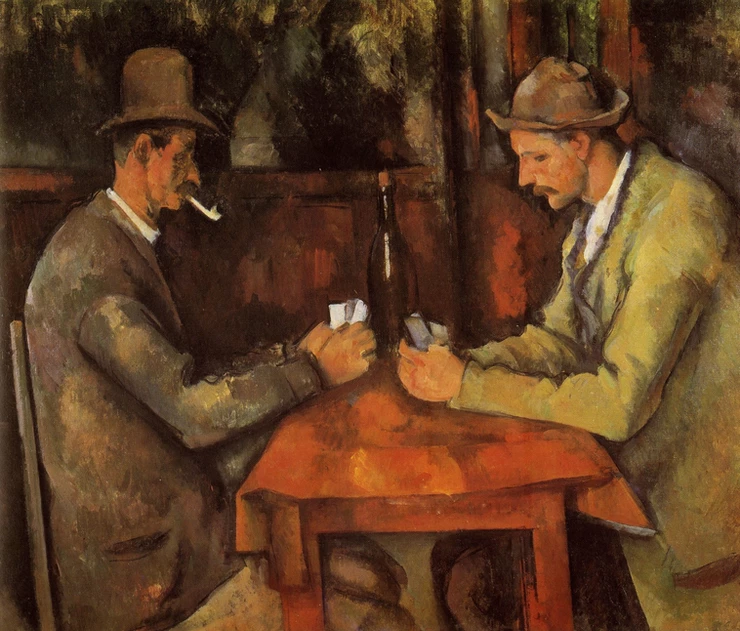 63. Cezanne's The Card Players | Orsay Museum, Paris
Post-Impressionist Paul Cezanne was one of the most influential artists in modern painting. Both Matisse and Picasso have remarked that Cezanne "is the father of us all."
Card games have typically been depicted as tawdry affairs, moralizing about the pitfalls of drinking and gambling. But Cezanne broke that mold, with a simple quiet scene. It's a traditional subject that Cezanne renders unconventionally.
In this painting, Cezanne experiments with modern devices — composition, geometry, and tension. Cezanne painted slowly and this painting is similar to his well-admired still lives. The best and most complex version of The Card Players is in the Barnes Foundation in Philadelphia.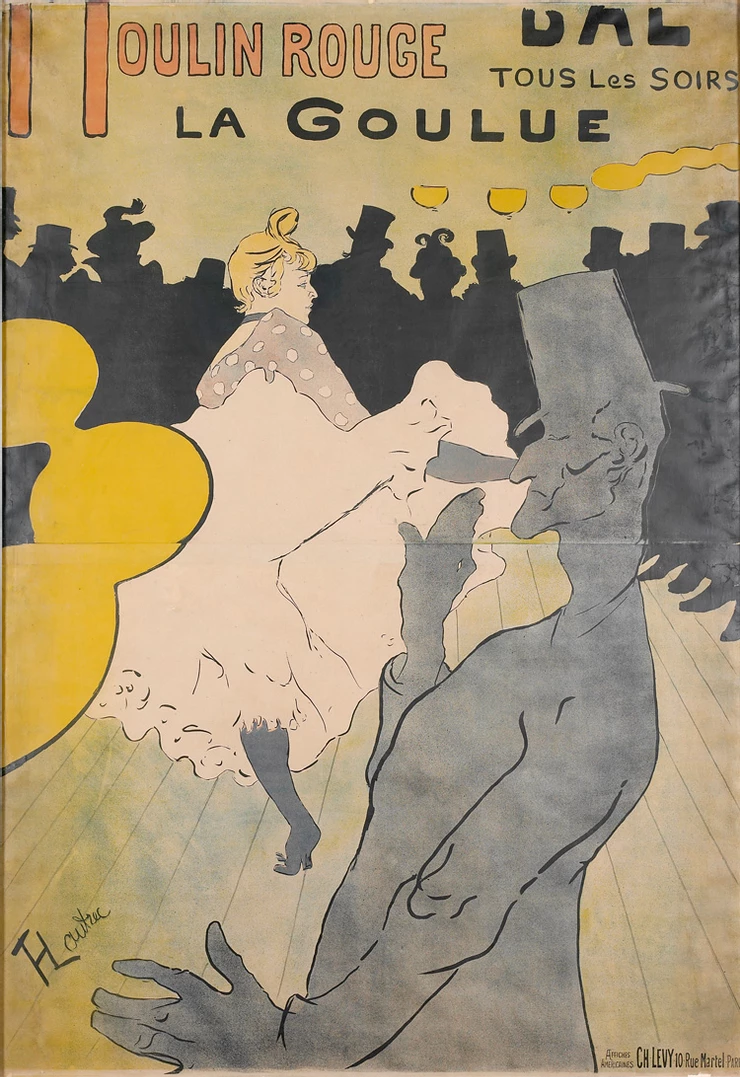 64. Toulouse-Lautrec's Posters | Toulouse-Lautrec Museum, Albi France
The fantastic Toulouse-Lautrec Museum in Albi France is dedicated to French Post-Impressionist painter Henri de Toulouse-Lautrec. You may know him from his iconic posters of bawdy fin de siècle spots in Paris, like the Moulin Rouge.
Toulouse-Lautrec became famous while living in the Paris neighborhoods of Montmartre and South Pigalle. He became a lucid and uncompromising observer and painter of the seamier side of Parisian life.
Toulouse-Lautrec was the first artist to elevate advertising to the status of legitimate art, presaging Andy Warhol. He was a pioneer of new forms of lithography. Some of his greatest masterpieces were posters for nightclubs.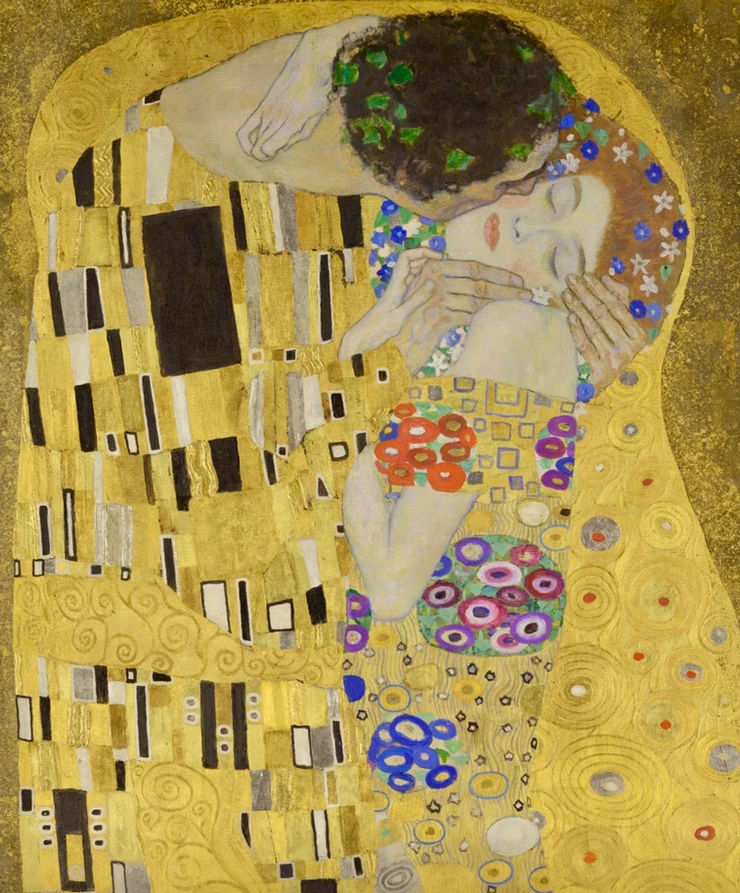 Art Masterpieces of the 20th Century
65. Gustave Klimt, The Kiss | Belvedere Palace, Vienna Austria
The most famous painting in Vienna's Belvedere Palace (and all of Austria) is undoubtedly Klimt's glittering The Kiss. Plastered on fridge magnets and mouse pads, we've grown used to the image. But, still, nothing prepares you for a glimpse in real life. It's just so beautiful.
Gustav Klimt was an Austrian Symbolist painter. He was a prominent member of the Vienna Art Nouveau, aka the Vienna Secession.
The Kiss is from Klimt's "Golden Period." That period was inspired by Byzantine mosaics in Ravenna and Venice. It's characterized by the elaborate and opulent use of gold. Set against a black wall, the gorgeous Kiss portrays two lovers in a tight embrace enveloped by golden light.
READ: Guide To the Klimt Trial in Vienna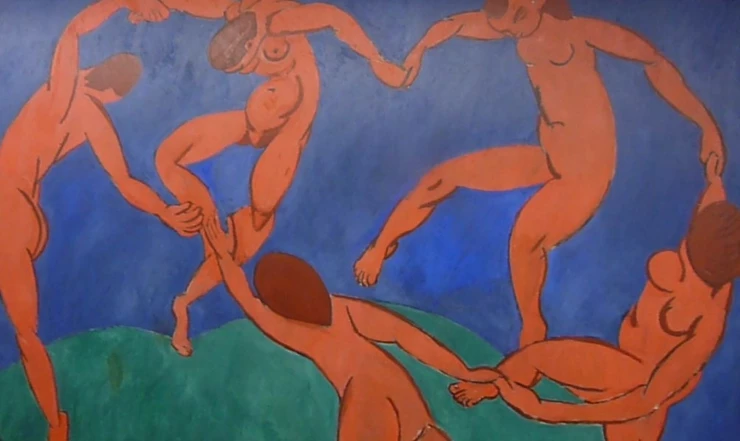 66. Matisse's The Dance | Hermitage Museum, St. Petersburg Russia
The Dance by Henri Matisse is housed in St. Petersburg's Winter Palace, one of the most breathtaking buildings in the world. Matisse created this painting in 1910, at the request of Russian businessman and art collector Sergei Shchukin. Shchukin then bequeathed the large decorative panel to the Hermitage Museum.
The composition of dancing figures is commonly recognized as a key point of Matisse's career and in the development of modern painting. The dancers are largely formless and have a childlike spontaneity.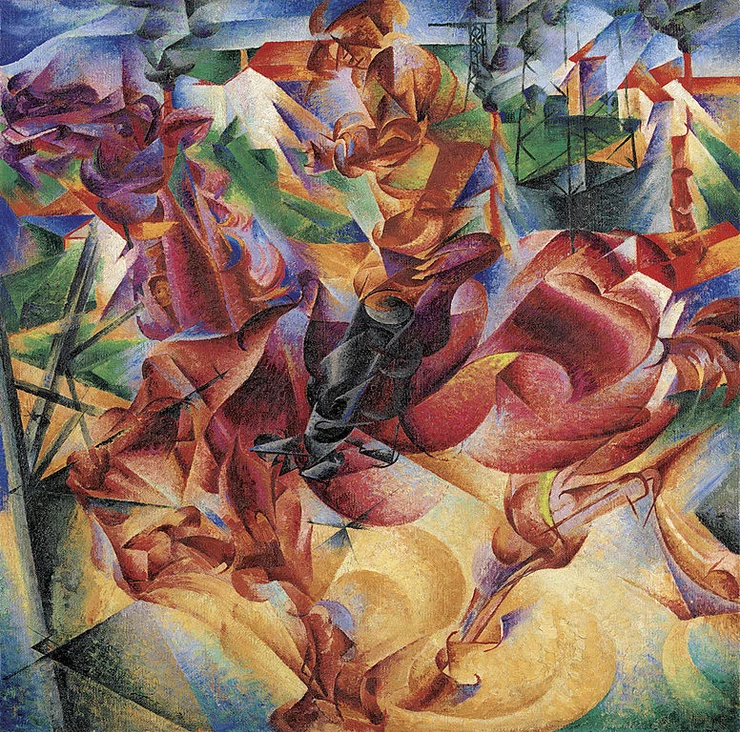 67. Umberto Boccioni, Elasticity: Galleria d'Art Moderna, Milan
Boccioni was the leading artist of Italian Futurism. He was based in Milan.
During his short life, he produced some of the movement's most iconic paintings and sculptures. He captured the color and dynamism of modern life in a pre-Cubist style. A style that he theorized and defended in manifestos, books, and articles. Boccioni termed his style "physical transcendentalism."
Boccioni's Elasticity is a literal demonstration of horsepower. It has a mechanistic, cubist appearance. But it's not quiet like Cubism. This painting is so dynamic it seems like it might burst.
READ: Top Art Masterpieces in Milan
68. Chagall's The Birthday | Guggenheim Museum, Bilbao Spain
Though he was born in a provincial town in Russia, Marc Chagall became a pioneer of the modernist movement. This painting hangs in the Frank Gehry-designed Guggenheim Museum in Bilbao Spain.
He absorbed ideas from Fauvism, Surrealism, and Cubism. But he still preferred figurative paintings, although he adopted a flowing, supernatural style.
In The Birthday, Chagall painted his wife's birthday. It has Chagall's signature joie de vivre vibe.
Chagall had just married Bella. The vibrant painting is an ode to their passionate union. As Chagall said, "love and fantasy go hand in hand."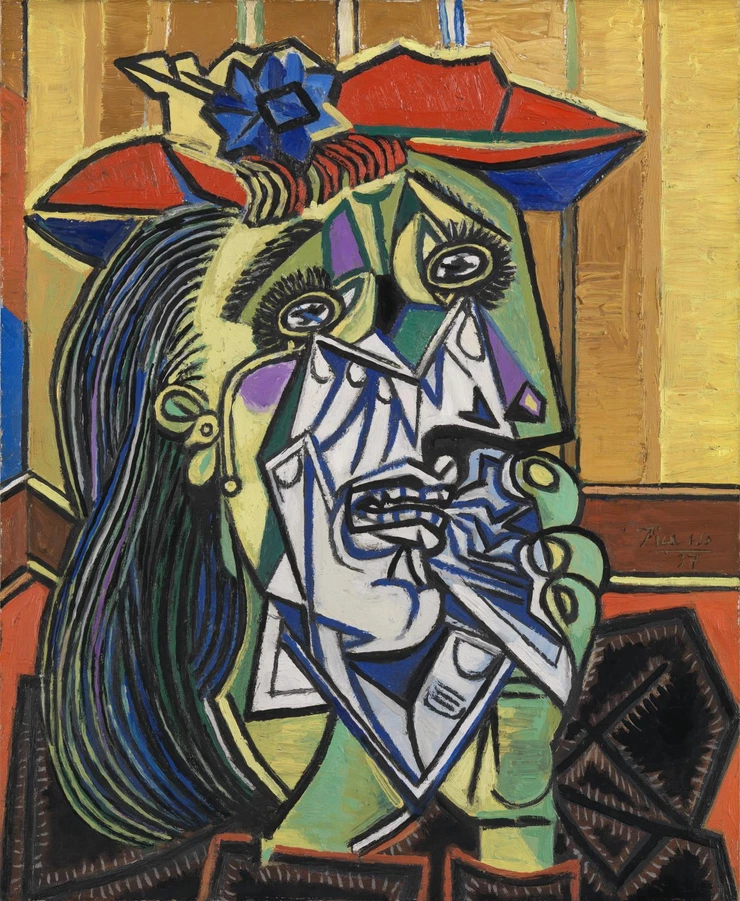 69. Picasso's Weeping Woman | Tate Modern, London
Weeping Woman is based on an image of a woman holding her dead child. It's taken from Picasso's anti-war mural, Guernica. Picasso painted both works during the Spanish Civil War.
The figure's features are based on artist and photographer Dora Maar. Maar photographed Picasso's making of Guernica. Picasso creates a riveting image of intense suffering –with jagged lines, well-placed tears, and raw emotion.
READ: Guide To Picasso Museums in Europe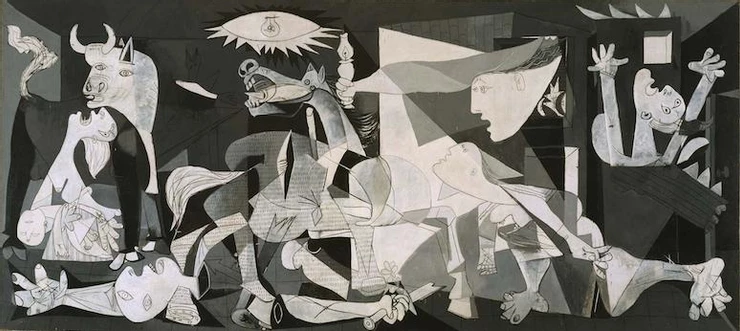 70. Picasso's Guernica | Reina Sofia, Madrid
Guernica is the star of the Reina Sofia Museum in Madrid. The famous painting in Europe is is Picasso's most famous work of art. Guernica is the town that was casually bombed by Nazi planes in 1937 during the Spanish Civil War.
Picasso's haunting (and massive) painting depicts the horrors of war and the human face of collateral damage. It's become an anti-war symbol.
The dark chaotic subject matter is shown in gruesome detail, complete with a modern pieta, a hidden human skull, and daggers. The monochromatic color only heightens the emotional impact and the drama of the political message.
READ: Guide To Spain's Best Museums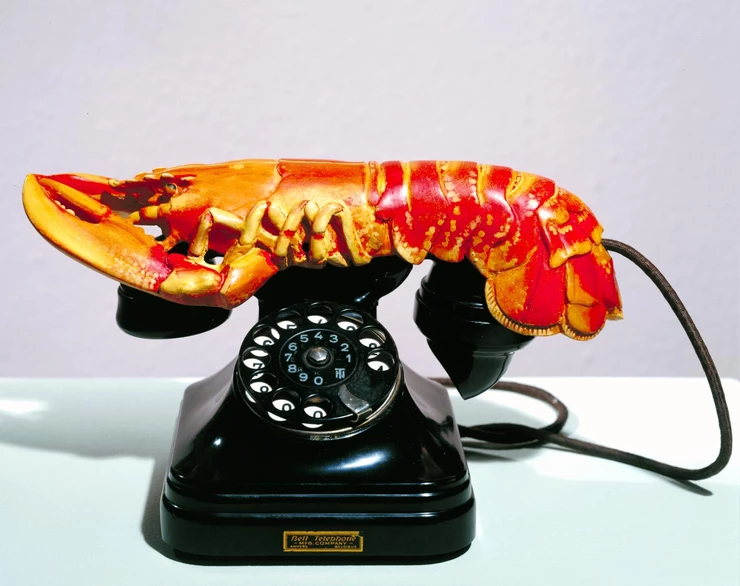 71. Dali's Lobster Telephone | Tate Modern, London
When one thinks of Spanish Surrealist artist Salvador Dalì, his extravagant persona and iconic waxed mustache immediately leap to mind. Dalì was a self-proclaimed dandy, a showoffy megalomaniac who loved nothing more than creating a sensation. He avidly embraced money and fame.
The Lobster Telephone is a classic example of one of Dalì's Surrealist objects. It's created from the weird conjunction of two items not normally associated with each other, resulting in something both playful and menacing. Dalí believed that surrealist objects could reveal the secret desires of the unconscious.
READ: Guide To the Dali Museum in Figueres Spain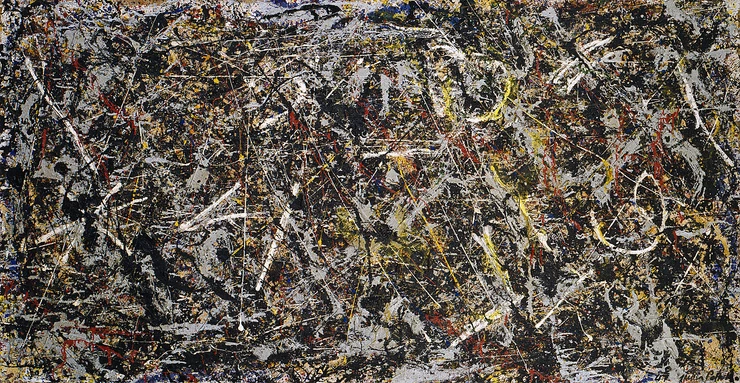 72. Pollack's Alchemy | Guggenheim Museum, Venice
Alchemy is one of Pollock's earliest poured paintings, executed in the revolutionary drip technique that was his most singular contribution to 20th century art. Peggy Guggenheim was an early advocate of Jackson Pollock, and called him her "great discovery."
After long deliberation before the empty canvas, Pollock used his entire body in a rapid fire picture-making process that is essentially drawing in paint.
By pouring streams of paint onto the canvas from a can with the aid of a stick, Pollock made obsolete the conventions and tools of traditional easel painting.
READ: Guide To the Peggy Guggenheim Museum in Venice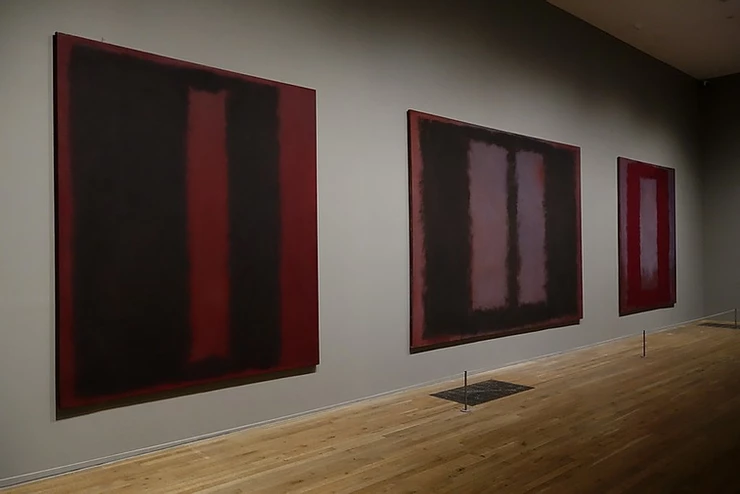 73. Mark Rothko's Seagram Murals | Tate Modern, London
Rothko was originally commissioned by Seagrams to create these murals for the Four Seasons restaurant in New York. In 1959, Rothko abruptly quit the prestigious gig. Apparently, he didn't want his art to be mere decoration for wealthy patrons.
Instead, the Seagram Murals took on a darker and more contemplative turn. Michelangelo's Laurentian Library in Florence influenced Rothko's meditations on red, gray, and brown. Rothko sought to re-create the library's claustrophobic and sepulchral atmosphere. At the time, some criticized them as "Apolcalypse Wallpaper."
In the 1960s, Rothko gave nine of the Seagram murals to the Tate Modern. Rothko insisted on a permanent, exclusive room for the murals, resisting any attempt to mix the bleak murals with sunnier examples of his work.
The murals are therefore displayed as Rothko intended — in an enclosed, dimly lit space that allows the viewer to take in their morose and meditative character.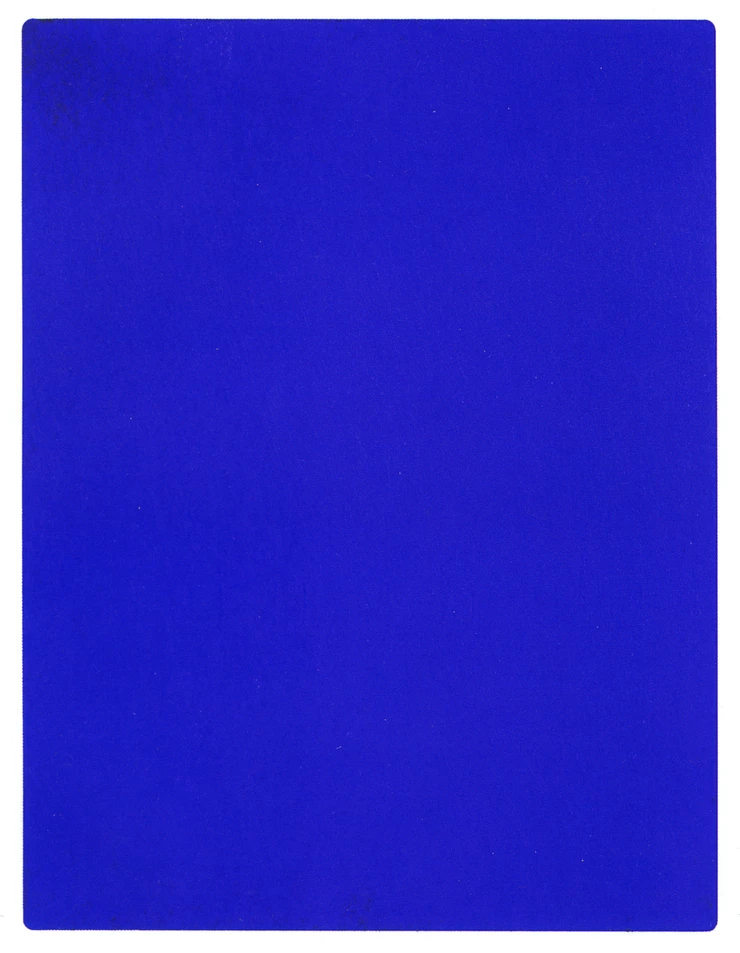 74. Yves Klein, Blue Monochrome | Pompidou Center Paris
Abstract artist Yves Klein aimed to capture beauty and reveal it to the world. Klein was part of the New Realism art movement of the 1960s. But he also had an enormous influence on Minimalism and Pop Art.
In 1960, Klein created nearly 200 blue monochrome paintings. He thought lines were "prison grating." Color, instead, was the path to freedom.
You can't really understand this painting without experiencing it in person. Even though you may prefer figurative art, this paintingwon't leave you indifferent. It practically vibrates, the blue pigments are so pure, intense, and saturated.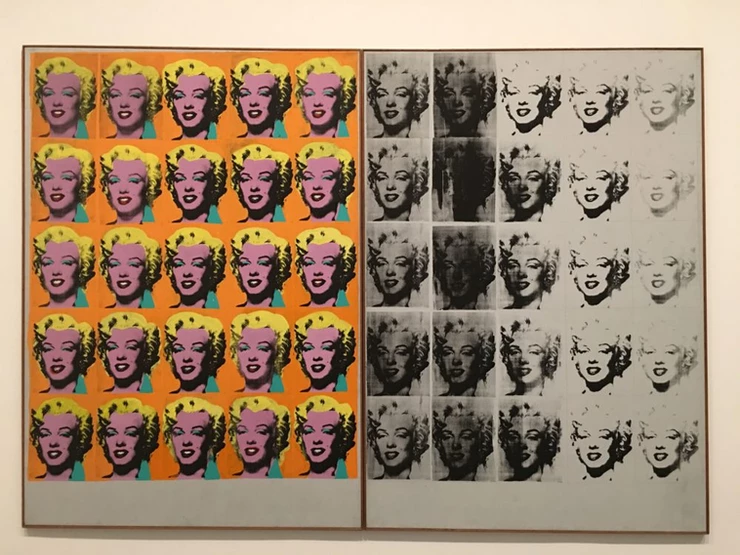 75. Warhol's Marilyn Diptich | Tate Modern, London
Is there any artist more American than Andy Warhol? He was obsessed with celebrity and wanted to be a superstar painter. He ambitiously sought to revise the idea of art, to blur the distinction between fine art and commercial art.
When Marilyn Monroe died in August 1962, Warhol made more than 20 silkscreen paintings of her. The paintings are all based on the same publicity photograph from the film Niagara.
READ: Guide To the Andy Warhol Museum in Pittsburgh
In Monroe, Warhold found a fusion of two of his consistent themes: death and the cult of celebrity. By repeating the image, he evokes her ubiquitous presence in the media. The contrast of vivid color with black and white and the effect of fading in the right panel suggest the star's harrowing fate.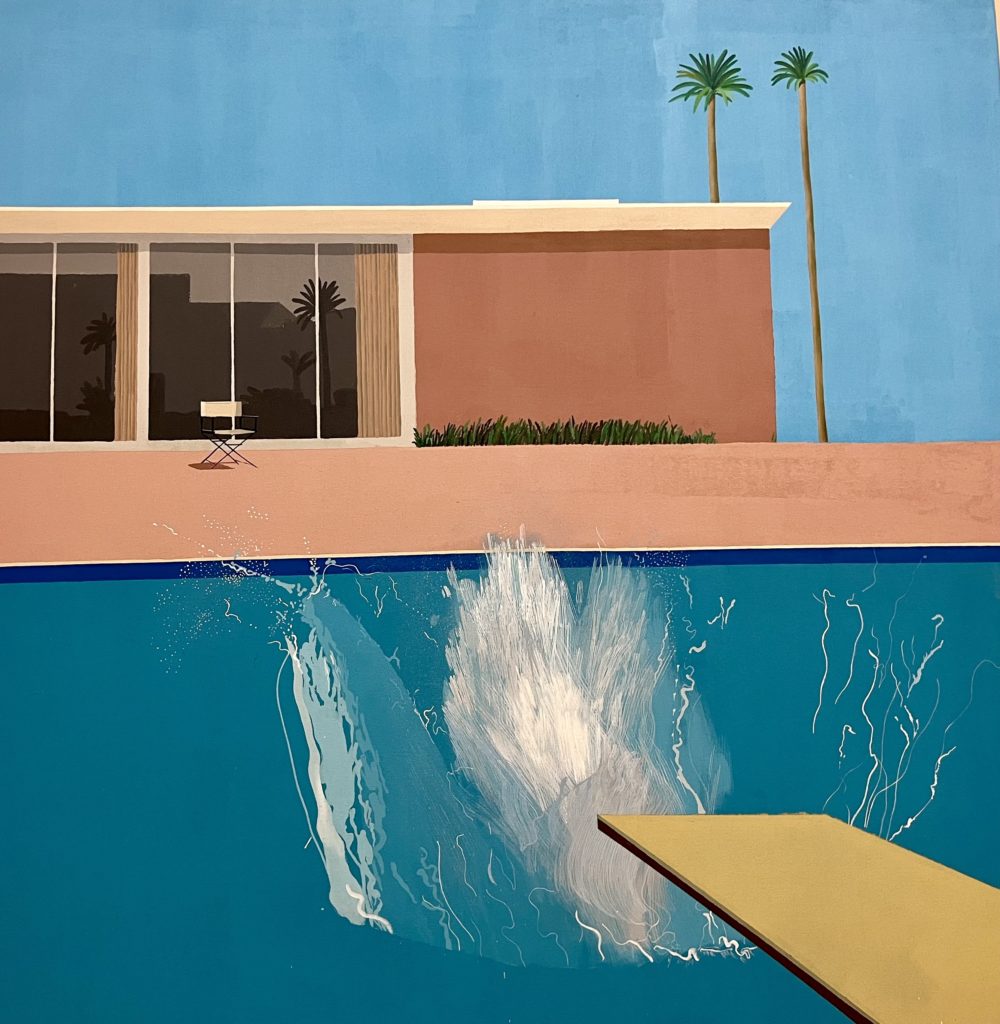 76. David Hockney's A Bigger Splash | Tate Britain, London
Hockney is one of the most recognizable and popular British artists of our time. His main interest is the challenge of representation, trying to capture an object in two dimension.
A Bigger Splash is an iconic work of Pop Art. It was created in the late 1960s when Hockney had moved to California.
It was a post-war period of optimism and Hockney's depiction of a California swimming pool reflects this.
The painting evokes a glamorous life of sun and leisure. In many of his paintings, Hockney added male figures. But, in this one, the splash is all the suggests a human presence.
I hope you've enjoyed my guide to the must see art masterpieces in Europe. If you need an Europe art bucket list, pin it for later.