Looking for the top attractions in Paris' beautiful Montmartre neighborhood? Look no further because I have the perfect guide.
It gives you an overview of the storied history of Montmartre and tells you all the best things to see and do in this pretty Parisian neighborhood.
Steeped in history and immortalized in art, Montmartre is repository of romantic dreams. A century ago it was just a village inside Paris that attracted the bohemian artists and flashy cabarets of the Belle Epoque.
Even today, the time warp neighborhood is still a wonderful place to wander away from Paris' Haussmann architecture.
Tickets & Tours
Here are some tickets and tours that you may want to purchase for your visit to Montmartre:
A Short History of Montmartre
Set upon a butte, or hill, and removed from the city center, Montmartre has an identity and past distinct from central Paris. Montmartre had been occupied since ancient times.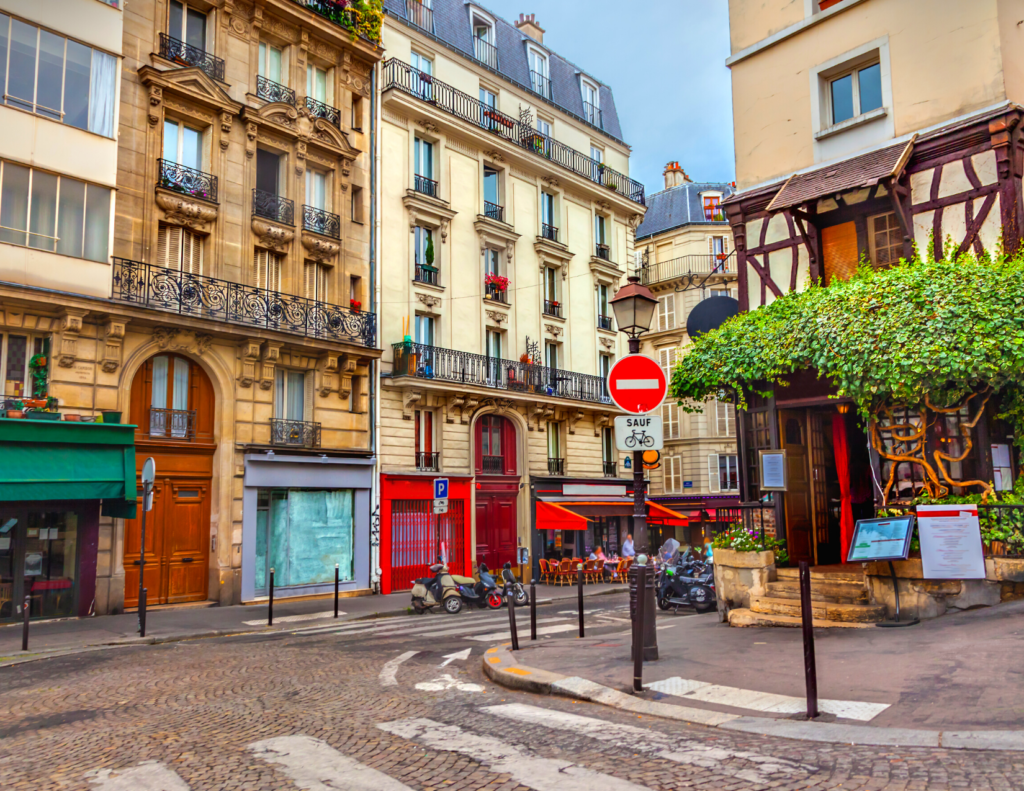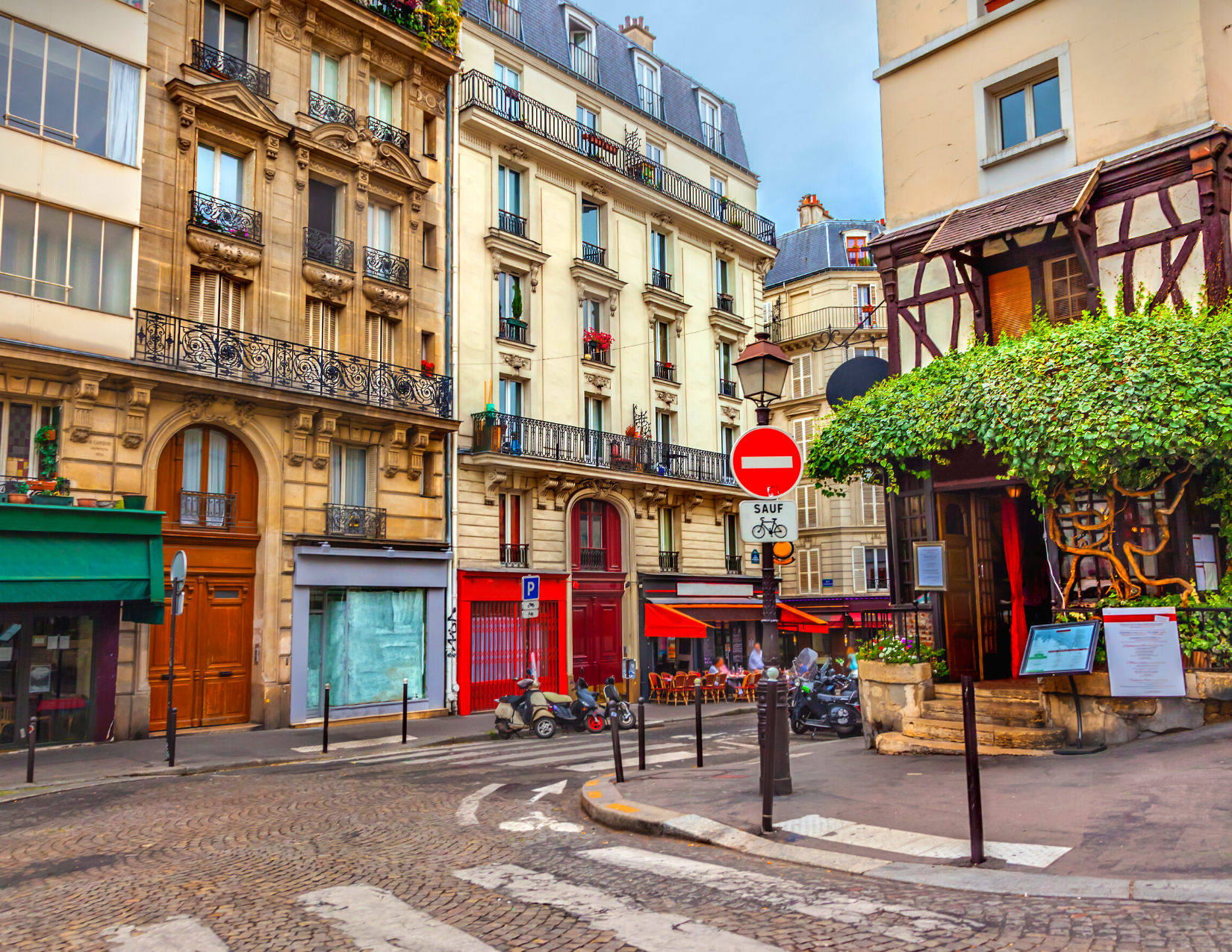 1. Legend of Saint Denis
Like most places in France, the ancient Romans were in Montmartre.
In the waning days of the empire, the Romans delighted in persecuting Christians. Montmartre became the site of early Christian martyrs.
The original "hill of the martyr," Montmartre was an homage to Saint-Denis, who was decapitated atop it around 250 AD for having the gaul to try to evangelize Gaul. Saint Denis is France's most famous "Cephalophoric" saint.
Cephalophore is a term the Catholic church invented for saints who carry their decapitated heads, signifying they're divine and have died a martyr's death. There were apparently so many of these saints, a new word was required.
These saints were amazing. They could walk and talk while carrying their own heads. Legend holds that, around 250 A.D., during an anti-Christian epoch, the Romans beheaded Saint Denis in Montmartre for preaching Christianity.
The corpse-like Saint Denis then carried his head down the Rue de Martyrs and over 4 miles to the current location of the Basilica of Saint-Denis just outside Paris.
Losing his head wasn't enough to silence him. Saint Denis delivered a sermon, before finally collapsing.
2. French Commune
Montmartre didn't become part of Paris until 1870. Before that, it was a semi-rural independent village filled with working class citizens, many of whom were gypsum miners and tradesmen. They were revolutionaries in spirit, and had a reputation for socialism.
They resented King Louis Philippe and didn't cotton to his tax laws. In fact, part of Montmartre's appeal was the lack of alcohol taxes. The alcohol industry was immensely successful. Vineyard abounded. Even nuns made wine.
In 1870, Prussia invaded Paris. Paris fell and entered into a treaty. But the people of Montmartre refused to surrender to the Prussians or accept the edict of the Parisian government.
Instead, they formed the Commune. They purchased their own canons and rifles, and fought against Paris in a mini civil war. They held out almost three months before finally being annexed by Paris.
3. Bohemian Montmartre of the Belle Epoque
Beginning in the 1870s, artists and creative types were drawn to this rebellious area with cheap rent. First came the Impressionists and Post Impressionists — Renoir, Seurat, Degas, Van Gogh, Toulouse-Lautrec.
By then, Montmartre was decadent, filled with seedy bohemian places. The absinthe-addled artists drank at dimly lit boites, visited raucous dance halls and brothels, and painted free spirited models.
Toulouse-Lautrec famously painted these dance halls and popularized can can dancers like Jane Avril. Montmartre became the heart of a daring, often racy, entertainment industry at cabarets like the Moulin Rouge, Lapin Agile, and Le Chat Noir.
By 1900, struggling artists like Picasso, Modigliani, Braque, and Utrillo set up shop in Montmartre and painted in the Bateau Lavoir. Montmartre became the birthplace of modern art, claiming a special place in art history.
4. Is Montmartre a Tourist Trap or Not?
Montmartre's history has left a halo of dreamy intrigue on the district. It's popular among both artistic types and tourists. They come to step back in history and walk in the town haunted by these towering artistic personalities.
But that means Montmartre has become a victim of its own success. The picturesque area of pilgrimage is often throttled with crowds and pickpockets, especially in the summer. Thousands of tourists are disgorged from buses many times a day. The food can be overpriced and mediocre.
To avoid the claustrophobic siege, the best way to experience Montmartre is to go off season, early in the morning, or in the evening. Avoid the weekends.
The lower and western parts of Montmartre are the most quaint areas. So it's really best to start your walking tour near at Rue des Abbesses instead of the calamitous Rue de Steinkerque.
If you dislike crowds and just want to soak up Montmartre's small village ambience, skip the overcrowded Sacre Coeur and the over-commercialized Place du Tertre.
Top Must See Attractions In Montmartre
Queue up your dreamy sighs and let's explore all the amazing things to do and see Montmartre.
1. Abbesses Metro Station
Abbesses metro is a gateway to yesteryear. The station is the deepest in Paris.
Designed by Hector Guimard, it's an Art Nouveau masterpiece, appearing almost like a Mucha painting. It has a glass roof and beautiful green wrought iron. Inside, the walls are painted with scenes of Montmartre.
The station was named to commemorate the Benedictine nuns who had a chapel in Montmartre. And it's on the supposed site of Saint Denis' martyrdom.
2. Love Wall | Le Mur des Je t'aime
Opposite Abbesses, you'll see the famous Wall of Love in Jehan Rictus garden. It's a 40 square meter art installation, made of enameled lava, with hundreds of ways to say "I love you." The red bits are strategically broken hearts.
The project began when artist, Frederic Baron, asked various acquaintances to write "I love you" in their mother tongues. Eventually, he managed to assemble a list of "I love you" in over 250 languages.
The calligrapher Claire Kito emblazoned the words on glazed enamel plates. In total, there are 612 tiles of enameled lava.
3. Saint-Jean de Montmartre Church
Located on Place des Abbesses is Saint-Jean de Montmartre Church, also known as St. John the Evangelist Church. It has a tranquil beauty and quietude.
Built in 1904, this church is a rare Paris church in the Art Nouveau style. At the time, it was quite revolutionary.
The parish church is the product of architect Anatole de Baudot. Baudot was the first architect to design a church out of concrete. Saint-Jean is distinct from the other beautiful churches in Paris.
4. Rue de l'Abreuvoir
Rue de l'Abreuvoir is (I think) the prettiest street in Paris.
On one end of the cobbled lane you'll find the iconic and ever so Instagram-famous La Maison Rose cafe. On the other end lies Place Dalida, named for the famous late singer-songwriter whose final resting place is in Montmartre Cemetery.
Today, the street is lined with houses which mostly date back to the 1930s. Nearby, more architecture from the same era can be seen along Villa Leandre.
5. Maison Rose
Head to the corner of Rue de l'Abreuvoir and Rue des Saules and you'll find Maison Rose. It's likely the most photographed house in Paris.
The pretty-in-pink coffee shop and restaurant was once run by Germaine Pichot, a friend of Picasso. It was frequented by Picasso, Albert Camus, Suzanne Valadon, and Maurice Utrillo. Today, you can sip or dine al fresco on the little bistro chairs outside and enjoy a hipsterized vegan-friendly menu in a nostalgic setting.
The restaurant was immortalized in many paintings by Utrillo, who seemed to adore cafes.(You can see some of Utrillo's works in the Musee de l'Orangerie.) More recently, La Maison Rose was used as a filming location for the movie Emily in Paris.
If you'd prefer a food tour to a restaurant, click here to book a 3 hour guided cheese and food tour in Montmartre.
6. Cafe des Deux Moulins
The Cafe des Deux Moulins became rock star famous after its starred in the 2001 award-winning Movie Amelie, profiting from the magic of the cult of Amelie. You can even order a creme brûlée d'Amelie.
The cute cafe is located on Rue Lepic away from the tourist fray. Under distinctive red awnings, tourists and locals alike jostle for a spot.
The chic cafe has even been featured in a Vogue spread. Click here for a guide to the Amelie filming location in Montmartre.
7. Bateau Lavoir
The Bateau Lavoir is located at 3 Rue de Ravignan. For years, this building was a run down residence and studio for artists like Picasso, Modigliani, Renoir, and Andre Derain. It was burned down by a fire and reconstructed. The only original part is the door shown above.
Picasso moved into the Bateau Lavoir in 1904, which kicked off his Rose Period. In fact, this is where he later planted the seeds of Cubism with his then scandalous 1907 masterpiece Demoiselles d'Avignon.
The painting depicted 5 nude women in a brothel. Picasso's then lover, Fernande Olivier, claimed they were all versions of her.
For the next two years, Picasso, Georges Braque, and Juan Gris revolutionized the art world. Montmartre became known as the "Cubist Acropolis."
8. Place Dalida
Place Dalida is a lovely small square at the end of the cutest of streets and the views from there are stunning. Dalida was an Egyptian born singer who gained fame in the 1950s Montmartre.
But her life was troubled, with her husband and friends committing suicide. She died of a drug overdose in 1987.
Despite her tragic life, her sculpture is the stuff of legends. The story goes that, if you rub her breasts, you'll be lucky in love. As you can see, most visitors (including me) give it a whirl.
From Place Dalida, there's a beautiful view of the Sacre Coeur. This is also the place to get the classic shot of the Rue de l'Abreuvoir.
9. Place Suzanne-Buisson
One of the best things to do in Montmartre to escape the crowds is head to Place Suzanne-Buisson. Near Place Dalida, it's a secret haven in Montmartre.
It's a tiny park, not frequented by tourists. There, you can pay homage to Saint Denis.
READ: Guide To Saint Denis Basilica
10. Musee de Montmartre
Most people come to Montmartre, but never visit the Montmartre Museum, lost in the twisty cobbled streets. That's a shame. The museum's a compelling charmer and your bets guide to the history of Montmartre.
The museum is housed in an atmospheric 17th century manor house, Maison Bel Air. It has a beautiful inner garden with the famous swing from Renoir's 1876 painting. The Swing is a companion piece to the Moulin de la Galette, which is also in the Musée d'Orsay.
Founded in 1960, the museum chronicles the raucous, bohemian history of late 19th century Montmartre. It captures a celebrated time, steeped in history and immortalized in art, when artists paved the way for modern art.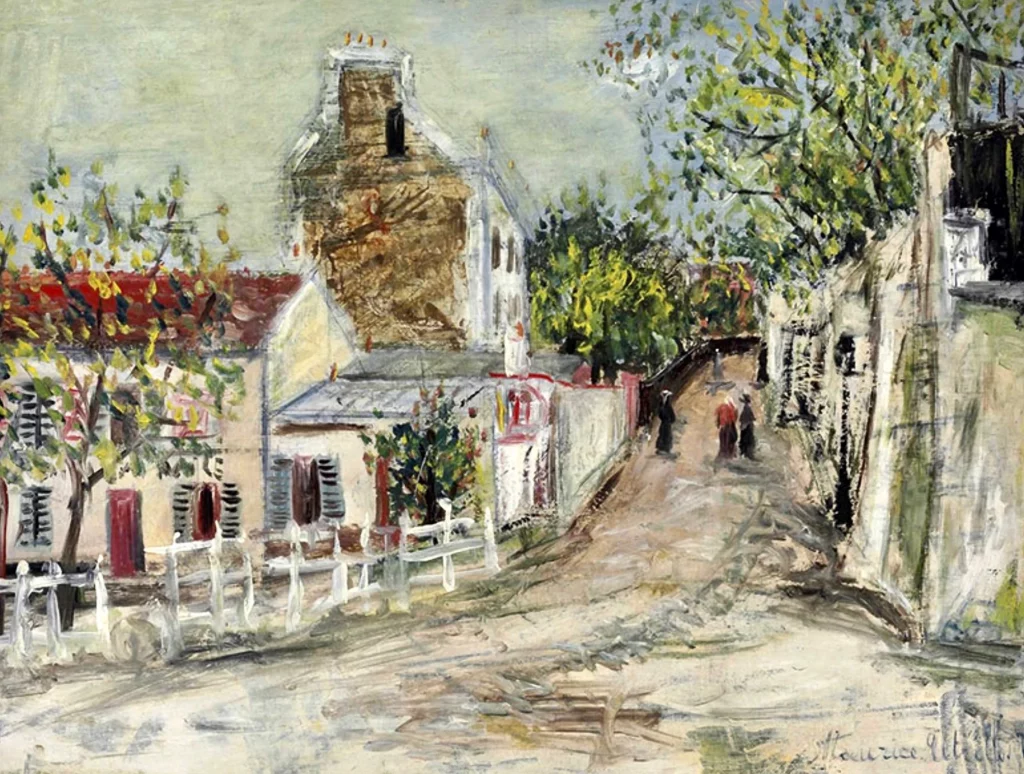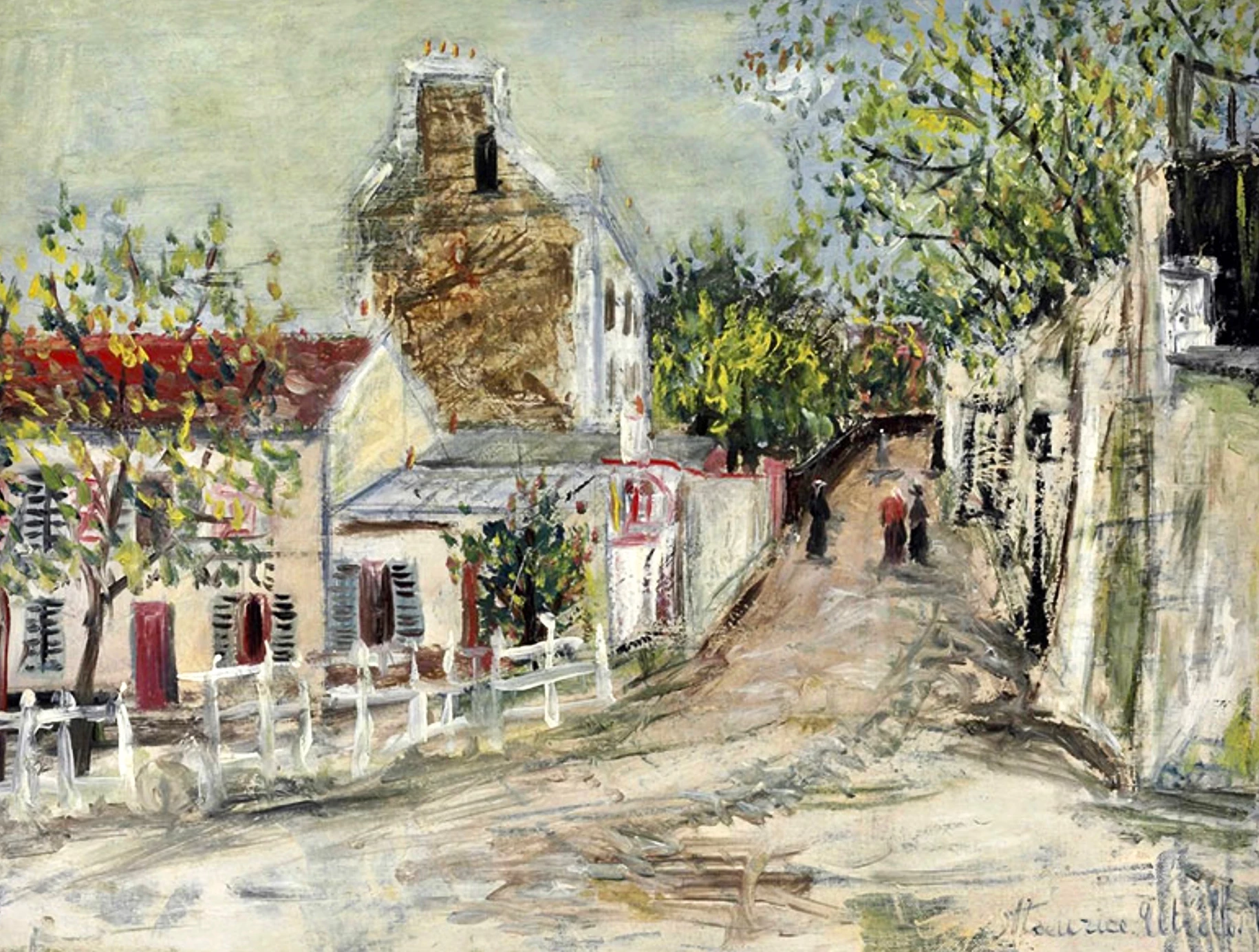 Renoir, Valadon, Bernard, Dufy, and Utrillo lived in the museum itself. Eric Satie the composer also lived there, and there's a room dedicated to him.
On the second floor, you'll find an exact replica of the studio of Valadon and her son Marice Utrillo.
You'll feel thrust into the wild, gritty period that was Belle Epoque Paris. You will learn about the avant-garde artists' studios at the Bateau Lavoir and the infamous animated cabarets of the Lapin Agile and the Moulin Rouge. There's an entire room dedicated to the French can can.
The museum also puts on top rate temporary exhibitions. It provides great cultural background for a visit to the Musee d'Orsay.
Here's my complete guide to the Musee Montmartre. Click here to book a ticket.
11. Picasso's First Studio
Found at 49 Rue Gabrielle, Picasso's very first Parisian apartment is a must-visit for any Picasso fanatic. On the 2nd floor is where he lived at age 19 in 1900.
READ: Guide To the Picasso Museum in Paris
There's a small granite plaque also affixed to the bone white building. In French, it reads, "Here in 1900 Picasso had his first studio in Paris."
Picasso lived there with his best friend Casagemus. Casagemus committed suicide after he was jilted. Bereft at the loss of his friend, Picasso became depressed and his famous Blue Period was born.
You can only look at the apartment from the outside. But Rue Gabrielle is a very pretty residential street to stroll through.
12. Artists' Houses
Van Gogh lived with his art dealer brother Theo for 2 years (1886-88) 88 at 54 Rue Lepic in Montmartre. It was a formative time for van Gogh, his art shifting into a brighter palette that would bloom into full maturity in Provence.
Toulouse-Lautrec is perhaps the artist most closely associated with Montmartre. He lived near Van Gogh on Rue Caulaincourt.
After moving from Albi in southern France, he spent his entire adult life here. Drinking himself to death, Toulouse-Lautrec painted the scenes and people that are icons of Montmartre.
READ: Guide To the Musée Toulouse-Lautrec in Albi France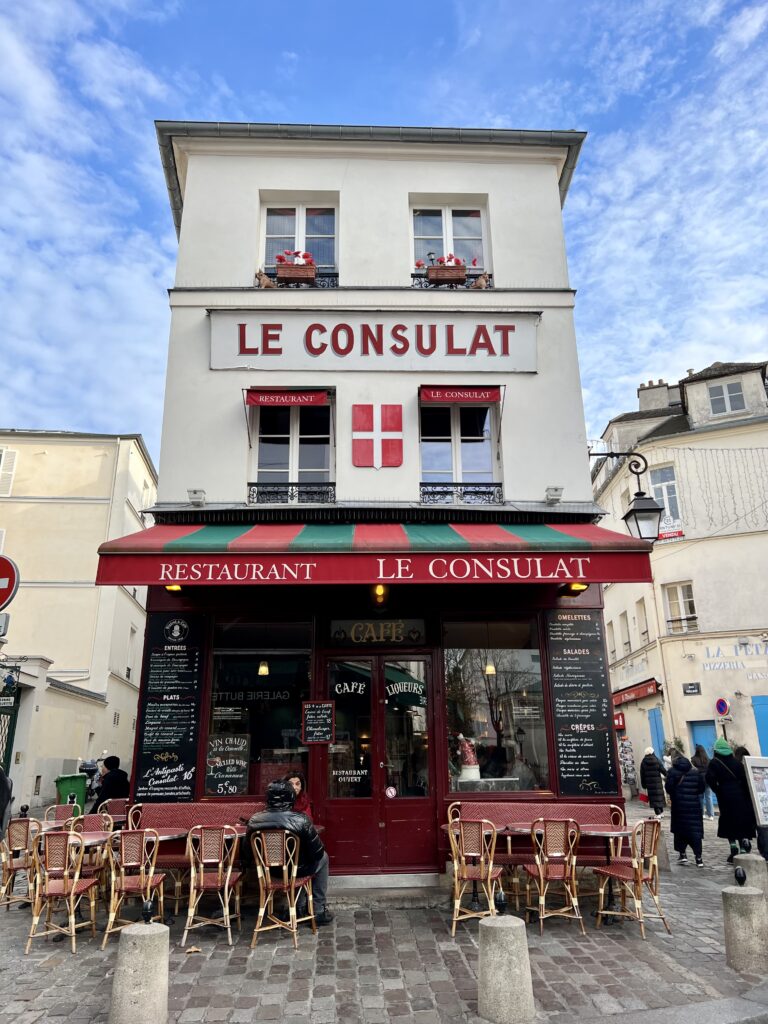 13. Le Consulat
Le Consulat is a cafe in Montmartre on Rue Norvin. It was frequented by popular artists in bygone days.
It's a Montmartre institution, and one of the most photographed pictures on Instagram.
The cafe is the perfect place to sit on the terrace and people watch in Montmartre. Wander inside and you'll find a menu of typical French wines, an extensive beverage list, and plenty of classic French cuisine and vintage charm.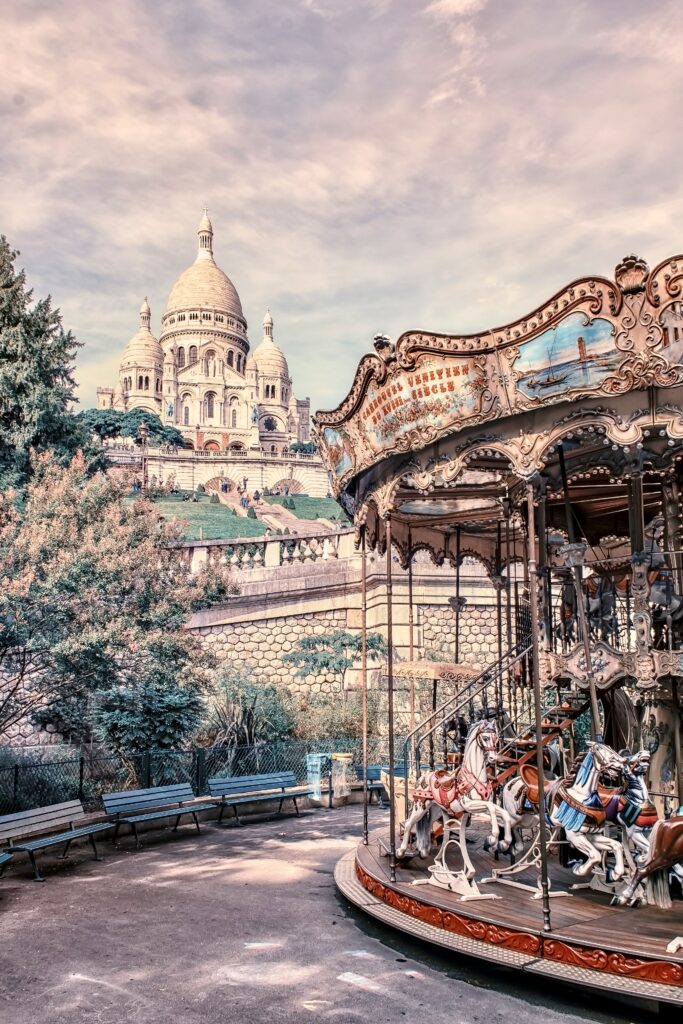 14. Basilica Sacre Coeur
The striking onion domed Sacre Coeur is one of the most iconic attractions in Paris' popular Montmartre neighborhood. The Romano Byzantine style basilica sits atop Montmartre Hill, the highest point in Paris, overlooking the city.
The ice-white Sacre Coeur isn't ancient Paris. It's surprisingly new.
It was only completed in the early 1900s. The church was built in penitence for Paris attacking its own citizens during the French Commune.
Some people find it stunningly beautiful. But I think there are many more ancient and more beautiful churches in Paris.
The basilica's creamy white stone is pristine, due to self-cleaning calcite in the stone. The interior is nothing special.
But the panoramic views from the dome are sublime. The entrance for the climb is on the side of Sacre Coeur. Just follow the signs.
As of now, you can still purchase a love lock at a kiosk to attach to a fence atop the hill. But Paris has announced it may cut down on this practice in Montmartre.
Click here to book a guided tour of Sacre Coeur and Montmartre.
15. Sinking House of Montmartre
This is one of Paris' most famous optical illusions. If you take the 300 steps up to Sacre Coeur, you'll have an incredible view of Paris. If you tilt your camera, you can glimpse the "sinking house" of Montmartre.
16. Square Marcel Bleustein-Blanchet
Of all the different places to catch a glimpse the Sacre-Coeur in Paris, the pretty square of Marcel Bleustein-Blanchet may be the best. It's behind the church, away from the crowds of Place du Tertre and Sacre Coeur.
Square Marcel Bleustein Blanchet is one of the best kept secrets of the 18th arrondissement. Not only is it blissfully quiet, it has s a nice garden to relax in.
17. Clos Montmartre
Cascading lazily down the northern slope of Montmartre is a vestige of the only working vineyard left in Paris. Once a year, in September, the grapes are bottled and available for sale.
The wine isn't terribly good, but it has the cache of the Montmartre name.
During the September festival, Montmartre's unofficial mayor holds a ceremony and blesses the wine.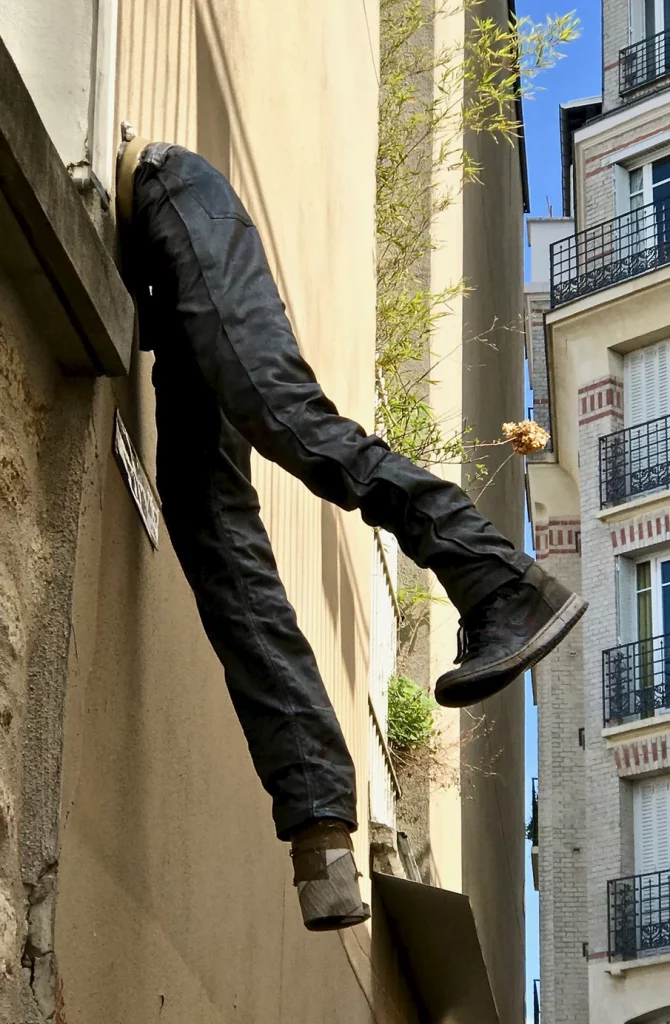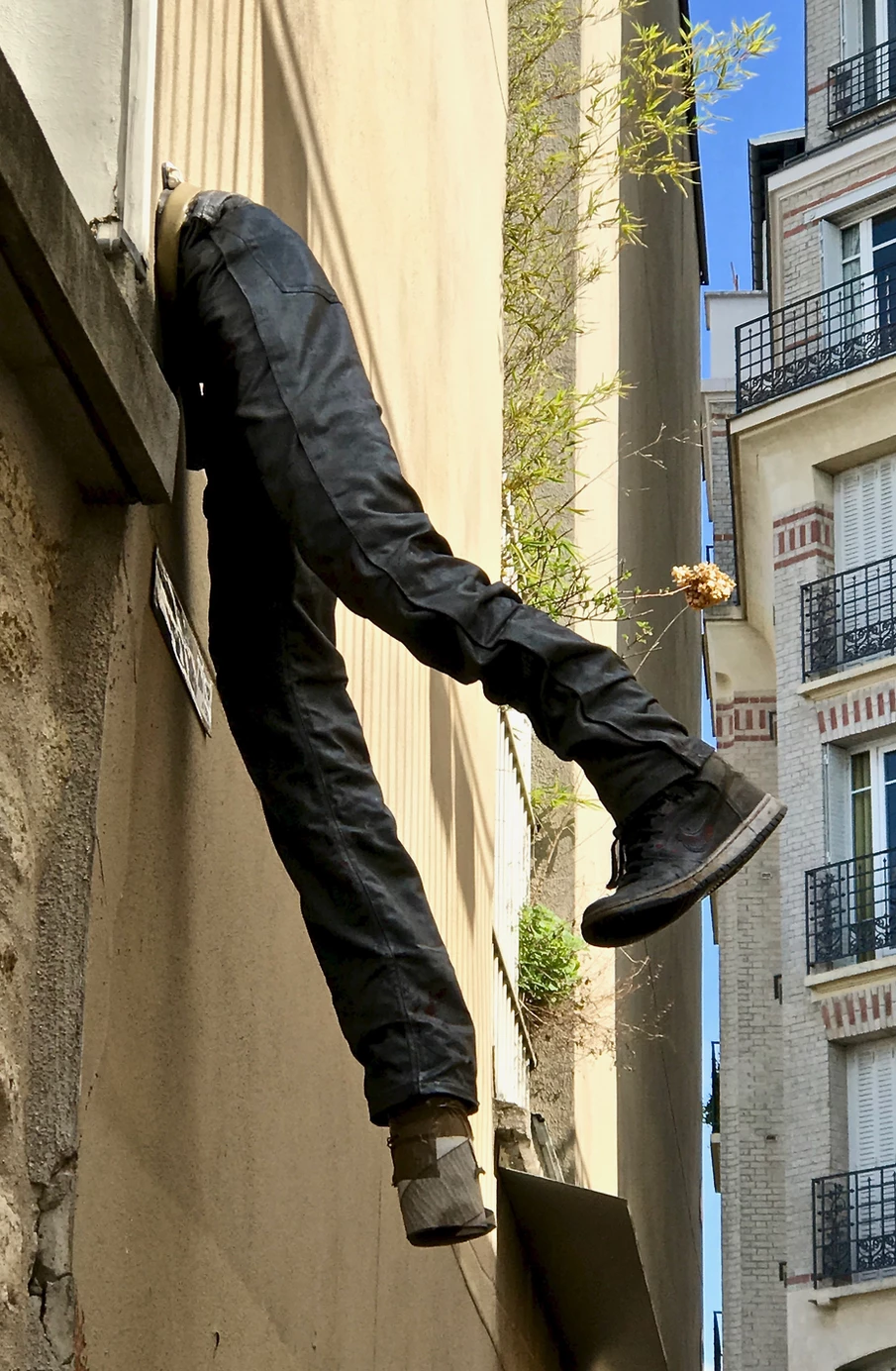 18. Le-Passe-Muraille
On Rue Norvins, you'll a cool sculpture. It pays homage to Marcel Ayme's short story The Man Who Could Walk Through Walls. In this riveting tale, Mr Dutilleul used this power when his boss made his life an unbearably misery.
He drove his manager so crazy that was placed in an asylum. Mr. Durilleul then started using his power to burglar banks and jewelry shops. When he was arrested and imprisoned, he used his power to escape.
There's plenty of other street art in Montmartre as well. If you are interested, you can book a guided tour with an artist.
19. Dali Museum | Espace Dali
Claiming it's the "only place in France entirely dedicated to Salvador Dali," this small, intimate museum is a must for any fans of the Spanish art icon.
A famous Surrealist artist, Dali one of the most well known artists to have lived in Montmartre.
Though small, Espace Dali is well lit and boasts over 300 Dali works — paintings, sculptures, etchings, and furniture. It's a beautifully curated museum, a must visit site in Montmartre for art lovers.
>>> Click here to pre-book a ticket to the Dali Museum
READ: Guide to the Dali Theatre-Museum in Spain
20. Place du Tertre
This Montmartre square can be found a stone's throw away from the Sacre-Coeur Basilica. It dates from the 12th century, when the square lay at the very heart of the Benedictine Montmartre Abbey.
It's one of Paris' most famous squares, plastered on countless postcards. It's world famous for its painters and cafes. These days, the square is filled with rather cheesy caricaturist-artists painting right before your eyes.
Place du Terre is essentially an overcrowded Paris tourist trap. I'd advise a quick stroll through and nothing more. But, if you're really pining to get your portrait drawn in Paris, this is the place.
21. Montmartre Cemetery
Quite beautiful, Montmartre cemetery is one of the more interesting cemeteries in Paris, with some beautiful funerary art and sculpture.
Artists, writers, and other famous Parisians are buried there. Dalida is buried here. You'll also find the graves of Impressionist painters Edgar Degas and Eva Gonzalez.
READ: Guide to Paris' Pere Lachaise Cemetery
22. Windmills of Montmartre
Montmartre used to have fifteen windmills. Now only two are left on the Mont.
Moulin de la Galette is a remaining windmill, that was once the centerpiece of a popular outdoor dance hall. It's depicted in Renoir's most famous painting in the Musee d'Orsay, which captures the joy of bohemian Montmartre.
The Moulin de la Galette is now a restaurant that offers fine food in a relaxed and light filled space.
23. Lapin Agile
Originally dubbed the Cabaret des Assassins, the former cabaret was rechristened Au Lapin Agile in 1875 when a painted sign appeared depicting a dapperly dressed rabbit holding a wine bottle. The bunny's image still hops along the building's exterior.
Lapin Agile was a favorite nighttime haunts for struggling artists and writers including Picasso, Modigliani, Apollinaire, and Utrillo.
Today, there are still performers doing vaudevillian routines.
The flame red room is bedecked with assorted mementos, including a reproduction of Picasso's painting bearing the cabaret's name, At the Lapin Agile. It's a self portrait of the artist brooding beside the notorious Germaine Pichot, Casagemus' beloved.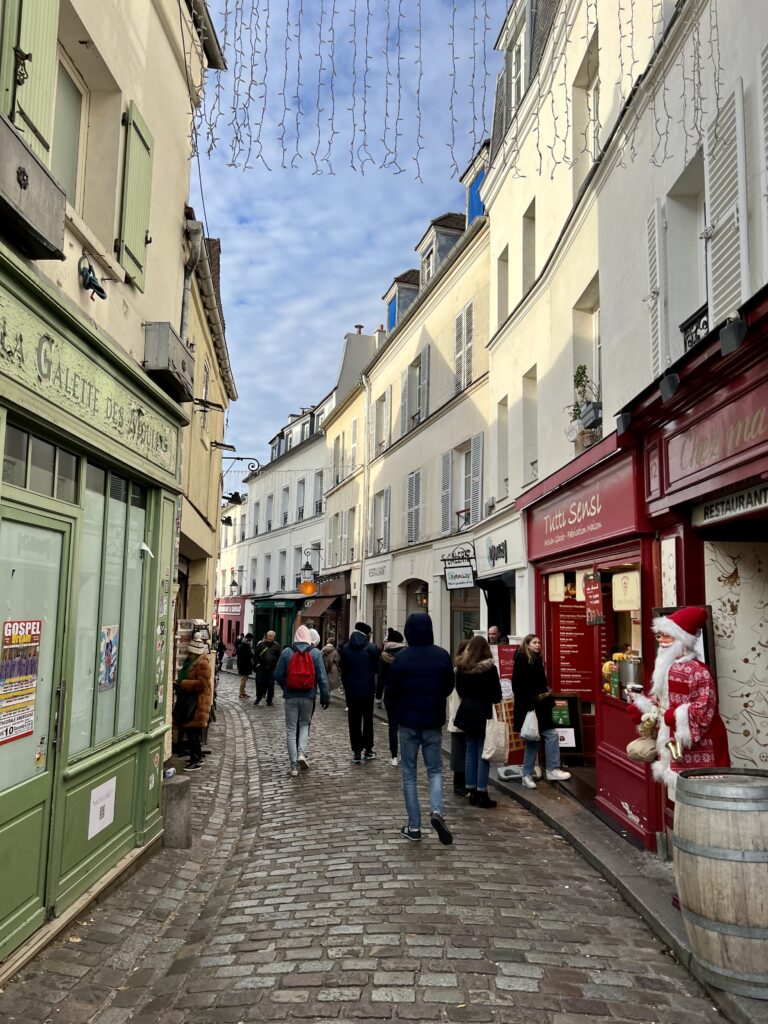 24. Rue Norvin
With its cobblestone, chic cafes, and shops, Rue Norvin is the epitome of what a Parisian street should look like.
The lively street offers stunning views of the Sacre-Coeur and is home to the famous Le Consulat cafe that I mentioned above.
Before it rose to fame as one of the top attractions in Montmartre, Rue Norvin was a favorite among famous artists like Picasso, Monet, Sisley, and Van Gogh. They would frequently came to grab a meal and socialize.
Today, you can amble odwn the street, grab a crepe, or purchase a souvenir.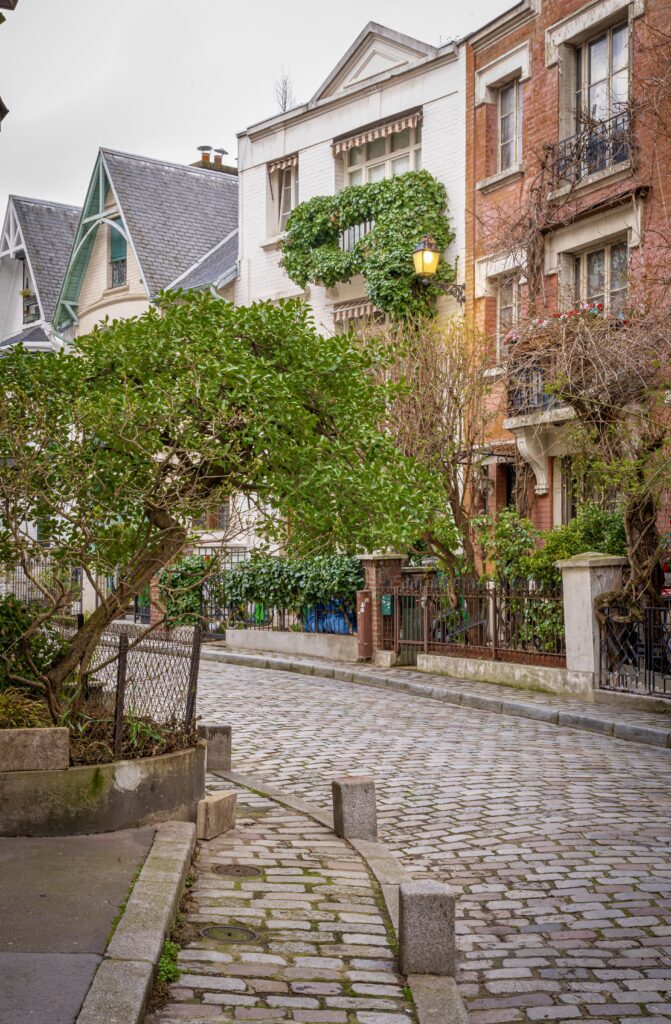 25. Villa Leandre
Another quaint street not to miss in Montmarte is Villa Leandre. It's a beautiful blind alley, called an impasse, that immediately grabs your attention.
It's lined with English style Art Deco brick homes, one of the only places you'll see this in Paris. Each house comes with a garden and they are reputably among the most expensive properties in Paris.
The street was previously named Villa Junot. But it was re-named for a local comedian, Charles Léandre.
Tours of Montmartre
You may want to book a guided tour of Montmartre to get the most out of your visit. You can book:
Other Attractions Near Montmartre
Time for more? There are some amazing other Paris attractions near Montmartre.
1. Rue de Martyrs
Just down the road is the Rue de Martyrs. The Rue de Martyrs is the heart and soul of the trendy South Pigalle neighborhood, dubbed "SoPi." The street links Notre Dame la Lorette with the Sacre Coeur.
Rue de Martyrs is a half mile of deliciousness and magic crammed with over 200 cafes, restaurants, groceries, chocolatiers, fromageries, and bars.
There's even a book written about it by NYT journalist and former Paris denison, Elaine Sciolino. I liked it so much I included it on my list of 20 best books about Paris.
On the Rue des Marytrs, you can buy anything. And there's a speciality shop for everything, from rare cheese to sponge cake to gourmet dried herbs.
So numerous are these single product shops that French food critics have dubbed Rue des Martyrs the "La Rue du Monoproduit."
READ: What To See and Do in South Pigalle
2. Musee Gustave Moreau
The Gustave Moreau Museum is another utterly uncrowded art spot. It's tucked away in the 9th arrondissement in an area of grand mansions known as Nouvelle-Athènes or South Pigalle. If you are sightseeing in Montmartre, it's just a 15-20 minute walk.
Gustave Moreau was a prolific 19th century French symbolist painter. He was an art school dropout inspired by Delacroix. Some consider his oeuvre a precursor to Surrealism. Henri Matisse was one of his students, and Moreau influenced many 20th century artists.
This museum was Moreau's family home. He transformed it into an atelier and kept the first floor as his apartment. It's absolutely stuffed with his sometimes macabre paintings and drawings. With copious art and half finished sketches, you can almost imagine what life was like for a Fin de siècle artist in Paris.
Once you head up the gorgeous spiral staircase, you'll find Moreau's bright well-lit studio. Many drawings are behind curtains and some have to slid from drawers to be viewed. Don't be lazy, take a peak.
3. Musee de la Vie Romantique
Pigalle also has a lovely museum dedicated to Romanticism called the Musée de la Vie Romantique, or the Museum of the Romantic Life. In the lexicon of swoonful museums names, this museum wins top prize.
Opened in 1987, the museum is housed in the Italianate style Hôtel Scheffer-Renan at the foot of Montmartre. It's hidden down a picturesque cobblestone alley and wrought iron gate.
The intimate little museum is widely regarded as one of Paris' most beautiful and quaint museums. It celebrates the lives and works of George Sand, who was a writer, libertine, and femme fatale, and Ary Scheffer, a Romantic Period Dutch painter.
With its creaking floors and curios, you can almost imagine yourself in the 19th century. If hunger calls, there's a cafe onsite, Rose's Bakery. It's a satellite store of the famous bakery on Rue des Martyrs.
4. Moulin Rouge
Don't forget to get your selfie in front of the iconic Moulin Rouge. Located in Pigalle, the Moulin Rouge was once Paris' famous cabaret show.
Nowadays, it's just a campy, Disneyfied, and inauthentic tourist trap. There's lots of red velvet and fancy costumes. But the technical wizardry of the cabaret dancers is subpar, especially for the sticker shock price.
5. Parc des Buttes Chaumont
If you're craving some greenery, head to the Parc des Buttes Chaumont in the adjacent 19th Arrondissement. Buttes Chaumont spans over 20 hectares.
It boasts green pastures, waterfalls, a suspension bridge, and a hilltop temple with nice views.
Tips For Visiting Montmartre
1. How To Get To Montmartre
You can easily reach Montmartre from these Paris metro stations:
Pigalle: closest Sacre Coeur metro
Anvers: near Sacre Coeur funicular and Place du Tertre. Take the first street on your right, Rue de Steinkerque.
Abbesses: right at the entrance of Montmartre neighborhood (best option)
Blanche: near Moulin Rouge
From Sacré Coeur: You have two options. You can take the Funiculaire de Montmartre, a nice cable car, or you can climb the stairs to get there. You need a metro ticket or metro card to access the funicular.
From Pigalle: Take the Montmartrobus
The Paris hop on hop off bus also stops at Sacre-Coeur.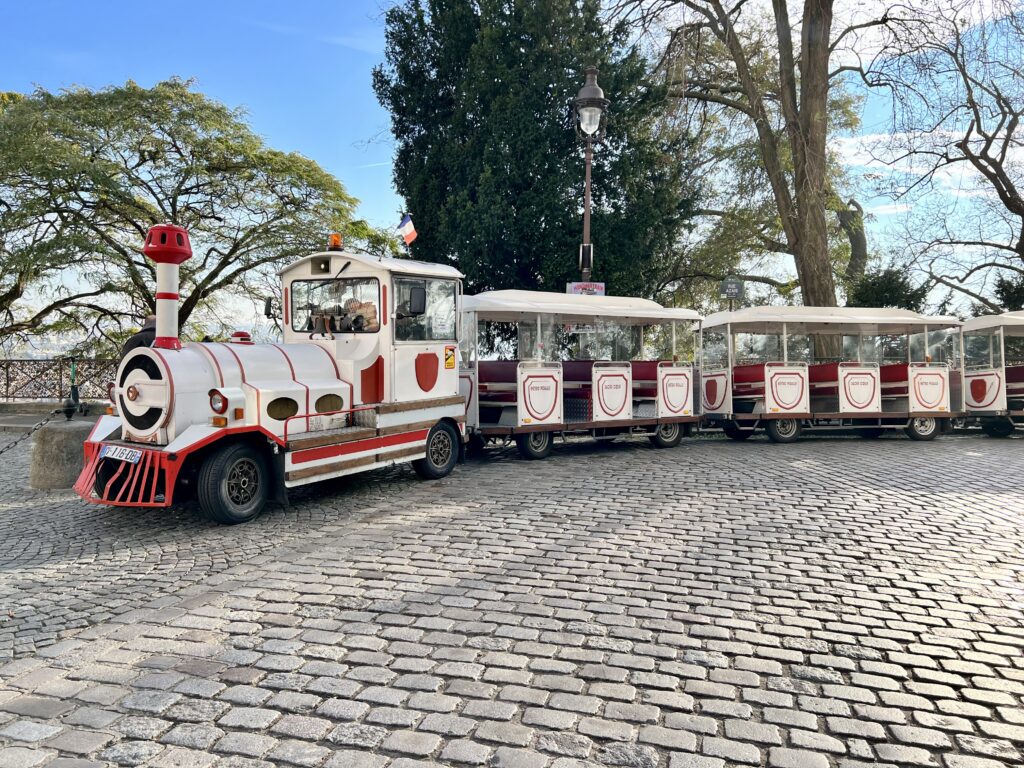 2. How To Get Around Montmartre
Montmartre is very walkable. But the neighborhood is quite hilly. So be prepared for some uphill and downhill walking. And wear comfortable walking shoes.
You can also get around Montmartre on The Petit Train de Montmartre. It's a 45 minute tour with commentary.
It's divided into two parts:
Place Blanche to Place du Tertre (15 minutes)
Place du Tertre to Place Blanche (30 minutes)
You can pick it up in either square.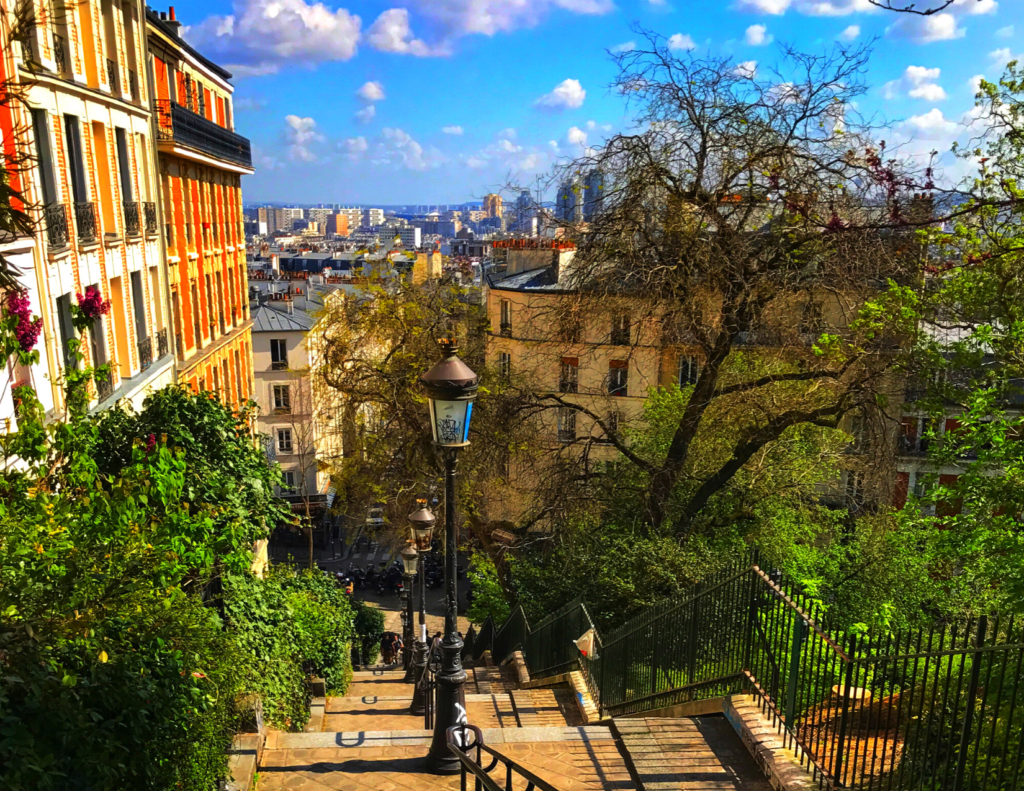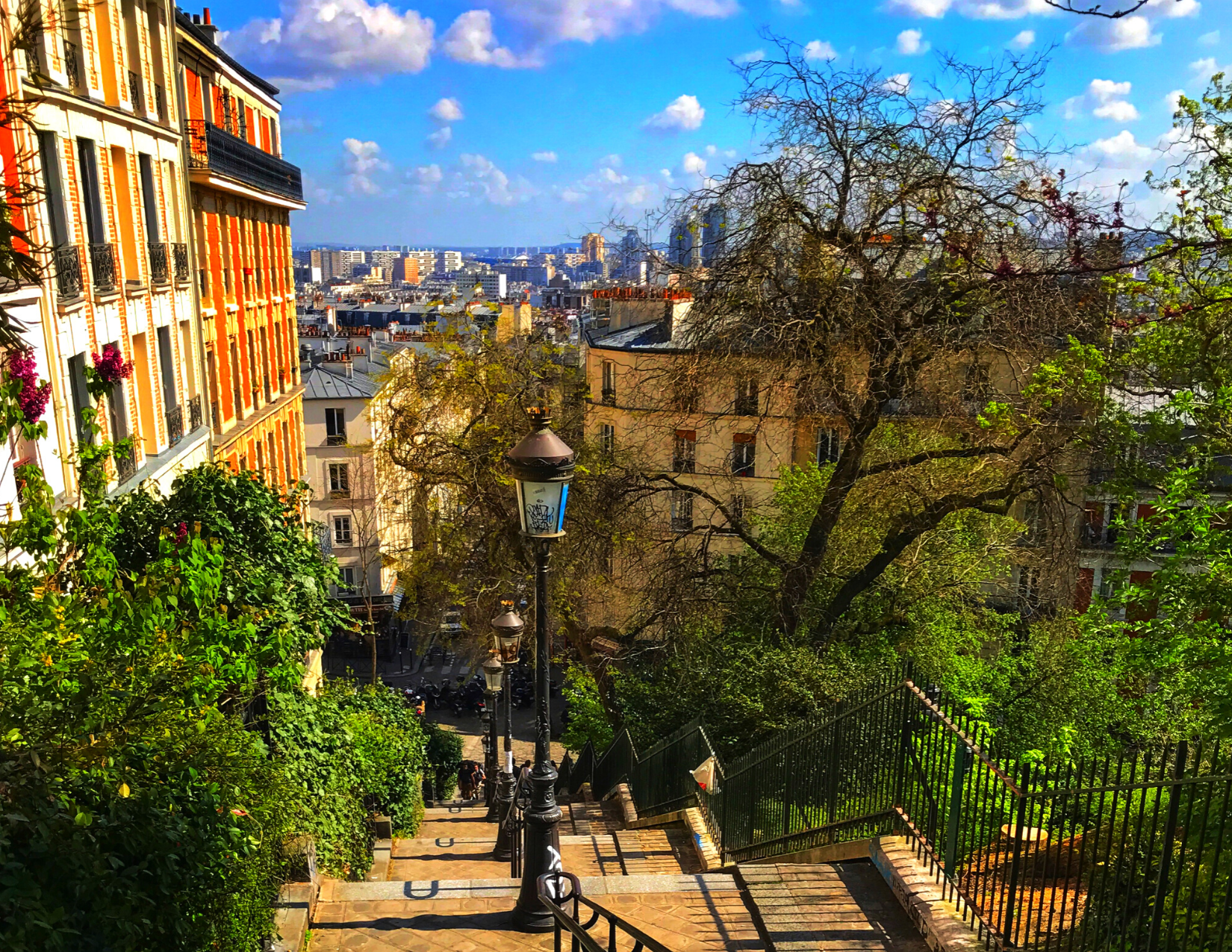 3. Staircases in Montmartre
As Montmartre is the highest point of Paris, you'll encounter plenty of staircases. In total, 38 surround the hill. They add to the picturesque quality and charm of the neighborhood, and have been featured in films such as Amelie and Midnight in Paris.
But you've got to be prepared for climbing. Wear comfortable shoes.
The most famous set of stairs, 222 steps, is on Rue Foyatier. It runs from the bottom of the Mont up to Sacre Coeur.
I hope you've enjoyed my guide to the top attractions in Montmartre. You may enjoy these other Paris travel guides and resources:
If you'd like to discover the best things to do and see in Montmartre, pin it for later.