Are you an art lover planning a trip to Spain? Here's my guide to the best art museums in Spain.
Spain is a veritable art lover's paradise, a treasure trove of gorgeous art from north to south. There are over 1500 museums in Spain.
Spain's best museums are teeming with masterpieces of both Spanish and International art.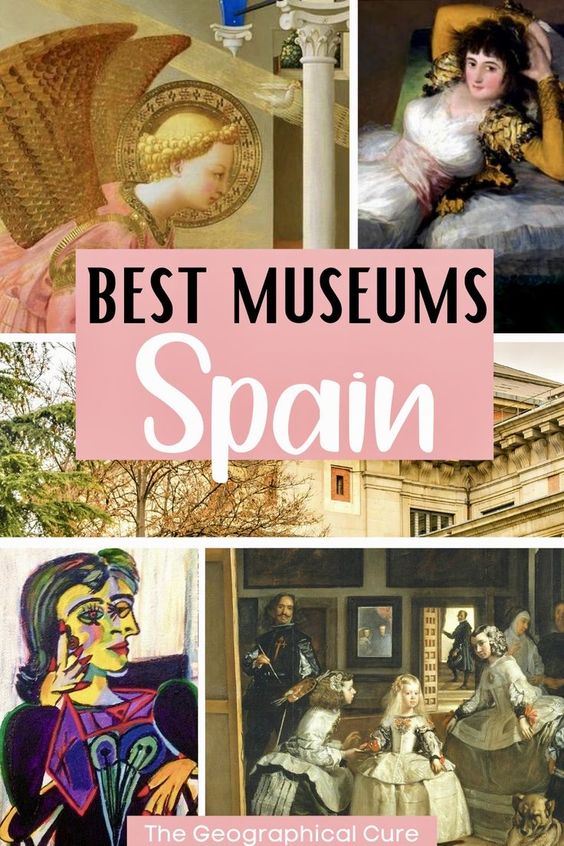 There's the old masters — Francisco de Zurbarán, Diego Velázquez, Bartolomé Esteban Murillo, and Francisco de Goya. And the acclaimed modernists — Pablo Picasso, Juan Gris, Joan Miró, and Salvador Dalí.
And everything in between.
Some of these must see Spanish museums are housed in ancient palaces. Others are housed in architectural masterpieces by Frank Gehry or Richard Meier.
The Best Art Museums in Spain
Here's my guide to the very best museums in Spain, for your Spain bucket list.
Some of these Spanish museums are world class. Some are amazing single artist museums, which I just adore. Some are vastly underrated museums that dazzle the eyes and senses.
Let's go on a tour of museums in Madrid, Bilbao, Barcelona, and Seville. Whether you prefer Picasso, Dali, or Velazquez, here are the best places to find your favored artworks in Spain.
1. The Prado, Madrid
The Prado is Spain's powerhouse museum. It opened in 1819 as the Royal Museum of Paintings. The vaunted museum celebrates its 200th birthday this year.
The museum was the brainchild of Ferdinand VII. He opened the museum with approximately 300 paintings from the Golden Age of Spanish painting in the 16th and 17th centuries.
Today, the Prado has expanded to become one of the most sensuous and extensive depositories of Western art in the world.
The artistic anchors of the Prado are Francisco Goya, Diego Velázquez, and Peter Paul Rubens. But there are also masterpieces by Titian, Bosch, France Angelico, and El Greco. You can wander endlessly, in awe, through room after room full of beautiful paintings.
I've written previously about the highlights of the Prado and tips and tricks for visiting, so won't repeat myself here. Here's my guide to the Prado.
But be sure to see the Hieronymus Bosch' The Garden of Earthly Delights triptych, the Black Paintings of Francisco Goya (The Dog is my favorite), Diego Velasquez's Las Meninas, the newly restored Fra Angelico Annunciation, and José de Ribera's intriguing The Bearded Woman.
Click here to book a skip the line ticket. I also advise booking a guided tour with an expert.
Practical Information for Visiting the Prado Museum:
Address: Museo Nacional del Prado Calle Ruiz de Alarcón 23, 28014 Madrid
Hours: Mon to Sat 10:00 am to 8:00 pm, Sundays and public holidays: 10:00 am to 6:00 pm, closed Monday
Entry fee: 15 € permanent collection, free with the Madrid City Pass. You can buy a "two visit" pass for 22 €. The audio guide is 4 €.
Free hours: Mon to Sat 6:00 pm to 8:00 pm, Sun 5:00 pm to 7:00 pm
Online tickets: Online tickets allow you to skip one line. Print them out and head to the Velázquez entrance to clear security.
2. Reina Sofia, Madrid
Opened in 1992, the Reina Sofia is Madrid's modern art museum. Its collection is comprised entirely of art work from 1900 to the present.
There's a special focus on Spain's favorite sons, Pablo Picasso and Salvador Dali, and their respective schools of Cubism and Surrealism.
The star of the Reina Sofia is Guernica, Picasso's grim depiction of the seemingly casual Nazi bombing of Guernica Spain in 1937. The painting puts a human face on the collateral damage.
The dark chaotic subject matter is shown in gruesome detail, complete with a modern pieta, a hidden human skull, and daggers. The monochromatic color only heightens the emotional impact.
The huge mural was commissed by the Spanish government to decorate its Pavilion at the 1937 Paris International Exposition. Picasso rarely took commissions. They cramped his style and produced artificial deadlines.
But Picasso was persuaded to accept this one by his mistress and Surrealistic photographer, Dora Maar. Guernica is showcased in a room with Picasso's preparatory drawings, so you get a real feel for his creation process.
The Reina Sofia is also a great place to get weird with Surrealist Salvador Dalì. Head to the Sabatini Building, 3rd Floor. Dalì's quirky paintings reveal his obsessions, sexual fetishes, and terrors.
Other featured artists at the Reina Sofia include Joan Miró, Juan Gris, Rene Magritte, Paul Klee, and Eduardo Chillida.
The Reina Sofia is located in a 16th century hospital. It can be a bit confusing. Its permanent collection is spread across four floors.
You'll need a map for locating specific artists or masterpieces. (Guernica is in Room 6 on the 2nd floor.) Photos are only allowed in certain areas.
Click here to book a skip the line ticket.
Address: c/ Santa Isabel, 52 28012 Madrid
Hours: Mon. & Wed-Sat 10:00 am to 9:00 pm, Sunday: 10:00 am to 2:30 pm, Closed Tuesdays. Free on Saturday after 2:30 pm and all day Sunday.
Entry fee: 10 €, 8 € online. Free for students with ID, under 18s & over 65
3. The Thyssen-Bornemisza, Madrid
Housed in the Villahermosa Palace, the Thyssen-Bornemisza Museum is named after art collector Baron Heinrich Thyssen-Bornemisza.
In 1993, the Baron sold 775 artworks to Spain for $350 million, a fraction of the collection's value. His collection is one of the world's most impressive private art caches, possible second only to Queen Elizabeth of England.
Opened in 1994, the Thyssen (pronounced Tee-sun) museum offers something for everyone. Mixing contemporary and classic, the museum covers every major period in Western art, from 13th century Italian Renaissance to 20th century Pop Art.
It also has an important collection of 19th century American paintings not found elsewhere in Europe.
This is where you'll find some fan favorites — Impressionists, Post-Impressionists, German Expressionists, and Surrealists. You'll find artists like Dürer, Caravaggio, Rubens, Sargent, Monet, Van Gogh, Gauguin, Kirchner, Mondrian, Klee, and Hopper.
The Baron was a busy man, married five times. His fifth and last wife was Carmen "Tita" Cervera, an interesting woman. On her third marriage herself, she was once Miss Spain.
In 1982, after marrying Heinrich, the Baroness began amassing her own modern art collection. In 2004, she loaned her treasure trove to the Spanish state.
An expensive new annex was built to display it. Today, the Baroness is the 7th richest woman in Spain.
Click here to book a skip the line ticket and tour.
Address: Paseo del Prado, 8
Hours: Tues-Sun 10:00 am to 7:00 pm, Sat 10:00 am to 9:00 pm, closed Mondays
Entry Fees: 13 €. The permanent collection is free on Mondays from 12:00 to 4:00 pm
Pro tip: The museum's only 100 yards from the Prado.
4. The Guggenheim Museum, Bilbao
Who can argue with the emblematic Guggenheim Museum? Inaugurated in 1997, Frank Gehry's twisting shimmering museum is the star of Bilbao in the Basque region of northern Spain. The space age building, an ode to post-industrial optimism, itself is dramatic.
READ: 2 Day Itinerary for Bilbao
Both inside and out, the Guggenheim is an awe-inspiring blend of titanium, glass, and limestone. The scaly exterior evokes a silvery fish and the building's wings the wind-filled sails of a ship.
Outside the museum lie some of its most interesting pieces of art, including: Jeff Koon's 42 foot beflowered Puppy, Louise Bourgeois' 30 foot Maman spider, Anish Kapoor's Tall Tree and the Eye, and the newest piece Fujiko Nakaya The Fog Sculpture.
My favorite was Maman, the symbol of maternal sacrifice, which I've written about previously.
On the inside, the architecture continues to amaze. There's a glass enclosed 50 meter atrium with a floral skylight. Light suffuses the place.
The Guggenheim's modern art collection is on par with Europe's best modern art museums. You'll find works by Robert Motherwell, Yves Klein, Andy Warhol, Chillada, and Anselm Kiefer.
My favorite piece was the massive undulating A Matter of Time by Richard Serra. This minimalist sculpture takes up an entire chunk of the museum.
It's meant to encourage viewers to move around — and sometimes on, in, and through — the work, creating an unforgettable, dizzying feeling of space in motion.
Among other things, the museum also owns one of my favorite Chagall paintings, The Birthday, and a luminous Rothko, Untitled, from 1952-53.
Because the museum is part of the Guggenheim "family" of museums, the collection rotates among the museums.
Click here to book a skip the line ticket.
Address: Abandoibarra Etorb., 2, 48009 Bilbao
Hours: July & Aug: Daily 10:00 am to 8:00 pm, Sept to June: Tues to Sun (closed Monday) 10:00 am to 8:00 pm. Same day reentry permitted.
Entry fee: 12 €, an audioguide is included in your entry fee.
5. The Museum of Fine Arts, Museo de Bellas Artes, Bilbao
Often overshadowed by the famous Guggenheim Museum, the Museo de Bellas Artes is nonetheless one of Spain's best museums.
If you're an art lover, you should definitely head here. If you don't love modern art, skip the Guggenheim and come here.
Located in the Abando neighborhood, the museum boasts over 10,000 art works, arranged chronologically from the 12th century to the present.
It has works by Spanish artists Picasso, Goya, El Greco, Zurbaran, and Chillada, as well as many international artists.
In 2018, the museum received a historic donation of a 1983 sculpture from Richard Serra, Bilbao. In July 2019, it chose an architectural team to oversee the enlargement of the museum, including restoring the museum's original entrance.
Address: Museo Plaza, 2, 48009 Bilbao
Hours: Closed Tuesday, Open Wed-Mon 10:00 am to 8:00 pm
Entry fee: Adults: 9 €, free from 6:00 pm to 8:00 pm. You can purchase a combined ticket for the Guggenheim and Fine Arts Museum for 16 €
Pro tip: If you can handle doubling up on museums, this museum is near the Guggenheim.
6. The Dalì Theater and Museum, Figueres
When one thinks of Salvador Dalì, his extravagant persona and iconic waxed mustache immediately leap to mind. Dalì was a self-proclaimed dandy, a showoffy megalomaniac who loved nothing more than creating a sensation. And embracing money and fame.
One of the best day trips from Barcelona is a visit to the Dalì Theater and Museum, or Teatro-Museo Dalí, in Dalì's birthplace of Figueres Spain. The pink museum is billed as the world's largest Surrealist object. It's a work of art itself.
With over 1500 pieces of art, the Dalì Theater and Museum has the largest collection of works by the trailblazing Salvador Dalí, with pieces spanning his entire career. It's nothing if not fun and weird, with its double images and optical illusions.
Built between 1961-74, Dalì helped design the eccentric museum himself. He said "I want my museum to be a single block, a labyrinth, a great surrealist object.
It will be a totally theatrical museum. The people who come to see it will leave with the sensation of having had a theatrical dream."
Don't miss the Palace of Winds Room (a whimsical reimagining of the Sistine Chapel), the Mae West Room, Dalì's clever double image of Gala Contemplating the Mediterranean Sea, the Treasure Room, and the Dalì' jewelry collection.
You can book a guided day tour from Barcelona to see the museum, Figueres, and Cadaques.
Address: Gala-Salvador Dalì Square, 5 E-17600 Figueres
Hours: Closed Mondays, other hours
Entry fee: 14 € / Museum by night 15 €. Students 10 €.
Pro Tip: There's not a lot of explanatory signage in the museum. You may want to book a guided tour or pick up a guide book at the museum.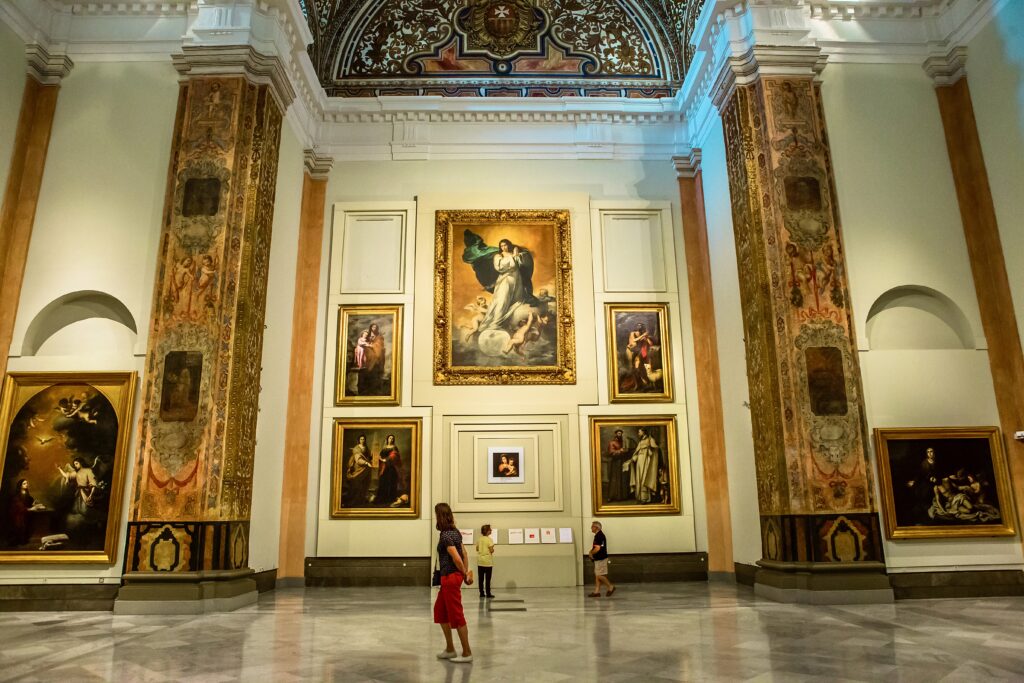 7. Museum of Fine Arts, Seville
The Museo de Bellas Artes, or Museum of Fine Arts, is a smashing museum in Seville Spain, quite lovely. It's known, after the Prado, as the "second art gallery in Spain."
It's housed in a gorgeous salmon colored former convent with some beautiful tile work. I actually stumbled across it by accident.
I had intended to go, as I'm a museum rat of the highest order, but not just then. But I seized on the chance to gaze at art and pee (there are no public WCs in Seville).
Outside, there's a large statue of the famous painter and Seville artist Bartoleme Murillo. Pick up the English language floor plans, which explain the theme of each room.
The museum has art from the middle ages to the 20th century. But it's mostly known for its collection of 17th century art from Spain's Golden Age, featuring Spain's top painters Zurbarán, Murillo, El Greco, and Velazquez. You'll see a lot of monks, balding saints, cherubs, and depictions of Christ.
The museum has a goodly collection by Murillo, whose works you can also see at Seville Cathedral. Murillo achieved fame and recognition from his religious portraits.
But he also left behind some fascinating work of everyday people and street life. I was lucky enough to see a Murillo exhibition when I was there in February.
Address: Plaza Museo 9 41001 Seville (15 minute walk from the cathedral)
Entry fee: 1.50 €
8. Picasso Museum, Barcelona
There's no doubt that Picasso's art was revolutionary and unparalleled in terms of quality and quality. Most art historians consider him the greatest artist of the 20th century. He certainly had plenty of charisma and genius.
Picasso moved from Malaga to Barcelona as a teen. This is where he found his artistic voice.
He lived there from 14-24 and considered it his true home. With help from his father, he enrolled at the School of Fine Arts. A young Pablo fell in with a bohemian crowd that mixed wine and women.
Picasso became an innovator, co-founder of Cubism, and chronic womanizer. He was a one man female wrecking ball who once said "love is the greatest refreshment" and then never left the concession stand.
READ: Guide To the Picasso Museum in Paris
Founded in 1963, the Picasso Museum in Barcelona was launched with a donation of 574 works by Picasso's secretary, Jaime Sabartés. In 1970, Picasso left more pieces to the museum. Picasso's widow, Jacqueline Roque, donated 41 ceramic pieces and the early Picasso piece Woman with A Bonnet.
Here, you can see one of the most extensive collections of Picasso's work, certainly the best collection in Spain.
Now, the museum has over 3,000 pieces, many from Picasso's formative years in Barcelona and from his Blue Period. The setting of this museum is stunning. It's lodged in five contiguous medieval stone mansions in the funky El Born neighborhood of Barcelona.
This museum is very popular. You should book a skip the line ticket.
READ: Complete Guide To Barcelona's Gothic Quarter
Address: Calle Montcada 15-23 08003 Barcelona
Hours: Tues to Sun 9:00 am to 8:30 pm, Thurs 9:00 am to 9:30 pm. Free on Thursday afternoons from 6:00 pm to 9:30 pm and the first Sunday of each month, from 9:00 am to 8:30 pm
Entry: 12 €, under 18 free
9. The Joan Miró Foundation, Barcelona
What a treat this Barcelona museum is. It's rare to see a large group of Miró paintings.
In this fabulous single artist museum, you're surrounded. Miró founded the museum himself in 1975.
Located on Montjuïc hill, the museum's housed in a light filled gleaming white building, designed by his friend, Josep LLuis Sert.
The Fundació Joan Miró is crammed with seminal Miró works, from his earliest sketches to his later years. There's 220 paintings, 180 sculptures, and over 8,000 drawings. Not everything is on display at once, of course.
Miró was born and raised in Barcelona's Gothic Quarter, where he began studying art at 14. In his 20s, Miró was attracted to the Surrealism.
When his work was initially mocked in Barcelona, he fled to Paris. He became life long friends with Picasso. He eventually came back to Barcelona. But then he lived in Mallorca for almost 30 years.
Miró's work defies outright categorization. He's most associated with the Surrealists, but he was a renegade.
His work is characterized by constant experimentation and a decided love of the dream-like abstract. Like Dali, Miró balanced the spontaneity and automatism of Surrealism with meticulous planning and precision edges.
If you love Miro's biomorphic images, come. If you don't like modern art, there's plenty to do in Barcelona, like all the Gaudi buildings below.
Click here to book a skip the line ticket.
Address: Parc de Montjuïc 08038 Barcelona
Hours: Nov to Mar 10:00 am to 6:00 pm, Apr to Oct 10:00 am to 8:00 pm, Closed Mondays
Entry fee: 13 €, under 15 free
10. The Museum of Contemporary Art, Barcelona
In 1995, American architect Richard Meier was commissioned to design the Museum of Contemporary Art, nicknamed MACBA. The dazzling white monument is characteristic of Meier's other works (for example the Getty Center in Los Angeles).
It's a ultramodern piece right next to the centuries old Gothic Quarter, which is not just a container for art.
Meier is a proponent of the "rational" style. The museum has a glass front with an all white interior and exterior. It's luminous and spacious. Light pour in through the windows and the roof on the third floor.
MACBA focuses on art from the second half of the 20th century to the present day. Its first floor features the museum's permanent exhibits, with works by Spanish artists like Antoni Tapies, Miquel Barcelo and Joan Brossa.
MACBA's collection also contains works by foreign artists like Eva Lootz, Wolf Vostell, and Teroushi Yoshida.
Address: Placa dels Angels, 1
Hours: Monday through Friday 11:00 am to 7:30 pm
Entry fee: 11 €
11. National Museum of Catalan Art, Barcelona
The grand domed Neo-Baroque Palau Montjuic houses the National Museum of Catalan Art. Construction was completed in 1929 under architects Eugenio Cendoya and Enric Cata's design.
This museum is the largest in the whole of Catalonia in northern Spain. You can easily wile away a couple of hours here, exploring the art and architecture.
The MNAC features the best Romanesque collection of mural paintings in the world, including art work gathered from churches, chapels, and monuments. The museum's collection ranges all the way from Gothic art to modern art.
You'll find works by El Greco, Velazquez, Gaudi, Ramon Casas, and Julio Gonzalez, among others. There's also a few works by Dali and Picasso.
Click here to book a skip the line ticket.
Address: Palau Nacional, Parc de Montjuic
Hours: click here for hours
Entry fee: € 12 (valid for two days during a month from the purchasing date). The rooftop viewpoint is € 2.
12. Picasso Museum, Malaga
Malaga is Picasso's birthplace. Opened in 2003, the Picasso Museum in Malaga is housed in the Buena Vista Palace, a pretty combination of Renaissance and Mudejar architecture. So important was the museum that the King and Queen of Spain attended the museum's grand opening.
READ: Most Beautiful Towns and Cities in Andalusia
Small but sweet, the museum holds 285 works donated by Picasso's family members or held on permanent loan. Mostly from his grandson Bernard.
The collection spans Picasso's lifetime and gives a good overview of his protean seven decade career. You won't find any masterpieces here.
But highlights include Picasso's early academic studies, Cubist pieces, his re-workings of the Old Masters, ceramics, and some of his last paintings from the 1970s.
In his last decade, Picasso began to incorporate figures from Spain's Golden Age. In particular, he painted musketeers inspired by the paintings of Rembrandt and Velazquez.
The Antibes museum is tiny, so you won't need much time there. Download the museum's audio app, which is extremely informative and free.
When you're done, two minutes away is the home of Picasso, Casa Natal de Picasso. Opened in 1988, the house provides insight into Picasso's childhood. There's a replica of Picasso's studio and and his family's personal memorabilia.
Click here to book a skip the line ticket.
Address: Calle San Agustin 8, 29015 Malaga
Hours: change by season, check website
Entry fee: 8 €
13. El Greco Museum, Toledo
Part of the "Golden Age" of Spanish painting, El Greco is a famous Greek painter. Born in Crete, he settled in Toledo after training with Renaissance giant Titian in Venice.
He was a Mannerist painter, known for his malleable and elongated figures. El Greco's figures are rendered with unreal acidic colors and fluid distortions of the body. El Greco was considered a "painter of the spirit."
The Museo del Greco is the only one in Spain dedicated to the famous painter. Its fundamental purpose is to convey an understanding of El Greco's art and the influence his work and personality had on early 17th century Toledo.
The intimate house-museum has an extensive collection of El Greco paintings, including View and Plan of Toledo (a version of which is in the Prado), Portal, and Azulejos. There's also a beautifully displayed row of portraits known as the Apostolate series.
The museum also includes an evocation of the museum's past through the figure of the Marquis of Vega-Inclán. He purchased El Greco's home, returned it to period style, and led the movement to promote El Greco's painting.
Address: Paseo del Transito
Hours: Tuesday to Saturday 9:30 am to 7:30 pm
Entry fee: € 3
14. National Museum of Sculpture, Valladolid
The Museo Nactonal de Escultura is one of the most important European museums for sculpture, on par with the Bargello Museum in Florence. It's renowned for the quality of its collection, which ranges from the Middle Ages to the Baroque.
The statuary is both religious and non-religious, some in polychrome wood. The works include sculptures, altarpieces, choir stalls, funerary monuments, processional statues, etc.
The museum has rooms dedicated to Spain's there most famous sculptors: Alonso Berruguette, Juan de Juni, and Gregorio Fernandez.
The museum has a stunning setting.
The main building, College of San Gregorio, is one of the most singular examples of the 15th century Spanish architecture. The museum also comprises Villena Palace and the Casa del Sol.
Address: Calle Cadenas de San Gregorio 1-2
Hours: 10:00 am to 2:00 pm & 4:00 pm to 7:20 pm
Entry fee: € 3, audio guide € 2. Free admission on Saturdays from 4:00 pm to 7:30 pm and Sundays from 10:00 am to 2:00 pm.
15. Gaudí UNESCO Sites/Museums in Barcelona
In Barcelona, Antoni Gaudí produced some of those most whimsical, hallucinatory buildings in existence, which are now museums. While not technically fine art museums, Gaudi's work is high art, with a symphony of color and curves.
Gaudí's work was controversial. It contained Orientalist, Gothic, and Art Nouveau elements. It reflected Gaudí 's obsession with nature.
Gaudí famously said: "There are no straight lines or sharp corners in nature. Therefore, buildings must have no straight lines or sharp corners."
Seven of Gaudí's creations in Barcelona are designated UNESCO World Heritage Sites. They include: Casa Batllo, Park Güell, Palau Güell, Casa Milà, Casa Vicens, the crypt of La Sagrada Família, and the Crypt of Colonia Güell.
You'll need skip the line tickets for them all. I've linked them for convenience.
Barcelona's undisputed jewel is Sagrada Familia, Gaudí's wildly creative opus. It inspires emotion. People tend to either love it or hate it.
The basilica is still unfinished. But, one day, there'll be 18 towers and three very different facades. By far the most dazzling part is the lofty interior. At the right time of day, it's a gorgeous kaleidoscope of color.
Here's my complete guide to Sagrada Familia. Click here to book a must have skip the line ticket. You can also book a guided tour with tower access.
You also shouldn't miss Gaudí 's residences near the Passeig de Gràcia, the gorgeous dragon-like Casa Batlló and the petrified wave that's La Pedrera
Güell Palace, another Gaudí residence right off La Rambla, also delights. Gaudí's patron, Eusebi Güell, also commissioned him to create the over the top Park Güell with its gingerbread houses and famous mosaics.
For full details on all the Gaudí sites in Barcelona and tips for visiting, check out my article on Gaudí 's Modernist UNESCO Architecture in Barcelona.
I hope you've enjoyed my guide to the best art museums in Spain. You may enjoy these other Spain travel guides and resources:
If you'd like to visit Spain's best museums, pin it for later.