If you're a fan of medieval history or King Richard III, the city of Leicester is likely on your England bucket list. For those obsessed, I have the ultimate list of all the best things to do and see in Leicester in a day.
Leicester traces its history back to Roman days. But it's best know for its association with the War of the Roses, the epic battle waged between the feuding York and Lancaster dynasties in the mid 15th century.
Most specifically, it is the ultimate pilgrimage site for devotees of King Richard III, the last of the medieval kings … and the most maligned. Richard spent his final earthly night in Leicester before meeting his death on the battlefield at Bosworth.
These days, despite its ancient roots, Leicester is a bustling university city. It's a bit of hidden gem in England, where pretty cobbled lanes vie with some decidedly unglamorous modern buildings. But, for history buffs, it's a must visit town with medieval sites, Richard III attractions, and craggy castles.
A Short History Of Leicester
Leicester is one of England's oldest cities, founded 2,000 years ago. The city dates back to Roman times. After the fall of Rome, Leicester was abandoned but later became a thriving town in the 9th century.
Leicester first came into real prominence after the Norman Conquest. A castle was built, which passed into the hands of the powerful Robert Beaumont, the Earl of Leicester.
Unfortunately, his fame was short-lived. His son rose in rebellion against Henry II in 1173. The king retaliated by sacking Leicester.
But the city was too strategic to be left bereft for too long. In 1239, Simon de Montfort became the Earl of Leicester. He led a movement to curtail the crown's power. But he too was cut down and the earldom was handed to Henry's son.
In the Middle Ages, Leicester was a trading town, specializing in wool and leather. Merchants organized a guild, which diminished the power of the Earl of Leicester.
In 1483, Richard III was crowned king in 1483, after his nephews were declared illegitimate and disappeared in the Tower of London.
Richard III's reign lasted only two years and was plagued by rebellion. There were many threats, including from an exiled Lancastrian Henry Tudor.
Henry raised an army in France and launched a war against Richard. Much to Richard's surprise, Henry claimed victory after his mother's duplicitous husband, Lord Stanley, switched sides to fight for Henry.
In 1485, at just age 32, Richard was cut down on Bosworth Battlefield, right outside Leicester.
He was buried in a shallow grave at the Church of the Grey Friars, the location of which was promptly forgotten for 527 years. Rumors circulated that his grave was ransacked and tossed in the river. But this later theory proved to be false.
Richard spent his last night in Leicester at the White Boar Inn. After his death, the Tudors launched a smear campaign against Richard, doctoring portraits and declaring him a usurper and murderer of the two princes.
Even Shakespeare piled on. In 1592, he published his play Richard III for a Tudor queen, Elizabeth I. Using Tudor histories as scripture, he took liberties and portrayed Richard III as a dastardly and deformed king — a reputation that has plagued the king ever since.
Note: Want to know if Richard III was really a bad guy? You can read my analysis here.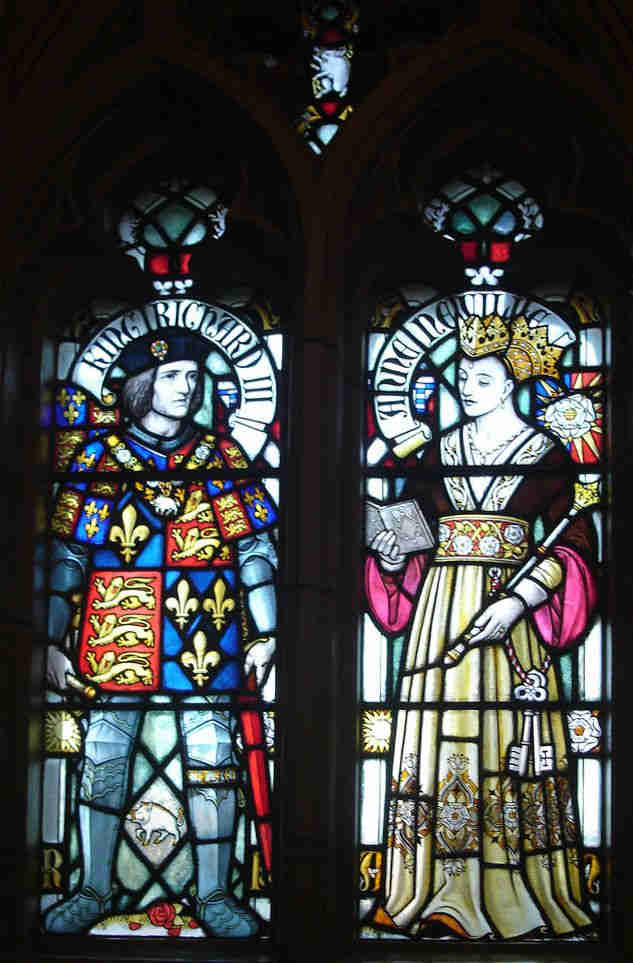 In 1924, the Richard III Society was formed to counter the "black legend" and reassess Richard's role in history and as a monarch. (I must disclose that I am a former member of this group who are known as "Ricardians.")
In 2012, a team of archaeologists began a quest to find the long dead king's lost grave. Using ancient maps and records, they uncovered the ruins of the old friary where Richard III was laid to rest.
Soon enough, they discovered battle-scarred bones underneath a Leicester car park. With DNA analysis, it was confirmed "beyond a reasonable doubt" that the skeleton was Richard III. It was one of the most important finds in British archaeological history.
In 2015, Richard's 500 year old remains were reburied, with pomp and circumstance, at Leicester Cathedral with the Archbishop of Canterbury presiding.
Coincidentally, since that time, Leicester's soccer team, the Leicester Foxes, has seen resounding success, winning the Premiere League in 2021.
Best Things To Do In Leicester In One Day
Here are the top attractions and things to do in Leicester. It's a city tailor made for history buffs where you can easily wile away a day or more.
You can kick off your day with breakfast at KAI or St. Martin's Coffee Shop in St. Martin's Square.
Bow Bridge
You will likely enter Leicester on King Richard's Road, which crosses the River Soar via the Bow Bridge. This is the very bridge the Richard crossed en route to Bosworth and the bridge over which his dead body returned.
Legend holds that, en route to the battle, Richard's spur struck the bridge as he road out to battle. A soothsayer prophesied that Richard's head would strike where his foot had struck, which proved to be the case.
On one side of the bridge a sign declares it's the spot where Richard's remains were unceremoniously dumped in the river according to legend. At the other end, two plaques bear the coats of arms of Richard III and Henry Tudor.
The present Bow Bridge dates from 1862 and is a Victorian replacement for the medieval bridge. The bridge is made of iron and its railings are decorated with white roses, Richard's symbol, and the red and white Tudor rose.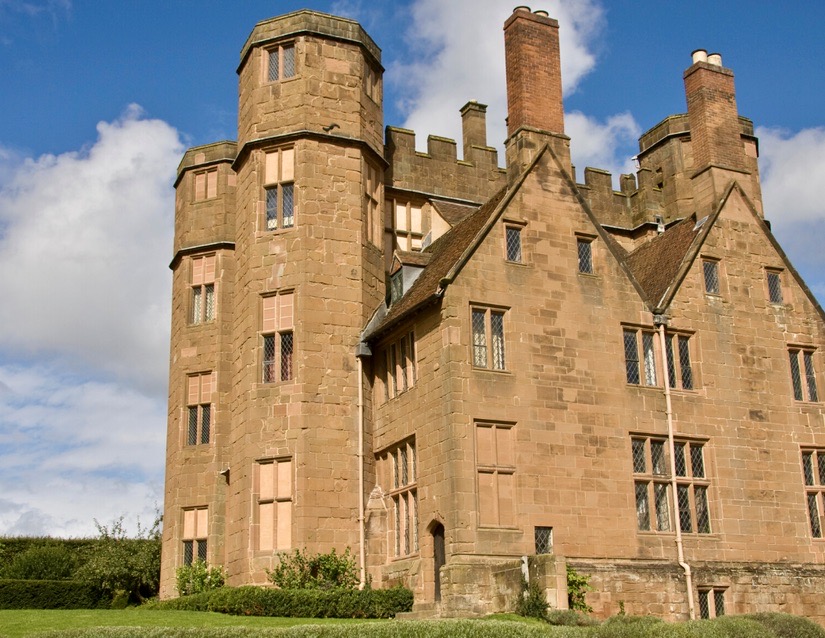 Leicester Castle
Built in 1066, Leicester Castle is the top historic attraction in Leicester. It played a pivotal role in English history. By the early 12th century, the castle passed into the hands of the Earl of Leicester who built a great medieval hall.
In 1173, Henry II sacked and destroyed much of the castle. Simon de Montfort, leader of the barons' revolt, rebuilt the castle. In the great hall, held the first English parliamentary session in 1265.
But royalist forces caught up with de Montfort. He was killed and the castle passed to the Earl of Lancaster, who transformed the stronghold into a primary Lancastrian residence.
During the late 15th century, the castle was still occasionally used as a Lancastrian royal residence — Henry IV, Henry V, Henry VI, and Edward IV all stayed there.
Despite taking a beating during subsequent battles, two important medieval structures remain onsite: the Great Hall and the ancient Church of St. Mary de Castro.
The 12th century Great Hall is believed to be the oldest surviving castle hall in Europe, with a bay, aisles, and timber roof.
Unfortunately, for the medieval tourist, the interior of Leicester Castle is mostly inaccessible, open only on special event days or Heritage Sundays.
You can call the Guildhall to check on dates. To me, it's an odd thing that such a great medieval hall is closed to the public.
Just a stone's throw from the castle in its gardens is the Newarke Houses Museum. It's a free museum chronicling the history of Leicester and its regiment.
Address: 7 Castle View
St. Mary de Castro Church
Founded in 1107, the ancient church of St. Mary de Castro was once the castle's lavish chapel. The church has been "Victorianized," but you can still see vestiges of its Norman architecture.
Henry VI was knighted in this church. Richard III attended mass there. If you're a fan of the Canterbury Tales, legend holds that Geoffrey Chaucer was married here.
The church is only open to the public on Saturdays in the summer months. You can also attend mass at the church.
Address: Castle View
Jewry Wall And Roman Baths
Another great thing to do in Leicester is to visit the 2,000 year old Jewry Wall that once formed the foundation of the Roman baths.
It's the largest surviving Roman civic building in Britain, even more impressive than sites in Roman London.
The wall once separated the exercise room from the bathing area. It's unclear how the wall got its name. It was likely either named after the city's large Jewish community or was a callback to Jerusalem's Wailing Wall.
Excavations in the 1930s revealed both the baths and a forum. To get the full scoop, head into the Jewry Wall Museum, which is full of artifacts and displays.
Address: St. Nicolas Circle
Entry fee: donation suggested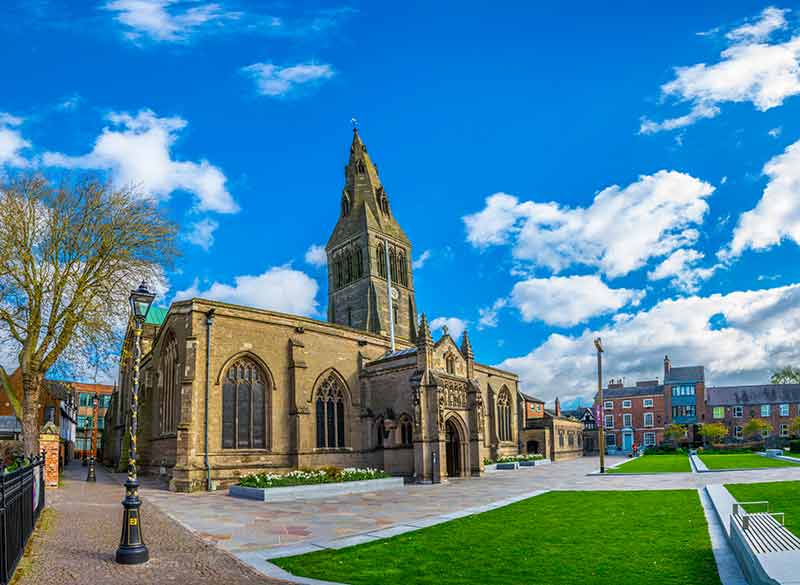 Leicester Cathedral
The Normans began building Leicester Cathedral, known as St. Martin's Church, around 900 years ago. But when you look at it, you'll think Victorian, as a result of 1880s restorations.
Inside, you'll find a single nave. The ceiling has some ancient Norman traces. If you look up, you'll see some colored carved angels.
The chancel is the most interesting part. This is where you'll see a striking marble floor honoring Richard III. The chancel seats bear the names of all the important figures in Leicester's history.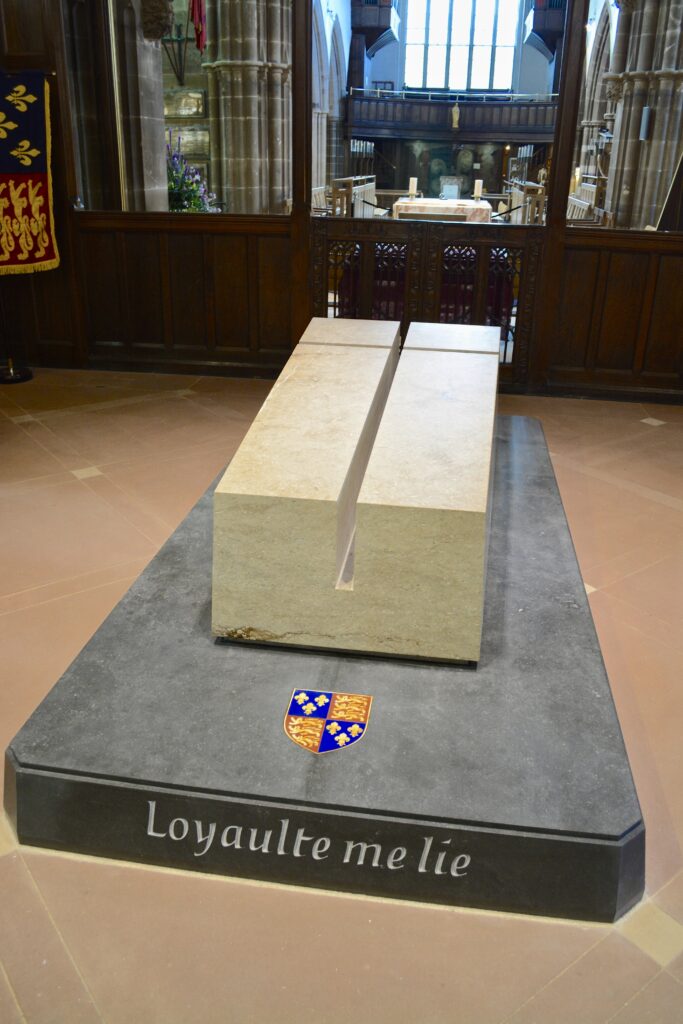 The chancel is the location of the Tomb of Richard III, in which he was reinterred in 2015. His tomb is a table tomb of Swaledale fossil stone on a Kilkenny marble plinth, with an incised cross.
There was much controversy about burying the king in Leicester, with Westminster Abbey and York Minster offered up as alternatives. But a court ruled against those trying to remove his remains from his original gravesite.
Unfortunately, right now, the church is under major renovation and won't open until the fall of 2023. So you can't pay homage to the king.
In the cathedral gardens, however, you can gaze on a statue of Richard III. Commissioned by the Richard III society and installed in 1980, it portrays a mighty monarch with crown held aloft.
Address: St Martins House, 2 Peacock Ln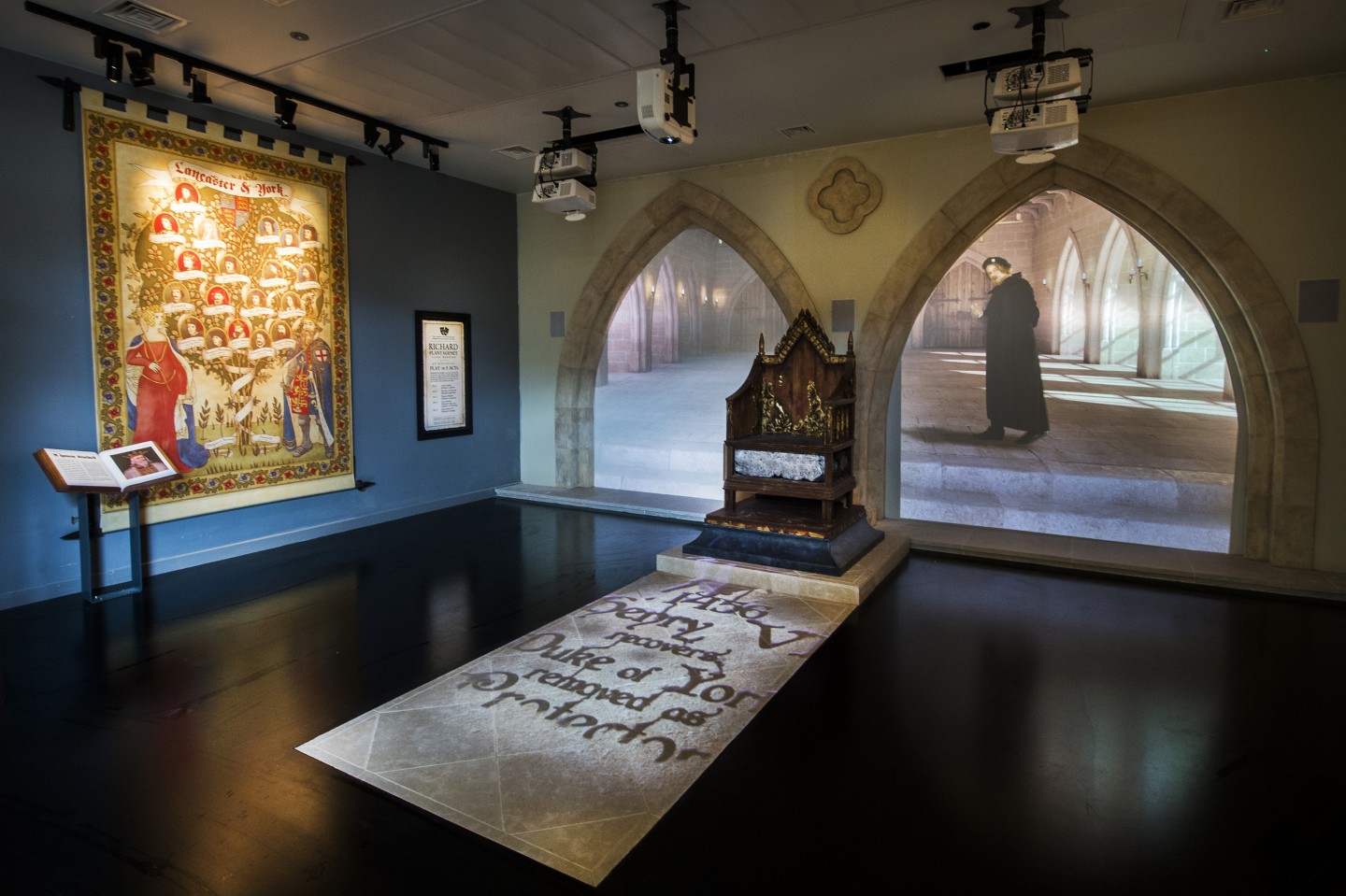 King Richard III Visitor Centre
Naturally, the King Richard III Visitor Centre is one of the top attractions and best things to do in Leicester. It's a center fit for a king and for visitors of all ages.
To protect the king's gravesite and attendant history, the city council purchased and renovated the old schoolhouse that was built on the remains of Greyfriars Friary Church.
The well-organized visitor center tells the story of the king's life, his family tree, his brutal death, and his rediscovery after a once in a lifetime detective-like investigation.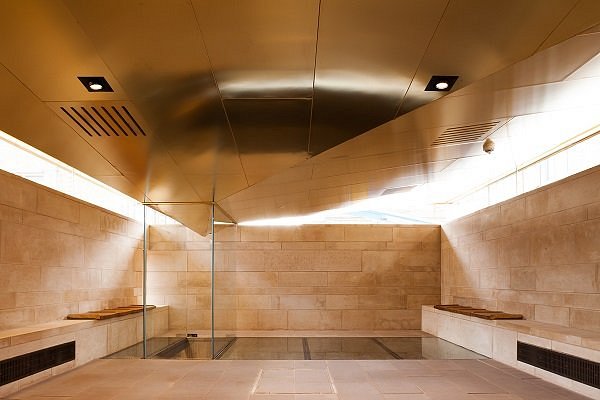 Visitors can learn about Richard III through loads of explanatory text, high tech audio-visual displays, and interactive exhibitions. There's a a reconstructed bust of the king made with a computer to produce an actual likeness.
The most moving exhibit is its simplest. Preserved under a glass floor is the grave of Richard, with a projection indicating precisely how Richard's bones lay when excavated.
Though it's a small museum, you could easily spend a couple hours here. There's also an excellent shop and cafe.
Address: 4A St Martins
Entry fee: £ 10 and tickets are valid for one year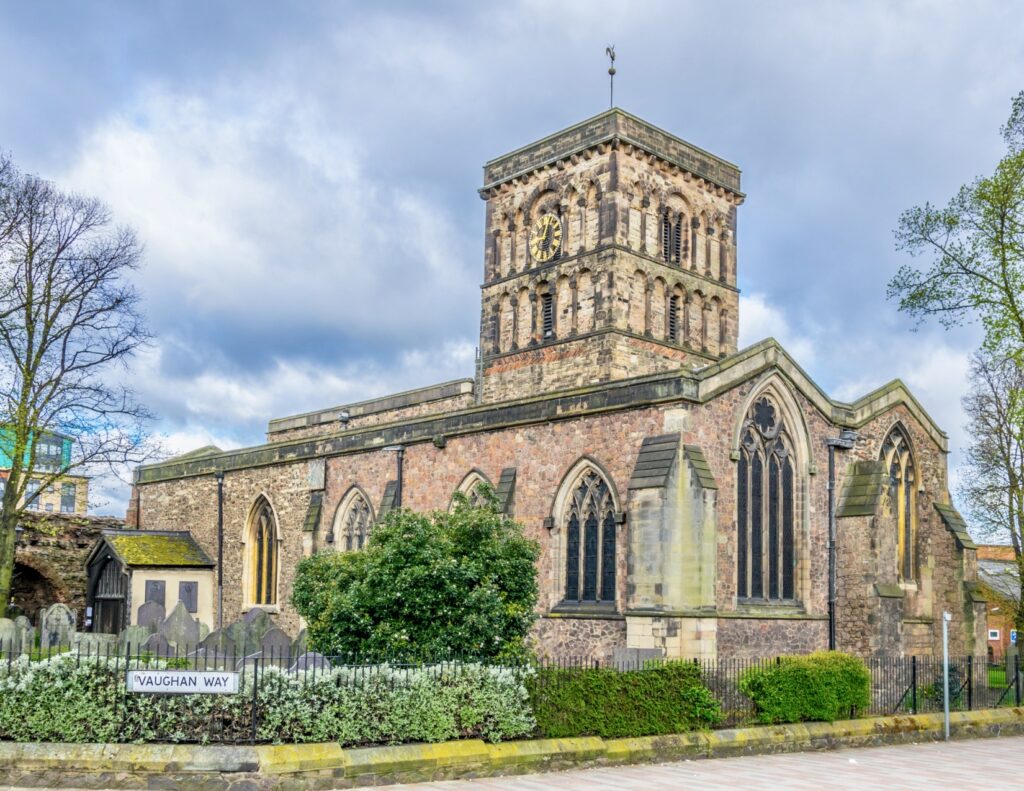 St. Nicholas Church
Dating from 1880, St. Nicolas Church is the oldest building in Leicester. Its first iteration was as a pagan temple.
The church was built using tiles "repurposed" from the Roman baths. The church was subsequently remodeled in the Norman, Plantagenet, and Victorian eras.
In Richard III's time, English law required that the body of a deceased monarch be displayed to the public. This had the effect of precluding after the fact pretenders to the throne. Richard's desecrated body was exhibited here before being buried in Grey Friar's.
Address: 156-140 St Nicholas Walk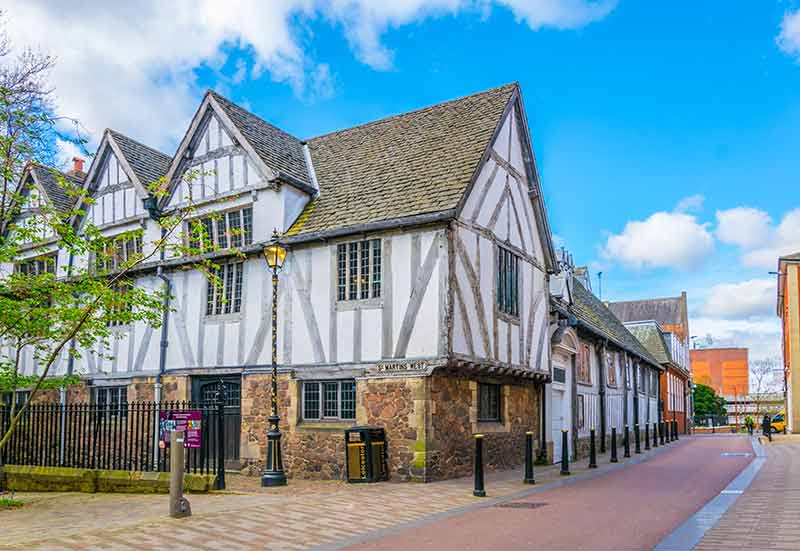 Leicester Guildhall
Built in 1390, the Leicester Guildhall was the meeting place for the big shot merchants and gentry of the Corpus Christi guild.
It would have been a building of importance during the time of King Richard III. When the guild was dissolved, the property passed to the city.
The Guildhall is considered one of the best preserved of its kind in England, with ancient timber framed walls and halls.
Inside, you can visit the Great Hall, medieval galleries, and read about the city's rise to fame and fortune. There are portraits of Leicester's mayors dating back to the Tudor era and a display of Tudor costumes.
Address: Guildhall Ln
Entry price: free
Leicester Clock Tower
The 70 foot tall Clock Tower is a major landmark and meeting spot in Leicester. The tower is in the city shopping center at the junction of 5 streets.
Built in 1868, it was designed by famous Victorian architect Joseph Goddard. It's a 4 sided Neo-Gothic edifice with a clock on each side.
There are four statues of important men in Leicester history, the most famous being Simon de Montfort. At the bottom are four ornate Gothic portals topped with frilly triangular pediments.
Address: 3 E Gates
Leicester New Walk & Museum
Another great thing to do in Leicester, after taking in the historic sites, is to stroll down Leicester New Walk. Established in 1785, it's a one mile tree-lined promenade lined with Georgians and Victorians buildings and one of the oldest pedestrian streets in the whole UK.
You can also visit a small free museum, the New Walk Museum and Art Gallery, housed in a Regency era building. It was founded in 1849 as one of the United Kingdom's first public museum.
The building holds a stellar collection of German Expressionism with works by artists like Paul Klee, Franz Marc, and Emile Nolde. You'll also find some fanciful Picasso ceramics from his later years.
A cluster of bars, cafes and restaurants at the lower end of New Walk invite visitors to linger in this elegant part of town.
This would be a good place to break for lunch during your one day in Leicester. I recommend Herb, which serves up vegetarian based Indian food.
Kirby Muxloe Castle
Kirby Muxloe Castle is just 4 miles west of Leicester. It's an English Heritage site built for Lord Hastings in 1480-83.
The castle was intended as a residence, but it seems more like a fortress. it was crenelated, fortified with a water-filled moat, two gatehouses, and gun ports. No matter, Richard III seized and executed Hastings for treason.
Today, the castle is a picturesque ruin.
Address: Off Oakcroft Ave, Kirby Muxloe, Leicestershire
Entry fee: £6.60 (temporarily closed)
Bosworth Battlefield
Of all the things to do Leicester, most will be drawn by the opportunity to walk in the steps of history on Bosworth battlefield. This is a place and event that stirs the imagination.
The battle was a dramatic moment in English history. It marked the end of the War of the Roses, with Henry Tudor ushering in the Tudor era.
Your first stop is the Heritage Centre, which recounts the fight for the throne. It explains the plans and strategy for this pivotal battle with a movie and battlefield models and memorabilia.
The center was restored in 2009, after archaeologists uncovered some earth-shattering finds, including a white boar livery badge worn by one of Richard's principal supporters.
The family feud that was the War of the Roses had dragged on for 30 some years before the culminating battle. Richard seemed to have every advantage as the incumbent king commanding a large army.
But his reputation had been somewhat tarnished by the disappearance of the two princes.
Richard thought he had the support of the dukes of Norfolk and Northumberland. But, in a stunning betrayal, Northumberland abandoned his post and Lord Stanley threw his third army behind the Tudor cause.
Richard was struck down. His bejeweled crown was removed and presented to Henry Tudor.
Richard was the last English monarch to die of such a fate. Indeed, the battle was the final time that the crown changed hands on a battlefield.
Your tour of the battlefield is a self-guided one. You'll find a series of footpaths and plaques describing the key moments of the battle. You can see the exact spot where Richard fell, marked by his banner.
Address: Ambion Ln, Sutton Cheney, Nuneaton
Entry fee: £8.95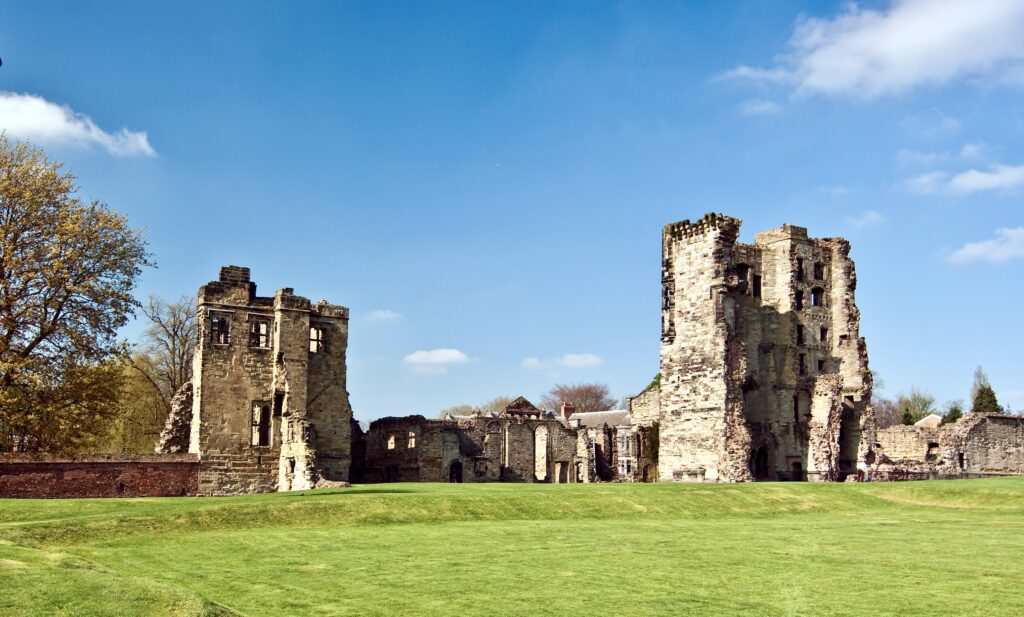 Ashby-de-la Zouch Castle
If you have any remaining time in your one day in Leicester, head half an hour out of town to Ashby-de-la Zouch Castle.
Before it was a castle, Ashby was the medieval manor home of the prominent Zouche family. In 1464, Lord Hastings acquired the property and made it his principal seat.
He modernized and expanded the Norman castle and added a Perpendicular chapel and a four story tower. Although much of the castle lies in ruins, you can still climb Hastings Tower for some breathtaking views.
Address: South St, Ashby-de-la-Zouch
Entry fee: £7.80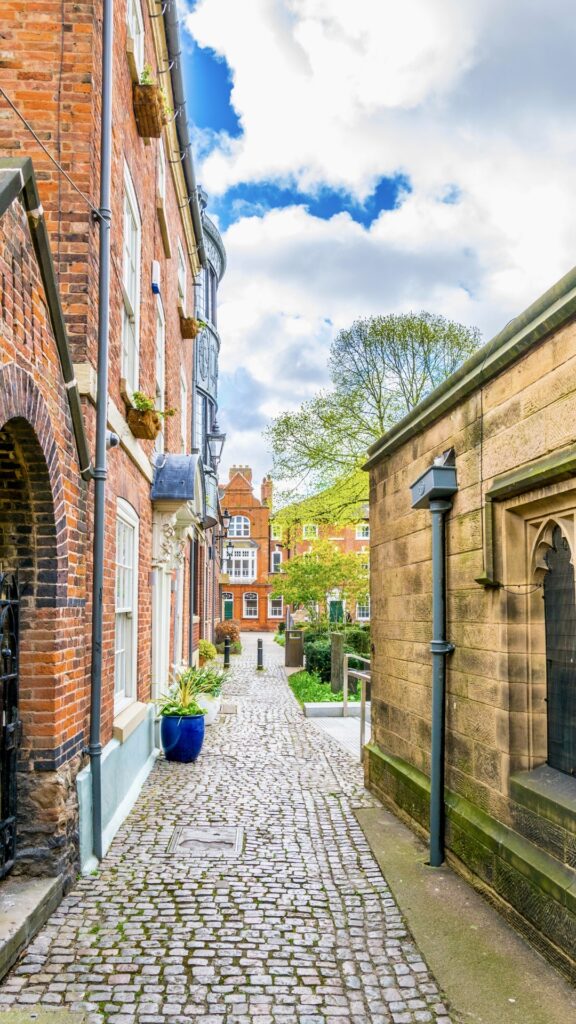 Tips For Visiting Leicester
Here are some must know tips for visiting Leicester and exploring all the best things to do in one day.
1. How To Get To Leicester
Leicester is 100 miles north of London. If you're driving, it's a 2.5 hour drive. It's a good idea to have a car to visit the battlefield and outlying sites. Click here for information on where to park.
If you're taking the train, trains depart St. Pancras Station and take approximately 70 minutes. You can walk straight out of the station and into central Leicester in 5 minutes.
There is also a bus station, St. Margaret's Station, located in the center of the city.
2. How To Get Around Leicester
Leicester is a very walkable city.
Most of the historic buildings in Leicester are located in a central area known as "Castle Park." The tourist office provides site guides, maps, and there are Heritage Trail signs. It takes about 3 hours to walk the trail.
You can also walk the Richard III Walking Trail, which takes about an hour.
3. Where To Eat In Leicester
Leicester has a thriving foodie scene. The Golden Mile is famous for its Indian restaurants like Curry Fever and Sharmilee.
Veeno and OGGI serve up tasty Italian food. Revolution Leicester is the city's best loved cocktail bar and restaurant.
4. Where To Stay In Leicester
If you have one full day in Leicester, you'll want to stay overnight. If you're a Richard III fan, you may want to stay 2 nights.
The Belmont Hotel is a centrally located Victorian hotel with colorful rooms on the New Walk. For modern convenience, you can check out the Novotel Leicester or the Leicester Marriott Hotel.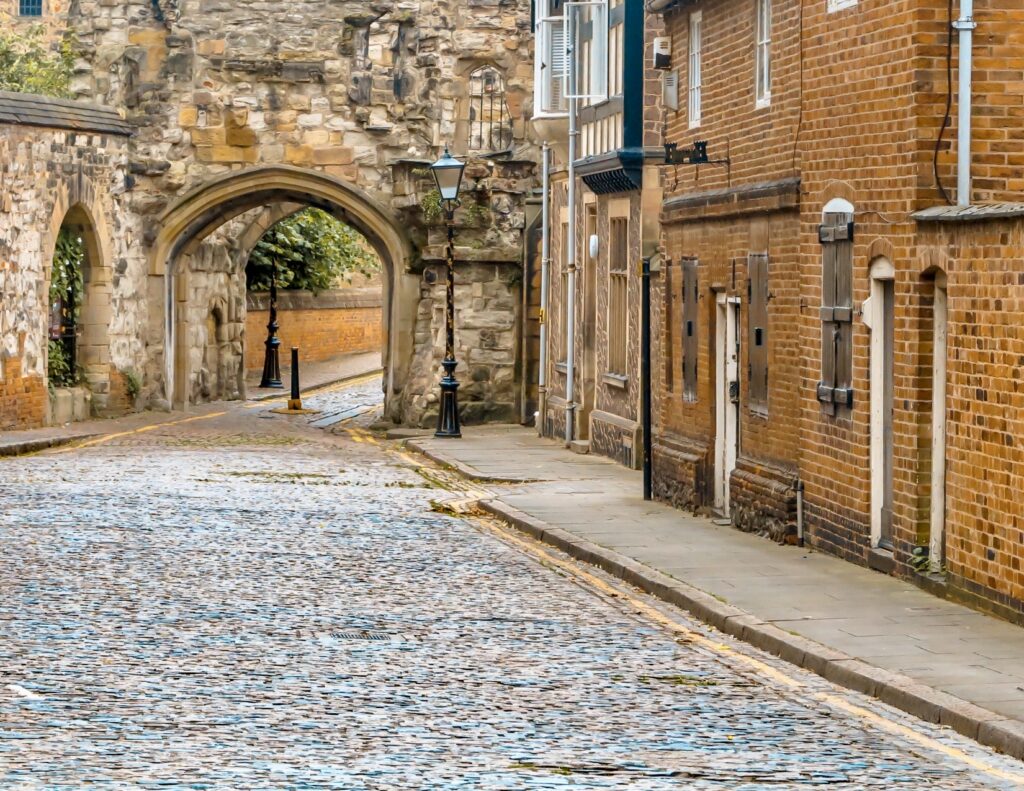 5. Leicester Tourist Office
The tourist office is located at 4a St Martins. You can get maps, brochures, etc. You can even try the King Richard III self-guided walking trail available for £ 2.
6. Pro Tip
If you're not a resident in England and are visiting other historic attractions, you may benefit from buying an English Heritage Pass for Overseas Visitors.
I hope you've enjoyed my guide to the best things to do in Leicester in one day. You may enjoy these other London travel guides and resources:
If you want to visit Leicester, pin it for later.