Looking for some unusual things to do in Paris? Here's my guide to discovering hidden gems and secrets spots in Paris.
I love Paris. I'm a Francophile of the highest order and it's my favorite city in the world. Paris is cultured, sophisticated, and lives up to its hype.
I've visited many times, and wish I could just move in. I'm visited almost every museum, all the tourist traps and top sites, and all the arrondissements.
Along the way, I've discovered many delicious hidden gems, charming back streets, cultural venues, and out-of-the-way neighborhoods in Paris.
There are dozens of hidden gems in Paris where you don't have to have a battle plan to visit or jockey for position in front of the Mona Lisa. Or even stand in line.
Hidden Gems in Paris
I've put together a list of 40+ of Paris' off the beaten path destinations and less visited sites.
You may even want to book your own hidden gems tour. Click here for a 3 hour guided tour or click here for an e-bike tour.
1. La Conciergerie: Royal Palace and Prison
La Conciergerie isn't an unknown or secret spot exactly. It's UNESCO-listed, after all. But it's a rather dark and dank space, so not many tourists actually venture inside, headed to the more popular Sainte-Chapelle instead.
But that's a mistake. Especially if you're a history buff and want to re-live the French Revolution.
The underrated Conciergerie was built in the 6th century. It was the residence of Clovis, the first King of France and used to be a royal palace.
In the 14th century, the kings and queens abandoned the gloomy Gothic palace and decamped for brighter digs. When King Charles V, the last royal resident, moved out, he appointed the first "Concierge" and renamed the edifice La Conciergerie.
After the French Revolution, the Conciergerie became the "antechamber of the guillotine" — the last stop before people were marched to the Place de la Concorde and beheaded.
It boasts a stunning and atmospheric vaulted ceiling, the Salon des gens d'armes, which was declared a UNESCO site in 2006.
On one corner of the Conciergerie, you'll spy the Tour de Horloge. It contains Paris' oldest clock. King Charles V conceived it as Paris' first public clock. It was installed in 1535, gilded in 1585, and still keeps time for Parisians.
Click here to book a combined ticket to the Conciergerie and Sainte-Chapelle.
Address: 2 Boulevard du Palais, 75001 Paris
2. Auberge Nicolas Flamel: Paris' Oldest House
Down a winding cobbled road in the Marais neighborhood of Paris, you'll find a rather unusual stone house dating from 1407 and covered in symbols. It's officially the oldest house in Paris. Now, it's the site of a restaurant and hotel.
But the house was originally built by Paris' famed alchemist, Nicolas Flamel. Flamel reputedly invented the Philosopher's Stone, a mysterious object that turned metal into gold.
Flamel conducted his experiments in this house. Flamel's tomb, decorated with symbols, is on display at the Musée de Cluny, a must see site in Paris' Latin Quarter (but sadly not a hidden gem).
It's never been definitively proven that Flamel practiced alchemy. But he's certainly been the subject of obsession.
Flamel appears in many fictional books discussing alchemy, including Harry Potter and the Philosopher Stone, Victor Hugo's The Hunchback of Notre Dame, Umberto Eco's Foucault's Pendulum, and Dan Brown's The Da Vinci Code.
Address: 51 rue de Montmorency Paris
3. College des Bernardins: a Rare Medieval Building in Paris
On a little side street on Rue de Poissy, you'll find a building almost no one visits — the sober and refined 13th century College des Bernardins.
It's a historical landmark in Paris. The college is a former residence of Cistercian Monks, who trained there for centuries before the French revolutionaries abolished monasteries.
It's a beautiful old medieval building, both inside and outside. The vaulted ceilings in pale beige sandstone are amazing. In 2004-08, the college became the last medieval building to be renovated in Paris. Now, it's used as a cultural and spiritual center.
Address: 20 rue de Poissy, 75005 Paris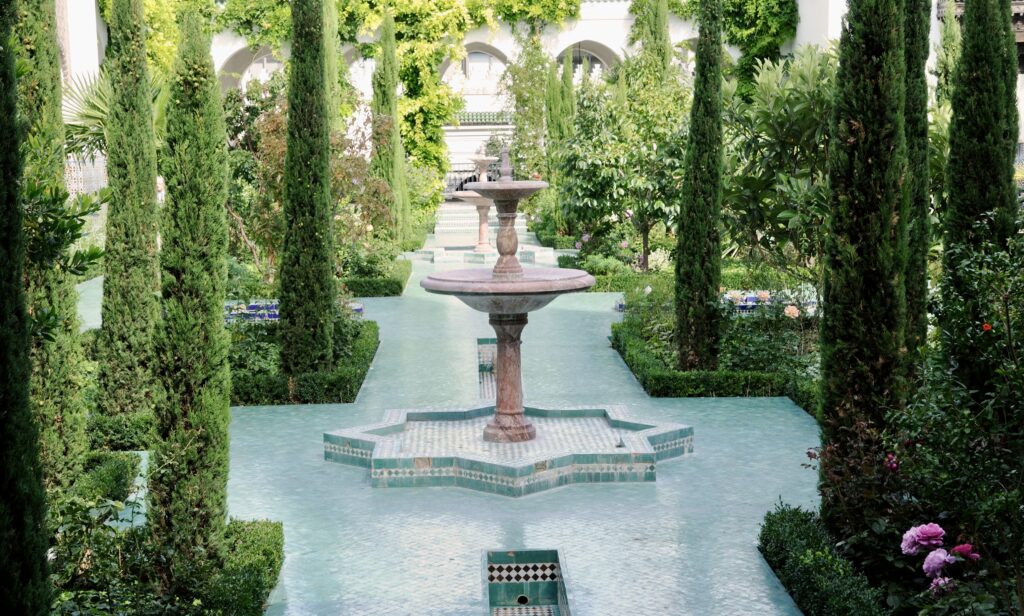 4. Grande Mosque de Paris
The Grande Mosque de Paris is the principal religion center for Paris' Muslim community.
The mosque was built between 1922-1926 in a composite Moorish style. Its calling card is a striking green and white minaret that's 65 feet tall.
The most gifted artisans from northern Africa were hired to decorate the building with mosaics, tiles, and marbles. The grand patio features woodwork, mosaics, and a beautiful fountain. It was inspired by the Alhambra in Granada.
The mosque is open to the public. You'll just have to take your shoes off to enter. It also has a popular tea room, which serves mint tea and Moroccan food in an idyllic Moorish setting.
Address: 2bis Pl. du Puits de l'Ermite
5. Basilica Saint-Denis: Deathstyles of the Rich and Famous
Just outside the Paris city limits lies a completely overlooked hidden gem in Paris — the fantastic and sorely underrated Cathedral Basilica de Saint-Denis.
It's downright astonishing that there aren't more tourists there. Really, I don't say this lightly. It's a French national treasure.
Saint-Denis is the birthplace of Gothic architecture. It heralds Europe's transition from a clunky Romanesque style to a more elegant Gothic one. Saint-Denis is one of the most historic and religiously important buildings in Paris.
Saint-Denis is the preferred burial site of French royalty, showcasing the death styles of the rich and famous. It's a museum of monumental French religious sculpture.
It holds the funeral effigies of Marie Antoinette and Louis XVI. They were commissioned by Louis XVIII in 1815, no doubt to put an exclamation point on the Bourbon Restoration.
When you're done with the main nave of Saint-Denis, venture into the dimly lit Romanesque crypt. Parts of the crypt survives from the 8th century. You'll find the tombs of St. Denis (possibly) and the Bourbon Chapel.
Click here to pre-book a ticket for Saint Denis. Click here to book a guided tour of this amazing basilica.
Address: 1 rue de la Legion D Honneur, 93200 Saint-Denis, France
6. Chateau de Vincennes: Medieval Fortress-Palace
Lying in the eastern suburbs of Paris, at the end of metro line 1, is the 14th century Chateau de Vincennes. It's a super easy half day trip on the Paris metro. I'm surprised more people don't go.
Like Fontainebleau, the chateau began life as as a royal hunting lodge in the 12th century. King Louis VII was known to dispense justice beneath the trees. During the 13th century, the lodge was transformed into a larger, palatial estate for the French kings.
In the 14th century, the venerable building you see today was reconstructed, renovated, and modernized. It became the primary royal seat until Versailles was completed. When the 52 foot Donjon was added, Chateau de Vincennes became the tallest medieval fortified structure in Europe.
The chateau is wholly intact with a keep, dungeon, moat, and fortified concentric walls. That's pretty unique. When the royals decamped to Versailles, the chateau was used as a prison. The Marquis de Sade, Voltaire, Mirabeau, Diderot were all imprisoned there.
Address: Avenue de Paris, 94300 Vincennes, France
7. Parc de Bellville: Free Views of Paris
Belleville is a new hotspot in Paris. It's known for its colorful street art, ethnic food, and melting pot culture.
Belleville's park, the Parc de Bellville, is perched on a hillside. From there, you'll have a killer view over Paris and its major monuments, which is both free and tourist free.
Otherwise, the park itself is nothing special. If you want to hike in an idyllic leafy green spot, walk to the nearby English-style Parc des Buttes-Chaumont.
It's Paris' 5th largest park and was created by Napoleon III. Walk the 207 foot long suspension bridge to an island and the Temple de la Sybille.
Address: 47 Rue des Couronnes, 75020 Paris
8. Rue de Martyrs in South Pigalle
The steep high street Rue des Martyrs is the heart and soul of South Pigalle, and its main artery. It's a half mile of magic stuffed with over 200 cafes, restaurants, groceries, chocolatiers, fromageries, and bars.
There's even a book written about it by NYT journalist and former Paris denison, Elaine Sciolino. I liked it so much I included it on my list of the 20 best books about Paris.
On Rue des Marytrs you can buy anything. And there is a speciality shop for everything, from rare cheese to sponge cake to gourmet dried herbs. So numerous are these single product shops that French food critics have dubbed Rue des Martyrs the "La Rue du Monoproduit."
In the days of massive groceries and malls, Rue de Martyrs is a breath of fresh air. It's a great alternative to Rue Cler, which is now uber popular thanks to Rick Steve's endorsement.
9. Marie de Medici Fountain: a Slice of Italy
Luxembourg Gardens is one of Paris' ever-so-pretty green spots, full of architectural delights. It's essentially an outdoor sculpture museum, and you shouldn't miss it.
Dating from 1612, the sun-speckled gardens feature heavily in Victor Hugo's romantic novel Les Miserables. They were frequented by the real life philosophers Jean-Paul Sartre and Simone de Beauvoir.
Marie de Medici, Henry IV's widow, commissioned the Luxembourg gardens in the 1630. They were styled to emulate the Boboli Garden of the Pitti Palace, Medici's childhood home in Florence.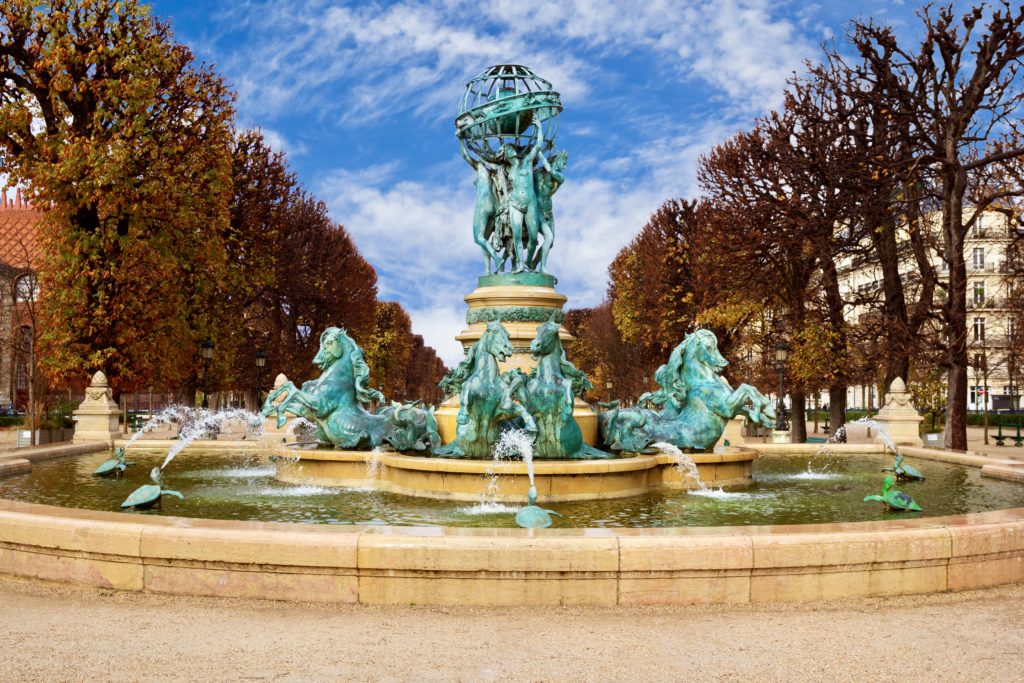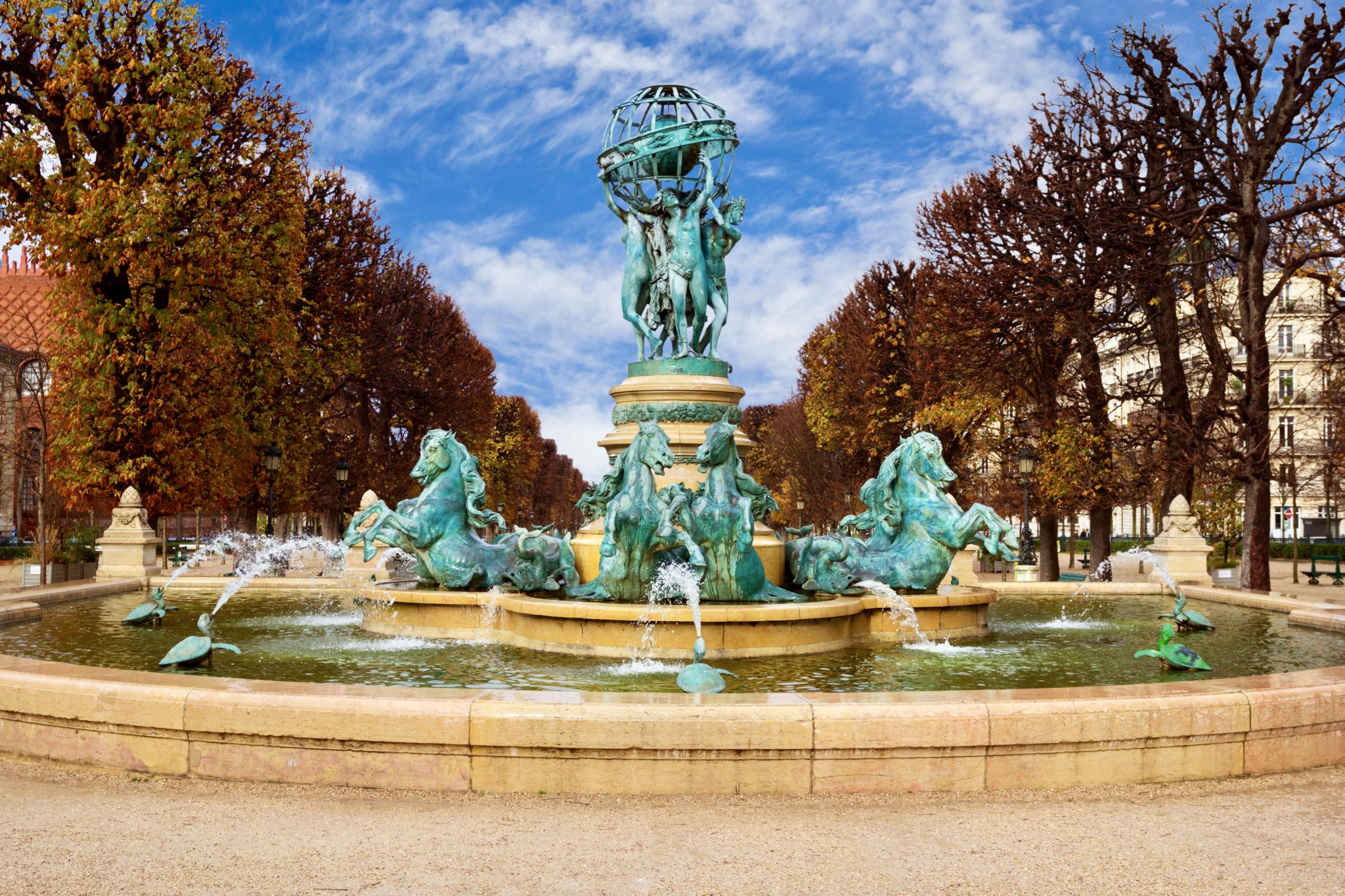 The crowning glory is the incredibly romantic Marie de Medici Fountain. It's a grotto-like monument designed to emulate water seeping from the stones.
Luxembourg Gardens itself is an outdoor sculpture museum. You'll find gorgeous sculptures by Auguste Rodin, Ossip Zadkine, and Aime-Jules Dalou. And a replica of a bronze model for the Statue of Liberty.
Click here to book a guided walking tour of the gardens.
Where to find the Medici Fountain: rue de Médicis in the Luxembourg Garden, 75006 Paris
10. Abbey Bookstore
Located in the Hotel Dubuisson, the Abbey Bookstore is a charming anglophone bookstore in the Latin Quarter. It sells new, vintage, and rare books, lovingly offered up in massive floor to ceiling piles.
The bookstore also serves coffee and the delicious smell wafts among the books. You'll find the Abbey Bookstore on Rue de la Parcheminerie, a tiny lane dating from the 13th century. It's just 5 minutes from the much more famous Shakespeare & Co bookstore.
If you do visit the Shakespeare shop, you're right near another Paris hidden gem and unique piece of street art — the Salvador Dali sundial on Rue Saint-Jacques. It depicts the head of a woman in the shape of a shell.
Address: 29 rue de la Parcheminerie, 75005 Paris
11. Saint-Etienne-du-Mont Church
If you're visiting the Pantheon in the Latin Quarter, don't miss this secret hidden gem next door. Saint-Étienne-du-Mont is the final resting place of Paris' patron saint, Saint Genevieve.
The exterior has an asymmetrical design, with a tall belfry on the left side. It was originally just extra space for an abbey founded by Paris' first king, Clovis.
But the French revolutionaries didn't like abbeys and targeted established religion. So the abbey (like the College des Bernardins) was suppressed. The abbey was demolished except for the Clovis Tower, which can still be seen from the church grounds.
Inside, there's an elaborate and rather unique rood screen, which separates the chancel from the nave. It's flanked by two distinctive spiral staircases and is the only one of its kind in Paris.
The stained glass dates from the 16th and 17th centuries. The church was heavily damaged during the French Revolution, like so much else, but was restored in the 19th century.
Address: Place Sainte-Geneviève, 75005 Paris
2. Passage Mouffetard: Tiny Secret Passage
Rue Mouffetard is one of the most famous streets in Paris's Latin Quarter. It's located along the Place de la Contrescarpe.
Rue Mouffetard is one of Paris' oldest streets. It has adorable haphazard crooked cobblestones and food stalls. In another life, it was the main road of Roman Lutecia.
But hidden off the lively Rue Mouffetard is a secret passage almost no one knows about. It's a charming and very discreet haven of peace, jealously protected by its inhabitants. It's accessed through a narrow door glued to a souvenir store.
There, you'll find a hidden cobblestone street full of potted plants and hanging vines. Compared to the bustle of Rue Mouffetard or Paris' arcaded passages, it's deadly quiet and peaceful.
Address: Near 52 Rue Mouffetard, 75005 Paris
13. Fountain Des Innocents Near Les Halles
One of Paris' most ornate public fountains is the Fontaine des Innocents. It's located in the 1st arrondissement near Les Halles and the Pompidou Center. Built in 1547-50, it's Paris' oldest monumental fountain.
The fountain is covered in mythical sea creatures, tritons, and nymphs. It was designed by Pierre Lescot, who was reputedly inspired by the Nymphaeum in Rome, and sculpted by Jean Goujon. It's lit up during the holidays.
The Fountain of Innocents rests on the grounds of the former Holy Innocents' Cemetery, which has a lurid backstory. The square was once virtually a mass grave, where Parisians simply dumped bones.
When the site became an unsanitary decaying mess, the bones were exhumed and moved to the Paris Catacombs.
Address: Place Joachim du Bellay, 75001 Paris
14. Eglise Notre-Dame-de-Lorette
At the bottom of the Rue des Martyrs in the 9th arrondissement is a graceful Paris hidden gem, the Notre-Dame-de-Lorette church. Built between 1822-36, it was classified as a historic monument in 1984.
Don't let the name fool you. It's not Gothic like it's namesake. It's a more classical Romanesque style.
If you walk down Rue Laffitte, you'll see Notre Dame-de-Lorette with the Sacre Coeur as a backdrop. It's a gorgeous view.
Notre Dame-de-Lorette is somber and monumental on the outside. But on the inside, it's richly decorated and beautiful. It has a sumptuous dome and a highly detailed ceiling with floral accents.
Address: 18 bis rue de Châteaudun 75009 Paris
15. Eglise Saint Sulpice & the Drunken Boat Poem
If you're in the chic Saint-Germain-des-Pres area, take in the 17th century Saint Sulpice, with its charmingly mismatched towers that seem to float over a quasi-Greek temple. It's right next to the Luxembourg Gardens.
Saint Sulpice is a vast church, a massive hodgepodge really, second in size only to Notre Dame. Victor Hugo, who disliked "pretentious" neoclassical architecture, derided Saint-Sulpice's two towers as "two giant clarinets."
But inside, you'll find real treasures — a magnificent organ and gorgeous restored murals by famed French painter, Eugene Delacroix.
Part of the movie The Da Vinci Code was set in Saint Sulpice, though filming was prohibited inside the church. The church doubled as the headquarters of the Priory of Sion.
Just steps from Saint Sulpice on 4 rue Ferou, you'll find another hidden gem, Le Bateau Ivre, which translates as The Drunken Boat. It's a poem by a then 16 year old Arthur Rimbaud inscribed on a stone wall.
Address: 2 Rue Palatine, 75006 Paris
16. Place Dalida, Secret Montmartre
The secluded Place Dalida in Montmartre is one of the prettiest spots in Paris. It's a lovely escape from tourists.
The square lies at the intersections between Rue Girardon and Rue de l'Abreuvoir (the latter being my pick for the prettiest road in Paris).
READ: Complete Guide To Attractions in Montmartre
In the center, you'll find a statue of French singer and music icon, Dalida. She gained international fame at just 19. Her personal life was tragic, even by celebratory standards.
She committed suicide at 54. Dalida is buried in the nearby Cimetière de Montmartre, an evocative cemetery in Paris (and yet another secret spot in Paris).
You'll notice that her statue is shiny and well worn in the upper torso. Tourists love to rub Dalida's breasts for good luck.
Click here to book a guided walking tour of the hidden gems of Montmartre.
Address: Place Dalida, 75018 Paris, France
17. Colonnes du Buren: Art Installation at the Royal-Palais
Just steps away from the throngs of tourists swamping the Louvre is the Palais- Royal. Its garden is a beautiful refuge in the center of Paris. In an inner courtyard of the Palais-Royal, called the Cour d'Honneur, you'll find a controversial, avant garde art installation.
The installation sits, rather antagonistically, in what used to be the palace's ugly parking lot. Created by acclaimed French conceptual artist Daniel Buren in 1985-86, the art installation is titled Les Deux Plateaux. It's commonly referred to as the Colonnes de Buren.
The Colonnes is a walk in structure of 260 black and white candy striped columns of varying heights arranged in a dizzying array of monochromatic swirls. When the installation was unveiled, in typical fashion, Parisians gave the Colonnes a poor reception.
But the Colonnes quickly became popular among strolling Parisians, skateboarders, and nearly everyone really. The space seems alive.
If you're an Instagrammer, the Colonnes are a good alternative to the oversaturated Rue Cremieux. Here's my complete guide to the Colonnes.
Address: 8 Rue de Montpensier, 75001 Paris
18. The Gorgeous Art Nouveau Door on Avenue Rapp
At 29 Avenue Rapp, you'll find what I think is Paris' most gorgeous door.
It's right near the Eiffel Tower and Les Invalides in the 7th arrondissement. Looking at it, you'd almost think you were seeing a Gaudi building in Barcelona.
Designed by Jules Lavirotte, the striking door depicts a lush Garden of Eden. At the top of the door, is the architect's wife, Ms. Jules Lavirotte, shown with her fox stole. She's set amid sinuous flowing vines and Adam and Eve sculptures, in near ornamental delirium.
Lavirotte was an anti-Haussmann Art Nouveau architect, whose risky fin de sciecle style is described as decadent Baroque. Not surprisingly, this door won the annual Paris facade competition in 1901.
There's another pretty Art Nouveau door nearby at 3 Rapp Square. From the garden area at the end of Square Rapp, you also have a sweet view of the Eiffel Tower.
Address: 29 avenue Rapp, 75007 Paris
19. Pere Lachaise Cemetery: Visit France's Brilliant Mind
Pere Lachaise Cemetery is Paris' village of the dead. It's an off the beaten path gem on the outskirts of Paris in the 20th arrondissement.
Steeped in history, Pere Lachaise is the perfect place to walk among the dead and feel oddly connected to them.
Pere Lachaise's appeal lies not just in death, but in the fact that it's a brooding aggregation of French culture. Hundreds of celebrities, writers, artists, and musicians are buried there. This is where you come to honor the brilliant minds.
Pere Lachaise has a beautiful collection of funereal art. The most famous graves are those of Oscar Wilde, Frederick Chopin, and Jim Morrison.
Here's my complete guide to visiting Pere Lachaise Cemetery. Click here to book a guided walking tour of the cemetery.
Address: 16 rue du Repos Paris
20. Pavilion de la Reina: a Jewel Within a Jewel
The Pavillon de la Reina is a luxury hotel in the Marais, dating from the 17th century. I don't usually include hotels on my hidden gems lists.
But this one is just so lovely (as is the Relais Christine on the Left Bank). The hotel, which means the Queen's pavilion, once housed Queen of Austria in the 1600s.
The Pavillon de la Reina is an ivy covered building on the elegant Pace des Vosges, the zip code for French aristocracy. You should definitely stroll by for a peak. If you have time, take the glass side door and head to the inner courtyard for a glass of wine in paradise.
Address: 28 Place des Vosges, 75003 Paris
21. Expiatory Chapel: a Marie Antoinette Site
The Expiatory Chapel lies in Paris' 8th arrondissement, in the Square Louis XVI, off Boulevard Haussmann. It's one of the Marie Antoinette sites in Paris. (Click here to book a guided walking tour about the French Revolution and Antoinette.)
The chapel is placed on the site of a mass graveyard from the French Revolution, where Marie Antoinette and Louis XVI bodies were unceremoniously thrown after their executions.
In 1814, the monarchy was restored. In 1815, Louis XVIII, Louis XVI's brother, commissioned a chapel in memory of the duo. It was intended to represent France's atonement for regicide. In 1914, the chapel was listed as a Historic Monument.
Built by Francoise Leonard Fontaine, the chapel is Neo-Classical in style. Inside, there are sculptures of the royal couple.
Marie Antoinette is shown kneeling to religion. You can also read etched versions of Louis XVI's will and the last letter written by Marie Antoinette (though the latter is of disputed authenticity).
Address: 29 rue Pasquier, 75008 Paris
22. Arenes de Lutece: a Slice of Roman Paris
Lutetia or Lutece was one of Paris' first names, used during the Gallo-Roman period. If you're a history buff like me, you'll be happy to hear that vestiges of ancient Lutetia can still be found in Paris today.
The most significant ruin is the Arenes de Lutece, in the 5th arrondissement. Built around 200 A.D., it was one of the largest Roman amphitheaters in Roman Gaul, though not as large as the ones you'll find in southern France.
The Arena seated around 15,000. If you look closely, at the base of the bleachers, you'll see rooms where the Romans kept caged animals.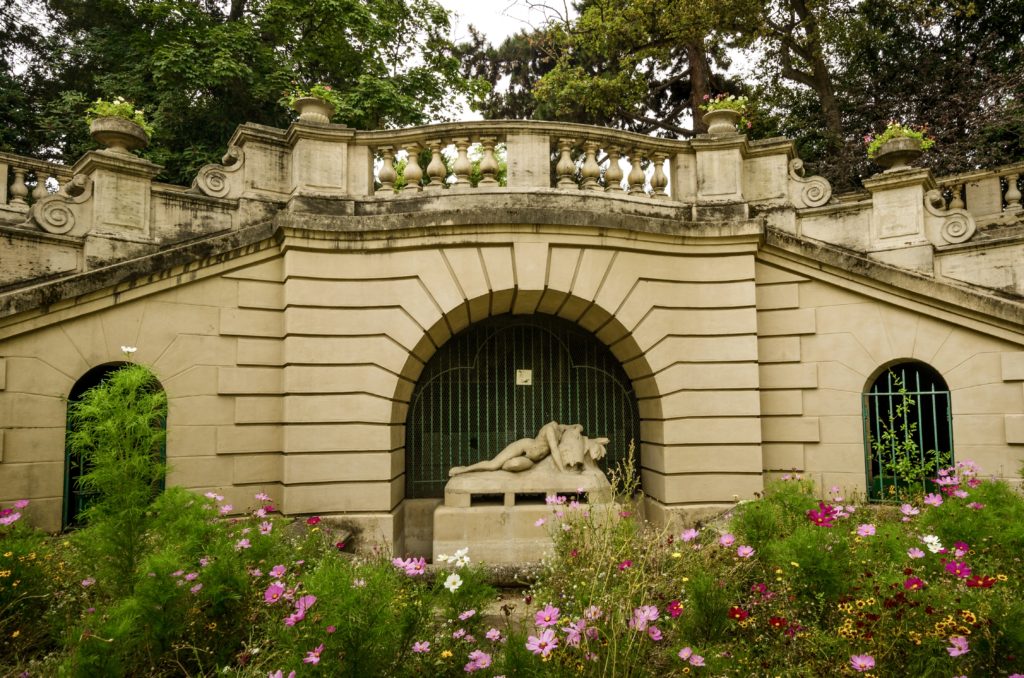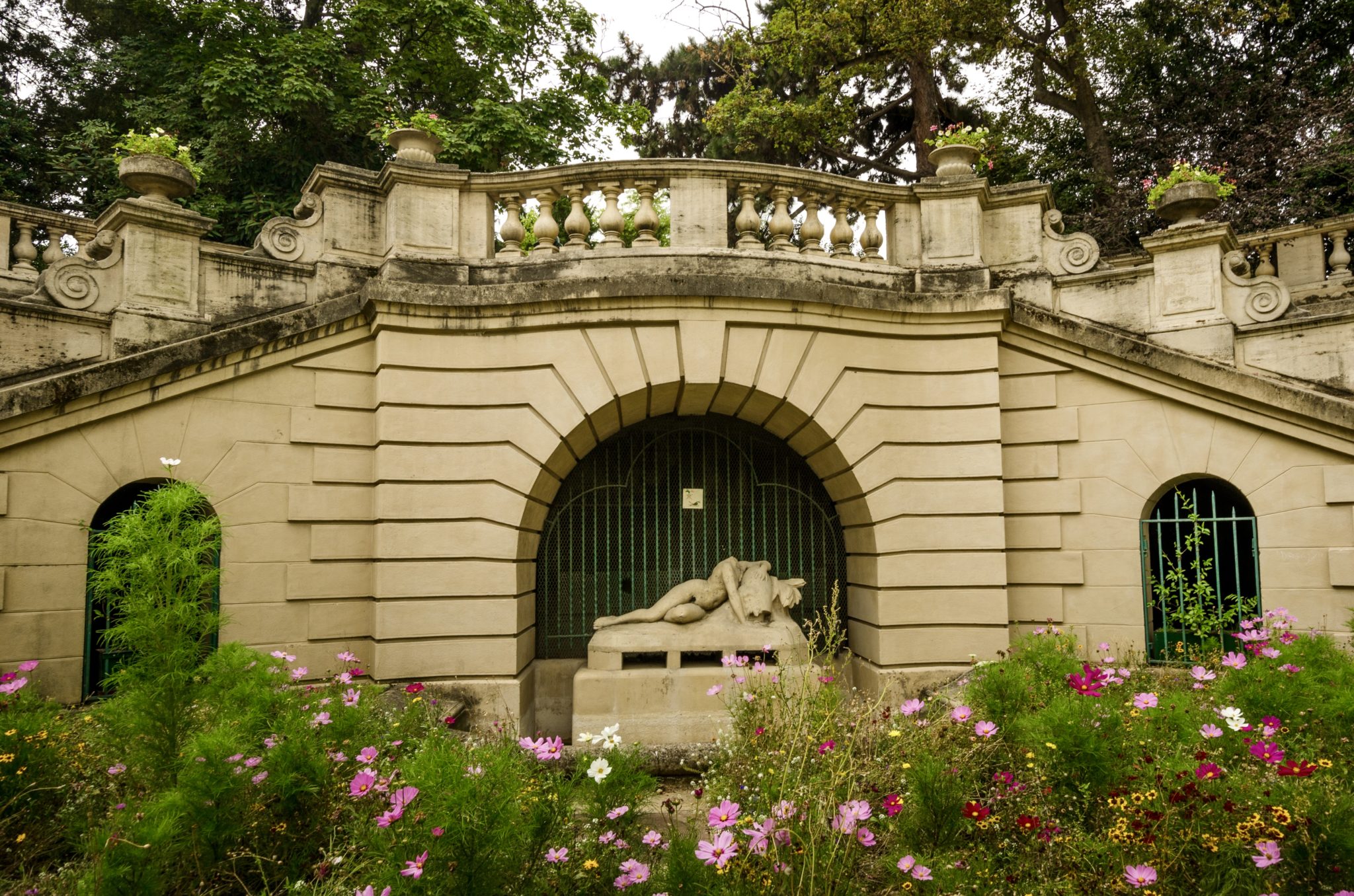 Over the centuries, it was buried under expansion detritus and used as a graveyard. In 1869, the arena was re-discovered during the Haussmann construction of Rue Monge.
As with Notre Dame Cathedral, a group led by Victor Hugo rescued Arenes de Lutece from the city planner's wrecking ball.
Today, little remains of the original grand amphitheater. What you see is only 1/3 of its original size. The arena is mostly used by teenagers playing soccer.
Address: 47 rue Monge Paris
23. Paris' Atelier des Lumière: Paris' Digital Museum
If you're looking for a twinkly indoor activity that's visually amazing, you'll love the Atelier des Lumiere, or Workshop of Light. It's housed in an old factory in the 11th arrondissement. The workshop is a sort of contemporary digital art museum.
The Atelier des Lumiere has became a new cultural hotspot in Paris. It provides an immersive art experience, revivifying the masterpieces of seminal artists — with moving projections on the walls, classical music, and a dazzling light show.
You don't see the paintings as the artist intended, in quiet reflection. But you may feel like you're truly inhabiting the art, swathed in it from all angles and sides.
The Atelier just finished a Van Gogh exhibit and is now closed until February 28. Then, among other exhibitions, it will feature a show on Impressionism.
Address: 38 rue Saint Maur 75011 Paris
24. Hotel de Sens: Medieval Mansion Turned Library
As a lover of all things Gothic, the Hotel de Sens might be my favorite building in Paris. It's one of Paris' few remaining medieval buildings, located right in the heart of the Marais.
Hotel de Sens was once home to archbishopric of Sens. Now, it's a specialist library.
The fairytale Hotel de Sens was commissioned and built in the 15th Century. It took 27 years to complete.
It was one of the first residences in the area. At the time, the Marais was a swampy marsh, not today's chic hipster spot.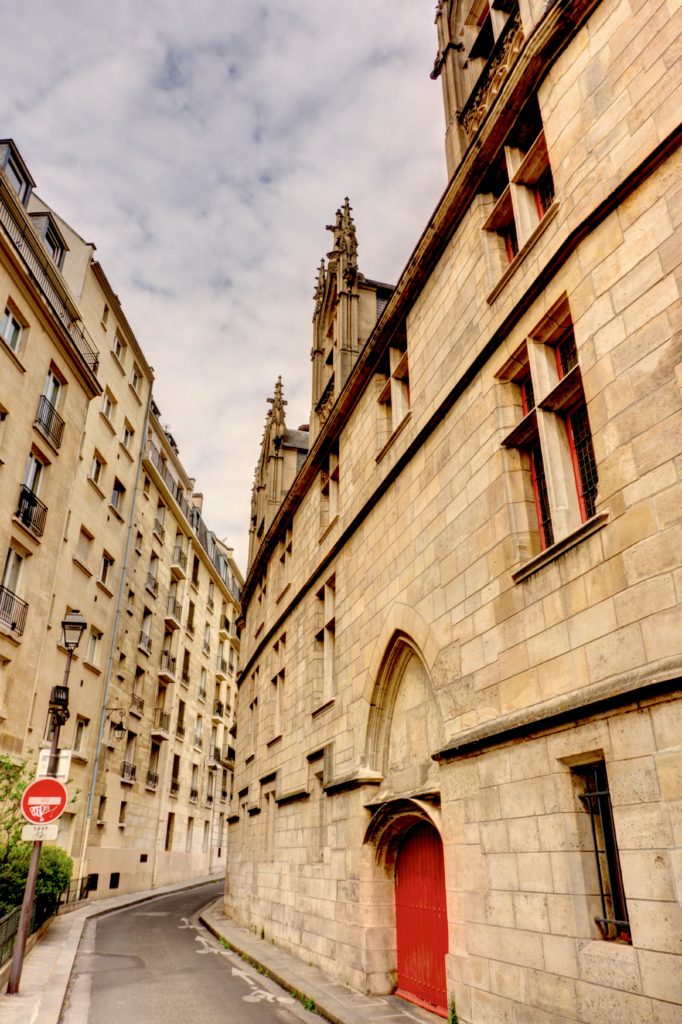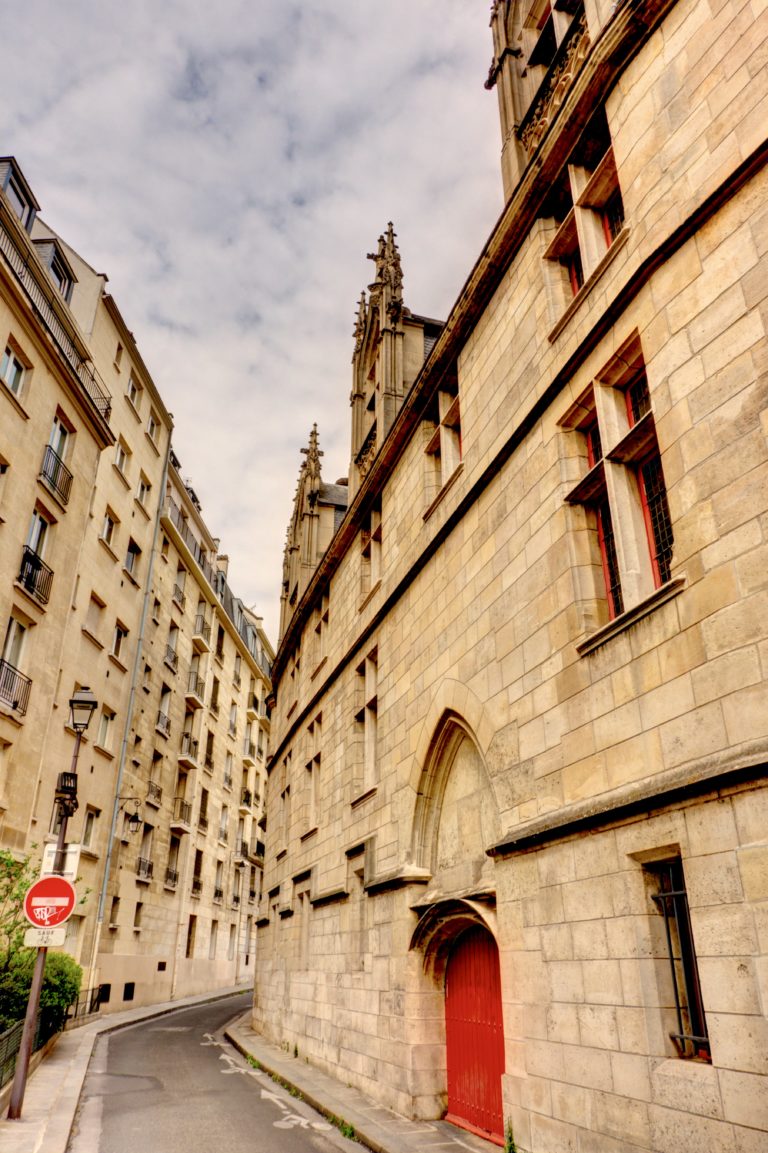 If you look at the facade of the Hotel de Sens closely, you'll see a tiny metal cannonball stuck in the front of the building. It's a relic of the French Revolution, which hit the building in 1830.
To the west, you'll find a formal French garden dating from the Renaissance, which you can access for free. Just push open the green gate.
Inside, you'll find the impressive Biblioteque Fornay, a public library dedicated to the fine and decorative arts. It's open daily from 1:00 pm to 7:00 pm except Monday.
Click here to book a guided hidden gems tour in the Marais.
Address: 7 Rue des Nonnains d'Hyères, 75004 Paris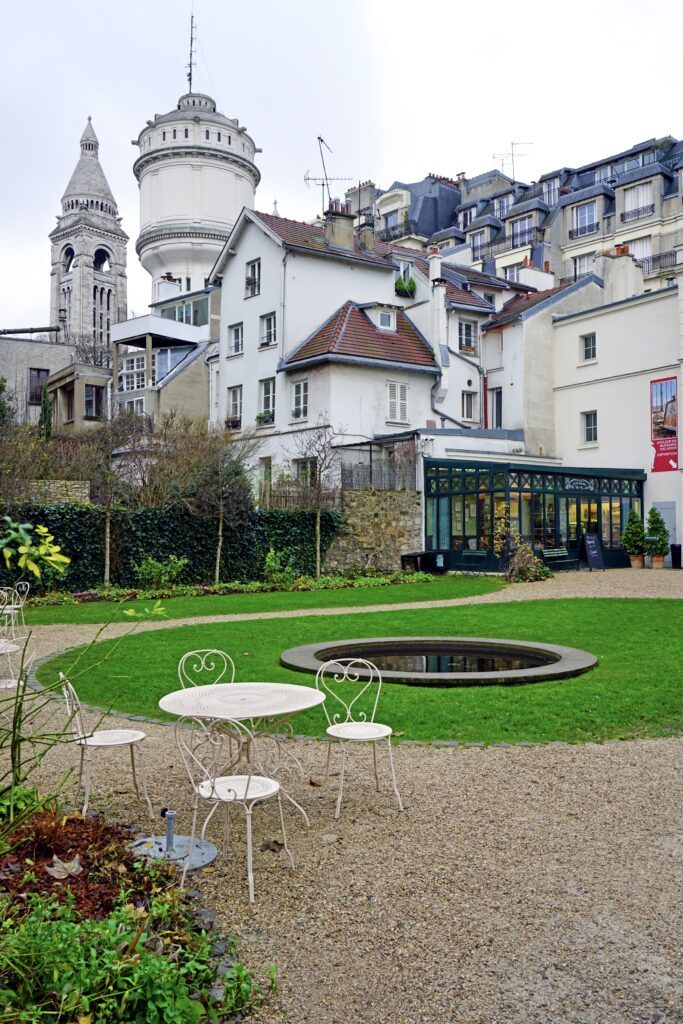 25. Musée de Montmartre: Museum of Fin de Siecle Paris
Now, it's time for some small secret Paris museums. They're so many lovely ones to choose from.
Everyone goes to Paris' iconic Montmartre neighborhood. Almost no one goes in the museum. You should.
The museum's a compelling charmer and full of history. It's housed in an atmospheric 17th century manor house, Maison bel Air.
It has a beautiful inner garden with the famous swing from Renoir's 1876 painting, The Swing, which is in the Musée d'Orsay. The garden's been renovated to resemble the Renoir painting more closely.
Founded in 1960, the museum chronicles the raucous, bohemian history of late 19th century Montmartre. It captures a celebrated time, steeped in history and immortalized in art.
Artists like Pissarro, Picasso, Toulouse-Lautrec, Van Dongen, and Modigliani lived in Montmartre, and paved the way for modern art.
Here's my complete guide to the Musee Montmartre. Click here to book a guided art walking tour in Montmartre.
Address: 12 rue Cortot, 75018 Paris
26. Musée National Eugène Delacroix
Bordering the Latin Quarter and the tonier Saint-Germain-des-Pres neighborhood is the Musée National Eugène Delacroix on the gorgeous Place de Furstenberg.
The Delacroix Museum is an eccentric little gem. It's very off the beaten track and designed for art lovers. When I last visited, it was nearly empty.
The museum has an intimate setting, housed in Delacroix's final apartment and studio before his death in 1863. I tend to love museum-ateliers. They're so revelatory.
Delacroix is known as the founder of the Romantic Period of painting. He rejected the Academy's idea of precise drawing. He adopted a flowing, convulsive brush style.
When you look at a Delacroix, you see "fuzziness, smears, fibrillating paint, irradiated color that destabilize space and emulsify objects."
You won't see anything as stunning as Delacroix's famous Liberty Leading the People (that draws massive crowds at the Louvre) at his studio.
What you'll find is lush religious and historical paintings and drawings by Delacroix and others, as well as personal objects and mementos. Delacroix had an obsession with large cats, and you'll see some of those paintings.
Address: 6 Rue de Furstemberg, 75006 Paris
27. Musée Zadkine & Sculpture Gardens
Two blocks from the lush Luxembourg Gardens, in the heart of Montparnasse, lies the secret Zadkine Museum, the Musée Zadkine. You can blink and miss it, it's such a well hidden secret spot in Paris.
The Zadkine Museum is situated behind an industrial building that seems inconsistent with anything artistic. But just to the left is a small seemingly private driveway. If you follow it, you arrive at the Zadkine Museum. Voila!
The intimate museum occupies the first floor of a two story house and has an impressive sculptural garden. It was formerly Zadkine's home and studio, where he lived and worked for 40 years.
The heart of the museum, much like Paris' Rodin Museum, is the lovely garden and courtyard, dotted with terrific sculptures.
There, you'll find Zadkine's Torso of a Destroyed City, a smaller scale version of his most famous piece, The Destroyed City, in Rotterdam. Other seminal garden works include Orphee, Rebecca, and The Human Forest.
Address: 100 bis rue d'Assas 6th arrondissement
28. The Museum of the Romantic Life
The Musée de la Vie Romantique, or the Museum of Romantic Life, is located down a picturesque cobblestone street behind a wrought iron gate. The hidden gem museum is dedicated to the Romantic Period of French history.
It celebrates the lives and works of George Sand, a writer and libertine femme fatale, and Ary Scheffer, a Dutch painter.
With its creaking floors and curios, you can close your eyes and easily imagine yourself in the 19th century.
The most notable exhibit is a rather creepy voodoo-like display of a cast of Sand's arm next to the hand of her piano playing lover, Frederic Chopin.
Some people make the pilgrimage to the museum just to see this exhibit. And for its secret rose-filled garden cafe featuring a satellite of the Rue de Martyrs' Rose Bakery.
Address: 16 rue Chaptal, 75009 Paris
29. Musée Jacquemart-André: Italian Extravaganza
The Musee Jaquemart-André is another perfectly lovely and yet oddly overlooked hidden gem in Paris. The museum is located just off the Champs-Elysées in the 8th arrondissement. It's usually empty unless there's a special exhibition.
Then, the Parisians flock in and you'll need to pre-purchase a ticket. When I was there one February, I seemed to be the only English speaking person in line.
The mansion dates to Baron Haussmann's massive renovation of Paris. Édouard André and Nélie Jacquemart wanted their home to be as grand and beautiful as the new Paris. So they set about creating a gorgeous art collection and renovating the mansion to showcase their pieces.
There are some outright masterpieces. The museum has Dutch pieces by Rembrandt and Van Dyke and a large collection of 14th and 15th century Italian art.
The painting St. George and the Dragon is deemed one of the greatest achievements in Italian Renaissance art. Another astonishing piece is a massive 1745 Tiepolo fresco, which greets you at the top of the spectacular main stairway.
Here's my complete guide to the Jacquemart-Andre. Click here to pre-book a skip the line ticket and audio guide for this magnificent museum.
Address: 158 boulevard Haussmann, 8th arrondissement
30. Musée Marmottan Monet: Monet's Water Lilies
The Musée Marmottan Monet is an amazing Paris hidden gem tucked away in the 16th arrondissement where most people don't venture.
It has a specially built gallery with an exceptional overview of the work of famed Impressionist artist Claude Monet — from his early caricatures to his late works of the lily pond at his home in Giverny.
The museum has over 300 Monets — the largest single collection of Monet. Most were donated to the museum by Monet's son, Michel Monet, in 1966. If you love Impressionism or are an art lover in general, this is a must see museum in Paris.
The ground floor and upper floor of the museum hold a Napoleonic collection as well as paintings by Henri Renoir, Edgar Degas, Paul Gaugin, Edouard Manet, and Berthe Morisot. If you want to see more of Monet's work, head to the Musée de l'Orangerie.
Click here to book a skip the line ticket and guided tour for the Marmottan. Or book a 2 hour guided tour with an art historian to learn all about Monet and Impressionism.
You can also read my guide to the museums in Paris with Monet works.
Address: 2 rue Louis Boilly, 75016 Paris
31. Montmartre Cemetery
Montmartre cemetery is quite beautiful. It's one of the more interesting cemeteries in Paris. It boasts some beautiful funerary art and sculpture.
Artists, writers, and other famous Parisians are buried there.
Dalida is buried here. You'll also find the graves of Impressionist painters Edgar Degas and Eva Gonzalez.
READ: Guide To the Impressionism Trail in Normandy
Address: 20 Av. Rachel, 75018 Paris
32. Ile de Chatou
The Ile de Chatou is a hidden gem in Paris known as the "Island of the Impressionists."
It's a tiny island on the Seine that was a hangout place and favorite haunt of the Impressionists. Chatou has been called the "prettiest place on the outskirts of Paris."
In Chatou, you can walk in the footsteps of the Impressionists. The artists would meet in cafes, have leisurely luncheons, and go boating. They'd also set up their easels outside and paint.
On the island, you'll find a marked Impressionism Trail created by the Musee Fournaise. It's marked with signs with replicas of paintings by Monet, Pissarro, and Sisley.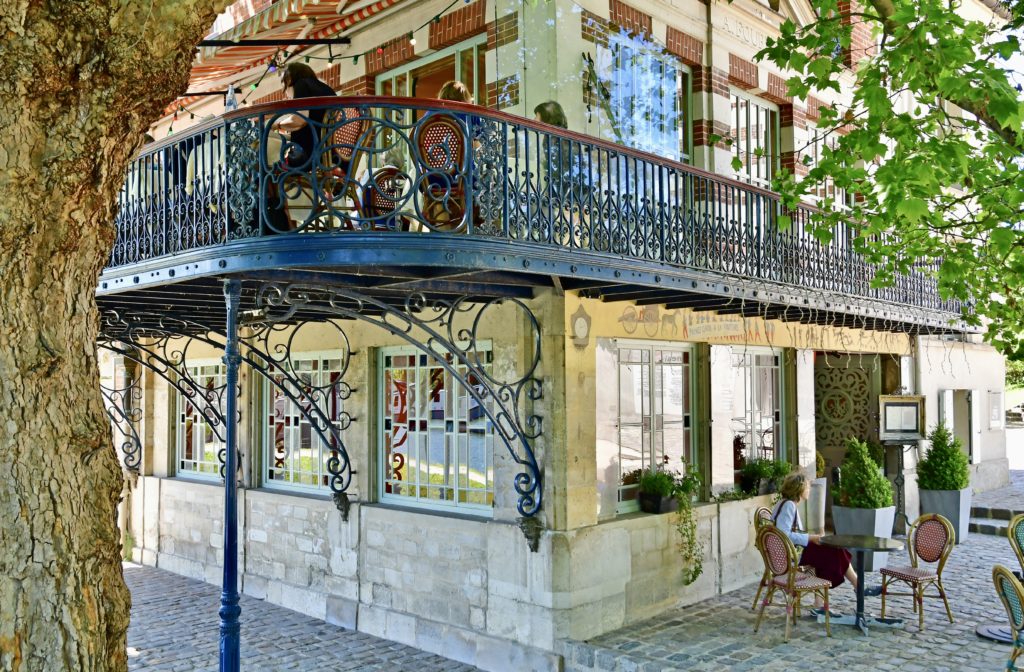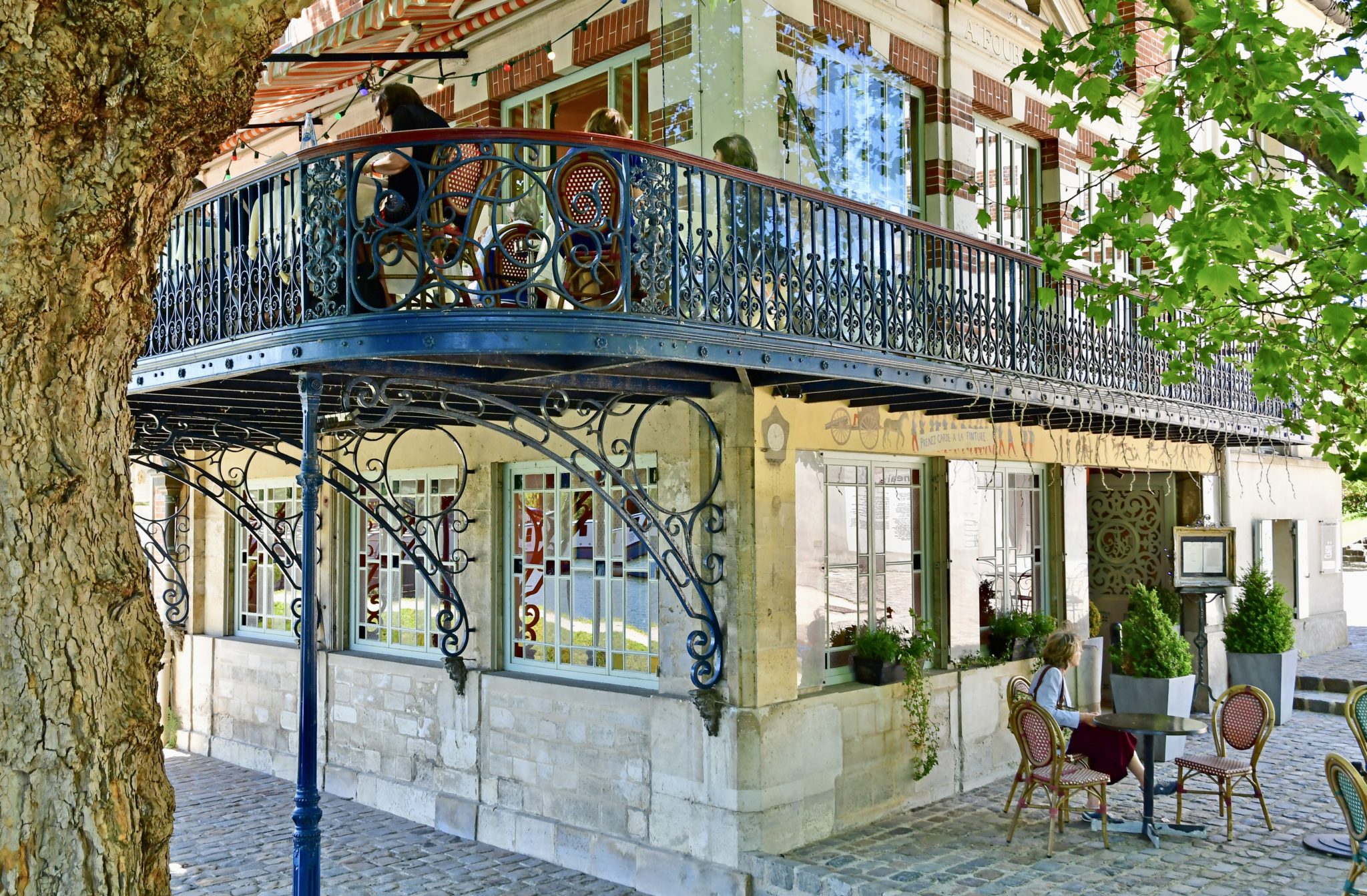 You'll see the same views that the Impressionists saw. You can photograph the same scenes that they painted.
The whole island has been renovated — the restaurant, museum, and boating workshop. Twice a year (March and October) there's a huge Antique Fair held on the Island.
To get to Chatou Island, take a taxi. Or hop on the RER Line A to Germain-en-Laye. Disembark at Chatou Croissey. From there, it's a 10 minutes walk. Or, you can take a river boat there on a full day tour.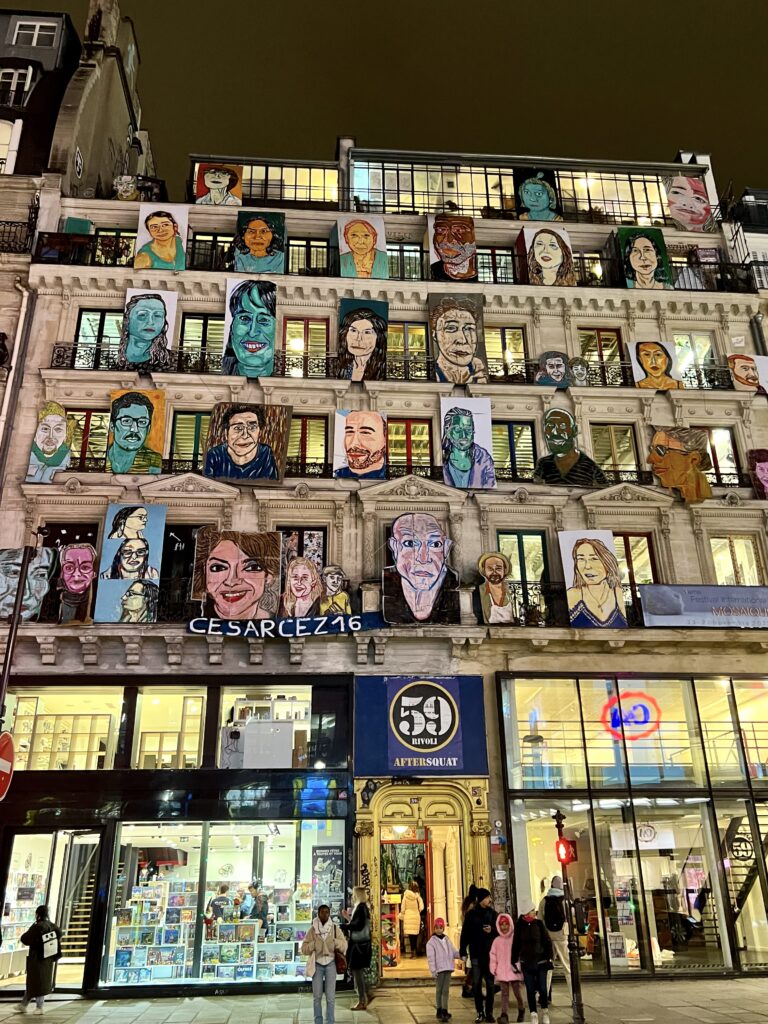 33. 59 Rue de Rivoli
59 Rue de Rivoli is a former art squat right in Chatelet, the heart of Paris. Today, it's a combination of an art gallery and artist studios.
The Haussmann-like building was originally owned by a bank, who abandoned the premises. The building was bricked up.
But some determined artists broke in and started working there. Others followed them.
At first, the government tried, but failed, to evict the artists. In 2005, the state purchased the atelier building specially for the artists.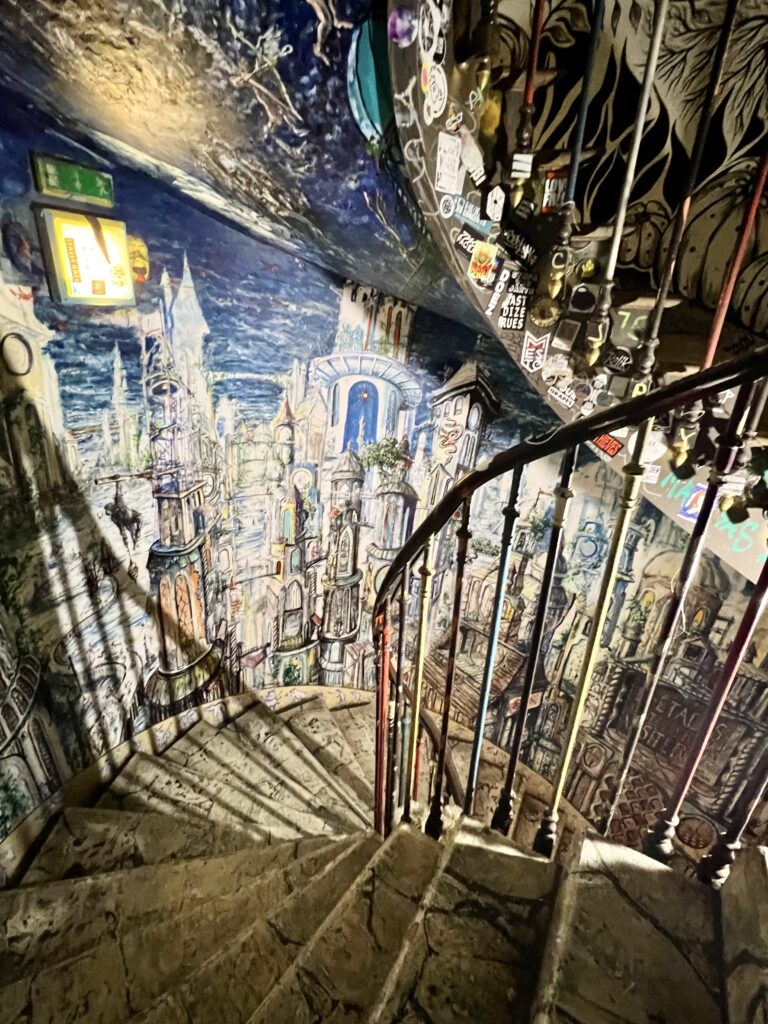 There are up to 30 artists in residence at any given time. They stay for between 3-6 months.
They work and display art there. Many works can be purchased. Because the artists change over so frequently, every visit will be different.
The setting is unique. Every inch of the building is brightly decorated and painted. A spiral staircase, also painted, take you up.
59 Rue de Rivoli is one of the most unique things to do in Paris. You can see art being created and even interact with the artists.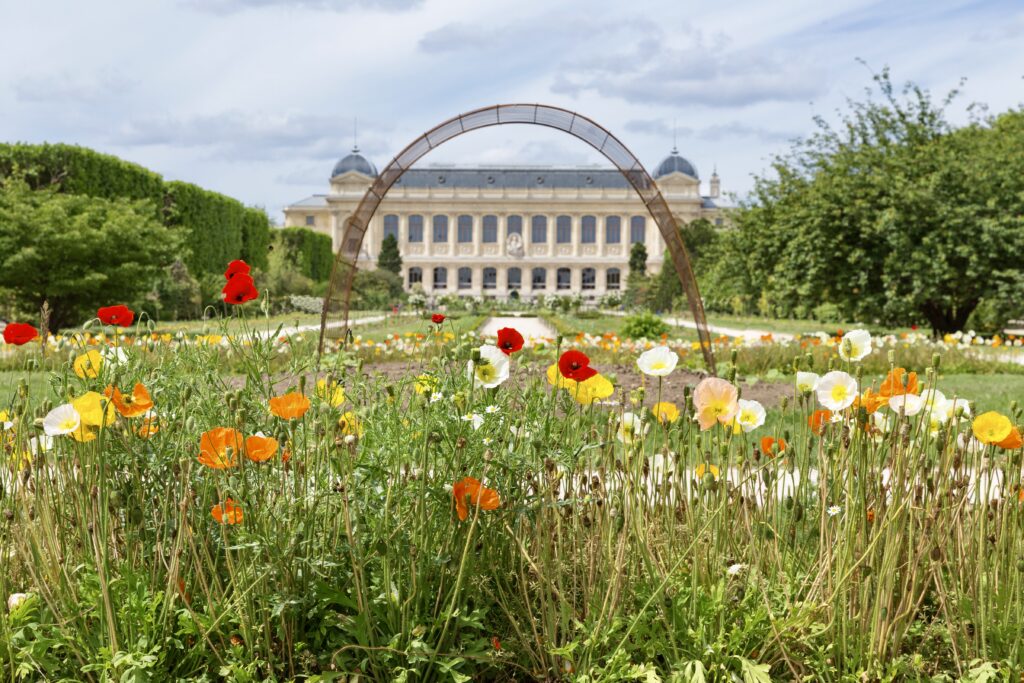 34. Jardin Des Plantes
The Jardin des Plantes is another hidden gem in Paris in the Latin Quarter, a place where you can escape the city buzz.
It was originally founded in 1635 as the royal medicinal garden of Louis XIII. The gardens were later expanded in 1739 by Georges Buffon. They have since been renovated and reopened to the public in 2010.
There are three majestic avenues lined with trees, three greenhouses, a menagerie, bronze gazebo, and 18th century labyrinth. The menagerie (or zoo) is classified as a history monument.
The gardens are on the grounds of Paris' Natural History Museum. It's an old world museum featuring the evolution of animals. You'll find the usual whale skeleton, taxidermied animals, and animal-centric interactive displays.
Address: Place Valhubert & 36 rue Geoffroy-St-Hilaire, 5e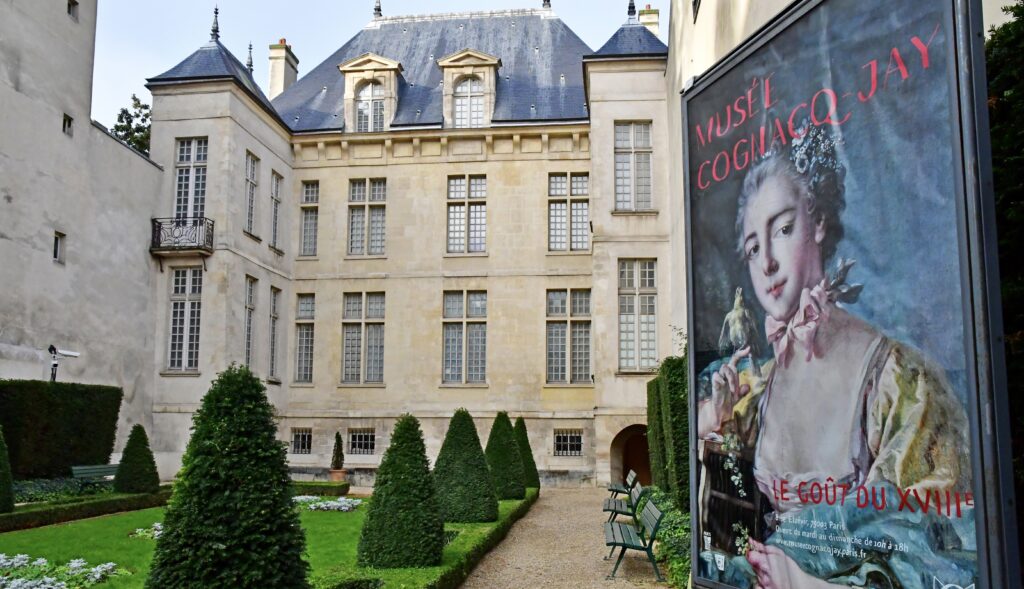 35. Cognacq-Jay Museum
The Musee Cognacq-Jay is a lovely small house museum containing a collection of 18th century fine and decorative art. You can visit for free. Despite this, it remains a hidden gem in Paris.
The collection was assembled by Ernest Cognacq and his wife, who founded the famous Samaitaine department store on Rue de Rivoli. It's a personal collection that was bequeathed to the city of Paris in 1928.
You'll find art works by Fragonard, Boucher, Chardin, Reynolds, and Watteau. There's also a rare collection of bejeweled snuffboxes and period furniture.
If you like Rococo art, the museum is definitely worth a visit and you can cover it in an hour or so.
Address: 8 Rue Elzevir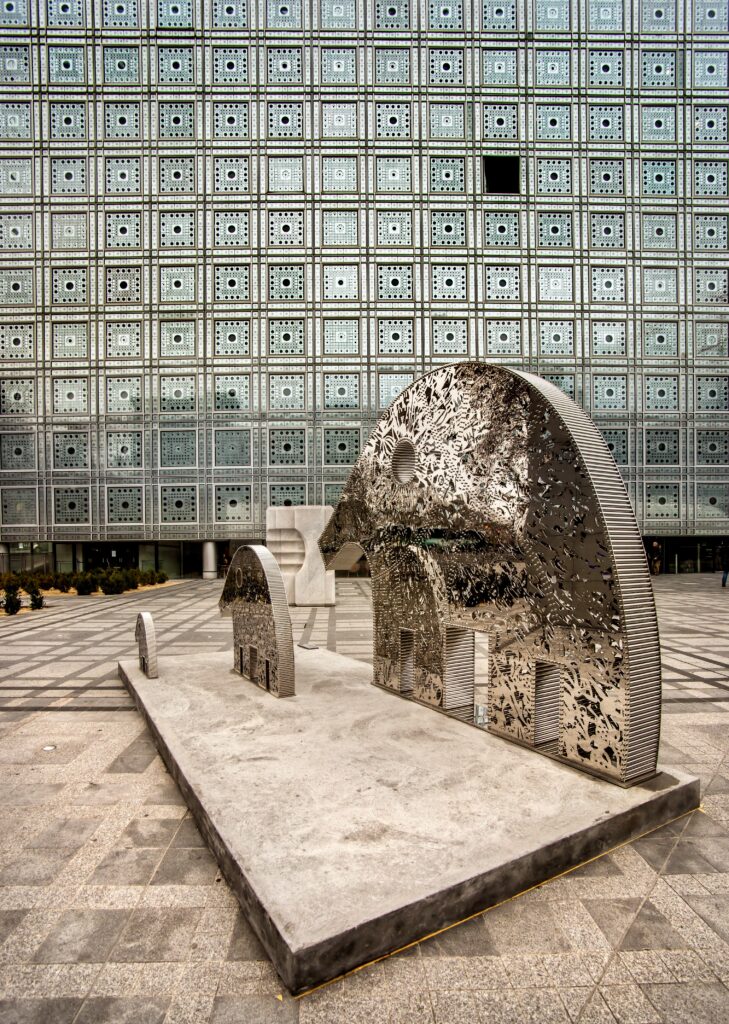 36. Institut du Monde Arabe
Inaugurated in 1987, the Institute du Monde Arabe is an amazing glass and steel building designed by Jean Nouvel. (He also designed the Quai Branley-Chirac Museum.) The sleek facade has 1,600 aluminum prisms that open and close to regulate sun coming the building.
The building is a cultural complex. Itwas the product of a joint Franco-Arab project intended to encourage cultural links between the West and the Arab world.
The building has permanent and temporary exhibitions spaces, a library, bookstore, and auditorium. The permanent collection showcases the scientific and cultural achievements of Arab scientists.
It also has a rooftop cafe (Lebanese) that offers up spectacular views of the Seine and Notre Dame.
Address: 1 Rue des Fossés Saint-Bernard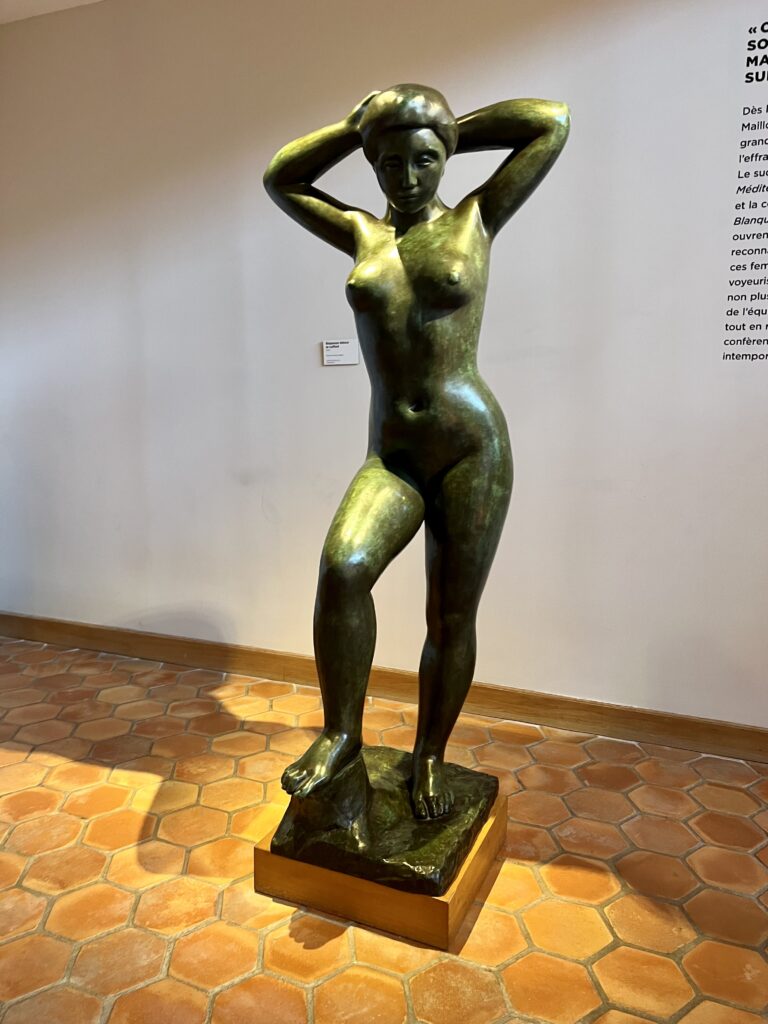 37. Maillol Museum
The Maillol Museum is a secret hidden gem and an unusual thing to do in the 7th arrondissement.
It houses a full range of Aristide Maillol's works and works by his contemporaries Matisse, Dufy, Bonnard, Rodin, and Gauguin. The museum also hosts some blockbuster temporary exhibitions.
Maillol was an early 20th century sculptor who helped shape the course of modernism. The artist's lifelong obsession was the female nude.
Maillol's model and muse, Dina Vierny, opened the museum in 1995. It's interesting to pair a visit here with the Rodin Museum. Maillol's abstract and classicizing sculptures are in stark contrast to his contemporary's emotional subjects.
Here's my complete guide to the Musee Maillol. Tickets are € 14 and € 5 for audio guide. (The museum is not included in the Paris Museum Pass.)
Address: 59-61 Rue de Grenelle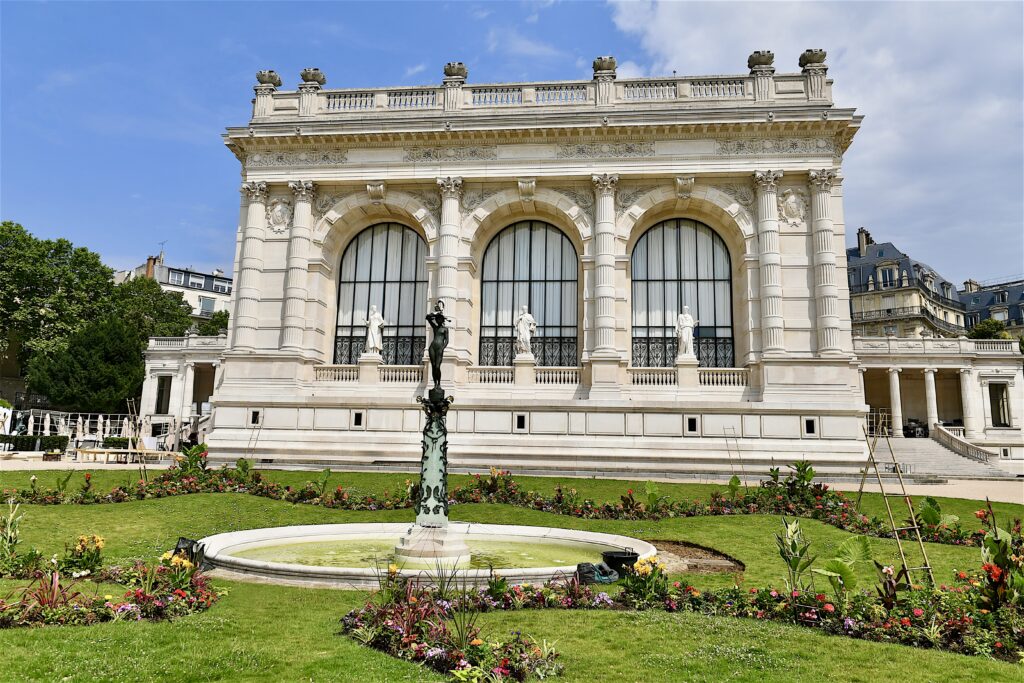 38. Palais Galliera
The Palais Galliera is a museum dedicated to high fashion and the history of fashion. Its official name is the Palais Galliera – Musee de la Mode de la Ville de Paris.
It's a hidden gem in Paris tucked away in the 16th arrondissement. The collection is housed in a Renaissance palace built by the Duchesse de Galliera, then Paris' wealthiest woman.
Newly renovated, the permanent collection takes a generalist approach to the history of fashion since the 18th century. You can admire designer costumes, jewelry, walking sticks, hats, shoes, bags, fans, gloves, parasols and umbrellas. You'll find the big names — Dior, Yves Saint Laurent, and Galliano.
This museum is a surprisingly hot ticket in Paris. I was just there for a temporary exhibition on Frida Kahlo and it was completely sold out. No tourists, just locals.
Address: 10 avenue Pierre 1er de Serbie
39. Tintoretto's The Last Supper
Are you a fan of the Venetian Renaissance? If so, one of the best hidden hidden gems in Paris is found in St.-François-Xavier Church.
Don't be put off by the rather ugly exterior. Inside lies a little known masterpiece by Tintoretto, one of the great masters of the Venetian school.
His painting of The Last Supper is in the "wedding sacristy." It's the only Tintoretto to hang in a Paris church.
Christ is in the center with a gold halo. The focus of the painting is which apostle will betray him. Though his back is turned away from the viewer, you can see Judas clutching a purse of silver pieces.
You can only visit the church on Saturday from 9:00 am to noon or make an appointment at www.sfx-paris.fr.
Address: 12 Pl. du Président Mithouard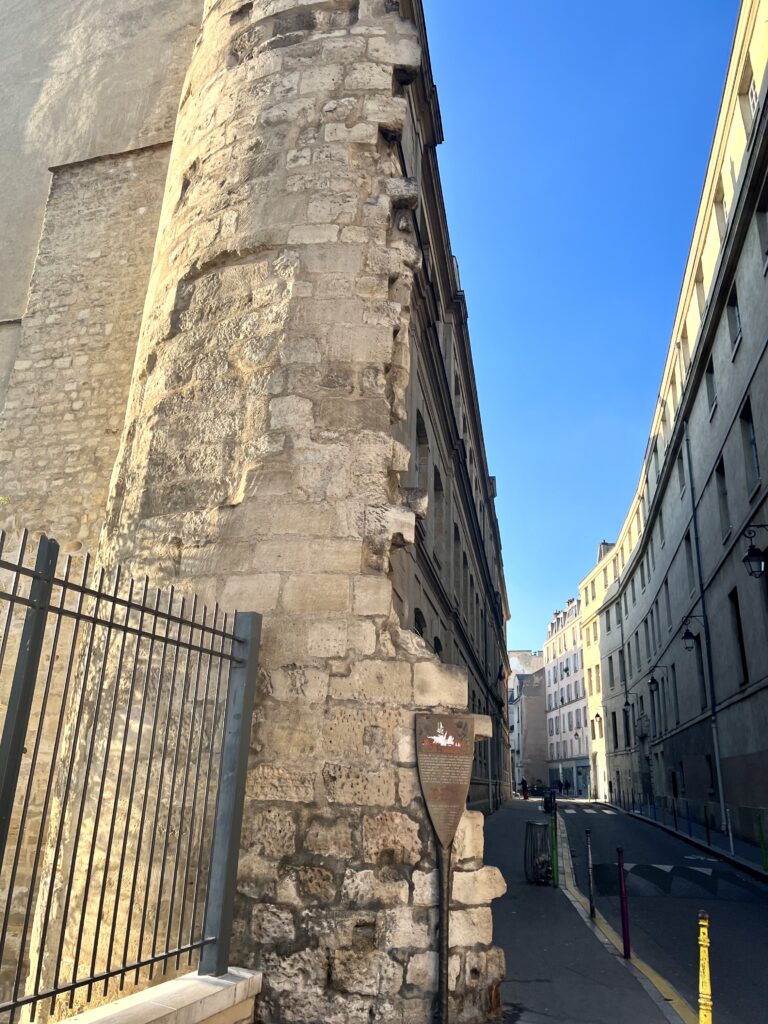 40. Remnants of City Walls Of Phillippe August
Down a lane in a courtyard off Rue Francs-Bourgeois, you'll find a vestige of the city wall. It was built between between 1190 and 1220 by Philippe-Auguste.
The tower you see is a recent addition, but the original base is still visible. It was only saved by the intervention of Victor Hugo.
There is another impressive section of wall along Lycée Charlemagne. This is the longest conserved part with two towers and some traces of crenellations.
Address: 1 Rue Clovis, 75005 Paris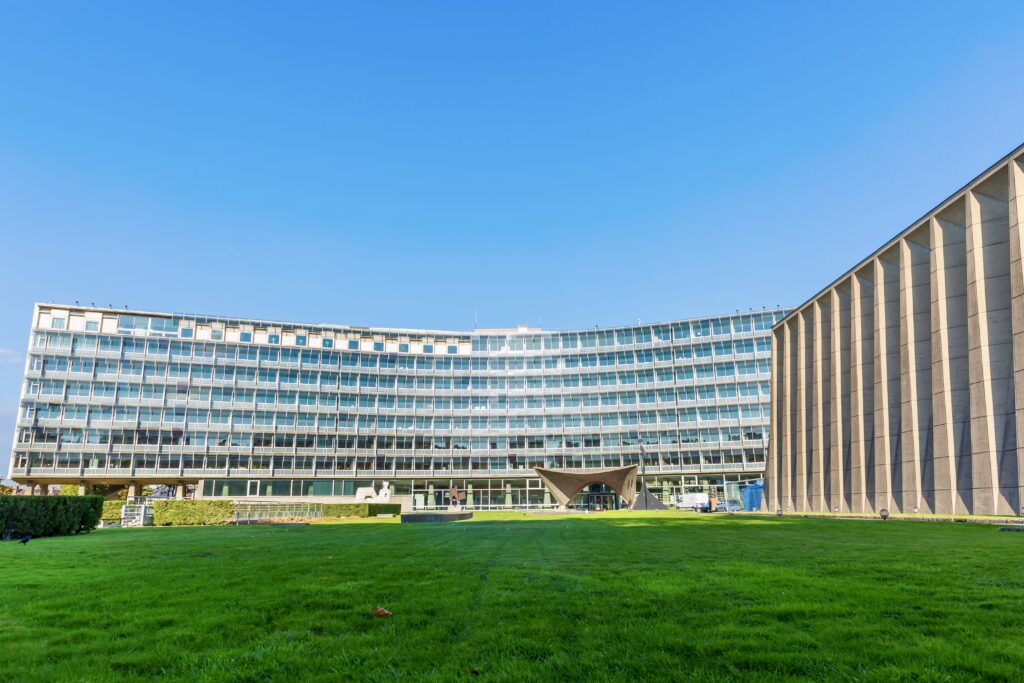 41. UNESCO House
UNESCO House is a secret art museum hiding in plain sight in the 7th arrondissement. It's a stunning seven floor Modernist building designed by some of the world's most famous architects, including Le Corbusier and Walter Gropius.
In 1995, Tadao Ando added a unique "meditation space" in the form of an irradiated concrete cylinder with flowing water. Ando's intent was to create a space where people from all races and religions could pray for peace.
You'll also find a Zen garden, a panoramic terrace, and 600 works of art by artists like Picasso, Henry Moore, Joan Miro, and Alexander Calder.
In the foyer of the Conference Halls sits Picasso's largest work, the Fall of Icarus from 1958. Back outside, you can admire the Japanese Garden created by Isamu Noguchi.
Visits can be organized for the general public. Contact unesco@cultival.fr(link sends e-mail) to register for a guided tour. The building also hosts concerts and has an interesting bookstore.
Address: 7 Place de Fontenoy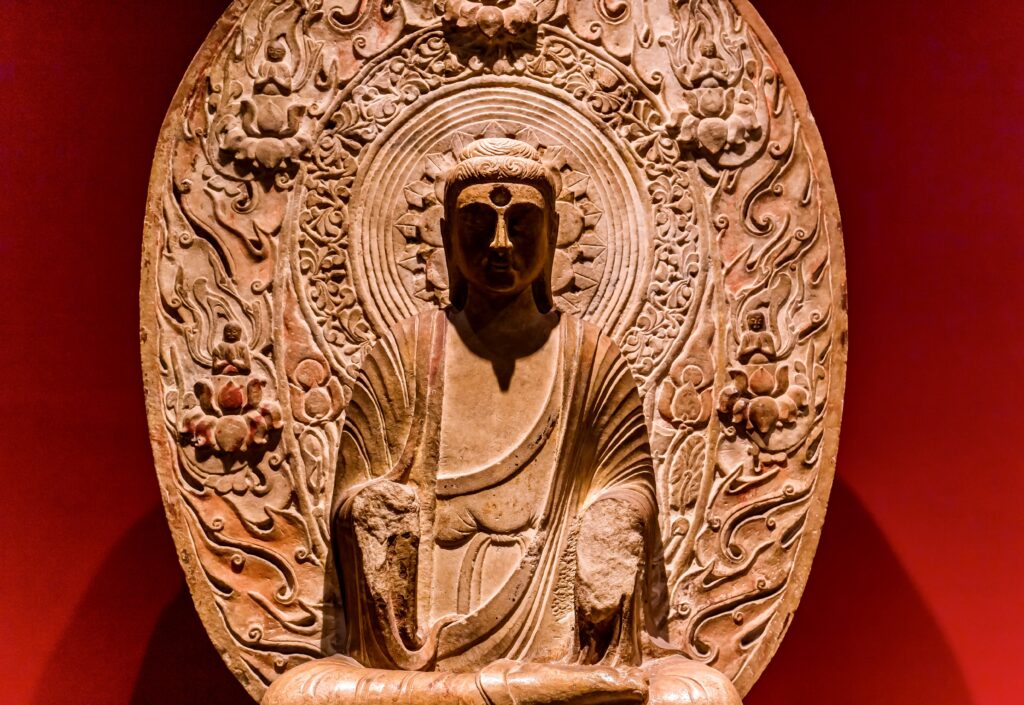 42. Musee Cernuschi
The Musee Cernuschi is a hidden gem in Paris in the glamorous 8th arrondissement. It has one of the most important collections of Asian art in Paris, housed in a stately mansion.
It was once owned by economist and art collector Henri de Cernuschi, who often traveled to the Far East. Upon his death in 1896, he bequeathed his collection and his house to the French state.
The secret museum houses over 10,000 works of art in dramatic high impact galleries. Pieces include ancient bronzes, funerary artifacts, Chinese paintings, and rare Buddhist sculptures.
Address: 7 Av. Velasquez, 75008 Paris
I hope you've enjoyed my guide to hidden gems in Paris. You may enjoy these other Paris travel guides:
If you'd like to visit Paris' hidden gems and secret spots, pin it for later.