Wondering what to do in Milan Italy? Here's my guide to the top must visit attractions, sites, and landmarks in stylish Milan. I tell you all the best things to do and see in Milan and take you to some of Milan's hidden gems.
Underrated Milan is an amazing destination in northern Italy. It's a vibrant and exciting modern city, the thriving finance and fashion capitol of Italy.
Milan is not a mere "industrial city," as the uninitiated claim. Milan has personality.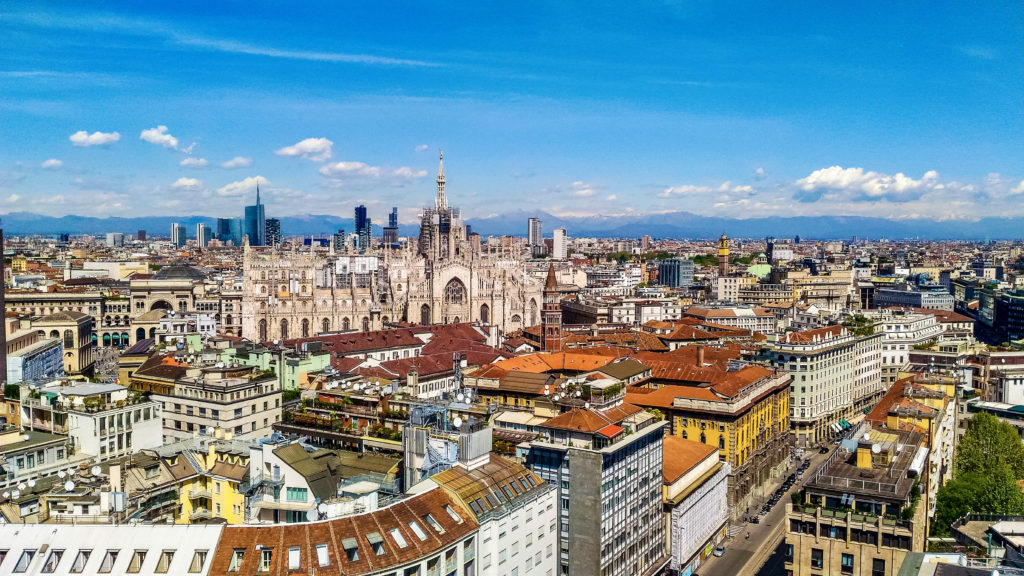 The city combines old world charm and modern "bright lights, big city" flair in compelling fashion. You can't help but be dazzled by Milan's architecture, piazzas, historic sites, iconic art, and culinary specialities.
Milan lies in the Lombardy region. While most people are familiar with the typical southern Italian effervescence, the cities closer to Switzerland have a unique culture.
Like New York City or London, Milan is a fast-paced metropolis. It's fairly organized and not nearly as chaotic as Rome.
You might be surprised to know that, among Milan's attractions, the city has some of the greatest artistic treasures of the Renaissance. Milan's defining artistic moment was the arrival of Leonardo da Vinci in 1481.
Leonardo was hired by the Duke of Milan as a court artist. He stayed in Milan over 18 years before moving to the Loire Valley.
Leonardo produced some of his most important works in Milan. This includes the iconic The Last Supper, which is Milan's top attraction.
Most visitors rush through Milan and only see the Leonardo and sites in the Piazza del Duomo. But if your schedule permits or you're on an extended weekend getaway, there's plenty of amazing things to do and see in Milan.
You could keep busy for days, happily imbibing apertivos, gelato, and Milan's saffron-infused risotto along the way.
Top Tours In Milan
Here are some of the best tours and experiences you can have with one day in Milan. Be sure to book in advance, at least from May through September.
Top Attractions and Things To Do In Milan
There are so many top attractions in Milan. If you think Milan is underrated, you're absolutely right. So let's get to it with this ultimate Milan bucket list.
1. Milan Cathedral
The Duomo is the nickname for Milan Cathedral. It's a world renowned landmark in Italy. The Duomo is the #1 attraction and most visited place in Milan.
Built over 600 years beginning in 1368, the Duomo is Milan's flamboyant Gothic masterpiece. It has 135 soaring marble spires.
The Duomo is the fourth largest church in the Europe, second in size in Italy only to St. Peter's Basilica in Rome.
Begun in 1386, the cathedral was not complete even at its consecration in 1572. It was constructed with a white-pink marble from the Lake Maggiore region. The city even built canals to transport the marble to the Duomo construction site.
Cleaned in 2002, the stunning triangular Duomo facade was added only in the Napoleonic period. There's a golden Madonna statue on the tip top. By law since 1930, no building can be taller than the symbol of Milan.
Five portals beckon you inside. The Duomo interior seems cavernous. There's plenty to admire — marble floors, ornate statues, paintings, and the sarcophagi of famous Milanese citizens.
In the transept, you'll find the rather ghoulish statue of St. Bartholomew Skinned by Marco d'Agrate, a Leonardo student. Batholomew was the saint who was slayed for converting people to Christianity. He carries his skin like a drape.
The Duomo's truly spectacular and unmissable feature is its rooftop terrace. It can be reached either via a staircase or an elevator.
But even after the elevator, you've got to plod up some narrow steep steps. And the elevator is one way. You have to hoof it back down.
From the rooftop, you have an excellent view of the details of the intricate stonemasonry, especially the fanciful gargoyles that serve as drains.
You can see the panorama of the entire city before you. It's especially nice at sunset, with its golden hues against the night sky.
When it comes to buying Duomo tickets you have a lot of options, depending on your interests and budget. You can buy individual tickets to each site or combined tickets with a fast track option on the official Duomo website.
Click here to pre-book a ticket for the cathedral and the rooftop. Click here to book a ticket + guided tour of the duomo.
The rooftop is, naturally, the most popular part of the Duomo. Click here to book a ticket for just the rooftop terrace. Click here to book a guided tour of the duomo with rooftop access.
If you don't buy a ticket online, you probably need to arrive early, around 8:00 am. You'll need to make sure your shoulders and knees are covered to enter the Duomo.
Address: Piazza del Duomo
Hours: Cathedral open daily 8:00 to 7:00 pm, Rooftops open daily 9:00 to 7:00 pm. Check the official Duomo website for all hours.
Pro tips: All tickets must be purchased in advance, either online or at the ticket booths in the Duomo Museum area. There is zero shade on the rooftop in summer, and it will be scorching.
There are also no bathrooms in the Duomo or on the rooftops. You best bet is the Duomo Museum.
2. Duomo Museum | Grande Museo del Duomo
As with other Duomo museums in Italy, it makes sense to go to Milan's Duomo museum first and visit the cathedral after learning about it.
The museum is located in the Royal Palace, the Palazzo Reale, facing the Duomo. The museum is the soul of the Duomo.
The Duomo Museum provides a wonderful overview of the history and art of the Duomo. Newly renovated in 2013, the museum houses 200 Duomo-centric works of art, including sculptures, models, paintings, and stained glass windows. There's a fantastic wooden model of the Duomo from 1519.
Address: Via dell'Arcivescovado 1
Hours: closed Mondays, open Tues to Sun from 10:00 am to 6:00 pm. Open late until 10:00 pm on Thurs and Sat nights
Entry fee: € 3, audio guide € 5. Click

here

to pre-purchase a ticket.
3. Galleria Vittorio Emanuele II | Shopping in Milan
The Galleria Vittorio Emanuele II is the pride of Milan, though it's uber touristy. Built from 1865-77 by Giuseppe Mengoni, the dreamy Galleria is the oldest covered shopping arcade in the world.
It may be the most elegant as well. The Galleria is outfitted in classic Renaissance style with marble, iron, and glass.
The gallery is located right next to Duomo, so there is no way you miss it. Inside, there are stunning glass ceilings that are hard to take your eyes off. Arrive early to enjoy its magic without the crowds.
You can admire the admire the mosaics of Asia, Africa, Europe, and America in the vault above. The floor is covered with mosaics representing Italy's key cities. The bull that's the symbol of Turin is a big draw. Legend holds that if you take a spin on his private parts, good luck will follow.
Inside the Galleria, you'll find a string of luxury brands (Gucci, Prada, Versace) and high end restaurants. Even if you're not planning on buying anything, it's still worth checking out for the beautiful architecture and design.
If you want some expensive coffee, stop in at the historic coffee shop Motta Milano. It's been there since the Galleria opened.
Or stop in for an apertivo at the Bar Camparino, which has beautiful views of Piazza del Duomo. Don't miss the brooding statue of Leonardo da Vinci in back of the Galleria in Piazza della Scala.
If you'd like to do some other shopping in Milan, the most renowned high end streets in Milan are Via Montenapoleone and Via della Spiga. There are also plenty of other European brands that won't break the budget.
For more affordable options, try shopping on Corso Vittoria Emanuele II, Via Torino, or Corso Buenos Aires. Or pick up a designer steal at the outlet store, Il Salvagente.
Address: Piazza del Duomo
Hours: Open 24 hours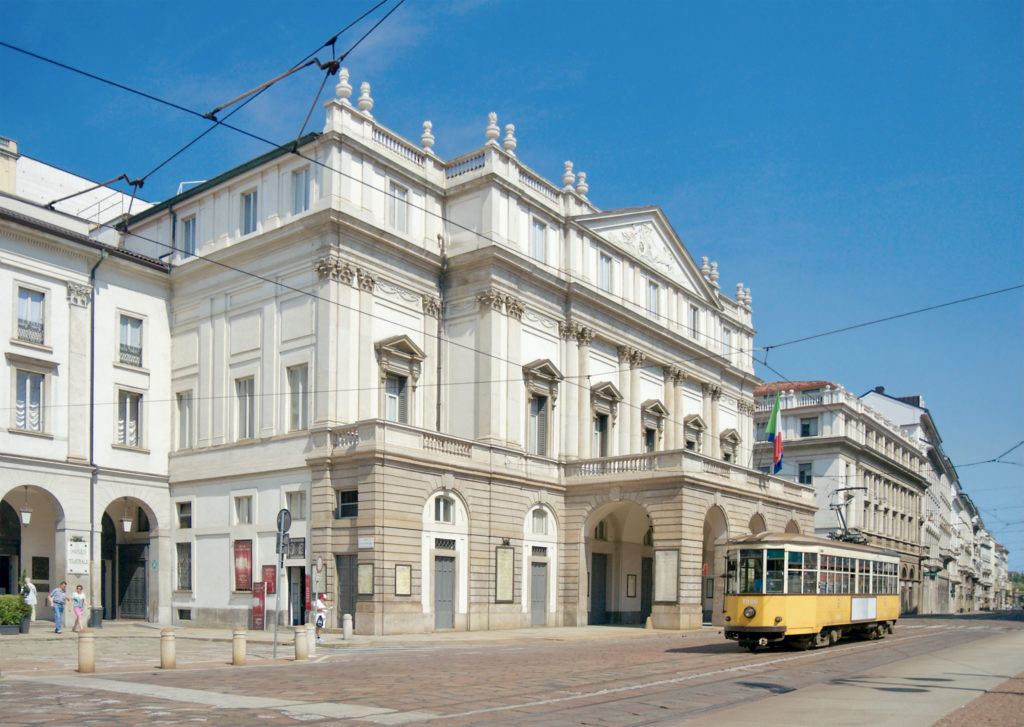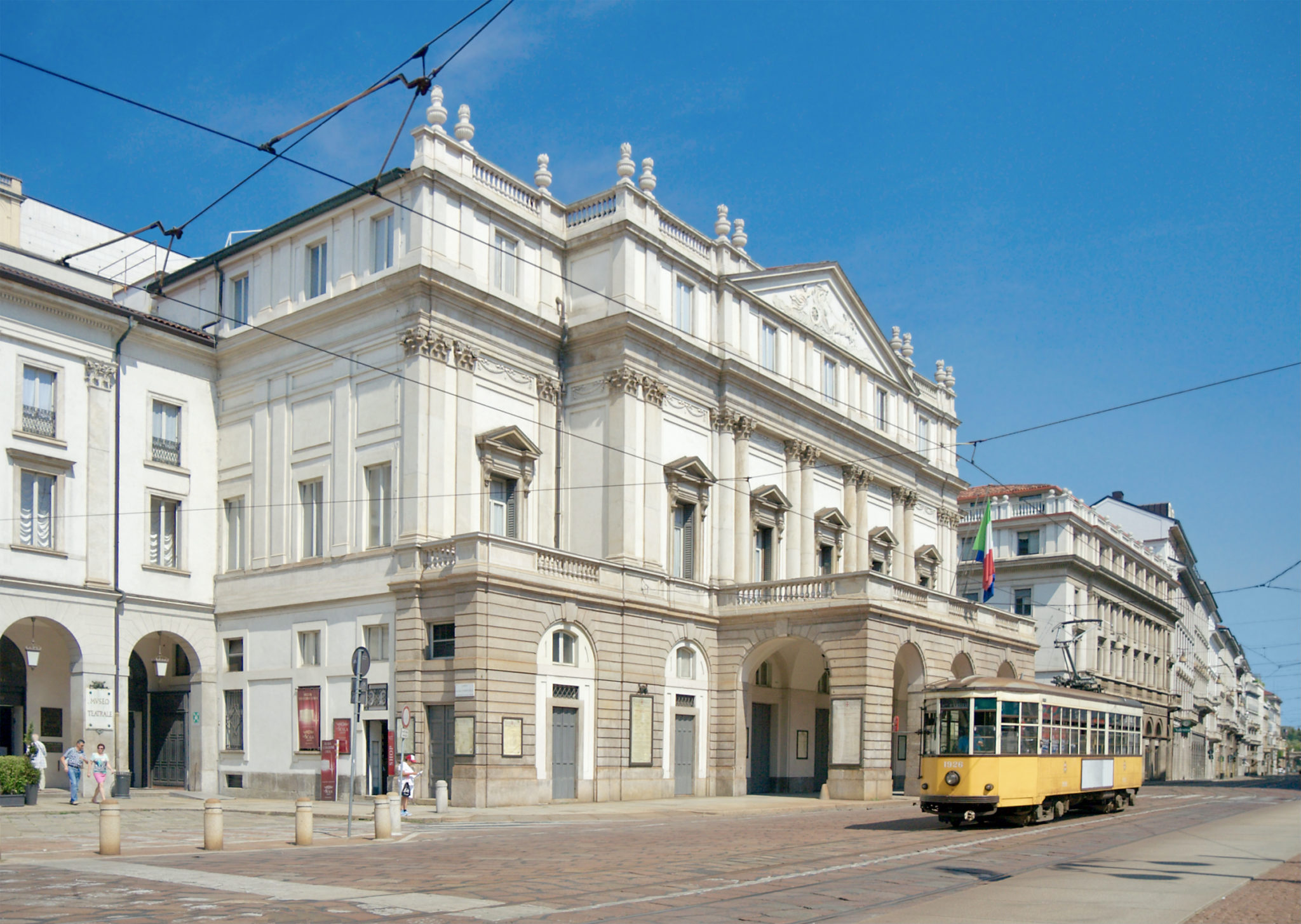 4. La Scala Opera House | Teatro alla Scala
Opened in 1778 and last renovated in 2002, La Scala is one of Italy's finest opera houses. It's known as the "Temple of Opera."
La Scala can fit 2,000 people at once. Many of the world's most famous singers have appeared on its stage. La Scala hosts operas, ballet, and concerts.
World famous composers have premiered their work on this stage, including Salieri, Puccini, Verdi, and Rossini. Perhaps La Scala is most famous for hosting the first performance of Puccini's Tosca.
If you want to take in a performance, click here for the opera website to see what's currently playing and/or buy tickets. Tickets don't come cheap. But you can get cheaper tickets (25% discount) one hour before the show (if it's not sold out). If you want to tour La Scala, you can also book a guided tour.
The luxurious gold and red interior is stunning. There's also a museum inside, with costumes from historic performances, portraits, and busts.
If you'd like to take in some more modern theater, head to the Piccolo Teatro di Milano, one of Italy's most important theaters.
Address: Via Filodrammatici 2
Hours: Open daily 9:00 am to 12:30 pm & 1:30 pm to 4:30 pm
Entry fee: € 12. Click

here

to pre-purchase a ticket.
Pro tip: If the theater is in use for a dress rehearsal or the like, you won't be able to see it on your tour. A guided tour in English cost € 25 and starts daily at 4:00 pm.
5. Leonardo's The Last Supper
The Last Supper is one of the world's most iconic paintings, found on the back wall of the refectory in Santa Maria delle Grazie. No painting is so familiar, save for the Mona Lisa at the Louvre. The church is one of 51 UNESCO sites in Italy.
Painted by Leonardo da Vinci, the billboard size painting is a Renaissance masterpiece. It shows the moment when Christ reveals that one of his apostles will betray him.
Not only is The Last Supper famous, it's a fascinating and spellbinding artwork surrounded by mysteries and legends. The Last Supper is as renowned for its fragility as its power.
Because Leonardo painted in secco fresco (dry) instead of buon fresco (true), the painting began to deteriorate immediately. It's a violent art history tale of great triumph and great tragedy.
READ: All The Last Supper Paintings From Renaissance Italy
You've got to be organized and reserve in advance to see this quasi-restored, yet still beautiful, masterpiece. Advance reservations are mandatory.
I've written a complete guide to everything you need to know about seeing The Last Supper — what to expect, how to get tickets, and an analysis of the painting itself. Click here for a ticket and guided tour of The Last Supper. You can also buy a combined ticket for The Last Supper and the Duomo.
Address: Piazza Santa Maria delle Grazie 2
Hours: Tues to Sun 8:15 am to 7:00 pm
Entry fee: 15 €, including advance reservation fee
6. Santa Maria delle Grazie
People are so enamored with seeing The Last Supper that they sometimes forget to explore the pretty UNESCO-listed Renaissance church that holds it.
The church dates from 1465. But it was subsequently enlarged when a Sforza duke decided to make it his mausoleum.
To dress up his creation, the duke hired Leonardo to paint The Last Supper. And he hired famed architect Donato Bramante, of St. Peter's Basilica fame, to create the terra-cotta and cream colored choir you see above.
Address: Piazza Santa Marie dell Grazie
Hours: Mon to Sat 7:00 am to noon & 3:00 pm to 7:30 pm, Sun 7:30 am to 12:30 pm & 4:00 pm to 9:00 pm
Entry fee: free
7. Leonardo's Vineyard | La Vigna di Leonardo
From a family of wine makers himself, Leonardo owned his own vineyard in Milan. The Sforza family gifted the vineyard to the master painter in thanks for creating The Last Supper. Leonardo used to take breaks from painting and retire to this calm sanctuary.
The vineyard was damaged in WWII. But the vineyard's present day owners stepped in.
Based on DNA testing of roots, they re-propagated and re-planted vines to produce the very Leonardo grape would have sipped. It's called malvasia di candia aromatica, a white grape popular in the Renaissance.
A trip to sip an aperitivo in the genius' vineyard is one of the most unusual things to do in Milan. If you want to visit the house (a 15th century palazzo) and gardens of this Milan hidden gem, you need to book in advance.
>>> Click here to purchase your Vigna di Leonardo ticket
Address: Corso Magenta 65
Hours: 9:00 am to 6:00 pm
Entry fee: € 10, included in the Milano Card. Click

here

to pre-purchase a ticket with a guided tour option.
Pro tip: You can also stay at the restored 16th century villa on the grounds, Casa Degli Atellani
8. Leonardo's Horse | Il Cavallo dello Sforza
500 years in the making, Leonardo's Horse is a massive monument built from Leonardo's designs and sketches. It all began in 1482.
That year, the Duke of Milan challenged Leonardo to built the world's larges equestrian statue. Perhaps seeking to outdo the Marcus Aurelius statue outside the Capitoline Museums in Rome.
By 1482, Leonardo — who lived in Milan for 20 years — was already famous, accomplished at both art and engineering. 11 years later, the notorious procrastinator produced a 24 foot clay model and a methodology for creating the final product.
Unfortunately, the 80 tons of bronze earmarked for the statue were coopted. The bronze was used for weapons when French troops invaded Milan.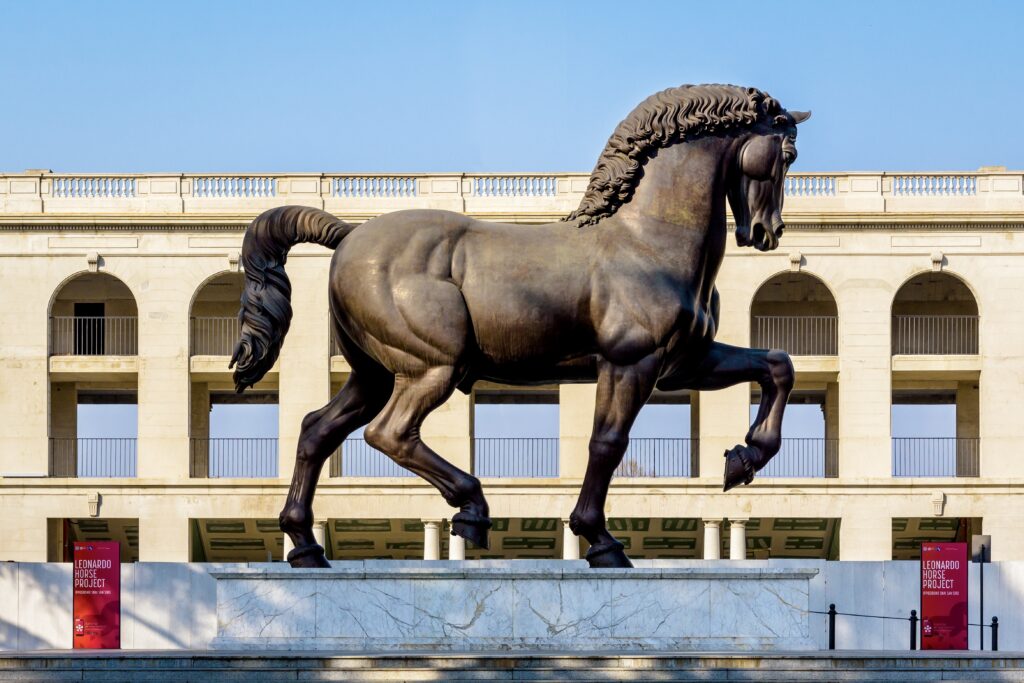 Leonardo's model was destroyed and his sketches were thought to be lost as well. Leonardo's Florentine rival, Michelangelo, would later mock Leonardo for failing to bring the project to fruition.
But wait, there's a happy ending to the story! In 1965, Leonardo's notebooks were discovered in the National Library of Madrid.
They included his sketches for the bronze horse. In 1977, US citizen and art connoisseur Charles Dent became enamored with the romantic legend. He hired a sculptor to bring Leonardo's horse to life. It was installed in Milan in 1999.
Address: San Siro Hippodrome Cultural Park, Piazza dello Sport 6
9. Pinacoteca di Brera
The Pinacoteca di Brera is Milan's premiere museum and a top attraction in Milan for art lovers. Its exquisite collection is housed inside the beautiful late 17th century Palazzo Brera near the Duomo.
The museum has a magnificent collection of Italian art, especially religious-themed works. It's one of the best museums you've never heard of.
The Pinacoteca di Brera boasts works from the 14th to 20th centuries, including important pieces by artists such as Raphael, Caravaggio, Guercino, Bellini, and Titian.
The museum's must see masterpieces are Caravaggio's Supper at Emmaus, Francesco Hayez's The Kiss, Andrea Mantegna's Lamentation of Christ, Raphael's Marriage of the Virgin, and Guercino's Dead Christ.
But the Brera isn't just Renaissance art works. It also has an impressive collection of modern art by the likes of Picasso, Modiglianai, Braque, de Chirico, and Morandi.
The gallery has created an online catalog of over 600 art works. You can admire the art online and read relevant historical details in Italian or English. The collection can be searched by date and artist. Take a virtual tour of the Pinacoteca di Brera here.
Here's my complete guide to the Brera Museum. You can book a combined guided tour of the Brera neighborhood and the Brera Museum.
Address: Via Brera 28
Opening Hours: Tuesday and Wednesday from 9:30 am to 1:30 pm & Thursday to Sunday, from 2:00 pm to 6:30 pm
Entry fee: € 16
10. Pinacoteca Ambrosiana: Leonardo da Vinci Wonderland
The Pinacoteca Ambrosiana is a hidden gem in Milan, a beautiful place to lose yourself in classic Renaissance art. It's a nifty combination of great art, no crowds, and rare Leonardo da Vinci paintings and journals. The pinacoteca was founded in 1618 with a large donation by Cardinal Frederico Borromeo.
Housed in a beautiful library, the Brera has a large collection of 2000 works. They were donated by the Maquis Galeazzo Arconti in 1637.
The museum's claim to fame is its important cache of drawings, including the Leonardo's Codex Atlanticus in the Reading Room. The codex is a 12 volume set of drawings and writings Leonardo created between1478-1519.
The other must see masterpieces in the Pinacoteca Ambrosiana include Caravaggio's Basket of Fruit, Leonardo's Portrait of a Musician, Titian's Adoration of the Magi, and Botticelli's Madonna del Padiglione.
Another must see is Raphael's cartoon (a preparatory drawing) for School of Athens, which is perhaps the most famous fresco in the Raphael Rooms of the Vatican Museums.
The Ambrosiana also houses a rare disputed Leonard da Vinci, Portrait of Isabella d'Este. There's no doubt that Leonardo created a charcoal sketch d'Este, which is authenticated and hangs in the Louvre.
We know from letters that Isabella repeatedly asked Leonardo to make an official portrait from the sketch. But did he ever complete one? If he did, is it another "Lost Leonardo"?
In 2013, a richly colored canvas portrait obviously based on the sketch was discovered among a collection of paintings in a private bank vault in Switzerland. Some believe it's the oil version of Leonardo's sketch.
The painting has been carbon dated and vouched for by various Leonardo experts. But with no historical documentation, its provenance is still in doubt and it's not universally accepted as a Leonardo.
READ: Defintive Guide To all of Leonardo da Vinci's Paintings
The Ambrosiana also houses Portrait of a Musician, another disputed but well-preserved Leonardo. The unfinished painting was originally billed as a "school of Luini" paintings.
In 1798, the museum changed the attribution to Leonardo. Controversy surrounds the painting. It would be Leonardo's only known portrait of a man.
Many factors weigh against the off key painting's authenticity: it's mostly unfinished with some overpainting, lacks any historical documentation, there's no record of anyone commissioning the painting, the subject is unidentified, and everything below the face is stiff and clumsily rendered.
>>> Click here to book a ticket to the Ambrosiana
Other scholars claim the face and hands were painted by Leonardo. They suggest that the man is a Tuscan musician, who was a friend of Leonardo.
And they believe that the sheet of music in the subject's hand (uncovered during restoration) contains a cryptic inscription, which is a classic da Vinci hidden message.
These possible Leonardo paintings are now gathered together in a room dedicated to paintings by Leonardo and his school. Like the Louvre's Mona Lisa, Portrait of a Musician is in a special "climaframe" to ensure conservation.
Address: Piazza Pio 2
Hours: Tuesday through Sunday 10:00 am to 6:00 pm
Entry fee: € 15
11. Leonardo da Vinci National Science and Technology Museum
Opened in 1953, this is a sprawling museum for history and science enthusiasts. Its collection is housed in the former Benedictine monastery of San Vittore Olivetan.
But the museum also has some modern additions and outdoor spaces. As a result, the floor plans a bit confusing and you'll need to pick up a map when you buy your ticket.
Inside, you'll find a showcase of drawings and models of Leonardo's inventions, anatomical drawings, and a mishmash of various mechanical and scientific wizardry. At an extra cost of 8 euros, you can even visit a mini submarine.
Click here to pre-book a ticket.
Address: Via San Vittore 21
Hours: Tues through Fri 9:30 am to 5:00 pm & Sat and Sun 9:30 am to 6:30 pm
Entry fee: € 11
12. Fondazione Prada
Opened in just 2018, Fondazione Prada is a 9 floor contemporary art gallery, clad in gold leaf. It really couldn't be cooler if it tried.
The gallery is owned by one of the world's most famous fashion houses (Prada). It's housed in a former gin distillery. It has a hip bar (Bar Luce), designed by cult film director Wes Anderson.
Fondazione Prada's aim was to create a diversity of permanent exhibition spaces for presenting art. Among other things, there's a "haunted house" in 24 karat gold leaf and a partially sunken cinema camouflaged by mirrors. In the tower, there are large scale pieces by Jeff Koons and Damien Hirst.
>>> Click here to book a ticket to the Prada museum and the Duomo
13. Sforza Castle | Castello Sforzesco
The Castello Sforzesco is one of Milan's most historic landmarks and a must see attraction in Milan. It's a splendid example of Renaissance architecture, the product of mercenary-turned-politician Francesco Sforza. It was the former seat of the Dukes of Milan.
Today, the castle houses various museums: the Pieta Rondanini Museum, the Art Gallery, the Archaeological Museum, and the Museum of Decorative Arts.
Though the castle itself is free, there's a fee for the museums. It's also possible to book a guided tour of the castle battlements and dungeons.
The most important masterpiece inside is indisputably the Rondanini Pieta, housed in the renovated "Spanish castle." Michelangelo never traveled to or worked in Milan. But the city acquired this the sculpture in 1951.
It's Michelangelo's last and unfinished work. Michelangelo likely intended it for his tomb. He shows the dead Christ as an emblem of suffering. The sculpture was discovered in his studio after his death at 89.
Sforza Castle is also a Leonardo da Vinci site. His patron, the Sforza family, commissioned Leonardo to paint an elaborate fresco in the great hall, the Sala delle Asse (Room of the Planks).
Painted from 1482-99, it depicts a jumble-y garden pergola with 16 mulberry trees bound together by a golden rope. Mulberry trees were associated with wisdom and prudence.
For many centuries the frescos were hidden under a thick layer of whitewash. They were only discovered 1893-94. After restoration, the hall was reopened to public.
But the restorers misinterpreted Leonardo's initial design, adding excessive details. In 1954, a second restoration took place and all the non-Leonardo additions were removed.
As with The Last Supper, painted in seco fresco, it's in a state of disrepair and conservation is ongoing. In the Sala delle Asse, you can also view a multi-media presentation about Leonardo and The Last Supper.
Click here to book a skip the line ticket. You can also book a tour of Castle Sforza and the Pieta for the full scoop.
Address: Piazza Castello
Hours: Castle courtyards open daily from 7:00 am to 7:30 pm. The museum is open Tuesday 2:00 pm to 5:30 pm & Wed to Sun 4:30 pm to 5:30 pm.
Entry fee: The Castle courtyards are free. Entry to the museums is € 12 and is valid for 3 days.
14. Museo del Novecento
Right next door to the Royal Palace is Milan's 20th century art museum, the Museo del Novecento. It's housed in the Palazzo dell'Arengario.
The impressive collection is a veritable who's who of the 1900s. There are both Italian and International artists represented.
It focuses on the Futurist Movement, Spatialism, and Art Povera (art made from poor materials). While not as stunning as the Renaissance art Italy is most known for, this is still a worthwhile museum. Especially if you're in Milan for more than one day and/or love modern art.
READ: Guide To the Best Art in Italy
The must see masterpieces include Giorgio de Chirico's Philosopher's Troubles, Arturo Martini's Thirst, and Giuseppe Pellizza da Volpedo's The Fourth Estate.
The museum cafe also boasts a fantastic view of the Duomo.
Address: Via Marconi 1
Hours: Mon 2:30 pm to 7:30 pm, Tues to Sun 9:30 am to 7:30 pm
Entry fee: € 10
15. Canals of the Navigli
The Navigli is a picturesque canal area full of life, history, and character. It's where locals go to escape the bustle of the city.
Milan's canal system dates from the late 13th century, when canals were installed to carry marble to the Duomo for construction (as well as other goods).
Many of the canals were designed in part by Leonardo. But his greatest invention was the canal miter lock, an invention still in use in many places today. In the 1930s, many of Milan's canals were converted into roads.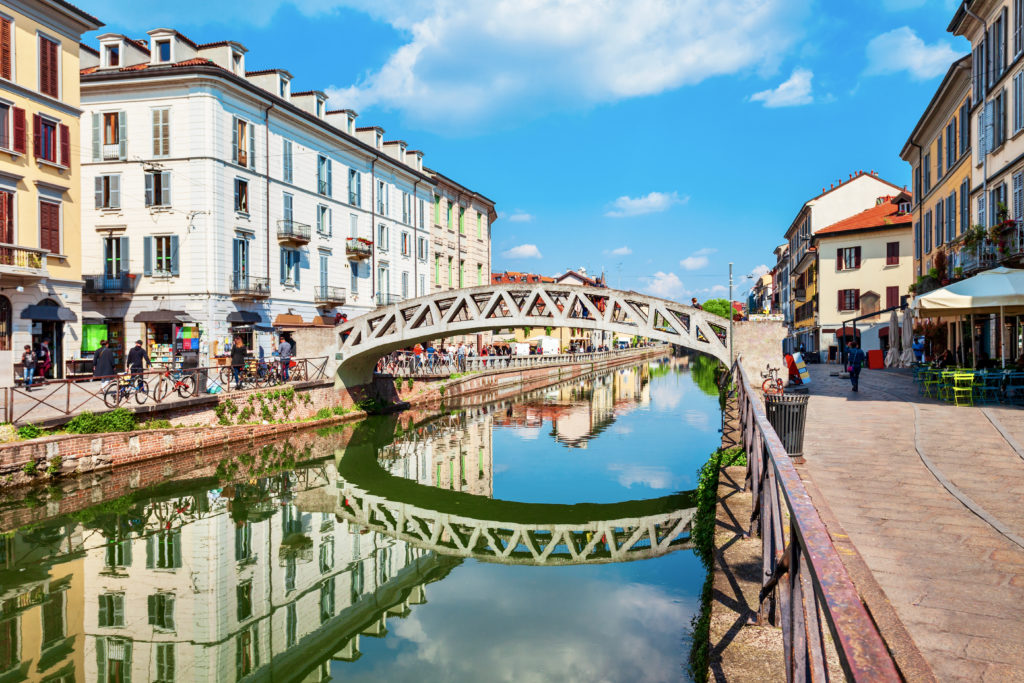 The Navigli area is THE place to be at night. The area is crammed with bars, cafes, restaurants, clubs, and vintage clothing stores. Off the loud main drag, you can get an apertivo or nightcap at Iter.
You can also take a short cruise on the Navigli or a guided walking tour of the the area. The first Sunday of every month, there's a large vintage market with high end antiques — the Navigli Grand Antique Market.
Address: Naviglio Grande
Getting there: Take metro line 2 to Porta Genova
16. Church of San Maurizio | Chiesa di San Maurizio al Monastero Maggiore
The 8th century Church of San Maurizio may be Milan's most beautiful church. It's certainly one of the best preserved.
The sober exterior hides a frescoed interior. The vividly colored frescos were created by Leonardo's school in the 15th century. They're nicknamed the "Sistine Chapel of Milan" and depict saints and scenes from the Bible.
READ: Guide To Michelangelo Frescos in the Sistine Chapel
The airy galleries of the church's adjacent monastery house Milan's expertly curated Archaeology Museum. Exhibits tell the story of Milan.
The collection is varied, with Etruscan, Greek, and Milanese artifacts. You can also see remnants of Milan's ancient city walls. A highlight is a 1st century BC mosaic pavement excavated nearby in 1913.
Address: Corso Magenta 15
Hours: Tues to Mon 9:00 am to 12:00 pm & 2:00 pm to 5:00 pm
Entry fee: € 5
17. Galleria D'Arte Moderna di Milano (GAM)
Galleria D'Arte Moderna, nicknamed "GAM," is Milan's modern art gallery. Its collection includes work from1800 to 1900.
GAM is housed in the 18th century Neo-Classical Villa Belgiojoso built at the end of the 18th century by Count Ludovico Barbiano de Belgiojoso.
The artists represented include Boccioni, Canova, Picasso, Modigliani, Gauguin, Van Gogh, Cezanne and Manet. The first floor features Italian artists.
The second floor features the Grassi and Vismara collections of European artists, including equestrian statues by Marino Marini.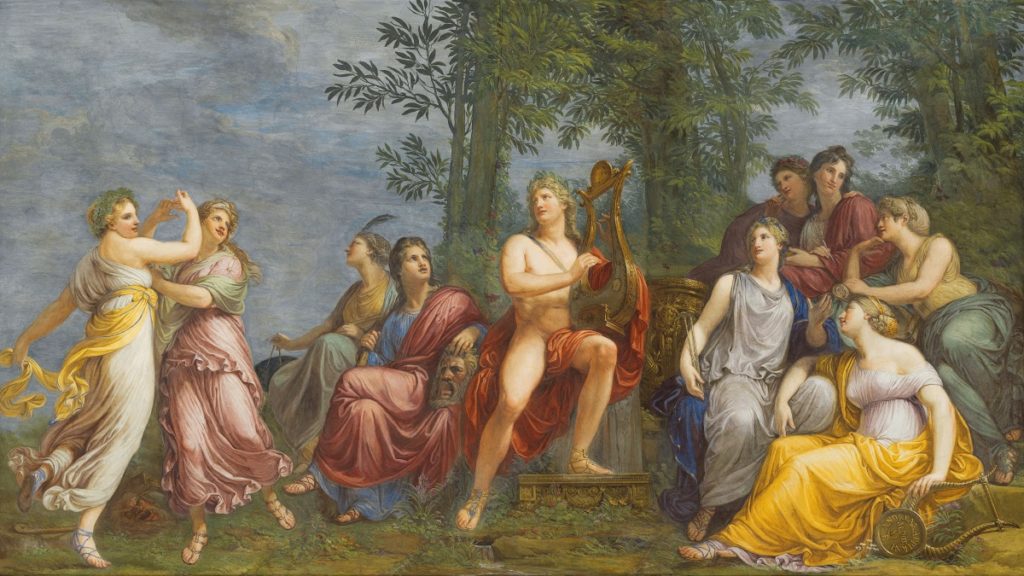 The must see masterpieces include The Parnassus by Andrea Appiani, Hebe by Antonio Canova, and Portrait of the Singer Matilde Juva Branca by Francesco Hayez.
>>> Click here to pre-book a ticket to GAM
READ: Top Art Masterpieces in Milan
Address: Via Palestro 16
Hours: Tues to Sun from 9:00 am to 5:00 pm
Entry fee: € 5, free one hour before closing
18. Cloisters & Palazzos of the University of Milano
Italy is home to some of the world's oldest universities. Milan is no exception. The Università degli Studi di Milano was only established in the 1920s. But the buildings date back much earlier.
The university is just a ten minute walk away from Piazza del Duomo. You'll be able to explore the countless cloisters and numerous palazzos that form Milan's University.
Address: Via Festa del Perdono 7
19. Basilica di Santo Stefano Maggiore
Many of Milan's oldest buildings are churches, chapels, and former monasteries. Milan has over 100 churches.
While many of these ecclesiastical spaces have long since been converted into concert halls and quirky museums, the Basilica di Santo Stefano Maggiore remains a church. And it's a bit of hidden gem in Milan.
Located right next to the sinister Ossuary Chapel, the basilica was consecrated in the 5th century. Much of the original church was destroyed by a fire in the 11th century.
But the current building is still over a thousand years old. It's famous as the site where Duke Galeazo Maria Sforza was murdered in 1476.
Address: Piazza Santo Stefano 10
Hours: Open daily, but usually closed between 12:00 pm and 3:00 pm
Entry fee: free
20. Basilica di San Lorenzo
San Lorenzo is Milan's oldest church, dating from the 4th century. It was built with enormous blocks taken from ancient Roman sites.The basilica now has a 16th century facade. But ancient remnants still exist.
The basilica's highlight is the Chapel of Saint Aquilino. It's has pieces of 4th century gold Byzantine mosaics. To the right, stairs lead down to the ancient foundations of the first basilica.
The piazza is interesting as well. Outside stand 16 marble Corinthian columns — the Columns of San Lorenzo. They date from the 3rd century.
Address: Corso di Porta Ticinese 39
Hours: Mon to Sat 8:00 am to 6:30 pm, Sun 9:00 am to 7:00 pm
Entry fee: The church is free; the chapel is € 2
21. Bosco Verticale
In the Porto Nuevo, you'll find Milan's bustling modern city. It's home to some of Milan's iconic skyscrapers, including the oft-Instagrammed Bosco Verticale.
It's an award winning pair of towers, one measuring 262 feet and the other 367 feet in height. The unique facades covered in a variety of vegetation, including trees, shrubs, and plants.
The facades changes color with the season. There are over 900 trees and more than 2,000 plants. They have both an environmental benefit and aesthetic appeal.
Address: Via Gaetano de Castillia, 11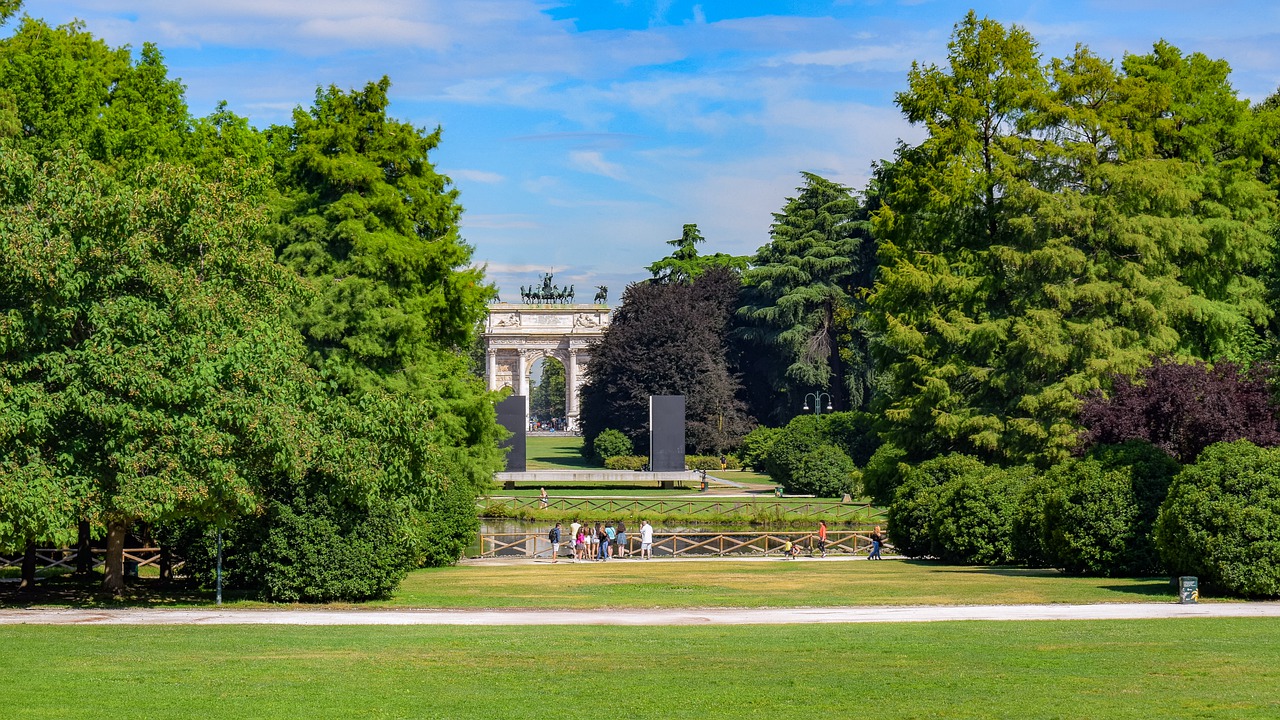 22. Torre Branca | Park Sempione
Torre Branca, Branca Tower, is located in Milan's gorgeous Parco Sempione. The tower is an example of the design sensibilities of Gio Ponti. He dominated the Italian architecture scene when Benito Mussolini's fascist government held sway.
The top of the tower can be reached by elevator. It offers unsurpassed panoramic view of Milan and the Lombardy countryside.
Located behind Sforza Castle, Parco Sempione is the "green lungs" of Milan. It's full of historic buildings, museums, a grand lake, and many picturesque spots to sit for a picnic. On a sunny day, you'll find scores of Milanese enjoying the sunshine.
Address: Piazza Sempione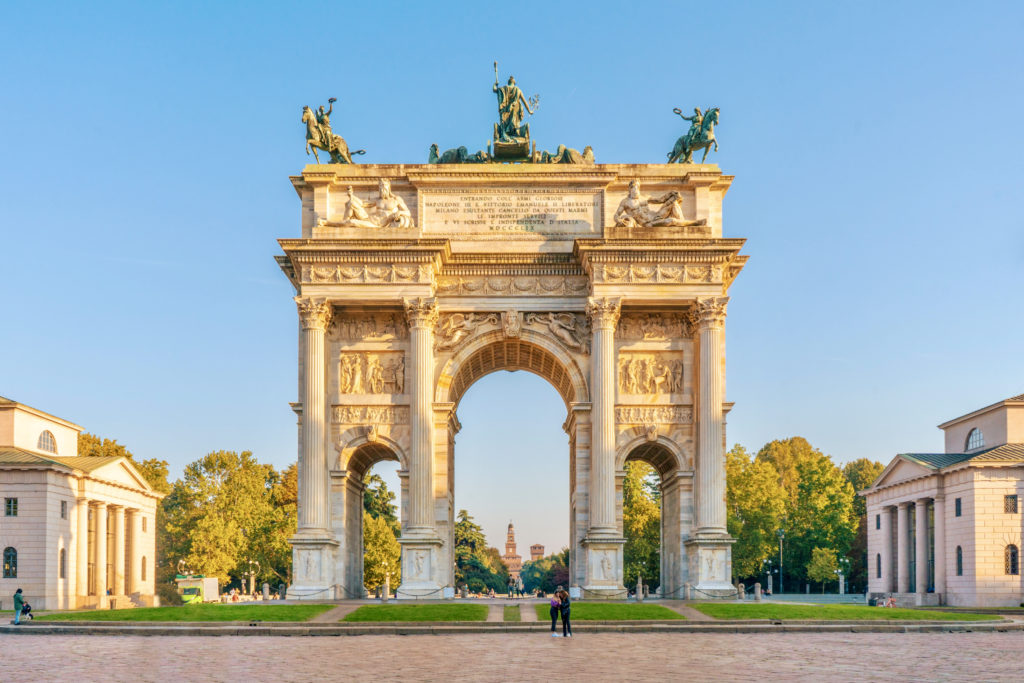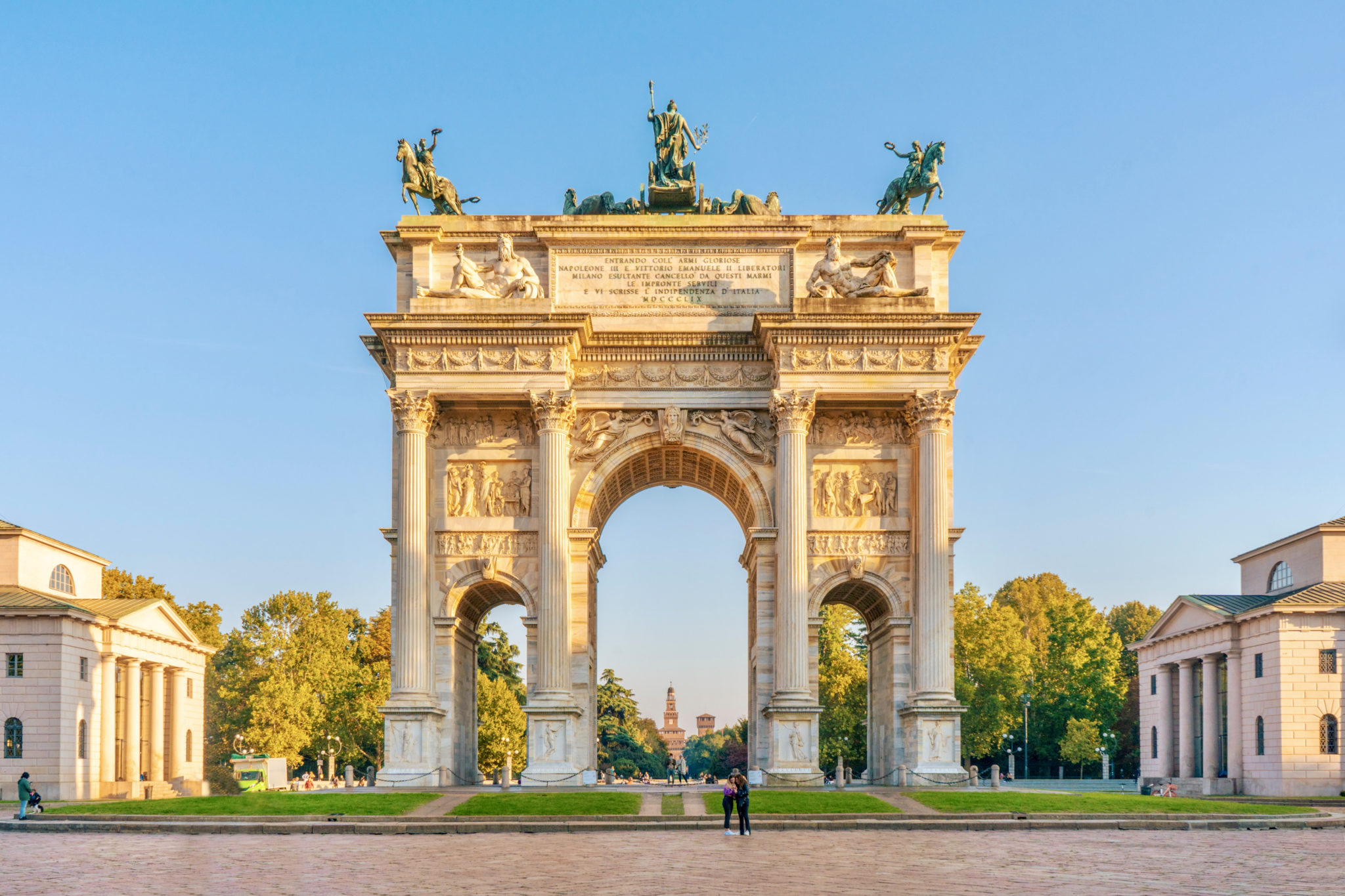 23. Arco della Pace
The Arco della Pace is a triumphal arch in Milan. The name means "Arch of Peace."
It's a Neo-Classical monument near Sempione Park. The arch was meant to emulate the Arc du Triomphe in Paris. It also resembles the Arch of Septimus Severus in the Roman Forum.
The marble arch was built in 1807. It was officially inaugurated by Ferdinand I of Austria in 1815.
Designed by Luigi Cagnola, the arch is elaborate. It stands 25 feet high. The arch features arched openings, Corinthian columns, statuary, and bas reliefs. It's topped by bronze horses and a goddess in a chariot.
The arch has a funny backstory. It was originally commissioned by Napoleon to celebrate his victories in Italy. Napoleon had intended the horses to face toward Paris.
When Napoleon abdicated, the Italians had the last laugh. They turned the horses to face Milan. And they added bas reliefs depicting the Battle of Leipzig, which show Napoleon's defeat.
Address: Piazza Sempione
24. Museo Poldi Pezzoli
The Poldi Pezzoli is a fantastic small museum housed in a 17th century red stucco mansion in the city center. It's close to the famous shopping street of Via Montenapoleone.
The museum is a quiet place where you can enjoy great art in peace. It houses artworks that were part of the private collection of Gian Giacomo Poldo Pezzoli.
After his death in 1879, he left his mansion and collection to the city of Milan, on the condition that it be transformed into a museum.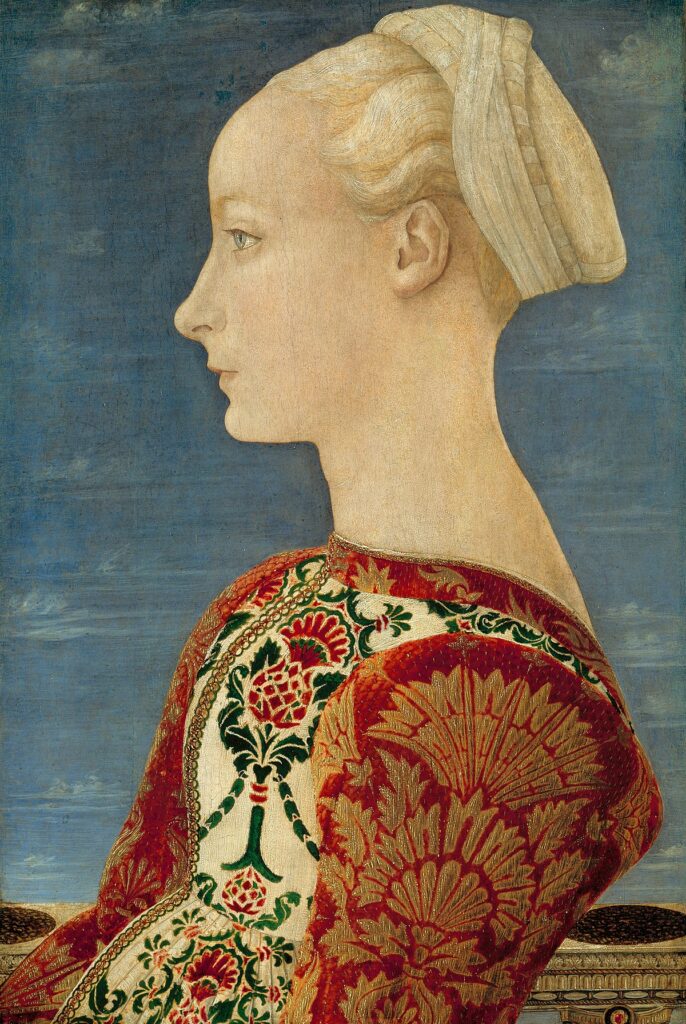 It boasts an eclectic range of artworks and objects, including paintings, sculptures, furniture, ceramics, textiles, arms, and armor.
The collection features prominent old master artists, including Botticelli, Piero della Francesca, Bellini, Pollaiolo, Mantegna, Tiepolo, Canaletto.
The Golden Room is the star. It has prizes of the Tuscan and Venetian Renaissance. The most famous piece is Portrait of a Woman by Pollaiolo, the icon of the museum and a symbol of Milan.
Address: Via Alessandro Manzoni 12
Hours: 10:00 am to 6:00 pm
Tickets: € 14
Tips For Visiting Milan
Here are some must know tips for visiting Milan's top attractions.
1. How To Get To Milan
If you're already in Europe, you can take a high speed train to Milan from major Italian cities and various European cities. From Milan Centrale station, you can take a taxi, bus, or metro to get to the city center.
If you're flying, Milan has two main airports: Malpensa Airport (MXP) and Linate Airport (LIN). Malpensa Airport is the largest international airport in the Milan metropolitan area and serves as a hub for both domestic and international flights.
Linate Airport is located closer to the city, less than 5 miles from Milan. It mainly handles domestic and short-haul European flights.
From the airports, you can take a taxi or book a private transfer from Malpensa or a private transfer from Linate.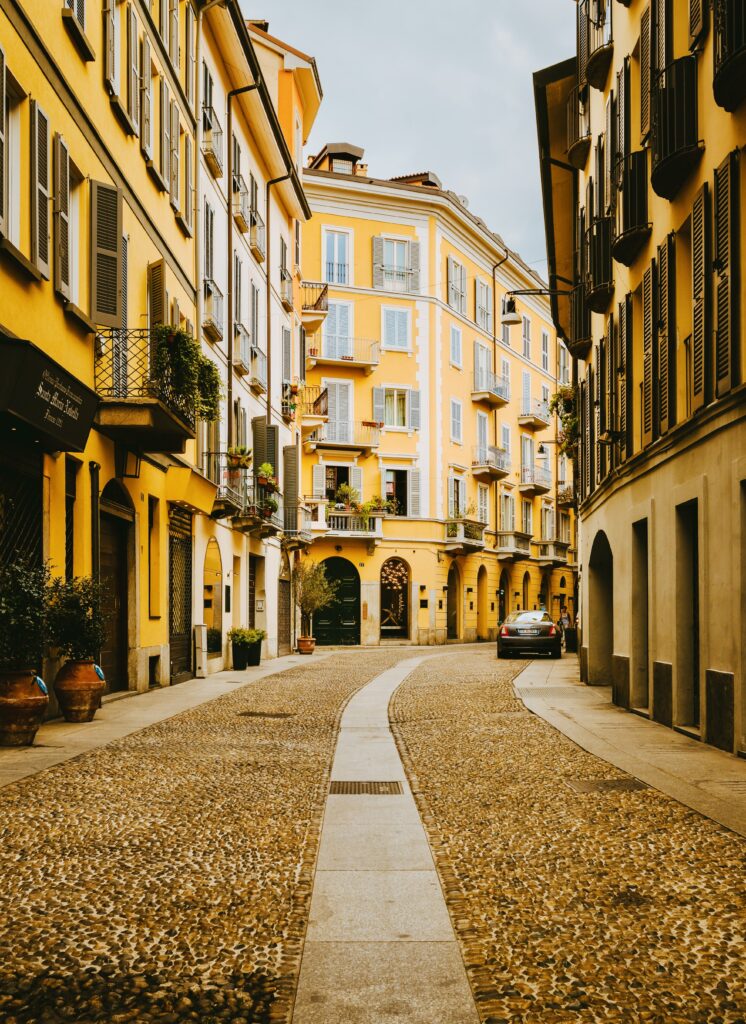 2. How To Get Around Milan
Milan has a comprehensive system of public transportation in Milan. There are buses, trams, and even a subway. Tickets are available at newsstands and metro stations. Validate your ticket before you get on board.
The majority of Milan's must see sites are clumped together in the centro historico, radiating from the Piazza del Duomo. But some aren't.
If you have any mobility issues, the downside is that some sites are poorly connected and far from the stops. Therefore, you will still have a fair bit of walking once you get public transport.
You can explore Milan in other fun ways too. For example, you can take a Segway tour, ride the hop on hop off bus, take a bike tour, or combine biking and modern architecture.
3. The Milan Card
The best visitor pass is definitely the Milan City Pass. It gives you unlimited access to all means of public transport. You also get either free or discounted access to museums, tours, restaurants, tourist attractions, and the airport bus.
There are three versions of the Milano Card. One day costs 11 €, two days 17 €, and three days 19.50 €. Then, download their app and activate it with the code that you receive via email.
4. Where and What To Eat in Milan
Milan has literally thousands of cafes, eateries, restaurants, and pizzerias — from tony to casual, traditional to innovative. Avoid any restaurant that has photos of food.
Happy hours starts around 6:30. You'll get snacks (olive, salami, bread, etc) with your cocktail before dinner. A lot of great restaurants are clustered on Via Dente.
The traditional Milanese specialities are hearty fare — risotto, veal cutlets, osso buco, pappardelle pasta in mushroom sauce, and meat filled ravioli. But there are plenty of more exotic and modern dishes as well.
If you want to dine in style, try Contraste, Restaurant Giacomo Arengario (with Duomo views), 28 Posti, or Joia.
If you want to pick up food yourself to take back to an Air Bnb or picnic, there are plenty of delis everywhere. Across from the Duomo, you'll find the Mercato del Duomo, which aims to be a "gourmet cathedral." And there's a large Eataly in Milan with shops and restaurants.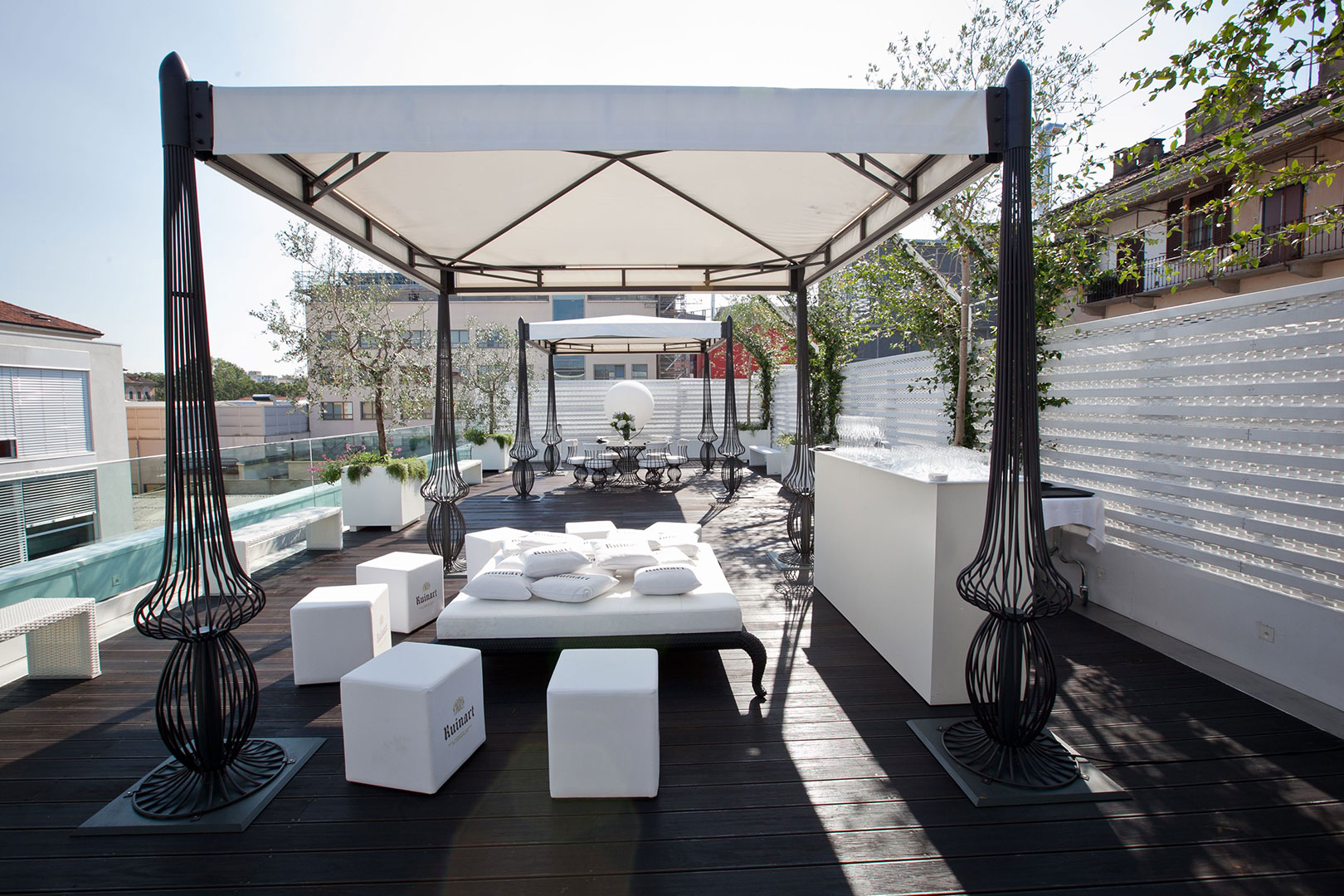 5. Where To Stay In Milan
Milan has some of the finest hotels in Italy. You're spoiled for choice.
For an opulent stay, try the Bulgari Hotel Milano. It's in the high end shopping district. Or the Four Seasons, which is in a former convent.
The Park Hyatt has a great location near many of Milan's top attractions and a Michelin star restaurant. The Hotel Principe di Savoia is a beautiful place that's slightly off center if you want to escape crowds.
I also always enjoy boutique hotels and Milan has those too.
My picks are the Room Mate Giulia (trendy place near the Fashion district), the chic Hotel Magna Pars (in the Navigli), the Palazzo Segreti, and the Antica Locanda dei Mercanti (in a retired townhouse).
I hope you've enjoyed my guide to the top attractions in Milan and can create your own Milan bucket list. You may enjoy these other Italy travel guides and resources:
If you'd like to visit Milan's top attractions, pin it for later.