Picassophiles unite! Here's the ultimate guide to finding Picasso's artwork and masterpieces in Europe.
This Europe travel guide takes you to all the Picasso Museums in Europe — in France, Spain, Switzerland and Germany.
Pablo Ruiz Picasso was a revolutionary. His art is unparalleled in terms of quality, quality, and vitality. With his countless innovations, most art historians consider Picasso the greatest artist of the 20th century. He certainly had plenty of genius and charisma, which fascinated both critics and admirers alike.
Born in Malaga, Picasso was a Spanish expat and co-founder of cubism. Picasso left an amazing legacy of over 50,00 art works.
Over his long life, from prodigy to icon, Picasso moved from Spain to Paris to the south of France. Every spot he called home claims him as a "native son," with museums devoted to his artwork.
Picasso's art was intertwined with his personal life. His muses were his children, lovers, and wives. He had a series of long relationships with women, punctuated by affairs, often trading one muse for another when she no longer inspired him.
To Picasso, love was "the greatest refreshment" and he never left the concession stand. But let's not hold that completely against him. Though a chronic womanizer, Picasso was also a hard working artist with a boundless imagination.
Let's follow the Picasso Trail in Europe. It consists of eight museums in Europe either dedicated to Picasso or with a significant Picasso collection. For art lovers, some of these museums are unmissable sites in France and Spain.
The Picasso Trail: Where To Find Picasso's Art in Europe
Let's follow the Picasso Trail in Europe and discover all the places you can see Picasso's art works.
1. Picasso Museum, Paris France
Paris' Picasso Museum is quite lovely and packed with fantastic art. The museum is housed in the gorgeous 17th century Baroque Hotel Sale in one of my favorite Parisian neighborhoods, the Marais.
The Musée Picasso holds one of Paris' most treasured art collections, shown off in the elegant mansion. It's the largest public Picasso collection in the world.
What I love most about the museum is that it houses all the art that Picasso couldn't part with. It's a personal collection that he created, curated, lived with, and kept nearby his entire life. The museum represents all the artistic periods of Picasso's life, all the women he loved, and reveals his extraordinary range and talent.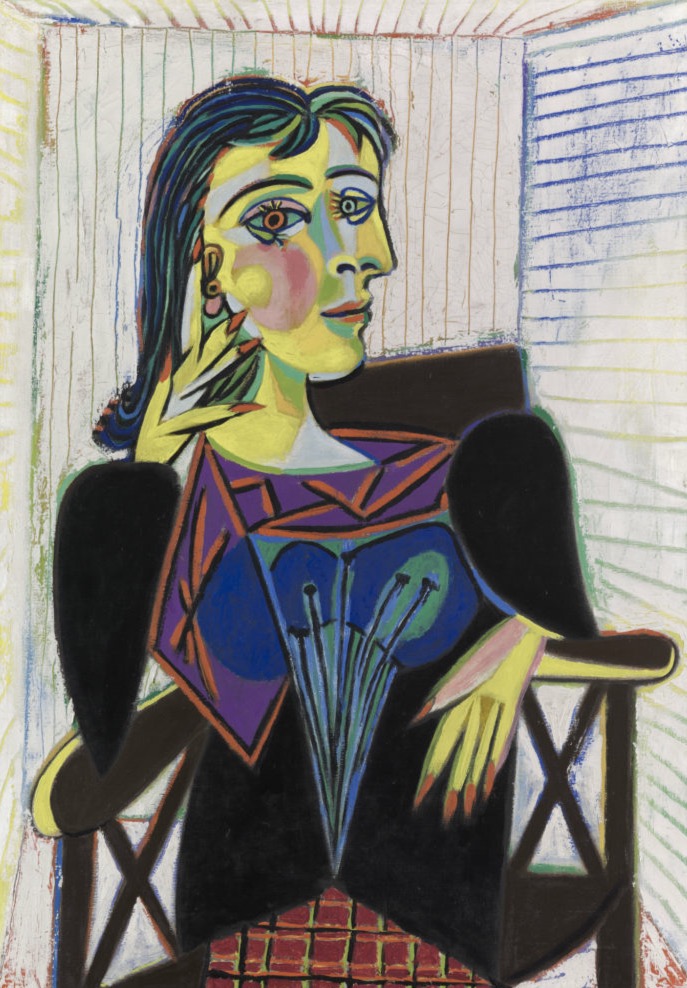 The Picasso Museum has works from Picasso's early and late phases, in major and minor mode. There are more than 400+ Picasso pieces on display and a beautiful collection of his own handpicked pieces by artists he loved.
Because of this diversity, Paris' Picasso Museum is a sublime teaching collection. You can get inside Picasso's mind and see his restless imagination and boundless energy.
The Picasso Museum is organized chronologically. As you stroll through, you can feel the ebb and flow of his life. And you can see, writ large, the progression of Picasso's artistic styles and the succession of his long suffering female casualties.
Here's my complete guide to Paris' Picasso Museum.
Address: Hôtel Salé 5, rue de Thorigny, Paris
Metro: St-Paul, Rambuteau, or Temple
Entry Price: adult €14
Hours: Tues–Fri 10:30 am–6:00 pm, Sat-Sun: 9:30 am–6:00 pm, closed Monday
2. Picasso Museum, Barcelona Spain
Picasso moved from Malaga to Barcelona as a teen. He lived there from age 14-24 and considered it his true home. With help from his father, Picasso enrolled at the School of Fine Arts. A young Pablo fell in with a bohemian crowd that mixed wine, women, and art.
For Picasso, Barcelona was where it all began. The Catalan city was always close to his heart.
At his eponymous museum, you can enjoy an extensive collection of Picasso's work, certainly the best collection in Spain. There's over 3,000 pieces, mostly from Picasso's formative years in Barcelona. By experiencing his youthful works, you can better understand his later abstract pieces and how he became the greatest artist of the 20th century.
READ: 3 Day Itinerary for Barcelona
The setting of this museum is stunning. It's lodged in five adjoining medieval stone mansions in Barcelona's funky-chic El Born neighborhood in the Gothic Quarter, with a gorgeous terrace.
READ: Guide to Barcelona's Gothic Quarter
Founded in 1963, the Picasso Museum in Barcelona was launched with a donation of 574 works by Picasso's secretary, Jaime Sabartés. It's rumored that Picasso himself proposed the museum's creation to Sabartés, a Barcelona native.
In 1970, Picasso donated 800 more pieces to the museum. Some were shocked that those works went to Spain and not France. Picasso's widow, Jacqueline Roque, also donated 41 ceramic pieces and the early Picasso painting Woman with Bonnet.
In this museum, you can see one of the world's most extensive collections of Picasso's work, certainly the best collection in Spain.
There are over 3,000 pieces. Along with art from his early works, you'll find Picasso's series of Las Meninas paintings from 1957, inspired by the Velazquez painting in Madrid's Prado Museum
READ: Guide to the Prado Masterpieces
You can browse the highlights of the museum's online collection here, though the images are rather small.
You can take a virtual tour of the palaces here. The palace tour takes you on a private guided tour of the museum's architectural elements. You can also check out their Twitter hashtag #MuseuPicassoVirtual to get daily doses of art on your feed.
Address: Calle Montcada 15-23 08003 Barcelona
Hours: Tues to Sun 9:00 am to 8:30 pm, Thurs 9:00 am to 9:30 pm. Free on Thursday afternoons from 6:00 pm to 9:30 pm and the first Sunday of each month, from 9:00 am to 8:30 pm
Entry: 12 euros, under 18 free
3. Picasso Museum, Antibes France
The Picasso Museum in Antibes is housed in the ancient and beautiful Grimaldi Palace and boasts some secret Picassos. From the terrace, you have a beautiful view over the bay. If you're looking for an intimate quaint museum, this is it.
After WWII, Picasso left dreary Paris (and his first wife Olga) for the south of France, with his lover Francoise Gilot. An established artist at that time, Picasso was world famous and wealthy — a rare condition for any artist. He rented a house in the tiny village of Golfe-Juan.
Picasso played on the beach and used the museum's medieval building as a studio in 1946. In Antibes, Picasso was happy and prolific. He declared, "I'm not just going to paint. I'll decorate the museum too."
In gratitude for the studio space, Picasso donated 23 paintings and 44 drawings to the town's museum, on the condition that the works remain on display. This donation put Antibes on the Picasso tourist map and trail.
Picasso's French Riviera works, like Joie de Vivre, reflect his later life. They're sunny, lighthearted, and hedonistic. In Joie, a naked woman dances to music while a fishing boat bobs on the horizon.
READ: 10 Day Itinerary for Southern France
Address: Chateau Grimaldi, Place du Chateau, 06600, Antibes
Hours:10:00 am to 12:00 pm & 2:00 pm to 6:00 pm
Entry fee: 6 €, 3 € for students and seniors, under 18 free
4. Picasso Museum, Malaga Spain
Malaga is Picasso's birthplace. Opened in 2003, the Picasso Museum in Malaga is housed in the Buena Vista Palace.
The palace isa pretty combination of Renaissance and Mudejar architecture. So important was the museum that the King and Queen of Spain attended the museum's grand opening.
READ: Most Beautiful Towns and Cities in Andalusia
Small but sweet, the museum holds 285 works donated by Picasso's family members or held on permanent loan. Mostly from his grandson Bernard.
The collection spans Picasso's lifetime and gives a good overview of his protean seven decade career. You won't find any masterpieces here. But highlights include Picasso's early academic studies, Cubist pieces, his re-workings of the Old Masters, ceramics, and some of his last paintings from the 1970s.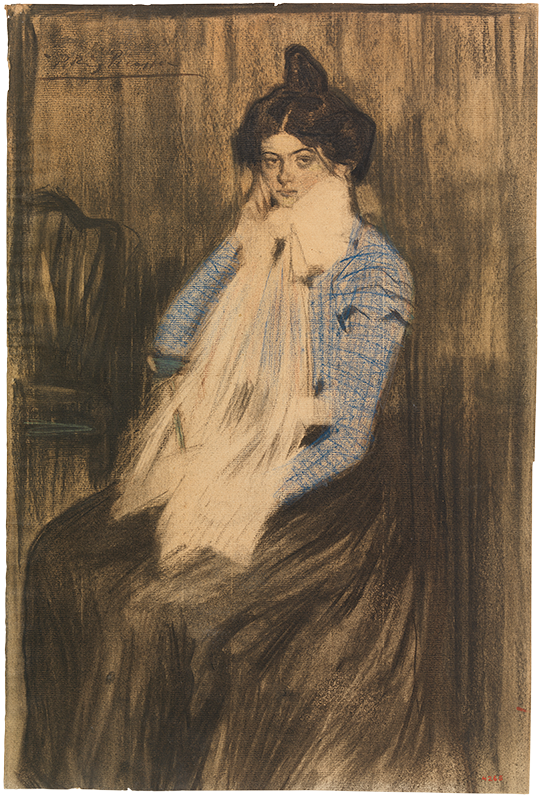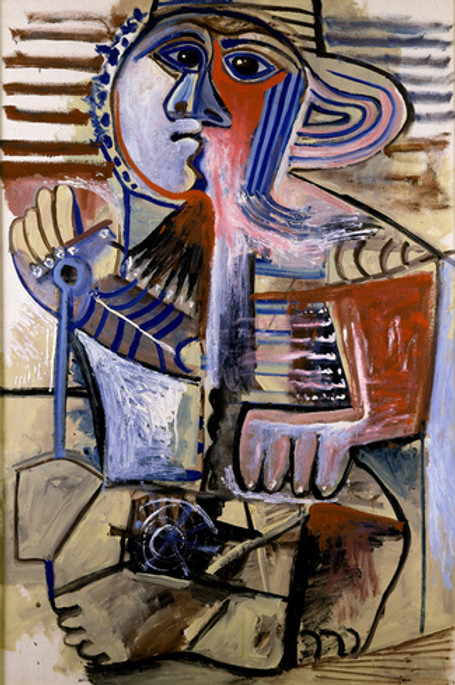 In his last decade, Picasso began to incorporate figures from Spain's Golden Age. In particular, he painted musketeers inspired by the paintings of Rembrandt and Velazquez.
The Antibes museum is tiny, so you won't need much time there. Download the museum's audio app, which is extremely informative and free.
When you're done, two minutes away is the home of Picasso, Casa Natal de Picasso. Opened in 1988, the house provides insight into Picasso's childhood. There's a replica of Picasso's studio and and his family's personal memorabilia.
Address: Calle San Agustin 8, 29015 Malaga
Hours: change by season, check website
Entry fee: 8 €
5. Reina Sofia, Madrid
Opened in 1992, the Reina Sofia is Madrid's modern art museum. Its collection is comprised entirely of art work from 1900 to the present. There's a special focus on Picasso and it holds perhaps his most famous painting.
READ: 2 Day Itinerary for Madrid
The star of the Reina Sofia, and the toast of Europe really, is Picasso's Guernica. Guernica is Picasso's grim depiction of the seemingly casual Nazi bombing of the Basque village of Guernica in 1937. Painted on a giant oak wood stretcher, the painting puts a human face on the collateral damage.
The dark chaotic subject matter is shown in gruesome detail, complete with a modern pieta, a hidden human skull, and daggers. The monochromatic color only heightens the emotional impact.
READ: 10 Day Itinerary for Basque Spain
The huge mural was commissioned by the Spanish government to decorate its Pavilion at the 1937 Paris International Exposition. Picasso rarely took commissions. They cramped his style and produced artificial deadlines.
But Picasso was persuaded to accept this one by his lover and Surrealistic photographer, Dora Maar. Guernica is showcased in a room with Picasso's preparatory drawings, so you get a real feel for his creation process.
The Reina Sofia also has quite a number of works from Picasso's Cubist period, myriad sketches, and sculptures.
The Reina Sofia is located in a 16th century hospital. It can be a bit confusing. The permanent collection is spread across four floors. You'll need a map for locating specific artists or masterpieces. (Guernica is in Room 6 on the 2nd floor.) Photos are only allowed in certain areas.
The Reina Sofia has an extensive online collection as well.
Address: c/ Santa Isabel, 52 28012 Madrid
Hours: Mon. & Wed-Sat 10:00 am to 9:00 pm, Sunday: 10:00 am to 2:30 pm, Closed Tuesdays. Free on Saturday after 2:30 pm and all day Sunday.
Entry fee: 10 €, 8 € online. Free for students with ID, under 18s & over 65
Metro: Atocha
6. Rosengart Collection, Lucerne Switzerland
This museum has a stunning Picasso collection. Opened in 2002, the Museum Rosengart Collection was founded by vanguard Angela Rosengart.
Born in 1932, she was a forward-thinking woman. Offered an evening gown for her birthday, she instead requested a drawing by Paul Klee.
Beginning in 1948, Rosengart was active an art dealer, collector, and influencer. She counted Picasso as a personal friend. Rosengart modeled for Picasso five times, quite platonically. Of her portraits, Rosengart says she "snuck into immortality through the back door."
Housed in the former Swiss National Bank, the Rosengart Collection is spread over 3 floors. The entire ground floor is dedicated to Picasso. His 50 works are arranged in chronological order, from 1938 to 1969.
You can see photos of Picasso from American photojournalist David Douglas Duncan, documenting his life and work. And there are five portraits of Rosengart.
The collection also includes works by Chagall, Degas, Cézanne, Kandinsky, Miró, Matisse, Renoir, Monet, Pissaro, and Seurat.
Address: Stiftung Rosengart, Pilatusstrasse 10, CH – 6003 Lucerne
Hours: Daily Apr to Oct: 10:00 am to 6:00, Nov to Mar: 11:00 am to 5:00 pm
Entry fee: CHF 18.00
7. Ludwig Museum, Cologne Germany
The Ludwig Museum is a splendid modern art museum. It boasts works from most of the key 20th century art movements.
But the museum is most famous for its cache of 864 works by Picasso. Over 700 works were donated by Irene Ludwig, widow of the chocolate magnate and art collector Peter Ludwig,
The Ludwig Museum has the world's third largest Picasso collection, after the museums in Paris and Barcelona. All the oeuvres spanning Picasso's career are represented. The collection includes paintings, ceramics, works on paper, relief plates, and graphic prints.
The museum highlights are: a sculpted head of Picasso's mistress, Dora Maar, Picasso's variation on Manet's Déjeuner sur l'herbe, the first print he made in Paris, Le Repas Frugal, Woman with Artichoke, and Harlequin.
The Ludwig Museum is the only public institution to own all three large print cycles by Picasso – The Vollard Suite (1930-1937), Suite 345 (1968) and Suite 156 (1971).
READ: Prettiest Towns in Germany
Address: Heinrich-Boll-Platz, 50667, Cologne Germany
Hours: 10:00 am to 6:00 pm, open until 10:00 pm the first Thursday of the month
Tickets: 11 €
8. National Picasso Museum, Vallauris France
Picasso briefly lived in Vallauris, a seaside village where he became fascinated with the art of decorative ceramics. A jack of all trades, Picasso learned this medium at the Madoura Studio. In Vallauris, you'll find a small museum dedicated to Picasso, housed in a 12th century chateau.
Highlights are the church chapel installation by Picasso, a stellar ceramics collection, lithographs of bullfights, and photographs of Picasso by Andre Villers. You will also informational histories on Picasso's stay in the French Riviera in the 1940s.
In 1952, Picasso painted an allegorical mural, War and Peace, to decorate the chapel. A peace-loving Communist by then, Picasso had a vision of turning the old deserted sanctuary into a Temple of Peace.
Picasso produced two compositions of monumental proportions on hardboard panels that mirrored the curvature of the vaulting.
The museum ceramics collection include whimsical Picasso depictions of fauna and nymphs. For the glaze, Picasso would melt clay like bronze. Then, with child-like glee, he decorated plates and dishes with his favorite subjects.
Address: Place de la Libération, 06220 Vallauris, France
Hours: Hours change by season and allow for a siesta, so check the website linked below.
Ticket: 6 € Website
8. Museum of Photography in Mougins
Picasso first discovered Mougins with his lover Dora Maar. In 1961, he returned. Picasso spent the last 12 years of his life in a beautiful estate, surrounded by magnificent gardens, in Mougins.
In 1986, the photographer Andre Villers founded the Mougins Museum of Photography. It showcases a splendid collection of photos of Picasso taken by the photographers Andre Villers, Robert Doisneau, and David Douglas Duncan.
There are also photos of some of the art world's most interesting personalities, such as Le Corbusier, Dali, Miro, Leger and others.
Address: 67 Rue de l'Eglise, 06250, Mougins France
Hours: Open Tues to Sun from 10:00 am to 12:30 pm & 2:00 pm to 6:00 pm
Tickets: free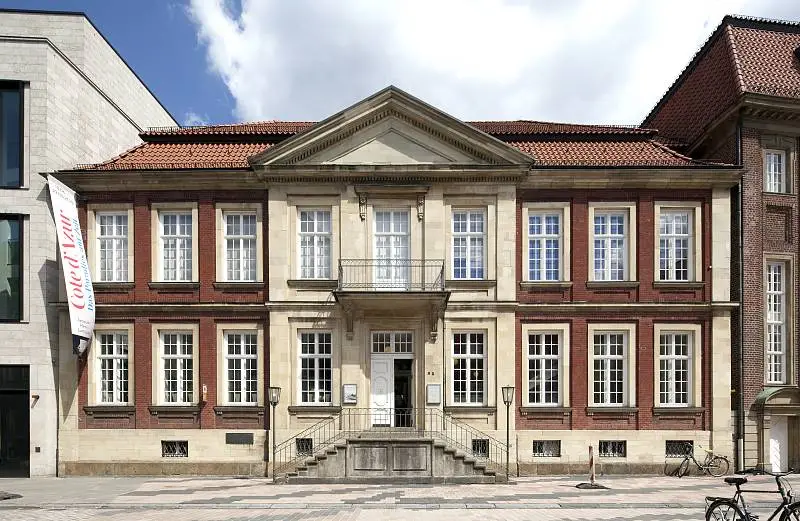 9. Pablo Picasso Art Museum, Munster Germany
This is the first and only Picasso Museum in Germany. It opened to the public in 2000. The museum has a cache of over 800 Picasso lithographs.
The museum shows changing special exhibitions on Pablo Picasso and his fellow classical modern artists such as Georges Braque, Henri Matisse and Marc Chagall. You can probably breeze through in an hour or so.
Address: Picassoplatz 1, 48143 Munster
Hours: Open Tues to Sun from 11:00 am to 5:00 pm
Tickets: 10 euros
10. A Possible Jacqueline and Pablo Picasso Museum in Aix-en-Provence
There may be another Picasso Museum coming just near Aix-en-Provence in southern France. The museum is being founded by Catherine Hutin-Blay, Picasso's stepdaughter by his second wife Jacqueline Roque.
The museum was set to be housed in an old convent, Collège des Prêcheursin, near Jacqueline and Picasso's burial site, to house her collection. But, in 2020, negotiations fell through. The city council couldn't reach a sales agreement for the convent with Hutin-Blay. But the project may be revived.
READ: Charming Hidden Gems in Provence
Hutin-Blay's collection includes nearly 2,000 pieces — paintings, drawings, ceramics, sculptures, and photographs. There are 400 portraits of Jacqueline. The works have never been exhibited before March 2019, when they were on display in Berlin.
Plans for the site included 10,000 square feet. Spaces were planned for a permanent exhibition, temporary exhibitions, an auditorium, a research center, and a pottery center.
I hope you've enjoyed my guide to the Picasso Trail in Europe. You may enjoy these other Europe travel and museum guides:
Impressionism Trail in Normandy
All of Leonardo da Vinci's Paintings
30 Most Beautiful Towns in Italy
If you'd like to visit the Picasso Museums in Europe, pin it for later.