Need a break from the hurly burly of Paris? Claude Monet's house and gardens in Giverny are the perfect bucolic destination.
Just 50 miles northwest of Paris, Giverny is an easy day trip or weekend getaway from Paris.
Giverny is a one-of-a-kind pastoral paradise, born from a great artist's obsession. It's a must see site for art lovers or horticulturists in France.
On a day trip from Paris, you'll be transported from the City of Light to an ethereal and exquisitely staged garden in the French-Norman countryside. With the scent of roses wafting in the air, Monet's garden is one of the world's most beautiful and popular gardens.
For Monet, flowers were his brushstrokes. On a visit, you'll feel as if you've stepped into a utopian Impressionist painting.
To get to Monet's home in Giverny, you leave from Paris' Gare Saint-Lazare train station. It seems fitting.
In a famous series of paintings, the Impressionist master captured the hurried energy of the station. He produced images of blurred figures, with clouds of steam billowing under the arched iron and glass roofs.
But it was Monet's outdoor "plein air" paintings that he's best known for. Monet is one of the most important and pivotal figures in Western art history.
He's the poster boy for Impressionism, and a symbol of French painting. Monet produced shimmering poplars, glowing haystacks, and iridescent sheets of water lilies in a blurry pastel palette.
Unlike prior artists, Monet and the Impressionists aimed to capture the ephemeral, sensory effect of a scene — the impression — objects made on the eye in a fleeting instant.
They used fast and loose brushwork, a lighter palette, and tried to capture the effects of light. Monet is thought to have "invented" light.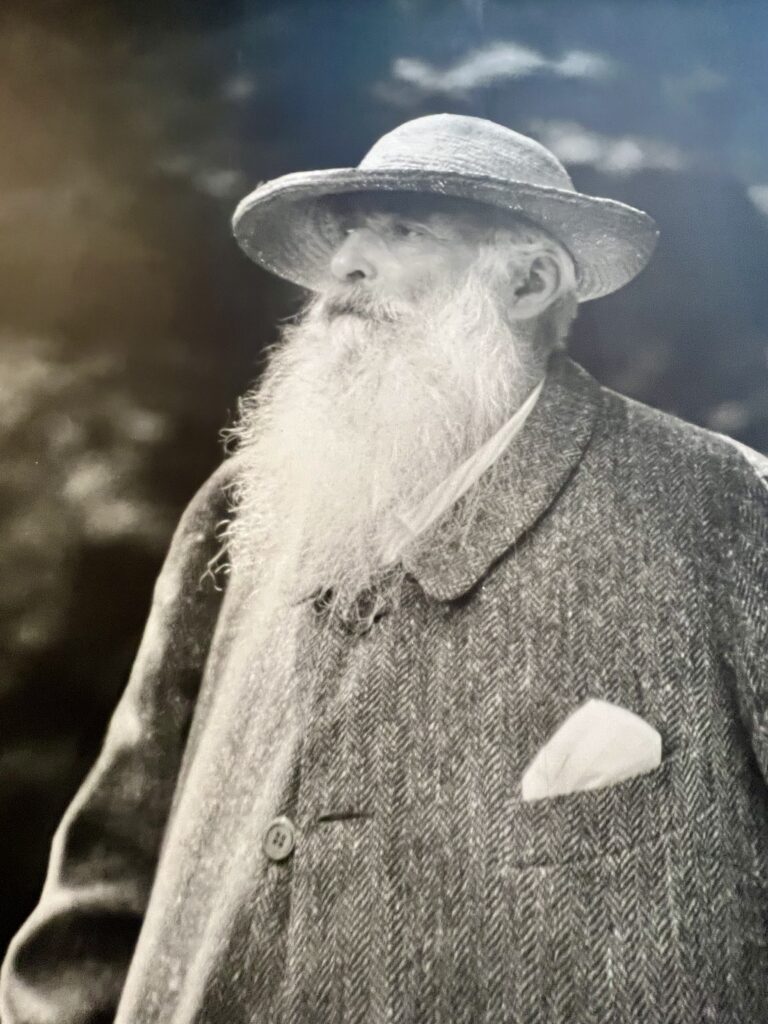 Monet's Giverny Years: Inspiration and Mad Obsession
In 1883, Monet left behind the urban life of Paris and moved to rural Giverny. Before Paris, he had flitted about. Monet lived in Le Havre, Etretat, Argenteiul, Bordighera, and jaunted about to others places to paint. Often, he would move in the middle of the night to evade creditors.
READ: Guide To the Impressionism Trail in Normandy
Monet was on a train when he first spotted Giverny. He looked out the window and was instantly besotted with the charming village. He got off the train, chatted with the friendly locals, and promptly rented an old farm house.
When he arrived in Giverny, Monet was middle-aged and nearly penniless. Nine years earlier, he had exhibited Impression: Sunrise, the painting that baptized Impressionism and gave the movement its name.
Yet, true artistic success and financial stability eluded him for years. Fiercely independent and dedicated to his craft, Monet gave courage to fellow artists in the face of harsh criticism.
Over the next 43 years in Giverny, everything changed, albeit slowly. Monet came to be regarded as one of the world's greatest artists. He attained international fame and amassed a considerable personal fortune.
Monet funneled his newfound wealth into his other passion, horticulture. He said "what I need most are flowers."
In virtuoso fashion, Monet would go on to mold nature into his artistic vision, shaping his subjects exactly as he wanted to paint them. He created first a world of plants and then a world of painting.
Monet enlarged the Giverny property and house, built new studios, constructed a greenhouse to propagate plants, and bought land for his Japanese garden. He didn't do it in a void.
Monet consulted professional gardeners and read horticultural reviews. He collaborated with fellow artist and flower enthusiast Gustave Caillebotte.
Monet once joked that he was "good for nothing except painting and gardening." At Giverny, he gardened and painted his gardens. Gardening was his single luxury.
Monet spent years composing and transforming his property, working with the assistance of his team of gardeners and small children. Monet's lovingly-produced gardens were his other "studio." They became a living canvas.
To accommodate his large format paintings, Monet built a special barn-like studio with skylights and wheeled easels. He worked obsessively, sometimes painting 14 hours a day. The water lilies, in particular, were a prolonged source of inspiration.
Monet created over 250 paintings of his beloved water lilies. They were the singular focus of the last decades of his career, especially after his wife's death.
His first Nympheas series, in 1909, was hugely successfully. Critics recognized the value and cumulative effect of having 48 paintings on the same subject.
The motif was not the water lilies, per se, but the mirror of water whose appearance changed at every moment. The intensely-colored lilies are a theater-like recreation of the experience of physically being at a pond.
Beginning in 1912, Monet began to go blind with cataracts. He used even larger canvases and painted fewer details.
In later water lily series, Monet abandoned any attempt at formal composition. There was no focal point. The fragmented paintings command the viewers' attention, pulling them in Monet's time-space continuum.
In 1914, eight monumental water lily paintings were commissioned for the Orangerie of the Tuileries. A custom gallery was built to showcase the pieces. It was effectively the first "art installation" in history. The gallery has been dubbed the Sistine Chapel of Impressionism.
When Monet died in 1926, the Giverny property passed to his son Michel. But Michel chose not to live there. The gardens fell into neglect, becoming a jungle.
When Michel died in 1966, he bequeathed the Giverny property to the French Academie des Beaux-Arts. The institute established the Claude Monet Foundation and raised money. Over 20 years, Giverny was painstakingly restored.
The foundation hired Gibert Vahe to restore the gardens to their former lush state. In fact, Vahe has a garden next door that's also fantastic. The Giverny property opened to the public in 1980.
If you are a Monet fan, Giverny is a must visit to glimpse the magical gardens that inspired hundreds of his paintings. You can take a nostalgic walk in Monet's footsteps.
It's a perfect complement to getting your Monet fix at Paris' Musee d'Orsay, Musee de l'Orangerie, and the Musee Marmottan Monet.
Guided Tours To Giverny
Giverny is one of the most popular day trips from Paris, so expect crowds.
A guided tour will give you skip the line access. Many of these tour sell out fast, so don't dally too long if you want to book one.
Here are some of the different guided tour options you might consider:
Guide To Monet's Garden: An Explosion of Color
To wander through Monet's Garden is akin to living in one of his paintings. A world of flowers of every color fills your field of view, nodding slightly in the breeze. It looks like a paint factory explosion, or a few flicks of the paintbrush.
There are two parts to Monet's labor-of-love gardens — the Clos Normand flower garden and the Water Garden. The Clos Norman is a boldly colored display and expressly Western. The Water garden is organic, Asian, and more exotic.
The two gardens are connected by a tunnel passing under the road. The gardens are immensely popular, a pilgrimage both for Monet fans, Francophiles, and avid gardeners.
1. Clos Normand, the Formal Garden
Clos Normand is structured traditionally in a formal French garden manner. Yet, it feels wild and overgrown in a pleasing, messy, impressionistic kind of way.
Designated pathways (and signs) take you around the gardens. The central alley features iron arches, adorned with climbing roses, that span a path of summer-blooming nasturtiums.
You'll see ornamental trees, roses, hollyhocks, lilies, tulips, irises, snapdragons, peonies, and patches of bright red geraniums. The density of plant life in all colors is stunning.
Playing on the seasons like a keyboard, Monet orchestrated his garden so that something is always in bloom, from spring to fall.
The garden was curated through the eyes of an artist. Monet planted his flowers with meticulous advance planning.
Using his knowledge of color theory, Monet experimented with the color sequence of his flowers. He chose flower colors to accentuate changes in light and weather.
Blue flowers are planted near trees to suggest the blue of shadows. Orange and gold flowers are planted on the garden's western side to emphasize sunsets.
Pastel flowers are planted behind stronger colors of the same hue to give a sense of depth. The pastels blurred boundaries, just like in Monet's paintings.
2. The Giverny Water Garden
At the center of Monet's garden laboratory is the Water Garden, with an Asian-influenced vibe. In 1893, Monet received authorization to build his coveted watery idyll.
He excavated a pond and diverted water from a nearby stream. Monet went on a buying spree, purchasing different species of water lilies in pink, purple, lavender, and red.
In 1903, after more wrangling with the city council, he acquired some additional property to expand the pond. Like a sculptor, Monet went to work, reshaping the pond's contours, massing Japanese cherry trees, and introducing ever more exotic species of water lilies.
Now, the Water Gardens have a man-made pond, framed by flowers. As they brush the water's surface, a canopy of weeping willows create rippled indentations.
The pond is adorned with an adorable humpbacked Japanese bridge. The Water Garden is a lush oasis of clear pools, huge ferns and a forest of tall green bamboos.
With its whimsical water lily covering, the pond quickly became one of Monet's favorite subjects. Monet was fascinated with the interplay of light and the reflection of clouds on the mirroring water.
He hired a gardener whose sole duty was to keep the pond pristine. He would hop in Monet's rowboat and rid the pond of any insects or alien weeds. Then the gardener would clean the water lilies, by submersion, to maintain the luster of their pads.
The famous arching green bridge is held tight with densely winding wisteria blossoms. The bridge was the subject of countless Monet paintings and photographs until, in his final years, Monet only painted the water lilies. Be forewarned, the picturesque bridge will be crowded with picture takers.
The spiky water lilies, in full bloom in the summer months, are striking flowers. The large leaves spear across the glossy water like exotic blooms.
Monet claimed that he initially grew them without really thinking about them. But, one day, at his pond, the revelation of the enchantment happened.
Monet's House
The arched trellises of the Clos Normand lead to Monet's home. It's an adorable rambling farmhouse, covered in ivy, that's been beautifully restored. The house is a two story candy floss pink stucco affair with bright green shutters.
Monet chose the vibrant palettes for the facade and interiors. Monet eschewed the dark Victorian colors that were popular at the time, painting it to suit himself.
The house has Monet's original furniture. It's filled with all the things and art that Monet loved. It's undoubtedly an artist's home.
Because of this, the Monet House is an intimate place to visit. Monet's spirit is here. You can almost feel the presence of a Monet-ghost standing there with his bushy white beard. Monet lived in the house with his companion (and later second wife) Alice, her six children, and his two children.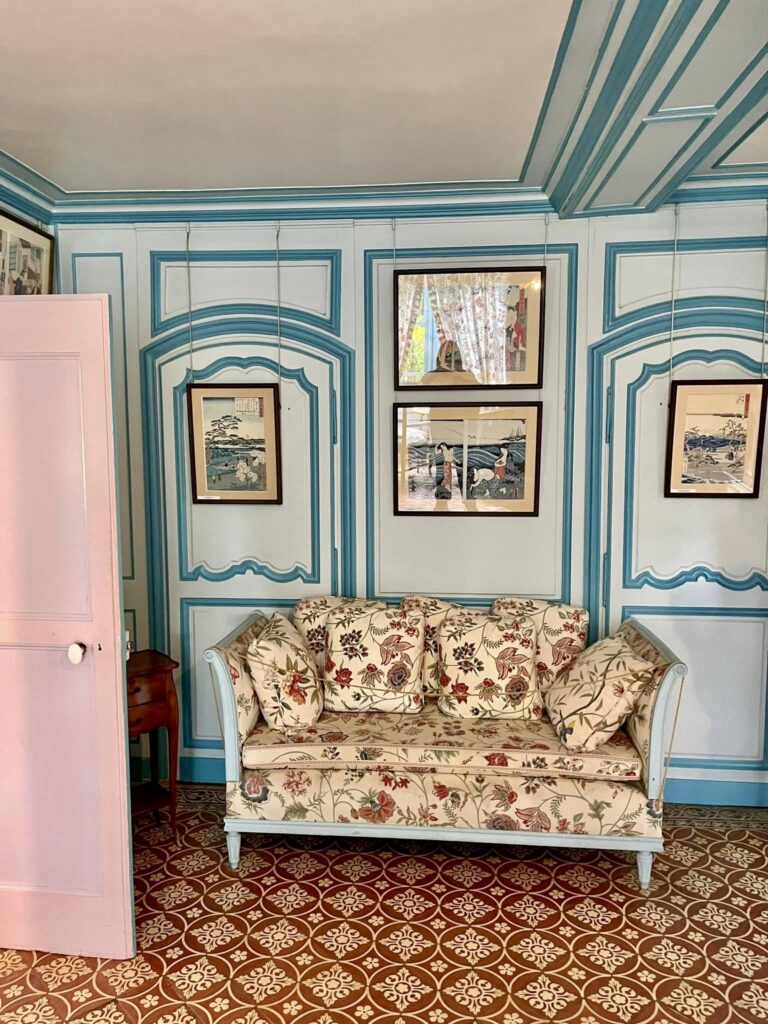 You enter the house through a large room that was the artist's principle "Nymphae" studio. It's now the Monet Foundation's gift shop and bookstore. You'll be tempted to linger there. But I'd leave it to the end after you've soaked up the charms of the place.
Each room has its own character. Strong well-balanced colors give it a strangely modern feeling. Monet himself chose the bright palette for the single-color themed rooms.
Most surprising are hundreds of original 18th and 19th century Japanese woodblock prints that were in Monet's private collection. You can see a print of Hokusai's unmistakable The Great Wave of Kanagawa hanging on the wall. Art historians believe Monet began collecting these work in the late 1890, at a shop in Amsterdam.
You will first come across Monet's small blue sitting room or reading room. The room is adorned with his collection of Japanese wood block prints.
The walls and furniture are two blends of blue and teal with an appealing contrast of pink floral and yellow chintz. There's a pretty freestanding painted clock.
The house has a large sunny dining room, probably its most beautiful room. Bright yellow walls are paired with a long table, blue tiled fireplace, and blue china. There are yellow and brown checkered floors.
Next to the yellow dining room is the china-blue kitchen, intended to contrast blue and yellow. On the wall are immaculately polished copper pots. The blue tiles are from Rouen.
In Monet's living room studio, sunlight streams through the windows of a high ceilinged room. There's a tufted chaise lounge in faded chintz that you may want to snuggle into. On the walls are reproductions of Monet's paintings. There's also a bust of Monet, sculpted by Paul Paulin.
Up the stairs, past more Japanese prints, is Monet's bedroom. There's a beautiful 18th century writing desk. The room is painted in mauve, yellow, and green.
A huge window provide an impressive garden view. It's almost as if the window is a frame for a painting. Monet would wake up at 5:00 am and admire his own personal Garden of Eden.
The bedroom is decorated with copies of the paintings of Post-Impressionist artist Paul Cezanne. Monet admired and collected Cezanne, even when his works sold at lofty prices.
In fact, Monet was an assiduous art collector. He amassed an impressive collection and kept it squirreled away in his bedroom for private viewing.
Aside from Cezanne, Monet's pieces once included works by Auguste Rodin, Edgar Degas, Edouard Manet, Eugene Delacroix, and Pierre Auguste Renoir. For example, he purchased Dega's Woman After a Bath Drying Herself, now in London's National Gallery, for a song.
Many of the original paintings were sold by Monet's single heir, his son Michel. Michel also bequeathed some to the Musee Marmottan Monet in Paris.
Upstairs you'll also find dressing rooms and the bedrooms of Monet's wife and children. All the rooms contain more paintings or copies thereof.
Monet's Grave
As you're cruising down Rue Claude Monet in Giverny, pause briefly at the Church of Sainte-Radegonde de Giverny to pay your respects at Monet's grave.
Half a lifetime away from the man who trailed into Giverny poor and with an uncertain future, the successful and prosperous artist (and chain smoker) succumbed to lung cancer at the age of 86. Rejecting the pomp of a state funeral, Monet was buried in this local graveyard with only family and close friends in attendance.
At the end of the ceremony, in a moment that reads as if from a play, Monet's old friend Georges Clemenceau (the former French prime minister) dramatically ripped off the black cloth draping Monet's coffin.
He declared: "No! No black for Monet! Black is not a color!" Today, the extended Monet family plot is usually covered in flowers.
Impressionist Favorite: Lunch at the Hotel Baudy
If you need lunch before or after your Monet visit, head to the Ancien Hotel Baudy. It's a historic rosy-pink bistro in an art lover's paradise. There's a large terrace in the back, where old coppiced plane trees create a thick green roof over faded red umbrellas and pastel metal tables.
In its heyday, the Hotel Baudy was the center of the village's thriving social scene. Monet would drink there with his painter buddies.
Originally a general store, the Hotel Baudy expanded due to the sudden influx of American Impressionist artists. Attracted to the region for the beautiful landscapes, the cheap rent and the tantalizing proximity of Monet himself, the artists came by train from Paris. They intended to stay for a few days, but some left years later.
The American artist William Metcalf "discovered" Giverny in 1886. He was one of the first American artists to arrive there. Monet was initially receptive to the American invasion. But later tired of their presence, which ended at the start of WWI.
The likes of John Singer Sargent, Camille Pissarro, and Paul Cezanne patronized the Hotel Baudy. It became the meeting place of Impressionists. Paintings by artists who exchanged works for room and board still hang in the restaurant.
After lunch, take a stroll in the restaurant's tiered garden and poke about the sunny atelier. It was built in 1887 to accommodate the many artists-in­-residence and has a trapped-in-time vibe. As if an artist had left his paintbrush there just moments ago.
Other Things To Do In and Around Giverny
If there's a long line of visitors waiting to enter Monet's home, spend some time in the town of Giverny itself before visiting. Giverny is incredibly picturesque and also filled with lovely gardens and flowers. Gardens and Giverny are synonymous.
Giverny is home to many art galleries, which pepper the main street. There seems to be something for everyone here, from surprisingly modern street art canvases to cloying pastoral scenes.
The Museum of Impressionism is worth a stop, if you have time. It's dedicated, as one would expect, to Impressionist art. It focuses on the Giverny artists colony of American painters.
But it also includes International artists who adhered to the style of Impressionism. It has works by Mary Cassatt, Winslow Homer, and James Whistler.
Just an hour away is the bucolic village of Auvers-sur-Oise. You can walk in the footstep of another famous artist, Vincent van Gogh.
Auvers-sur-Oise is a lovely underrated French village, surrounded by wheat fields and set on the banks of the Oise River. The legendary painter Vincent Van Gogh described Auvers as "gravely beautiful." To him, the quiet village calmed his nerves and inspired his art.
Van Gogh spent the last 70 days of his life creating 70 paintings of Auvers-sur-Oise. He was buried in the village with his brother Theo.
Some of his greatest masterpieces were painted there, including Crows Over Wheatfield, the Portrait of Dr. Gachet, and Church at Auvers.
READ: Secret Day Trips From Paris
How To Get to Giverny On a Day Trip From Paris
You can get to Giverny using one of the tours I listed above. But you can also get there perfectly well by yourself.
Giverny is 45 minutes from Paris, leaving from Gare Saint-Lazare. It's easy to get there. But it's a two step process.
You'll get off the train in the town of Vernon, just inside the region of Normandy. Giverny lies a few miles away. From there, take either the Giverny shuttle bus or a taxi the additional 3.5 miles to Giverny. It takes about 15 minutes.
Shuttle buses generally are waiting 15 minutes after your train arrives. They drop you off in a car park and it's a 5-7 minute walk to the gardens. If you're driving from Paris, you can park there for free.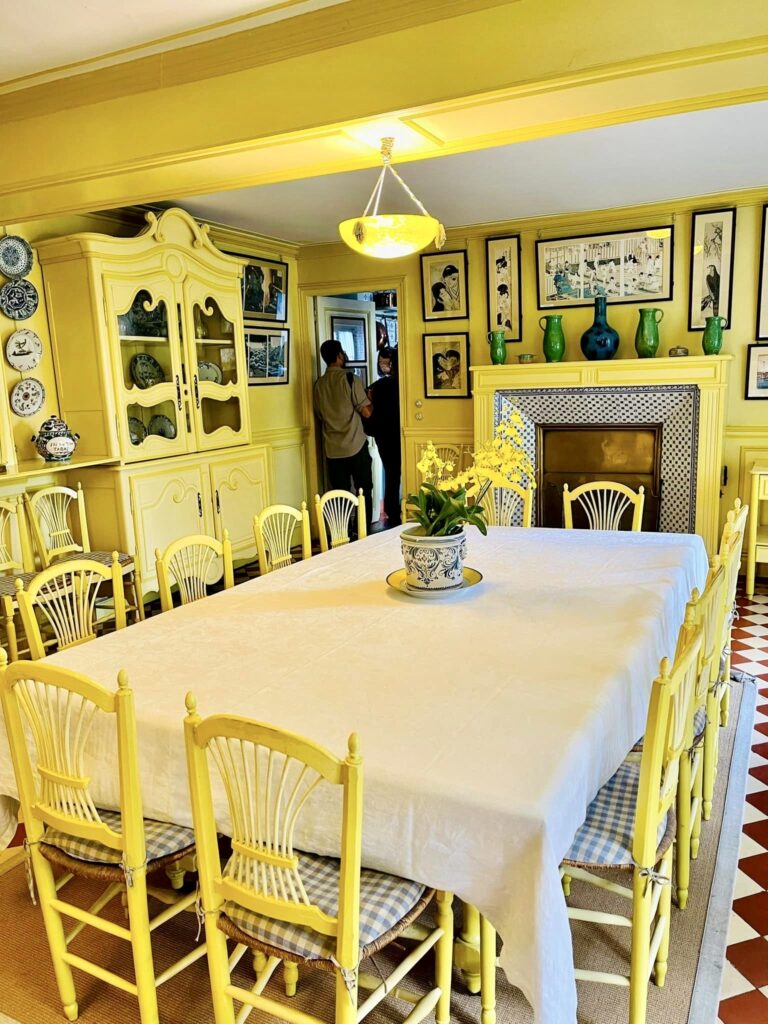 If you want some exercise, you can rent a bicycle for the day from the cafe opposite the train station. It's an easy pedal on mostly flat roads.
Where To Stay in Giverny
If you want to overnight, Giverny has a number of quaint small hotels, set in Norman manor houses with gardens.
If you come the night before your visit, check into La Mare aux Oiseaux.
It's a charming inn that's only a 10 minute walk from the Monet site. It also boasts a Michelin-starred restaurant, Le Jardin des Plumes, perfect for dinner.
La Dime de Giverny is in a French country house with an old world feel. La Plume des Roses is a classic and cozy B&B.
Practical Guide for Visiting Monet's House and Gardens in Giverny
Address: Rue Claude Monet, 84
Hours: 9:30 am to 6:00 pm from April 1st through November 1st
Tickets: Click here to book tickets, which are 13 euros. Skip the line tickets will allow you to bypass the sometimes long line to see the Monet House.
Pro Tips:
Expect insane crowds. To avoid them, it's best to visit in shoulder season (April or October) on a weekday, arriving the night before.
If you can't get there the night before, try to arrive first thing in the morning or in the late afternoon. Click here for the flowering calendar to know what flowers bloom each month. You cannot picnic in the Giverny gardens.
Guided Tours: If you want a guided tour, they're 1:30 and by appointment only.
Address of Hotel Baudy: Rue Claude Monet, 81
I hope you've enjoyed my guide to Monet's Giverny. You may enjoy these other travel guides and resources for France:
If you'd like to visit Monet's house and garden in Giverny, pin it for later.