Here's my itinerary for spending one perfect day in Siena Italy. This Siena itinerary covers all the top must visit attractions, landmarks, museums, and destinations in Siena in 24 hours.
But just to be clear, under no circumstances do I recommend spending only 1 day in beautiful rose-hued Siena. Absolutely, positively, not recommended.
Gorgeous Siena is one of the best cities to visit in Tuscany for its rustic beauty, tasty food, and luscious chianti. The hilltop town of Siena has barely changed in 800 years. I guarantee you'll fall in love.
READ: 10 day itinerary for Tuscany
With literally every cultural activity imaginable, strollable medieval Siena deserves more than a day to soak up its rose-hued charms. But if you're blitzing through Tuscany, one day may be all you have. If so, Siena is compact and can be managed in 24 hours, if you're efficient.
This Siena itinerary takes you to Siena's must see sites, historic landmarks, museums, and piazzas. You'll stroll through the pedestrianized historic center.
There, you'll find a well-preserved burnt orange dream littered with cute cafes and shops. If you want to bask in medieval times, there's no better place than Siena.
A Short History of Siena
But first a touch of history to prepare for your day in Siena. Like other cities in Tuscany, Siena was first settled by Etruscan tribes during the reign of Rome's first emperor, Augustus. At that time, Siena wasn't near any main roads and wasn't prosperous.
But that changed in the 1300s. Siena became a powerful city state. It was a main pilgrimage stop on the way to Rome. It raked in money from manufacturing and banking.
Although Florence gets most of the glory, Siena was a co-equal and rival of Florence in the 14th century. The town had a flourishing culture of humanism and a progressive democratic government.
Artists such as Duccio, Simone Martini, and Ambrogio Lorenzetti were part of the important Sienese painting school, producing some of the best art in Tuscany.
But in 1348, the Black Death wiped out most of Siena's population. Everyone was too busy dying to carry on with daily activities.
Siena was permanently weakened and conquered by its rival city states. It became a backwater for six centuries.
On the upside, Siena's loss became our sightseeing gain. Its obsolescence preserved its medieval architecture and setting.
Siena is known for a crazy horse race, the Palio. It's a twice a year celebration held on July 2 and August 16. Siena's gorgeous medieval piazza, Il Campo, is transformed into a medieval race track. Bleachers are set up. For days, there are processions, medieval rituals, and Palio bands.
Then, it's race time. 10 of the 17 neighborhoods of Siena, the Contrade, are represented by a horse and rider. The race is a frantic 3 laps, lasting 90 seconds.
There are no rules. It's standing room only.
50,000 people usually attend the races, with bated breath and much screaming. It's important to keep the race dates in mind when planning a visit to Siena. Either you'll want to join the frenzy or, if you're crowd phobic, visit in a different month.
One Day In Siena Itinerary
If you only have one precious day in Siena, here's the itinerary you should follow.
In an efficient fashion, it takes you through all of Siena's top must visit attractions. I also give you tips for one of the most important things — where to eat breakfast, lunch, and dinner. Click here if you'd like to book a 2 hour walking tour to get things started.
1. 9:00 AM: Breakfast and a Stroll
Siena has some wonderful cafes. Start your day off with a strong espresso and pastry at either Caffe Fiorella on Via de Citta or Bar Pasticceria Nannini on Via Banchi di Sopra. If you want to buy some traditional Sienese sweets to bring home, stop in at Pasticceria Buti on Viale Vittorio Emanuele II.
Now, fueled up, you're ready to explore Siena's Duomo complex. It doesn't open until 10:30. But you can start with the museum, the Museo dell'Opera del Duomo, which opens slightly earlier at 10:00 am.
2. 10:00 AM: The Duomo Complex
The Duomo complex is the top attraction in Siena. To visit the complex properly, you need to pre-purchase the Opa Si Pass. I explain more about the pass below. You'll need to dedicate a few hours to seeing this vast and amazing complex.
The Duomo complex isn't just Siena Cathedral. It also includes the Baptistry, the Crypt, the Piccolomini Library, the Facciatone viewing terrace, and the Museo dell'Opera del Duomo Museum.
To see them all — and you should definitely see them all — you need the Opa Si Pass. Otherwise, you'll be turned away when you want to explore beyond the cathedral nave and altars.
Siena Cathedral is one of Italy's most beautiful churches, especially for lovers of all things Gothic. The Duomo is the symbol of Siena, clad all over in Siena's trademark white and dark green marble.
You didn't build a cathedral like this unless you had the money and power. Sienna did. If the outside is decorative, the inside is even more ornate.
Consistent with the Gothic ethos that "more is always better," every inch is decorated with marble, mosaics, sculptures, and frescos. Your head might spin from the sheer quantity of decoration. Were the architects worried about leaving any space empty?
When you enter, peering down from above are the busts of 172 popes who reigned from the time of St. Peter until the 12th century. The exquisite marble floor is paved with bible scenes, allegories, and intricate patterns.
The greatest artists of the day contributed master works to Siena Cathedral, including Donatello, Pinturicchio, Ghiberti, Pisano, Michelangelo, and Bernini.
The highlight may be the Piccolomini Library. The fresco-studded library is akin to visiting the Sistine Chapel in the Vatican Museums. The frescos were created by Pinturicchio, who also created the Borgia Apartments in the Vatican Museums.
If you opt to visit the museum, you'll see sculptures by Pisano, Donatello, and Bernini, along with a gorgeous rose window.
Plus, the museum is where you'll find the Facciatone viewing platform. I think it provides an even better view than the Tower of Mangia in Il Campo.
I've written an extensive guide to the Siena Cathedral complex. It tells you exactly which masterpieces you can't miss and describes them in detail.
Click here to pre-book a ticket. Click here for an amazing private guided tour of the cathedral.
3. 1:00 PM: Lunch in Il Campo
The Piazza del Campo, nicknamed Il Campo, is one of Europe's great medieval squares. It's the heart and soul of Siena.
Il Campo is a large open square surrounded by brick buildings, including Siena's pride and joy the Palazzo Pubblico (town hall) and the Tower of Mangia.
Il Campo fans out from the city hall, like an amphitheater. The square and its buildings are the color of its soil, burnt siena.
The square is a perfect place to linger and people watch. Il Campo is like a people friendly stage set.
Opposite the Palazzo Pubblico, you'll also find the Fonte Gaia. It's a monumental marble fountain with carved figures.
It was crafted by sculptor Jacopo della Quercia in 1419 and is considered a landmark of Siena. The original has been moved inside and there's a copy in the square.
The restaurants are rather touristy in Il Campo, as you might guess. But because your next port of call is the Palazzo Pubblico, sit down and enjoy the atmosphere and activity in the fine piazza.
The specialties of Siena are wild boar sauce, ribollita, porchetta, and chianti. Bar Il Palio has the best view of the piazza.
If you don't want to eat right on the main square, the restaurant Te Ke Voi is good, and just steps from Il Campo. For dessert, consider trying Siena's delicacy, the local fruit cake called panforte.
4. 2:00 Palazzo Pubblico
The Palazzo Pubblico is another landmark to carve out some time for on your 1 ay Siena itinerary. The palace was built in 1297-1308 for the Council of Nine, the governing body of Siena.
The palazzo is a harmonious example of early Renaissance architecture. It has a curved brick facade and beautiful triforate arched windows.
Beside the palazzo soars the slender Tower of Mangia, which you can climb for panoramic views. The complex is one of the seminal civic structures in Europe.
The Palazzo Pubblico also houses Siena's Civic Museum. That museum holds one of the world's most important and intact secular fresco cycles from the middle ages and a famous Maesta by Simone Martini.
It's often overlooked by tourists visiting Siena, possibly because the entry fee is fairly high. But if you're an art lover, the Palazzo Pubblico is a must visit attraction in Siena.
In the Room of Peace, the city council met under an instructive painting cycle called the Allegory of Good and Bad Government. It's a message that seems apt for today.
Bad government and tyranny results in run down homes, friction, assassinations, and war. Good and virtuous government results in dancing women, peace, and booming commercial prosperity.
Here's my complete guide to visiting Palazzo Pubblico, with a lengthy analysis of the famed fresco cycle by Ambrogio Lorenzetti. Click here to pre-book an entry ticket to the palazzo.
If you speed through the palazzo, head next door to the Hospital of Santa Maria della Scala. The fresco cycle shows Siena's innovative and progressive health care system at work. Siena took in orphans and cared for its poor.
5. 3:30 PM: Torre del Mangia | City Tower
Fancy a climb? If you need to burn off some carbs, the almost 300 foot Tower of Mangia is for you. There's no elevator. And it's 400 steps to the top — a somewhat claustrophobic one way trek.
The Tower of Mangia is the same height as the steeple of Siena Cathedral. And the tower is an exact 1:1 ratio with the Piazza del Campo. The height of the bell tower is equal to the radius of the square, kind of a nifty architectural device contributing to the beauty of the piazza.
The Tower of Mangia was the tallest one in Italy when built in 1338-48. But Florence's Tower of Arnolfo in the Palazzo Vecchio has it beat. "Mangia" was the nickname of the tower's first bell ringer, known for his debauchery, sloth, and interest in eating.
At the base of the tower is a chapel dedicated to the Virgin Mary. It was a thank you for delivering Siena, finally, from the plague.
Once you've climbed to the first floor of the Tower of Mangia, you have to leave your bag in a locker (free). But you can bring your camera with you.
20 people are allowed up every 30 minutes. It's best to buy your ticket early in the day and come back later, as the tower can sell out in high season.
If you want great views without a steep and cramped climb, there's a great alternative I mentioned above — the Facciatone viewing terrace in the Museo dell'Opera del Duomo in the Siena Cathedral complex.
6. 4:30 PM: Stroll Through the Historic Center of Sienna
Walking through Siena's dreamy medieval streets is like stepping back in time. The narrow back streets are quaint, colorful, and picture perfect.
Some are lined with flags of the Contrade (Siena's neighborhoods) and iron rings for tethering horses. Not surprisingly, the entire city center is a UNESCO-listed site.
Take your time. Go shopping, have an espresso, glass of wine, or an apertivo at one of the many cafes. It's easy to get lost. But it doesn't really matter.
If you'd like to imbibe in style, stop in at Morbidi, Gino Cacino, or Liberamente Osteria. For some drinks and jazz music in a stylish setting, try Un Tubo, a short distance from Il Campo.
If your legs aren't tired yet and you have time, take a hike up to another important church in Siena, the Church of San Domenico.
It's not far from the historic core. Inside, see the pretty Chapel of Caterina, with frescos and marble sculptures. You'll also be rewarded with beautiful views.
7. 8:00 PM: Dinner in Siena
Now is the time to indulge in an excellent Italian meal. If you're ready to splurge, your best option is either the Michelin starred La Taverna San Giuseppe or Antica Osteria da Divo. Be sure to make reservations.
Antica is very atmospheric. It's partially housed in ancient Etruscan tombs. At both, you'll have fine wine and fine Italian food. If you're on a budget, try Gino Cacino di Angelo instead.
Alternatively, you can have dinner in a vineyard around Siena.
How To Get Around Siena
You can walk everywhere in Siena, with just a bit of climbing involved. If you want an audio guide for a more informed walk, you can download Rick Steve's Audio Europe App. He goes into substantial detail about what you'll see around town and in the Duomo complex.
There are also taxis available at the train station and in town at the Piazza Matteotti.
The tourist office is in the Santa Maria della Scala complex near the Duomo. It's open from 10:00 to 6:30 pm. This is where you can purchase either the Acropolis or Opa Si passes, that I'll describe below.
What Tickets Should You Get For Siena?
This partly depends on how long you're staying in Siena. If you're only there for one day, I would opt for the Opa Si Pass. Click here to purchase it online in advance. Or, you get buy tickets at the ticket office just outside the Duomo. Expect lines in high season though.
The Opa Si Pass is an all inclusive 3 day ticket to sites in the Siena Cathedral complex. It includes entry to the cathedral, the Piccolomini Library, the Museo dell'Opera del Duomo, the Baptistry, the Facciatoni viewing platform, and the Crypt. The pass gives you skip the line access and it's much cheaper than paying for each site individually.
Then, I would add on a ticket to the Civic Museum in the Palazzo Pubblico. It's worth it just to see the stunning Allegory of Good and Bad Government. If you're not a fan of that period of art, then you can skip it and save the 10 euro entry fee.
Unless you're crazy for views like I am, you might skip the rather hefty 10 euro charge for the Tower of Mangia. You can get a free view from the Facciatoni with your Opa Si Pass.
If you're in Siena for more than one day, opt for the all inclusive Acropoli Pass. This pass gives you entry to all the Duomo sites listed above plus the Oratorio di San Bernardino, and Santa Maria della Scala.
When Is The Best Time To Go To Siena
I'd avoid going in July and August. Aside from the crowds for the Palio Race, it's brutally hot. But seeing the Palio is an adventure in itself, so you might want to brave it. Just be prepared for crowds.
Shoulder season, spring and fall, are the best times to visit. October is the best month to visit most of Tuscany, with sunshine days, great weather, and cooler nights.
READ: 10 Day itinerary for Tuscany
How To Get To Siena
1. By Car
If you've got a car, it's easy to drive to Siena. Siena is a little over an hour from Florence. It's 45 minute drive from San Gimignano.
Siena is surrounded by city walls with big gates. But there are plenty of car parks outside.
You can't drive into the city center. Parking lots close to the city center are very expensive.
Click here for complete information. Be sure to keep your ticket and pay in the automated machine before exiting.
There's one free parking lot next to the Fortezza, Siena's 16th century fortress, which might not be full in the off season. You can also park for free at the train station.
2. By Bus
Siena is most commonly visited as a day trip from Florence. Rome is just too far away for a day trip IMHO.
If you are day tripping from Florence, the bus may be the best option. It leaves from the the Florence bus station, Firenze Autostazione, which is near Florence's Santa Maria Novella Train Station.
In a little over an hour, it drops you off just a few steps from Il Corso, Siena's main pedestrianized street. Click here to check the timetable.
3. By Train
You can also get to Siena by train from Florence's Santa Maria Novella Station. There are 16 trains leaving daily. They take between 1:10-1:30.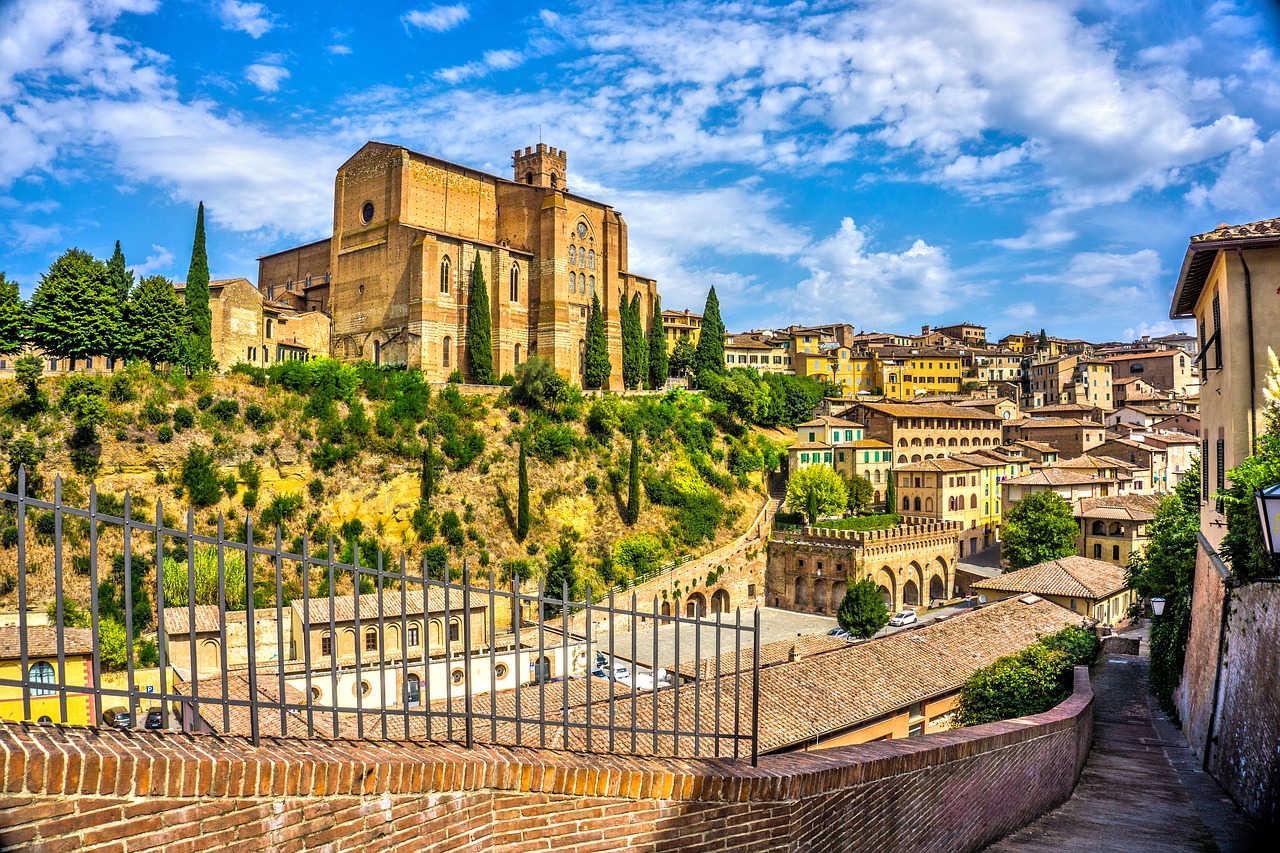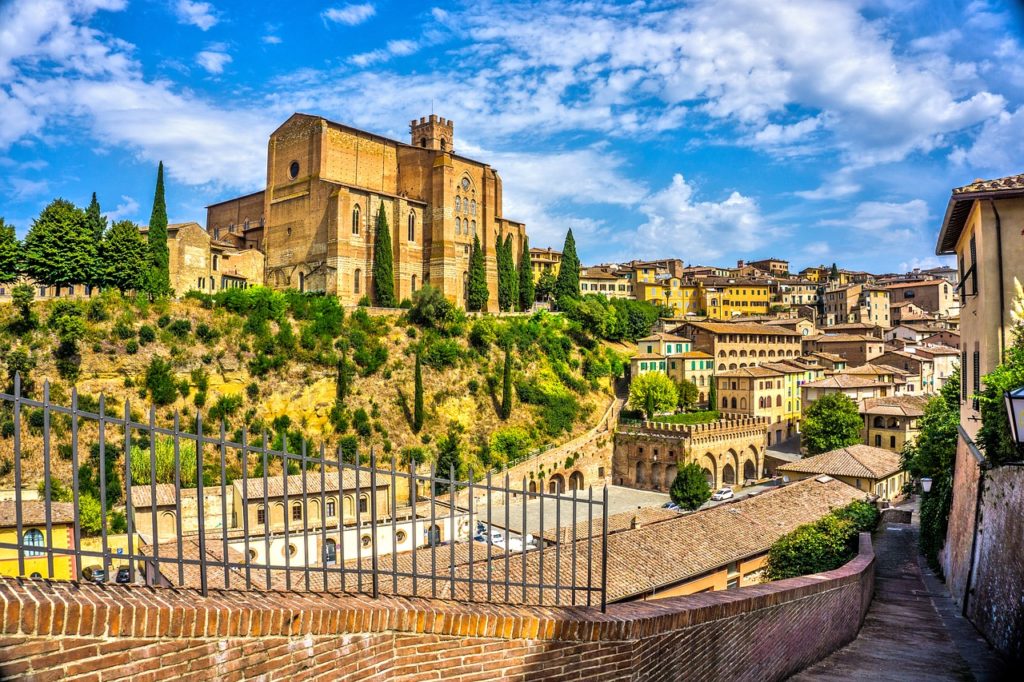 Click here to check the official website, Trenitalia, for times and fares. If you arrive in Siena by train, you'll be at the bottom of a hill.
You can take a bus into the city center. Or hike up, with escalators to help along the way. When you reach the top, it's just a 5 minute walk to the old town gate.
4. Siena Tours
One popular day trip from Florence combines Siena, Pisa, and San Gimignano, for big bang for the buck. Wine tours are a staple of a Siena visit.
And of course there's nothing better than your own personal Siena walking tour. There's even a walking tour of secret Siena. And naturally, you can take a food tour of Siena.
Where To Stay In Siena
Siena has some excellent accommodations. You can stay in luxe hotels, castles, or palazzos.
You should consider the Grand Hotel Intercontinental (vintage grandeur in a former palazzo), Hotel Certosa di Maggiano (converted 14th century monastery), or the Regio Relais (central location).
You can take a romantic mini-break in the beautiful Palazzo Ravizza. Or enjoy a boutique guest house in an unbeatable location, the Il Battistero Siena. The Relais degli Angeli is the epitome of Tuscan elegance.
I have you've enjoyed my one day itinerary for Siena. You may enjoy these other travel guides and resources for Italy:
If you'd like to spend 1 day in Siena, pin it for later.