Looking for a 2 days in Madrid Spain itinerary? You've come to the right place!
The capital of Spain, Madrid offers up a beguiling combination of history, art, and culture. With this two day itinerary, you'll discover everything to see, do, and eat in Madrid as you drift through its stunning outdoor plazas.
Many travelers use Madrid as a gateway to Spain's other destinations, the Art Nouveau beauties of Barcelona or the Moorish treasures of Andalusia.
But the grandeur and intimate charms of Madrid deserve your attention, if only for 2 brief days.
Madrid is a genteel capital, a hub of culture and old world elegance. It's a beautiful thriving city studded with fantastic public squares and tree-lined boulevards, art-filled museums, and a lavish palace.
Madrid is a compact and lively collection of quaint small villages and tapas bars, and home to a buzzing nightlife.
Most people flying to Spain land in Madrid. This Madrid itinerary assumes you've flown in and settled into your accommodations around mid-morning, ready to spend 2 days in Madrid.
If you are organized, you can cover most of the main attractions in Madrid. Madrid is nowhere near as big as Barcelona.
You can walk from site to site with relative ease. You don't even need to use the metro. You can also rent a Bici bike to explore the city.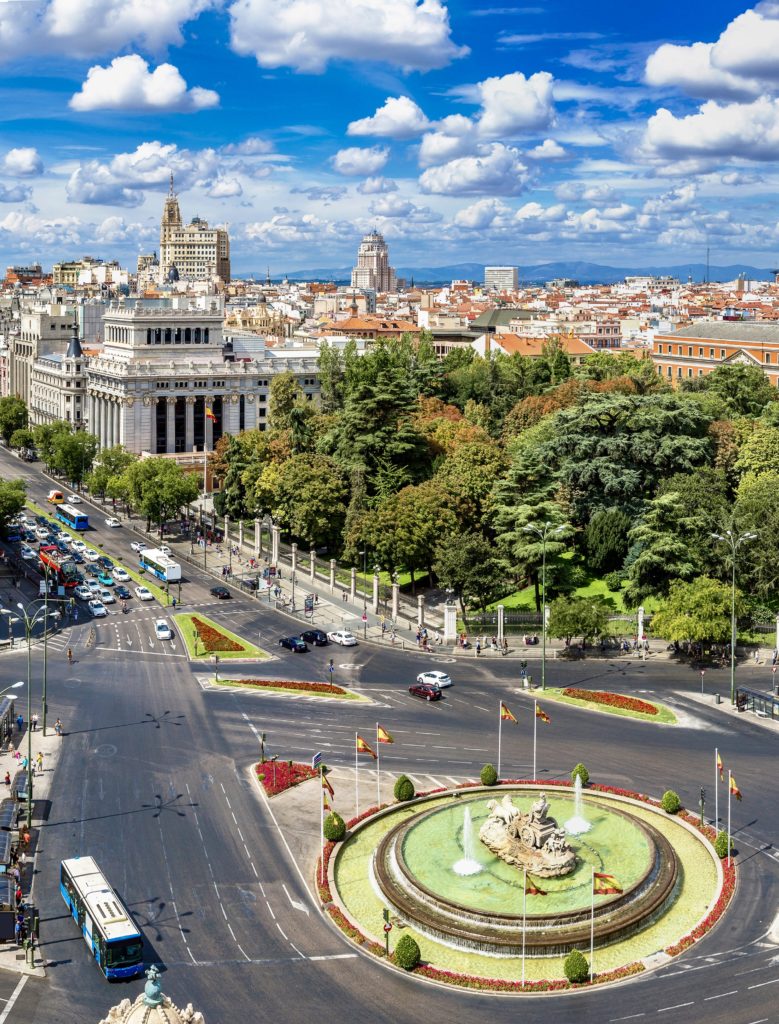 Overview Of 2 Days In Madrid Itinerary
Historic center
Mercado San Miguel
Prado Museum
Plaza de Cibeles
Gran Via
Flamenco show
Lavapies area
Royal Palace
Almudena Cathedral
Plaza Mayor
Reina Sofia
Retiro Park
Salamanca
Food tour
2 Days In Madrid Itinerary
Here's the best way to spend 2 days in Madrid. As with all of my suggested itineraries, you can tailor it to suit your individual interests, needs, and pace of travel.
Day 1 Of 2 Days In Madrid
You'll likely arrive mid to late morning. When you land at Madrid's airport, there are several options to get to the city center.
Take metro line 8, if you're on a budget. Or take a taxi or reserve a private transfer (best option). Click here for an excellent guide with all the transfer options.
You can also book a private transfer to take you directly to your hotel.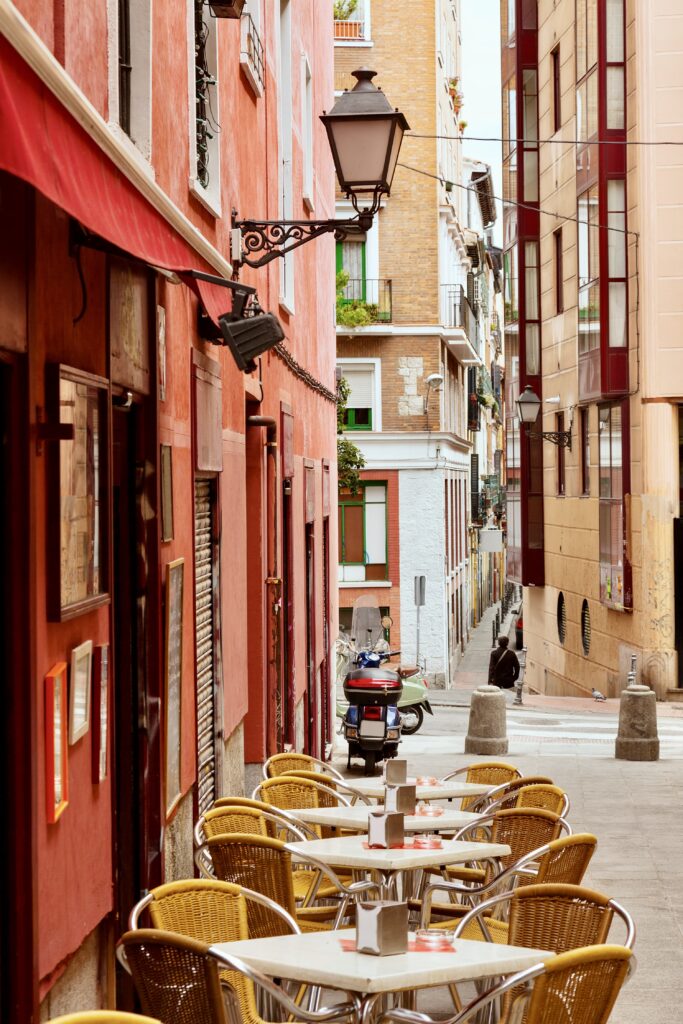 Historic Center & The Prado
Settle into Madrid's vibrant vibe with a stroll in Madrid's historic core, the pedestrianized Calle de las Huertas and the emblematic main square of Puerta del Sol.
You may want to book a 2 hour guided walking tour of the historic center to get oriented.
Puerta del Sol means the Sun Gate. It's essentially Madrid's Times Square, buzzing with people.
Puerta del Sol
Puerta del Sol is a mostly pedestrianized wide open space. The equestrian statue in the middle honors King Charles III.
He was responsible for decorating the square with beautiful fountains. You'll also find a heraldic symbol of Madrid, the bronze statue of the Bear and the Strawberry Tree.
If you want to do some shopping in the area, pop into The Nest, Herself, or Curiosite. There's also a good ice cream joint, Ice Wave.
You can grab some lunch in this area as well. For a sit down meal, try Botin or Casa Labra. The latter is tucked into a side street near Sol and has been a Madrid institution since 1860.
Mercado San Miguel
Even better, you can walk 7 minutes to the Mercado de San Miguel. It's a swishy glass and iron food market with gourmet tapas stalls. This is a good spot to grab lunch or some churros and chocolate.
The market is housed in a historic glass and iron building. San Miguel is the perfect place for adventurous eaters who like to stroll and snack on ready-to-go high end treats.
You could also book a lunchtime tapas tour and gain insight into Spanish culinary traditions.
Prado Museum
In mid-afternoon, head to the masterpiece-filled Prado Museum. It's one of the world's best museums.
Click here to book a skip the line ticket. Click here to book a guided tour of the magnificent museum.
Housed in a grand Neo-Classical building, the Prado is Spain's cultural jewel and one of the world's most celebrated museums. It boasts Europe's finest and most sensuous painting collection.
The Prado houses art from Spain's glory days, the 16th and 17th centuries. It's a surprisingly worldly and cultural collection from a time that included the Spanish Inquisition.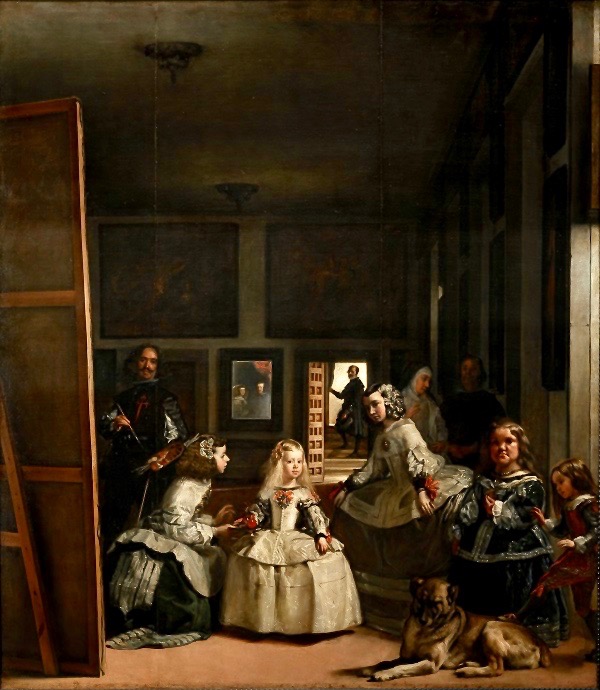 The Prado's artistic anchors are the holy trinity of Spanish painters — Goya, Velazquez, and El Greco. You'll also find plenty of Rubens, Raphaels, and Rembrandts.
The museum holds some of Europe's greatest masterpieces — Velazquez' Las Meninas, Fra Angelico's Annunciation, Bosch's Garden of Earthly Delights, Durer's Adam and Eve, and Goya's Family of Charles IV, The Third of May, and Nude Maja.
Some art historians consider Las Meninas the world's finest painting.
Here's my complete guide to visiting the Prado and experiencing its must see art works.
Don't miss the haunting Black Paintings by Goya in the subterranean gallery. If you're a Goya devotee, you may want to inspect his frescos in the San Antonio de la Florida Chapel, where he is also buried.
Plaza de Cibeles
Near the Prado Museum, you'll also find the Plaza de Cibeles. It's another of Madrid's emblematic squares. This Neo-Classical beauty is home to some stunning architecture.
The Buenavista Palace is the oldest building in the plaza. The Cibeles Fountain shows the Greek goddess of fertility, Cybele, seated atop a chariot being pulled by lions.
The masterpiece of the square is the magnificent Cibeles Palace. Formerly the post office headquarters, in 2007, it became Madrid's city hall.
An interior patio, the Galeria de Cristal, has a 30 meter high ceiling made of 2,000 glass triangles.
There's also a rooftop terrace that serves cocktails and food with a dollop of views across Madrid's city center. Click here to book a guided tour of the palace.
In the evening, for 5 euros, head to the rooftop terrace of the Circulo de Bellas Artes to watch the sun set over the city. It's a classic thing to do in Madrid.
You'll have breathtaking views and the iconic photo shot of the Gran Via.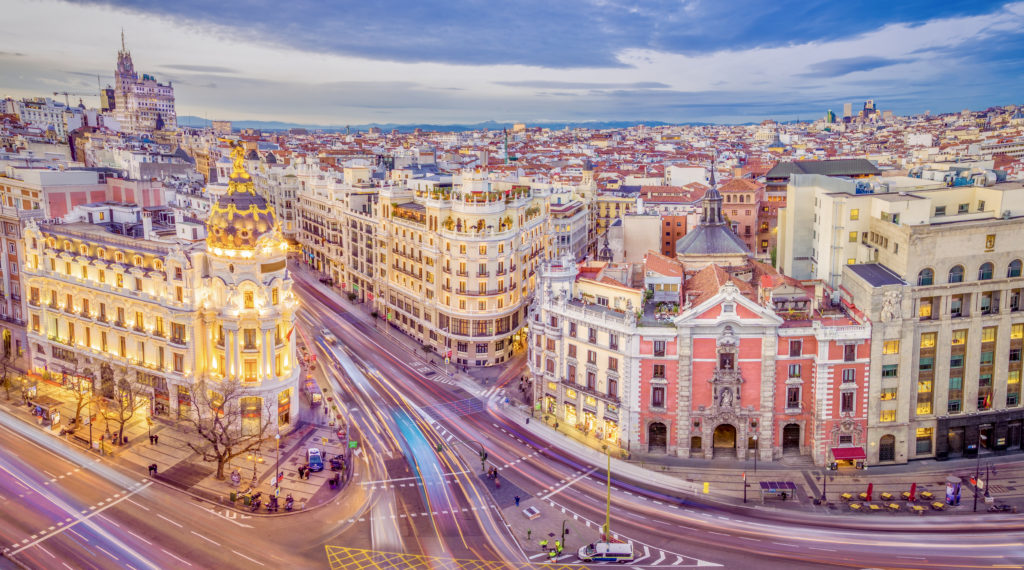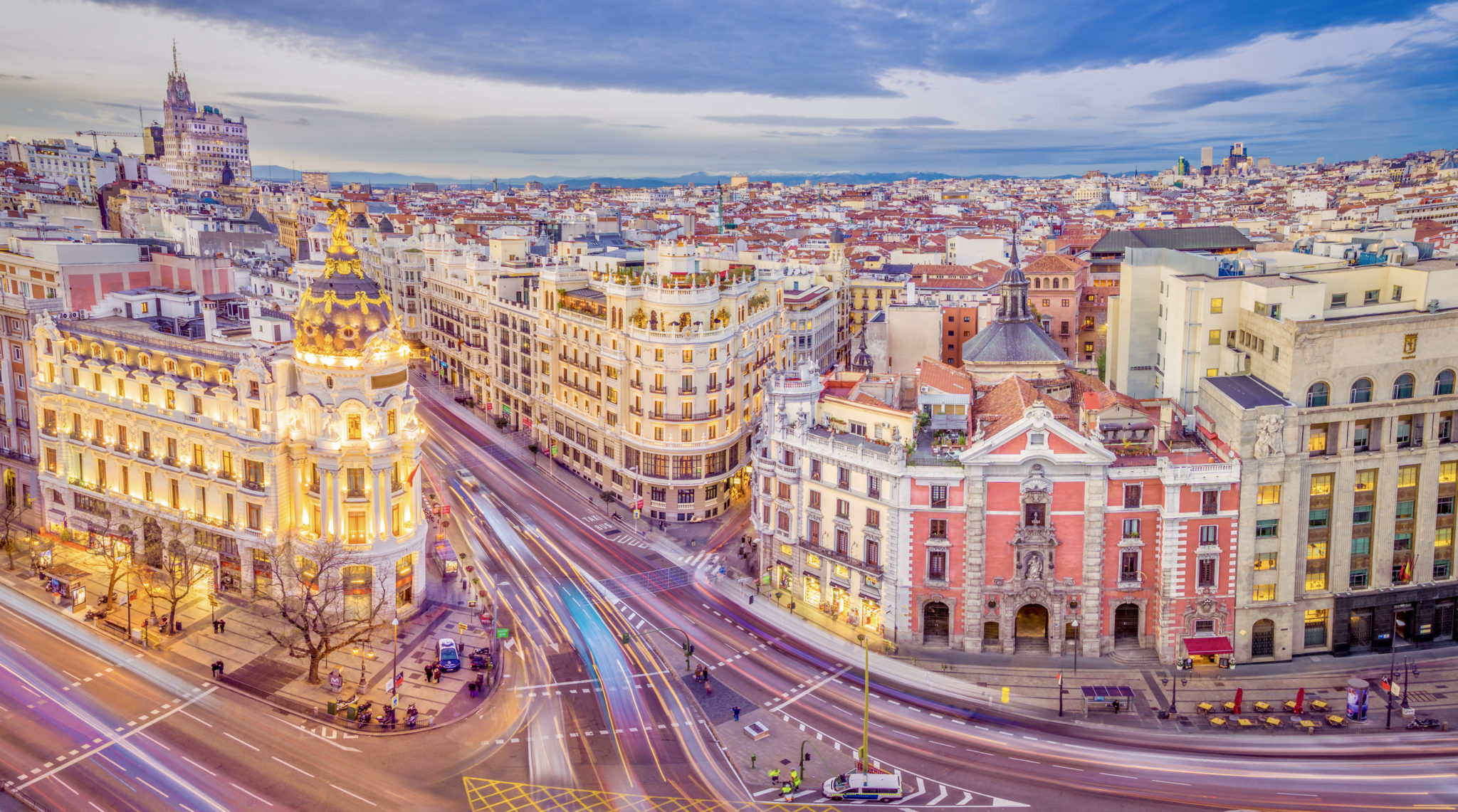 Then, head to the old time-y La Venencia for a sherry. This sepia-toned sherry bar was once frequented by Ernest Hemingway and hasn't changed in years.
If you want to be with the beautiful people, instead try the terrace of the Melia Hotel for a sunset drink.
End your day with a progressive tapas dinner in the lively La Latina neighborhood. The Spaniards call this grazing stroll a tapeo.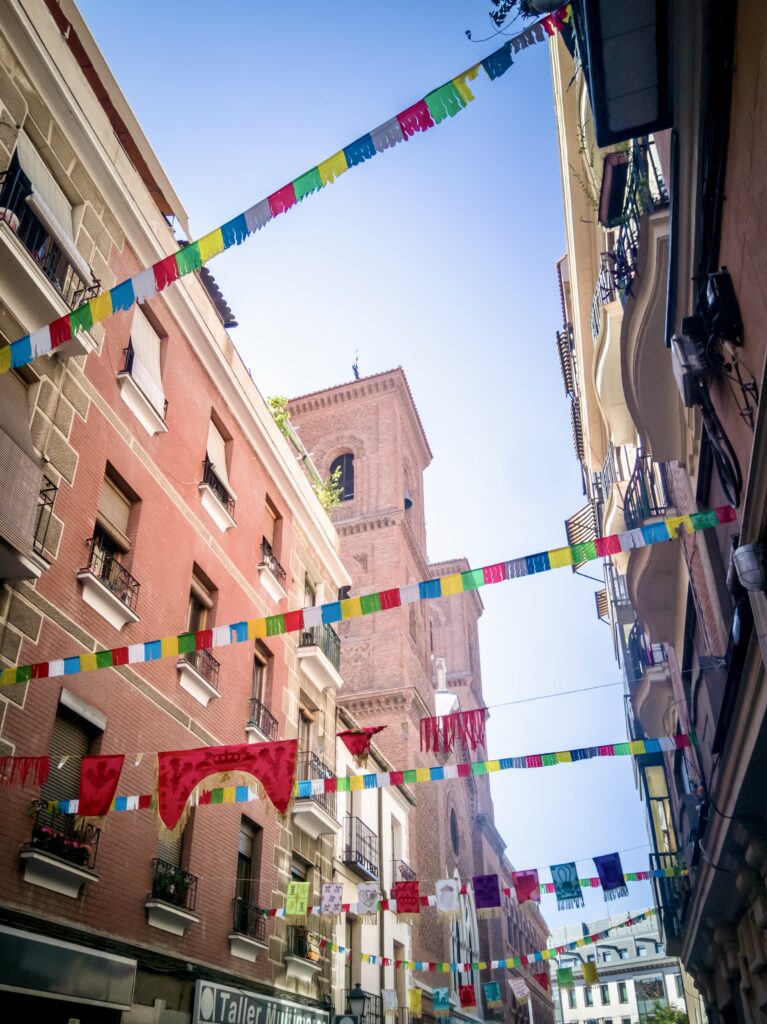 The Calle Cava Baja is just a few blocks south and east of the Royal Palace. It's one of Madrid's coolest streets, flanked by a series of colorful buildings.
A three block stretch is crammed with authentic tapas bars and restaurants, from contemporary to traditional. Click here for a restaurant guide to Calle Cava Baja in La Latina.
You might also consider ending your day with a flamenco show. Seatings are typically at 8:00 pm and 10:00 pm.
Click here to book a ticket at the legendary Torres Bermejas theater. You can also book a flamenco tour with wine and tapas.
Day 2 Of 2 Days In Madrid
Day 2 Morning: Lavapies, Royal Palace, Gran Via
On day 2, grab some breakfast in Madrid's hip Lavapies neighborhood at Pum Pum Cafe or Murillo Cafe.
While there, you can admire the street art. The La Latina neighborhood also has a good brunch spot, El Imparcial.
Alternatively, sugar-shock yourself like a local with the chocolate and churros. The classic places are Ibiza 74 and Chocolateria San Gines.
Or, just grab some freshly ground coffee at one of the Toma Cafe locations.
1. Royal Palace
Once caffeinated and fueled up, take a tour of the sumptuously decorated Royal Palace, Palacio Real, which rivals Versailles in grandeur. To visit, you need to book a ticket online.
You can choose either a skip the line guided tour or an unguided timed entry slot. The Royal Palace is one of Europe's greatest palaces with 2,000 themed rooms, a king's ransom of gilding and chandeliers, and luxurious tapestries.
The magnificent palace is also renowned for its frescos and stunning artwork. You'll find paintings by many artistic luminaries — Velazquez, Goya, Rubens, El Greco, and Caravaggio. The throne room is a Rococo riot of red velvet walls and ceiling frescos.
2. Almudena Cathedral
Adjacent to the palace is Almudena Cathedral, the wedding venue of the King of Spain. Opened in 1993, it's a massive white and gray building that's free to enter.
Head in the side entrance to see the Neo-Gothic interior. Check out the colorful frescos in the apse. There's also an ancient 15th century altarpiece.
You can also climb the staircase to the top and see for miles around.
Then, walk a bit north from the palace along Calle de Bailen to Plaza de Espana. There, you'll find the famous Cervantes monument, featuring the novelist's famous characters, Don Quixote and Sancho Panza.
3. Plaza Mayor and Gran Via
Continue to Madrid's elegant arcaded Plaza Mayor and to Gran Via. The 17th century Plaza Mayor is the beating heart of Madrid.
It once hosted bullfights and is the perfect place to grab a (rather overpriced) coffee. Three minutes from Plaza Mayor is Puerta Cerrada, a plaza with bright painted murals.
Gran Via is a famous shopping street in Madrid, close to other sightseeing attractions like the Plaza de Cibeles and Plaza de Espana. (The most upscale shopping area is still in Barrio Salamanca.)
Pop into a fantastic little bookstore on Gran Via, Casa del LIbro.
Recent renovations have made the Gran Via more pedestrianized, with wooden benches to plop down on.
For lunch, head to a hip new spot in Madrid, Miski Restobar. Miski Restobar is located on the ground floor of an old building in the Malasana district about 300 yards from Gran Via.
It's a ridiculously cool architectural space. It serves up modern takes on European, Latin American, and Asian dishes.
Day 2 Afternoon: Museums or Retiro Park & Salamanca
For your afternoon on day 2, choose between visiting more of Madrid's iconic museums or exploring Retiro Park and Madrid's tony Salamanca neighborhood.
If you're on the museum trail, Madrid has two more absolutely world class museums on the Paseo del Prado, the grand museum boulevard.
Head to either the Reina Sofia or the Thyssen-Bornemisza Museum. You can try to do both. But it may cause serious museum malaise.
1. Reina Sofia
Opened in 1992, the Reina Sofia is the heart of modern art in Madrid. It's Madrid's most popular museum, and well-curated to boot. There's a special focus on Spain's favorite sons, Pablo Picasso and Salvador Dali.
READ: Guide to the Dali Theatre-Museum in Figueres Spain
The star of the Reina Sofia is Guernica in Room 206. It's Picasso's grim depiction of the Nazi bombing of Guernica Spain in 1937.
In the room, you'll also find photographs of the work in progress, taken by Picasso's paramour Dora Maar.
READ: Guide To the Picasso Museum in Paris
If you didn't lunch at Miski, the Reina Sofia's Arzabal is a lovely restaurant offering amazing tapas. Just behind the Reina Sofia, you'll also find nearly 40 contemporary art galleries lining the Calle del Doctor Fourquet.
Click here to book a skip the line ticket for the Reina Sofia. Click here for a guided tour of the magnificent museum.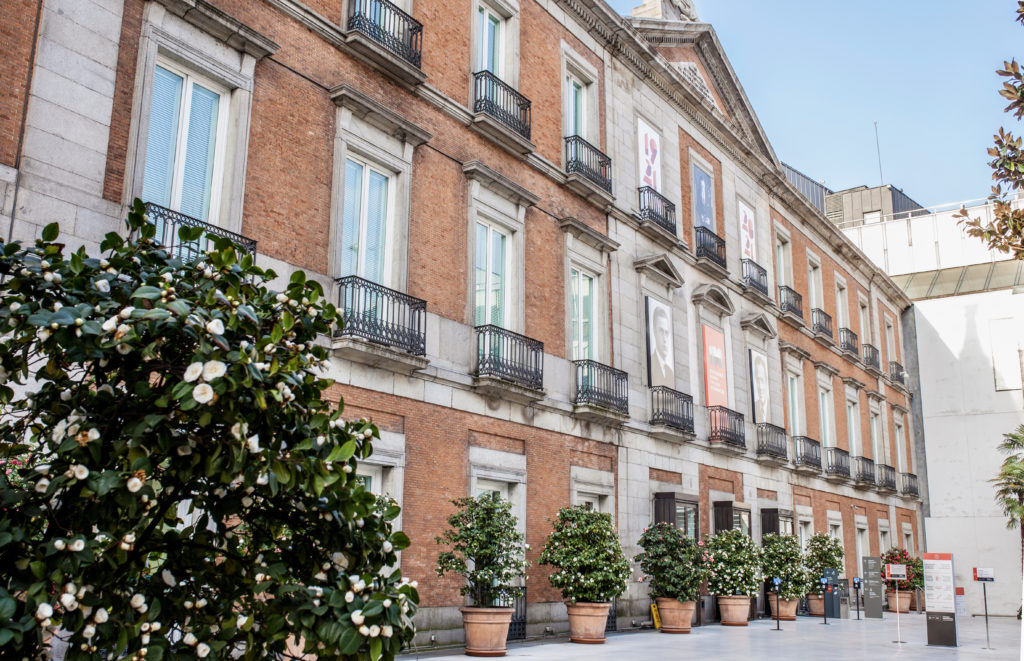 2. Thyssen-Bornemisza Museum
The Thyssen-Bornemisza Museum is housed in the Villahermosa Palace. The collection is one of the world's most impressive private art caches, second only to Queen Elizabeth of England. Opened in 1994, the Thyssen (pronounced Tee-sun) museum offers something for everyone.
Mixing contemporary and classic, the museum covers every major period in Western art, from the Italian Renaissance to Pop Art. It also has an important collection of 19th century American paintings not found elsewhere in Europe.
This is where you'll find some fan favorites — Impressionists, Post-Impressionists, German Expressionists, and Surrealists.
READ: Best Museums in Spain
Click here to book an entry ticket. Click here to book a guided tour.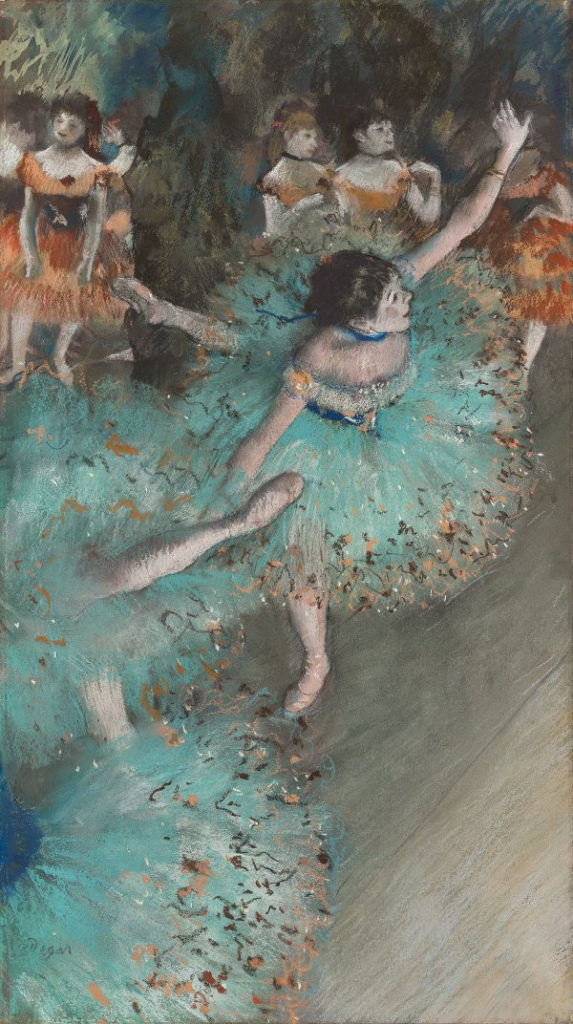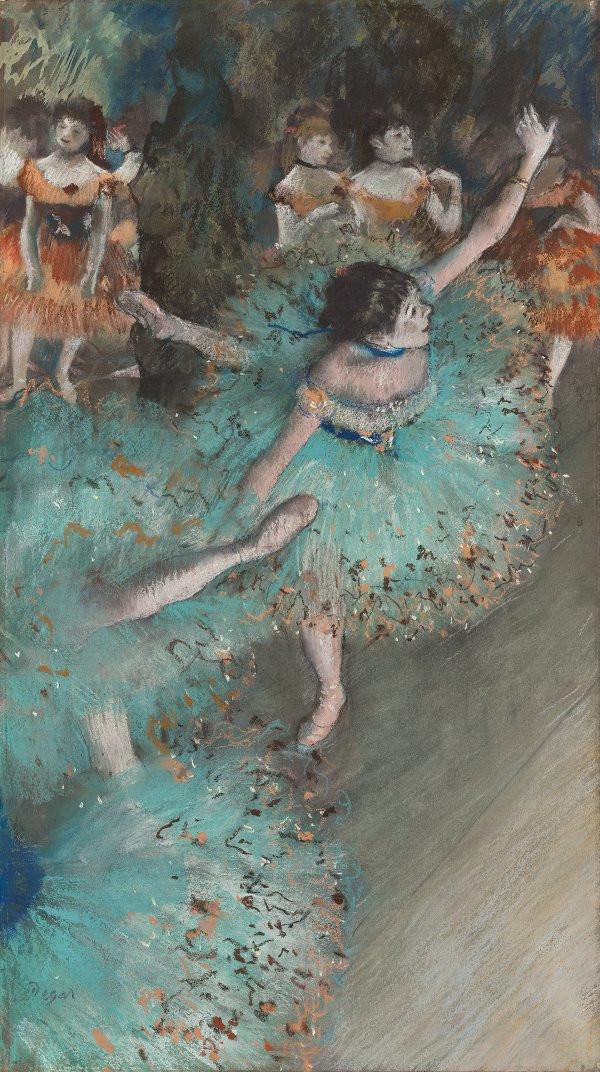 3. Retiro Park
If you're not a fan of museums, instead take a bucolic stroll in Retiro Park and the adjacent Salamanca neighborhood. Retiro Park, El Retiro, is Madrid's most popular green space. It opened in the 1700s as a retreat for the royal family.
El Retiro is filled with royal remnants, wonderful monuments, and fountains. There's the Crystal Palace, the Alfonso XII monument, gardens, statues, and a man-made lake to explore.
The stunning Crystal Palace is made almost entirely of glass. It hosts temporary art exhibitions.
4. Salamanca
Walk through Retiro to the upscale residential neighborhood of Salamanca.
Salamanca is a shopper's paradise, home to tony shops and Spain's most expensive street, Calle Serrano. You'll find both international, Spanish, and niche brands.
If you're looking to treat yourself to a fantastic meal, Salamanca has fantastic restaurants.
Two of Madrid's best restaurants are in this area on Calle Jorge Juan, Alkalde and El Paraguas. There's also the Michelin-starred options, Ramon Freixa Madrid and Mario Sandoval, and the Philippe Starck designed Ramses Bistro.
5. El Rastro
As an alternative to El Retiro, you could head to El Rastro in the Lavapies neighborhood. There, you'll find antique shops and a bustling Sunday street market you can peruse for vintage finds.
In your quest for hidden treasure, weave in and out of the side streets to find the secrets stalls. Just be sure to watch your wallet here.
Day 2 In Madrid Evening:
Madrid has one of Europe's best night scenes, if you're a night owl.
It's a late night city that never really sleeps, so there are many evening options.
1. Chueca or Food Tour
Start your night with a glass of vino at Angelita Madrid or Valgame Dios, bars in the trendy Chueca neighborhood of central Madrid.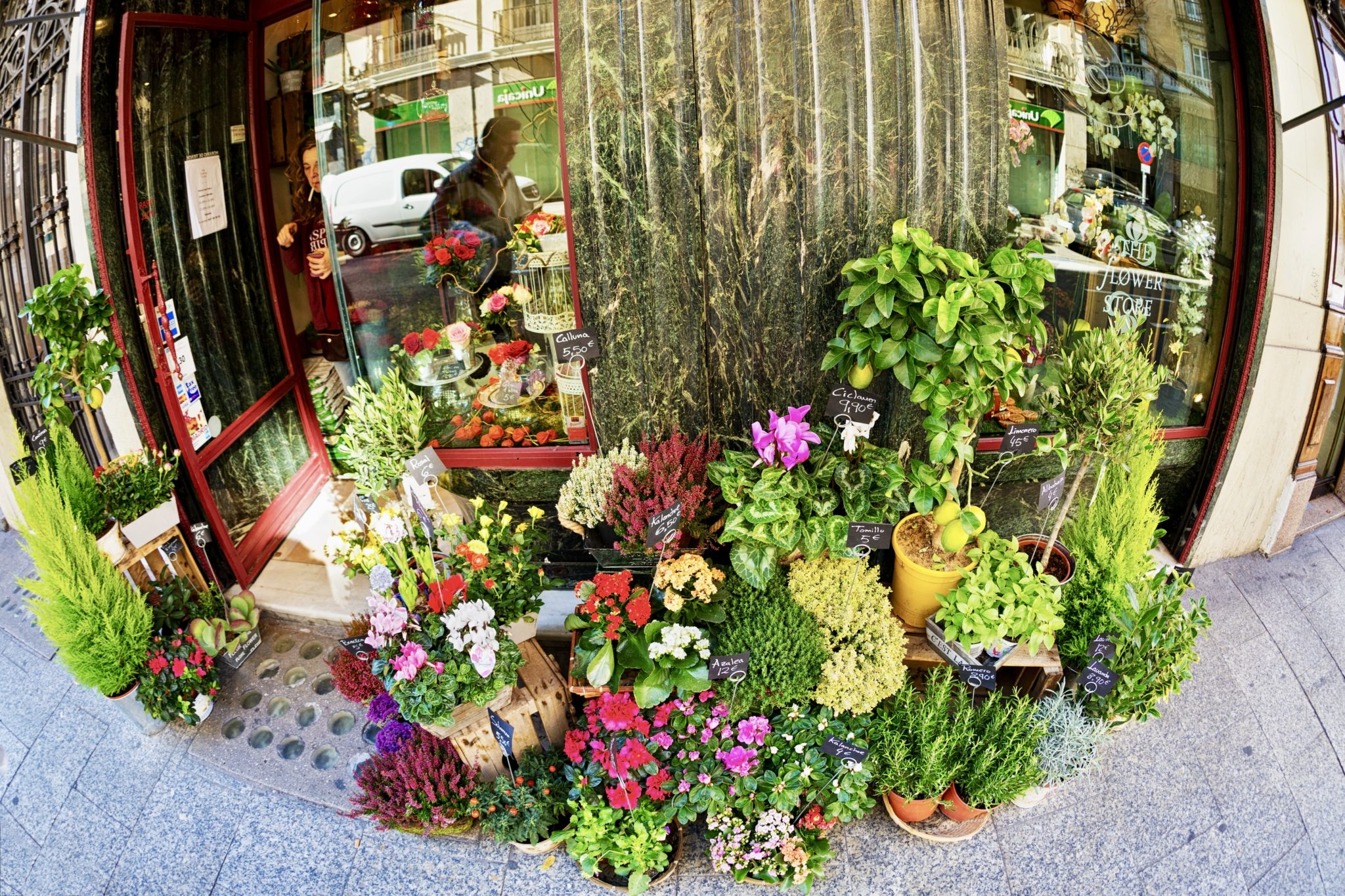 If you want to have dinner in this area, try Mercado San Anton where you can choose from international cuisines. Or grab some tacos at Tepic or Asian food on Reina Street.
In lieu of a restaurant, you may want to take a tapas and wine tasting tour.
Or check out this 3.5 hour historic walking tour + dinner or this 4.0 hour tapas, taverns, and history guided tour.
Madrid also has a hopping beer scene. The most famous beers are Cerveza Cibeles and Cervezas La Virgen.
2. Temple of Debod
If you didn't get your sunset view on day 1 because of jet lag, head to the Temple of Debod. This authentic Egyptian monument dates from the 4th century B.C. It's located in West Park, the Cuatrel de la Montana Park, only 10 minutes from the royal palace.
The shrine is dedicated to the goddess Isis. It was donated by the Egyptian government in 1968. At night, it's lit up to beautiful effect, a pleasing contrast against steel skyscrapers.
Alternatively, if you opted for the Thyssen-Bornemisza instead of the Reina Sofia in the afternoon, the Reina Sofia is open from 7:00 to 9:00 pm. You can visit before your late Spanish dinner.
Ten minutes from the Reina Sofia is a romantic underground wine cellar serving up modern tapas, the Bodega de los Secretos.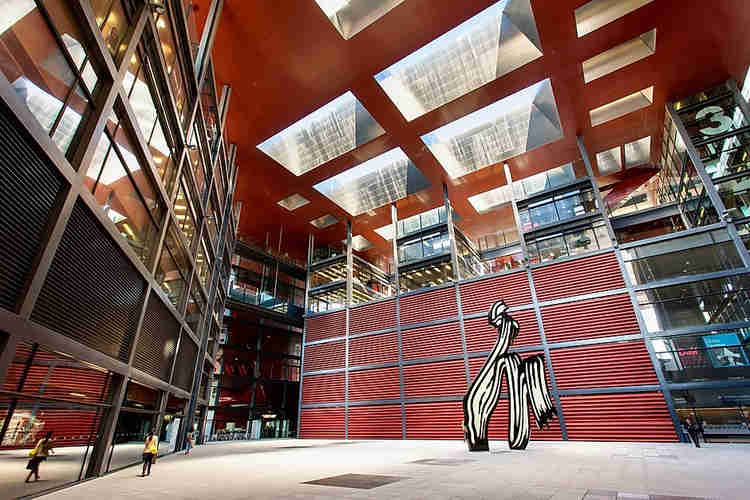 If you're a culture buff, consider taking in a show on Gran Via, which is Madrid's equivalent to Broadway. Gran Via houses Madrid's major theater venues, including the world famous Lope de Vega.
Tips For Spending 2 Days In Madrid
Here are some must know tips for visiting Madrid.
1. How To Get To Madrid
Madrid in an easy place to fly into. You should have loads of flight options, many at good prices.
If you fly into Madrid, you'll arrive at Adolfo Suarez Madrid Barajas Airport. You can get to the city center via train, bus, metro, or taxi.
Taxi is the easiest and it will cost around 30 euros. You can also book a private transfer, which I always find handy.
You can also reach Madrid by high speed train from Seville, Barcelona, and Valencia.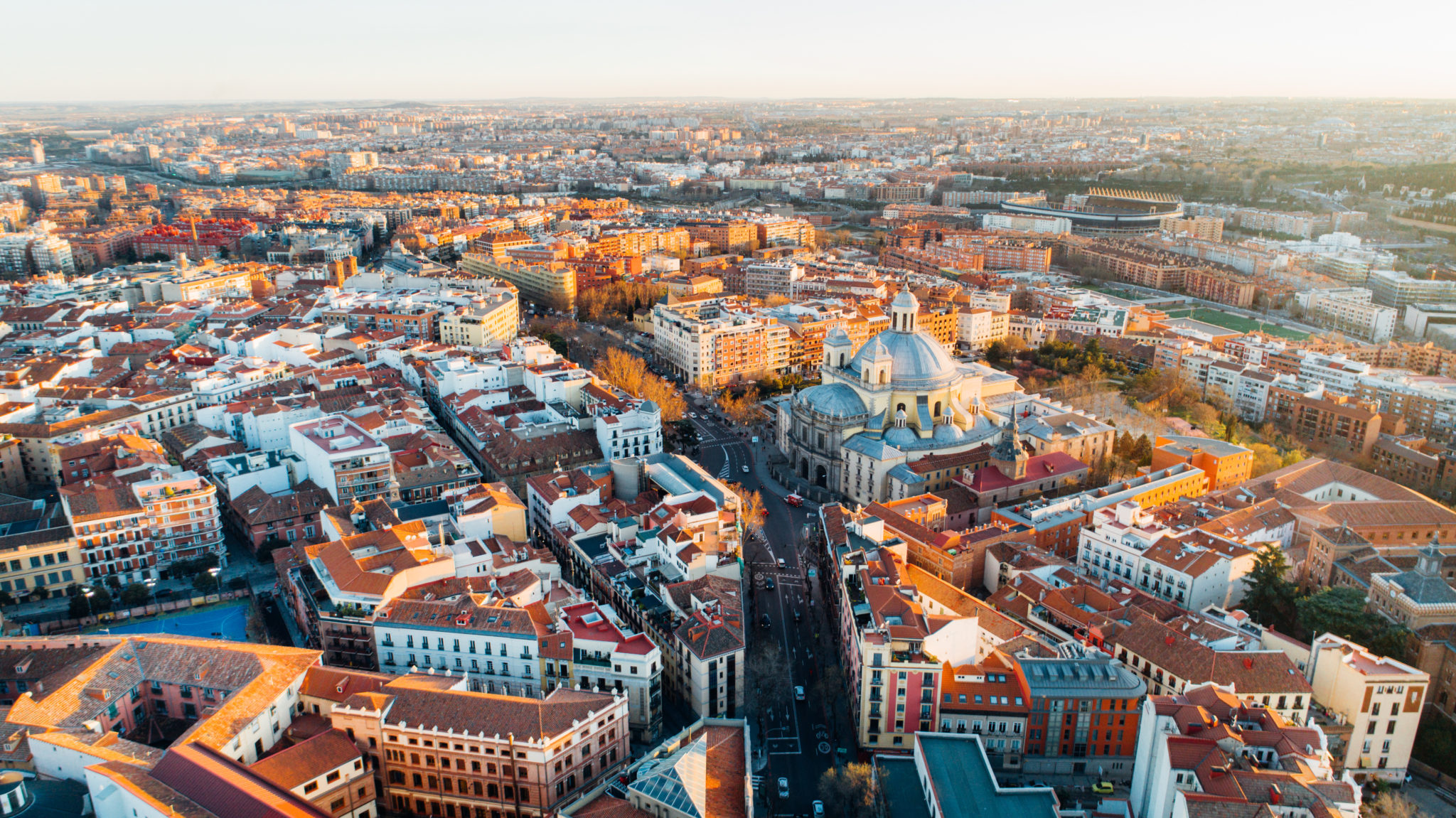 2. How To Get Around Madrid
Madrid is a fairly big city. But you can walk to the main attractions in the historic center.
Other than that, the easiest way to get around is by metro. The metro is clean and easy to use. If you are doing more than one ride, buy the 10 ride pass.
You can also hail metered taxis. Or find them in taxi queues throughout Madrid. But beware you might be driven around to drive up the meter.
Madrid is also becoming a bike friendly city. You can rent bikes in the big parks. The bigger streets have bicycle lanes.
There are plenty of other fun ways to get around Madrid too. You can:
3. Where To Stay In Madrid
You're spoiled for choice for excellent hotels in Madrid. New luxury hotels seem to open up every month.
You can stay at classy well-established hotels like The Westin Palace Madrid, the Four Seasons Hotel Madrid, or the Mandarin Oriental Ritz.
The Ritz is newly renovated and now has a spa and champagne bar. The Four Seasons has a rooftop restarts helmed by famous chef Dani Garcia.
My personal favorites are probably the:
If you want to stay in Salamanca, a beautiful new hotel just opened, the Rosewood's Villa Magna. It's newly revamped and housed in a historic landmark.
4. When To Visit Madrid
The best time to visit Madrid is spring or fall. Winters are chilly (but not Arctic cold) and summers are hot.
In August, the city is scorching. If you plan to visit then, be sure to bring sunscreen!
If you are planning a 2 days in Madrid winter visit, you should time it to coincide with the Three King's Parade. It's one of the biggest and fanciest in all of Spain. It takes place on January 5th, the traditional gift giving day in Spain.
5. Is Madrid Safe?
You won't encounter major crime in Madrid. But you will encounter pickpockets. I even had a friend have his phone swiped at a fancy restaurant.
It's best to wear a money belt to safeguard your wallet. If you don't want to be pegged for a tourist, don't wear flip flops.
6. Day Trips From Madrid
Do you have more than 2 days in Madrid? If so, Madrid makes a great base and jumping off place for taking day trips in Spain.
From Madrid, you can book a whole range of guided day trip tours, where you don't have to worry about transportation. Some include:
7. More Time In Spain?
If you're using Madrid as a jumping off point to visit Spain, check out my comprehensive guide to six 1 week Iitineraries for Spain.
From north to south, these sample itineraries include Spain's most popular cities, historic sites, and secret hidden gems.
You can pick a sample itinerary to match your own interests — whether you want a glamorous cities, historical and cultural options, outdoor scenery, or beaches. You can also combine these one week itineraries for a longer stay in Spain.
I hope you've enjoyed my 2 days in Madrid itinerary. You may enjoy these other Spain travel guides and resources:
If you'd like to spend 2 days in Madrid, pin it for later.