If you're a fan of Michelangelo's art, then you might be interested in exploring all of his works in Florence Italy. Here's a guide for art lovers and admirers of this legendary artist who want to follow the Michelangelo Trail.
Michelangelo has been famous for more than 500 years and was a Renaissance genius who excelled in various mediums such as sculpture, painting, poetry, and architecture. He was known as the "divine artist" and was hailed as a genius as early as his twenties.
Michelangelo's art is not only beautiful but also revolutionary. He was a master at creating technically perfect and idealized visions of the human body, portraying psychological and physical realism with unparalleled panache. His works continue to inspire and awe people from all over the world.
In this guide, you'll get a short biography of Michelangleo's life. The artist was a complicated personality. He was a perfectionist and solitary creator.
He went down in history as a tormented and quarrelsome genius, toiling tirelessly against adversity. This dramatic characterization no doubt helped cement his legacy and fascinates people to this day.
I'll also describe and tell you where to see each and every piece of Michelangelo's art in Florence. His works are on view in Florence's museums and churches, many of which are must see sites in Florence for art lovers.
A Biography of Michelangelo
In 1475, Michelangelo was born in the small village of Caprese. He was named Michelangelo di Lodovico Buonarroti-Simoni, a real tongue twister.
Michelangelo grew up in Florence, which he considered his true home for most of his life.
From the outset, Michelangelo showed prodigious talent. But his banking family had other plans for him.
A stubborn Michelangelo eventually persuaded them to let him pursue art. At age 14, Michelangelo began a 4 year apprenticeship with the artist Ghirlandaio.
That didn't last long though. After just a year, Michelangelo left, believing he had nothing else to learn.
Michelangelo landed in the powerful and humanist Medici Court, taken under the wing of Lorenzo the Magnificent at the Medici Palace, now called the Medici-Riccardi Palace.
There, he attended art school, studied sculptures in the Medici gardens, and became bosom buddies with the Medici family (for a time).
READ: Guide To the Medici Palaces in Florence
Michelangelo's Early Work
Michelangelo initially built his career on lucrative forgeries, although he went beyond mere imitation. It seems shocking, I know. But back then, forgery wasn't considered a crime. Good forgeries were a sign of artistic ability, and a way for young artists to train.
In 1496, when Michelangelo was only 21, he copied the marble sculpture Sleeping Eros. Through an art dealer, Michelangelo sold the fake for a large sum of money to Cardinal Raffaele Riario, a Roman antiquities collector.
Instead of becoming angry when he saw through the forgery, Riario became the artist's first patron. He commissioned Michelangelo's first major sculpture, Bacchus, which is in Florence's Bargello Museum.
But Riario didn't appreciate the unconventional tipsy sculpture Michelangelo carved for him. He rejected it and Michelangelo resold it a banker. Bacchus later ended up in the Medici's collection.
In 1497, Michelangelo was commissioned to create his iconic Pieta for a chapel in St. Peter's Basilica in Vatican City. The Pieta is tragically beautiful, a sculpture in which stone seems soft. And just look at Mary's exquisite face …
After the Pieta's resounding success, Michelangelo received the commission for what would become the world's most famous statue, David. The 17 feet tall David would become the symbol of Florence.
Patronage of Pope Julius II and the Sistine Chapel
Michelangelo's fame didn't go unnoticed by Pope Julius II. After the resounding success of David, Julius commissioned Michelangelo to create a massive tomb, intended to go in St. Peter's Basilica. Michelangelo was thrilled. He would work on the project sporadically for most of his life, and shuttle between Rome and Florence for Julius.
But the tomb project was a source of great frustration for Michelangelo. The project was continually delayed, cancelled, underfunded, and modified. Today, what remains of the tomb is on display in the relatively obscure Church of St. Peter in Chains in Rome.
The only really sublime piece is Michelangleo's stunning Moses sculpture. It's one of his best works — an intense horned boulder of a man about to pounce glares out at you.
But Julius had other plans for Michelangelo, an even better memorial in mind. Julius wanted the Vatican redecorated in grand style. The architect Bramante and painter Raphael whispered in Julius' ear that Michelangelo should paint the vast ceiling of the Sistine Chapel in the Vatican Museums, hoping the sculptor would fail dismally.
Michelangelo suspected a conspiracy. He wasn't experienced in fresco and immediately saw the difficulty of the task. Despite Michelangelo's protests that he was a sculptor, Julius II told him to "paint or hang." Michelangelo's rivals were ultimately proved wrong.
In 1512, to great acclaim, Michelangelo triumphantly unveiled the Sistine Chapel at age 37. It's a mind bogglingly complex fresco, a tour de force of illusory architecture and tromp l'oeil effects. The Sistine frescos are now Michelangelo's best loved work.
In 1533, Michelangelo returned to the Vatican to paint The Last Judgment on the altar wall.
This rather licentious painting delivers an emotional blow. It's an entirely different Michelangelo. It's full of demons, sinners, naked humans, and sexually suggestive vignettes.
The Last Judgment upset people. In the Counter Reformation, the nudes got "underpants" to make them appear "decent." But when the fresco was cleaned and restored in the 1980s, much of the non-authentic drapery was removed.
When Michelangelo was 74, he was asked to "save" the never-ending project of rebuilding St. Peter's Basilica. He became head architect of the church and helped create its iconic dome. Michelangelo couldn't leave the project undone, and never returned to Florence.
Michelangelo's Complicated Personality
Michelangelo was a brooding, aloof, and sometimes cantankerous fellow. He was arrogant and yet paradoxically hypersensitive. Michelangelo refused to compromise on his art. He used it to express his own ideas about the world, even if they were unconventional.
Michelangelo was also a tireless workaholic. He rarely bathed, as if he couldn't bear any time away from his beloved marble. Legend holds that his dirty clothes and boots had to be cut off him when he died.
Michelangelo couldn't stand competition either. When he mouthed off to a jealous rival as a teen, he was punched in the nose. That blow left him — to his enduring humiliation — with a crooked nose for life. Michelangelo also had intense rivalries with Raphael and Leonardo da Vinci. He even accused Raphael of copying his Sistine Chapel frescos.
Michelangelo was also gay, at a time when sodomy was a crime. His most noted infatuation was with a much younger Roman nobleman, Tommaso de' Cavalieri. Cavalieri posed as the model for Michelangelo's sculpture the Genius of Victory (more on that sculpture below) and may also have appeared in the Sistine Chapel.
Cavalieri ultimately rejected Michelangelo's ardent advances, poured out in lusty poetry and letters. But Michelangelo had other less passionate affairs.
Near the end of his life, Michelangelo was infected by the terrible puritanism of the Counter Reformation. He feared for his soul, obsessively working on pietas for his own tomb.
Some historians believe that Michelangelo disdained women. He certainly thought men were superior and his enduring artistic obsession was with male nudes. But he did have a close friendship with Vittorio Colonna, a marchioness. His poems to her are beautiful testimonials of Platonic affection.
In terms of politics, Michelangelo was a republican who disdained authoritarianism. In 1527, his fellow Florentines stormed the Piazza della Signoria to drive out the Medici.
Michelangelo sided with the protestors over his old patrons. He became the commander of fortifications in Florence. Eventually, Florence was starved out and surrendered.
After the defeat, Michelangelo hid in a secret room under under the new sacristy of the Medici Chapel while assassins stalked him.
Michelangelo was eventually pardoned by Pope Clement VII. But he had made enemies of the Medici. Michelangelo moved to Rome for the last 30 years of his life.
In 1564, Michelangelo died at age 89. Though he lived like a pauper, he died enormously wealthy. His body was spirited out of Rome to Florence by his nephew and heir.
Michelangelo was buried in the Basilica of Santa Croce in a tomb designed by his Giorgio Vasari — his admirer, fellow artist, and first biographer.
Michelangelo's Artworks In Florence
With that long-winded introduction to Michelangelo's life, I'm sure you're ready to get down to brass tacks. If you're looking for artsy things to do in Florence or like to travel with a theme, here's where you can find all of Michelangelo's art — every bit of it — in Florence.
1. Galleria dell'Accademia
There are six Michelangelo sculptures in the Galleria Accademia:
David
The Awakening Slave
The Young Slave
The Bearded Slave
The Atlas
St. Matthew
David is the world's most famous sculpture. The 17 foot Renaissance statue is considered the embodiment of male beauty, a Calvin Klein-like model of physical perfection.
David is based on an Old Testament story of an underdog and his giant competitor. David was a young man brave enough to take on the evil enemy, Goliath, on behalf of the Israelites.
He went into battle without armor. Guided partly by the magical hand of God, David defeats Goliath with an unorthodox choice of weapon — a slingshot and a stone.
Michelangelo portrays David in the moment before battle. With intense concentration, he scans for his enemy. David is in a classical contrapposto stance — a twisting position where the weight is shifted mostly to one leg.
The Signoria, or City Council, commissioned David for Florence Cathedral. The city intended to place the statue high above in a niche. But it was deemed too beautiful for that spot. Instead, David was placed in the Piazza della Signoria, the city's main square, until 1873.
The Accademia has five other Michelangelo sculptures. Michelangelo's unfinished Slaves line the Hall of the Prisoners. The slaves have been named The Awakening Slave, The Young Slave, The Bearded Slave, and The Atlas.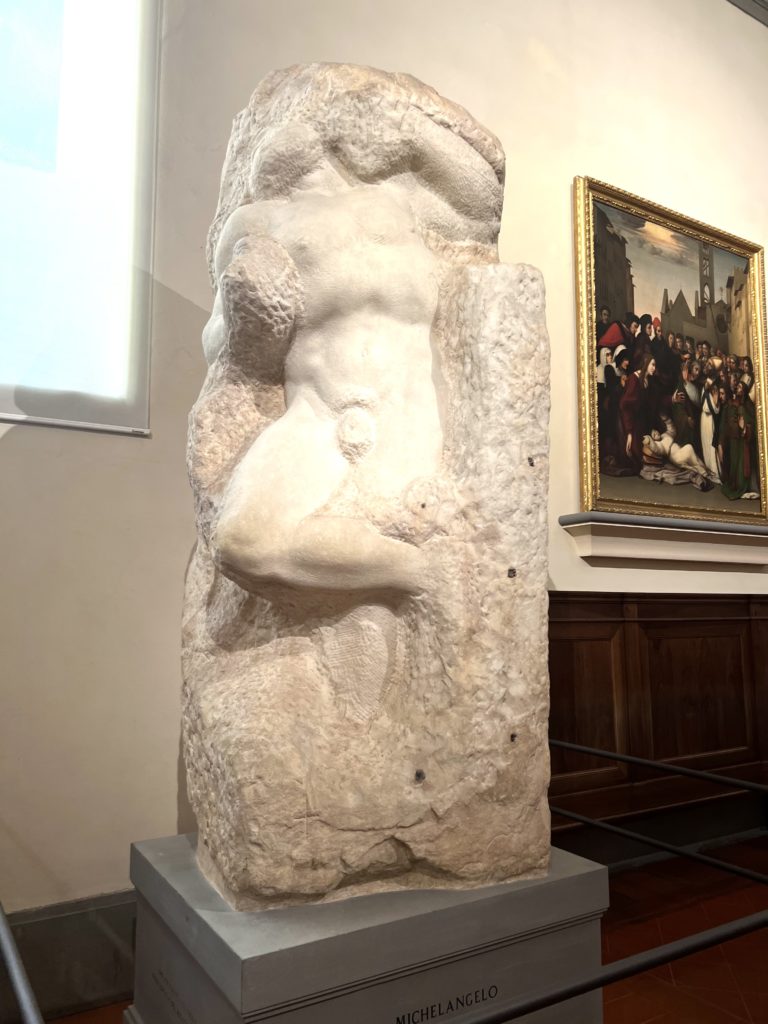 The Slaves' bodies press and rage against imprisoning stone, seeming to struggle for their freedom. They were likely intended for the ill fated Tomb of Pope Julius II.
But they seem odd images for a pope's tomb. Perhaps they were a vehicle of Michelangelo's private fantasy, and he intentionally left them unfinished. Michelangelo's non finito tendency was well established. If the perfectionistic Michelangelo wasn't content with a work in progress, he often abandoned it.
The Accademia also houses Michelangelo's sculpture of St. Matthew. The statute was commissioned for one of the niches on Florence Cathedral. But it was abandoned and left unfinished when Michelangelo went to Rome at Julius' behest.
For more information, here's my complete guide to the Galleria Accademia. You'll ned to pre-book a skip the line timed entry ticket to visit. You could also book a guided tour of the museum.
2. National Museum of the Bargello
The Bargello Museum houses three works by Michelangelo:
Bacchus
Bust of Brutus
Pitti Tondo
Bacchhus was Michelangelo's first major sculpture. Michelangelo carved it when he was only 21. As I mentioned above, Bacchus was commissioned by Cardinal Raffaele Riario.
Bacchus was the Roman god of wine, madness, and ecstasy. Michelangelo's Bacchus embodies the new realism of the Renaissance.
His nude Bacchus appears a little tipsy, leering and holding a goblet of wine. He appears unbalanced, held up by a tree trunk and a fawn who steals his grapes. His hair is adorned with an identifying wreath of ivy leaves.
Bacchus wasn't a hit. It was considered rather vulgar. No one liked the awkward and ungainly pose or the slightly soft and feminine body.
But, in a way, the statue was groundbreaking. No sculptor had ever before portrayed Bacchus drunk and in a flawlessly controlled disequilibrium.
The Bargello also owns a handsome Michelangelo Bust of Brutus. This is Michelangelo's only known bust.
It was commissioned by Michelangelo's friend Donato Giannotti for Cardinal Niccolo Ridolfi. The handsome bust is stylistically similar to ancient Roman busts, in particular a bust of Emperor Caracalla.
In the bust, Michelangelo depicts the man who successfully plotted to kill Julius Caesar. Caesar was the first Roman emperor after centuries of republican rule. Michelangelo intended the bust to represent freedom from tyranny.
Finally, the Bargello has Michelangelo's Pitti Tondo. This graceful relief carving was a private commission from Bartolomeo Pitti. The tondo, or round format, is typical of domestic art.
Pitti Tondo depicts a common Renaissance theme — Mary with baby Jesus and St. John the Baptist. It's similar to Michelangelo's painting, Doni Tondo, in the Uffizi. As was Michelangelo's tendency, the Pitti Tondo is unfinished, the contours left raw.
In the relief, Mary sits on a square bolder, holds an open book, and looks meditative. Next to the stern madonna is a playful Jesus with pudgy flesh. Because of her size, Mary seems almost to burst from the carving. She holds the book toward Jesus and, to underscore the moment, points an index finger his way.
For more information, here's my complete guide to the Bargello Museum. Click here to book a skip the line ticket.
3. The Medici Chapels
The Medici Chapels are one of the best places to see Michelangelo's art in Florence. In the New Sacristy, you'll find a whopping seven sculptures:
Night
Day
Dusk
Dawn
Lorenzo
Giuliano
Madonna With Child
Michelangelo's New Sacristy is a beautiful Renaissance space, part of the Basilica of San Lorenzo complex. If you only go to one place to see Michelangelo's art, make it here.
In 1519, Michelangelo — pushing age 50 — was commissioned to construct burial chapels for the Medici in the New Sacristy. It's a rare architectural space that was both designed and decorated by a single artist. Michelangelo may have intended to paint the frescos as well. But they were never begun.
The space is much taller than it is long. Michelangelo added another layer of height compared to Brunelleschi's Old Sacristy in the basilica. The architecture is peculiar. There are many closed windows, which make the space somewhat claustrophobic.
The chapel's coffered dome is similar to Rome's Pantheon. The walls are clad with pink green, gold, and white marble.
There are 6 tomb sculptures carved by Michelangelo. Four are allegories of the passage of time. They were intended to convey the message that time destroys everything earthly, that the days of our lives ineluctably lead to our death.
On the tomb of Lorenzo, the effigy of Lorenzo is shown at the top as a brooding introvert, whose face remains in shadow. Below him are the sculptures of Dawn and Dusk. Dawn suggests the emergence of light. Dusk suggests twilight.
On the tomb of Giuliano, Giuliano's effigy shows him as an extrovert. This is a beautiful sculpture. It's one of Michelangelo's most idealized pieces.
I mean, just look at his long elegant neck. The two tomb statues below Giuliano are allegories of Night and Day.
Night is regarded as one of Michelangelo's finest works. The sculpture was based on a classical drawing of Leda. There's no doubt who she is because of the owl and bag of poppies. She's also the only sleeping sculpture.
There's another unfinished Michelangelo sculpture opposite the altar, Madonna with Child. It's above the simple tomb for Lorenzo the Magnificent and his brother Giuliano. The effigies of both Lorenzo and Giuliano turn toward the Madonna.
Here's my complete guide to the Medici Chapels. Click here to purchase a ticket with a time slot. These fill up fast, so don't delay.
You can also book a guided tour of the chapels. This isn't a bad idea because there's not much explanatory signage.
4. Casa Buonarroti | Michelangelo's House
Michelangelo bought Casa Buonarroti in 1508. But he only lived at the address for a short time when he worked on the Medici Chapel. The place is now a rebuilt house museum where you can deepen your knowledge of the famed artist.
Casa Buonarroti houses some of Michelangelo's early work. There are drawings, clay models, a crucifix, a wooden model for the cancelled facade of San Lorenzo, and marble reliefs. The crucifix is a copy of the original that hangs in Santo Spirito, which I'll discuss below.
One highlight of the museum is the "Gallery." Created in 1613-35, the hall houses paintings that are a visual biography of Michelangelo's life. They were painted by significant Florentine artists of the time.
The most significant work in the museum are two early Michelangelo marble slabs, Madonna della Scala and Battle of the Centaurs. They were created when he was just 17. The Battle of Centaurs is impressive, a swirling mass of wrestling figures.
For more information, you can check out my guide to Casa Buonarotti.
5. Museo dell'Opera del Duomo | the Duomo Museum
The wonderful Duomo Museum has plenty of masterpieces and is well worth a visit. For our purposes, the museum contains one of Michelangelo's last, and unfinished, sculptures — the Florentine Pieta. It's also known as the Bandini Pieta or the Lamentation over the Dead Christ.
Michelangelo reputedly carved this piece for the altar of his own tomb. Michelangelo slaved away for years on the pieta. But it proved a formidable task, given his advancing age. He never even gave Christ a left leg. When Michelangelo discovered a defect in the marble, he destroyed parts of the sculpture in rage.
Michelangelo's servants sold off the parts. The new owner pieced them back together and reconfigured it. The figure supporting Christ's arm isn't by Michelangelo. The figure holding Christ after his deposition (Nicodemus in the bible) may be a self portrait of Michelangelo.
In November 2019, a restoration project on the sculpture was launched behind glass, in full view of the public. The intent was to remove grime, wax, and assess breakage. Some of sculpture's discoloration was just as Michelangelo suspected. It was due to the bad Carrara marble.
Click here to book a ticket for the museum, which also includes to Florence Cathedral and the Baptistery.
6. Basilica of Santa Croce: Michelangelo's Tomb by Vasari
Michelangelo's Tomb is in the Basilica of Santa Croce. It was designed by his fanboy, Giorgio Vasari. Legend holds that Michelangelo chose the site for the tomb, so that on Judgment Day the first thing he would see was Brunelleschi's dome on Florence Cathedral.
Vasari was the world's first art historian, most famous for his book The Lives of the Artists. Vasari provided valuable insight into the goings on of the Renaissance. But he was a mediocre artist, lacking the power of Michelangelo.
Vasari's tomb for Michelangelo, while well meaning, is static and not quite fitting for one of the greatest artists of all time. It's an allegory of sculpture, architecture, and painting — the three disciplines in which Michelangelo excelled. Frescos are at the top, there's a bust of Michelangelo, and below that 3 crying women representing his artistic disciplines.
But Santa Croce is still well worth visiting. It's the largest world's Franciscan church, a fine example of Italian Gothic style. The church houses many other celebrity tombs, magnificent frescos, and Donatello sculptures.
7. Uffizi Gallery
The world class Uffizi Gallery houses the only painting by Michelangelo in Florence, the Doni Tondo. The Doni Tondi, or Holy Family, is Michelangelo's most famous painting, aside from his work in the Vatican. It's the only painting Michelangelo ever made that wasn't painted directly on a wall.
The painting was commissioned by a Florentine merchant, Agnolo Doni, to celebrate his marriage and the birth of his child. The figures are rendered in a sculptural style. The ancient Laocoon sculpture had just been unearthed in Rome, and likely influenced an admiring Michelangelo.
The Doni Tondo is unconventional and seems to anticipate the late Renaissance Mannerist style. The colors of the Doni Tondo are bright and unnatural.
The Doni Tondo is characteristic of Michelangelo's women who … well … look like muscular men. You almost think of Rosie the Riveter when you look at Mary's right bicep.
Here's my complete guide to the Uffizi. Click here to book a timed entry skip the line ticket.
8. Basilica of Santo Spirito
Santo Spirito holds a 1.4 meter polychrome crucifix that's been attributed to Michelangelo. According to Giorgio Vasari, a young Michelangelo carved it as a gift for the Agostinian prior of Santo Spirito, in thanks for his hospitality.
After the death of his patron Lorenzo the Magnificent in 1492, Michelangelo lived with the monks for a time. This is where Michelangelo first dissected corpses in the monastery's morgue. This creepy pastime, also a favorite of Leonardo da Vinci, gave Michelangelo a keen understanding of human anatomy.
Michelangelo's Crucifix was thought lost. But in 1962, a German historian discovered a plausible candidate in the convent by. Though badly overpainted, she was convinced it was a Michelangelo original, citing the contrapposto posture and the similarity of the legs to Michelangelo's Pieta. In 2001, the Crucifix was officially authenticated.
In 1963, the Crucifix was restored and the overpainting removed. The piece was moved to Casa Buonarroti temporarily, but then returned to Santo Spirito's sacristy.
In 2000, the Crucifix was suspended from the ceiling at the height of 22 meters. Now you can view it from every angle in the round, and it's visible from the church.
9. Palazzo Vecchio
The Palazzo Vecchio's magnificent Hall of Five Hundred holds Michelangelo's Genio della Vittoria, or Genius of Victory, sculpture. It was possibly carved for the Tomb of Pope Julius II, that infamous project that never came to fruition.
After Michelangelo's death, the statue was placed in the Palazzo Vecchio. Vasari pressured the artist's nephew and heir to gift it to the museum.
The Genius of Victory is ascribed to the artist's final Florentine period, before he left for Rome for good. It's in the same rather elongated style as his sculptures in the Medici Chapel.
In the sculpture, a young man is crowned with garland of oak leaves and armed with a sling. At his feet is a conquered warrior, that's rough and likely unfinished.
Like David, the sculpture may symbolize the victory of brains over brute force. But it may also represent Michelangelo's tragic love life, with a defeated Michelangelo at the feet of Cavalieri.
Here's my complete guide to the Palazzo Vecchio. Click here to book a skip the line ticket.
10. Laurentian Library
The Laurentian Library is Michelangelo experimenting in the chamber of his imagination. Architecture was his "third career" and he did some of his most inventive work in that medium.
In 1523, Pope Clement VII commissioned Michelangelo to design the Laurentian Library. Michelangelo essentially created a new architectural language. He supervised the work from 1523-34. When he moved back to Rome, Vasari continued the work.
The Laurentian Library is a blissfully uncrowded hidden gem in Florence. It has a dream-like self-conscious quality, deploying some of the design effects of the Medici Chapel.
Michelangelo broke away from classical tradition and rules of proportion. He designed a claustrophobic space with curves and unusual configurations that subverted classical forms.
The library consists of a reading room and a 48 foot vestibule built atop the basilica of San Lorenzo cloisters. It now functions as a museum, not a library. A seemingly oversize Triple Staircase greets you. It conveys a sense of movement, pouring forward like pools of liquid.
It may be the first freestanding staircase in architectural history. Michelangelo originally intended the staircase to be made out of walnut. But it's made of the same pietra serena used by Brunelleschi in San Lorenzo and Santo Spirito.
Wild structures surround the staircase. You almost don't see the walls. They're decorated with architectural elements such as extremely large low-hanging brackets and closed windows that taper down.
Some of the architectural elements are put into niches, serving no purpose. Freestanding columns are set into the wall or appear to rest on the corbels. Michelangelo effectively frames architecture as artwork.
Unlike the vestibule, the Reading Room develops horizontally. There are two series of wooden benches, called plutei. There's a white and red terra cotta floor and a coffered ceiling. The fine lime wood ceiling was designed by Michelangelo and carved by Giovan Battista del Tasso.
Michelangelo's dramatic and inventive architectural style marked the beginning of Mannerism, a late Renaissance period that reinvented and put a stylized twist on classicism.
Fro more information, here's my guide to the Laurentian Library.
11. Piazza della Signoria & Piazzale Michelangelo
The Piazza della Signoria is the jackpot of outdoor street art in Florence. The best part? It's all free.
The Piazza della Signorina is the home of Palazzo Vecchio — the seat of Florence's government and a frescoed museum. It's the center of Florentine life and politics, a meeting spot buzzing with activity.
Many beautiful sculptures by Italy's greatest artists are on display in front of the Palazzo Vecchio or adjacent to it in the Loggia dei Lanza. Some are copies and some are originals.
In particular, you'll find a copy of Michelangelo's David in the Accademia guarding the entrance. You can find another copy of David in the Piazzale Michelangelo, which offers sweeping views over Florence.
I hope you've enjoyed my guide to Michelangelo's art in Florence. You may enjoy these other Florence travel guides and resources:
If you'd like to follow the Michelangelo trail in Florence, pin it for later.