Planning a visit to the Louvre Museum in Paris? Here's my guide to discovering the Louvre's secret underrated masterpieces and hidden gems.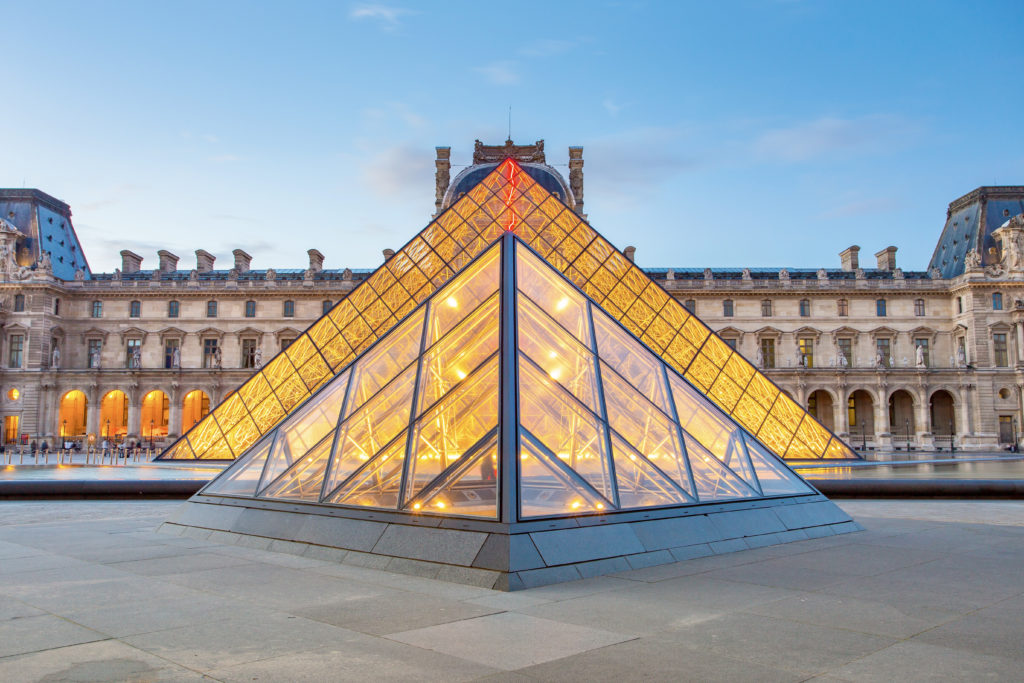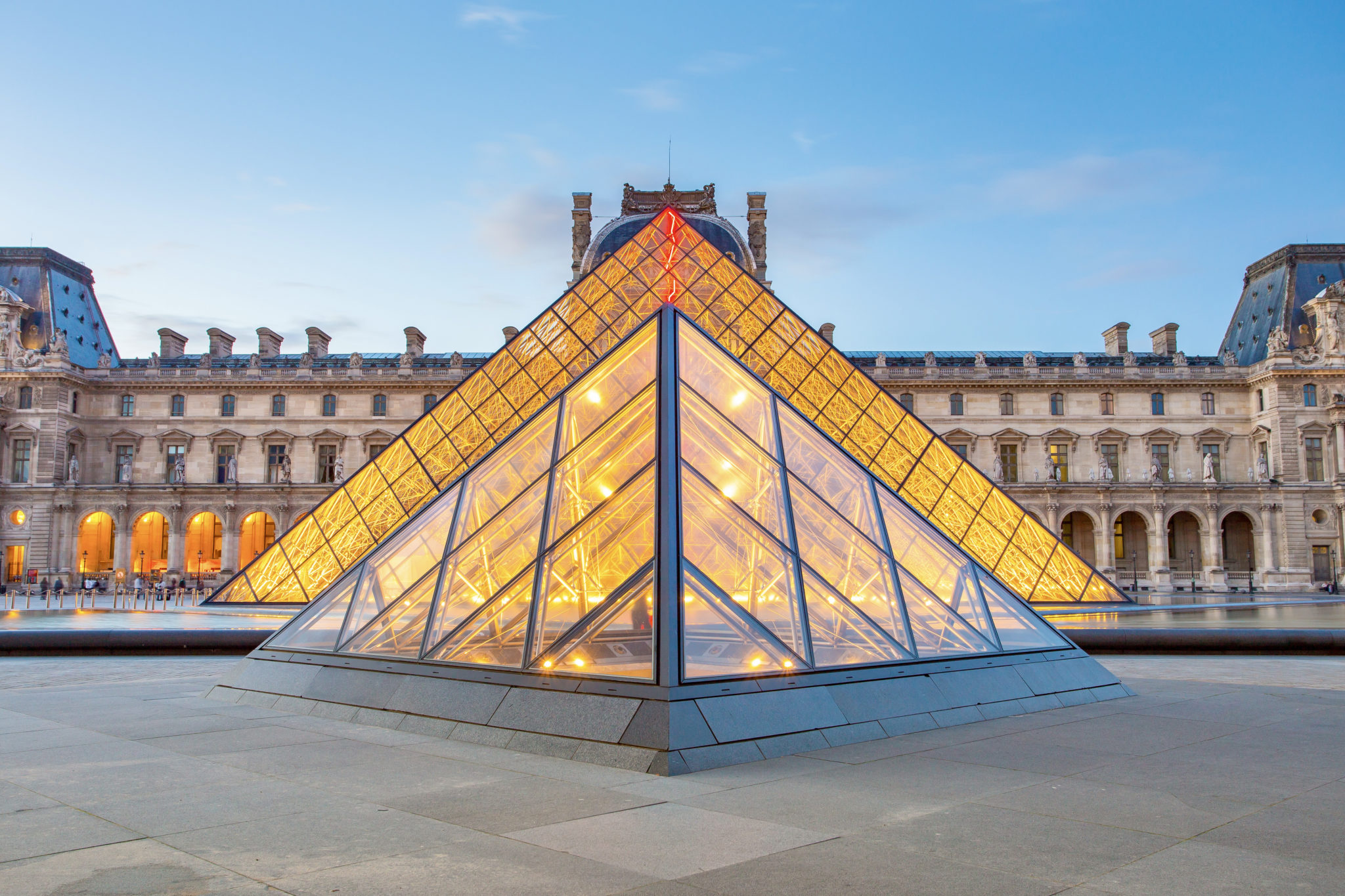 There's so much more to the Louvre than checking the Mona Lisa off your bucket list.
There are plenty of hidden gems in the Louvre, where you can avoid a bacchanalia of crowds, flashes, and selfie sticks. Many of these lesser known Louvre paintings are actually famous masterpieces in their own right.
I identify and describe 17 of these wonderful overlooked Louvre masterpieces. I tell you exactly where to find these beauties in the Louvre. I also give you tips for visiting the Louvre and getting tickets.
>>> Click here to book a timed entry Louvre ticket
Underrated Masterpieces of the Louvre
Here are my picks for the 21 best hidden gems to see at the Louvre that aren't the Mona Lisa.
These can't miss masterpieces are entirely underrated. You can admire them in peace without crowds.
1. Georges de la Tour, The Cheat with the Ace of Diamonds
I start this list of Louvre hidden gems with a mysterious Georges de la Tour painting. The Cheat With the Ace of Diamonds is one of my favorites in the Louvre. It feels like it is suspended in motion.
With its dark backgrounds and refracted light, it's reminiscent of Caravaggio only with diamond precise outlines. The Cheat depicts a psychological drama, a card game where a foppish, expensively dressed youth on the right is about to be cheated by a card shark on the left.
It's unclear who's complicit in the cheating. They may all be. It's also unclear where the card game takes place. There's just a blank black background, perhaps suggesting amorality. Each character's eyes are shifty. They don't look at each other.
But the tense scene feels set for tragedy. The victim is doubtless the feathered- headed young man who has naively succumbed to the triple temptations of wine, women, and gambling.
While it's a moralizing painting, The Cheat is also comedic with its bright colors, sidelong glances, and surprising elements of composition.
Location: Sully Wing, 2nd Floor, Room 912
2. Jean-Auguste-Dominique Ingres, Grande Odalisque
Ingres was strongly influenced by the Italian Renaissance. He represents the conservative strand of French painting. He was a salon painter and neoclassicist.
So it's hard to believe the student of the very proper Jaques-Louis David could cause a scandal with a painting, but he did. Ingres' career was not as tidy as his salon categorization would have you believe.
In 1814, Ingres unveiled Grand Odalisque to ridicule and complaints that she was deformed and anatomically inaccurate. The subject of the painting, an exotic nude harem girl, was also decried as inappropriate.
The Oriental style painting might have marked Ingres' transition from pure Neoclassicism to a more romantic style. Or it could be indicative of his embrace of Venetian painting.
One thing is sure. In Grande Odalisque, grace not accuracy is the goal. The lines are explicitly sinuous and sensual, not rigid.
Ingres continued to be attacked over his painting until the mid-1820s. But Grand Odalisque helped lay the foundation for the more expressive Romanticism movement, led by a young Eugene Delacroix.
Location: Denon Wing, 1st Floor, Room 702
3. Cy Twombley Ceiling, 2010
Who knew a ceiling could be an underrated Louvre masterpiece? But it absolutely is.
As you walk up the stairway to the Sully wing, you'll find a massive 4300 square foot ceiling of vivid azure blue in the Salon des Bronzes. It's a work painted in 2010 by the cerebral American artist Cy Twombley.
It's essentially a joyful sky depiction in the classical sense with moons and rectangular plaques featuring the names of ancient Greek sculptures.
Though Twombley was a contemporary artist known for his thinking man's graffiti like scribbles, his work still featured ancient themes and classical mythology. This was a site specific creation and gift.
Twombly was the first American artist and one of the first living artists to donate a work of art to the Louvre. Naturally, it met with some controversy as an installation in an ancient French palace that houses mostly pre-1900 masterpieces.
But the director of the Louvre, Henri Loyrette disagrees with the curmudgeonly grousing. He's said that "a museum that dies is a museum that doesn't arouse contemporary creation."
I wholly approve of this sentiment as the Louvre can seem stuffy and intimating to many people.
Besides, the vibrant ceiling is visually stunning and sets off the sculptures in the room marvelously. For another piece of modern art, right next to the Salle des Bronzes, is a Georges Braque ceiling triptych, installed in 1953.
Location: Sully Wing, 1st Floor, Salon des Bronzes, Room 663
4. Gabrielle d'Estrées and One of Her Sisters
You should wander to the Richelieu gallery just to have a snicker over this theatrical double portrait by an anonymous School of Fontainbleau artist. It's a nude bathing scene of Henry IV's mistress and her sister, because that's apparently what the aristocracy did in the 16th century.
It's a private scene, as denoted by the overhanging vermillion satin drapes. Gabrielle is presumed to be pregnant and her sister's rather provocative gesture towards her sibling could be a symbol suggesting fertility.
The "Fontainebleau" style can be seen in the stylized faces and modeling of the two women. The painting was likely painted for the king and meant to hang in a private spot.
And what of the ring that Gabrielle is holding? Is it from Henry IV or perhaps his coronation ring? Henry IV apparently planned to marry Gabrielle, but she died in childbirth before he could do the deed. So it could suggest a tragic love story.
Contemporary critics also interpret the painting as an erotic portrait. Either way, tourists at the Louvre, if they come across it, seem to enjoy its unconventional nature and styling.
Location: Richelieu Wing, 2nd floor, Room 824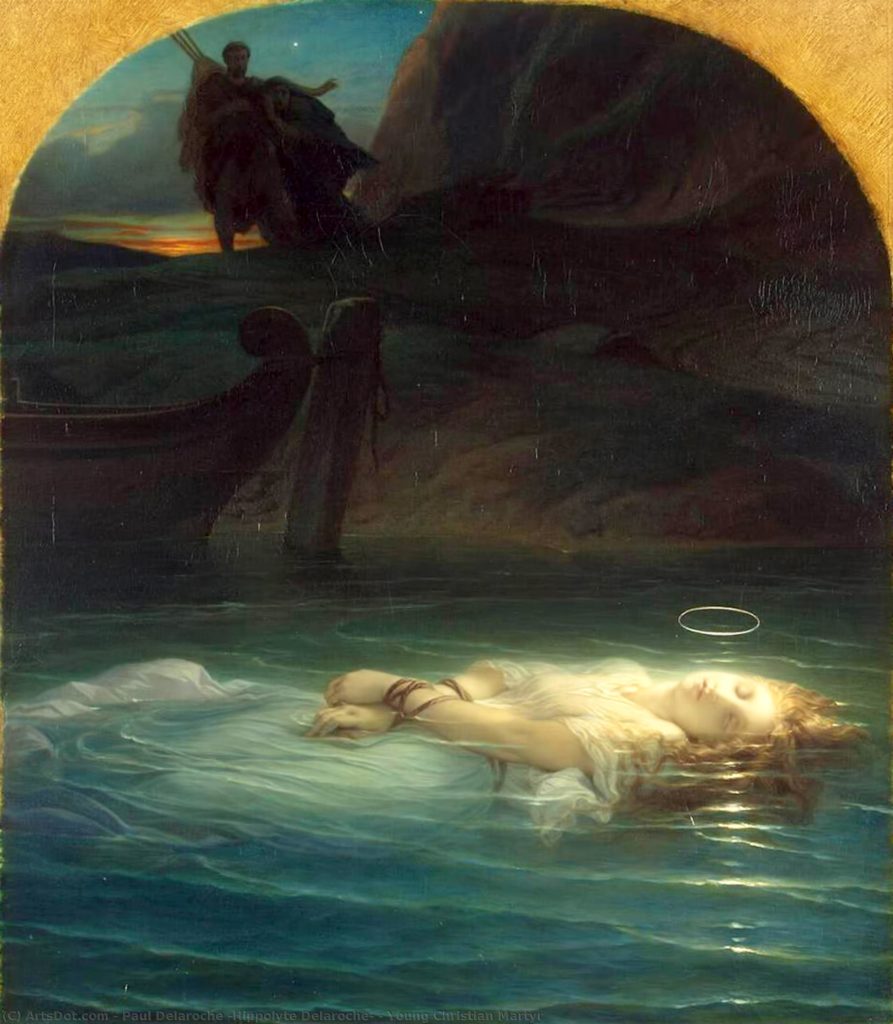 5. Paul Deleroche, Young Martyr
This haunting painting was formerly hung in a gift shop before being moved into one of the Louvre's most popular rooms. Can you believe it?
It's a beautiful brooding depiction of the historical martyrdom of a Christian, with the dramatic touch of a halo.
The choice of a female martyr may reflect the recent death of Deleroche's own wife. Or the painting may symbolize the Diocletianic Persecution, when the Roman Emperor Diocletian systematically tortured and killed Christians for their religious beliefs. Delaroche was known for choosing historical topics.
Young Martyr combines academic and romantic themes. If you're in a melancholy state of mind, it will appeal. It's a moving painting, full of symbolism, exquisite techinque, and chiaroscuro lighting.
You feel as if the girl might still be alive, although she's obviously dead. (And I must confess that a portrait of it hung in my college dorm room, paradoxically with Andy Warhol's Flowers.)
Location: Denon Wing, 1st Floor, Room 700
6. Paul Delaroche, The Children of Edward IV
I also recommend another exquisite Delaroche painting — The Children of Edward IV. It's in the adjacent Room 701.
This dramatic hidden gem in the Louvre had a hugely successful Salon debut. It foretells the murder of King Edward IV's children, the "two princes in the tower," presumably on the orders of Richard III.
Imprisoned in the Tower of London, the children are pale and melancholy. They look anxious that something is about to happen. A tiny light shines under the door.
The tale was made famous by Shakespeare's tragedy, Richard III. But not all historians agree that Richard was the villain. It's still an unsolved cold crime mystery.
Location: Denon Wing, 1st Floor, Room 701
7. Medieval Foundation of the Louvre, Location: Lower level of Sully Wing
Originally, the Louvre was a 12th century fortress built by King Philippe Auguste. Fearing an English invasion, the king built a fortified castle at the western entry to Paris.
The castle was constructed around four large moats and defensive towers. An enormous keep, referred to as the Grosse Tower, stood at its center.
The lower levels are all that remain. Archeologists discovered and excavated the underground medieval remains during the construction of I.M. Pei's pyramid in 1983-85. It's a fascinating and rather quiet place in the Louvre.
Visitors can explore the ruins, including vestiges of the moat and dungeons, by following a footpath in the lower level of the Sully Wing.
There's a large model of the medieval fortress, which was similar in style to La Conciergerie. It provides a complete and welcome change of scenery from the elaborate architecture just above.
Location: Lower level of Sully Wing
8. Gericault, Raft of the Medusa
Gericault's Raft of the Medusa is certainly not underrated with art students and art critics, just the general public. It may be my favorite painting at the Louvre.
But most people in Room 700 are standing in front of Delacroix's Liberty Leading the People, which, to be sure, is beautiful and captivating. Instead, you can sidle up to the spectacularly dramatic Raft of the Medusa.
This isn't your typical salon painting. It was based on an international tragedy, when a French royal ship broke apart at sea due to a captain's error.
The officers survived, but only by cruelly cutting loose a raft of 147 civilians, only 14 of whom survived. The public was horrified, especially when the king tried to cover it up the international scandal.
With this painting, Gericault became one of the first artists to document a grim event ripped from the headlines. Raft of the Medusa was a monumental salon work, but also an indictment of the French government.
It didn't open to glowing reviews. Rather, it was criticized for its repellent subject matter in an era when such canvases typically depicted heroic events, religion, or mythology.
The harrowing tale and visceral appeal of the Raft of the Medusa is enduring. It has since been reproduced in different styles by contemporary artists such as Jeff Koons, Max Ernst, and Frank Stella.
Location: Denon Wing, 1st floor, Room 700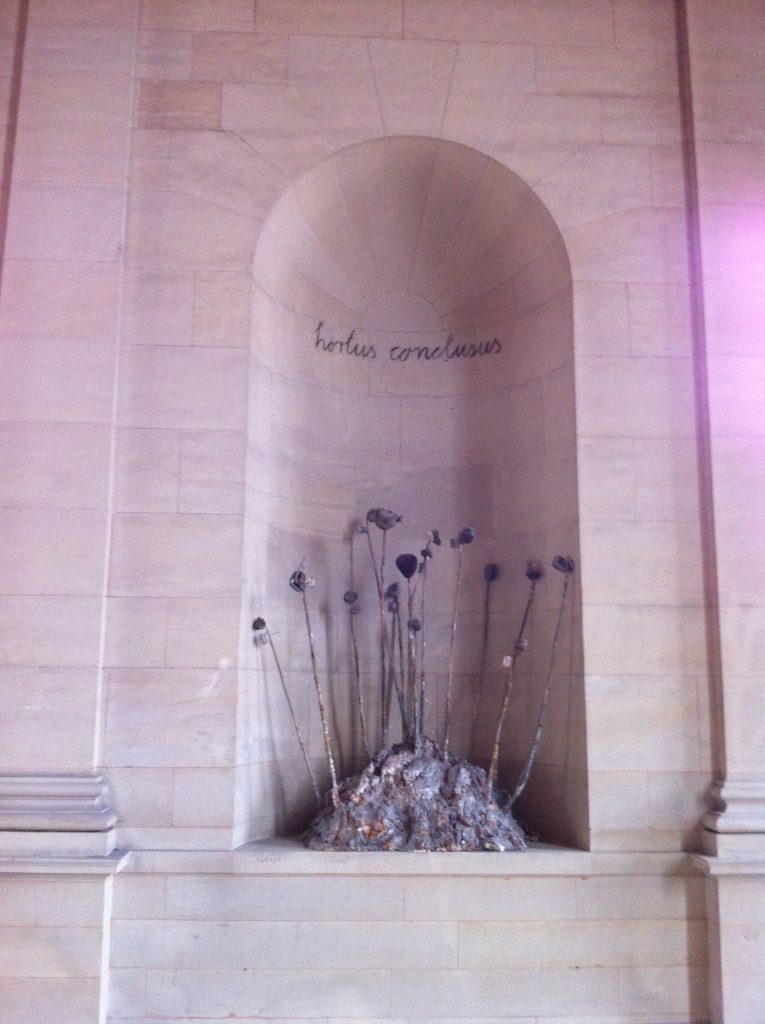 9. Anselm Kiefer Paintings and Installations,
Anselm Kiefer is a German Neo-Expressionist artist and sculptor. He explores themes of history, identity, mysticism, and mythology.
In 2007, Kiefer became the first living artist to create a permanent site-specific installation in the Louvre since Georges Braque in 1953.
Kiefer's 2007 Louvre triptych lies in a stairwell between the Egyptian and Mesopotamian antiquities rooms.
Kiefer likes to cross the boundaries between art and literature. Hence it's fitting that the he's in a "boundary" of the Louvre linking the past to the present.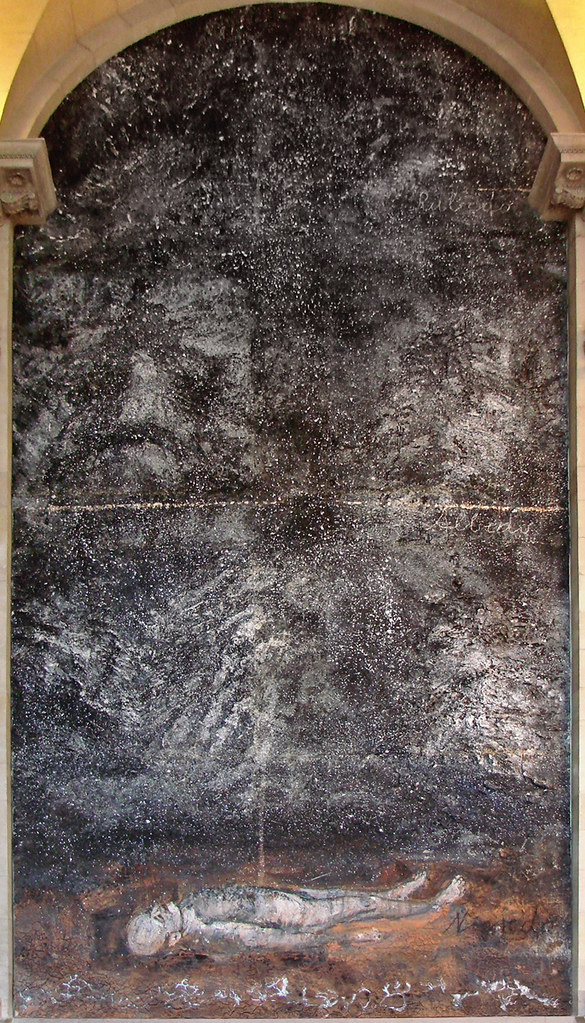 The large painting, titled Athanor, shows a naked man lying recumbent under a stormy sky. Kiefer describes it as a self-portrait: the man is not dead, "but is in the universe."
Hortus Conclussus is an earth like mound of sunflowers representing metabolism and re-birth. When a flower dies, it produces seeds that results in more flowers.
Danae is a giant blackened deflowered sunflower emerging from Kiefer's signature pile of lead books. It's based on an ancient Greek myth where Zeus deflowers a chaste princess.
Location: Sully Wing, in a stairwell the links the Egyptian and Mesopotamia Antiquities
10. Leonardo da Vinci, Virgin and Child with St. Anne
Never heard of this one? Most people haven't. They're too busy waiting in line for the Mona Lisa.
This painting is one of Leonardo unsung triumphs, his last painting and one that he worked on for 20 years. It was meticulously cleaned and restored in 2010. The task was overseen by an international scientific committee of 20 specialists.
Then, the painting was given a celebratory exhibition at the Louvre in 2012 before being put back on permanent display in the Grand Gallery. It now glows luminously from the canvas, despite some controversy about possible over-cleaning.
It's just as compelling and mysterious as the Mona Lisa. But it's mostly ignored by the crowds, perhaps because, unlike the Mona Lisa, it was never stolen from Louvre with the ensuing publicity.
Virgin and Child is a remarkably human and universal depiction of the multi-generational tension between grandmother, mother, and child. It is full of movement and emotion. The dark line on the left side of Mary's shawl is evidence that Da Vinci left the work unfinished.
READ: Guide To the Paintings of Leonardo da Vinci
Location: Denon Wing, 1st Floor, Grand Gallery
11. Francisco Goya, The Countess del Carpio
Though most of Goya's work is in the Prado in Madrid, including his mysterious Black Paintings, this underrated Louvre painting is one of Goya's finest portraits.
Typical of his portraits, it's simple, not overly flattering, and free of all rhetorical devices. The regal and elegant Countess is depicted as pale, feverish, and ghostlike, showing signs of the illness that she knew would soon claim her life.
The stark gray and black backgrounds give the painting a psychological or supernatural quality. This quality made Goya's portraits more intense and profound than other artists.
Goya caricatured some of his subjects. But here you can see a respect and empathy between the dignified subject and the painter.
This desolate portrait belongs to Goya's "gray" period, just before an illness in 1792 that made him deaf and brought on his famous "black" period.
Location: Sully Wing, 1st Floor, Room 660
12. Raphael, Portrait of Baldassare Castiglione
Raphael was one of the greatest artists of the High Renaissance, along with Michelangelo and Leonardo.
This portrait depicts Raphael's friend Baldassare Castiglione. It's a portrait of impeccable perfection.
Castiglione was a humanist and Renaissance gentleman in the courtyard of the Gonzaga in Mantua. When Pope Leo X was elected, Castiglione was sent to Rome as an ambassador of Urbino.
Castiglione is shown in 3/4 profile in a Leonardo-like pose, with just a hint of a Mona Lisa style smile. Raphael's portrait showcases the elegance and restraint of dress that characterized an esteemed figure of the Renaissance.
Castiglione is seated against an earth toned background. He wears a dark doublet with a trim of squirrel fur and black ribbon. On his head is a turban topped by a beret.
Location: Denon Wing, Level 1, Room 8
READ: Guide To The Paintings Of Raphael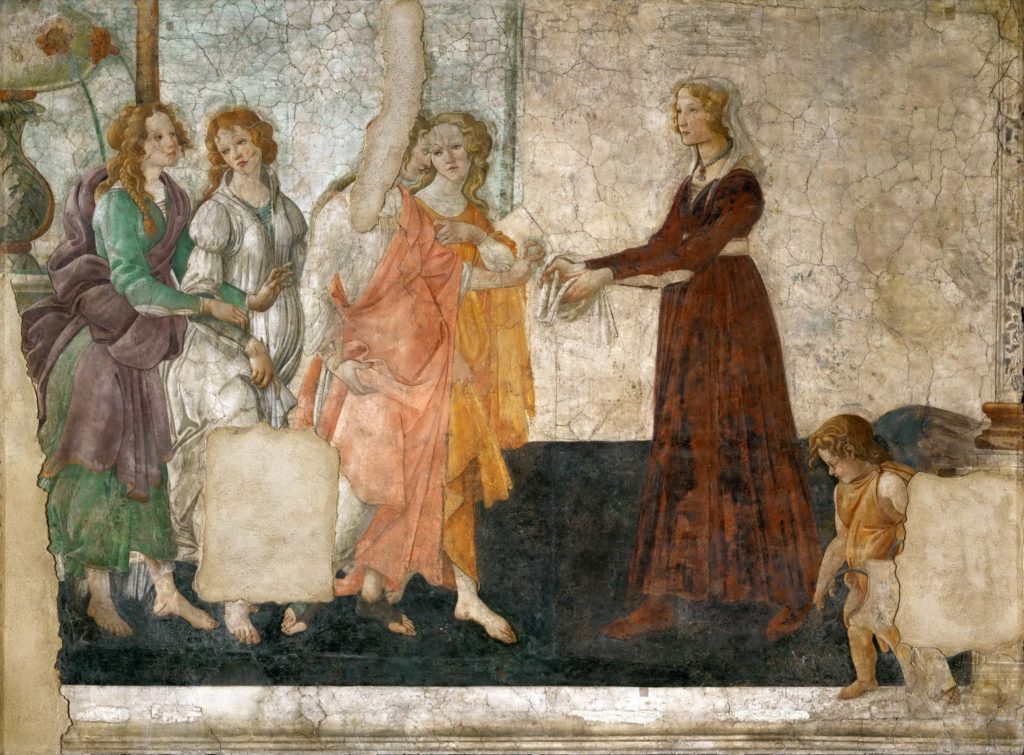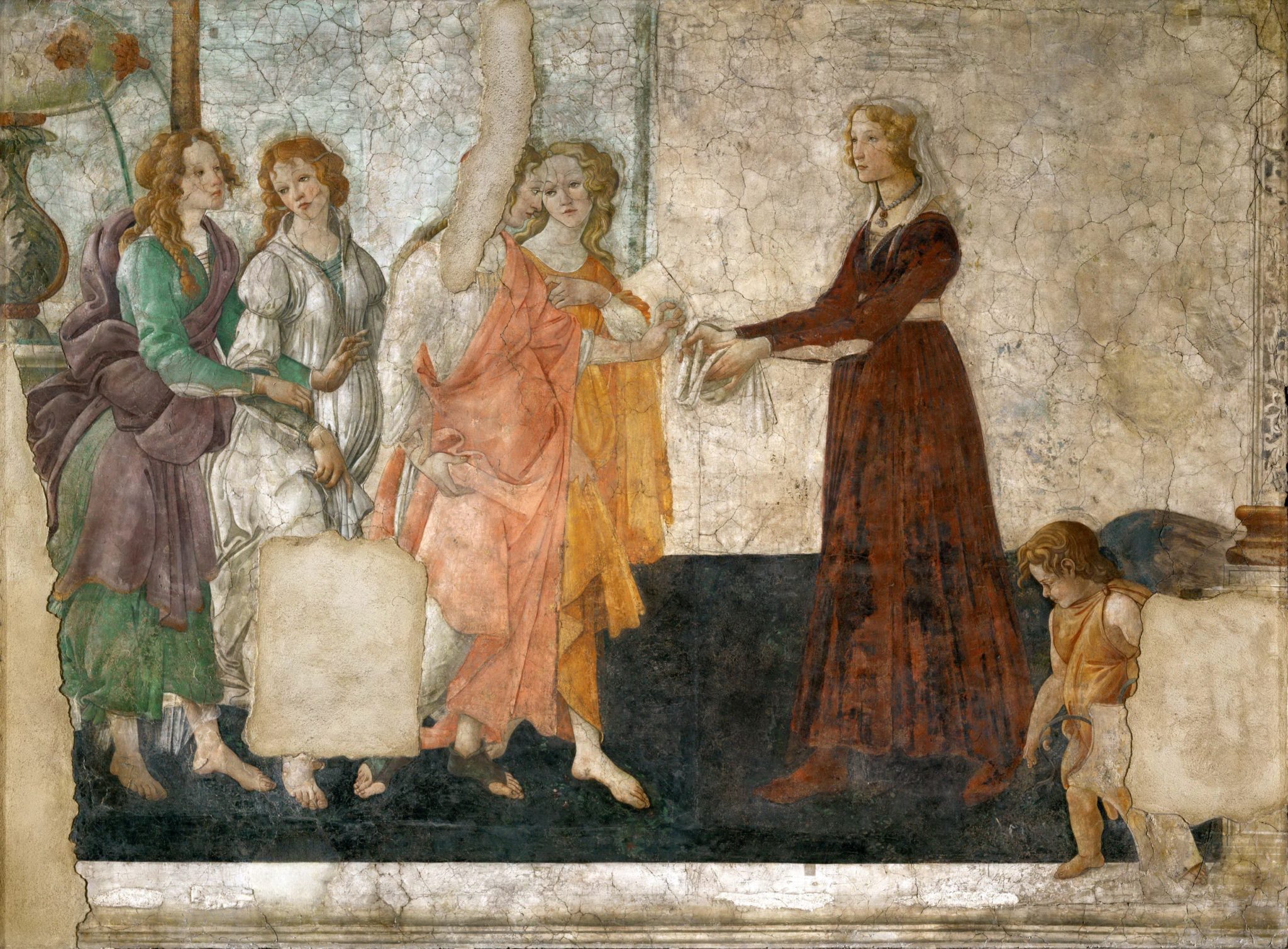 13. Botticelli, Venus and the Three Graces
The Louvre is home to an underrated and rare Botticelli painting, his fresco of Venus and the Three Graces.
Botticelli used his favorite muse, Simonetta Vespucci, as his model. He also used her in his iconic painting The Birth of Venus in Florence's Uffizi Gallery.
This fresco is one of the only secular frescoes Botticelli completed in his lifetime. The fresco was formerly in the Villa Lemmi, a property near Florence. It was discovered underneath a coat of whitewash and detached.
The Three Graces are an ideal aesthetic subject. According to classical legend, the graces personify grace, beauty, and charm.
The graces have the classic delicacy of Botticelli's females figures. It may have been a wedding fresco.
READ: Guide To Botticelli's Paintings In Florence
Location: At the entrance to the Italian Renaissance wing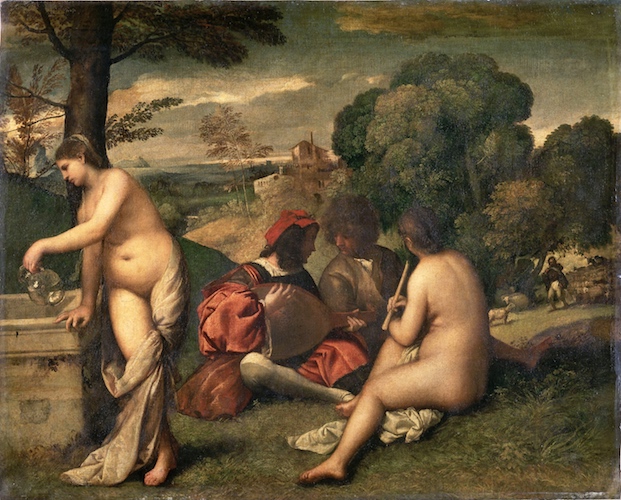 14. Titian, Pastoral Concert
The Pastoral Concert is recognized as a masterpiece of Venetian Renaissance painting. Influenced by Giorgione, Titian embraced the tactile potential of oil paint.
He applied it with varied densities, building up the surface with a thick impasto. Sometimes, Titian even let the weave of the canvas to show through. This technique gives Titian's painting a haziness or sfumato, which softened his forms.
The paintings is deliberately enigmatic. Why are the men clothed and the women nude? Why do the young men seem intimate with each other but ignore their female counterparts?
There's no fixed interpretation. Most art historians see the painting as the visual equivalent of a pastoral poem, which originated with the ancient Greeks.
The Pastoral Concert was the inspiration for Edouard Manet's famous (and scandalous) 1863 Luncheon on the Grass in the Musee d'Orsay.
Location: Denon Wing, 1st Floor, Room 6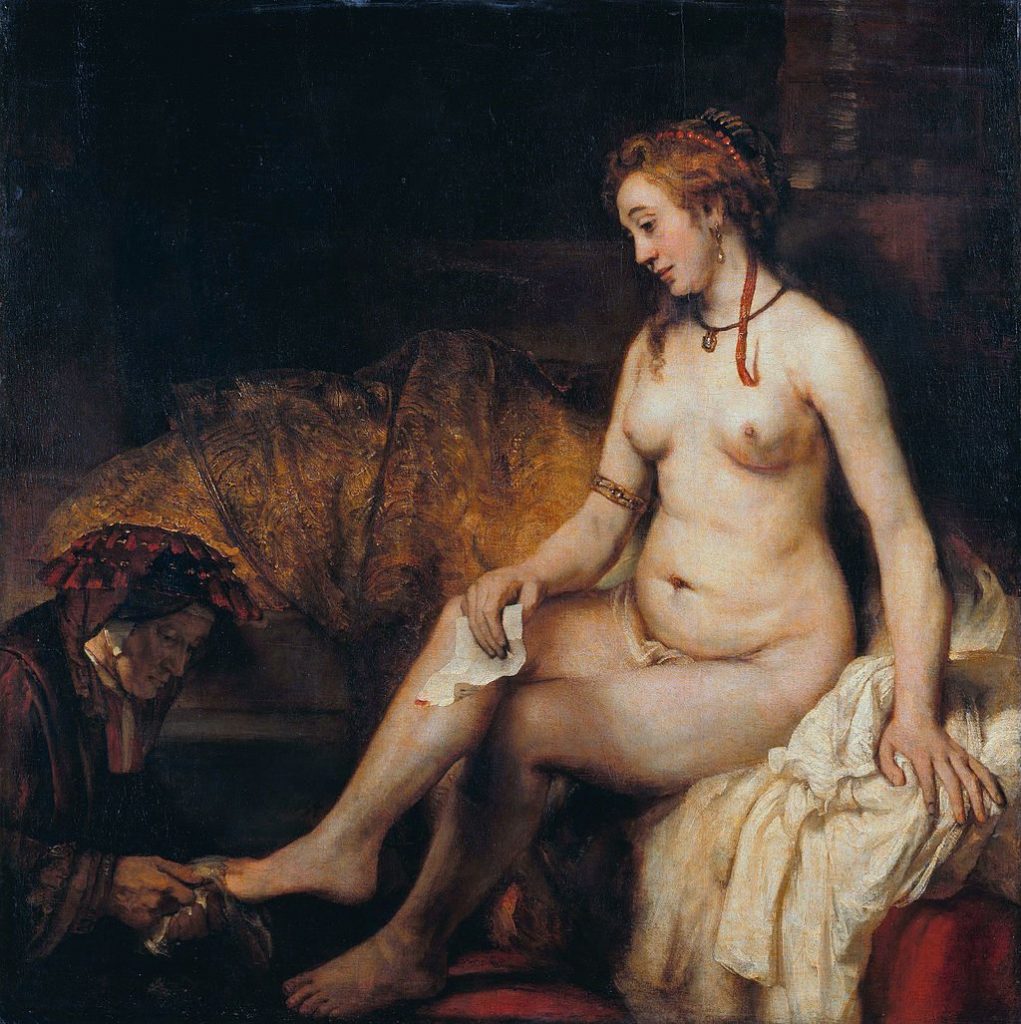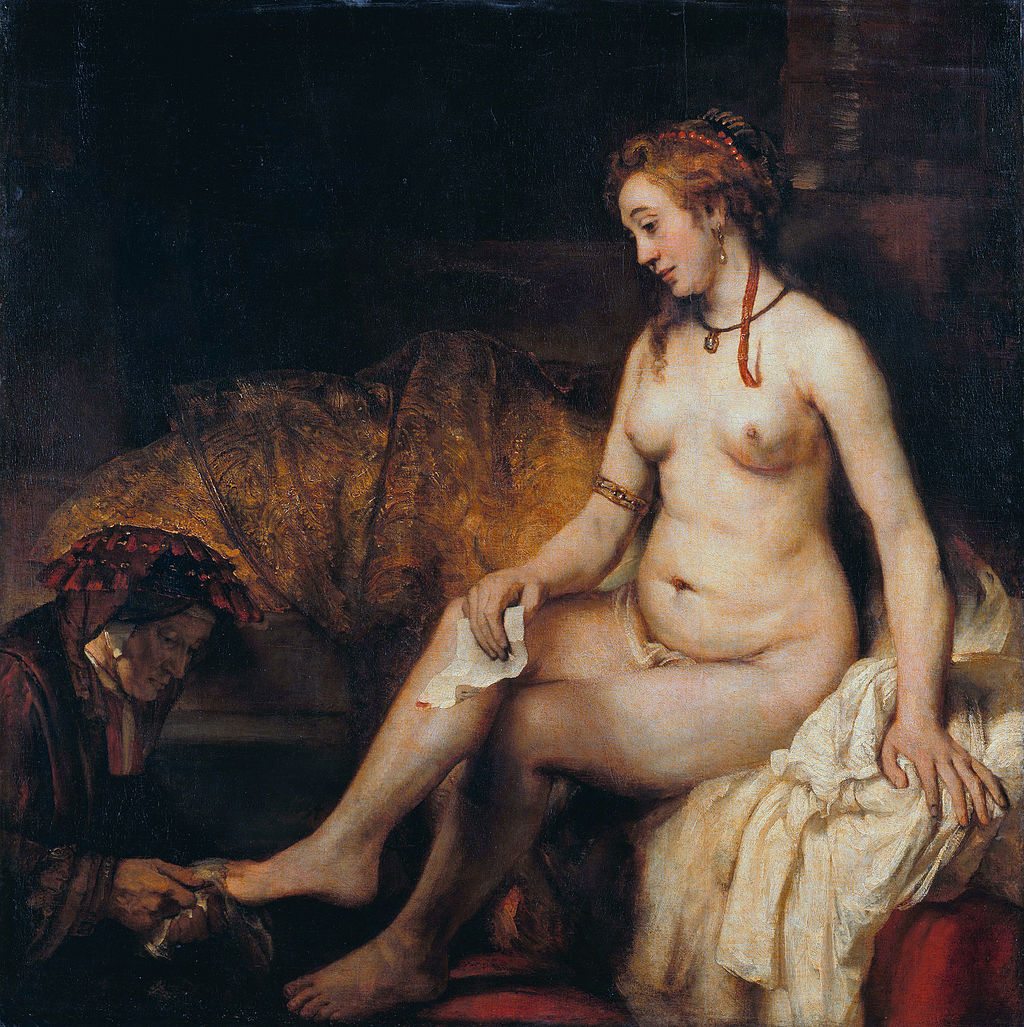 15. Rembrandt, Bathsheba at her Bath
Rembrandt is a premiere artist of the Dutch Baroque period, called the "Dutch Golden Age." Bathsheba is one of Rembrandt's more sympathetic portraits.
In this painting, he portrayed his lover as Bathsheba. She has just received a letter in which King Daviddemands her seduction. It's wrinkled and in her hand.
The scene is one of moral complexity. If she goes, Bathsheba will betray her husband. If she stays, she will disobey the king.
Her face is a harrowing portrayal of introspection, as an attendant washes her feet. You can see the terrible decision before her.
The painting helped redefine the female nude. Bathsheba is not given an idealized female body. She has the body of an actual flesh and blood woman.
Location: Richelieu Wing, Second Floor, Room 30-39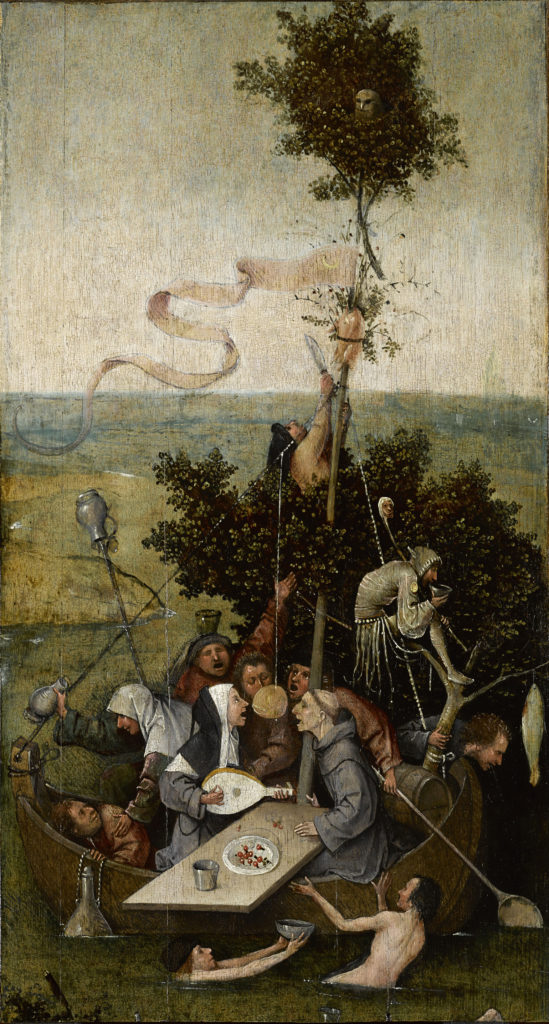 16. Hieronymous Bosch, Ship of Fools
The Louvre has a cache of Northern European masterpieces. Here, you'll find one of the most famous works by Hieronymous Bosch, Ship of Fools.
Bosch is know for his fantastical scenes of heaven and hell. He often depicts an indecipherable freakish world full of temptations.
The central theme of the "Ship of Fools" is the same. Bosch mocks and condemns the vices of human society and the evil that dominates the world.
In his painting, Bosch emphasizes the instability and ephemeral nature of the ship, the senselessness of what is happening. The figures are flat, rough and ugly. They twist, scream, rage, even at the risk of turning the ship.
Location: Richelieu Wing, Second Floor, Room 5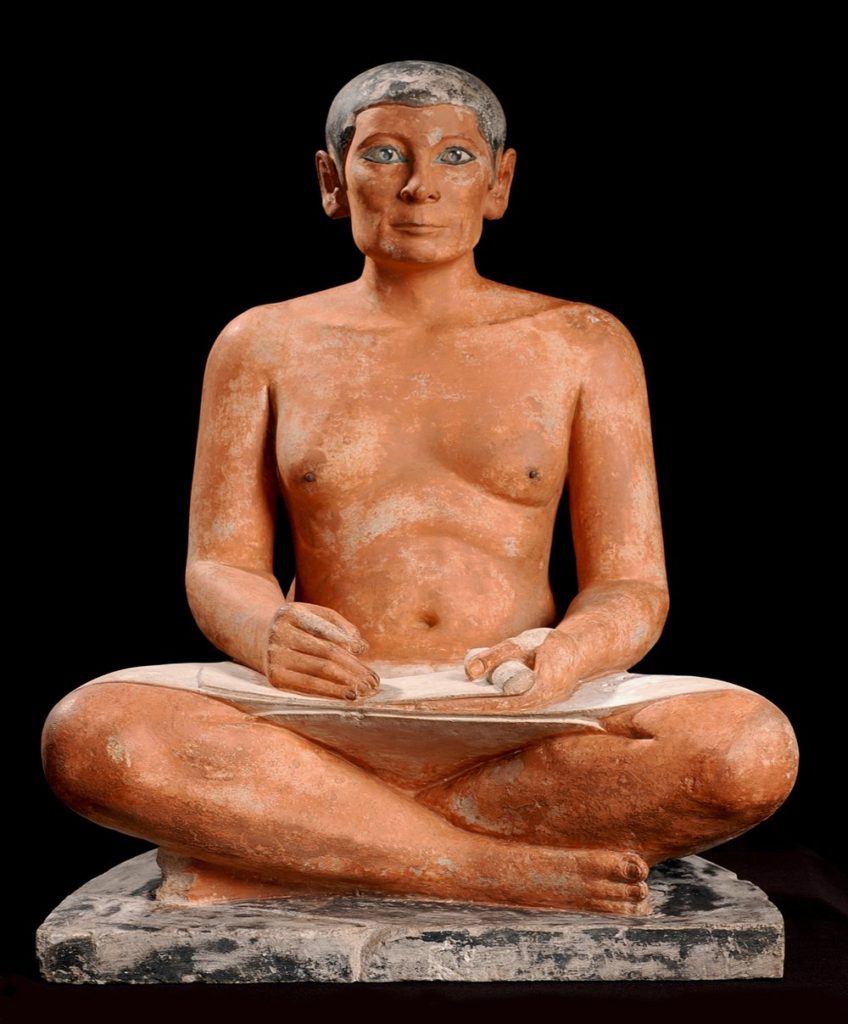 17. The Seated Scribe
The Louvre has an excellent collection of ancient Egyptian artifacts. The most famous Egyptian at the Louvre is the painted limestone sculpture of The Seated Scribe. It's 4500 years old.
It's an iconic work, but art historians have no idea who it's meant to depict. The base the scribe sat on, which would have indicated the figure's name, was never found.
The colors are remarkably well preserved. The face is realistically rendered, in contrast to the rather taut body in the "writer's position."
The eyes are made of rock crystal inlaid in copper. They appear incredibly lifelike and alert.
Location: Department of Egyptian Antiquities, Room 635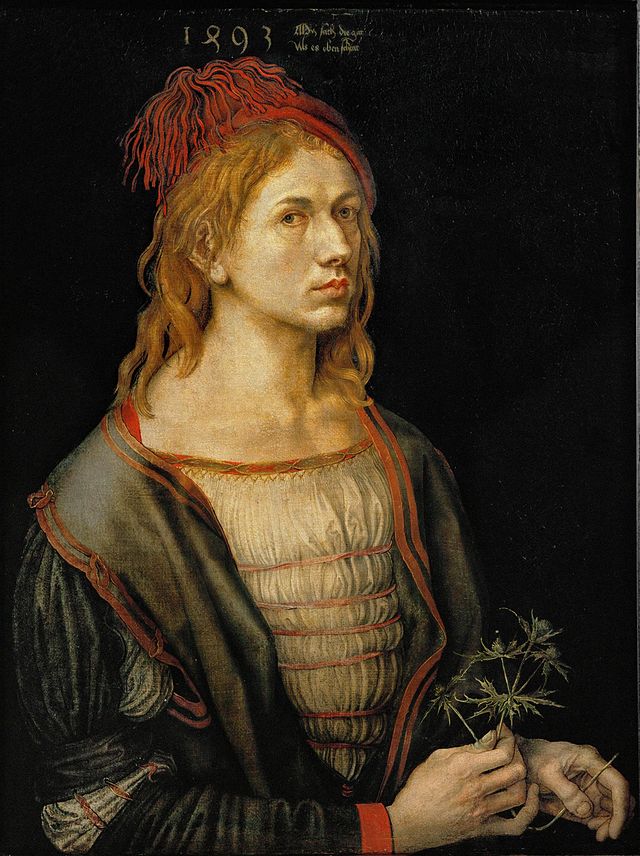 18. Albrecht Durer, Man Holding a Thistle
Albrecht Durer was perhaps the greatest German painter in history. A multi-talented genius, he was also a masterful drawer, pioneering printmaker, and wannabe philosopher.
Durer's self-portraits were ground breaking at the time. He could even be considered the inventor of the selfie.
In this self portrait, we see the young Durer at the beginning of his brilliant career at age 22. It's one of the first self portraits found in all of Western painting in the 15th century.
Depicted in three quarter angle against a dark background, his pose is vaguely awkward. He's not yet the elegant, haughty man of the world he would depict in later works.
The thistle in the portrait represents fidelity, possible to Durer's finance. It's also a symbol of Christ's passion and is found in another of Durer's paintings, Christ as the Man of Sorrows.
Location: Richelieu Wing, Room 101
19. Theodore Chasseriau, The Two Sisters
The Two Sisters is a seminal work of the Romantic period of art history. It was completed when the artist was just 23 years old.
The painting was unveiled in 1840 to mixed reviews, which seem unjustified. Chasseriau produced a body of consistently beautiful work. He was a student of Ingres and also admired Delacroix.
The full length double portrait depicts Chasseriau's two sisters wearing the same dress with similar poses and expressions. The sisters appear almost identical, but they are not.
The painting is a tour de force of style, form, and character. Showing the influence of his tutors, the sisters have Ingre's sinuous, elongated lines and the heated colors of Delacroix.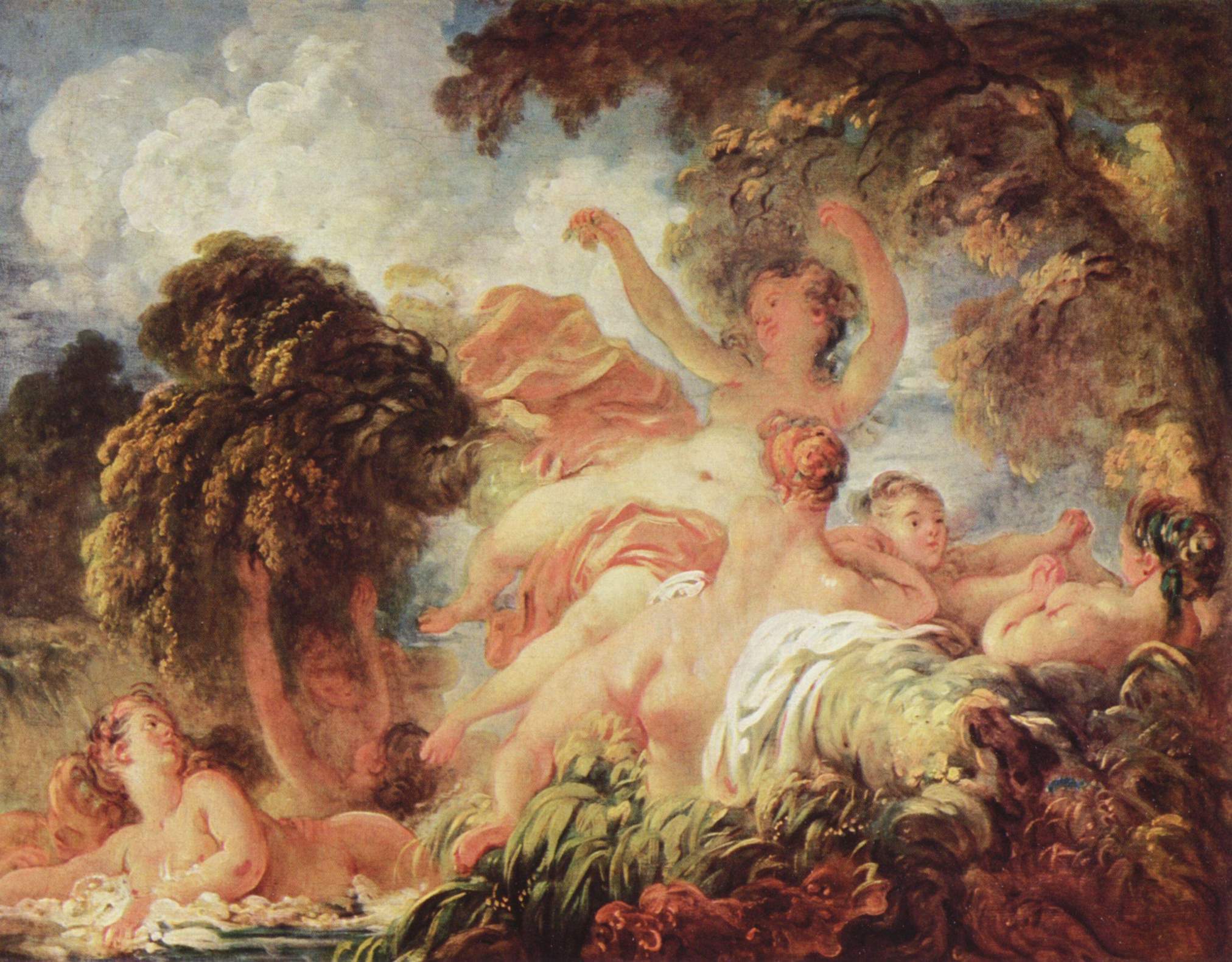 20. Fragonard, Les Baigneuses
Fragonard was an 18th century painter whose reputation rests on his charming love scenes. He was renowned for his use of light and color and expressive brushstrokes.
In this painting, Fragonard depicts the theme of bathers, popular among artists for centuries. The topic fit his fondness for capturing scenes of fun and happiness, as best exemplified by The Swing in London's Wallace Collection.
This scene has Fragonard's typical fantastical landscapes set against a blue sky with puffy clouds.
It's not perhaps as flattering to the human figure as his other pieces. This one shows the influence of Rubens, an artist Fragonard loved.
Location: Sully Wing, Room 48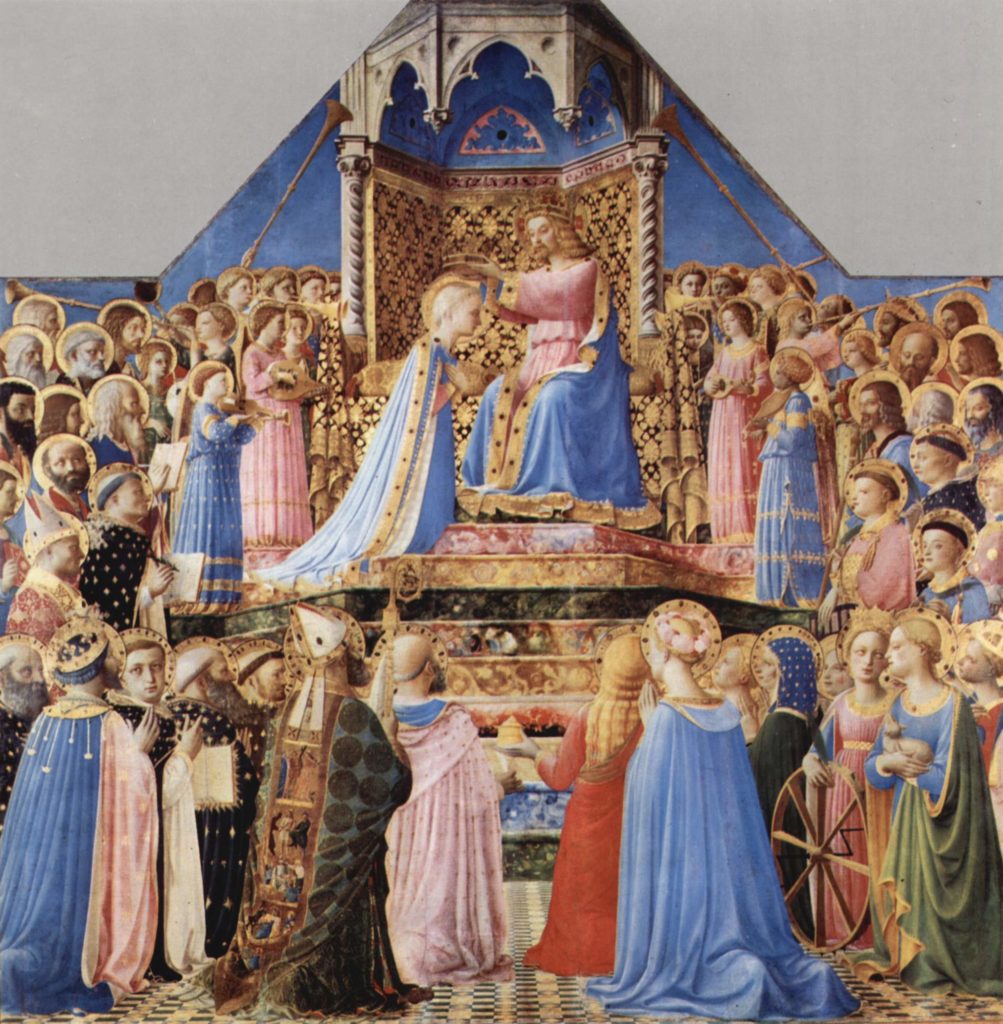 21. Fra Angelico, Coronation of the Virgin
Working in the mid 1400s, Fra Angelico lovingly painted sacred art and realistic down to earth images of humans and human emotions. With Giotto and Donatello, Fra Angelico helped transform the art world and usher in the High Renaissance.
His humanistic pieces, with delicate palettes, led him to be (posthumously) dubbed the "Angelic Painter" or Il Beato (the Blessed). Giorgio Vasari described Fra Angelico as a "rare and perfect talent."
The Coronation of the Virgin is one of the Louvre's masterpieces of medieval painting. The theme of the coronation was very a common theme in the art of the 13th century. This example shows exceptional delicacy and artistic brilliance.
The sumptuous painting illustrates the assumption of the Virgin Mary as she is welcomed into heaven and crowned by Christ. He's depicted high above the multitude of onlookers seated on a throne accessed by marble steps.
The scene is rendered with incredible detail and in luminous hues. There's an abundance of gilding throughout.
Location: Denon Wing, Room 708
Tips For Visiting The Louvre
So that's my round up of the underrated and overlooked masterpieces in the Louvre.
Here's my guide with must know tips for visiting the Louvre. But you also need the following tips and practical information for the Louvre.
1. Practical Information
Address: Rue de Rivoli, 75001 Paris, France
Hours: 9:00 am to 6:00 pm every day except Tuesday, when the Louvre is closed.
Entry Fees:
Adults € 17 and children under 18 are free. Admission is free for all visitors on the first Saturday of each month from 6:00 p.m. to 9:45 p.m.
If your'e under 26, the Louvre is also free on Friday evenings from 6:00 p.m. to 9:45 p.m. But the free hours are extremely crowded.
Advance Tickets
Definitely buy tickets for the Louvre online in advance. That will save you waiting in both a ticket line and security line. Click here to pre-book a timed entry ticket.
Metro: Palais-Royal Musée du Louvre (lines 1 and 7) and Pyramides (line 14)
Telephone: +33 (0)1 40 20 53 17
2. Louvre Tours
Because the Louvre is so massive, you might consider booking a guided tour of the museum. There are myriad options that vary in length. You can book:
3. Paris Museum Pass
If you are planning to visit more museums, you should consider purchasing a Paris Museum Pass, which covers 50 monuments and museums.
The museum pass gives you free skip the line entry to, among other things, the Louvre, the Musee d'Orsay, Conciergerie, Arc de Triomphe, Notre-Dame, Versailles, Les Invalides, Musee de l'Orangerie, Musee Rodin, etc. The fact that you can bypass the lengthy lines is hugely important.
But note, for the Louvre, even if you have the Paris Museum Pass, you may not get in unless you've reserved a time slot in advance. Once you've purchased your pass, you can book your time slot here.
Passes are valid for X number of consecutive days, not any X number of days when you might have the whim to go. Once you first use the pass, the consecutive day time clock starts clicking away.
4. Louvre Entrances besides the I.M. Pei Pyramid
Portes des Lions: This entrance is on Quai des Tuileries just east of Pont Royal and can be accessed only by guided tour groups. It's not a fast track entrance.
Le Carrousel Du Louvre: This is the underground entrance to the Louvre, which you can access if you take the metro to the Palais Royale-Musee du Louvre stop. You can also access it from 99 Rue de Rivoli (go down two sets of escalators to the inverted pyramid)
Porte de Richelieu: Between the exterior Louvre courtyard and the Rue de Rivoli. This is the entrance for tour groups or those with annual memberships.
I hope you've enjoyed my guide to the Louvre's underrated masterpieces. You may enjoy these other travel guides for Paris:
If you'd like to see the Louvre's best secret paintings, pin it for later.