Exploring Normandy? Here's my guide to a one week road trip in this beautiful and storied region of northern France.
This guide covers all the top attractions and must visit towns in Normandy to see in 7 days. I also give you options for extending your trip in Normandy.
Normandy is a region steeped in history. In Normandy, legendary figures like William the Conquerer and Joan of Arc changed the course of history.
Normandy's landscapes inspired the Impressionist painters. D-Day beaches commemorate the horror of WWII. In Bayeux, a 1,000 year old tapestry tells the story of medieval warfare and sieges.
Handsome Normandy is crammed with appealingly diverse landscapes. From its picturesque pastures to its ancient fishing harbors, Normandy is a bucolic melange of medieval towns, sun-drenched seaside resorts, and towering Gothic cathedrals.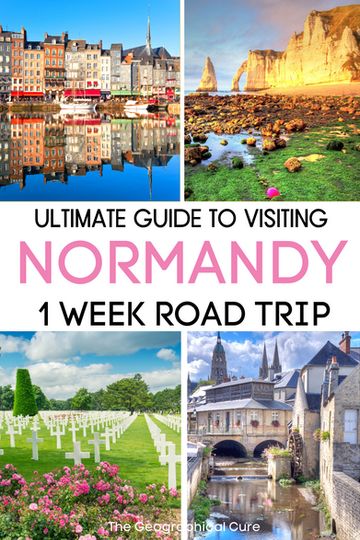 Colorful half timbered architecture, windows bursting with flower boxes, is everywhere. Weathered slate-steepled churches decorate apple orchards, which produce the region's famed cider. Seaside pleasures, set against chalky cliffs, cater to the senses.
Normandy is the birthplace of the Impressionism movement. No place is more linked to a particular art movement than Normandy is linked to Impressionism.
Impressionists didn't just share a unique style of painting, focused on light and color. The artists found a common muse in Normandy.
Here's an overview of my recommended one week itinerary for visiting Normandy:
Day 1: Drive to Rouen, stop in Giverny or at Chateau Gaillard
Day 2: Explore Rouen
Day 3: Drive to Honfleur
Day 4: Day Trip To Etretat and/or Fecamp
Day 5: Day trip to Le Havre or Deauville
Day 6: Drive To Bayeux
Day 7: Day Trip to D Day Beaches
More time: Mont Saint-Michel and Brittany
This 1 week itinerary assumes you're departing for Normandy from Paris. If you want to spend time in Paris, I have a 3 day itinerary for Paris and a 5 day itinerary for Paris you may find useful.
For this Normandy itinerary, you'll have three bases: (1) Rouen (2 nights); Honfleur (3 nights); and Bayeux (2 nights). If you don't want to move bases, you can just pick one. The destinations in this Normandy itinerary aren't far apart.
I would recommend Bayeux, a beautiful town right out of the middle ages. Bauyeux is near the inland towns, but still only 4 miles from the coast of Normandy.
There are 16 direct trains from Paris from Bayeux, if you'd prefer not to drive from Paris. Honfleur also makes a good base, central to all the Normandy destinations I've listed.
This detailed 7 day road trip itinerary for Normandy has a mix of historic sites, leisurely villages, and nature. It's perfectly adjustable, giving you some destination inspiration for Normandy.
You can make the road trip shorter or longer, depending on your available vacation time or personal fast/slow travel pace. If you just have a long weekend, skip Giverny and Rouen and head right to Honfleur or Bayeux.
One Week In Normandy Itinerary
Here's how to spend 7 blissful days in beautiful Normandy.
Day 1: Paris To Rouen, Stop at Giverny or Chateau Gaillard En Route
On day 1, you'll depart from Paris and head west on the A13 to the medieval town of Rouen.
En route, depending on your interest, stop in either Giverny (home of Claude Monet) or at Chateau Gaillard (medieval ruins of Richard Lionheart's fortress).
1. Option 1: Monet's House and Gardens in Giverny
En route, follow signs for Vernon and stop in Giverny. Giverny is about a one hour drive from Paris. Rouen is approximately 45 minutes further on from Giverny.
Giverny is the perfect place to start your Normandy adventure. Giverny is home to the house and gardens of Impressionist painter Claude Monet. It's a one-of-a-kind pastoral paradise, born from the great artist's obsession.
READ: The Monet Guide To Paris
Monet lived half his life in Giverny. You won't find any original Monet paintings. Instead, you'll feel as if you've stepped into one of his utopian paintings.
In Giverny, Monet, a devoted horticulturist, created an ethereal and exquisitely staged garden in the French-Norman countryside. With the scent of roses wafting in the air, Monet's garden is one of the world's most beautiful and popular gardens.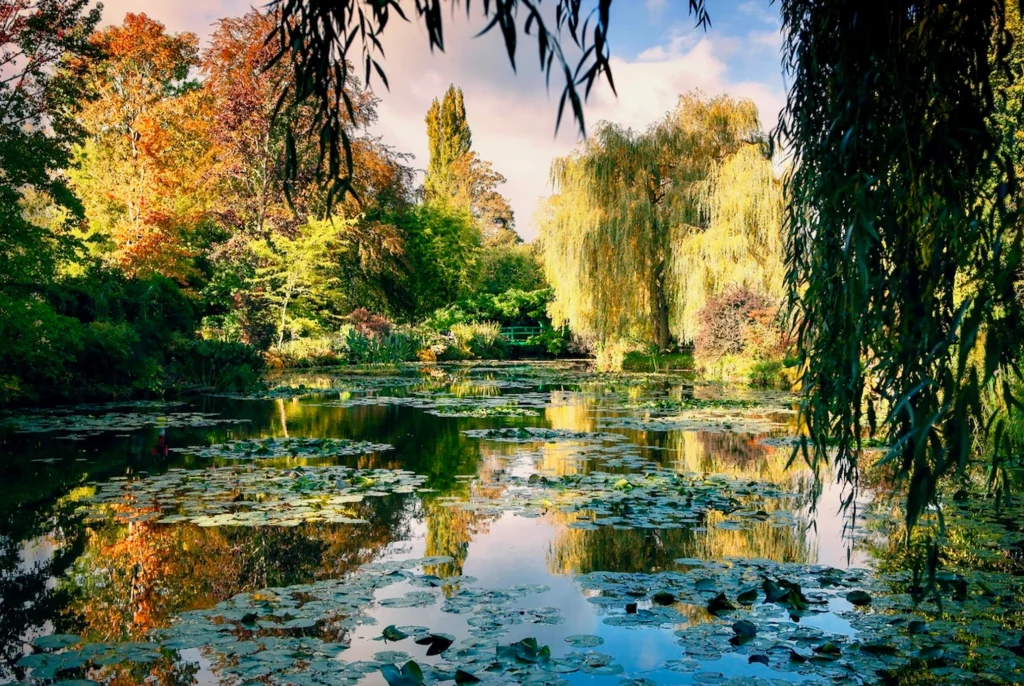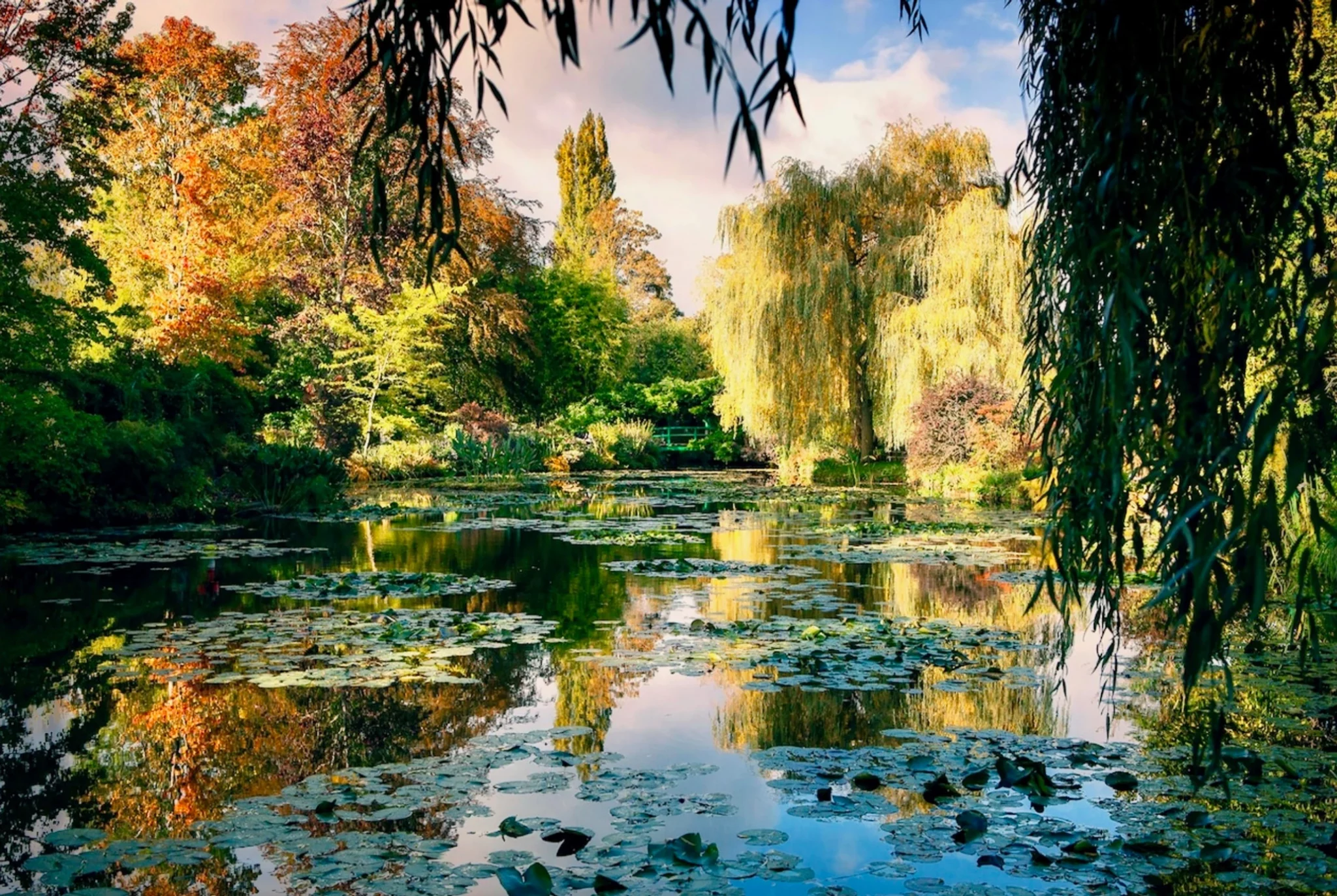 To wander through Monet's Garden is akin to living in one of his paintings. A world of flowers of every color fills your field of view, nodding slightly in the breeze. It looks like a paint factory explosion, or a few flicks of Monet's paintbrush.
There are two parts to Monet's labor-of-love gardens — the Clos Normand flower garden and the Water Garden. The Clos Norman is a boldly colored display and expressly Western. The Water garden is organic, Asian, and more exotic.
The two gardens are connected by a tunnel passing under the road. The gardens are immensely popular — a pilgrimage and mecca for Monet fans, Francophiles, and avid gardeners.
Here's my complete guide to visiting Giverny. Click here to book a 1.5 hour guided tour of Monet's house and gardens. Click here to book a skip the line ticket + 2 hour guided tour.
2. Option 2: Chateau Gaillard
If you're a ruin luster who'd like to avoid tourists, stop in Les Andelys on the Seine River to visit Chateau Gaillard. It's a designated historic monument in France. Its name means "strong castle."
Richard the Lionheart built Chateau Gaillard between 1196-98. Perched on the Seine, the fortress secured the western border of France and was a symbol of power. The fortress changed hands and endured various sieges until Henry IV ordered its destruction in 1603.
You can explore the chateau grounds year round. With a ticket, from March to November, you can head inside and visit the inner bailey, and upper courts, and dungeon.
For the time, Chateau Gaillard had an innovative design.
The fortress was one of the earliest known examples in which machicolations were used – openings in the floor of battlements through which objects and hot liquids were thrown on would be attackers.
The chateau's successive rings of moats and fortifications made the inner keep almost impregnable. It features a "stepped" or "scalloped" wall at the top of the defences. This allowed soldiers to shoot between sections of wall.
Chateau Gaillard is 55 minutes from your destination of Rouen. If you have extra time en route to Rouen, you can also stop in the pretty village of Lyon-la-Foret, 30 minutes from the chateau.
Designated one of France's Les Plus Beaux Villages, Lyons-la-Foret is a classic French village with half-timbered houses. It dates from the 17th and 18th century.
The town has cozy cafes, quaint antique shops, and a covered marketplace. If you want to grab some lunch, try Le Bistro du Grand Cerf, Le Petit Lyons, or La Licorne.
From Lyons-la-Foret, it's about 45 minutes to Rouen, which will be your first base.
Where to stay in Rouen: Hotel de Bourgtheroulde, Hotel Cardinal, Le Vieux Carre
Where to eat in Rouen: Restaurant Gill (Michelin), Restaurant Origine, l'Odas (Michelin), La Pecherie, Au Bouillon Normand
Day 2: Explore Rouen
Medieval Rouen is 2000 years old. It's one of Normandy's most engaging and historically rich destinations, with half timbered homes and winding medieval lanes.
With its lantern tower piercing the clouds, Cathdrale Notre-Dame de Rouen is Rouen's crown jewel.
Rouen's central square is where Joan of Arc, the teen who rallied France to drive out the English, was tried for heresy and burned at the stake in 1431. During WWII, Allied bombing raids laid waste to the city. A lot to endure, no?
But Rouen is still lovely and its cobbled old town is a joy to wander. You may want to book a guided walking tour.
Stroll the length of the Rue du Gros Horloge, the pedestrianized main drag, to Notre-Dame Cathedral.
Along the way, take in all the colorful half timbers, the Place du Vieux Marche, the massively ornate Great Clock, and the modern Joan of Arc Church. If you have time, climb the clock tower's 100 steps for panoramic views.
Rouen's Notre Dame Cathedral is a landmark of art history, one of Europe's best cathedrals. Constructed between the 12th and 14th centuries, the cathedral was built on the foundations of a 4th century basilica.
The cathedral rises 151 meters tall, making it one of the tallest in France. The Dukes of Normandy were traditionally crowned and buried there. Richard the Lionhearted insisted his heart be kept there. You can still see what Impressionist artist Claude Monet painted more than a century ago.
Rouen also has a wonderful museum, the Musée des Beaux-Arts. It has masterpieces from the 15th century to the 21st century, including works from Velazquez, Van Dyke, Delacroix, Gericault, Delaroche, and the Impressionists.
>>> Click here to book a walking tour of Rouen
READ: Guide To the Impressionism Trail in Normandy
Day 3: Drive To Honfleur
On day 3, head to Honfleur, your next base for 3 nights. Honfleur is a 50+ minute drive from Rouen. So, if you start early, you can spend most of the day there. To get oriented, you may want to book a 1.5 hour guided walking tour.
Honfleur is a classic Norman town, dubbed "the jewel of Normandy." In Honfleur, the Seine flows into the English Channel, reflections mirrored in Le Vieux Bassin or old harbor.
The novelist Baudelaire once declared, "Honfleur has always been the dearest of my dreams." Victor Hugo called Honfleur "a ravishing port full of masts and sails, crowned with green hills and surrounded by narrow houses.
READ: Guide To the Victor Hugo Museum in Paris
Honfleur is lined with gorgeous 16th to 18th century row houses with slate roofs and facades. Honfleur also has some beautiful churches and is laced with a maze of tiny cobbled streets.
The medieval Church of Saint Catherine is the largest wooden church in France, and Honfleur's spiritual heart. It was built in the 15th century by sailors.
All this beauty besotted the Impressionists and fellow artists and writers. Art historians claimed that Honfleur was the "birthplace of Impressionism. There, local artist Eugene Boudin urged Monet to paint outside in "plein air," changing the course of art history.
READ: The Monet Guide To Paris
Honfleur is a cultural treasure. Not surprisingly for a town that begs to be painted, the town boasts 95 art galleries, with works by contemporary painters keeping Boudin's spirit alive.
Housed in a 19th century chapel, the Musee Eugene Boudin is a pleasing small museum with airy rooms. You'll find myriad samples of dreamy coastal scenes by the Normandy-loving Impressionists, especially the Honfleur School.
There are plenty of meteorological coastal scenes by its namesake painter Boudin. There are also paintings by the likes of Courbet, Monet, Vuillard, Sisley, and Pissarro. You can see how Boudin inspired later masters, who took Boudin's techniques to the next level.
Where to stay: Hotel de la Cheval Blanc, Horel de l'Ecrin, Hotel du Dauphin, La Maison de Lucie
Where to eat: La Bouilland Normand, Cote Resto, Restaurante la Lieutenance, Au P'tit Mreyeur, Fereme Saint Simeon, Sa.Qua.Na (Michelin), Entre Terre et Mer
Day 4: Explore Honfleur + Half Day Trip To Etretat or Full Day Trip to Etretat and Fecamp
1. Option 1: Morning in Honfleur, Afternoon in Etretat
Spend the morning exploring or going to the museum, if you didn't get a chance on your first day in Honfleur. After lunch, drive to the famous white cliffs of Etretat.
It's an approximately 1.5 hour drive. En route, you'll drive over the Pond de Normandie, the longest cable-stayed bridge in the world.
Sleepy Etretat is a classic old world French town with absolutely mesmerizing scenery. Etretat is set on the sea. Waves crash against the shores of a jagged chalky coastline, with a pretty beach promenade.
A monumental arch, Porte d'Aval, plunges into the sea. It's France's version of England's White Cliffs of Dover.
The town's indescribable natural beauty inspired artists like Claude Monet, Henri Matisse, Eugene Boudin, and Gustave Courbet. The cliffs, known as the Elephant and the Needle, were one of the artists' favorite spots to paint. They're huge and beautiful; softly undulating and momentous.
The best way to admire the seascape is to walk along the cliffs. It's not intimidating at all. On your walk, you'll come across the Chapel of Notre-Dame-de-la-Garde. The original was destroyed in WWII, but it was rebuilt in the 1950s.
When you're done admiring the caves and tunnels carved into the cliffs, head down the staircase to the sparkling turquoise waters of Etretat Beach. The water is cold, but the pebbles are soft and smooth, not hard on the feet.
Etretat's town center is quaint and shouldn't be ignored. It's bursting with shops, eateries, and art galleries.
Cider is a local specialty and there are plenty of crepes. There's also quite a number of small bed and breakfasts — a testament to Etretat's appeal to (mostly) French tourists.
2. Option 2: Full Day Trip to Both Etretat and Fecamp
Fecamp is about 25 minutes east of Etretat. Like Etretat, Fecamp is a pretty coastal resort town with dramatic white cliffs, just a 5 minute walk from the town center. You can stroll along the beaches and admire the lighthouse.
Cap Fagnet is Fecamp's famous viewpoint, just across the port. On one side, you can admire the cliffs. On the other, you can see Fecamp's harbor and block houses.
While in Fecamp, you should visit the Abbatiale de la Ste-Trinite, or the Benedictine Palace Museum. Built by Richard the Lionheart in the 12th and 13th centuries, it was the most important pilgrimage sites in Normandy until Mont Saint-Michel was built. Now, it has both Neo-Gothic and Renaissance architectural elements.
The abbey is famous for its Benedictine liqueur, which is still produced onsite. You'll get a sip at the end of your visit. If you're staying in Fecamp for dinner, you'll find some good seafood restaurants. Try Chez Nounoute or La Maree
Day 5: Day Trip To Deauville or Le Havre
On day 5, head to either Deauville or Le Havre. Your choice will depend on where you interests lie.
Deauville is an utterly charming resort town on the Parisian Riviera, about 25 minutes from Honfleur. In Deauville, you can hit the beach, relax, and enjoy the social whirl.
By contrast, Le Havre is for art lovers. Le Havre is also only 25 minutes afield as well. The town has one of France's best museums, with a stunning collection of Impressionism.
1. Option 1: Deauville
Glamorous Deauville is a favorite spot of wealthy Parisians. Deauville is like the Hamptons of Paris, a convenient and luxe beach resort just far enough to escape the bustle and heat of city life. The town is part of the "Parisian Riviera."
The Parisian Riviera stretches for 25 miles between Caen and Honfleur and is known as the Cote Fleurie, or Flower Coast. In The Great Gatsby, Fitzgerald has his protagonists spend part of the year in Deauville.
Deauville is a beautiful town. It's stuffed with aristocratic Anglo-Norman mansions from the Victorian era.
They're elegant old world half timbered homes with Queen Anne style accents and witches' hat turrets The houses are even more distinctive and ornamental than those in Alsace.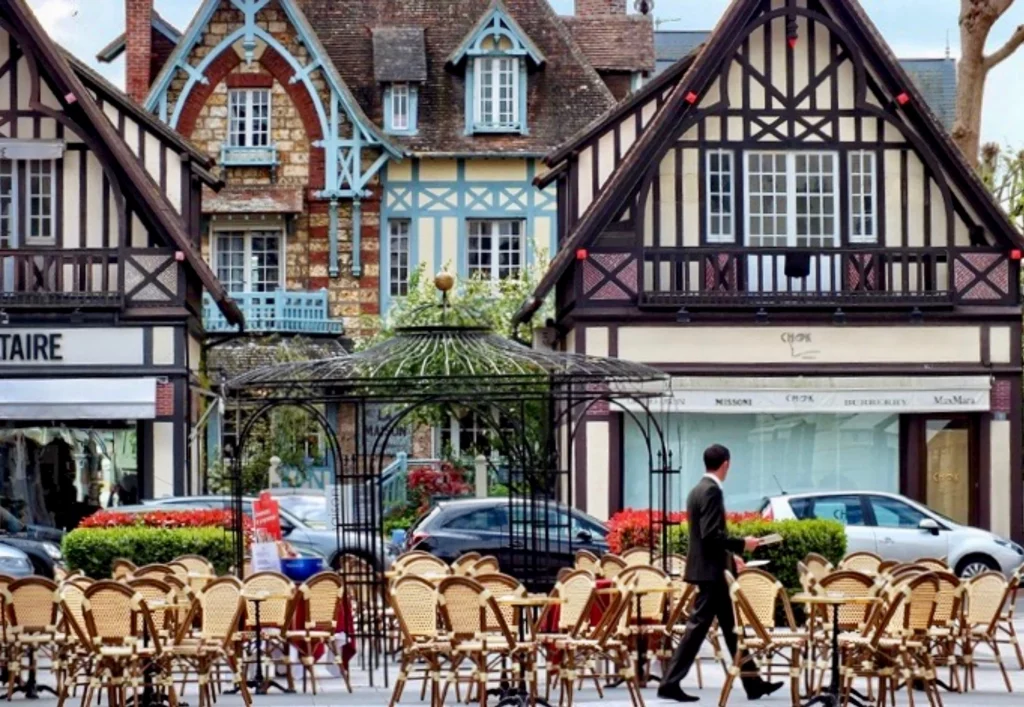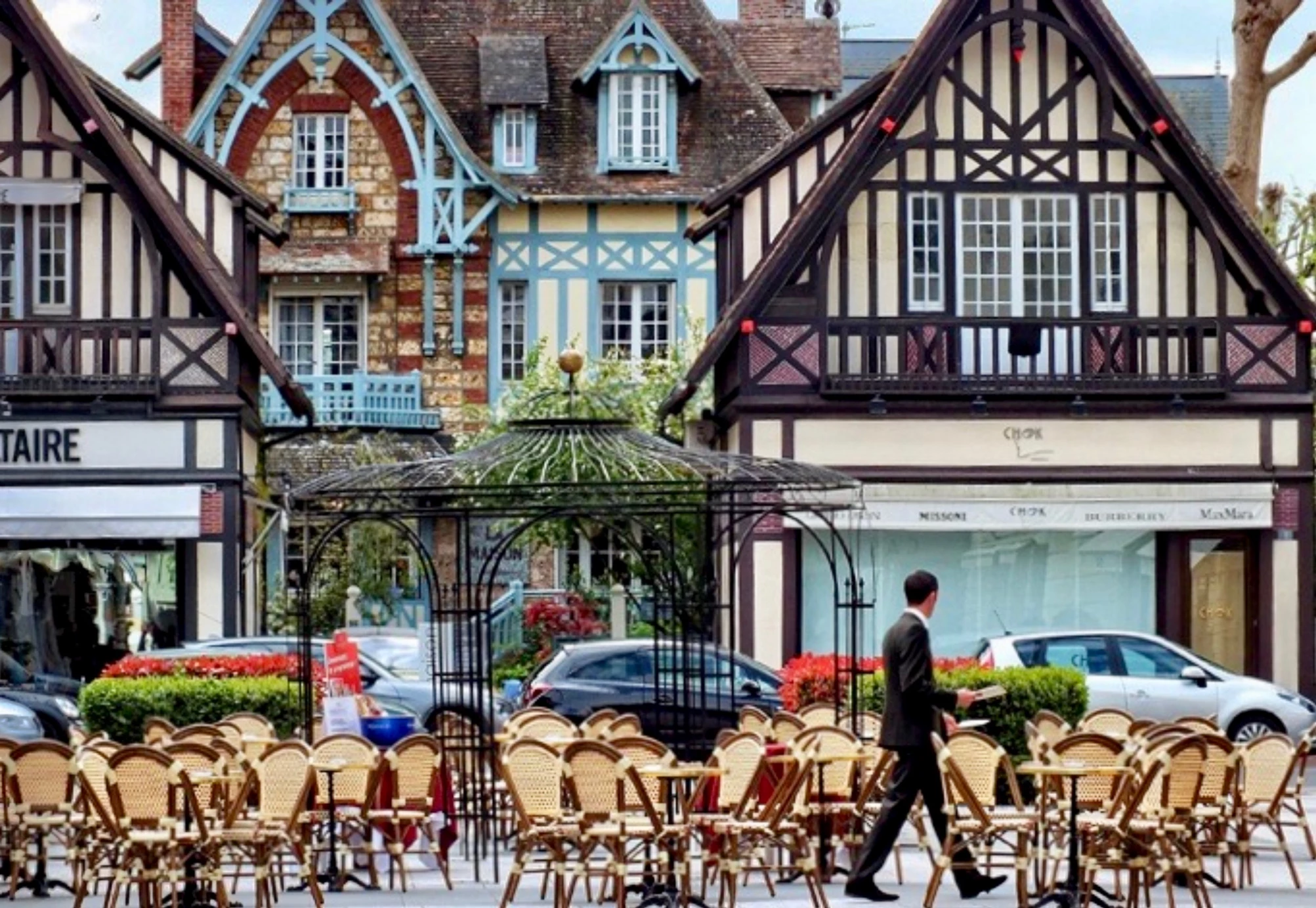 Aside from architecture, Deauville is renowned for its stately seaside strand (Promenade des Planches), horse racing, luxury shopping, delicious cuisine, and film festivals. Enjoy a stroll down the promenade and stop for lunch at Augusto Chez Laurent or La Peniche.
In addition to attracting Parisians, Deauville also enamored the Impressionist painters. Those included Monet, Berthe Morisot, Boudin, and Gustave Caillebotte. Lured by the setting, they set up their easels outside on the beach and painted Deauville's beautiful coastal landscapes.
If you don't want to indulge in beach time, instead take a coastal drive along the Cote Fleurie and see its other villages — Trouville-sur-Mer, Cabourg, Houlgate, and Cricqueboeuf. Trouville's beach is known as the "Queen of the Beaches."
2. Option 2: Le Havre
As a result of Allied bombing, Le Havre was largely obliterated during WWII.
The town was rebuilt by the Belgian architect Auguste Perret, a mentor to Le Corbusier. His post-war modernist vision still marks the town, earning the first UNESCO designation for an urban center in 2005.
Le Havre was a favorite haunt of the Impressionist artists. Its location at the mouth of the Seine estuary gave the town exceptional light.
The water runs in a current, giving off glimmer and glints as the light catches it. Le Havre's port, dockyards, beaches, and regattas inspired all the major players in Impressionism.
Claude Monet grew up in le Havre. In 1872, when he was 32, he painted the groundbreaking harbor scene Impression: Sunrise. It's in a small secret museum in Paris, the Musee Marmottan Monet. The Post-Impressionist Raoul Dufy was also born in Le Havre.
The once gritty town has become a dynamic art center. The Andre Malraux Museum of Modern Art (known as MUMA), in and of itself, is an excellent reason to visit Le Havre.
Housed in a light-filled building overlooking the Seine, MUMA boasts one of the largest collections of French Impressionism in the world. It's a mini Musee d'Orsay without the Paris crowds. There are works by Boudin, Monet, Renoir, Degas, Sisley, Pissarro, Courbet, and Dufy.
For lunch, have some crepes at the Creperie Soizic in the old quarter. For a cocktail, try L'Abri-Cotier on the promenade.
Day 6: Drive To Bayeux
On day 6, drive west from Honfleur to Bayeux. It's about a one hour drive.
You'll have the entire day to poke around and explore this delightful medieval town. You may want to book a 2 hour walking tour.
If you didn't breakfast in Honfleur, head to the patisserie La Reine Mathilde.
Beautiful Bayeux is a town that played an outsized role in French history. It's the perfect base for historic Normandy — the site of the Norman invasion of France in 1066 and WWII's D-Day landings of 1944.
Most people go to Bayeux to see the thousand year old, and exceedingly long (230 feet), Bayeux Tapestry.
Housed in the Bayeux Tapestry Museum, the tapestry chronicles the events leading up to William the Conqueror's invasion of France. In 50 scenes, it depicts the battle of Hastings and the showdown between William and King Harold II.
It's unclear when the the Bayeux Tapestry (actually an embroidery) was created. But historians speculate that it was not long after the events it depicts.
The tapestry is remarkably well-preserved given its age, though it has been restored several times. The tapestry was most likely created by William's queen, Matilda, and her court.
The Nazis seized the tapestry during WWII. It would up at the Louvre, which the Nazis had commandeered and were using as a clearinghouse for art theft. After the war, the tapestry was returned to Bayeux, its rightful owner.
READ: Underrated Masterpieces of the Louvre
But Bayeux isn't just a piece of cloth, however impressive. Full of medieval architecture, the town itself is delightful and fairytale-like. Honey colored stone buildings are topped with black slate roofs. Flowing flower boxes spill into the narrow lanes.
While you're strolling, pop into Bayeux's Notre-Dame Cathedral. This extremely large Norman-Romanesque church was consecrated in 1077 and has survived countless wars and conflicts.
The cathedral is thought to be the original home of the Bayeux Tapestry. Fierce gargoyles on the exterior scowl down at you. In the summer, there's a fantastic nighttime light show.
Where to stay in Bayeux: Villa Lara, Chateau de Bellefontaine, Grand Hotel du Luxembourg, or Novotel Bayeux
Where to eat in Bayeux: La Rapiere, L'Angle Saint Laurent, Le Pommier, La Reine Mathilde (breakfast), Le Volet Qui Penche, P'tit Bistro
Day 7: Day Trip to the D-Day Beaches
On the last day of your one week Normand itinerary, you'll visit the historic D-Day beaches. Bayeux makes the perfect base for visiting the D-Day beaches. Unchanged and undeveloped, the beaches are like a time capsule.
You may want to book a guided day trip tour. To do it all, you could go on a 9 hour guided tour of the beaches from Bayeux. Or you could take a half day trip lasting 5 hours.
There, the US successfully carried out the largest military operation in history on June 6, 1944. On this day, US troops gained a foothold in France, a pivotal moment in history which led to the crumbling of Nazi Germany.
You can immerse yourself in the history of Operation Overlord, and the daily lives of the German and Allied troops. For background, visit the America Gold Beach Museum, the Memorial Museum of the Battle of Normandy, and the Bayeux War Cemetery.
The D-Day beaches consist of a 54 mile stretch of coast from Sword beach in the east to Utah beach in the west.
This area is dotted with WWII museums, cemeteries, monuments, and battle remains. For a comprehensive guide to the D-Day beaches, click here.
You won't be able to see everything in a day, even with a tour guide. Plan your day around a theme, whether you want to visit the American, Canadian, or British sites and memorials. Five miles west of Omaha Beach is the area's best scenic lookout, Pointe du Hoc.
If you rented a car, from Bayeux, it's a three hour drive back to Paris. Or, if you picked up your car in Rouen, drop it in Bayeux and take the train back to Paris.
Extra Time in Normandy? Visit Mont Saint-Michel
There are plenty more beautiful cities to visit in Normandy. But an absolute must visit landmark in France is Mont Saint-Michel.
In fact, you could reverse this itinerary and start in Mont Saint-Michel, then travel east through Normandy. But, with no direct connections, Mont Saint can be a pain to get to from Paris.
In any event, from Bayeux to Mont Saint-Michel, it's 1:35 drive by car. But the Mont is worth the effort, especially if you start early.
Click here to pre-book a ticket. You can also book a full day guided day trip tour from Bayeux.
Mont Saint-Michel is the crown jewel of Normandy. It's one of France's most recognizable silhouettes, a veritable castle in the clouds.
The famous landmark is a pretty-as-a mirage island sanctuary. Its steeply built architecture seems almost impossible. A surreal medieval stage set, the Mont's sky-high spires, stout ramparts, and rocky outcrops rise dramatically from the sea.
The immense stone pile stands guard over gleaming sands laid bare by a receding (and unpredictable) tide. At high tide, Mont Saint-Michel seems to float in the sea.
The hulking abbey is one of the most visited pilgrimage sites in Christendom. In medieval times, devotees flocked to venerate the Archangel Michael. The Mont's star attraction is the ancient abbey crowning its top.
You can overnight at the Mont, on the mainland (pamper yourself at the luxury Chateau de Chantore), or in nearby Saint-Malo (L'Ascott) in Brittany.
A trip to Mont Saint-Michel takes some time and planning. Click here for my complete guide to visiting Mont Saint-Michel, with tips for visiting.
If you have an extended vacation planned, Brittany is a fantastic place to continue your road trip. Click here for my guide to the 20 most beautiful villages in Brittany.
Tips for Visiting Normandy
The best time to visit Normandy is in late spring and summer. Then, the weather is pleasant, the days are longer, and the flowers are in full bloom. After summer, some villages go into hibernation mode and there's not as much to see and do in Normandy.
Ideally, you should rent a car to explore Normandy. Normandy's villages are best explored by car because public transportation is scarce.
Trains from Paris serve Rouen, Caen, Bayeux, and Mont St-Michel. But service interconnecting these Normandy destinations is frustrating or non-existent.
In Normandy, cars drive on the right hand side, so that will be familiar. You don't even need an International Driver's License in France. Most of the motorways have tolls, so have cash on hand.
In terms of cuisine, Normandy is known for the "four C's" — camembert, cider, calvados (apple brandy), and cream. Creperies and galette cafes are omnipresent. There's no local wine in Normandy. You'll have to make do with cider or the white Muscadet wines made in neighboring Loire region.
I hope you've enjoyed my 1 week itinerary for Normandy. You may enjoy these other France travel guides:
If you'd like to road trip for one week in Normandy, pin it for later.