Planning a trip to Granada Spain and wondering what to see and do? Here's my guide to the best things to do and see in Granada Spain.
This guide covers all Granada's must see sites, attractions, and historic landmarks. I also give you options for taking day trips from Granada, which is great base for exploring Andalusia.
I didn't know that I'd love Granada before I arrived. I'd just left the stunning and sensual city of Seville and seen some fantastic white pueblo villages en route.
But, still, Granada unexpectedly swept me away with its authentic Spanish vibe and dazzling attractions.
So what makes Granada so special?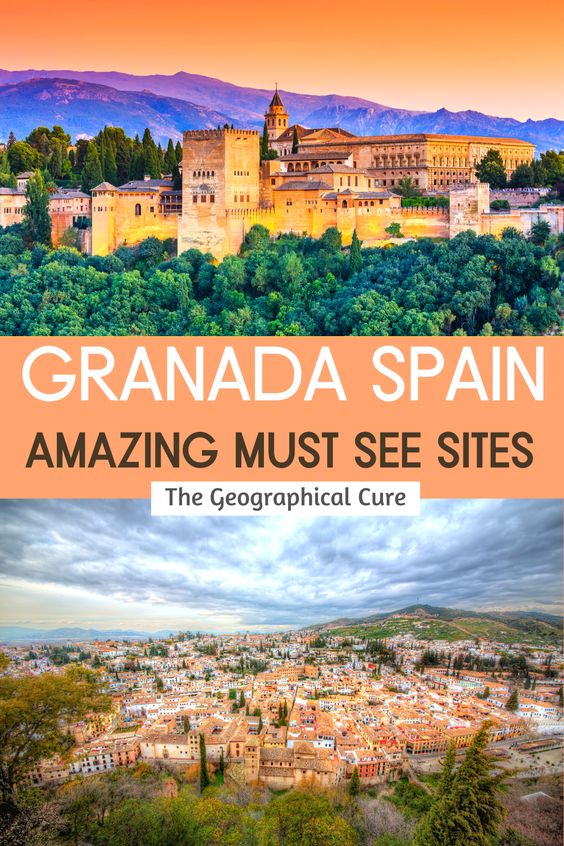 Lorded over by the Sierra Nevada Mountains, it's an absolutely beautiful ancient city with historic architecture. Granada boasts many atmospheric neighborhoods, each with an earthy distinct character.
Granada is most known for a single monument, the grand Alhambra. But Granada isn't just the Alhambra, however impressive that Spanish landmark may be.
It's mulit-layered. Granada also boasts a Moroccan souk, a massive cathedral, flamenco music, cool neighborhood, and — perhaps best of all — free tapas.
Top it off with ubiquitous clear blue skies and great weather, you've got the perfect spot for a geographical cure in southern Spain. As a plus, Granada is eminently walkable despite the hills. So resist the urge to take the tourist buses.
Top Attractions and Things To Do in Granada
If you're looking for things to put on your Granada bucket list, here are the top attractions in Granada.
1. The Alhambra & the Generalife Gardens
Not many sights deserve to be called breathtaking. But the Alhambra easily qualifies.
It's the top attraction in Granada. Only a cynic would fail to be spellbound by this grand complex, the last and greatest Moorish fortress in Andalusia.
The Alhambra is one of the most popular and best sites in southern Spain, and even in the world. It stands on a stunning piece of real estate, high on Sabika Hill, with panoramic views over Granada and the beautiful countryside.
The Alhambra was listed as a UNESCO site in 1984. It's is a deeply affecting place that's difficult to process. Or to unglue your camera from your face.
In 889 A.D., Alhambra began life as a small fortress on the remains of ancient Roman ruins. Unlike the Royal Alcazar in Seville, which merged Moorish and Christian styles, the Alhambra was built by Moors for Moors.
By the 13th century, the Reconquista was in full swing. In 1492, Granada finally succumbed to King Ferdinand and Queen Isabella. Fortunately, they valued and built around the Alhambra. They transformed the Alhambra into an opulent royal palace complex.
I've written about the Alhambra at length and you can check out my complete guide with tips for visiting the Alhambra. The highlights of the Alhambra are the Alcazaba, the Charles V Palace, and the utterly jaw dropping Nasrid Palace.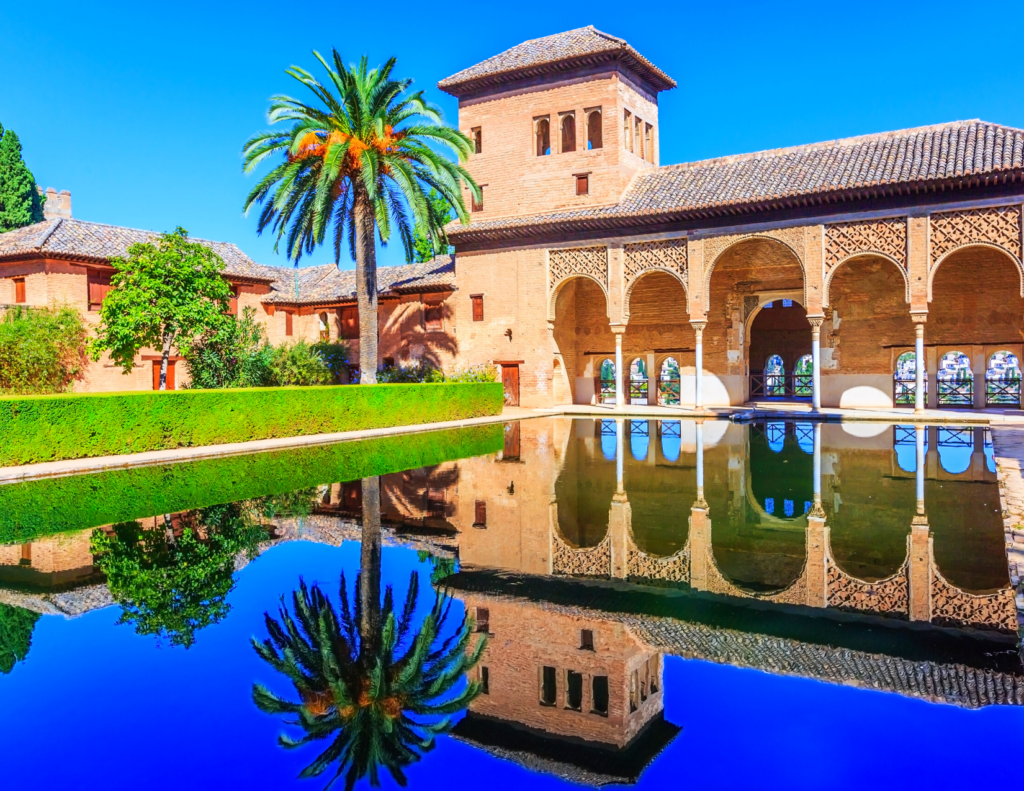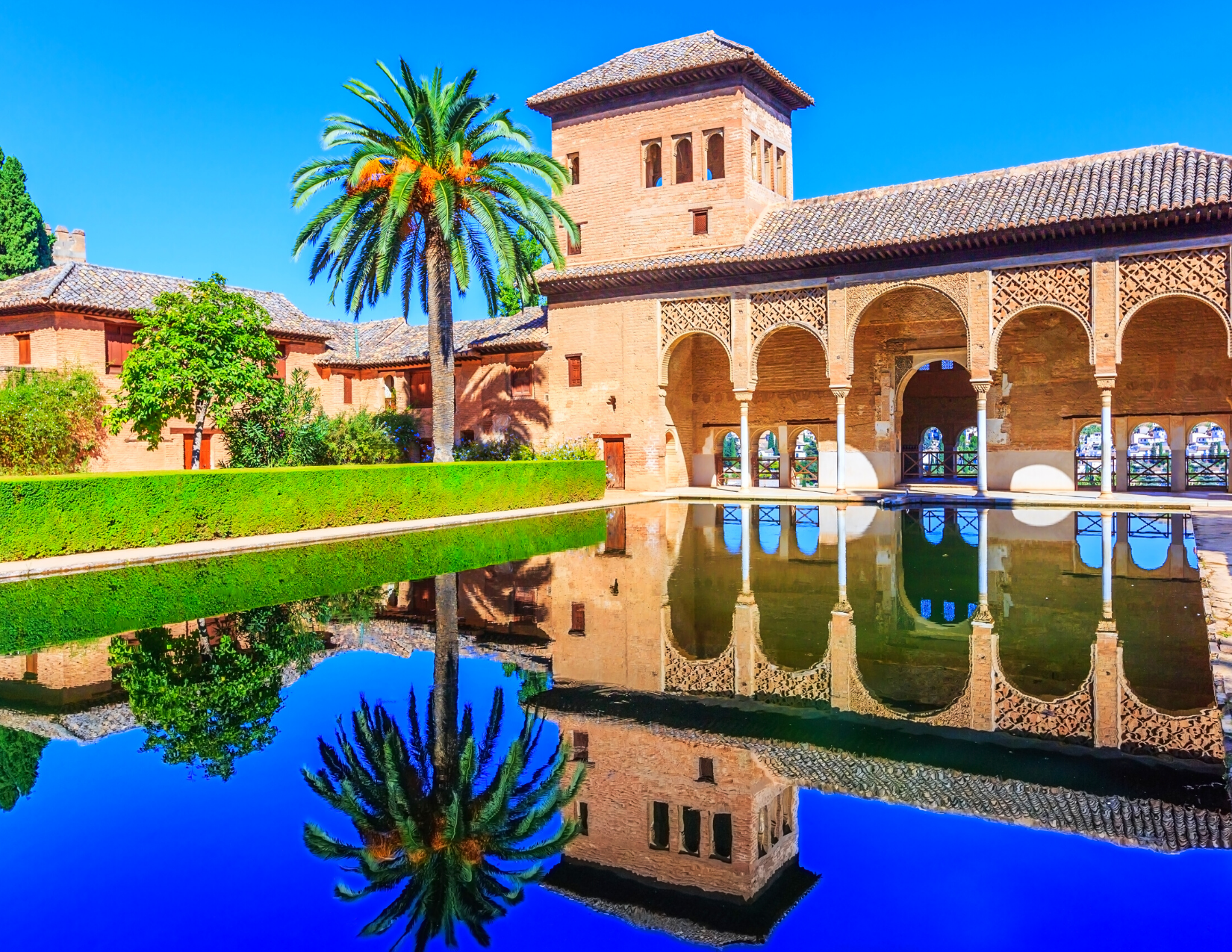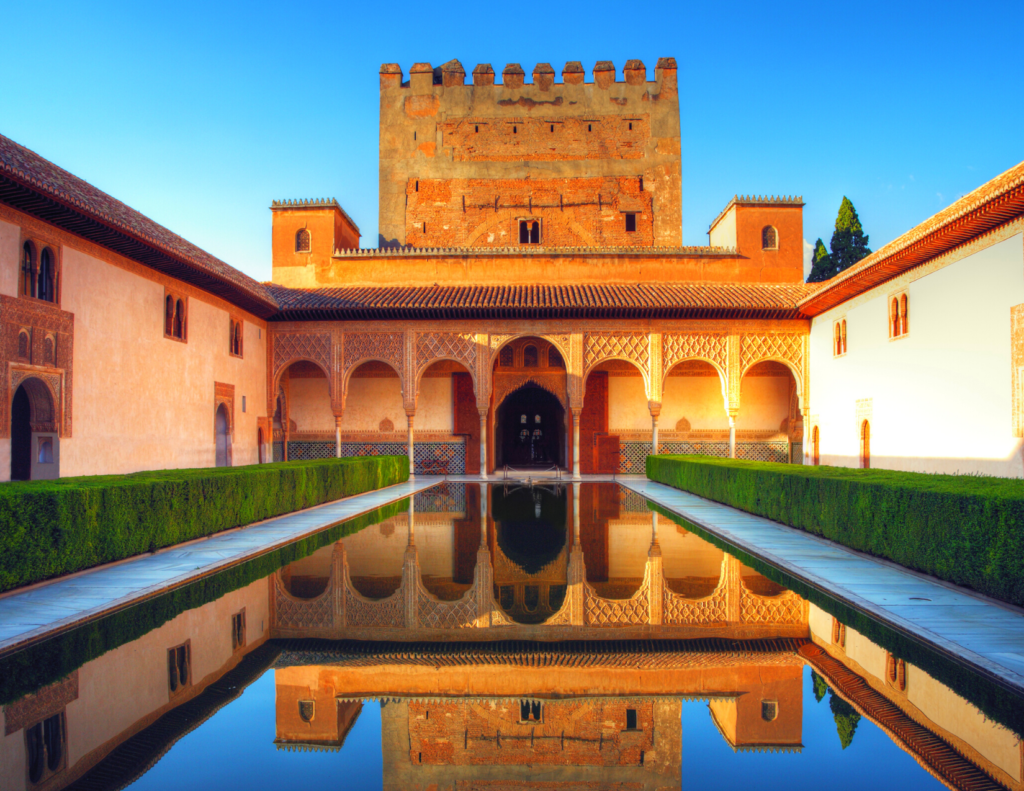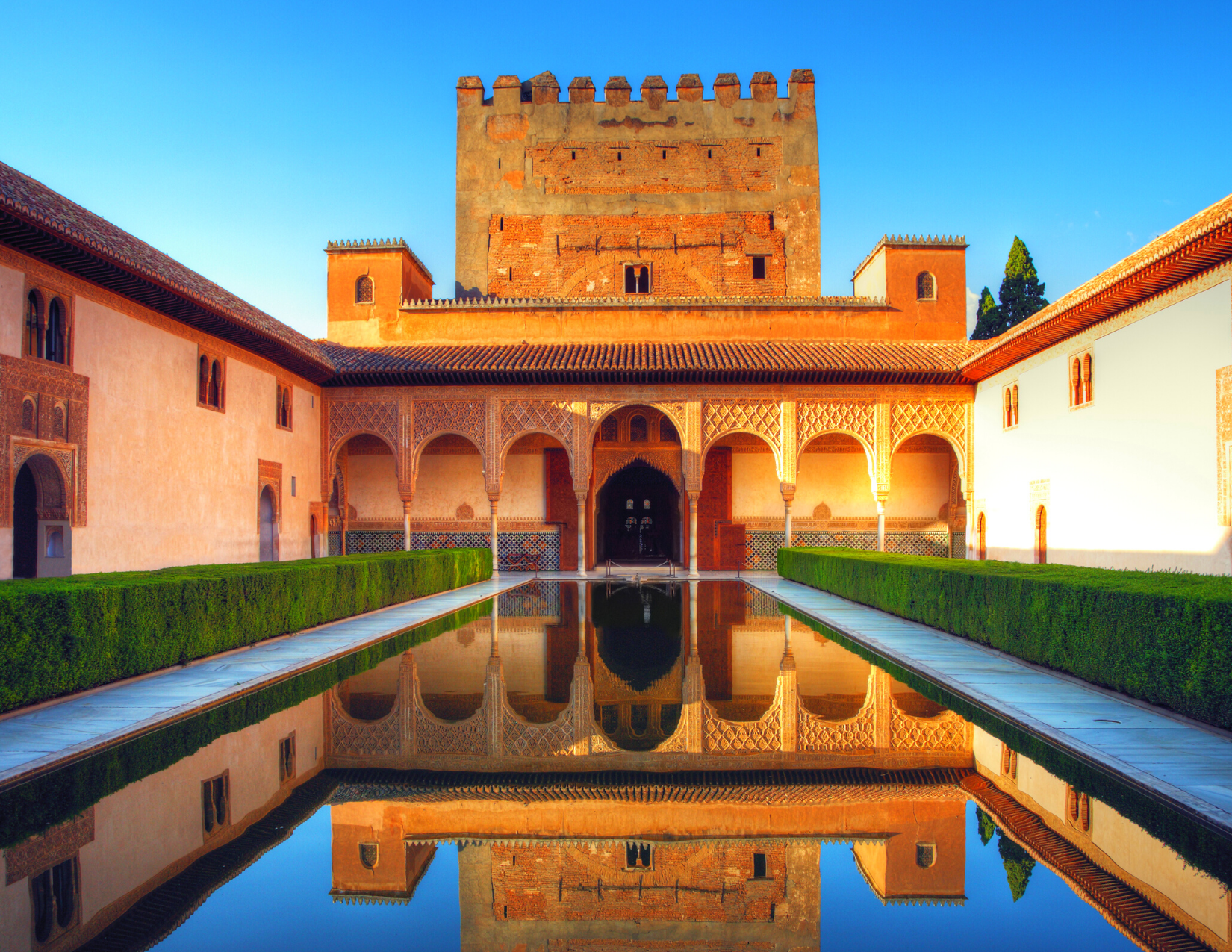 The Nasrid Palace is undoubtedly the crown jewel of the Alhambra. It offers the world's finest vestige of the refined, intricate, and elegant architectural style of the Moorish civilization.
You'll find room after room of intricate tile mosaics, delicate plaster reliefs, and elaborate coffered ceilings. The rooms are linked by gleaming patios with gurgling fountains and pools.
Highlights are the Courtyard of the Myrtles, the Throne Room, the Salon of the Abencerrajes, the Hall of the Two Sisters, and the Courtyard of the Lions (the most photographed spot).
When you're done with the lavish palaces, head over to the Generalife Gardens. The gardens were the summer pleasure spot of the Nasrid rulers.
Generalife was the lush leisure villa of the last dynasty of Moorish sultans. They summered there to escape the intense heat. The theme is water.
In the Generalife Gardens, narrow paths run alongside flowerbeds. There are terraced gardens, reflecting pools, and fountains.
It really makes sense to book a tour of the Alhambra because it's so extensive and so important.
Here are some of you tour options:
Practical Information for Visiting the Alhambra
Location: Albaicín neighborhood, Calle Real de la Alhambra, s/n, 18009 Granada
Pro Tip: For hours, entry fees, the step by step process for buying tickets, and how to plan your time, check out my complete guide to the Alhambra.
2. Granada Cathedral
After staggering out of the Alhambra, slack jawed, stroll down the hill into Plaza Nueva. Cross the square and you'll reach Granada Cathedral. It dominates Granda's historic center.
Granada Cathedral is a massive affair. It's the second largest cathedral in Spain after Seville Cathedral and the fourth largest cathedral in the world.
It was built by Queen Isabella after the conquest of Granada. Construction began in 1518. It took over 180 years to complete.
Like Antoni Gaudí's Sagrada Familia in Barcelona, the cathedral isn't yet finished. It's a bit lopsided. Only one of the planned two 80 meter towers were ever completed. Even that tower had to be lowered, when the gothic foundations couldn't sustain its heavy weight.
The cathedral's a mix of Renaissance and Baroque architectural styles. The chief architect was Alonso Cano, who took over in 1652. Inside, there's a towering interior, a grand altar, and side chapels.
Practical Information for Visiting Granada Cathedral:
Address: Calle Gran Vía de Colón, 5, 18001 Granada, Spain
Hours: Mon to Sat from 10:00 am to 6:30 pm
Entry fee: 5 euros, audioguide included. 3 euros for students. Children under 12 are free. You can also book a 3 hour tour to the cathedral and Royal Chapel.
3. Grab a Meal or Coffee in the Piazza de Bib Rambla
Plaza de Bib Rambla is a lively tree-lined square near the cathedral. It's full of cafes, bars and shops.
In the center is a large 17th century fountain, with an image of Neptune held up by four grotesque figures. It's lit up to beautiful effect at night. The square is also flanked with beautiful 19th century buildings.
Bodega Legado Andalusi serves some of the best Andalusian food in the region. It's a great place for an alfresco meal.
4. The Albaicín Neighborhood
Probably my favorite thing to do in Granada is wandering around the old Arab neighborhood of the Albaicín, or Albayzín. You may want to book a guided tour to get oriented.
Built on a steep hill, it's an ancient area with tight tangled winding streets and a bohemian feel. The lively place was declared a UNESCO site in 1984.
The main drags in the Albaicín, which both run parallel to the River Darro, are Paseo de los Tristes and the extremely scenic Carrera del Darro.
Amidst a jasmine scented breeze, you'll find restaurants, cafes, tapas bars, and even street performers.
This is an excellent place to book a sunset walking tour.
Check out the lovely Church of San Salvador and the Albaicín's most popular square, the Mirador San Nicolás. The mirador offers up one of the bet views of the Alhambra.
After you've taken in the main sites, head into the labrythian streets and get lost. The Albaicín has a rich collection of beautiful Moorish architecture that's a feast for the eyes.
5. Sacromonte Neighborhood
I booked a nighttime tour in the otherworldly barrio of Sacromonte, home to Granada's Roma community. And it delivered. Time stands still in this unusual rustic quarter of Granada.
Sacromonte means "sacred mount." For centuries, Sacromonte was the home of gypsies, bohemians, artists, and foreign refuges. In the 15th century, the gypsies came from Romania and northern Indian after the expulsion of the Moors.
Called Romas, they lived in caves grouped around ravines and built into the hillside. Most of the caves are white and adorned with copper pots.
The locals still live in them. But nowadays, most caves have electricity, although hippies still squat in abandoned caves at the top of the hill.
Sacromonte feels disconnected from the city. Yet, it sports one of the most mesmerizing views of the Alhambra.
You're so high you can even look down on the Albaicín and the River Darro. In my view, this view is superior to, and much less crowded, than the view at Plaza San Nicolás.
Sacromonte is also home to the Museo Cuevas Del Sacramonte. The museum features 10 different recreated caves. Its exhibits explain how the gypsies lived and the origins of flamenco.
Practical Information for Visiting the Sacromonte Barrio:
Getting there: I took bus #34 from leaving from Plaza Isabel Católica near the Cathedral
Cave Museum Address: Barranco de los Negros, Granada
Cave Museum entry fees: 5 euros, guided tours 30-50 euros depending on the number of people in your party
Cave Museum hours: March 15 to Oct 14 daily from 10:00 am to 8:00 pm. From Oct. 15 to March 14 daily from 10:00 am to 6:00 pm
6. Sacromonte Abbey
The beautiful 17th Sacromonte Abbey was built by Archbishop Pedo de Castro y Quinones. It's a lovely hidden gem in Granada.
The abbey was constructed on a site that was allegedly the final resting place of Saint Caecillius. He was Granada's first bishop and a martyr from the 1st century.
Together with the Cathedral and the Alhambra, it is one of the most emblematic Christian monuments in Granada. It boasts a long history, with the discovery of the leaded books, the remains of San Cecilio and a thousand other curiosities.
Address: Camino del Sacromonte
Hours: Monday through Sunday 10:30 am to 6:00 pm
Entry fee: € 5, 1 hour guided tour
Getting there: click here
7. The Sunset at Plaza San Nicolás in the Albaicín
But you should still come to this spot at sunset. The lively and rather hectic Mirador de San Nicolás is perhaps the most famous viewpoint in Granada.
Here, you can see the Alhambra sprawled across the wooded hilltop against the backdrop of the dark misty Sierra Nevada mountains.
This is the ideal place for a classic sunset shot. When former president Bill Clinton visited in 1997, he said the Mirador had "the most beautiful sunset in the world."
The mirador is located in the Albaicín neighborhood. Just next to the viewpoint is the Church of San Nicolás, built in 1525.
The church is a combined Mudéjar and Gothic style, built on top of a mosque, like so many other Andalusian churches.
Practical Information for Visiting the Plaza Nicolás:
Address: Plaza de San Nicolás, Granada, Spain
Getting there: You can get to the Mirador de San Nicolás from Plaza Isabel Católica in the small red minibuses that go to the Albaicín.
Pro tip: The Mirador is crowded and there are pick pockets, so be cautious.
8. Capilla Real, the Royal Chapel of Granada
Capilla Real, the Royal Chapel, is a 10 minute walk from Granada Cathedral. Click here for a popular guided tour of both attractions.
It's the resting place of the two most famous Spanish Catholic monarchs, King Ferdinand and Queen Isabella. They ordered the mausoleum's construction in 1504, desiring an appropriately serious place of final resting.
Unfortunately, the monarchs died before the Gothic chapel was completed in 1517. In the interim, they were interred at the Alhambra in the Convent of San Francisco.
In 1521, Carlos V moved their bodies to the chapel. In fact, he buried most of his family there.
The monarchs' ornate Carrera marble tombs were the work of Italian artist Domenico Fancelli. They lie in a chancel behind a wrought iron screen.
But the tombs are just for show. The monarchs' bodies actually lie in lead coffins beneath their tombs, in the chancel's crypt. The queen's crown and scepter are also on display.
Click here to book a guided tour of the royal chapel and cathedral.
Practical Information for Visiting Capilla Real:
Address: Calle Oficios, s/n, 18001 Granada, Spain
Hours: Mon to Sat 10:15 am to 6:30 pm, Sun 11:00 am to 6:30 pm
Enty fee: 5 euros, students 3.50 euros, under 12 free
9. Plaza Nueva
Plaza Nueva is Granada's bustling central plaza. The plaza links the Paseo de los Tristes with the main streets of Gran Via and Calle Elvira.
It's lined with shops, restaurants, and cafes. I had coffee there several times.
Despite its rather modern appearance, the pentagonal square is part of the Albaicín. The architectural centerpiece is the Andalusian High Court building, formerly Real Chancillería.
It was built from 1531 to 1587 in the Mannerist style. Most of the classicist buildings were financed with sugar industry money in the 19th century.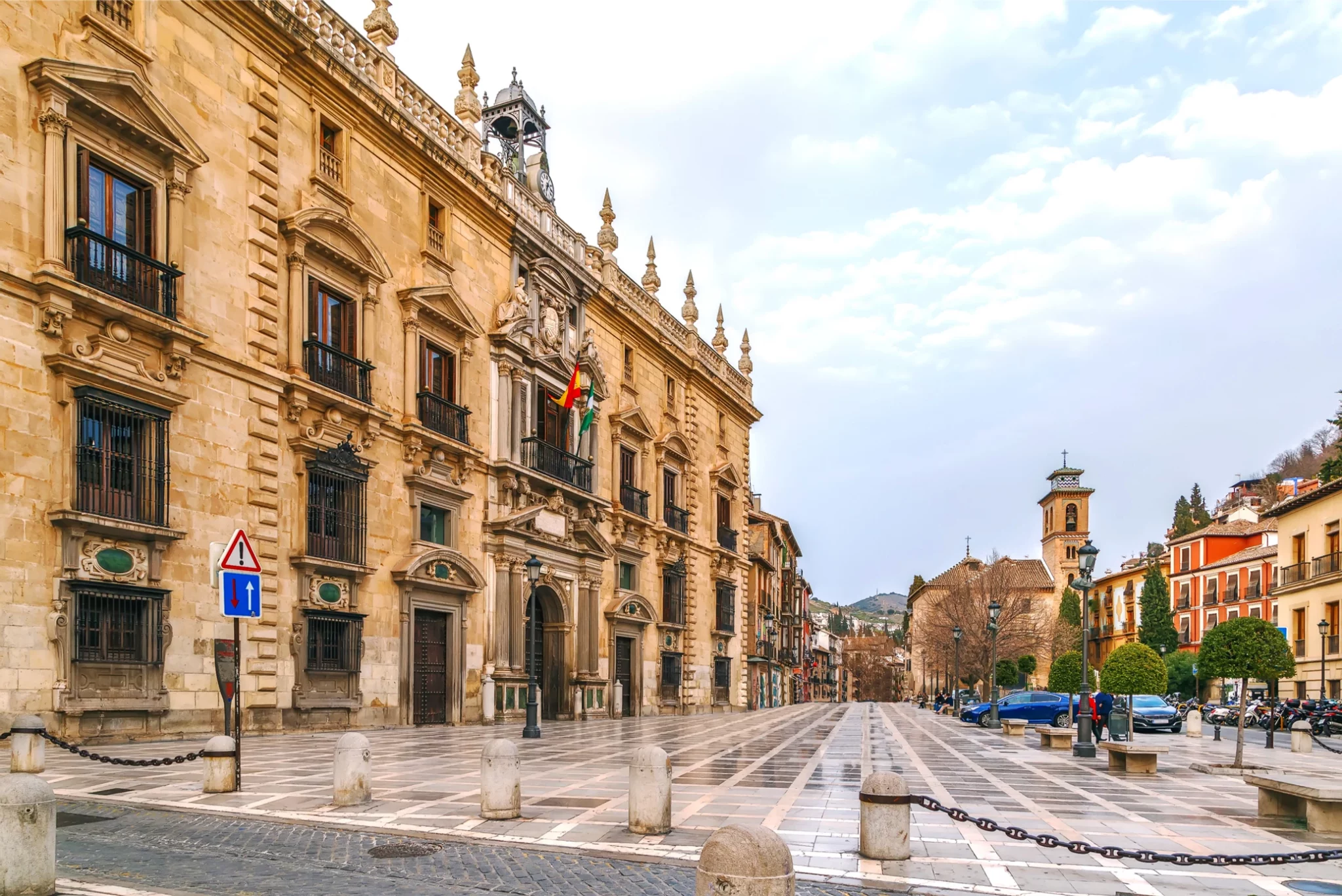 Slightly further away, you'll find the Church of Santa Ana, located on a part of the square called Plaza de Santa Ana. To the right of the church is the fountain called Pilar del Toro, installed in 1941. The center of the fountain has a bull on it with two young boys either side.
A popular spot for tapas on Plaza Nueva is Los Diamantes. Unlike the more traditional Granada eateries, this restaurant is crisp and modern.
Plaza Nueva is the best place in Granada to catch a cab. It's also where the tourist office is located. You'll also have a peak at the Alhambra's Alcazaba.
Not far from Plaza Nueva are Granada's best shopping area, the best food market (Mercado San Augustin), and the Alcaiceria bazaar.
10. Take in a Flamenco Show
A classic thing to do in Granada is go to a flamenco Show. My Sacromonte tour guide said that Sacromonte is the best place to take in a flamenco show.
The gypsies brought a distinctive type of flamenco called Zambra. Zambra is a passionate flamenco dance and singing party with barefoot dancers and handheld castenets.
Flamenco is staged nightly on the main drag, Camino del Sacromonte. You can take in a show at Venta el Gallo, Maria la Canastera, or Cuevas Los Tarentos. Sacromonte's most famous singer is Estrella Morente.
Click here to book a 1 hour show in one of Sacromonte's caves.
The Albaicín is also famous for flamenco. A good spot to try is the Peña de la Platería. Its alfresco patio has hosted flamenco since 1949.
11. Monasterio de San Jerónimo
Architect and history geeks can take in the underrated and obscure 16th century Monasterio de San Jerónimo. It's one of Granada's most impressive Catholic buildings.
It was the first monastery built after the Reconquista. Construction of the Gothic-Renaissance monastery began in 1496.
The patio courtyard is stunning, awash with orange trees. It has with 36 arches bearing shields of famous kings. The monastery's main attraction is its intricate Baroque sacristy.
Practical Information for Visiting Monasterio de San Jerónimo:
Address: Calle Rector Lopez Argueta 9, Granada
Hours: Mon to Sun 10:00 am to 1:30 pm, evenings 2:30 to 6:30 in winter and 3:00 to 6:30 in summer. Mass in held on Sundays at 10:00 am.
Entry fee: 4 euros, Guided tours on Sunday at 11:00 am for 7 euros
Getting there: Bus # 25, Cran Capitan stop.
12. Browse at the Alcaiceria Market
Granda has an exotic Moroccan type bazaar, the Alcaiceria Market. It's one of the top attractions in Granada and just off the square on the corner of the Granada Cathedral.
If you're in the city center, you'll inevitably stumble upon it. Vendors sell leather good, ceramics, spices, glass ornaments, and silks. But be prepared to haggle because prices are set high for tourists.
I hate to negotiate (a terrible trait for a lawyer), so I didn't buy a trinket. But the Alcaiceria is still a fantastic spot for photos. So much color!
Unfortunately, it's quite touristy. While you're picking up those souvenirs, you may be besieged by women bearing rosemary. It's a scam.
They want to stuff the rosemary in your hand, pretend to read your fortune, and get money in return. Just ignore them and go on your way.
Practical Information for Visiting the Alcaiceria Market
Address: Calle Alcaiceria, 1, 3, 18001 Granada
Hours: 10:00 am to 9:00 pm
13. The Realejo Neighborhood
This is Granada's edgy old jewish quarter populated by "greñúos," the name of its residents meant to invoke their inherited dark curly hair. Like the Albaicín, it's made for aimless strolling.
While you're strolling, you'll see the street art of artist Raul Ruiz, known as "El Niño."
Stop for tapas or a drink in the Plaza del Campo del Principe, a lively square in the heart of the neighborhood. Grab a bit to eat at Papua or Cacho e Pepe.
Be sure to check out the Church of Santo Domingo. It's beautiful inside and out. The neighborhood is known for its grand mansions and loverly walled gardens.
14. Frederico García Lorca House-Museum
If literature is your thing, head to the museum house of Spain's greatest poet, Frederico García Lorca. Lorca was born in Granada.
He lived and worked there, capturing its charm in his many poems and plays. Lorca's most famous work is the Romancero Gitano, poetry inspired by romantic world of the Andalusian gypsies.
His house is now a museum, a mythic place for some, lying about 9 miles west of Granada. It's surrounded by a lovely park.
There, you;'ll get a 45 minute guided tour. You'll see original artifacts, including drawings, paintings, and manuscripts. Lorca had a lifetime relationship, possible a secret love story, with another Spanish artist, the Surrealist painter Salvador Dalí.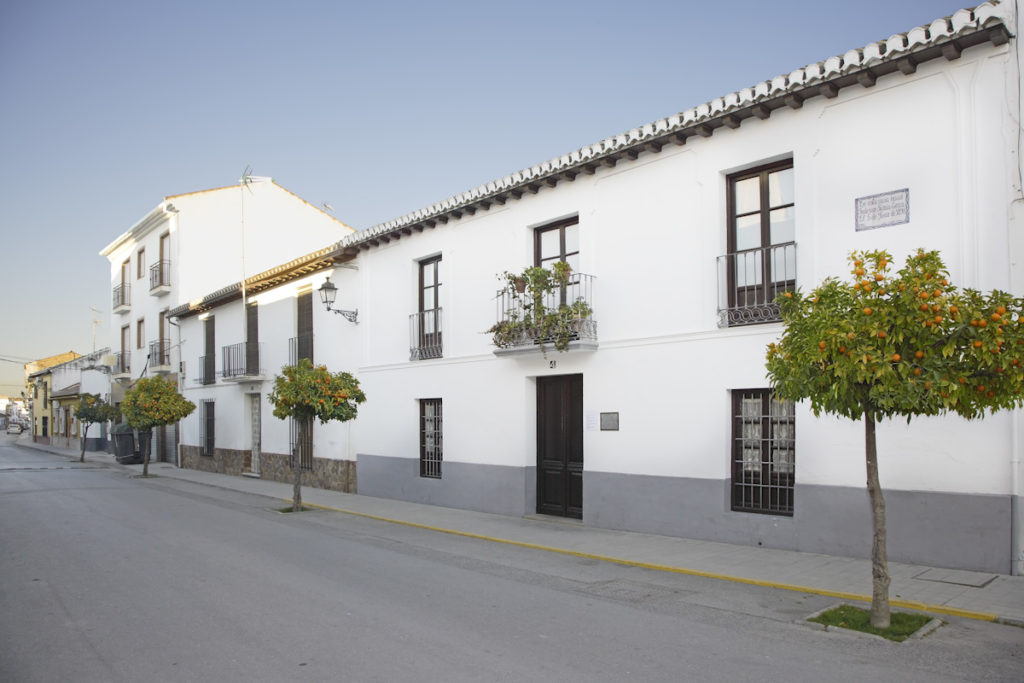 Practical Information for Visiting the Lorca Museum:
Address: La Huerta de San Vicente (Museo García Lorca), Virgen Blanca, s/n, Granada 18004.
Hours: From Sept 16 to May 31: Weekdays 9:00 am to 5:00 pm, Weekends 9:30 am to 5:00 pm. From June 1 to Sept 15: Tues to Sun from 9:00 am to 3:00 pm. Closed Mondays
Entry fee: 3 euros, children 1 euro, free on Wed
Getting there: Bus #25
15. Hammam Al Andalus
When you're done touring the city, you should wash it all away with in a traditional Arab bathhouse. Dating from the 13th century, Hamman Al Andalus is located close to the Plaza Nueva and just below the Alhambra palace.
When the Catholic Kings arrived, they banned these typical bath houses. But they're making a comeback.
Although this modern day bath house doesn't actually use any of the ancient Moorish installations, you can book a session knowing that you're on the exact same site used in medieval times.
Inside, there are seven different pools with varying temperatures. You can alternate warm and cold pools. You can also schedule an aromatherapy massage.
You can even choose the full Kessa treatment similar to an authentic Moroccan Hammam, including the exfoliating treatment and Kessa soap. This is a luxurious experience although you have less time in the baths.
Click here to book your experience at the Hamman.
Address: Calle Sta. Ana 16
Entry: basic 90 minute session is 30 euros
Tip: Reservations are required
Where To Stay In Granada
The Eurostars Catedral is a lovely hotel housed in a 16th century manor, just a short walk from the cathedral. The Catalonia Granada is a lovely hotel that comes complete with a plunge pool and open air terrace.
Hotel Palacio de Santa Paula is a historic high end hotel in a former 16th century convent. If you want to stay right in the Alhambra complex, check out the Hotel Alhambra Palace, with ornate decor and viewing points.
If you want a place where tradition and avant garde style meet, check out the stunning Hospes Palacio de los Patos. It's housed in a UNESCO-listed palace, with sprawling gardens, a spa, and mosaic floors.
How To Get Around Granada
Granada is a very walkable city. There are also taxi stands in the city center
There are also some fun ways to get around Granada. You can take a guided Segway tour, zoom around on a guided e-bike tour, or visit the sites on the hop on hop off bus.
Day Trips from Granda
Do you have extra time in Granada? Granda also makes a great base for day trips in Andalusia.
You can hike and drive in the Sierra Nevada Mountains. Or head to the Alpujarras and take in some lovely white pueblos.
READ: Most Beautiful Towns in Andalusia
I took a detour to off the beaten path Guadix. It's home to another large cathedral, mysterious cave dwellings, and an alcazaba.
I also day tripped to Nerja and Frigiliana on the Costa del Sol, which were both charmingly whitewashed and bedecked with colorful bougainvillea vines.
In Nerja, you can enjoy the views from the Balcon de Europe and go subterranean in the nearby Nerja Caves.
Frigiliana may be Spain's most beautiful village. Your head will swivel right and left as you take in the lovely manicured homes and gardens and ogle the beautiful ceramics.
Click here to book a guided day tour to both Nerja and Frigiliana from Granda. Click here to book a tour of the Costa del Sol and the Nerja Caves.
So that's my guide to the best things to do in the beautiful city of Granada, a place full of culture, color, and phantasmagorical architecture.
I hope you've enjoyed my guide to the best things to do and see in Granada. You may enjoy these other Spain travel guides and resources:
If you'd like to visit Granada, pin it for later.