Planning a road trip in northern Spain? Here's the perfect 10 day road trip itinerary takes you from the cultured city of Barcelona in Catalonia to the culinary and architectural haven of Bilbao in the Basque region.
These regions are divine, renowned for their sun-kissed beaches, architectural masterpieces, must see art museums, and rich gastronomic traditions. And wine!
A road trip is the perfect way to take in the wide variety of amazing destinations in northern Spain.
Let's hit the road for the perfect route from Barcelona to Bilbao. You'll be rewarded with a world rich in contrasts — tranquil medieval villages, golden sand beaches, dazzling contemporary and Gaudi-designed architecture, the best red wine, and some world class art.
Overview Of 10 Days In Northern Spain
Here's a snapshot glance at the path you'll follow for this ten days in northern Spain itinerary:
Day 1: Explore Barcelona
Day 2: Explore Barcelona
Day 3: Drive to the La Rioja region, stop in Zaragoza en route
Day 4: Explore La Rioja
Day 5: Optional Day Trip to Pamplona
Day 6: Day Trip To Vitoria-Gasteiz
Day 7: Drive To San Sebastian
Day 8: Explore San Sebastian
Day 9: Drive to Bilbao, stop in Getaria en route
Day 10: Explore Bilbao
This detailed 10 day Spain road trip itinerary is perfectly adjustable. You can make it shorter or longer, depending on your available vacation time or personal fast/slow travel pace. I've tried to give you a mix of cities, leisurely villages, and nature.
You'll have four bases for touring Spain's northern exposures: Barcelona (2 nights), La Rioja region (4 nights), San Sebastian (2 nights), Bilbao (2 nights). Don't pick up your rental car until you leave Barcelona and drop it off right away in Bilbao. You won't want a car in these two cities.
10 Day Itinerary for a Northern Spain Road Trip
Days 1-2: Explore Barcelona
You start your ten days in northern Spain in the beautiful city of Barcelona. You could easily spend a week in Barcelona and not get bored.
A city like no other, Barcelona is a non-stop feast for the eyes. Barcelona is rich in historic sites, with some of the world's most unique and fantastical architecture. The city is bordered on one side by mountains and the other by golden sand beaches. Barcelona has nine UNESCO sites.
Gothic Quarter
Begin day 1 with a stroll down the teeming maze-like Las Ramblas, Barcelona's most celebrated central artery near the Gothic Quarter.
It's an almost one mile walk from Placa Catalunya to the old port, taking you past historic sights in a sensory free fall with a dash of carnival atmospherics.
There's a lot to see in the Gothic Quarter. You may want to book a guided walking tour. You can also book a guided food tour in the evening.
It's magical and ancient district of history-steeped back streets and charming squares. The must see sites include Barcelona Cathedral, the Picasso Museum, Placa Reial, Palau Guell, La Boqueria, and Palau de la Musica.
Eixample
You can't leave Barcelona without visiting two of Gaudi's most famous masterpieces — Casa Batllo and La Pedrera. They're only minutes apart on the the Passeig de Gracia in the Eixample neighborhood.
It's essential to book skip the line tickets for each site well in advance. You can't miss these two Gaudi gems, which still seem startlingly modern. Click here for skip the lines tickets to Casa Batllo and here for La Pedrera.
Sagrada Familia
A 5 minute taxi ride away is Sagrada Familia. The basilica is Gaudi's wildly creative and vertigo-inspiring masterpiece.
It's the undisputed jewel of Barcelona, with its beige-pink spires that culminate in glitter. Despite being under continuous construction, Sagrada Familia is a place of superlatives both inside and out.
The exterior of the basilica is audacious and "gaudy" in appearance, a mountain (or termite hill) almost. But the interior is entirely sublime.
Gaudi intended it to be a retreat into nature. And, indeed, you could be standing in a majestic star-lit white forest. It's an astonishing space, an alternative reality full of detail.
Here's my complete guide to Sagrada Familia. You'll need to book a skip the line ticket to visit.
Park Guell
To complete your Gaudi architectural tour, visit Park Güell, perhaps at sunset. Park Guell also requires a timed entry pre-booked ticket.
Park Guell might be Gaudi's most fantastical and hyperactive creation. It's a large 30 acre public park and bejeweled garden complex, with stunning mosaic art, located on Carmel Hill in Barcelona's Gracia neighborhood.
You should also explore Montjuic one afternoon or evening. You get there via taxi or glass cable car up to the hilly Montjuic area. Click here for information on taking the cable car.
On Montjuic, you'll find the Miro Foundation, a beautifully designed museum with works by the Surrealist artist Joan Miro. You'll also find the Magic Fountain, the Mies van der Rohe Pavilion, National Museum of Catalan Art, Olympic sites, and a botanical garden.
Where To Stay In Barcelona: Mandarin Oriental, Cotton House, Hotel Arts, The Serras, Hotel Cataloinia Passeig de Gracia, Hotel Bagues
Day 3-4: A Sip To Sip Tour of the La Rioja Region
On day 3 of your 10 days in northern Spain itinerary, pick up your car and head west to the La Rioja region. That will be your base for the next 4 nights.
There, you'll indulge in wine and/or embark on day trips to the beautiful off the radar cities of Pamplona and Vitoria-Gasteiz. This Napa-like region is small and easily covered by car.
La Rioja is one of Europe's best wine regions, specializing in world famous lush reds and crisp oak-aged whites. There are more than 600 wineries in La Rioja.
Most wineries require an appointment. La Rioja is studded with medieval villages, grape vines, and modernist architectural works by Frank Gehry and Santiago Calatrava.
You may want to book a wine tour.
1. Stop in Zaragoza
It's an approximately 4.5 drive from Barcelona to the La Rioja region. Break up your drive by stopping for lunch in Zaragoza, a good midway point.
Zaragoza is a lovely hidden gem in Spain. Zaragoza is stuffed with Renaissance and Moorish buildings, wonderful museums, and a grand cathedral.
Zaragoza is known for its gastronomy, so you'll have a delicious lunch on your stopover. Try Casa Lac, Casa Unai, Montal, Celebris, or Cafe Nolasco.
You can also book a guided walking tour or a guided wine tour in the city.
2. Bases for La Rioja
Here are the best four bases for visiting in and around La Rioja. Pick one that matches your personal taste, and visit the others during your time in La Rioja. Or, pick a couple that appeal, if you don't mind changing your base.
Logrono
Logrono is the capital of La Rioja. It's a small city, but the largest one in the region. You'll find a fantastic selection of hotels, pintxos bars (Tastavin!), and restaurants.
Logrono has a unique mix of an atmospheric medieval quarter, tree-studded squares, and imaginative modern architecture.
If you're looking for a relaxed rural atmosphere, this isn't the place for you. If you're into night life, then Logrono is the perfect place to stay.
If you're going car-less, you should stay in Logrono and take buses or taxis to your chosen destinations.
Where To Stay In Logrono: Aurea Palacio de Correos, Hotel Sercotel Calle Mayor
Haro
Competing with Logrono, Haro is also frequently dubbed the capital of La Rioja. It's a smaller town.
But it still has an attractive medieval quarter, an intense concentration of historic wineries, and a fine selection of bars and restaurants. (Try Las Duelas.)
It's not a big city, but there's plenty to do, see, eat, and drink. On June 29th each year, you can experience the Haro Wine Festival.
Where To Stay In Haro: Eurostars Los Agustinos
Laguardia
Laguardia is located in the Basque side of Rioja wine region, Rioja Alavesa. It is a beautiful and atmospheric medieval town with loads of charm.
The town was originally built as a fortification against Castilian aggression in the 12th century. Despite its diminutive size, there's still a decent selection of places to stay, restaurants, and wineries.
The titanium-canopied hotel has a Michelin starred restaurant and a spa. It's also associated with the historic Marques de Riscal winery, which dates from 1858.
Where To Stay In Laguardia: Casa Rural Eruetxe, Hospederia de los Parajes
Elciego
For a splurge, check into the Hotel Marques de Riscal, just outside Logrono. Frank Gehry's stunning redesign of a chateau is a true masterpiece and a La Rioja destination in and of itself.
The titanium-canopied hotel has a Michelin starred restaurant and a spa. It's also associated with the historic Marques de Riscal winery, which dates from 1858.
Click here for a guide to the best wineries in Haro and here for the best wineries in Logrono. Be sure to visit Bodegas Ysios. It's a boutique winery designed, in futuristic fashion, by famed (but controversial) architect Santiago Calatrava
3. Other La Rioja Destinations
If you'd like to do some castle hopping along with wine imbibing, there are a few castles nearby — Castillo de Sajazarra, Castillo de Briones, and Castillo de Davlillo.
Another place you shouldn't miss is San Millan de la Cogolla. The UNESCO town is the birthplace of Castellano, the modern written and spoken Spanish language.
Visit both Suso Monastery (book online in advance), consecrated in the 10th century, and the nearby Convent of Canas. Between the monasteries, is another great wine bodega, David Moreno.
Day 5: Day Trip To Pamplona
On day 5, if you can tear yourself away from the wineries, head to Pamplona. Pamplona is the leafy and underrated capital of the Navarre region in greater Basque Spain.
It's a well-heeled university town, home to one of Spain's most famous and testosterone-fueled festival, the Running of the Bulls, which takes place one week in July.
The San Fermin Festival, a 24/7 party atmosphere, attracts 1 million visitors annually to watch men outrun bulls (or be gored). If it's not festival time, you can walk the path men and bull follow, called the Encierro. They run through narrow streets to the bull ring, the Plaza de Toros de Pamplona.
But there's more to Pamplona than bulls. Even if the bulls aren't thundering down cobblestone streets, picturesque Pamplona will appeal.
It has a grand Gothic cathedral, well-preserved 16th century fortifications, and medieval streets and squares. Pamplona is also a stop on the Camino de Santiago pilgrimage route.
Pamplona's old town was beloved by Ernest Hemingway, who used to nibble pintxos and fill up on the local liqueur, Pacharan, at the historic Cafe Iruna. He set part of The Sun Also Rises in the pretty Plaza del Castillo and helped make the San Fermin festival famous.
You'll also be in foodie heaven in Pamplona. Spain is known for its jamon, queso, and croquettas.
But Navarre is know for the intense freshness and quality of its local produce. If you stay for dinner, try La Olla, Bar Gaucho, El Mercao, or Bodegon Sarria.
Art lovers can head to Pamplona's Museo de Navarra, which boasts a collection of Goyas, Roman mosaics, and murals. Just outside Pamplona, in the village of Alzuza, there's a museum dedicated to the great Basque sculptor Jordge Oteiza.
To see it all, you may want to book a guided walking tour.
Day 6: Day Trip To Vitoria-Gasteiz
Vitoria-Gasteiz is a lovely art-filled small city about an hour from Bilbao. It's surprisingly overlooked by tourists. But perhaps it won't be for long, with the good press the town has received in the last decade.
In 2012, Vitoria-Gastiez was named Spain's Green Capital, for its profusion of pedestrianized squares, gardens, and parks. In 2014, the town was named Spain's Gastronomy Capital for its delicious restaurants and foodie culture.
In 2021, National Geographic named it among the 25 best travel destinations, calling Vitoria a "timeless place the will define our future itineraries." I recommend booking a guided walking tour of the historic center.
At the summit of Vitoria's old town, you can stroll through the impeccably preserved medieval quarter. The streets are named after medieval craftsmen's guilds.
Gape at the magnificent and imposing Cathedral of Santa Maria. The Gothic cathedral dates from the 13th and 14th centuries. Restoration is ongoing.
Browse in the beautiful Plaza de la Virgen Blanc. In the plaza, you'll find lots of shops and eateries. Then, take a stroll through the old quarter and under the arcaded passageways of the Paseo de los Arquillos.
Vitoria-Gasteiz is also known as the "painted town" and there are street art murals scattered around the city.
Art lovers can't miss the Atrium Museum, opened in 2002. In subterranean galleries, you'll find a fantastic collection of modern art. It includes pieces by Chillada, Miro, and Oteiza. Vitoria-Gasteiz also has a fine arts museum, where you'll find works by other Spanish artists.
If you stay in town for dinner, head to the Michelin-starred Zaldiaran. Another tasty option is Ikea. If you want pintxos, head to the award winning Sagartoki or Tolono. The tourist office also offers a "Pintxo Map," so you can do a proper pintxos crawl of the town.
Day 7-8: Drive To and Explore San Sebastian
From Vitoria-Gasteiz, it's a 1:20 drive to your next base, San Sebastian. The New York Times says "To visit San Sebastian, is to fall in love."
San Sebastian is an incredible seaside Basque city, and tourists flock there. San Sebastian is renowned as a foodie resort town and beachy playground.
Its stunning beach, the crescent-shaped La Concha, is world famous and considered one of Europe's best beaches. The city's filigreed balconies and Belle Epoque buildings give it a classical elegance.
San Sebastian's historic center, Parte Vieja, is picturesque. It's sprinkled with an endless variety of upscale stores, churches, vibrant pintxos bars, and tony restaurants.
Be sure to check out the beautiful Bell Epoque City Hall, the Basilica of Saint Mary of the Chorus, San Vicente Church, and the Cathedral of the Good Shepard.
San Sebastian's old town also has one of Basque Spain's best museums, the San Telmo Museum. Housed in a restored convent and a contemporary wing, you'll find both artifacts and cutting edge modern art.
If you want some exercise to leaven the sunshine and beach time, you can stroll along the dreamy C-shaped beachside trail.
At the far west end, just beyond Ondarreta beach, are metal sculptures — the Comb of the Wind, by renowned Basque artist Eduardo Chillada. It consists of iron installations in the rocks, which seems to "comb" the wind as the water crashes.
Hike up Mount Igueldo for the classic San Sebastian vista. Or, hike up the lesser known Mount Urgull to the local castle, the 12th century Castillo de la Mota. The views are amazing.
If you're a food traveler, you'll be in seventh heaven. San Sebastian is frequently called the food capitol of the world. It has 25 Michelin restaurants and boasts three restaurants with the rarest of accolades: a three star Michelin rating. Be sure to book well in advance at Mugaritz, Arzak, or Kokotxa.
San Sebastian also has a thriving pintxos scene. The cardinal rule of Basque pintxos-bar dining is to never stop moving, sampling different haute cuisine bites on your nocturnal journey.
The best ones are Gambara and Txepeta. Or, just wander between Calle Fermin Calbeton and Calle 31 de Agosto and see what's on offer. You can also go on a guided pintxos and wine tour.
Where To Stay In San Sebastián: Hotel de Londres y de Inglaterra, Hotel Maria Cristina, Akellare Relais & Chateaux, Hotel La Galeria
Day 9: Drive To Bilbao, Stop in Getaria
On day 9, you'll drive from San Sebastian to Bilbao. En route, stop for lunch or a visit in the pretty secret fishing village of Getaria, just 30 minutes from San Sebastian.
Getaria is one of the most charming towns on the Basque coast, jutting out into the sea with an attractive sandy beach (Gaztepe). It's a pristine medieval fishing village with old world charm, stone houses, and gorgeous landscapes. You'll have picture-perfect coastline views.
Getaria is home to the Basque regions's signature drink, txakoli, a sparkling white wine. You can visit several wineries in and around the town. Getaria is also known for its seafood, particularly baby squid and turbot.
Getaria has a pretty Gothic church and is the birthplace of haute couture fashion icon Cristobal Balenciaga. There's a museum dedicated to his life and work. You get there via an incongruous outdoor escalator at the outer edge of the town.
Try to depart Getaria and arrive in Bilbao by mid afternoon, so you can explore. It's a one hour drive from Getaria to Bilbao.
Bilbao is an incredibly cool and underrated city in Spain. It's beautifully situated amid rolling green hills and mountain ranges — an urban landscape in a country setting. Glimmering on the Nervion River, Bilbao is chock full of historic landmarks, Michelin restaurants, and world class museums.
After you've arrived and settled in, explore Casco Viejo. Bilbao's medieval quarter. You'll find the "seven streets" of the historic center, where Bilbao was born.
They are teeming with lively and quirky cafes, pintxos (tapas) bars, tony shops, and tiny squares. Locals mix with tourists and there's definitely Basque energy flowing.
The centerpiece of old town is Santiago Cathedral, a 15th century church with a Gothic facade and decorations. It's free to enter. For 2 euros, you can peak into the cloister from the famous Door of the Angel.
For a pre-dinner cocktail, head to 19th century Plaza Nuevo or the "New Plaza." It's a beautiful Neo-Classical arcade square.
Plaza Nuevo is a gourmet heaven. Popular pintxos spots in Plaza Nuevo include Cafe Bar Bilbao, Gure-Tok, and Casa Victor Montes. It's common custom to hop from bar to bar sampling the wares.
Loosen your belt in Bilbao. Bilbao has 22 Michelin starred restaurants, including one three starred restaurant, and is considered a foodie haven. Azurmendi, with its three Michelin stars, is the jewel of Bilbao. Restaurant Mina is another culinary trendsetter and deserving Michelin star recipient.
Aside from these heavy hitters, Bilbao also has fabulous local restaurants, many scattered throughout its old town. You can find innovative pintxos and food at Irrintzi, La Vina Del Ensanche, Cafe Iruna, and Ledesma No 5.
Day 10: Explore Bilbao
Bilbao is the Basque region's premiere city, a foodie destination with great architecture. I advise booking a guided walking tour or a guided food tour.
Guggenheim Museum
Start your final day in northern Spain with a visit to the world famous Guggenheim Museum. It's locatedin Bilbao's Abando neighborhood. You can grab breakfast/brunch at the nearby at Sua San, a chic eatery just opposite the museum.
Inaugurated in 1997, Frank Gehry's twisting shimmering museum is the star of Bilbao. It's been likened to both a palace and a ship. The museum even has its own Michelin-starred restaurant, Nerua Guggenheim Bilbao, focusing on local Basque ingredients.
The museum exterior courtyards are scattered with world renowned sculptures: Jeff Koon's massive flowering Puppy, Louise Bourgeois' 30 foot Maman spider, Anish Kapoor's Tall Tree and the Eye, and the newest piece Fujiko Nakaya's The Fog Sculpture.
On the inside, the architecture continues to amaze. There's a glass-enclosed 50 meter atrium, crowned with a skylight in the shape of a metal flower. Light suffuses the place.
Inside lies a modern art collection on par with Europe's best modern art museums. You'll find works by Robert Motherwell, Cy Twombley, Yves Klein, Marc Chagall, Andy Warhol, Eduardo Chillada, and Anselm Kiefer.
A highlight for me was walking through Richard Serra's outsize and powerful Matter of Time steel sculptures.
Book your skip the line ticket here.
Azkuna Zentroa
To the west of Guggenheim lies what may be Bilbao's most beautiful and interesting building, Azkuna Zentroa. It's a bizarre but brilliant culture and leisure center. The building was reimagined by French designer Philippe Starck.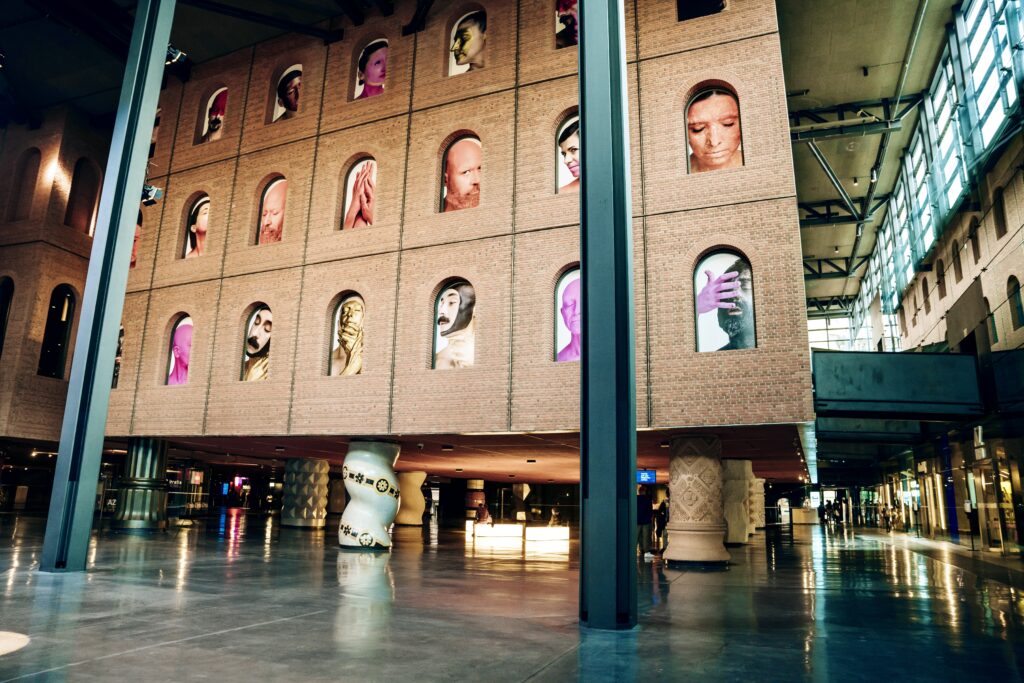 On the outside, it's a mock medieval castle. On the inside, Azkuna is all Starck, an adventure in experiential contemporary art. Its vast foyer is supported by 43 squat stylized pillars.
It houses a public gym, swimming pool (with a glass bottom), a library, a restaurant, tapas bars, a rooftop terrace, and modern art exhibitions.
Mercado de la Ribera
For lunch, head to the foodie paradise of the Mercado de la Ribera food market on the Nervion River. La Ribera is Europe's largest indoor food hall.
There's been a market on this site since the 14th century. Today's beautiful Art Deco building was built in 1929. As part of Bilbao's urban renewal, the market was restored and reopened in 2011 to acclaim.
You'll see goat carcasses and pig heads. But you can also check out the beautiful stained glass panels. Bilbao's wolfish coat of arms is in the largest panel. Across from the Ribera you can admire the beautiful Neo-Baroque Teatro Arriaga, modeled after the Opera Garnier in Paris.
El Ensanche
After lunch, take a stroll through Bilbao's El Ensache neighborhood. The main boulevard of this tony neighborhood, known as the Gran Via, is Gran Via Don Diego Lopez de Haro. It's the most cosmopolitan area of the city. There are lots of first rate shops, restaurants, and bars.
On Gran Via, you can also inspect Bilbao's "Fosteritos." This is the nickname given to the graceful and sensuous segmented glass entrances to Bilbao's metro system, designed by architect Norman Foster. The "Fosteritos" were built at the same time as the Guggenheim and are part of Bilbao's urban architecture.
This area contains some of Bilbao's most important renovated and eye catching buildings: La Equativo (by Manuel Galíndez), the Banco de Bilbao (by Pedro Guimón), the Naviera de la Sota y Aznar building (by Manuel María Smith Ibarra), and Bilbao Department of Health Building (by Juan Coll-Barreu).
Plaza San Jose is also a must visit square in El Ensanche. It was named after the brilliantly white Church of San Jose.
In the square, you'll find three over-sized bronze sculptures by Vicente Larrea. Commissioned between 2003-05, the sculptures are made of folded sheets of steel resembling rock formations.
Funicular & Zubizuri Bridge
In the late afternoon, take a funicular ride from the Bilbao's city center to Mount Artxanda for an aerial view of the city. It's a must do activity in Bilbao. From the Guggenheim, cross the stark white Zubizuri footbridge and it's a short walk to the funicular.
The Zubuzuri was designed by the acclaimed (but controversial) Santiago Calatrava, a Neo-Futuristic architect. It's popularly known as the Calatrava Bridge. The bridge connects El Ensanche with the Calle Campo de Volatin, where you can take a pedestrianized stroll along the Nervion River.
The bridge almost looks like a sailboat on the river. Residents either hate it or love it. The glass tiled footpath became known as the "wipeout bridge" because of its slipperiness after frequent rain in Bilbao.
After enjoying the views, pick another of Bilbao's fine restaurants for dinner. Or go on a pintxos crawl.
Where To Stay In Bilbao: Hotel Carlton, Vincci Consulado de Bilbao, Occidental Bilbao, Hotel Miro
I hope you've enjoyed my 10 day road trip itinerary for northern Spain. You may enjoy these other Spain travel guides and resources:
If you'd like to road trip in northern Spain, pin it for later.