Wondering how to spend one perfect day in Barcelona? I've got you covered with this detailed itinerary for spending one efficient day in Barcelona.
A city like no other, Barcelona is a non-stop feast for the eyes. Barcelona is rich in historic sites and boasts some of the world's most unique and fantastical architecture.
If the buildings by Antoni Gaudi don't make your jaw drop, you need to get your eyes tested!
The city is bordered on one side by mountains and the other by golden sand beaches. Barcelona has a whopping 9 UNESCO sites and the food is fantastic.
Ideally, Barcelona deserves more than just one day, as you would expect from Spain's most popular culture-rich city.
But sometimes that's all the time you have, if you're on a layover, business trip, cruise ship stop, or simply rushed.
If so, fear not, this one day Barcelona itinerary tells you how to make the most of a day in Barcelona.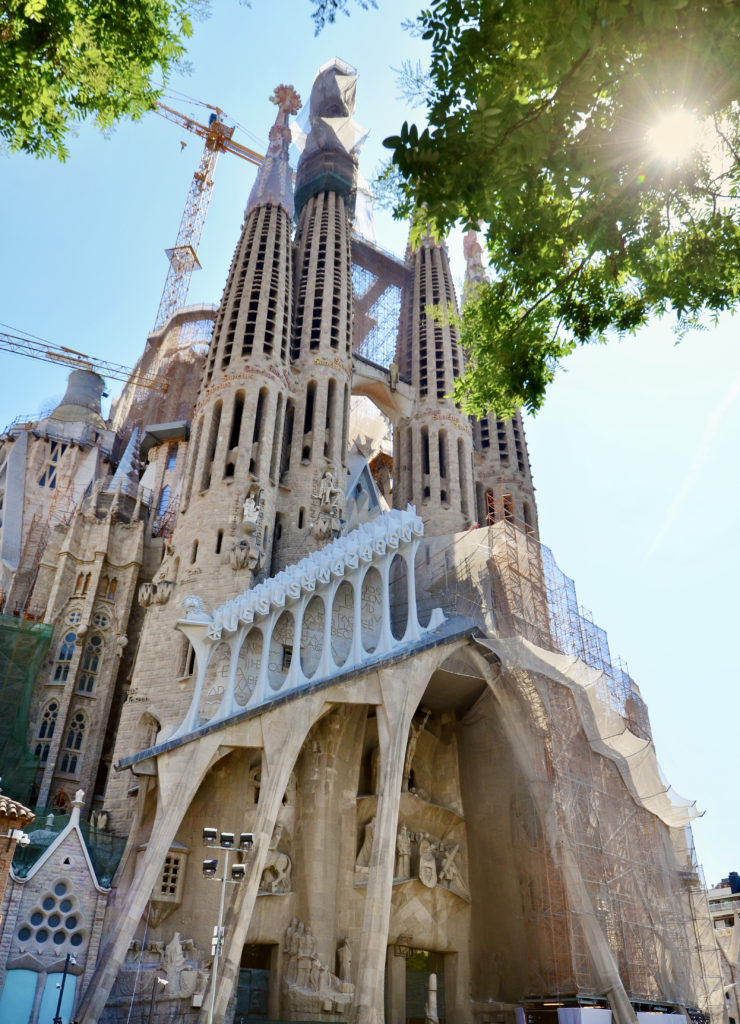 You should expect a mad scramble. But it will be an unforgettable and magical experience. I know, I've done it before.
This Barcelona itinerary tells what to see, do, and eat in one day. Because there is so much to choose from, I give you plenty of options for each part of the day.
You can pick what sites and destinations appeal most. You'll get a quick taste of Barcelona, create postcard memories, and begin plotting a return trip.
One Day In Barcelona Itinerary
Here's my step-by-step itinerary for spending one day in Barcelona.
Gothic Quarter
Wake up early and head to Las Ramblas and the evocative Gothic Quarter, or Barrio Gotic.
There's a lot to see in this magical quarter of history-steeped back streets and charming squares. It's the most architecturally beautiful area of Barcelona.
You could spend days of atmospheric wandering and investigation. But in this one day Barcelona itinerary, you just have the morning. In light of that, for top efficiency, you may want to book a guided walking tour of the Gothic Quarter.
Here's what to see in a few hours:
1. Placa Catalunya
Begin in Placa Catalunya, Barcelona's elegant main square at the top of Las Ramblas. It's smack in the center of Barcelona.
There's a tourist office there if you want to pick up maps or brochures. Take time to admire the plaza's interesting sculptures and fountains before moving on.
2. Las Ramblas
If you didn't eat at your hotel, grab a quick breakfast at Bar Lobo, 1 block from Las Ramblas (also known as La Rambla). Or get a pastry at Escriba Patisseries.
Then, stroll down the teeming maze-like Las Ramblas, Barcelona's most celebrated central artery. It's an almost one mile walk from Placa Catalunya to the old port.
This walk will take you past historic sights in a sensory free fall with a dash of carnival atmospherics. The Spanish poet Garcia Lorcas described Las Ramblas as "the only street in the world that I wish would never end."
Las Ramblas is a home to a plethora of cafes, restaurants, and souvenir shops. You will also find private artists selling their art work. Don't forget to look up at the beautiful buildings as you stroll.
At Pia de l'Os, you'll walk across Joan Miro's circular mosaic. Be sure to wind down the side streets as well.
3. La Boqueria
About halfway down Las Ramblas is the legendary 19th century food market, La Boqueria.
It is Barcelona's beating heart, evolving from a rough and tumble purveyor of goods to a bona fide foodie destination.
You'll find meats, cheeses, sweets, eggs, fish, and fresh juices. You can inspect its myriad wine bodegas and take home a quaffable souvenir.
You can also book a food and market tour, which includes Boqueria.
4. Barcelona Cathedral
The jewel of the Gothic quarter is the 14th century Barcelona Cathedral, officially called the Cathedral of the Holy Cross and Saint Eulalia. The magnificent Gothic cathedral is a grand monument dating from the 13-15th centuries.
The cathedral's facade is stunning, even featuring some elephant and unicorn gargoyles.
READ: Complete Guide To the Gothic Quarter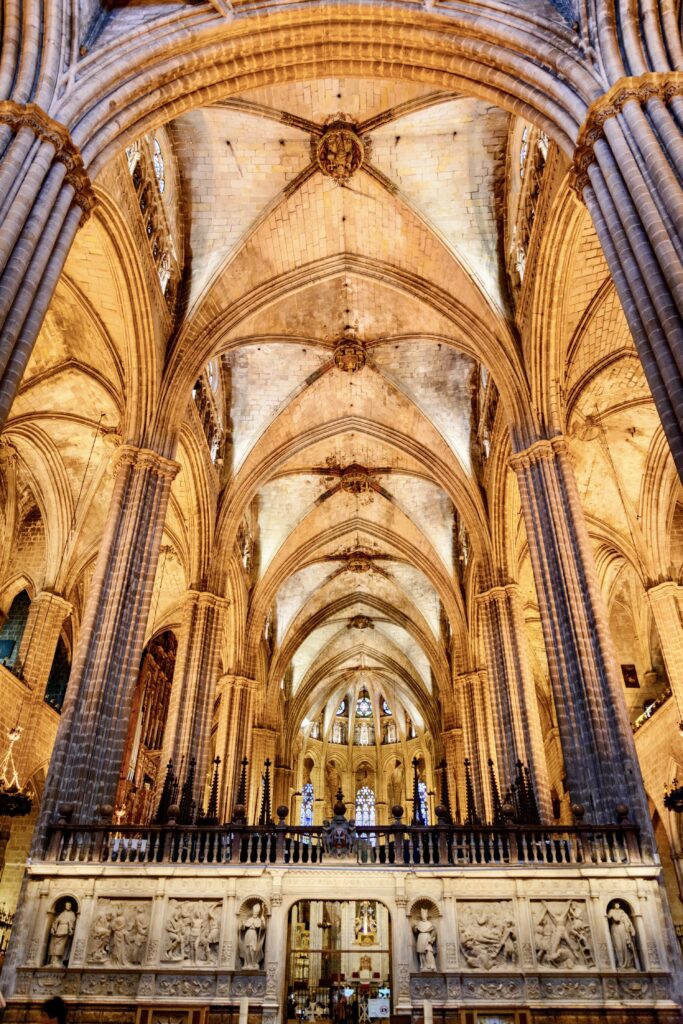 Sit by the steps and absorb the cathedral's grandiosity. You can visit it for free from 8:00 am to 12:45 pm and 5:45 pm to 7:30 pm. Otherwise, entry is by donation.
Inside, the cathedral has 28 richly decorated chapels, an ornate finely carved choir, and a peaceful cloister with bubbling fountains.
Behind the high altar is the Bishop's chair. You'll also find the crypt of Saint Eulalia, to whom the cathedral is dedicated.
The cloisters are the highlight. Arcaded walkways surround a central courtyard filled with tropical trees. A short (3 euros) elevator ride takes you to the top of the cathedral for stunning city views.
For the best view of cathedral itself, take the elevator to the rooftop of the next door Hotel Colón.
Be sure to see the 26 foot long The World Begins With Every Kiss mural near the cathedral in Placa d'Isidre Nonell. Created by Catalan artist and photographer Joan Fontcubertat, the mural was unveiled in 2014.
It commemorates the 300 year anniversary of the Catalan surrender in the Spanish War of Succession.
The photographer asked locals to send in photographs that expressed a moment of freedom. The photographs were placed on tiles and arranged in a mural.
From afar, the arrangement looks like a poignant (or perhaps erotic) kiss. Up close, you see a world in each image.
5. Placa Reial
The 19th century Place Reial is one of Barcelona's most ancient and beautifully designed squares. It has charming Neo-Classical pillars and archways, iron lampposts, and even palm trees.
In the center is the Fountain of Three Graces. The lampposts were Gaudi's first government sponsored project.
6. Picasso Museum
If you're a Picasso fan, head to the well-curated Picasso Museum in El Born. Founded in 1963, the museum was launched with a donation of 574 works by Picasso's secretary, Jaime Sabartes.
In 1970, Picasso himself donated 800 more pieces. Picasso's widow, Jacqueline Roque, also donated 41 ceramic pieces and the early Picasso painting Woman with Bonnet.
For Picasso, Barcelona was where it all began. At the museum, you can enjoy an extensive collection of Picasso's work, certainly the best collection in Spain.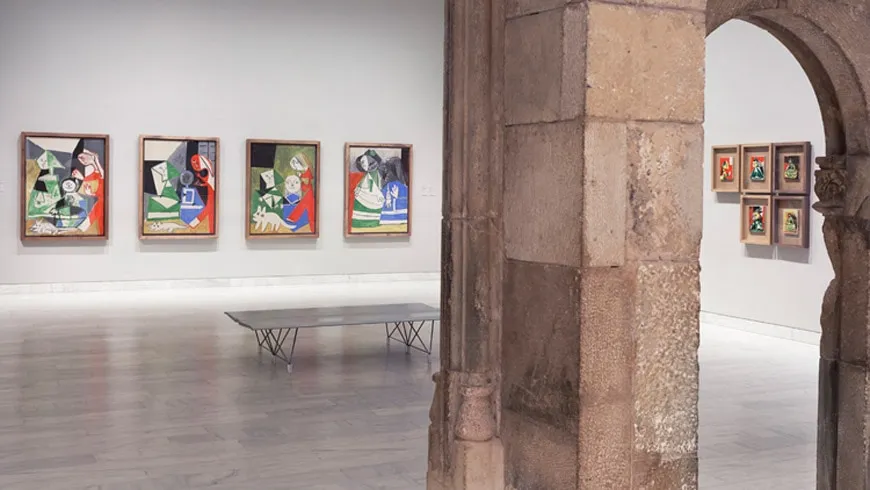 There's over 4,000 pieces, mostly from Picasso's formative years. They include Blue Period pieces and his reworking of Velazquez's Las Meninas (in the Prado).
READ: Complete Guide to Madrid's Prado Museum
By experiencing his precocious youthful works, you can better understand Picasso's later abstract pieces and how he became the greatest artist of the 20th century.
The setting of his namesake museum is stunning. It's lodged in five interlinked medieval stone mansions in Barcelona's funky-chic El Born neighborhood, with a gorgeous terrace.
Click here for a skip the line 1.5 hour guided tour of the Picasso Museum. If you love Picasso, you can also book a Picasso-themed tour of the city.
READ: Guide To all the Picasso Museums in Europe
7. Palau de la Musica
If you didn't visit the Picasso Museum, just 10 minutes away you'll find one of Barcelona's most beautiful and photogenic spots — Palau de la Música Catalana.
Palau de la Musica is a gaudy rose-covered wonderland. It's a magnificent concert hall designed in 1905-08 by Lluis Domenech i Montaner — an architect who was just as famous as Gaudi at the time and a tutor/mentor to Gaudi.
Palau de la Musica is located along a claustrophobic, densely packed street in the Gothic Quarter. Montaner countered the claustrophobia with color and levity.
The arches and intricate mosaic columns draw your eye up to the roofline. Stained glass windows bring in the natural light.
The auditorium is almost overwhelming. The piece de resistance is the intricate stained glass ceiling by Antoni Rigalt.
Iron and glass chandeliers create a starry night effect. And sculptures curve up the sides of the stage, including a glowering Beethoven and Valkeries from Richard Wagner's operas.
Click here to book a guided tour of this magnificent attraction.
This is the time to jump on the hop on hop off bus or take a taxi to your next destination. Hop on the blue HOHO route at Place Catalunya and head to Passeig de Gracia. Or it's a 20 minute walk from Barcelona Cathedral .
You can't leave Barcelona without visiting two of Gaudi's most famous masterpieces — Casa Batllo and La Pedrera. They're only minutes apart on the the Passeig de Gracia.
It's essential to book skip the line tickets for each site well in advance. You can't miss these two Gaudi gems, which still seem startlingly modern. Click here for skip the lines tickets to Casa Batllo and click here for tickets to La Pedrera.
Once you arrive in the area, eat an early lunch at El Nacional. It's a quick and delicious option close to the Gaudi landmarks.
1. Casa Batllo
After fueling up, head to Casa Batllo at your designated time. Casa Batllo is one of the world's most unique buildings. It's Antoni Gaudi at his hallucinatory, dreamlike best.
Casa Batllo is divine and operatic. A mature Gaudi conjured a building in the image of a dragon. The strange bone-like facade is studded with skull mask balconies and capped by a sinuously scaled roof.
Casa Batllo's mosaicked facade is a kaleidoscope of blue, mauve, and green tiles. Though it's a bit hard to see, the facade is actually uneven and slightly wavy, like a calm sea. Its marine-like surface doubles as a dragon's skin.
Casa Batllo's interior is filled with beautiful tiles, curved wood, and stained glass — all in organic forms and curvy shapes. The motif is an undersea grotto lit by skylights shaped like tortoise shells. The ceiling droops and swerves poetically.
The rooftop adds to the surrealistic feel of Casa Batllo. It's deliberately scaly, like the back of a dragon or dinosaur with iridescent skin and visible raised spines.
The riotously colored Trencadis tiles represent the blood of its victims. The rooftop spire represents the sword of St. George being plunged into the dragon.
Here's my complete guide to Casa Batllo. Click here to purchase a skip the line ticket. You can also book a 2 hour guided tour to see this beauty.
2. La Pedrera
La Pedrera, also known as Casa Mila, is on the same street as Casa Batllo. It's a building that's pure art inside and out.
In terms of ingenuity, architectural design, and style, it was even more revolutionary than Casa Batllo. The sinuous rough hewn building was nicknamed "The Quarry" because of its jagged, rocky facade and weird undulating shape.
But La Pedrera is considered one of the crown jewels of the Art Nouveau movement. It's been used in 15 movies.
In classic Gaudi fashion, La Pedrera was heavily influenced by nature — by air, sea, and water. The building ripples and waves like a burbling ocean.
As soon as you enter the building, La Pedrera will intrigue you. From the ground floor courtyard, look up for an incredible view of the inside of the building. Light pours in from the roof to the interior apartments.
The iconic sculptural rooftop has winding pathways and a spiky forest of 30 chimneys. It almost resembles a moon landscape. You have a nice view of Sagrada Familia.
Here's my complete guide To La Pedrera. Click here to purchase a skip the line ticket for La Pedrera. You can also book a 3 hour guided tour of both la Pedrera and Casa Battlo.
In the evenings, a spectacular audiovisual show takes place on the terrace. If you want to explore Gaudi's main architectural sites in Barcelona, click for a 3 hour tour.
Now, it's time for Barcelona's #1 site, the awe-inspiring Sagrada Familia. Be sure you're appropriately dressed — no bare shoulders or shorts/skirts above the knee or you'll be denied entry.
It's a 5 minute taxi ride from La Pedrera. Or, take the blue route on the hop on hop off bus from La Pedrera. You can also just hoof it 25 minutes to this stunning site.
Entry to Sagrada Familia is timed, and tickets sell out quickly. Definitely buy your skip the line ticket online in advance. Try to reserve a slot for the late afternoon when the sun flows in through the stained glass windows.
Sagrada Familia is Gaudi's wildy creative and vertigo-inspiring masterpiece. It's the undisputed jewel of Barcelona and you will be transfixed by it.
The basilica has beige-pink spires that culminate in glitter. Despite being under continuous construction, Sagrada Familia is a place of superlatives both inside and out.
After 136 years of construction, Sagrada Familia is still unfinished. It's the world's longest running architectural project and expected to be completed in 2026.
Tourists don't care. They flock in droves to see one of the most visited landmarks in Spain.
READ: 25 Landmarks in Spain
The exterior of the basilica is audacious and "gaudy" in appearance, a mountain (or termite hill) almost. It's dramatically designed, with three jarringly different facades.
They're themed for three chapters in Christ's life. Some would call the Sagrada Familia strange looking. Salvador Dali called it a "terrifying and edible beauty."
READ: The Gaudi Trail in Barcelona
But the interior is entirely sublime. Gaudi intended it to be a retreat into nature. And, indeed, you could be standing in a majestic star-lit white forest. It's an astonishing space, an alternative reality full of detail. You'll gasp when you enter.
The interior is effectively a spiritual sculpture, reinvented as architecture. The nave has shimmering gold tiles on the floor. It's lined with 36 pale columns in different heights and widths. The columns form a forest, branching out like trees.
If you want to go up one the towers of Sagrada Familia, you need to buy a ticket that includes the tower. You have to choose between inspecting the Nativity or Passion Facade. You can get a gargoyle's eye view of the basilica up close.
Here's my complete guide to Sagrada Familia. There's so much to see at Sagrada Familia that you might want to book a guided tour. There are several options you can choose from:
You have three options for your early evening sunset views.
Head to another Gaudi wonderland, Park Güell. Or, take a taxi (or cable car) to Montjuic or Tibidabo. You have beautiful sunset views from all three spots.
On balance, I think Montjuic is the best experience with only one day in Barcelona. The almost make believe Park Guell can be incredibly mobbed.
And Tibidabo, while lovely, doesn't offer much to do besides views. But we'll explore all options so you can make an informed choice for your early evening activity.
1. Park Güell
Park Guell might be Gaudi's most fantastical and hyperactive creation. It's a gorgeous 30 acre public park and bejeweled garden complex, with stunning mosaic art.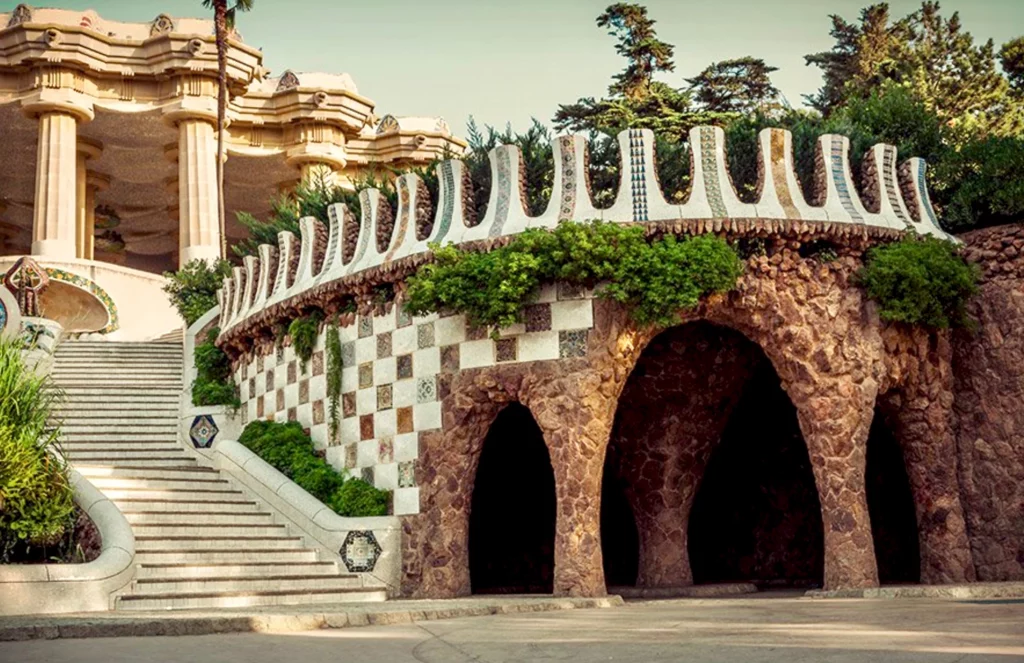 The park is located on Carmel Hill in Barcelona's Gracia neighborhood. Gaudi and his mentor, Eusebio Guell, initially envisioned it as a complete community with 60 homes.
The project was never completed. Funds ran out.
Despite that, Gaudi created a freewheeling Gaudi created a plaza, two Hansel and Gretel gatehouses, viaducts, a serpentine bench, colonnaded walkways, and a mosaic stairway.
Gaudi purchased one of the homes and lived there for almost 20 years. Then, he moved into Sagrada Familia for good.
Park Guell is rich in ornamentation, inspired by dragons, the sun, flowers, and even vegetables. Moorish and Spanish Gothic elements are included.
The serpentine bench is a cheery patchwork of color. Tiled stairs connect the two levels of the plaza.
The most famous icon at Park Guell is the ebulliently multicolored mosaic lizard known as "El Drac," or the dragon. Most of the Park Guell is free to visit and you'll have some nice views over the city.
But you'll need a ticket for the central Monumental Zone. You may also want to take a 2 hour guided tour of the park.
2. Montjuic
To expedite things, take a taxi or glass cable car up to the hilly Montjuic area.
Montjuic literally translates to "Jewish Mountain." Montjuic is located in the southwest part of Barcelona, almost 75 meters above sea level.
There's a lot to see on Montjuic. Take a leisurely walk around the botanical gardens. Peak into the Mies van der Rohe Pavilion, created in 1929 as part of the International Exposition in Barcelona. This is truly one of the greatest building of the 20th century.
Watch the Magic Fountain illuminated technicolor water display. You'll have to time this right. Click here to check the schedule.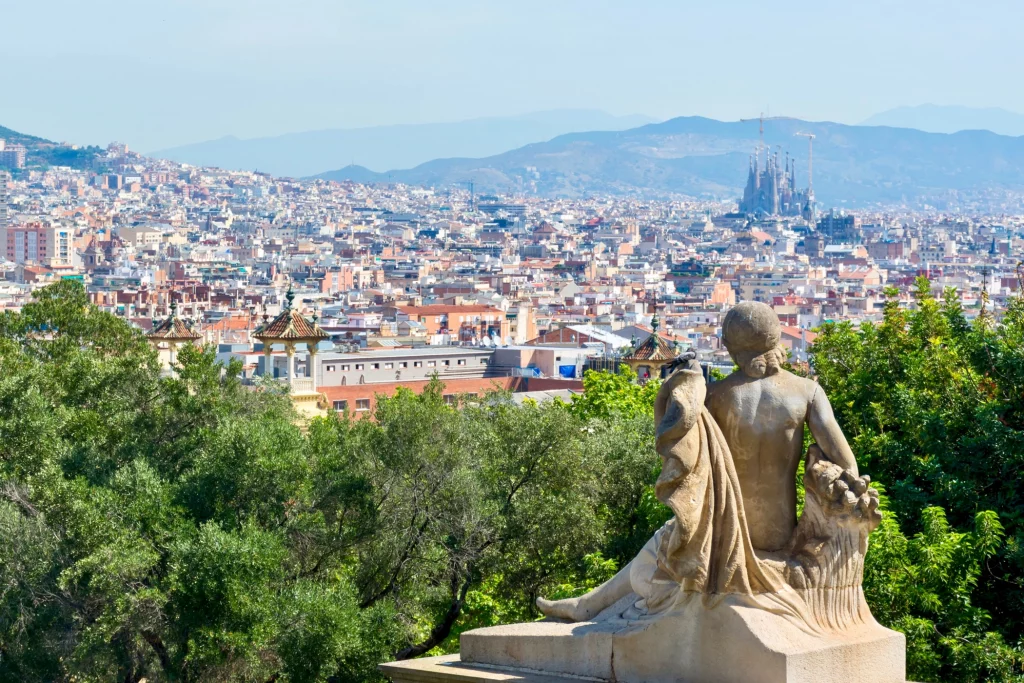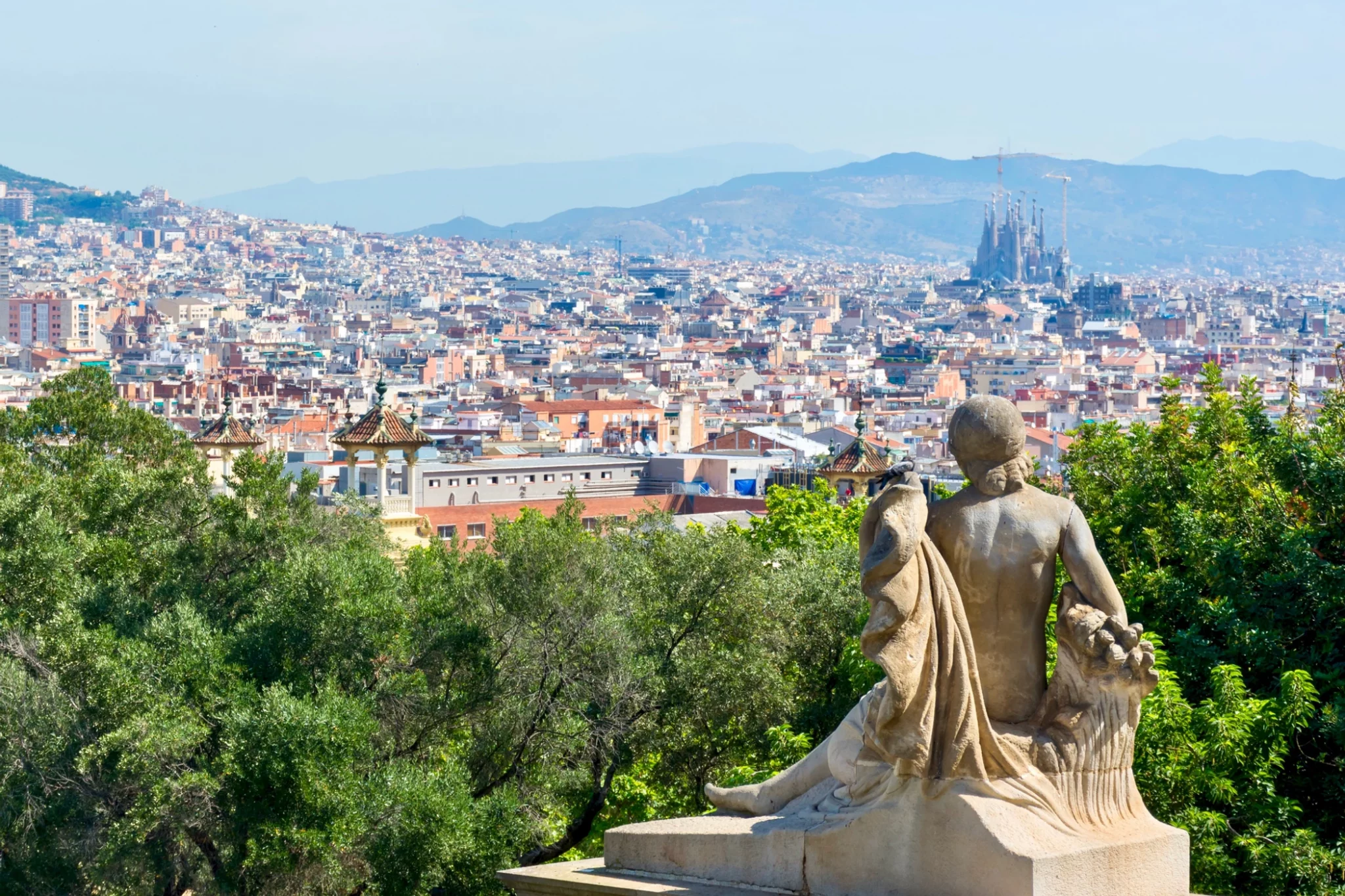 Head to Placa Espanya and visit the grand domed Neo-Baroque Palau Montjuic, which houses the National Museum of Catalan Art. The building itself is a sight to behold.
Or visit the Joan Miro Foundation, Barcelona's most emblematic gallery, housing seminal works of the great Surrealist artist.
3. Tibidabo
Some would say no trip to Barcelona is complete without a trip to Tibidabo. Tibidabo is the highest mountain in Barcelona.
It's the highest point in the city and offers sweeping panoramic views of Barcelona and the Mediterranean Sea. It's also home to an amusement park and a fairytale church, the Temple of the Sacred Heart of Jesus.
Built in 1806, this Neo-Gothic church is the handiwork of architect Josep Maria Sagnier i Vidal. It's a mix of styles, but evokes a Neo-Byzantine feeling.
For even higher views of Barcelona, you can take an elevator to the top of the church. When you're done admiring the views, have a cocktail at the beautiful Gran Hotel la Florida.
I give you five fantastic options for spending the rest of your one day in Barcelona. The city stays up late.
Don't expect dinner before 9:00 pm. If you love seafood, you will adore the food in Barcelona. To get a well-rounded sampling, you may want to book a guide food tour.
1. Montjuic
If you want to stay put in Montjuic (possibly to see the Magic Fountain), this area has a fantastic selections of restaurants and bars to end your evening.
For a break from traditional tapas, pop into Bangkok Cafe. For seafood, try Abrassame. For the best views over Barcelona, reserve at El Valet, which boasts a panoramic terrace.
But, if you're still fired up to see more of Barcelona, I'd say it's time to head to one of Barcelona's trendy neighborhoods for cocktails, dinner, and more strolling — El Born, El Raval, for Gracia.
2. El Born
The El Born neighborhood is a fun neighborhood with shops, restaurants, and bars. Try the excellent tapas bar, El Xampanyet, or Cal Pep.
Be sure to stroll by the Church of Santa Maria del Mar, an ancient church that has been around in some form or another since the 10th century.
3. El Raval
El Raval is a historic neighborhood west of Las Rambla. It's becoming one of Barcelona's trendiest and most colorful neighborhoods.
Raval even has its own Rambla, with plenty of street art and sculptures, along with narrow winding streets. You may meet a giant cat sculpture.
In Raval, you'll find one of Barcelona's hotspots — the tapas restaurant, Tickets. You must make reservations 2 months in advance to score this trendy eatery. If you can't get a reservation there, try El Rincon de Aragon.
Click here to book a guided walking tour of El Raval.
4. La Pedrera Night Show
In the evenings at 6:40 pm, there's also a spectacular audiovisual show that takes place at La Pedrera.
The rooftop terrace and stairwells are illuminated with projections set to music. You can enjoy this performance with a glass of cava in hand, which comes with your ticket.
Then go to dinner in Eixample, Barcelona's tony neighborhood loaded with architecture.
There are plenty of good restaurants including La Esquina (seasonal menu), Bar Mut (tapas), Caelis (Michelin-starred), or Cinc Sentis (Michlein-starred).
5. Gracia
If you opted for Park Guell earlier, you may want to stay and have dinner in the Gracia neighborhood. The hipster Gracia district is one of Barcelona's best kept secrets, with a totally unique vibe. You can meander from square to square at your leisure.
The central meeting point is the Placa de la Vila de Gracia. There's pretty blue buildings and a 19th century clock tower. Placa Virreina and Placa del Sol are also neighborhood hang out places.
Walk down the Carrer de Verdi, which crosses the whole neighborhood. It's a beautiful tree-lined street with boutique shops, cafes, and tapas bars.
Gracia is packed with fantastic restaurants and independent art galleries. Click here for a guide to Gracia's restaurants.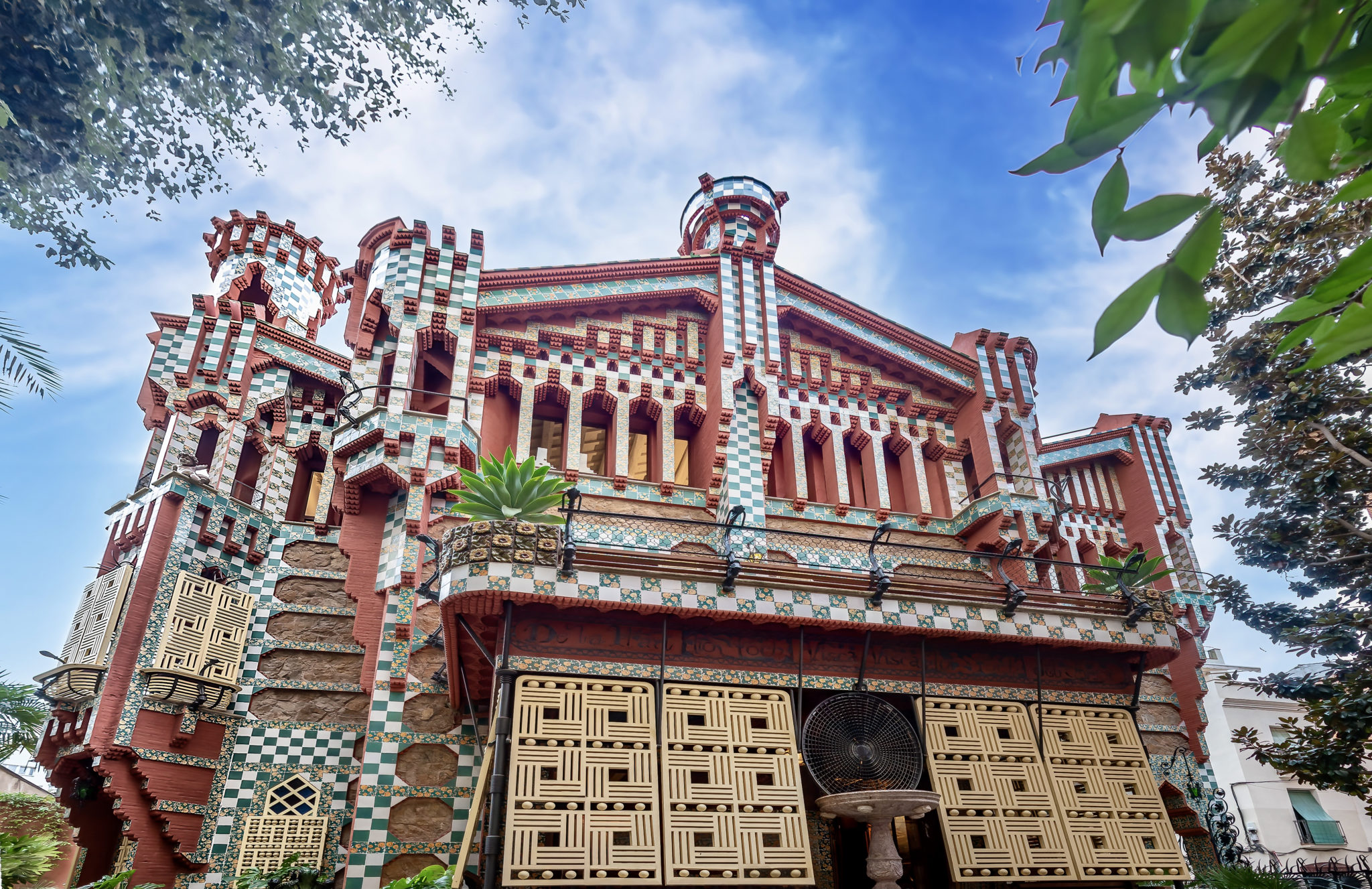 Tips For Spending One Day In Barcelona
Here are some most know tips for spending one efficient day in Barcelona.
1. How To Get To Barcelona
Barcelona has an international airport, Josep Tarradellas Barcelona – El Prat (BCN). It's the second busiest airport in Spain.
To reach the city center, you can take the Aerobus bus or the train. Both take about 40 minutes. You can also book a private transfer, which is the quickest method.
2. How To Get Around Barcelona
Barcelona is a fairly big city. Yet, you can still walk to many of the main attractions.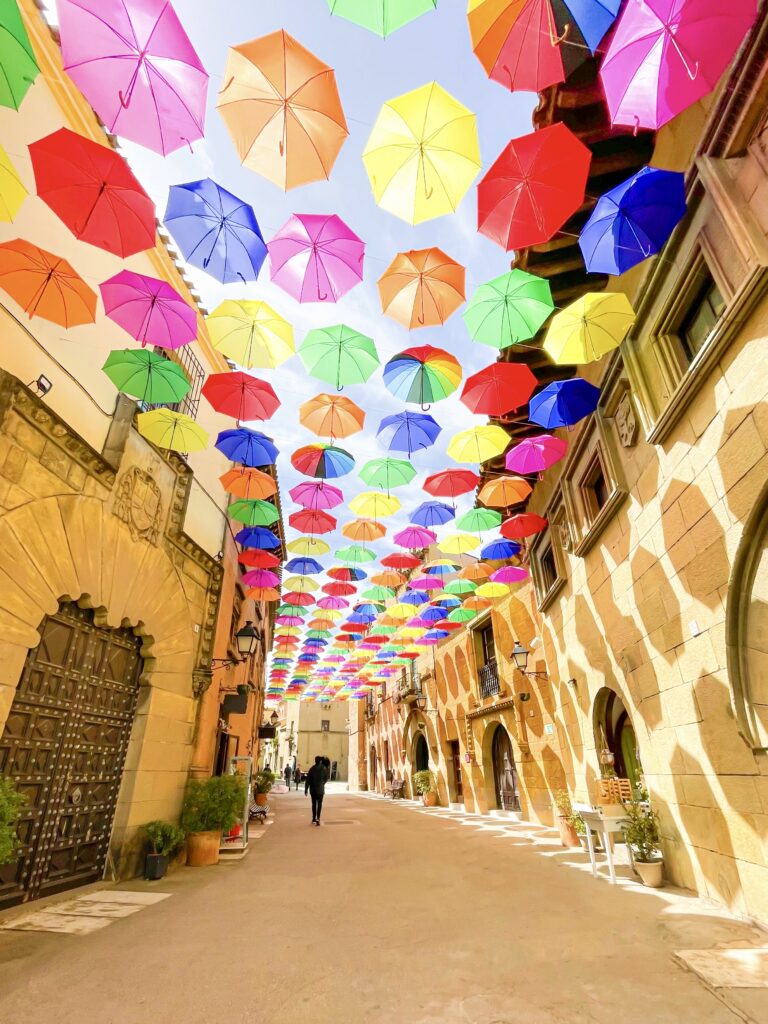 But, with only one day in Barcelona, you'll probably need to take public transport. You can use the metro or take taxis.
The metro is relatively painless and easy to understand. You can buy a multi-day or multi-journey ticket that suits your needs. Also, Uber isn't yet fully operational in Barcelona.
The hop on hop off bus is quicker and easier than using the metro. You'll be whisked between every key site in Barcelona with commentary along the way. This was what I used the last time I spent one day in Barcelona.
There are 3 routes and 44 stops. The sites on this itinerary are on the blue route.
Bus frequencies vary from 5-25 minutes. 25 minutes is a long time to wait for a ride. That's why taxis may help you see more of Barcelona.
If you use the hop on hop off option, you might consider purchasing the Barcelona Card. You get tickets discounts, hop on hop off bus and metro access, and free entry to both Sagrada Familia (after 2:00 pm) and Park Guell — which fits perfectly with this one day Barcelona itinerary.
You can also take taxis in Barcelona. The official ones are black and yellow.
There are plenty of other funs ways to explore Barcelona in one day, for every type of interest. You might enjoy some of these tours:
3. Where To Stay In Barcelona
Wondering where to stay in Barcelona? For a splurge, try the Mandarin Oriental, Cotton House, or the Hotel Arts.
If you like boutique hotels (I know I do), check out the H10 Madison, the Hotel Neri, or the Hotel Pulitzer.
4. Is Barcelona Safe?
Barcelona is generally a safe city. But like other large cities, it has its share of pickpockets. They especially congregate around Las Ramblas.
If you're a tourist, you're a prime target. So safeguard your possessions with a money belt and avoid anyone approaching you who might create a distraction.
5. When To Visit Barcelona
Like many popular destinations in Europe, it's best to visit Barcelona in shoulder season, spring or fall. Spring is especially lovely.
Summer will be incredibly hot. Conversely, because of Barcelona's unpredictable weather and northern location, winter can be quite cold.
6. Is One Day In Barcelona Enough?
One day in Barcelona is not enough to see the city. It takes time to see all the city's UNESCO sites and ramble down the picturesque streets.
Still, if you have the chance to spend a day in Barcelona, you should grab it.
7. More Than One Day In Barcelona?
Have more time in Barcelona? If so, check out my 3 day itinerary for Barcelona and my guide to hidden gems in Barcelona.
I hope you've enjoyed my one day in Barcelona itinerary. You may enjoy these other Spain travel guides and resources:
If you'd like to spend one efficient day in Barcelona, pin it for later.