Planning a trip to Barcelona and wondering what to see and do? Here's my 3 day itinerary for visiting the venerable and vibrant Catalonian capital.
In three days, this Barcelona itinerary takes you to all of Barcelona's top must visit attractions, world class museums, and vaunted landmarks.
Barcelona is rich in historic sites, with some of the world's most unique and surrealistic architecture. The city is bordered on one side by mountains and the other by miles of golden sand beaches.
In Barcelona, you can study the works of Picasso, Miro, and Dali. Or pose with Antoni Gaudi's fantastical Seussian architecture and fairytale houses.
Barcelona has an impressive diversity of neighborhoods. Architecturally and culturally, the city lends itself to endless discovery. And the tapas is to die for!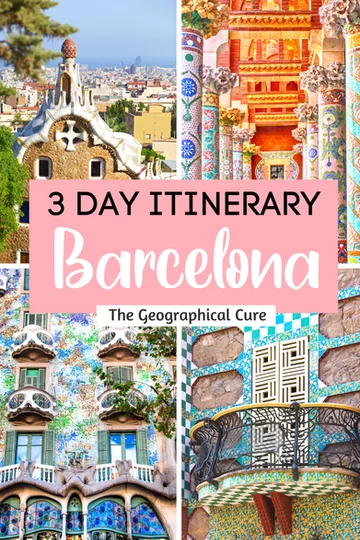 I also give you more sightseeing options, if you have extra time in Barcelona and ideas for easy day trips from Barcelona.
Overview Of 3 Days In Barcelona Itinerary
Here's a snapshot glance of what you'll see and do in with 3 days in Barcelona:
As with all of my suggested itineraries, I recommend that you use this 3 days in Barcelona itinerary as a guide. You can tailor it to suit your individual interests, needs, and pace of travel.
Day 1 Of 3 Days In Barcelona: Main Attractions
Day 1 In Barcelona, Morning: Las Ramblas & the Gothic Quarter
On your first day in Barcelona, head to the Gothic Quarter. Grab some breakfast at Bar Lobo, 1 block from Las Ramblas.
Then stroll down the maze-like Las Ramblas, Barcelona's most famous street. It's a one mile walk from the beautiful main square of Placa Catalunya to the old port.
To get oriented, you may want to book a guided highlights tour of the Gothic Quarter. Or, a more in-depth 3 hour guided tour of the area.
Las Ramblas is a lovely (but very crowded) boulevard with a plethora of cafes, restaurants, and souvenir shops. Don't forget to look up at the beautiful buildings. At Pia de l'Os, you'll walk across Joan Miro's circular mosaic.
READ: Complete Guide to Barcelona's Gothic Quarter
1. La Boqueria
About halfway down Las Ramblas is the legendary 19th century food market, La Boqueria. It's Barcelona's beating heart, evolving from a rough and tumble purveyor of goods to a bona fide foodie destination.
The market is well worth checking out, especially if you need fresh fruit juice or a smoothie. Inspect its myriad wine bodegas and take home a quaffable souvenir.
You can also book a food and market tour, which includes Boqueria.
2. Barcelona Cathedral
The jewel of the Gothic quarter is the 14th century Barcelona Cathedral, known as La Seu. It's a grand monument dating from the 13-15th centuries.
The cathedral's facade is stunning. Sit by the steps and absorb its grandiosity.
You can visit the church for free from 8:00 am to 12:45 pm and 5:45 pm to 7:30 pm. Otherwise, entry is by donation.
Inside, the cathedral has 29 richly decorated side chapels, an ornate finely carved choir, and a peaceful cloister with bubbling fountains.
Behind the high altar is the Bishop's chair. You'll also find the crypt of Saint Eulalia, to whom the cathedral is dedicated.
The cloisters are the highlight. Arcaded walkways and chapels surround a central courtyard filled with tropical trees. You'll see a gaggle of geese.
A short elevator ride takes you to the top of the cathedral for stunning city views. For the best view of cathedral itself, take the elevator to the rooftop of the next door Hotel Colón.
Click here to book a skip the line ticket.
3. Kiss Mural
Be sure to see the 26 foot long The World Begins With Every Kiss mural near the cathedral in Placa d'Isidre Nonell. It was created by Catalan artist and photographer Joan Fontcubertat.
The mural was unveiled in 2014. It commemorates the 300 year anniversary of the Catalan surrender in the Spanish War of Succession.
The photographer asked locals to send in photographs that expressed a moment of freedom. The photographs were placed on tiles and arranged in a mural.
From afar, the arrangement looks like a poignant (or perhaps erotic) kiss. Up close, you see a world in each image.
4. Basilica of Santa Maria del Mar
This beautiful Basilica of St. Mary of the Sea is tucked away in the heart of the El Born neighborhood. It's one of the jewels of the historic center.
With roots tracing back to Roman times, the church is one of the finest surviving examples of Catalan Gothic architecture.
On the exterior, it has three facades and two symmetrical towers. Because the area is rather claustrophobic, it's hard to get a full view. Inside, the church has a light and airy feel, with many stained glass windows.
The church is free for self-guided visits. If you spend a few euros for a guided tour, you'll have access to the church's amazing terraces, with breathtaking views.
5. Picasso Museum
Then, head to the Picasso Museum. Founded in 1963, the museum was launched with a donation of 574 works by Picasso's secretary, Jaime Sabartes.
In 1970, Picasso himself donated 800 more pieces. Picasso's widow, Jacqueline Roque, also donated 41 ceramic pieces and the early Picasso painting Woman with Bonnet.
For Picasso, Barcelona was where it all began. At the museum, you can enjoy an extensive collection of Picasso's work, certainly the best collection in Spain.
There's over 3,000 pieces, mostly from Picasso's formative years in Barcelona.
By experiencing his youthful works, you can better understand his later abstract pieces and how he became the greatest artist of the 20th century.
The setting of this museum is stunning. It's lodged in five adjoining medieval stone mansions in Barcelona's funky-chic El Born neighborhood, with a gorgeous terrace.
Click here for a skip the line 1.5 hour guided tour of the Picasso Museum. If you love Picasso, you can also book a Picasso-themed tour of the city.
READ: Guide to the Picasso Museum in Paris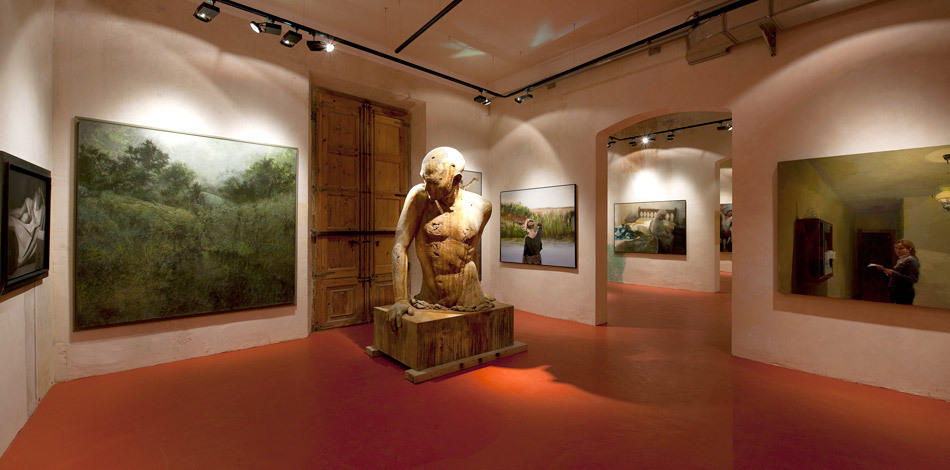 6. Museu Europeu d'Art Modern (MEAM) – European Modern Art
Right near the Picasso Museum is one of Barcelona's newer attractions, MEAM. It's an intimate museum housed in the beautiful 18th century Palau Gomis.
The exciting museum houses a trove of art works from classical 20th century Catalan sculpture to 21st century contemporary figurative paintings.
MEAM also offer concert on Friday and Saturday evenings, so keep that in mind when planning your evening activities.
Friday concerts are blues and jazz. Saturday concerts are classical or opera.
6. Placa Reial
The 19th century Place Reial is one of Barcelona's ancient beautifully designed squares. It has charming Neo-Classical pillars and archways, iron lampposts, and even palm trees.
In the center is the Fountain of Three Graces. The lampposts were Gaudi's first government sponsored project.
READ: Guide to Modernist Architecture in the Eixample Neighborhood
Day 1 Afternoon: Sagrada Familia
For a late lunch, head to Tapas 24, a popular spot for inventive tapas. Then, it's time to visit Gaudi's wildy creative opus vertigo-inspiring masterpiece, Sagrada Familia.
Sagrada Familia is the undisputed jewel of Barcelona. Despite being under continuous construction, Sagrada Familia is a place of superlatives both inside and out.
After 130 years of construction, Sagrada Familia is still unfinished. It's the world's longest running architectural project. Tourists don't care. They flock in droves to see one of the most visited landmarks in Spain.
Entry is timed, and tickets sell out quickly. You will definitely want to book a timed entry skip the line ticket in advance. Try to reserve a slot for the late afternoon when the sun flows in through the stained glass windows.
The exterior of the basilica is audacious and "gaudy" in appearance, a mountain almost. Gaudi laid on the religion thick.
It's dramatically designed, with three jarringly different facades, each themed for three chapters in Christ's life.
Some would call the Sagrada Familia strange looking. Salvador Dali called it a "terrifying and edible beauty."
But the interior is entirely sublime. Gaudi intended it to be a retreat into nature. And, indeed, you could be standing in a majestic star-lit white forest.
It's an astonishing space, an alternative reality full of detail. You'll gasp when you enter.
Be prepared to crane your neck skyward at the starry ceiling. For a long time. The ceiling and stained glass are aboslutely mesmerizing. You'll can't help but be slack jawed.
The interior is effectively a spiritual sculpture, reinvented as architecture. The nave has shimmering gold tiles on the floor.
It's lined with 36 pale columns in different heights and widths. The columns form a forest, branching out like trees.
As you can see, there's so much to see at Sagrada Familia that you might want to book a guided tour. And this is another way to get skip the line entry, if tickets are sold out.
There are several tour options you can choose from.
If you want to avoid the daytime crowds, you can even book a private guided evening tour of the the basilica.
Day 1 Evening: Bunkers del Carmel & El Born
At sunset, head to Bunkers del Carmel. Bunkers was formerly an anti-aircraft base set up during the Spanish Civil War.
When it was abandoned, Barcleonians adopted it as a hangout space and lookout terrace. Bunkers used to be a secret spot, but these days it gets pretty crowded at sunset.
There are a few ways to get to the Bunkers. You can hike up from the El Carmel, Hospital de Sant Pau, or Alfons X metro stops.
You can also take bus #24 from Passeig de Gracia. Alternatively, hop in a taxi.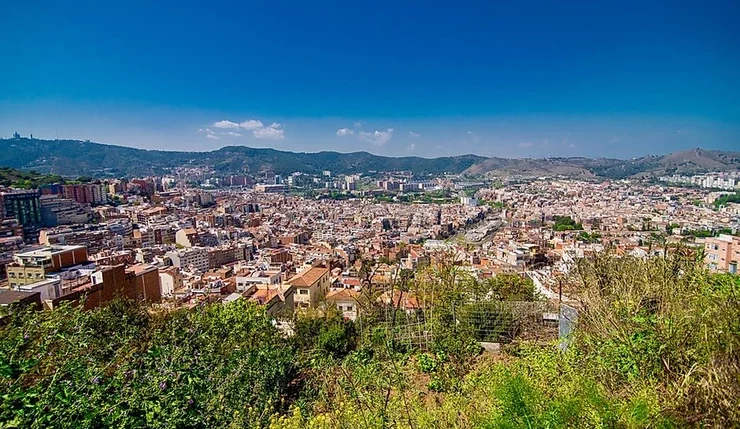 For dinner, head to the El Born neighborhood. It's a fun neighborhood with lively restaurants and bars. Try the excellent tapas bar, El Xampanyet, or Cal Pep.
This is also where you'll find art galleries and design and fashion shops.
You can also book a guided walking tour of El Born that includes the Picasso Museum.
In lieu of a specific restaurant for dinner, you may want to go on an evening tapas tasting tour in the Gothic Quarter. Or head to the tony Eixample neighborhood and take a gourmet food tour with an architectural historian.
Another fun thing to do is take a paella cooking class that includes a 5 course meal and wine. Or take a guided tour that combines tapas and a flamenco show.
Day 2 Of 3 Days In Barcelona: Gaudi Architecture
Day 2 In Barcelona, Morning: Gaudi Sites
1. Casa Batllo
After fueling up, start day 2 of your 3 days in Barcelona itinerary by heading to Passeig de Gracia in the architecture-rich Eixample district. It's one of Barcelon's toniest neighborhoods.
This area has some of Barcelona's most iconic architecture, including UNESCO-listed structures created by Antoni Gaudi. If you love Gaudi, you may want to book a tour of his architectural masterpieces.
Casa Batllo is one of the world's most unique buildings. It's Antoni Gaudi at his hallucinatory, dreamlike best. The exterior is spellbinding, divine and operatic.
Gaudi conjured a building in the image of a dragon. The strange bone-like facade commands your attention. It's studded with skull mask balconies and capped by a sinuously scaled roof.
Casa Batllo's mosaicked facade is a kaleidoscope of blue, mauve, and green tiles. Though it's a bit hard to see, the facade's actually uneven and slightly wavy, like a calm sea. Its marine-like surface doubles as a dragon's skin.
Casa Batllo's interior is filled with beautiful tiles, curved wood, and stained glass — all in organic forms and curvy shapes. The motif is an undersea grotto lit by skylights shaped like tortoise shells. The ceiling droops and swerves poetically.
The rooftop adds to the building's surrealistic feel. It's deliberately scaly, like the back of a dragon or dinosaur with iridescent skin and visible raised spines.
The riotously colored Trencadis tiles represent the blood of its victims. The rooftop spire represents the sword of St. George being plunged into the dragon.
Here's my complete guide to Casa Batllo. Click here to purchase a must have skip the line ticket. You can also book a 2 hour guided tour of this magnificent Gaudi attraction.
2. La Pedrera | Casa Mila
La Pedrera, or Casa Mila, is another Gaudi master work in this same area. It's a building that's pure art inside and out.
In terms of ingenuity, architectural design, and style, it was even more revolutionary than Casa Batllo.
The sinuous rough hewn building was nicknamed "The Quarry" because of its jagged, rocky facade and weird undulating shape.
But La Pedrera is considered one of the crown jewels of the Art Nouveau movement. It's been used in 15 movies. In classic Gaudi fashion, La Pedrera was heavily influenced by nature — by air, sea, and water. The building ripples and waves like a burbling ocean.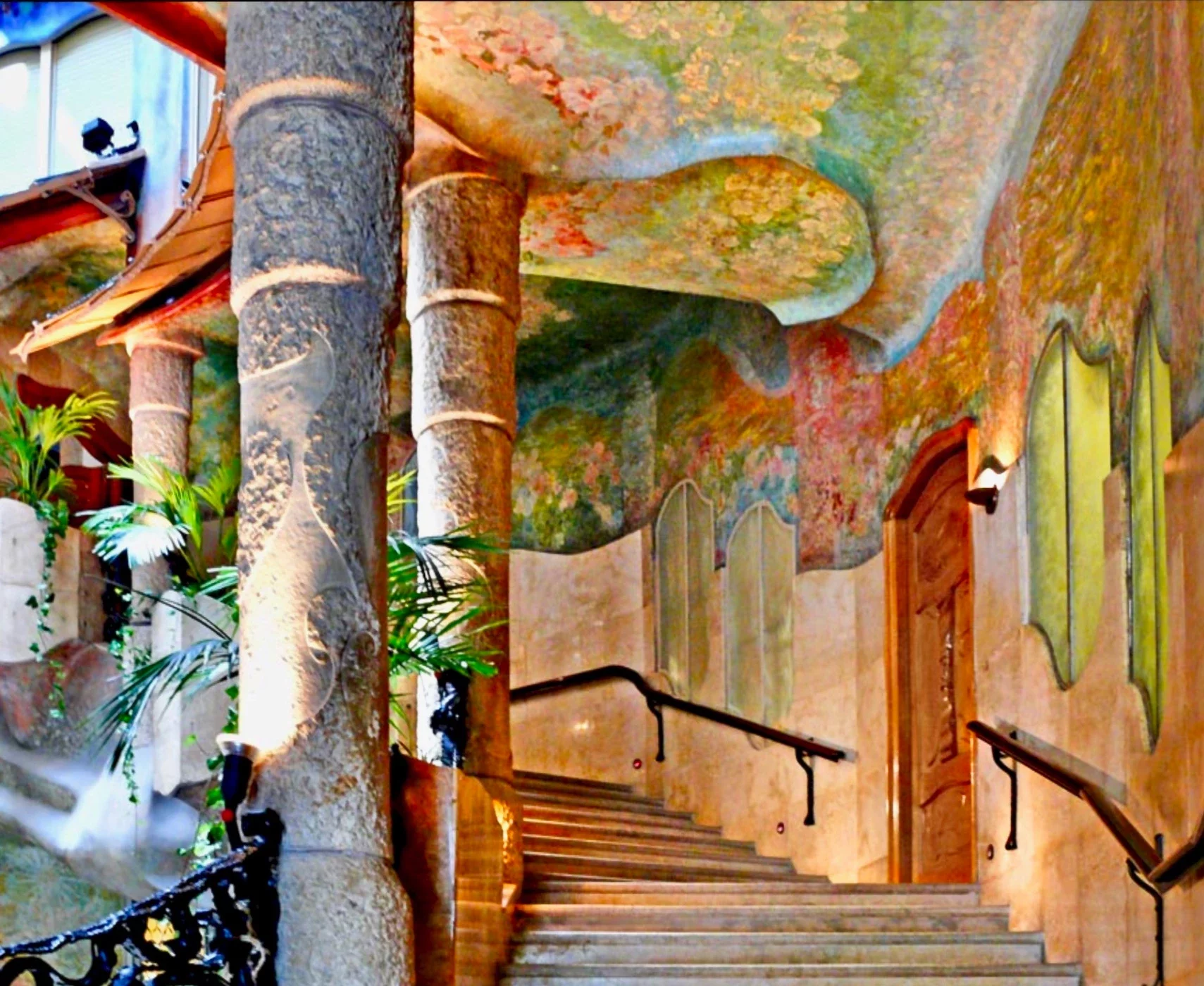 As soon as you enter the building, it will intrigue you.
From the ground floor courtyard, look up for an incredible view of the inside of the building. Light pours in from the roof to the interior apartments.
The iconic rooftop has winding pathways and a spiky forest of 30 chimneys. You have a nice view of Sagrada Familia.
In the evenings, a spectacular audiovisual show takes place on the terrace. Casa Mila's rooftop terrace and stairwells are illuminated with projections set to music.
You can enjoy this performance with a glass of cava in hand, which comes with your ticket.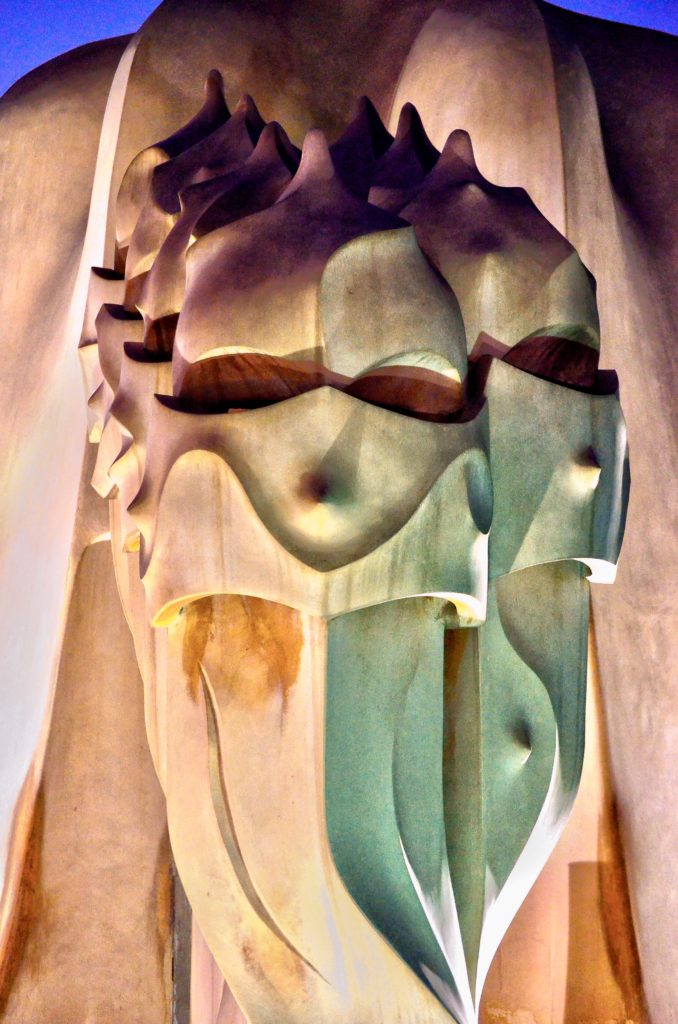 Here's my complete guide To La Pedrera.
Click here to purchase a skip the line ticket for La Pedrera. If you want to explore Gaudi's main architectural sites in Barcelona, click here for a 3 hour tour.
Gotta see it all? You can also take an 8 hour full day tour of La Pedrera and other Gaudi sites.
3. Casa Lleo Morera and Casa Amatller
You should also walk by Casa Lleo Morera, one of Barcelona's best preserved Modernista buildings. Casa Lleo Morera was revolutionary in its day for the different forms of artistry on the exterior.
The most striking detail is the beautiful curved balconies with ornate floral designs and lions. The ones on the second floor are elongated.
The ones on the third floor are rounded. The fourth floor has a set of gallery windows. The overall effect evokes a convent cloister.
READ: Guide to Casa Lleo Morera
When your visit is complete, head into the neighborhood Chocolate Shop inside Casa Amatller. It's been selling artisanal chocolates for over 200 years.
Day 2 In Barcelona Afternoon: More Gaudi Architecture
It's time to break for lunch on day 2. The Eixample neighborhood has loads of good options.
Try 9 Reinas (Argentinian food), Oval (gourmet burgers), Alba Granadois (Basque), or El Nacional (multi-zone culinary space). Alternatively, eat lunch back in the in the Gothic Quarter, at El Pintxo del Petrixol or La Boqueria's Bar Pinotxo.
Then, continue down Las Ramblas to Palau Güell in Raval. It's a dazzling mansion that reopened in 2011 after a massive renovation. It's still a bit of a hidden gem in Barcelona.
Inside, the building doesn't scream Gaudi. Palau Guell is traditional and dark, almost like a luxurious Venetian palace.
It has a creepy Gothic vibe. And I mean that in a good way. Don't miss this wondrous building.
The home centers on a main room that was used to entertain wealthy high society guests. It has a 17 meter high ceiling crowned by a parabolic dome.
Small holes are perforated near the top, where lanterns were hung at night to give the appearance of a starlit sky. It's almost like a planetarium experience.
Most of Gaudi's experimentation is in the basement. This area reflects Gaudi's early enthusiasm for using natural shapes, with pillars in the form of mushrooms.
The roof, like many Gaudi creations, also features colorful ceramic shapes and 20 chimneys. One conical chimney looks like a stack of green olives smooshed together.
From Palau Guell, continue your journey south along Las Ramblas until you get to the end.
There, you'll be greeted by the sight of a large column with a statue of Christopher Columbus, the famed Italian explorer who opened up the Americas to European exploration.
Day 2 In Barcelona, Evening: Park Guell
In the evening, head to the wonderland of Park Guell at sunset. Park Guell might be Gaudi's most fantastical creation.
It's a 45 acre public park and garden complex, with stunning mosaic art, located on Carmel Hill in Barcelona. Enjoy a gorgeous sunset experience and stroll in Barcelona's finest park.
At Park Guell, Gaudi created a plaza, two fairytale frosted gatehouses, a serpentine bench, colonnaded walkways, and steps. He purchased one of the homes and lived there for almost 20 years before he moved into Sagrada Familia for good.
His home is now the Gaudi House Museum. The most famous icon at Park Guell is the multicolored mosaic lizard known as "El Drac," or the dragon.
Most of the Park Guell is free to visit and you'll have some nice views over the city. But you'll need a ticket for the central Monumental Zone. You may also want to take a 2 hour guided tour of the park.
If you want to visit Gaudi's home, the house-museum is located just outside the Monumental Zone in the park's free section.
Day 2 Dinner Options:
Cap off your day with dinner in another Gaudi-designed building, Casa Calvet. It's a hidden gem among the other modernist standouts in Passage de Gracia.
In 1900, the Barcelona City Council voted Casa Calvet the best building of the year — the only time Gaudi won such an honor.
Casa Calvet is privately owned. It's not open to the public. But to the right of the private door is the entrance to the elegant restaurant, Casa Calvet Restaurant. You can dine amidst Gaudi decor for the full Gaudi-Barcelona experience.
Alternatively, to see another area of Barcelona, you could head to Barcelona's El Raval neighborhood.
Raval is becoming one of Barcelona's trendiest and most colorful neighborhoods. It even has its own Rambla, with plenty of street art.
In Raval, you'll find one of Barcelona's hotspots — the tapas restaurant, Tickets. You must make reservations well in advance to score this trendy eatery.
If you can't get a reservation there, try El Rincon de Aragon.
Day 3: Barcelona Hidden Gems and Montjuic
Day 3 In Barcelona Morning: Hidden Gems
On day 3 of your Barcelona itinerary, spend your morning exploring one or two of Barcelona's unusual hidden gems, where you can escape the ever present tourist siege.
For reference, here's my guide to Barcelona's hidden gems.
I think the best two hidden gems options are Palau de la Musica and Casa Vicens.
Start your day early and have an early lunch in preparation for an action packed last afternoon in Montjuic.
1. Palau de la Musica
Perhaps Barcelona's most beautiful and photogenic spot is Palau de la Música Catalana. Palau de la Musica is a gaudy rose-covered wonderland.
It's a magnificent concert hall designed in 1905-08 by Lluis Domenech i Montaner — an architect who was just as famous as Gaudi at the time.
You have to see it to believe it. Musicians love its acoustics. Tourists love its unique design. It's a veritable symphony of stained glass, mosaics, and sculptures.
Palau de la Musica is located along a claustrophobic, densely packed street in the Gothic Quarter. Montaner countered the claustrophobia with color and levity.
The arches and intricate mosaic columns draw your eye up to the roofline. Stained glass windows bring in the natural light.
The auditorium is almost overwhelming. The piece de resistance is the intricate stained glass ceiling by Antoni Rigalt.
Iron and glass chandeliers create a starry night effect. And sculptures curve up the sides of the stage, including a glowering Beethoven and Valkeries from Richard Wagner's operas.
Click here to pre-book a ticket to Palau de la Musica. Click here to book a 1 hour guided tour.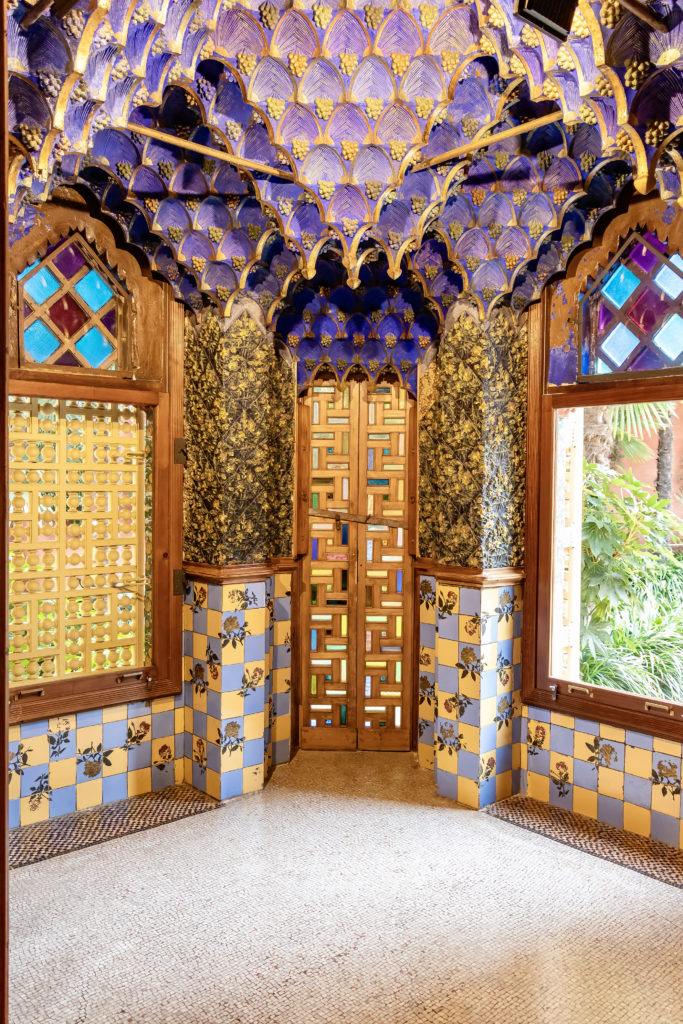 2. Casa Vicens
If you want to visit a Gaudi hidden gem, head to Casa Vicens. North of the city center in the sleepy village of Gracia, Casa Vicens is one of Gaudi's lesser-known works. It's his first home and a UNESCO-listed site.
The vivacious Casa Vicens splashed onto the Gaudi tourist circuit in November 2017. After 130 years of private ownership and a massive renovation, Casa Vicens opened its Orientalist doors to the public.
The building's exotic, an intense burst of vibrant color and marigold tiles.
Casa Vicens is a must see sight in Barcelona for those who love architecture and all things Gaudi. Even if you don't love architecture, you'll be hypnotized by the showy building.
It's likely like nothing you've ever seen before. And it's gloriously off radar because it's so new. Click here to book a skip the line ticket.
When you're done, wander around Gracia. It has a pretty central plaza lined with buildings in bright blues and pinks.
Carrer de Verdi is a tree-lined boulevard stuffed with boutiques and bookstores. For some chocolate and churros, head to Xurreria Trebol.
READ: Complete Guide to Casa Vicens
Day 3 In Barcelona, Afternoon: Montjuic
After lunch, taxi or take a glass cable car up to the hilly Montjuic area.
Montjuic literally translates to "Jewish Mountain." Montjuic is located in the southwest part of Barcelona, almost 75 meters above sea level.
You can book a guided walking tour of Montjuic that includes the cable car ride.
Take a leisurely walk around the botanical gardens. Peak into the Mies van der Rohe Pavilion, created in 1929 as part of the International Exposition in Barcelona. Its sleek design was considered a bridge to architectural modernism.
Here are the things you can't miss on Montjuic:
1. National Museum of Catalan Art
Head to Placa Espanya and visit the grand domed Neo-Baroque Palau Montjuic, which houses the National Museum of Catalan Art. This museum is the largest in the whole of Catalonia.
You can easily wile away a couple of hours here, exploring the art and architecture.
The MNAC features the best Romanesque collection of mural paintings in the world, including art work gathered from churches, chapels, and monuments.
The museum's collection ranges all the way from Gothic art to modern art.
You'll find works by El Greco, Velazquez, Gaudi, Ramon Casas, Julio Gonzalez, and Dali, among others.
Click here to book a skip the line ticket to the museum.
2. Magic Fountain
The MNAC balconies offer amazing views of the Plaza de Espanya and the Magic Fountain.
The Magic Fountain puts on mesmerizing water and light shows several nights a week throughout much of the year.
Click here to check the schedule, so you don't miss it.
3. Joan Miro Foundation
The Joan Miro Foundation is Barcelona's most emblematic gallery and one of Spain's best museums. The museum is housed in a spectacular building, the perfect example of equilibrium between architecture and landscape.
The building in a light-filled gleaming white design from the 1970s, created by Miro's friend, architect Josep Luis Sert.
In this fabulous single artist museum, you'll find the world's largest collection of Miro paintings. Miro founded the museum himself in 1975.
The museum is crammed with seminal Miró works, from his earliest sketches to his later years. There's 220 paintings, 180 sculptures, and over 8,000 drawings.
Click here to pre-book a skip the line ticket.
4. Montjuic Castle
Montjuic Castle is a massive fortress has played a key role in the history of Barcelona over the last few hundred years. It served as a Spanish control over the unruly Catalan city, as well as a prison.
You can wander the walls and take in city views.
Day 3 In Barcelona, Evening
The Montjuic area also has a fantastic selections of restaurants and bars to end your evening.
For a break from traditional tapas, pop into Bangkok Cafe. For seafood, try Abrassame. For the best views over Barcelona, reserve at El Valet, which boasts a panoramic terrace.
You can also book a guided evening tour that includes a Magic Fountain show.
More Than 3 Days In Barcelona?
If you have more than 3 days in Barcelona, there are plenty of other amazing things to do in and around Barcelona.
1. Torre Bellesguard
A little way north of the city center, the Neo-Gothic Torre Bellesguard is a relatively recent (and secret) addition to the works of Gaudi that you can visit in the city.
First opened to the public in 2013, Bellesguard was constructed on the ruins of the medieval castle of Martin of Aragon, the last king of the Catalan dynasty.
Gaudi led the construction project for nine years. But then he dedicated himself exclusively to creating Sagrada Familia.
Bellesguard was completed by Domenec Sugranes i Gras, who created the colorful mosaics that give a pop of color to the mud-colored building. But the symbolism, curves, and nature motifs are pure Gaudi.
At Bellesguard, as with Casa Batllo, Gaudi drew on the dragon theme, conjuring a roof with a built in dragon face and angled rocks that double as dragon scales. It's topped with a tower-sword.
On either side of the entrance door are brightly covered seats, which symbolize the Golden Age of Catalonian rule. The interior is a mix of brightness and tranquility.
White walls are juxtaposed with blue and yellow tile and stained glass chandeliers and windows. The chandeliers are similar to those at Casa Amatller.
Click here to book a skip the line ticket.
2. Colonia Guell
Colonia Guell is 23 kilometers from the center of Barcelona. But it can still be reached by public transport. So don't let the distance put you off visiting.
Colonia Guell is located in the sleepy village of Santa Coloma de Cervello. Gaudi began work on the church there in 1908. But only the crypt-like lower nave was completed. In 1915, the lower nave was blessed by Barcelona's bishop. It's functioned as a church ever since.
The crypt's exterior has whimsical stained glass windows. Inside, it's an intimate, earthy space with a circular nave, held up by dramaticaly lurching stone pilars.
There's a giant clam shell repurposed as a holy water font and and beautiful ergonomic pews designed by Gaudi himself.
Click here to book a skip the line ticket. You could also book a combo tour that combines Casa Vicens and Colonia Guell.
3. Parc de la Ciutadella
Need a break from the hurly burly of big city Barcelona? Once you pass through the Arc di Triunfo, you land in the Parc de la Ciutadella.
It's one of Barcelona's most photogenic places. The beautiful 74 acre park is a green oasis in the middle of a bustling city, where you can find a sense of serenity.
The park has many attractions — a boating lake, a collection of statues, a tropical greenhouse, the Barcelona Zoo, and the Catalan Parliament buildings.
The highlight is the ornamental fountain, which was designed by Josep Fontsere and a young Gaudi.
4. Tibidabo
Tibidabo is the highest mountain in Barcelona. It offers sweeping panoramic views of Barcelona and the Mediterranean Sea.
It's also home to an amusement park and a fairytale church, the Temple of the Sacred Heart of Jesus.
Built in 1806, this Neo-Gothic church is the handiwork of architect Josep Maria Sagnier i Vidal.
It's a mix of styles, but evokes a Neo-Byzantine feeling. For even higher views of Barcelona, you can take an elevator to the top of the church.
5. Hospital of Sant Pau
Barcelona isn't just regal museum-homes built for wealthy families. At the Hospital de Sant Pau, you'll find a former hospital outfitted with stunningly beautiful Art Nouveau architecture.
The hospital is also known as the Hospital of the Holy Cross and Saint Paul. It takes up 10 city blocks.
Never were patients so well tended. More theater than hospital, the unique building is an ode to the curative effects of beauty. Here, patients could heal their souls as well as their bodies.
In 1997, the hospital was listed as a UNESCO site. It functioned as a hospital until 2009. In 2014, Hospital Sant Pau underwent restoration and reopened as a cultural center.
It's one of Barcelona's newer tourist attractions and, unlike the Gaudi sites, isn't crowded. Click here to buy a skip the line ticket.
Optional Day Trips From Barcelona
If you have more than 3 days in Barcelona and are using the city as a base, there are some awesome day trip options.
1. Montserrat
The landscape of Montserrat is very different from its big brother Barcelona. Montserrat means "serrated mountain."
The mountain is a unique fantasia of jagged peaks and rocky spires. Nestled in the rock is a dramatic Benedictine monastery, which is still an important pilgrimage site.
You take a funicular or rack railway up to the top. You can explore the basilica, abbey, and museum. The art-rich museum houses works by El Greco, Dali, and Monet.
Many people visit Montserrat to see the holy shrine of the Black Madonna. The living monastery is home to 40 monks.
If you're there in the afternoon, you can listen to the boy's choir at the basilica. There are also designated hiking trails ranging from 1 to 3 hours.
The metro will get you there in 2 hours. To save valuable time, you may want to book a tour, which will be much more efficient than public transport.
Try not to go to Montserrat on a weekend, when it's busiest. A fun thing to do in Monserrat is go on a hot air balloon tour.
2. Girona
A 1:15 drive from Barcelona, the medieval city of Girona makes the perfect day trip. The town is chock full of beautiful buildings — churches, monasteries, fascinating museums, and the colorful houses of the Onyar River.
Walk the walled old quarter of Barri Vella. Visit the Roman ruins of the Forca Vella fortress. One of Girona's most unmissable sites is the colossal Cathedral de Santa Maria.
It combines a Romanesque cloister and a Gothic nave (one of the world's largest). Located in the old Jewish Quarter, the Arab Baths are also quite breathtaking.
When you're done admiring the sites, take a footbridge across the River Onyar and sit down at one of the terrace cafes lining the Place de la Independencia.
If you're a Game of Thrones fan, Girona was a key filming location for Season 6. You can join a guided tour, which will take you to Girona's must see sites.
3. Figueres
Figueres is an unremarkable workaday town. But if you're a fan of Salvator Dali's art, it's a must visit town in Spain.
Figueres is home to Dali's fantasy castle Castle de Pol and the stunning Dali Theatre-Museum. The wacky museum is the essential Dali site in Spain.
The flashy pink museum is billed as the world's largest Surrealist object. Designed and decorated by Dali, it's a work of art itself and a unique look into his surrealistic headspace.
The eccentric museum houses Dali's broadest range of work, from his earliest artistic experiences to his later works.
Here's my complete guide to the Dali Theater-Museum.
Click here to purchase a skip the line ticket. Click here to book a ticket + guided tour of the museum.
4. Cadaques
Cadaqués has a reputation as one of the most painted villages in the world. This once isolated sleepy fishing village attracted artists and writers such as Picasso, Miro, Matisse, Ernst, and Duchamp. They came for its whitewashed buildings, vivid colors, and rugged beauty.
While in Cadaques, explore the cobbled streets of the Old Town, the large Church of Santa Maria (beautiful altar and great views from the terrace), and the Cala Nans Lighthouse.
You can also walk from Cadaques to the Dali House in Portlligat (you need reservations). This is where Dali created his finest works.
For pre-dinner cocktails, try Cadaque's red wine spritzer known as tinto de verano. Top off your day with dinner at Casa Anita (fresh fish) or La Sirena (try the seafood paella).
If you're there during sea urchin season (November to April), you can try some at the same bar Dali frequented, Boia Bar, just steps from the beach.
You can also book a day tour from Barcelona to explore all the Dali attractions.
Tips For Spending 3 Days In Barcelona
Here are some tips and things for visiting in Barcelona.
1. Barcelona Passes And Tickets
If you're in Barcelona during high season, you should definitely pre-plan your itinerary and pre-book skip the line tickets to the main sites.
By booking in advance, you'll get better prices and won't have to waste your time in seemingly interminable queues. Even outside high season, the Gaudi sites will be busy.
Reserve early. Tickets sometimes sell out weeks in advance. If you can't get a ticket, try booking a guided tour.
You may want to buy the Barcelona Museum Pass. It gives you skip the entry at the top six museum in Barcelona.
If you plan to visit everything on this 3 days in Barcelona itinerary, the Barcelona Go City Pass is what I recommend.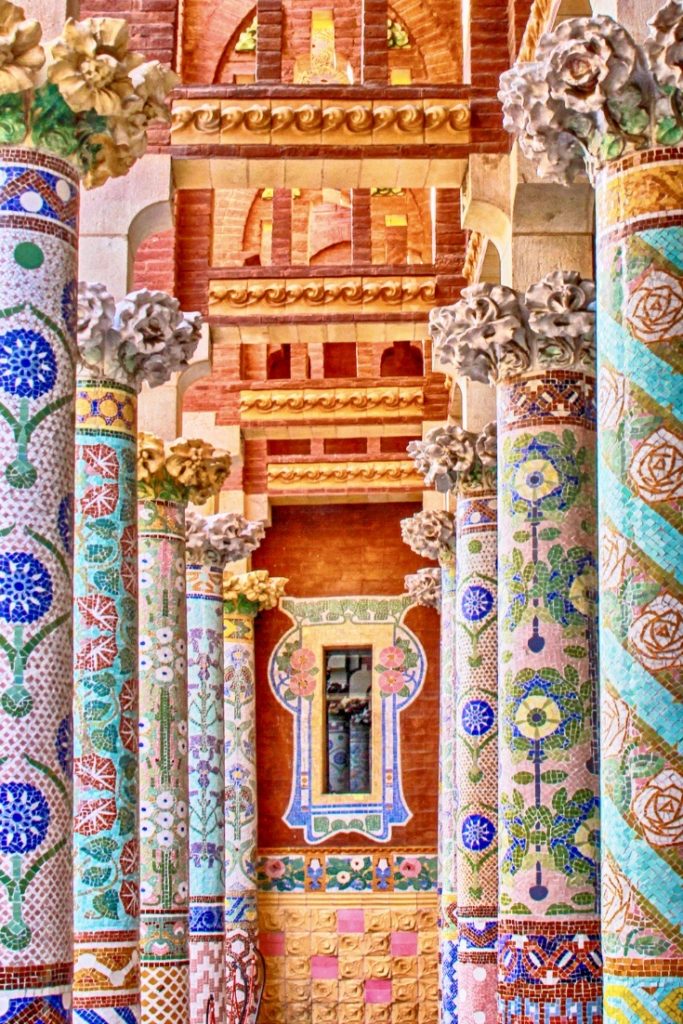 If you don't think you'll visit enough attractions to warrant the Go Barcelona Pass, then you might consider the Barcelona Card for your visit.
It may be slightly cheaper to book individual tickets by site, unless you want to do the hop on hop off bus tour.
I know these tours may seem cheesy, but they can be an efficient way to get around Barcelona. You won't need to figure out directions or train routes.
2. How To Get To Barcelona
The RENFE train service runs about every 30 minutes from the Barcelona Airport to the city center.
You can also take a taxi. Taxi stands are right outside the terminal. It takes about 20-30 minutes to get to the city center.
You can also book a private transfer from the airport to your hotel.
2. How To Get Around Barcelona
Barcelona is a fairly big city. You can walk to many of the main attractions and three are chunks of the city that are now pedestrianized.
But, if you're in Barcelona for 3 days, you'll eventually find yourself in need of transport. Take the metro or taxis.
The metro is relatively painless and easy to understand. You can buy a multi-day or multi-journey ticket that suits your needs. Also, Uber isn't yet fully operational in Barcelona.
If you want to use public transportation, the Barcelona Card Express gives you two day access to all modes of transportation. Or you can purchase a 1 or 2 day hop on hop off bus pass.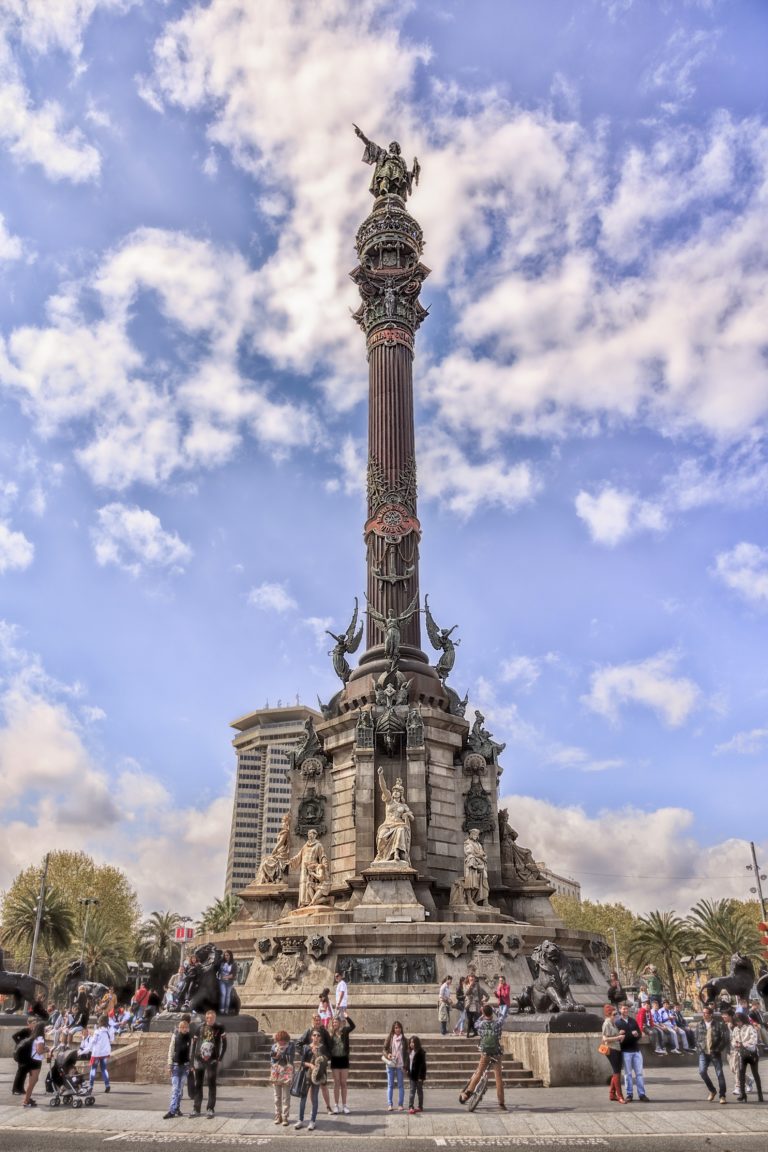 There are plenty of other funs ways to explore Barcelona, for every type of interest.
You might enjoy some of these tours:
If you want someone to plan your day and guide you around, you can book a 10 hour best of Barcelona guided tour. Or book a private guided tour that you can customize.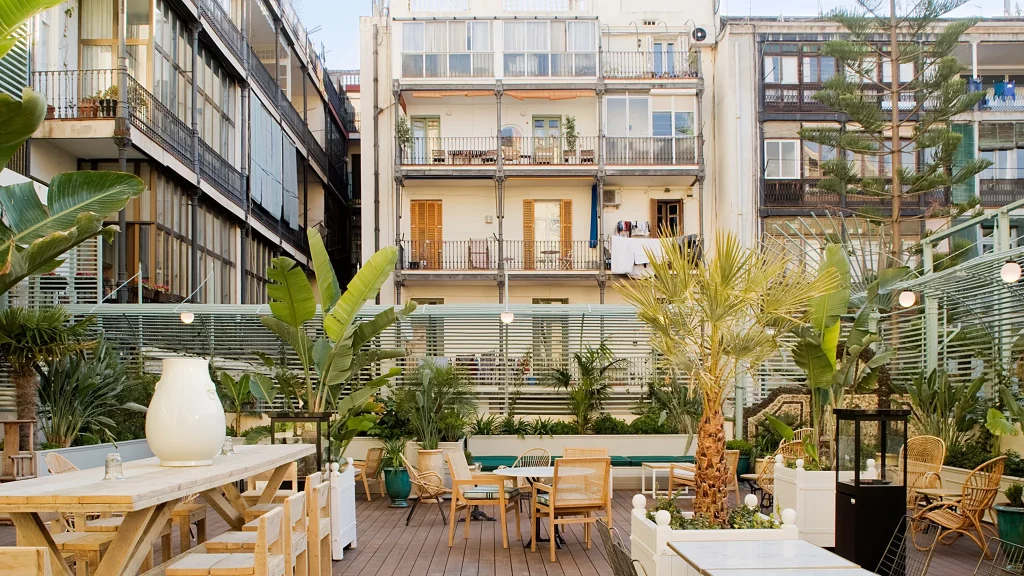 3. Where To Stay In Barcelona
Wondering where to stay in Barcelona? There are so many options.
For a splurge, try the Mandarin Oriental, Cotton House, or the Hotel Arts.
Other nice hotels include The Serras (urban chic hotel overlooking Port Vell), the Hotel Cataloinia Passeig de Gracia (luxury hotel with a sunny terrace), or Hotel Bagues (a sumptuous gem on La Rambla).
If you like boutique hotels (I know I do), check out the H10 Madison, the Hotel Neri, or the Hotel Pulitzer.
I hope you've enjoyed my 3 days in Barcelona itinerary. You may enjoy these other Spain travel guides and resources:
If you'd like to spend 3 days in Barcelona, pin it for later.