Here's my guide to visiting the beautiful Spanish town of Osuna in Andalusia. Osuna is a hidden gem in southern Spain and an easy day trip from Seville. If you're a Game of Thrones fan, it's a must visit town in southern Spain.
Osuna is an adorable town situated in an isolated landscape filled with olive trees and cactus.
I never use the word "adorable." Never. I'm way too cynical. But somehow that usually cloying word popped into my head when I saw the pretty town and stuck there, unwilling to be dislodged.
I stopped in Osuna for a day on my road trip from Seville to Granada. Osuna is only an hour from Seville, and makes a great day trip.
Mostly, I admit, I made the pilgrimmage to Osuna to see the famous bullring from the HBO series Game of Thrones. But Osuna is so much more than Game of Thrones.
It's a charming traditional white pueblo with a surprisingly rich architectural and cultural heritage. There is row upon row of white stucco homes, streets dotted with orange trees, and Renaissance and Baroque churches galore.
I was smitten.
But there was nowhere to pee. This was my biggest plight during my stay in southern Spain.
Not to put too fine a point on it, but the Spanish simply do not believe in public rest rooms or loos. Nor can you just pop into a tapas bar or cafe to pee. They all sport big signs saying "for clients only" and have proprietors guarding the doorways.
At this point, as at many points, I would have settled for any dirty bar toilet with no toilet paper. This problem would periodically mar my geographical cure as I made my way across Andalusia.
But I digress. Back to the lovely Osuna.
History Of Osuna: the Duke's Pearl
Osuna is a town in the Province of Seville with a population of about 18,000. It is midway between Seville and Malaga. UNESCO lists Osuna's main drag, the Calle San Pedro, as the second most beautiful street in Europe. Osuna was declared a Historic-Artistic site in 1967.
Osuna, like so much of the world, dates back to the Roman times. And, then, like much of southern Spain, it was conquered by the invading Moroccan and Berber Moors. Osuna stayed in Moorish hands until the Reconquista Christians, led by King Ferdinand and Isabella, took over in 1239.
In the 15th century, the town was bequeathed to Pedro Téllez de Girón whose descendants became the wealthy Dukes of Osuna. The family frenetically beautified the town, probably with an eye toward social climbing.
They constructed a plethora of churches and mansions. Osuna reached the height of its splendor, and happily stayed intact for all of us to enjoy now.
Osuna is divided into a lower and upper town. The whitewashed lower town is filled with quaint streets, tiny squares and ornate baroque architecture.
I arrived in Osuna and parked in the lower town. As instructed, I had a quiet soulful stroll up the colorful and dramatic Calle San Pedro. I definitely thought it deserved its "pretty street" designation.
The street is a veritable art gallery of mansions, palaces, and churches with fine ornate facades in different architectural styles. The windows and balconies sport wrought iron grills that jut out from the facades, called hierros.
I was there on a Sunday in February, so it was extremely quiet and most things were closed. I had the place to myself.
I was calmed and almost deafened by all the unexpected country silence, and afraid of upsetting the tranquil stillness. I strode on quietly (though always with an eye open for a rare and elusive WC sign).
After Seville, the emptiness was a blissful state of affairs. Even in February, Seville manages to be busy, noisy, and attract large tourist groups.
Best Things To See And Do in Osuna Spain
1. Explore Old Town and Wander the Streets
A stroll through the historic center is the best things to do in Osuna. Be sure to wander off and peak down the side streets.
From the lower town, you will arrive at the main square, Plaza Mayor. There, I paused (I had to pee) and had some tapas at El Molinillo in a corner of the square. The food was quite good and, mercifully for everyone involved, they had a not terribly horrible loo.
The Plaza Mayor is also home to Osuna's town hall, the Convent de la Concéption and the Torre del Agua, an archaeological museum.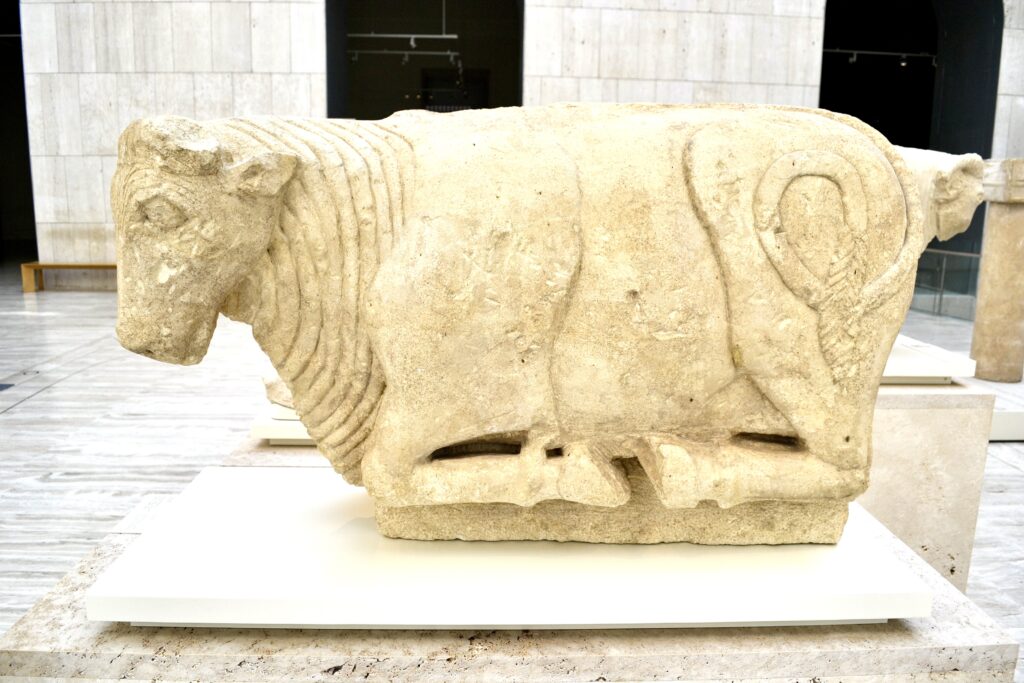 2. Archaeological Museum
Another good thing to do in Osuna is visit the Archaeological Museum. It's housed in a 12th century Moorish building. The museum aims to preserve, study, and display archaeological artifacts discovered in and around Osuna.
Within the museum, exhibits are organized thematically or chronologically. The museum's collection spans different historical periods, including prehistoric, Roman, and medieval times. It features a diverse range of archaeological finds, such as pottery, tools, jewelry, sculptures, and architectural fragments.
Among other things, the museum houses a replica of the Toro de Osuna (Bull of Osuna). The original is in the National Archaeological Museum in Madrid. It also has archaeological remains found around the town, some from the Bronze Age.
Then you follow signs for the "monuments" in another corner of the square and continue your upward trajectory.
3. Collegiate Church and Museum of Sacred Art
Once you have arrive at the top of the hill, a goodly way, you will find the 16th century College Church of Santa Maria de la Asuncion. It's one of the best things to do in Osuna.
It is located at the highest point of the hill that overlooks the town and provides sweeping views. It houses a sacred arts museum with a rare collection of paintings by Jose de Ribera.
A college church is simply one that is not classified as a cathedral. It was once part of the university behind it. The outside has a rather monotonous ecru fortress-like facade, but the inside is quite ornate.
On the lower levels, there is a crypt and a small chapel that is still the burial place for the Dukes of Osuna.
As you can see, the views over Osuna are stunning. The town is at your feet.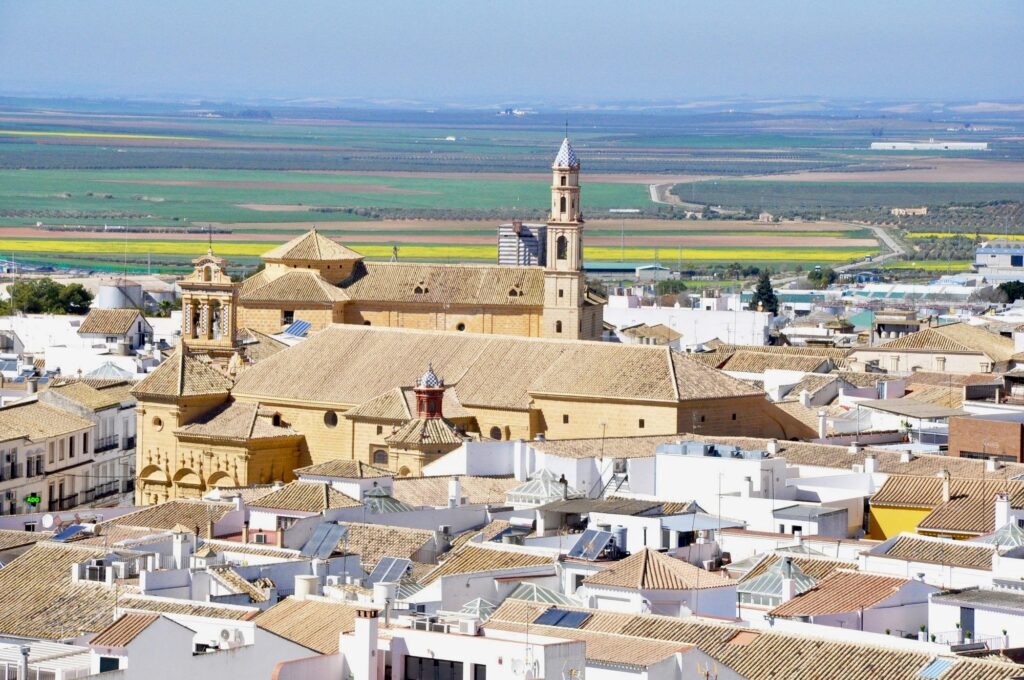 4. Monastery of La Encarnación
When you are come down the staircase of the church, the "Monasterio de la Encarnación is on eht other side of the street. It may or not be open. The hours seem to be on the whims of the nuns.
Founded in the 16th century, the monastery has undergone various renovations and additions. Its architecture reflects a combination of Gothic and Baroque styles, with elaborate facades and intricate details. The convent's design includes beautiful cloisters, spacious halls, and a stunning Main Chapel.
The Main Chapel features intricate altarpieces, ornate sculptures, and magnificent frescoes that adorn the walls and ceilings. The chapel is a testament to the Baroque artistry and religious devotion of the time.
Another notable feature of the monastery is its peaceful inner courtyard. Decorated with lush greenery, fountains, and elegant arches, the courtyard provides a serene atmosphere for reflection and relaxation.
5. University of Osuna
The Osuna University is the other key monument on top of the hill.
It was founded in 1548 by Don Juan Tellez Giron IV, the father of the first Duke of Osuna. The facade features a magnificent stone portal adorned with intricate carvings and decorative elements. Above the entrance, you can see the university's coat of arms, symbolizing its esteemed academic heritage.
Today the castle-university has been modernized and has a very large Renaissance arcaded interior patio.
The University is still active today and has many students.
6. HBO's Game of Thrones Series in Osuna
And then, finally, I visited the famous bullring, the Plaza de Toros, at the north end of town away from the historical core. It's one of the most famous bullrings in Spain.
The bullring was inaugurated in 1903.
It was built with ashlars from the sandstone pits outside Osuna and seats 5,000. It was designed by Anibal Gonzalez, the same architect of the lovely Plaza España in Seville.
In Game of Thrones, the bullring serves as Daznak's Pit, the main fighting pit in Meereen where slaves battle like Roman gladiators for the amusement of the rich.
The pit is seen towards the end of Season 5 in episodes 9 and 10. The sequences were shot over 17 days in October 2014.
The scene featured 550 extras and stuntmen. It is one of the most expensive series scenes in the history of television.
The producers used CGI to make the ring look bigger than it really is, but other than adding a couple extra layers of seats, they did very little to change the actual look and feel of it. Bauer, a principal photographer, said:
"The location is one tier high and the final Daznak is three tiers … The set was really great – it was a 360 degree set that the art department could really get its teeth into and transform into the bottom tier of the Daznak."
It's here that Daenerys is attacked by the Sons of the Harpy, an underground insurgency group who oppose Daeanerys' rule and her freeing of the slaves of Mereen.
Jorah Mormont and her other protectors attempt to fight off her attackers. But they are cornered in the center of the bullring.
Daenerys' dragon Drogon soon arrives and makes short work of the pesky treasonous harpies. The episode culminates in one of the season's most dramatic moments — with Daenerys flying out on Drogon, the first time she rides a dragon in the series.
I had the entire pit to myself, where I was free to roam and pretend I was in Mereen, imagining the stands full of people.
If you need even more of a Game of Thrones fix, you can stop in quickly at the Museum of Osuna.
7. Museum of Osuna
The museum has added two rooms dedicated to Game of Thrones lore, symbolically called "Salón de Hielo y Fuego" (Ice and Fire Hall), in honor of George R.R. Martin's Fire and Ice literary saga.
They feature a collection of props, costumes, and memorabilia donated by the show's producers.
You'll find a collection of weapons — the mighty sword Longclaw, a dragon glass dagger, and a Dothraki sickle sword. There is even find a life size white walker!
The Game of Thrones cast apparently loved Osuna, where they were able to keep a lower profile than in Seville.
Their favorite restaurant, and where Emilia Clark (Daenerys) held a birthday party, was Casa Curro.
The cast stayed in a gorgeous 18th century Baroque hotel, the Palacio de Marquera de Gomera, one of the most ornate palaces on Calle San Pedro and a defining landmark in Osuna.
If you are overnighting in Osuna, this is the place to be.
The palace was originally built for the Marques de la Gomera in 1765 by the architect Juan Antonio Blanco. It has a beautiful Baroque facade and entrance. Inside, there is a lovely arcaded patio.
8. El Coto Las Canteras
The El Coto las Canteras is a striking archeological site just a 15 minute walk or a 5 minute drive from Osuna. It is 3500 years old and sometimes called the "Petra of Spain." It opened to the public in 2017.
El Coto Las Canteras is where the Romans and Iberians used to quarry the golden sandstone to build the foundations of Osuna. It has since been eroded by time and nature. The old limestone quarry is no longer in use with one exception.
One part has been fenced in and hollowed out to create an auditorium used for concerts and festivals.
The rock formations are incredible and cave-like. The accompanying sculpture is modern, though done in an ancient Assyrian style.
Osuna may be a town you don't think of visiting. You're too busy with Ronda or otherwise hitting the big three of Cordoba, Granada, and Seville.
But for the discerning who want to get off the beaten track, the Dukes of Giron have left a charming architectural gem. It sits, isolated in the vast countryside, waiting for you to come and bend the knee.
Practical Information & Tips for Visiting Osuna
How To Get To Osuna
From Seville: 1 hour by train from Santa Justa Station, leaving every hour or two
From Malaga: 1 hour by train
From Granada 1.5 hours by train
Or by car: take the A92 highway, Exit 80 from Seville
Attractions
Bullring, Plaza de Toros de Osuna:
Hours: open Sat & Sun from 10:00 am to 2:00 pm
Address: Calle Lantejuela, 8, Osuna
Entry: free (however, I've read elsewhere that it may cost 2 euros)
College Church of Santa Maria de la Asuncion:
Hours:
Sept-June: Tues-Sun: 10:00 am to12:30 pm and 4:00 pm to 6:00 pm July-Aug: Tues, Wed, Fri & Sat, 9:30 am to 12:30 pm July-Aug: Thur 9:30 am to 2:30 pm and 7:00 pm to 9:00 pm. July- Sept: closed Sunday Price: 4 euro
Address: Plaza de la Encarnacion, Osuna
University of Osuna:
Address: Camino Cipreses 1, Osuna
Access only by pre-booked private tour
Hotel Palacio de Marquera de Gomera:
Address: Calle San Pedro, 20, Osuna
Tel: +34 954 81 26 32
Architectural Museum of Osuna:
Address: Plaza de la Duquesa de Osuna
Hours:
Oct-Apr: 10:00 am to 1:30 pm and 3:30 to 6:30.
May- Sept: 10:00 am to 1:30 pm and 5:00 pm to 7:00 pm
June-Aug: 10:00 am to 2:00 pm
Museum of Osuna:
Address: Calle Sevilla 37, Osuna
Hours:
Year round: Tues-Sun: 10 am to 2 pm and 5 pm to 8 pm, Monday: closed
Sunday (June and September): closed
July and August: Tues-Fri: 9:30 am to 2:30 pm, Thur: 9:30 am to 2:30 pm and 7:00 pm to 9:00 pm, Mon & Sun: closed
Entry: €2, free on Wed
El Coto Las Canteras:
Address: Diseminado Via Sacra S/N, Osuna
Hours: Mon-Fri: 10:00am to 1:00 pm, Sat-Sun: 10:00am to12:00 pm
I hope you've enjoyed my guide to the best things to do in Osuna. You may enjoy these other travel guides to southern Spain:
If you'd like to visit the hidden gem town of Osuna in Spain, pin it for later.