"The 'good old times' – all times when old are good. "- Byron
Here's my guide to the UNESCO-listed dolmens in Antequera Spain. The dolmens are affectionately dubbed "Spain's Stonehenge."
They're a must visit attraction if you're road tripping in southern Spain. Antequera is the perfect midway point between Seville and Granada.
Fair warning. This is a nerdy article, my second one about ruin lust and ancient ruins. I know, some of you will run screaming at the very thought. Or yawn. But ruins are so appealing to me.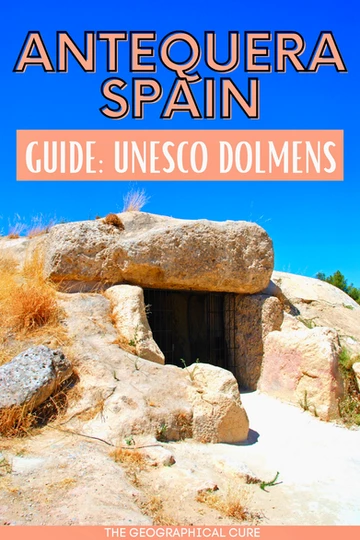 I like to scamper across abandoned archaeology sites and gaze upon the jagged silhouette of a good historical ruin, preferably a derelict ivy covered castle or an alcazaba with a tortuous backstory.
Ruin Lust
Ruins have a longstanding artistic history.
Renaissance and Romantic Period painters romanticized Roman ruins. Eugene Atget photographed whatever bits of medieval Paris he could find in the post-Haussmann era, creating a visual catalogue of past French culture. Even today, artists seek out and memorialize decaying places.
According to one expert, ruins are an emotional outlet because we like to "savour the frisson of decline and fall, of wholeness destabilised." They're a symbol of our own experiences of loss and wreckage, a warning that life is fleeting.
I also like ruins for the same reasons I like Game of Thrones. They're a hefty dose of fantasy-like escapism and time travel. George R.R. Martin's books are thick with ruins. Indeed, much of Game of Thrones was filmed at ancient moldering castles to capture a magical time.
Other people like ruins for their fragmentary nature. Or for the fact that they nostalgically turn back time and connect us to a cultural or historical moment. Some folks are so imbued with ruin lust that they steal artifacts or stones from official sites. Recently, a tourist was just caught red handing stealing archaeological fragments from Pompeii.
The particular ruins that were my target on my recent road trip in Andalusia were 5,000 years old and located in the Spanish-Baroque village of Antequera. The white pueblo village unexpectedly stole my heart. It lured me in, like a fish on a hook, with its swoonful scenery and amazing architecture.
I had no choice but to stay and absorb all its secrets.
Antequera's UNESCO Dolmens
One of Antequera's most intriguing secrets is its ancient megaliths. They were declared a UNESCO World Heritage Site in 2016. The megaliths, or dolmens, are definitely an under appreciated UNESCO site, perhaps because it's so new.
Antequera's Bronze Age dolmens are among the oldest things on the planet. They're essentially Spain's Stonehenge. The dolmens were discovered between 1903-05 by the brothers Antonio and José Viera of Antequera.
At its 40th meeting, UNESCO decided to add the site to the list as a cultural asset. It deemed Antequera's dolmens a remarkable engineering and architectural work of European prehistory and an important example of landscape monumentalism.
The megaliths are characterized by the use of large stone blocks that form chambers and spaces covered by roofs. A dolman is a single chamber tomb consisting of two of more vertical megaliths supporting a large flat horizontal table of stone, then covered with mounds of earth.
The site is a a good state of conservation and the original structure is almost intact. A fact which could put off some genuine ruin lusters, I guess.
Menga, Viera & Tholos El Romeral Dolmens
The UNESCO site comprises three cultural monuments: the Menga dolmen, the Viera dolmen, and the Tholos of El Romeral dolmen.
They were built during the Neolithic, Bronze, and Copper Ages out of large stone blocks. The rocks form chambers with linteled roofs or false cupolas. They resemble caves and almost blend into the landscape. But they're all quite different in shape.
The Antequera dolmens are unique in that they have anomalous positioning. They face mountainscapes instead of worshipping the sun.
1. Menga
Menga Dolemen is oriented to the human shaped head in the landscape called Lover's Rock, which I discuss below. The Tholos of El Romeral is positioned facing the karst landscape of El Torcal de Antequera, a beautiful hiking area. Viera dolmen is the only one facing the sun.
The positioning is apparently a really big deal and very unique in the archeological canon of dolmens. Almost all other dolmens in existence face the sun.
The Menga is enormous and has been dubbed one the "best preserved marvels on earth." I haven't seen that many things with such a salutary moniker, so I was suitably impressed.
Menga is estimated to date from the late Neolithic period between 3800 and 3400 B.C. The dolmen is a gallery dolmen with an open atrium. The atrium gives way to a second rectangular section that leads to an oval shaped chamber. It has a 30 meter deep well.
The roof has five slabs and is estimated to weight 2 tons, which might make you a little queasy upon walking inside. The biggest of the 12 huge upright stones weigh 180 tons – over 4 times heavier than Stonehenge.
Take that Stonehenge! Maybe one day Antequera will exceed you in popularity.
During its excavation in the 19th century, archaeologists found the skeletons of several hundred people inside, which is somewhat creepy but not unexpected.
2. Vierra
The Viera dolmen, shown above, was constructed between 3000 and 3500 B.C. It's a corridor dolmen separated into two sections. Each side of the tomb has 16 "orthostates" that were polished to fit together.
After some googling, I learned that orthostates are squared stone blocks much greater in height than depth that are typically built into the lower section of a wall. They "stand upright" rather than lie horizontally.
Viera also faces the east, so the sun rays enter the chamber at dawn.
3. El Romeral
The Tholos El Romeral is a mystical beehive dolmen, built around 1800 B.C in the Copper Age. It's also known as the Cave of Romeral. It's a tools type tomb with two circular chambers covered with false domes and lintel roofs with 11 slabs.
Its main difference from the other two dolmens is its circular shape and perfectly flat ceiling. And it's made with smaller stones. You might think this would have lead to the dolmen's collapse over time, but it's in perfect condition.
Mystery of the Dolmens
What were the ancient dolmens used for? Ancient magic? Secret rituals? Mystical goings on? The site disappointingly provides little insight. If only the dolmens could speak.
The emergence of megalithic monumental architecture is commonly associated with prehistoric communities of farmers and ranchers.
It's still unclear exactly why they built the dolmens. But they were probably used as burial chambers, temples, and places for ceremonies. They may be associated with their veneration of nature and ancestors. Discovery of the skeletons would seem to confirm this theory the burial theory.
The structures were not built at random: they follow precise lines of orientation, implying knowledge of astronomy. As you can imagine, the farmers must have gone to some extremes to quarry and transport the massive stones. Most likely, this task required close cooperation between many tribes sharing common religious codes.
Some scientists go further. They insist that the dolmens could be "portals to parallel worlds, acoustic and astronomical structures, the emitters of ultrasonic waves or homes for animals."
The dolmens are located right outside the village of Antequera. Signs for the dolmens are well posted along the routes to the city. It's quite easy to find them.
El Romeral is located on the other side of town from the first two, but it's a quick drive.
The information center has a short video (in English) explaining how they believe the dolmens were constructed.
Lover's Rock
If you need more romance with your ruins — and who doesn't fancy a tale of tragic love — take in the spectacular view of Lover's Rock. It's a lovelorn mountainscape that's the stuff of legends. Carved into Antequera's eerie terrain, Lovers Rock is a mountain peak called "la Pena de los Enamorados."
It's also part of Antequera's UNESCO designation. The peak resembles the facial profile of a gigantic sleeping man. Some say it looks female from one side and male from the other side. Its romantic name is based on a tale of forbidden love set in the time of the Reconquista in the 15th century.
Legend holds that two lovers, one a Moor and one a Christian from rival families, were irrevocably smitten and ran away together. With their families in hot pursuit of the escapees, they climbed to the top of Lover's Rock. Realizing the futility of their situation, and rather than be separated by hostilities, the lovers decided they would die together.
They had one final kiss and leapt off the peak to their death.
Antequera is a hidden gem in Andalusia. With its relatively new UNESCO designation, it's going to be popular. Others may fall in love. Don't miss it if you're in southern Spain and have an incurable case of ruin lust. Or if you want a quiet moment of stillness to contemplate the vastness of history.
Practical Information for Visiting Amtequera's UNESCO Dolmens
Address: Carreta de Malaga, 5-29200 Antequera. The reception center is situated at Carretera A-7283.
Hours are here, closed Mondays
Entry: free, but you have to walk inside, check in, and get a ticket
Tel: (+34) 670 94 54 52
Pro tip: Follow signs from the A92 from Seville or Granada to Menga and Viera. El Romeral Dolmen is located 2km away, which you must now cross by bridge on the new MA-232 slip road, through an industrial area.
I hope you've enjoyed my guide to the dolmens of Antequera. You may enjoy these other travel guides and resources for southern Spain:
• 10 day itinerary for Andalusia
• Most Beautiful Cites and Towns in Andalusia
• Guide to Seville's Royal Alcazar
If you'd like to visit Antequera, pin it for later.