Here's my guide to visiting the hidden gem town of Antequera in southern Spain. The guide covers all the top attractions and best things to do in beautiful Antequera.
Have you been somewhere that unexpectedly stole your heart? The Spanish-Baroque village of Antequera stole mine.
I intended to see the charming white pueblo as a pit stop on my drive from Seville to Granada during my tour of Andalusia.
But Antequera lured me in, like a fish on a hook, and laced its tentacles around my heart. I had no choice but to stay and absorb all its secrets.
Antequera boasts ancient UNESCO megaliths, an impressive Moorish fortress, a lovely Renaissance church, and a stunning medieval and baroque historical core.
You'll have an eyeful of swoonful scenery. Perhaps most importantly, it's utterly unspoiled by overtourism. It's a largely undiscovered spot in an Andalucia, an area that tourists adore.
And Antequera is absolutely enchanting, in a way that few places are.
Enchanting in a way that people write sonnets about. Enchanting in a way that is prescribed to heal existential ennui.
Enchanting in a way that love affairs are. Quite appropriately, Antequera was even the scene of a tragic, ill-fated love affair.
Anyway, it was love at first sight for me. The New Yorks Times was also in love. In 2017, the newspaper identified Antequera as one of "52 Places to Go in 21017" in its annual list of must see destinations. That's quite an endorsement.
If you want to experience medieval Spain, Antequera is just what you're looking for. Start your day early though, if you're day tripping. There's a lot to do.
Park your car on the outskirts of town and walk up Calle Don Infante. The roads are extremely narrow and winding. Driving seems nearly impossible.
Here are the reasons why Antequera is utterly amazing and should be on your itinerary for Andalusia. Even in the dead of winter, when I visited, it's beguiling.
Best Things To Do In Antequera Spain
1. UNESCO Dolmens
Antequera's Bronze Age dolmens are the top attraction in Antequera. They are among the oldest things on the planet.
The dolmens are essentially Spain's Stonehenge. The dolmens are ancient burial grounds that were declared a UNESCO site in 2016.
A dolman is a single chamber tomb consisting of two of more vertical megaliths supporting a large flat horizontal table of stone, then covered with earth.
Antequera's dolmens are one of the most remarkable engineering and architectural works of European prehistory and an important example of European Megalthism.
The site comprises three cultural monuments: the Menga dolmen, the Viera dolmen and the Tholos of El Romeral dolmen. They were built during the Neolithic and Bronze Age out of large stone blocks.
The rocks form chambers with linteled roofs or false cupolas. They were used for holy rituals and funerals. The Antequera dolmens are unique in that they face mountainscapes, instead of the sun.
Menga and Viera were constructed between 3000 and 3500 B.C. El Romeral was built around 2500 B.C. Menga is the largest and oldest of the three. It's been called one the "best preserved marvels on earth." Its roof is estimated to weight 2 tons.
The dolmens are definitely an underappreciated UNESCO site, perhaps because it's so new. For more information on the Antequera dolmens, read my complete guide.
The dolmens are located right outside the village of Antequera. Signs for the dolmens are well posted along the routes to the city. It's quite easy to find them.
El Romeral is located on the other side of town from the first two, but it's a quick drive. The information center has a short video (in English) explaining how they believe the dolmens were constructed.
>>> Click here to book a tour of the dolmens
Address: Carreta de Malaga, 5-29200 Antequera. The reception center is situated at Carretera A-7283.
Hours are here
Entry: free, but you have to walk inside, check in, and get a ticket
2. Historic Center
Antequera lies in the Malaga province. Despite its proximity to Malaga and the Costa del Sol, Antequera is separated from the coast by a mountainous barrier, the nature reserve of the Sierra del Torcal. It's cold in winter and hot and arid in summer.
The village is so old that the Romans named it Antequera. It's situated between Spain's great cities — Seville, Cordoba, Malaga, and Granada. It's a "crossroads" and the "heart" of Andalusia.
Because of its central location, Antequera had a huge strategic and commercial value in the old days. It gained importance for its military fortress situated on the frontier.
>>> Click here to book a guided walking tour
Antequera has a rich legacy of architecture spanning 2000 years. It's tightly packed, literally awash with white stone houses, Renaissance and Baroque buildings, and 33 old churches dating from the 16th to the 18th centuries.
It's almost like an open air museum. You'll have plenty of photo opportunities as you stroll the winding cobblestone streets.
One of the prettiest churches in town is the Portichuyelo Chapel. It sits majestically at the top of the town hill. You can't go inside to visit, but can stop at a cafe to admire the view.
The 17th century Church of San Sebastian is also lovely and a top attraction in Antequera. Its facade is Renaissance and it has a beautiful Baroque brick tower with terracotta decorations.
The exterior of the church — the beautiful Renaissance fountain, the Arc of Nueva Street, and the fortress landscape at the top — form a beautiful urban complex.
Similarly beautiful is the Church of El Carmen on Calle Jón Piscina. It was built in the late 16th century.
It's one of Antequera's most important monuments. The church known for its large intricately carved red pine alterpiece, an outstanding example of Antequerian Baroque art.
3. The Municipal Museum of Antequera
There are museums in Antequera worth seeing, if that strikes your fancy.
The main museum of Antequera is the Museo Municipal de Antequera. It's honestly worth visiting just for the architecture.
The museum is housed in a magnificent 18th century building with the most beautiful tower. It also has a spectacular dome at the top of one staircase.
The museum features burial coffins, roman artifacts (mosaics, pottery and sculptural relics), and bronze statues. It's a great place for history buffs.
But its pièce de résistance is the 14 meter bronze statue of Ephebe of Antequera, a Roman statue of a nude young man, arms outstretched, a garland in his hair. It's considered the best preserved of only six such sculptures in the world. It may date from the 1st century A.D.
Very romantically, and in Venus de Milo style, Ephebe is a historical treasure discovered completely by accident. A farmer found the sculpture while working his field in 1955.
Address: Palacio de Nájera, Plaza del Coso Viejo Antequera
Hours: check here
Entry fee: 3 €, children 1 €
4. The Antequera Alcazaba, a Mini Alhambra
Antequera's Alcazaba is one of the best things to do in Antequera. It's like a mini Alhambra complex! The rambling fortress itself is larger than the Alhambra's Alcazaba.
Sitting on the village's highpoint, the fortress is remarkably well-preserved. And it's just one steep street, Cuesta de San Judas, from the middle of town.
The fortress was built on the remains of a Roman settlement during the Moorish rule in the 1300s.
It was of great strategic and military importance, intended to defend against the formidable Christian advance from the north. In 1582, a tall bell tower was added, which provides great views.
The Torre de Papabellotas, the bell tower of the Alcazaba castle, built on the Torre de Homenaje.
In 1410, Prince Ferdinand of Aragon launched a bitter five month siege against the Alcazaba. On September 16, he conquered the mighty fortress and its town.
He added "Lord of Antequera" to his many titles. The town's main street is still named after him. Ferdinand would become king just two years later in 1412.
You'll have stunning views of the picture perfect village, its many churches, and Lover's Rock from the rampart walls of the Alcazaba.
It was fun to poke around in the towers in complete silence. You can almost imagine the thunder of horses' hooves and soldiers with drawn swords.
Address: Plaza de los Escribanos
Hours: 10:00 am to 6:pp pm daily
Entry fee: 4 euros, 6 with the audio guide
5. Real Colegiata de Santa Maria
The beautiful Santa María la Mayor Church made its debut in 1550.
It's accessed through a 16th century gate, the Arco de los Gigantes, and sits in in the Plaza de los Escribanos. The gate replaced a old Moorish gate, and is an artistic symbol of the Roman past of Antequera.
The church was the first example of a Renaissance building with Gothic touches in Andalusia. The church sits just below the Alcazaba.
It has an interesting triple arched facade that was allegedly copied by Alonso Cano for the Cathedral of Granada.
READ: Must See Attractions in Granada
The interior is basilica-like with with three naves, Renaissance columns, and an important Mudejar coffered ceiling.
There's a large very odd sculpture called the Tascara, an odd half dragon half female figure. There's also an audio visual show that explains the history of the church.
Just outside the church are ruins of old Roman thermal baths that were likely in use from the 1st to the 5th century A.D. They give you an idea of the size of the ancient settlement.
You can't enter the site itself, but you have a good view from the church. The best preserved bit is a large mosaic, though it's covered to protect it from the elements.
Address: Plaza de los Escribanos
Hours: 10:00 am to 7:00 pm Mon to Sat, 10:30 am to 3:00 pm Sun
Entry fee: There are several kind of tickets one for the Alcazaba only for 4 €, another including the Church for 6 €, and one also including the monastery 10 €. The admission price includes an audioguide.
6. Visit the Bullring
Antequera's whitewashed bullring is one of the most attractive in Andalusia. It's not nearly as famous as the ones in Ronda or Seville. But that means you'll have it to yourself to admire in peace.
READ: 3 Day Itinerary for Seville
The bull ring was built in the mid19th century and renovated in the 1980s. It seats over 6,000 spectators.
Antequera only holds bullfights for festivals in June and August. But it's also used for markets, exhibitions, and concerts.
7. Lover's Rock: Antequera's Eerie Mountainscape
Though Antequera had me at hello, another reason to fall in love with the charming white pueblo town is its lovelorn mountainscape and legend.
Memorably carved into the eerie terrain is a natural monument that lords over Antequera.
It's a mountain peak called la Pena de los Enamorados or "Lover's Rock." Lover's Rock is part of Antequera's UNESCO designation. The peak resembles the facial profile of a gigantic sleeping man.
Its romantic name is based on a tale of forbidden love. Legend holds that two lovers, one a Moor and one a Christian from rival families, were irrevocably smitten and ran away together.
With their families in hot pursuit of the escapees, they climbed to the top of Lover's Rock. Rather than be separated by hostilities, the lovers chose to die together. They jumped off the peak and leapt to their death.
In another version of this centuries old tale, the young lady provoked familial outrage by favoring her father's Christian slave.
8. Hike in the Sierra del Torcal
El Torco National Park is also part of Antequera's UNESCO designation and is pretty geologically stunning. It sits 8 miles south of Antequera and is known for its impressive labyrinth of limestone rock formations.
The park was under the sea until 100 million years ago. Over time, the karst rock formations developed. In the Tertiary Period, they rose and were uncovered.
The mountain range now rises for 500 to 600 meters out of the hillscape. Like many limestone mountain ranges, El Torco has steep faces on its outside with one vast top tier plateau.
There's a parking lot and a visitor center at the park. You have several hiking options and trails: 30-45 minutes, 2 hours, and 3 hours.
You're advised not to deviate from the designated paths or poke into any caves. Getting lost here is a real thing!
>>> Click here to book a Torcal hiking tour from Malaga
Address: Calle el Torcal de Antequera, 70-75, 29200 Antequera. From Antequera, it 8 miles south on the A7075, on the right hand side on the descent into Villanueva de la Concepcion.
Hours: 10:00 am to 5:00 pm
Antequera is an amazing secret town in Spain. You may have to visit it more than once to discover all its secrets.
With its relatively new UNESCO designation, it's going to be popular. Others may fall in love. Make it to the "Florence of Andalusia" on your next trip to southern Spain.
Practical Guide & Tips for Visiting Antequera
Here are some must know tips to help you discover all the best things to do in Antequera.
1. How To Get To Antequera
The nearest major airports to Antequera are Malaga Airport (AGP) and Granada Airport (GRX). Both airports offer domestic and international flights.
From Malaga Airport, you can take a taxi, the bus, or book a private transfer.
Antequera has its own train station called Antequera-Santa Ana. It's well-connected to major cities in Spain, including Madrid, Barcelona, Malaga, and Seville.
If you're driving, Antequera can be accessed from the Spanish road network. Major highways like the A-45 and A-92 pass through or near the town.
In winter, I found street parking on the main drag, Calle Don Infante. But if you're visiting in high season, you will need to throw your car in a public lot. The Parking Plaza de Santa María is near the Santa María Church and the Alcazaba.
You can also get to Antequera on a guided day trip from Malaga or on a private tour from Malaga.
2. How To Get Around Antequera
Antequera is a relatively compact town. Many of its attractions are within easy walking distance of each other.
3. Where To Stay In Antequera
The Parador de Antequera is a luxury hotel offering up stunning views of the surrounding landscapes. It features spacious rooms, a pool, a restaurant serving traditional Andalusian cuisine, and excellent facilities.
La Fuente del Sol Hotel & Spa is a 4 star rural hotel on the southern slopes of the Torcal. It's a great hotel for enjoying nature and the views.
The Convento da Magdalena is a boutique hotel housed in a beautifully restored 16th century convent. It combines historic architecture with modern comforts and features elegant rooms, a spa, a swimming pool, and a restaurant.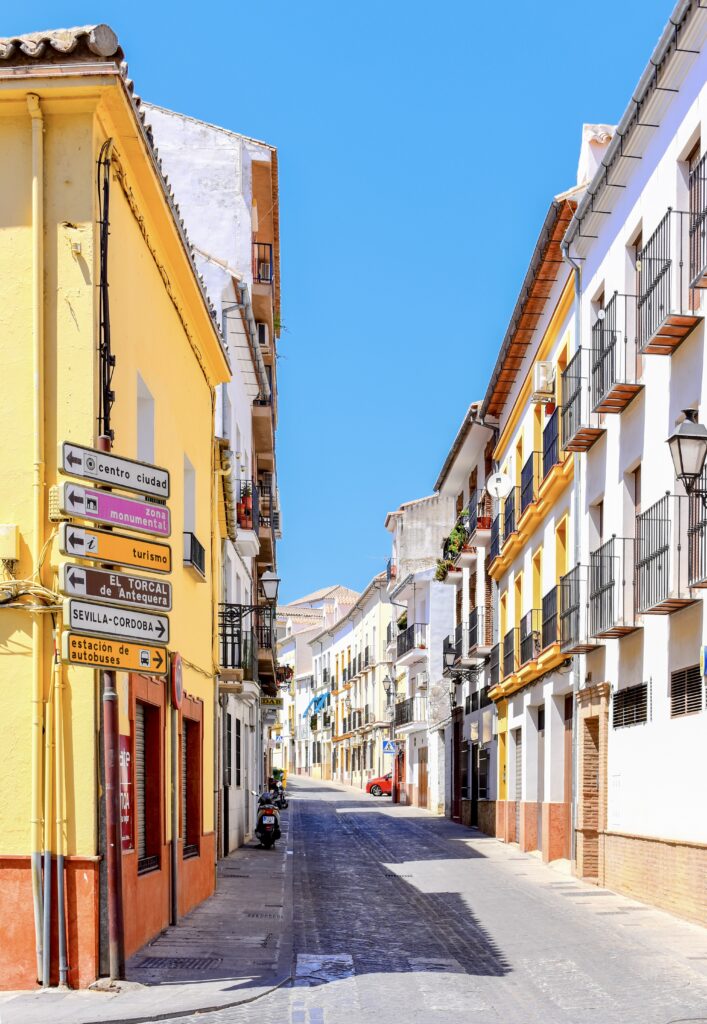 4. When To Visit Antequera
I think spring is the best time to visit Antequera. Spring brings mild temperatures, blooming flowers, and lush green landscapes. It's a great time to explore the town's outdoor attractions, such as the dolmens and El Torcal Natural Park.
Fall is also an excellent time to visit. The weather will be fabulous. It's harvest time and you can go on a wine tour to sample the grapes.
Winter is perfectly pleasant in Antequera, since it's so far south. Summer will be roasting hot, so I don't advise visiting then unless you don't mind the intense heat.
If you'd like to visit for a festival, check the calendar for the Semana Santa (Holy Week) processions, the Feria de Agosto (August Fair), and the Romería de la Virgen de los Remedios (pilgrimage).
I hope you've enjoyed my guide to the best things to do in Antequera. You may enjoy these other travel guide and resources for southern Spain:
If you'd like to visit the hidden gem town of Antequera, pin it for later.