Seville is a city that captures the hearts of many travelers, as it's an irresistible combination of culture, beauty, and warmth. This gem in southern Spain is a popular destination for a reason. If you're planning a trip to Seville, I've got the perfect 3 day itinerary for you.
To me, Seville is a city that exudes joy and a lust for life, with fragrant orange blossoms and the soulful sounds of flamenco music filling the air.
The climate is ideal, and the locals are warm and welcoming, adding to the city's charm.
Seville boasts a wealth of architectural styles, with stunning Moorish touches and one of the world's largest Gothic cathedrals as a backdrop.
The city is a visual feast, with Mudéjar palaces, baroque churches adorned with colorful azulejo tiles, and inviting shady streets made of cobblestones.
In Seville, you can indulge in the pleasure of savoring inventive tapas, refreshing cold beer, and delicious sweet sherry, all without breaking the bank. It's a city that truly has it all, and you'll be captivated by its magic from the moment you arrive.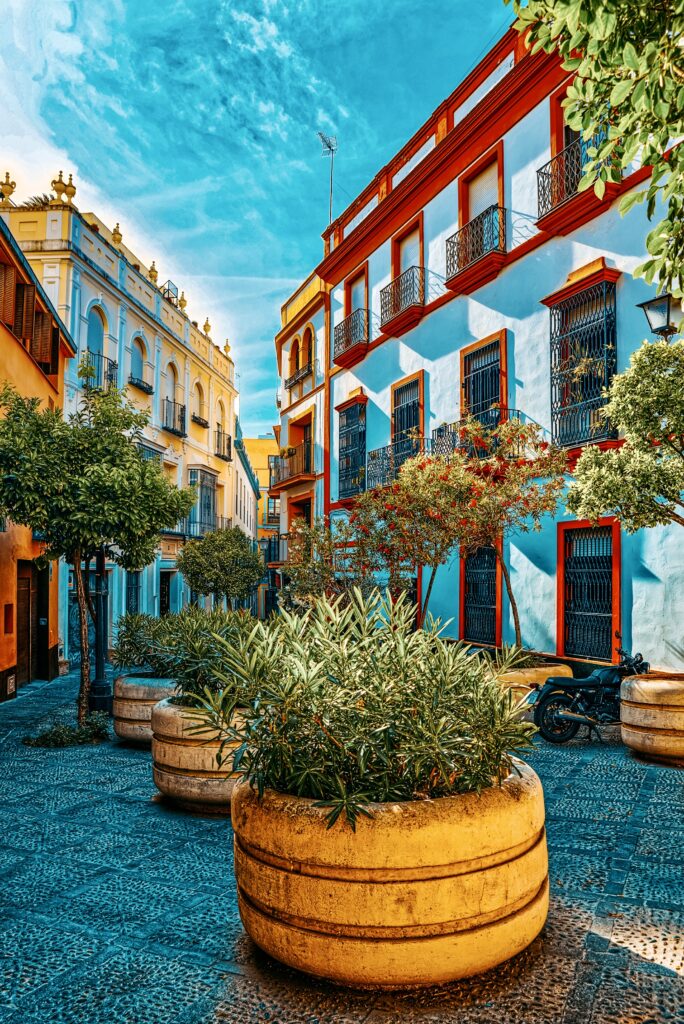 3 Days In Seville Itinerary
This 3 day Seville itinerary will take you to the top must visit attractions in Seville. You'll visit delightful neighborhoods, towering churches, and historic landmarks.
With 3 days in Seville, you won't be too rushed and can relax and enjoy the Seville experience.
Here's an snapshot of what you'll see and do:
Day 1: Las Setas, Casa de Pilotos, Seville Cathedral, La Giralda, Tapas Tour
Day 2: Barrio Santa Cruz, Hospital de los Venerables, Royal Alcazar, la Alameda
Day 1 AM: Las Setas and Casa de Pilatos
1. Las Setas
On day 1, head to the world's largest wooden structure, Las Setas or the Mushrooms. There's a great breakfast spot there called La Cacharreria, serving up standard breakfast fare and healthy items. It's cash only.
We're not starting out with Seville's #1 site. Las Setas is slightly northwest of the old town.
Still, it makes sense geographically for the rest of the day and you'll begin with an incredible panoramic view. You could also reverse the order of today's itinerary and come for sunset views too.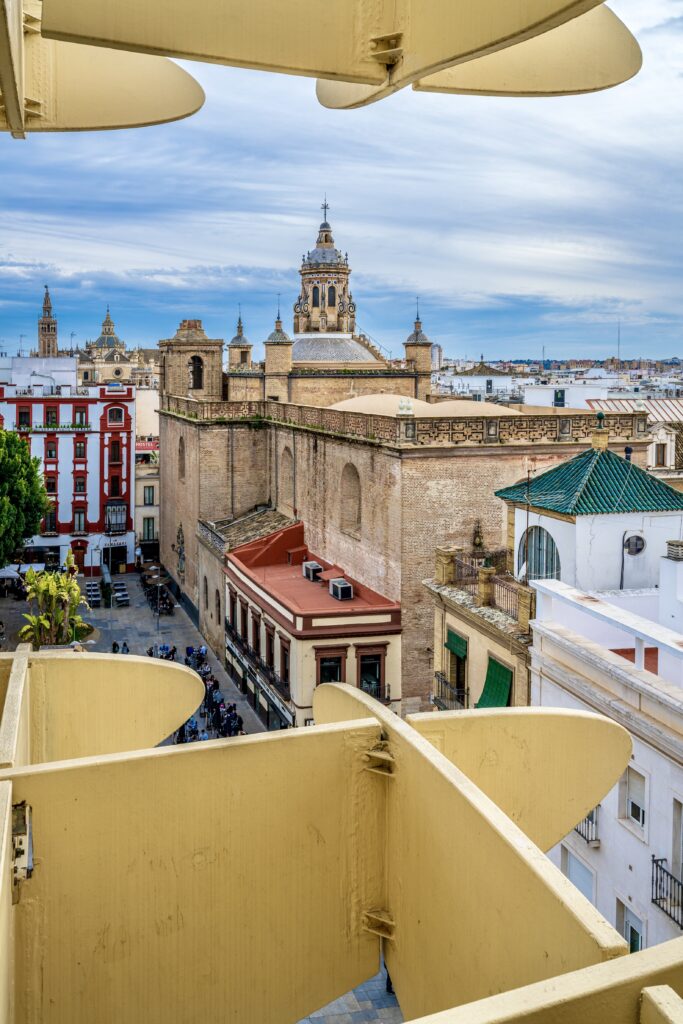 The ultra modern Metropol Parasol was built between 2005-11 by German architect Jürgen Mayer to revitalize Seville's then run down Encarnacion Square.
It's called "the Mushrooms" due to its quirky shape. The waffle-like design was inspired by the vaults of the Seville Cathedral and the ficus trees in Plaza de Cristo de Burgos.
Organized in four levels, it consists of six linked and swirling parasols for you to stroll. The wood used was birch, imported from Finland, because of its rigid quality.
Las Setas was controversial at first, but now it seems fairly beloved. Click here to book a skip the line ticket and tour.
2. Casa de Pilatos
Next, grab a coffee at Virgin Coffee, Seville's first micro-coffee roaster. Then head down Calle Regina to the sumptuous Casa de Pilatos.
Casa de Pilatos is a 16th century mansion in Seville's historic district. It's definitely one of Seville's hidden gems, judging from the relative paucity of crowds. Click here to book a guided tour.
Casa de Pilatos was the product of a union between the Enriquez and Ribera families. It's the permanent residence of the Medinaceli dukes. Casa de Pilatos is so beautiful that it's been featured in several Hollywood blockbusters.
It has a stunning courtyard, surrounded by white marble columns and Mudéjar arches. Everywhere, the walls are covered with countless multicolored tiles.
The monumental transitional staircase of the Casa de Pilatos is called "Sevilla's first and most magnificent staircase." The second floor features a golden cupola dome in a Mudéjar honeycomb style, reminiscent of rooms in the Nasrid Palace in the Alhambra.
You can tour the second floor with a private guide. Upstairs, it's decorated like a grand European house. You'll see some fantastic ceilings and a famous painting of a woman with a beard.
The original is now in Madrid's Prado Museum. I thought it was worthwhile for the extra 2 €.
While you're in this area, have lunch at fancy Canabota for some delicious seafood at an award winning restaurant. Or come back here for dinner (with a reservation).
Canabota is right near Las Setas on Calle Jose Gestoso 19. For a more casual snack, with delicious acorn-fed Iberian ham and tapas, try Salsamento in the same area at Calle Jeronimo Hernandez 19.
Day 1 PM: Seville Cathedral and La Giralda
1. Seville Cathedral
Then, you're off for a visit to Seville's UNESCO cathedral. Seville Cathedral is a massive Gothic affair, an odd to excess. It's the largest Gothic cathedral in the world.
It's essential to pre-book tickets online in advance.Tickets include an audio guide. You can also book tickets + a guided tour. For 15 euros, you can also book a separate tour of the roof of Seville Cathedral, to see it up close and get a fantastic view of Seville.
To enter the cathedral, you walk through the lovely Patio of the Orange Trees, decorated with a Moorish gate.
In 1402, after vanquishing the Moors in the Reconquista, King Ferdinand and Queen Isabella began work in earnest on a Gothic style cathedral.
They wanted a showy display of Seville's wealth, power, and influence. They declared: "we shall have a church of such a kind that those who see it built will think we were mad."
It might not be "madness" exactly. But you will feel intimidated and deeply impressed by the sheer scale of the building.
There are 15 doors on the cathedral's four facades and each one features a unique relief or carving. The nave is the longest in the world.
The Main Chapel, Capilla Mayor, is a glittering affair. It houses one of the world's finest high altars, elaborately detailed and finished in gold leaf. There are over 1,000 carved biblical figures.
Along the aisles of the cathedral, there are 80 side chapels to explore. You'll find spires and reliefs depicting biblical events dedicated to saints.
There's a large mirror reflecting the intricate ceiling, which you'll have to queue up to peer into. Lighting up the interior are 75 stained glass windows from the 16th to 19th century.
The Cathedral houses the tomb of Christopher Columbus in the south transept. Many places lay claim to Columbus' bones.
But apparently DNA tests have confirmed that, in fact, a bit of him is in Seville. Maybe a shin bone or something.
2. La Giralda
La Giralda, or the bell tower, dates from 1184. It's the symbol of Seville and the oldest part of the cathedral complex.
The tower was originally constructed as the minaret of the Almohad Mosque that previously stood here, and was used to call Muslims to prayer. It was modeled after the Koutoubia Mosque in Marrakesh.
You access the 100 meter high Giralda in the far right corner. It's an easy climb, 35 sloping ramps to reach the top.
There are ramps instead of stairs so that horses could be ridden to the top. You'll be rewarding with sweeping views of the cathedral and Seville.
Day 1: Dinner and Drinks
Not far from the cathedral, you can grab a casual bite to eat at Bodeguita Romero on Calle Harinas.
Or try La Brunilda Restaurant, a great spot for tapas and one of Seville's best restaurants, on Calle Galera.
Brunilda doesn't take reservations. It opens for dinner at 8:30 pm and you should queue up at 8:00 pm. It's completely worth it!
If you've reversed the order of today's sightseeing and are ending at Metropol Parasol, there's a classic tapas bar 5 minutes away, El Rinconcillo. It's the oldest bar in Seville.
In lieu of a restaurant, you could also go on a 3 hour tapas crawl. I did this tour when I was last there and I loved everything except the orange wine.
Alternatively, try this "10 tasting of Seville" walking tour or this 4 hour gourmet food tour.
Day 2 AM: Barrio de Santa Cruz
After breakfast, on day 2 of your 3 days in Seville itinerary, head to Seville's medieval Santa Cruz quarter and aimlessly wander.
Sadly, Jews were confined here after Ferdinand and Isabella conquered the city in 1248.
Now, Barrio de Santa Cruz is a popular district within the city — a mass of tangled cobbled streets with tiny palazzos and tile covered patios. You may want to book a guided walking tour of the barrio.
Some streets are so impossibly narrow, they're called "kissing lanes." There are also orange trees everywhere. Ah, the scent. You can get lost and stumble across secret squares, pretty churches, and tapas bars.
Plaza de la Santa Cruz is the heart of the barrio. But I liked Plaza de Dona Elvira best, and stopped for a delicious lunch there at Vinela Street Food.
Be sure to stroll along the winding and romantic Calle Agua, which runs along the walls of the Alcazar to Plaza Alfaro. In Plaza Alfaro, you'll see a Juliet balcony said to have inspired Shakespeare's Romeo and Juliet.
If you like old masters, pop into the Hospital de los Venerables. The pretty baroque building was founded in 1675. Now, it's a museum with a few carefully guarded masterpieces by Zurburan, Murillo, and Velasquez. And some gorgeous ceilings.
Day 2 PM: Royal Alcazar Palace and Gardens
I've written at length about my adoration of the UNESCO-listed Royal Alcazar in Seville. It's my very favorite spot in Andalusia, even above Granada's incandescent Alhambra.
The Alcázar is one of the world's greatest cultural treasures, a centuries old complex of palaces and fortifications, lovely courtyards, and extensive gardens bursting with orange, purple, and green colors. You cannot help but feel catapulted back in time.
It's essential to pre-book a ticket in advance or you'll have long wait in line. You can also book a guided tour of the alcazar with priority entrance.
The crown jewel of the Alcazar is the sumptuous Mudéjar Palace of King Pedro the Cruel, built around the iconic Maiden's Courtyard.
The Ambassador's Hall, or Throne Room, is the big showstopper. It's nicknamed the "Half Orange" Room, in honor of its gilded cedar domed ceiling.
But perhaps the best part of visiting the Alcazar is its amazing gardens. They're a lush, exotic, labyrinthian paradise.
The gardens comprise 80% of the Alcázar grounds. The Baths of Dona Maria de Padilla are perhaps the most striking and frequently visited spot in the Alcázar Gardens.
The Alcazar is also now famous as a Game of Thrones filming location. In the smash HBO series, the gardens became Sunspear, the ancestral home of the Martels in Dorne.
Scenes from the show are filmed in the balconies of Pedro's Palace, the Ambassador's Hall, the Charles V Pavilion, and the Maria Padilla Baths.
READ: Ultimate Guide to the Royal Alcazar
Day 2: Dinner & Drinks
In the evening, amble up to the hipster haven of La Alameda. This is Seville's trendy bohemian district, situated around the Plaza Alameda de Hercules.
This not-so-touristy neighborhood of Seville has lively local pubs, parks, boutiques, chic galleries, and Roman era columns.
My pick for dinner in Alameda is Duo Tapas, where you get delicious tapas under fairy lights. It's popular and a great value. You can also try La Taberna de Panduro Baños or the nearby Eslava, hidden behind the Basílica de Jesús del Gran Poder.
La Alameda is also the perfect spot to people watch or enjoy some nightlife. Toward the end of the night, you'll come across dance performers, flamenco, and street entertainers. Grab some sweet Sevillano sherry, and enjoy the free open air show.
Day 3 AM: Plaza Espana and Marie Louisa Park
1. Plaza de Espana
Start day 3 in Seville at the magnificent Plaza de Espana — a famous architectural landmark, photogenic spot, and an unmissable site in Seville.
The plaza was built for the Ibero-American World Fair of 1929, where Spanish speaking countries enjoyed a year long mutual admiration festival. It's open to the public and there's no entry fee.
The park's highlight is the Spanish Pavilion, the sweeping half circle structure with rose gold brick buildings. Designed in an Art Deco style with some Moorish touches, the Plaza has the expected Spanish flair — lots of color and lavish embellishment.
There are 49 alcoves, each decorated with tiles. They show historical scenes and maps from the 49 provinces of Spain arranged in alphabetical order.
There's nothing to actually do here except check out the architecture, the alcoves, and the tiles.
The plaza has been featured in the movies Lawrence of Arabia and Star Wars Attack of the Clones. If you want photos without a horde of tourists, you'll have to arrive very early.
If you're lucky, you will see some flamenco dancing.
2. Maria Louisa Park
For a respite, stroll through the adjacent Maria Luisa Park, complete with shaded paths and gardens.
It's decorated with ceramic tiled benches, fountains, statues, and ponds. You can leisurely walk around and enjoy the shade and the bucolic setting.
3. Tower of Gold
Then amble up the river to the Torre del Oro, or Tower of Gold. It's a 13th century watchtower that's one of Seville's landmarks.
The tower was part of the Moorish city wall. It was given its name because of the gold gleam it projected on the Guadalquivir River.
I'm not really sure it's worth going up. But, from the roof terrace, you have nice views of the river and surrounding neighborhoods.
4. Triana
Then cross the Puente de Isabel II bridge over the Guadalquivir River and head to the colorful Triana neighborhood.
Triana's a small soulful village within a big city and the old gypsy quarter of Seville. The neighborhood was once considered the "wrong side" of the river.
Now, it's the fun and funky part of town. Locals still call it the "Independent Republic of Triana."
Triana is steeped in romance and myth. It was home to many of Spain's best flamenco dancers and bullfighters.
Once over the bridge, you'll be greeted by the Capilla del Carmen with its bell tower and chapel. The main commercial street in Triana is the pedestrianized Calle San Jacinto where you'll find shops and cafes.
For lunch, get off the main drag and head left. Have some modern fusion (Venezuelan and Spanish) tapas at Vega 10 in Triana. Located at Calle Rosario, its specialty is bull's tail cannelloni. Or, get some tapas at Casa Cuesta or Las Golondrinas.
If you want to assemble your own lunch or dinner, head to Triana's famous Mercado de Triana, or covered market.
It's located on Capilla del Carmen in the Plaza del Altozano. Stroll the stalls filled with meats and cheeses. Or try a smoothie or fresh squeezed juice.
Then, pop in and purchase some ceramics at Ceramica Triana. You can also visit the adjoining museum explaining the history and production of ceramics.
When you're done, take a stroll along the river on Calle Betis.
Day 3 PM: Get Your Art Fix
Back across the river, head to the vastly under appreciated Museo de Bellas Artes. Seville's Museum of Fine Arts is a truly smashing museum, one of the best museums in Spain.
It's known, after the Prado, as the "second art gallery in Spain." It's housed in a salmon colored former convent.
The museum houses art from the middle ages to the 20th century. But it's most known for its collection of 17th century art from Spain's "Golden Age."
The museum features Spain's top painters, including Zurbarán, Murillo, El Greco, and Velazquez. You'll see a lot of monks, balding saints, cherubs, and depictions of Christ.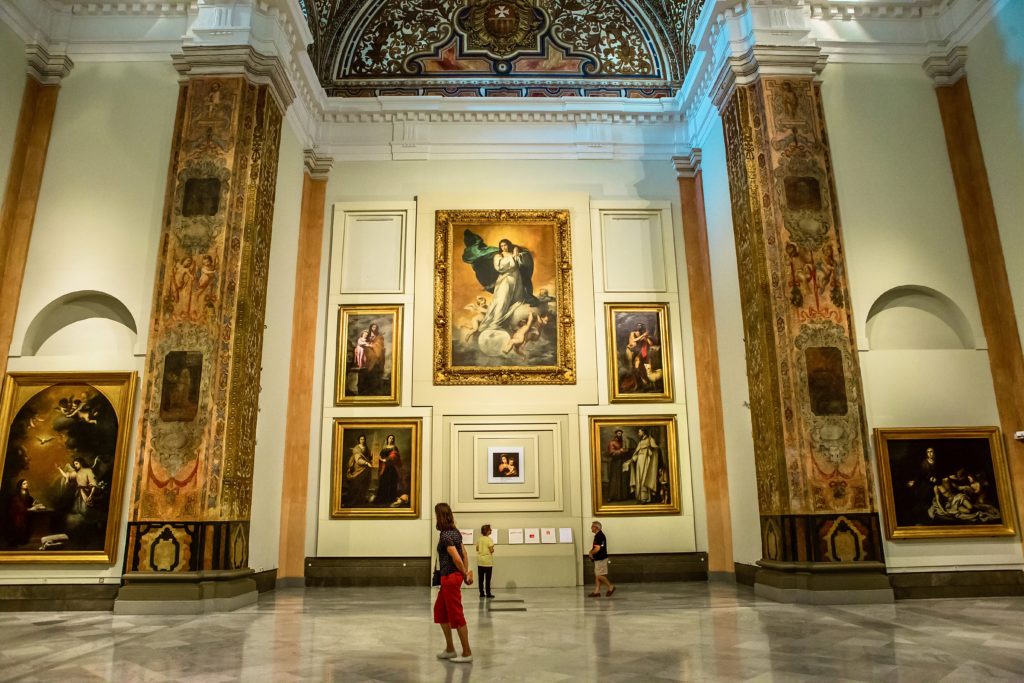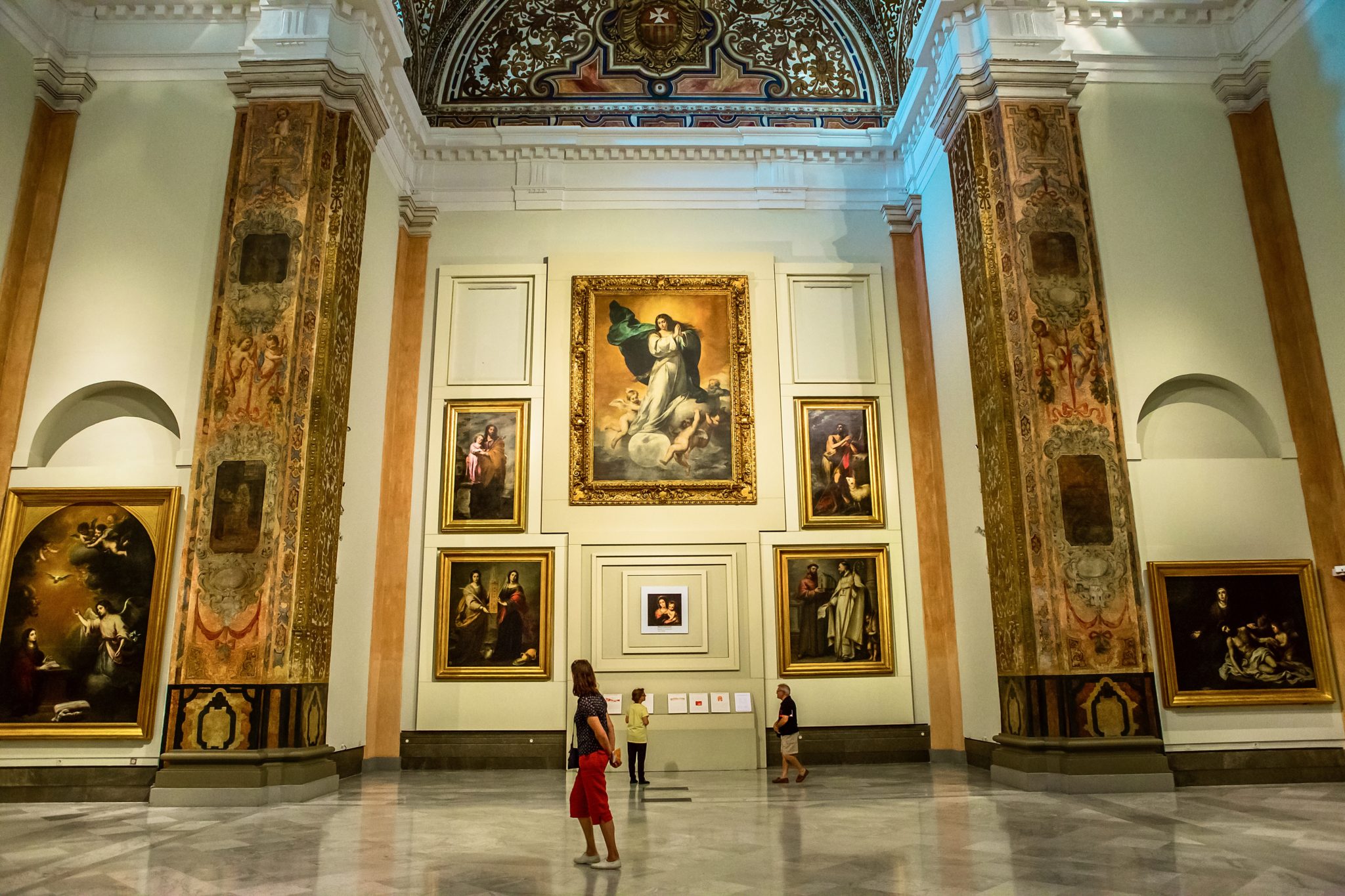 Day 3: Dinner & Drinks
On your final night, snare a table at the acclaimed El Pinton. Housed in a funky, Instagrammable space with brick archways, El Pinton serves up delicious modern tapas.
For a more casual spot, head to La Bartola in Santa Cruz. It's also a wine bar, so you have an oaky glass of red with your tapas.
If you favor nightlife, this is the time to hit a flamenco show. Flamenco is a dance and an art form that originated in Seville's bohemian neighborhoods. There are scads of flamenco museums and theaters in Seville, many quite touristy.
Click here to book a flamenco show at Tablao El Arenal in Triana. Or a show near the cathedral.
La Carboneria will pleas aficionados. It's housed in a former coal storage warehouse. It's a noisy rambling space with communal tables. On a small stage, flamenco guitarists and dancers perform.
Tips For Spending 3 Days In Seville Spain
I've written a guide with tips for visiting Seville, including quirky things that might irk you as a traveler. Here are some other things to know about spending 3 days in Seville.
1. How To Get To Seville
Most international flights will fly into Madrid or Barcelona. So you will need to take a connecting flight from Madrid or Seville.
Seville International Airport (the Aeropuerto de Sevilla) is about 6 miles from the city center. You can take a shuttle bus (in front of the Arrivals hall), taxi, or book a private transfer. Travel time is about 20 minutes.
Madrid is 2.5 hours by high speed train and Barcelona is 5.5 hours. Seville is also well connected to Cordoba (45 minutes) and Granada (2.5 hours).
2. How To Get Around Seville
In general, Seville is an eminently walkable city. To see it all, you may want to book a 2 hour guided walking tour during the day or a nighttime walking tour.
It's rare that you'd need to take a taxi. And you might just get bogged down in traffic if you do grab one on the fly.
There are also some fun ways to get around Seville. You can take the hop on hop off bus, a Segway tour, or an electric bike tour. You can book a yacht tour down the Guadalquivir River or take a 1 hour cruise.
3. When To Visit Seville
Seville is also hot, one of the hottest cities in Europe. It's best to plan your visit for a non-summer month.
My last visit in late February was lovely. It was sunny and in the 60s at mid-day.
4. More Time In Seville?
You could always stay longer than 3 days in Seville and use it as a base for touring southern Spain.
Seville is within driving distance or an easy train ride from many must of the most beautiful towns in Andalusia — such as Osuna, Italica, Antequera, Ronda, and Cordoba.
Or even Granada really, another great Andalusian city where you can see Spain's greatest edifice, the mighty Alhambra. Here's my complete guide to the best day trips from Seville.
If you don't want to drive, no problem.
There are wonderful guided day tours to Ronda, Cordoba, Cordoba + Carmona, Jerez de la Frontera + Cadiz, Granada, or a full tour of Andalusia's white pueblos.
5. Where To Stay In Seville
Air Bnb is a good option in Seville. There are also some beautiful boutique hotels.
My picks would be: Hotel Alfonso XIII, Hotel Colon Gran Melia, Suites Machado, or Hotel Casa del Poeta.
I also think Barrio Santa Cruz is a great, and more quiet, place to stay. In this area, you could book at Hotel Casa 1800 Seville (timeless elegance) or the EME Catedral Hotel (sumptuous hotel with a roof terrace, Michelin restaurant, and spa).
I hope you've enjoyed my 3 days in Seville itinerary. You may enjoy these other travel guides and resources for visiting Spain:
If you'd like to spend 3 days in Seville Spain, pin it for later.