Here's my guide to the lovely town of Santillana del Mar. It's an idyllic town that's an easy day trip from Bilbao. This guide covers the best things see and do in and around Santillana del Mar.
Santillana del Mar is the jewel of Cantabria and must visit destination in northern Spain.
With its rolling green hills, the Cantabria region is spectacularly beautiful. It's dotted with medieval villages untouched by time. It's so verdant and eye catching, you could imagine it in a Van Gogh painting.
Perhaps the most charming village is Santillana del Mar. The philosopher Jean Paul Sartre called it "the prettiest village in Spain."
There are many beautiful villages in Spain, of course. But Santillana is a strong contender for the top crown.
Santilla del Mar is nicknamed the "Town of Three Lies." It's actual name, translated, means holy, flat, and of the sea. Santillana is none of those things, hence its affectionate nickname.
The truth is that the tiny village lives up to its hype. Santillana del Mar is a delightful warren of dreamy cobbled streets, caramel colored architecture, and romantic wrought iron Juliet type balconies.
Before You Go: Here's How To Plan Your Visit To Santillana Del Mar
Top Tours
Here are some of the best tours and experiences in Santillana del Mar. In high season, be sure to book early!
Best Hotels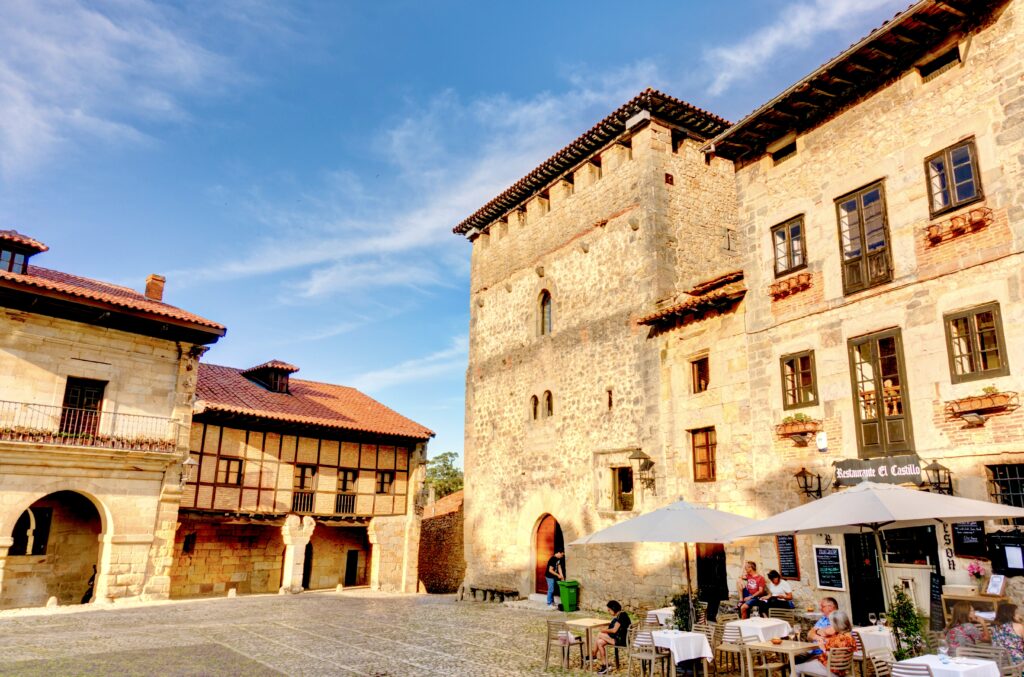 History of Santillana del Mar
Santillana del Mar dates from the middle ages. In 1575, strict town planning rules were enacted.
They're still in place today. Among other things, they stipulate that only residents or hotel guests can drive in the village.
During medieval times, Santillana's merchants were prosperous. They sold wool, dairy products, and linen. They built the refined ochre colored houses and palaces that make Santilla so distinctive.
The perfectly preserved historic core of the village was declared a UNESCO site in 2011.
Guide To Santillana del Mar: What To Do
1. Stroll the Charming Village
We arrived in Santillana via car from Bilbao.
Our first order of business on a rather blustery and gray summer day was to tuck into some chocolate and churros at a quaint cafe near the beginning of the main drag.
There's delightfully little to do in Santillana del Mar. It's more of a "living museum" that you wander around and admire. And it's all pedestrianized.
The charm is in the little nooks, cobblestones streets, and window boxes overflowing with brightly colored flowers. The village boasts golden gothic houses built by noblemen in the 15th-17th century. Wrought iron balconies and coats of arms are inlaid into many facades.
There are plenty of artisan shops and little cafes, to help wile away your time. They offer leather goods, ceramics, and specialty cheeses. The enchanting
Plaza Mayor is as impressive and awe-inspiring as any in Spain. Marvel at the intricate stone carvings adorning the Church of Santa Juliana.
It's a magnificent example of Romanesque architecture. Step inside to admire its ornate interior and soak in the serene atmosphere.
And you can stop for a cocktail in the secret enclosed garden of the Parador Hotel, on Plaza Ramón Pelayo.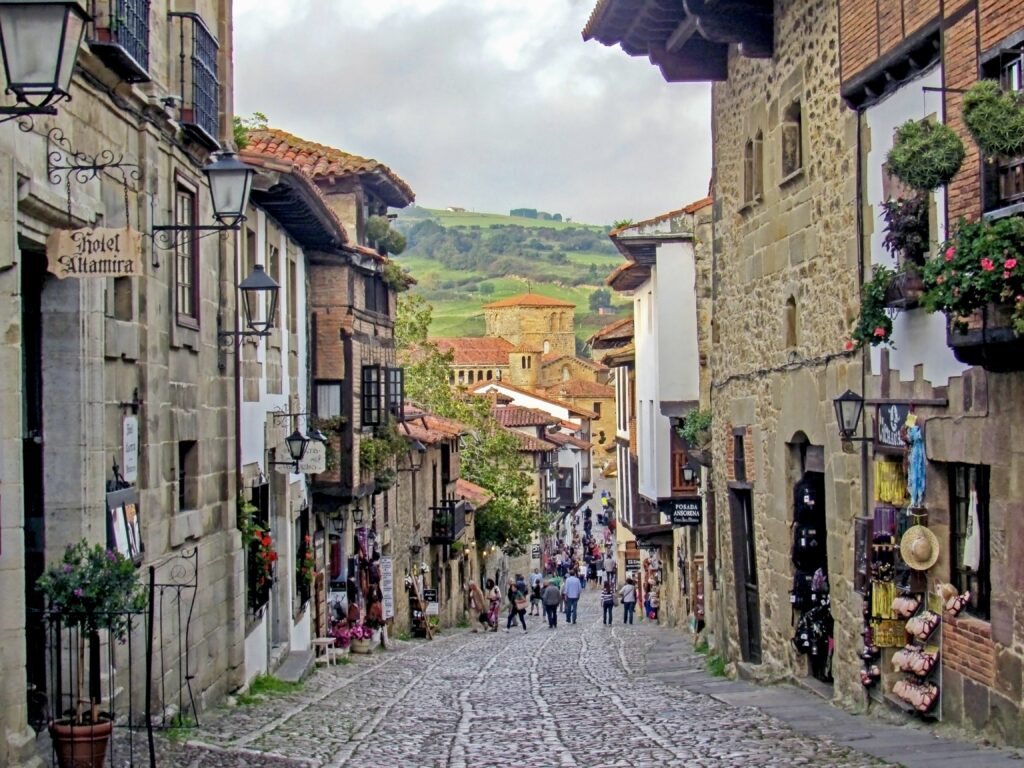 2. The Collegiate Church
Keep strolling down the Calle de Santo Domingo and you'll reach the Colegiata, or the Collegiate Church.
It's the most important religious Romanesque monument in Cantabria. It was built over an old hermitage in the 12th century. On the main facade, there's a triangular pediment with a martyr's image.
Once an important pilgrimage center, this magnificent building houses the tomb of the local medieval martyr, St. Juliana or Santa Llana, from which the village takes its name.
The ivy covered cloister is considered a masterpiece. The columns in the cloister are intricately carved.
They show biblical scenes and mythical beasts like coiled serpents. There's a 17th century Mexican silver altarpiece, a somewhat surprising piece for a tiny village.
3. The Spine Chilling Torture Museum
If you want a dark and morbidly fascinating dose of medieval history, stop in at the Torture Museum, El Museo de la Tortura, on Calle de Bertrand Clisson.
The museum has a collection of 70 genuine and replica torture devices. The exhibits describe all the sickening ways people were tortured and publicly humiliated during the Spanish Inquisition.
I feel happy to live in this century. Reading about it was pure torture.
4. Religious Procession
One of the highlights of our visit was witnessing a religious procession to the Colegiatia.
The locals dressed for the occasion. It was fascinating to watch. Here's my video.
5. Altamira Caves
Seven minutes from the village lies the world renowned Altamira Caves, famous landmark in Spain. The caves are 36,000 years old.
They date from the end of the Ice Age and contain some of the best preserved prehistoric art anywhere in the world. They're known as the "Sistine Chapel of the Paleolithic Age."
The original Altamira cave became a UNESCO site in 1985. 17 other caves were added to the UNESCO inscription in 2008 as "humanity's earliest accomplished art."
The caves were discovered in 1879 by Marcelino Sanz de Sautola, and his young daughter. The main gallery is approximately 300 meters long. It boasts 16 beautiful polychromatic paintings made with natural pigment depicting bisons and wild boars.
Visitors flocked to the caves. But all the visitor love threatened the fragile site. Algae like mold began to appear on the paintings.
The damage was due to visitors altering the temperature, humidity, and carbon dioxide levels. The caves were closed to the public in 2002.
In 2001, a replica cave and museum were built near the site. The replica cave was created using computerized digital-transfer technology. The paintings are well lit and easier to see than in the original caves.
In 2014, the original cave was reopened to the public on a very restricted basis. Each week on Friday, 5 lucky visitors to the museum are selected at random, clad in protective gear, and given a 37 minute tour.
To have a chance, you must be over 16 and in the museum between 9:30-10:30 am. You must stay with the guide; you can't wander off.
What's amazing about the paintings is that they were made by primitive pro-magnon men. But their beauty and simplicity is lovely. You can almost imagine them having been painted by Picasso.
No one knows for sure why they were created. There's some general agreement that it wasn't purely for decoration. The paintings likely served a religious purpose.
6. Side Trip To Comillas
If you have time after your visit in Santillana del Mar, head to the architecturally rich village of Comillas, just 15 minutes away.
There, you can see one of Gaudi's first buildings, the colorful El Capricho. It's one of the few buildings he created outside of Catalonia. It's a colorful blend of Art Nouveau and Moorish influences, topped off with sunflower motifs.
You can also see the spectacular Palacio de Sobrellano, designed by Guadi's mentor, Joan Martorell i Montells. It's an early hint of Barcelona style Modernism.
Practical Guide To Santillana del Mar
Here are some must know tips for visiting Santillana Del Mar.
Parking: There are two big parking lots at the entrance of the town. You must pay in season. They're free off season.
Tourist Office: It's right at the entrance of the town.
Getting there: Santillana del Mar is a 1.5 hour drive from Bilbao and 30 minutes from Santander. It makes a great day trip from either city.
Pro tip: Santillana makes a good base for visiting Altamira, Comillas, and Santander in the Cantabria region.
The Collegiate Church: Closed Mondays, and closed from 1:30-4:00 pm. Opening hours are here. Cost is € 3.
The Torture Museum: Open daily 10:00 am to 9:00 pm. Entry fee is adult €4 and child € 2.80
Altamira Caves:
I hope you've enjoyed my guide to the best things to do in Santillana Del Mar. You may enjoy these other travel guides and resources for Spain:
If you'd like to visit Santillan del Mar, pin it for later.