Wondering how to spend one perfect day in Granada? I've got you covered with the perfect 1-day Granada itinerary to see all the main landmarks.
Granada is small but mighty city in Andalusia. It's a significant cultural place that's shaped the course of Spanish history over the centuries.
Granada is not just the Alhambra either, although that's the UNESCO site that probably made you want to visit.
Beyond the magnificent Moorish palace, Granada is a sunny city with old world charms and distinctive cuisine. You can enjoy free tapas, browse though an Arab market, and ride a moto or stroll down cobbled pathways.
Overview Of One Day In Granada Itinerary
You can divide your sightseeing into four parts: the "new town," the Albaicin or old town, the Alhambra, and Sacromonte.
Here's a quick snapshot of what you'll see with 1 day in Granada:
Plaza Nueva & Bib-Rambla
Granada Cathedral
Royal Chapel
Alcaceira Market
Albaicin
Alhambra
Sacramonte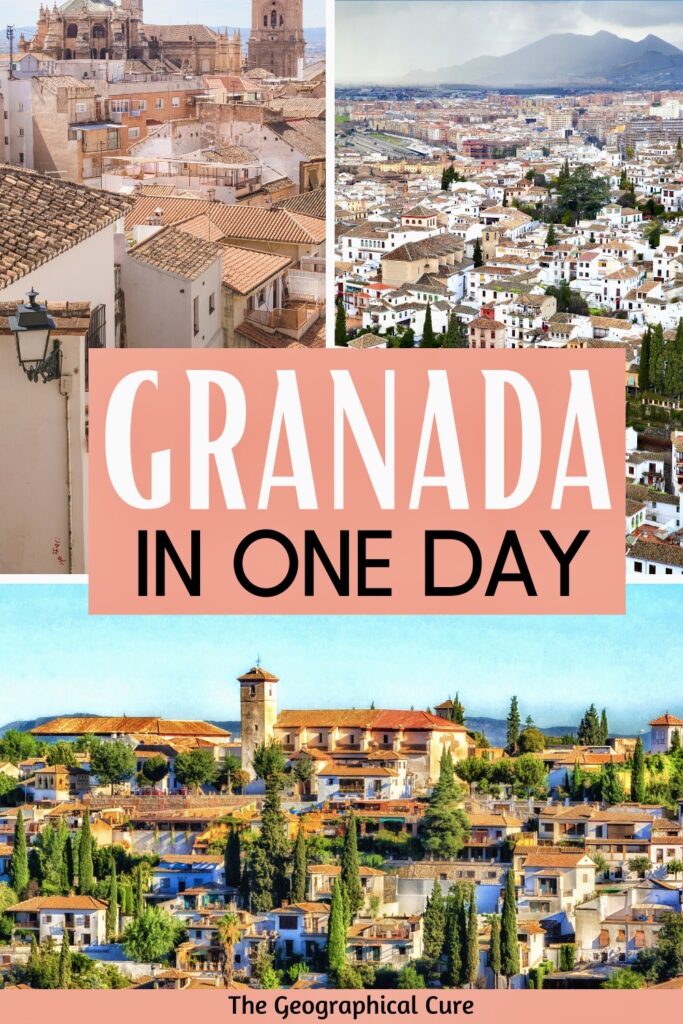 A Short History of Granada
The Moors founded Granda in 711. They were a nomadic group of the Islamic faith who migrated to Spain from Northern Africa.
Over nearly 8 centuries, a rich culture emerged, ruled by the Almoravids, the Almohads, and then the Nasrids. They created a kingdom of splendor, wealth, arts, sciences, and poetry.
In the 13th and 14th centuries, the rulers transformed the Alhambra into an opulent palace complex for the Moorish kings and queens.
During this time, the Christian Reconquest was forcing most Spanish Muslims south. Granada was the last hold out of the Moorish civilization.
But in 1492, after a 6 month siege, King Boabdil surrendered to the Catholic rulers Isabella and Ferdinand. The duo left their stamp on Granada by, among other things, converting the Great Mosque into Granada Cathedral.
In 1502, the Spanish crown ordered all Muslims forcibly converted to Christianity. Over the next century, there were persecutions. In 1609, the last citizens still adhering to Islam were forcibly expelled.
Fortunately, they didn't tear down the Moorish architecture. Traces of the important civilization still exist today — the Nasrid Palace in the Alhambra, the Arab Baths, the Albaicin, and the hookah and tea culture.
Granada continued to flourish during the Renaissance, with more monuments being built. Later, the city was home to painters and poets like Eugene Delacroix and Federico Garcia Lorca.
Today, Granada is a buzzing university city with a sweet blend of East and West.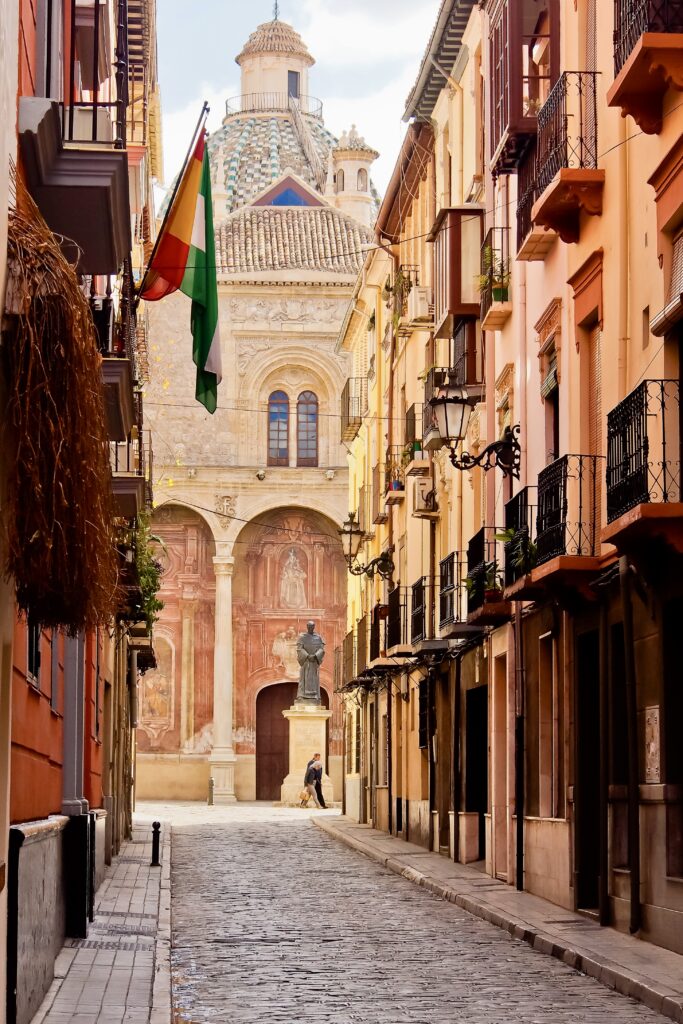 One Day In Granada Itinerary
Here is my itinerary to help you have the most efficient 1 day in Granada.
It covers all of the top attractions and best things to do in Granada in a day. I also give you tips on where to eat, where to stay, transportation, tours, and tickets.
As with all of my suggested itineraries, I recommend that you use this Granada itinerary as a guide. You can tailor it to suit your individual interests, needs, and pace of travel.
The main sites in Granada can be comfortably covered in one day. But if you have extra time in the city, you can easily turn this 1 day itinerary into a 2 day itinerary by moving at a slower pace and enjoying the cafe lifestyle.
1. Plaza Nueva
Start your day in Plaza Nueva, Granada's bustling central plaza. The plaza links the Paseo de los Tristes with the main streets of Gran Via and Calle Elvira.
Plaza Nueva is the best place in Granada to catch a cab. It's also where the tourist office is located, if you want to pick up a map.
The plaza is lined with shops, restaurants, and cafes. This is a great place to grab your morning coffee or espresso.
Despite its rather modern appearance, the pentagonal square is part of the Albaicín. The architectural centerpiece is the Andalusian High Court building, formerly Real Chancillería.
It was built from 1531 to 1587 in the Mannerist style. Most of the classicist buildings were financed with sugar industry money in the 19th century.
A few blocks away is the pedestrianized Plaza Bib-Rambla. It's often called the "Flower Square" because of the florists there. It's also flanked with eateries.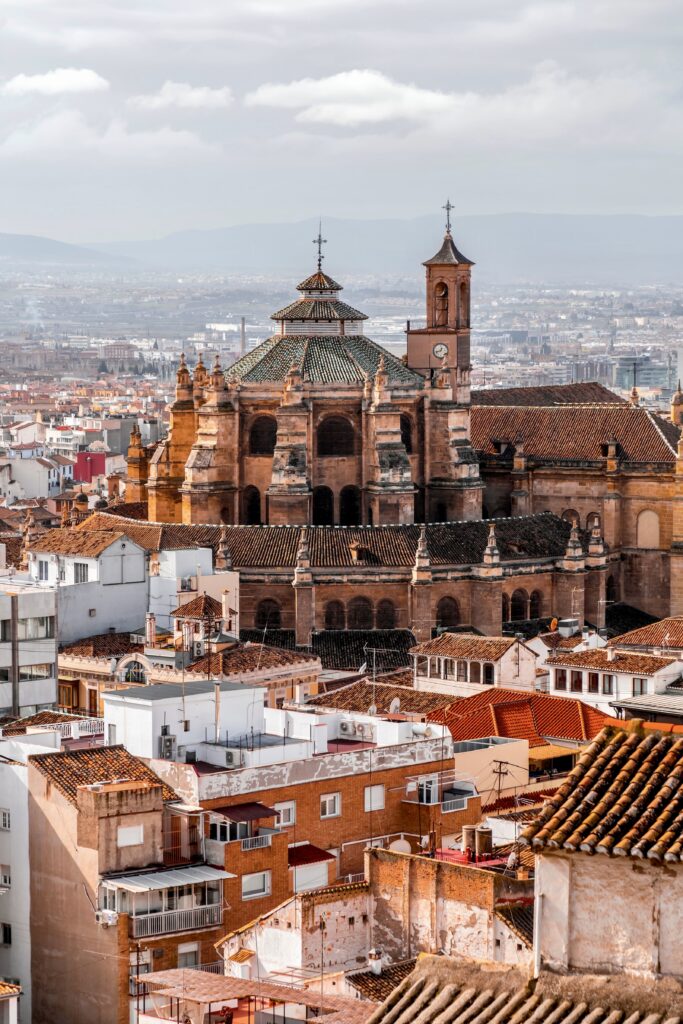 2. Granada Cathedral
When you've had some coffee, head over to the monumental Granada Cathedral, which opens at 10:00 am. The cathedral was completed in 1561 and is the second largest cathedral in Spain (after Seville Cathedral).
The main building is all Renaissance and considered a masterpiece by Diego de Siloe, who had studied in Italy. It took almost two centuries to build.
Designed by Alonso Cano, the facade is a mix of Renaissance and Baroque elements. It consists of three triumphal arches, set back from columns.
The interior, to me, was not terribly impressive by cathedral standards. There's a series of white marble arches. The effect is very airy and light.
In the Chapel Mayor, you can see Pedro de Mena's praying figures of Ferdinand and Isabella. There are also works by Cano throughout the cathedral, including the famous Immaculate Conception sculpture.
3. Royal Chapel
Capilla Real, the Royal Chapel, has a separate entrance and admission. It abuts the southern flank of the cathedral on Gran Via de Colon. You enter it through the Exchange.
It was commissioned in 1504 by the two most famous Spanish Catholic monarchs, King Ferdinand and Queen Isabella. They wanted a fittingly lavish burial place for their tombs. As a result, the chapel is a profusion of elaborate Gothic architecture.
Unfortunately, the monarchs died before the Gothic chapel was completed in 1517. In the interim, they were interred at the Alhambra in the Convent of San Francisco.
In 1521, Carlos V moved their bodies to the chapel. In fact, he buried most of his family there.
The monarchs' ornate Carrera marble tombs were the work of Italian sculptor Domenico Fancelli.
They lie in a chancel behind an elaborate wrought iron screen, a Spanish masterpiece for a tomb setting. You can also see Isabella's crown and Ferdinand's sword.
But the tombs are just for show. The monarchs' bodies actually lie in lead coffins beneath their tombs, in the chancel's crypt.
The chapel's Sacristy Museum is full of treasures. You can see the queen's crown and scepter, the king's sword, chalices, and Flemish and Italian paintings.
Click here to book a guided tour of both the royal chapel and cathedral.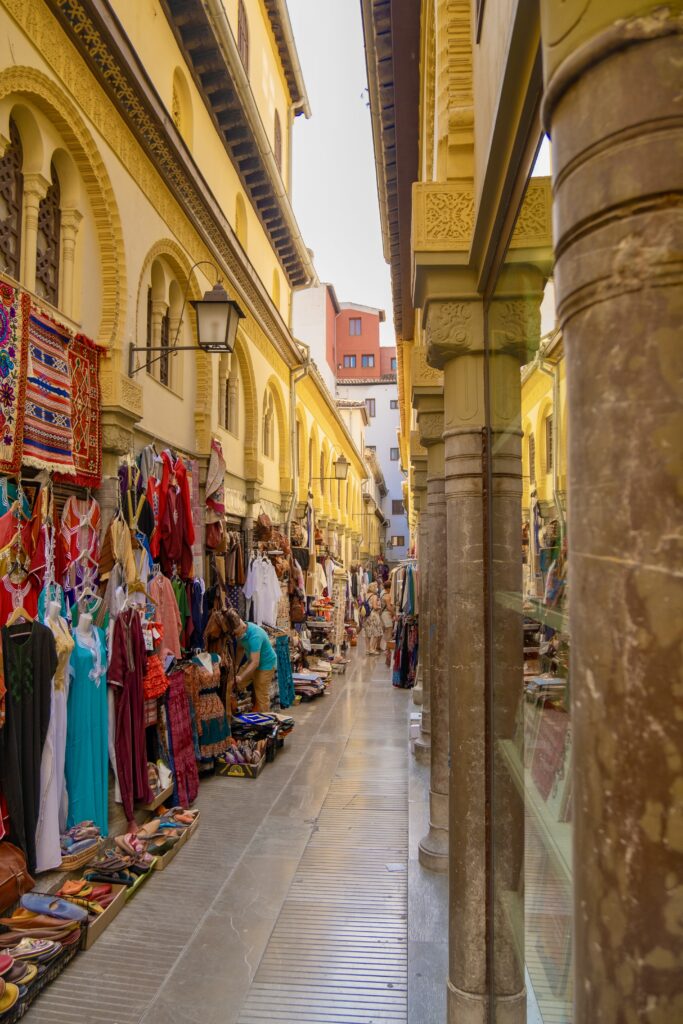 4. Alcaceira Market
Granda has an exotic Moroccan-style bazaar, the Alcaiceria Market. It's one of the top attractions in Granada and just off the square on the corner of the cathedral.
It's a shady gridiron of pedestrian-only pathways. Vendors and craftsmen sell leather goods, ceramics, spices, glass ornaments, lamps, and silks. But be prepared to haggle because prices are set high for tourists.
Unfortunately, the market, however colorful, is quite touristy. While you're picking up those souvenirs, you may be besieged by women bearing rosemary. It's a scam.
They want to stuff the rosemary in your hand, pretend to read your fortune, and get money in return. Just ignore them and go on your way.
5. Albaicin
Next, take Granada's central street, Calle de Los Reyes Catolicos, down to the Carrera del Darro. It's one of Granda's most ancient and romantic streets.
It snakes along the Darro River and takes you into the atmospheric Albaicin, Granada's oldest neighborhood. It's also called the Albayzin.
You can book a guided walking tour of the neighborhood or take a DIY stroll.
The Albaicin is know for its narrow winding lanes and Moorish whitewashed architecture. The streets are steep and cobbled so come prepared.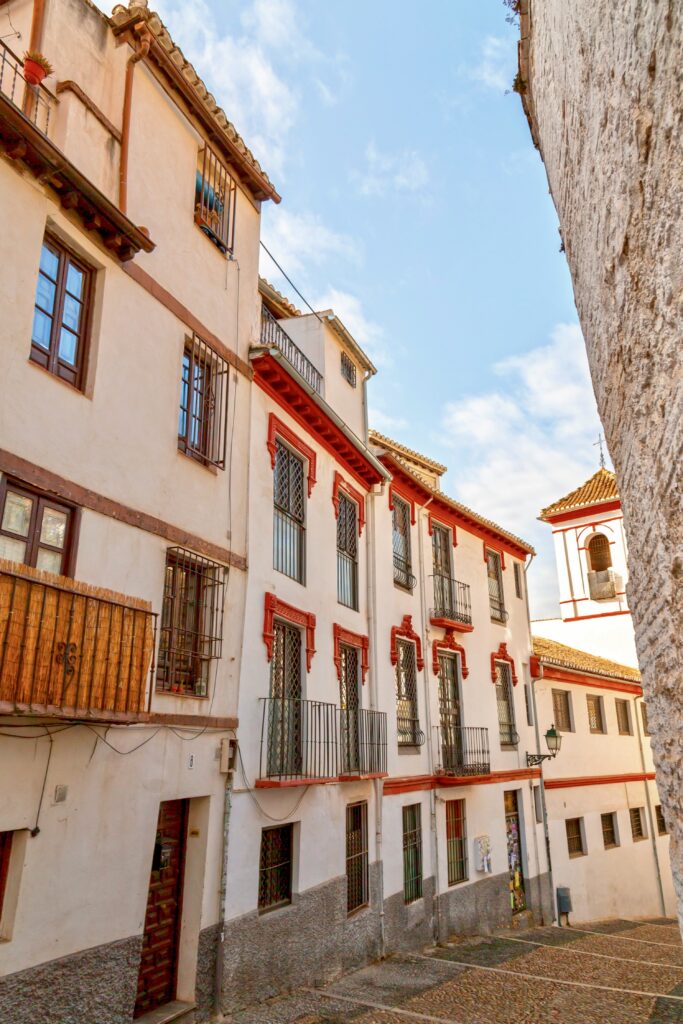 As you walk you will pass 11th century Arab Baths and a Renaissance mansion housing an archaeological museum.
You will come to a large esplanade, the Paseo del Padre Mansion. It's full of bars and cafes.
Then, plunge into the Albaicin and wander the tiny lanes. Be sure to put the Collegiate del Salvador in your GPS.
It's a church that was built on a former mosque. It boasts a beautiful patio with there quintessential Moorish horseshoe arches.
6. Mirador San Nicolas
Your final stop in the Albaicin is the lively Mirador de San Nicolás. It's the most famous viewpoint in Granada and a must do with one day in Granada.
The mirador is in the Albaicin next to the Church of San Nicolás, built in 1525. From it, you can see the Alhambra sprawled against the backdrop of the misty Sierra Nevada mountains.
The church is a combined Mudéjar and Gothic style, built on top of a mosque, like so many other Andalusian churches.
You can get to the Mirador de San Nicolas from Plaza Isabel Católica in the small red minibuses that go to the Albaicín.
7. Lunch
Have lunch in the Albaicin before heading off to the Alhambra, the next stop on your one day in Granada itinerary.
You can try Bar Kiki, Cafe Gabriel, or Restaurante Bar Leon. If you want paella, you should settle in at Estrellas de San Nicholas.
If you're getting tapas, you can expect to have patatas brava (small fried potatoes), tortilla espanola (a quiche-like dish with potatoes, eggs, and onions, Jamon Iberia (Spanish ham), or croquetas (fried dough filled with ham, cheese, and egg).
You can wash them down with some of the local Tinto de Vernao, which is made by mixing red wine and a bubbly soft drink. (I was served one with Coke and I can't say I was better for the experience.)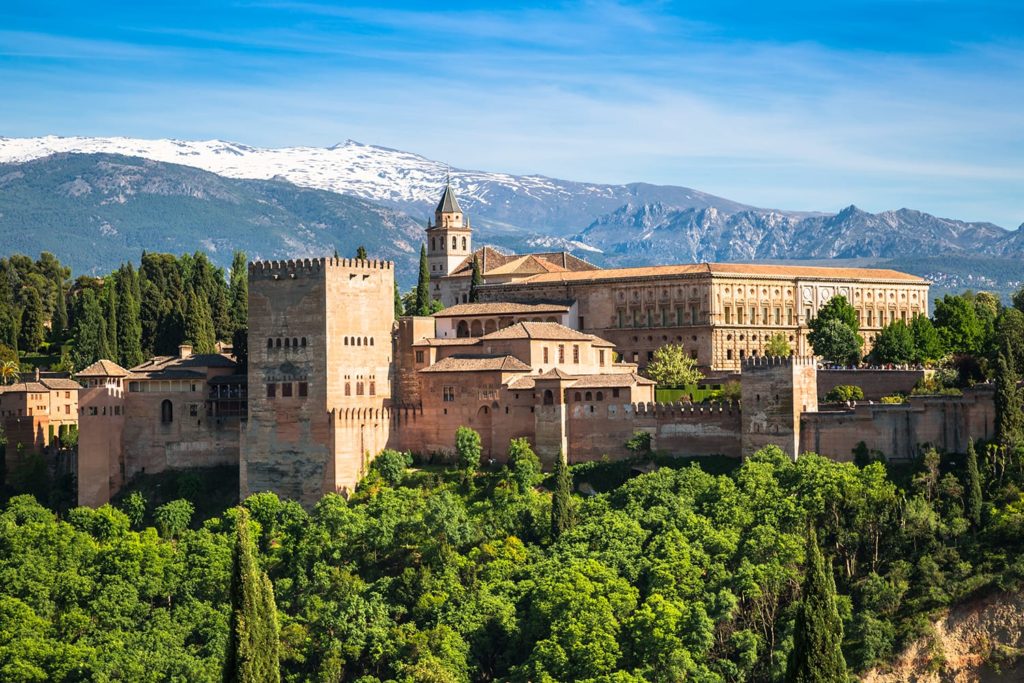 8. Alhambra
After lunch, it's time to tick off the Alhambra, which hovers over the city like a mirage. It's Granada's #1 site, and incredibly mesmerizing, so be prepared for crowds.
The Alhambra is open until 8:00 pm. To get to the there, you can walk up Cuesta de Gomerez, take a taxi, or take Bus Line C3 from Plaza Nueva.
It's essential to plan in advance. You won't be able visit without pre-booking a skip the line timed entry ticket way in advance.
You may also want to book a guided tour, to get the history of the place from an expert. Here are some of your tour options:
The Alhambra sits on a stunning piece of real estate – a high, mountainous location on Sabika Hill with sweeping views over Granada and the surrounding countryside.
It's a palace that began as a fortress. Over time, it became the home of the Moorish kings and queens and then the Catholic monarchs. It's a unique convergence of culture.
There are four main attractions inside the Alhambra: (1) the exquisite Nasrid Palace; (2) the Charle's V Palace; (3) the Alcazaba; and (4) the Generalife Gardens. In between, you'll find a garden of paradise with reflecting pools and trickling fountains everywhere.
You can see the sites in any order. If you want to walk a direct route, you'll start with the Alcazaba and Charles V's Palace and then proceed to the Nasrid Palace.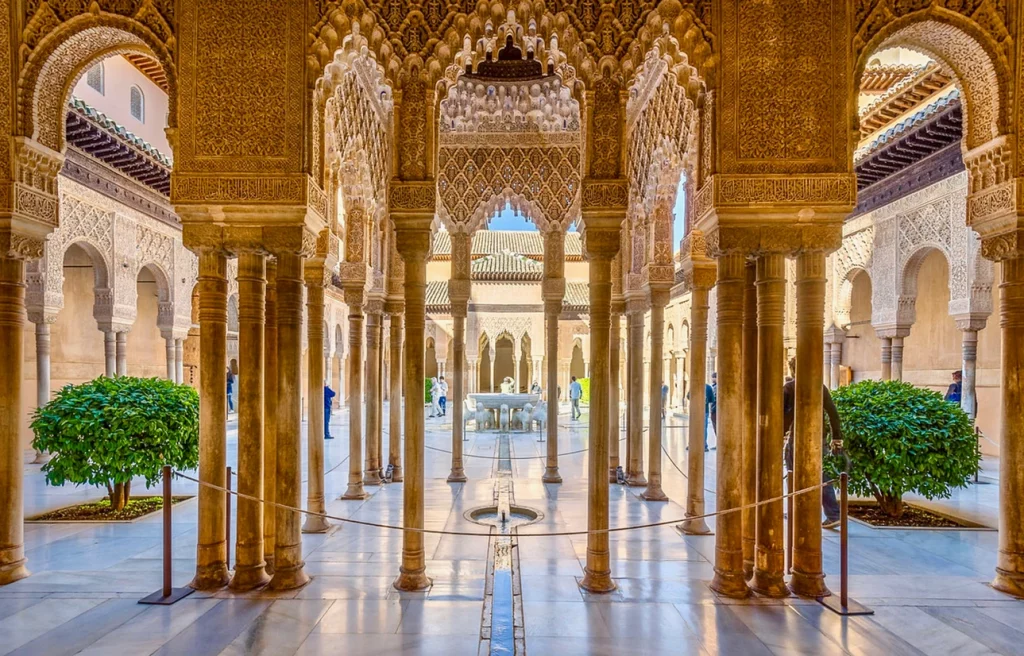 Just make sure to organize your visit around your fixed entry time for the palace. If you miss it, you won't be allowed in later.
The Alcazaba is a crenelated fortress that's the oldest part of the complex. From the top of the Watch Tower, you'll have a fantastic panorama of the entire site and the rest of Granada.
Built in there 1300s, the Nasrid Palace is the greatest flowering of Moorish architecture. Every inch is filled with honeycomb stucco ceilings, friezes, archways, mosaics, and fountains.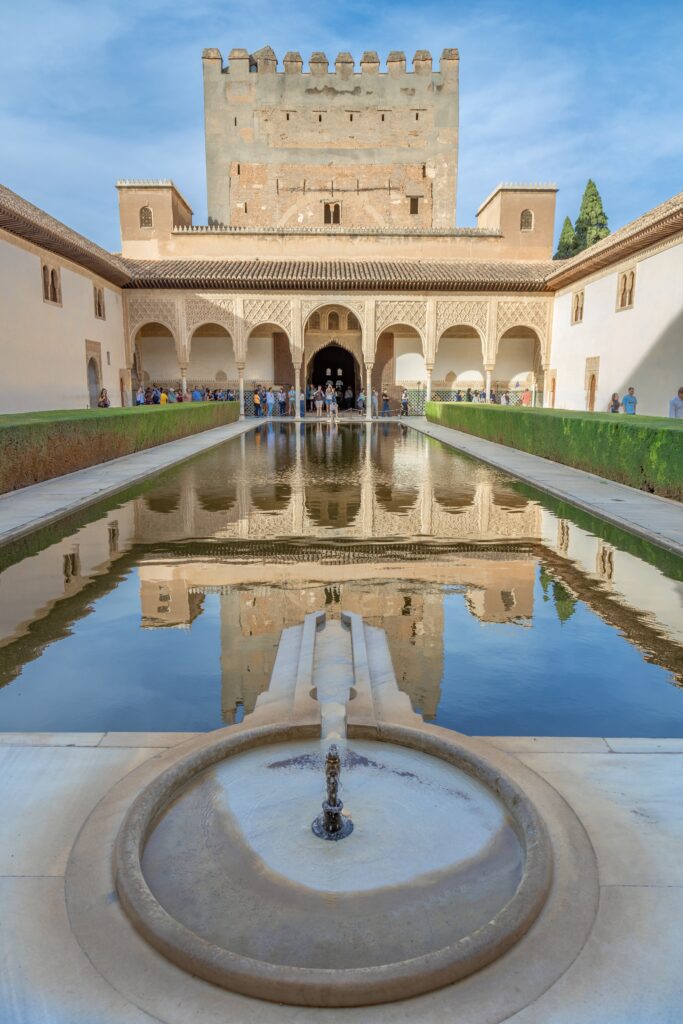 There are three basic sections to the palace: royal offices, ceremonial rooms, and private quarters. Highlights are the Hall of Ambassadors, Hall of the Abencerrajes, Court of the Myrtles, and the Court of the Lions.
For complete information on everything to see inside, you can check out my guide to the Alhambra.
The Carlos V Palace is one of Spain's most spectacular Renaissance buildings. The vast circular courtyard represents the globe.
There are two museums in the palace, the Museo de Bellas Artes and the Muse de la Alhambra.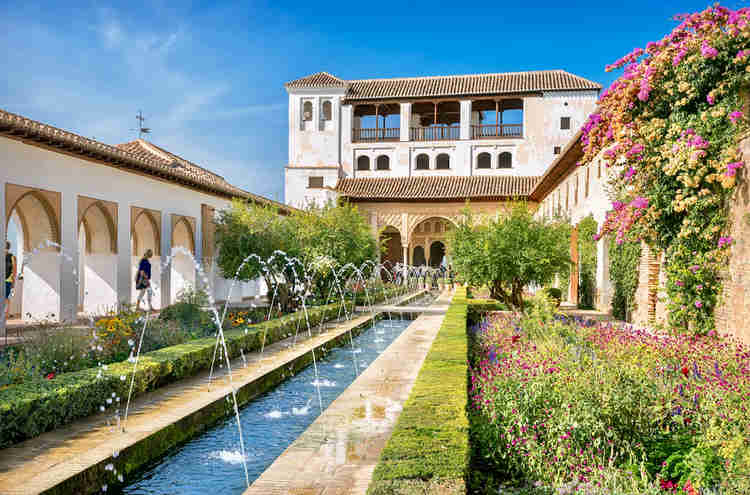 Generalife is the delightful summer palace. Built on a higher level than the Alhambra, it celebrates the outdoors.
The Patio de la Acequia is the heart of the palace. You'll be dazzled by cypress trees, pergolas, terraced gardens.
Don't miss the Mirador de la Sultana viewpoint at the very top.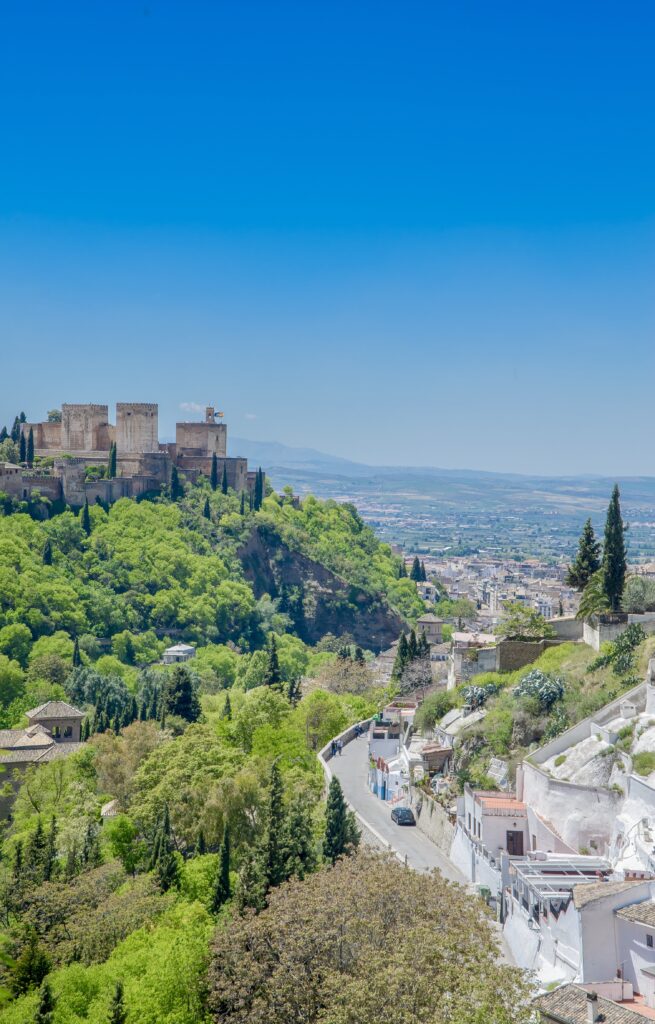 9. Sacromonte District
The Sacromonte district is a good place to begin the evening of your one day in Granada. It's an otherworldly borough where time stands still. I booked a guided sunset tour, which was fantastic.
Sacromonte means "sacred mount." For centuries, Sacromonte was the home of gypsies, bohemians, artists, and foreign refuges. In the 15th century, the gypsies came from Romania and northern Indian after the expulsion of the Moors.
Called Romas, they lived in caves grouped around ravines and built into the hillside. Most of the caves are white and adorned with copper pots.
The locals still live in them. But nowadays, most caves have electricity, although hippies still squat in abandoned caves at the top of the hill.
Sacromonte feels disconnected from the city. Yet, it sports one of the most mesmerizing views of the Alhambra.
You're so high you can even look down on the Albaicin and the River Darro. In my view, this view is superior to, and much less crowded, than the view at Plaza San Nicolás.
Sacromonte is also home to the Museo Cuevas Del Sacramonte. The museum features 10 different recreated caves. Its exhibits explain how the gypsies lived and the origins of flamenco.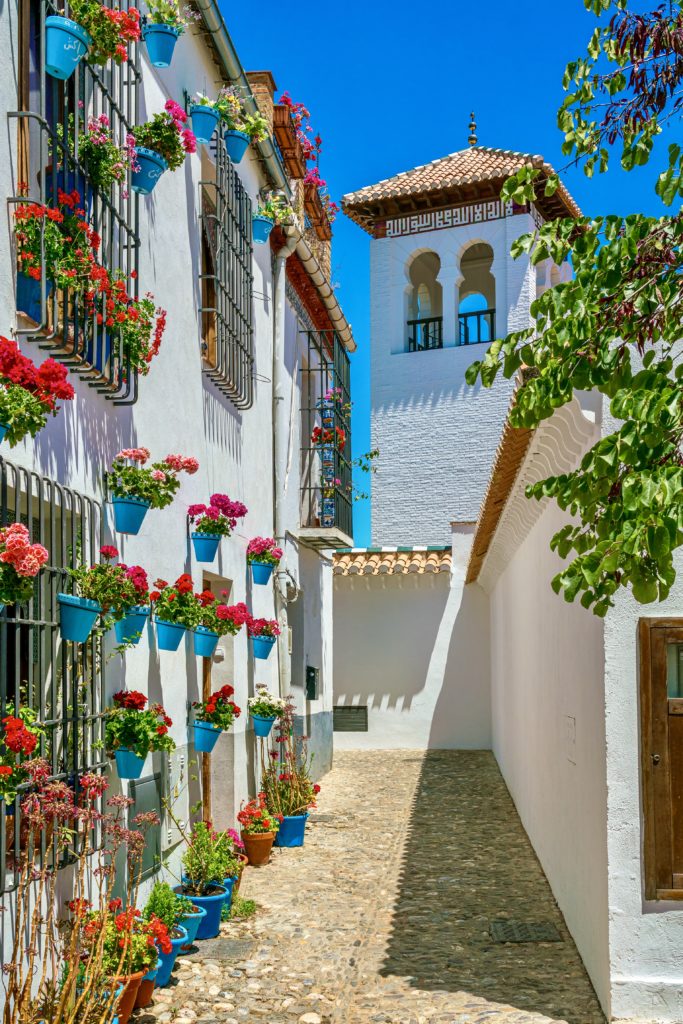 10. Flamenco Show
Polish off you one day in Granada with a flamenco show. My Sacromonte tour guide said that Sacromonte is the best place to take in a flamenco show.
The gypsies brought a distinctive type of flamenco called Zambra. Zambra is a passionate flamenco dance and singing party with barefoot dancers and handheld castenets.
Flamenco is staged nightly on the main drag, Camino del Sacromonte. You can take in a show at Venta el Gallo, Maria la Canastera, or Cuevas Los Tarentos. Sacromonte's most famous singer is Estrella Morente.
Click here to book a 1 hour show in one of Sacromonte's caves.
The Albaicín is also famous for flamenco. A good spot to try is the Peña de la Platería. Its alfresco patio has hosted flamenco since 1949.
Tips For Spending One Day In Granada
Here are some must know tips for visiting Granda.
1. How To Get To Granada
By Train
If you are traveling by train, Granada has a small train station in the center of town. There is a taxi stand right outside the station.
By Plane
El Aeropuerto de Granada (GRX) is the most accessible airport to the city. It's about 11 miles from the city.
To get to Granada, you will likely have to fly through Madrid or Barcelona. You can catch a taxi outside the airport and it will take 20 minutes to get to the city center.
Malaga-Costa del Sol Airport is fairly close too and is the main airport serving Andalusia. Buses leave from Granada from the airport.
By Car
I drove to Granada myself. If you are road tripping in Andalusia, Granada is a 2:45 hour drive from Seville, a 2:15 hour drive from Cordoba, and a 1:45 hour drive from Malaga.
If you are driving from Seville to Granada, you can stop halfway there in the charming town of Antequera.
By Guided Tour
If you're staying in Seville and must see the Alhambra, you can book a full day guided tour from Seville. To really maximize your time, you can even book a full day private tour from Seville.
2. How to Get Around Granada
Granada is a very walkable compact city. It can easily be explored on foot. I walked everywhere, even up to the Alhambra.
If you need to get somewhere fast, grab a green and white taxi in the Plaza Nueva. Uber works in Granada now too.
There are also some other fun ways to get around Granada. You can take a guided Segway tour, zoom around on a guided e-bike tour, or visit the sites on the hop on hop off bus.
3. When To Visit Granada
The best time to visit Granada is spring or fall. It's very hot in summer.
I last went in winter and had perfectly nice sunny days. If you visit in December, you can enjoy the Christmas markets and other pop up stores in Granada's main squares.
4. Spanish Time
Time is more fluid in southern Spain. Spaniards prioritize leisure over career.
As a result, Spaniards seem to consider times and deadlines to be mere guidelines, not something that has to be rigidly adhered to.
The Spanish also take the siesta seriously. So, you can expect shops to be closed from 2:00 pm to 5:00 pm. Restaurants close up after lunch ends and don't reopen until 8:00 pm.
Sunday is practically a day long siesta. So, be patient and don't always expect things to go like clockwork.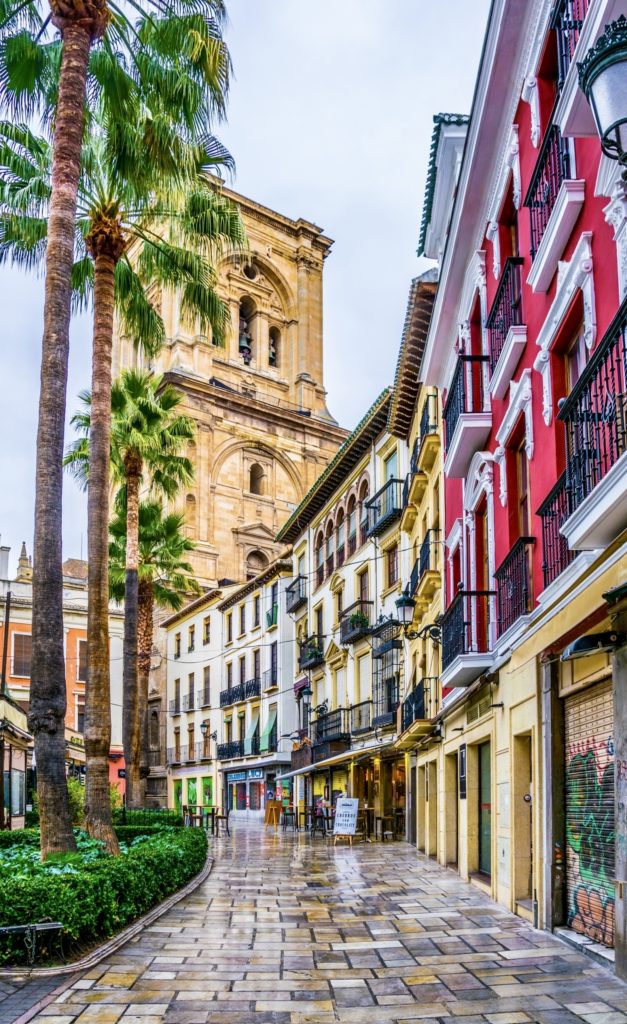 5. Where To Stay In Granada
Granada has some excellent accommodations.
The Eurostars Catedral is a lovely hotel housed in a 16th century manor, just a short walk from the cathedral. The Catalonia Granada is an elegant hotel that comes complete with a plunge pool and open air terrace.
Hotel Palacio de Santa Paula is a historic high end hotel in a former 16th century convent.
If you want to stay near the Alhambra complex, check out the Hotel Alhambra Palace, with ornate decor and viewing points. It's an extremely popular option with tourists.
If you want a place where tradition and avant garde style meet, check out the stunning Hospes Palacio de los Patos. It's housed in a UNESCO-listed palace, with sprawling gardens, a spa, and mosaic floors.
6. More Than one Day In Granada?
If you have more than 1 day in Granada, the city makes a great base for day tripping in Andalusia.
The towns of Guadix, Neraj, Frigiliana, Marbella, Ronda and Almeria are all within striking distance.
You can book a guided tour from Granada to Nerja and the Nerja Caves. You can also book a full day tour to Ronda.
Thrill seekers can visit the Caminito del Ray, a walkway that is built right on the side of the cliffs in the El Chorro Gorge.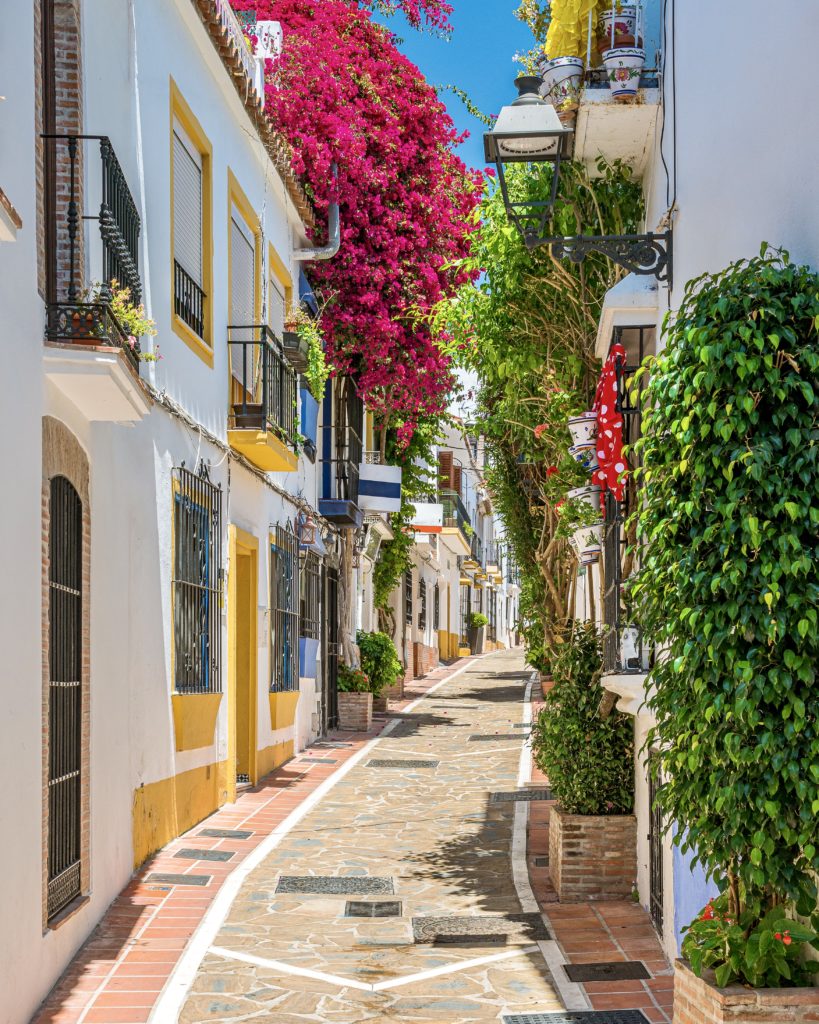 I hope you've enjoyed my one day in Granada itinerary. You may enjoy these other Spain travel guides and resources:
If you'd like to spend one efficient day in Granada, pin it for later.