Here's my guide to visiting the petty Andalusian village of Frigiliana. This must visit Spanish town is a beautiful hidden gem in Spain that should be on your bucket list for southern Spain.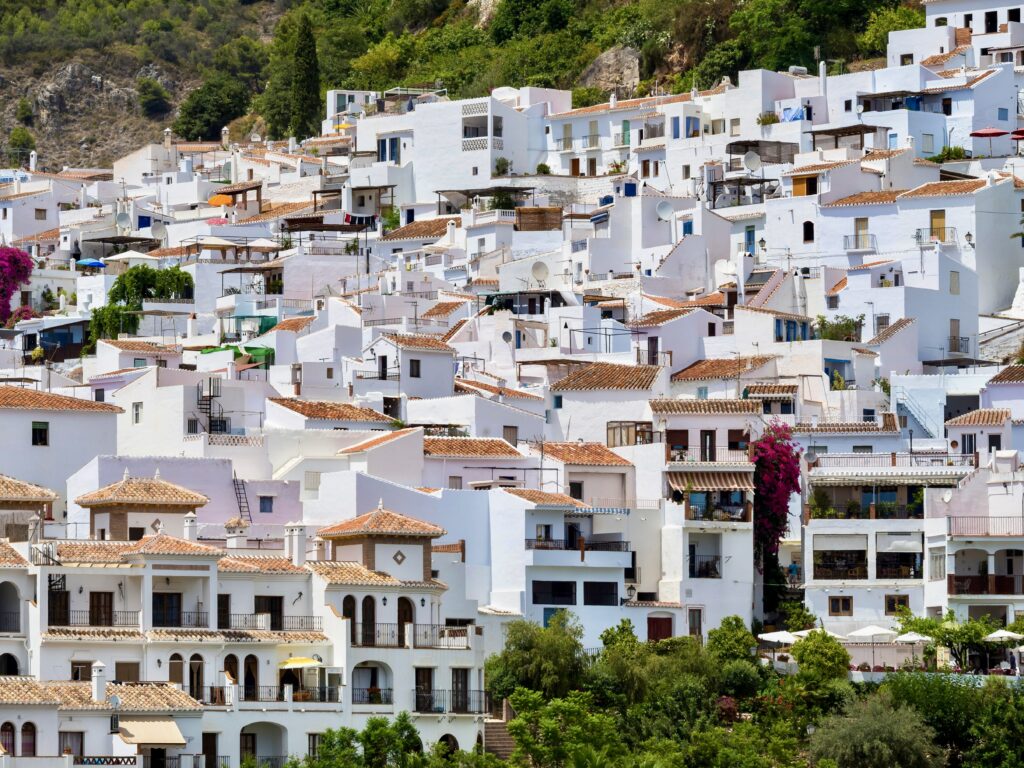 Unlike the Sevillanos who are more haughtily atavistic, however, the residents of Frigiliana are more dignified, less showy. But they walk with an understated proud bearing, fully cognizant of the treasure they have.
Frigiliana is an easy day trip from Granada or Nerja. I arrived in Frigiliana after visiting Nerja and the Balcony of Europe on my road trip through Andalucia.
Nerja is a very appealing spot on the Costa del Sol, and I was buoyed by the sight and smell of the sea and the wind in my hair.
But that in no way prepared me for the stunning beauty of Frigiliana, just 15 minutes away by car. In Frigiliana, everything is beautiful in a way that it almost never is.
Frigiliana is a spotless, secluded, perfectly coifed cliff town dressed in blue and white, with flowing orange and purple vines and potted blood red geraniums.
The Spanish tourist board voted Frigiliana the prettiest village in Andalusia, and you can see why. I was immediately enamored. It was a breath of fresh air.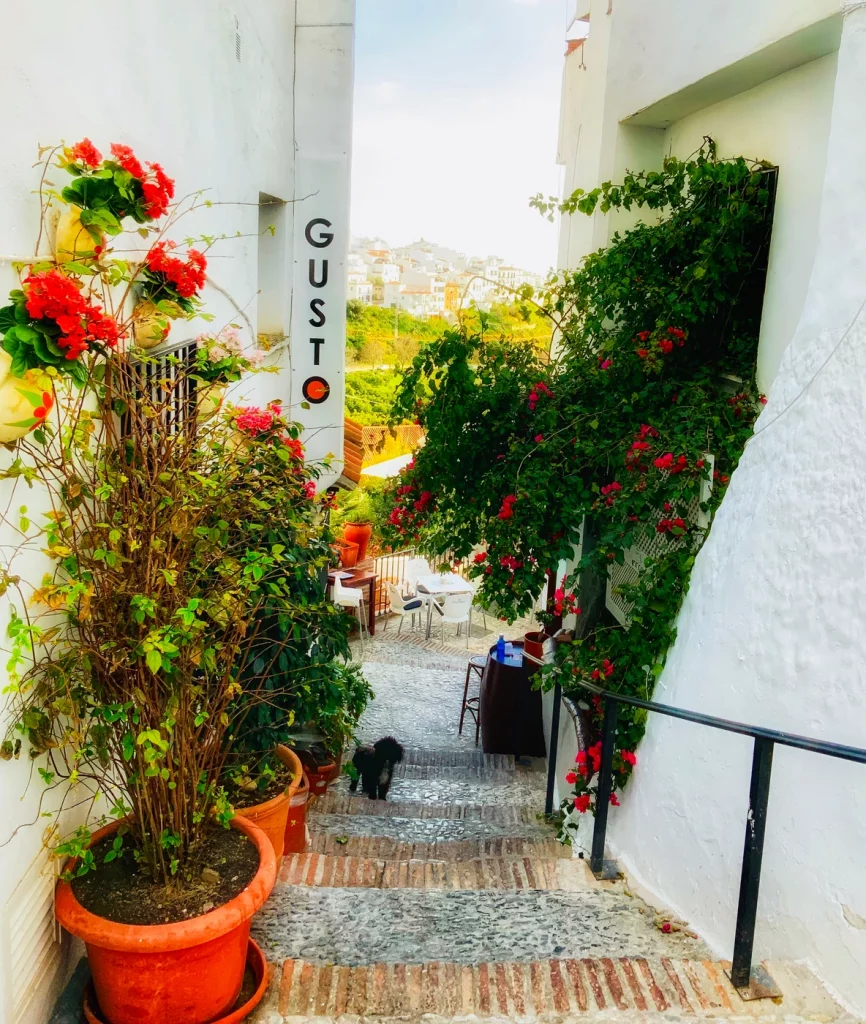 And after visiting numerous moorish fortresses, cathedrals and other "must see" Andalusian sights, I was incredibly relieved that there was almost nothing to do.
I was weary of history and Moorish facts; I was ready to just sink in the Moorish beauty and Spanish countryside.
In February, I had the village mostly to myself.
You can park at a secure parking lot near the center or you can park in the lower town and hike up. I hiked up and headed straight up to the upper town where the Casco Antigua is located.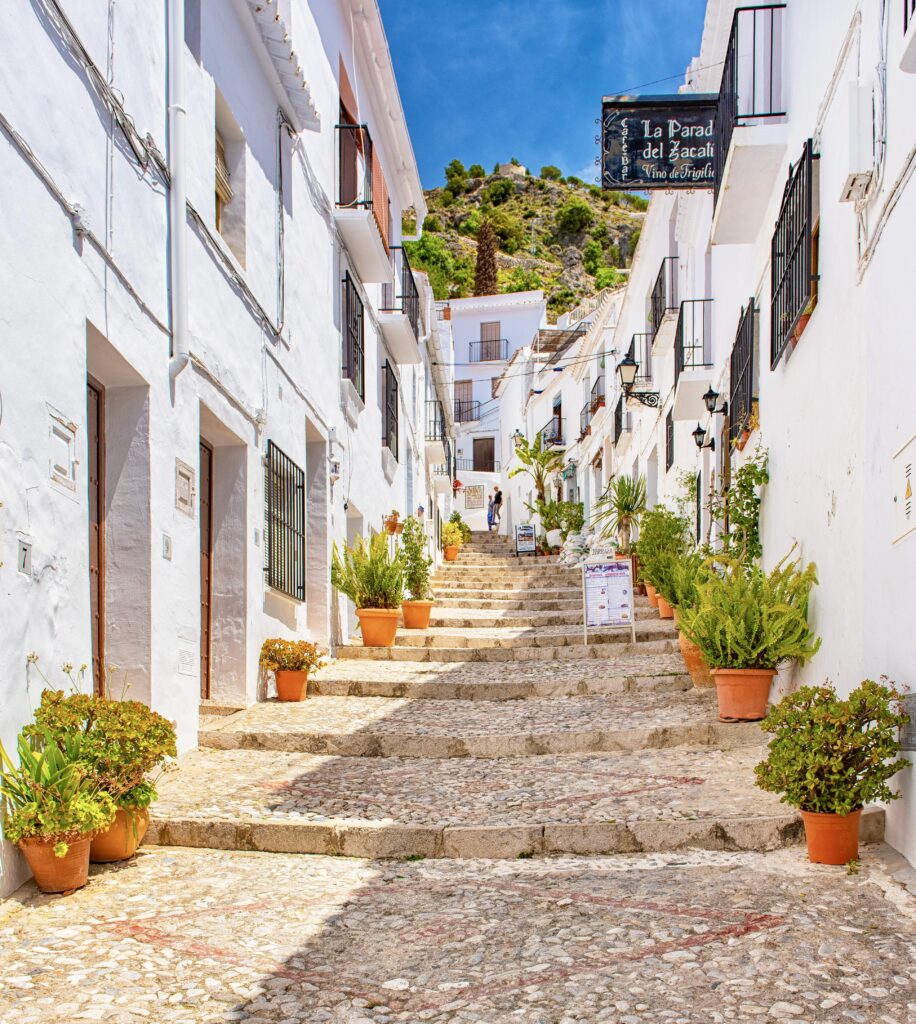 Guide To Frigiliana: What To Do
Historic Center
Frigiliana's main attraction is the cobbled pedestrianized streets with whitewashed houses, colorful doors, and potted plants. There is a pathway through the middle of the village called the Calle Real.
But you must stray off the path and investigate all the nooks and cranies. The hills are steep. But the seniors of Frigiliana are hiking up and down; you can too.
Sometimes, though, the locals use donkeys to ferry goods up and down the steep hills.
Castle of Izar Ruins
If you hike up to the ruins of the Castle of Izar, the views are even better. From the old town, you climb up long flights of steps, narrow paths, and gravel tracks to the site of the old castle overlooking the white village and the Mediterranean sea. You'll also find signs warning you to be careful of rogue donkeys who might bite.
The castle was constructed during the Arab occupation of the Iberian peninsular. In 1568, it was the site of a vicious battle.
Nearly 4,000 Moors unsuccessfully defended the castle against the Spanish, some throwing themselves off the ramparts rather than be killed or captured by the Spanish.
Afterwards, the castle was torn down stone by stone and only a few remains can still be seen. Now it is an ideal picnic area with spectacular views all round.
In Frigiliana, there are also delightful restaurants, boutique shops, and bars around every turn.
My favorite shops were the Miro Slavic Photo Gallery with photos from a local's perspective and the Artesiana de Frigiliana, where I puchased some beautiful ceramics.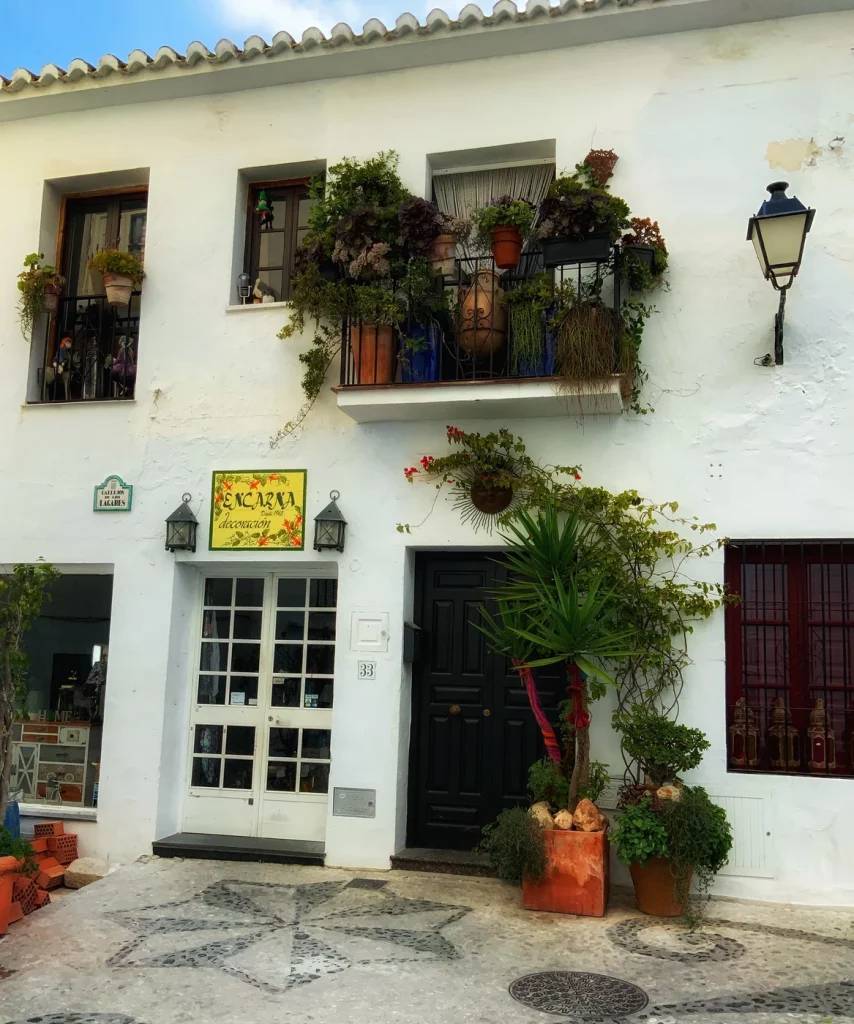 You will also pass by the Church of Antonio on the Plaza de Iglesias.
It is a simple rustic church, befitting a mountain village. It is quite charming and resonates with calmness and serenity.
You will also find 12 historical plaques around the town. They tell the story of the moorish uprising and the battle at the castle of Frigiliana.
Nerja Caves
If mountains and forest are your thing, Frigiliana is within the borders of the Natural Park of Tejeda, Almijara and Alhama, which offers fantastic hikes.
If nature is still calling, visit the nearby Nerja Caves, a major attraction in southern Spain and home to natural wonders and the world's tallest stalagmite.
From Malaga, you can book a guided day tour to the caves and Frigiliana.
Restaurants In Frigiliana
The local cuisine is based on local fresh local produce including seafood, cane honey, and sweet wines.
La Tahona by the main square serves good pizza, by reputation. For fancier fare, try La Taberna del Sacristán or Gusto.
After walking and hiking, I sat down at El Jardin, which has a lovely patio, and enjoyed the stunning views of the town and countryside. I was worried it might be a tourist trap it was so scenic, but I was pleased with my grilled goat cheese salad and the local fish.
Beauty Pageant Winner
Most people have never heard of Frigiliana. It doesn't even appear on most maps. But you should make an effort to get there.
It's a wonderful snapshot of what life is like in Andalusia. Or at least what life is like outside the more well known cities. Or what an idealized life is like in my mind. Or what a Spanish village beauty pageant winner should look like. Or all of the above.
Don't miss this otherworldly place.
You can easily lose a day or two in Frigiliana. Wander around, find yourself, and sit down for a glass of wine with a view.
Practical Guide To Frigiliana
Here are some must know tips and information for visiting Frigiliana.
Transport:
The bus from Nerja costs 1 euro. The last bus back to Nerja leaves at 10:00 pm. You can also day trip to Frigiliana from Malaga.
Restaurants:
La Tahone, Calle Zacatin N0 28, +34 656 55 66 07
Gusto, Calle El Porton 1, +34 629 90 18 92
La Taberna del Sacristán, Plaza de la Iglesia 5, +34 952 53 30 09
El Jardin, Calle del Santo Cristo 31, +34 952 53 31 85
Nerja Caves:
Address: Carr. de Bajada a Playa de Maro
Hours: Winter 9:30 am to 4:00 pm, July-Aug, 9:30 am to 4:30 pm
Tel: Tel: 95 252 95 20
Entry Fees:
Adults: €11.75 Children aged 6-12 years: €9.75 Children under 6 years: Free
I hope you've enjoyed my guide to Frigiliana. You may enjoy these other guides to southern Spain:
If you'd like to visit the beautiful town of Frigiliana is southern Spain pin it for later.