Looking for some day trips and weekend getaways from Bilbao Spain?
Bilbao makes an excellent base for touring or road tripping in northern Spain. This Bilbao day trip guide takes you to some of the beautiful towns and destinations in northern Spain.
Bilbao is a small city beautifully situated amid rolling green hills and mountain ranges — an urban landscape in a country setting. Glimmering on the Nervion River, Bilbao is chock full of historic landmarks, Michelin restaurants, and world class museums.
It's almost a shame to leave this cultural haven. But, if you have a few days to spare, there are plenty of amazing day trips to be had in the Basque and Cantabria regions of northern Spain.
Plus, the dramatic landscapes and beautiful medieval towns of northern Spain beckon, rather insistently.
I recommend 14 amazing day trips and weekend trips from Bilbao. These destinations include a fantastic mix of beachy resort towns, natural landmarks, exciting cities, remote monasteries, and idyllic hamlets.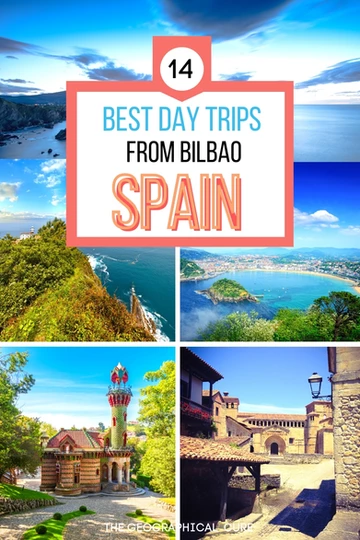 Most destinations are under an hour way from Bilbao. The farthest you'll drive is 2 hours.
But consider staying for the weekend in several spots. Many of these must see Spanish destinations, such as Vitoria-Gasteiz and San Sebastian, are achingly romantic and best experienced as a weekend getaway.
Some of these destinations in northern Spain are tiny and remote, so driving is the only viable option for a day trip. Driving is Spain in incredibly easy with great roads.
I indicate below how long the drives from Bilbao are and whether you can take a bus or train as an alternative method of transport.
Bus is usually a better option than the slow meandering train system in northern Spain. Bilbao's main bus station is Bilbao Intermodal. Get to the station early.
Best Day Trips and Top Weekend Getaways From Bilbao
Here are my picks for the side trips from Bilbao.
1. Santillana del Mar: Medieval Charm Getaway
Santillana del Mar is a magical medieval village that seems trapped in time. There's a car park right outside the pretty town.
Park and take your pedestrian only stroll in this jewel of Cantabria. Santillana del Mar is Cantabria's most charming hamlet and one Spain's most beautiful villages.
It's a "living museum" — a delightful warren of dreamy cobbled streets, caramel colored architecture, and romantic wrought iron Juliet type balconies. At the end of its main drag, Calle Santa Dominga, is the Collegiate Church, which is the most important religious Romanesque monument in Cantabria.
Here's my complete guide to Santilla del Mar. By northern Spain standards, the town is somewhat touristy. But, hey, it's still in rural Spain and nothing like busy Barcelona, so don't be put off. I wasn't even remotely fazed.
By Car: 1:30 drive
2. Comillas: Gaudi Architecture Getaway
The town of Comillas isn't as insanely picturesque as Santillana del Mar. But it does have a wide beach for you to sun bathe when you're done sightseeing.
Mainly, Comillas is impressive for its architecture. You'd never expect to find such treasures in an unassuming, almost unknown, small town in Spain.
Comillas has two main sites, both architecturally interesting — Gaudi's El Capricho and Sobrellano Palace. El Capricho is a rare Gaudi building outside his more well known Modernist architecture in Barcelona.
I like to think of El Capricho as Gaudi's sunflower villa. El Capricho was a youthful project for Gaudí.
In 1883, Máximo Díaz de Quijano commissioned Gaudí to build him a summer villa. Quijano, an amateur musician and botanist, chose the lilting name El Capricho, which means whim or folly in Spanish.
READ: Guide to Gaudi's El Capricho
Gaudí designed the villa. But he'd also begun work on his famous opus, the Sagrada Familia.
So his fellow architect Cristóbal Cascante supervised the villa's construction. The villa became a museum in 2010. When you enter, you can sit down and watch an orientation video with English subtitles.
READ: Guide to Gaudi's Sagrada Familia
A short walk up the hill, not far from El Capricho, you'll find Sobrellano Palace (shown above). The over the top Neo-Gothic palace was commissioned by Antonio López, the first Marques of Comillas, and designed by Juan Martorell.
The palace was a vanity project. It was the fashion for aristocrats to have fancy country estates. Interestingly, Sobrellano Palace was the first building in Spain to have electricity.
You can only visit the palace on a guided tour. There's hourly tours (in Spanish) that last 40 minutes.
But you can cast your eyes on Gaudi-designed furniture, magnificent fireplaces, paintings, and stained glass. Outside the palace is a beautiful chapel-pantheon, also Gothic in design.
By Car: 1:35 drive
3. San Juan de Gaztelugatxe: Spectacular Natural Getaway
The next day, take an easy day trip to the absolutely jaw dropping San Juan de Gaztelugatxe. This is one of the best day trips from Bilbao.
It's a magical spot about 40 minutes from Bilbao, a must see natural wonder in Spain's Basque Region. And now Gaztelugatxe is TV famous.
In the wildly popular HBO series Game of Thrones, Gaztelugatxe appears as Dragonstone — the haunting ancestral home of Daenerys Targaryen, the Mother of Dragons. In real life,
Gaztelugatxe is a fantastical ancient stone foot bridge winding up to a 1,000 year old hermitage chapel on Spain's Bay of Biscay. It's a dramatic and photogenic hike.
Because of its remote location, Gaztelugatxe is most easily accessed by car. From Bilbao, take the B1-631 highway. Follow the signs and park on top of a hill off the main road and walk half a mile down to the site.
When you're done with your hike, head to nearby Bakio Beach in Bermeo to cool off.
But if you want a more beautiful beach, drive a little further to beautiful Sopalena Beach. It's one of the best beaches in Basque Country, where cliffs drop into the ocean.
By Car: 40 minutes
By Bus:
From Plaza Moyua Square in Bilbao, take the A3518 green Bizkaia Bus to Bakio. Buses run every 30 minutes and the ride is approximately 45 minutes.
From Bakio, you have a 4 kilometer hike along the coast to get to Gaztelugatxe. Or, you can try to take a second mini bus, A3524, from Bakio to Bermeo, which passes by the entrance to Gaztelugatxe.
By Tour: You can also visit Gaztelugatxe on a guided day tour from Bilbao. You can also book a half day Game of Thrones tour from Bilbao.
4. Enchanted Forest of Oma: Art + Nature Getaway
Commissioned in 1982, the Enchanted Forest of Oma is a magical work of art in the middle of nature. Oma is a 1:15 drive from Bilbao by car. Park at the restaurant of Lezika. You can't drive into the forest.
The Painted Forest of Oma is located in the Udaibai Biosphere Reserve, a UNESCO listed site. It was the brainchild of artist Augustín Ibarrolat, an artist who transformed the forest into a beautiful open air art gallery.
He combined the techniques of rock painting from the Paleolithic period with Land Art, an artistic movement using nature as a creative material.
Ibarrolat painted the pine trees so that you can experience the images changing, depending on where you are stand. In 47 works of art, you'll see motifs of eyes, rainbows, geometric shapes, etc.
There are small yellow circles with numbers throughout the Forest. They're there to show you where to stand and in what direction to look to see all of the shapes and figures.
By Car: 1:15 drive
By Train: 1:10
By Bus: 1:25. Take the Bizkaibus with service to Koretezubi, followed by a 3 kilometer walk.
5. Onati: Religion + Adventure Getaway
The old university town of Onati is reminiscent of Seville, Andalusia's sultry capital. It has lavishly decorated buildings and a mystical medieval atmosphere.
The town's highlight is its ancient university. The town center is buzzing with eateries, a Gothic church, and the Church of San Miguel Arcangel.
Just outside Onati is the futuristic Sanctuary of Arantzazu, founded as an old Franciscan monastery. It's of huge importance in the region and perched at the very top of a winding mountain road.
Built in 1950, some historians say it's the first contemporary religious building and the most avant garde church in Europe.
To enter, you glide through oxidized iron doors carved by famed Spanish sculptor Eduardo Chillada. Stained glass windows bathe the altar in blue and green light. In the crypt, you'll find rather bizarre paintings for a sacred space, scenes of nuclear war and the big bang.
Not far from the sanctuary are the Arrikrutz Caves. Opened in 2007, they are home to some slow growing stalagmites and stalactites.
Skeletons of several extinct species of animals, including cave lions and woolly rhinoceroses, were found in the caves. There's plenty of hiking options in the Aizkorri-Araat Natural Park as well.
By Car: 50 minute drive
By Bus: 1:20
By Tour: You can also book a guided day tour to Onati from Bilbao.
6. Vitoria-Gasteiz: Relaxed City Break
Vitoria -Gasteiz is a lovely art-filled small city about an hour from Bilbao. It's surprisingly overlooked by tourists. But perhaps it won't be for long, with the good press the town has received in the last decade.
In 2012, Vitoria-Gastiez was named Spain's Green Capital, for its profusion of pedestrianized squares, gardens, and parks. In 2014, the town was named Spain's Gastronomy Capital for its delicious restaurants and foodie culture.
In 2021, National Geographic named it among the 25 best travel destinations, calling Vitoria a "timeless place the will define our future itineraries."
At the summit of Vitoria's old town, you can stroll through the impeccably preserved medieval quarter. The streets are named after medieval craftsmen's guilds. You may want to book a guided walking tour of the historic center.
Gape at the magnificent and imposing Cathedral of Santa Maria. The Gothic cathedral dates from the 13th and 14th centuries. Restoration is ongoing.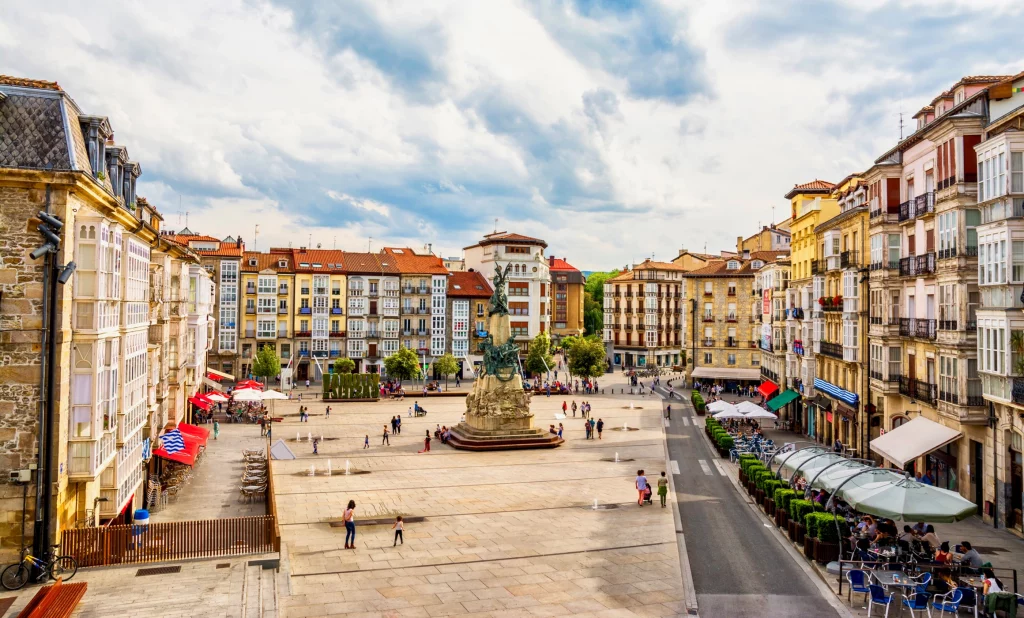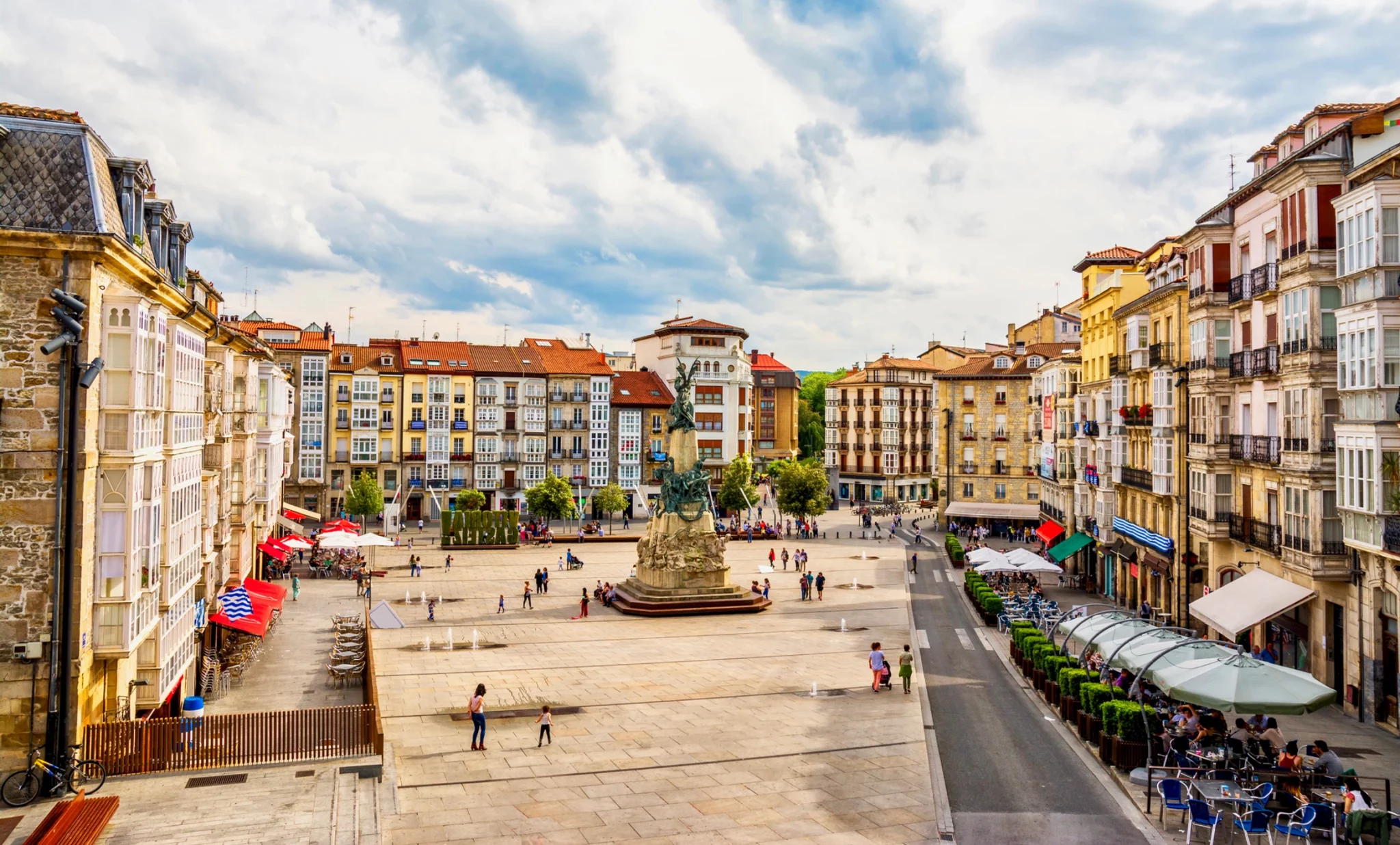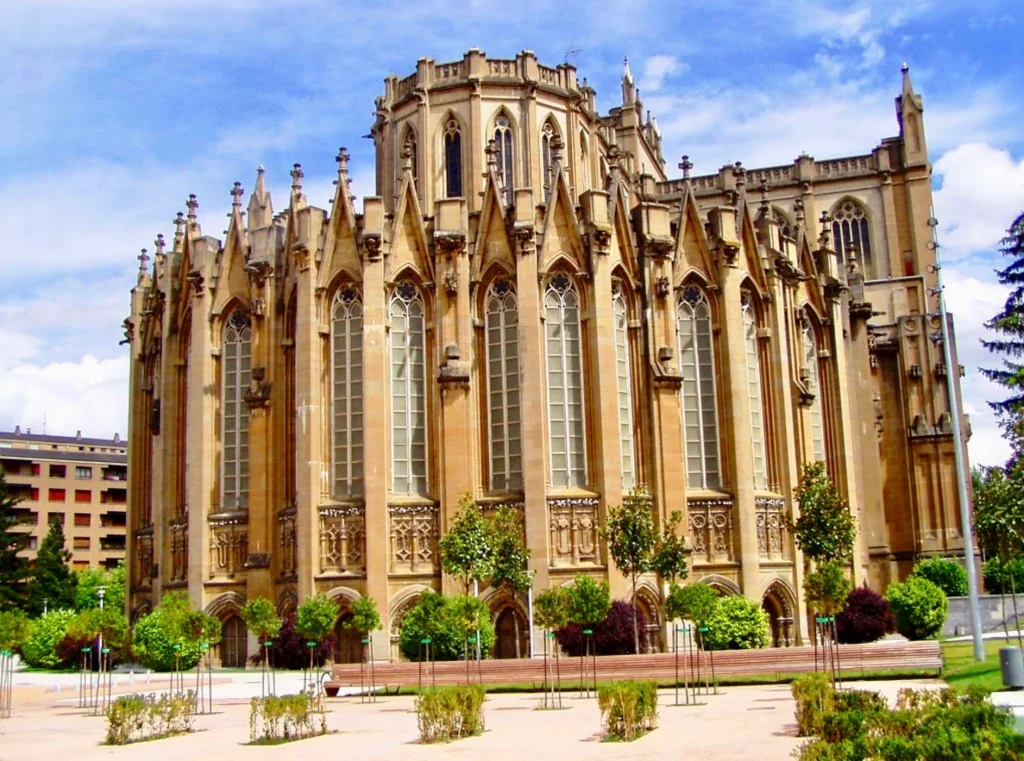 Browse in the beautiful Plaza de la Virgen Blanc. In the plaza, you'll find lots of shops and eateries. Then, take a stroll through the old quarter and under the arcaded passageways of the Paseo de los Arquillos.
Vitoria-Gasteiz is also known as the "painted town" and there are street art murals scattered around the city.
Art lovers can't miss the Atrium Museum, opened in 2002. In subterranean galleries, you'll find a fantastic collection of modern art. It includes pieces by Chillada, Miro, and Oteiza. Vitoria-Gasteiz also has a fine arts museum, where you'll find works by other Spanish artists.
If you stay in town for dinner, head to the Michelin-starred Zaldiaran. Another tasty option is Ikea. If you want pintxos, head to the award winning Sagartoki or Tolono. The tourist office also offers a "Pintxo Map," so you can do a proper pintxos crawl of the town.
By Car: 55 minutes
By Bus: 55 minutes
7. Getaria: Quaint Fishing Village Getaway
Getaria is one of the most charming towns on the Basque coast, jutting out into the sea with an attractive sandy beach (Gaztepe).
It's a pristine medieval fishing village with old world charm, stone houses, and gorgeous landscapes. You'll have picture-perfect coastline views.
Getaria is home to the Basque regions's signature drink, txakoli, a sparkling white wine. You can visit several wineries in and around the town. Getaria is also known for its seafood, particularly baby squid and turbot.
Getaria has a pretty Gothic church and is the birthplace of haute couture fashion icon Cristobal Balenciaga. There's a museum dedicated to his life and work. You get there via an incongruous outdoor escalator at the outer edge of the town.
By Car: 1 hour drive
By Bus: 1:30
8. Pamplona: Historic Getaway
If you're willing to go further afield, Pamplona is a wonderful day or weekend trip. Pamplona is the leafy and underrated capital of the Navarre region in greater Basque Spain.
It's a well-heeled university town, home to one of Spain's most famous and testosterone-fueled festivals, the Running of the Bulls, which takes place one week in July.
The San Fermin Festival, a 24/7 party atmosphere, attracts 1 million visitors annually to watch men outrun bulls (or be gored). If it's not festival time, you can walk the path men and bull follow, called the Encierro. They run through narrow streets to the bull ring, the Plaza de Toros de Pamplona.
But there's more to Pamplona than bulls. Even if the bulls aren't thundering down cobblestone streets, picturesque Pamplona will still appeal. You can book a guided city tour to see it all.
It has a grand Gothic cathedral, well-preserved 16th century fortifications, and medieval streets and squares. Pamplona is also a stop on the Camino de Santiago pilgrimage route.
Pamplona's old town was beloved by Ernest Hemingway, who used to nibble pintxos and fill up on the local liqueur, Pacharan, at the historic Cafe Iruna. He set part of The Sun Also Rises in the pretty Plaza del Castillo and helped make the San Fermin festival famous.
You'll also be in foodie heaven in Pamplona. Spain is known for its jamon, queso, and croquettas. But Navarre is know for the intense freshness and quality of its local produce.
If you stay for dinner, try La Olla, Bar Gaucho, El Mercao, or Bodegon Sarria. You can also book a guided food and wine tour in Pamplona.
Art lovers can head to Pamplona's Museo de Navarra, which boasts a collection of Goyas, Roman mosaics, and murals. Just outside Pamplona, in the village of Alzuza, there's a museum dedicated to the great Basque sculptor Jordge Oteiza.
By Car: 1:45 drive
By Bus: 2 hours
9. Castro Urdiales: Quaint Town Getaway
The small, picturesque town of Castro Urdiales is located along the northern coast of Spain, in the region of Cantabria. It can be reached by car in 30 minutes from the Basque city of Bilbao.
In the center of Castro Urdiales stands the Town Hall Square, fronted by the castle-like Town Hall and surrounded by elegant porticoed arches. It's the perfect place to stop for a coffee or lunch at one of the many cafes.
You can marvel at the Church of Santa Maria de la Asunción. Built in the 13th century, this huge Gothic church is three floors high, constructed from pink stone, and outfitted with flying buttresses and towers.
The town's Medieval Bridge was built to provide better access to the Hermitage of Santa Ana. It's a single ogival arch on top of a rocky outcrop, with the sea rushing in below.
It's referred to as the "Roman Bridge," but the bridge is Gothic and dates from medieval times. Refurbished over the last few years, visitors can still walk across it today.
Cross it and climb up to the Hermitage of Santa Ana. The hermitage stands on a rocky outcrop overlookings the sea. The current building dates from 1941, however it was constructed on the site of many previous buildings, which date as far back as the Upper Palaeolithic period.
By Car: 25-30 minutes
By Bus: 30 minutes
10. Lekeitio: Charming Village Getaway
Laid back Lekeitio is a beautiful and tiny fishing village. Charming Lekeitio is one of Spain's best kept secrets, a real hidden gem.
The town has an idyllic harbor, a Gothic church, and a fine golden crescent beach where you can kick back and wile away a day. You'll see goats and sheep cavort in the mountains and hazy cliffs circled by seagulls.
Lekeitio's best attraction is the rocky island, San Nicholas Island (also known as Garraitz), just offshore of its main beach. During low tide, you can walk the trail for a seaside view.
For a fine dining experience, try Meson Arropain. If it's pintxos you crave, head to Taberna Bar Lumentza.
By Car: 1 hour drive
By Bus: 1:45
11. Guernica: History Getaway
Gernica (also called Guernika) is a pastoral workaday town steeped in history, which will appeal to history buffs. It's where the Basque Assembly hold its meetings. The entire city center was destroyed by bombs during the Spanish Civil War.
The event was immortalized by Pablo Picasso in his famous anti-war piece Guernica, which is at the Reina Sofia in Madrid. There are several museums in the town exploring this history, including the Peace Museum.
READ: Best Museums in Spain
Two important landmarks remain despite the bombing, the Biscay Assembly House and the Guernica Tree. The tree marks the spot where the lords of the Bay of Biscay met for centuries to discuss politics, until the Assembly House was built. The house has a spectacular stained glass window.
The Enchanted Forest of Oma is only 5 minutes from Guernica. So you could combine both in one day trip, if you start early.
By Car: 30 minutes
By Train: 55 minutes
By Bus: 1:10
12. San Sebastian: the Food and Beach Getaway
San Sebastian is one f the most popular day trips from Bilbao. It's an incredibly beautiful Basque city, and tourists flock there. San Sebastian is renowned as a foodie resort town and beachy playground.
Its stunning beach, La Concha, is world famous and considered one of Europe's best beaches. The city's filigreed balconies and Belle Epoque buildings give it a classical elegance.
If you're a food traveler, you'll be in seventh heaven. San Sebastian is frequently called the food capitol of the world. It boasts three restaurants with the rarest of accolades: a three star Michelin rating.
San Sebastian also has a thriving pintxos scene. You can spend the day wandering around and indulging in these haute cuisine mini meals.
San Sebastian's historic center, Parte Vieja, is picturesque. It's sprinkled with an endless variety of upscale stores, vibrant pintxos bars, and tony restaurants. You may want to book a 2 hour guided walking tour.
Sam Sebastian is one of the best places to take a food tour in Spain. You can book a 3 hour "I Travel For Food" tour. Or go on the towns' iconic bar hopping pintxos and wine tour.
Be sure to check out the beautiful Bell Epoque City Hall, the Basilica of Saint Mary of the Chorus, San Vicente Church, and the Cathedral of the Good Shepard.
San Sebastian's old town also has one of Basque Spain's best museums, the San Telmo Museum. Housed in a restored convent and a contemporary wing, you'll find both artifacts and cutting edge modern art.
Hang out on San Sebastian's famed "shell" beach La Concha and relax. If you want some exercise, stroll along the dreamy C-shaped beachside trail. At the far west end, just beyond Ondarreta beach, are metal sculptures — the Comb of the Wind, by renowned Basque artist Eduardo Chillada.
You can hike up Mount Igueldo for the classic San Sebastian vista. Or, hike up the lesser known Mount Urgull to the local castle, the 12th century Castillo de la Mota. The views are amazing.
By Car: 50 minutes
By Bus:1 hour
By Tour: You can book a 9 hour guided day tour to San Sebastián from Bilbao. You an also book a private tour that includes a winery visit.
13. Santander: City Beach Getaway
The city of Santander makes the perfect city break. It's a unique and diverse blend of history, culture, delicious fresh seafood, and beautiful beaches.
Santander is home to some of northern Spain's best beaches. Playa de la Magadlena is an undulating golden ribbon, baked by forested hills. Santander's other beach, La Concha, is to the west. It's a long stretch of sand, with the city as a backdrop.
If you're a history buff, head to the Museum of Prehistory and Archaeology. The museum houses relics, bones, artifacts and even a replica of a cave system.
And you can't miss Santander's astonishing modern building, Centro Botin, which almost looks like a spaceship. Designed by Renzo Piano, you'll find art exhibitions and a cafe.
When you're done exploring the town, hit a couple of Santander's pintxos bars such as Bodega Fuente De, El Mar, or El Sol.
By Car: 1 hour drive
By Bus: 1:20
14. Haro: Wine Getaway
An hour south of Bilbao is the wine town of Haro, an epicenter of Basque Spain's La Rioja region. La Rioja is one of Europe's best wine regions, specializing in world famous lush reads and oak-aged whites.
Haro sits on an elevated plain on the Erbo River. The town of Haro itself is nothing terribly special, though it does have a compact old quarter that dates from the 10th century. Be sure to wanders its labyrinthian stone paths and admire the wrought iron balconies decorated with flowers.
Haro makes an excellent base for a weekend wine pilgrimage. 20 bodegas cluster around Haro itself, some more than a century old.
You've got to make an appointment for wine tasting or you may be disappointed. If you want a fine dinner, try Las Duelas. For a pintxos bar, try Terete.
Click here for a guide to the best wineries in Haro. If you'd like to do some castle hopping along with wine imbibing, there are a few castles nearby — Castillo de Sajazarra, Castillo de Briones, and Castillo de Davlillo.
By Car: 1 hour drive
By Bus: 1:15
By Train: 2 hours
By Tour: You can book a guided wine tour from Bilbao that includes Haro.
I hope you've enjoyed my guide to the best day trips from Bilbao. You may enjoy these other Spain travel guides and resources:
If you'd like to take some amazing day or weekend trips from Bilbao Spain, pin it for later.