Beloved Florence is one of Italy's most beautiful and popular cities. It's definitely my favorite.
But if you can tear yourself away from the beloved "Cradle of the Renaissance," Florence's location in central Italy makes it a splendid long term base for day trips to other gorgeous places in Tuscany.
From Florence, you can easily reach charming Tuscan towns and villages that are just crammed with beautiful art, architecture, palazzos, and piazzas. Not to mention some of the best pasta and chianti in Italy.
Day tripping is a good way to escape Florence's sometimes maddening crowds during the day. And you don't have to switch accommodations every day to see a new place in Tuscany.
I usually like to road trip in Europe. It gives you maximum flexibility and is faster, especially for out of the way destinations without good connections.
But it makes little sense to have a car in Florence. Train travel is easy, relatively cheap, and the online timetables are easy to understand.
READ: Tips For Renting a Car and Driving in Europe
With the advent of high speed trains, it's never been easier or faster to travel in Tuscany. But it may be smart to rent a car for just the day to give you some flexibility.
Plus, some towns are hard to reach by train and you need a car if you want to visit them. You can also read my tips for renting a car and driving in Europe.
Or, you can always hop on a guided tour to take you on your Florence day trip without the hassles of arranging transportation.
In this guide, you'll discover the 21 best day trips from Florence Italy. I tell you how to reach your target destination by train, car, or tour.
I also give you estimated travel times for each place. That way, you can decide how far off you want to venture on any given day.
Best Day Trips From Florence
Here's my list! I've generally focused on beautiful places you can reach in 2 hours or less.
I've excluded Venice and Rome from my list. Those amazing cities deserve multi-day stays. To my mind, they're not really suitable for day trips from Florence.
1. Bologna: Pasta and Porticos
Bologna is one of the best day trips from Florence and I just love the city. Nicknamed La Grassa, or the Big Fat, for its delicious food, Bologna just oozes medieval charm.
Bologna is a bit of a hidden gem in Italy, a regular Italian city catering to locals and not just tourists.
But it shouldn't be. Bologna is an amazing historic city filled with striking architecture, terra cotta arcades, beautiful piazzas, a swathe of palaces and towers, and gourmet restaurants.
Bologna's must see sites are found in the city's main square, Piazza Maggiore. You'll be greeted by a huge statue of Neptune atop a fountain. It was created by one of the great late Renaissance sculptors, Giambologna, who was second only to Michelangelo in skill.
Bologna's most famous site and most beautiful church is the Santo Stefano Church. It's a complex of seven interconnected churches, founded by Petronio atop a Roman temple.
Legend holds that, when Dante was expelled from Florence for his politics, he wiled away time in the church's Romanesque cloisters. The complex, boasting 1000 year frescos, can be visited for free.
When you've seen Bologna's main sites, head to the Piazza della Mercanzia. There, you'll find Bologna's defining landmark — Le Due Torri. The duo are Bologna's two leaning towers, Torre Garisenda and Torre Asinelli (the tallest).
To enjoy panoramic views over Bologna, you can climb 498 steep and narrow wooden steps to the top of Asinelli Tower.
Be sure to make a reservation in advance online or at the tourist office. Before leaving, have a gelato or meal in the pretty piazza, which is a popular meeting place.
Then, head to Bologna's medieval Quadrilatero neighborhood and meander through the medieval lanes filled with shops.
Be sure to walk under the famous 666 Portico. It's the world's longest continuous portico, starting at Porta Saragozza and leading up to the lovely Basilica of San Luca.
There are some fun tours to take in Bologna. You may want to book a guided walking tour or a guided history tour to get oriented.
Bologna is also a fantastic place to take a guided food tour or learn to make pasta in a cooking class.
Time to get there on high speed train: 35-37 minutes
Time to drive to Bologna: 1:25
You can also book a guided day trip tour from Florence to Bologna.
2. Prato: Romanesque Duomo
Prato is one of Tuscany's most underrated and off the beaten track towns. Prato is essentially a suburb of Florence and hence a super easy day trip.
Prato is also Tuscany's second largest city after Florence, girded by mostly intact city walls.
You'll fall in love with Prato's charming and pedestrianized historic center, boasting Medieval and Renaissance buildings and monuments. You'll find a textile museum, the Palazzo Pretorio (a well-curated museum showcasing Tuscan artists), and a stunning Duomo.
Founded in the 11 century, the Romanesque Duomo di Prato holds some of the most stunning 15th century frescos and relief carvings you'll ever find in a cathedral.
Donatello decorated the exterior pulpit, while Fra Fillipi Lippi and Agnoli Gaddi painted fresco cycles. Lippi's beautiful frescos are in the choir.
The town's most important historical figure is Francesco Datini. He's a late medieval textile merchant. A statue of Datini stands outside his palazzo in Prato's town center.
Time to get there on high speed train: 30 minutes
Time to drive to Prato: 40 minutes
3. Montelupo: Beautiful Ceramics
The underrated medieval town of Montelupo is another town that's very tourist free. It's only a half hour train ride from Florence.
In the 13th century, Montelupo was a fledgling producer of intricate majolica, or tin-glazed ceramics, for the Medici dynasty. Certain patterns typical of Montelupo are still created today.
If you're interested, I highly recommend a visit to the newly renovated Museo della Ceramica in Montelupo to get the full scoop.
In Montelupo's colorful centro historico, you can find scads of tony shops with hand made artisan pieces. You won't go home empty handed.
The ceramics are too beautiful to resist. Just make sure there's an artist painting in the shop to ensure you're getting a 100% local piece. You can even take a class from a master ceramicist.
Time to get there on high speed train: 20 minutes
Time to drive to Montelupo: 40 minutes
4. Lucca: Medieval Charmer
Beautifuly preserved Lucca is like a mini-Florence. Ah, it's so lovely.
The city is still entirely contained within its stout Renaissance walls. It's a wonderful easy day trip from Florence.
Happily, Lucca never tore them down, like many Italian towns did to make way for modernity. Now, the walls are like a circular park for pedestrians and bikers, with beautiful views over the region. (Walking the entire wall takes about 1 hour.)
Lucca doesn't really have any must see sites, which means its under the radar for most tourists. Lucca's appeal lies in its relaxed old world Medieval charm. It's perfect for aimless strolling along the pretty streets and piazzas.
Romanesque churches are around every corner. The main pedestrian drag and shopping street is Via Fillungo.
It's a long twisting road loaded with fashionable shops, cafes, and bars. Lucca is know for its glass making and jewelry, which make great souvenirs.
Lucca's central square, Piazza Anfiteatro, is an enclosed piazza built around an ancient Roman arena. There's no remnants of the arena.
But the handsome oval curve — ringed with yellow medieval buildings — still sits pretty and is full of cafes to grab a bite to eat.
In Piazza San Michele, you'll find the lovely Church of San Michele, with a Romanesque facade. In Piazza San Martino, you'll find the ancient Cathedral of San Martino.
It's a Gothic church built to house one of Christendome's most famous relics, the Volto Santo. It was reputedly carved by Nicodemus, the man who helped depose Christ from the cross. The relic is kept in the freestanding Tempietto.
In its heyday, Lucca had over 100 towers, reminding me of Regensburg Germany. They were the homes of wealthy merchants families.
The tallest surviving tower, the Torre Guinigi, is fetchingly capped with a bushy forest. You can climb the tower's 230 steps for views over Lucca.
Lucca is so pretty and historic that you may want to book a guided walking tour or guided e-bike and wine tour for your visit.
Time to get there on high speed train: 1:15
Time to drive to Lucca: 50 minutes
If you want to book a tour to Lucca, check out this 9 hour guided tour that takes you to both Lucca and Pisa from Florence.
5. Pisa: UNESCO-Listed Field of Miracles
Pisa is one of the best and easiest day trips from Florence. Most travelers in Tuscany descend in droves on tiny Pisa. They come for Pisa's famously Leaning Tower on the spectacular UNESCO-listed Field of Miracles.
I think the tower is bit overrated. It leans because it's a product of poor engineering and soft soil, nothing else.
Still, if you want to climb the spiral staircase for magnificent views, you must book a ticket in advance to ensure a spot.
You can also take a 2 hour all inclusive tour to explore all the monuments on the Field of Miracles. Or a 2.5 hour guided tour of the town of Pisa with a skip the line ticket for the tower.
READ: Why Does the Leaning Tower Lean?
The real gem of the Field of Miracles is Pisa's exuberant Duomo. It's the most ancient cathedral in Italy, even older than the cathedral complexes in Siena and Florence.
This Romanesque edifice was founded in 1118. The exterior is decorated with alternating black and white stripes.
Inside, there's a central nave and two flanking aisles on each side, with intricate Corinthian columns and arches. In the apse, you'll find mosaics attributed (perhaps erroneously) to the greatest 13th century Italian artist, Cimabue.
There's also an elaborate pulpit carved by Giovani Pisano in the early 14th century and works by Ghirlandaio and Giambologna. The Duomo is free to visit, though you'll need to pick up a timed entry ticket.
The other great monument in Pisa is the circular monument in front of the Duomo, the Baptistery. Begun in 1153, there's still a full immersion baptismal font inside.
From the Women's Gallery above, you have views of the font. There's also a beautifully carved pulpit, created by Giovani's father Nicolo Pisano. It's considered one of the first works of Renaissance art.
The dome covering the Baptistery is actually two domes, which produces an odd acoustical effect. For a tip, the guards will sing and you can hear the melodic reverberations. Like the Leaning Tower, the Baptistery is on unstable soil and leans slightly toward the Duomo.
When you're done on the stunning Field of Miracles, visit the historic town itself, strolling along the Arno River. There are museums, palazzos, and piazzas to check out. Here are my tips for visiting Pisa.
The best museum in Pisa is undoubtedly the Palazzo Blu. Every year, the iconic blue building holds exhibitions of important modern artists (Chagall, Dali, Miro, and Toulouse- Lautrec were recently featured). You can also gaze at the last mural ever painted by Keith Haring, Tuttomondo.
Time to get there on high speed train: 50 minutes
Time to drive to Pisa: 1:20
If you want to book a guided tour to Pisa, check out this 9 hour guided tour that takes you to both Pisa and Lucca from Florence.
6. Viareggio: Tuscany's Beach Town
If you yearn to see the Mediterranean sea, Viareggio is your best bet. It's the largest beach town in Tuscany. In summer, sunny Viareggio is popular and crowded.
But there are plenty of shops, restaurants, and cafes to keep you busy. You can also book a market and food tour.
A direct local train takes you straight to the seaside town. The train station is less than half a mile from the beach.
The beaches in Viareggio are, like most beaches in Tuscany, private. You have to pay a fee to enter and rent an umbrella and chairs.
In the off season, take the time to explore and photograph the city's beautiful "Liberty" (Art Nouveau) architecture. In February, Viareggio becomes animated with its famous Carnevale festival and parade. If you want to attend (weekends only), you must book tickets online.
Time to get there on high speed train: 1:20
Time to drive to Viareggio: 1:20
7. Siena: Medieval Charm & Stunning Renaissance Art
Siena is a great day trip from Florence. It's known for its medieval charm, grand cathedral, delicious food, and Chianti wines. You'll feel like you're in the past, and you'll love it
You may want to book a guided walking tour for this Tuscan beauty or a guided walking tour with food tastings.
If not, budget ample time strolling through the pedestrianized historic center. It's a well-preserved burnt orange dream littered with cute cafes and shops.
Siena's most famous site is its Duomo, Siena Cathedral. It's one of Europe's most beautiful churches, especially for lovers of all things Gothic.
Siena Cathedral is a symbol of the city, clad in white and dark green marble. Inside, it's a feast for the eyes, lavishly decorated with mosaics, sculptures, and frescoes.
To visit the Siena Duomo complex properly, you need to pre-purchase the Opa Si Pass. Click here to pre-book the pass.
It also includes the Baptistry, Crypt, Piccolomini Library, Facciatone viewing terrace, and Museo dell'Opera del Duomo Museum, offering great views.
Don't forget to tour Siena's town hall, the Palazzo Pubblico. It was built in 1297-1308 for the Council of Nine, the governing body of Siena. Click here to pre-book an entry ticket to the palazzo.
The palazzo is one of the seminal civic structures in Europe It's a harmonious example of early Renaissance architecture, with a curved brick facade and beautiful triforate arched windows.
Inside, you'll find the Allegory of Good and Bad Government, one of the most famous fresco cycles in Italy. Beside the palazzo soars the slender Tower of Mangia, which you can climb for panoramic views.
Time to get there on high speed train: 1.5 hours
Time to drive to Siena: 1 hour, 7 minutes
If you want to book a tour to Siena from Florence, you have seve ral options.
You can book a guided tour that includes Siena, Pisa, and San Gimignano, a guided tour that includes, Siena, Pisa and Tuscany's Chianti wine region, or a private tour to Siena and San Gimignano.
8. Arezzo: Underrated Art Spot
If you're in Florence because you love Renaissance art, head straight to nearby Arezzo. It's quiet, but stuffed with delicious things to see and do. To get oriented, you may want to book a guided walking tour to get the lay of the land.
In particular, you need to visit the high chapel in the town's Basilica of San Francesco. There, Piero della Francesca, whose (other unflattering) portraits of the Duke and Duchess of Urbino are in the Uffizi Gallery, painted his greatest masterpiece, still in situ.
READ: Guide To the Piero della Francesco Trail
The complex fresco cycle represents the Legend of the True Cross. It's considered one of the great and most influential frescos of the early 15th century.
The artist demonstrated his single point perspective innovation, populating the frescos with serene figures with his trademark perfectly oval heads.
The fresco tells the story of the cross on which Christ was crucified — beginning when the tree was planted (a seed put in the mouth of the dying Adam) and continuing to when it was buried by King Solomon.
The story carries on from Constantine to Emperor Heraclitus, who recovers the True Cross after it was captured by the Persian King.
READ: Guide To the Piero della Francesco Trail
The rest of Arezzo offers plenty of things to do for a half day visit, with many churches and museums. Arezzo Cathedral is a late 13th century Gothic church, with a rather austere exterior, on Piazza Grande.
But inside, you'll find a luminous Mary Magdalene portrait by della Francesca and some beautiful terra cotta ceramics by della Robbia.
Art lovers should visit the House of Giorgio Vasari, the famed Florentine architect and artist. He became the world's first true art historian, after publishing his treatise Lives of the Most Excellent Painters, Sculptors, and Architects.
You can buy a combination ticket to the house museum along with the Basilica of San Francesco. If you admired Vasari's frescos in Florence's Palazzo Vecchio, you should definitely admire his frescoed house.
You'll also find Vasari paintings and his correspondence with Michelangelo and Cosimo I de Medici.
If you enjoy crowds, come on the first Sunday of the month. The entire city center becomes a gigantic (and rather expensive) antique market with hundred of stalls. Arezzo is also a good place to take a food and market tour or a guided walking tour.
Time to get there on high speed train: 30 minutes
Time to drive to Arezzo: 1 hour
9. Fiesole: Roman Ruins and Views
Located high above Florence in the Tuscan countryside, Fiesole is the quickest and easiest day trip from Florence. You can actually walk there in an hour.
If you don't want to hoof it, there's a bus that leaves from town as well. You could easily wile away a half day in Fiesole.
If you're a ruin luster or history buff, Fiesole is perfect. Fiesole pre-dates Florence, with Etruscan roots from the 8th to 9th century B.C. Be sure to visit the Etruscan-Roman Archaeological site, including a Roman aphitheater, Roman baths, and remains of Etruscan walls.
Also check out the the Monastery of San Francesco. This is the town's highest point, with a wonderful panoramic view of the town. Fiesole's beautiful cathedral, the Cathedral of San Romolo, is ancient, almost a thousand years old.
And don't forget the Bandini Museum, housed in a local church. It has a surprisingly good collection of art curated by local 18th century cleric Angelo Bandini. There are some beautiful late Gothic pieces and ceramics by Della Robbia.
Time to get there on high speed train: 12 minutes
Take bus #7 from Piazza Saint Marcos in Florence
Or it's a 30 minute walk
10. Verona: Roman Ruins
The pretty Italian town of Verona is the perfect day trip from Florence. It's one of Italy's most underrated and romantic cities.
Verona is full of red and peach colored medieval buildings and Roman ruins. Despite that, the former Roman settlement never seems crowed.
You may want to book a guided walking tour of Verona or a walking tour that includes a skip the entrance to Juliet's House.
Verona was made famous, of course, by Shakespeare's plays Romeo and Juliet and The Two Men of Verona. And it's a fitting site for a high octane infusion of romance.
Juliet's House, or Casa de Giulietta, is a gorgeous 14th Gothic building in Verona. But, like the fictional love story, Juliet's House is itself a fiction. It wasn't owned by the Capulets.
Once you've made the obligatory Juliet pilgrimmage, you'll also want to tour the doughty Roman Arena, the Arena di Verona, in the Piazza Bra. It's the third largest classical arena in Italy, after Rome's Colosseum and Capua's Colosseum.
You should also stroll through Verona's picturesque piazzas, the Piazza dei Signori (with a statue of Dante) and the Piazza dell Erbe (with a statue of another poet, Barbarani).
Visit the Church San Zeno Maggiore, where Romeo and Juliet were fictionally married. And cross the absolutely stunning Ponte Pietra stone bridge.
When you're done with all that, take some time to sample Verona's inventive restaurants and delicious wine bars. Verona is also a fantastic place to go on a guided food and wine tour or a street food tour.
For more information, here's my one day in Verona itinerary.
Time to get there on high speed train: 1.5 hours
Time to drive from Florence: 2.5 hours
11. San Gimignano: UNESCO Town
Surrounded by cypress groves, San Gimignano one of the most popular day trips from Florence. Though it's not as easy to get to as other towns. You may want to rent a car to visit properly.
To see the town once you arrive, you may want to book a small group walking tour or a private walking tour.
Nicknamed the "Medieval Manhattan," San Gimignano is a walled town with a startling cityscape with 13 spiky towers poking the sky. The most famous tower is the Torre Grossa. Climbing to the top is a must do for panoramic views.
San Gimignano dates back to the ancient Etruscans, a civilization that preceded ancient Rome. The town flourished in the middle ages, amassing wealth from its saffron trade.
Sam Gimignano's historic center is a UNESCO site. Park outside the city walls and walk into the town. The central square is the Piazza del Duomo.
In the piazza, you'll find the Collegiate Church of Santa Mary of the Assumption. Consecrated in 1148, it's a beautiful (mostly) Romanesque church, austere on the outside with a feast of frescos on the inside.
In the Chapel of Saint Fina, there are paintings by early Renaissance master Ghirlandaio. There's also a violent fresco cycle of Black Death paintings.
They were possibly painted by the mysterious artist Barna Da Siena, who allegedly fell to his death from scaffolding while painting the frescos.
After taking in the frescos, stop for a glass of wine or gelato in the Piazza della Cisterna, San Gimignano's other main square.
There are plenty of shops stocked with delicious specialty products like saffron and truffles. Be forewarned, Gelateria Dondoli is a very popular spot.
Here's my complete guide to the top attractions in San Gimignano.
Time to get there: San Gimignano isn't terribly easy to get to, but is well worth the extra effort. The nearest train (or bus) goes to the town of Poggibonsi. From there, you catch bus #130. Or, if you have a car, it's a 1:05 drive.
Time to drive there: 1 hour
Guided Tours:
If you want to book a guided day trip tour to San Gimignano from Florence, you have several options.
You can book a guided tour that includes Siena, Pisa, and San Gimignano, a guided tour that includes Sienna, San Gimignano, and Chianti or a private tour to Siena and San Gimignano.
12. Volterra: Ruins & Churches
Known for its 4th century B.C. Etruscan origins, this charming little town is located on a towering coastal bluff between Florence, Pisa, Siena and the coast.
You'll see the town in a vista long before you arrive. Click here to book a walking tour of Volterra.
Start your visit in Volterra at the Porta all'Arco, the city's ancient gateway. It's Volterra's main landmark, built by Etruscans in the 3rd century B.C.
The road leads you upward, zigzagging to the heart of Volterra, the medieval Piazza dei Priori. There you'll find the Palazzo di Priori, said to be the model for Florence's own magnificent Palazzo Vecchio.
You'll also want to visit the Church of San Francesco, with frescos by Cenni di Francesco telling the Legend of the True Cross. You should also visit Volterra's Roman ruins, which include an impressive Roman Theater from the 1st century B.C.
If museums are on your agenda, try the Pinacoteca (for Renaissance art), the Etruscan Museum (Etruscan artifacts), or the Torture Museum (ancient torture instruments)
Volterra gained fame as a filming location for the teen vampire Twilight series. Volterra served as the home base of the Volturi vampire coven. There aren't any actual filming locations in Volterra though. Montepulciano doubled as Volterra in the films.
Time to get there on high speed train: 1.5 hours
Time to drive to Volterra: 1:20
If you want to book a guided day trip from Florence to Volterra, check out this 9 hour guided tour that includes lunch and wine tasting.
13. Cortona: Spectacular Hilltop Town
If you want to visit a hidden gem in Italy, you can go "Under the Tuscan Sun" in hilly Cortona in eastern Tuscany.
A former Etruscan town, Cortona was featured in the famous movie and book by Frances Mayes. It's a quiet charmer, seated on a commanding hill with great views in every direction.
Cortona's main street is Via Nazionale, the only flat place in town. There, you'll find a great wine bar called Enoteria.
At one end of the street is Cortona's most famous piazza, the Piazza dell Repubblica, perfect for people watching. At the other lies the splendid Piazza Garibaldi.
As you walk the small streets, you'll bump into one small church after another. Most of the buildings are made of pietra serena, a type of limestone that famed Italian architect Brunelleschi liked to build with.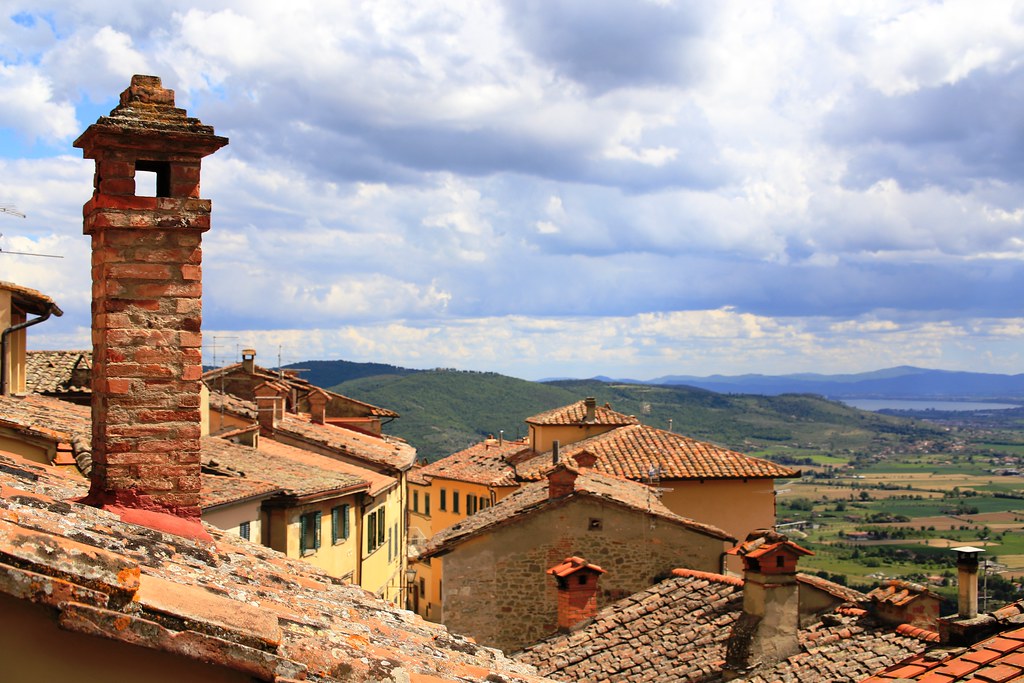 If you continue on Via Berrettini, you'll reach Fortezza Medicea di Girifalco, which offer splendid views over the countryside.
Cortona has a wonderful little museum, the Museo Diocesano, located in Chiesa del Buon Gesù in the Piazza del Duomo. The museum has some absolutely superb paintings — works by such Renaissance luminaries as Far Angelico and Luca Signorelli. It also houses the famed Cortona Altarpiece.
Signorelli and his workshop originally painted the Cortona Altarpiece for the Church of St. Margaret in 1502.
Giorgio Vasari described the 8 scenes as a "beautiful thing," full of expressive pathos. In 1515, they were admired by Pope Leo X. The Lamentation of Christ was executed by Signorelli alone.
Time to get there on regional train: 1:20
Time to drive to Cortona: 1:20
If you want to book a guided day trip from Florence, this tour takes you to Cortona, Siena, and Montepulciano.
14. Barga: Peaceful & Pretty
If you want to escape the adoring Tuscan crowds on your Florence day trip, head to the off the radar medieval hilltop town of Barga.
Barga is charming and very underrated as far as Tuscan villages go. Barga has a beautifully restored castle, an 11th century Duomo, and the beautiful Church of San Francesco.
You can wander around the cobbled old town in peace and quiet, without having to battle hordes of tourists. Along the way, you'll discover secret passageways, tony boutiques, staircases, and pretty pastel homes. The homes are decked out with painted shutters and hanging flowers.
Barga's Duomo is called the Collegiate di San Cristoforo, perched at the town's highest point. The Duomo is free to enter, though you'll have to pay a couple euros to light up the paintings.
When you're hungry, grab a bit at L'Osteria or Ristorante L'Altana.
Time to get there on high speed train: Take the train to Lucca and then take a 40 minute train to Barga
Time to drive to Barga: 1:45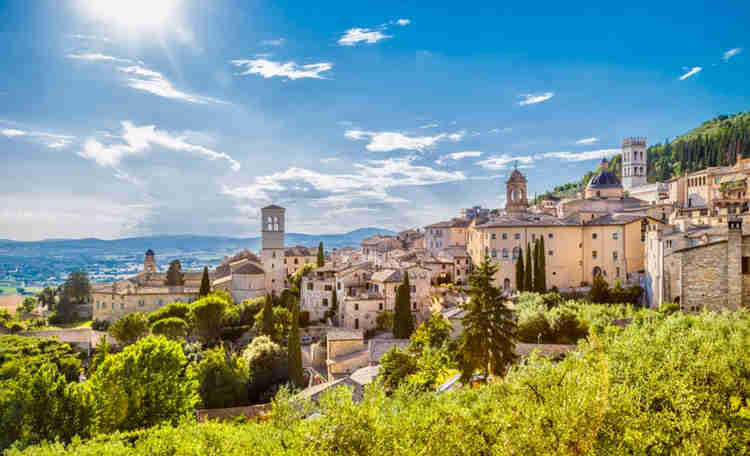 15. Assisi: UNESCO Landmark
Located in Umbria, Assisi is about a 2 hour day trip from Florence. It's a beautiful hill town in Italy for art lovers.
Because Assisi was the home and final resting place of St. Francis, it's also a pilgrimage destination. In fact, the 13th century Basilica of St. Francis of Assisi is one of Italy's best known churches.
This must see Assisi site is two churches in one, both massive and multi-level. You'll want to see the lower church (for pilgrims), the pillar tomb of St. Francis, frescos by many artists, the cloister, and the upper church (for clergy).
The frescos are significant because they mark the transition from the Gothic period of art history to the early Renaissance.
Artistically, Assisi could be considered a mini Rome. Like Rome's Basilica of St. Peter, all the most famous artists of the day came to paint the Basilica of St. Francis.
The highlight of the lower church is Giotto's frescos in the Chapel of Santa Maria Maddalena, showing the life of St. Mary Magdalene. That chapel also has a fresco cycle by Pietro Lorenzetti, with a haunting Depostion.
In 1997, after an earthquake prompted restoration of the basilica, some other early Giotto frescos were discovered in the lower church's Chapel of St. Nicholas.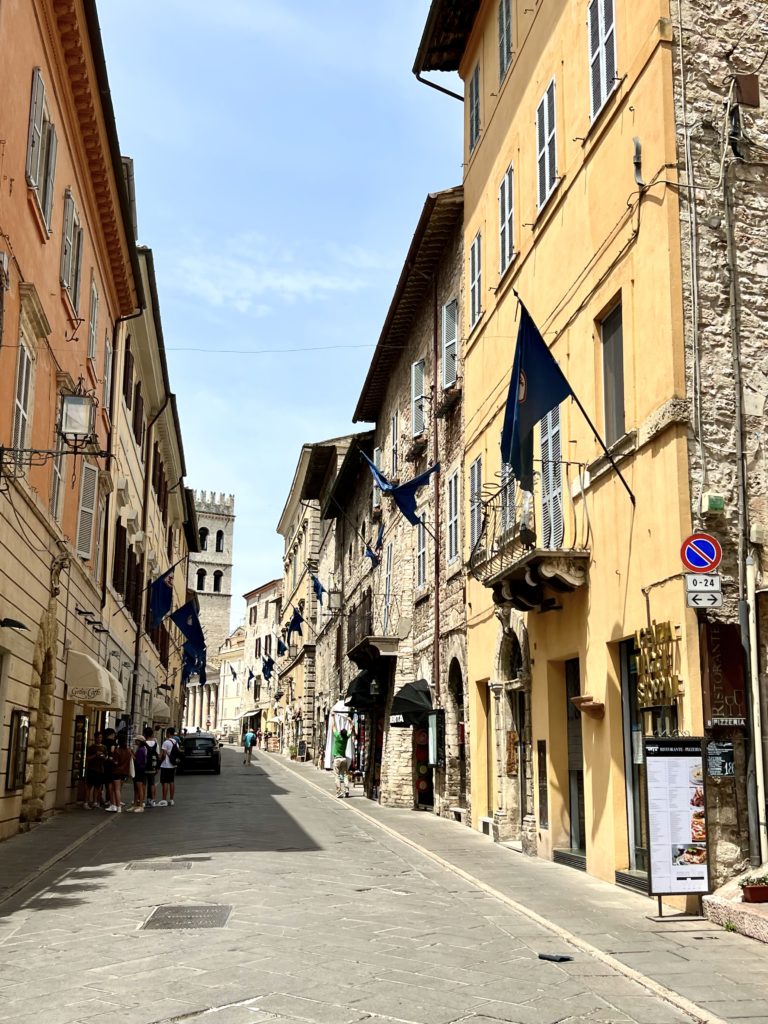 They were attributed to Giotto after his initials were found on one paintings. But some critics say the restoration was clumsy and ruined portions of the medieval frescos.
Here's my complete guide the Basilica of St. Francis and the best things to do in Assisi. You may want to book a guided tour of the basilica and Assisi.
Time to get there by train: 3 hours
Time to drive to Assisi: 2 hours
If you want to book a guided tour from Florence, this 11 hour tour covers both Assisi and Cortona.
16. Ravenna: UNESCO Mosaics
Ravenna was once the epicenter of the Western World, when the Byzantine Empire made Ravenna its capitol. The Byzantine rulers blanketed Ravenna's churches with gorgeous mosaics.
If you're an art lover, you may want to put this on your priority list of day trips from Florence.
Ravenna boasts the best early Christian mosaics in the world. This artistic legacy rivals Venice or Istanbul, making Ravenna a UNESCO site in 1996.
If, like me, you feel compelled to admire these glittering gems, these are the must visit sites in Ravenna:
(1) the Basilica of Sant'Apollinare in Classe
(2) the Basilica of Sant'Apollinare Nuovo
(3) the Basilica of San Vitale
(4) the Neonian Baptistery
(5) the Mausoleum of Galla Placidia
(6) the Archbishop's Chapel
I highly recommend booking a 3 hour guided tour to see these UNESCO-listed sites. True aficionados can also take a full day tour of the mosaics.
Ravenna's most famous son is Dante Alighier. Dante is the author of the Divine Comedy and father of the Italian language.
The poet spent the last three years of his life in Ravenna, after being expelled from Florence when he fell out of political favor. You can visit Dante's tomb, a small neoclassical temple right next to the Basilica of San Francesco.
READ: Complete Guide To the Mosaics of Ravenna
Time to get there by train: 2:50
Time to drive to Ravenna: 2:15
17. Pienza: Renaissance Town
No list of day trips from Florence would be complete with Pienza. The town is located in the gorgeous Val d'Orcia region of central Tuscany, where cypress trees line winding roads and sun-bleached valleys.
Pienza is known as the first "ideal Renaissance town." It was the brainchild of Enea Silvio Piccolomini, who would later become Pope Pius II.
Piccolomini hired the architect Bernardo Rossellino. Rossellino used the principles of Renaissance town planning set forth by his mentor, Leon Battista Alberti, in his treatise on architecture.
The result? A town that perfectly expressed the Renaissance canons of art and architecture. Pienza is one of Italy's most beautiful towns with narrow streets, beautiful palaces, churches, and buildings.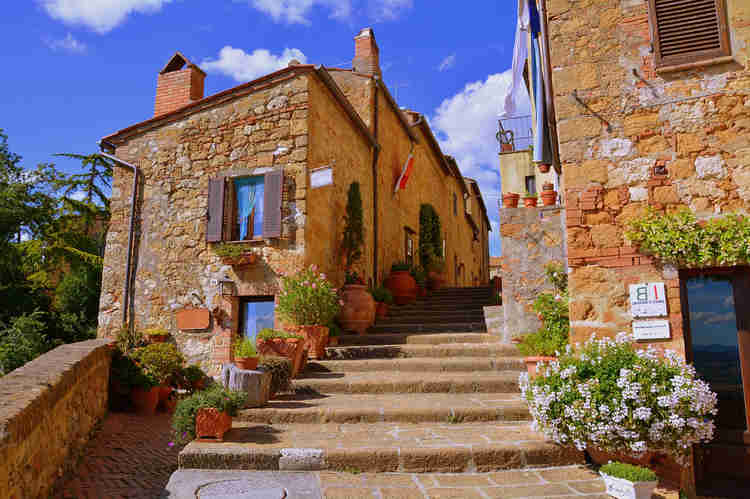 Flowers bloom everywhere, completing the picturesque ensemble. The streets even have romantic names like Love Street and Kiss Street.
Here's my complete guide to Pienza.
Time to get there by train: There are really no good ways to get to Pienza by train.
Time to drive to Pienza: 1:30
From Florence, you can also book a guided tour for both Pienza and Montepulciano or a cheese and wine tour in these two towns.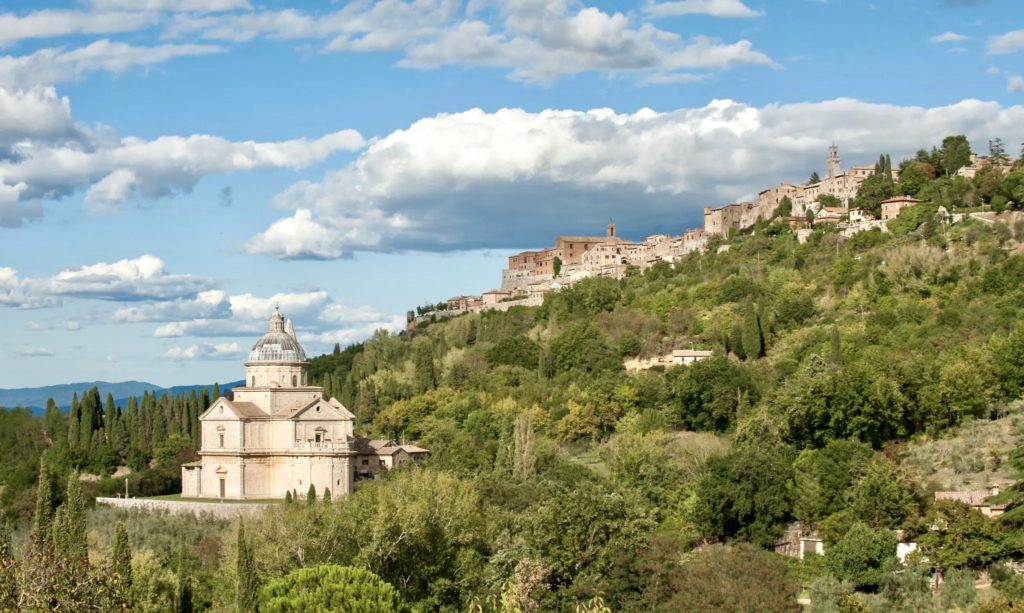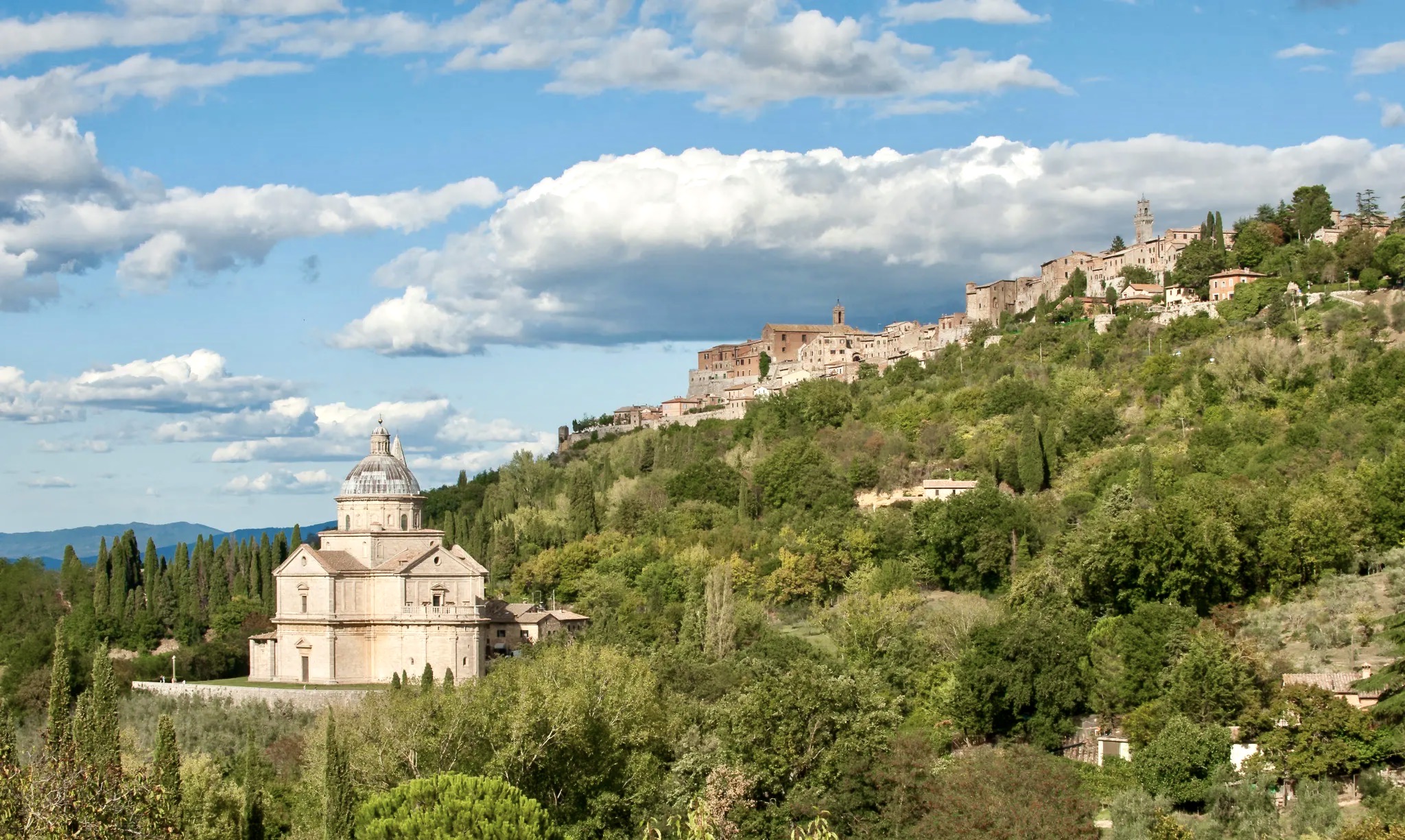 18. Montepulciano: Wine Town
Montepulciano is an enchanting medieval village famous for its velvety vino nobile red wine. But you don't have to be a wine lover to visit Montepulciano.
Montepulciano is utterly beautiful and synonymous with most peoples' images of Tuscany. It's perched on a limestone ridge and draped in vineyards.
Montepulciano has Renaissance palazzi and churches of a splendor far beyond its dimensions. Its architectural beauty led Montepulciano to be dubbed the "Pearl of the 1500s."
There are plenty of amazing things to do in Montepulciano. If you haven't been to Montepulciano before, you may want to book a guided walking tour to get the lay of the land.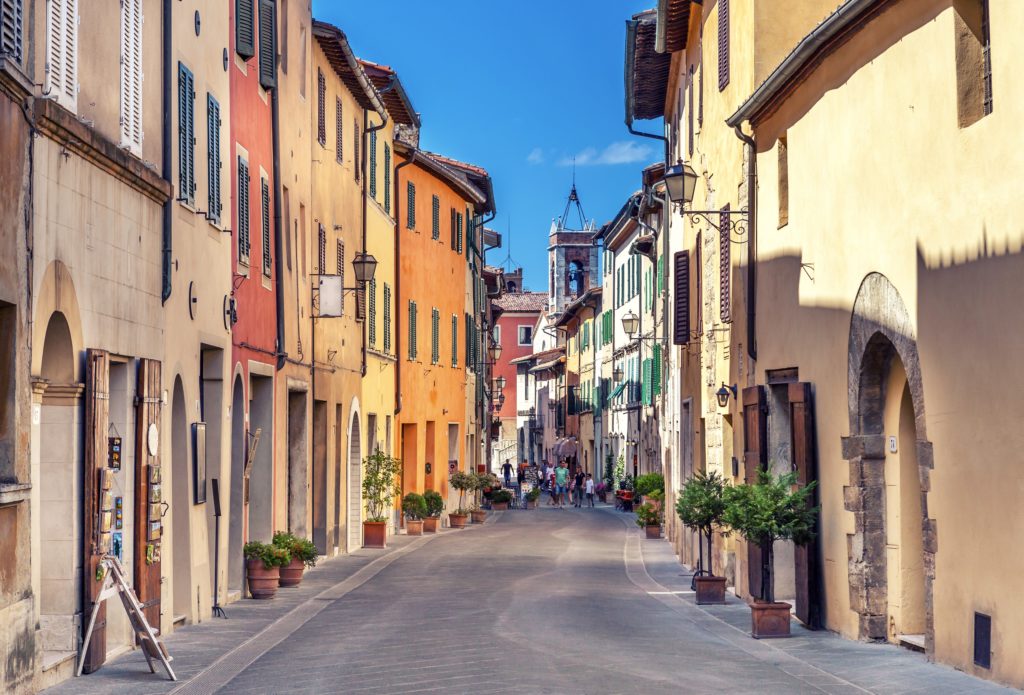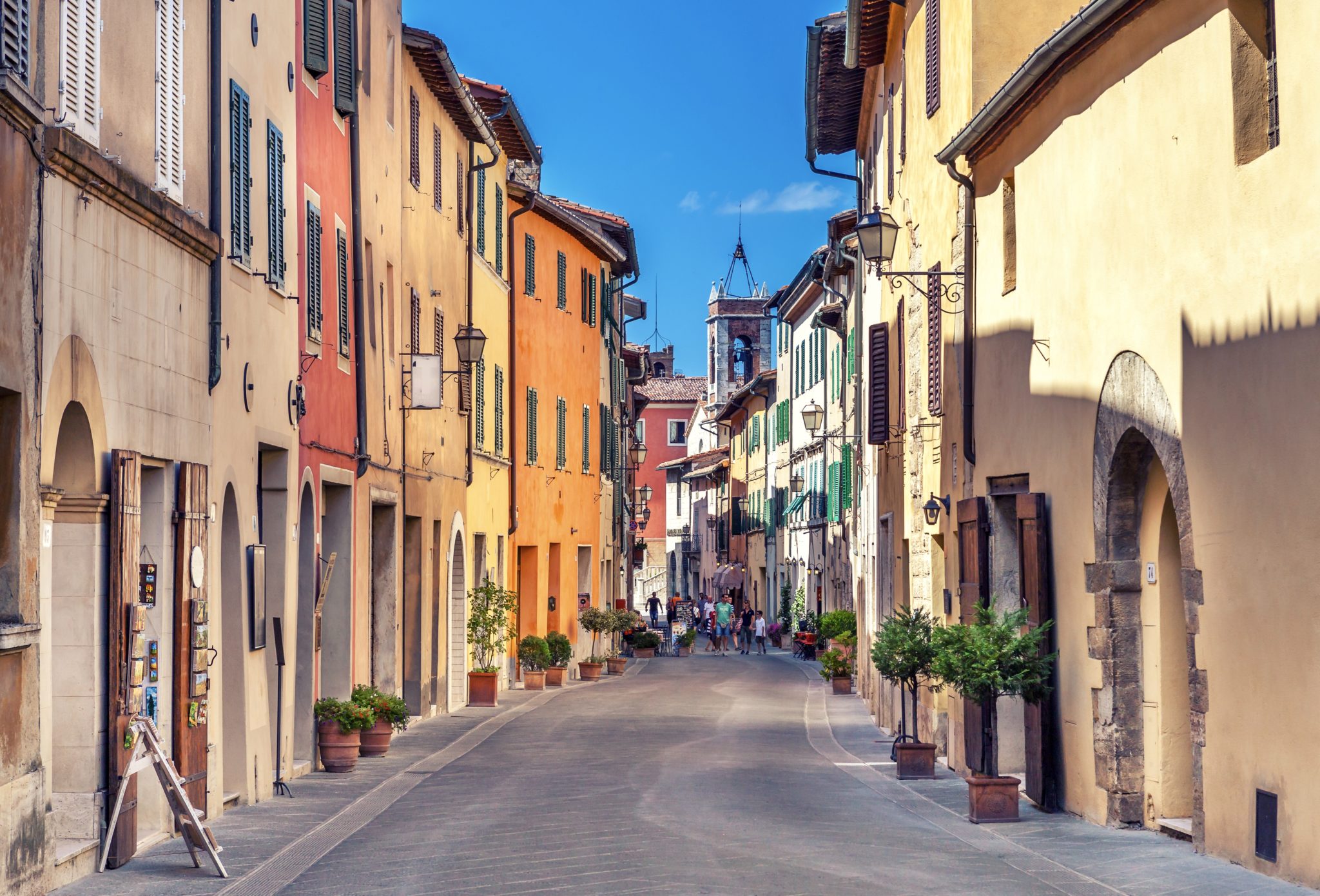 If not, the first thing to do in Montepulciano is stroll the pretty main drag, Il Corso. The street is filled with cafes, shops, and grand facades of Renaissance and Baroque palazzi.
Piazza Grande is the monumental center of Montepulciano. It contains all of Montepulciano's most important Medieval and Renaissanace architecture — a clock tower, the Duomo, Palazzo Contucci, and a beautiful well.
Next visit Palazzo Communale, which is Montepulciano's town hall. Plan on climbing the palace's tower.
It's a steep climb. But it's worth the effort for the amazing panoramic views over the town, Piazza Grande, and countryside.
The last thing to see in Montepulciano is the stunning San Biagio Church. It's one of the most beautiful Renaissance churches in Italy. The impressive church is the masterpiece of Anthonio da Sangallo the Elder.
While you're in Montepulciano, you may want to take a vespa tour of the beautiful country side. Or, go wine tasting in a nearby vineyard.
Time to get there by high speed train: 1.5 hours
Time to drive to Montepulciano: 1:20
You can also book a guided food and wine tour of the Val d'Orcia from Florence that includes Montepulciano. Or, you could opt for a 10 hour guided tour of Montepulciano and Cortona from Florence.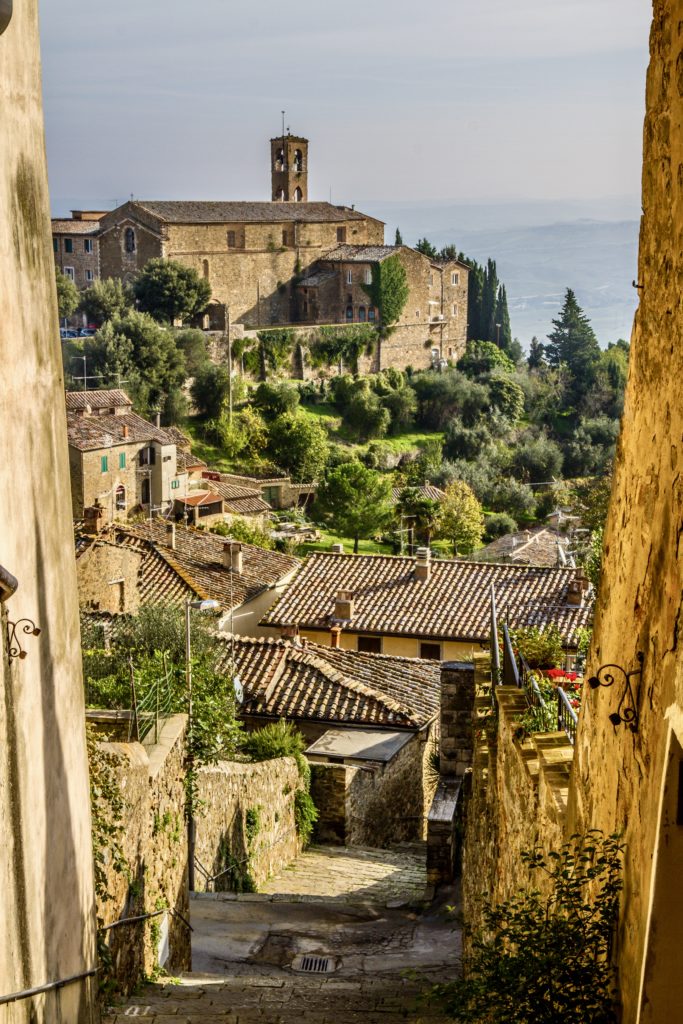 19. Montalcino: Brunello Wine Town
Montalcino is a pretty village of medieval perfection. It's crowned by a fairytale castle, blessed with magnificent views, and edged with vineyards.
It's known for its Brunello wine, one of the world's most beloved reds.
Montalcino is a superstar wine region, and a bit off the beaten track by Tuscany standards. While in Montalcino, you can have wine tasting and lunch at a medieval castle or take a 3 hour tour of the Brunello vineyards.
Montalcino's historic center has barely changed in centuries. The main square is the Piazza del Popolo, with a Gothic loggia and clock tower.
The town is dominated by the mighty and imposing Rocca fortress, which was built in 1361 when Montalcino was captured from Florence by Siena. From the ramparts, you'll have spectacular views. The fortress also has a tasting room for oenophiles.
20. Monteriggioni, Tuscany
Monteriggioni is an idyllic walled town in the Tuscany. Just look how charming it is. It almost doesn't look real.
Monteriggioni was built by Sienna in the 13th century as a defense in its ongoing conflict with its arch rival, Florence.
There's an upper and a lower parking lot. It's especially pretty in the early morning or at sunset.
4 euros gets you entry to the walls and the museum onsite. You only need an hour or two. If you want to have lunch or dinner, try Il Pozzo.
Time to drive to Monteriggioni: 1 hour. You can't take the train to Monteriggioni.
You can visit Monteriggioni on a guided day trip from Florence or a hiking tour from Siena.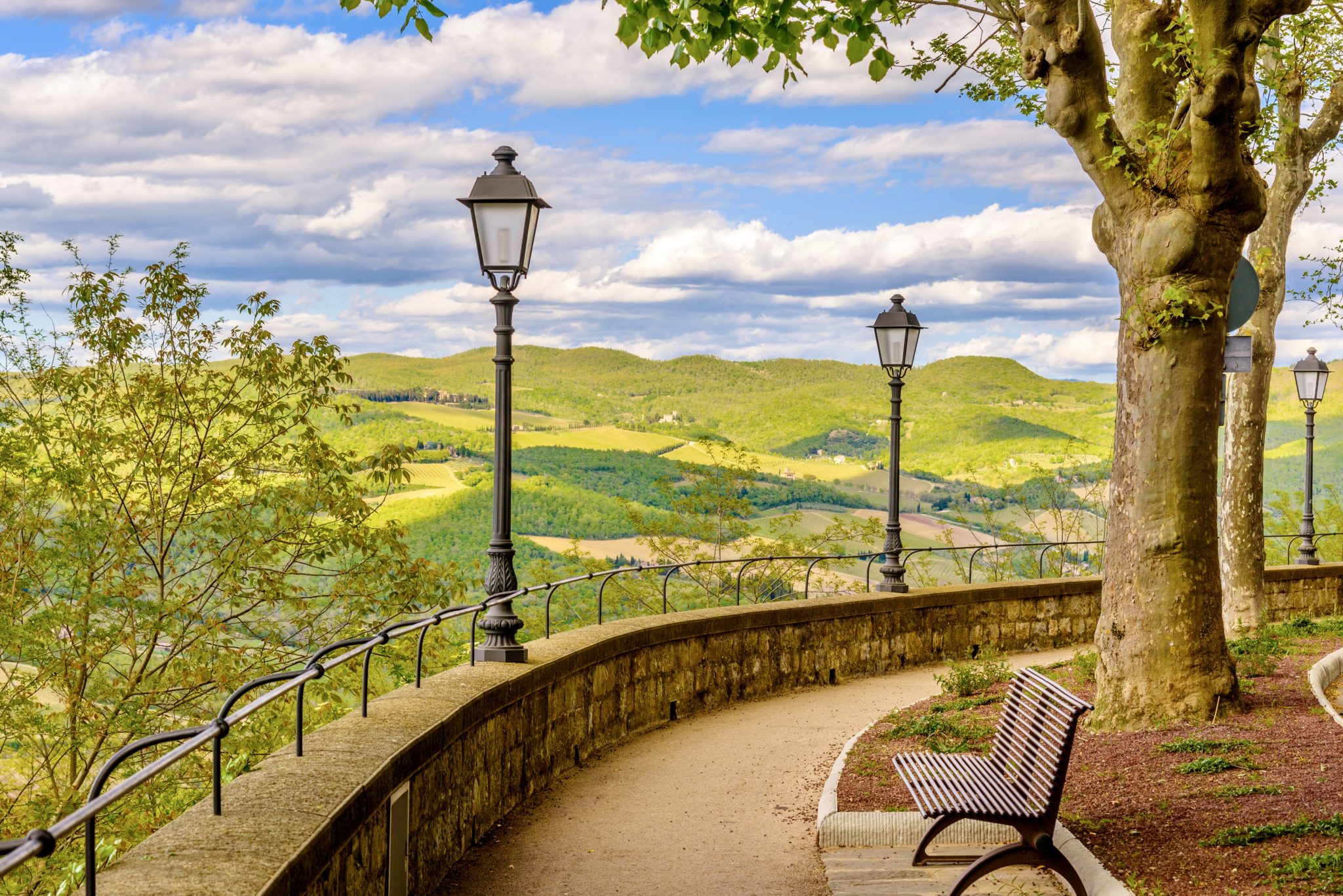 21. Radda in Chianti, Tuscany
Radda is a classic Tuscan town right in the middle of the Chianti Classico region. It's on a hill, set above vineyards in a wrenchingly beautiful landscape.
Radda was once the seat of the League of Chianti, where the podesta administered the territory from Radda's town hall, the Palazzo del Podesta on the main street.
In Radda, narrow alleys with views across the vineyards bisect the still partly walled medieval town. The town is dominated by the Church of San Niccolò, with a lovely portico.
As you might expect, Radda has plenty of wine bars and wine-centric restaurants.
While in Radda, it only makes sense to visit a local winery or go on a guided wine tour.
Time to drive to Radda in Chianti: 1 hour. You can't really get there by train.
Practical Tips For Day Trips From Florence
Here are some tips for day tripping from Florence.
1. Train Travel
If you plan to day trip from Florence by train, Italy's train system is super easy to use and fairly cheap, especially if you purchase tickets well in advance.
The best way to check timetables and purchase tickets online is on Trenitalia. You need to create an account to buy online.
In Italy, there are two types of trains: flexibly priced fast trains and price fixed regional trains. When taking a fast train (which is ideal), book well in advance. Prices rise as your travel day approaches. Naturally, these tickets are more expensive than regional tickets.
Regional trains are cheaper, with set fares. They stop more along the route, and are thus slower. Regional tickets purchased online must be printed out. So don't purchase online unless you have access to a printer.
You can also buy regional tickets from designated ticket machines, ticket booths, and newspaper shops. Regional tickets are valid to use at any time up to four months from the purchase date.
You must validate/stamp your train ticket in the machines on the tracks before boarding the train. If you forget to validate your ticket, it's possible you'll get a hefty fine.
If you forget, write the time and date on your ticket with a pen. When the inspector comes, try to explain to him what happened. If you're lucky, you may get off without a fine.
Italy is rather well known for its train strikes. If you find out there's a strike the day you're traveling on a regional train, skip traveling.
If you get on the shortly before a strike begins, the train may stop at the strike start time without any notice. And, unfortunately, this likely won't be your intended destination.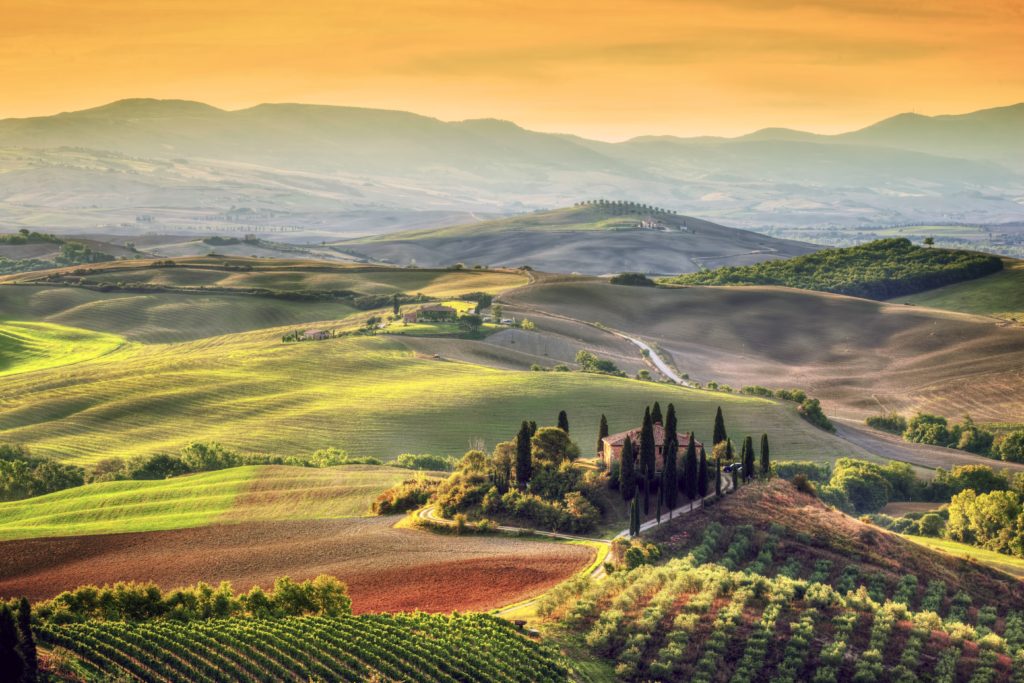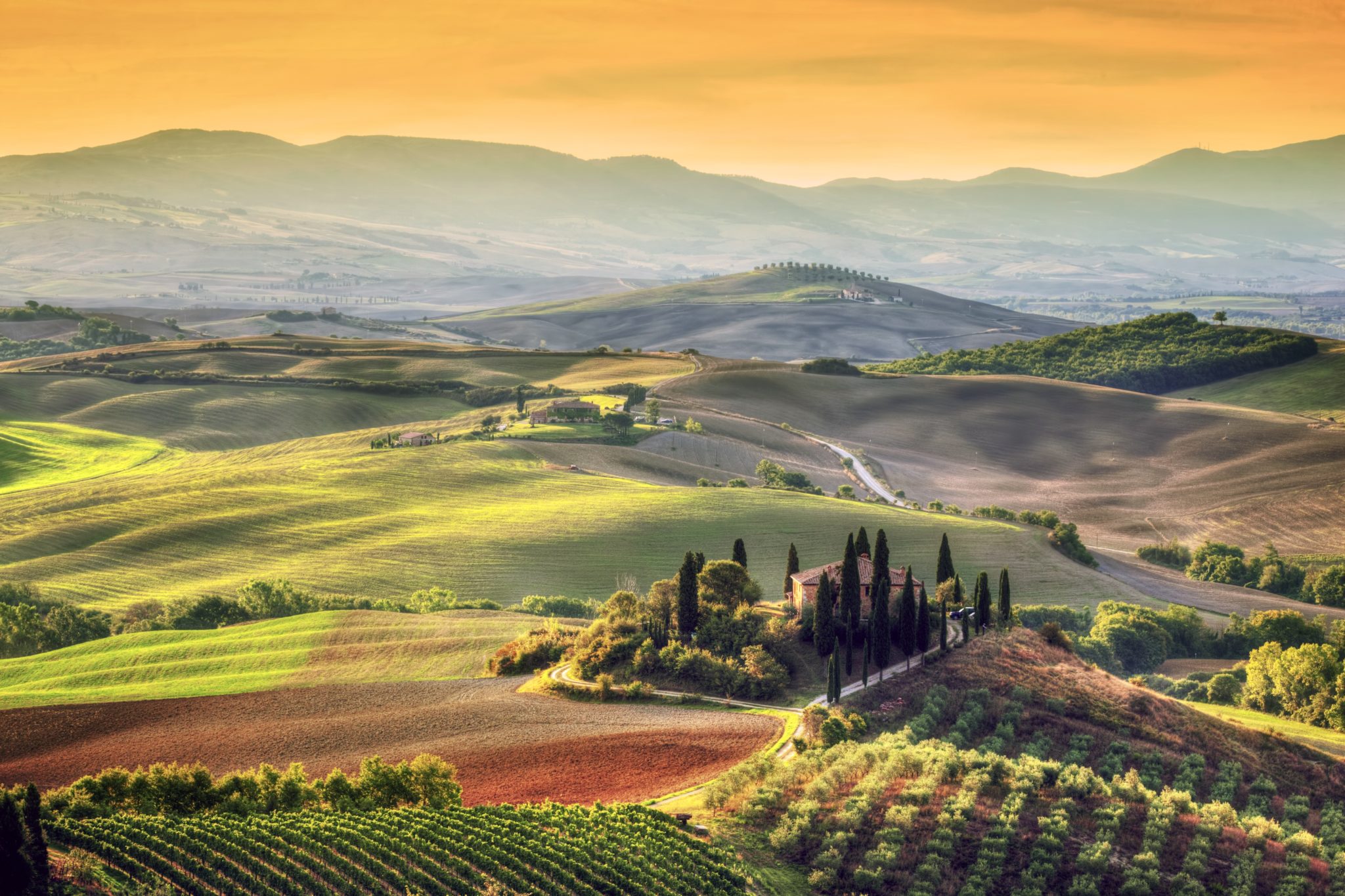 2. Driving
Driving in Italy is fairly easy (outside Florence). Try to get a compact car. The roads are narrow and parking places can be tight to get into.
The roads in Tuscany are fairly well paved. There are some toll roads, called the autostrade. But most aren't.
You may want to get a telepass from your rental car agency to help you speed through the tolls. Otherwise, when entering the toll area to pick up your ticket, head to the lane marked "biglietto."
You then pay at an exit booth. There are separate lanes for paying with cash and credit cards. The booths won't be manned.
Be forewarned, gas is very expensive in Italy.
If you've driven in Europe before, you'll know to expect lots of roundabouts. If you have a GPS with voice directions, they're pretty easy to navigate. It's also helpful to have a co-pilot.
You won't want to drive into the centro storico any of the hilltop villages you visit. In many cases, you can't drive into these blue zones without a special permit anyway.
I usually research parking places in advance. But there are usually well marked lots outside the historic center of most towns.
Most lots are "pay and display." You get a ticket for X amount of time and display it in your car window.
The Italians drive pretty fast. But you don't have to. Plus, there are speed cameras everywhere.
I hope you've enjoyed my guide to the best day trips from Florence. You may enjoy these other Italy and Tuscany travel guides and resources:
If you'd like to take some amazing day trips from Florence, pin it for later.