Want to take a classic Spanish road trip? This is the ultimate 10 day itinerary for a journey from Madrid to Seville.
This popular Spain road trip route is dense with exciting Spanish cities, must see medieval villages, Moorish architecture, UNESCO-listed landmarks, and loads of old world Spanish charm.
This ten day in Spain itinerary begins in Madrid, Spain's busy modern capital. Madrid is a cutting edge city, with fantastic public spaces.
It's a compact and lively collection of small villages, tapas bars, and some of Europe's most important museums. From Madrid, you'll travel through beautiful Segovia and Toledo en route to sunny Andalusia. In Andalusia, you'll visit some of the most beautiful towns in southern Spain.
Andalusia is a dreamy sun-kissed place. From flamboyant Seville to gritty Granada, you'll discover a well-balanced blend of must see hotspots, hidden gems, tiny whitewashed villages, and natural wonders.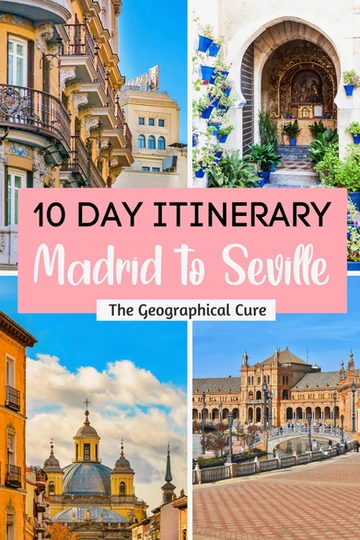 Overview of 10 Days in Spain Itinerary
Here's my recommended 10 day itinerary for a self drive road trip from Madrid to Seville. You don't need to pick up your rental car until day 4. You won't want a car in Madrid.
Day 1: Explore Madrid
Day 2: Explore Madrid
Day 3: Day Trip By Train To Segovia or Cuenca
Day 4: Drive To Cordoba, Stop in Toledo
Day 5: Explore Cordoba
Day 6: Drive to Granada, Stop in Antequera
Day 7: Explore Granada
Day 8: Drive To Seville, Stop in Ronda
Day 9: Explore Seville
Day 10: Explore Seville
For this Spanish road trip, you'll have four bases: Madrid (3 nights), Cordoba (1 night), Granada (2 nights), and Seville (3 nights). I give you tips on where to stay for each city.
This trip is best done by car. But this Madrid to Seville itinerary also also works by train.
Just make sure you pre-book/catch an early high speed ATV train when moving from city to city. A car is superior because it gives you more flexibility over your schedule and the ability to make pit stops (planned or unplanned) along the way.
There are plenty of great destinations to explore in this Madrid to Seville road trip. This super detailed 10 day itinerary is perfectly adjustable.
You can make it shorter or longer, depending on your available vacation time or personal fast/slow travel pace. I've tried to give you a mix of cities and leisurely villages, with day trip options as well.
10 Day Road Trip Itinerary From Madrid to Seville
Here's how to spend ten blissful days in Spain.
Day 1: Explore Madrid
You'll likely arrive in Madrid midday. Settle into Madrid's vibrant vibe with a stroll in Madrid's historic core, the pedestrianized Calle de las Huertas and the emblematic main square of Puerta del Sol. Puerta del Sol means the "Sun Gate."
Puerta del Sol is a mostly pedestrianized wide open space. The equestrian statue in the middle honors King Charles III. He was responsible for decorating the square with beautiful fountains. You'll also find a symbol of Madrid, the Bear and the Strawberry Tree statue.
You can grab some lunch in this area. Try Botin or Casa Labra.
Even better, you can walk 7 minutes to the Mercado de San Miguel, a tony food market housing gourmet tapas stalls. It's housed in a historic glass and iron building. San Miguel is the prefect place for adventurous eaters who like to stroll and snack on high end treats.
You can also book a 2.5 hour guide walking tour of Madrid's old town.
In mid-afternoon, your first stop is the masterpiece-filled Prado Museum. The Prado is Spain's cultural jewel and most celebrated museum.
It boasts one of Europe's finest and most sensuous painting collections. Its artistic anchors are Goya, Velazquez, and Rubens.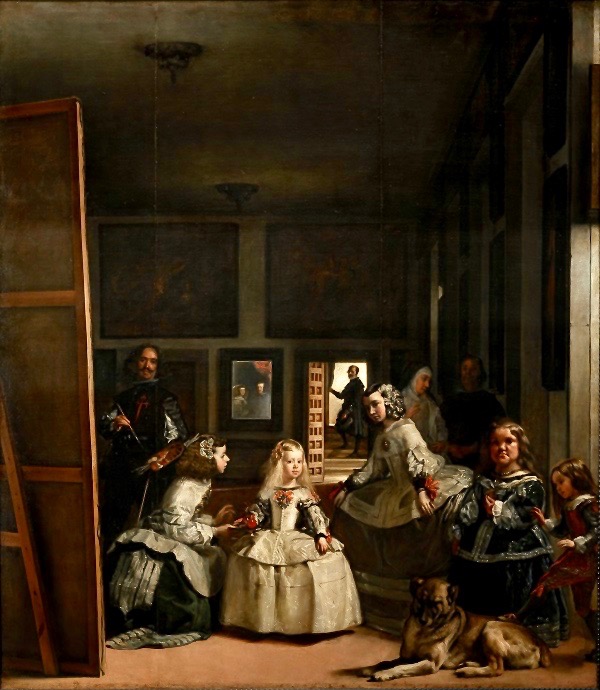 Here's my complete guide to visiting the Prado and casting your eyes on its must see art works. Click here to book a ticket and guided tour of the Prado. You can also combine a city walking tour with a guided tour of the Prado.
Don't miss the haunting Black Paintings by Goya in the subterranean gallery. If you're a Goya devotee, you may want to allocate time to inspect his frescos in the San Antonio de la Florida Chapel, where he's also buried.
READ: Guide to Goya's Terrifying Black Paintings
In the evening, head to the rooftop terrace of the Circulo de Bellas Artes to watch the sun set over the city. For four euros, you can ride the elevator to the 7th floor roof terrace.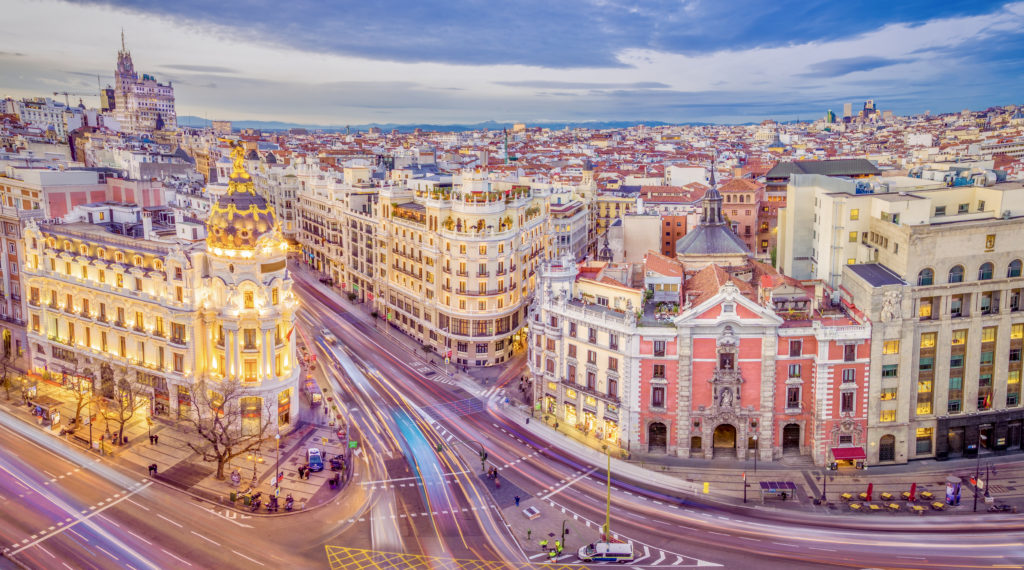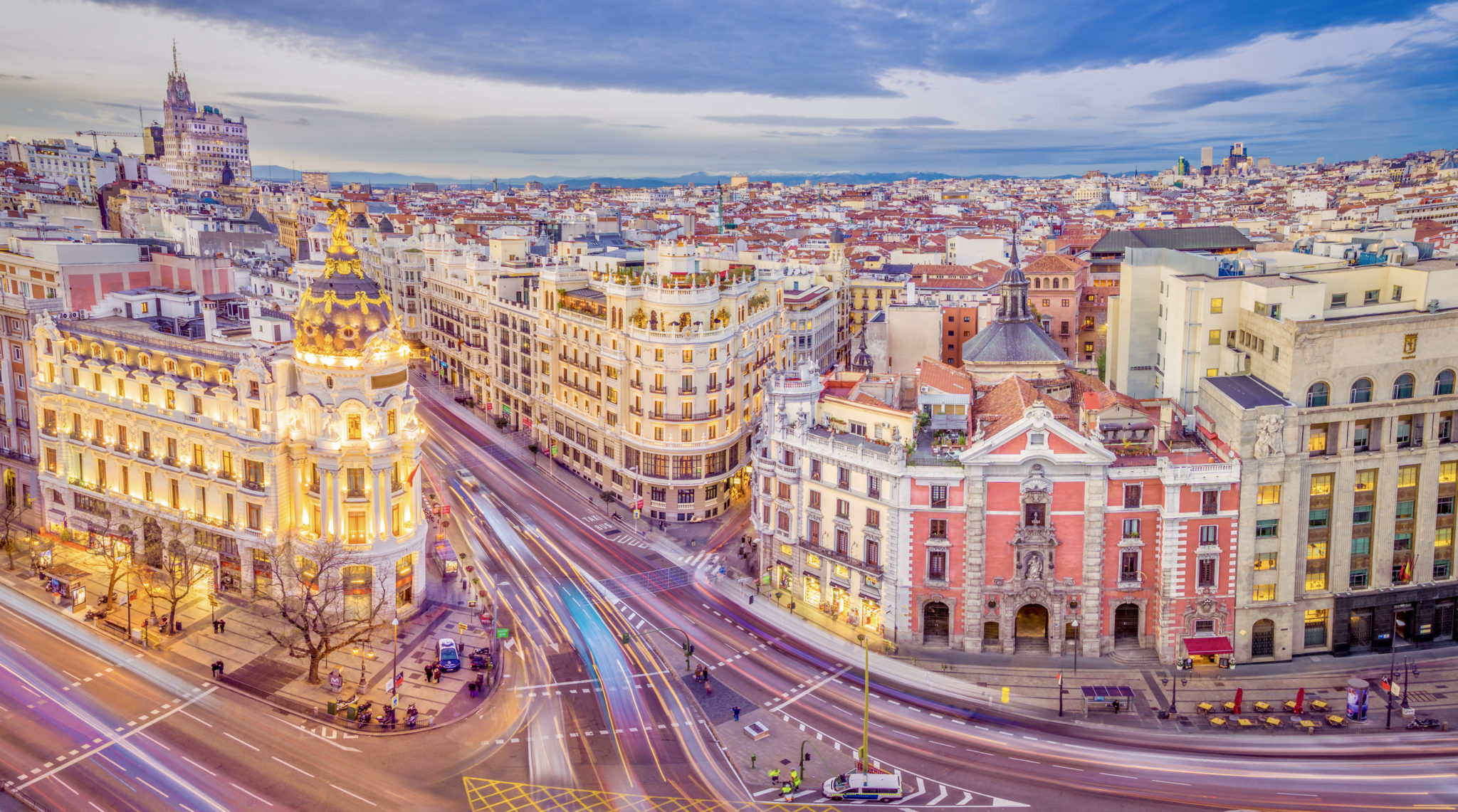 You'll be treated with panoramic views of the gold fringed dome of the Metropolis building, the Puerta de Europa (north gate), the Plaza de Cibeles, Retiro Park, and the Prado.
End your day with a progressive tapas dinner in the La Latina neighborhood, Madrid's oldest neighborhood. The Calle Cava Baja is just a few blocks south and east of the Royal Palace.
There's a three block stretch crammed with authentic tapas bars and restaurants. If you're in the mood for paella, try the restaurant El Arrozal.
Day 2: Explore Madrid
Day 2 AM in Madrid:
On day 2, grab some breakfast in Madrid's hip Lavapies neighborhood. The most popular spot is Pum Pum cafe, where you can have a mimosa and the "club mix" — eggs Benedict with avocado, croissant, granola, fruit, and yogurt. The La Latina neighborhood also has a good brunch spot, El Imparcial.
Or, sugar-shock yourself like a local with chocolate and churros. The classic places are Ibiza 74 and Chocolateria San Gines. Or, just grab coffee at one of the Toma Cafe locations.
Once caffeinated and fueled up, take a tour of Madrid's sumptuously decorated Royal Palace, which rivals Versailles. It's one of Europe's greatest palaces with 2,000 rooms, a king's ransom of gilding and chandeliers, and luxurious tapestries.
You can choose either a skip the line guided tour or an unguided timed entry slot.
The supersized palace is renowned for its frescos and stunning artwork. You'll find paintings by many artistic luminaries — Velazquez, Goya, Rubens, El Greco, and Caravaggio. Adjacent to the palace is Almudena Cathedral, which is free to enter.
Continue through Madrid's bustling Puerta del Sol to the elegant arcaded Plaza Mayor and Gran Via. The 17th century Plaza Mayor is the beating heart of Madrid. If you need handcrafted ice cream or coffee, pop into Mistura.
Gran Via is the most famous shopping street in Madrid, close to other sightseeing attractions like the Plaza de Cibeles and Plaza de Espana. (The most upscale shopping area is still in Barrio Salamanca.) Recent renovations have made it more pedestrianized, with wooden benches to plop down on.
Pop into a fantastic little bookstore on Gran Via, Casa del LIbro. Three minutes from Plaza Mayor is Puerta Cerrada, a plaza with bright painted murals.
Day 2 PM in Madrid:
In the afternoon, head to either the Reina Sofia or the Thyssen-Bornemisza Museum. You can't do both or you'll have serious museum malaise. I describe them both. You can choose which one suits your taste.
Opened in 1992, the Reina Sofia is Madrid's most popular and well-curated modern art museum. There's a special focus on Spain's favorite sons, Pablo Picasso and Salvador Dali.
The iconic star of the Reina Sofia is Guernica, Picasso's grim depiction of the Nazi bombing of Guernica Spain in 1937.
If you haven't had lunch yet, the Reina Sofia's Arzabal offers amazing tapas. Just behind the Reina Sofia, you'll also find nearly 40 contemporary art galleries lining the Calle del Doctor Fourquet.
READ: Guide To the Dali Theatre-Museum in Figueres Spain
Click here to book a skip the line ticket for the Reina Sofia. Art lovers should consider a guided tour of the magnificent museum.
The Thyssen-Bornemisza Museum is housed in the Villahermosa Palace The collection is one of the world's most impressive private art caches, possible second only to that of Queen Elizabeth of England. Opened in 1994, the Thyssen (pronounced Tee-sun) museum offers something for everyone.
Mixing contemporary and classic, the museum covers every major period in Western art, from 13th century Italian Renaissance to 20th century Pop Art.
It also has an important collection of 19th century American paintings not found elsewhere in Europe. This is where you'll find some fan favorites — Impressionists, Post-Impressionists, German Expressionists, and Surrealists.
READ: Best Museums in Spain
Click here to book a skip a line ticket to the museum.
If you're not a fan of museums, instead take a bucolic stroll in Madrid's most popular green space, Retiro Gardens.
El Retiro is filled with royal remnants, wonderful monuments, and fountains. There's the Crystal Palace, the Statue Walk, the Alfonso XII monument, and a man-made lake to explore.
You can book a guided walking tour in El Retiro or book a popular Segway tour.
Day 2 Evening in Madrid:
Madrid has one of Europe's best night scenes, if you're a night owl. It's a late night city that never really sleeps, so there are many evening options. Start your night with a glass of vino at Angelita Madrid, a trendy wine bar in the Chueca neighborhood of central Madrid.
If you opted for the Thyssen-Bornemisza instead of the Reina Sofia, the Reina Sofia is open from 7:00 to 9:00 pm. You can visit before your late Spanish dinner.
If you didn't get your sunset view on day 1 because of jet lag, head to the Temple of Debod. Dating from the 2nd century B.C., this Egyptian monument is located in the Cuatrel de la Montana Park, only 10 minutes from the royal palace. You'll have beautiful panoramic views.
If you're a culture vulture, consider taking in a show on Madrid's Gran Via. Madrid's "Broadway" houses Madrid's major theater venues, including the world famous Lope de Vega. Or, just enjoy more time in the lively Puerta del Sol, Plaza de Santa Ana, or the La Latina and Lavapies neighborhoods.
The evening is also a good time to take a food and wine tour of Madrid or go on a guided tapas tour.
Where To Stay In Madrid
You're spoiled for choice for excellent hotels in Madrid. My favorites are the Hotel Gran Melia Palacio Los Duques (luxury hotel in an ancient duke's palace with a secluded garden), the URSP Hotel and Spa (a simply gorgeous hotel with a wellness center), or the Principal Madrid (luxury boutique hotel with a rooftop terrace).
Day 3: Day Trip To Segovia or Cuenca
On day 3, you have two options. Head to the charming town of Segovia or the off the beaten path town of Cuenca. Both are UNESCO-listed beauties.
1. Option 1: Segovia
In 30 minutes, the high speed AVE train lands you in Segovia. Segovia is a history rich town with a beautifully preserved Roman aqueduct. Stroll through the streets of the pretty town, enjoying the authentic old world charm.
Then, visit Segovia's medieval Alcazar fortress, its crowning glory. Built atop a rock with pointy slate spires, the Cinderella castle looks like it was conjured from a medieval fairytale. Alfonso VIII lived in the fortress in the 12th century, before architectural changes transformed it into a Gothic castle in the 13th century.
Segovia's aqueduct is one of Spain's the most ancient landmarks, the best preserved example of Roman civic architecture in Spain. Dating from approximately the 2nd century A.D., it's a tour de force of Roman engineering that stood the test of time.
The aqueduct is set in a lively square of Segovia, part of everyday life. On Plaza de Azoguejo, a grand stairway leads from the base to the top of the aqueduct. In its shadows, sits a replica of the She-Wolf of Rome, a statue found in Rome's Capitoline Museums.
If you want to eat near the aqueduct, try Meson de Candido or Jose Maria Restaurante, the latter specializing in suckling pig. If you want something more off the beaten path, try Meson Dom Jimeno.
There are frequent departures for the 30 minute train ride to Segovia. You can also visit Segovia (+ Avila) on a guided day trip tour from Madrid. To get the maximum of your day, you can also book a guided tour of both Toledo and Segovia.
2. Option 2: Cuenca
If you're ready to escape the crowds, head to Cuenca instead of Segovia. Undiscovered Cuenca is a dramatic UNESCO-listed medieval town in the region of Castilla-La-Mancha, the land of Don Quixote. It's the perfect spot to escape the hurly burly of Madrid. Cuenca is especially appealing for art lovers and Gothic architecture buffs.
Cuenca is home to the gravity defying "hanging houses," precipitously clinging to the top of vertical cliffs. The place to snap your instagram photo is on the rather terrifying Puente de San Pablo, a bridge that spans 130 feet above a gorge.
The main drag of Cuenca is Alfonso VIII Street, which is lined with colorful red, blue, and yellow houses. Plaza Mayor boasts an elegant ensemble of buildings, including the Romanesque-Gothic Cuenca Cathedral. If you're in Cuenca for dinner, expect meat-centric meals and try Figon del Huecar.
Click here if you'd like to book a guided walking tour of medieval Cuenca. Click here to book a guide day trip tour from Madrid.
READ: Six 1 Week Itineraries for Spain
Day 4: Drive To Cordoba, Stop in Toledo En Route
On day 4 of your 10 days in Spain itinerary, get up early, pick up your rental car, and hit the road. It's a four hour drive from Madrid to Cordoba.
Either drive straight there, down the A4 freeway, because you're anxious to explore beautiful Cordoba. Alternatively, to break up the journey, stop in the historic town of Toledo. You may want to begin with a walking tour.
Just an hour south of Madrid and situated atop a gorge, medieval Toledo is one of Spain's best loved UNESCO cities.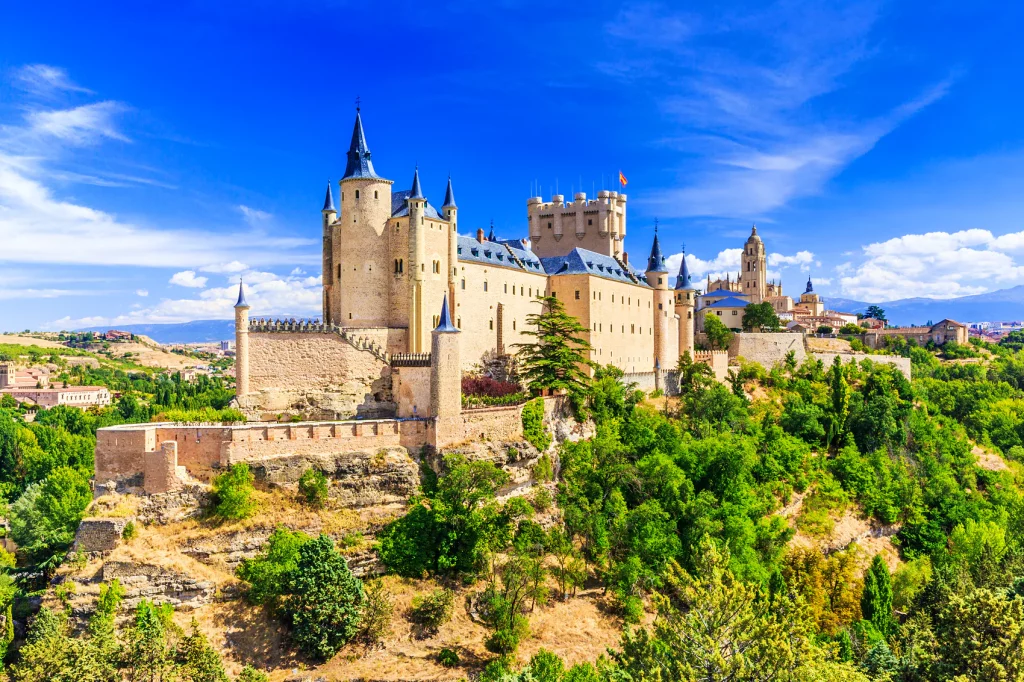 Perfect for history buffs, Toledo is an incredibly well preserved town, with a concentrated mix of art and history stashed within medieval walls. The best sites stretch out from Toledo's lively main square, Plaza de Zocodover.
At the town's center is perhaps Spain's best and most beautiful cathedral. The primarily Gothic Cathedral has a richly decorated interior.
The sacristy is a mini-Prado, with an impressive collection of works by the likes of El Greco, Velazquez, Goya, and Caravaggio. Circling the interior are ornate chapels.
READ: The Caravaggio Guide to Rome
If you need even more art, head to the Santa Cruz Museum or the small El Greco Museum. Then, head to the Alcazar, the former imperial residence that dominates Toledo's skyline. Military buffs will want to visit the Army Museum housed inside.
Then, begin your 3 hour drive to Cordoba, an exotic stone paved city with both a Roman and Moorish past. Cordoba is a natural film set, it's just so beautiful.
Cordoba has an authentic Spanish vibe with fewer tourists than other Spanish cities. You'll probably arrive late after spending time in Toledo. Get some sleep and prepare for an action packed next day.
Day 5: Explore Cordoba
Start your day with a bite to eat at Cafe Bar La Cueva or Breakfast Club & Co. Then head to Cordoba's #1 site: the magnificent Mezquita, the Mosque-Cathedral of Cordoba.
Dating from the 10th century, it's a UNESCO site and one of the world's most well-preserved Islamic buildings. The courtyard is free to visit.
READ: One Day In Cordoba Itinerary
In the 16th century, King Ferdinand and Queen Isabella converted the mosque into a cathedral, calling it the Cathedral of Our Lady of Assumption. I expected the combination to be discordant and perplexing. But I found it a fascinating place, a snapshot of the sophisticated dual culture that once existed in Spain.
You walk in from a courtyard of orange trees through the Porta de las Palmas. You're immediately in a forest of candy cane horseshoe arches. A highlight is the Mihrab, or high altar, in a mosque.
READ: 10 Best Day Trips From Seville Spain
The Renaissance cathedral is built right in the center, sharing marble and space with the Islamic arches. The vaulted ceilings are stunning.
Be sure to go up the minaret for spectacular views of the city. You buy tickets for the tower for €2 at a separate ticket booth below the bell tower.
Click here to pre-purchase a ticket. Click here for a guided history tour of the Mezquita.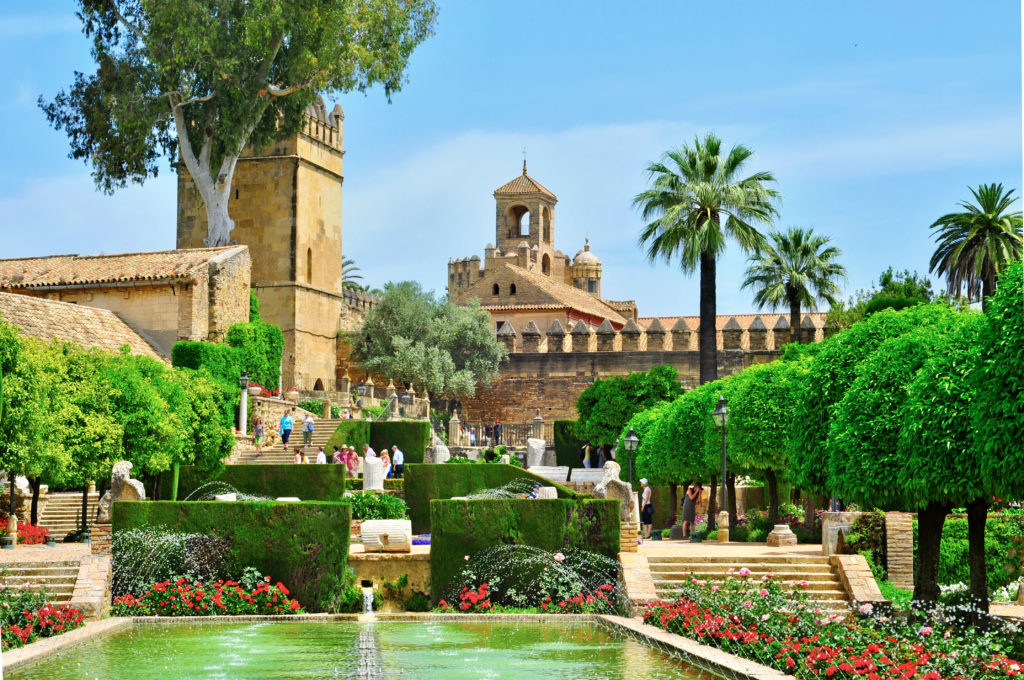 After lunch, visit the beautiful Alcazar de los Reyes Cristianos. This Alcazar can't hold a candle to Seville's UNESCO-listed Royal Alcazar, but I thought it was still worth a visit.
Click here if you'd like to book a 1 hour guided tour of the alcazar. For maximum efficiency, you can also book a combo tour of the Mezquita and the Alcazar.
In the early evening, amble around the narrow streets of the charming old Jewish Quarter. Stroll by the Instagram popular Calleja de las Flores. It may be crammed with tourists. But there are beautiful flowers and patios everywhere in Cordoba.
Go into the Jewish synagogue. Say hello to the nearby statue of Maimonides, an influential medieval Jewish philosopher.
Stroll across the stunning Roman Bridge, both a UNESCO site and a Game of Thrones filming location.
READ: Cordoba's Roman Bridge
Cordoba features some of Spain's most traditional dishes. Try a potato omelette at Bar Santos or pistos at Taberna San Miguel Casa El Pisto. If you want a luxe experience, reserve at the Michelin-starred Celia Jimenez.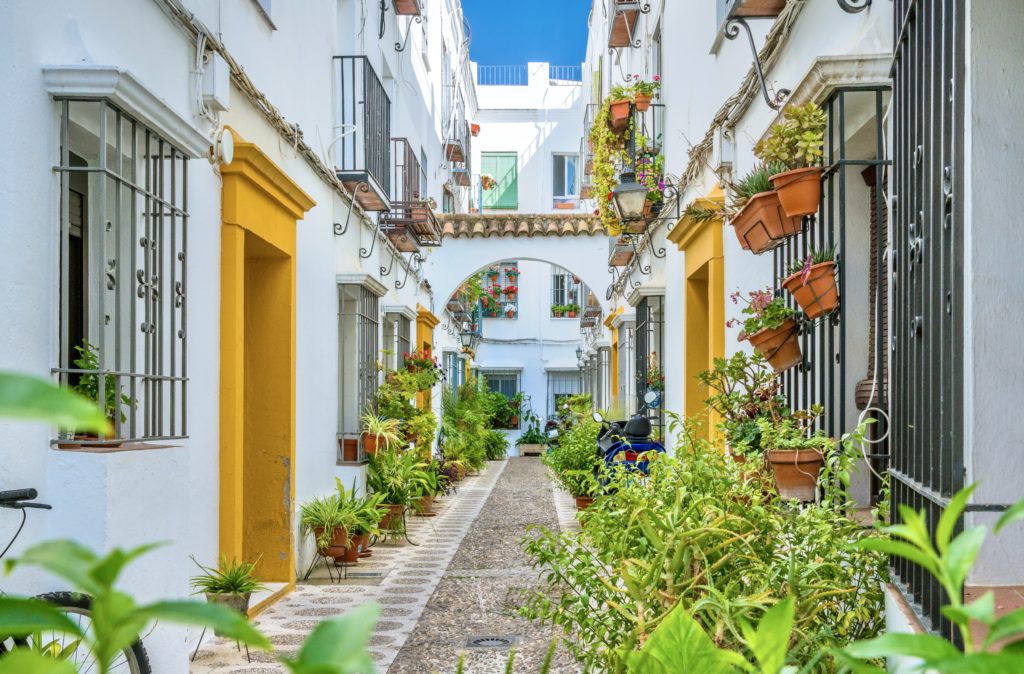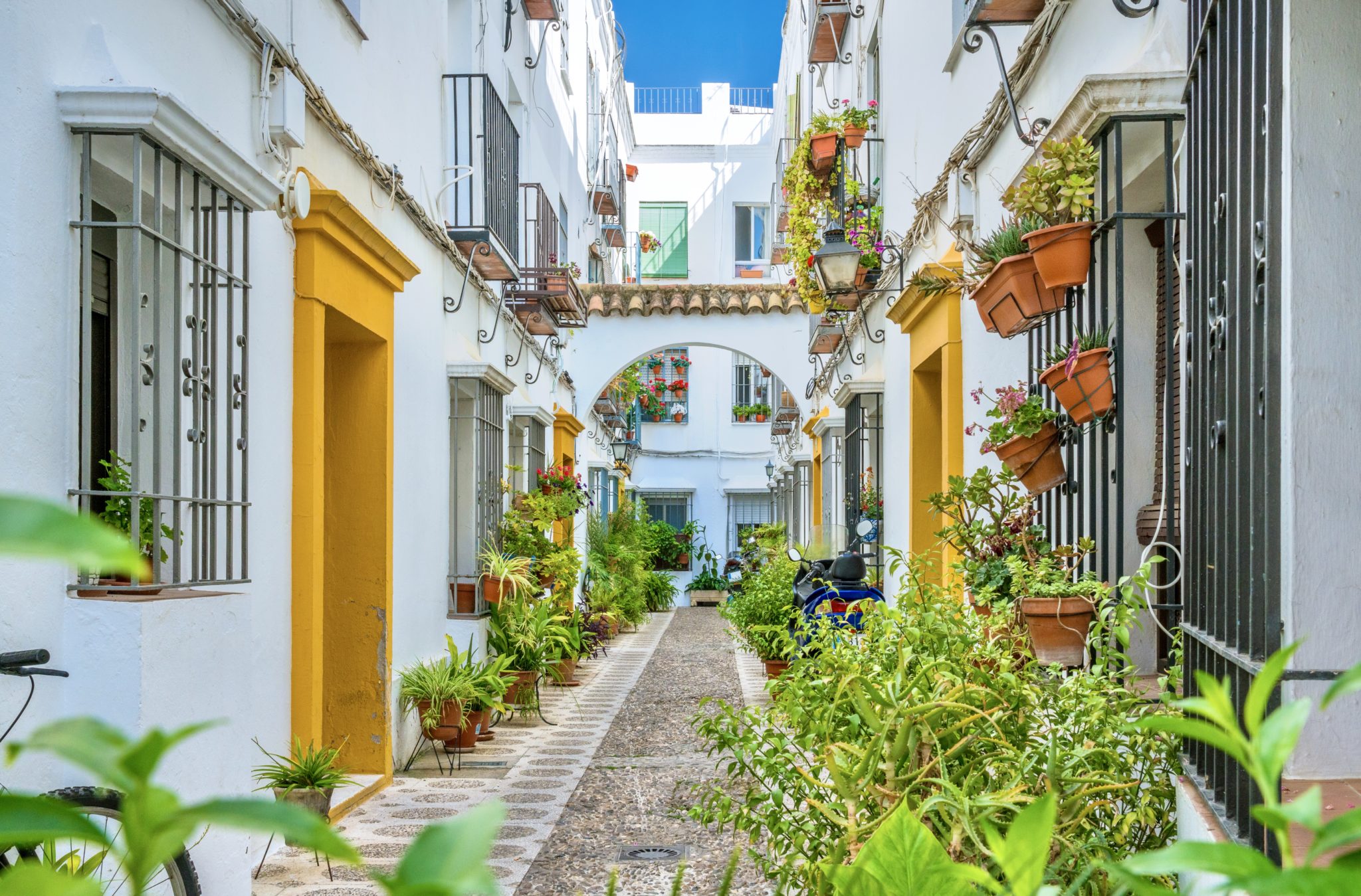 Where To Stay In Cordoba
The Patio del Posadero Hotel Boutique B&B is an ultra chic boutique hotel housed in a fully restored 15th century house. The Hotel Hospes Palacio del Bailio is a luxury hotel in a palatial 16th century building. It comes complete with Moorish flourishes and frescos.
The Hotel Viento 10 is a swish boutique hotel in a Moorish style house. It has a rooftop terrace with a great view of the Mezquita.
Finally, the Hotel Madinat is an upscale hotel housed in a superbly restored 18th century mansion. It's a mix of contemporary styling and Arab flourishes. The hotel has two terraces and a rooftop watch tower.
Day 6: Drive From Cordoba To Granada, Stop in Antequera and Explore Granada
It's a 2 hour+ drive from Cordoba to Granada. If you want to break up the trip, the best and most direct stop is a hidden gem in Andalusia — Antequera.
This adorable Spanish-Baroque town is fittingly dubbed the "Florence of Andalusia." It's also called the "heart" of Andalusia because it's in the center of the province.
If you're day tripping, there's a lot to do. Park your car on the outskirts of town and walk up Calle Don Infante.
Antequera boasts an impressive Moorish fortress-alcazaba, a lovely Renaissance church, and a stunning medieval and baroque historical core. You'll have an eyeful of swoonful scenery.
Antequera's greatest historic landmark, the ancient megaliths/dolmens, are outside the old town. You'll see signs. The Bronze Age dolmens are among the oldest things on the planet. They are essentially Spain's Stonehenge.
The dolmens are ancient burial grounds that were declared a UNESCO site in 2016. They're one of the most remarkable engineering and architectural works of European pre-history and an important example of European Megalithism.
For more details and information, check out my guide to visiting the town of Antequera and guide to Antequera's UNESCO dolmens.
After a little over an hour drive from Antequera, you land in Granada. Aim for a late afternoon arrival so you can spend some time wandering through the grit and glitz of Granada.
Granada will sweep you away with its authentic Spanish vibe and dazzling attractions. Lorded over by the Sierra Nevada Mountains, Granada is an absolutely beautiful ancient city with historic architecture.
Granada boasts many atmospheric neighborhoods, each with an earthy distinct character. It's home to the mighty Alhambra, a Moroccan souk, a massive cathedral, flamenco music, and — perhaps best of all — free tapas.
When you arrive in Granada, settle in and then wander around the old Arab neighborhood of the Albaicin, or Albayzin. Built on a steep hill, it's an ancient area with a fetching maze of tight tangled winding streets and a bohemian feel. The lively place was declared a UNESCO site in 1984.
The main drags in the Albaicin, which both run parallel to the River Darro, are Paseo de los Tristes and Carrera del Darro. Amidst a jasmine scented breeze, you'll find restaurants, cafes, tapas bars, and even street performers. You can enjoy a sunset view of the Alhambra and the Sierra Nevada Mouintinas at Mirador San Nicolás.
Day 7: Explore Granada
Start day 7 of your 10 days in Spain at Granada's marquis site, the UNESCO-listed Alhambra, the palace-fortress of Spain's Moorish monarchs. It takes more than half a day to explore properly.
The first time slot is at 8:00 am. Grab some breakfast to fortify yourself at the nearby Restaurante Jardines Alberto. Or, eat in the city center before heading uphill.
The Alhambra is one of the most popular and best sites in southern Spain, and even in the world. It stands on a stunning piece of real estate, high on Sabika Hill, with panoramic views over Granada and the beautiful countryside.
Here's my complete guide to visiting the Alhambra. More than any other attraction I've mentioned, you MUST have a ticket to visit the Alhambra and reserve it well (weeks) in advance. There's so much to see at the Alhambra that you may want to book a guided tour.
The highlights of the Alhambra are the Alcazaba, the Charles V Palace, and the jaw dropping Nasrid Palace. The Nasrid Palace offers the world's finest example of the refined, intricate, and elegant architectural style of the Moorish civilization.
When you're done with the lavish palaces, spend an hour or so in the beautiful Generalife Gardens.
READ: Must see sites in Granada
Grab some lunch and then visit the ornate tombs of Spain's dynasty-builders Ferdinand and Isabella. They reigned over the Christianization of Granada and the exploration of the "new" Americas. 10 minutes away, visit Granada Cathedral in Granada's historic center.
Granada Cathedral is a massive affair. It's the second largest cathedral in Spain after Seville Cathedral and the fourth largest cathedral in the world.
The cathedral's a mix of Renaissance and Baroque styles. Inside, there's a towering interior, a grand altar, and side chapels.
Click here to book a guided tour of the chapel and cathedral.
In the afternoon, explore the otherworldly barrio of Sacromonte, home to Granada's Roma community. Time stands still in this unusual rustic quarter of Granada.
For centuries, Sacromonte was the home of gypsies, bohemians, artists, and foreign refuges. Sacromonte also sports one of the most mesmerizing views of the Alhambra.
On your final evening in Granada, take a walking tour in Sacromonte or take in a flamenco show.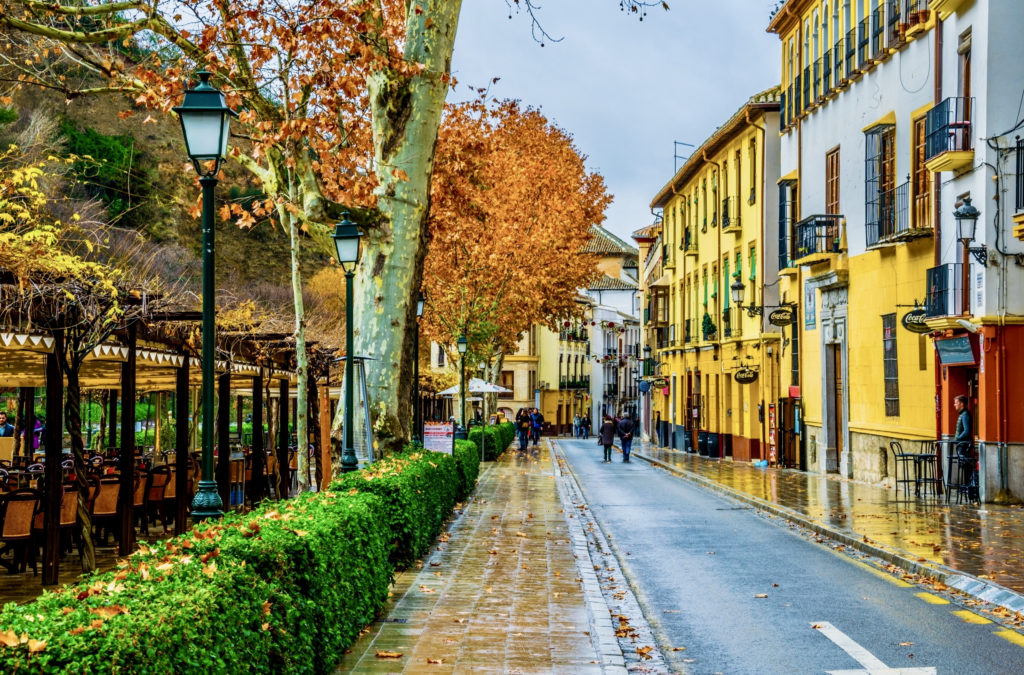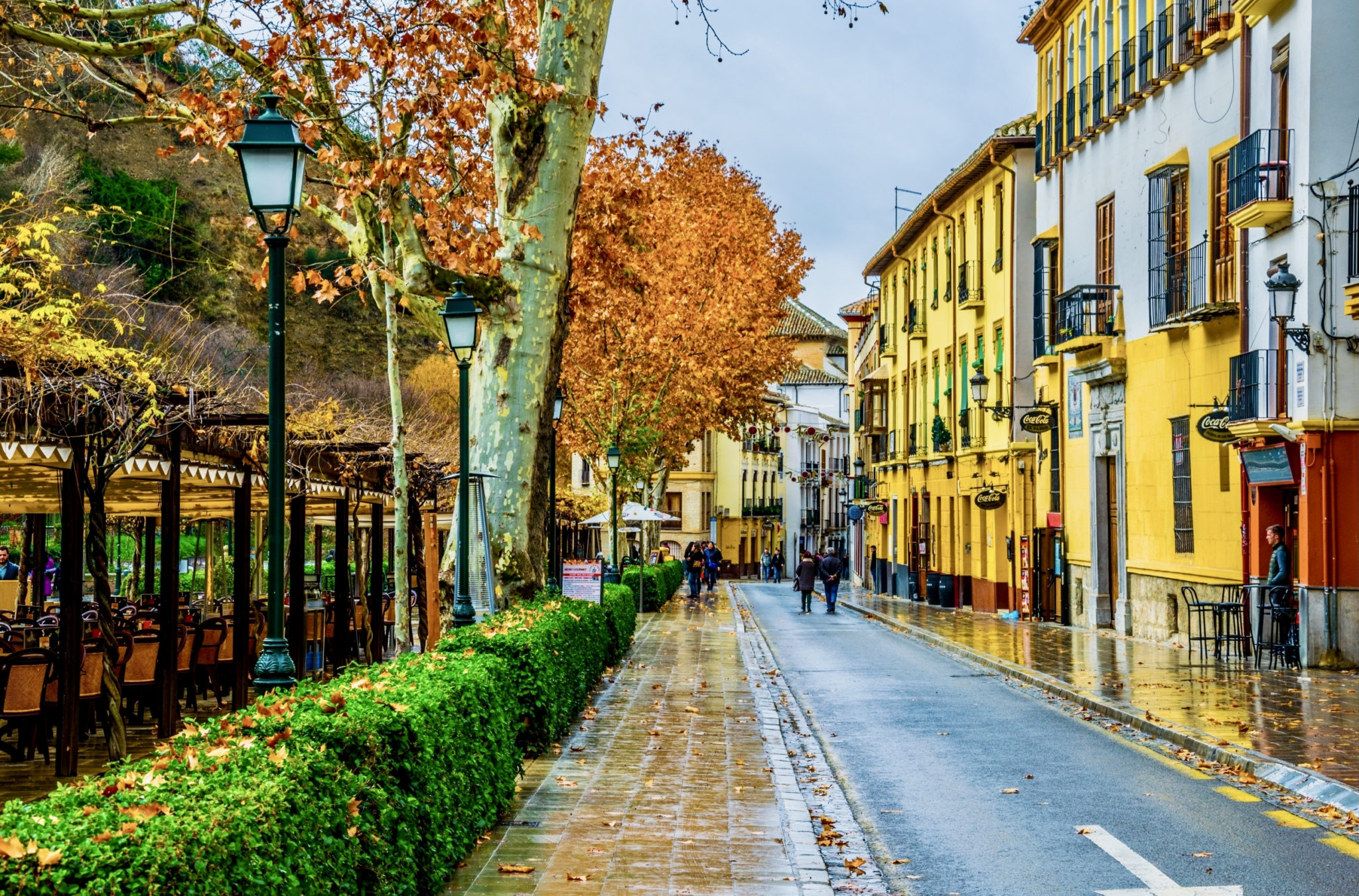 Or, spend a couple hours relaxing at Granada's ancient Arab baths, Hammam Al Andalus.
Where To Stay In Granada
The Eurostars Catedral is a lovely hotel housed in a 16th century manor, just a short walk from the cathedral. The Catalonia Granada is a lovely hotel that comes complete with a plunge pool and open air terrace.
If you want a place where tradition and avant garde style meet, check out the Hospes Palacio de los Patos. It's housed in a UNESCO-listed palace, with sprawling gardens, a spa, and mosaic floors.
Day 8: Drive From Granada To Seville, Stop in Ronda
Get up bright and early and drive from Granada to Ronda, which takes 2 hours. Ronda is the third most visited town in Andalusia. You can orient yourself with a walking tour.
And there's a a reason — it's beyond dramatic. Ronda is perched on a mountainous gash carved by the Río Guadalevín. Ronda is synonymous with its dramatic 18th century bridge, the Puente Nuevo.
The famed bridge connects the old and newish parts of the town over the 328 feet El Tajo gorge. There's a staircase leading to the floor of the gorge, for a different viewing perspective.
Ronda is also famed as the birthplace of bullfighting. The city's Plaza de Toros is one of Ronda's most popular attractions, thanks to its beautiful architecture. It's ringed with double rows of columns, lending it a Neo-Classical look.
If you want to delve more deeply into Spain's bullfighting culture, head to the Museum of Bullfighting. You'll even find some sketches depicting the "art" (not sport) of bullfighting by Goya.
Aside from the bridge, Ronda itself is beautiful — plenty of cozy town squares, cobblestone alleys, balconies everywhere, and lovely architecture. You can visit the Mondragon Palace and the Arabic Baths, if you're feeling ambitious.
From Ronda, it's a 1:45 drive to beautiful Sevilla, your final base. If you enjoyed Ronda (and because of all the driving), you'll probably arrive late. But, in this itinerary, you'll still have two blissy days to explore sun-drenched and sultry Seville.
Day 9: Explore Seville
On day 9, begin exploring your last stop on this itinerary, Sevilla. It's one of Europe's best and most beautiful destinations. Seville is a happy wonderful-to-be-alive place, teeming with people, scented orange blossoms, and flamenco music.
Seville is lord over by one of the world's most colossal Gothic cathedrals. It's a seductive mix of Mudéjar palaces, ornate baroque churches, colorful tiles, and shady cobblestone lanes. You can feast on inventive tapas, ice cold beer, and sweet sherry. At any hour of the day, no less.
You'll likely spend the bulk of your first day visiting Seville's top 2 attractions — the Royal Alcazar and Seville Cathedral.
The Royal Alcazar is one of the world's greatest cultural treasures, a centuries old complex of palaces and fortifications, lovely courtyards, and extensive gardens bursting with orange, purple, and green colors.
It's a breathtaking 10th century palace that King Pedro the Cruel gave a 14th century Mudejar facelift.
Inside, the highlights are the Hall of the Ambassadors, the Courtyard of the Maidens, the Courtyard of the Dolls, and the Hall of Tapestries in the Gothic Palace. The Ambassador's Hall, or Throne Room, is the big showstopper. It's nicknamed the "Half Orange" Room, in honor of its gilded cedar domed ceiling.
Outside, there's a series of verdant lush gardens. They are an exotic, labyrinthian paradise, encompassing 80% of the Alcazar grounds.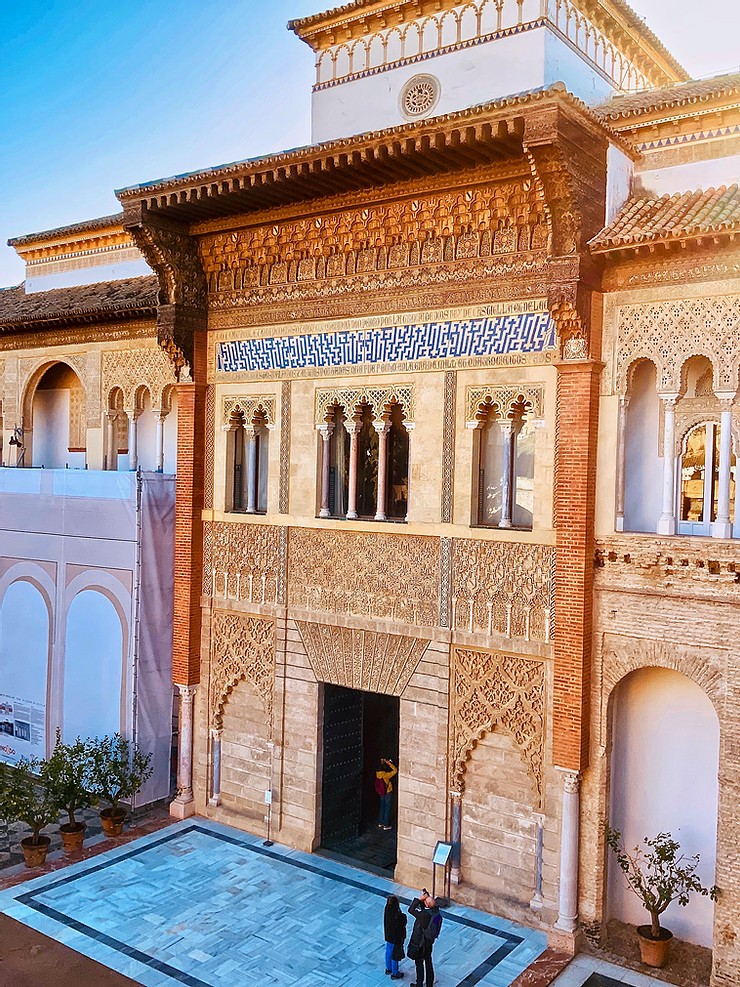 Don't miss the Baths of Maria De Padilla, King Pedro's mistress. The baths are one of the Alcazar's Game of Thrones filming locations, a place where the Sand Snakes plot.
Here's my complete guide to visiting the magnificent Royal Alcazar. It's my favorite place in all of southern Spain.
You absolutely must pre-book tickets in advance, or you'll waste time stuck in a long line. The Alcazar is also well worth booking a guided tour to see the complex.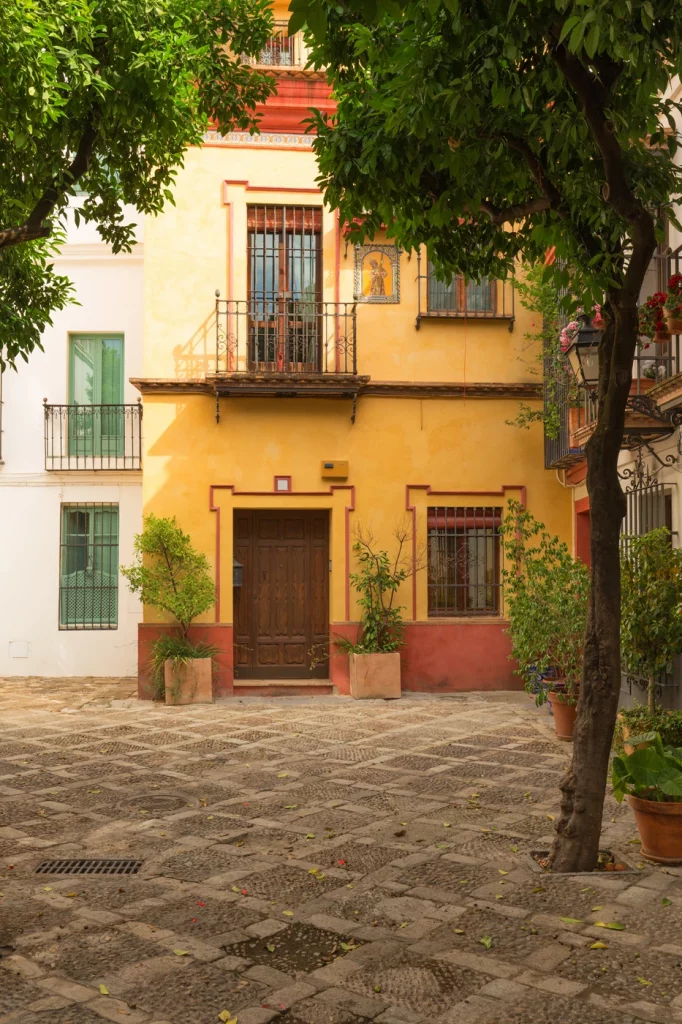 Then, visit Seville Cathedral, the world's largest cathedral. In 1402, after vanquishing the Moors in the Reconquista, King Ferdinand and Queen Isabella began work in earnest on a Gothic style cathedral. They wanted a showy display of Seville's wealth, power, and influence.
There are 15 doors on the cathedral's four facades and each one features a unique relief or carving. The nave is the longest in the world.
The glittering altar is elaborately detailed and finished in gold leaf. Along the sides, you can explore 80 chapels and the tomb of Christopher Columbus.
Click here for a skip the line ticket to this magnificent cathedral. You can combine the alcazar and the cathedral on a single guided tour as well.
In the evening, head to Seville's Barrio Santa Cruz for wandering, cocktails, and dinner. It's a popular district within the city — a mass of tangled cobbled streets with tiny palazzos and tile covered patios.
Some streets are so impossibly narrow and romantic, they're called "kissing lanes." There are orange trees everywhere.
Be sure to wander down Calle Agua, the Water Street. It leads to Plaza Alfaro, where you'll find a home that may have inspired the balcony scene in Romeo and Juliet. Or take a romantic horse drawn carriage ride.
You can also book a 1 hour guided walking tour of the neighborhood.
When you're ready for dinner, try Taberna Peregil, Vineria San Telmo, or La Bartola.
Day 10: Explore Seville
On your second day in Seville, head to the Plaza de Espana, one of Seville's most famous landmarks. It was built to host the 1929 Ibero-American Exposition.
The plaza has a fetching mix of Baroque, Renaissance Revival, and Moorish Revival styles. The highlight is the Spanish Pavilion, a sweeping half circle structure with rose gold brick buildings.
The tiles show historical scenes and maps from the 49 provinces of Spain arranged in alphabetical order. Entry to the plaza is completely free. You can easily spend a couple of hours here, admiring the square. Then stroll in the adjacent Maria Louisa Park, a lovely green space.
Spend your afternoon in the Triana neighborhood, Seville's former gypsy quarter. Triana is sprinkled with history, flamencos, tapas, and everything Andalusian.
It's not nearly as crowded as Barrio Santa Cruz. And it's chock full of colorful houses, small tapas cafes, mosaic tiles, and the Isabel II Bridge. Triana has one of Seville's liveliest markets, the Mercado de Triana. Triana is also where you can stock up on beautiful Spanish ceramics.
If you want to have dinner in Triana, there are plenty of options. Try Bar Amarra (seafood), Paco Espana (tapas), or Casa Ruperto (quail). Vegetarians can head to Vegan 10.
Triana is also a good place to go on a guided food tour or a gourmet tapas tour.
More time in Seville? If you have an extra day, here's my detailed 3 day itinerary for Seville, which takes you to more of Seville's must visit attractions and some hidden gems.
Where To Stay In Seville
Air Bnb is a good option in Seville. There are also some beautiful boutique hotels.
My picks would be: Hotel Colon Gran Melia, Suites Machado, or Hotel Casa del Poeta.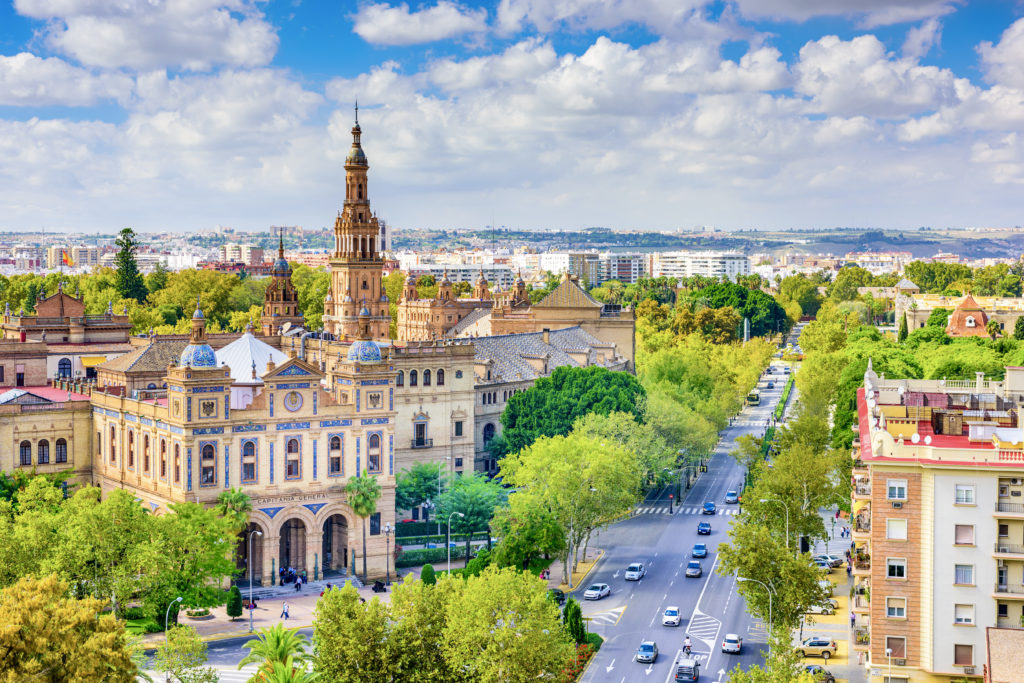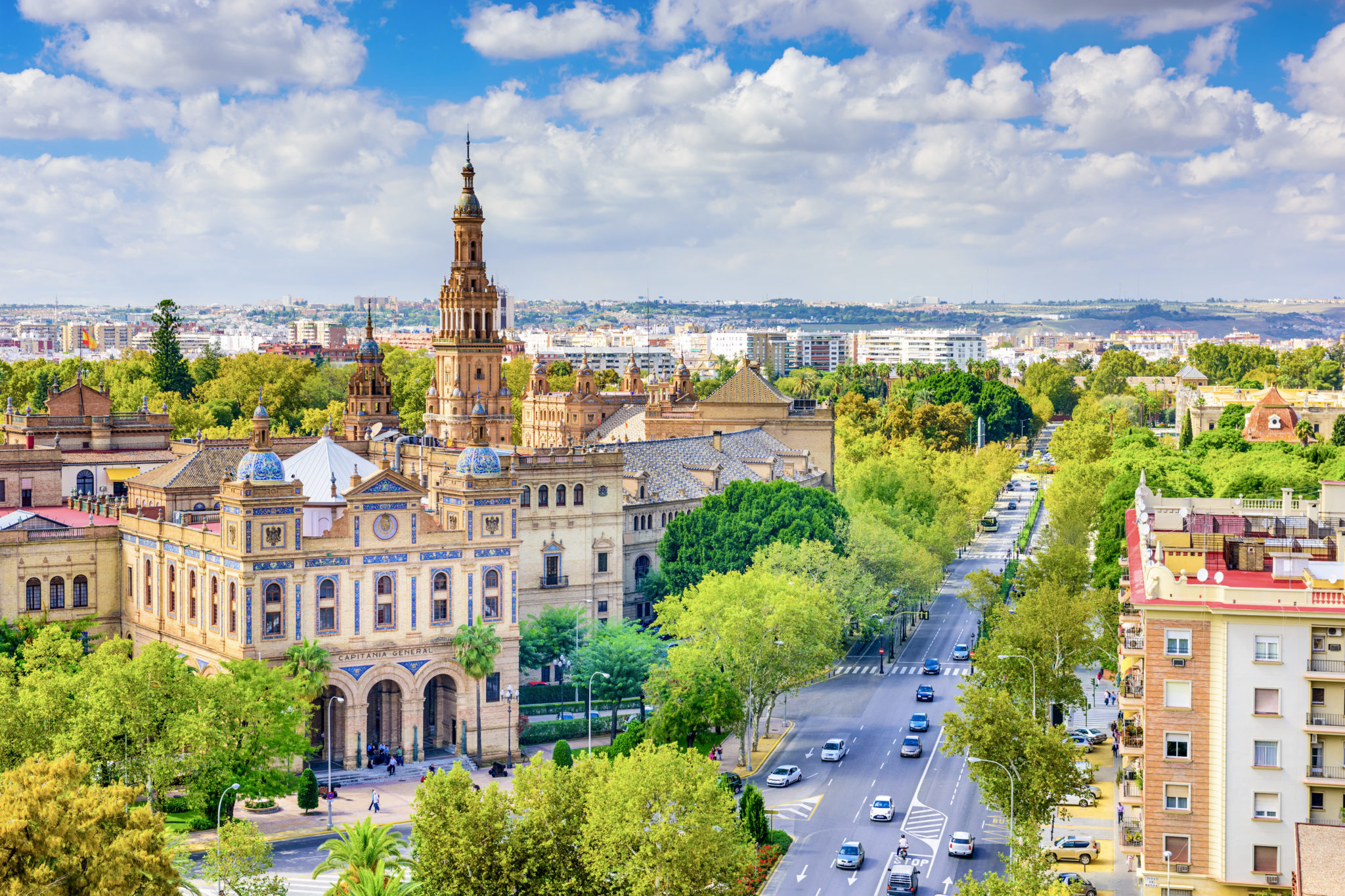 I also think Barrio Santa Cruz is a great, and more quiet, place to stay. In this area, you could book at Hotel Casa 1800 Seville (timeless elegance) or the EME Catedral Hotel (sumptuous hotel with a roof terrace, Michelin restaurant, and spa).
Tips for Driving in Spain
I feel like driving in Spain is fairly easy. You just have to avoid driving into the historic center of a small town or driving in big cities like Madrid or Seville.
Only use your car to head out of town from those cities and get around Spain.
READ: Tips for Renting a Car and Driving in Europe
You'll need an international driver's license for Spain. Book your car early and get the smallest one possible. If you can drive a manual transmission, a rental car is much less expensive. Choose the smallest car possible that will accommodate you, your traveling companions, and luggage.
I would purchase full insurance just in case. There are routine radar speed traps all across Spain. On the spot fines are outrageous. So let the speedy Spaniards drive on by you.
Have some cash handy for paying tolls. Bring your own GPS (phone, iPad) and have an eternal charger handy to keep it charged up.
I have you've enjoyed this 10 day Spain road trip itinerary. You may enjoy these other Spain travel guides and resources:
If you'd like to road trip or travel from Madrid to Seville, pin it for later