Planning a trip to Seville and brainstorming some day trip ideas? Here's my guide to the top 10 day trips and weekend getaways from Seville.
Who would ever want to leave sunny Sevilla? I know you're thinking that. It's hard to tear oneself away from such a sultry city filled to the brim with stunning UNESCO sites, museums, and adorable cobbled neighborhoods.
READ: 3 Day Itinerary for Seville Spain
But Seville's location makes it a perfect base for day trips and road tripping in southern Spain. And Andalucia's idyllic white pueblos beckon, rather insistently.
Here are my recommendations for the best day and weekend trips from Seville. The farthest afield you'll go is 2 hours.
But consider staying overnight. Many of these places are achingly romantic and best experienced as a long weekend.
I haven't included Granada on my list. I loved Granada dearly. But it's just too far afield for a productive day trip and deserves several days in its own right.
If you must day trip to Granda, just to see the mighty Alhambra, be sure to book tickets months in advance and consider a private tour and transfer.
Many of the towns listed below would be the perfect place to stop if you're driving from Seville to Granada.
Top 10 Best Day Trips From Seville Spain
Here are my picks for the best day trips and weekend getaways from Seville.
1. The Roman Archeological Site of Itálica
Less than a half hour from Seville lie the Roman ruins of Italica. The Romans founded Italica in 206 B.C. It's reputedly the birthplace of three Roman Emperors — Hadrian, Trajan, and Theodosius.
The amphitheater once held 25,000 people, and was the third largest in the Roman Empire. Italica is now the modern day Santiponce. To safeguard the ruins, Santipoce has applied for UNESCO World Heritage status.
In the hit HBO show Game of Thrones, Italica serves as the dragon pit of Kings Landing, which was basically a stable for the Targaryen dragons. You can book a Game of Thrones tour from Seville.
It's the site of a famous scene from the Season 7 finale. There, the heads of the major Westerosi houses meet to negotiate how to combat the Army of the Dead, the approaching White Walkers.
In season 8, the ruling lords once again gather at Italica to decide the fate of Jon and Tyrion, as well as elect Bran the Broken as the next king of Westeros.
Address: Avenida Extremadura 2, 41970 Santiponce, Spain
Getting there: Buses 170 A and 170 B leave from Plaza de Armas bus station in. Look for to Santipoce. The 170A bus leaves every half hour and takes approx 30 minutes. Itálica is a 20 minute drive.
Entry fee: 1.50 €
2. Osuna, an Adorable Game of Thrones Town
Osuna surprised me. I visited the town for its dashing bullring, which is one of Andalusia's Game of Thrones filming locations.
But Osuna itself was beyond adorable, a charming white pueblo village with a rich architectural and cultural heritage. There's row upon row of white stucco homes and streets dotted with orange trees. Osuna's a vertitable art gallery, with all its Renaissance and Baroque churches.
UNESCO lists Osuna's main drag, the Calle San Pedro, as the second most beautiful street in Europe. Osuna was declared a Historic-Artistic site in 1967.
For the full scoop, here's my complete guide to visiting Osuna.
Getting there: 1 hour drive or a 1.5 hour train ride from Santa Justa station. Osuna is a great pit stop if you are driving to Malaga or Granada.
3. Ronda, Bridge Porn and Bullfighting
Ronda is the most popular day trip from Seville. It's the third most visited town in Andalusia.
And there's a a reason — it's beyond dramatic. Ronda is perched on a mountainous gash carved by the Río Guadalevín. Ronda is synonymous with its dramatic 18th century bridge, the Puente Nuevo.
The famed bridge connects the old and newish parts of the town over the 328 feet El Tajo gorge. There's a staircase leading to the floor of the gorge, for a different viewing perspective.
Ronda is also famed as the birthplace of bullfighting. The city's Plaza de Toros is one of Ronda's most popular attractions, thanks to its beautiful architecture.
It's different than Osuna's bullring. It's ringed with double rows of columns, lending it a Neo-Classical look.
If you want to delve more deeply into Spain's bullfighting culture, head to the Museum of Bullfighting. You'll even find some sketches depicting the "art" (not sport) of bullfighting by Francisco Goya, the renowned Spanish artist.
Aside from the bridge, Ronda itself is beautiful — plenty of cozy town squares, cobblestone alleys, balconies everywhere, and lovely architecture. You can visit the Mondragón Palace and the Arabic Baths, if you're feeling ambitious.
Ronda is best experienced as more than a day trip. By day, it's crowded with day trippers. But by night, the crowds subside and you can reclaim the pretty village. Check into the Hotel San Gabriel for a weekend and nibble some nouveau tapas at Traga Tapas.
Getting there: Ronda is a fairly long day trip. It's a 1:45 drive from Seville and really warrants a more dedicated stay. Ronda is not well connected via train or bus. The 2.5 hour bus ride leaves from Prado de San Sebastian Bus Station.
4. Grazalema & Zahara de la Sierra
Grazalema is a pretty mountain village of Roma origin, located at the foot of the Penon Grande in the valley of Sierra de Grazalema Natural Park. It's completely different than Osuna or Ronda, more wild. It's known as the wettest part of Spain.
The beautifully situated village is splashed with whitewashed homes and surrounded by olive trees. I was there in February, so there was even a sprinkling of snow.
I paused in the main square, the Plaza de España, which is lined with bars and restaurants, for a late lunch.
Depending on time, you can also visit Zahara de la Sierra, right next door to Grazalema. Like Grazalema, it's streets are white, immaculate, and fairly deserted.
You can climb up to the Arabic Tower of Tribute, though the pathway isn't for the timid. The tower itself is nothing special, but the views are epic.
Getting there: You really need a car for this trip. It's approximately 1:45-2:00 hours each way from Seville.
5. Antequera, the "Florence of Andalusia"
Like Osuna, Antequera surprised me. I came to inspect the UNESCO dolmens, a fairly new site just listed in 2016. But I absolutely fell in love with the Spanish-Baroque town.
Antequera is fittingly dubbed the "Florence of Andalusia." And, unlike Ronda, I had the place mostly to myself, which was a singular joy. Plus, it's a super easy day trip from Seville.
If you're day tripping, there's a lot to do. Park your car on the outskirts of town and walk up Calle Don Infante.
Antequera boasts an impressive Moorish fortress-alcazaba, a lovely Renaissance church, and a stunning medieval and baroque historical core. You'll have an eyeful of swoonful scenery.
Antequera's ancient megaliths/dolmens are outside the old town. You'll see signs. The dolmens date from the Bronze Age and are among the oldest things on the planet. They are essentially Spain's Stonehenge.
The dolmens are ancient burial grounds that were declared a UNESCO site in 2016. They're one of the most remarkable engineering and architectural works of European prehistory and an important example of European Megalthism.
For more details and info, check out my two guides to visiting the town of Antequera and Antequera's UNESCO dolmens.
6. Cordoba, the Exotic Mezquita
Cordoba may be the best day trip from Seville. You'll have a long day seeing all the attractions.
I took the train to Cordoba for the day and just loved the exotic stone paved city. It's a natural film set, just so beautiful.
Cordoba has an authentic Spanish vibe with fewer tourists than Seville. The town definitely deserves more than one day and I wish I could've lingered longer. Still, I saw quite a bit in the 9+ hours I was there.
Most people come just for Cordoba's #1 site: the Mezquita, the Mosque-Cathedral of Cordoba. Dating from the 10th century, it's a UNESCO site and one of the world's most well-preserved Islamic buildings.
In the 16th century, King Ferdinand and Queen Isabella converted the mosque into a cathedral. The royals renamed it the Cathedral of Our Lady of Assumption.
I expected the combination to be discordant and perplexing. But I found it a fascinating place, a snapshot of the sophisticated dual culture that once existed in Spain.
You walk in from a courtyard of orange trees through the Porta de las Palmas. You're immediately in a forest of candy cane horseshoe arches. A highlight is the Mihrab, or high altar, in a mosque.
The Renaissance cathedral is built right in the center, sharing marble and space with the Islamic arches. The vaulted ceilings are stunning.
Be sure to go up the bell tower for spectacular views of the city. You buy tickets for the tower for €2 at a separate ticket booth below the bell tower.
But there's much more to Cordoba than the Mezquita.
Just downhill from the Mezquita is the Guadalquivir River. Stroll across the stunning Roman Bridge, both a UNESCO site and a Game of Thrones filming location.
Amble around the narrow streets of the charming old Jewish Quarter.
Skip the Instagram popular Calleja de las Flores, or just stroll by. It's overrated and crammed with tourists. There are beautiful flowers and patios everywhere in Cordoba.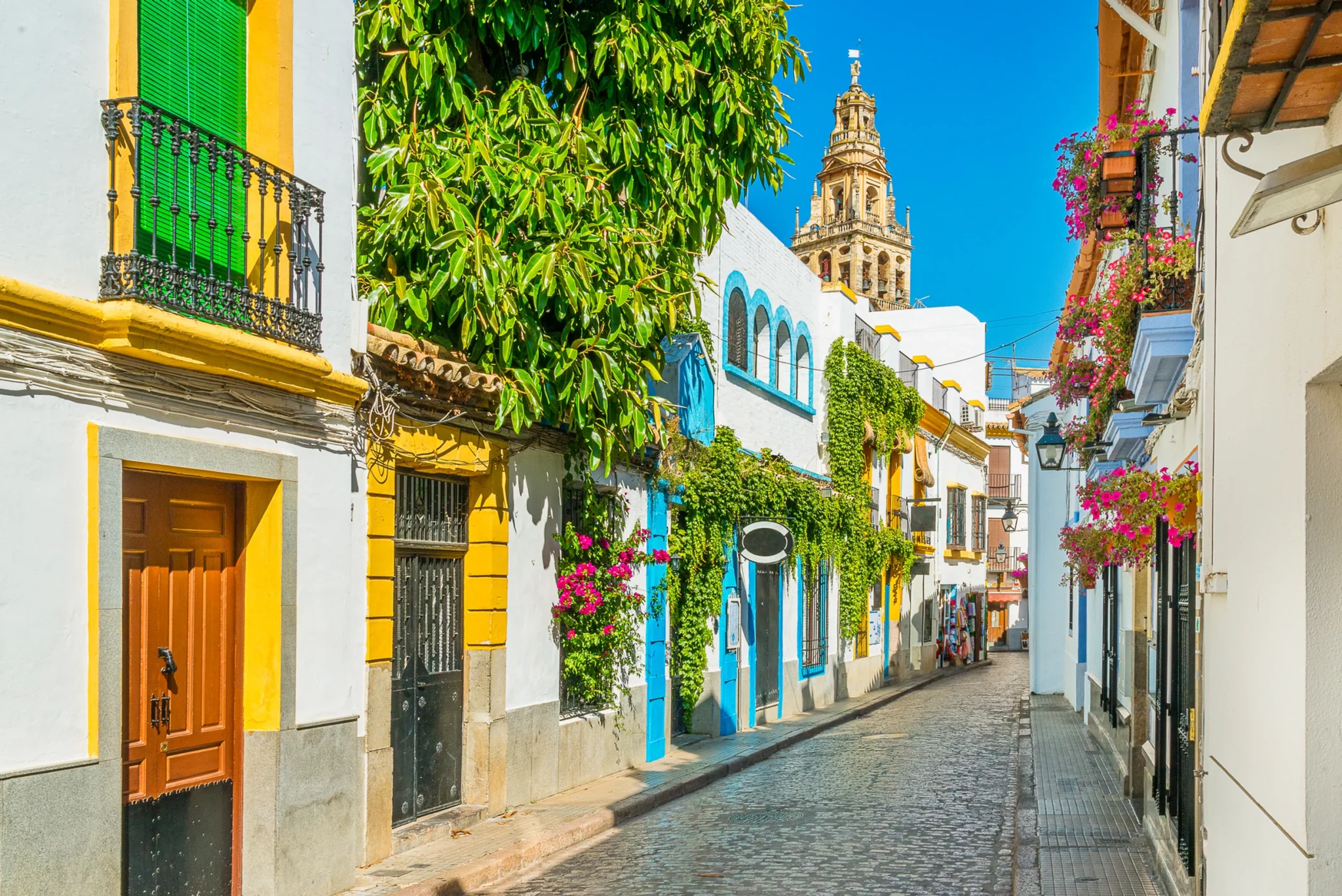 Go into the Jewish synagogue. Say hello to the nearby statue of Maimonides, an influential medieval Jewish philosopher.
Visit the beautiful Alcazar de los Reyes Cristianos. This Alcazar can't hold a candle to Seville's UNESCO-listed Royal Alcazar, but I thought it was still worth a visit.
Getting there: Cordoba is only 45 minutes by high-speed AVE train from Seville. The old town is a short 15-20 minute walk form the train station. Or, it's a 1:40 drive.
7. Carmona, Ancient Roman City
Romantic Carmona is a gem of an Andalusian town. It's an ancient Roman fortified city loaded with ancient Roman ruins and three Moorish fortresses.
You enter via the 9th century splendid Puerta de Sevilla, or Seville Gate. You are immediately surrounded by noble palaces and majestic churches.
Carmona's must see sites are the 15th century Church of Santa María la Mayor, the Alcázar de la Puerta de Sevilla, the Church of San Pedro, and the Plaza San Fernando in Carmona's historic center. Climb the Torre del Oro at the Alcazar for stunning views.
When you're done wandering through the incredibly picturesque old town, head to
the Roman burial ground, Necrópolis Romana, which is a must see site in Carmona.
Many of the tombs were built right into the rock and you can even enter some. It's only open until 3:00 pm, so keep that in mind on your day trip explorations.
Getting there: 30 minute drive. Or take a local bus from the Prado de San Sebastian bus station in Seville, which is a 40 minute ride. You could technically combine Carmona with Cordoba (some tours do), but it would be a very long and rushed day.
8. Arcos de la Frontera: Queen of Andalusia's White Pueblo Towns
While there are dozens of gorgeous white pueblos in Andalusia, Arcos de la Frontera is considered the gateway to the "Pueblos Blancos." It's also one of the most beautiful, like a white ship on a verdant sea.
Don't drive into the city if you're visiting by car. The old town streets are impossibly narrow, one way, and may morph into stairways. The houses are scrupulously blanched perfection, devoid of decoration.
As you can tell from its high perch, Arcos was a key defensive spot in the time of the Moorish-Christian conflict. The "de la Frontera" nomenclature indicates that Arcos (and other white pueblos) once marked the frontiers of Christian territory.
Arcos' main square, the the Plaza de Cabildo, used to double as a bullring. Take a look at the 15th century magic circle with constellations embedded in the stone pavement. This was the spot where priest-exorcists would cleanse babies of evil spirits before their baptisms.
Be sure to visit the 15th century Church of Santa Maria and the towering Church of San Pedro, a fixture on the town's landscape.
If you're feeling dauntless, you can ask permission to climb the ladder to the rooftop of San Pedro. I also had a lovely lunch at La Carcel.
Getting there: 1:20 drive from Seville or 1:45 via bus or train each way. Arcos is a good stop on the way to Ronda, if you're not just day tripping.
9. Cadiz, Atlantic Reverie
If you're craving a restorative view of the sea, sparkling Cadiz fits the bill beautifully. It's an underrated Andalusian town, located on a thin peninsula that juts out into the Atlantic Ocean.
Cadiz is an old port city, one of the oldest in Europe. With its rich history and beautiful coastal vibe, Cadiz makes a unique and lovely day excursion from Seville. And, with so much to see and do, it's an ideal place for a leisurely weekend break.
Stop in first at the tourist office and collect a map for the free walking routes through Cadiz. There are 4 thematic routes taking approximately an hour each. Each route is replicated on the sidewalk and color coded.
Cadiz was home to legendary civilizations, including the Phoenicians, Greeks, Romans, and Moors. You'll see evidence of each society as you take the walking tours.
Visit Cadiz Cathedral, where you can climb to the top of the tower for panoramic views of the city.
Walk to the Plaza San Antonio to view the lovely architecture flanking the square and inspect the Church of San Antonio with its twin towers. In the Plaza de San Juan de Dios, you'll see the majestic Town Hall.
Getting there: Cadiz is a 1:25 drive from Seville or 1:30 by train. If driving, park at the underground parking garage near Cadiz port or at a metered parking spot on the ring road outside the old town.
10. Jerez de la Frontera, Sherry Capital of Andalucia
Just a few miles from the Atlantic, Jerez de la Frontera isn't as gorgeous as its cohort Arcos de la Frontera.
But nonetheless the gracious Jerez de la Frontera is worth visiting. Jerez is known as the capital of vino (for its sherry wine) and for its dancing horses.
While strolling the old Moorish quarter, be sure to tour the beautiful Cathedral of San Salvador, the Alcazar, and the Santa Dominga Convent.
If you want to sample the sherry wines (too sweet for me), try Bodega Luis Perez or Bodega Lustau. If you don't like sherry, you can explore the Archaeological Museum.
Jerez also boasts the Royal Andalusian School of Equestrian Art. Several times a week you can take in a the famous Jerez horse show, also aptly referred to as a "ballet."
It's best to book tickets online in advance. If you start early, it's possible (though not advisable) to see both Arcos and Jerez in one day.
Getting there: If you have a car, you can drive from Seville to Jerez in 1 hour+ via the AP-4. Parking is available at the Plaza del Arenal. By train, Jerez is 1 hour+ trip from the Santa Justa Station.
11. Bonus: Tangier
Want to travel to another country? You can do it from Seville. For a dash of exoticism, head to Tangiers.
Morocco is just across the Strait of Gibraltar from Spain. So you can pop over to the north African country on a day trip. Ferries from Gibraltar reach the port city of Tangier. Explore the maze-like streets of the Tangier Medina. Check out the many stores selling local goods and handicrafts. Buy a tajine and sip some mint tea.
Then, visit the Kasbah Museum housed in the well-preserved former palace of Dar El Makhzen. Some of Tangier's best sights are just outside the city on the Cap Spartel promontory — the Phare Cap Spartel lighthouse and the Caves of Hercules. Legend holds that the demi-god slept there during one of his 12 labors.
Getting there: The only real option is to visit on a full day guided tour which will minimize travel time and maximize sightseeing.
I hop you've enjoyed my guide to the best day trips from Seville Spain. You may enjoy these other guides to southern Spain:
• 10 day itinerary for Andalusia
• Most Beautiful Cites and Towns in Andalusia
• Guide to Seville's Royal Alcazar
• 10 day itinerary from Madrid to Seville
If you'd liked to day trip from Seville, pin it for later.