Planning a trip to sunny southern Spain? Here's my guide to the most beautiful cities and towns in Andalusia.
Andalusia is rich in historic sites, cultural heritage, and appealingly diverse landscapes. It's a romantic blend of must see hotspots, tiny whitewashed hill towns, glamorous Mediterranean resorts, and natural wonders.
There's a million reasons to visit Andalusia. But the glory of Andalusia is in its architectural amalgam of cultures.
More than a millennium has passed since Andalusia led the world in scholarship and art under the Moors, who took control in 711. Their reign ended in 1492 after Christian crusaders rolled down from the north, in the Reconquista.
Surprisingly, the Moors' art was respected and embraced by their conquerors. A large number of Andalusia's glorious fortified palaces and cathedrals incorporated Moorish design.
You can visit the Royal Alcazar in sultry Seville, gaze in awe at the mighty Alhambra in Granada, and see the stunning Mezquita in Cordoba.
Aside from these three must visit cities, Andalusia is also brimming with pristine white pueblo villages. The Route of the White Hill Towns (Ruta de los Pueblos Blancos) is Andalusia's "charm bracelet" of cute villages perched in the Sierras.
These milk white villages are spectral at night, brilliant against the reddish cliffs, and bathed by both Mediterranean and Atlantic light.
These authentic Moorish villages will give you a taste of a wonderfully untouched Spanish culture. They're a perfect mini break or weekend getaway from Andalusia's fascinating main cities.
Let's take a tour of the most beautiful places and points of interest in southern Spain. If you're planning a road trip or itinerary, this Spain guide will help you pick the towns, cities, and attractions you want to visit.
Most Beautiful Towns and Cities in Southern Spain
Here are my picks for the 27 prettiest towns and villages in Andalusia.
1. Seville
Historic Seville is Andalusia's exquisite capital. Seville is known for its architectural flourishes, flamenco, and tapas. Seville's top attractions are Seville Cathedral and the Royal Alcazar.
The Royal Alcazar is one of the world's greatest cultural treasures, a centuries old complex of palaces and fortifications, lovely courtyards, and extensive water gardens bursting with orange, purple, and green colors.
It's a breathtaking 10th century palace that King Pedro the Cruel gave a 14th century Mudejar facelift.
It's essential to pre-book a ticket in advance or you'll have long wait in line. You can also book a guided tour of the alcazar with priority entrance.
Inside, the highlights are the Hall of the Ambassadors, the Courtyard of the Maidens, the Courtyard of the Dolls, and the Hall of Tapestries in the Gothic Palace.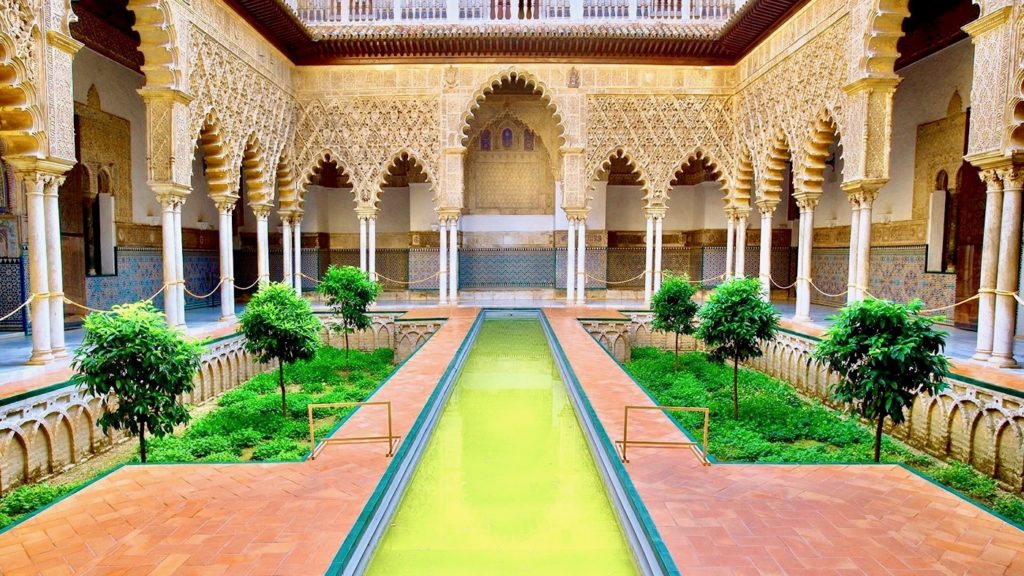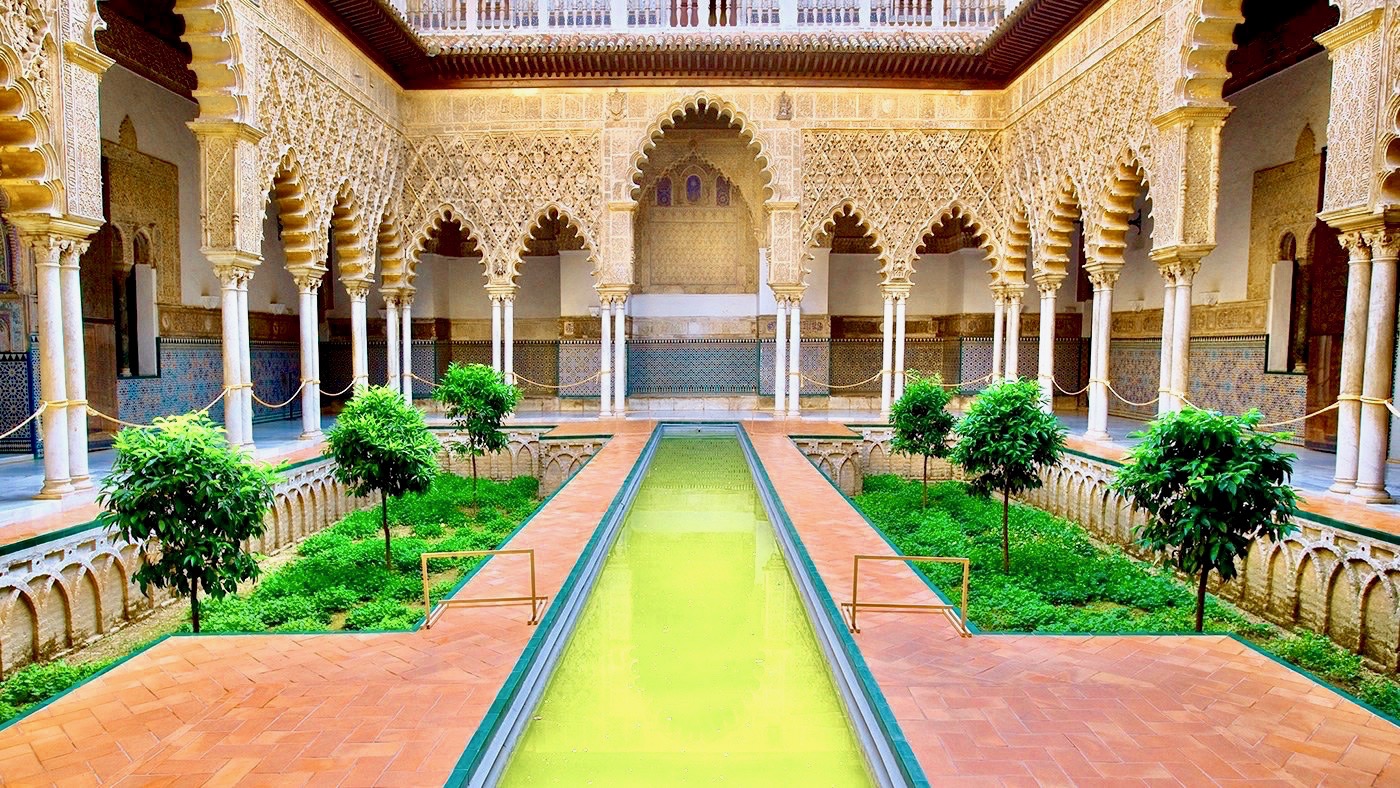 The Ambassador's Hall, or Throne Room, is the big showstopper. It's nicknamed the "Half Orange" Room, in honor of its gilded cedar domed ceiling.
READ: Complete Guide to the Royal Alcazar
Seville Cathedral is a massive Gothic affair. It's the largest cathedral in the world and a must visit attraction in Seville.
To avoid a line, you should pre-book tickets online in advance.Tickets include an audio guide. You can also book tickets + a guided tour.
In 1492, after vanquishing the Moors in the Reconquista, King Ferdinand and Queen Isabella began work in earnest on a Gothic style cathedral. They wanted a showy display of Seville's wealth, power, and influence.
There are 15 doors on the cathedral's four facades and each one features a unique relief or carving. The nave is the longest in the world.
The glittering altar is elaborately detailed and finished in gold leaf. Along the sides, you can explore 80 chapels and the tomb of Christopher Columbus.
Don't miss Seville's best neighborhood, Barrio Santa Cruz. There, you can wander, sip cocktails, and have dinner.
It's a popular district within the city — a maze of tangled cobbled streets with elegant palazzos, intricate grillwork, and tile covered patios. Some streets are so impossibly narrow, they're called "kissing lanes." There are also orange trees everywhere.
You may want to book a guided walking tour of the pretty barrio.
The Plaza de Espana is another of Seville's most famous landmarks. It was built to host the 1929 Ibero-American Exposition. The plaza has a fetching mix of Baroque, Renaissance Revival, and Moorish Revival styles.
The highlight is the Spanish Pavilion, a sweeping half circle structure with rose gold brick buildings. You can easily spend a couple of hours here, admiring the square, and the strolling afterward in the adjacent Maria Louisa Park.
READ: 3 Day Itinerary for Seville
Where to stay in Seville: Hotel Colon Gran Melia, Suites Machado, Hotel Casa del Poeta, EME Catedral Hotel
2. Cordoba
Cordoba is another stunning city in southern Spain. It's an exotic stone paved city with both a Roman and Moorish past. Cordoba is a natural film set, it's just so beautiful. Cordoba has an authentic Spanish vibe with fewer tourists than Seville or Granada.
Most people come just for Cordoba's #1 site: the magnificent Mezquita, the Mosque-Cathedral of Cordoba. Dating from the 10th century, it's a UNESCO site and one of the world's most well-preserved Islamic buildings. The courtyard is free to visit. And you can climb the minaret for views.
In the 16th century, King Ferdinand and Queen Isabella converted the interior of the mosque into a cathedral, calling it the Cathedral of Our Lady of Assumption. I expected the combination to be discordant and perplexing.
But I found it a fascinating place, a snapshot of the sophisticated dual culture that once existed in Spain.
You walk into the Mezquita from a courtyard of orange trees via the Porte de las Palmas. You're immediately amidst an overpowering forest of 1,000 candy cane horseshoe arches made of granite, onyx, jasper, and marble.
A highlight is the Mihrab, or high altar. It's a prayer niche covered in an intricate design of gold leaf and mosaic fragments.
The Renaissance cathedral is built right in the center, sharing marble and space with the Islamic arches. The soaring vaulted ceilings are stunning. Be sure to go up the minaret for spectacular views of Cordoba. You buy tickets for the tower at a separate ticket booth below the bell tower.
Click here to pre-purchase a ticket for the Mezquita. Click here to book a 1 hour guided tour of this magnificent edifice.
But there's so much more to Cordoba than the Mezquita. Just downhill from the Mezquita is the Guadalquivir River. Stroll across the stunning Roman Bridge, both a UNESCO site and a Game of Thrones filming location.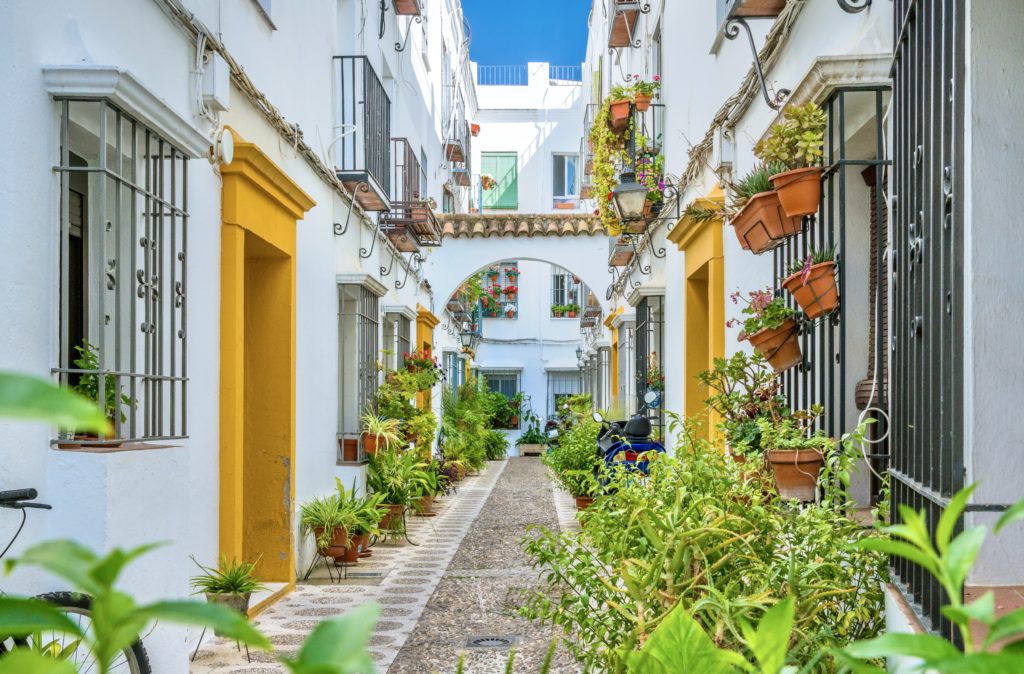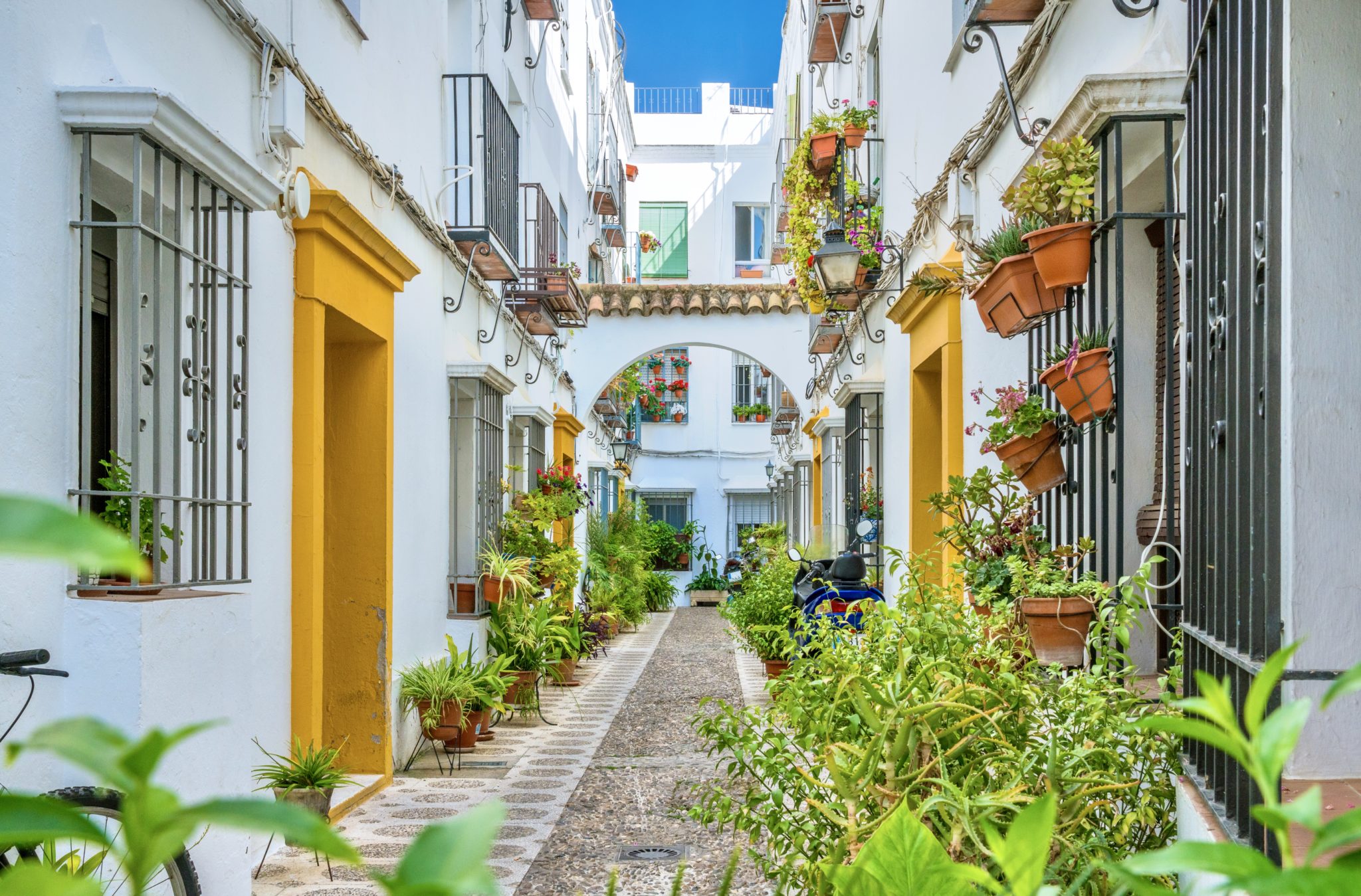 Amble around the narrow streets of the charming old Jewish Quarter. You may want to book a 2 hour guided walking tour of this area. Or take a longer tour that covers the Jewish Quarter and Cordoba's must see monuments.
Skip the Instagram popular Calleja de las Flores, or just stroll by. It's overrated and crammed with tourists. There are beautiful flowers and patios everywhere in Cordoba.
Go into the Jewish synagogue. Say hello to the nearby statue of Maimonides, an influential medieval Jewish philosopher.
Visit the beautiful Alcazar de los Reyes Cristianos. This Alcazar can't hold a candle to Seville's UNESCO-listed Royal Alcazar, but I thought it was still worth a visit.
You can visit Cordoba on a full day guided tour from Seville or on a guided tour from Granada.
Where to stay: Patio del Posadero Hotel Boutique B&B, Hotel Hospes Palacio del Bailio, Hotel Viento 10
3. Granada
Granada will sweep you away with its authentic Spanish vibe and dazzling attractions.
Lorded over by the Sierra Nevada Mountains, it's an absolutely beautiful ancient city with historic architecture. For its size, it's surprisingly cosmopolitan.
The beautiful city of Granada in south Spain will sweep you away with its authentic Spanish vibe and dazzling attractions.
Lorded over by the Sierra Nevada Mountains, it's an absolutely beautiful ancient city with historic architecture. For its size, it's surprisingly cosmopolitan.
Granada boasts many atmospheric neighborhoods, each with an earthy distinct character. It's home to the mighty Alhambra, a Moroccan souk, a massive cathedral, flamenco music, and — perhaps best of all — free tapas.
Start your day at Granada's marquis site, the UNESCO-listed Alhambra, which takes more than half a day at a bare minimum. The Alhambra is one of the most popular and best sites in southern Spain, and even in the world.
In fact, you might want to split your visit to the Alhambra in two, with separate morning and evening visits.
READ: Top Attractions In Granada
The Alhambra stands on a stunning piece of real estate, high on Sabika Hill, with panoramic views over Granada and the beautiful countryside. The Alhambra is a tranquil place with burbling fountains and beautiful mosaics.
The highlights of the Alhambra are the Alcazaba, the Charles V Palace, and the jaw dropping Nasrid Palace. The Nasrid Palace is the world's finest example of the refined, intricate, and elegant architectural style of the Moorish civilization.
The Court of the Myrtles, the Hall of the Ambassadors, and the Hall of the Two Sisters are a succession of intricate tile work, honeycomb cupolas, and cursive script.
The wonder of wonders is the Court of the Lions, named for the antique fountain of 12 lions in the center. Around the edge runs an arcade of arches supported by white marble columns.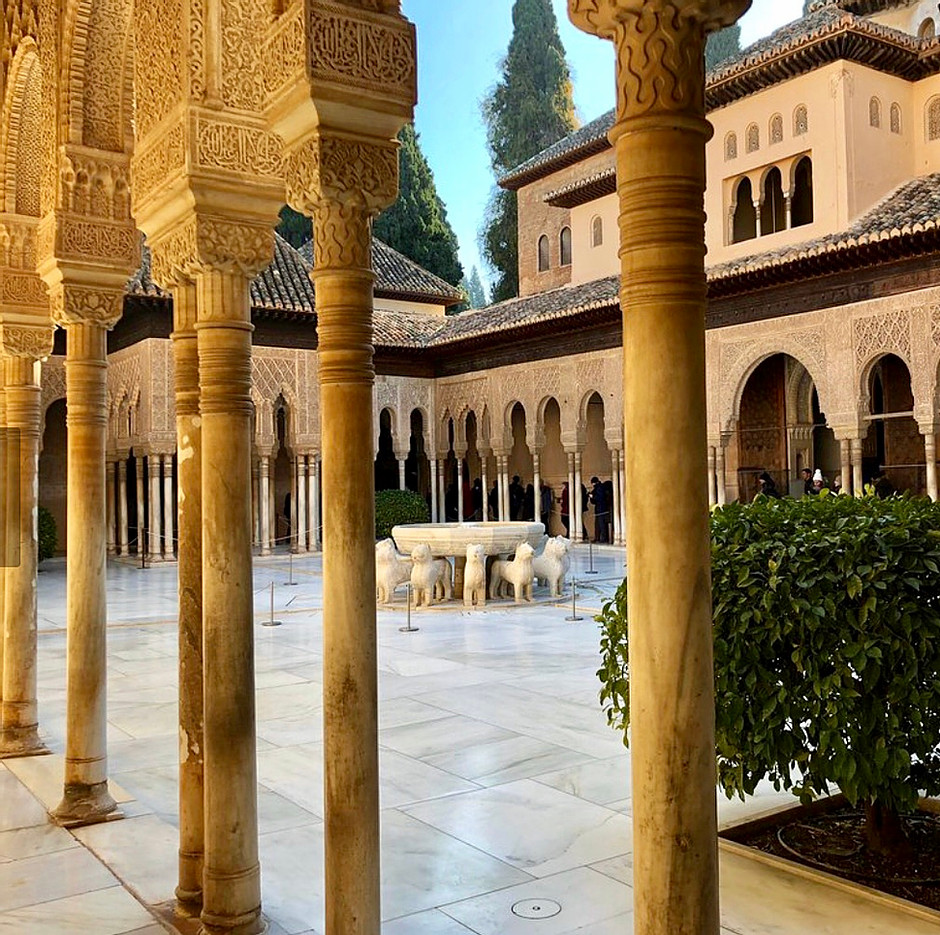 When you're done with the lavish palaces, head over to the beautiful Generalife for its soothing water gardens.
Here's my complete guide to visiting the Alhambra. Click here to book a skip the line ticket. Click here to book a guided tour of the magnificent complex.
Later, wander around and explore the old Arab neighborhood of the Albaicin, or Albayzin. Built on a steep hill, it's an ancient area with tight tangled winding streets and a bohemian feel. The lively place was declared a UNESCO site in 1984.
The main drags in the Albaicin, which both run parallel to the River Darro, are Paseo de los Tristes and Carrera del Darro. Amidst a jasmine scented breeze, you'll find restaurants, cafes, tapas bars, and even street performers. You can enjoy a sunset view at Mirador San Nicolás.
You may want to book a guided walking tour of the Albaicin.
While in Granada, you also need to visit the ornate late Gothic tombs of the ambitious dynasty-builders Ferdinand and Isabella. They reigned over the Christianization of Granada and the exploration of the "new" Americas. In the sacristy hangs Queen Isabella's personal art collection.
10 minutes away, visit Granada Cathedral in Granada's historic center. The cathedral is the second largest cathedral in Spain after Seville Cathedral and the fourth largest cathedral in the world.
The edifice is a mix of Renaissance and Baroque styles. Inside, there's a towering interior, a grand altar, and side chapels.
Don't miss Granada's otherworldly barrio of Sacromonte, home to Granada's Roma community. Time stands still in this unusual rustic quarter of Granada.
For centuries, Sacromonte was the home of gypsies, bohemians, artists, and foreign refuges. Sacramonte also sports one of the most mesmerizing views of the Alhambra.
Where to stay: Eurostars Catedral, Hotel Palacio de Santa Paula, Hotel Alhambra Palace
4. Ronda
Ronda is Andalusia's third most visited city and a real beauty. It's not so much a white pueblo town as a sophisticated city.
Ronda has a dramatic setting. It's perched on a mountainous gash, 1000 feet above the plain below. Ronda is synonymous with its dramatic 18th century bridge, the Puente Nuevo.
The famed bridge connects the old and newish parts of the town over the 328 feet El Tajo gorge. There's a staircase leading to the floor of the gorge, for a different viewing perspective.
Ronda is also famed as the birthplace of bullfighting. The city's Plaza de Toros is one of Ronda's most popular attractions, thanks to its beautiful architecture. The bullring is ringed with double rows of columns, lending it a Neo-Classical look.
To see it all, you may want to book a 2 hour guided history tour. Or you could opt for a 3 hour private walking tour.
If you want to delve more deeply into Spain's bullfighting culture, head to the Museum of Bullfighting. You'll even find some sketches depicting the "art" (not sport) of bullfighting by Francisco Goya, the renowned Spanish artist.
READ: Goya's Mysterious Black Paintings at Madrid's Prado Museum
Aside from the bridge, Ronda itself is beautiful — plenty of cozy town squares, cobblestone alleys, balconies everywhere, and lovely architecture. You can visit the Mondragon Palace and the Arabic Baths, if you're feeling ambitious.
Ronda is a popular day trip from Seville. Or on a guided day tour from Malaga. You can also book a combo tour of Ronda and Marbella from Malaga.
Where to stay: Parador de Ronda, Molino del Arco, Hotel la Fuente de la Higuera
5. Carmona
Romantic Carmona is a gem of a clifftop Andalusian town. It's an ancient Roman fortified city loaded with ancient Roman ruins and three Moorish fortresses.
You enter via the splendid 9th century Puerta de Sevilla, or Seville Gate, and are surrounded by noble palaces and majestic churches at every turn.
Carmona is, above all, a village of Baroque churches. The town's must see sites are the 15th century Church of Santa Maria la Mayor, the Alcazar de la Puerta de Sevilla, the Church of San Pedro, and the Plaza San Fernando. Climb the Torre del Oro at the Alcazar for stunning views.
When you're done wandering through the incredibly picturesque old town, head to the Roman burial ground, Necropolis Romana, which is a must see site in Carmona.
Many of the tombs were built right into the rock and you can even enter some. It's only open until 3:00 pm, so keep that in mind on your day trip explorations.
You may want to book a guided walking tour to see the sites properly. You can also book a half day guided tour from Seville. Or go big and book a full day tour from Seville that combines Carmona and Cordoba.
Where to stay: Parador de Carmona, Posada La Casa del Pintor
6. Osuna
The ducal town of Osuna surprised me. I visited the village for its dashing bullring, which is one of Andalusia's Game of Thrones filming locations.
But Osuna itself was beyond adorable, a charming white pueblo village with a rich architectural and cultural heritage. There's row upon row of white stucco homes and streets dotted with orange trees. Osuna's a vertitable art gallery, with myriad Renaissance and Baroque churches.
UNESCO lists Osuna's main drag, the Calle San Pedro, as the second most beautiful street in Europe. Here, with an eye toward social climbing, Osuna's wealthy dukes vied to create the most exquisite palaces.
The street would be more appealing, however, if it was pedestrianized. Osuna was declared a Historic-Artistic site in 1967.
For the full scoop on the town, here's my complete guide to visiting Osuna.
Where to stay: Hotel Molino, Palacio Marques de la Gomera
7. Antequera
The Spanish-Baroque town of Antequera is fittingly dubbed the "Florence of Andalusia." Antequera is a hidden gem in Andalusia. You'll have the place mostly to yourself, which is a singular joy in southern Spain.
If you're day tripping, there's a lot to do. Park your car on the outskirts of town and walk up Calle Don Infante.
Antequera boasts an impressive Moorish Alcazaba, almost like a mini Alhambra. It also has a lovely Renaissance church and a stunning medieval and baroque historical core. You'll have an eyeful of swoonful scenery.
Antequera's ancient megaliths/dolmens are outside the old town. You'll see signs. The dolmens date from the Bronze Age and are among the oldest things on the planet. They are essentially Spain's Stonehenge.
The dolmens are ancient burial grounds that were declared a UNESCO site in 2016. They're one of the most remarkable engineering and architectural works of European prehistory and an important example of European Megalthism.
For more details and information, check out my two guides to visiting the town of Antequera and to Antequera's UNESCO dolmens. Ruin lusters and historians can book 4 hour guided tour to learn all about the ruins.
You can visit Antedquera on a guided day tour from Malaga or on a guided tour from Granada.
Where to stay: Parador de Antequera, Convento de la Magdalena, La Fuente del Sol Hotel & Spa
8. Frigiliana
Nothing prepares you for the stunning beauty of Frigiliana, a patch of snow in the Sierras. In Frigiliana, everything is beautiful in a way that it almost never is.
Frigiliana is a spotless, secluded, perfectly coifed cliff town dressed in blue and white, with flowing orange and purple vines and potted blood red geraniums.
The Spanish tourist board voted Frigiliana the prettiest village in Andalusia, and you can immediately see why. There are no must see sites or grand monuments in Frigiliana.
Frigiliana's subdued main attractions are its cobbled pedestrianized streets with whitewashed houses with colorful doors. There is a pathway through the middle of the village called the Calle Real. But you must stray off the path and investigate all the nooks and cranies.
For even better views, hike up to the ruins of the 16th century Castle of Izar.
From the old town, you climb up long flights of steps, narrow paths, and gravel tracks to the site of the old castle overlooking the white village and the Mediterranean sea.
You'll also find signs warning you to be careful of rogue donkeys who might bite.
Here's my complete guide to Frigiliana. You can visit Frigiliana and the Nerja Caves on a guided day trip from Granada or on a guided tour from Malaga.
Where to stay: Hotel la Posada Morsica, Miller's of Frigiliana
9. Nerja
Just down the road from Frigiliana is the pretty and laid back resort town of Nerja. At the top of the Costa del Sol, Nerja has a natural majesty. It also has 10 miles of powdery sand beaches.
Despite tourism on the Costa del Sol, the city center retains much of its historic village charm. Calle Almirante Ferrandiz is Nerja's restaurant row. Try Pulguilla, Patanegra 57, or Mo Gastro Tapas.
The heart of Nerja is its beautiful Balcon de Europa, a palm-lined round promontory built on the foundations of an old fort.

The Balcony of Europe juts out like a natural pier and offers panoramic views of the cobalt blue sea and honey colored coast. Just steps away is the Church of El Salvador, also clad in white.
The soft, calm sway of the Mediterranean Sea swells into Nerja's renowned caves. Just 2.5 miles from Nerja, the Nerja Caves are a major attraction in southern Spain. They are home to natural wonders and the world's tallest stalagmite.
You can visit Nerja and the Nerja Caves on a guided tour from Granada.
Where to stay: Parador de Nerja, Hotel Riu Monica
10. Arcos de la Frontera
While there are dozens of gorgeous white pueblo tows in Andalusia, Arcos de la Frontera is a knockout. It's a beautiful town in southern Spain, considered the "Queen of Pueblos Blancos."
The town appears like a white ship on a blue-green sea. The late Spanish novelist J. M. Ruiz Azorin claimed Arcos was "the most beautiful in all Spain."
If you want to explore the white pueblos on your southern Spain road trip, Arcos makes the perfect base.
Don't drive into Arcos if you're visiting by car. The old town streets are impossibly narrow, one way, and may morph into stairways. The houses are scrupulously blanched to perfection, devoid of decoration, and packed together.
As you can tell from its high perch, Arcos was a key defensive spot during the Moorish-Christian conflict. The "de la Frontera" nomenclature indicates that Arcos (and other white pueblos) once marked the frontiers of Christian territory.
Arcos' main square, the the Plaza de Cabildo, used to double as a bullring. Take a look at the 15th century magic circle with constellations embedded in the stone pavement. This was the spot where priest-exorcists would cleanse babies of evil spirits before their baptisms.
Be sure to visit the 15th century Moorish-inspired Church of Santa Maria and the towering Church of San Pedro, a fixture on the town's landscape. If you're feeling dauntless, you can ask permission to climb the ladder to the rooftop of San Pedro.
Where to stay: Parador Arcos de la Frontera, Hotel Pena de Arcos
11. Jerez de la Frontera
Just a few miles from the Atlantic, Jerez de la Frontera isn't as gorgeous as its cohort Arcos de la Frontera. But, nonetheless, the gracious town is worth visiting.
Jerez is known as the capital of sherry and for its dancing horses. The town was named the European Wine City of 2014.
While strolling the old Moorish quarter, be sure to tour the beautiful Cathedral of San Salvador, the Alcazar, and the Santa Dominga Convent.
If you want to sample the sherry wines (too sweet for me), try Bodega Luis Perez or Bodega Lustau. If you don't like sherry, you can explore the Archaeological Museum.
Jerez also boasts the Royal Andalusian School of Equestrian Art. Click here to book a entry ticket. You can see the saddlery, state rooms, the carriage museum, and gardens.
Several times a week you can take in a the famous Jerez horse show entitled "How the Andalusian Horses Dance." It's referred to as a "ballet." Click here to book a ticket to the show.
You can also book a combined tour of Jerez and Cadiz from Seville. Or a private tour from Seville to Jerez. Or even a flamenco themed day trip from Seville.
Where to stay: Casa Palacio Maria Luisa, Hotel Bodega Tio Pepe, Casa Palacio Jerezana
12. Vejer de la Frontera
Situated on a commanding bluff overlooking the Barbate River, Vejer de la Frontera is incredibly picturesque — bright, colorful, and cheerful. It's impossible to resist driving the side road snaking up to Vejer.
Within the town, the narrow steep streets run through banks of stark white houses whose Arabic origins are evident everywhere. Vejer is a Moorish town with graceful concessions to 21st century Spain.
It 1805, Lord Nelson defeated the Spanish and French fleets off Cape Trafalgar. This Atlantic proximity gives Vejer both a distinctive white town atmosphere and strong westerly winds sweeping over its walls and monuments.
At the center of the town, a walled enclosure with four Arabic horseshoe gates contains the 16th century church of San Salvador, built over a mosque. Nearby is a Moorish castle and the Palace of the Marques de Tamaron.
Close to the ramparts, near the Paseo de las Corbijadas, is the well-conserved Jewish Quarter. The area within the ramparts includes many small shops, cafes, and is best seen on foot. The town has magnificent vistas in all directions from its walls.
If you want to splurge, Vejer has a reasonably priced Michelin restaurant, El Jardin del Califa. It's housed in a 16th century building that feels like a castle dungeon. It also has a pretty patio garden worthy of a caliphate. You may also want to go on a sherry and tapas tour.
Where to stay: Boutique Hotel V, Plaza 18, Las Palmer's del Califa
13. Cadiz
Cadiz is one of Europe's most ancient cities. If you're craving a restorative view of the sea, sparkling Cadiz fits the bill beautifully. It's an underrated Andalusian town, located on a thin peninsula that juts out into the Atlantic Ocean.
Cadiz is an old port city. With its rich history and beautiful coastal vibe, Cadiz makes a unique and lovely day trip from Seville. And, with so much to see and do, it's an ideal place for a leisurely weekend break.
The tourist office offers maps with the free walking tours of Cadiz. There are 4 thematic routes taking approximately an hour each. Each route is replicated on the sidewalk and color coded.
Cadiz was home to legendary civilizations, including the Phoenicians, Greeks, Romans, and Moors. You'll see evidence of each society as you take the walking tours.
Visit Cadiz Cathedral, where you can climb to the top of the tower for panoramic views of the city. Walk to the Plaza San Antonio to view the lovely architecture flanking the square.
There, you can also inspect the Church of San Antonio with its twin towers. In the Plaza de San Juan de Dios, you'll see the majestic Town Hall.
You can also book a guided walking tour of the old town. Or zip around on a guided bike tour.
You can also visit Cadiz on a full day guided tour from Seville. This tour has all the goodies. It takes you to Cadiz and nearby Jerez da la Frontera. It includes sherry tasting, an Andalusian Horse Show, and ferry ride.
Where to stay: Parador de Cadiz, Boutique Hotel Casa Canovas, Senator Cadiz Spa Hotel
14. Estepona
Estepona is a hidden gem on the Costa del Sol, often overlooked by nearby (and much more glitzy) Marbella. Locally, it's dubbed the "Garden of the Costa del Sol."
Estepona has a beautiful old quarter with pretty cobbled lanes and a profusion of flower pots. Plaza de la Flores is the central square, lined with orange trees and cafes.
And you can visit the Orchid Gardens, housed in a building with three glass domes. Aside from flowers, you can follow the route of street murals, where hum drum buildings sport artistic masterpieces.
Estepona also has a fine beach, Playa Rada, that's less crowded than other Costa del Sol beaches. The town also has some culinary cred. You'll find fresh seafood galore.
You can book a guided tour of the old town or go dolphin watching in Estepona Bay.
Where to stay: Kempinski Hotel Bahia, Ikos Andalusia, Hotel Silken el Pilar
15. Malaga
Malaga is the 6th largest city in Spain. Malaga has long been a vacation spot for sun lovers in search of an affordable beach getaways.
Malaga used to be Andalusia's ugly duckling, a dismal monument to tackiness. So, you may wonder, is Malaga worth visiting?
The answer is definitely yes. Malaga has had a Renaissance. It's now transformed into a clean, bright city with a pedestrian-only city center and a revamped harbor.
Malaga has a surfeit of golden beaches, over 20 museums, and a slew Michelin-starred restaurants.
Malaga is Spain's self-appointed art hub. The city was the birthplace of Pablo Picasso.
His eponymous museum is housed in the 16th century Buena Vista Palace, a pretty combination of Renaissance and Mudejar architecture. Click here to book a skip the line ticket.
READ: Guide To Picasso Museums in Europe
Small but sweet, the museum houses 285 works donated by Picasso's family members or held on permanent loan. Highlights include Picasso's early academic studies, cubist pieces, and some of his last paintings from the 1970s.
There are other museums for art lovers as well. In 2015, the Centre Pompidou Malaga, a pop up branch of the Paris institution, opened to great fanfare in a colorful modern cube. There's also a satellite of Madrid's Thyssen-Bornemisza Museum.
Malaga also boasts an impressive cathedral, called the "one armed woman" because of its uncompleted second tower. The Renaissance-style cathedral has flamboyant chapels and a rooftop view.
Malaga also has the ruins of a Roman amphitheater and a centuries old Moorish Alcazaba. Built on a precipice above the Alboran Sea, the Alcazaba is one of the best-preserved Moorish fortifications in Spain.
On top of all this art and architecture. Malaga has an impressive cafe and bar scene. You can go on a guided tapas and wine tour.
Or, for some of Malaga's local specialities, head to La Cosmopolita (traditional Spanish food with locally sourced ingredients), Jose Carlos Garcia (Michelin-starred), or Oleo (seafood and sushi). The iconic bodega El Pimpi was a favorite of Spanish artist Salvador Dali,
When you want to escape the holy burly of the city head to Malaga's Botanical Gardens. Founded, 1994, it's a lush and shady place for a stroll, with a dazzling collection of palm trees.
You may also want to experience Malaga's Arab baths, take in a flamenco show, or take a sunset catamaran cruise with cava.
Where to stay: Vincci Seleccino Posada del Patio, Palacio Solecio, Room Mate Valeria
16. Setenil de las Bodegas
Setenil de las Bodegas is one of Andalusia's true hidden gems. Located in the Cadiz province, Setenil de las Bodegas is a unique white village, a geological phenomenon. The town was built inside a canyon, rather than on top of a hill.
Many of the houses in the village are in fact caves, with facades that resemble regular buildings. Some of the streets in Setenil are covered with large boulders, which serve as bridges over the streets themselves. It's intriguing and perhaps a tad scary to walk underneath them.
There are plenty of things to do in Setenil de las Bodegas, from exploring the village to visiting the last remaining tower of a once mighty castle. You can have lunch in a cave restaurant. Or, scope out the best viewpoints overlooking the village.
While Setenil can get popular around lunchtime, it's usually very quiet otherwise. Setenil de las Bodegas can be visited on a guided day trip from Malaga, a day trip from Cadiz, or day trip from Seville. The driving time is around 1.5 hours from each of those cities.
17. Mojacar
Both a massively popular beach resort and a charming hill town, Mojacar is divided into two quite separate parts. Mojacar Pueblo is the attractive historic center, a picturesque jumble of white sugar cube houses splashed on an inland hilltop. Two miles away on the coast, Mojacar Playa is a modern resort town on long sandy beach.
As recently as the 1960s, Mojacar was decaying and almost abandoned. But a savvy mayor managed to resurrect its fortunes by luring artists and travelers to the area with offers of free land. This gives the town a distinct bohemian air.
In the historic center, the town itself looks like a white mountain. Winding narrow lanes with potted plants entrance. You'll have wide open spaces with views for miles around, from the sea to the mountains in the distance.
The best viewpoint in town is the Mirador de Castillo. Perched on the highest point in town – originally the site of a castle – this hilltop viewpoint looks down over the sea and a hazy brown-green landscape studded with white buildings.
Where to stay: Parador de Mojacar, Hostal El Olivar
18. Priego de Cordoba
Perched on an outcrop above the valley of the Rio Salado, Priego de Cordoba is a surprisingly bustling market town in a fertile pocket of the Subbetica. Founded in 745, it was on Granada's frontline against its Christian enemies, until its conquest by Alfonso XI in 1341.
Priego has a cavalcade of fine architecture, with especially extravagant Baroque churches and mansions on the Calle del Rio. They're the legacy of a centuries long run of prosperity, cresting with an 18th century boom in silk and velvet production.
On the edge of the Barrio de La Villa, the Church of La Asuncion is a high point of the Andalusian Baroque style. Its sacristy has whirls of frothy white stucco that surge upwards to two beautiful cupolas – all the work of local artist Francisco Javier Pedraja from the 1780s.
For further super lavish church ornamentation, head to the Iglesia de la Aurora and Iglesia de San Francisco. In the 18th century, the two churches were rebuilt in the Baroque style.
The rectilinear towers of Priego's castle stand alongside Plaza Abad Palomino. Originally an Islamic fortress, the castle was completed renovated by the new Christian rulers. You can climb to the top of the keep, Torre del Homenaje, for aerial views of the white pueblo town.
Just southwest of the Priego's center, you'll find the Fountain of the King, completed in 1803. It's a three tiered basin with 130 spouts.
It would be equally at home in the gardens of Granada's Generalife. For scenic views, take the stairs to Calvary Chapel on Calvary Hill.
Where to stay: Casa Banos de la Villa, Hotel Museo Patria Chica
19. Ubeda
UNESCO-listed Ubeda is set among olive groves as far as the eye can see. Like Pienza in Tuscany, Renaissance urban planners thought Ubeda was the perfect Renaissance town.
Beautiful Renaissance churches and mansions grace almost every street and plaza in Ubeda's old quarter. The Parador Condestable Davalos may be the most sumptuous, with a blue and white cloistered patio where you can be inside and outside at the same time.
READ: 30 Beautiful Towns in Italy
The lovely Plaza Vazquez de Molina is the heart of Ubeda's old district. It was here that Ubeda's noble families created an assemblage of grand Renaissance buildings, as a showy display of their wealth and importance.
Aside from Ubeda's architecture, in this square, you'll find charming hotels in historic mansions, excellent restaurants, and superb tapas bars. You can also find superb pottery on the Calle Valencia, another flower bedecked street.
Built between 1536-59, the Holy Chapel of the Savior (or El Salvador) is the flagship of Ubeda's Renaissance architecture. Commissioned by Francisco de los Cobos y Molina as his family's funerary chapel, the sober interior contrasts with the decorative western facade.
El Salvador's facade is a first rate example of plateresque style, designed by Andres de Vandelvira. The chapel was the first architectural commission of Vandelvira, who went on to endow the towns of Ubeda, Baeza, and Jaen with most of their outstanding Renaissance architecture.
Next to the chapel stands what was originally its chaplain's residence, the Palacio del Dean Ortega – another Vandelvira creation. The mansion is now Ubeda's luxurious parador hotel.
Ubeda's town hall is one of Spain's most beautiful buildings. Built by Vandelvira in 1562, it served as a mansion for Juan Vazquez de Molina, whose coat of arms graces the doorway.
The Italianate facade is divided into three tiers by slender cornices, with sculpted caryatids on the top level and Corinthian and Ionic pilasters on the lower tiers.
You can book a guided walking tour to see Ubeda's magnificent monuments. Click here to book a tourist pass to the monuments. You can also visit Ubeda on a guided day trip from Cordoba.
Where to stay: Hotel Palacios de Ubeda, Hotel Cuidad de Ubeda
20. Italica
Less than a half hour from Seville lie the Roman ruins of Italica, the perfect spot for history buffs. The Romans founded Italica in 206 B.C. It's reputedly the birthplace of three Roman Emperors — Hadrian, Trajan, and Theodosius.
The amphitheater once held 25,000 people, and was the third largest in the Roman Empire. Italica is now the modern day Santiponce. To safeguard the ruins, Santipoce has applied for UNESCO World Heritage status.
In the hit HBO show Game of Thrones, Italica serves as the dragon pit of Kings Landing, which was basically a stable for the Targaryen dragons.
You can book a Game of Thrones tour from Seville. You can also book a half day guided tour from Seville to the ruins.
21. Grazalema
Grazalema is a pretty mountain village of Roman origin, located at the foot of the Penon Grande in the valley of Sierra de Grazalema Natural Park. It's completely different than other white pueblo villages, more wild. This area is known as the wettest part of Spain.
The beautifully situated village is splashed with whitewashed homes and surrounded by olive trees. The town is built on several levels, with sharply slanting streets. A Moorish arch is incorporated into the Church of San Juan.
I was there in February, so there was even a sprinkling of snow. I paused in the main square, the Plaza de Espana, which is lined with bars and restaurants, for a late lunch.
You can visit Grazalema as part of a full day guided tour of these white pueblo towns from Seville.
22. Zahara de la Sierra
You can also visit Zahara de la Sierra, right next door to Grazalema. Zahara clings to the upward thrust of an enormous gray rock, rising from the plain to a pointed summit topped with an Arabic castle.
Like the ridges of a corkscrew, a narrow road winds skyward to the Plaza Major at the top. The plaza is crowded, lively with bars, outdoor cafes, restaurants, shops and a lookout mirador with a view of the mountainous landscape. Like Grazalema, Zahara's streets are white, immaculate, and fairly deserted.
Well above this, a 10th century Arabic tower is available only by foot. It's in a state of disrepair, with a pitch black stairway leading to a viewing summit. The pathway isn't for the timid, but the views are epic.
23. Casares
Casares is one of Spain's most ridiculously beautiful and underrated towns. If you need to escape the tourist siege in the Costa del Sol, come inland to this mountain hideaway for a dose of tranquility.
In Casares, narrow cobbled streets twist and climb among ancient stone walls lined with palaces, mansions, arches and churches. The skyline is decorated with turrets, spires, and gargoyles. This off the beaten track village boasts a unique architectural blend of Roman, Islamic and Italian styles.
At the summit of the town lies its 500 year old castle, a craggy crown atop the sugar cubed homes. It was erected by the Moors, who used the steep limestone massif to build a defensive outpost.
Protected by defensive walls, Casares has survived almost intact from its 16th century period of splendor. At dusk or after dark, when the crowds have gone, you'll feel like you've stepped back into the Middle Ages.
The arcaded Plaza Mayor is one of Spain's most beautiful public squares. This spacious and pedestrianized main square is surrounded by cream colored historic buildings.
The most famous is Torre de Bujaco, with its crenellated battlements. You can climb to the top for a good view of the square.
The Plaza de Santa Maria is also an impressive square. You'll find medieval palaces and elaborate Renaissance facades at every turn, all lorded over by a dramatic Gothic cathedral. Get lost in the surrounding tangle of lanes.
24. Montefrio
Montefrio is a charming village in the province of Granada. Its name translates to "the cold hill." This small town cuts a striking silhouette against the surrounding landscape. National Geographic named it one of the world's best views.
Perched atop a craggy outcrop of rock is the town's 14th century church, Iglesia de la Villa. It was built on the remains of a Nasrid castle. Those who brave the steep climb to the top of the rock will be rewarded with panoramic views of the region from its summit.
Visit the town's pretty churches. The round church, Iglesia de la Encarnacion, was inspired by the Pantheon in Rome. Just outside the tiny town, you'll find the Montefrio Dolmens, megalithic structures dotted among the lush green landscape.
Where to stay: Cortijo La Fe
25. Marbella
Marbella was founded by a pair of German princes and Spanish aristocrats. Marbella is by far the most polished and posh town on the Costa del Sol.
It's a bastion of bling where you go to get the perfect tan. Its cobbled streets, with intricate pebbled designs, are immaculate. The squares are beautifully landscaped.
Wandering through the pedestrianized winding streets of the old town is a delight. It's a whitewashed warren of shops, restaurants, and small flower-filled balconies. To wile away the afternoon, head to the Plaza de los Naranjos.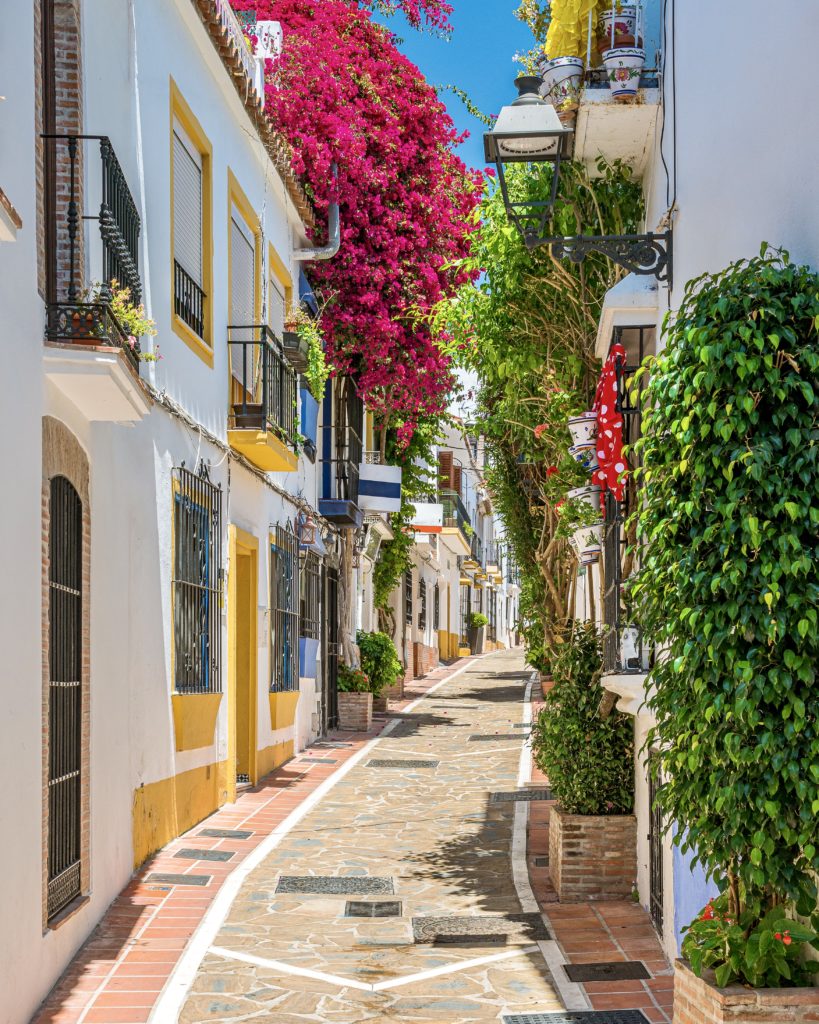 Outside the old town is the "Golden Mile" — an extravagant collection of star studded clubs, expensive restaurants, and glamorous hotels. There's also the Puerto Banus, the most luxurious marina on the coast, populated with a fleet of luxury yachts.
There are so many things to do in Marbella. You can wile away the time by going on a guided tapas tour, going dolphin watching, taking a bike tour, or –even better — going on a bike tour with wine and tapas.
You can visit Marbella on a guided day tour from Seville or on a guided day tour from Malaga.
Where to stay: Nobu Hotel Marbella, The Oasis by Don Carlos Resort
26. Juzcar
Juzcar is a famous Blue Smurfs Village in the Malaga Provence. In Juzcar, bright blue homes are set against rolling green hills. Before 2011, Juzcar was a typical white pueblo village.
But when Sony Pictures raised the notion of a "Blue Smurfs Village," to promote the Spanish premiere of The Smurfs 3D movie, locals decided to take part. They painted their traditional pueblo blancos in turquoise blue. Juzcar was chosen because of its mushroom production.
The fairytale blue homes were meant to be a temporary publicity stunt. But they became Juzcar's unique trademark and caused a boost in tourism.
As you wander the cobblestone streets, you'll find Smurf statues, Smurf murals, and a tiny mushroom building.
You can visit Juzacar (and Ronda) on a guided day tour from Malaga.
Where to stay: Casa el Genal, Casa Rural Juzcar
27. Mijas
Mijas is a glistening whitewashed village in the Malaga Province, filled with the wafting scent of lavender and jasmine. Mijas Pueblo, the immaculate old town, is tucked between verdant hills several miles inland.
It's one of Andalusia's most popular seaside villages. Blue ceramic potted plants provide postcard perfect bursts of color.
From the town's elevation, you have photogenic views of the Mediterranean. Try snapping photos from the old fortress walls or from the terrace at the Plaza de Toros. On the Paseo El Compas, you can inspect the grotto shrine to the Virgin on the Rock. A terrace through the back door offers more outstanding views.
A 10 minute taxi ride from Mijas is the exuberant Castillo de Colomares. It's a fairytale castle designed by Estebanb Martin y Martin. It has almost overwhelming combination of Romantic, Gothic, and Neo-Mudejar elements.
When you're ready to hit the beach, head down to Mijas Costa. There, you'll be plunged back into modern days with sparkling resorts and long beaches. The center of Mijas Costa is La Cala de Mijas.
Where to stay: You can check for places here.
I hope you've enjoyed my guide to the most beautiful towns and cities in Andalusia. You may enjoy these other Spain travel guides and resources:
If you'd like to explore the beautiful cities and towns of southern Spain, pin it for later.