Here's my guide to ferreting out the best hidden gems and secret spots in beautiful Barcelona Spain.
These off the radar attractions in Barcelona are just as amazing as the must see sites. And you don't have to jostle crowds.
Barcelona is a feast for the eyes. With its incredible beauty and wealth of art and architecture, Barcelona's popularity as a tourist destination has burgeoned in recent years.
The Surrealistic city has almost gotten a little theme park-ish. The city is so crowd-pleasing that it's often overrun by hordes of tourists and selfie sticks.
In spite of what can be horrible hordes of tourists, there are still some less-feted hidden gems where you can avoid long lines, bicycles, and crowds.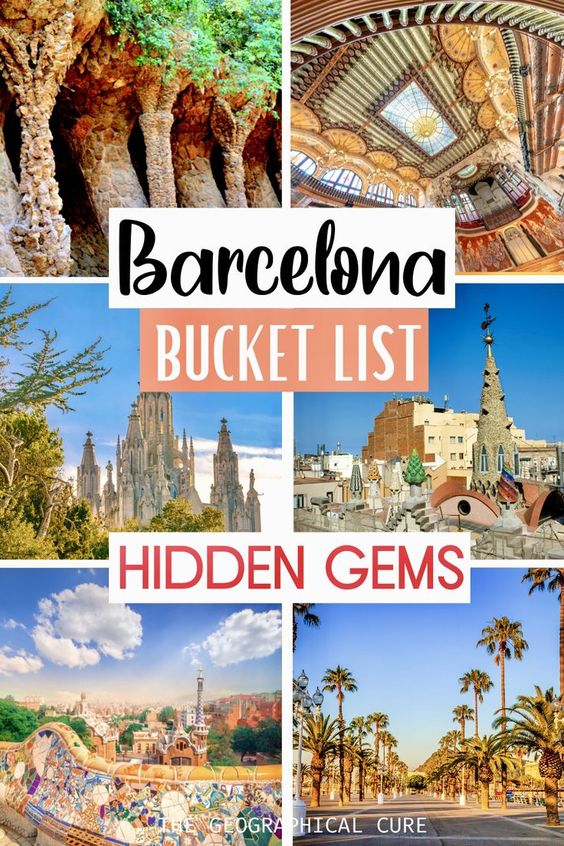 Some of these fantastic hidden gems in Barcelona are even UNESCO sites, hiding in plain sight but overshadowed by the most illustrious landmarks.
You can visit fantastical Gaudí buildings where you won't have to queue, admire spectacular city views, and gawk at sumptuous stained glass and decorative mosaics in recently opened Modernist works.
READ: 3 Day Itinerary for Barcelona
Hidden Gems and Secret Spots in Barcelona Spain
Here's my guide to the lesser known delights of Barcelona, hidden gem attractions that are often overlooked but shouldn't be.
1. Casa Calvet: Early Gaudi Home
Casa Calvet is usually overlooked by those on the Gaudí trail in Barcelona. It's not as curvy, crazy, or whimsically colorful as his more well known work. The upside? It's largely ignored and crowd free.
But it shouldn't be. It's a hidden gem among the other modernist standouts in nearby Passage de Gràcia. And a visit is essential to a full understanding of Gaudí's career and more famous UNESCO buildings in Barcelona.
Built between 1898-99, Casa Calvet was commissioned by Pere Calvet, a textile manufacturer. Casa Calvet was squeezed between two older buildings in a tony neighborhood.
The double gabled building's ornamentation is classic Gaudí. It has bulging and curved balconies, that presage the mask-like balconies on Casa Batlló. The wrought iron is highly stylized and similar to La Pedrera's twisting "seaweed" look.
Gaudí incorporated many mythological and natural symbols into Casa Calvet. Among other things, the front door sports original wrought iron door knockers in the form of a Greek cross. The knocker strikes against a bed bug, in an allegory of faith crushing sin.
Address: Carrer de Casp 48
Note: Casa Calvet is a private residence. You can only take pictures of the exterior.
Metro: Metro: L4 L1 Urquinaona
Casa Calvet Restaurant Hours: Mon–Sat: 1:00 pm to 11:00 pm
2. Palau de la Música Catalana: Barcelona's Pretty Concert Hall
Palau de la Música Catalana is a gaudy rose-covered wonderland and must see site in Barcelona. This magnificent concert hall was designed in 1905-08 by Lluis Domènech i Montaner — an architect who was just as famous as Gaudi at the time.
You have to see it to believe it. Musicians love its acoustics. Tourists love its unique design. It's a veritable symphony of stained glass, mosaics, sculptures.
Palau de la Musica is located along a claustrophobic, densely packed street in the Gothic Quarter. Montaner countered the claustrophobia with color and levity.
The arches and intricate mosaic columns draw your eye up to the roofline. Stained glass windows bring in the natural light.
You begin at the marble Lluís Millet Grand Staircase, named after a famous Catalan composer. As you as ascend, gaze up at the eye catching ceramic glazed ceiling.
You'll enter a waiting area, the Lluís Millet Hall, enveloped in massive stained glass windows. Parts of the panels are clear so you can see the dramatic mosaic columns outside by Sala Millet.
READ: Guide To Barcelona's Gothic Quarter
The auditorium is almost overwhelming. The piece de resistance is the intricate stained glass ceiling by Antoni Rigalt.
Iron and glass chandeliers create a starry night effect. And sculptures curve up the sides of the stage, including a glowering Beethoven and Valkeries from Richard Wagner's operas.
Palau is now a UNESCO site. But it wasn't embraced initially.
Josep Pla, a doyen of Catalan literature, condemned it as "horrible" for its theatrical excesses. Montaner himself was peeved. He skipped the opening ceremony because he hadn't been paid.
Click here to pre-book a ticket to Palau de la Musica. Click here to book a 1 hour guided tour.
Address: C/ Palau de la Música, 4-6, 08003 Barcelona
Hours:10:00 am to 3:30 pm, 9:00 am to 6:00 pm in August
Entry fee: Guided tour € 20, Self-guided tour € 15.
Metro: Urquinaona, line 4
3. Casa Lleó Morera: the Mulberry Mansion
Lying at the at the intersection of Paseo de Gracia and Consell de Cent is a true Spanish treasure, Casa Lleó Morera. The Art Nouveau mansion is often overshadowed by its showy neighbor Casa Batlló.
But it shouldn't be. It's lovely and vastly under appreciated. When the tourists clamor to Gaudi's other master works, you can come here and feast your eyes on beautiful art and architecture.
On 1902, Francesca Morera i Ortiz commissioned Montaner — the same architect of Palau de la Musica — to completely renovate the exterior and interior of the building in an Art Nouveau style.
Sadly, Oritz died in 1904 before the mansion was completed. Her son, Albert Lleó i Morera, moved in with his family, bestowing the current name on the house. Lleó Morera means the "Lion and Mulberry Tree House."
The most striking thing is the beautiful curved balconies with ornate floral designs and lions. The ones on the second floor are elongated.
The ones on the third floor are rounded. The fourth floor has a set of gallery windows. The overall effect evokes a convent cloister.
Location: Passeig de Gràcia, 35
Metro: Plaza de Catalunya or Passeig de Gràcia
4. Casa Vicens: Gaudi's First Gaudy House
Gaudi's work dominates the streets of Barcelona. But you may have missed Casa Vicens. North of the city center in the sleepy village of Gràcia, Casa Vicens is one of Gaudi's lesser-known works. It's his first home and a UNESCO-listed site.
The vivacious Casa Vicens splashed onto the Gaudi tourist circuit in November 2017. After 130 years of private ownership and a massive renovation, Casa Vicens opened its Orientalist doors to the public. The building's exotic, an intense burst of vibrant color and marigold tiles.
Casa Vicens is a must see sight in Barcelona for those who love architecture and all things Gaudí. Even if you don't love architecture, you'll be hypnotized by the showy building.
It's likely like nothing you've ever seen before. And it's gloriously off radar because it's so new.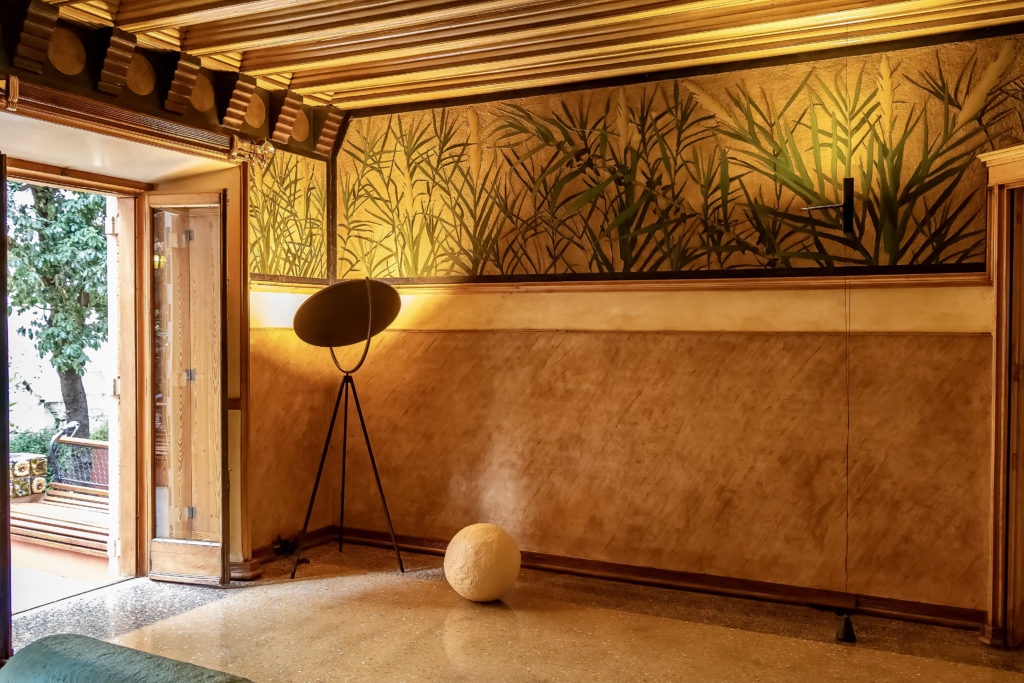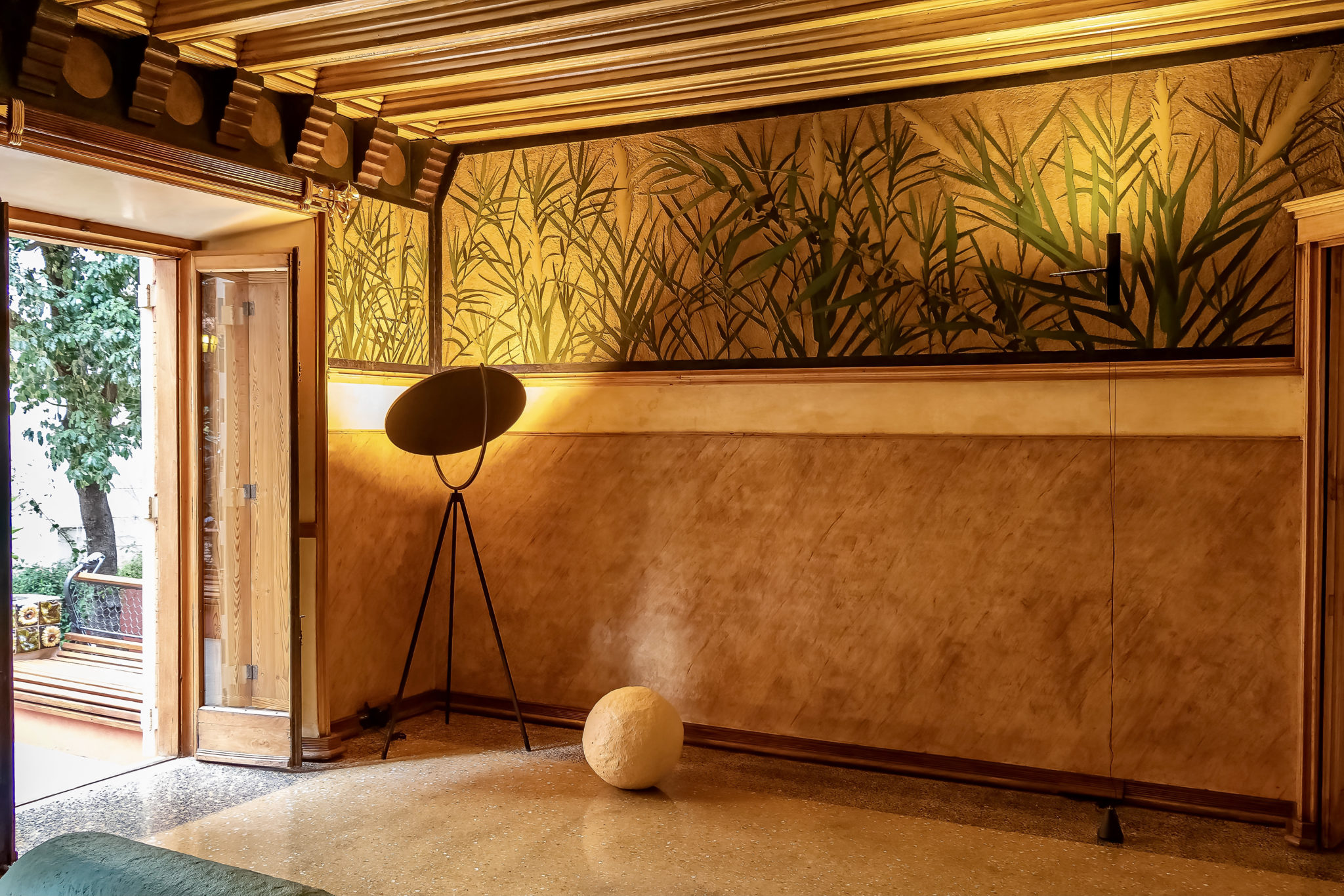 The wealthy industrialist Manuel Vicens i Montaner commissioned Gaudí to build Casa Vicens in 1877. He wanted a summer house, an escape from the city. Now, of course, it's in an arty bohemian district within the city.
Casa Vicens was designed in a Neo-Mudéjar style that was once popular in southern Spain, at Seville's Royal Alcazar and Granada's Alhambra.
Like those UNESCO sites, Gaudi intended Casa Vicens "to evoke a caliph's pavilion set in an oasis."
READ: 10 Day Itinerary for Andalusia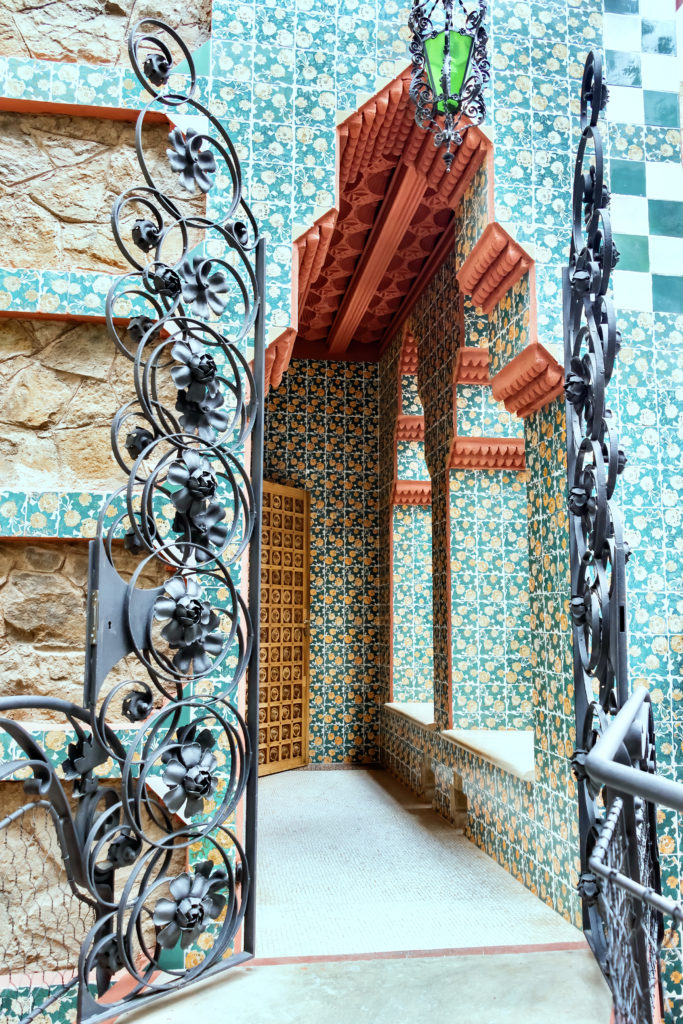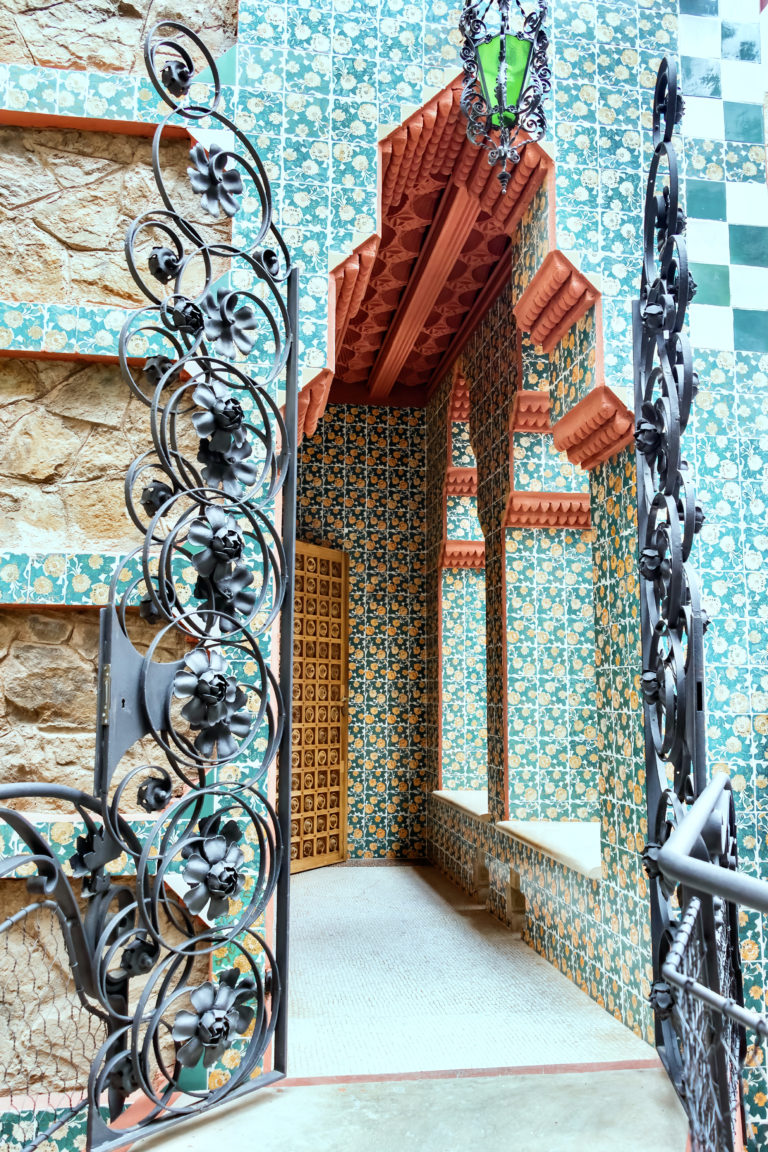 Unlike Gaudi's other creations Casa Vicens is very rectilinear, defying Gaudi's edict that there are no straight lines in nature.
Everything is square — square tiles, square windows, square balconies. But the seed of the future Gaudi is evident in the building's ornamentation, if not its structure.
The main floor consists of the dining room, smoking room, and covered porch. The bedrooms are on the first floor, full of exuberant leafy decor.
The ceilings are blanketed with bushes, vines, and riotous color. The second floor has a display on Casa Vicens' history.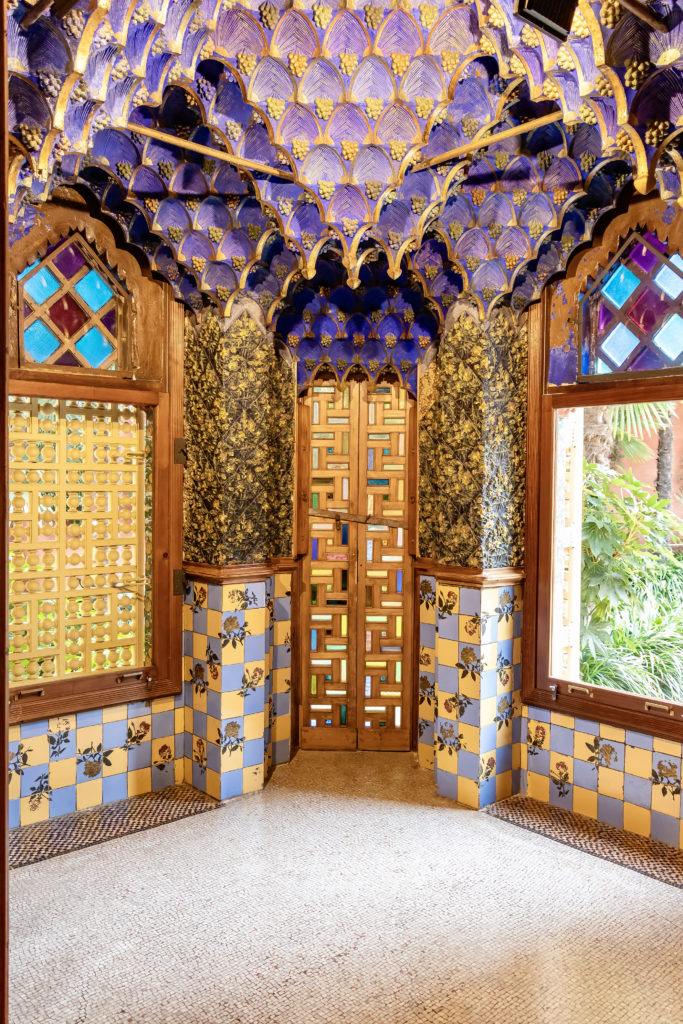 Click here to book a skip the line ticket.
Click here to book a guided tour of this magnificent building.
Address: Carrer de les Carolines, 18-24, 08012 Barcelona
Entry Fee: 16 €, discounts available. Entry is free with the Barcelona Pass. There is a discount with the Barcelona Card.
Hours: Open daily Monday to Sunday 10:00 am to 8:00 pm, last admission 6:40 pm. In the winter, open until 7:00 pm, last admission 5:40 pm.
Online ticket options.
5. Casa Amatller: Say Yes To Modernista Chocolate
Casa Amatller is a hidden gem in plain sight. It suffers in obscurity because it's right next door to Gaudí's flashier Casa Batlló.
It may not be as revolutionary in design. But it's quite lovely and actually furnished. Plus, you're given chocolate at the end of your (much less crowded) tour.
Casa Amatller was the home of chocolate magnate, Antoni Amatller. Completed in 1900, it was designed by Josep Puig i Cadafalch, another prominent Catalan modernist. It was renovated in 2009-14 and opened as a museum in 2015.
READ: Guide To Modernist Architecture in Eixample
Casa Amatller's neo-Gothic facade is gorgeous, with etched plaster designs and almond blossoms galore. The name Amatller means almond tree in Catalan.
The facade features symbols of the Amatller family, their chocolate business, and their promotion of the arts — dragons, knights, and other mythical characters. Even a rat with a camera.
Eusebi Arnau and Alfons Juyol sculpted the unique and playful decorative pieces that populate the facade.
Inside, it's more castle-like. You can visit the main floor. The walls are covered with etched plaster decorations, French wallpaper, and elaborate tile work.
As with the facade, there are humorous sculptures throughout the house. The dining room is gorgeous with beams and a spectacular chandelier with hanging stained glass discs.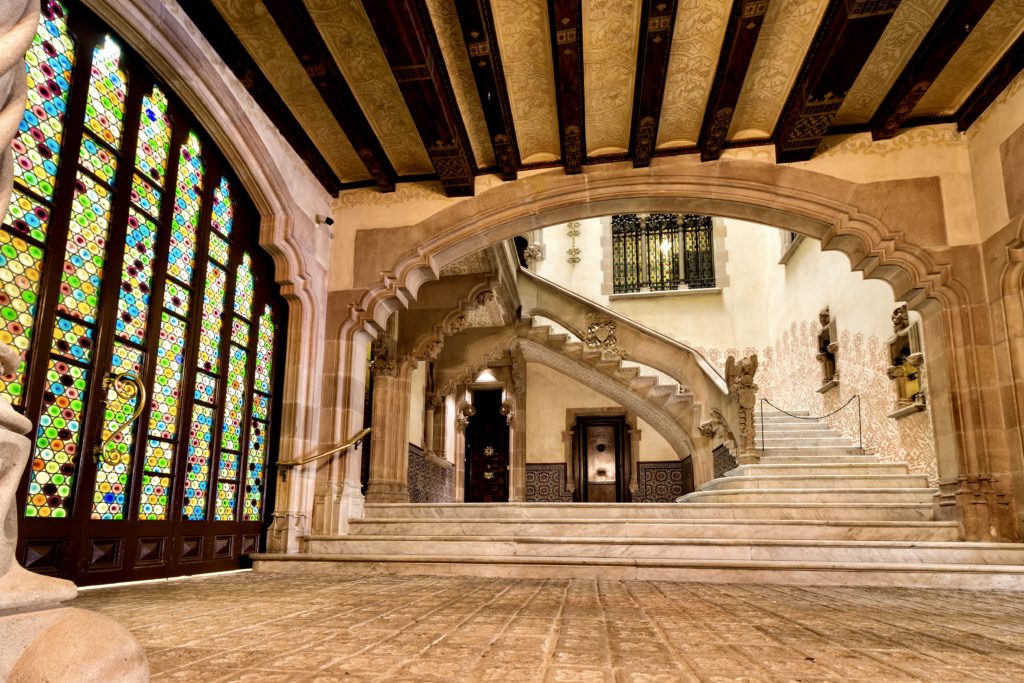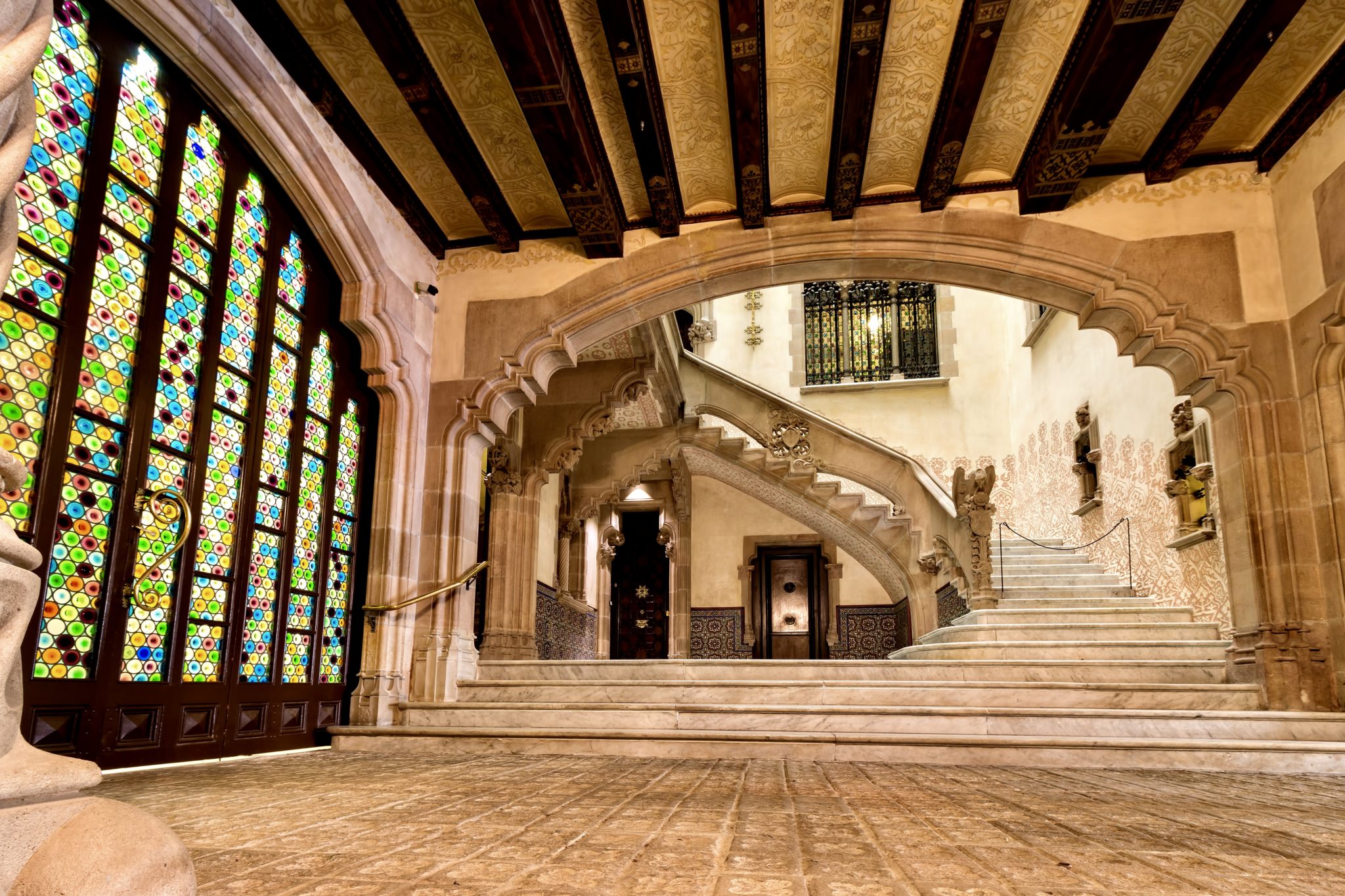 The nice thing about visiting this house, unlike most others, is that the original furniture is preserved. The highlight is the beautiful stained glass skylight. Top your visit off with a cup of Amatller's world-renowned hot chocolate.
Click here to book a skip the line ticket. Click here to book a guided tour with a chocolate treat.
Address: Passeig de Gracia, 41, 08007 Barcelona
Hours: 10:00 am to 6:00 pm
Entry fee: 19 €
Metro: Passeig de Gràcia
6. Gaudi's Torre Bellesguard: A Castle Home in Tranquil Sarrià
Torre Bellesguard was commissioned by Maria Sagués in 1900. She loved Gaudi's Modernist architecture. Bellesguard was constructed on the ruins of the medieval castle of Martin of Aragon, the last king of the Catalan dynasty.
Gaudi lead the construction for nine years. But then he dedicated himself exclusively to creating his opus, Sagrada Familia.
Bellsguard was completed by Domènec Sugrañes i Gras, who created the colorful mosaics that give a pop of color to the mud colored building. But the symbolism, curves, and nature motifs are pure Gaudi.
Gaudi was obsessed with the myth of St. George and the Dragon. His more famous home, Casa Batlló, is created in the image of a dragon.
At Bellesguard, Gaudi repeated the theme, conjuring a roof with a built in dragon face and angled rocks that double as dragon scales. It's topped with a tower-sword.
On either side of the entrance door are brightly covered seats, which symbolize the Golden Age of Catalonian rule. The interior is a mix of brightness and tranquility.
White walls are juxtaposed with blue and yellow tile and stained glass chandeliers and windows. The chandeliers are similar to those at Casa Amattler.
The Sarrià neighborhood itself is a hidden gem well worth exploring. Set at the foot of the Serra de Collserola mountains, the main square looks like a quaint Pyrenees village. Peak into Sant Vicenc de Sarrià Church, founded 1,000 years ago.
Click here to book a skip the line ticket.
Address: Carrer de Bellesguard, 20, 08022 Barcelona
Hours: 10:00 am to 3:00 pm
Entry fee: 9 € audio guide tour or 16 € for 1 hour guided tour
Metro: Take metro line L7 from the station, Placa de Catalunya, to the sixth stop, Avenida Tibidabo.
Pro tip: It's an hour walk from the city center. Here's how to get there using public transport.
7. Hospital de Sant Pau: Barcelona's Theater-Like Hospital
Another cure for over-crowding is to visit a hospital. Barcelona isn't just regal museum-homes built for wealthy families. At the Hospital de Sant Pau you'll find a former hospital outfitted with beautiful Art Nouveau architecture and decoration.
The hospital is also known as the Hospital of the Holy Cross and Saint Paul. It takes up 10 city blocks.
Never were patients so well tended. More theater than hospital, the unique building is an ode to the curative effects of beauty. Here, patients could heal their souls as well as their bodies.
Opened in 1930, and just a short 15 minute walk from Sagrada Família down Avenida de Gaudi, the Hospital de Sant Pau was built as an optimistic and philanthropic gesture by Pau Gil, who commissioned the very popular architect Montaner.
In 1997, the hospital was listed as a UNESCO World Heritage Site. It functioned as a hospital until 2009.
In 2014, Hospital Sant Pau underwent restoration and reopened as a museum and cultural center. Like Casa Vicens and Casa Amatller, it's one of Barcelona's newer tourist attractions.
The complex is gorgeous, inside and out. The 27 ornate and beautiful tiled pavilions are seemingly independent, like little cities within a city. But they're connected by underground tunnels, which you'll see on your visit.
The gorgeous Main Hall features mosaicked vaulted ceilings, stone carvings, stained glass windows, and tiled domes. Every detail of the interior is worth admiring.
Click here to book a skip the line ticket.
Address: Sant Antoni M. Claret, 167, the entrance is on the corner of Carrer Dos de Maig
Hours: Nov to March 9:30 am to 5:30 pm, April to Oct 9:30 am to 7:00 pm, Sundays and holidays only open until 3:00 pm
Entry fee: Self-guided visit 15 €, Guided visit 20 €, Audio guide: 4 €
Metro: Sant Pau, line 5
8. Pedralbes Monastery & Gaudi Dragon Gate
Barcelona's medieval Pedralbes neighborhood boasts leafy green boulevards and elegant mansions, backed by the green hills of the Collserola Natural Park.
On your way to the Pedralbes Monastery, make a pitstop at the Pavellons Güell and clap your eyes on by Gaudí's exquisite Dragon Gate with its intricate curls of wrought iron.
At the top of Avinguda Pedralbes, you'll find the the Gothic Monestir de Pedralbes. It's one of the most beautiful Gothic buildings in Barcelona.
The Pedralbes Monastery's tucked away behind a stone arch down a picturesque cobbled street. It's also known as the Royal Monastery of St Mary of Pedralbes.
Founded in 1327, the monastery features three stories of arched cloisters with a garden courtyard.
The cloister is in fairly pristine condition, given its age. The highlight is the Chapel of St. Michael with ancient frescos from the 14th century. They were just restored in 2018 and now shine with color.
Address: Baixada del Monestir, 9
Hours: Apr 1 – Sept 30: Tue-Fri 10:00 am to 5:00 pm, Sat 10:00 am to 7:00 pm, & Sun 10:00 am to 8:00 pm. Oct 1 – Mar 31 Tue-Sat: 10:00 am to 2:00 pm, Sat & Sun 10:00 am to 5:00 pm
Entry fee: €5, free with the

Barcelona Card

.
Getting there: It's on the HOHO bus route.
9. Joan Miró Foundation, Art with a Whimsical Touch
The Joan Miró Foundation is Barcelona's most emblematic museum. In this fabulous single artist museum, you'll find the world's largest collection of Joan Miró paintings.
READ: Guide To the World's Best Small museums
Miró founded the museum himself in 1975. Located on Montjuïc hill, the museum's housed in a light-filled gleaming white building from the 1970s, designed by his friend, Josep LLuis Sert.
The museum is crammed with seminal Miró works, from his earliest sketches to his later years. There's 220 paintings, 180 sculptures, and over 8,000 drawings.
Miró was born and raised in Barcelona's Gothic Quarter, where he began studying art at 14. In his 20s, Miró was attracted to the Surrealism. When his work was initially mocked in Barcelona, he fled to Paris. He became life long friends with Picasso.
READ: Best Museums in Spain
Miró's most associated with the Surrealists. But he was a renegade.
His work is characterized by constant experimentation and a decided love of the dream-like abstract. Like his friend Salvador Dalì, Miró balanced the spontaneity and automatism of Surrealism with meticulous planning and precision edges.
READ: Guide to the Dali Theatre-Museum
Click here to book a skip the line ticket for the foundation.
Address: Parc de Montjuïc 08038 Barcelona
Hours: Nov to Mar 10:00 am to 6:00 pm, Apr to Oct 10:00 am to 8:00 pm, Closed Mondays
Entry fee: 13 euros, under 15 free
10. Bunkers del Carmel: Sunset and Views
The neighbourhood of El Carmel sits just above Gaudí's famous Park Güell. Bunkers del Carmel used to be a locals only secret. But, like all good things, in recent years it's become somewhat more popular.
That's because it sports one of the best views in Barcelona. If you're willing to hike to the top of Turó de la Rovira, you'll have splendid views over the ocean to Montjuïc and Sagrada Familia. It makes a great sunset spot.
There are a few ways to get to Bunkers. You can hike up from the El Carmel, Hospital de Sant Pau, or Alfons X metro stops. You can take bus #24 from Passeig de Gracia. Alternatively, hop in a taxi.
Address: Carrer de Marià Labèrnia, s/n, 08032 Barcelona
11. Tibidabo: Views & a Fairytale Church
Tibidabo is the highest mountain in Barcelona. It offers sweeping panoramic views of Barcelona and the Mediterranean Sea.
It's also home to an amusement park and a fairytale church, the Temple of the Sacred Heart of Jesus.
Built in 1806, this Neo-Gothic church is the handiwork of architect Josep Maria Sagnier i Vidal. It's a mix of styles, but evokes a Neo-Byzantine feeling. For even higher views of Barcelona, you can take an elevator to the top of the church.
Address: Ctra. de Vallvidrera al Tibidabo, 111
Hours & Tickets: To visit the church, check website here
Getting there: Brown Line 7 (train, not metro) or Bus Tidibus T2A from the Placa de Catalunya
12. Parc de la Ciutadella: Gaudi Fountain
Need a break from the hurly burly of big city Barcelona? Once you pass through the Arc di Triunfo, you land in the Ciutadella Park.
It's one of Barcelona's most photogenic places. The beautiful 74 acre park is a green oasis in the middle of a bustling city, where you can find a sense of serenity.
The park has many attractions — a boating lake, a collection of statues, a tropical greenhouse, the Barcelona Zoo, and the Catalan Parliament buildings. The highlight is the ornamental fountain, which was designed by Josep Fontsere and a young Gaudi.
Address: Passeig de Picasso, 21
Hours: Generally 10:00 am to 10:30 pm
Entry: free
Getting there: Metro Yellow Line 4. HOHO bus stops at Ciutadella-Zoo stop.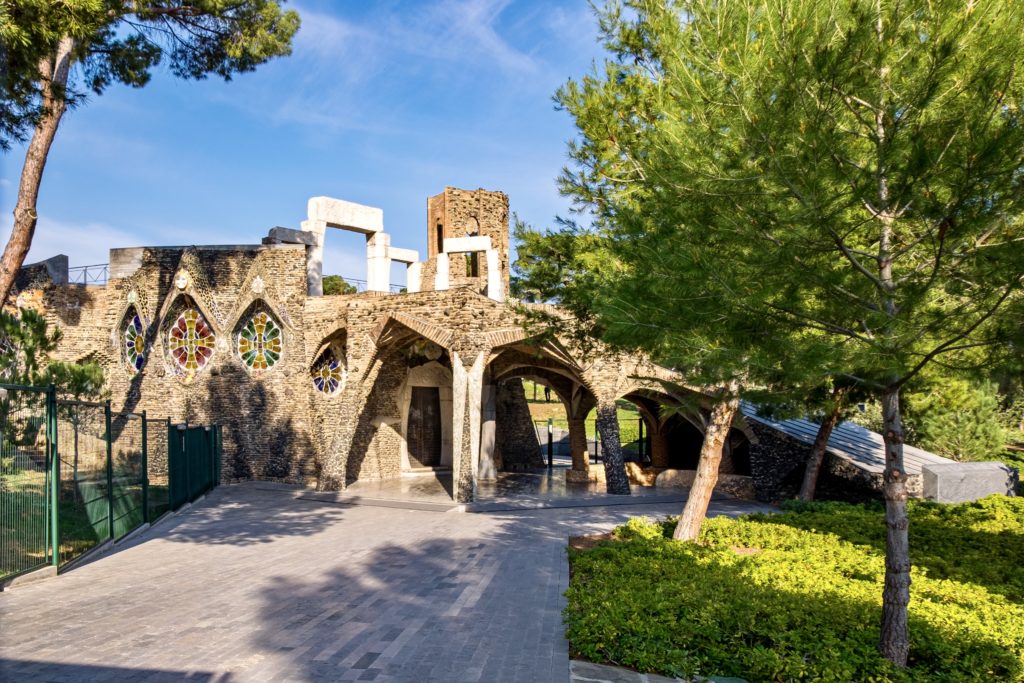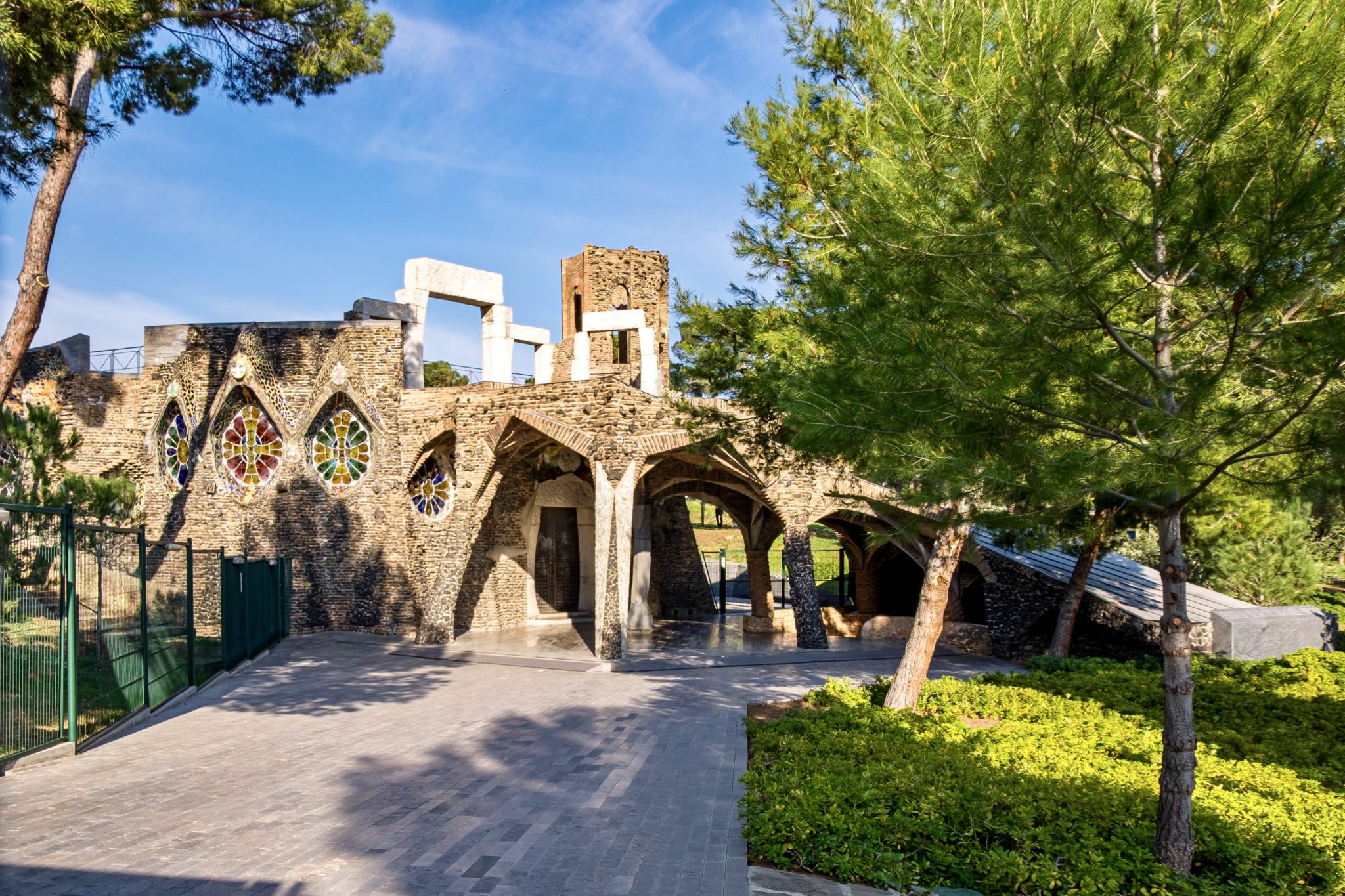 13. Colonia Guell Crypt
Colonia Guell is 10 miles from the center of Barcelona. But it can still be reached in about 25 minutes by public transport. So don't let the distance put you off visiting.
Colonia Guell is located in the sleepy village of Santa Coloma de Cervello. Commissioned by Eusebi Guell, it was intended as a utopian community, where workers at Guell's textile factory could live.
The entire complex comprises a factory area, a residential area, and the Gaudi church crypt.
Gaudi began work on the Church of Colonia Guell in 1908. Due to lack of funds, only the crypt-like lower nave was completed. In 1915, the lower nave was blessed by Barcelona's bishop. In 2005, it became a UNESCO site.
The crypt has functioned as a church ever since. Gaudi used the crypt as a "lab." It was here that Gaudi developed unique and surprising structural concepts and biomorphic forms that he would later use in Sagrada Familia. The interior almost looks like a daddy long leg spider or a space ship.
READ: Complete Guide To Sagrada Familia
The crypt's exterior has whimsical jewel-like glass windows. Inside, it's an intimate, earthy space with a circular nave, held up by dramaticaly lurching stone pilars.
There's a giant clam shell repurposed as a holy water font and and beautiful ergonomic pews designed by Gaudi himself.
Click here to book a skip the line ticket with audio guide. You can also book a 6 hour guided tour of Colonia Guell and Casa Vicens.
Address: Claudi Guell, 6
Hours: 10:00 am to 2:00 pm & 3:00 pm to 7:00 pm (summer). November to April from 10:00 am to 3:00 pm
Tickets: 9 € for guided tour of crypt and Colonia Guell
Getting there: FGC train from Plaza Espanya
14. Palau Dalmases
Palau Dalmases is a 17th century hidden gem palace located on Valle Montcada near the Picasso Museum in the Gothic Quarter. The facade dates from the 14th century. But the palace was remodeled in the Baroque era.
The palace was initially the meeting place of a scholarly society of Barcelona aristocrats. Today, Palau Dalmases is a performance venue. It's a unique meeting place, where amidst old furniture and works of art, you can drink, listen to music and also enjoy live opera shows.
It's a rare Baroque era building in Barcelona, with a beautiful stony courtyard and staircase. The ornate staircase freize depicts the mythological story of Neptune's chariot.
Address: Carrer de Montcada, 20
Performances: Nightly at 6:00 pm, 7:30 pm, and 9:30 pm
Tickets: purchase online or at the door
15. Gracia Neighborhood
If you want to escape the cacophony of central Barcelona, head to the leafy and peaceful Gracia neighborhood. The hipster Gracia district is one of Barcelona's best kept secrets, with a totally unique vibe. You can meander from square to square at your leisure.
The central meeting point is the Placa de la Vila de Gracia. There's pretty blue buildings and a 19th century clock tower. Placa Virreina and Placa del Sol are also neighborhood hang out places.
Walk down the Carrer de Verdi, which crosses the whole neighborhood. It's a beautiful tree-lined street with boutique shops, cafes, and tapas bars. If you want some chocolate and churros, head to Xurreria Trebol to indulge. Gracia is also packed with fantastic restaurants and independent art galleries
Getting there: There are three metro stations: Fontana and Lesseps on Green Line 3 and Joanic on Yellow Line 4.
16. Montjuic Cemetery
Montjuic Cemetery is Barcelona's village of the dead. The tycoons who built their Modernista houses in the Eixample district also commissioned their own mausoleums, displaying their wealth in death as well as life.
This peaceful, yet eerie, cemetery contains works by Josep M. Jujol, Josep Puig i Cadafalch, and Eusebi Arnau.
Many famous Barcelonaians are buried here, including the former president of the Catalan Government, Francesc Macià, the musician Isaac Albéniz and the artists Ramon Casas, Santiago Rusiñol and Joan Miró.
In the cemetery's older section, you'll find ornate palaces and extravagant mausoleums, some adorned with vengeful angels. Take a walk through the peaceful place to admire the funerary art. But don't get stuck there after sundown, when the iron gates swing shut.
READ: Guide To Paris' Pere Lachaise Cemetery
Address: Carrer de la Mare de Deu de Port, 56
Hours: 8:00 am to 6:00 pm
Entry: free
Getting there: Red Metro Line 1 or Green metro Line 3 to station Espana and walk up. Or head to Metro Station Parallel and take the Montjuic Funicular up the mountain
17. Placa d'Isidre Nonell Mural
Be sure to hunt down the amazing 26 foot long mural, The World Begins With Every Kiss. It's near Barcelona Cathedral in Placa d'Isidre Nonell in the Gothic Quarter.
Created by Catalan artist and photographer Joan Fontcubertat, the mural was unveiled in 2014. It commemorates the 300 year anniversary of the Catalan surrender in the Spanish War of Succession.
The photographer asked locals to send in photographs that expressed a moment of freedom. The photographs were placed on tiles and arranged in a mural.
From afar, the arrangement looks like a poignant (or perhaps erotic) kiss. Up close, you see a world in each image.
Address: Placa d'Isidre Nonell in the Gothic Quarter
18. Casa de les Punxes
This Modernist building, known as the House of Spikes, was designed by Puig i Cadafalch in 1905. It's the only building in the Eixample area that's fully detached. The massive house resembles a medieval fortress and was influenced by Neuschwanstein Castle in Germany.
The brick facade and roof are eye catching, with triangular pediments and six turrets that end in spikes. The interior isn't as interesting as Casa Batllo or La Pedrera.
But there's a handsome iron staircase, floral motifs, and stained glass. There's a good audiovisual display explaining the story of St. George and the Dragon, an important symbol of Catalan Modernism.
Casa de la Punxes is privately owned, but opened its door to the public in 2016. To see the pointy tile-adorned turrets up close, book a ticket that includes roof terrace access. In the summer, the terrace is open on Friday nights to the public.
READ: Guide To Modernist Architecture in Barcelona
Address: Av. Diagonal 420
Hours: Daily from 10:00 am to 7:00 pm
Tickets: 12.5 €, 16 € with the roof terrace
Metro: Metro to Verdaguer or Diagonal. Or, HOHO Bus to La Pedrera stop
19. Mapfre Foundation in Casa Garriga Nogues
Mapfre is an insurance company that owns this private foundation, aimed at promoting art. It's located in the Eixample neighborhood.
The collection at the Mapfre Foundation is a veritable hidden gem in Barcelona. It includes works by Monet, Renoir, and Rodin. And hosts temporary art exhibitions. At € 3, it's a bargain.
The Mapfre is housed in a beautiful Modernista building, the Casa Gaarriga Nogues, just steps from the Passeig de Gracia. It was built by architect Enric Sagnier for the banker Ruperto Garriga-Nogues. The house is gorgeous inside, with curving staircases, stained glass, and beautiful details.
Address: Carrer de la Diputacio, 250
Hours: Monday 2:00 pm to 8:00 pm, Tues through Sat 10:00 am to 8:00 pm, Sunday and holidays from 11:00 am to 7:00 pm
Tickets: 3 €
Metro: Passeig de Gracia
20. Fundacio Tapies | Antoni Tapies Foundation
The Tapies Foundation is a modern and contemporary art cultural space. It's housed in a beautiful Modernist building designed by Montaner. The building was an early Modernist structure, built around 1880. The building is an example of the transition from 19th century eclectic architecture to the Art Nouveau style.
The Tapies Foundation was declared a historic monument in 1997. From 2008-10, the building was fully renovated.
The exterior facade is eye catching, with exposed brick and an intricate iron sculpture on top by Tapies, called Chair and Cloud. The sculpture was intended to elevate the building's height. The sculpture represents a chair jutting out of a thick cloud or iron wires. The chair is in the center top.
Founded in 1984 and moved to its current location in 1990, the museum is dedicated mainly to the art work of painter Antoni Tapies, a great 20th century conceptual artist, who was a contemporary of Picasso. But it also serves to advance contemporary art and has a fantastic library.
Address: Career d'Arago, 255
Hours: Friday & Saturday 10:00 am to 7:00 pm, Sunday 10:00 am to 3:00 pm
Tickets: 8 €
Metro: Passeig de Gracia
21. Sant Antoni Market
Designed by Anton Rovira i Trias in 1882, Sant Antoni market is one of the Eixample neighborhood's iconic buildings. Sant Antoni is similar to La Boqueria on Las Ramblas, but without the noise and crowds.
The steel skeleton of a building occupies an entire block and is shaped like a Greek cross. The central crossing point is crowned by a large octagonal dome.
In a recently-renovated Sant Antoni, you can find modern and colorful stalls holding a wide array of fresh fish, produce, and vegetables. There's also a tapas bars and cafes. The market is open 7 days a week.
On Sunday mornings, there's an excellent used book market known as the Fira de Bellcaire. It finishes around 1:00 pm, so you can't dally.
Address: Carrer del Comte d'Ugell, 1
Hours: Mon to Sat 8:00 am to 8:00 pm
Metro: Line 2 Sant Antoni
22. Santa Caterina Market
If you're a foodie who can't elbow your way through over-crowded La Boqueria, another great alternative is Mercat de Sant Caterina.
It's on the edge of the El Born district. The market is another piece of outstanding architecture in Barcelona, with 100 stalls on three levels.
Seven years in the making and debuting in 2005, Santa Caterina's defining feature is its theatrical roof. It's a gentle wave adorned with a magic carpet of 325,000 colorful ceramic tiles from Seville.
It was designed by the husband wife team of Enric Miralles and Benedeta Tagliabue, famous for their promiscuously expensive projects.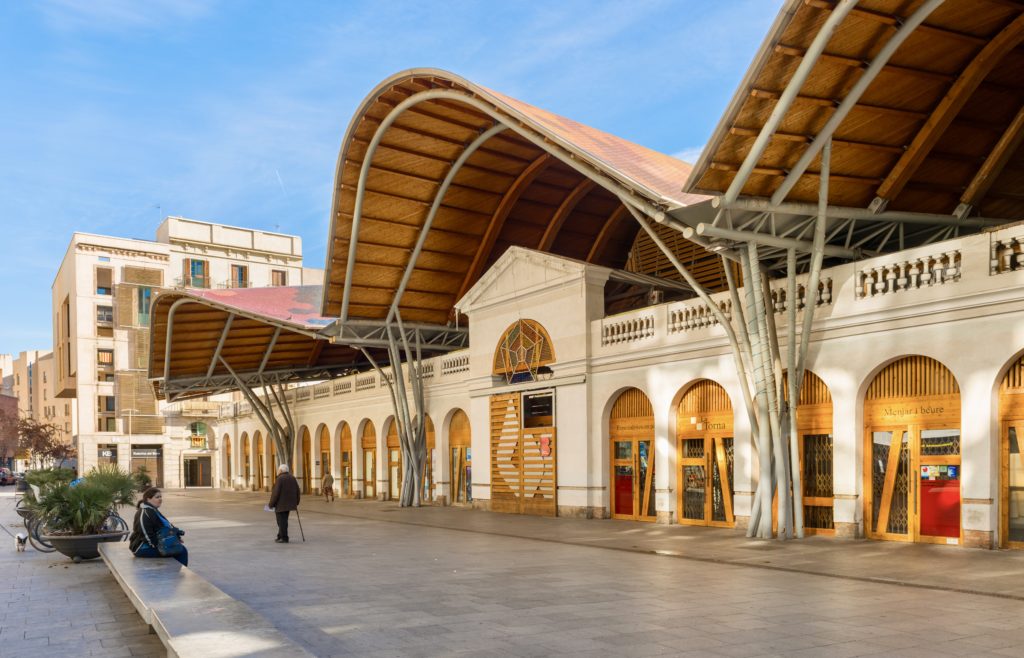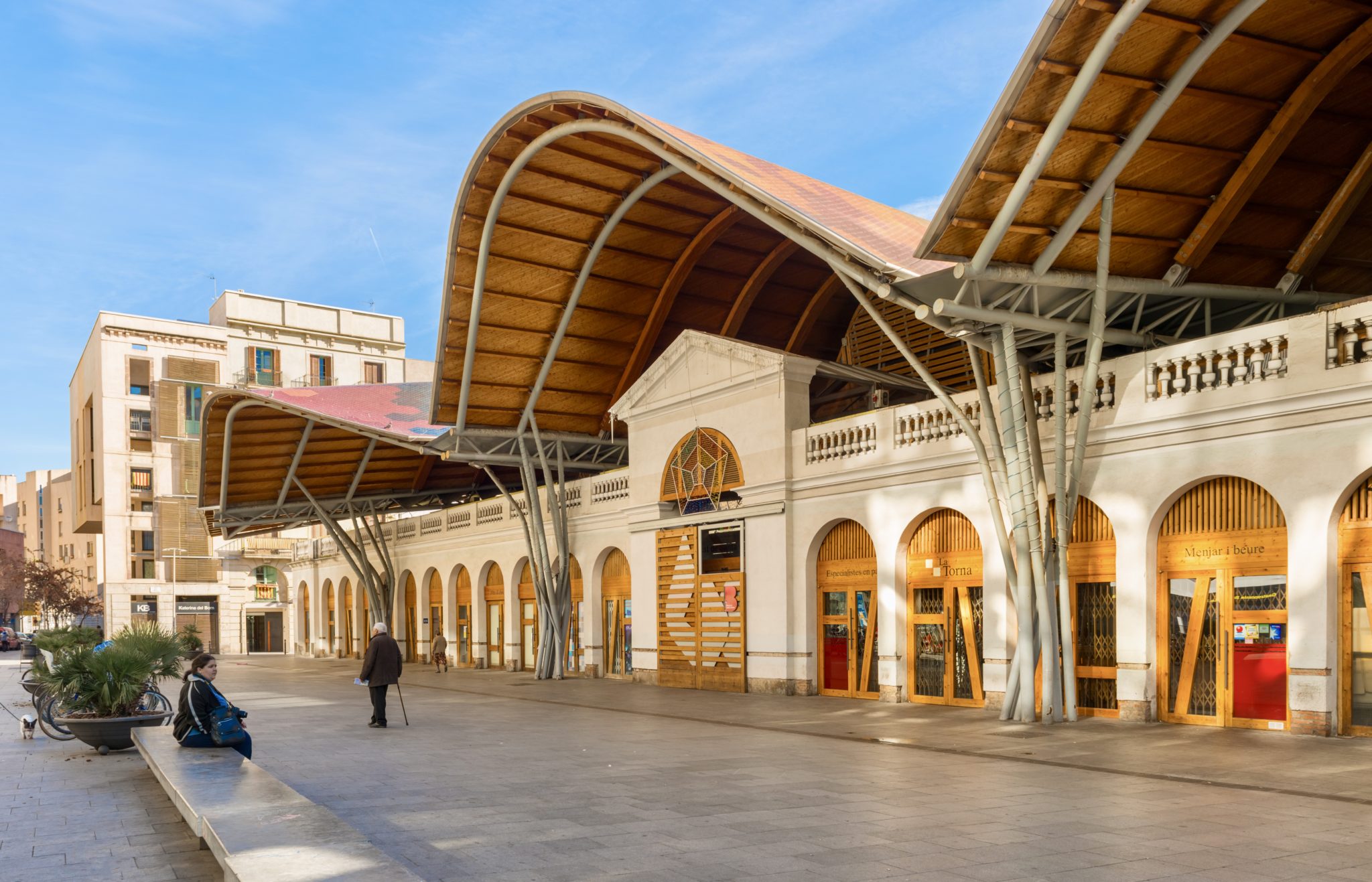 Computer wizardry helped design the form of the roof. But the individual tiles had to be cut by hand.
This makes the market design both ultra modern and old in spirit and technique. The latter seems befitting since the market is right near Barcelona Cathedral and the Santa Maria del Mar Church.
Address: Av. de Francesc Cambo, 16
Hours: Mon 7:30 am to 2:00 pm, Tues & Wed 7:30 am to 3:30 pm, Thurs & Fri 7:20 am to 8:30 pm, Sat 7:30 am to 3:30 pm
Metro: Line 4, Jaume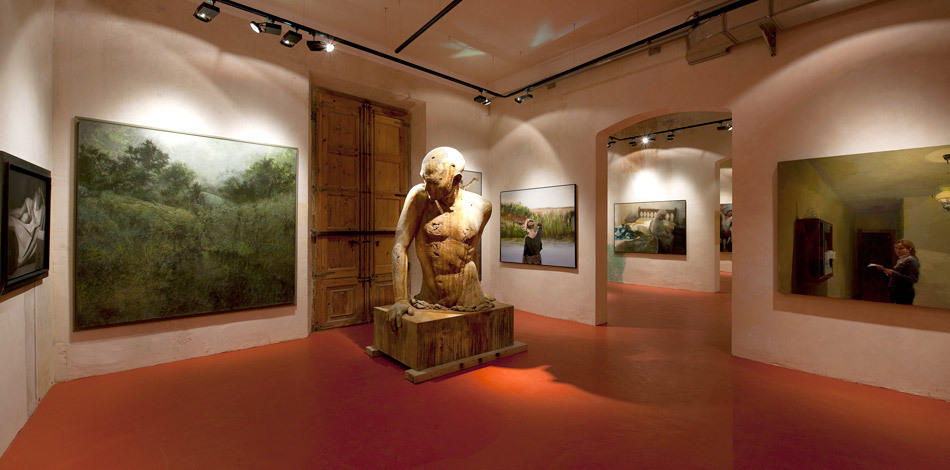 23. Museu Europeu d'Art Modern (MEAM) – European Modern Art
Just steps from the famous Picasso Museum is another of Barcelona's hidden gems, MEAM. It's an intimate museum housed in the beautiful 18th century Palau Gomis.
The exciting museum houses a trove of art works from classical 20th century Catalan sculpture to 21st century contemporary figurative paintings.
MEAM also offers concert on Friday and Saturday evenings, so keep that in mind when planning your evening activities.
Friday concerts are blues and jazz. Saturday concerts are classical or opera.
Address: Barra de Ferro, 5 08003
Hours: Tuesday to Sunday, from 11:00 am to 7:00 pm
Entry Fee: 11 €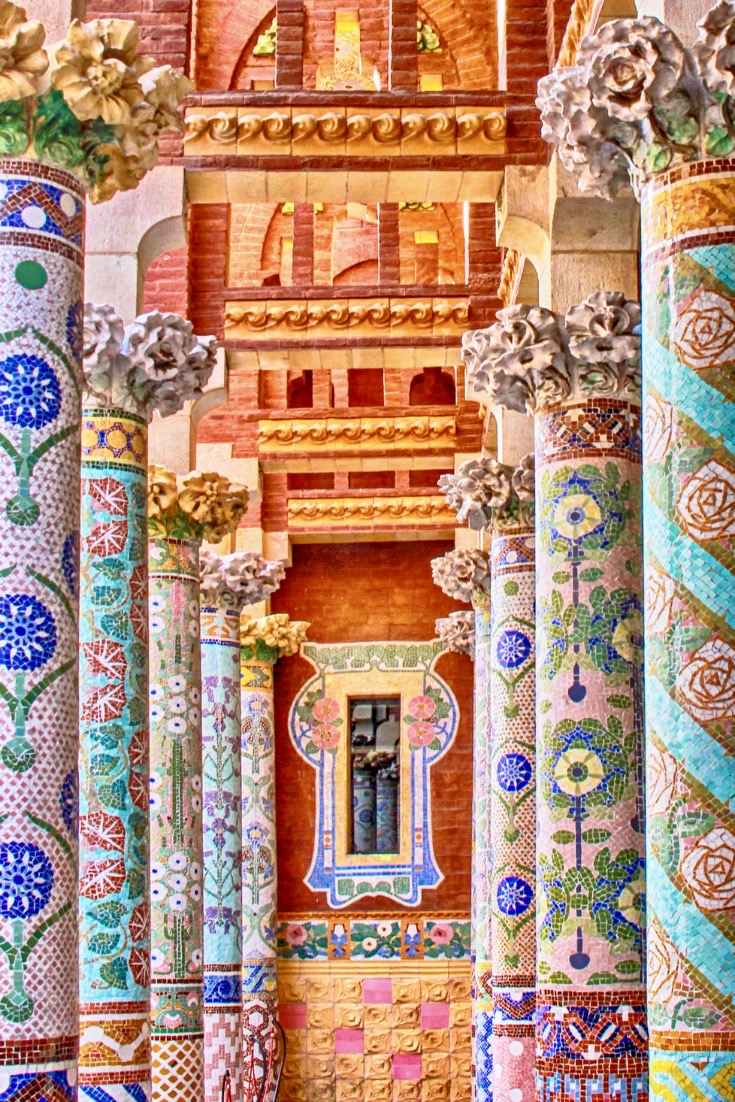 Gaudi Tours & Hidden Gems Tours In Barcelona
Many of the hidden gems in Barcelona that I've mentioned are Gaudi buildings.
There are many Gaudi-themed tours you can take in Barcelona that will take you to some of these spots.
You can book:
For an overview of Barcelona's hidden gems, you can book this 3 hour guided walking tour of Barcelona's hidden gems. You can even book a customized tour to see the hidden gems on your own bucket list.
How To Get Around Barcelona
Barcelona is a fairly big city. You can walk to many of the main attractions. But, if you're in Barcelona for 3 days, you'll eventually find yourself in need of transport. Take the metro or taxis.
The metro is relatively painless and easy to understand. You can buy a multi-day or multi-journey ticket that suits your needs. Also, Uber isn't yet fully operational in Barcelona.
If you want to use public transportation, the Barcelona Card Express gives you two day access to all modes of transportation. Or you can purchase a 1 or 2 day hop on hop off bus pass.
You can also take a guided bike tour to see Barcelona's hidden gems.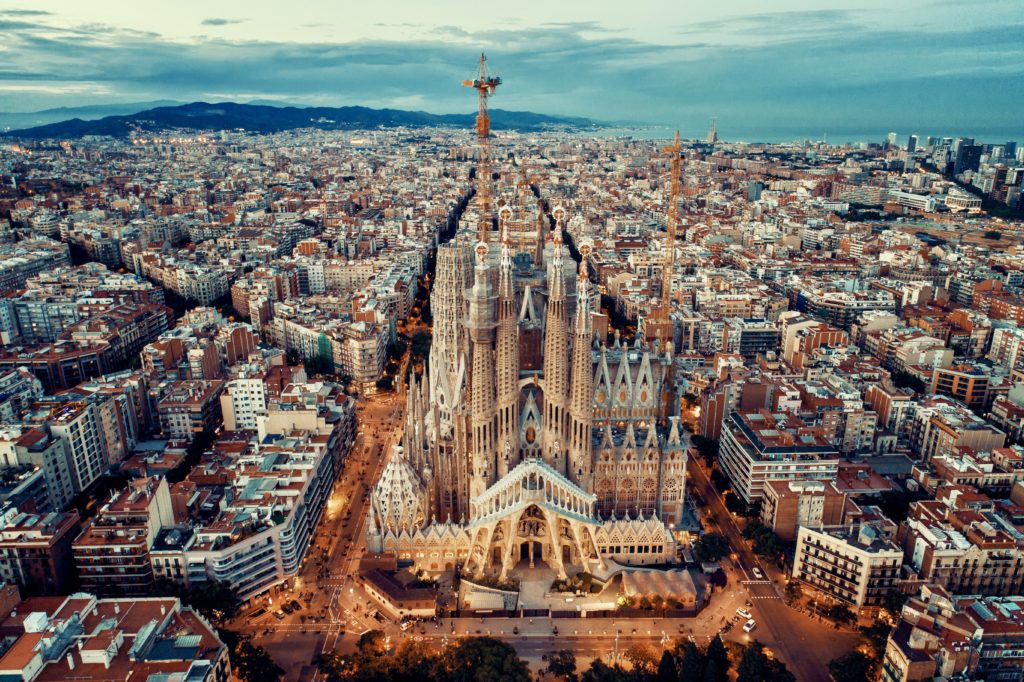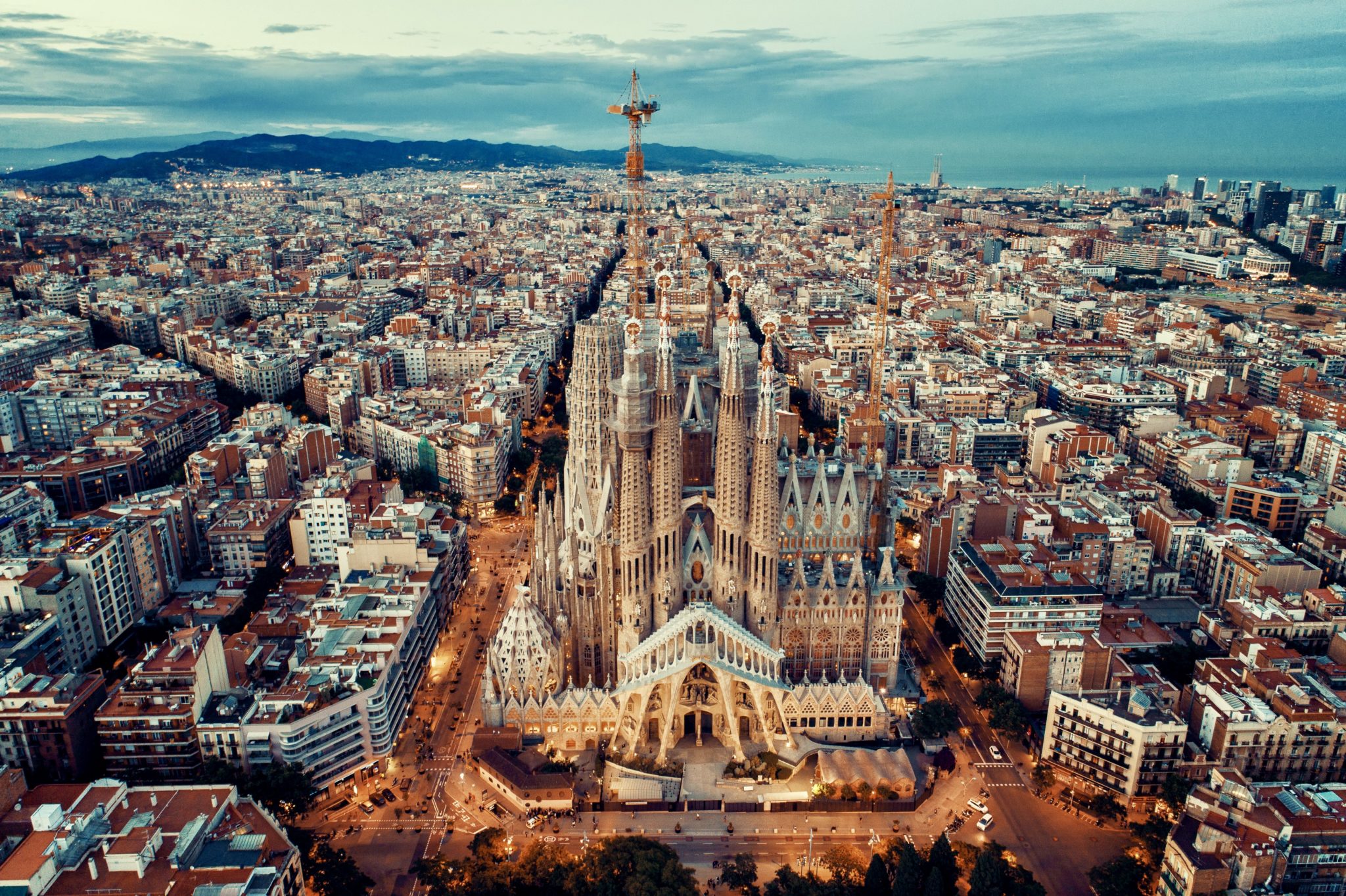 Where To Stay In Barcelona
Wondering where to stay in Barcelona? There are so many options.
For a splurge, try the Mandarin Oriental, Cotton House, or the Hotel Arts.
Other excellent hotels include The Serras (urban chic hotel overlooking Port Vell), the Hotel Cataloinia Passeig de Gracia (luxury hotel with a sunny terrace), or Hotel Bagues (a sumptuous gem on La Rambla).
If you like boutique hotels (I know I do), check out the H10 Madison, the Hotel Neri, or the Hotel Pulitzer.
I hope you've enjoyed my guide to the hidden gems of Barcelona. You may enjoy these other Spain travel guides and resources:
If you'd like to discover Barcelona's hidden gems, pin it for later.