Here's my guide to visiting the magnificent Neuschwanstein Castle in Bavaria. I give you an overview of the castle's history, its architect, and tell you what you need to see inside.
Clad in glistening limestone and strategically perched in the Alps, Neuschwanstein Castle is the most visited site in Germany.
The Neo-Gothic castle isn't a hidden gem or secret place, despite being a bit of a hassle to get to. It's almost 2 hours from Munich in the middle of nowhere. In fact, the crowds are decidedly horrible.
And yet, despite my aversion to crowds and hassles, Neuschwanstein appeals. It's just so romantic with its majestic turrets, decadent interior, and dramatic historical backstory.
Neuschwanstein is essentially the embodiment of a fairy tale, a fairy tale spun by a daydreaming king, Mad King Ludwig II of Bavaria.
The Castle Builder Mad King Ludwig: Crazy or Artistic?
Ludwig was a bit of an odd duck. He was known as the Mad King Ludwig or the Swan King. Or maybe could be more aptly nicknamed Addicted to Spending Ludwig. He built some of the most over the top castles in Europe.
Ludwig was born on August 25, 1845. He and his schizophrenic brother Otto were brought up by King Maximilian II of Bavaria and Princess Marie of Prussia – two individuals who didn't particularly care for each other or for their children.
As a little prince, Ludwig spent much of his life alone. He grew up at the nearby Hohenschwangau Castle, another Neo-Gothic confection built by his father Maximilian.
In 1865, at the tender age of 18, Ludwig ascended the throne. He was a tad young, but had been taught to believe the throne was his divine right.
Ludwig was a reclusive king, loner, and possibly a misanthrope. He hated social events and may have had social anxiety disorder.
Legend holds that he went to great lengths to be alone and disliked human contact. At his request, servants would pretend not to see him.
Ludwig didn't care much for affairs of state either. Instead, his life work was his pathological obsession with castle building, something you might expect from a "mad" king. Or perhaps from a temperamental artist with a vivid imagination.
A Short History of Neuschwanstein Castle
Neuschwanstein is not Ludwig's only grandiose abode, but it's certainly his most famous. It was reputedly the basis for Disney's Sleeping Beauty castle. There's definitely an influence.
I doubt, however, that it's the sole influence. What I am sure of is that "Sleeping Beauty Castle" is vastly easier to pronounce than "Neuschwanstein Castle."
At the time, Neuschwanstein Castle was considered an excessive waste of resources. Ludwig was only a vassal king at this point, after all. Bavaria was under Prussian rule for almost his entire reign.
Denied real power, Ludwig created an alternative world — a palace and retreat where he would feel like a real king, emulating his idol Louis XIV. Ludwig spent more and more time in the mountains and less and less time in Munich governing.
He became entranced with Richard Wagner and his dramatic operas. In some ways, Neuschwanstein is so whimsical and dramatic that it can be seen as opera transformed into architecture.
Neuschwanstein took 24 years to build. Despite its medieval influences, it had every modern convenience — flushing toilets, steel beams, a telephone, and fancy kitchen equipment. Ludwig served as mural creator, interior decorator, architect, and historian. He approved every last detail.
But no one ever visited him. Neuschwanstein was purely Ludwig's domain. Visiting was verboten.
As a gift, Ludwig only permitted his mother the castle to visit on a single occasion. Otherwise, it was just him and 60 servants. Ludwig would likely be appalled at the hordes of visitors descending on his special castle these days.
Neuschwanstein was never finished and Ludwig never got his happily ever after. Instead, Ludwig was arrested at Neuschwanstein and deposed, He died in what was may have been a staged faux suicide to get him out of the way and halt his spending.
In reality, Ludwig was likely shot in the back trying to escape his prison in Berg Castle.
The Wittlesbachs promptly ceased all funding for Ludwig's castle building endeavors. Unlike Ludwig, they lacked vision and didn't anticipate how popular his castles would be come.
As interesting factoid is that, during WWII, when Hitler needed a place to stash the art he stole, he used Neuschwanstein. Hitler supposedly believed no one would dare to destroy such place.
As the war drew to a close, Hitler planned to blow up the castle to prevent it falling into enemy hands. But, fortunately, his dictatorship drew to a close.
Tickets & Tours For Neuschwanstein Castle
You have to be organized to visit Neuschwanstein. Tickets sell out fast. You can't just show up. Click here to book a must have skip the line ticket.
You may also want to book a guided day trip tour, especially if you don't have a car. Click here to book a day tour and skip the line ticket from Munich. If you're traveling in a group, you can also book a skip the line group tour.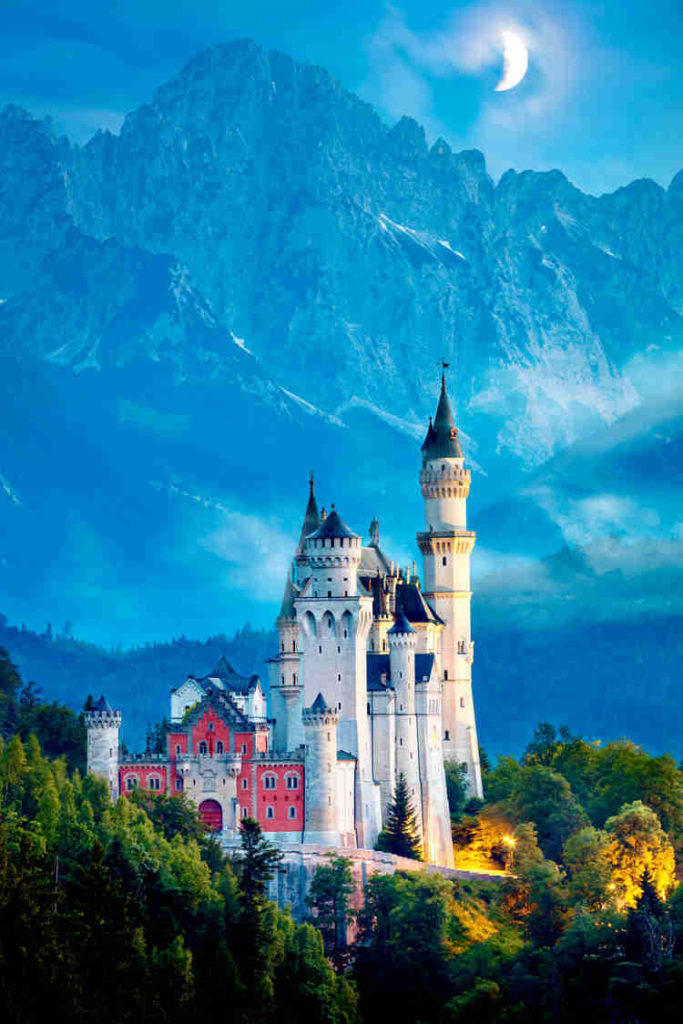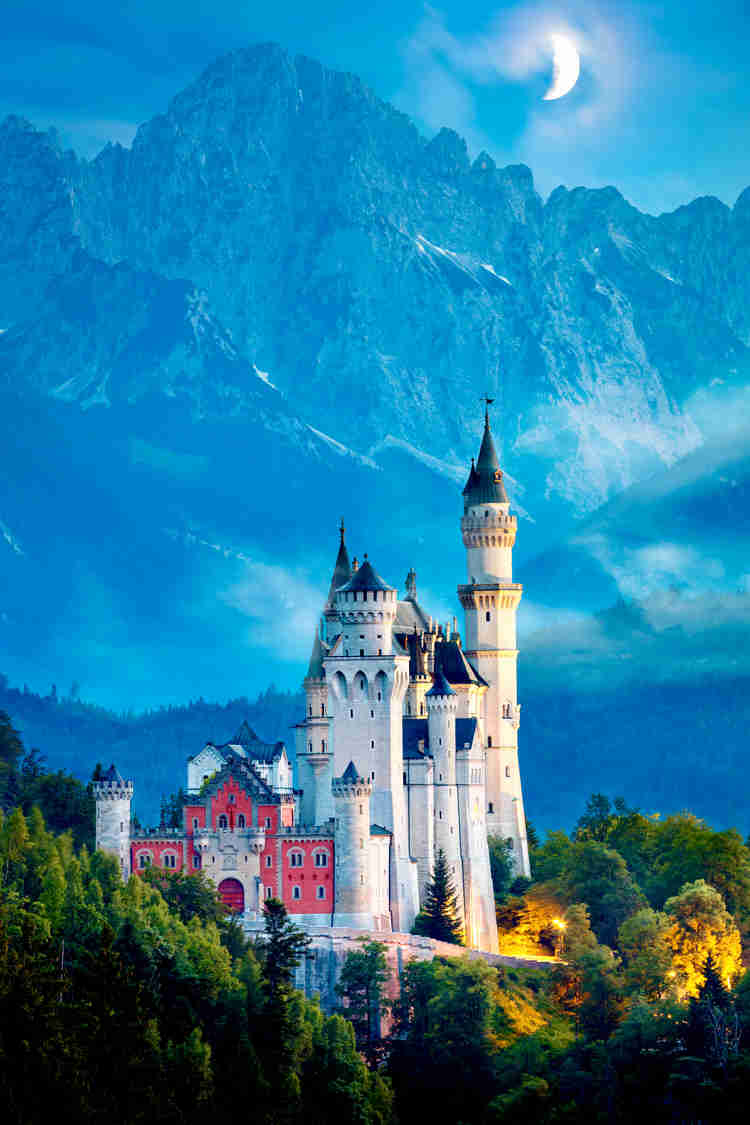 If you are very ambitious, you can add in Linderhof Palace either on your own or on this guided tour from Munich or this 11 hour VIP tour from Munich. Linderhof is 50 minutes from Neuschwanstein.
Another full day tour from Munich takes you to both castles and the pretty village of Oberammergau.
Guide To Neuschwanstein Castle: What To See
Here's everything you need to see and admire at Neuschwanstein Castle.
1. Exterior Architecture of Neuschwanstein Castle
Neuschwanstein Castle is a prime example of 19th century Romantic style architecture. The exterior is made of brick and clad in limestone, which were lifted up to the castle via crane.
The red Gatehouse was the first part built. Ludwig lived there until the Citadel was completed to oversee construction.
The design incorporates Romanesque shapes, such as triforia window openings and semi-circular arches. Byzantine and Gothic influences are reflected in the slim towers with upward-pointing lines. The castle has numerous tower, gables, turrets, and balconies.
2. Overview of the Interior of Neuschwanstsein Castle
There are endless rooms in the palace. You'll only see 11 of them on your tour. And, annoyingly, the mandatory tour is really subpar.
Not much information is provided. You're not even given the names of certain antechambers you pass through en masse.
Photography is banned inside, and there are guards in every room to strictly enforce that policy.
But I purchased a few stock photos so that you could get a sense of how lavishly the palace is decorated. You can take photos in the kitchen and exhibition areas in the basement.
3. Throne Room
The highlight of the palace is the arresting throne room, bult between 1879-87. It's a monument to kingship, a copy of the legendary grail hall in Wagner's opera Parsifal.
The color scheme for the room was taken from Viollet-le-Duc's grand Salles des Presses hall in Pierrefonds Castle outside Paris. The Byzantine influence came from All Saints Church in Munich, which was destroyed in WWII.
The throne room drips in gold leaf. It has a vast gold chandelier, shaped like a Byzantine crown, which dominates the room. It weighs 1 ton. You may feel slightly wary standing under it. Ludwig never saw it. It wasn't built and installed until 1904.
Oddly, there's no throne in the throne room. Possibly, there was no time to build it before Ludwig's untimely death. Or, Ludwig may have intended the throne room to be a symbolic sanctuary, representing the holy grail itself. More likely, when the Wittlesbachs cut funding, there was no cash left to build the actual chair.
The ceiling is beautiful, an azure sea studded with gold stars. The most intricate and expansive part of the throne room, however, is the mosaic floor. It features animals and, of course, swans. It's made of over 2 million stones.
4. Living Room
The swan motif is on steroids in the living room. There are over 100 swans in the room, according to the tour guide.
In the panel running below the ceiling, there are medieval shields with swans in between. There's even a massive white porcelain swan on display. The frescos in the room are from Wagner's Lohengrin opera.
The dining room was outfitted with a bell system. This enabled Ludwig to summon his servants at will, without being pestered or being forced to engage in small talk.
5. Ludwig's Bedroom
Ludwig's bedroom may be the most fanciful room in the palace. It's painted with scenes from Tristan and Isolde, an operatic Romeo and Juliet type of tale.
His bed took 14 woodcarvers over 4 years to finish. It's topped with carved cathedral-like spires.
There are Gothic elements everywhere. On display is Ludwig's dressing area, complete with a swan sink pouring water and a secret door to a bathroom.
6. The Study
Ludwig's neo-Gothic study sports murals from the Tannhäuser saga. Most notable are the murals of the Singer's Contest and Venus in the grotto with Tannhäuser.
Ludwig was so inspired by this scene that he created his own artificial grotto, located between the Study and the Salon.
7. The Cave Grotto
The interior theme park grotto foreshadows the more elaborate Venus Grotto of Linderhof Palace. Like Linderhof, it's complete with an artificial moon, fake rocks and a fake waterfall.
It evokes scenes from Taunhauser. To me, the interior grotto shows just how eccentric Ludwig was. I mean, who puts a cave inside their house?
8. Singer's Hall
The upper floor is all about the Singer's Hall, which might be the most important room in Neuschwanstein Castle. If there were any visitors. Again inspired by Wagner, it tells the story of Parsifal and his son Lohengrin.
In Ludwig's time, and despite the room's acoustical perfection, no concerts were held and no one saw the room.
Right now, Singer's Hall is under renovation for the very first time. There's scaffolding everywhere. The paintings are being "overpainted" and restored to their original 19th century appearance.
I'm sure it will make the room brighter. I'm just not sure about the desirability of "overpainting" as opposed to more routine cleaning. I thought blatant "overpainting" was disapproved of in art circles.
9. The Massive Kitchen
The kitchen was fit for a king — roasting spits, large stove, chopping blocks for meat, pantries, etc. And for a king's entourage, except Ludwig didn't have that. Just his servants.
Ludwig, who grew chubby with age, liked his desserts. The chefs would make complicated molds for chocolate and baked goods, decorated to the nth degree, as befitting a ruling house.
10. Marienbrucke
When you're done visiting the castle, take the short 10-15 minute hike to Marienbrucke. It's a bridge where you have the iconic postcard-perfect view of the castle.
Legend holds that Ludwig enjoyed coming up here after dark, on his nocturnal sleigh rides, to watch the candlelight radiating from the Singer's Hall.
Tips For Visiting Neuschwanstein Castle
Neuschwanstein is a hassle to visit. Ludwig would've approved of the difficulty. Previously, you couldn't even buy online tickets.
That changed in 2021. Click here for online tickets.
1. How To Get There
Be sure to arrive on time. You've got to be punctual. That's the German way.
For Neuschwanstein, you need to come prepared and with a timetable. When you prepare for your visit, know that you'll be arriving in the village of Schwangau, rather than directly at the castle.
Neuschwanstein can only be visited with a guided tour that lasts approximately 35 minutes. The castle is at the top of the semi-steep incline.
Your options for getting there are a 45 minute hike up, expensive horse drawn carriage, or shuttle buses.
It's easiest to hike, if you can, because otherwise you'll be standing around awaiting. The hike is mostly shaded and you need to be on high alert for horse poop. Because you'll be doing some hiking, wear comfortable shoes.
The weather at Neuschwanstein is different than Munich. It's chillier and more prone to showers and fog. Be prepared, check the weather, and bring an umbrella.
You can get to Neuschwanstein by car, by train, or by tour. I drove.
If you're driving, put the address of the ticket center in Schwangau in your GPS. It will take about 1:45 to 2 hours to get there.
You'll see signs for paid parking as you enter the village. It costs 7 euros to park for the day. Head to the ticket office in Schwangau.
You should plan to pick up your tickets at least 90 minutes in advance. There's a line to purchase tickets on the left and a line to pick up reserved tickets on the right. So make sure to get in the right line.
For all that is holy, try not to visit on a weekend. Neuschwanstein is wildly popular.
On a recent geographical cure, I had no option but to go but on a Saturday. The crowds were epic and you're fighting with everyone for photos ops.
2. Visit Hohenschwagau Too
Lastly, if you've come all this way, it only makes sense to also visit Hohenschwangau Castle. It was built by Ludwig's father and was Ludwig's childhood home.
It's only a 15 minute hike from the village. I really enjoyed touring Hohenschwangau, just for its historical importance and connection to Ludwig.
The ticket price is 21.00€ with a 2.50 € fee for booking online.
You can buy a combined ticket for Neuschwanstein and Hohenschwangau for 32.00 €.
If you're feeling really ambitious, you can buy a combined ticket that also includes the Museum of the Bavarian Kings. The museum tells the history of the Wittlesbach family.
3. Base in Fussen Instead of Day Tripping From Munich
If you'd like to visit Ludwig's castles at a more leisurely pace, consider spending a couple nights in the lovely medieval town of Fussen. It's one of Germany's prettiest towns.
There are regular buses between Fussen and Schwangau. If you're driving, you can find metered parking or paid lots in Fussen. Fussen is an adorable Bavarian town, lined with colorful and decorative buildings.
4. Add On Linderhof Palace
From Fussen, it's only a 15 minute drive to Schwangau to visit Neuschwanstein and Hohenschwangau. It's a 45 minute drive from Fussen to Linderhof Palace and the pretty village of Oberammergau.
Linderhof was Ludwig's primary residence. While smaller than Neuschwanstein, it's much more opulent inside and is dotted with garden follies worth seeing, including the grotto I mentioned above.
Oberammergau is packed with eye-catching painted houses and awestruck tourists who come here to learn about the town's once-a-decade Passion Play.
Practical Guide To Neuschwanstein Castle
Address: Neuschwansteinstraße 20, 87645 Schwangau. The ticket center address for your GPS is Alpseestraße 12, D-87645 Hohenschwangau.
Hours: April to Oct 15, 9:00 am to 6:00 pm; October 16 to March 10:00 am to 4:00 pm
Entry fee: Ticket price 15,00 € with a 2,50 € charge for booking online. A combo ticket for Neuschwanstein and Hohenshwangau is 31 €.
I hope you've enjoyed my guide to Neuschwanstein Castle. You may enjoy these other Germany travel guides:
If you'd like to visit the stunning Neuschwanstein Castle in Bavaria, pin it for later.