Planning a trip to Barcelona and need some destination inspiration? Here's my comprehensive guide to 40+ must see landmarks and attractions in Barcelona.
I try to be judicious about what cities I describe as "magical." But cultured and cosmopolitan Barcelona is one of the world's treasures. It's a visual feast of a city that deserves the descriptor.
For the avid sightseer, Barcelona's top rated attractions are its surrealistic architecture, impressive monuments, and historic buildings. Barcelona elevates architecture to rock star status like no other city.
Barcelona is a veritable architectural wonderland — home to centuries old Gothic palaces, Modernist fantasias, and cutting edge contemporary architecture.
There are no end of wonders, both old and new, famous and secret. Everywhere you turn, you'll find beauty and architectural landmarks in Barcelona.
Barcelona is most renowned for its exciting late 19th century Modernist architecture, Catalonia's expressionistic take on Art Nouveau.
Barcelona's most prominent Modernist architects were the "holy trinity" — Antoni Gaudi, LLuis Domenech i Montaner, and Josep Puig i Cadafalch. They used the Eixample neighborhood as their playground, for devilish and creative experimentation.
Since the time of Gaudi, architects have been treated with reverence in Barcelona. In the 1980s, when it was time to give Barcelona a facelift before the 1992 Summer Olympics, it was again the architects who shined.
There are so many amazing things to see and do in Barcelona. For ease, I've separated the attractions into six categories of must see sites:
(1) Gaudi-designed masterpieces;
(2) Montaner-designed masterpieces;
(3) Cadafalch-designed masterpieces;
(4) famous churches;
(5) contemporary architectural landmarks; and
(6) all other Barcelona landmarks, including some beautifully-housed museums.
40+ Landmarks In Barcelona
Here's my picks for the best must visit landmarks in Barcelona, for your bucket list.
Many of these sites are on the hop on hop off bus route. You can purchase individual tickets and many are included in the Barcelona Card.
Gaudi Landmarks in Barcelona
To many Catalonians, Barcelona is Gaudi. Or at least he's the unofficial saint.
There's been no artist in history to have such an absolute influence on a city. Gaudi designed everything from mansions, to churches, to public parks — all in inimitable style.
Seven of Gaudi's creations in Barcelona are designated UNESCO sites. Let's take a look at 11 of his delicious designs.
1. Casa Batllo
Casa Batllo is truly one of the world's most unique buildings and a must visit landmark in Barcelona. It's Antoni Gaudi at his hallucinatory, dreamlike best.
Casa Batllo was an instant hit and nicknamed the "House of Bones" and the "House of Yawns."It's studded with sinister skull mask balconies and capped by a sinuously scaled roof.
Casa Batllo's mosaicked facade is a kaleidoscope of blue, mauve, and green tiles. Though it's a bit hard to see, the facade's actually uneven and slightly wavy, like a calm sea. Its marine-like surface doubles as a dragon's skin.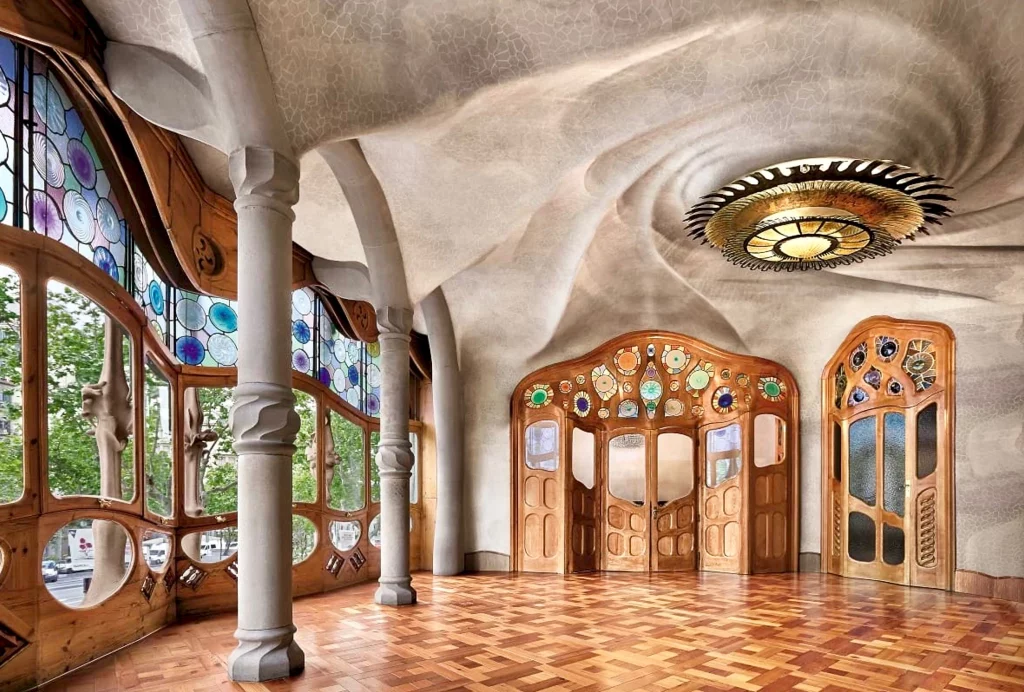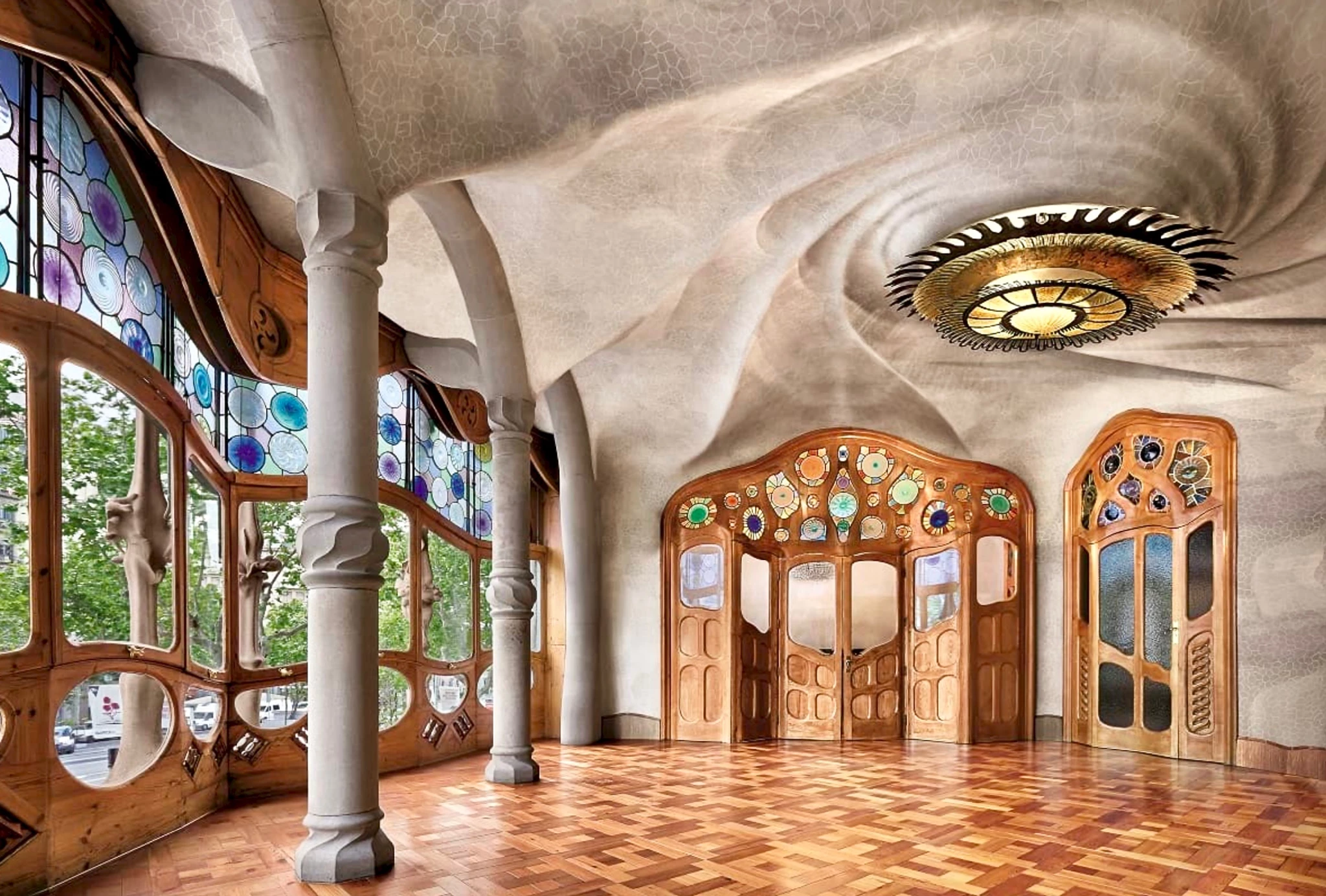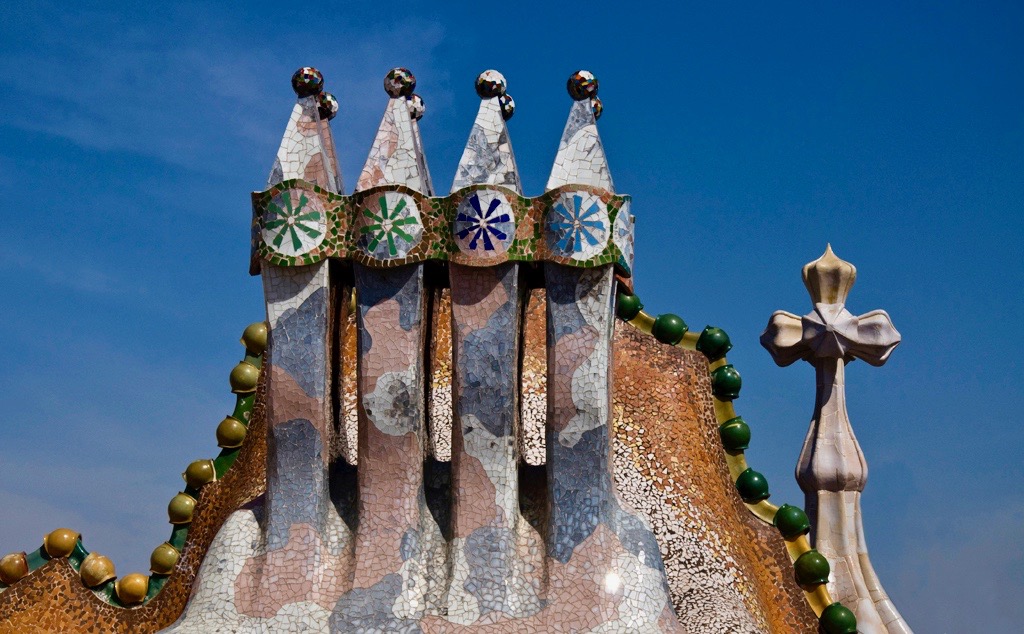 Casa Batllo's interior is like a jewel box. It's filled with beautiful tiles, sensuous curved wood, serpentine railings, and stained glass — all in organic forms and curvy shapes.
The humpback roof adds to the surrealistic feel of Casa Batllo. It's deliberately scaly, like the back of a dragon or dinosaur with iridescent skin and visible raised spines.
One pro tip … If there's a queue for the rooftop elevator, there's also a secret staircase. You have to hoof it up 8 floors, but it beats waiting in line.
Click here to purchase a must have skip the line ticket.
READ: Complete Guide to Casa Batllo
Address: Passeig de Gracia, 43
2. Casa Mila | La Pedrera
La Pedrera, or Casa Mila, is another famous UNESCO-listed Gaudi landmark in Barcelona. It's pure art inside and out. In terms of engineering ingenuity, architectural design, and style, it was even more revolutionary than Casa Batllo.
The building evokes a giant sea creature or a piece of coral smoothed by the ocean. In classic Gaudi fashion, Casa Mila was heavily influenced by nature — by air, sea, and water.
The building ripples and waves like a burbling ocean. The tangled balconies look like twisted kelp.
Inside, the tiled entrance courtyard resembles an underwater forest. From the courtyard, look up for an incredible views.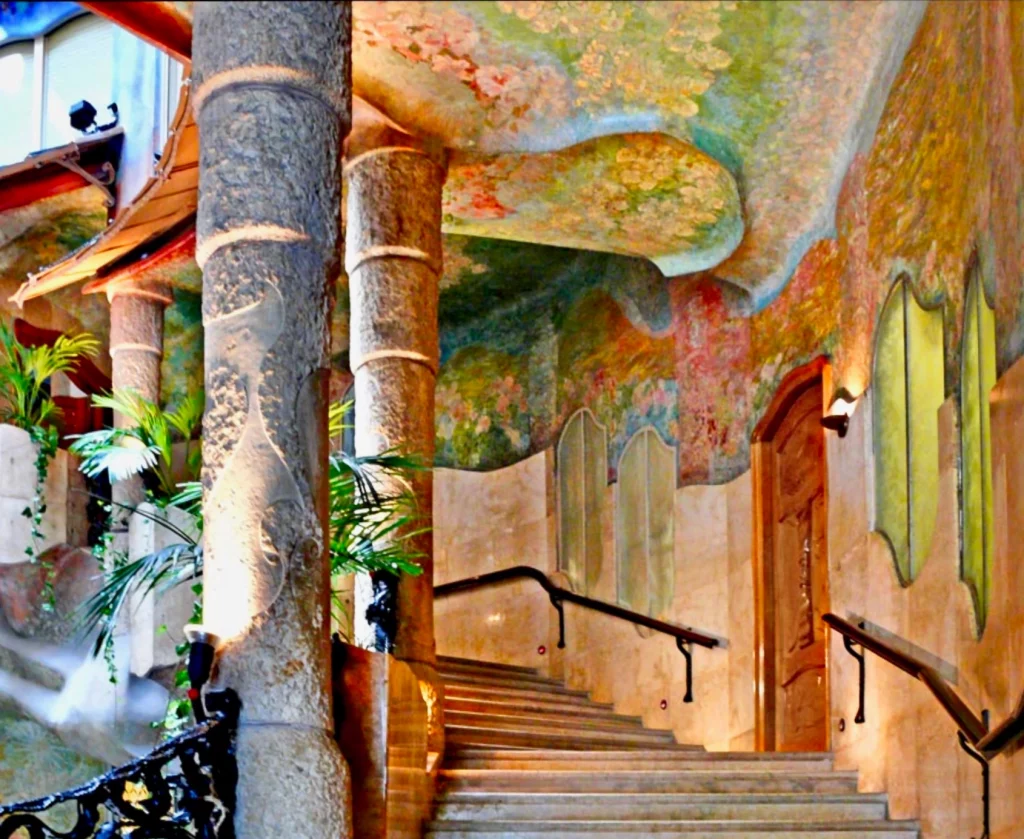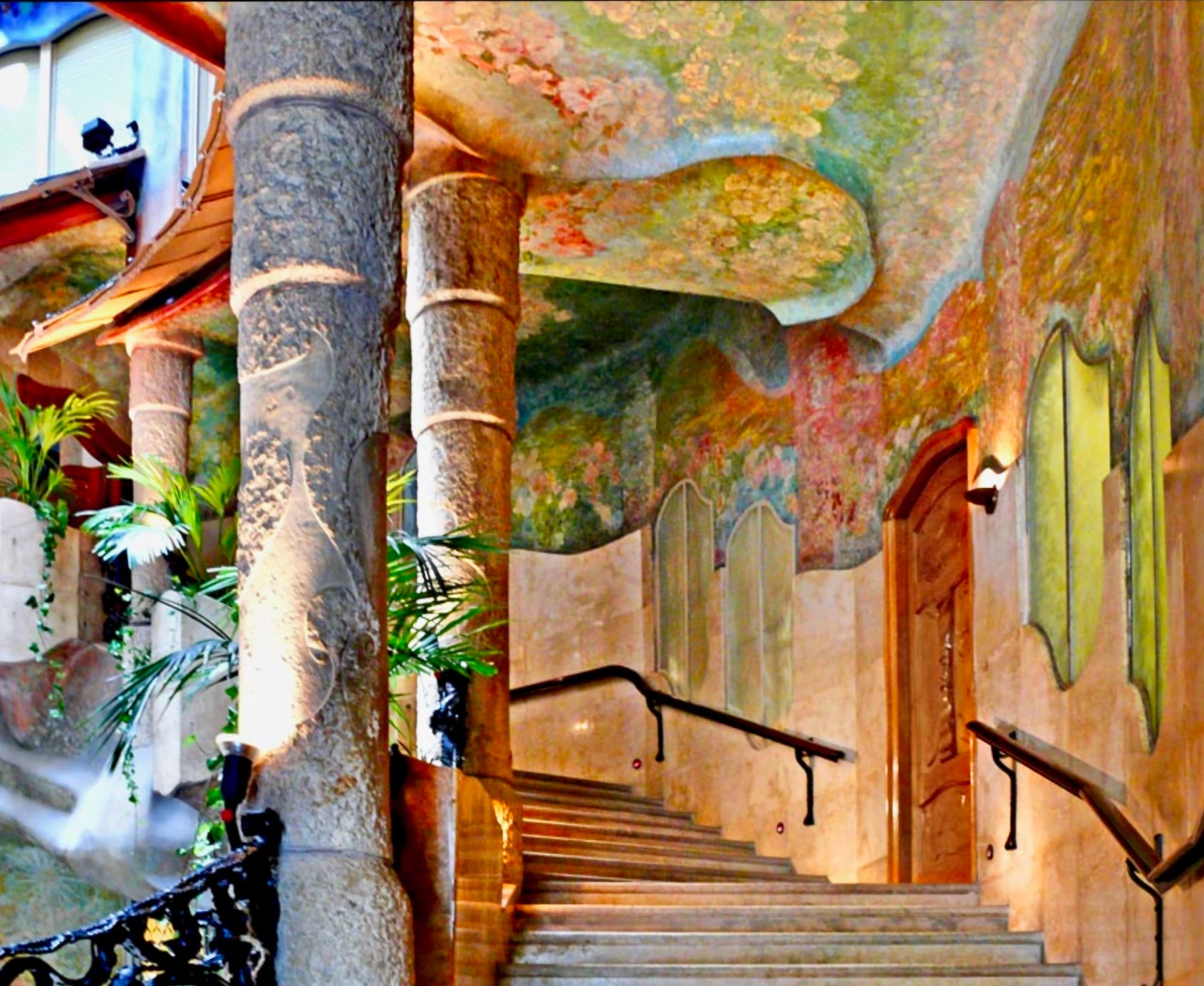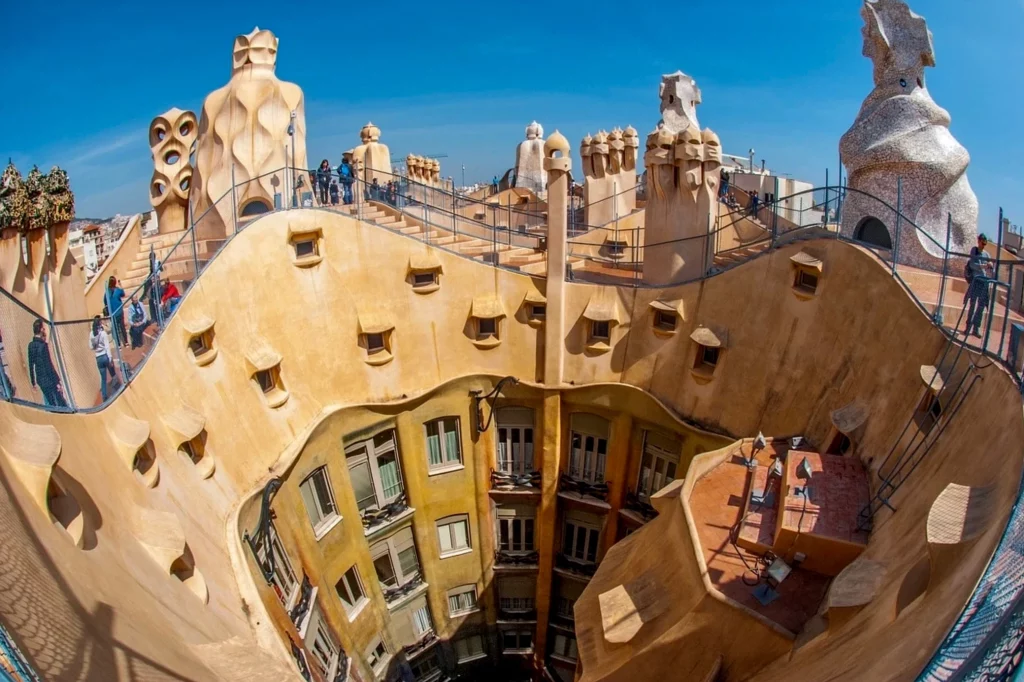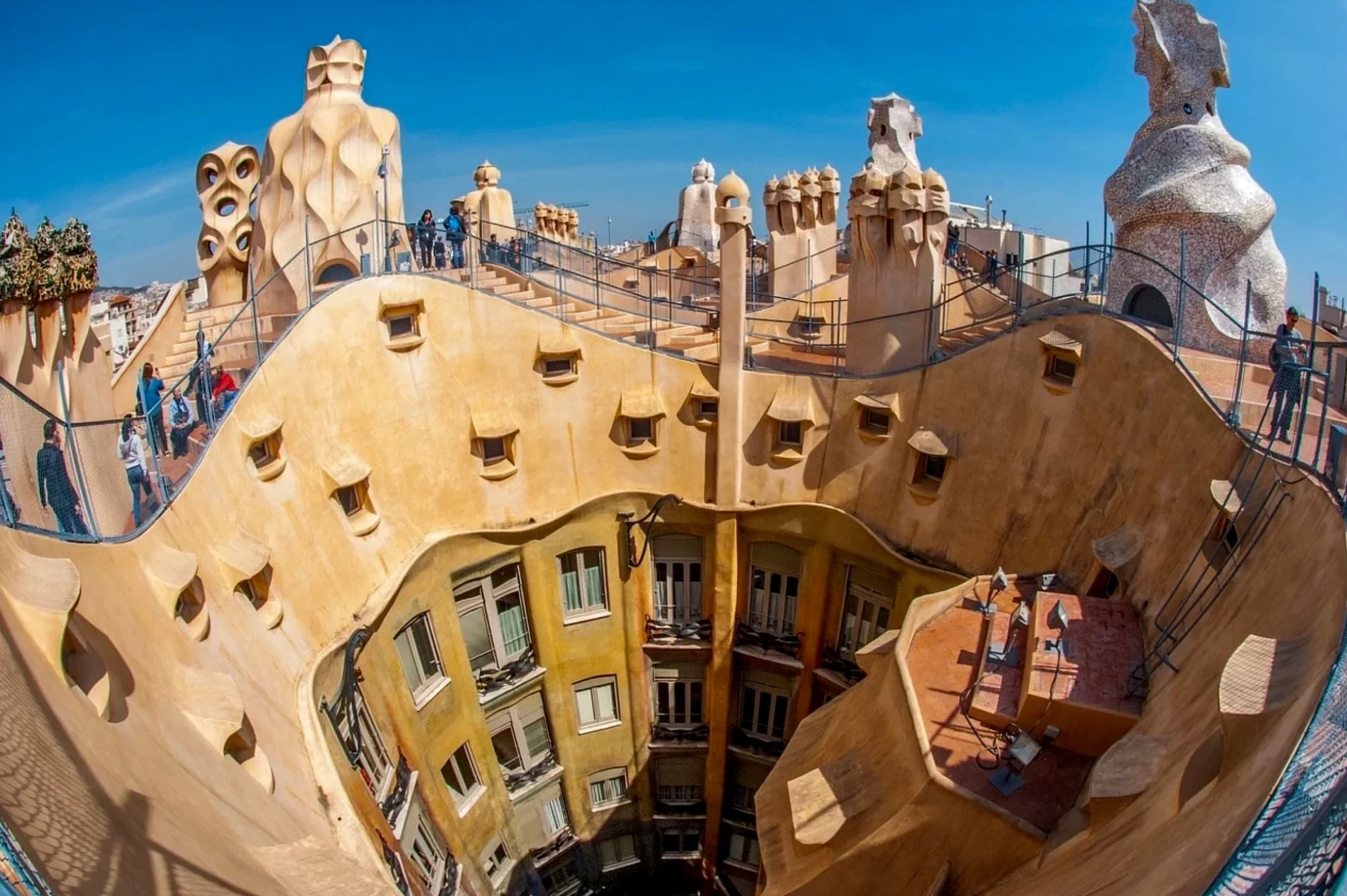 Light pours in from the roof to the interior apartments. Unlike the dough-ish color of the exterior, inside it's a marine wonderland with sea foam ceilings.
La Pedrera's iconic rooftop has a spiky forest of 30 chimneys and is dubbed the "Garden of Warriors." They resemble storm troopers from the Star Wars movies. You also have a nice view of Sagrada Familia from the roof.
Be sure to book a skip the line ticket. In the evenings, a spectacular audiovisual show takes place on the terrace. Casa Mila's rooftop terrace and stairwells are illuminated with projections set to music. You can enjoy this performance with a glass of cava in hand, which comes with your ticket.
READ: Complete Guide To La Pedrera
Address: Passeig de Gracia, 92
3. Casa Vicens
Gaudi's work dominates the streets of Barcelona. But you may have missed Casa Vicens. North of the city center in the sleepy village of Gracia, Casa Vicens is one of Gaudi's lesser-known Barcelona landmarks. It's his first home and a UNESCO-listed site.
The vivacious Casa Vicens splashed onto the Gaudi tourist circuit in November 2017. After 130 years of private ownership and a massive renovation, Casa Vicens opened its doors to the public. The building's exotic, an intense burst of vibrant color and marigold tiles.
Casa Vicens was designed in a Neo-Mudejar style that was once popular in southern Spain, at Seville's Royal Alcazar and Granada's Alhambra. Like those UNESCO sites, Gaudi intended Casa Vicens "to evoke a caliph's pavilion set in an oasis."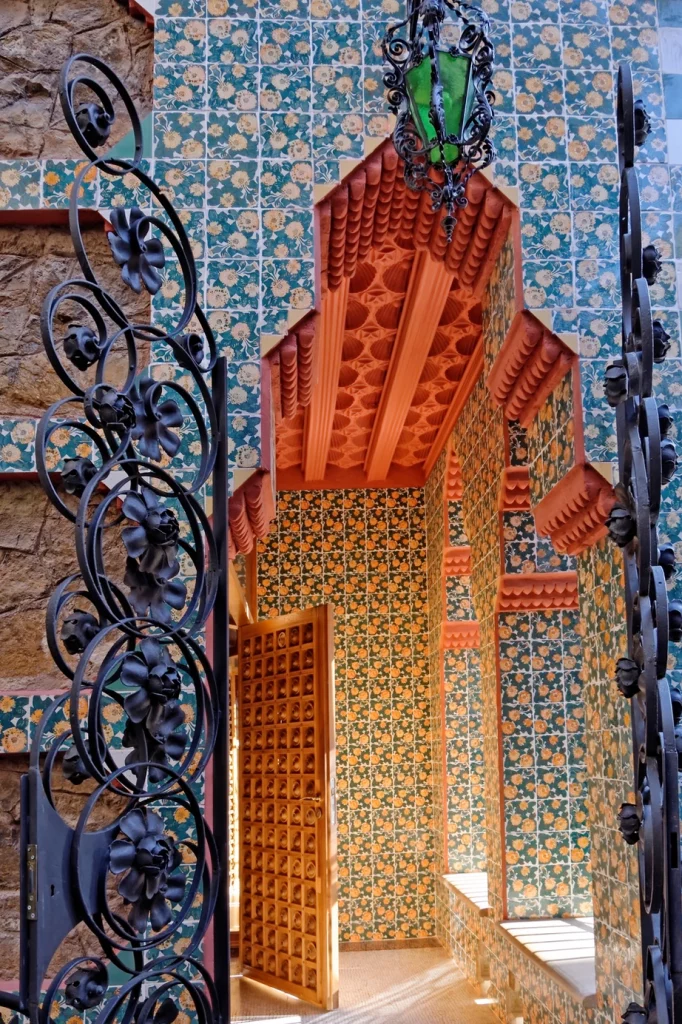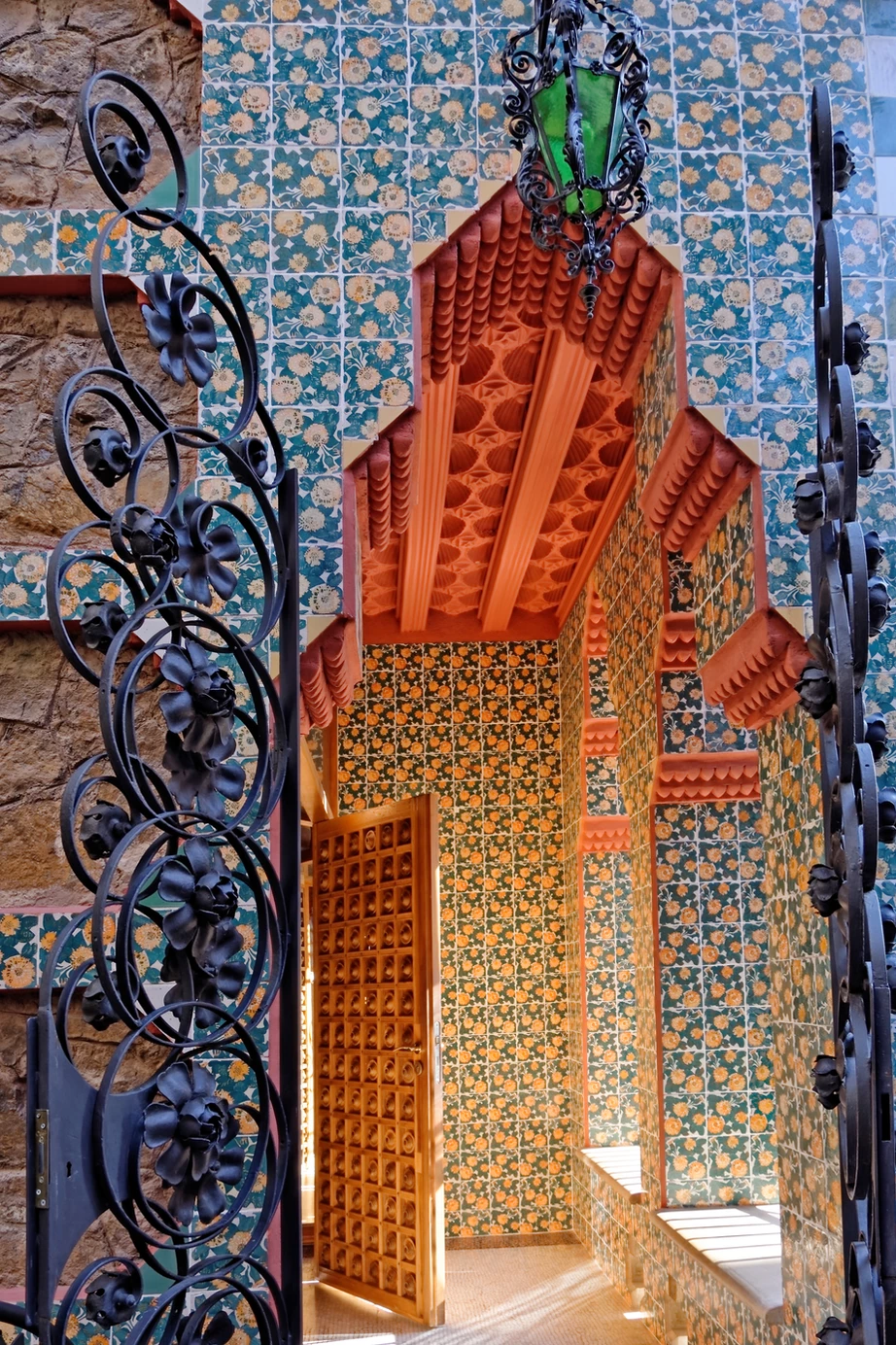 Unlike Gaudi's other creations, Casa Vicens is very rectilinear, defying Gaudi's edict that there are no straight lines in nature. Everything is square — square tiles, square windows, square balconies.
The main floor consists of the dining room, smoking room, and covered porch. The bedrooms are on the first floor, full of exuberant leafy decor.
The ceilings are blanketed with bushes, vines, and riotous color. The second floor has a display on Casa Vicens' history.
Click here to book a skip the line ticket.
Address: Carrer de les Carolines, 18-24, 08012 Barcelona
4. Casa Calvet
The Neo-Baroque Casa Calvet is the neglected stepchild of Gaudi architecture in Barcelona. It was his first building in Eixample. The house isn't curvy, crazy, or whimsically colorful. And so it's largely ignored.
Built between 1898-99, Casa Calvet was commissioned by Pere Calvet, a textile manufacturer. In 1900, the Barcelona City Council voted Casa Calvet the best building of the year — the only time Gaudi won such an honor.
The sandstone facade has curved double gables crowned with iron crosses. The sandstone was quarried from nearby Montjuic. The building's ornamentation is classic Gaudi.
It has bulging and curved balconies, which presage the mask-like balconies on Casa Batllo. The wrought iron is highly stylized and similar to La Pedrera's twisting "seaweed" look.
The rear facade is where Gaudi made his mark. Lending a decorative focus to the rear facades was important to Gaudi, as we see from his later work on Casa Batllo and Casa Mila. You can't see it from the street, but it has some elaborate floral designs.
Casa Calvet is privately owned and can't be accessed by the public. But it does have a restaurant where you can reserve a spot to dine amidst Gaudi decor.
Address: Carrer de Casp, 48
5. Sagrada Familia
Though Picasso wanted to "send Gaudi and Sagrada Familia to hell," the basilica is Barcelona's #1 attraction and one of Spain's most famous landmarks. Sagrada Familia is Gaudi's wildy creative and unfinished masterpiece, where beige-pink spires culminate in glitter.
Despite being under continuous construction, Sagrada Familia is a place of superlatives both inside and out. Looming like a castle in the sky, it's almost blinding in its prodigiousness. Gaudi sought to create a visual narrative of Christ's life.
The exterior of the basilica is audacious and "gaudy" in appearance, a mountain (or termite hill) almost. It's dramatically designed, with three jarringly different facades, themed for three chapters in Christ's life. Some would call the Sagrada Familia strange looking or outlandish.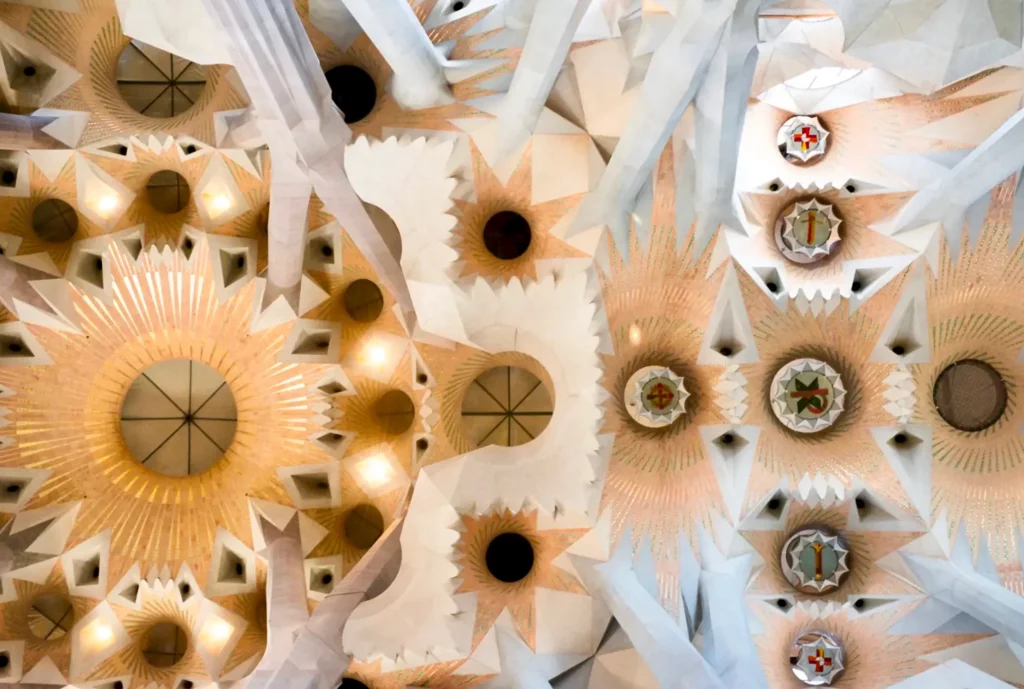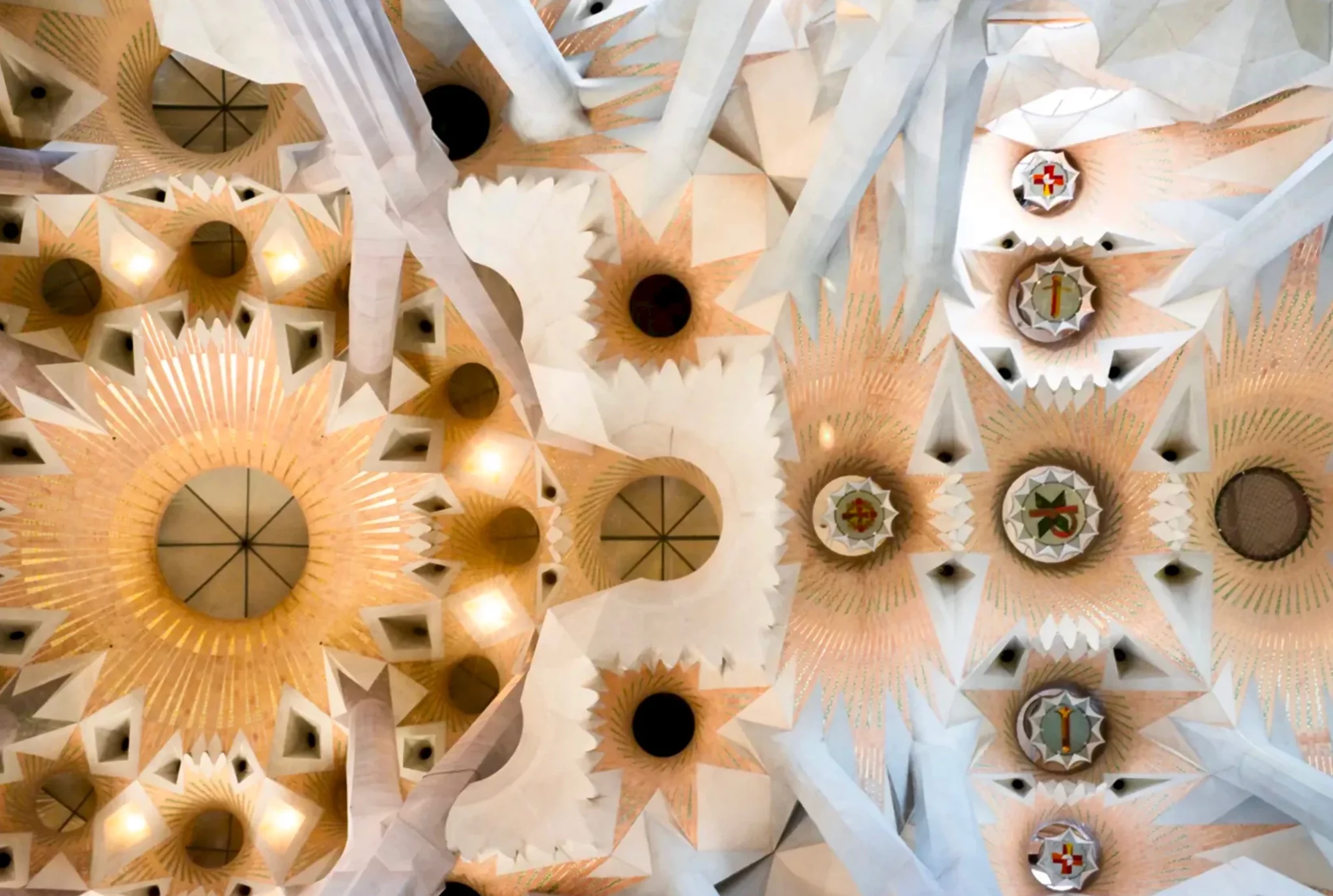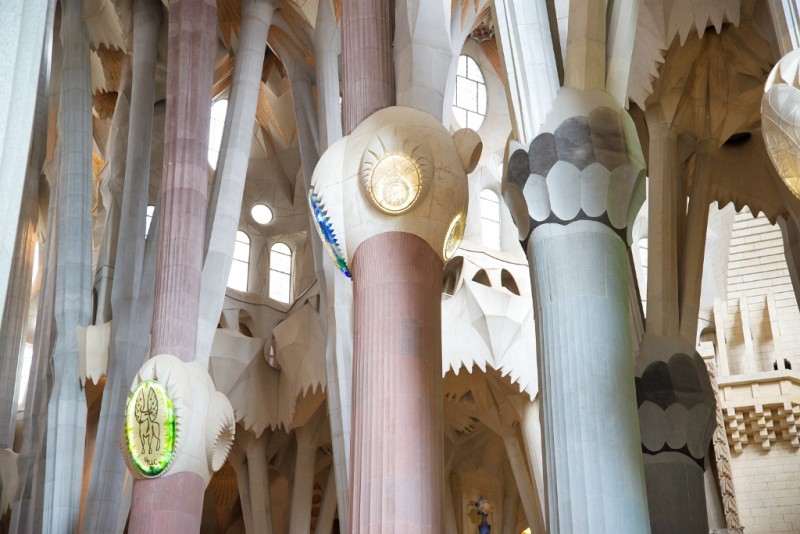 But the interior is entirely sublime. Gaudi intended it to be a retreat into nature. And, indeed, you could be standing in a majestic star-lit white forest. It's an astonishing space, an alternative reality full of detail. You'll gasp when you enter.
Be prepared to crane your neck skyward at the starry ceiling. The ceiling and stained glass are absolutely mesmerizing. You can't help but be slack jawed.
The interior is effectively a spiritual sculpture, reinvented as architecture. The nave has shimmering gold tiles on the floor. It's lined with 36 pale columns in different heights and widths. The columns form a forest, branching out like trees.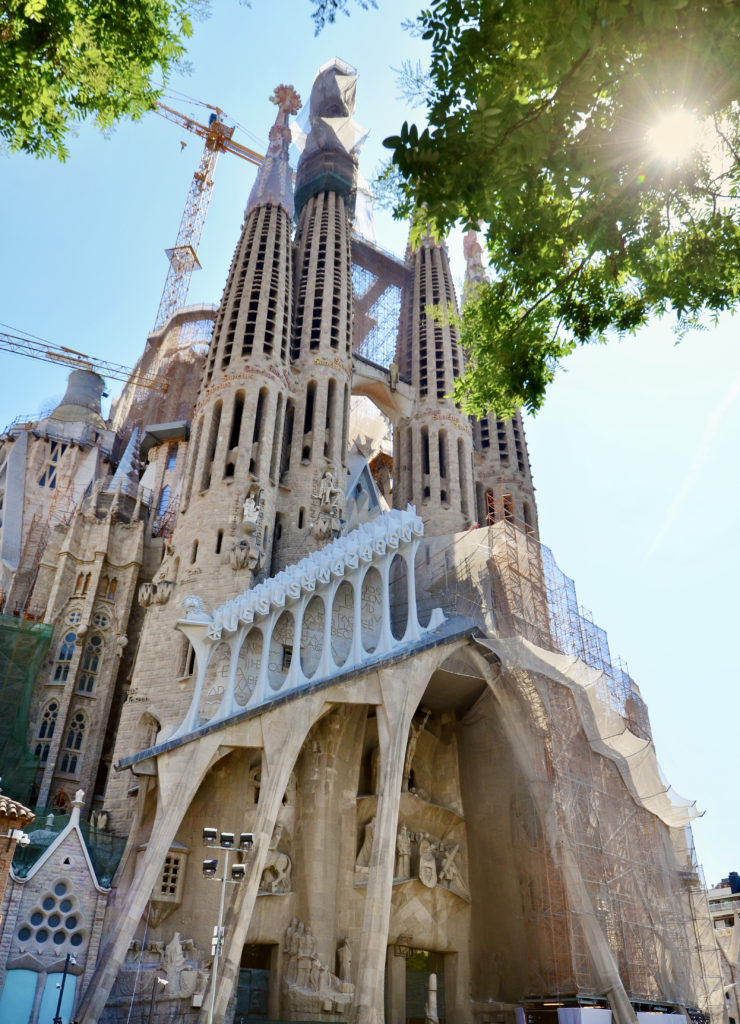 If you want to go up one the towers of Sagrada Familia, you need to buy a ticket that includes the tower. You have to choose between inspecting the Nativity or Passion Facade.
You can get a gargoyle's eye view of the basilica up close. But there will also be scaffolding. There are better viewing places and plenty of rooftop bars in Barcelona, if you don't add the tower option.
Click here to book a skip the line ticket. You may also want to book a guided tour (with tower access) of this magnificent Barcelona landmark.
READ: Complete Guide to Sagrada Familia
Address: Carrer de Mallorca, 401
6. Palau Guell
Located off La Rambla, Palau Güell, or Güell Palace, is another Barcelona landmark. But the famous building doesn't immediately scream Gaudi.
It's more traditional and dark, almost like a luxurious Venetian palace. It has a creepy Gothic vibe. And I mean that in a good way. Don't miss this wondrous building.
The Palau Güell commission came at the outset of Gaudi's career, when he was establishing himself as an architect. Built between 1886-88, it was designed for Eusebi Güell, a prominent industrialist and Gaudi's greatest patron.
The home centers on a main room that was used to entertain wealthy guests. It has a 17 meter high ceiling crowned by a parabolic dome. Small holes are perforated near the top.
Lanterns are hung at night to give the appearance of a starlit sky. It's almost like a planetarium experience.
Most of Gaudi's experimentation is in the basement, which reflects Gaudi's early enthusiasm for using natural shapes, with pillars in the form of mushrooms.
The roof, like many Gaudi creations, also features colorful ceramic shapes and 20 chimneys. One conical chimney looks like a stack of green olives smooshed together. Gaudi tended to put his most innovative work in the top and bottom of buildings to avoid the ire of his clients.
Address: Carrer Nou de la Rambla, 3-5
7. Colonia Guell
Colonia Guell is 10 miles from the center of Barcelona. But it can still be reached in about 25 minutes by public transport. So don't let the distance put you off visiting this amazing Barcelona attraction.
Colonia Guell is located in the sleepy village of Santa Coloma de Cervello. Commissioned by Eusebi Guell, it was intended as a utopian community, where workers at Guell's textile factory could live. The entire complex comprises a factory area, a residential area, and the Gaudi church crypt.
Gaudi began work on the church of Colonia Guell in 1908. Due to lack of funds, only the crypt-like lower nave was completed. In 1915, the lower nave was blessed by Barcelona's bishop. In 2005, it became a UNESCO site.
The crypt has functioned as a church ever since. Gaudi used the crypt as a "lab." It was here that Gaudi developed unique and surprising structural concepts and biomorphic forms that he would later use in Sagrada Familia. The interior almost looks like a daddy long leg spider or a space ship.
The crypt's exterior has whimsical jewel-like glass windows. Inside, it's an intimate, earthy space with a circular nave, held up by dramaticaly lurching stone pilars.
There's a giant clam shell repurposed as a holy water font and and beautiful ergonomic pews designed by Gaudi himself.
Address: Claudi Guell, 6
8. Park Guell
Park Guell might be Gaudi's most fantastical creation. It's a must see landmark in Barcelona.
Park Guell is a 45 acre public park and garden complex, with stunning mosaic art, located on Carmel Hill in Barcelona. You should definitely enjoy a gorgeous sunset view and stroll in Barcelona's finest park.
Initially, Eusebi Güell asked Gaudi to design a mini city with luxury homes. Gaudi worked on the project from 1900-14. But the plan backfired; it was a commercial flop. Only 4 of the planned 60 houses were built.
But Gaudi managed to create a plaza, two Hansel and Gretel gatehouses, a serpentine bench, colonnaded walkways, and a dramatic stairway. The most famous icon at Park Guell is the multicolored mosaic lizard known as "El Drac," or the dragon.
Gaudi purchased one of the Park Guell homes. He lived there for almost 20 years before he moved into Sagrada Familia for good. His home is now the Gaudi House Museum.
Most of the Park Guell is free to visit and you'll have some nice views over the city. But the central Monumental Zone has a fee and you'll want to buy a skip the line ticket. If you want to visit Gaudi's home, the house-museum is located just outside the Monumental Zone in the park's free section.
Address: Calle Claudi Güell
9. Torre Bellesguard
Torre Bellesguard was commissioned by Maria Sagues in 1900. She loved Gaudi's Modernist architecture. Bellesguard was constructed on the ruins of the medieval castle of Martin of Aragon, the last king of the Catalan dynasty.
Gaudi lead the construction team for nine years. Then, it was completed by Domenec Sugranes i Gras. He created the colorful mosaics that give a pop of color to the mud colored building. But the symbolism, curves, and nature motifs of Torre Bellesguard are pure Gaudi.
As we saw with Casa Batllo, Gaudi was obsessed with the myth of St. George and the Dragon. At Bellesguard, Gaudi repeated the theme, conjuring a roof with a built-in dragon face and angled rocks that double as dragon scales. It's also topped with a tower-sword.
On either side of the entrance door are brightly covered seats, which symbolize the Golden Age of Catalonian rule. The interior is a mix of brightness and tranquility. White walls are juxtaposed with blue and yellow tile and stained glass chandeliers and windows.
Click here for a ticket and optional tour.
Address: Carrer de Bellesguard, 20, 08022 Barcelona
10. Guell Pavilion
The first commission Gaudi received from his great patron Guell was to design entrance pavilions for Guell's property. Gaudi worked on them between 1884 and 1887, when Gaudi was strongly influenced by Islamic architecture.
One of the most eye-catching features is the fantastical wrought iron dragon gate on Avinguda de Pedralbes. The dragon was originally polychromatic with red jaws and glass eye sockets. But it still stands impressively with its bare metallic hues, dynamic shapes, and curves.
You can usually peer inside on guided visits. But the Pavilion is closed for renovations until 2024.
Address: Av. de Pedralbes, 7
11. Fountain in Parc de la Ciutadella
Need a break from the hurly burly of big city Barcelona? Once you pass through the Arc de Triomf, you land in the Ciutadella Park.
It's one of Barcelona's most photogenic places. The beautiful 74 acre park is a green oasis in the middle of a bustling city, where you can find a sense of serenity.
The park has many attractions — a boating lake, a collection of statues, a tropical greenhouse, the Barcelona Zoo, and the Catalan Parliament buildings. The highlight is the ornamental fountain, which was designed by Josep Fontsere and a young Gaudi.
The fountain is nicknamed the "Cascada." It's a reference to the triumphal arch at the center of the fountain's waterfall.
There's a statue of Venus in a clamshell, perhaps a reference to Botticelli's Birth of Venus in Florence's Uffizi Gallery. On top of the arch, Aurora rides in a chariot of four horses.
Address: Passeig de Picasso, 21
Montaner Architectural Landmarks in Barcelona
LLuis Domenech i Montaner is an under-sung hero of Catalan Modernism. Montaner was known as the "most modern" of the Modernists, with a mastery of lightweight steel construction.
More than Gaudi, Montaner was influenced by the English Arts & Crafts Movement of Ruskin and Morris.
12. Casa LLeo Morera
Casa Lleo Morera is one of Barcelona's best preserved and most beautiful Modernist buildings. Casa Lleo Morera was revolutionary in its day for the different forms of artistry on the exterior.
On 1902, Francesca Morera i Ortiz commissioned Montaner to completely renovate the exterior and interior of the building in an Art Nouveau style. Sadly, Oritz died in 1904 before the mansion was completed.
Her son, Albert Lleo i Morera, moved in with his family, bestowing the current name on the house. Lleo Morera means the "Lion and Mulberry Tree House."
The most striking facade detail is the beautiful curved balconies with ornate floral designs and lions. The ones on the second floor are elongated. The ones on the third floor are rounded.
Inside, the Noble Floor is stunning. The piece de resistance of Casa Lleo Morera is in the large area that comprises the dining room and living room.
There's a brilliantly colored semi-circular stained glass window created by Antoni Rigalt, who worked with Montana on all his projects. You can almost hear the birds chirping.
You can take a guided tour of Casa Lleo Morera, which lasts 55 minutes. Click here to buy a ticket.
Address: Passeig de Gracia, 35
13. Sant Pau Recinte Modernista
Barcelona isn't just regal museum-homes built for wealthy families. At Sant Pau, you'll find a former hospital outfitted with exuberant Art Nouveau architecture and decoration.
Never were patients so well tended. More theater than hospital, the unique building is an ode to the curative effects of beauty. Here, patients could heal their souls as well as their bodies.
Opened in 1930, and just a short 15 minute walk from Sagrada Família down Avenida de Gaudi, the Hospital de Sant Pau was built as an optimistic and philanthropic gesture by Pau Gil, who commissioned the very popular architect Montaner. This may be Montaner's masterpiece.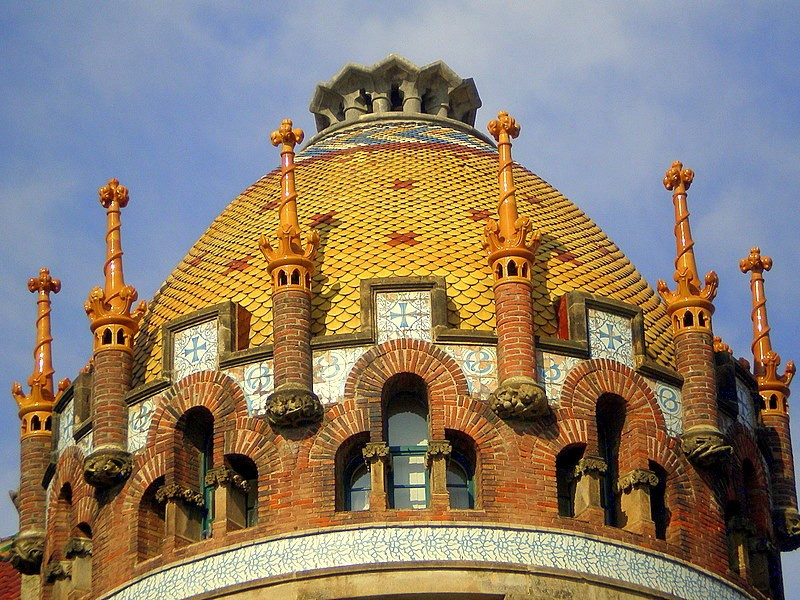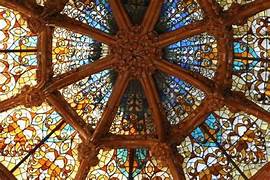 In 1997, the hospital was listed as a UNESCO World Heritage Site. In 2016, Hospital Sant Pau underwent restoration and reopened as a museum and cultural center. Like Casa Vicens and Casa Amatller, it's one of Barcelona's newer tourist attractions.
The complex is gorgeous, inside and out. The 27 ornate and beautiful tiled pavilions are seemingly independent, like little cities within a city. But they're connected by underground tunnels, which you'll see on your visit.
The gorgeous Main Hall dazzles with mosaicked vaulted ceilings, stone carvings, stained glass windows, and tiled domes. Every detail of the interior is worth admiring.
Click here to book a skip the line ticket.
Address: Sant Antoni M. Claret, 167, the entrance is on the corner of Carrer Dos de Maig
14. Palau de la Musica Catalana
Palau de la Musica Catalana is a gaudy rose-covered wonderland and must see site in Barcelona. You have to see it to believe it.
Musicians love its acoustics. Tourists love its unique design. It's a veritable symphony of stained glass, mosaics, and sculptures.
Palau de la Musica is shoehorned into a claustrophobic, densely packed street in the Gothic Quarter. Montaner countered the claustrophobia with color and levity. The arches and intricate mosaic columns draw your eye up to the roofline. Stained glass windows bring in the natural light.
You begin at the marble Lluis Millet Grand Staircase, named after a famous Catalan composer. As you ascend, gaze up at the eye catching ceramic glazed ceiling.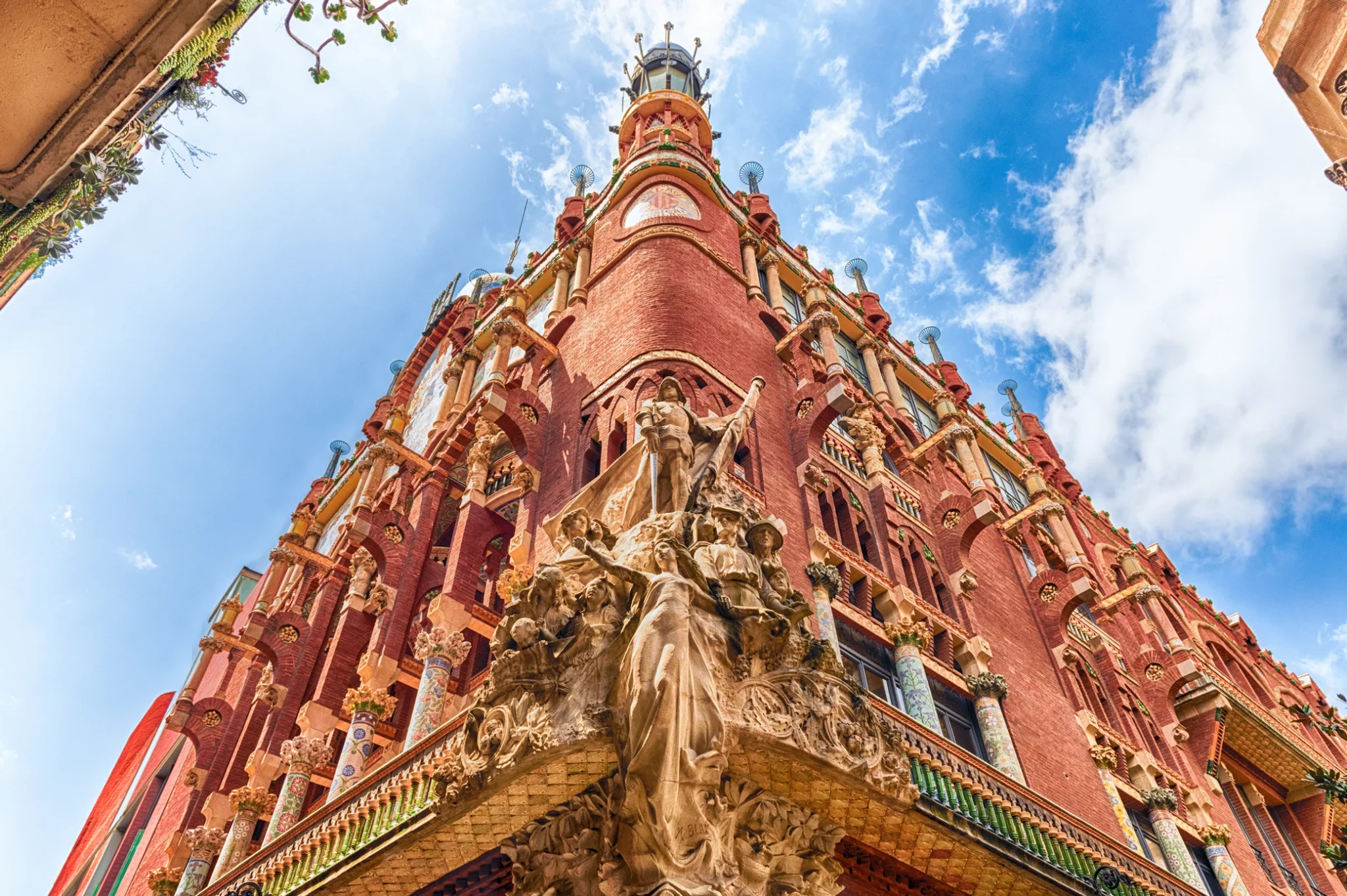 You'll enter a waiting area, the Lluis Millet Hall, enveloped in massive stained glass windows. Parts of the panels are clear so you can see the dramatic mosaic columns outside by Sala Millet.
The auditorium is almost overwhelming. The piece de resistance is the intricate stained glass sun by Antoni Rigalt. It seems to float in midair from the ceiling's inverted dome.
Iron and glass chandeliers create a starry night effect. And sculptures curve up the sides of the stage, including a glowering Beethoven and Valkeries from Richard Wagner's operas.
Click here to book a skip the line ticket.
Address: C/ Palau de la Musica, 4-6,
15. Tapies Foundation
The Tapies Foundation is a modern and contemporary art cultural space. It's housed in a beautiful Modernist building designed by Montaner.
The building was a very early Modernist structure, built around 1880. The building marked the transition from 19th century eclectic architecture to the Art Nouveau style.
The Tapies Foundation was declared a historic monument in 1997. From 2008-10, the building was fully renovated.
The exterior facade is eye catching, with exposed brick and an intricate iron sculpture on top by artist Antoni Tapies, called Chair and Cloud. The sculpture was intended to elevate the building's height. The sculpture represents a chair jutting out of a thick cloud or iron wires. The chair is in the center top.
Founded in 1984 and moved to its current location in 1990, the museum is dedicated mainly to the art work of Tapies, a great 20th century conceptual artist, who was a contemporary of Picasso. But it also serves to advance contemporary art and has a fantastic library.
Address: Career d'Arago, 255
16. House of Three Dragons | Castell dels Tres Dragons
Unveiled in 1888, this fortress-like castle is an early Modernist landmark in Barcelona by Montaner located in the Parc de Ciutadella. The castle was built to serve as a cafe for the 1888 Universal Exhibition.
It's considered to mark the beginning of Modernism. It has a medieval vibe with crenellations and white ceramic shields. In 1920, Barcelona's Zoological Museum moved into the building.
Address: Passeig Picasso, 5, Parc de la Cituidella
17. Casa Fuster
Don't forget to check out Casa Fuster, another Montaner creation from 1910. It was Montaner's last building, completed in 1911.
At the time, it was considered the most expensive building in Barcelona. It was built with sumptuous materials — white marble, glass, and slate.
Casa Fuster resembles Casa Lleo Morera somewhat. It has the same Neo-Gothic style, rounded balconies, toned down colors, and intricate tracery.
Since 2004, Casa Fuster has been a luxury hotel. It also boasts a rooftop bar, where you can take in views of Eixample while sipping on cava.
Address: Passeig de Gracia, 132
18. Palau Montaner
Just off the Passeig de Gracia, on the corner of Carrer Mallorca and Roger de Lluria, stands the Palau Ramon de Montaner. It's an early Modernist building with an Italianate feel.
The project for Ramon de Montaner's mansion was begun by Domenech i Estape, but completed by Montaner. A mosaic at the top of the facade bears the completion date, 1893, surrounded by ornamental and symbolic motifs.
Inside, a grand staircase in the central courtyard is topped with a spectacular stained glass ceiling. Marble mosaics decorate the floor and medieval-inspired sculptures fill recesses.
Panels with wooden overlays cover the walls and ceilings. The building has been the seat of the Spanish Government in Barcelona since 1980.
The second day of each month you can take a guided tour of Palau Montaner. The sessions start at 10:30 am, lasting approximately 90 minutes. The price per person is 12 euros. Reserve 10 days in advance and book by calling 652 88 24 57.
Address: Carrer de Mallorca, 278
Cadafalch Architectural Landmarks in Barcelona
Puig i Cadafalch was another great Modernist architect, working toward the end of the movement. Puig (pronounced pooch) was the last Modernist and the first Neoclassicist. He was influenced by Gothic and Northern European styles.
19. Casa Amatller
Right next door to Casa Batllo, Casa Amatller was built for a chocolate baron, Antoni Amatller Costa. Casa Amatller is a playful building, inspired by 17th century Dutch houses.
Casa Amnatller has a Neo-Gothic facade with a distinctive stepped Flemish gable pediment that's covered in shiny ceramics. The lower level is covered in whimsical sculptures by Eusebi Arnau — almond trees, almond blossoms, dragons, knights, and chocolatiers at work.
Inside, the perfectly restored Casa Amatller is castle-like. You can visit the main floor. The walls are covered with etched plaster decorations, French wallpaper, and elaborate tile work.
As with the facade, there are humorous sculptures throughout the house. The dining room is gorgeous with beams and a spectacular chandelier with hanging stained glass discs.
The nice thing about visiting Casa Amatller, unlike most other Modernist works open to the public, is that the home's original furniture is preserved. The highlight is the beautiful stained glass skylight.
Top your visit off with a cup of Amatller's world-renowned hot chocolate. Click here to purchase tickets online.
Address: Passeig de Gracia, 41
20. Casa de les Punxes
This Modernist landmark in Barcelona is known as the House of Spikes. It was designed by Cadafalch in 1905.
It's the only building in the Eixample area that's fully detached. The massive house resembles a medieval fortress and was influenced by Neuschwanstein Castle in Germany.
The brick facade and roof are eye catching, with triangular pediments and six turrets that end in spikes. The interior isn't as interesting as Casa Batllo or La Pedrer.
But there's a handsome iron staircase, floral motifs, and stained glass. There's a good audiovisual display explaining the story of St. George and the Dragon, an important symbol of Catalan Modernism.
Casa de les Punxes is privately owned, but opened its doors to the public in 2016. To see the pointy tile-adorned turrets up close, book a ticket that includes roof terrace access. In the summer, the terrace is open on Friday nights to the public.
Address: Av. Diagonal 420
21. Casa Macaya | Founation La Caixa
Casa Macaya, also known as Palau Macaya, was built in 1901. It's one of the least well known Modernist works in Barcelona, but still quite lovely. It was built for textile merchant Roma Macaya.
Casa Macaya has a bright white facade with intricate sgraffito in ochre, engravings, and other decorative details, reminiscent of Casa Amatller. Casa Macaya really shines in the interior.
It has a grand entrance and open courtyard, designed to receive horses and carriages. The courtyard is decked out in colorful tiles and boasts a grand staircase with an elaborately carved frieze.
Today, the palace is owned by La Caixa Bank, who restored the building in 2012. It operates as an exhibition space, promoting cultural and social dialog.
There are permanent exhibitions on the story of Catalan Moderism and the building's architect. Admission to the lovely courtyard is free, so pop in and gape at the interesting gargoyles.
Address: Passeig de Sant Joan, 108
Most Famous Churches In Barcelona
Barcelona's beautiful churches are some of the most famous landmarks in Barcelona.
22. Barcelona Cathedral
The jewel of the Gothic Quarter is Barcelona Cathedral. The cathedral is a grand landmark in Barcelona dating from the 13th to 15th centuries.
The cathedral's facade is stunning. You can visit the church for free from 8:00 am to 12:45 pm and 5:45 pm to 7:30 pm. Otherwise, entry is by donation.
Inside, the cathedral has 28 richly decorated chapels, an ornate finely carved choir, and a peaceful cloister with bubbling fountains. Behind the high altar is the Bishop's chair. You'll also find the crypt of Saint Eulalia, to whom the cathedral is dedicated.
The cloisters are the highlight. Arcaded walkways surround a central courtyard filled with tropical trees. A short elevator ride takes you to the top of the cathedral for stunning city views.
Click here to book a ticket.
Address: Pla de la Seu
23. Basilica of Santa Maria del Mar
The beautiful basilica of St. Mary of the Sea is tucked away in the El Born neighborhood. It's one of the landmarks of Barcelona's historic Gothic Quarter.
With roots tracing back to Roman times, the church is one of the finest surviving examples of Catalan Gothic architecture.
On the exterior, it has three facades and two symmetrical towers. Because the area is rather claustrophobic, it's hard to get a full view. Inside, the church has a light and airy feel, with many stained glass windows.
The church is free for self-guided visits. If you spend a few euros for a guided tour, you'll have access to the church's three amazing terraces, with breathtaking views. There's also a longer tour at dusk, where you can visit at a more leisurely pace without crowds.
Address: Placa de Santa Maria, 1
24. Temple of the Sacred Heart of Jesus at Tibidabo
Tibidabo is the highest mountain in Barcelona. It offers sweeping panoramic views of Barcelona and the Mediterranean Sea.
It's also home to an amusement park and a fairytale church, the Temple of the Sacred Heart of Jesus.
Built in 1806, this Neo-Gothic church is the handiwork of architect Josep Maria Sagnier i Vidal. It's a mix of styles, but evokes a Neo-Byzantine feeling.
For even higher views of Barcelona, you can take an elevator to the top of the church.
Address: Ctra. de Vallvidrera al Tibidabo, 111
25. Pedralbes Monastery
Barcelona's medieval Pedralbes neighborhood boasts leafy green boulevards and elegant mansions, backed by the green hills of the Collserola Natural Park. At the top of Avinguda Pedralbes, you'll find the the Gothic Monestir de Pedralbes. It's one of the most beautiful Gothic buildings in Barcelona.
The Pedralbes Monastery is tucked away behind a stone arch down a picturesque cobbled street. It's also known as the Royal Monastery of St. Mary of Pedralbes.
Founded in 1327, the monastery features a Gothic church, three stories of arched cloisters, nuns' cells or dormitories, and a garden courtyard. St Michael's Chapel is covered by paintings dating back to 1346.
Another highlight is the Monastery Museum. It houses an outstanding collection of medieval art from the 14th century and religious art created from the 14th to the 20th century.
Address: 9 Baixada del Monestir, Barcelona
Modern and Contemporary Landmarks in Barcelona
26. Santa Caterina Market
If you're a foodie who can't stomach elbowing your way through over-crowded La Boqueria, a great alternative is Mercat de Sant Caterina on the edge of the El Born district. The market is another piece of outstanding landmark in Barcelona, with 100 stalls on three levels.
Seven years in the making and debuting in 2005, Santa Caterina's defining feature is its theatrical roof. It's a gentle wave adorned with a magic carpet of 325,000 colorful ceramic tiles from Seville.
It was designed by the husband wife team of Enric Miralles and Benedeta Tagliabue, famous for their promiscuously expensive projects.
Computer wizardry helped design the form of the roof. But the individual tiles had to be cut by hand. This makes the market design both ultra modern and old in spirit and technique. The latter seems befitting since the market is right near Barcelona Cathedral and Santa Maria del Mar.
Address: Av. de Francesc Cambo, 16
27. Mies van der Rohe Pavilion
The Mies van der Rohe Pavilion is one of the world's most celebrated "modern" landmarks. It was designed for the 1929 Barcelona International Exposition.
A product of the Bauhaus school, the pavilion was the purist of compositions. Its open plan spurred radical new thinking about the aesthetic potential of contemporary architecture.
The building was demolished after the exposition. Most demolished buildings slip away from the public consciousness.
But although it was essentially a folly — an unreal building for an ceremonial purpose — Mies' minimalist pavilion with luxe materials only grew in stature.
In 1987, the open flowing space was reconstructed on its original site. The architects used plans and photographs from the Mies van der Rohe archives. Even the "Barcelona chair," the curving tufted leather chairs set on a metal frame, was rebuilt.
Click here for a ticket to this Barcelona landmark.
Address: Av. Francesc Ferrer i Guardia, 7
28. Gehry's Fish
Superstar architect Frank Gehry designed the monumental Peix d'or (Golden Fish) for the Olympic Games held in Barcelona in 1992. The structure is located right in the middle of the Olympic Village.
The mesh structure resembles later works like the Guggenheim Museum in Bilbao. To create it, Gehry developed computer software, with a 3D imagery techniques, to design the structure.
When the sun falls on the building, the strips of steel shimmer.
Address: Passeig Maritim de la Barceloneta
29. Torre Agbar
Jean Nouvel's Torre Agbar is without a doubt one of the most spectacular buildings in Barcelona. Torre Agbar is Barcelona's third tallest building at 38 stories (though it will be outpaced by Sagrada Familia when the church is finally completed).
The design was reputedly inspired by either a geyser or Catalan symbols. It's sheathed in a layer of painted aluminum and topped with 59,000 sheets of glass. The tower was initially controversial, criticized for resembling a giant suppository or phallus.
Nouvel himself describes the building as an "emergence" or a "fluid mass" rising singularly in the city center. The surface of the bulling is meant to evoke water, with nuanced shades of color. A cool feature is the temperature controlled window shutters, which respond to the weather.
At night, the building shimmers with LED lights in many different colors. The building has been used as offices by the water supply in Barcelona. But will be turned into a luxury hotel over the next years.
Address: Avinguda Diagonal, 211
30. Calatrava Tower
The renowned but controversial architect Santiago Calatrava had his breakthrough in Barcelona. He built a stunning communications tower for the Barcelona Olympic Games.
Since then, Calatrava has become an international superstar in contemporary architecture, building in Bilbao, Basque Spain, New York, Zurich and Venice.
The communications tower is an aesthetically close-to-perfection structure on the Montjuic. Early sketches by Calatrava show that his inspiration came from a kneeling woman. The structure has the form of a hyperbolic paraboloid, one of Gaudi's favorite geometrical forms.
The base of the antenna could be interpreted as a tribute to Gaudi. It consists of a mosaic of broken Trencadis tiles, found in so many of Gaudi's works.
The Communication Tower changes perspective from different angles. When you visit it, be sure to walk around it.
Address: Parc de Montjuic
31. The Museum of Contemporary Art
In 1995, American architect Richard Meier was commissioned to design the Museum of Contemporary Art, nicknamed MACBA.The dazzling white monument is characteristic of Meier's other works (for example the Getty Center in Los Angeles).
It's a ultramodern piece right next to the centuries old Gothic Quarter, which is not just a container for art.
Meier is a proponent of the "rational" style. The museum has a glass front with an all white interior and exterior. It's luminous and spacious. Light pour in through the windows and the roof on the third floor.
MACBA focuses on art from the second half of the 20th century to the present day. Its first floor features the museum's permanent exhibits, with works by Spanish artists like Antoni Tapies, Miquel Barcelo and Joan Brossa.
MACBA's collection also contains works by foreign artists like Eva Lootz, Wolf Vostell, and Teroushi Yoshida.
Address: Placa dels Angels, 1
32. Porta Fira Hotel by Toyo Ito
The 360 foot tall Port Fira was designed by Toyo Ito. It's one of the most intriguing structures of the Hospitalet suburb of Barcelona, a luxury hotel. In 2010, it won the Emporis Skyscraper Award.
The two almost off kilter towers are a tribute to the two Venetian Towers at Plaza Espana. The design resembles a lotus flower.
Inside, there's a black-white-red color scheme with a minimalist design.
Address: Pl. d'Europa, 45
33. Avenue Suites Apartments
In 2009, Toyo Ito designed the Suites Avenue Apartments on Passeig de Gracia. The Modernist-style building is directly across from La Pedrera.
It's a private luxury apartment building and hotel, with a fantastic collection of Asian art. It has a spectacular perforated stainless steel facade.
Ito designed two structures, the stained glass screen and the rippled glass lining for the building's retained light well. The screen was welded onsite and then sprayed with a metallic painting containing a slightly pink pearlescent tint, which makes it glimmer in the sun.
Address: Passeig de Gracia, 83
34. Joan Miro Foundation
The Joan Miro Foundation on Montjuic is Barcelona's most emblematic gallery. The museum is housed in a spectacular building, the perfect example of equilibrium between architecture and landscape. It's a gleaming white light-filled design from the 1970s, created by Miro's friend, architect Josep Luis Sert.
The Joan Miro Foundation is one of Europe's most fabulous single artist museums, without any stuffy pretense. Inside, you'll find the world's largest collection of the Surrealist artist Joan Miro's lively paintings and sculptures.
Miro founded the museum himself in 1975 and chose how his primary colored and robot-like work would be displayed.
The museum is crammed with seminal Miro works, from his earliest sketches to his later years. There's 220 paintings, 180 sculptures, and over 8,000 drawings. It's well worth a visit. Click here for a ticket.
Address: Parc de Montjuic
35. La Ricarda | Casa Gomis
La Ricarda is a 1960s Catalan gem considered one of the world's most beautiful modern houses. It's located just outside Barcelona in the middle of a pine grove.
La Ricarda was designed by Antonio Bonet Castellana for the Gomis family. Bonet trained with Le Corbusier. La Ricarda is an emblematic example of mid-century Rationalist architecture.
It was intended to house a large family and to host cultural activities. The light and acoustics of the building are perfect. The furniture was built especially for the house. There was an independent pavilion for both the parents and children.
La Ricarda was also a refuge for artists and intellectuals during the last 15 years of Franco's dictatorship. Ricardo and Agnes Gomis hosted John Cage, Merce Cunningham, Antoni Tàpies, Joan Miro, and countless other protagonists of the avant garde scene.
The highlight is the floating undulating roof, which appears as an immense extended porch. The house remains in the Gomis family, who have restored and preserved it.
Address: 08820 El Prat de LLobregat Barcelona
36. La Fabrica | The Factory
In 1973, the prominent architect Ricardo Bofill stumbled upon an abandoned cement factory outside of Barcelona. He transformed the time capsule factory, known as La Fabrica, into his home and office.
Bofill sought to resuscitate, repurpose, and revalue the building, which was left for dead. Over the years, the abstract space has undergone a continual transformation, sculpted like a piece of art.
The mesmerizing compound is a cathedral-like palace with cyprus trees and vines growing from the roof's turreted silos. It's divided into four areas—architectural studio, exhibition hall, gardens, and living area. You can see the beautiful interior spaces in this article.
Next to La Fabrica, Bofill build a postmodern housing complex called Walden 7. You can tour the structure by appointment.
Address: Av. de la INdustria, 1408960 Sant Just Desvern Barcelona
Other Important Landmarks In Barcelona
37. Arc de Triomf
Barcelona's Arc de Triomf, or Arco de Triunfo, was built as an entrance gate for the 1888 Barcelona World Exhibition. Designed by architect Josep Vilaseca, the victory arch was quite different than its predecessors.
For starters, it's a civic landmark rather than a military one. And, rather than white marble, Vilaseca used red brick and a Moorish-inspired style.
There are four monumental friezes. The arch was refurbished just after its 100th anniversary, in 1989.
Address: Passeig de Lluis Companys
38. National Museum of Catalan History
The grand domed Neo-Baroque Palau Montjuic is a Barcelona landmark that houses the National Museum of Catalan Art. Construction was completed in 1929 under architects Eugenio Cendoya and Enric Cata's design.
This museum is the largest in the whole of Catalonia. You can easily wile away a couple of hours here, exploring the art and architecture.
The MNAC features the best Romanesque collection of mural paintings in the world, including art work gathered from churches, chapels, and monuments.
The museum's collection ranges all the way from Gothic art to modern art. You'll find works by El Greco, Velazquez, Gaudi, Ramon Casas, Julio Gonzalez, and Dali, among others.
Address: Palau Nacional, Parc de Montjuic
39. Mapfre Foundation in Casa Garriga Nogues
Mapfre is an insurance company that owns this private foundation, aimed at promoting art. It's located in the Eixample neighborhood.
The collection at the Mapfre Foundation includes works by Monet, Renoir, and Rodin. And hosts temporary art exhibitions. At € 3, it's a bargain.
The Mapfre is housed in a beautiful Modernista building, the Casa Gaarriga Nogues, just steps from the Passeig de Gracia. It was built by architect Enric Sagnier for the banker Ruperto Garriga-Nogues.
The house is gorgeous inside, with curving staircases, stained glass, and beautiful details.
Address: Carrer de la Diputacio, 250
40. Picasso Museum
The setting of the Picasso Museum is stunning. It's a landmark building in Barcelona lodged in five adjoining medieval stone mansions, with a gorgeous terrace.
The palaces date from the 13th to 14th centuries, and are characteristic of Catalan civic Gothic style.
READ: Guide To the Picasso Museums in Europe
Founded in 1963, the museum was launched with a donation of 574 works by Picasso's secretary, Jaime Sabartes. In 1970, Picasso himself donated 800 more pieces.
For Picasso, Barcelona was where it all began. He lived in Barcelona during his early apprenticeship. Barcelona is where he wanted his namesake museum.
At the museum, you can enjoy an extensive collection of Picasso's work, certainly the best collection in Spain. There's over 3,000 pieces, mostly from Picasso's formative years in Barcelona.
By experiencing his youthful works, you can better understand his later abstract pieces and how he became the greatest artist of the 20th century.
This museum is incredibly popular. Click here for a skip the line ticket and guided tour.
Address: Carrer de Montcada, 15-23
41. Montjuic Cemetery
Montjuic Cemetery is Barcelona's village of the dead. The tycoons who built their Modernista houses in the Eixample district also commissioned their own elaborate mausoleums, displaying their wealth in death as well as life. This peaceful, yet eerie, cemetery contains works by Josep M. Jujol, Cadafalch, and Eusebi Arnau.
Many famous Barcelonaians are buried here, including the former president of the Catalan Government, Francesc Macia, the musician Isaac Albeniz and the artists Ramon Casas, Santiago Rusinol and Joan Miro.
In the cemetery's older section, you'll find ornate palaces and extravagant mausoleums, some adorned with vengeful angels. Take a walk through the peaceful place to admire the funerary art. But don't get stuck there after sundown, when the iron gates swing shut.
Address: Carrer de la Mare de Deu de Port, 56, 58
42. Miro's Lady and the Bird in Placa del Escorxador
Miro's incredible statue protrudes from one end of the Parc de Joan Miro, reflecting in a pool. It's a 21 meter urban sculpture of a woman and a bird, which is one of Barcelona's iconic artistic landmarks.
The original title of the pieces was Lady Mushroom with a Moon Hat. And, indeed, the female figure is crowned with a crescent moon.
Lady and the Bird is covered yellow, green, blue, and red broken ceramic tiles, applied by ceramicist Joan Artigas.
Address: Carrer de la Mare de Deu de Port, 56
I hope you've enjoyed my guide to the must visit landmarks in Barcleona. You may enjoy these other Barcelona and Spain travel guides and resources:
If you'd like to see Barcelona's famous landmarks, pin it for later.