Here's my guide to the must visit attractions in the glamorous 9th arrondissement in Paris.
There are some amazing things to do and see in the Opera District. It abounds with culture and sophistication, with an appealing mix of glamor and on trend Paris hidden gems.
The 9th extends from the Opera Garnier in the south to the foot of Montmartre in the north. The arrondissement is a Belle Epoque beauty, dating from the early 1900s.
It's a stately area, but not without its bohemian charms. It should definitely be on your itinerary for Paris.
Many people default to Paris' Left Bank instead to experience the "je ne sais quoi" of Paris. It's not an uncommon course of action, especially for Americans it seems.
With its cobbled lanes and fabled history, the Left Bank is quaint and artsy, a place for thinkers, dreamers, and revolutionaries.
The Right Bank always seems more buttoned up and manicured — a place for the lovers of the Haussmann's grand boulevards. And it is.
But the 9th arrondissement is also crammed with secret museums and quirky galleries, a trendy micro neighborhood, and some super concentrated shopping. It's got creative juice along with the glitz.
Let's take a tour of the 9th arrondissement.
Top Attractions In Paris' 9th Arrondissement:
Here's my guide to 16 must visit attractions in Paris' 9th Arrondissement, commonly called the Opera District.
1. Opera Garnier: the Phantom's Lair
The Opera Garnier is the top attraction in the Opera district. Visiting the grand opera house is a dual-purpose immersive experience.
You can enjoy the incredibly sumptuous palace, designed by Charles Garnier. And you can re-live the Gothic potboiler, the Phantom of the Opera.
If you don't want to trek to Versailles and suffer through the awful lines — who does? — come here instead. The Opera Garnier's just as lavish, maybe more so. It's is a great alternative to Versailles.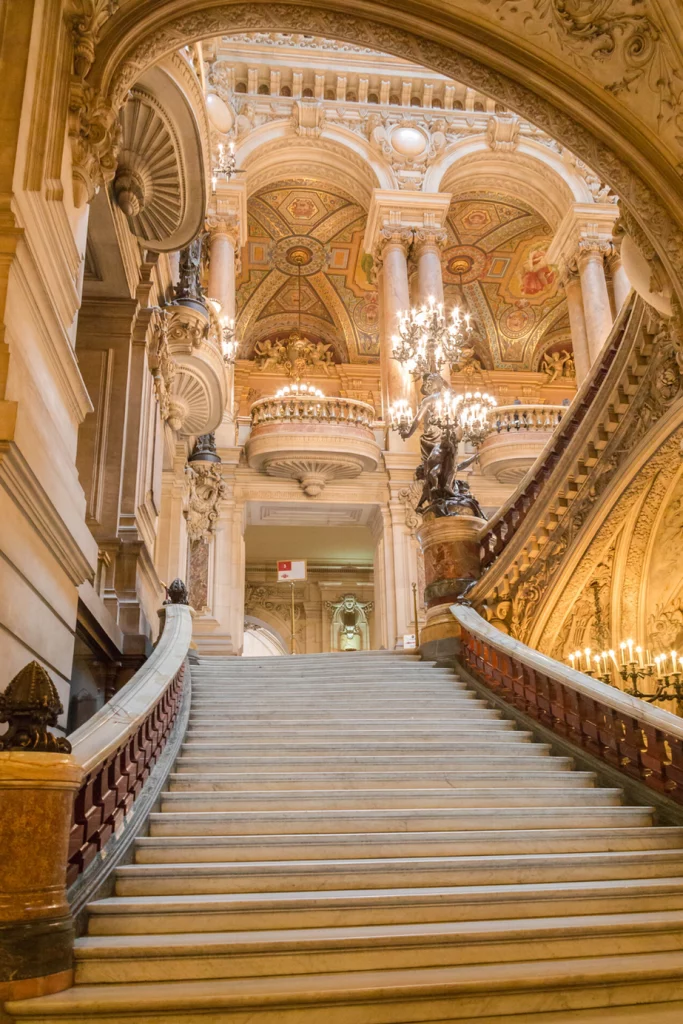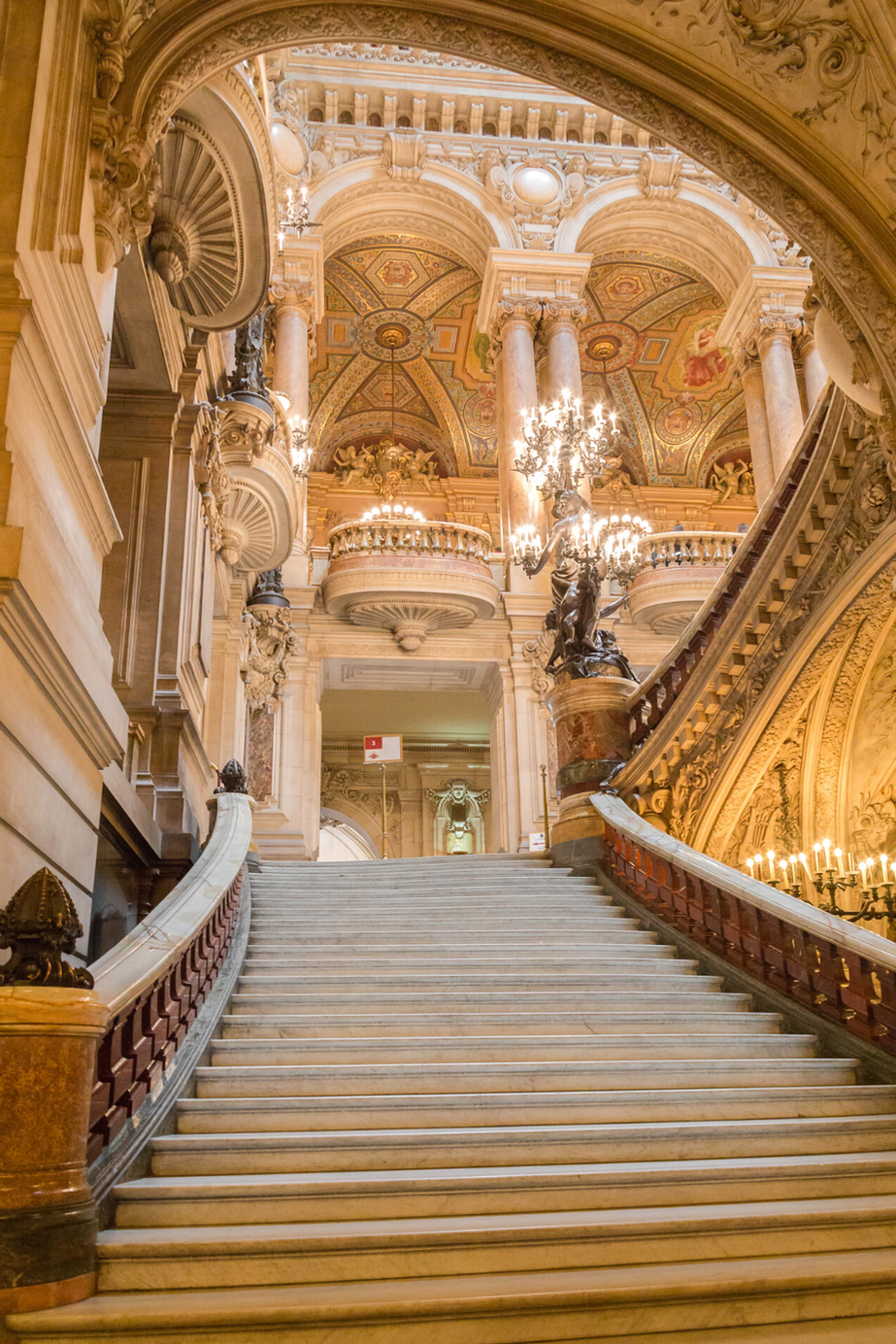 The opera house is designed in what Garnier dubbed the "Napoleon Style" with eclectic Neo-Baroque elements. Between the facade's grand columns are niched busts of accomplished composers.
The facade is crowned by two gilded figures, Harmony and Poetry, and topped by Apollo proudly brandishing a golden lyre.
The interior was designed in four segments: the entrance, the auditorium, the stage, and the administrative offices. It's almost a crescendo effect.
Each room exceeds the next in grandeur. The highlights are the Grand Staircase, the Grand Foyer, and the luminous 1964 Chagall ceiling mural.
Click here to book a skip the line ticket. Click here to book a 2 hour guided tour.
Address: 8 Rue de Scribe, Place de l'Opera 75009 Paris
Hours: 10:00 am to 4:30 pm, Guide tours in English are at 11:00 am and 2:30 pm
Entry fee: 14 euros for a self guided tour. Not included in Paris Museum Pass
Metro: Line 3, 7, or 8 to Opera
2. Victor Hugo Monument
Just across the street from Palais Garnier to the west is the Impasse Sandrie. Impasse is a French word meaning "dead end street."
At the end of Impasse Sandrie is Square l'Opera-Louis Jouvet. This is where you'll find a beautiful equestrian monument.
Titled Pégase Emportant le Poète Vers les Régions du Rêve, it depicts the mythical winged horse Pegasus with a young Victor Hugo astride its back. Hugo is the famous French novelist who wrote Les Misérables and The Hunchback of Notre-Dame.
Apart from his great novels, Victor Hugo helped save Notre Dame. The 19th century statue is by French sculptor Alexandre Falguière.
READ: Guide To the Victor Hugo Museum
3. Upscale Shopping at Galeries Lafayette & Printemps
If you want to shop till you drop, the 9th arrondissement is de rigeur. There, you'll two of Paris' "grand magazines" or department stores. Fair warning, they'll be crowded.
Located on Boulevard Haussmann, near the Paris Opera house, is the Galeries Lafayette. Inaugurated in 1893, Galleries Lafayette is basically a luxury bazaar for upscale fashion and goods.
It's presented in an exceedingly gorgeous Art Nouveau setting, with a stunning dome.
The Galeries Lafayette also boasts a splendid rooftop terrace on the 7th floor. It's free to visit, weather permitting.
It offers one of the best panoramic views of Paris. There are other Galeries Lafayette sprinkled through France, including one in Toulouse, with a similarly enviable view.
Right next door is Printemps. Printemps is the word for spring in French. It's also the name of another luxury department store.
Aside from showcasing the best in Paris fashion, it has a delightful rooftop café with views, Deli-Cieux. Compared to other popular Paris viewpoints, it's still a relative secret.
Like Galeries Lafayette, Printemps has a beautiful dome. Printemps' dome is made of stained glass.
If you're hungry, sit down at the Brasserie Primtemps and gaze at the stunning dome. In 1975, Printemps facade and dome were registered as historic monuments.
Galeries Lafayette
Address: 40 Boulevard Hausmann
Hours: 9:30 am to 8:30 pm
Metro: Chaussée d'Antin-Lafayette, Opera, or Trinite
Printemps
Address: 64 Boulevard Haussmann
Hours: Daily 9:30 am to 8:00 pm, Sunday 11:00 am to 7:00 pm
Metro: Metro Line 9 to Havre-Caumartin station
4. Eglise Madeleine: Napoleon's Military Church
The Eglise Madeleine is one of Paris' best churches and one of the best things to see in the Opera district. Like many grand churches, it has been through many incarnations.
The church you see today dates from 1806. That year, Napoleon took charge. He sought to build a "Temple to the Glory of the Great Army."
As a result, Madeleine has a military feel and is different than other churches you'll see in Paris. It's based on a Greco-Roman temple design, with 52 massive Corinthian columns.
On the pediment, there's a sculpture of the last judgment. The bronze door reliefs represent the 10 commandments.
The interior of the church is dark. It seems foreboding.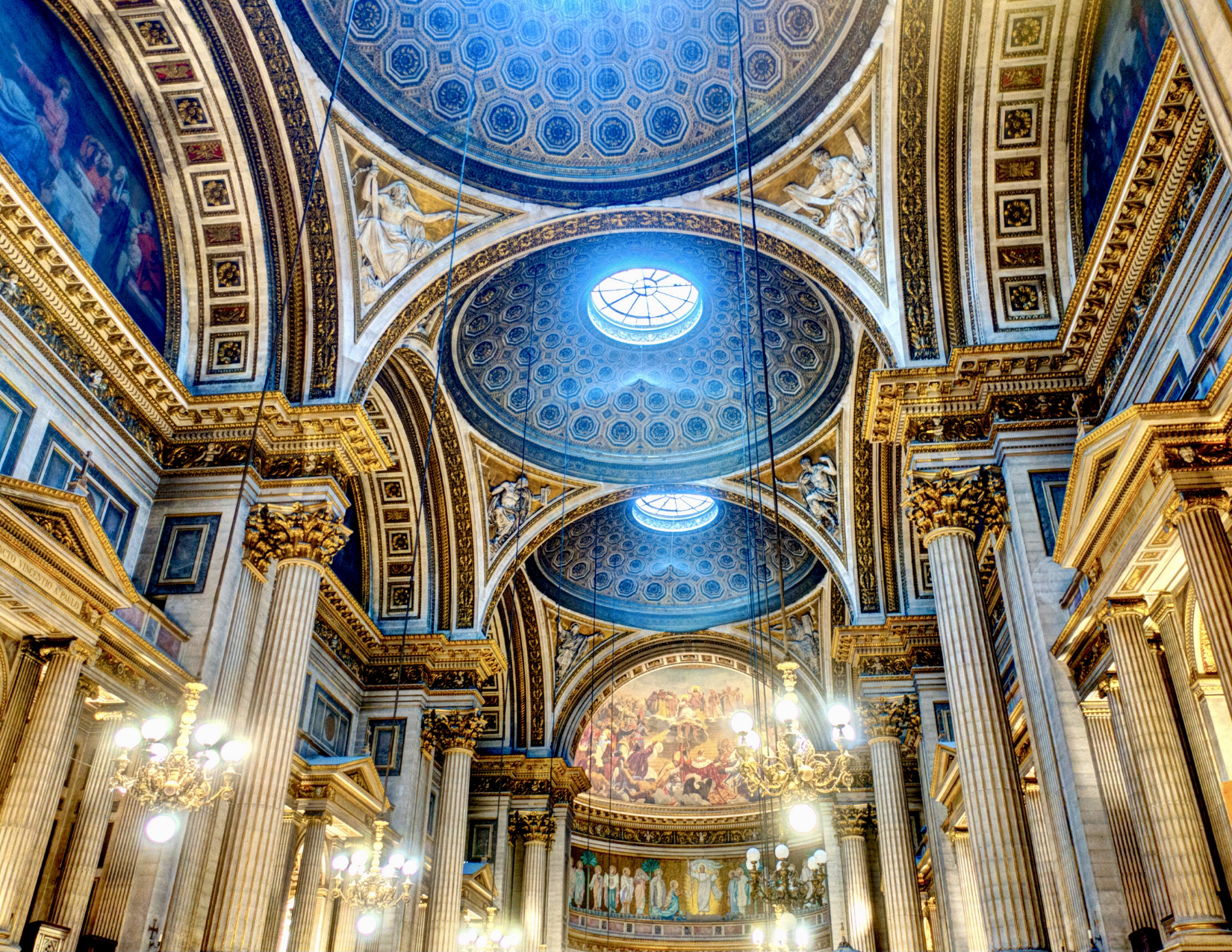 There's a single nave with three domes. There are very few decorative elements, although there is a nice statue of Joan of Arc. La Madeline has one of the best church organs in Paris, designed by Aristide Cavaille-Coll.
The church regularly holds classical music concerts.
Address: Place de la Madeleine, at the end of Rue Royale
Hours: Daily 9:30 am to 7:00 pm
Entry fee: free
Metro: Madeline, line 8, 12, and 14
5. Passage des Panoramas: Paris' Oldest Covered Passage
In the heart of the 9th arrondissement, the Passage des Panormas is meant for flaneurs. Filled with boutiques, it's the perfect place to spend a rainy day in Paris. And it's the oldest covered passage in Paris, dating from 1799.
In 1861, the Passage also became the first illuminated passage of Paris when gas lamps were installed.
Thankfully, the passage survived the Haussmann transformation. It's been listed as a historic building since 1974.
Look for the gluten free Noglu restaurant, the Théâtre des Variétés, Chocolatier Marquis, vintagey Prins Patrick, the Phillipe Starck decorated Caffè Stern, and Coinstat Vino wine bar.
You can book a 3 hour guided walking tour of all of Paris' covered passages.
Address: 13 Boulevard Montmartre, 75009 Paris
Hours: Daily 6:00 am to midnight
Pro tip: entrances at 11 Boulevard Montmartre and 158 rue Montmartre
6. Harry's New York Bar: Have a James Bond Themed Cocktail
If you want to re-live history and channel James Bond, Harry's New York Bar is the best spot for a strong cocktail.
Already popular for 50 years, Ian Fleming immortalized the bar in A View to Kill. And it wasn't just James Bond who got his fix at the legendary watering hole. Expat drinkers F. Scott Fitzgerald, Jack Dempsey, Thornton Wilder, and most famously, Ernest Hemingway also imbibed there.
Harry's New York Bar has been around since 1911, without changes. It's an old time bar, boasting gleaming mahogany woodwork, a tin ceiling imported from New York, and throwback waiters in white vests. Here, in 1921, the Bloody Mary was invented.
There's no TV. Thankfully, for conversational purposes, all you'll hear, above patron's voices, is a piano bar tinkling downstairs.
Address: 5 Rue Daunou, between the Avenue de l'Opéra and the Rue de la Paix
Hours: 12:00 pm to 2:00 am
Metro: Quatre Septembre, Opéra
7. Fragonard Perfume Museum: Scented History
The Fragonard Perfume Museum is nestled in the heart of Paris, a half block from the Opéra Garnier. The museum opened in 1983. It couldn't be more romantic.
Housed in an ornate 19th century Napoleon III townhouse, you won't find a touch of modernity. It's meant to be an old world sensory voyage.
The townhouse was built in 1860 by Joseph Lesoufaché, a student of Garnier. The decor is sensuous and alluring with painted ceilings, stucco decoration, old fireplaces, and crystal chandeliers — everything you'd expect from a luxury brand in a luxury setting.
The tiny museum is unique and rather magical. The collection of precious objects traces the history of perfume from antiquity to the present day.
Visitors will find cabinets of curiosities, including ancient artifacts, perfume "organs," scent boxes, test tubes, blown glass bottles that look like precious jewels, and potpourri used at the court of the Louis XIV.
Address: 3-5 square Louis Jouvet, 75009. The entrance to the museum is to the back, off Rue Bruno Coquatrix.
Entry fee: Free, 30 minute guided tours starting every 20 minutes in French and English. The museum also offers some lengthier paid tours.
Hours: Open Mon to Sat from 9:00 am to 6:00 pm, closed Sundays. Last visit is at 5:00 pm
Metro: Opera (Line 3, Line 7, Line 8), Chausée d'Antin La Fayette (Line 7, Line 9), Auber on RER line A (Red)
8. Musee Grevin & Passage Jouffrey
Inaugurated in 1882, the Grévin Museum is a veritable Parisian institution. It's not a museum that many tourists frequent. It's a fantastical wax museum. Sacré bleu!
The museum was the brainchild of prominent La Galoise newspaperman Arthur Meyer. In the pre-photography era, he dreamt of giving his loyal readers real life versions of the people they admired.
Using Madame Tussauds in London as a model, he hired Alfred Grévin, a sculptor and designer of theater costumes to create wax figures. Grévin did such a fantastic job that the museum bears his name.
In the museum's themed rooms, visitors can relive French and world history. There are over 500 replicas of famous entertainers, politicians, historical figures, and painters.
Luminaries include Albert Einstein, Louis XIV, Gandhi, Alfred Hitchcock, Marie Antoinette, Michael Jackson, Mick Jager, Auguste Rodin, Victor Hugo, and Leonardo da Vinci.
The Grevin Museum is located in the historic Passage Jouffroy. It's one of the most popular covered passages in Paris because of its sheer beauty. It has gorgeous marble flooring, a glass ceiling, and intricate wrought iron.
Grevin Museum
Address: 10 Boulevard Montmartre
Hours: Open daily 10:00 am to 6:30 pm, weekends open until 7:00 pm
Metro: Grand Boulevards
Passage Jouffrey
Address: Enter the passage at 10-12 Boulevard Montmartre and 9 Rue de la Grange-Batelière.
Hours: 7:00 am to 9:30 pm
9. South Pigalle: the 9th Arrondissment's Hipster Neighborhood
South Pigalle, or SoPi as it's affectionately known, has swiped the hipster mantel from the Marais on the Right Bank.
In fin de siècle Paris, SoPi was a scandalous red light district, filled with black sheep brothels and absinthe addled artists.
It was a naughty neighborhood, which the middle class assiduously avoided. After WWII, SoPi was nicknamed "Pig Alley" for its raunchy neon-lit nightlife.
It's not Pig Alley anymore. But it's not completely nice either.
SoPi has smartened up and become a hotbed for Paris' "bobos," or bourgeoise bohemians. It's a must see Paris neighborhood if you like buzzy culture, gourmet snacks, and vintage speakeasies.
In fact, SoPi has seen a dramatic uptick in hip restaurants and bars, many of which are housed in former brothels.
In contrast to Galleries Lafayette and Printemps, SoPi offers a boutique shopping experience. Fans of trendy threads, designer objects, and interior decoration will be in seventh heaven. If you must pick one street, make it Rue Henry Monnier. Or perhaps Rue Caluzel.
Take a break at the stylish Buvette. It's a self-proclaimed gastrothèque. Buvette has been packed since day one of its opening.
Customers line up for a table beneath a graphic map of France covering one wall. The map displays the wine list. There's a great options for organic wines, but it's rather pricey.
10. The Museum of the Romantic Life: A Must Do Romantic Detour
The 9th arrondissement also has a lovely museum dedicated to Romanticism called the Musée de la Vie Romantique, or the Museum of the Romantic Life. In the lexicon of swoonful museums names, this museum wins top prize.
Opened in 1987, the museum is housed in the Italianate style Hôtel Scheffer-Renan at the foot of Montmartre Hill. It's hidden down a picturesque cobblestone alley and wrought iron gate.
With Bobos having transformed SoPi from a grit to glamor hotspot, the museum's seen a uptick in visitors.
The museum's spokesperson Catherine Sorel, has said, "We're seeing a whole new population coming to the museum. There's almost a kind of neo-dandyism– it's fashionable to be interested in the 19th century and these artists."
The intimate little museum is widely regarded as one of Paris' most beautiful and quaint museums.
It celebrates the lives and works of George Sand, who was a writer, libertine, and femme fatale, and Ary Scheffer, a Romantic Period Dutch painter.
With its creaking floors and curios, you can almost imagine yourself in the 19th century. If hunger calls, there's a cafe onsite, Rose's Bakery. It's a satellite store of the famous bakery on Rue des Martyrs.
Address: 16 Rue Chaptal, 75009 Paris
Hours: Tues-Sun 10:00 am to 6:00 pm, closed Mon
Entry: permanent collection is free
Metro: Pigalle
11. Rue des Martyrs: Paris' Foodie Street
Speaking of Rue des Martyrs, it's one of my favorite Parisian streets. It's a half mile of magic in trendy SoPi. It stretches from the southern edge of Montmartre towards the city center.
Rue des Martyrs is a serious street with some serious history. In the 3rd century, France's most famuos Cephalophoric (head caarrying) saint, Saint Denis walked up the street to Montmartre with his severed head in hand.
Now the Rue des Martyrs has over 200 shops, cafes, restaurants, and museums.
There's a great book about the street, The Only Street in Paris: Life on the Rue des Martyrs by Elaine Sciolino. It may inspire you to visit SoPi to see what all the fuss is about.
Sciolino describes the street this way:
"For me, it is the last real street in Paris, a half-mile celebration of the city in all its diversity – its rituals and routines, its permanence and transience, its quirky old family-owned shops and pretty young boutiques. This street represents what is left of the intimate, human side of Paris."
12. Église Notre-Dame-de-Lorette: A Neoclassical Gem
At the bottom of the Rue des Martyrs is a neoclassical gem, the Notre-Dame-de-Lorette church. Built between 1822-36, it was classified as a historic monument in 1984.
If you walk down Rue Laffitte, you'll see Notre Dame-de-Lorette with the Sacre Coeur as a backdrop. It's a gorgeous view.
Notre Dame-de-Lorette is sober and monumental on the outside. But on the inside it's richly decorated and beautiful. It has a sumptuous dome and a highly detailed ceiling with floral accents.
The Bapistry Chapel is filled with paintings by Adolphe Roger, created between 1833 and 1840. They were recently restored and unveiled at an inauguration event in January 2017.
Address: 18 bis Rue de Chateaudun 75009
Hours: Mon-Fri 9:30 am to 7:30 pm, Sat & Sun 9:00 am to 7:00 pm
Entry fee: free
Metro: line 12 to Notre Dame-de-Lorette or line 7 to Le Peletier
13. Gustave Moreau Museum: Symbolist Haven
If you like quirky atelier-museums, the Gustave Moreau Museum is another utterly uncrowded Parisian art spot. It's a great small museum in Paris.
Gustave Moreau was a prolific 19th century French Symbolist painter. He was an art school dropout inspired by Delacroix. Some consider his oeuvre a precursor to Surrealism.
The museum was Moreau's family home. He transformed it into an studio and kept the first floor as his apartment. It's absolutely stuffed with his sometimes macabre paintings and drawings.
There are almost 7,000 paintings, watercolors and sketches of mythological, biblical, and literary subjects. There's not much curation. That allows you to adopt your own narrative.
Once you head up the gorgeous spiral staircase, you'll find Moreau's bright well-lit studio. Many drawings are behind curtains and some have to slid from drawers to be viewed. Don't be lazy, take a peak.
Address: 14 rue de La Rochefoucauld
Entry fee: € 6, reduced rate: € 4, Under 18 free
Guided tour: one Thursday a month at 6:00 pm € 8, reduced rate: € 6, duration: 1 hour
Hours: Open daily from 10:00 am to 12:45 pm & from 2:00 pm to 5:15 pm, closed Tuesdays
Metro: Trinité d'Estienne d'Orves (line 12) or Pigalle (line 2)
14. Folies Bergère: Bawdy Entertainment
If you want old school cabaret entertainment, visit this legendary music hall. Opened in 1869, the Folies Bergère was originally built as an opera house. It was based on the Alhambra music hall in London.
By the 1890s, the courtesan striptease gained popularity. Eventually, the Folies Bergère became known for its bawdy shows featuring naked girls, who may have turned tricks on the side.
It's seen performances by Josephine Baker, Charlie Chaplin, French writer Collette, and Maurice Chevalier.
The lobby is currently decked out with Jean Paul Gaultier decorations. The decor's in the style of anti-elitist tacky flamboyant, but you know that going in.
Address: 32 rue Richer 75009
Hours: Vary according to showtimes
Metro: Grands Boulevards or Cadet
15. Palais-Royal: Gardens, Art & Boutiques
Just a short walk from the Louvre is the gorgeous Palais Royal. It was built in 1633-39 by French architect Jacques Lemercier. Initially, it was the personal residence of Cardinal Richelieu.
After Richelieu's death in 1642, the palace was bequeathed to King Louis XIII. It was renamed "Palais Royal" instead of "Palais Cardinal."
The following year, the King died, leaving the Palace to the Queen Mother. She lived there with her children, one of whom became the vaunted Sun King, Louis XIV.
The Palais Royal thereafter became the main residence of the House of Orléans. In the 1780s, columns and arcaded passages were installed to enclose the gardens. Upscale boutiques were added.
The palace itself houses the Constitutional Council and Ministry of Culture among other things. It's closed to the public. But the elegant boutiques and Palais Royal Gardens are free to visit and usually open during daylight hours.
Address: 2 Galerie de Montpensier, 75001 Paris
Hours: Oct-March: daily 8:00 am to 8:30pm. Apr-Sept: daily 8:00 am to 10:30 pm.
Metro: lines 1 or 7 to Palais Royal-Museé du Louvre
16. The Colonnes de Buren, a Controversial Art Installation
The inner courtyard of the Palais Royal is called the Cour d'Honneur. It's the site of another top attraction in the Opera district.
It's a futuristic art installation created by acclaimed French conceptual artist Daniel Buren in 1985-86. The art installation is titled Les Deux Plateaux. But it's commonly referred to as the Colonnes de Buren.
The Colonnes were initially controversial, deliberately presenting a jarring contrast to the classically designed palace. The installation's a dizzying walk in structure of 260 black and white candy striped columns of varying heights.
The columns are made of white Carrara marble from Italy and black marble from the French Pyrénées. They were actually created for a functional purpose — to disguise ventilation shafts for an underground extension of the culture ministry's premises.
But with function, came art. Buren intends his work to be critical of the hierarchies of power and museumifying. He likes it to disrupt revered public spaces. I loved the subversive intent of the striking Colonnes. And they struck me as a modern day Stonehenge.
Address: 2 Rue de Montpensier, 75001 Paris
Hours: open 24/7
Entry: free
Metro: lines 1 or 7 to Palais Royal-Museé du Louvre
I hope you've enjoyed my guide to the top attractions in Paris' Opera District. You may enjoy these other Paris travel guides and resources:
If you'd like to explore Paris' Opera District, pin it for later.