Are you an architect lover visiting Madrid? Here's my guide to the Eixample neighborhood of Barcelona, where you'll find 25+ of Barcelona's most beautiful and famous buildings.
Barcelona is a magical city you visit for its dazzling and surrealistic architecture. Unlike other cities, Barcelona elevates architecture to rock star status.
There are no end of wonders, both famous and more secret. Even if you've never had a second though about architecture, you'll be enthralled.
No other architectural style defines and symbolizes Barcelona as much as Modernism. Modernism was Catalonia's hallucinatory take on the international movement of Art Nouveau. Much of it flourished in Eixample, a tony neighborhood with elegance and charm known as the "Golden Square."
What Is Catalan Modernism?
Spanning the late 1880s to 1911, the Modernist movement was a style that became Barcelona's aesthetic trademark.
The creative movement was a reaction against industrialization in favor of extravagant craftsmanship. Modernism traded sharp lines for flowing and curvy asymmetrical shapes drawn from nature.
Barcelona's shape-shifting Modernist buildings are rich in ornamentation, teeming with life. They're richly decorated with mosaics, frescos, sgraffito (scratched off colored layers), sculptures, glass, and leafy blooming organic shapes.
Flamboyance was in vogue, especially for fan favorite Antoni Gaudi, the madcap architect of Barcelona's best known structures.
The world is so gaga over Antoni Gaudi, you'd think he was the only genius of Catalan Modernism.
But three key figures defined Modernism, affectionately dubbed the "trinity" — Gaudi, LLuis Domenech i Montaner, and Josep Puig i Cadafalch. In his time, the under-sung Montaner was just as famous as Gaudi.
History of the Eixample District
Eixample sprawls from the Sagrada Familia to the foothills of Montjuic. The neighborhood, which means "extension," was the pioneering design of Idelfons Cerda. By the mid 19th, Barcelona was bursting out of its medieval walls. In came Cerda with a brilliant urban planning design.
Layout
Eixample is laid out in an almost perfect unwavering grid system, with octagonal intersections, meant to de-congest the city. It resembles a waffle iron. The grid was the first of its kind in Europe.
Each block has an internal courtyard to serve as an urban green space. The blocks are oriented northwest to southeast to ensure the buildings received sunshine.
At each intersection, there's a "chamfer," or a shaved off corner, where the architect snipped off and rounded the corners to create light and space. Eixample's main streets are Passeig de Gracia and Diagonal.
If architecture and design are your thing, Eixample is is a must visit destination in Barcelona. Yes, the Gothic Quarter is cozy and mysterious, but Eixample is where Barcelona really shines.
Eixample's wealthy mercantile titans were bursting with civic pride. They wanted to make their mark on Barcelona with a lavish display of wealth.
READ: 3 Day Itinerary for Barcelona
As a result, Eixample became an eye popping Modernist showcase, with 5 UNESCO sites. The streets are an open air museum. In Eixample, you'll find instantly recognizable master works like Casa Batllo, Casa Mila, and Sagrada Familia.
But amidst Eixample's checkerboard streets, you'll also some lesser known hidden gem mansions that are worth a visit to gasp at the facades. If you hate standing in lines or don't want to break the bank, some of these off the beaten path Modernist landmarks are the perfect curative.
If you only do one thing in Eixample, check out the key architectural gems on the "Block of Discord."
Legend of the Block of Discord
Manzana de la Discordia, or the "Block of Discord," is the name given to a section of the Passeig de Gracia, whose buildings were created from 1898 to 1906. The nickname originates from a famous Greek legend, the Judgment of Paris.
In this legend, the Greek gods held a wedding but didn't invite Eris, the goddess of discord, who sowed misery wherever she went. Aggrieved by the snub, Eris arrived anyway, bearing a poisoned "gift" of a golden apple. It was inscribed with the words "for the fairest."
As Eris anticipated, the goddesses squabbled to claim the apple. Finally, Paris, the Prince of Troy, selected Aphrodite for the coveted title over Hera and Athena.
The word "manzana" can mean both city block and apple in Spanish. And on the Manzana de la Discordia, there was a fierce architectural rivalry, akin to the contest for the golden apple.
Rich bourgeoisie commissioned Modernist buildings on the tony Passeig de Gracia and vied for the title of the fairest building.
The competition was fierce. Each owner tried to top the last house built. They all had disparate styles — Casa Batllo, Casa Lleo Morera, and Casa Amatller. Each house was designed by one of the architectural "trinity."
In fact, Casa Lleo Morera is the only house on the Block of Discord to win the Barcelona Arts Building Annual Award, in 2006. So you might say it won the competition by being publicly declared the fairest.
Architecture Tours In Barcelona
Many of these famous buildings in Barcelona can be visited on a guided tour. You can book:
25 Famous Buildings in Barcelona, For Architectural Lovers
Here's where to find Barcelona's most beautiful architecture. Many of these famous buildings are covered by the Barcelona Card.
1. Casa Batllo
We'll start with the most famous, Casa Batllo. Casa Batllo is one of the world's most unique buildings. It's Antoni Gaudi at his hallucinatory, dreamlike best.
Casa Batllo is simultaeously operatic and mischievous. Gaudi conjured a building in the image of a dragon. The strange bone-like facade commands your attention. It's studded with sinister skull mask balconies and capped by a sinuously scaled roof.
Casa Batllo's mosaicked facade is a kaleidoscope of blue, mauve, and green tiles. Though it's a bit hard to see, the facade's actually uneven and slightly wavy, like a calm sea. Its marine-like surface doubles as a dragon's skin.
Casa Batllo's interior is filled with beautiful tiles, sensuous curved wood, serpentine railings, and stained glass — all in organic forms and curvy shapes. The motif is an undersea grotto lit by skylights shaped like tortoise shells. The ceiling droops and swerves poetically.
The humpback roof adds to the surrealistic feel of Casa Batllo. It's deliberately scaly, like the back of a dragon or dinosaur with iridescent skin and visible raised spines.
The riotously colored Trencadis tiles represent the blood of its victims. The rooftop spire represents the sword of St. George being plunged into the dragon.
Here's my complete guide to Casa Batllo. You'll definitely need to book a skip the line ticket to visit and you may want to book a guided tour.
2. Casa Mila | La Pedrera
La Pedrera, or Casa Mila, is another UNESCO-listed Gaudi building that's pure art inside and out. In terms of engineering ingenuity, architectural design, and style, it was even more revolutionary than Casa Batllo.
Initially, the locals hated Casa Mila. Because of its jagged, rocky facade and weird undulating shape, it was was nicknamed "The Quarry" (or La Pedrera). But Casa Mila is considered one of the crown jewels of the Catalan Art Nouveau movement.
The building evokes a giant sea creature or a piece of coral smoothed by the ocean. In classic Gaudi fashion, Casa Mila was heavily influenced by nature — by air, sea, and water. The building ripples and waves like a burbling ocean. The tangled balconies look like twisted kelp.
As soon as you enter the building, it will intrigue you. The tiled entrance courtyard resembles an underwater forest.
From the courtyard, look up for an incredible views. Light pours in from the roof to the interior apartments. Unlike the dough-ish color of the exterior, inside it's a marine wonderland with sea foam ceilings.
The iconic rooftop has winding pathways and a spiky forest of 30 chimneys. The chimneys are dubbed the "garden of warriors." They resemble storm troopers from the Star Wars movies. You also have a nice view of Sagrada Familia from the roof.
In the evenings, a spectacular audiovisual show takes place on the terrace. Casa Mila's rooftop terrace and stairwells are illuminated with projections set to music. You can enjoy this performance with a glass of cava in hand, which comes with your ticket.
Here's my complete guide To La Pedrera. As for Casa Batllo, you'll need to book a skip the line ticket to avoid long waits. You might consider going at night when the building puts on an audio visual show.
Address: Passeig de Gracia, 92
3. Suites Avenue Apartments
Directly across from La Pedrera is the Modernist-style Suites Avenue building, designed by Toyo Ito in 2009.
It's a private luxury apartment building and hotel, with a fantastic collection of Asian art. Its claim to fame is the spectacular perforated stainless steel facade.
Ito designed two structures, the undulating screen facade and the rippled glass lining for the building's retained light well. Like Gaudi, Ito was inspired by curved lines and the shapes of nature.
The screen was welded onsite and then sprayed with a metallic painting containing a slightly pink pearlescent tint, which makes it glimmer in the sunshine and change color at different times of the day.
Address: Passeig de Gracia, 83
4. Casa Amatller
Right next door to Casa Batllo is Casa Amatller. It's another famous architectural masterpiece in Barcelona.
The casa was built for a chocolate baron, Antoni Amatller Costa. Casa Amatller is a playful building designed by Puig i Cadaflach. It was inspired by 17th century Dutch houses.
Casa Amnatller has a Neo-Gothic facade with a distinctive stepped Flemish gable pediment that's covered in shiny ceramics.
The lower level is covered in whimsical sculptures by Eusebi Arnau — almond trees, almond blossoms, dragons, knights, and chocolatiers at work.
The name Amatller means almond tree in Catalan. Eusebi Arnau and Alfons Juyol sculpted the unique and playful decorative pieces that populate the facade.
Inside, the perfectly restored Casa Amatller is castle-like. You can visit the main floor. The walls are covered with etched plaster decorations, French wallpaper, and elaborate tile work.
As with the facade, there are humorous sculptures throughout the house. The dining room is gorgeous with beams and a spectacular chandelier with hanging stained glass discs.
The nice thing about visiting this house, unlike most others, is that the original furniture is preserved. The highlight is the beautiful stained glass skylight.
Top your visit off with a cup of Amatller's world-renowned hot chocolate. You can pre-book a priority entrance ticket.
Address: Passeig de Gracia, 41
5. Casa Lleo Morera
Casa Lleo Morera is one of Barcelona's best preserved Modernista buildings. Casa Lleo Morera was revolutionary in its day for the different forms of artistry on the exterior.
On 1902, Francesca Morera i Ortiz commissioned LLuis Domenech i Montaner to completely renovate the exterior and interior of the building in an Art Nouveau style.
Sadly, Oritz died in 1904 before the mansion was completed. Her son, Albert Lleo i Morera, moved in with his family, bestowing the current name on the house. Lleo Morera means the "Lion and Mulberry Tree House."
The most striking facade detail is the beautiful curved balconies with ornate floral designs and lions. The ones on the second floor are elongated.
The ones on the third floor are rounded. The fourth floor has a set of gallery windows, topped with a wedding cake turret. The overall effect evokes a convent cloister.
Inside, the piece de resistance of Casa Lleo Morera is in the large area that comprises the dining room and living room. There's a brilliantly colored semi-circular stained glass window created by Antoni Rigalt, who worked with Montana on all his projects. You can almost hear the birds chirping.
You can take a guided tour of Casa Lleo Morera, which lasts 55 minutes. Click here to buy a ticket.
Address: Passeig de Gràcia, 35
6. Casa de les Punxes
This beautiful Modernist building in Barcelona, known as the House of Spikes, was designed by Puig i Cadafalch in 1905. It's the only building in the Eixample area that's fully detached.
The massive house resembles a medieval fortress and was influenced by Neuschwanstein Castle in Germany.
The brick facade and roof are eye catching, with triangular pediments and six turrets that end in spikes. The interior isn't terribly interesting, but there's a handsome iron staircase, floral motifs, and stained glass. There's a good audiovisual display explaining the story of St. George and the Dragon, an important symbol of Catalan Modernism.
Casa de la Punxes is privately owned, but opened its door to the public in 2016. To see the pointy tile-adorned turrets up close, book a ticket that includes roof terrace access.
In the summer, the terrace is open on Friday nights to the public. In high season, this is one of the rare places you might not have to queue up.
Address: Avinguda Diagonal, 420
7. Casa Calvet
The Neo-Baroque Casa Calvet is the neglected stepchild of Gaudi architecture in Barcelona. It was his first building in Barcelona. The house isn't as curvy, crazy, or whimsically colorful. And so it's largely ignored.
Built between 1898-99, Casa Calvet was commissioned by Pere Calvet, a textile manufacturer. In 1900, the Barcelona City Council voted Casa Calvet the best building of the year — the only time Gaudí won such an honor.
The sandstone facade has curved double gables crowned with iron crosses. The sandstone was quarried from nearby Montjuic. But the building's ornamentation is classic Gaudi.
It has bulging and curved balconies, that presage the mask-like balconies on Casa Batllo. The wrought iron is highly stylized and similar to La Pedrera's twisting "seaweed" look.
The rear facade is where Gaudi made his mark. Lending a decorative focus to the rear facades was important to Gaudi, as we see from his later work on Casa Battlo and Casa Mila. You can't see it from the street, but it has some elaborate floral designs.
Casa Calvet is privately owned and can't be accessed by the public. But it does have a restaurant where you can reserve a spot to dine amidst Gaudi decor.
Address: Carrer de Casp 48
8. Casa Macaya | Founation La Caixa
Casa Macaya, also known as Palau Macaya, is another building in Barcelona designed by Cadafalch. Built in 1901, it's one of the least well known Modernist works in Barcelona, but still quite lovely. It was built for textile merchant Roma Macaya.
Casa Macaya has a bright white facade with intricate sgraffito in ochre, engravings, and other decorative details, reminiscent of Casa Amatller. Casa Macaya really shines in the interior.
It has a grand entrance and open courtyard, designed to receive horses and carriages. The courtyard is decked out in colorful tiles and boasts a grand staircase with an elaborately carved frieze.
Built in 1901, today, the palace is owned by La Caixa Bank, who restored the building in 2012. It operates as an exhibition space, promoting cultural and social dialog.
There are permanent exhibitions on the story of Catalan Moderism and the building's architect. Admission is free, so pop in and gape at the beautiful courtyard.
Address: Passeig de Sant Joan, 108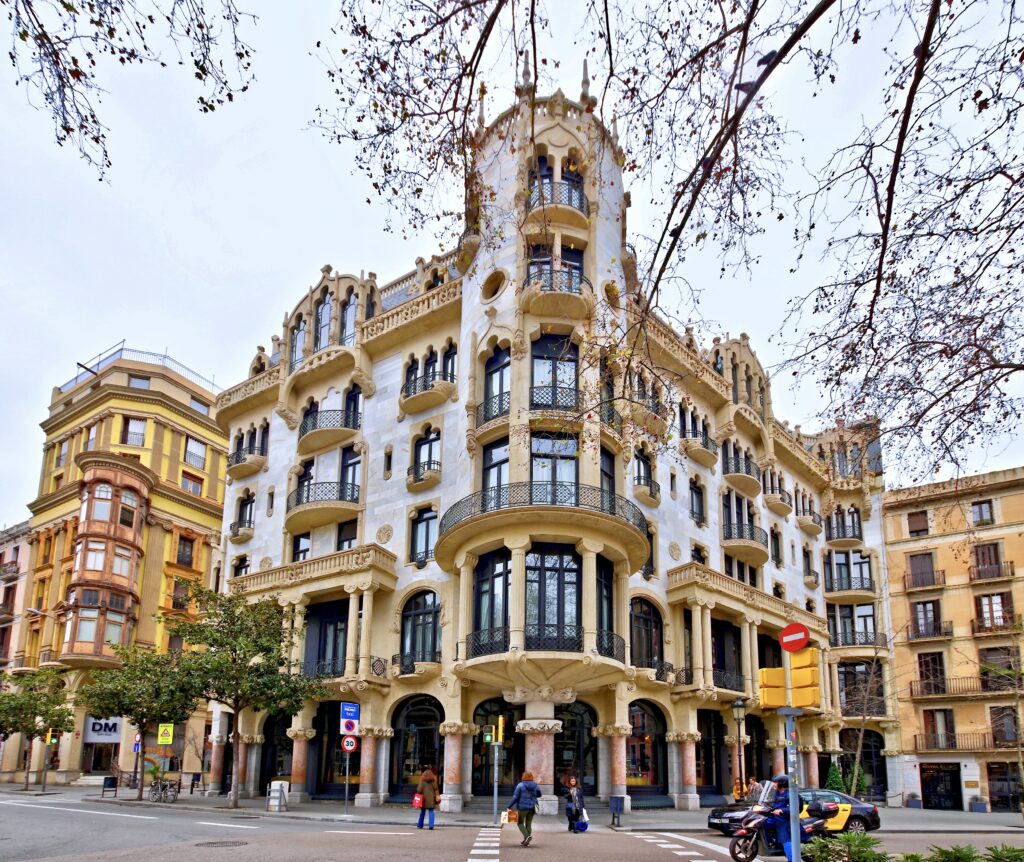 9. Casa Fuster
Don't forget to check out Casa Fuster, another Montaner creation from 1910. It was Montaner's last building, completed in 1911. At the time, it was considered the most expensive building in Barcelona.
Casa Fuster resembles Casa Lleo Morera somewhat. It has the same Neo-Gothic style, rounded balconies, toned down colors, and intricate tracery.
Since 2004, Casa Fuster has been a luxury hotel. It also boasts a rooftop bar, where you can take in views of Eixample while sipping on cava.
Address: Passeig de Gracia, 132
10. Casa Evarist Juncosa
Casa Juncosa examples the beautiful architecture of Barcelona. The project was signed by Salvador Vinals i Sabater. But the lovely building is attributed to his master Melcior Vinals i Munoz.
It has a stone facade with an undulating crown that reaches a large star shaped oculus in the center. The facade is very symmetrical, with vegetal-like sculptural elements.
On the ground floor, stone balconies are profusely ornamented. The great central tribune stands out, decorated with flowers, garlands and foliage. Inside, it has a ground floor and 4 upper floors, used for office space.
Address: Rambla de Catalunya, 78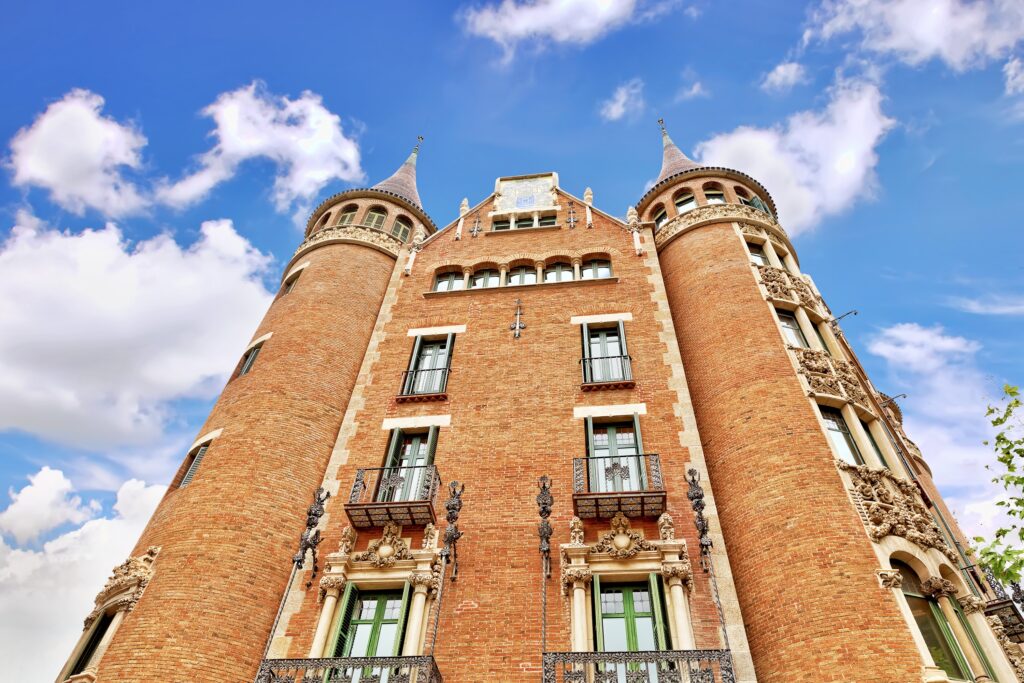 11. Casa Serra
Built between 1903-08, Casa Serra is another Modernista building by Cadafalch. It was built as a residence, but the owner never lived there. It's now the home of the provincial council of the Province of Barcelona.
It's designed in the classic Modernist style with a hint of Neo-Mudejar (Moorish) design. The orange and green tiled roof and pretty bay windows are the highlights.
Part of the building was demolished and an ugly office building was constructed in the rear, which caused a controversy at the time for the discordant styles.
Address: Rambla de Catalunya, 126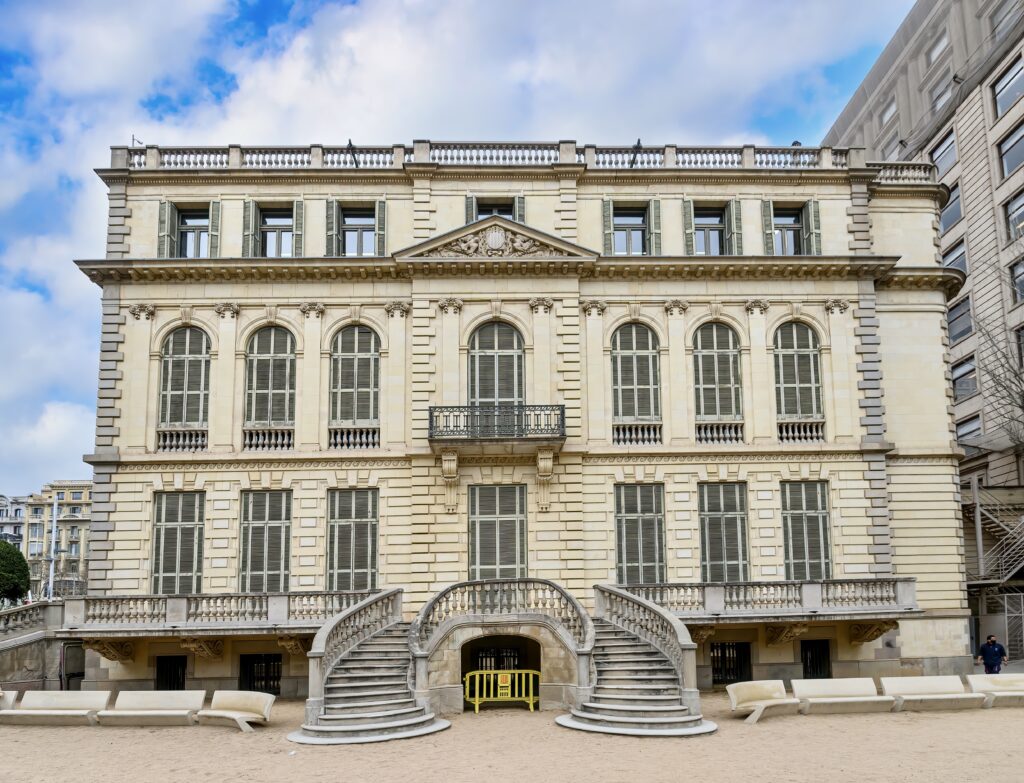 12. Palau Robert
At the crossroads of two hotspot streets, Avinguda Diagonal and Passeig de Gracia, sits the beautiful Palau Robert.
The 1903 mansion was once the Neo-Classical style home of a turn-of-the-century businessman and aristocrat, Robert Robert i Suris. The home now belongs to the Generalitat.
It serves as both an art exhibition center and Tourism Office for all of Catalonia. Palau Robert has two exhibition halls. One showcases the work of artists and another is used for social and cultural events.
Be sure to also check out the lovely garden behind the building that provides an oasis of calm in the middle of the city. It's filled with stately palms, cyprus, and orange trees. The entrance is through the door of the palace or through two gates around the corner on Diagonal.
Address: Passeig de Gracia, 107
13. Sagrada Familia
Though Picasso wanted to "send Gaudi and Sagrada Familia to hell," the basilica is Barcelona's #1 attraction and one of Spain's most famous landmarks. Sagrada Familia is Gaudi's wildy creative and unfinished masterpiece, where beige-pink spires culminate in glitter.
Despite being under continuous construction, Sagrada Familia is a place of superlatives both inside and out. Looming like a castle in the sky, it's almost blinding in its prodigiousness. Gaudi sought to create a visual narrative of Christ's life.
The exterior of the basilica is audacious and "gaudy" in appearance, a mountain (or termite hill) almost. It's dramatically designed, with three jarringly different facades, themed for three chapters in Christ's life. Some would call the Sagrada Familia strange looking or outlandish.
But the interior is entirely sublime. Gaudi intended it to be a retreat into nature. And, indeed, you could be standing in a majestic star-lit white forest. It's an astonishing space, an alternative reality full of detail. You'll gasp when you enter.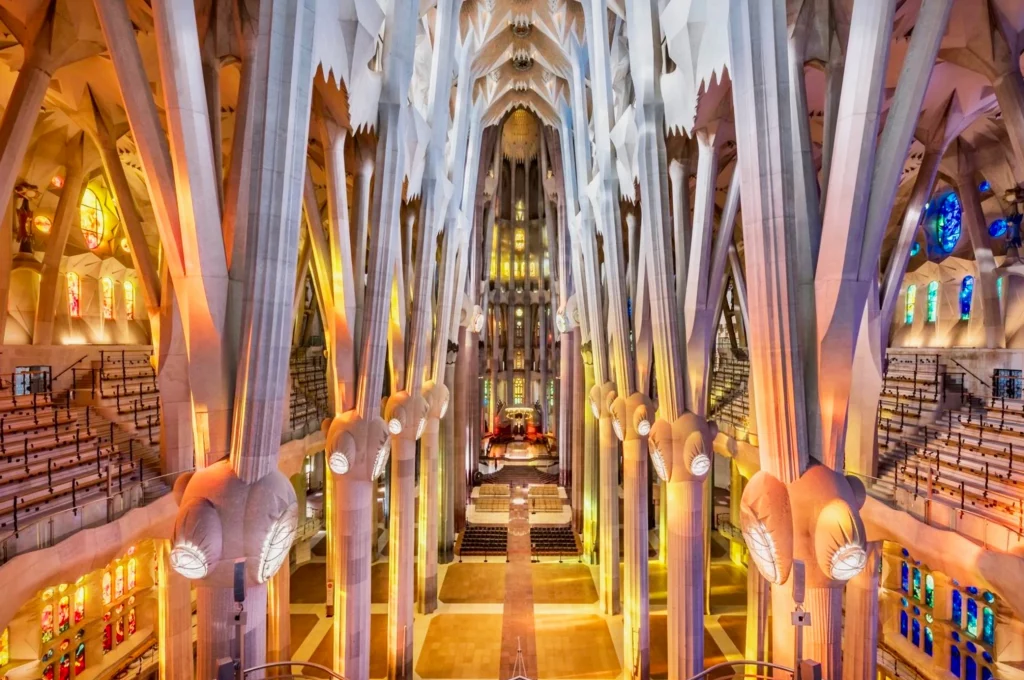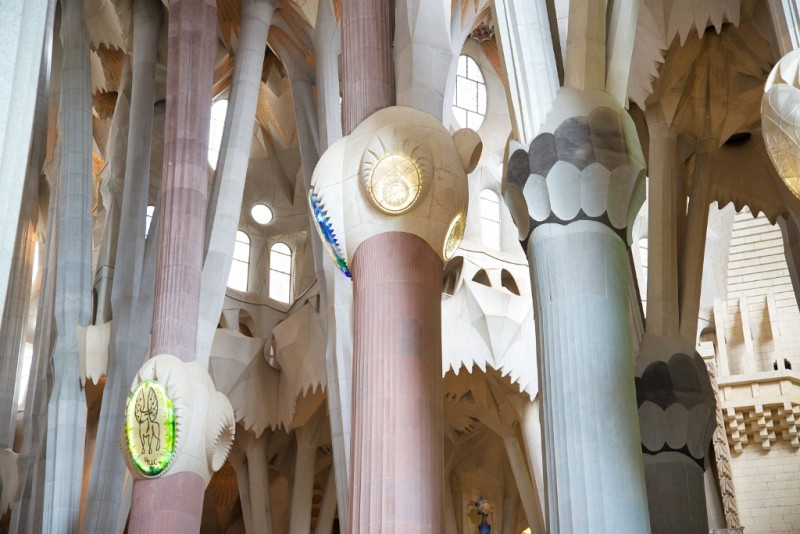 Be prepared to crane your neck skyward at the starry ceiling. For a long time. The ceiling and stained glass are aboslutely mesmerizing. You'll can't help but be slack jawed.
The interior is effectively a spiritual sculpture, reinvented as architecture. The nave has shimmering gold tiles on the floor. It's lined with 36 pale columns in different heights and widths. The columns form a forest, branching out like trees.
If you want to go up one the towers of Sagrada Familia, you need to buy a ticket that includes the tower. You have to choose between inspecting the Nativity or Passion Facade. You can get a gargoyle's eye view of the basilica up close.
But there will also be scaffolding. There are better viewing places and plenty of rooftop bars in Barcelona, if you don't add the tower option.
Here's my complete guide to Sagrada Familia. You won't be able to visit without a skip the line ticket and I recommend this guided tour with tower access.
Address: Carrer de Mallorca, 401
14. Fundacio Tapies | Antoni Tapies Foundation
The Tapies Foundation is a cultural space, housed in a beautiful Modernist building designed by Montaner. The building was a very early Modernist work, built around 1880. The building is an example of the transition from 19th century eclectic architecture to the Art Nouveau style.
The Tapies Foundation was declared a historic monument in 1997. From 2008-10, the building was fully renovated.
The exterior facade is eye catching, with exposed brick and an intricate iron sculpture on top by Tapies, called Chair and Cloud. The sculpture was intended to elevate the building's height. The sculpture represents a chair jutting out of a thick cloud of iron wires. The chair is in the center top.
Founded in 1984 and moved to its current location in 1990, the museum is dedicated mainly to the art work of painter Antoni Tapies, a great 20th century conceptual artist, who was a contemporary of Picasso. But it also serves to advance contemporary art.
Address: Career d'Arago, 255
15. Sant Pau Recinte Modernista
Barcelona isn't just regal museum-homes built for wealthy families. At Sant Pau, you'll find a former hospital outfitted with exuberant Art Nouveau architecture and decoration.
The Montaner-designed hospital is also known as the Hospital of the Holy Cross and Saint Paul. It takes up 10 city blocks.
Never were patients so well tended. More theater than hospital, the unique building is an ode to the curative effects of beauty. Here, patients could heal their souls as well as their bodies.
Opened in 1930, and just a short 15 minute walk from Sagrada Família down Avenida de Gaudi, the Hospital de Sant Pau was built as an optimistic and philanthropic gesture by Pau Gil, who commissioned the very popular architect Montaner. This may be Montaner's masterpiece.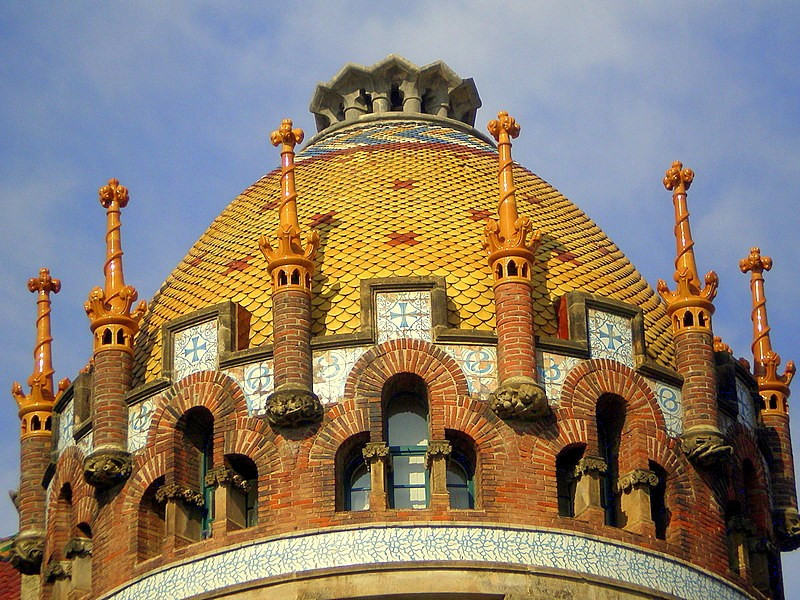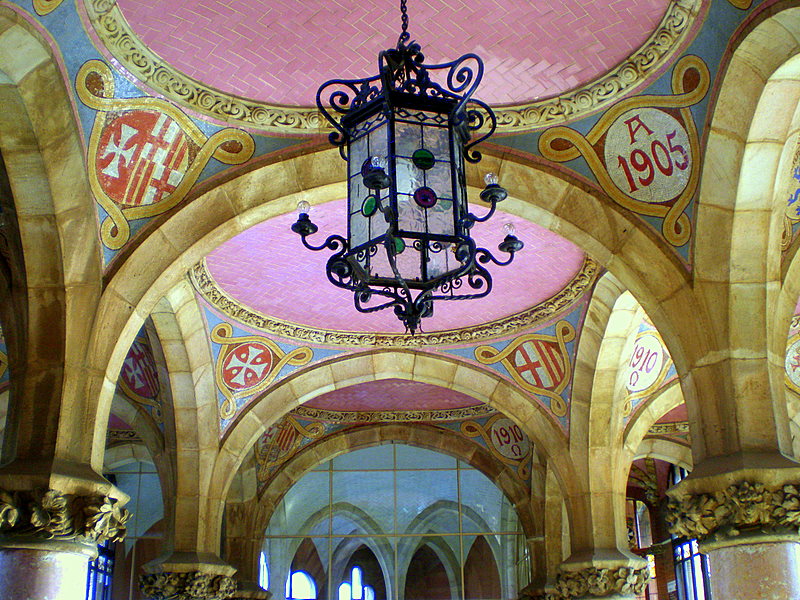 In 1997, the hospital was listed as a UNESCO World Heritage Site. It functioned as a hospital until 2009.
In 2014, Hospital Sant Pau underwent restoration and reopened as a museum and cultural center. Like Casa Vicens and Casa Amatller, it's one of Barcelona's newer tourist attractions.
READ: Guide to Gaudi's Casa Vicens
The complex is gorgeous, inside and out. The 27 ornate and beautiful tiled pavilions are seemingly independent, like little cities within a city. But they're connected by underground tunnels, which you'll see on your visit.
The gorgeous Main Hall dazzles with mosaicked vaulted ceilings, stone carvings, stained glass windows, and tiled domes. Every detail of the interior is worth admiring. In the street level Cafe Vienes, you can sip cava and admire a vaulted ceiling and a forest of marble columns.
Click here to book a skip the line ticket.
Address: Sant Antoni M. Claret, 167, the entrance is on the corner of Carrer Dos de Maig
16. Museum of Catalan Modernism
Since Eixample has the greatest concentration of Modernist buildings in Barcelona, the neighborhood is a fitting place for the Museu del Modernisme Català.
Open since March 2010, this relatively new museum houses a superb collection of Modernist furniture, sculptures, and paintings.
The pieces came from the private collections of two Barcelona antique dealers. There's an entire room dedicate to Gaudi, with pieces he designed for Casa Calvet, Casa Batllo, and La Pedrera.
This is definitely the museum for architecture and design lovers. It condenses much of what there is to know about Catalan Modernism in one easily accessible location. Be sure to check out their website to ascertain if any workshops or concerts are going on beforehand.
Address: Carrer de Balmes, 48
17. Casa Bures
Casa Bures was constructed between 1900 and 1905 by Catalan architect Francesc Berenguer i Mestres, a close collaborator of Gaudi.
Casa Bures takes its name from its first owner Francesc Bures, one of Spain's most successful textile merchants.
The building was nearly abandoned. In 2009, the building was sold to the government. In 2014, the house was purchased by a London-based real estate investment firm Europa Capital with local partners Bonavista Developments.
An intense 3 year renovation process restored Casa Bures to its original Modernist splendor. 26 exclusive apartments were created.
Casa Bures' residents have access to a rooftop terrace with a 20 meter pool, which includes views of the Mediterranean and Sagrada Familia.
The painstaking renovation process included the restoration of murals and painted ceilings, ornamental ceiling friezes, the original wooden beams, the vast stained glass ceiling in the entrance hall, and the mosaic flooring involving more than 30,000 individual pieces.
Address: Carrer d'Ausias Marc, 30
18. Mapfre Foundation in Casa Garriga Nogues
Mapfre is an insurance company that owns the private Mapfre Foundation, aimed at promoting art. The collection at its foundation-museum includes works by Monet, Renoir, and Rodin. The foundation also hosts temporary art exhibitions.
Aside from the art, the Mapfre Foundation is housed in one of Barcelona's most beautiful buildings, the Casa Garriga Nogues, just steps form the Passeig de Gracia. It was built in 1899-1901 by architect Enric Sagnier for the banker Ruperto Garriga-Nogues.
The building is best known for its facade. A protruding balcony on the first floor is supported by four female figures sculpted by Arnau, representing the four stages of life.
Inside, the house is gorgeous, with curving staircases, stained glass by Rigault, and beautiful details.
Address: Carrer de la Diputacio, 250
19. Sant Antoni Market
Designed by Anton Rovira i Trias in 1882, Sant Antoni Market is one of the Eixample's iconic buildings. It's a hidden gem in Barcelona.
Sant Antoni is similar to La Boqueria on Las Ramblas, but without the noise and crowds. The steel skeleton of a building occupies an entire block and is shaped like a Greek cross. The central crossing point is crowned by a large octagonal dome.
In the recently-renovated Sant Antoni, you can find modern and colorful stalls holding a wide array of fresh fish, produce, and vegetables. There's also tapas bars and cafes. The market is open 7 days a week.
On Sunday mornings, there's an excellent used book market known as the Fira de Bellcaire. It finishes around 1:00 pm, so you can't dally.
Address: Carrer del Comte d'Ugell, 1
20. Casa Planells
Casa Plannels was the commissioned by Eveli Planells. He hired architect Joseph Maria Jujol, another important Catalan Modernist architect.
Built in 1924, the house is unlike other Modernist works in Eixample. It was really the last gasp after two decades of Modernism.
The facade is golden-hued, with an irregular wavy surface. Wooden blinds cover the windows. The windows and the entry door have a rounded shape.
Inside, there's a twisty wrought iron Modernist staircase. The house isn't open to the public, but you should stroll by to admire the facade.
Address: Avingude Diagonal, 332
21. Casa Comalat
Another architectural beauty on Diagonal is Casa Comalat. It was designed by Salvador Valeri i Pupurull in 1909-11. Casa Comalat is a very Gaudi-like building, with the telltale Gaudi curvy facade.
Like many Modernist buildings, the house has two facades, one facing Diagonal and the other facing Carrer de Corsega.
The one of the front is elaborate, meant to impress. The one on the back is more reserved. Looking at the front facade, you'll see bone-like columns (reminiscent of Casa Batllo) and wild colors.
Inside, the house is also beautiful decorated. But, unfortunately, it's not open to visitors either. But the facade is well worth admiring as you stroll down Diagonal.
Address: Avingude Diagonal, 442
22. Casa LLopis Bofill
Close to Diagonal, Casa LLopis Bofill is a very pretty house designed in 1902 by Antoni Maria Gallisa i Soque, an architect who trained with Montaner. It's also called the House of Flies.
The incredibly romantic facade has the iconic Modernist sgraffito and some Neo-Mudjar influences. The stunning exterior has bright red floral motifs and insect motifs. Glassed in gallery balconies and bay windows complete the enchanting facade.
The casa is privately owned and not open to the public. But you should come to admire the facade.
Address: C/ de Bailen, 113
23. Palau Montaner
Just off the Passeig de Gràcia, on the corner of Carrer Mallorca and Roger de Llúria, stands the Palau Ramon de Montaner. It's an early Modernist building with an Italianate feel.
The project for Ramon de Montaner's mansion was begun by Domenech i Estape, but completed by Montaner. A mosaic at the top of the facade bears the completion date, 1893, surrounded by ornamental and symbolic motifs.
Inside, a grand staircase in the central courtyard is topped with a spectacular stained glass ceiling. Marble mosaics decorate the floor and medieval-inspired sculptures fill recesses.
Panels with wooden overlays cover the walls and ceilings. The building has been the seat of the Spanish Government in Barcelona since 1980.
The second day of each month you can take a guided tour of Palau Montaner. The sessions start at 10:30 am, lasting approximately 90 minutes. The price per person is 12 euros. Reserver 10 days in advance and book by calling 652 88 24 57.
Address: Carrer de Mallorca, 278
24. Palau del Baro de Quadras
This small Modernist palace is another imaginative Cadafalch work, from 1901-03.
From Diagonal, it has an intricately carved Neo-Gothic facade with busts of prominent figures from the middle ages and Renaissance and heraldic shields. The facade on Carrer Rossello is more Modernist.
The interior has fantastic Modernist, Neo-Mudejar, and Roman inspired decorations — mosaic walls, an ornate curving staircase, floral motifs, coffered ceilings, and a stained glass skylight.
There's also a striking black and white mosaic floor. You can even visit this palace on Wednesdays via a guided tour. Click here to buy your tickets.
Address: Avinguide Diagonal, 373
25. Casa Sayrach
Just a few blocks from Casa Comalat is Casa Syrach. An outstanding example of late Modernist architecture in Barcelona, it encapsulates the essence of the movement.
The casa was designed by architect and writer Manual Sayrach, the son of the project developer. It occupies the entire corner of Avinguda Diagonal and Carrer Enric Granados.
Casa Sayrach was constructed from the white Vilanova stone from Montjuic. It's less heavy handed than Gaudi's works, graceful and elegant with little ornamentation. Its beauty lies in the understated and undulating curves of the facade and its mansard roof, slightly reminiscent of Casa Mila.
The corner of the building on the intersection boasts semicircular bay windows topped with a rounded turret. Casa Sayrach is locally known as Casa de la nata, or the house of cream.
Inside, the space itself is laid out like a temple, with a central nave and two sides converging on a grand staircase. The undulating shapes on the ceilings, railings, and even door handles evoke the Mediterranean sea.
The house is privately owned and can't be visited. But, as with Casa Calvet, if you want to peak at the goods, you can book dinner at the casa's La Dama Restaurant.
Address: Avinguda Diagona, 423-425
26. Cases Godo-Lallana
Cases Godo-Lallana was designed by Josep Maja i Ribas.
Built in 1888-90, the chamfered residential building has balconies on every floor with intricate wrought iron railings. The facade is adorned with sgraffito, which changes color on the very top floor.
Address: Rambla de Catalunya, 112
Tips For Visiting Architecture In Barcelona
Eixample is served by many metro stops — Passeig de Gracia, Universitat, Arc de Triomf, Teutam, San Antoni, Sagrada Familia, and Hospital Clinic.
For the Gaudi sites, it's critical to book online in advance. Be sure you're appropriately dressed for Sagrada Familia — no bare shoulders or shorts/skirts above the knee — or you'll be denied entry.
If you'll be visiting many of the sites listed above, you may want to consider purchasing the Barcelona Pass Modernist or the Barcelona Card.
They include free admission to Casa Amatller, Casa Vicens, Casa de la Punxes, Sant Pau, Palau de la Musica, and other sites (some of which are outside of Eixample).
Eixample is also home to great restaurants. It's a hushed swanky destination for a leisurely Catalan dinner.
Try 9 Reinas (Argentinian food), Oval (gourmet burgers), Alba Granadois (Basque), Portoles (Spanish), Hawker 45 (Asian and Latin street food), El Japones (sushi), Disfrutar (Michelin), Marti (Spanish bakery), or El Nacional (multi-zone culinary space).
After dinner, wash down you meal with a cocktail at Bitter Cocktail Bar or Bar Calder's, both in the Sant Antoni neighborhood.
If you want to stay in Eixample, there are some lovely boutique hotels: The Pulitzer, Casa Bonay, Palauet Royal Suites, Villa Emilia, Ca la Maria, and Hotel Regina.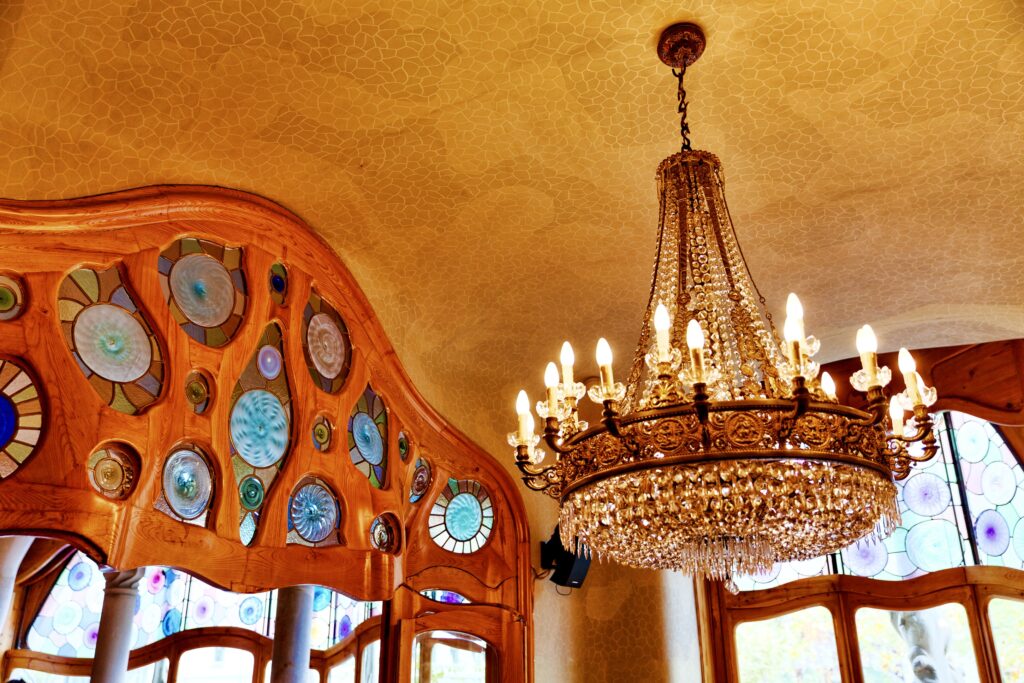 I hope you've enjoyed my guide to the best architecture in Eixample/Barcelona. You may enjoy these other Barcelona and Spain travel guides and resources:
If you'd like to see the most famous architecture in Barcelona's Eixample neighborhood, pin it for later.