"There are no straight lines or sharp corners in nature. Therefore, buildings must have no straight lines or sharp corners. — Antoni Gaudí
Here's my guide to visiting the magnificent Casa Milà. This Barcelona landmark is also known as La Pedrera.
La Pedrera is the fantastical creation of Antoni Gaudi, one of Spains' greatest architects. Built between 1906-12, La Pedrera is one of two civic buildings designed by the famous architect Antoni Gaudí on the tony Passeig de Gràcia. The other is the gorgeous Casa Batlló, just 400 meters away.
In 1900, Passeig de Gràcia was a Barcelona hot spot. Iconic buildings sprang up. The rich and famous moved in, competing with each other to build bold, expressionistic homes.
The Acclaimed Architect, Antoni Gaudí
Gaudí was born in 1851 to humble origins. He showed an early predilection for architecture. He attended the Provincial School of Architecture in Barcelona. His eccentric talents were immediately apparent.
Despite poor grades, Gaudí eventually graduated. The dean of the school remarked, "I am not sure to whom I presented a diploma today, to a madman or to a genius."
To me, Gaudi seems to have fulfilled his instinctive genius. His creations are so unique. They all reflect his life long belief that nature was the best inspiration.
Over Gaudí's 50 years of independent practice, he concocted and realized some of the most imaginative architectural forms in history. They are mostly in Barcelona, but there is a beautiful villa in Comillas as well. Here's my complete guide to Gaudi's UNESCO-listed architecture in Barcelona.
History of La Pedrera
1. Gaudí's Commission
La Pedrera was commissioned by a wealthy widow and her second husband, Pere Milà and Roser Segimon.
Pere Milà, who had a rather flamboyant lifestyle, had seen the acclaimed Casa Batlló. He fell in love with it, and was wildly enthusiastic about its creative Art Nouveau beauty. And its architect, for a short time …
The couple intended to make the main floor of La Pedrera their home and rent out the apartments above.
2. Gaudi's Preferred Architectural Plan
Although instructed to design a house like Casa Batlló, Gaudí had other ideas. True artists don't like to replicate a piece. They await inspiration. And they don't take directions.
Presaging his Sagrada Familia obsession, Gaudí wanted the building to be a spiritual symbol, an homage to the Virgin Mary.
But many of his thematic decorations and statues for the facade and rooftop were nixed or removed by the owners. Religious allusions might cramp anyone's newly-wedded bliss.
The construction dates also coincided with an outbreak of anticlericalism. The couple didn't want to be the target of anarchists.
The resulting building isn't exactly what Gaudí envisioned. Or what the Milàs envisioned. Or what anyone envisioned. La Pedrera is, in fact, quite the opposite of Casa Batlló.
It's a statement building. In terms of ingenuity, architectural design, and style, it was even more revolutionary than Casa Batlló. Nothing like it had every been seen before. Or since, really.
Gaudí was working at the height of his powers. La Pedrera would be Gaudí's last civic work before committing himself full time to Sagrada Familia. It became a UNESCO site in 1984.
3. Gaudi's Poor Client Relation Skills
A temperamental Gaudí didn't get on terribly well with his clients. They clashed. And that fact was well known by the locals.
Gaudí had a stereotypical artistic personality. He was impulsive and volatile.
He constantly changed his mind about the building's shape, was way over budget, and violated building codes willy nilly. The Milàs paid large fines for his fickle violations.
Gaudí almost abandoned the project entirely at one point, when his plans for the installation of religious statues were scuttled.
For example, Gaudí wanted a massive Virgin Mary statue on the rooftop.
He argued that the Milàs wouldn't see it all that much. Roser refused to let Gaudí install it. Gaudí ultimately complied, in his own inimitable way. He gave the statue to the Milàs' neighbors for them to install on their roof. As a result, the Milàs would still suffer whenever they took a rooftop stroll.
When Roser Segimon complained there was no flat wall for her Steinway piano, Gaudi answered "So play the violin." (This may be apocryphal.)
Segimon's revenge was to banish all Gaudi decorations and furniture from her house after Gaudi's death and redecorate in a Louis XVI style. Sadly, many of those creations are now lost to posterity.
Gaudí even went to court to get the Milàs to pay his overblown fees. He won the case. Then, he promptly donated the cash to a nunnery to thumb his nose at the Milàs.
4. Public Outcry Over La Pedrera
Initially, there was public outcry over the odd appearance of La Pedrera. It was controversial, heterodox. It was repeatedly ridiculed as ugly.
The public didn't much like its unconventional appearance. The building didn't have the whimsical charm or appealing dragon legend of Casa Batlló.
It was comparatively plain. It wasn't remotely what the Milàs had ordered.
The rough hewn building was nicknamed "The Quarry" because of its jagged, rocky facade and weird undulating shape. It was satirized with cartoons in local publications.
Other home owners were angry with the Milàs, arguing that their concoction reduced the neighborhood's real estate values.
But La Pedrera had its revenge for the initial disparagement.
5. La Pedrera's Revenge
La Pedrera is now considered one of the crown jewels of the Art Nouveau movement. It's been used in 15 movies. (To me, the rooftop is reminiscent of Tatoine in Star Wars.) It's a main setting in Dan Brown's 2017 novel, Origin.
What Sagrada Familia is to churches, La Pedrera is to urban living.
The building was eventually sold and subdivided. By 1980, La Pedrera was in poor shape. It was repainted a dreary brown and the vibrant interior paintings were faded. Thankfully, it was restored in recent decades.
Its now owned by a bank, Fundació Catalunya-La Pedrera, which commissioned the restoration work. The building serves as a cultural center. It's renowned in Barcelona for the range of organized activities and exhibitions.
Tickets and Tours For La Pedrera | Casa Mila
You need to pre-book tickets to La Pedrera. It's a popular spot.
Click here to purchase a skip the line ticket for La Pedrera. You can also book a 4 hour guided tour of the architectural wonders on Passeig de Gracia with skip the line tickets.
If you want to explore Gaudi's main architectural sites in Barcelona, click here for a 3 hour tour. Gotta see it all? You can also take an 8 hour full day tour of La Pedrera and other Gaudi sites.
In the evenings, a spectacular audiovisual show takes place on the La Pedrera terrace. The rooftop terrace and stairwells are illuminated with projections set to music. You can enjoy this performance with a glass of cava in hand, which comes with your ticket.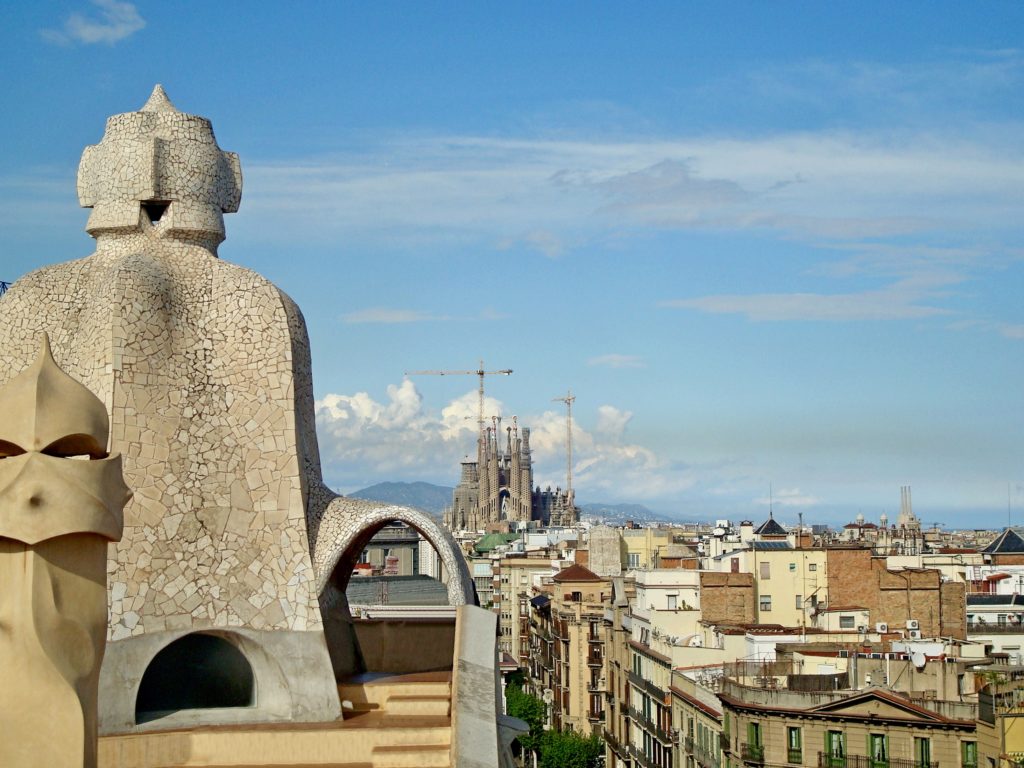 Highlights and What To See at La Pedrera
In classic Gaudí fashion, La Pedrera was heavily influenced by nature — by air, sea, and water. The nature theme is visible in its overall look, down to the tiniest detail. Everything carried forward the theme.
Here's what you need to see art La Pedrera.
1. The Exterior
Prepare for an open water swim.
The building ripples and waves like a burbling ocean. There's not a right angle or straight line anywhere. Gaudí wanted it to resemble a "petrified wave." To that end, he used contrasting elements — a heavy stolid stone facade and a wavy shape.
The undulating facade isn't a load bearing wall. It's a self supporting curtain wall that connects to the internal structure of each floor via curved iron beams. This gave Gaudí freedom to create irregular floor plans. It was one of his cutting edge architectural innovations.
Gaudí deliberately left the exterior in neutral colors for an organic feel. It's practically monochromatic, colored only by the play of shadows and lights as the sun moves across the sky.
Notice the expressive grills of the 32 exterior balconies. No two are alike. The grills look modeled after seaweed or sea life from the ocean.
They look like they're moving, being tossed around by waves. Between the building's curves and the balcony grills, you could be viewing an underwater landscape.
One interesting tidbit. Some of the lower grills in the daylight basements were removed over time as those areas were converted to commercial premises. The grills were considered of little value and discarded.
However, one piece removed in the 1920s turned up in the US. It was donated to the MOMA by a private collector. The grill remains in its collection today.
2. The Contrasting Colorful Interior
You enter La Pedrera via an elaborate wrought iron door (shown above). To me, its organic forms resemble a large butterfly.
The door was large enough to accommodate both people and cars. La Pedrera was Barcelona's first residential building to have a parking garage in the basement.
At the time, large panes of glass were unavailable for the door. So Gaudí used smaller pieces of glass to fill the space, with the smallest pieces at the bottom and the more luminous pieces at the top.
Inside, unlike outside, there's riotous color. The paintings in the entrance hall were created and overseen by Symbolist painter Aleix Clapes. The dreamy paintings are tapestry like and contain mythological and floral themes.
Continuing the marine theme, the tile floor is inspired by sea creatures. The tiles' relief motives contain octopus, starfish, and conch shells.
The visit to La Pedrera is three part. It includes the attic, the rooftop, and an apartment with some original Gaudí furnishings. The intricately painted stairs that carry you up to the remarkable roof are also wave-like.
3. The Warrior Rooftop
La Pedrera's rooftop is the highlight of your visit. Poet Pere Gimferrer called it the "garden of warriors." Once there, you have a lovely view of nearby Sagrada Familia.
The undulating roof has winding pathways and a spiky forest of 30 chimneys. It's filled with whimsical structures, operatically lording over and guarding the building.
Some chimneys are freestanding structures. Others are joined in groups of 3 or 4. Some are covered with fragments of marble and broken tile.
They all look a bit like militant Stormtroopers from Star Wars. Perhaps George Lucas saw them and was inspired?
The roof levels are uneven. It's like a drawing of a fantastical world, brought to life. More dream landscape than utilitarian roof. The center opening of the perimeter walkway looks like a massive sinkhole or Masonic initiation well.
You know you're on a building. But it doesn't quite seem that way because of the strangeness of the scene.
The windows on the upper level look like the mouths of people, whispering to you. You wonder what they're saying.
4. Attic
Back to the interior. It's definitely worth taking a look inside.
The attic ceiling on the uppermost floor almost looks like a steeple. There are 270 catenary arches made of red brick to support the roof terrace.
The attic previously was a vast insulating air chamber and used as a laundry room by the residents' maids.
Now, it houses the Espai Gaudi — a sprawling multimedia exhibit tracing Gaudí 's career and showing models, photos, and videos of his work.
The lower floors of La Pedrera have been restored to their original state, from when the Milà family lived there a century ago.
5. Apartments
There were 17 apartments altogether. The Milàs lived on the first floor in a spacious 10,000 square foot apartment.
There were 4 apartments on each floor of the building. There are 4 apartments still rented by (obviously very wealthy) private individuals.
On the fourth floor, you can visit El Pis de la Pedrera, an apartment decorated in the fashion of a well-to-do family with original Gaudí furniture. There's a kitchen, bathroom, bedroom, living room, office, dining room, and children's room.
It gives you some insight into Gaudí's decorating taste. You can see some of his handles, knobs, moldings, etc.
All in all, it's incredibly hard to reconcile that someone actually made (and makes) this place their home. I'm honestly rather queasy with envy.
When you're back on the ground level, poke into the courtyard on street level. You can't help but feel like you could be swallowed whole by the building.
I was there during the day. But there's a nighttime tour option for La Pedrera called "the Origins."
It includes a guided tour of the building (but not the apartment) with the lights lowered and colorful lights projected along the roof. You'll get a glass of cava to make your rooftop experience even more surreal.
There's also a "day and night" ticket, which allows you to do a normal day visit and come back for the nighttime experience.
Don't miss La Pedrera on your next geographical cure in Barcelona! It's a masterpiece of nature, a must see Gaudí site in Barcelona.
Practical Information and Tips for Visiting La Pedrera/Casa Milà:
Address: Passeig de Gràcia, 92
Metro: Diagonal
Phone: (+34) 902 202 138
Entry fee: Ticket prices are rather expensive, starting at 24 euros. You can see the various options here.
Hours: Monday-Friday: 9 a.m. to 6 p.m. Saturdays, Sundays, and holidays: 10 a.m. to 2 p.m.
I hope you've enjoyed my guide to Gaudi's La Pedrera. You may enjoy these other Barcelona travel guides and resources:
If you'd like to visit must see La Pedrera in Barcelona, pin it for later.