Here's my guide to visiting the magnificent, but unfinished, Sagrada Familia in Barcelona Spain. It's a hugely popular must see site in Barcelona.
This guide tells you everything to see at Sagrada. It's also filled with useful tips, which will help you plan your visit and make the most of your time.
Sagrada Família is the undisputed jewel of Barcelona. It's Antoni Gaudí's vertigo-inspiring masterpiece and a wildly creative opus — a miracle of verticality and engineering.
And after 130 years of construction, it's still unfinished. Sagrada Família is the world's longest running architectural project.
Tourists don't care. They flock in droves to see one of the most visited landmarks in Spain.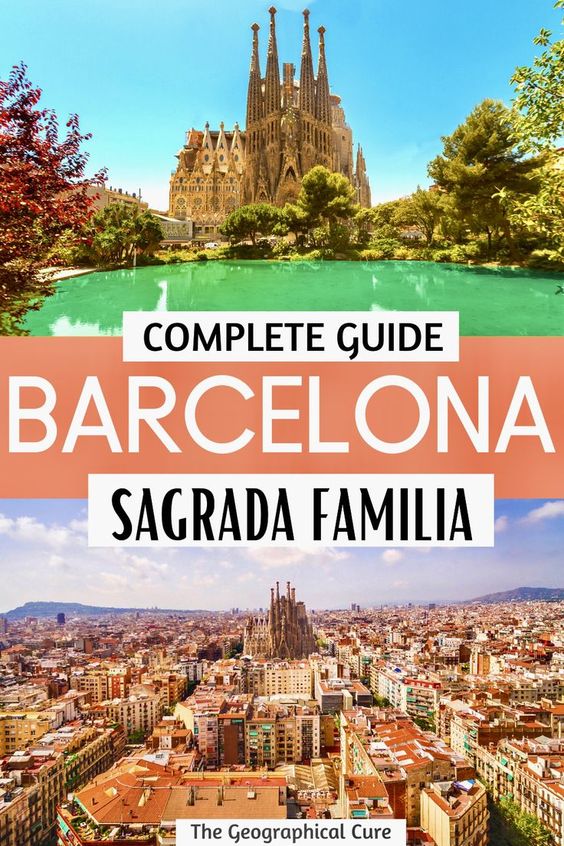 History of the Sagrada Família
Gaudí began work on what is sometimes called the "Sandcastle Cathedral" at age 31. I've written about Gaudí 's life, career, and Catalan Modernism at length before, so will just give you a short overview here.
Gaudí was a devout Catholic and is often referred to as "God's architect." Sagrada Família is an intriguing duo of Gaudí 's obsessions with both nature and religion.
In rather megalomaniac fashion, Gaudí intended Sagrada Família to represent and evoke the "entire history" of the Catholic faith.
Goals. Perhaps I should have more like this.
Gaudí slaved away exclusively on Sagrada Família for the last 11 years of his life. He effectively became a monk. But he considered the basilica his ultimate legacy.
Gaudí died in 1926 in a freak accident. Only one tower and one quarter of the basilica was completed, with no end in sight.
That hadn't bother Gaudí. Not one bit. He solemnly pronounced that his client, God, was "in no hurry."
Gaudí knew Sagrada Família was an ambitious project, one that would be the collective work of generations of dedicated craftsmen.
He said "I will grow old but others will come after me. What must always be conserved is the spirit of the work, but its life has to depend on the generations it is handed down to and with whom it lives and is incarnated."
With so much focus on "spirit," Gaudí forget to make detailed architectural designs. In fact, it was a chore he loathed.
He left only rough sketches and some elaborate plaster models behind after his death in 1926. Gaudí made his models upside-down. Then, using mirrors on the floor, he visualized the designs downside-up and took photos of them.
On July 20, 1936, during the anti-Catholic violence of the Spanish Civil War, anarchists torched Gaudí's studio. His plaster models were destroyed. The shattered fragments of the rubble are now away locked in a room.
Architect Mark Burry reverse engineered the models using aeronautical software to divine Gaudí's design intent. Burry also sped up the construction process by having stones cut by computer-driven machinery.
When Will Sagrada Família Be Finished?
Over 130 years later, the basilica still isn't finished. It's still a construction site and you'll see cranes. Despite that, Sagrada Família was inscribed on the UNESCO list in 2005. The projected completion date is 2026, the centenary of Gaudí's death.
But I'm guessing they may blow by that projected deadline. After all, the two largest towers are still far from completion.
And even the 2026 deadline admittedly doesn't include detailing and interior work, which isn't expected to complete until 2030-32. Still, Sagrada Família is beginning to resemble the scale models that visitors see.
When it's done, Sagrada Família will be the world's tallest church.
Sagrada Família is an expiatory church. It isn't funded by the Spanish government. It's completely supported by private donations and ticket sales. Building costs are around $25 per year.
Tickets & Tours Of Sagrada Familia
It's absolutely essential to book a skip the line ticket for Sagrada Familia.
There's so much to see at Sagrada Familia that you also might want to book a guided tour. There are several options you can choose from.
Guide To Sagrada Familia: What To See
Here's are some of the highlights of Sagrada Familia: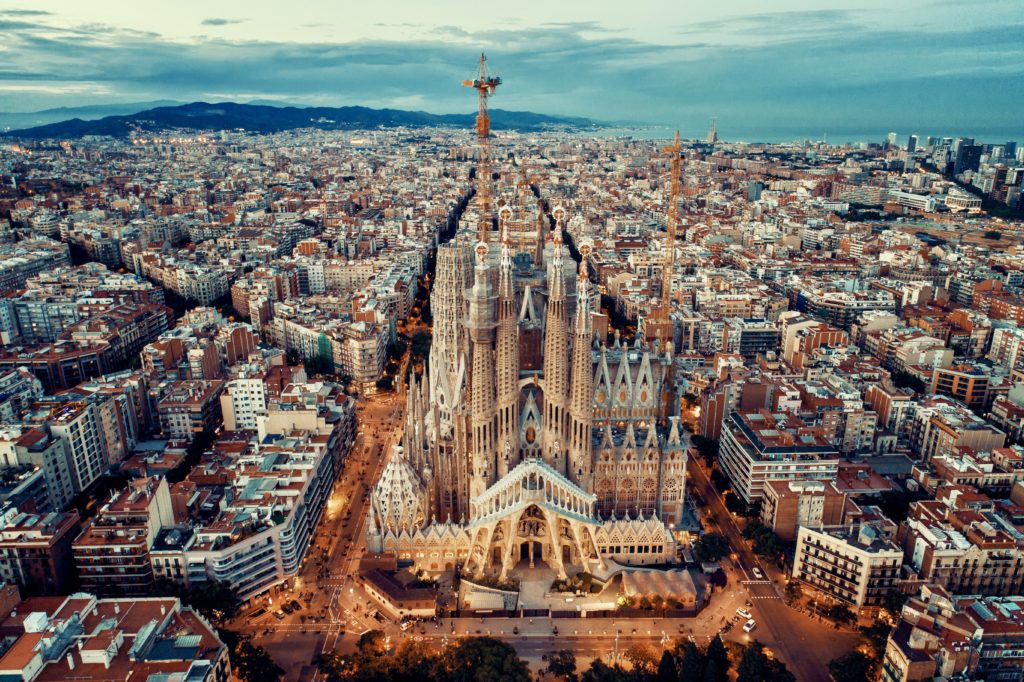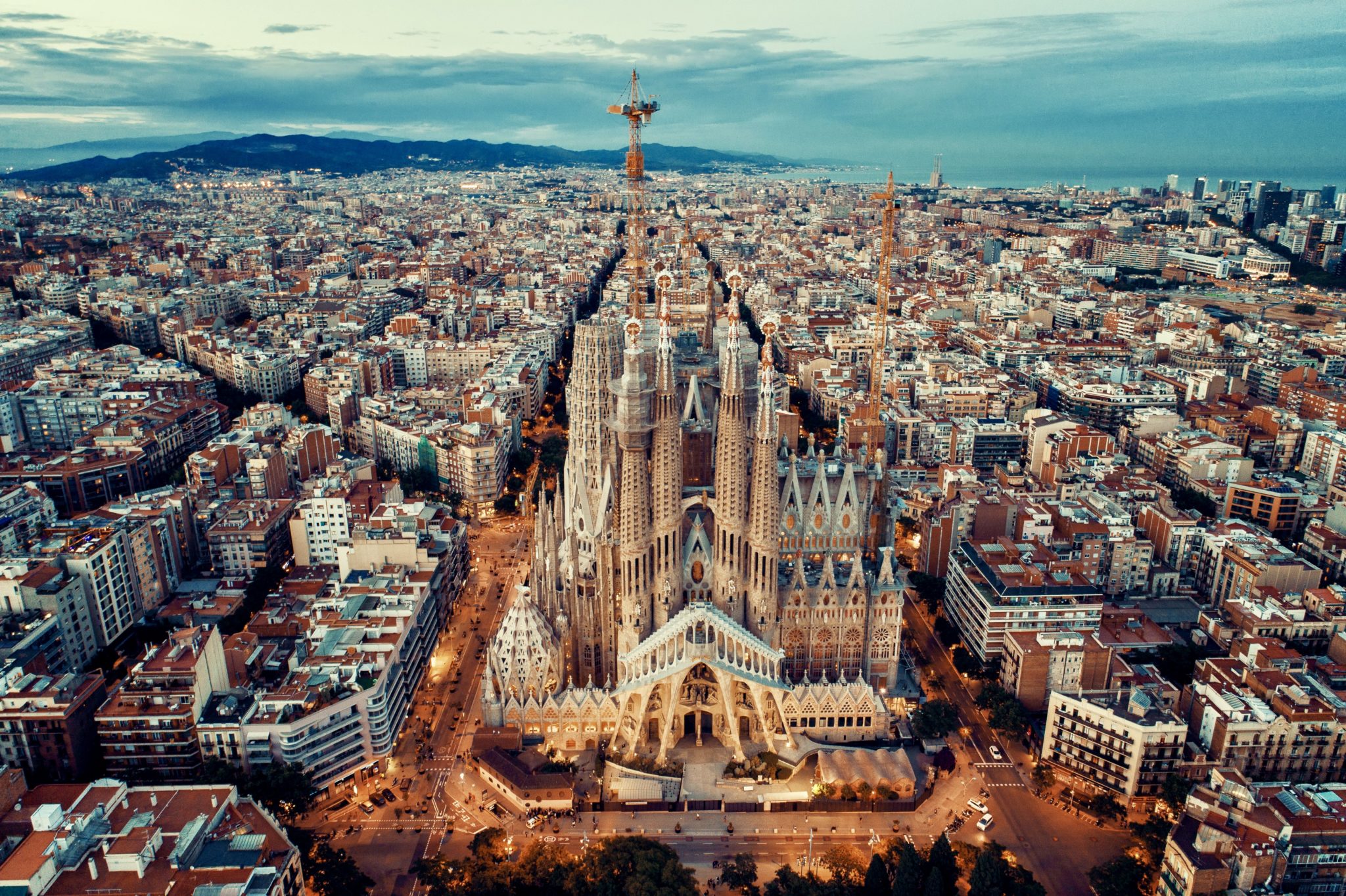 1. The Exterior of Sagrada Família, the Bible in Stone
The exterior of the basilica is audacious and "gaudy" in appearance, a mountain almost. Gaudí laid on the religion thick. It's dramatically designed. Some would call the Sagrada Família strange looking. Salvador Dali called it a "terrifying and edible beauty."
You might consider it either beautiful or grotesque, depending on your personal gestalt. Myself, I vastly prefer the interior of Sagrada Família.
The exterior's a hodgepodge of architectural styles with spindly towers of varying heights. It's been called "a cluster of gigantic stone termites' nest, a colossal vegetable patch, a gingerbread house baked by the wickedest witch of all."
But when American architect Louis Sullivan, Frank Lloyd Wright's mentor, saw photographs of the Sagrada Família, he described it as "the greatest work of all creative architecture in the last 25 years." It's definitely different. Like nothing you've ever seen before.
The exterior draws some inspiration from Gothic styles, but with Gaudí's signature expressive and naturalistic touch. Made of Montjuïc sandstone and granite, the towers have an organic honeycomb-like form.
The completed basilica will eventually have 18 tapered towers. The tallest tower, now 85 meters, represents Jesus. It will be 172.5 meters high when finished.
Then, in ascending order of height, there will be 12 towers representing the 12 apostles, 4 towers for the Evangelists, and one tower for the Virgin Mary.
When the Jesus Tower is done, it will be crowned with a cross. The vision of a church tapering to a single point illustrates Gaudí's belief in the omnipotent presence of God.
Each spire is topped with a pinnacle. They're in abstract elements representing a bishop's attire, such as the cross and the staff.
The pinnacles are made with Murano glass that can withstand the elements. They're a nice pop of color on the otherwise mud brown facade.
2. Sagrada Família's Three Facades
Sagrada Família has three facades: (1) the Nativity Facade, the first part of the church finished; (2) the dour and controversial Passion Facade that marks the crucifixion; and (3) the Glory Facade.
The Glory Facade is under construction now and will eventually depict the road to eternal salvation.
Looking at the three jarringly different facades, it seems odd that they're part of the same building or designed by the same architect. They're strikingly different in architectural terms.
The only similarity is thematic. They're all huge altarpieces, teeming with religious symbolism.
The Nativity Facade: Where Spring Begins
The cheery Nativity Facade was finished during Gaudí's lifetime. It celebrates the birth of Jesus. It depicts Joseph, Mary, and Jesus surrounded by the wise men and shepards. The facade features gorgeous blue stained glass and colorful inlaid portals.
The iconography of the facade is intricate and resembles tangled vegetation. It abounds with flora and fauna. If you look closely, you'll also see animals — squirrels, cows, roosters, bees, birds, and even a snake sinking its teeth into an apple.
The Nativity Facade has three portals representing Hope, Charity, and Faith. The portals are extremely extravagant and truly beautiful.
They're lovingly bedecked with flowers. At the base of the facade's main pillars are turtle sculptures. Turtles are a symbol of longevity and eternity.
Gaudí also carved snow into the stone. The snow looks like it's melting off the top of the portals. Gaudí used this element to remind people of the significance of Christmas season. It's not just all presents.
The Nativity Facade is topped with a cypress tree spire. The spire symbolizes the tree of life and also represents eternity. On the top of the tree is the red letter T, which represents Jesus' name (in Greek). A dove at the top with outspread wings represents the Holy Spirit.
The Passion Facade: Controversial Sculptures
Construction of the Passion Facade began in 1954. It's the stylistic opposite of the Nativity Facade — all suffering, desolation, and death.
The facade's been marked by controversy since its unveiling. It depicts man's many sins and Jesus' crucifixion. Gaudí wanted the facade to be "scary" and bereft of ornamentation. And it is.
Cannily, Gaudí didn't want it completed first. He knew it might frighten away potential parishioners. The facade's more dour, severe, and abstract than the rest of the basilica. Some argue that it's jarringly discordant and not in keeping with Gaudí's more playful and uplifting tone.
To me, it wasn't surprising to learn that Gaudí designed it during a serious illness. I couldn't help thinking that it was a preachy political art.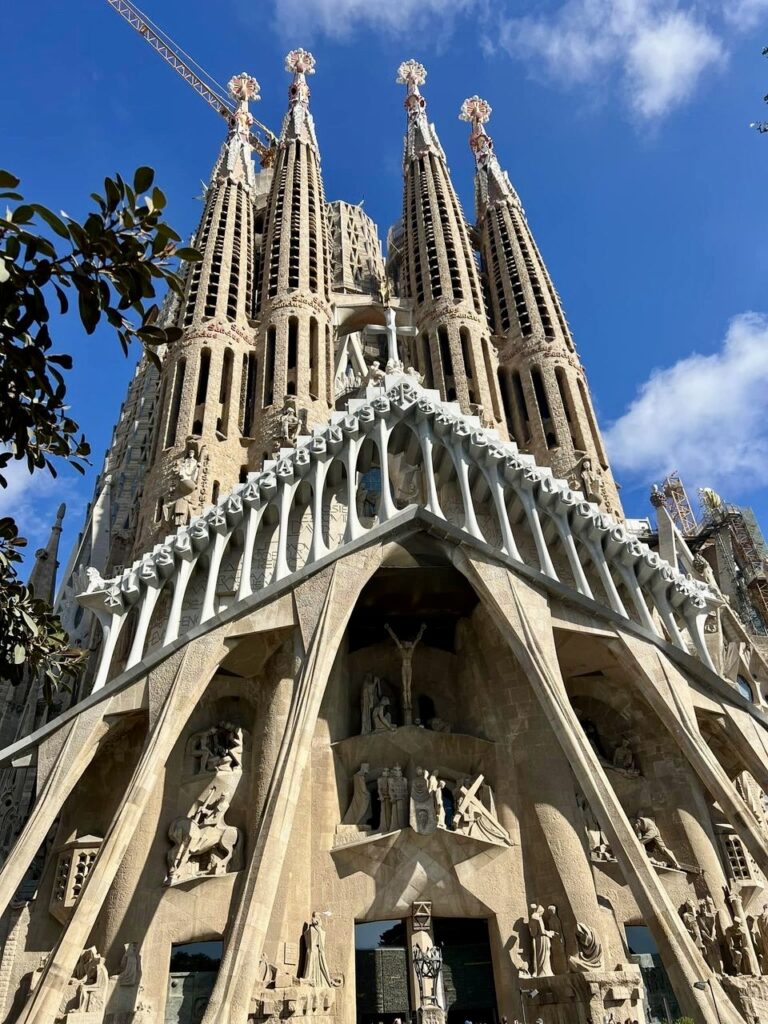 The facade doesn't look much like classic Gaudí. It's got sharp angles and edges. And the sculptures by Josep Maria Subirachs are unorthodox and abstract. Subirachs only had two Gaudí drawings, dated 1892 and 1911.
There's a scene of Judas, the betrayer, kissing Jesus. Next to him is a box. The numbers add up to 33 — horizontally, vertically, and diagonally. 33 is the age at which Jesus died. Another theory is that the number 33 represents the highest secret rank for a freemason. Gaudí was likely a member.
Capping the Passion Facade is an eerie, white pyramid shaped pediment. It has eighteen bone-shaped pillars, which symbolize those who died. The pillars are angled, an architectural attempt to draw the viewer inside.
The Passion Facade was completed in mid 2018. The final piece was the pediment's Cross of Glory.
The Glory Facade: Coming Soon
When finished, the Glory Facade will be the main entrance to Sagrada Família and the largest facade. The facade will depict how souls pass through death and avoid the pitfalls of hell.
But it's still in preliminary stages. Construction only began in 2002. Right now, there's just a bronze door with a phrase from the lord's prayer in 50 languages.
The bronze door is called the Great Doorway. The two solid bronze doors will each weigh two tons. Like the Passion Facade, the doors are designed by Josep Maria Subirachs, who died in 2014.
3. The Interior of Sagrada Família, the Concrete Jungle
While the outside of Sagrada Família is an odd brew — I'm not a superfan — the inside is entirely sublime.
Gaudí intended it to be a retreat into nature. And, indeed, you could be standing in a majestic star-lit white forest. It's an astonishing space, an alternative reality full of detail. You'll gasp when you enter.
Be prepared to crane your neck skyward at the starry ceiling. For a long time. The ceiling and stained glass are aboslutely mesmerizing. You'll can't help but be slack jawed.
The interior is effectively a spiritual sculpture, reinvented as architecture. The nave has shimmering gold tiles on the floor. It's lined with 36 pale columns in different heights and widths.
The columns form a forest, branching out like trees. And, in fact, Gaudí believed that "trees were buildings." The columns tilt slightly to withstand the load of the roof, which seems like a starry sky.
The nave and columns are a masterful feat of engineering. It reflects Gaudí's special genius, his ability to see space in a unique way.
Because there are no flying buttresses, the nave's suffused with light. You'll be tempted to lie flat on the floor to look at the dappled interior.
The church plan is built in the shape of a Latin cross with five aisles. The central nave vaults is 45 meters, while the side nave vaults reach 30 meters.
The transept has 3 aisles. The apse has seven chapels, dedicated to the seven gospels of Saint Joseph.
The interior double twist columns are a unique Gaudí design. Besides branching to support their load, their ever-changing surfaces are the result of the intersection of various geometric forms.
Some of the weight bearing columns are decorated with symbols of the Evangelists. They're electronically lit from within to provide illumination even when there's no natural light in the basilica.
The stained glass brings the church to life. Gaudí designed the stained glass in triple panes with a mixture of tones and colors. Colored light magically reflects off the walls and columns.
The stained glass itself was created by artist Joan Vila-Grau. He followed Gaudí's original vision that the "Sagrada Família will be bright… It will be the temple of harmonious light."
There is a spectacular snail-like spiral staircase inside, enclosed in an inner tower of white stone, specifically Blanco Cristal granite. The whole thing is perforated, with rhomboid openings that enlarge as you reach the top. Eventually, when built, visitors will be able to walk up into the Jesus Tower.
4. The Sagrada Família Towers
If you want to purchase a ticket to go up a tower, you have to choose between taking a tower to inspect the Nativity or Passion Facade. Unless you have oodles of time and can buy two tickets. Not a bad option actually.
Though not everyone agrees, I advise going up for a tower view. Not for the view per se.
There's just nothing like seeing the basilica's architectural details and towers up close and personal. It's a different perspective.
For me, I prefer the Nativity Facade, which is 100% Gaudí, not interpreted by another artist, and not a downer.
The Nativity Facade also has a bridge connecting its two towers. You get a bird's eye view of Barcelona.
But the Passion Facade Tower is taller, 246 feet instead of 180 feet. So the view is probably better. The staircase is also newer, wider, and easier to descend.
You can also peek into the balconies on your way down the steps of the dizzying spiral staircases. There's no inside wall, so watch your step. There's no elevator down either. Tower tours aren't for the claustrophobic or mobility challenged people.
The one downside of the towers is that they can't be visited quickly. There's a separate line inside the church for the towers.
The elevator going up only holds 6 people. So it may be a wait to get on it. Then there's a long, and somewhat harrowing walk down. Depending on the season, you may need to budge 1.5 hours.
5. The Sagrada Família Crypt
Don't forget to head downstairs. The crypt, along with the Nativity Facade, is part of Sagrada Família's UNESCO designation.
Located beneath the apse, it has a large vault.
There's a sculpted polychrome image of the Annunciation of Mary. The crypt also has a central altar designed by sculptor Josep Llimona, and four chapels. And the tomb of its star architect, Gaudí.
6. The Gaudí Museum
On the ground floor, you'll find the Gaudí Museum. It's a fairly informative museum, with models, photos, and information on the construction of Sagrada Família. Through a glass mirror, you can see the architects at work.
If the construction wasn't enough, you're reminded that Sagrada Família is still a work in progress.
Must Know Tips For Visiting Sagrada Família
1. Tickets
Buy a timed entry ticket online at least one week in advance and print it out. You can purchase tickets up to two months in advance.
Be prepared to specify what you want to add (audio guide, Gaudi house, tower access). You can buy the ticket up to two months in advance.
Get there well in advance of your time slot. If you show up without a ticket, there will be long lines. And you'll be given a timed entry ticket.
The problem is that your entry time may be hours after you arrived at the ticket office. Save yourself the headache and buy in advance.
You can also book a skip the line ticket with Get Your Guide. Or get a skip the line ticket with one of the tours I listed above.
2. Lines
If you already have a ticket, there's a short queue for people with your same time slot (in 15 minute increments). The line moves fairly quickly, but may bog down in the summer months.
If money is no object and you hate queues, you can purchase a "golden priority" ticket for an extra 10 euros and skip the line.
If you miss your time slot, you can't enter. And you won't get a refund.
The audioguide provides a detailed history of the basilica, and is well worth the investment. Since January 2019, the general admission tickets (without a time entry) can only be used after 2:00 pm.
3. Location and Timing
Sagrada Família is near Park Guell. Often travelers visit the two sites on the same day. If you think you will, get a combined ticket for both sites to save some cash.
Try to come when the sun streams through the stained glass, ideally around 4:00 pm until sunset, when the church may appear on fire.
From Monday to Thursday, the church is also lit up at night from 8:00 pm to midnight. But the best time for photos of the facade itself is probably early morning.
4. Visiting the Crypt
If you want to visit the crypt, it's technically only open during mass. Check here for mass times. The one downside of mass is that you can't take photos.
Sometimes the gates are opened at other times. There's no charge to go inside the crypt.
And you should expect crowds at Sagrada Família. More than 20 millions tourists visit every year. Not only has Sagrada Família taken forever to complete, it may take forever to get inside.
5. Other Practical Information
Address: Carrer de Mallorca, 401, 08013 Barcelona. The main entrance is by the Nativity Facade. Ticket windows are near the Passion Facade.
Hours: Open daily 9:00 am to 8:00 pm in summer, 8:00 am to 6:00 pm in winter
Entry Fee: 26 euros for a ticket + audio guide. Click here for information on all ticket options. If you pre-purchased an online ticket, head to the Nativity facade entrance.
Pro tip: Try to visit on a Monday. Museums in Barcelona are closed on Monday and many people erroneously assume the Sagrada Família is too.
Passes: Entry is included in the Barcelona City Pass and Gaudi Bundle. The Barcelona Card gives you a small discount if you choose either an Audio Tour or Tower Tour.
Sagrada Família Blog, for all the latest updates
Getting there: Sagrada Familia is on hop on hop off tour bus route and at Metro Sagrada Família
To make something truly grand, you need a little time. A patient Gaudí knew this. If you're short on time, make the Sagrada Família the one thing you see in Barcelona. Maybe pencil it in for 2026.
I hope you've enjoyed my guide to Sagrada Familia. You may enjoy these other Barcelona travel guides and resources:
If you'd need a guide for Sagrada Familia, pin it for later.