Here's my guide to the must-visit attractions in the underrated city of Bilbao, Spain. The birth of "starchitecture" came with the construction of Frank Gehry's Guggenheim Museum on the city's riverbanks, attracting a significant influx of visitors.
While the museum is undoubtedly a highlight of Bilbao, it is just one of several cultural attractions worth exploring.
Unfortunately, some people still dismiss Bilbao as merely an "industrial city." However, this perception is far from accurate.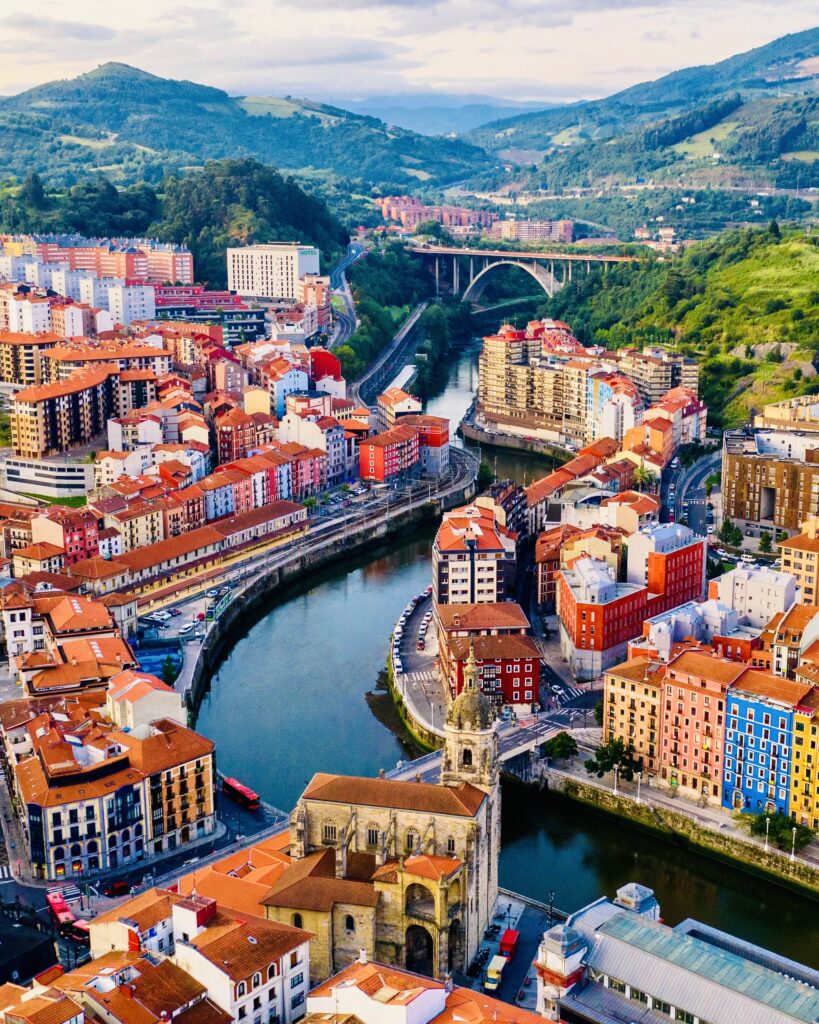 20 years ago, Bilbao took a risk on the Guggenheim Museum. It created a glistening landmark that sparked a cultural Renaissance and helped revitalize the city.
Known as the "Guggenheim effect," the museum made Bilbao one of Europe's trendiest weekend breaks virtually overnight. The old town and river were renovated and redeveloped.
Now, Bilbao's studded with dazzling modern architecture and nicely cleaned up Art Deco and Art Nouveau facades with wrought iron balconies. It's a great place to explore if you fancy art, culture, and ancient cobbled lanes.
Bilbao is also an haute cuisine foodie town. Its full of Michelin restaurants, charming Basque eateries and bars, and scores of talented chefs.
Top Attractions In Bilbao Spain
Here's my guide to the top attractions in the underrated city of Bilbao, pronounced Bil-Bow.
1. The Guggenheim Museum
Who can argue with the emblematic Guggenheim Museum? However many photos you've seen of it, the museum is still a visual shock.
Inaugurated in 1997, Frank Gehry's twisting shimmering museum is the star of Bilbao and the top attraction. The space age building, an ode to post-industrial optimism, itself is dramatic.
Both inside and out, it's an awe-inspiring blend of titanium, glass, and limestone. The scaly exterior evokes a silvery fish and the wings of the building the wind-filled sails of a ship. There's an endless play of light with the sky and the river.
>>> Click here to book a skip the line ticket
Outside the museum lie some of its most interesting pieces of art.
You'll see Jeff Koon's 42 foot beflowered Puppy, Louise Bourgeois' 30 foot Maman spider, Anish Kapoor's Tall Tree and the Eye, and the newest piece Fujiko Nakaya The Fog Sculpture.
My favorite was Maman, the symbol of maternal sacrifice, which I've written about previously.
On the inside, the architecture continues to amaze. There's a glass enclosed 164 foot high atrium with a floral skylight. Light suffuses the 19 galleries and staggering 426 feet exhibition hall.
The Guggenheim's modern art collection is on par with Europe's best modern art museums. You'll find works by Robert Motherwell, Yves Klein, Andy Warhol, Eduardo Chillada, and Anselm Kiefer.
My favorite piece was the massive undulating A Matter of Time by Richard Serra. This minimalist sculpture takes up an entire chunk of the museum.
It's meant to encourage viewers to move around — and sometimes on, in, and through — the work and encounter it from multiple perspectives, creating an unforgettable, dizzying feeling of space in motion.
Among other things, the museum also owns one of my favorite Chagall paintings, The Birthday, and a luminous Rothko, Untitled, from 1952-53.
Because the museum is part of the Guggenheim "family" of museums, the museum has access to a shared collection of 20th century artworks that rotate among the museums.
READ: Guide To the Guggenheim Museum in Venice Italy
To see it all, you can book a small group guided tour or a private tour of the Guggenheim.
Address: Abandoibarra Etorb., 2, 48009 Bilbao
Hours: July & Aug: Daily 10:00 am to 8:00 pm, Sept to June: Tues to Sun (closed Monday) 10:00 am to 8:00 pm. Same day reentry permitted.
Entry fee: 16 euros, an audioguide is included in your entry fee.
Metro: Moyua
2. Explore Bilbao's Old Town, Casco Viejo
Casco Viejo is the atmospheric old town of Bilbao. At is heart, are its original "seven streets," las siete calles, which are pedestrianized streets dating from the 15th century.
They teem with lively and quirky cafes, pintxos bars, shops, and tiny squares. Locals mix with tourists and there's definitely Basque energy flowing. Even in a touristy square like the 1821 arcaded neoclassical Plaza Nuevo, you can find locals sipping wine and eating pintxos.
The local pintxos can feature cod, baby eel, anchovies, shrimp, Iberian ham, peppers. The tasty combinations are endless.
The centerpiece of old town is Santiago Cathedral, a 14th century Gothic church. It's free to enter and 2 euros to peak into the cloister. It's been cleaned and renovated, the last time in 2000.
Connected to Casco Viejo is nearby La Vieja, nicknamed Bilbi, another ancient part of the city.
But Bilbi has a hipster vibe and is Bilbao's trendiest district. Full of funky bars, art galleries, and boutique, it will keep you entertained and busy.
>>> Click here to book a small group walking tour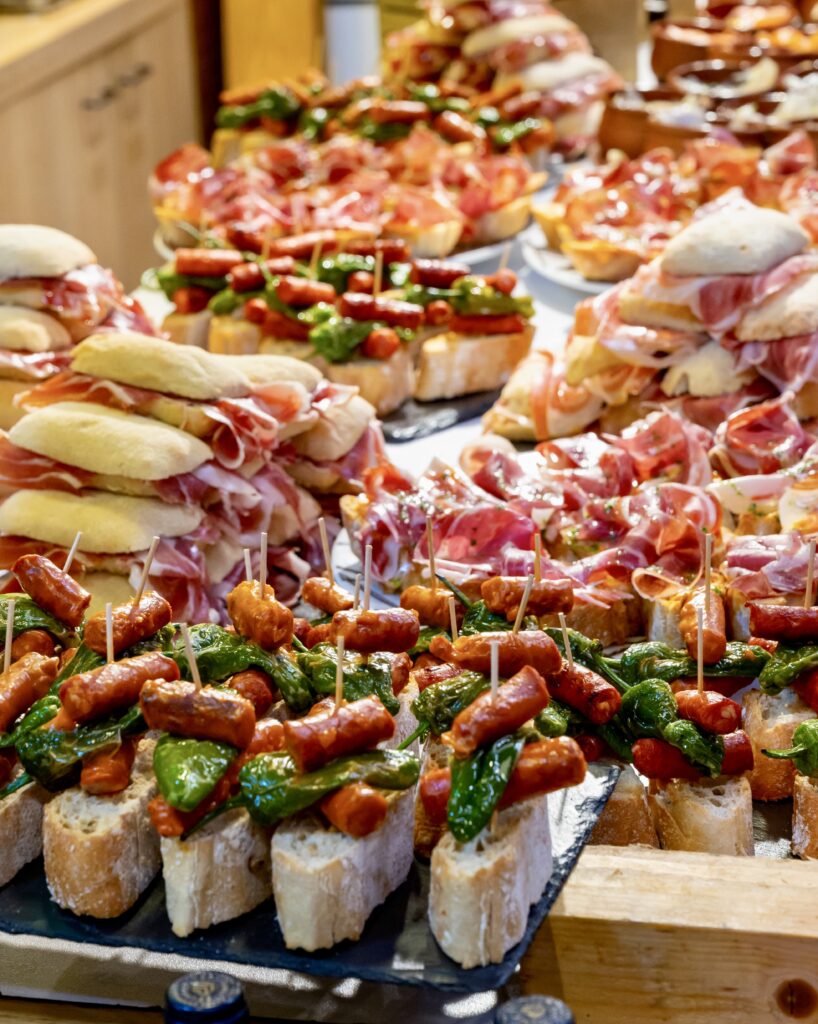 3. Go On A Food Or Pintxos Tour
It's almost mandatory to go on a food tour when you're in a foodie city like Bilbao.
You can learn about the gastronomy of Northern Spain. And indulge in Basque tapas, pintxos.
Pintxos are bite-sized appetizers that are typically served on a skewer or placed on a slice of bread. They include a wide range of ingredients, from marinated anchovies and local cheeses to cured meats and roasted peppers.
You'll also get wine pairings, Basque craft beers, and other traditional local drinks. Here are some food tour options: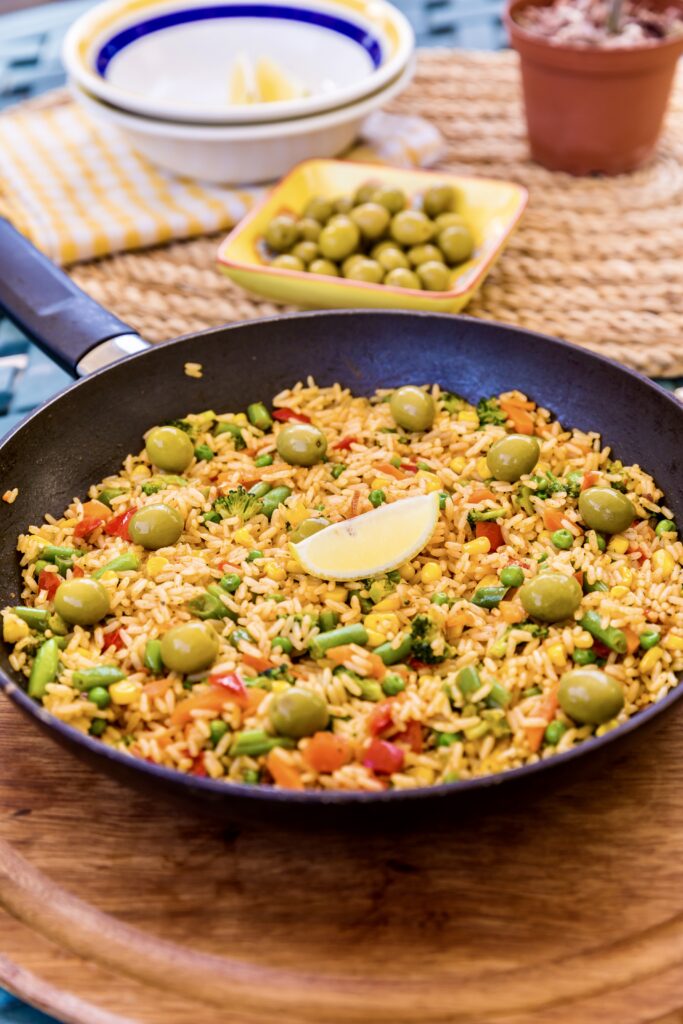 4. Take A Cooking Class
If you're more interested in learning to cook than taking a tour, no problem! There are loads of cooking classes you can take. And you can savor the fruits of your labor.
You can learn about the new Basque style of cooking with fresh ingredients, vegetables, and olive oil. The region's proximity to the sea ensures a strong presence of seafood, including cod, hake, anchovies, and squid. Many of the classes come with food and wine pairings.
Here are some options you might consider:
5. The Arriaga Theater
Standing at the entrance of the old town, this Neo-Baroque theater is named after the "Spanish Mozart," Juan Crisóstomo Arriaga.
It was built in 1890 by architect Joaquín Rucoba, the same architect that built the nearby City Hall.
With a lovely sandstone exterior, the Arriaga was vaguely modeled after the Opera Garnier in Paris. It's the oldest theater in Bilbao and serves as the opera house. It retains its original 19th century furnishings.
The theater was mostly destroyed by a flood in 1983. It was renovated and reopened in 1986.
The theater's next to the bridge that links Casco Viejo to the El Ensache neighborhood. If you're lucky, you can peak in a door or window and spy the dramatic marble staircase.
Address: Arriaga Plaza, 1, 48005 Bilbao
Pro tip: You can only see the interior on a guided tour or by purchasing a ticket to a performance.
6. The El Ensanche Neighborhood
El Ensache is one of Bilbao's toniest neighborhoods. The main boulevard, known as the Gun Via, is Gran Via Don Diego Lopez de Haro.
It's the most cosmopolitan area of the city. There are lots of shops, luxury boutiques, restaurants, and bars. The architecture combines elements of neo-classical, neo-gothic, art nouveau, and modernist styles
El Ensache also contains some of Bilbao's most important renovated buildings, including Chavarri Palace, the Euskalduna Palace, La Equativo, the Banco de Bilbao, and the Naviera de la Sota y Aznar building.
>>> Click here to book a history and architecture walking tour of Bilbao
7. The Ribera Market
La Ribera is Europe's largest indoor food hall, in the southern part of Bilbao. There's been a market on this site since the 14th century. Today's beautiful Art Deco building was built in 1929.
As part of Bilbao's urban renewal, the market was restored and reopened in 2011 to acclaim.
You'll see goat carcasses and pig heads. But you can also check out the beautiful stained glass panels. Bilbao's wolfish coat of arms is in the largest panel.
>>> Click here to book a market tour
Address: Erribera Kalea, s/n, 48005 Bilbao
Hours: Mon & Sat: 8:00 am to 3:00 pm, Tues thru Fri: 8:00 am to 2:30 pm & 5:00 pm to 8:00 pm, Closed Sundays
Entry: free
8. Azkuna Zentroa
Down the street from Hotel Silken is the award-winning Azkuna Zentroa, formerly known as La Alhóndiga. It's the Bilbao Society and Contemporary Culture Center.
It's one of Bilbao's most iconic buildings and affectionately known as "Bilbao's Living Room."
The former wine warehouse was abandoned in the 1970s. In 2006, French designer, Philippe Stark was commissioned to rebuild and redesign a cutting edge complex in a cinemotographic fashion. It's now a multidisciplinary cultural space suited for both locals and tourists.
Inside the hub, you'll find cafes, shops, bars, exhibitions, a rooftop cafe, library and more. There are 43 columns supporting the building, broadly representing the history of man.
You can look up and watch people swimming laps in the glass-floored pool. If you're a swimmer like me, be forewarned that it's mostly missing lane lines.
Address: Arriquíbar Plaza, 4, 48010 Bilbao
Swimming pool: 11.40 €
8. The Fine Arts Museum
Overshadowed by the world class Guggenheim Museum, the Museo de Bellas Artes is one of Spain's best museums. If you're an art lover, it's one of the top attractions in Bilbao. If you're not a fan of modern art, skip the Guggenheim and come here.
Located in the Abando neighborhood, the museum houses over 10,000 art works, arranged chronologically from the 12th century to the present. It boasts an excellent collection of Spanish and Basque paintings.
There are works works by Spanish star artists like Picasso, Goya, El Greco, Zurbaran, and Chillida.
READ: Guide To the Best Museums in Spain
If you're a nature lover, you can stroll in the adjacent Dona Casilda Iturrizar Park after your visit.
Address: Museo Plaza, 2, 48009 Bilbao
Hours: Closed Tuesday, Open Wed-Mon 10:00 am to 8:00 pm
Entry fee: Adults: 10 €, free from 6:00 pm to 8:00 pm. You can purchase a combined ticket for the Guggenheim and Fine Arts Museum for 20 €
Metro: Moyua
Pro tip: If you can handle doubling up on museums, this museum is near the Guggenheim.
9. The Basilica of Begona
It took 100 years to build the Basilica of Begona. The original church was built in the 16th century, but the current structure dates back to the late 19th century.
The basilica features a combination of architectural styles, primarily Gothic Revival with some Neo-Gothic and Renaissance influences. The basilica has a Renaissance facade and a monumental arched entryway.
The vaulted interior is quite austere, but does feature a gold altarpiece with a statue of the Virgin Begoña, a revered icon and patron saint of Biscay.
The church was built by Sancho Martínez de Arego, in the exact spot where the Virgin of Begona allegedly appeared in the 16th century.
Address: Begoñako Andra Maria Kalea, 38, 48006 Bilbo
Hours: 10:30 am to 1:30 pm & 5:30 pm to 8:00 pm
Entry: free
Pro tip: Take the elevator located inside of the Casco Viejo metro stop. Alternatively, climb the stairs from Plaza Unamuno.
10. Vizcaya Bridge
Outside of old town lies Bilbao's UNESCO site, the 19th century Vizcaya Bridge.
It's known as the "hanging bridge" and one of 12 bridges spanning the Nervion River in Bilbao. The blood red bridge was built by a student of Gustav Eiffel, Alberto Palacio.
Vizcaya was the first transporter bridge to carry people and traffic on a high suspended gondola. It's one of the most iconic architectural constructions of the industrial age.
You can even drive or walk on it in a suspended gondola supported by steel suspension cables.
Address: Puente de Vizcaya Zubia, Getxo, Bizkaia, Spain
Hours: Gondola open 24/7. Walkway 10:00 am to dusk
Entry fee: Walkway € 9.50, Audio guide €2
Metro: Areeta station, get off and walk 5 minutes
11. The Zubizuri Bridge
Along with the Guggenheim Museum, this bridge is one of the symbols of new Bilbao. Designed by renowned Spanish architect Santiago Calatrava, it was inaugurated in 1997.
The Zubizuri Bridge is known for its distinctive modern design and innovative engineering. It features a curved, white pedestrian walkway supported by steel suspension cables.
"Zubi" means bridge and "zuri" means white. The combination of the curvilinear design, white color, and the soaring pylon creates a striking and graceful silhouette against the backdrop of Bilbao's urban landscape.
The bridge appears almost as a sailboat. Its most astonishing feature is a glass brick floor.
Unfortunately, it's now carpeted, after people slipped on the glass floor when it rained, so the effect is not quite the same as the architect intended.
Address: Paseo de Campo Volantin 22
Entry: free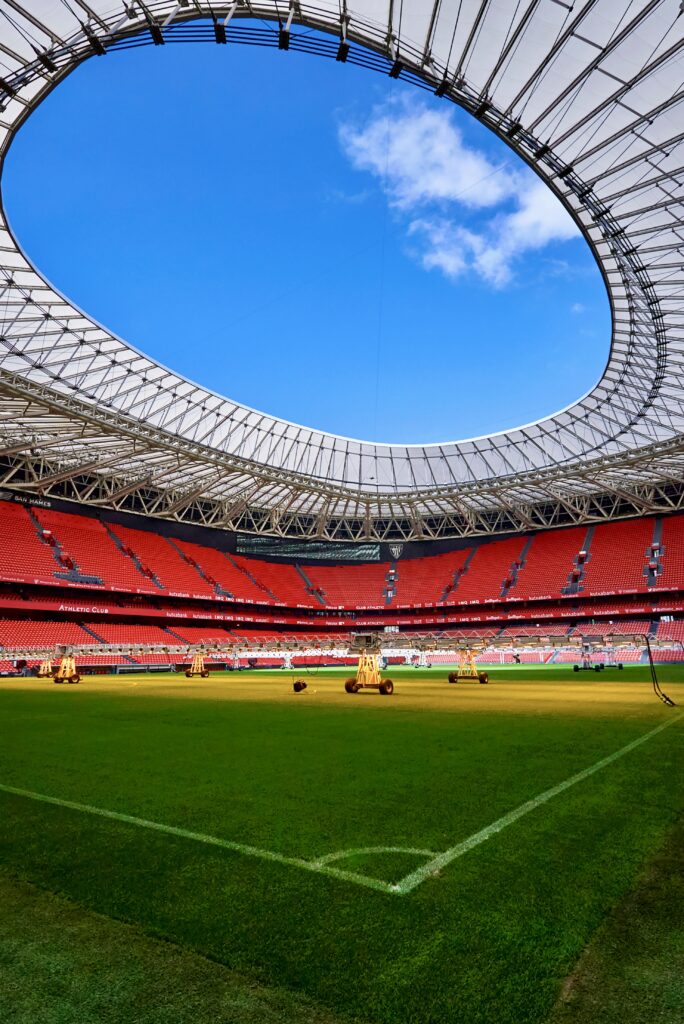 12. San Mamés Stadium
The San Mamés Stadium is a significant landmark in Bilbao. Originally opened in 1913, a new stadium was constructed adjacent to the old one and officially opened in 2014.
San Mamés s a state-of-the-art facility, known for its impressive architectural design. It has a seating capacity of over 53,000 spectators and offers excellent facilities for both players and fans.
While not a museum in the traditional sense, the San Mamés Stadium does feature areas that pay tribute to the history and heritage of Athletic Club Bilbao. Within the stadium, there are exhibition spaces and displays showcasing the club's achievements, memorabilia, and the evolution of football in Bilbao.
Visitors to the San Mamés Stadium can explore these exhibits,and get a behind-the-scenes look at the inner workings of a professional football stadium. It's an exciting experience for football enthusiasts and those interested in the sporting culture of Bilbao.
>>> Click here to book a ticket and tour
Address: P. Raphael Moreno "Pitxitxi" 48013 Bilbao
Metro: Estacion de tren S. Mames
13. Day Trip to Gaztelugatxe, a Natural Wonder
If you want a break from city life, one of the best day trips from Bilbao is to the stunning and wild San Juan de Gaztelugatxe. It's only 50 minutes from Bilbao
There, you can hike over an ancient man made stone bridge to a hermitage church and bask in unfiltered natural beauty of the Bay of Biscay.
Gaztelugatxe is also a famous Game of Thrones filming location in Spain. If you are a GOT superfan or Khaleesi in Training, you'll recognize Gaztelugatxe as Daenerys Targaryen's ancestral home, Dragonstone. You can go and bend the knee.
For nature lovers, San Juan de Gaztelugatxe is easily the best day trip from Bilbao. Because of its remote location, it's most easily accessed by car.
From Bilbao, take the B1-631 highway. Follow the signs and park on top of a hill off the main road and walk 1 kilometer down to the site.
You can also book a guided day tour from Bilbao to Gaztelugatxe and San Sebastián or a guided day tour to Gaztelugatxe and Gernika.
14. Other Day Trips From Bilbao
Bilbao is a fantastic base for exploring the Basque and Cantabria regions of northern Spain.
Other than Gaztelugatxe, you can easily day trip to Sopalena Beach, Lekeitio, Castro Urdiales, Guernica, Santander, San Sebastian, Santillana del Mar, the Altamira Caves, or Burgos and the Rioja wine region. The options are endless.
READ: Guide To Day Trips From Bilbao Spain
Bilbao is now one of the great treasures of the Basque region and all of northern Spain. At least for now, it's still an under-appreciated city, overflowing with staggering architecture. Don't skip it on your sojourn in northern Spain.
Tips For Visiting Bilbao
Here are some must know tips for enjoying the top attractions in Bilbao.
1. Where Is Bilbao?
Bilbao's the largest city in the Basque region of northern Spain. But it still retains a small city vibe.
Bilbao is beautifully situated amid rolling green hills, tucked between mountain ranges. It's near the Bay of Biscay, so the weather is temperate, though more rainy in the winter.
2. How To Get To Bilbao
Bilbao Airport (BIO) is officially known as Bilbao Airport-Loiu. It's the main international airport serving the city. It offers domestic and international flights, connecting Bilbao to major cities in Spain and various destinations in Europe.
From the airport, you can reach the city center by taxi, bus, or the Bilbao Metro. If you want something speedy and efficient, you can book a private transfer to your hotel.
Renfe, the Spanish national railway company, operates train services to Bilbao. The city has two major train stations: Abando Indalecio Prieto (also known as Bilbao Abando) and Concordia. Both stations are centrally located.
You can also drive to Bilbao via the A8/E70 highway. I wouldn't advise driving in the city itself. Parking in the city center is limited. So I would keep your car at your hotel or accommodation.
3. How To Get Around Bilbao
Getting around the compact old is easy. It's pedestrianized and you can visit the main attractions in Bilbao on foot.
Bilbao has a spanking new metro system. You can also get around Bilbao by:
4. Where To Stay In Bilbao
Bilbao has some beautiful hotels. Check out Vincci Consulado de Bilbao, a Riverside landmark with a nautical theme and views of the Guggenheim. The Occidental Bilbao has smart guest rooms and a massive swimming pool.
There are some nice boutique hotels too, like the artsy designer-styled Hotel Miro near the Guggenheim Museum. Gran Hotel Domine has sleek modern decor and views of Jeff Koon's Puppy sculpture.
For a real splurge, check out the Hotel Carlton, a five star beauty with old world charm.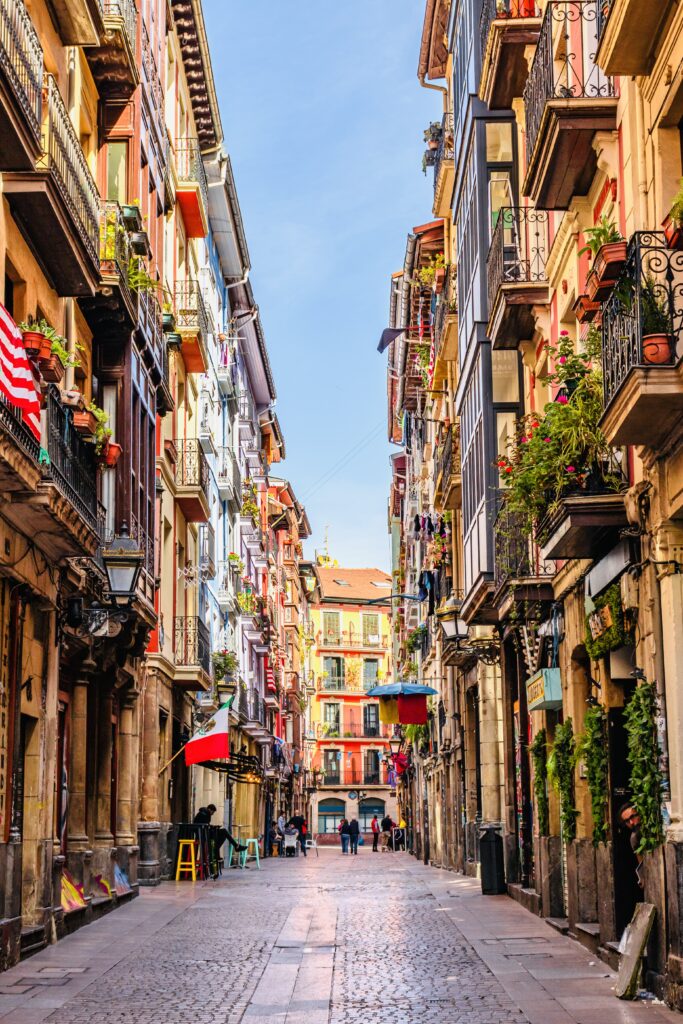 5. When To Visit Bilbao
Not on Monday! Everything's closed. More seriously, it's generally better to visit in the shoulder season of spring and fall.
Spring is a lovely time to visit Bilbao. The city becomes vibrant with blossoming flowers and greenery. The weather is generally mild, though you may get some rain showers.
Fall is pretty with fall foliage and mild weather.
Summer is peak tourist season. You'll get crowds and hot weather. Winter is low tourist season, though it can be chilly.
I hope you've enjoyed my guide to the top attractions in Bilbao. You may enjoy these other Spain travel guides and resources:
If you need a Bilbao bucket list, pin it for later.