Planning a trip to southern Italy? You've come to the right place. This is the ultimate 10 days in southern Italy itinerary.
Southern Italy is a captivating region known for its rich history, stunning landscapes, and vibrant culture. It boasts ancient ruins, picturesque coastal towns, and –best of all — delectable pizza.
Southern Italy offers all the pleasures of la dolce vita you'll find elsewhere in Italy. But it has a slightly more Latin twist. For centuries, it was shaped by Arab, Greek, and Spanish domination.
At its most basic, southern Italy consists of four regions: Campania, Calabria, Puglia, and Basilicata. There are also the islands of Sardinia and Sicily, worlds apart in their own right.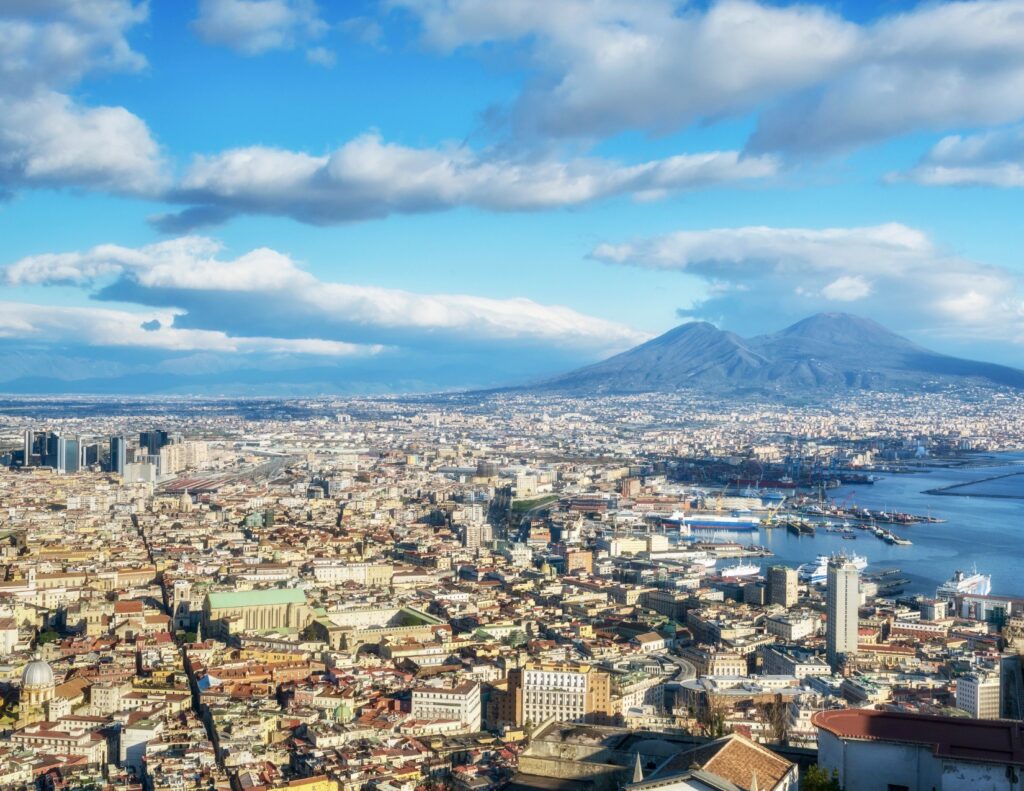 The south boasts a rich array of art and architecture and sites that you simply won't find in northern Italy — the whitewashed towns and olive groves of Puglia, the sensual drama of Naples, the stunningly beautiful of Capri, or the ancient eerie allure of Matera.
On top of that, you'll find ancient Greco-Roman ruins, dazzling Baroque churches and towns, and Byzantine sites.
The food is also insanely good in southern Italy. It's one of the great joys of visiting. Naples is the birthplace of pizza. In general, there's a strong emphasis on fresh farm to table ingredients and seafood.
I just spent almost 3 weeks in southern Italy. So, I am ready to hand over the best 10 day southern Italy itinerary with some must know tips.
Overview of 10 Days In Southern Italy Itinerary
Here's a snapshot glance of what you can see with 10 days in southern Italy.
Day 1: Naples
Day 2: Pompeii & Vesuvius or Capri
Day 3: Positano
Day 4: Amalfi & Ravello
Day 5: Matera
Day 6: Matera, stop in Martina Franca on the way to Ostuni
Day 7: Ostuni
Day 8: Polignano a Mare & Monopoli
Day 9: Alberobello
Day 10: Lecce
More Time?
If you have more than 10 days in southern Italy, you could spend more time in Naples at the outset or more time in Puglia at the end of your trip.
The towns of Trani, Brindisi, or Bari in Puglia are all well worth visiting. You could also head further south to the sizzling island of Sicily.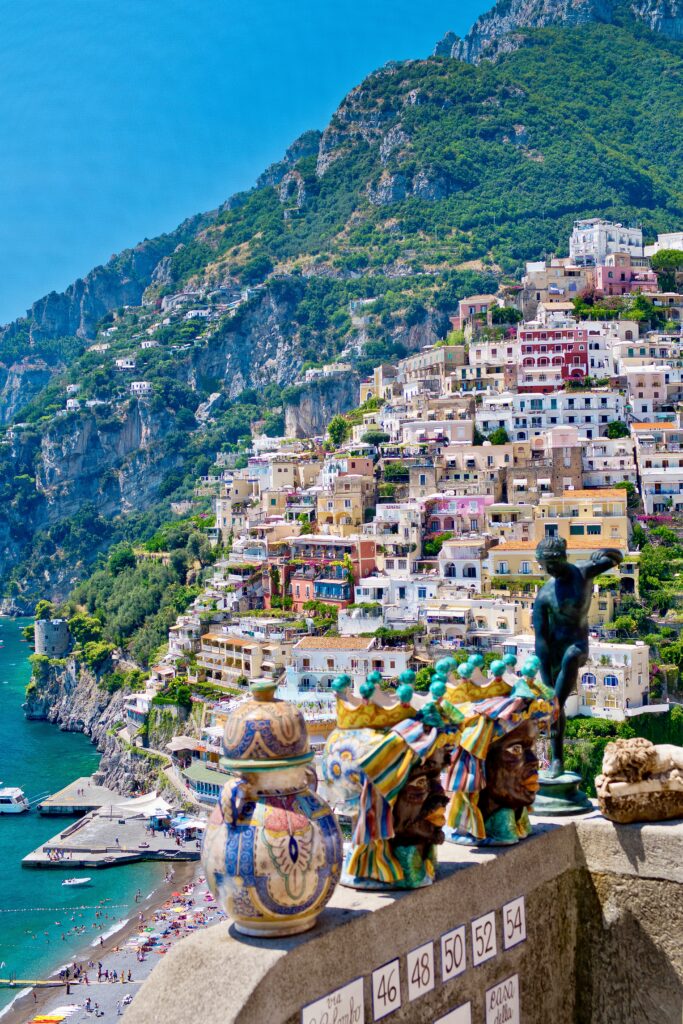 If you want to spend a bit more time on the glamorous Amalfi Coast instead, here's a way to tweak this southern Italy itinerary:
Day 1: Naples
Day 2: Pompeii & Vesuvius
Day 3: Capri day trip from Naples
Day 4: Positano
Day 5: Amalfi Town & Ravello
Day 6: Matera
Day 7: Matera
Day 8: Polignano a Mare
Day 9: Alberobello
Day 10: Ostuni & Monopoli
Bases & Tours For A 10 Day Southern Italy Itinerary
For this southern Italy itinerary, I would recommend 4 bases. You could base for 2 days in Naples, 2 days in either Positano or Ravello, 2 days in Matera, and 4 days in Puglia.
For Puglia, I think the best bases are Ostuni, Monopoli, or Polignano al Mare. They are centrally located, have cute centro storicos, and have train stations if you need them. If you are visiting in summer and want a beach, you might opt for Monopoli.
If you don't moving around a bit more, you could also stay in a trulli in Alberobello for a 1-2 nights just to have the experience.
Puglia is fairly easy to drive around. Just don't plunge into the centro storico of any city or town. I would pick up a car on the way out of the Amalfi Coast. Before that, I would use trains, private transfers, buses, or ferries to get around.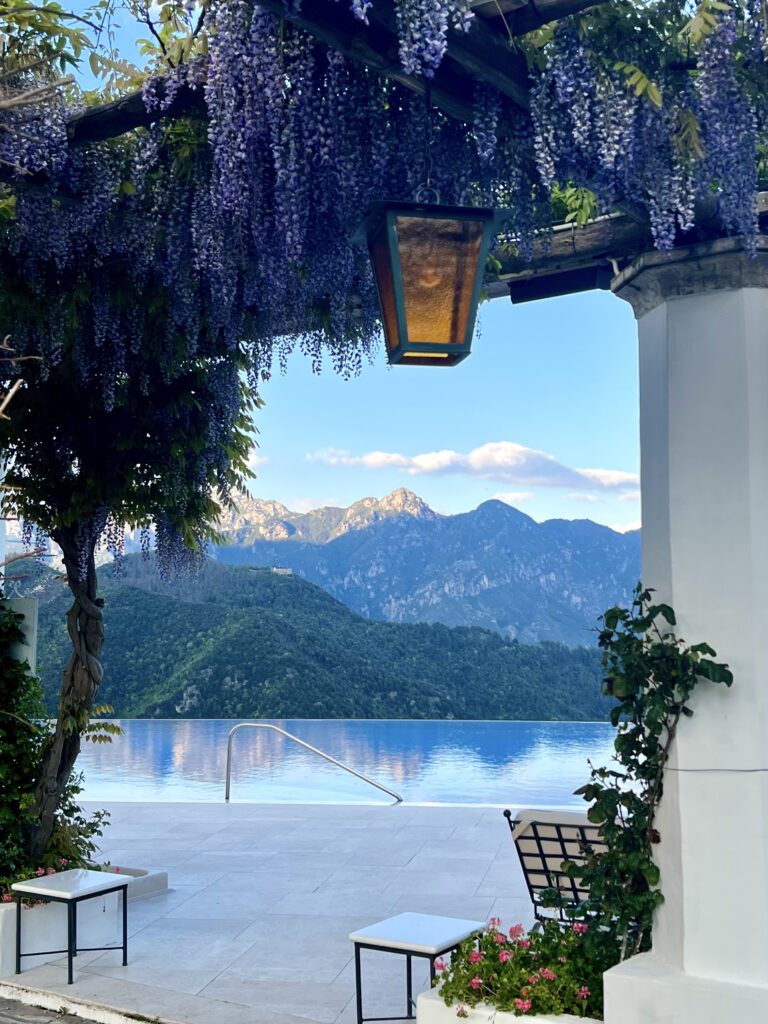 Best Hotels:
Here are some hotel recommendations, based on hotels I've stayed in or checked out myself.
Naples: Eurostars Hotel Excelsior, The Britannique, Grand Hotel Vesuvio
Positano: Palazzo Mura, La Sirenuse, Il San Pietro, Hotel Poseidon
Ravello: Hotel Caruso, Hotel Villa Cimbrone, Palazzo Avino, Villa Maria
Matera: Sextantio Le Grotte, Aquatio Cave Hotel & Spa, Palazzo Gattini
Polignano a Mare: Hotel Grotta Palazzese, Giovi Relais
Ostuni: Hotel Relais La Sommita, Paragon 700, Masseria Le Carrube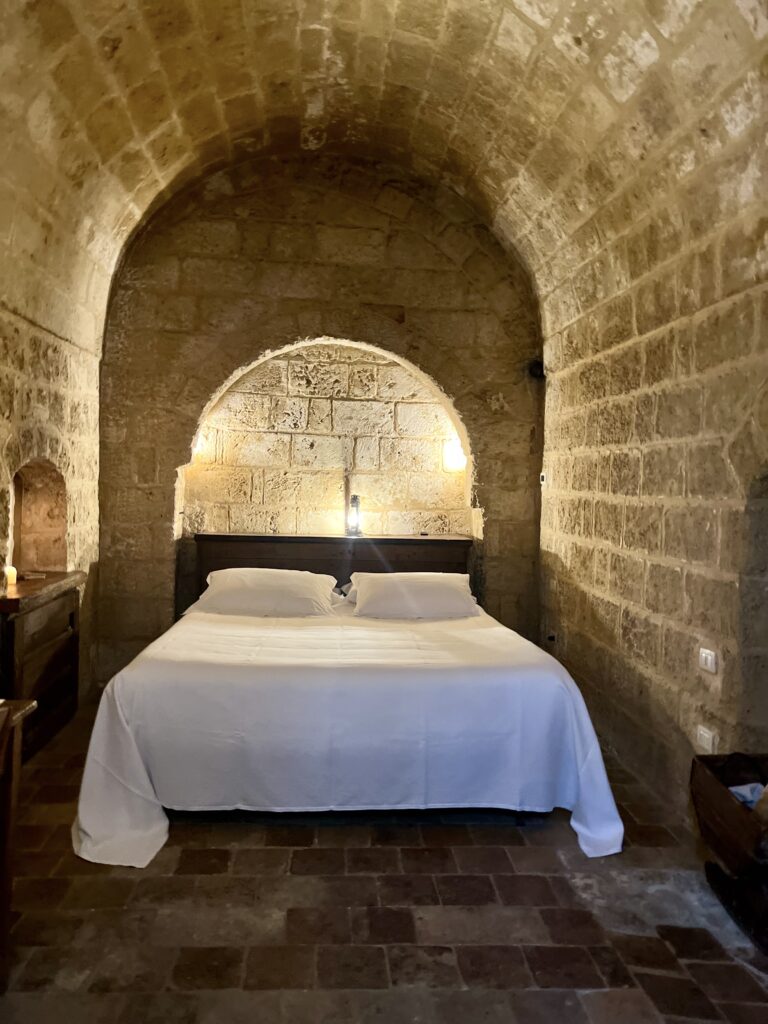 Monopoli: Hotel Don Ferrante, Palazzo Indelli
Alberobello: La Mandorla Luxury Trullo, Trullo Essenza-Trulli Anti Charme & Relax, Romantic Trulli
You might also consider staying in a "masseria" in the Puglia region. They are fortified farmhouses that have been transformed into luxury hotels with large rooms.
I stayed at Masseria Il Melograno (near Monopoli) and Masseria San Domenico (near Ostuni) when I was touring Puglia. San Domenico is one of the world's best small luxury hotels and was just stunning!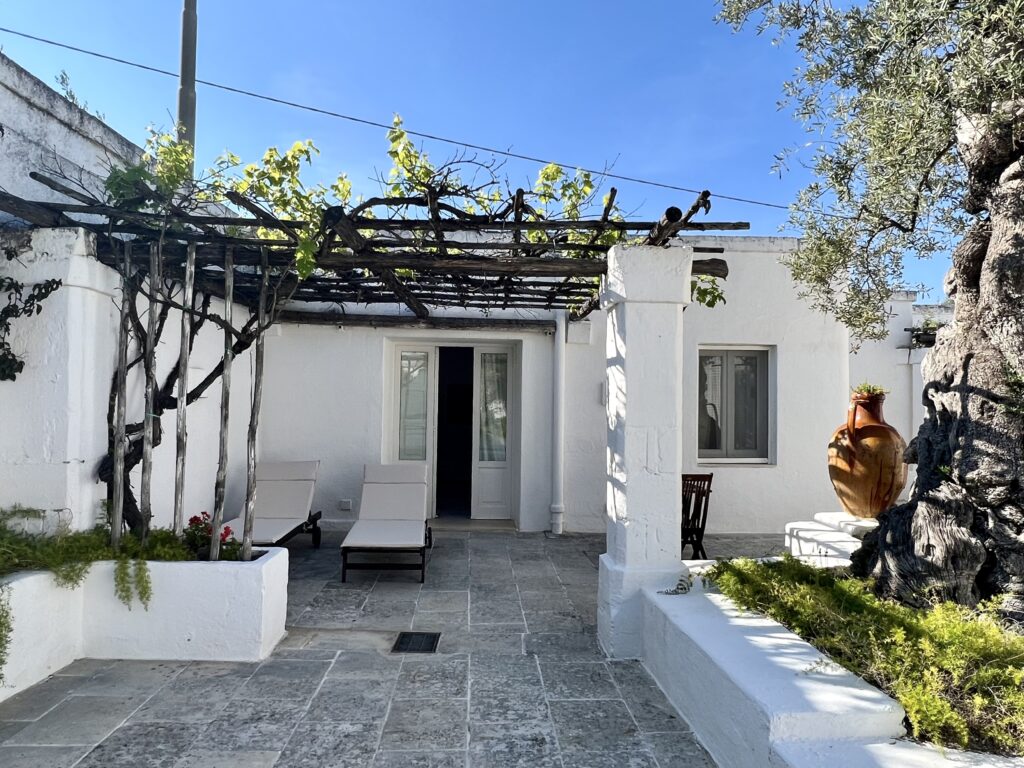 Best Tours:
Here are some of the top tours you will want to book in advance: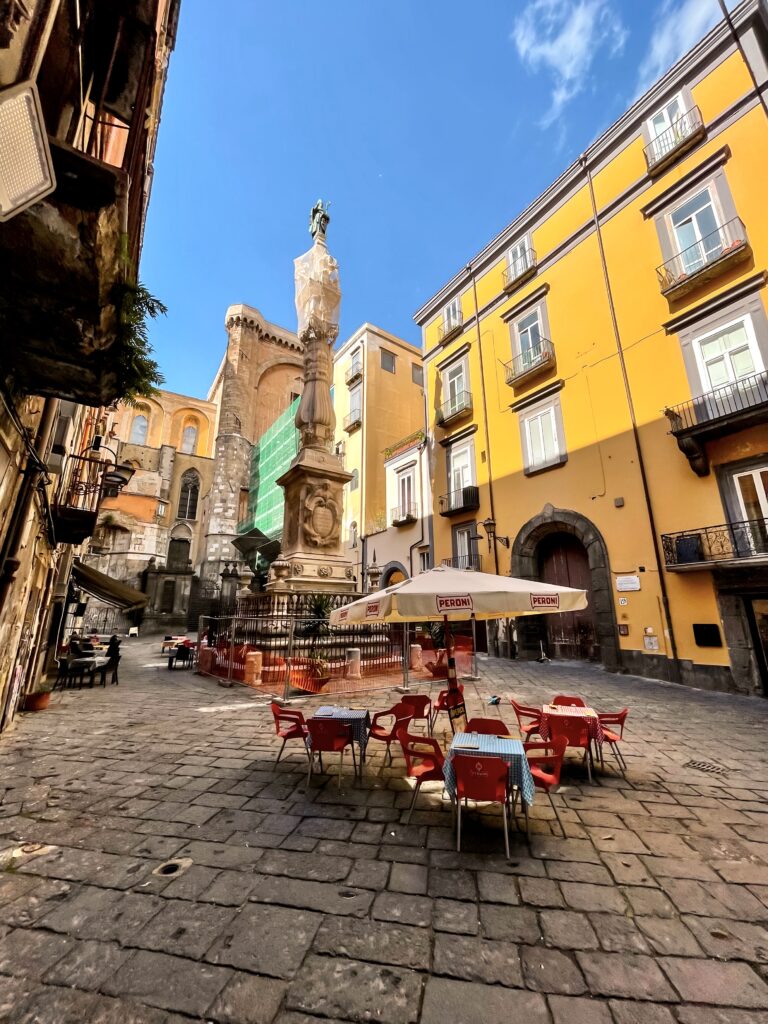 10 Days In Southern Italy Itinerary
This south of Italy road trip starts in Naples and ends in Lecce.
Day 1: Naples
Naples should be the starting point for any trip through southern Italy. From the airport, you can taxi or book a private transfer to your hotel.
Naples is the region's capital and a vibrant, sometimes overwhelming, city. Naples lives by its own rules and has no discernible tourist gloss. It can be a a chaotic assault on the senses.
So, you'll have to take the gritty with the pretty. But, with its long list of marvels, Naples will please those looking for culture, history, and pizza. For every dirty street, there's a sumptuous Baroque church.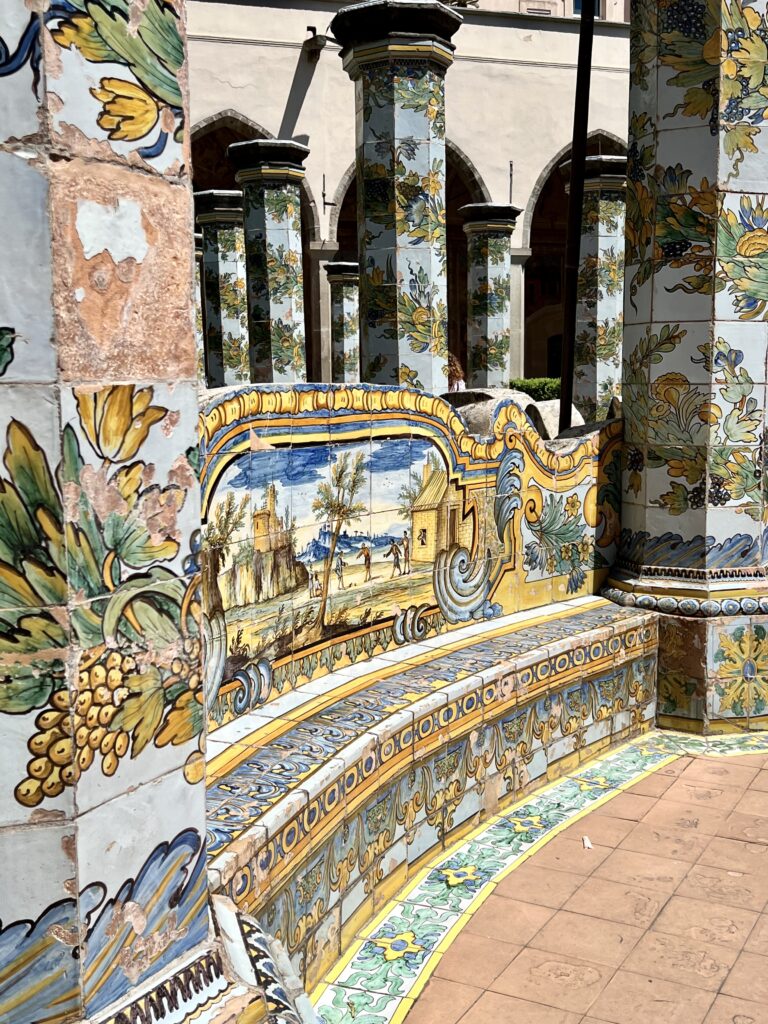 With only a day in the city, you could follow my one day in Naples itinerary.
I advise spending most of your time in the historic center around Spaccanapoli. The old center is teeming with tiny lanes, ancient palazzi, pizzerias, and ornate churches.
Some of the must see churches include Gesu Nuovo, the Cloister of Santa Chiara, Sansevero Chapel, and the Duomo di Napoli.
Sansevero is a stunning over-the-top Baroque chapel filled with exquisite Baroque sculpture. It's a must see, but always sold out.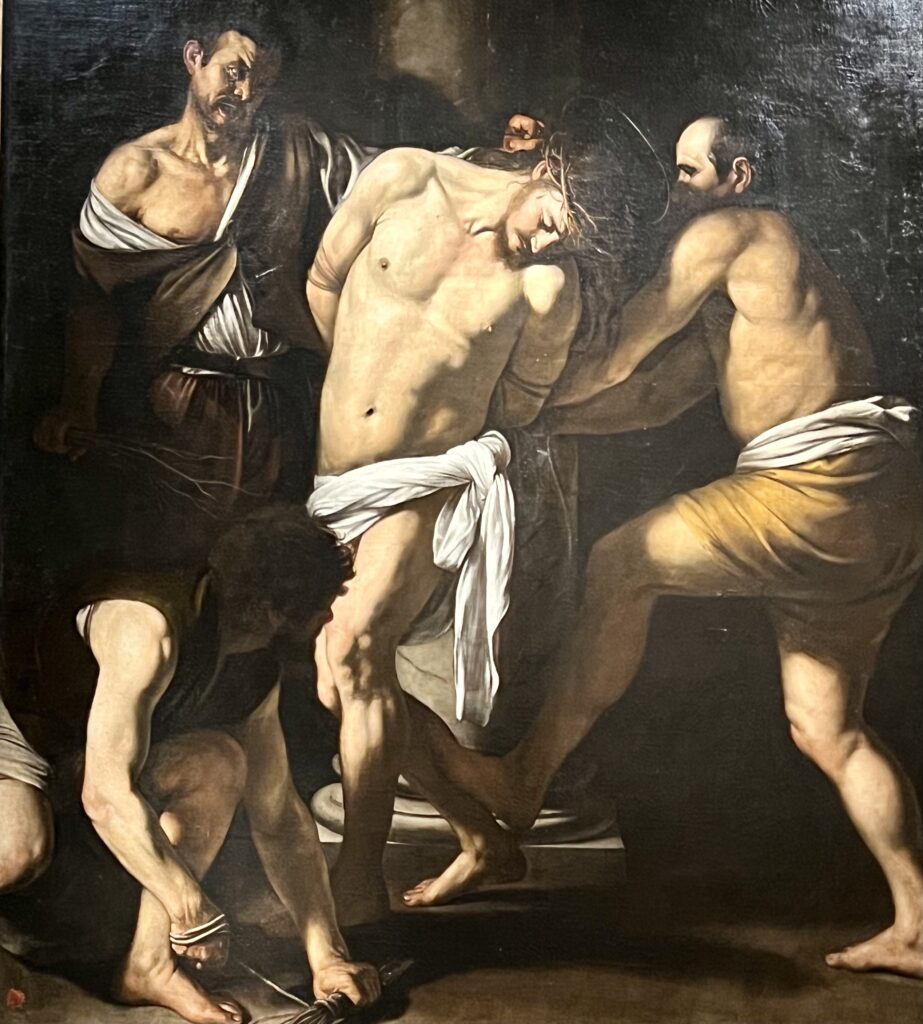 Be sure to book a timed entry ticket online well in advance. Alternatively, if tickets are sold out, you can book a walking tour that includes a visit to the chapel.
In Capodimonte and the National Archaeological Museum, Naples has two of Europe's greatest museums. Art lovers should go to the Capodimonte for its large cache of top rate Renaissance and Baroque art. Those going to Pompeii should get a preview of its treasures at the archaeological museum.
In high season (May to September), I advise booking a skip the line ticket for the archaeological. museum. I took this private tour of the museum with an archaeologist and loved it!
Day 2: Pompeii & Vesuvius
On day 2, visit Pompeii and Mount Vesuvius from Naples. In Pompeii, explore the well-preserved ancient city buried by Mount Vesuvius in 79 A.D.
Walk through homes, baths, theaters, temples, a brothel and the forum. Don't miss the beautifully restored frescoes in the House of Menander, the House of the Vettii, and the Villa of Mysteries.
Stroll along the historic streets, imagining life in this bustling city over two thousand years ago.
After Pompeii, head to Mount Vesuvius. The imposing volcano overlooks the Bay of Naples.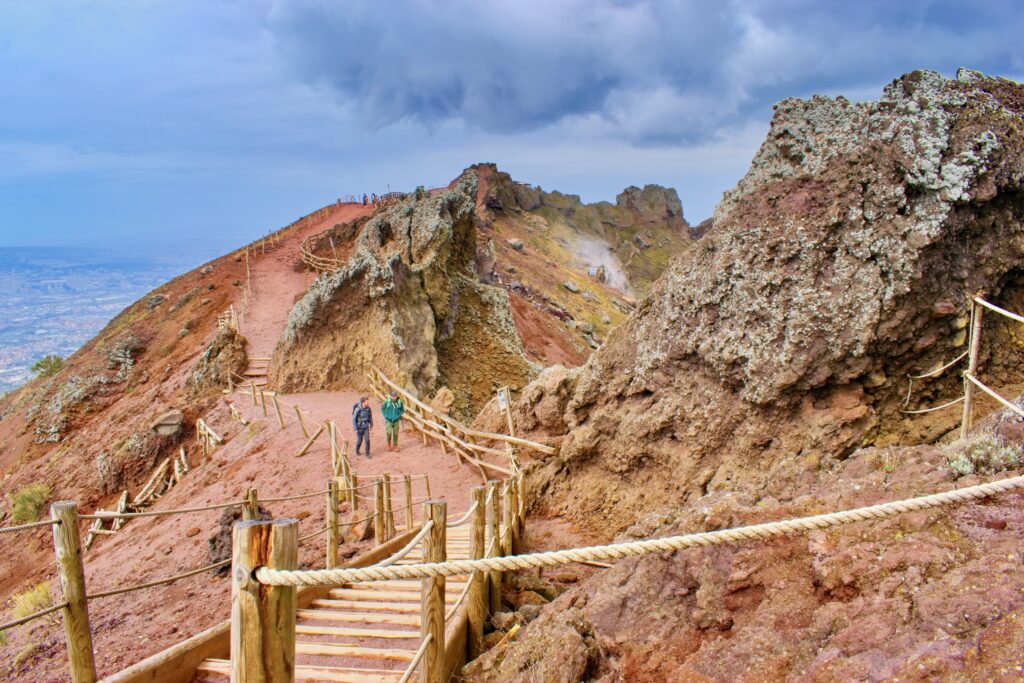 Embark on a hike along the trail and enjoy breathtaking views. Reach the crater's edge and witness the power of nature that once engulfed Pompeii.
Vesuvius is also known for its wineries. And you can book a winery tour and lunch there.
At a minimum, for day 2, you'll need to book a Pompeii entrance ticket, a Mt. Vesuvius entrance ticket, and perhaps a private transfer to Pompeii.
I also advise booking a 3 hour tour to Pompeii with an archaeologist to get the complete historical backdrop. You can also book a full day tour to both Pompeii and Mount Vesuvius.
For more information and must know tips for visiting, here's my complete guide to visiting Pompeii.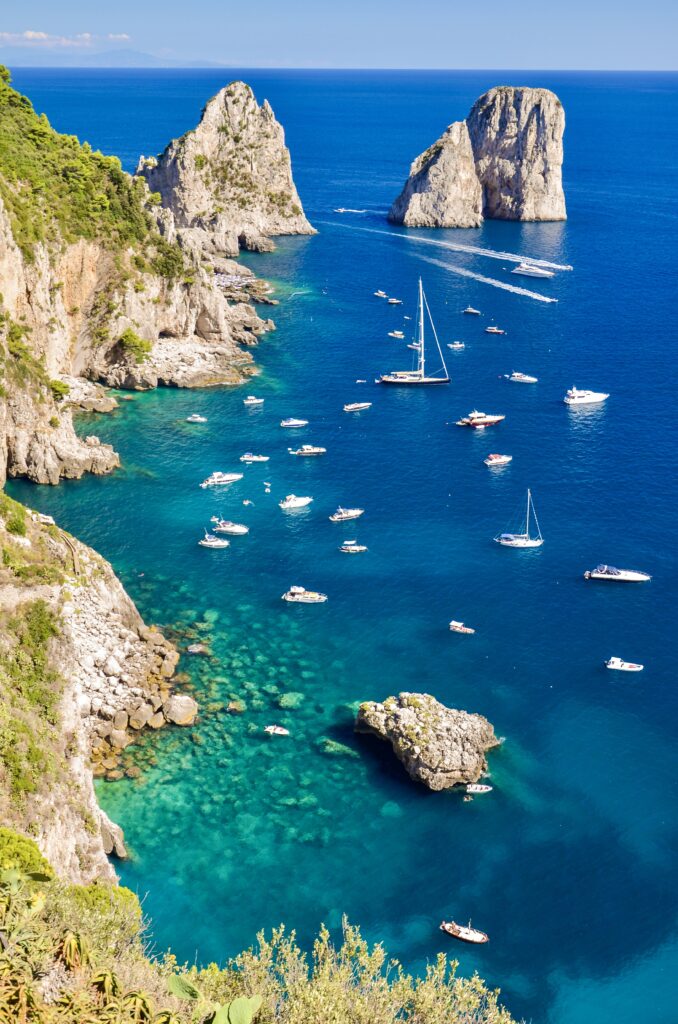 Day 2 Alternative: Capri
If you've already been to Pompeii or just prefer a scenic island, spend day 2 in Capri. You can take the ferry from Naples or book a Capri day trip from Naples.
Capri is one of the most dazzling and seductive islands in the Mediterranean. You'll be delighted with Capri's soaring cliffs, shimmering emerald water, whitewashed towns, and historic landmarks.
Capri has two adorable towns, Capri Town and Anacapri. Capri Town is the more glamorous of the duo.
In Capri Town, you can go upscale shopping on Via Cammarelle. Or hike along the coastal trail or up to Villa Jovis.
In Anacapri, you can visit the beautiful Villa San Michele, hike to belvederes or tour the Blue Grotto. Capri is also beautiful as seen from the water, so a boat tour or visit to the Blue Grotto is magical.
Here are some of the tours you might consider in Capri:
For more information and tips, you can check out my 2 days in Capri itinerary.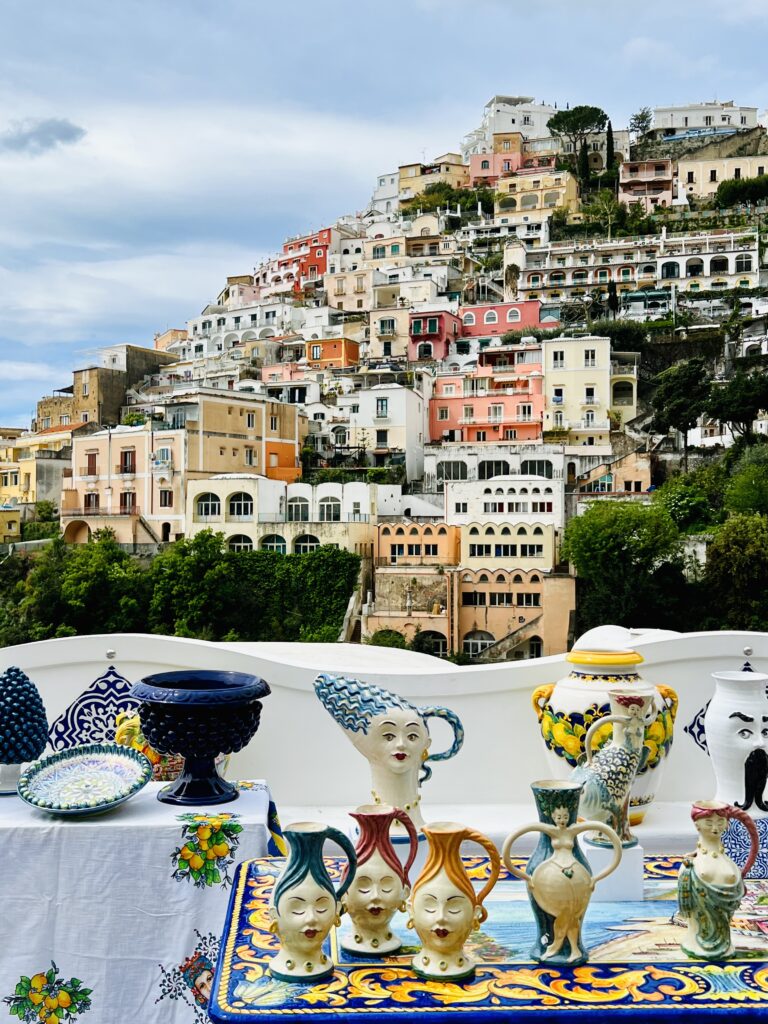 Day 3: Positano
One day 3, head to the pretty-in-punk pastel town of Positano. You can book a private transfer from Naples to get there.
Start your day in Positano with a stroll along Spiaggia Grande, Positano's main beach. Enjoy a leisurely stroll along the picturesque waterfront.
Take in the vibrantly colored umbrellas and crystal-clear waters of the Tyrrhenian Sea. If you're up for it, take a refreshing dip in the sea or rent a lounge chair and relax on the sun-kissed sands.
If you enjoy hiking for views, you will want to hike the the Path of the Gods. This scenic trail offers panoramic vistas of the Amalfi Coast and the sparkling Mediterranean Sea. You can do it yourself and book a private transfer to Bomerano (where the trail starts) or take a guided tour.
After taking in the vistas from the Path of the Gods, descend back to Positano. Treat yourself to a delicious lunch at one of the local trattorias or cafes.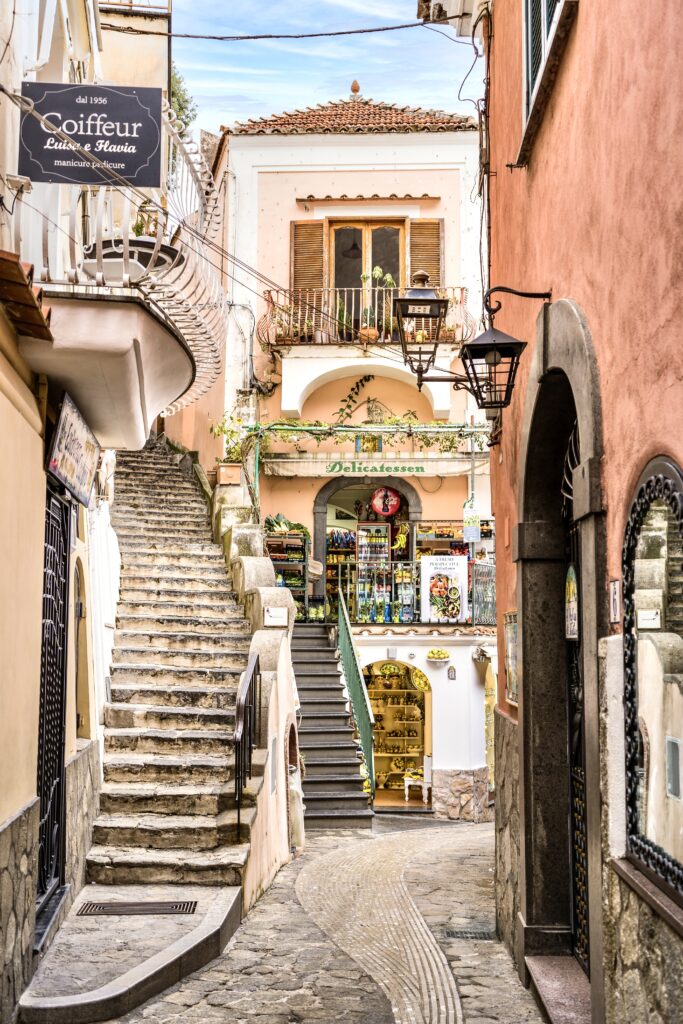 In the afternoon, pay a visit to the Church of Santa Maria Assunta. Admire its beautiful dome and stunning Byzantine-style mosaics.
Explore the charming alleys and narrow streets of Positano. They're lined with boutique shops, artisanal craft stores, and local art galleries.
Positano is known for its stylish clothing and beautiful ceramics. Pottery spills out on virtually every nook and cranny of the town.
The best views of the sea-tumbling houses are from the top of Via Christoforo and Via Pasitea.
As the sun begins to set, find a spot at one of the cliffside bars or restaurants with panoramic terraces. Sip on a refreshing cocktail or sample some ice cold limoncello as you watch the sunset.
For dinner, reserve at a restaurant with cliffside views. Options include La Sponda at La Sirenuse Hotel, La Terrace in Hotel Eden Roc, Maestro's in Villa Treville, or Il Tridente at Hotel Poseidon.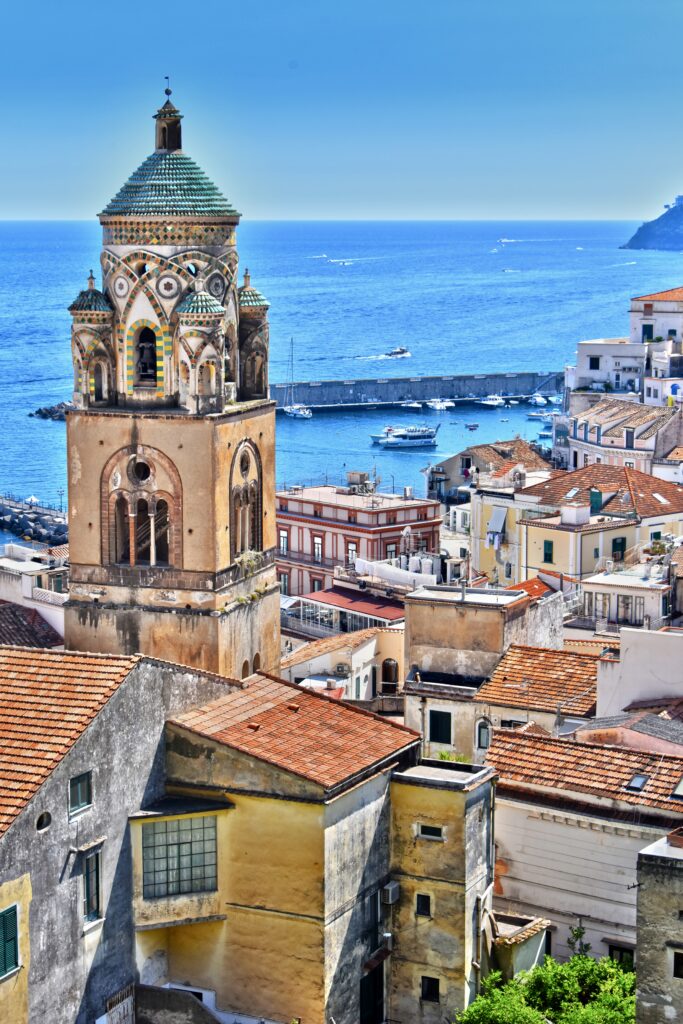 Day 4: Amalfi & Ravello
On day 4, visit the towns of Amalfi and Ravello. You can take the bus, the ferry, or go on a guided tour from Positano.
Like Positano, Amalfi Town is carved into a cliff and houses seem to tumble down to the sea.
The main attraction in Amalfi is its gorgeous cathedral. It's a heady blend of Byzantine, Romanesque, and Moorish styles.
The exterior is covered in mosaics and has a loggia with Moorish arches. A dramatic steep staircase leads to the entrance through the Cloister of Paradise.
The cloister is lovely — filled with frescos, statuary and ancient sarcophagi from Paestum. From there, you can wade through the reliquaries and artifacts in the Diocesan Museum and inspect the cathedral itself. For more information, you can check out my complete guide to Amalfi Cathedral.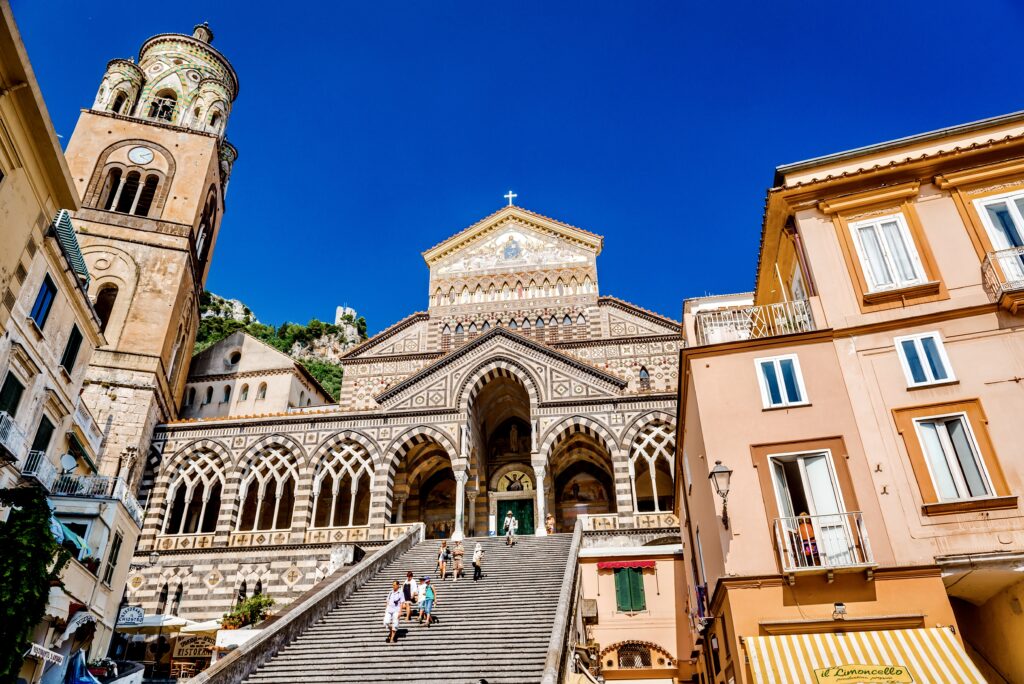 If you are interested in ancient trades, you can also check out Amalfi's Paper Museum. Amalfi was a major producer of handmade paper in medieval times.
The museum is housed in a 13th century paper mill. Guides will demonstrate how paper was made using traditional methods and machinery.
Have a walk through the piazzas and charming back streets of Amalfi. Then, head up to Ravello.
You can hike up via the Valley dei Ferrierre trail or the ever-so-steep Ravello Challenge. Or you can take a bus or taxi.
Ravello is a tiny town. But it's chock full of high quality ceramic shops. It has a lovely cathedral and two magnificent medieval villas.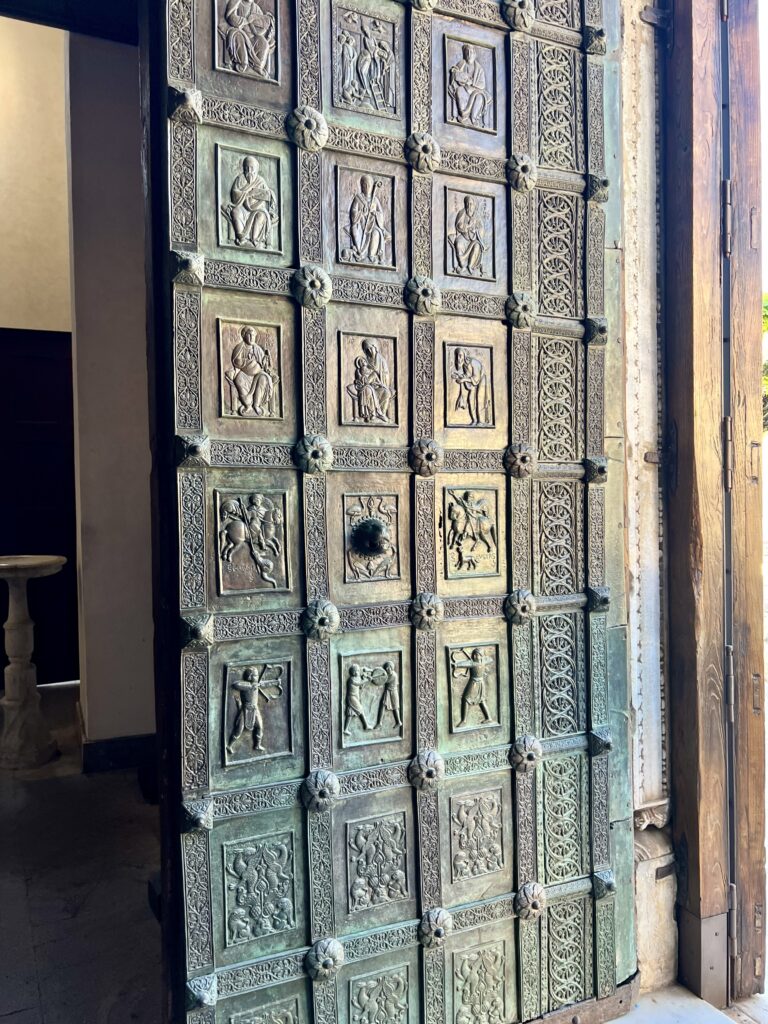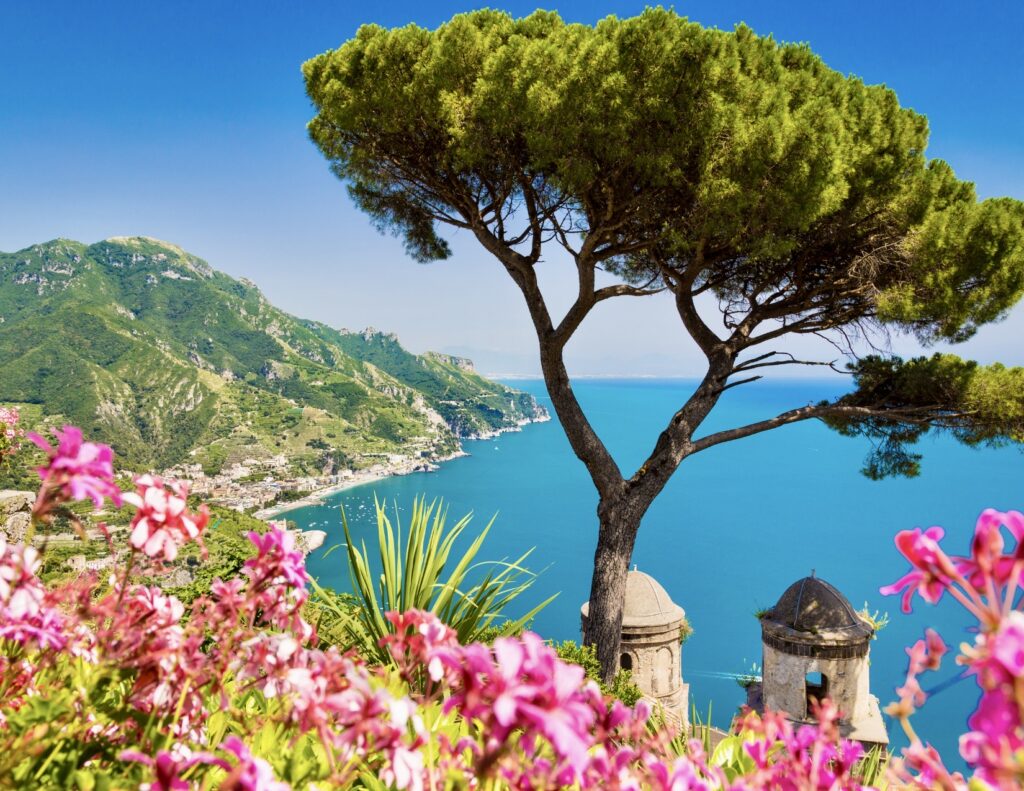 Villa Rufolo is in the Piazza del Duomo next to the cathedral. Its main draw is its magnificent gardens. From the Wagner Terrace, you have stunning views of the Amalfi Coast.
Villa Cimbrone is even better. It's the epitome of romance.
The grounds are filled with crumbling follies, ancient statuary, rose gardens, and wisteria pergolas. Its belvedere, the Terrace of Infinity, offers up the best panoramic vistas on the entire Amalfi Coast.
For more information on these two towns, you can check out my one day in Amalfi Town itinerary and my 2 days in Ravello itinerary.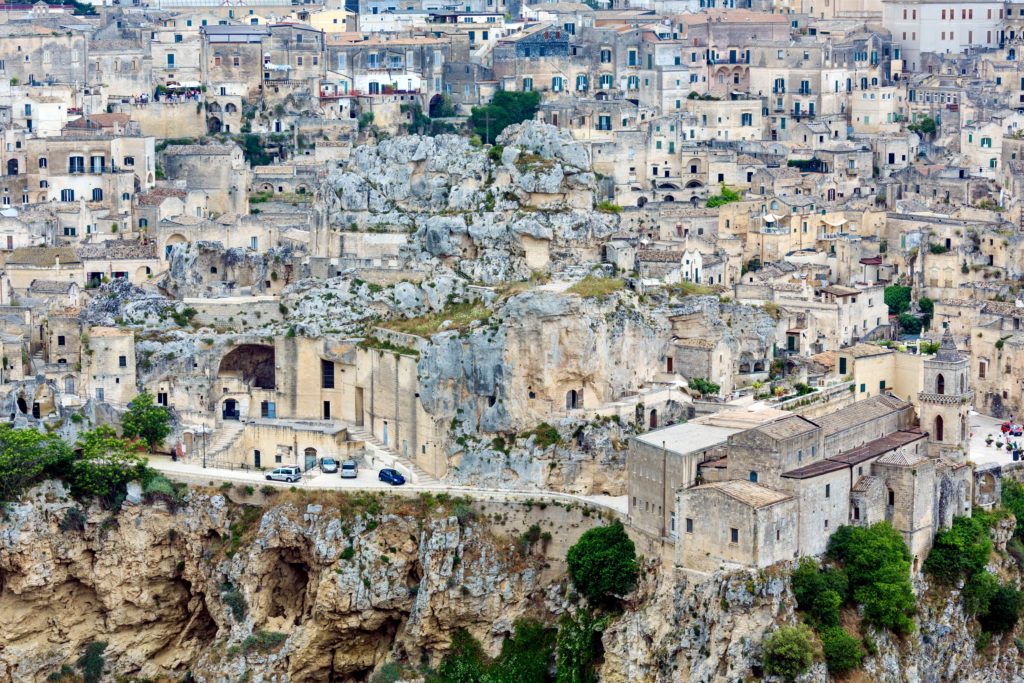 Day 5: Matera
On day 5, pick up your rental car and head to Matera. Matera is one of Italy's most alluring sights, thanks to its sassi cave dwellings. It's the world's oldest continuously inhabited city at 9,000 years old.
The town looks and feels ancient. It was definitely one of my favorite spots in all of southern Italy.
There are approximately 3,000 cave houses and 150 cave churches. Once the "shame" of Italy, they are now renovated and a UNESCO World Heritage site. You can even stay in a cave hotel!
The best way to see it all is to book a walking tour of the sassi. You can also book a private tour or a food and wine tour.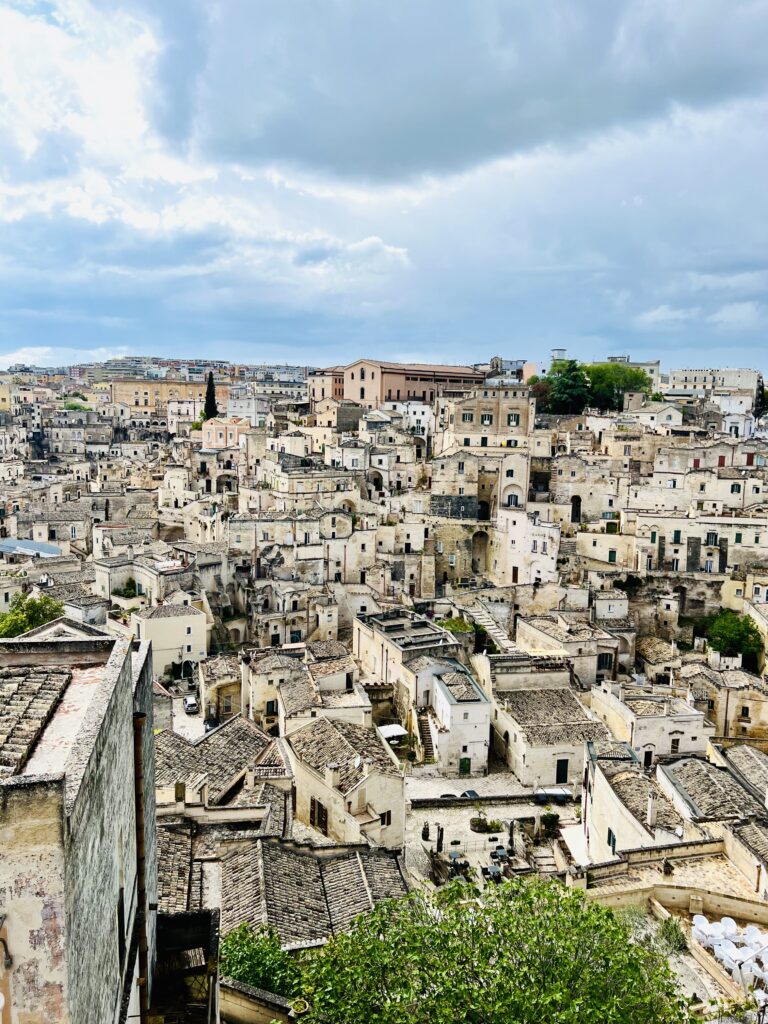 If you want to do it on your own, the two sassi districts (Barisano and Caveoso) can be accessed from several points in town including from Piazza Vittorio Veneto, Piazza Duomo, and Piazza San Francesco. You'll see signs. The main drag is Strada Panoramic dei Sassi.
You'll also want to visit some cave churches. The most impressive is the 10th century Santa Maria d'Idris.
It's perched on a hill and offers up great views of the sassi. Inside, there are some lovely medieval frescos to admire.
Just south of the church is a cave museum, the Casa-Grotto di Vico Solaria. You can even see the "mangers" for the donkeys and pigs that once lived inside.
You can also check out some of Matera's other museums: MUSMA (contemporary scupture), Muse Nazioinale Ridola (archaeology finds), or Museo d'Arte Medieval e Moderna (sacred and contemporary art).
In the evening, take a leisurely walk along Via Ridola. It's a charming street lined with shops, cafes, and restaurants.
Stop for dinner at a cozy trattoria and sample the local dishes like orecchiette pasta, lamb, and delicious cheeses. I had delicious meals at Baccanti and Ristorante Burro Salato.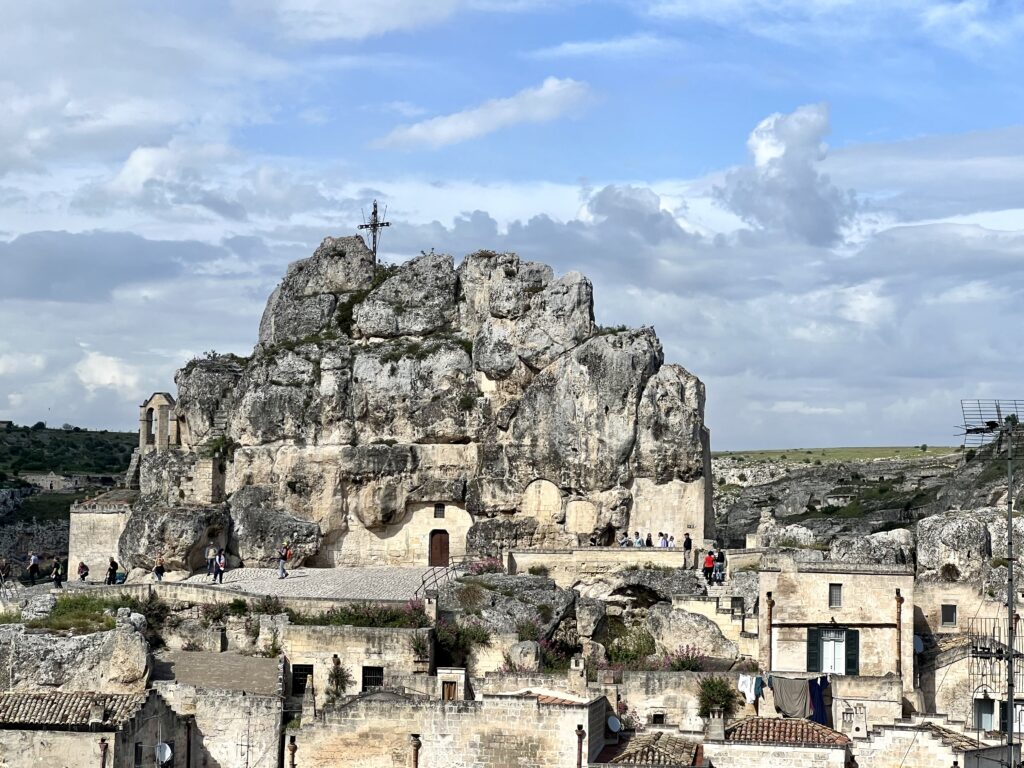 Day 6: Matera To Puglia
Spend your morning in Matera. Begin your day with a visit to the Matera Cathedral. The entrance is in a side street.
Marvel at its impressive architecture, adorned with intricate details and frescoes. There's even a cave-like nativity scene. And you can climb the bell tower for great views of the gorge.
Explore the adjacent Piazza Duomo and take in the panoramic views of the Sassi districts from the belvedere.
In the afternoon, head out to the town of Martina Franca on the way to Ostuni in the region of Puglia. It's about a 1:15 drive from Matera to Martina Franca.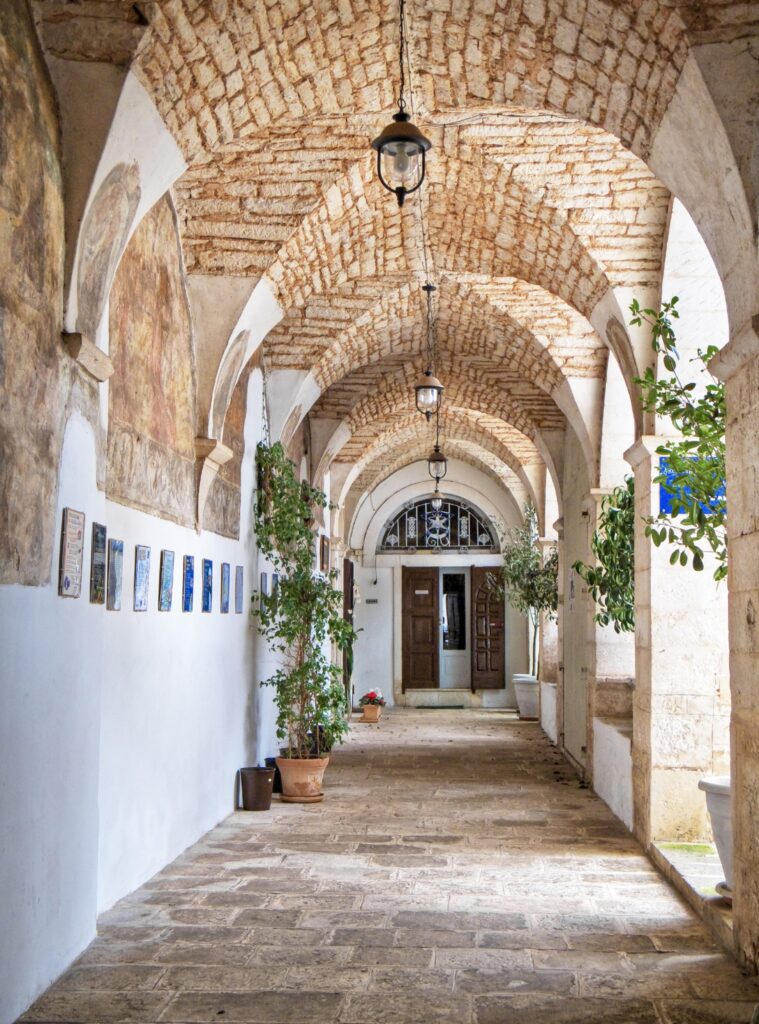 The town is built on a hill overlooking olive groves and has an appealing historic center. It's dominated by the Palazzo Ducale in Piazza Roma. Another main square is the Piazza Plebiscito, home to a beautiful Baroque church.
Have lunch at Trattoria Sant'Anna or Trattoria Pizzeria del Corso. Then, it's just a 30 minute drive to Ostuni.
Ostuni is one of Puglia's most appealing hilltop towns, known as the "White City." It's a historic settlement that spans three hilltops.
Settle into your accommodation and take an evening stroll through the city.
It's a maze-like tangle of up and down streets that you're sure to get lost in. Head to the scenic viewpoints in Ostuni, such as the Belvedere Santa Lucia or the Terrace of Sant'Oronzo, for breathtaking panoramic views.
Have dinner at Taverna della Gelosia or Osteria Ricanatti.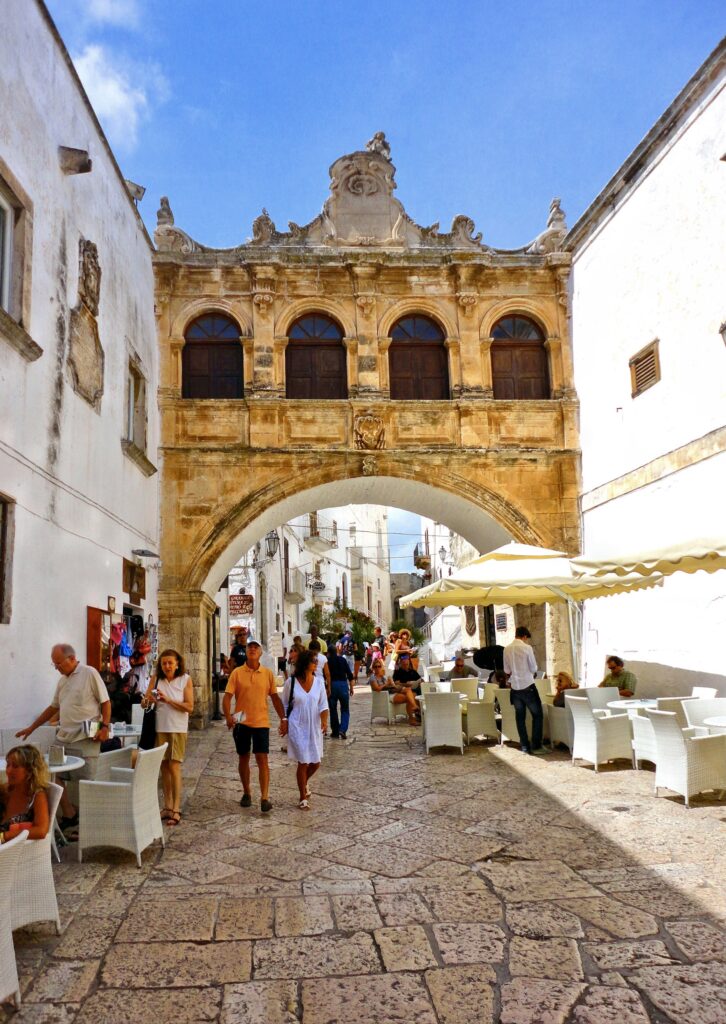 Day 7: Ostuni & Monopoli
In the morning, visit Ostuni's Spanish-influenced Gothic cathedral. Marvel at its impressive facade and step inside to admire the beautiful interior with its ornate decorations and stunning frescoes.
You could also visit the Archaeological and Civic Museum. It's a small museum with some interesting artifacts dating back to Paleolithic times. The must see exhibit is the pregnant "mother of the world," from 28,000 years ago.
But the real joy of Ostuni is just wandering the whitewashed streets. There are flowers at every turn, even a few cats.
I had a delicious lunch at Cielo. it'a an atmospheric place with whitewashed vaulted ceilings.
In the afternoon, drive to the seaside town of Monopoli. It's a fascinating seaside town with charming narrow streets, a magnificent cathedral, and some great trattorias.
It's less touristy and has a more lived in feel than towns like Matera or Albrobello. The Monopoli Cathedral is a real must visit. I took shelter in it during a rainstorm, so got to inspect it pretty closely.
In the early evening, take a stroll along the Lungormare. Admire the classic Apulian blue and red fishing boats. There's an old defensive tower, which you can climb for views.
Enjoy an aperol spritz in Piazza Garibaldi. Then, grab some fresh seafood at one of Monopoli's many restaurants. I enjoyed La Locanda Sul Porto and Gaia Osteria Popolare.
READ: One Day In Monopoli Itinerary
Day 8: Polignano a Mare
On day 8, head to Polignano a Mare, a timeless beauty. It's a picture perfect whitewashed village that seems made entirely of limestone.
The town's winding streets are lined with flowering plants. The town offers incredible views over the Adriatic Sea.
Via Roma is the main drag. It's chic and chock full of chic shops, eateries, and gelato shops.
But the back streets are adorable too. You'll see poems written on some of the walls and steps.
Polignano is best known for the inlets and coves carved into its shoreline.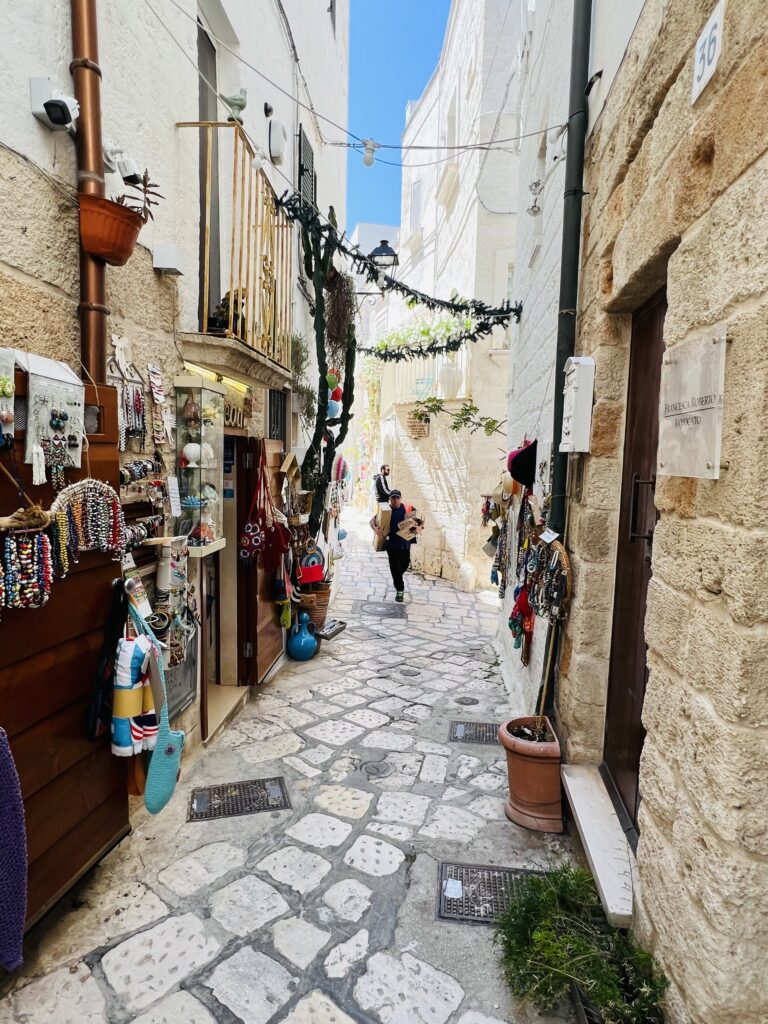 The most famous of these is right in the center of town, the Lama Monachile Beach. The Grotto Palazzese is a tiny masterpiece that's home to a cave restaurant and 5 star hotel.
Taking a stroll along the Lungomare Domenico Modugno or the Longomare Cristofero Columbo makes for good viewing. The first one is where you'll find the famous statue of Volare, the singer songwriter and a Polignano native.
You might consider taking a boat cruise through the coves, a boat cave tour, or a street food tour while in Polignano.
I was in Polignano for a few days so I was able to sample some of its fabulous restaurants. I had fine meals at Osteria dei Mulini, Restaurant Antiche Mura, and Specchie Sant'Oronzo. Even the street food cafe, at Olio su Pane, was delicious.
READ: One Day In Polignano a Mare Itinerary
Day 9: Alberobello
Alberobello is an incredibly unique and picturesque town in Puglia, known for its iconic trulli houses. Trulli are round stone buildings with conical gray slate roofs. Alberobello has over 1500 of them.
If you can ignore the crowds, the town has a real fairytale vibe, almost like a fantasy film set. It's like nothing you've ever seen before.
The trulli are spread out along the eight streets of the Rione Monte. Some of them are adorned with astrological or astronomical symbols on the roofs.
The best way to see them is from one of the town's many belvederes. There are especially good views from Belvedere Santa Lucia and from the belvedere on the left of the Piazza del Popolo. You could also book a guided walking tour of the trulli.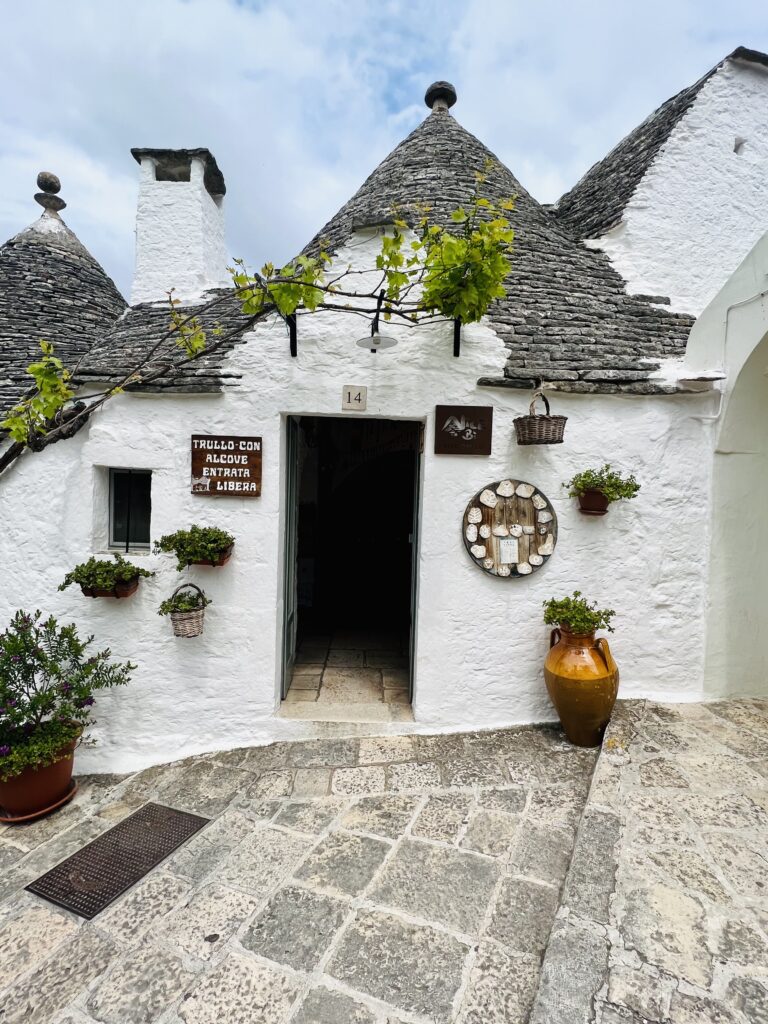 Afterward, make your way though the labyrinth of streets of Alberobello. You'll come across the best known trulli — Trullo Sovrano and the Trullo Siamese.
Be sure to head to the Rione Ain Piccola. It's a more authentic and less trafficked area with nearly 400 trulli.
Alberobello is also a fun place to take a guided food tour, an e-bike tour with foccacia tasting, or a cooking class.
I had the best focaccia I've ever tasted at Enoteca Regionale (made with burnt flour) and learned how to make mozzarella at Mimmo's trullo.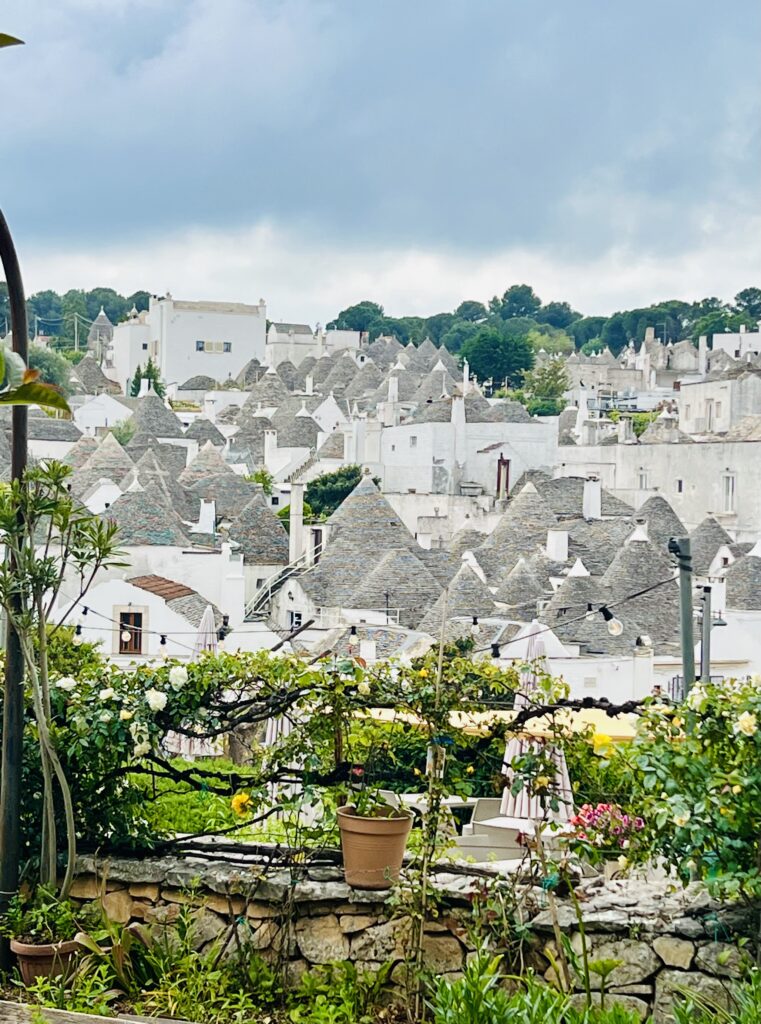 If you want, you could spend half of the day 9 in Alberobello and half of the day in the cute neighboring town of Locorotondo.
The unique circular town boasts narrow streets, whitewashed houses with sloped roofs called cumerse, and intricate balconies adorned with colorful flowers.
Be sure to see Palazzo Morelli, with its eye catching carved portal. The main church is San Giorgio.
It's a beautiful Baroque church with an elegant facade and a stunning rose window. Step inside to admire the ornate interior, with its intricate altars and Neapolitan frescoes.
In the Marziolla district, you will find another fascinating collection of trulli.
Day 10: Lecce
Polish off your 10 days in southern Italy with a visit to lavish Lecce. It's Baroque jewel known as "the Florence of the South."
It's also called the "City of Churches" and the "City of Gardens." To visit the city properly, you can book an architecture tour, zip around on a rickshaw tour, or go on a street food tour.
Lecce is a maze of narrow streets. Its nerve center is Piazza del Duomo.
The square is a stunning architectural ensemble with the magnificent Lecce Cathedral, Palazzo Vescovile (Bishop's Palace), and the Seminary (which has a beautiful cloister and bell tower). It's especially lovely in the evening when its lit by floodlights.
The Duomo has an extravagant, highly chiseled facade. It was built by the principal architect of the city's Baroque transformation, Giuseppe Zimbalo.
If you proceed down Via Vitttorio Emanuele II, you will arrive at Santa Maria del Rosario. It's Zimbalo's last and finest work.
The other main square is Piazza Sant'Oronzo to the east. In the southern part of the square, you'll find the sunken remains of a Roman amphitheater. it was built by Emperor Hadrian in the 2nd century.
At the square's heart is the Colonna di Sant'Oronzo. You'll also see two other gems, the 16th century Sedile and the Church of San Marco.
From this square walk north on Via Umberto to see the magnificent Basilica of Santa Croce. It's the apotheosis of Lecce's frenzied Baroque architectural style.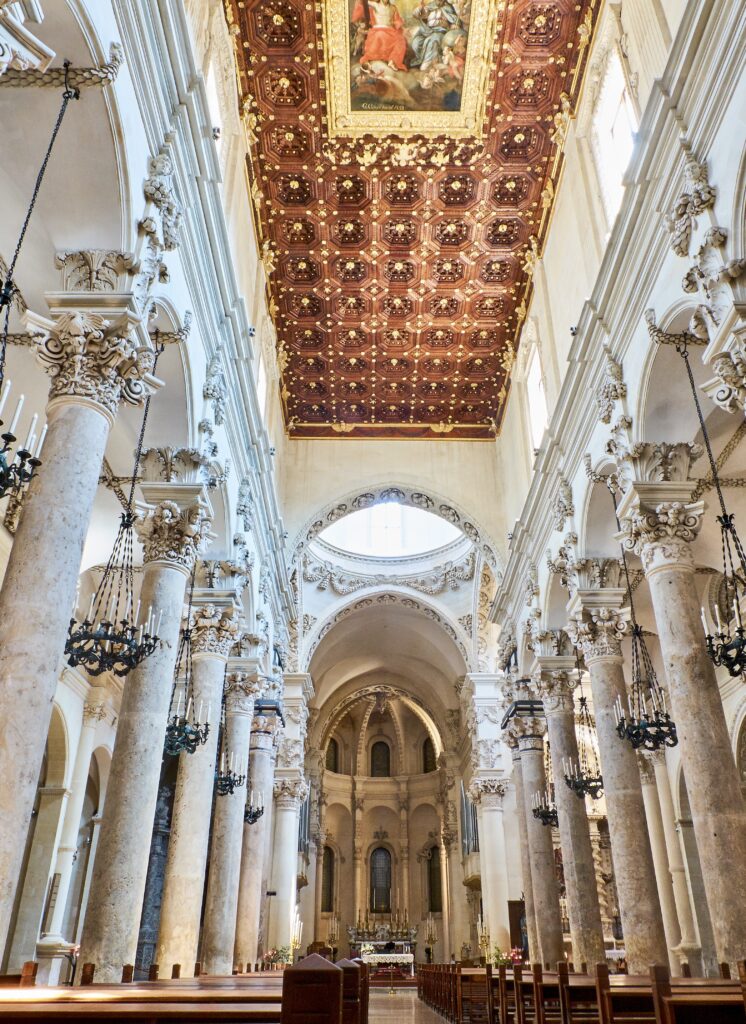 Santa Croce showcases intricate carvings, ornate decorations, and a facade adorned with mythical creatures, dragons, angels, and other symbolic motifs. It is considered one of the most beautiful churches in Italy.
In the early evenings, join the crowds at Piazza Sant'Oronzo for an apertivo. Try a glass of Salice Salentino, a renowned and robust local wine, at Caffe Alvino. There are also some good win bars on Via Umberto.
The city brims with rustic restaurants serving up hearty southern Italian food. Check out Crianza or la Vecchia Osteria da Totu.
More Than 10 Days in Southern Italy?
If you have more than 10 days, you have several options.
If you are a city person, I would spend more time in Naples at the outset of your trip. The city takes awhile to get under your skin and there are just so many attractions.
You could also spend more time eating your way through Puglia. The towns of Molfetta, Trani, Brindisi, and Otranto are all well worth visiting.
Another idea is to head further south to Sicily. To do this, you could fly out of Bari Airport or Brindisi Airport to Palermo or Catania.
For ideas on what to do in Sicily, you can check out my blog post on five ways to spend one week in Sicily. I also have itineraries for Syracuse, Trapani, Catania, Taormina, and Palermo.
If you are feeling a bit bushed after 10 days in southern Italy trip, perhaps you just want to lounge on a beach in Cefalu or Taormina.
Alternatively, ruin lusters can explore the island's fine Greco-Roman ruins in Segesta, the Valley of the Temples in Agrigento, Syracuse Archaeological Park, or the Villa Romano del Casale.
Tips For A 10 Days In Southern Italy Itinerary
Here are some other must know tips for spending 10 days in southern Italy.
1. How To Get To Southern Italy
You'll want to fly into Naples. It has its own international airport, NAP. It's also known as Capodichino Airport.
From the airport, you can take a taxi or book a private transfer to your hotel. You can also book a private transfer from Rome, if you fly in there.
Naples also has a major train station that's well connected to other cities, Napoli Centrale.
2. When To Visit Southern Italy
The general rule to to avoid July and August. These are the hottest, most expensive, and busiest months.
This is especially true on the island of Capri and in the Amalfi Coast. I was also told Matera can get up to 120 degrees in summer.
Late April/May is a delightful time to visit. Everything is lush, festooned with flowers, and landscapes look like fresco paintings.
The weather stays good until about late October. So, a fall visit is also a good choice.
3. How To Get Around Southern Italy
For the part of your itinerary centered on Naples and the Amalfi Coast, I wouldn't get a car. I would use the extensive network of buses, trains, and some private transfers.
The road along the Amalfi Coast offers one of Italy's most famous drives. But the road is difficult, with hairpin turns and heavy traffic. Plus, rental rates are high. I personally wouldn't want to drive there.
In general, however, the train system in the south isn't as good as the north. So, once you depart the Amalfi Coast, I think it makes sense to pick up a rental car for the rest of your trip.
Driving in Puglia is pretty straightforward. The roads are reasonably well maintained, except for small rural roads where you will find potholes. And the traffic is less heavy than more popular places like Tuscany.
4. What To Eat In Southern Italy
Southern Italy is a foodie paradise. The region boasts fresh ingredients, sun-ripened produce, bold flavors, and magical herbs.
Naples is the birthplace of pizza. As Julia Roberts said in the movie Eat, Pray, Love, it's easy to have a "relationship" with it.
Neapolitan pizza has a thin, soft, and slightly chewy crust. The sauce is made from the delicious crushed San Marzano tomatoes.
In the Amalfi Coast, everything is made with lemons — limoncello liqueur, lemon cakes, lemon delight, lemon pasta, and lemon flavored pastries.
The pasta specialities are scialatielli and ravioli caprese. Scialatielli is a type of homemade pasta that is typically served with a flavorful seafood sauce.
You'll also find an abundance of fish and seafood — mussels, clams, tuna, octopus, shrimp, etc.
In Puglia, the burrata and mozzarella is impossibly smooth and creamy. It's usually served with fresh tomatoes, basil, and a drizzle of olive oil.
You'll also find some of the freshest vegetables I've ever tasted. The zucchini, artichokes, and eggplant are all delicious.
The homemade pasta is to die for. In Puglia, the specialty is orecchiette. It's a small ear-shaped pasta. It is often served with a variety of sauces, such as broccoli rabe, cherry tomatoes, and anchovies.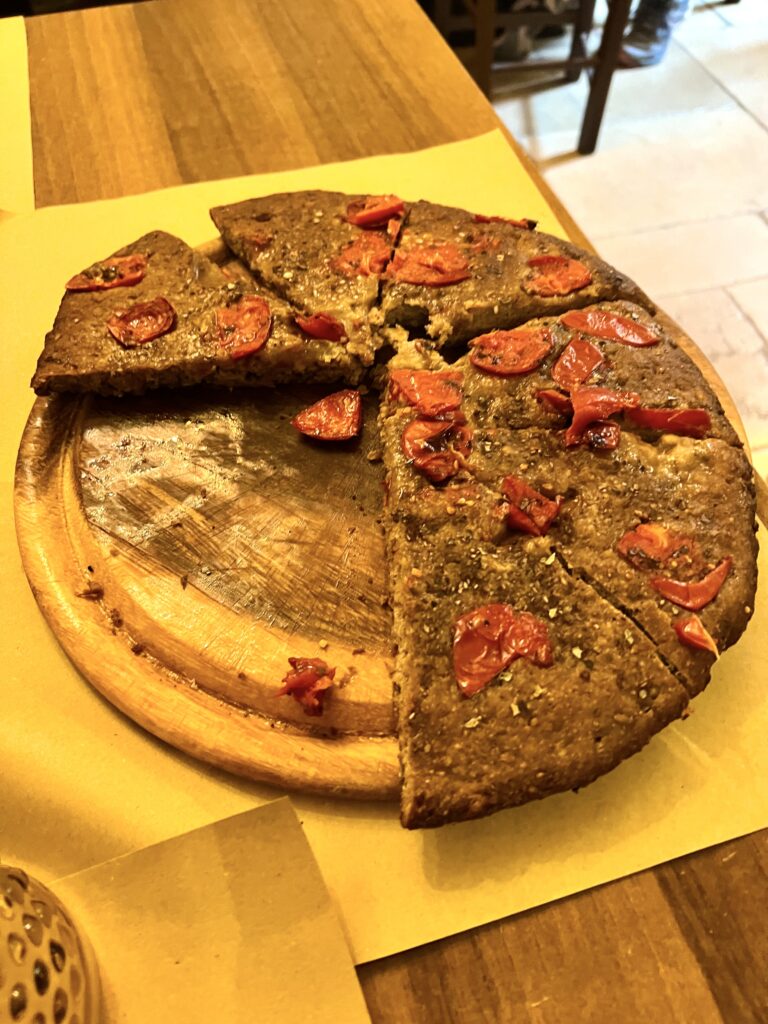 Another thing to try is focaccia barese. It's a delicious variation of the classic Italian flatbread. The bread is generously topped with cherry tomatoes, olives, oregano, and olive oil, creating a burst of flavors in every bite.
I hope you've enjoyed my 10 days in southern Italy itinerary. You may enjoy these other Italy travel guides and resources.
If you need a 10 days in southern Italy itinerary, pin it for later.