Here's my guide to visiting Hadrian's Villa (Villa Adriana) in Tivoli Italy.
Historic Tivoli lies just 20 miles east of Rome on the edge of the Sabine Hills. Tivoli is the perfect day trip from Rome, especially for archeology lovers and history buffs.
Tivoli is home to two UNESCO World Heritage Sites: the sprawling Hadrian's Villa, and the 16th century Villa d'Este, a Renaissance retreat. (I've written about that separately.)
If you're fond of ancient history or are ruin luster like me, you'll be fascinated and thrilled by the evocative ruins of Hadrian's Villa.
Hadrian's Villa is an important archeological complex. It's the largest and most spectacular villa of ancient Rome, three times the size of Pompeii.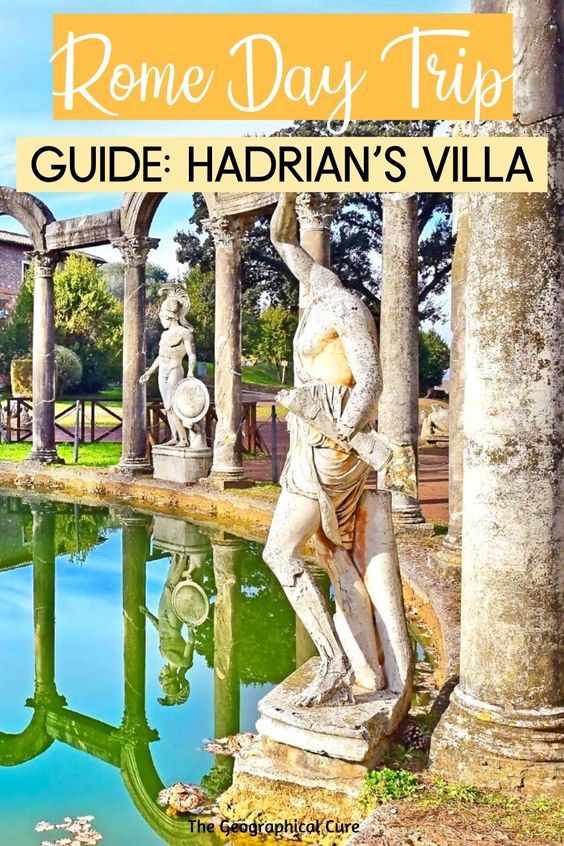 The villa is a testament to the power and glory of ancient Rome and the world's most important leader, Emperor Hadrian. And it was designed by Hadrian himself, complete with magnificent edifices, beautiful mosaics, and ancient statuary.
If you can't get to Hadrian's Villa in Italy yourself, here's an excellent online video tour of the fabulous UNESCO site. You can also tour it on Google Arts & Culture.
READ: Nutshell History of Ancient Rome
A Short Biography of Emperor Hadrian
Born in Italica Spain to olive oil barons, Publius Ellis Hadrian was adopted by his father's cousin, Emperor Trajan. After a distinguished career, he succeeded Trajan in 117. He came to power when Rome was at its zenith, though rebel incursions had begun to create turmoil.
Hadrian was known as one of Rome's "five good emperors." He was the total package — expert administrator, shrewd politician, and pragmatic military strategist.
He shrunk and secured the borders of the empire. After his two decade reign, the Roman Empire was more peaceful and more powerful.
Hadrian was enamored with architecture, a prolific public builder, and adored all things Greek. He was nicknamed "the little Greek." He even insisted that some of his servants speak Greek.
Hadrian built the remarkable Pantheon, the Temple of Venus in the forum, Castle Sant' Angelo near the Vatican Museums, Hadrian's Wall, and his grand villa in Tivoli.
Hadrian was an erudite Renaissance man before the term existed. He's been described as an "Omnium curiositatum explorator," an explorer of everything interesting. Hadrian was highly cultured and traveled the world.
But Hadrian was a complex man, not a perfect one. He was known for his severe mood swings and violent outbursts.
According to an imperial biography, Hadrian was "austere and genial, dignified and playful, dilatory and quick to act, niggardly and generous, deceitful and strait forward, cruel and merciful, and always in all things changeable."
Quite a man …
Hadrian didn't derive emotional support from his chilly wife Sabine. It was reputedly an unhappy arranged marriage, with no children.
Hadrian described Sabine as harsh and irritable. He only had one all-consuming passionate love interest: his young Greek lover Antinous.
At the time, it was common for aristocrats and emperors to have same sex affairs alongside a female spouse. But it was highly unusual to be purely homosexual. Hadrian was the first gay emperor.
To Hadrian's dismay, his lover Antinous drowned under mysterious circumstances at age 19. Hadrian was ill at the time. It was rumored that Antinous may have sacrificed himself to restore his lover's vitality.
After Antinous' death, Hadrian went into profound mourning. He commissioned sculptures of his lover and tried to deify him. In Rome's Capitoline Museums, statues of Antinous as a Greek god stand near a colossus of Hadrian in Greek helmet.
A Short History of Hadrian's Villa
No guide to Hadrian's Villa would be complete without a short history. Constructed for Hadrian between 118-133 A.D., Hadrian's Villa is a sprawling luxury palace.
It was designed on a vast scale to reflect the power, elegance, and excess of the Roman Empire. It's a swishy place.
Hadrian's sprawling complex is called a "villa." But it's more accurately a miniature Rome that covers nearly 300 acres. It's dotted with 30 large structures — palaces, libraries, baths, living quarters, dining pavilions, and sculptural gardens.
The site was chosen for its abundance of natural streams and ponds. Four Roman aqueduct were nearby.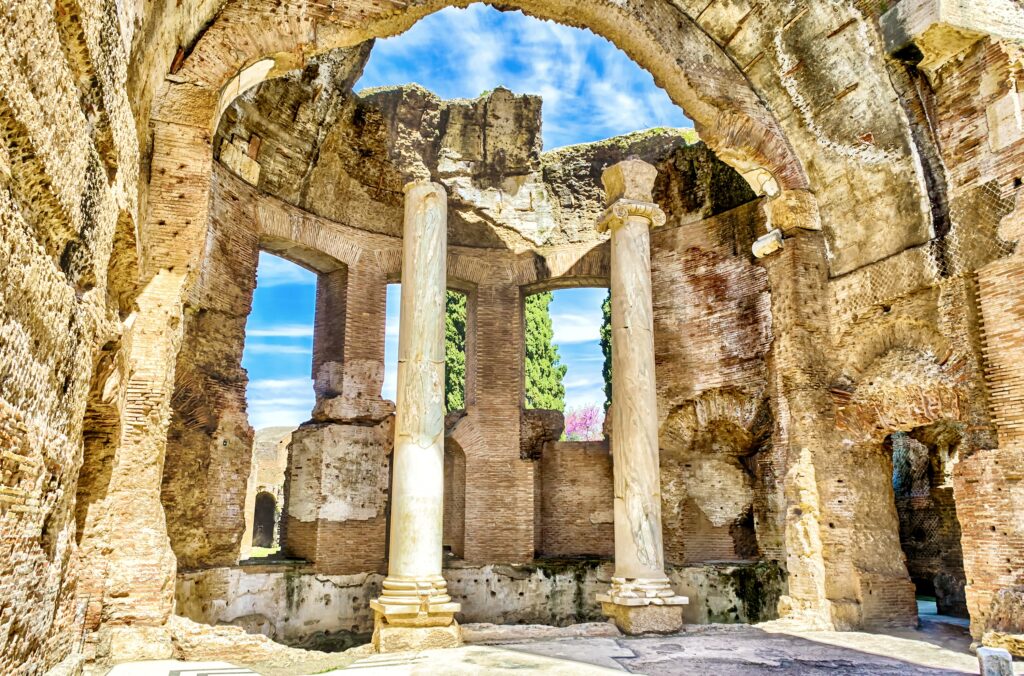 Easy access to water meant that Hadrian's Villa had extensive landscaped gardens and large pools. Some bits of the estate were farmed and others left as wilderness.
Hadrian incorporated foreign landmarks and marvels of the classical world into Villa Adriana, making it a diorama of sorts of his vast empire. When he returned from his voyages, he was full of ideas for even more daring constructions.
Hadrian's Villa was originally intended as a secret escape from the political complexities of a bustling Rome. But Hadrian loved his villa so much that he moved in and used it as the seat of government in his last decade, much like Louis XIV governed France from Versailles.
After Hadrian's death, the villa was used by his successors the Antonini. Later, it fell into disrepair. It was renovated by Diocletian in in the late 3rd century.
But then it was looted by barbarians and Romans alike. The marble, sculptures, and precious decorations were quarried, carried off, and repurposed in other buildings.
A chief culprit was Cardinal Ippolito d'Este. He hacked off marble facades and floors and cannibalized them for his own Villa d'Este, Tivoli's other UNESCO site.
Fortunately, some of Hadrian's statuary ended up in the Capitoline Museums and Vatican Museums, after being uncovered during excavations.
Hadrian's Villa is now an evocative ruin, the opulent accoutrements long gone. Hadrian's Villa became a UNESCO site in 1999.
Archaeologists, architects, and historians have been working at Hadrian's Villa for decades. It's still only half excavated. So new discoveries are made all the time.
Recently, a network of tunnels was discovered under the complex. They would have allowed servants to move about the villa without bothering the nobles.
Guide To Hadrian's Villa: What To See
Here's my list of the main things you have to see at Hadrian's Villa. Start your tour at the Poecile, the entrance to the villa. It's a huge garden surrounded by an arcade with a swimming pool.
Poecile
The Poecile was beautiful but also functional. The former columned arcades served as an all-weather space for residents to take their daily constitutionals. The Poecile was a fantasy version of Athens' Stoa Poikile, where Greek philosophers strolled and philosophized.
Great Baths
From there, proceed to the Grand Thermae or thermal baths. The Romans took wellness seriously. Baths were a central feature of any ancient Roman town.
The Grand Thermal were used by the villa's personnel. Hadrian and his guests used the highly decorated Small Thermae.
The baths had a heating system in the floor, a sauna, and pools of different temperatures.
The beautiful stucco decorations were shot off the walls by souvenir hunting Englishmen on grand tours in the 18th century. But its coffered dome survives.
Just beyond the baths is the Hall of Philosophers. This was Hadrian's monumental audience hall.
Underneath the vault are seven niches. Each one hosted a different philosopher's statue. The entire structure was once faced in marble, though none remains today.
Maritime Theater
The next stop is a beauty and one of the villa highlights, the Maritime Theater or Villa of the Island. The name "Maritime Theater" is a misnomer. It wasn't a theater, but a luxe artificial island.
The island had 35 rooms and is encircled with a moat. The rooms were arranged around a small courtyard with porticoes. White mosaics once lined the floors.
The moat is ringed with columns. Access to the island was via two retractable wooden drawbridges invented by Hadrian himself, though you now see a brick bridge.
The dimensions of the theater are precisely the same as the Pantheon, which Hadrian also built.
It's unclear what the precise purpose of this structure was and historians offer different theories. But it appeared to be for the emperor's personal use.
It was intended as "retreat within a retreat," a private spot where Hadrian escaped with Antinous. Here's an excellent video tour and analysis of the Maritime Theater.
Next, you'll pass by the Greek and Latin Libraries and the Winter Palace. Stop to inspect the mosaics still intact in the guest quarters. The Winter Palace even came equipped with an imperial toilet.
Canopus
Next is the highlight of your visit, the celebrated Canopus. The Canopus is a prime example of Hadrian's tendency to borrow from abroad.
The name Canopus was taken from an Egyptian sanctuary near Alexandria where Antinous drowned. The large pool represented the Nile River.
The Canopus features a curved Corinthian colonnade at one end and a shell shaped grotto-like structure at the other called the Serapeum. The sides are flanked with Roman copies of Greek statutes representing different countries.
The colonnade was supported by caryatids like those on the Erechtheion on the Acropolis. (The originals are now in the onsite museum.) The whole effect is stunning.
The Serapeum looks like a temple, but isn't one. Rather, it was a monumental outdoor dining area set under an umbrella shaped dome.
It was used for parties and banquets in the summer. Food was brought on boats to the lucky guests.
There's also a museum off to the side, the Museum of the Canopus. It was closed, unfortunately, when I was there. Most of the works on display were recovered from the Canopus area.
Imperial Palace
To the right of the Canopus is the Imperial Palace. Only 1/5 of the ruins are visible. It's mostly unexcavated. The floors and walls were once decorated with marble and friezes.
There was a banqueting hall. A number of indoor rooms opened onto a central courtyard with a fountain.
There's not much left of the Golden Square of the palace. But it once a stunning architectural design. A double portico was supported by 60 alternating granite and marble columns.
Standing outside the exit is the Building of Three Exedras. It was a clover shaped building with curved walls and three baths.
A large rectangular fountain graced the entrance. The purpose of the building is still unknown. But it's speculated that it was used as a dining hall.
Hadrian's Villa Stars As A Killing Eve Filming Location
Hadrian's Villa was recently featured in the hit BBC's hit TV show Killing Eve. It appears in the Season 2 finale "You're Mine" — which I won't spoil! Killing Eve has filming locations throughout Europe. But Rome and the surrounding area are some of my favorites.
In the Season 2 finale, Villanelle leads Eve through the literal underworld of Rome before they resurface in the Maritime Theater of Hadrian's Villa.
It's their Thelma and Louise moment. But it doesn't quite work out as planned.
Practical Guide & Tips for Visiting Hadrian's Villa
Address: Largo Marguerite Yourcenar, 1, 00010 Tivoli RM, Italy
Getting there: It's easiest to book a guided tour from Rome. Or, you can take the train to Tivoli from Rome's Tiburtina Station.
Hours: Open daily starting at 9:00 am. Closing time varies between 5:30 and 7:30 depending on the time of year.
Entry fee:
10 euros, online reservation fee an extra 2 euros. Click here to book a skip the line ticket.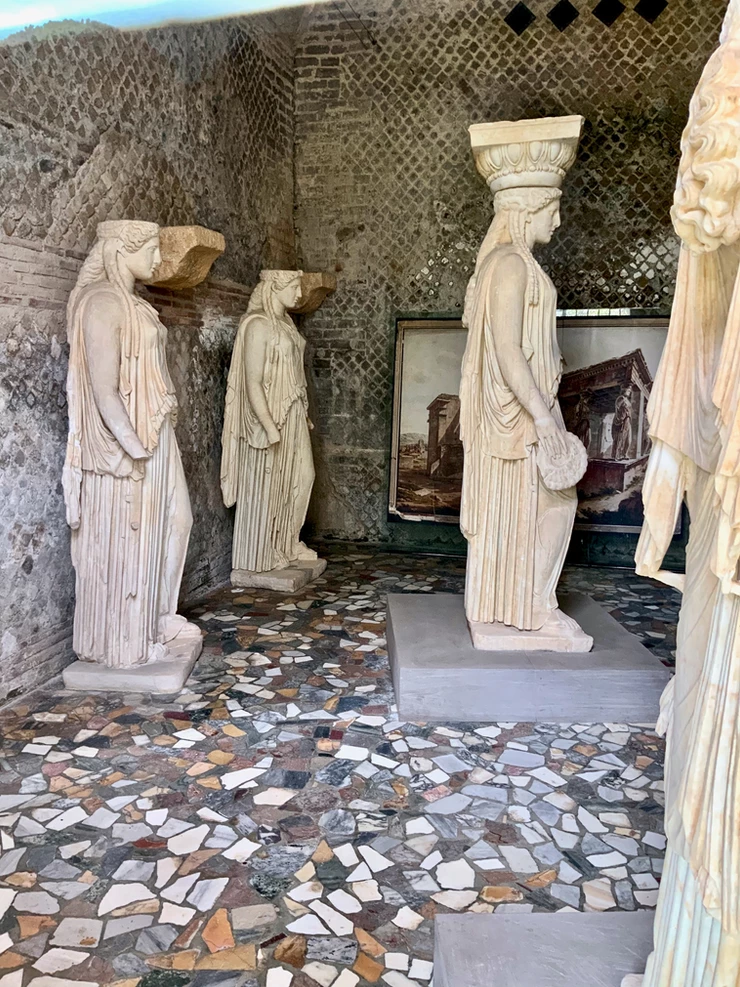 The site is open for free every first Sunday of the month from October to March. If you're visiting during high season, you should make a reservation because the site will be mobbed.
I hope you've enjoyed my guide to Hadrian's Villa Ariadne. You may enjoy these other Italy travel guides:
If you'd like to day trip to Hadrian's Villa from Rome, pin it for later.