Looking for the most iconic viewpoint on the Amalfi Coast? Head to the Villa Cimbrone in Ravello, with this ultimate guide.
The villa is part of the Amalfi Coast's UNESCO designation. You can explore its extraordinary storybook gardens and take in the vistas from the famous Terrace of Infinity.
A Short History of Villa Cimbrone
Villa Cimbrone (pronounced cheem-bro-neigh) dates back to the 11th century when it was a fortified residence. Since then, it's undergone a series of transformations under different noble families.
In 1904, the villa was acquired by Ernest William Becket, an English nobleman who later became known as Lord Grimthorpe. Recognizing the potential of the property, Lord Grimthorpe enlisted the expertise of architects and landscapers to embark on an extensive renovation project.
Embracing the romanticism of the era, his vision was to create a truly remarkable estate that would be hailed as "the most beautiful place in the world."
To bring his vision to life, Lord Grimthorpe adorned the gardens with an exquisite collection of sculptures. Among them is a replica of Donatello's renowned Renaissance masterpiece, the Bronze David. (The original sculpture is in the Bargello Museum in Florence.)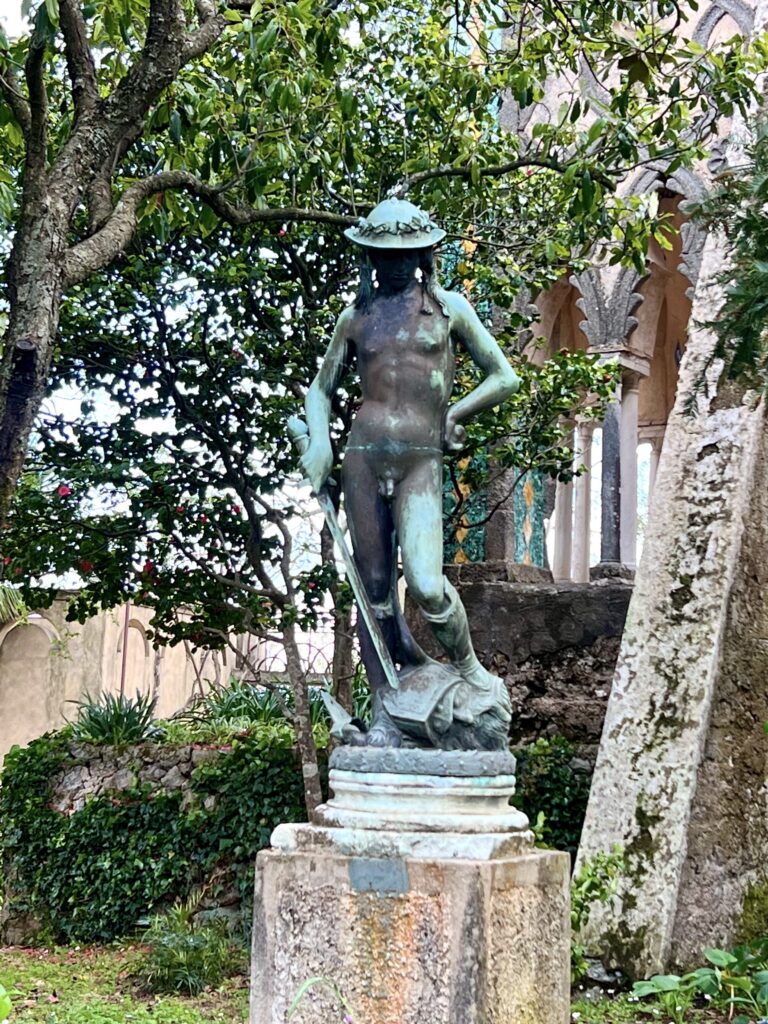 Some sculptures were created specifically for the villa. Others were Roman statues likely sourced from archaeological excavations or private collections.
Grimthorpe also added the famed Terrace of Infinity, fountains, and temples. The ensemble is utterly beguiling and filled with old world charm.
Grimthorpe went on to entertain some of the foremost creative types and personalities of the day — Winston Churchill, Gore Vidal, Tennessee Williams, Graham Greene, Richard Wagner, Jackie Kennedy, and Coco Chanel.
DH Lawrence even wrote a few chapters of Lady Chatterly's Lover at the villa.
The most famous guest was the Swedish actress Greta Garbo, who arrived in 1938. She rented the property for a month.
She was attracted to its beauty and wanted to see it "before it vanished." She thought she could conduct a discrete tryst there.
But she was recognized immediately and became an International sensation. A plaque on the villa, now hotel, marks the date of her visit.
After WWII, Villa Cimbrone fell into decline and was acquired by the Italian state. Today, the villa is owned by the Vuilleumier family. On a visit, you can enjoy the compelling assemblage of art, architecture, and gardens.
Guide To Villa Cimbrone: What To See
Here's what to see on a visit to Villa Cimbrone.
1. Cloister & Crypt
After you enter, the first thing you'll see on your left is the cloister and crypt. It's an evocative space that sets the tone for the rest of your visit.
The cloister is medieval, with some Renaissance flourishes. It has the usual pointy Gothic archways, vaulted ceilings, covered walkways, and central courtyard.
There's a central covered well decorated with majolica tiles on top. Potted plants and vines cover the floors and walls. There are bas reliefs, statuary, and a terra cotta by the famous Florentine artist Luca della Robbia.
To get to the crypt, head down the steps. The crypt is a subterranean chamber with a vaulted ceiling supported by stout columns. There are views of the Mediterranean, making it a popular spot for wedding receptions.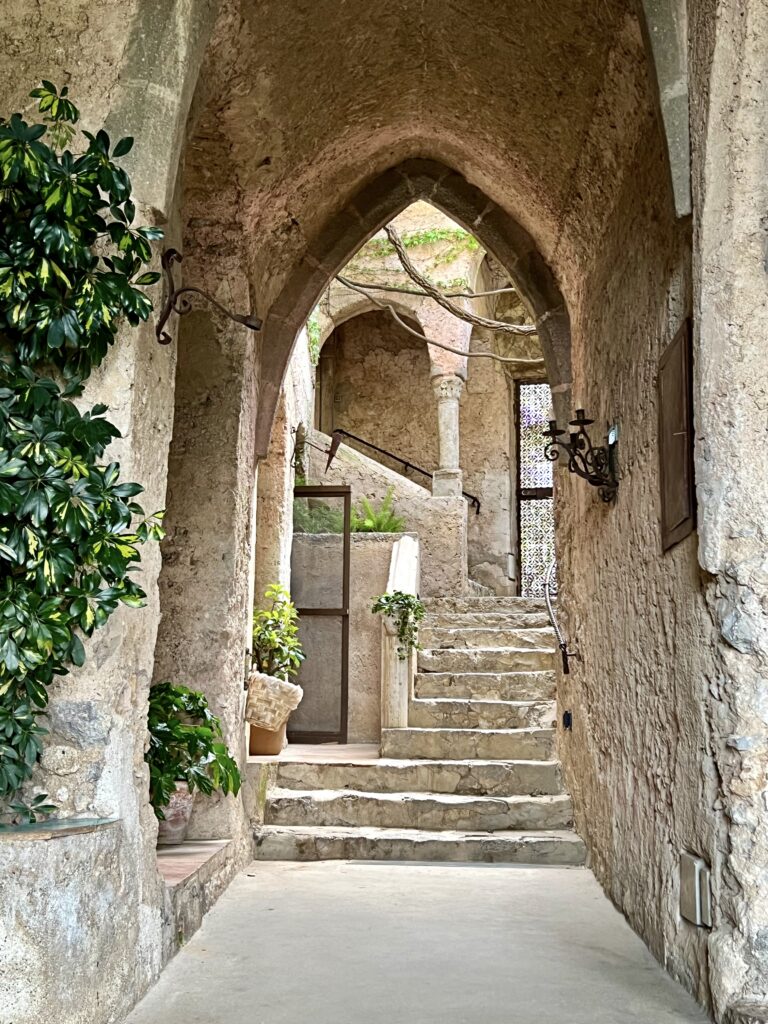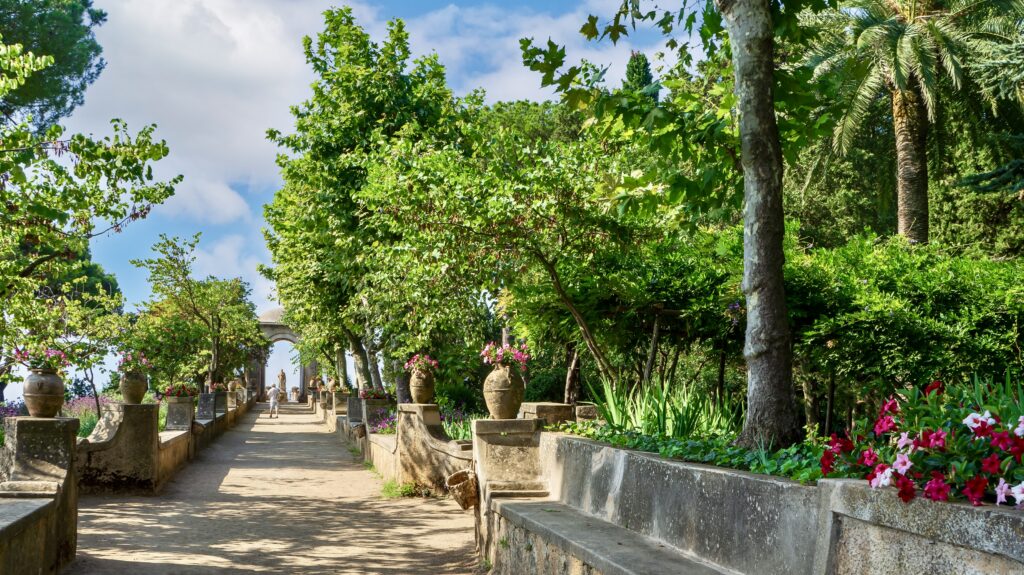 2. Alley of Immensity
The main pedestrian pathway in the gardens is called the Alley of Immensity. It leads you in dramatic fashion from the entrance to the Terrace of Infinity, which I guess is what accounts for its name.
The pathway is a grand promenade adorned with lush vegetation, architectural elements, and decorative tiles.
Other pathways spoke off the lane offering up new gardens and places to explore.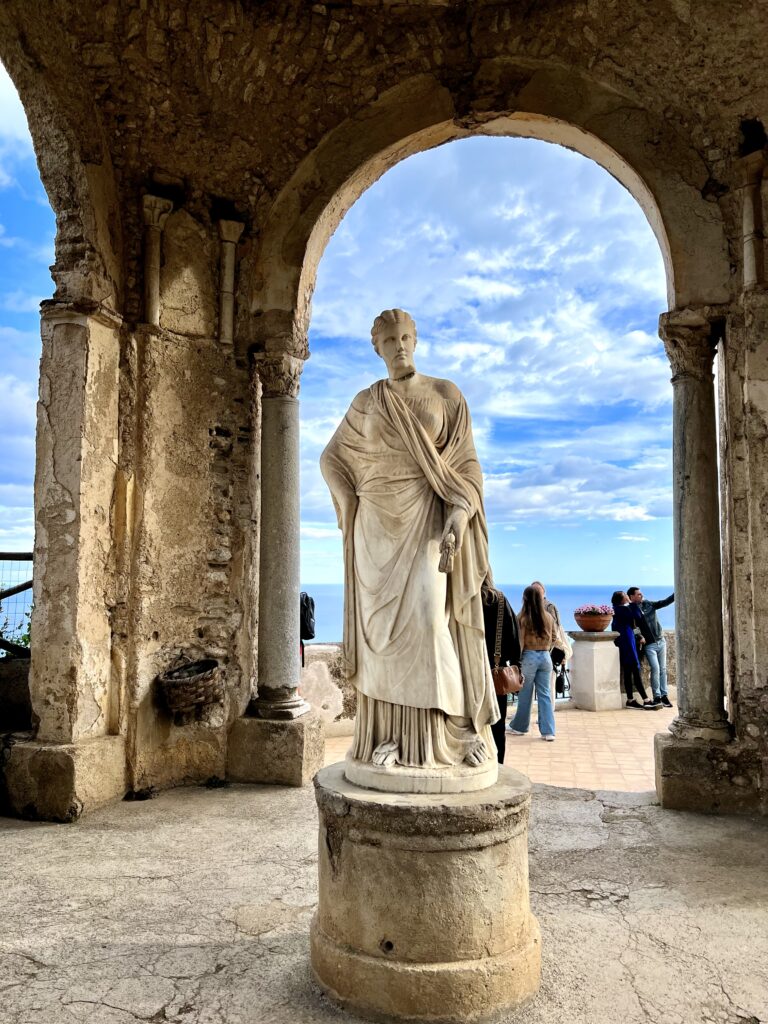 3. Terrace of Infinity
The world famous terrace of infinity is the highlight of the villa. Perched on a 1,000 foot cliff, it offers up eye popping views of the azure sea and the Amalfi Coast.
In the distance, you can see Cilento, a beautiful and largely undiscovered region of Italy.
The terrace is guarded by a statue of Ceres in a small temple. She's the Roman god of agriculture, grain, and maternal love. She was the mother of Prosperine, the daughter of Zeus who was abducted by Hades.
Step past Ceres and you're on a beautiful viewing terrace. It's lined with 18th century Roman-style marble busts of various deities. I guarantee it will be hard to pull yourself away.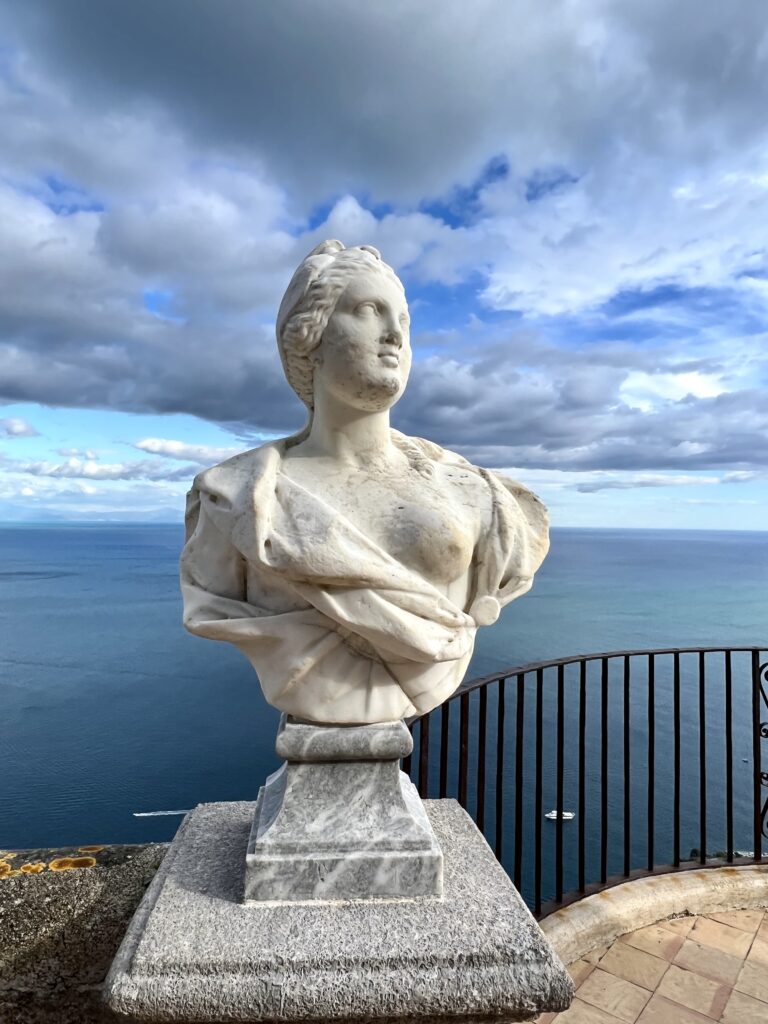 4. Gardens
The meticulously manicured gardens of Villa Cimbrone are incredibly beautiful. They combine Renaissance and English landscaping styles and offer a sense of elegance and tranquility.
You'll find hedges and pathways throughout the grounds. You can take in creamy camillas, roses, hydrangeas, bougainvillea, and other exotic blooms.
There are wisteria pergolas everywhere. I was last there in early May and they were in full bloom.
5. Follies
To make the gardens even more romantic, there are crumbling follies and statues everywhere.
One structure that lends a touch of the exotic is the Moorish Gazebo. It's a small pavilion with Moorish arches and other decorative motifs.
There are four Roman columns with intricate carvings. Dappled in shade, it's a nice space to take a break and relax.
The Temple of Bacchus is equally atmospheric. It's a small structure with a statue of Bacchus, the god of wine, inside. It has Roman-style columns and ornate decorative elements.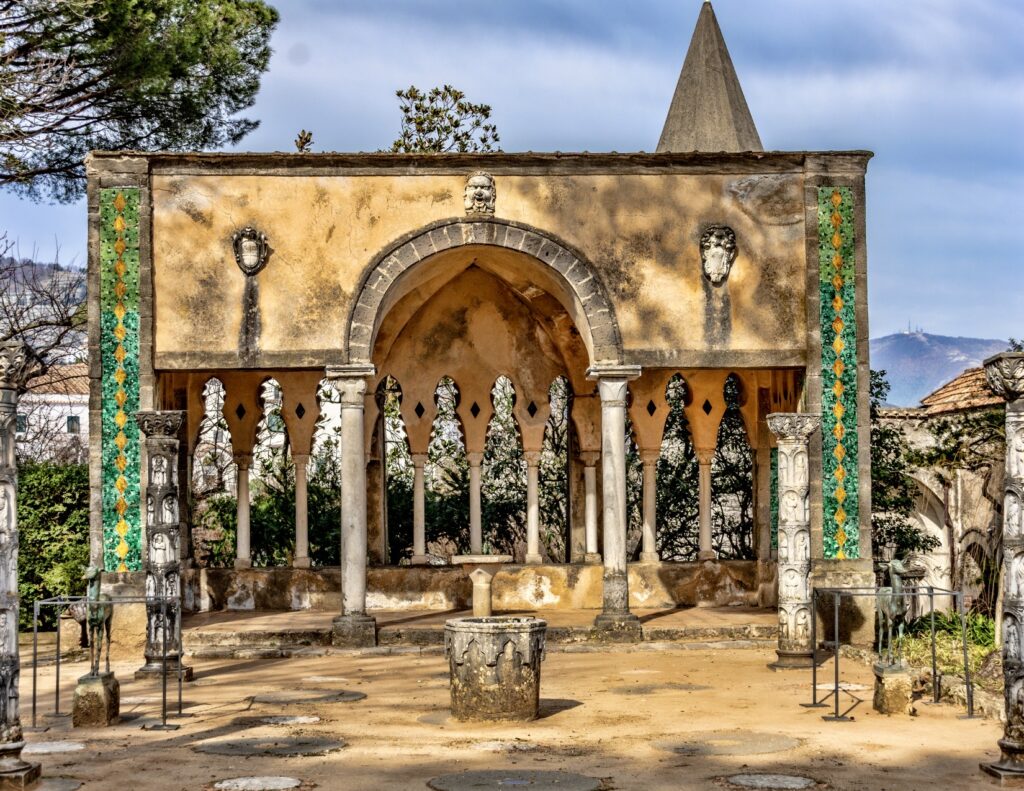 Down another steep lane is the Mercury Seat. There's a copy of the Roman statue of the god Hermes at rest. The original is in the Naples National Archaeological Museum.
Above the seat is an engraving with a quote from D.H. Lawrence. It reads:
Lost to a world in which I crave no part, I sit alone and commune with my heart. Pleased with my little corner of earth, glad to have come, not sorry to depart

DH Lawrence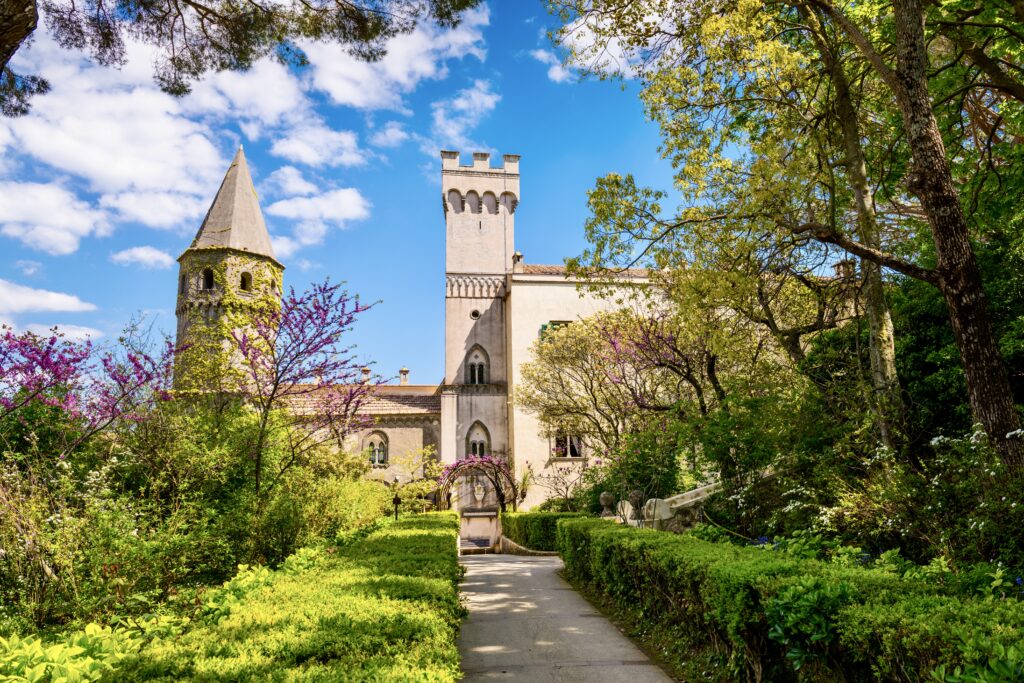 6. Hotel Cimbrone
The Villa Cimbrone is now a historic 5 star hotel. It's renowned for its stunning gardens, panoramic views, and its architectural beauty.
The hotel's architecture combines elements of medieval, Moorish, and Renaissance styles, creating a unique and enchanting atmosphere.
The hotel provides luxurious accommodations with elegantly decorated rooms and suites. It is known for its impeccable service and Michelin restaurant, Il Flauto di Pan.
If you want to stay in the lap of luxury, click here to check out the hotel and book a room. Another beautiful hotel in Ravello is the Hotel Caruso.
Practical Guide & Tips For Villa Cimbrone
Here is some must know information for visiting Villa Cimbrone.
Address:
The villa and gardens are located south of the town center. They can only be reached on foot. It's about .4 miles (10 minutes) from the main square, Piazza Vescovado. Along the way, you'll pass Villa Eva and Villa Maria and have some nice views.
How To Get To Villa Cimbrone
If you are in neighboring Amalfi, you can either hike up to Ravello, take the local bus, or take a taxi. I wouldn't advise driving. The road from Amalfi to Ravello is very narrow and parking is difficult.
Opening Hours
Opening hours are 9:00 am until one hour after sunset. In summer, this is 7:30 pm. In winter, it's 5:30 pm.
Ticket Price
Admission is 10 euros in high season, 7 euros from November 1 to March 31. You are asked to keep your ticket with you in case of spot checks. The ticket office is on the right as you enter.
Terrace Bar
The Terrace Bar at Villa Cimbrone is a hidden oasis that offers a truly extraordinary cocktail experience. Nestled just below the Terrace of Infinity, it provides a captivating setting where you can indulge in the breathtaking views. You can sit inside or outside.
Dogs
Dogs are allowed if they are on a leash.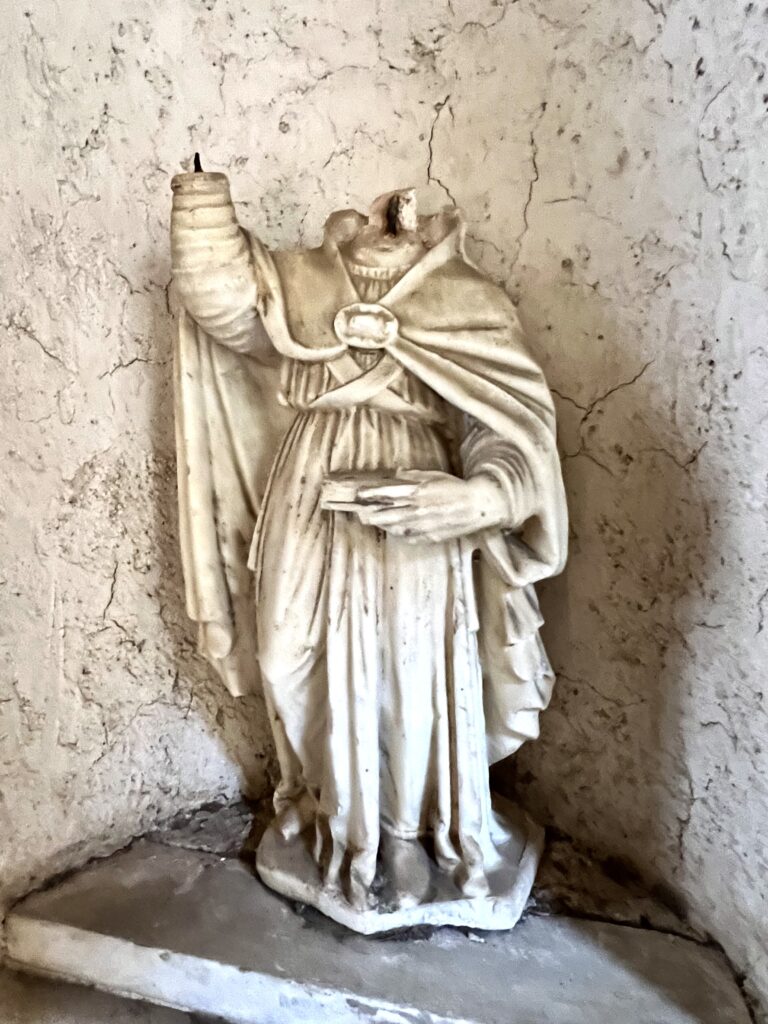 Is Villa Cimbrone Worth Visiting?
100% yes. It's a must visit destination in Ravello that just exudes romance. On a clear day, it offers up some of the best vistas in an already picturesque Amalfi Coast.
Photos
You can take photos. But permission is required for professional photographic equipment. No drones are allowed.
When To Visit Villa Cimbrone
When to visit depends on your preference for weather and tolerance for crowds.
I think spring is the best time to visit the villa. The gardens and landscapes are at their most lush and the wisteria are blooming.
In the summer, there will be crowds, which can cut into your enjoyment of the usually serene space. But, if you love music, you may want to brave the crowds.
Each year, in July and August, Ravello hosts the famous Ravello Music Festival, also known as the Wagner festival. The classical music celebration is held in the gardens of Villa Rufolo, another must visit villa in Ravello.
In the fall, it will be cooler and there won't be as many perennials blooming. But you will have fall foliage.
In terms of the timing of your visit, if you want to beat the Instagrammers, you will want to arrive just before the villa opens. Another great time to visit the infinity terrace is at sunset, when the orange sun slices the blue sky and blue waters.
Other Rules
There is no running in the villa (my husband the runner got busted for this). You cannot touch the statues, flowers, or plants.
I hope you've enjoyed my guide to visiting Villa Cimbrone. You may enjoy these other Italy itineraries and resources:

If you need a guide to Villa Cimbrone, pin it for later.