Wondering what to do in Catania Sicily? This is the ultimate one day in Catania itinerary.
It covers the city's must visit attractions and landmarks. You'll find all the best things to do and see in Catania, along with must know tips for visiting.
I expected not to like Catania after repeatedly reading about its "grittiness." And, to be sure, the city is a bit scruffy around the edges. So you'll get a good dose of Sicilian urban life and have to take the gritty with the pretty.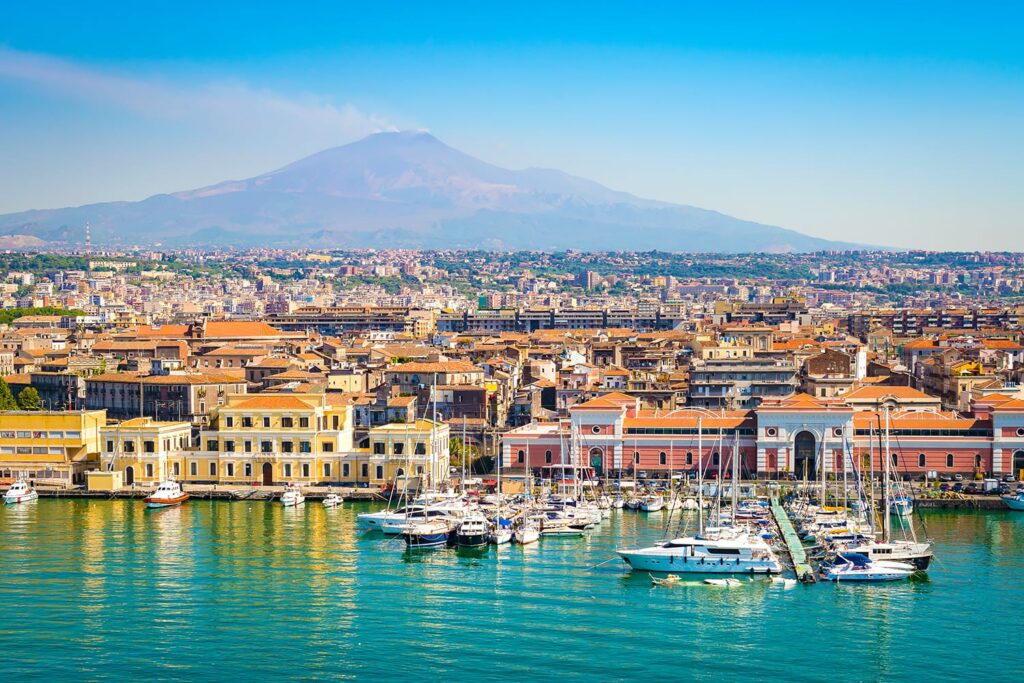 That said, there's plenty of pretty. Catania has a gorgeous setting in the shadow of Mt. Etna. It's historic core is a UNESCO-listed marvel with black and white palazzi, sunbaked Baroque churches, and bustling markets.
Plus, unlike other destinations in eastern Sicily, Catania is largely tourist free.
You can visit the beautiful Catania Cathedral for free, take in the views from the terrace of the neighboring church, feast at the fish market, and visit ancient Roman ruins.
A Short History Of Catania
Catania began life as a modest Greek colony. The Roman general Octavian (later Emperor Augustus) captured the city in the 3rd century B.C. In Roman times, Catania became the largest Roman city in Sicily.
During its heyday, Roman Catania had two large theaters and a stadium almost the size of Rome's Circus Maximus.
In the 4th century, Emperor Diocletian began persecuting Christians. The city's patron saint, Agatha, became one of the most venerated Christian martyrs.
Legend holds that a chaste Agatha rejected the persistent marriage proposals of a Roman prefect. As a result of her recalcitrance, she was imprisoned and tortured, her breasts chopped off with tongs.
Agatha's remains are in Catania Cathedral. Each year, on Feb. 5, the city celebrates her martyrdom with a festival that draws nearly 1 million people.
During the Middle Ages, much of ancient Catania was erased. In 1693, Mt. Etna erupted. An earthquake followed that largely destroyed Catania.
Like other cities in Sicily, it was rebuilt in a Sicilian Baroque style, which is a more theatrical and flamboyant type of Baroque architecture. During WWII, Catania was hit again and you can see some of the scars.
But the city's motto is "from the ruins, I emerge stronger." Today, Catania is a lively city where the ancient and modern commingle.
One Day In Catania Itinerary
Here's how to spend one efficient day in Catania. I've listed Catania's attractions in the order you'll likely encounter them heading from the southern end at Porta Uzeda to the northern end of the city at Piazza Alberto.
For the full scoop on Catania's historic sites, you might consider booking a guided walking tour.
Morning Of One Day In Catania
Porta Uzeda
Begin your stroll at Porta Uzeda, also known as the Great Marine Gate. It's part of the city walls of Catania built by Spaniards in the 15th century. The gate was installed in 1696 after the 1693 earthquake that shook Sicily.
Before you head inside, stop into the chocolate shop just outside the wall for some goodies from Modica. I especially like the spicy peperoncino chocolate.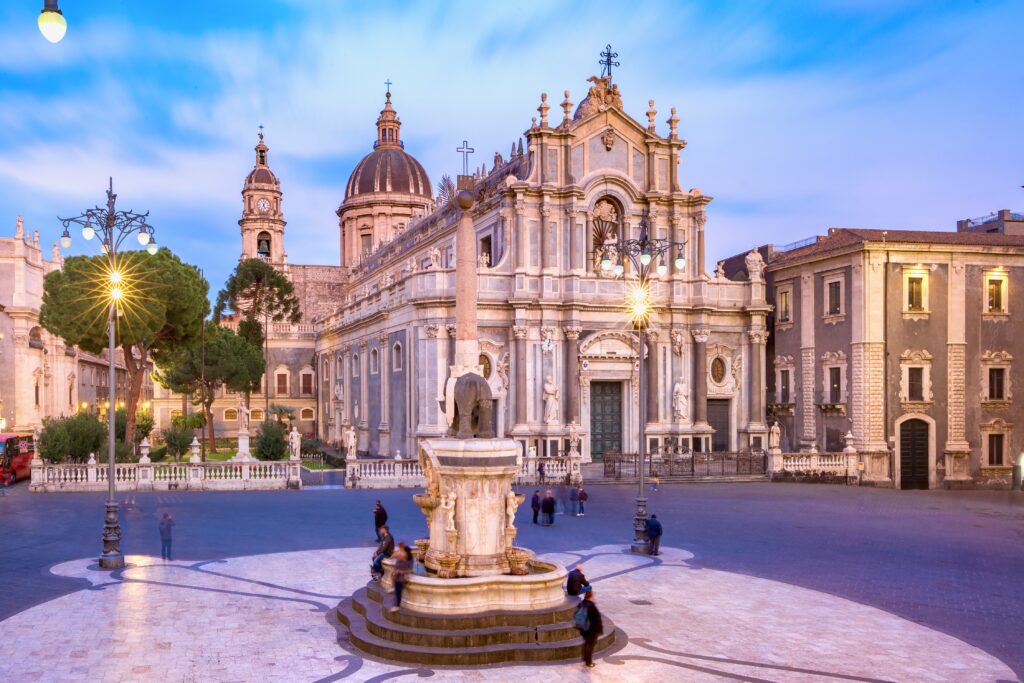 Piazza del Duomo
Your first port of call is Piazza del Duomo. It's an amazing space that's part of Catania's UNESCO designation.
The piazza is the social heart of Catania and is home to a slew of beautiful buildings built in limestone and lava. The Palazzo dei Chierici and Palazzo degli Elefanti comprise the Town Hall of Catania.
The square's centerpiece is an elephant sculpture carved from lava stone with an Egyptian obelisk on top. It's the symbol of the city. The obelisk was erected by Giovanni Battista Vaccarini in 1736. The ensemble reminded me of Bernini's elephant and obelisk sculpture in Piazza della Minerva in Rome.
In Catania, elephants were considered a symbol of good luck and power. The elephant dates from Roman times. The obelisk is said to tame Mt. Etna's unpredictable temperament.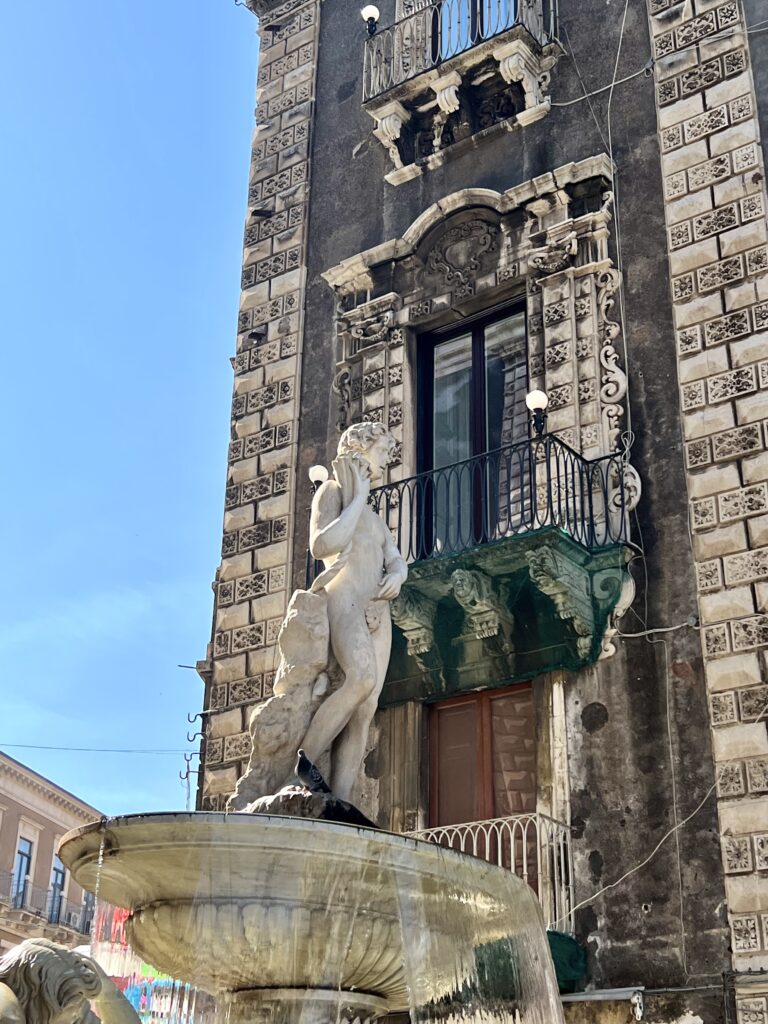 In the southwest corner is the splash happy Fountain dell'Amenano, and it marks the entrance to the fish market.
Sculpted by Naples artist Tito Angelini, it depicts the Amenano River as a young man holding a horn of plenty. From it, water flows into a basin and and into the river below.
From here, you're right near Via Garibaldi. Take a short stroll down the street.
It's flanked with some beautiful Baroque buildings. There's an impressive gate in Piazza Palestro and you'll have nice views back at Piazza Duomo.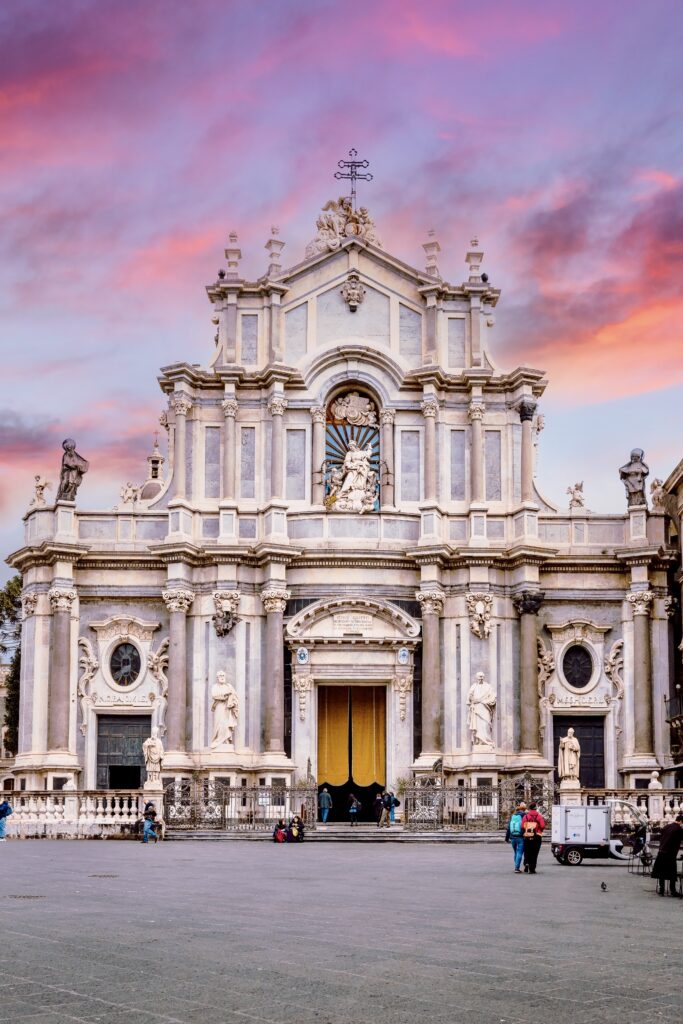 Catania Cathderal
Catania Cathedral is know as the Cathedral of Saint Agatha. It was built right after the great earthquake of 1693 and it is a definite must visit with one day in Catania.
The cathedral has a showy Baroque-Rococo design, trimmed with Catania's black lava stone. It's impressive marble facade sports granite columns recycled from the Roman Amphitheater.
Inside, the cathedral houses the relics of Saint Agatha. It's to the right of the main altar. You'll also find remains of Catalan born composer Vincenzo Bellini.
The Diocesan Museum is right next door on Piazza Duomo and holds relics from the Cult of St. Agatha. From the museum, you'll have access to the subterranean Roman baths under the church.
The church is open from 9:30 am to 12:30 pm, then closed for 4 hours reopening from 4:30 to 7:00 pm (That's why I have you visiting the church early in your one day in Catania.)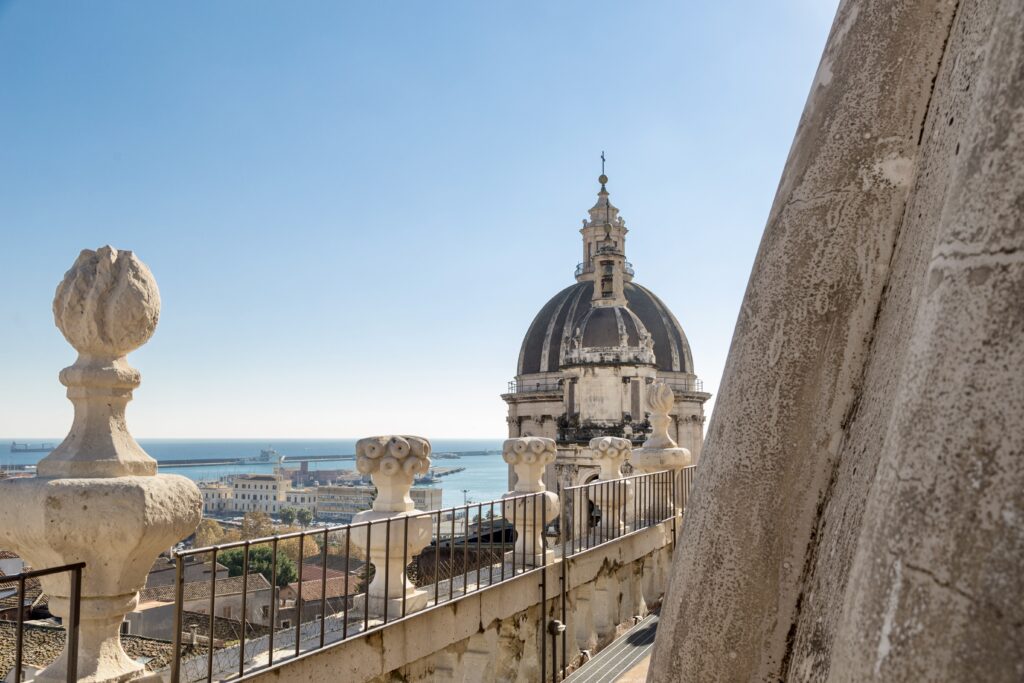 Church Badia di Sant'Agata
After admiring the Duomo, head over to the adjacent Church of Badia di Sant'Agata. This 18th century church has a concave facade characteristic of the Roman architect Borromini.
The church has a beautiful interior with Carrera marble floors and amber colored altars.
But what you really must do is climb 170 steps up to the top of the dome terrace. You'll have wonderful 360 views of Catania and Mt. Etna to the north.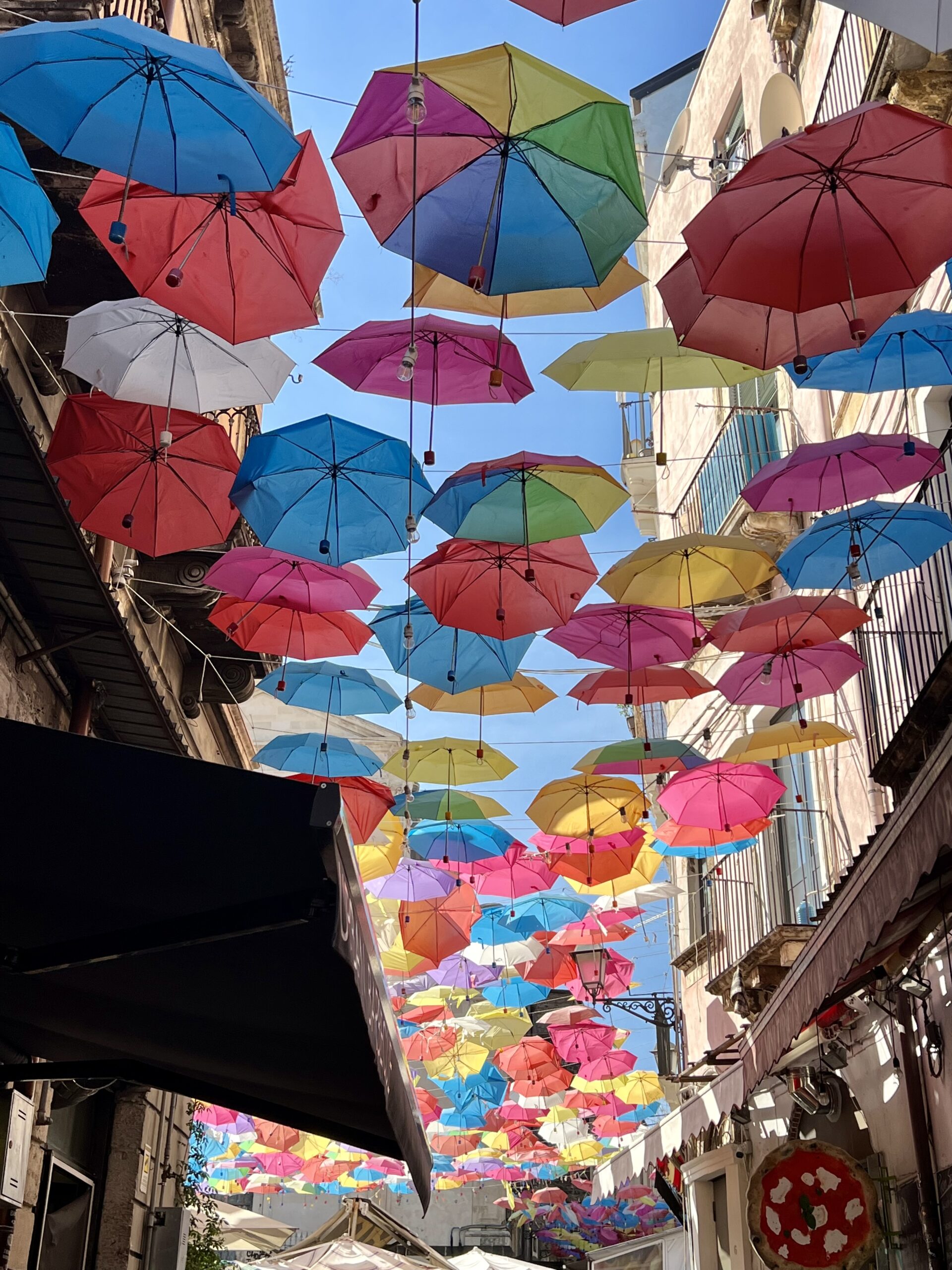 Fish Market & Lunch
Catania's Fish Market was one of the most wild and rollicking that I encountered in Sicily. Since the 19th century, it's been providing street theater at its most thrilling.
The market is covered by colorful umbrellas. Tables groan with all manner of fish and mysterious looking sea life.
You'll can find fresh fruit, vegetables, cheeses, and spices. I even saw purple cauliflower for the first time. I purchased some vacuum packed cheese to bring home and it was delicious, a salty sheep's milk cheese with pepper that resembles pecorino.
You can all pick out nice size bags of dried herbs and spices for one euro apiece. Catania is especially know for its oregano.
The market is also the perfect place to have lunch, and is home to some seafood restaurants. A good place to sit down is Mm Trattoria.
For 10 euros, you can get a huge plate of calamari and octopus. You can also try pasta alla norma, which is Catania's signature dish.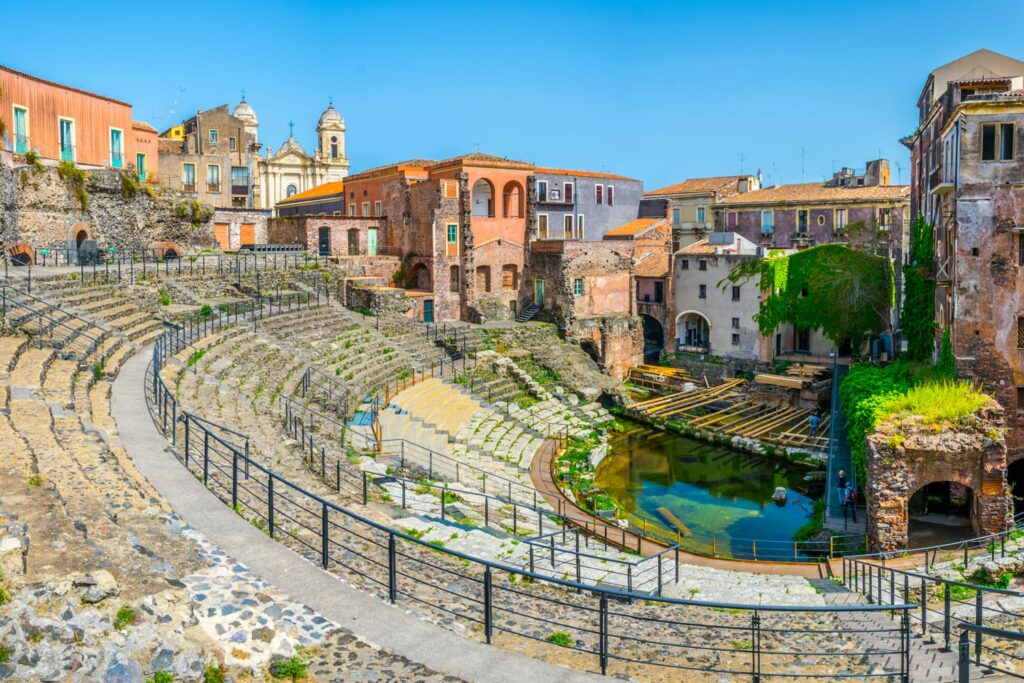 Afternoon Of One Day in Catania
Roman Theater
After lunch, head to the Roman Theater. Teatro Antico is off Via Etna on Via Vittorio Emanuele. It was likely built in the 2nd century A.D. over the ruins of a prior Greek theater.
You enter through an unassuming facade and pay 6 euros for a ticket. Some artifacts and statuary are on display. And, then wow, you see the the theater itself.
It had a seating capacity of 7,000 spectators with 21 rows of seats. It once had a stage decorated with marble columns. Higher up is an odeon that was used as a rehearsal theater.
After the fall of the Roman Empire, the theater lost its stature and its marble was looted to build the cathedral. Other buildings were built over it, but those were moved in 1770.
Benedictine Monastery of San Nicolo l'Arena
Not far from the Roman Theater is the historic Monastery of San Nicolo l'Arena, built in 1703. You can visit for free and explore the courtyard, corridors, exquisite cloisters, and a nice garden.
You can also join a 1.5 hour guided tour that takes you to places the public can't see. The tour incudes a peak at an ancient Roman villa with mosaics, a frescoed church, the grand library, and the refectory.
The Benedictine order has been in Catania for centuries. When the big earthquake destroyed its monastery, it was rebuilt over 10 acres. It's one of the largest Benedictine complexes in Europe.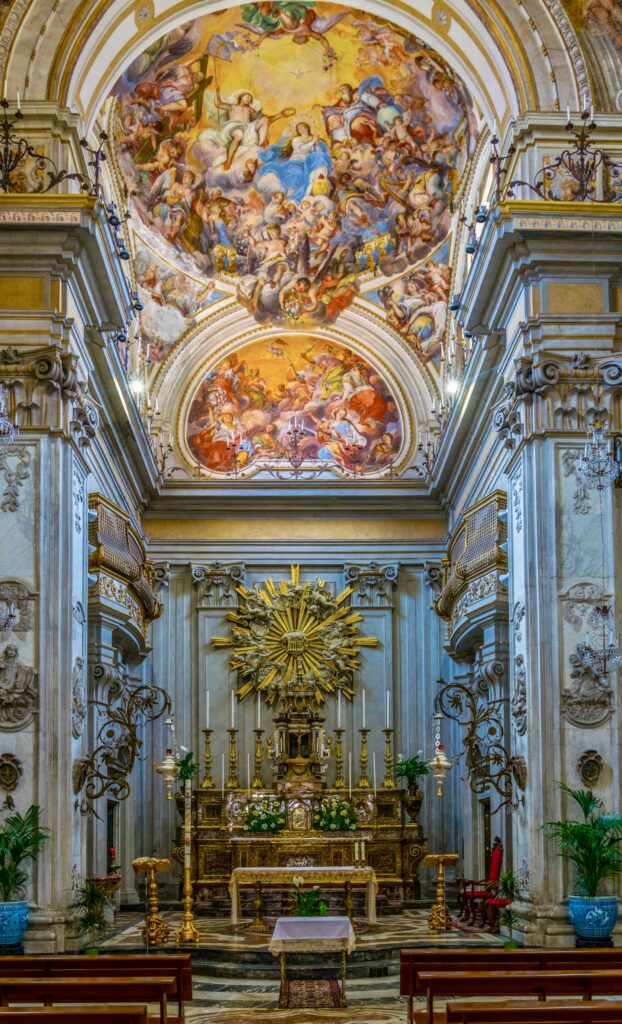 The monastery has been frequently repurposed. Today, it is home to the University of Catania.
Teatro Massimo Bellini
Next, head east to check out the Teatro Massimo Bellini. It's Catania's dashing opera house.
Built in the 1800s, it's named after the city's most famous composer, Vincenzo Bellini. It's a gorgeously gilded opera house that reminded me of Teatro Massimo in Palermo.
Tours take place twice a day at 10:30 am and 12:30 pm.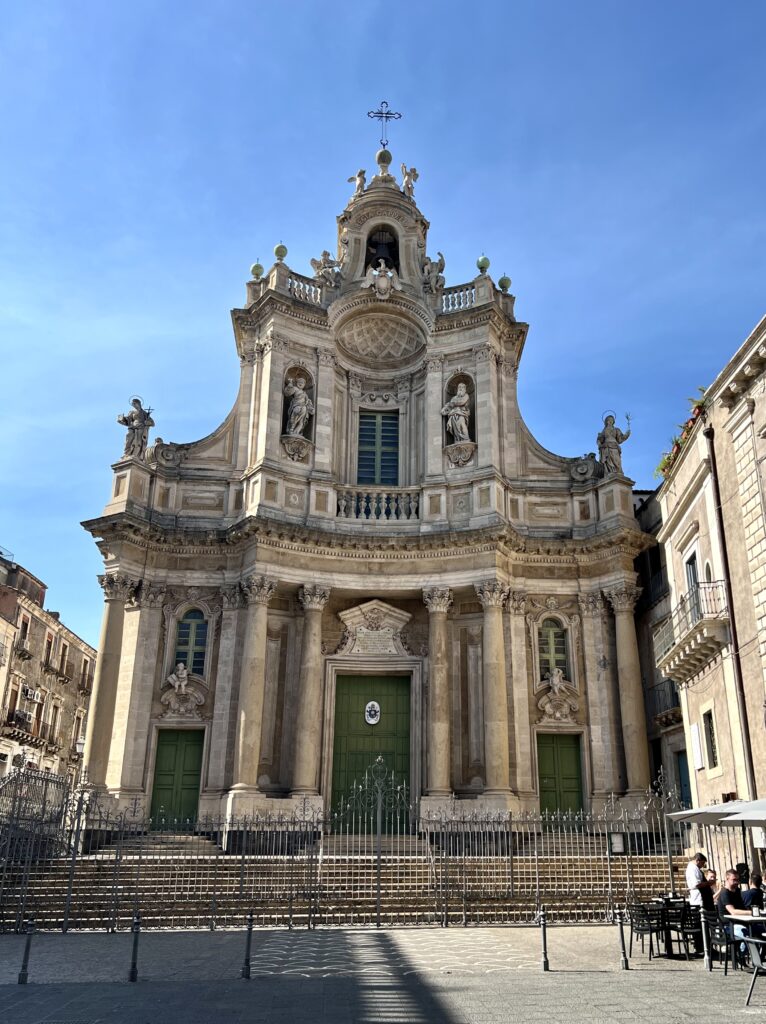 Stroll Via Etnea
Next, head up the pedestrianized Via Etnea, the main drag. The street takes its name from Mt. Etna and you can see it smoking at the end of the street.
The wide street is full of shops, eateries, gelatarias, bars, and granita stands.
Along the way, you'll pass the imposing Collegiata church in Piazza Universita. Its facade is a masterful example of flamboyant Catalan Baroque architecture.
The interior has a nave and two aisles. The church is decorated with marble, frescos, and some important paintings. It has a lovely choir second in importance only to the one in the cathedral.
To escape the crowds and cacaphony on Via Etnea, pop into Villa Bellini gardens. It's a large park with gardens, paths, and statuary.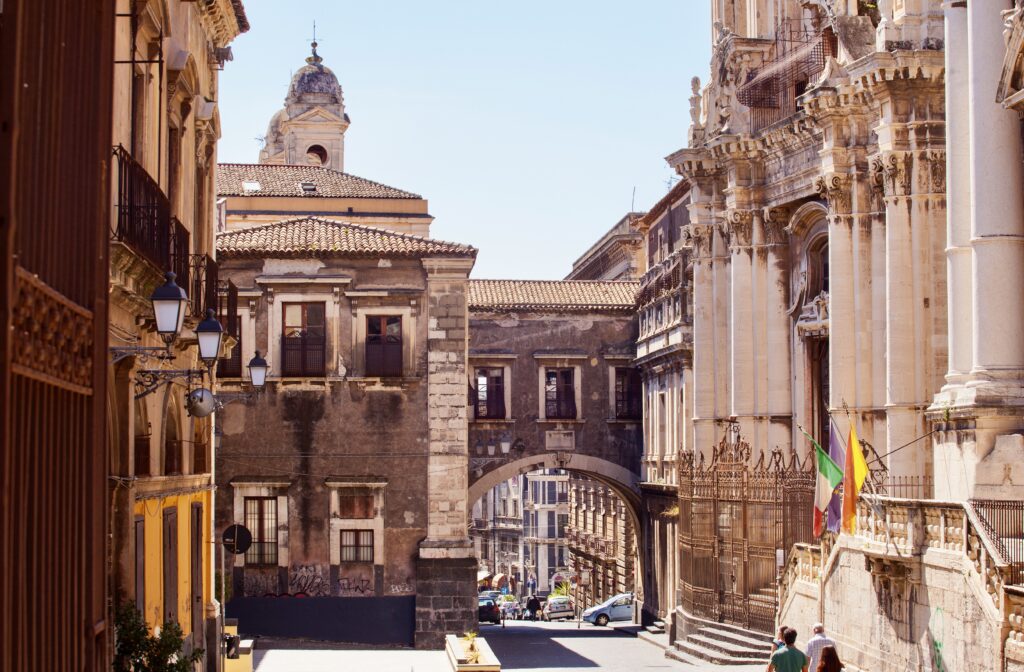 Via Crociferi
Via Crociferi is Catania's best preserved Baroque street and is definitely one of the best things to do in Catania. You enter the street from the Arch of Benedetto. It's home to four different Baroque churches and dubbed the "Baroque living room of Catania."
Piazza Stesicoro
Piazza Stesicoro is another of Catania's pretty squares. In the center is a monument to the composer Vincenzo Bellini, Catania's native son.
You will see the Church of San Biagio and several palaces.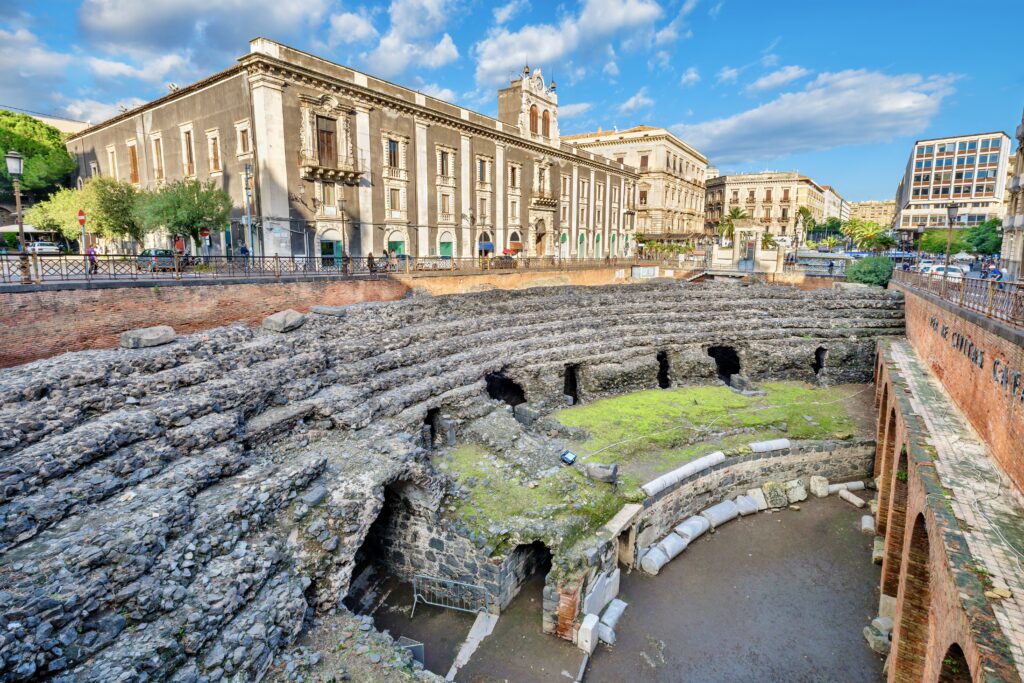 Roman Amphitheater
On one side of the bustling square is Catania's Roman Amphitheater.
Excavated in the 18th century, the arena was constructed in the second half of the first century A.D. The elliptical arena was mainly built with lava stone, with red brick used to make the arches.
It was later enlarged in the 2nd century to accommodate 15,000 spectators. At that time, the arena was one of the largest in the Roman world.
The arena fell into disuse in the 4th century, crumbled further during the great earthquake, and new buildings were built over it.
The arena is open to the public and visitors can see 3D reconstructions.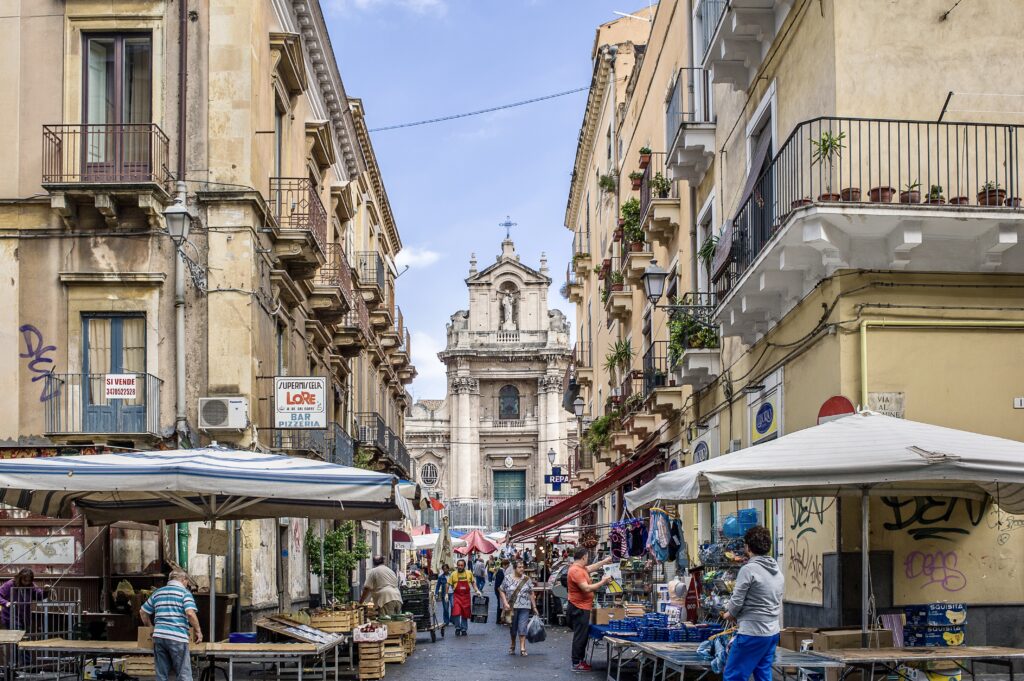 Fera 'o Luni Market
In the north of town is the historic Fera 'O Luni Market, just off Via Etna. The historical market is located in Piazza Carlo Alberto and takes place every day except Sunday.
It's one of the oldest outdoor markets in the city. Like the fish market, it sells fresh produce, but it also doubles as a flea market.
Vendors sell everything from Sicilian crafts to antiques to designer knockoff handbags. You hear locals and nonnas haggling over prices.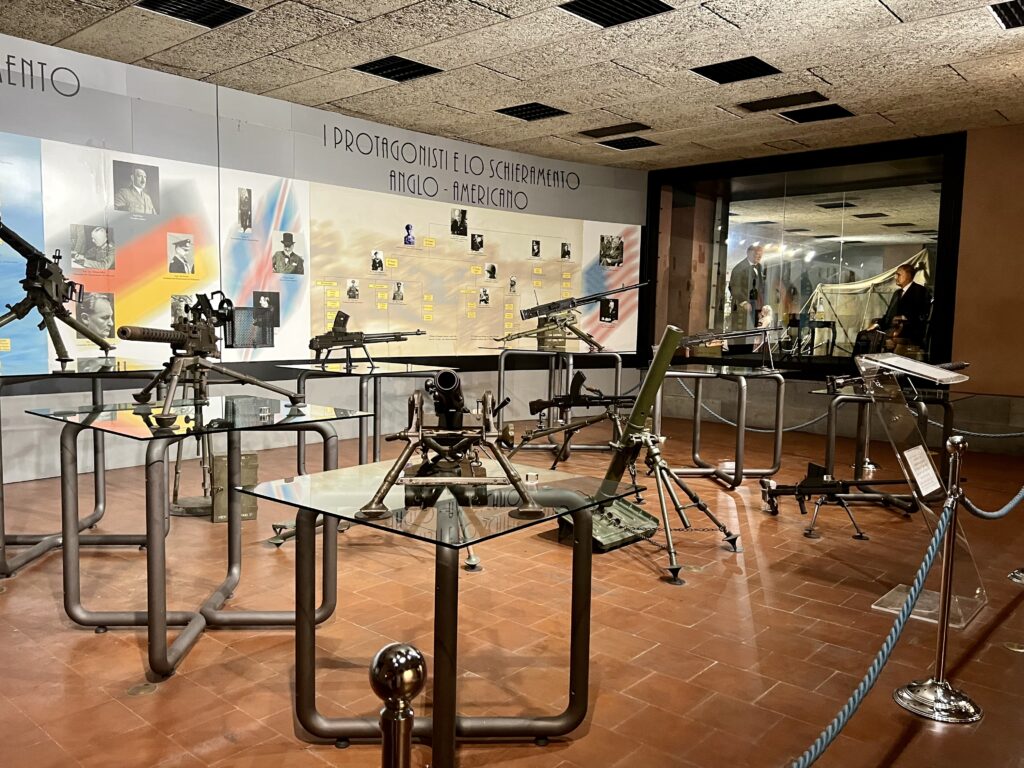 WWII Museum Or Mount Etna
If you have time left in your one day in Catania, you have two choices. Either head to its celebrated WWII Museum, the Museum of the Allied Landings in Sicily, or take a late afternoon sunset tour of Mt. Etna.
Unless you're a military history buff, I would recommend heading to majestic Etna. But WWII aficionados will love the well-curated museum.
WWII Museum
The WWII museum is a bit out of the way, housed in an old factory in the far northeast of town. The museum chronicles what happened between the Allied landing and the liberation of Sicily. It's run by daughters of Sicilian resistance fighters.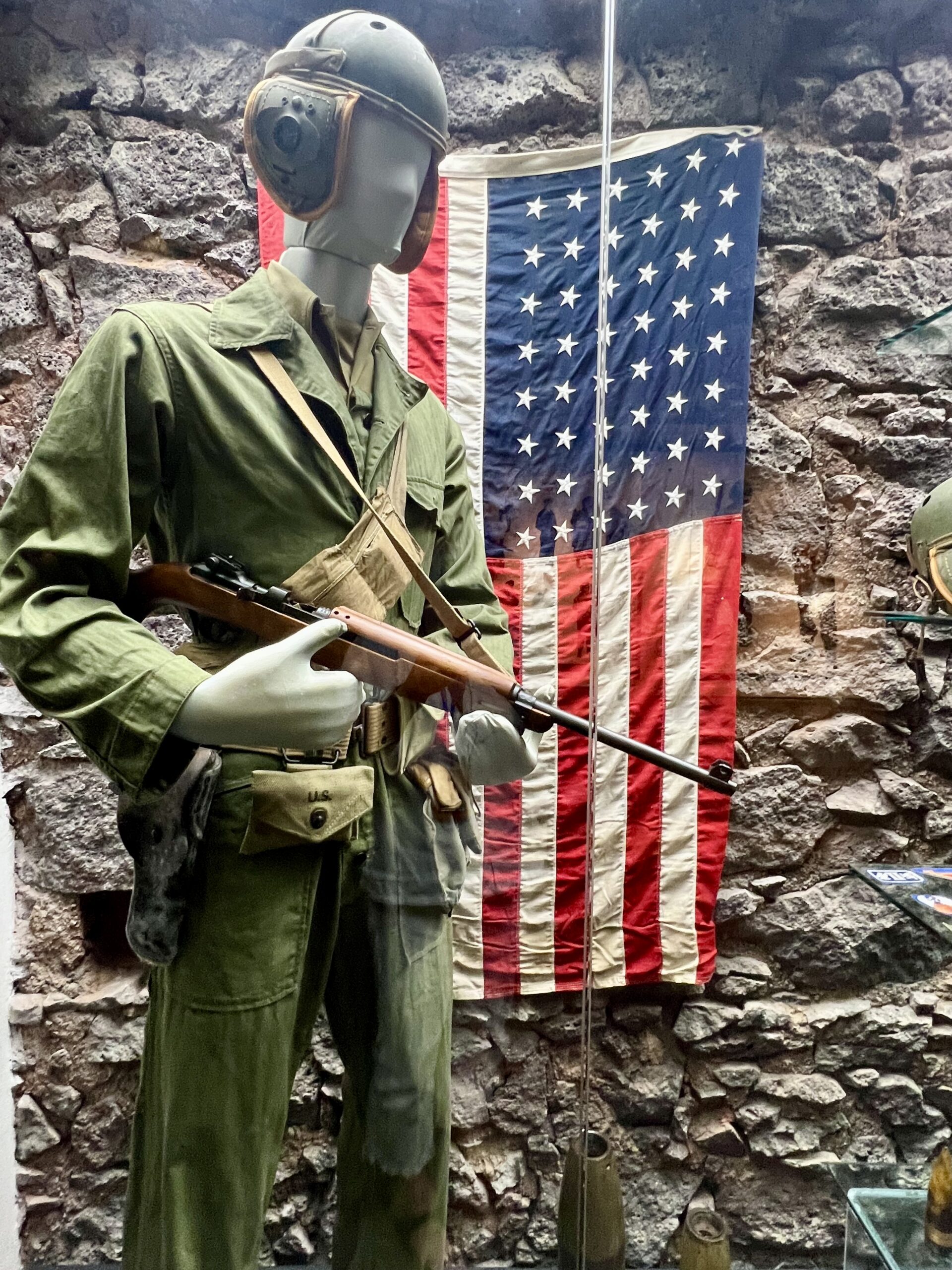 You begin by entering into a recreated Sicilian piazza with Nazi propaganda from flags to movie posters.
One of the most interesting and first things you'll do in the museum is enter a reconstructed bomb shelter. It shakes and you can experience a simulated air raid with bombs raining down on you.
Then, you can explore a series of rooms set out over two floors. They showcase the world's largest collection of WWII artifacts. You see everything from weapons to uniforms to dioramas.
You can get to the museum on Catania's metro system. Look for a red M sign on the main pizzas. Or simply take a taxi.
Mount Etna
Mt. Etna, or "Mamma Etna," is the world's most active volcano. One of the four UNESCO World Heritage Sites in Eastern Sicily, Mount Etna has been erupting for 500,000 years.
It's perpetually smoking. My guide called her a "chain smoker." Etna's fertile soil provides some of the best produce and wine in Sicily
To experience the volcanic landscape, you can hike around Silvestri Crater. The lower crater is easy to navigate. The upper crater has a steep climb. To go up even higher on the mountain, hop on the cable car.
From Catania, you can book a 5 hour sunset tour that leaves at 3:45 pm. For the most bang or your buck, you should check out this 6 guided hour tour. It leaves at 5:00 pm and lets you scamper over craters and have an Etna wine experience.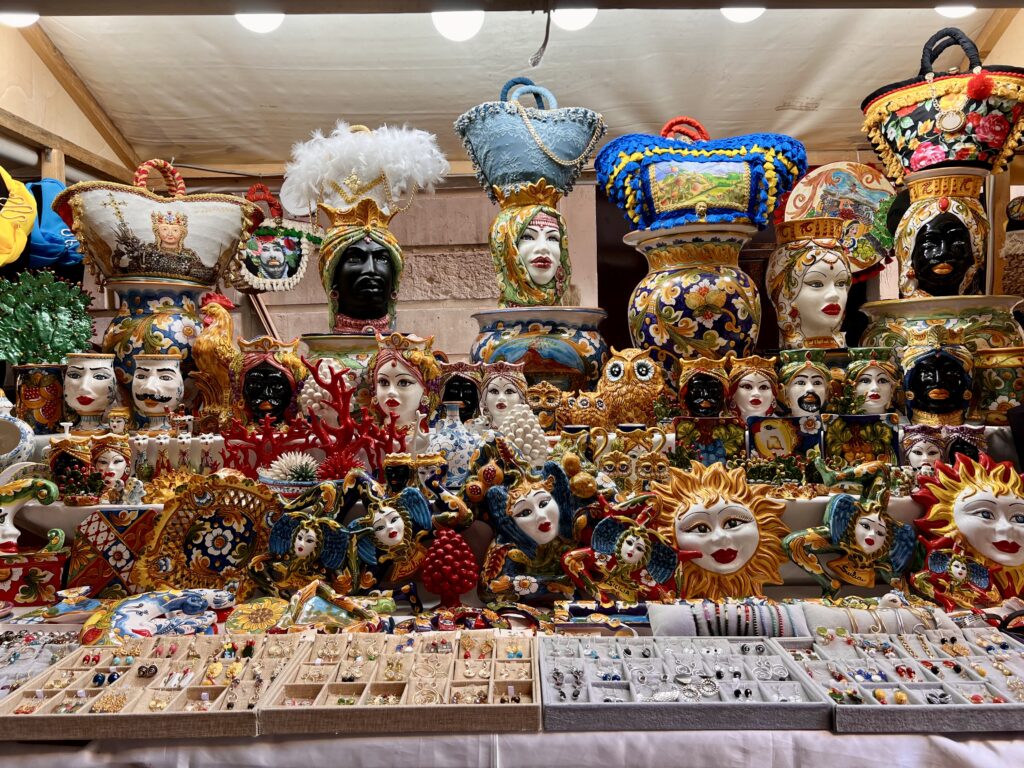 Evening Of One Day In Catania
If you didn't venture to Mt. Etna, enjoy a lively evening in Catania. The city comes alive at night and is an underrated foodie destination.
If you want an aperitivo with a view, Etnea Roof Bar & Restaurant is a stylish rooftop bar and restaurant perched on the seventh floor of the Palace Catania.
Then check out some of Catania's acclaimed eateries for some fresh fish or pasta. A Putia Dell'Ostello is a unique and romantic restaurant in a lava cave. A Putia Do Calabrisi is a local place with classic Catalan food.
There are also good al fresco cookeries along Via Santa Filomena. If you want a broader sampling, you could also opt for an evening street food tour.
You could also opt to take in a performance at Teatro Massimo Bellini. If you didn't reserve a spot in advance, it's possible you can get same day tickets at the box office.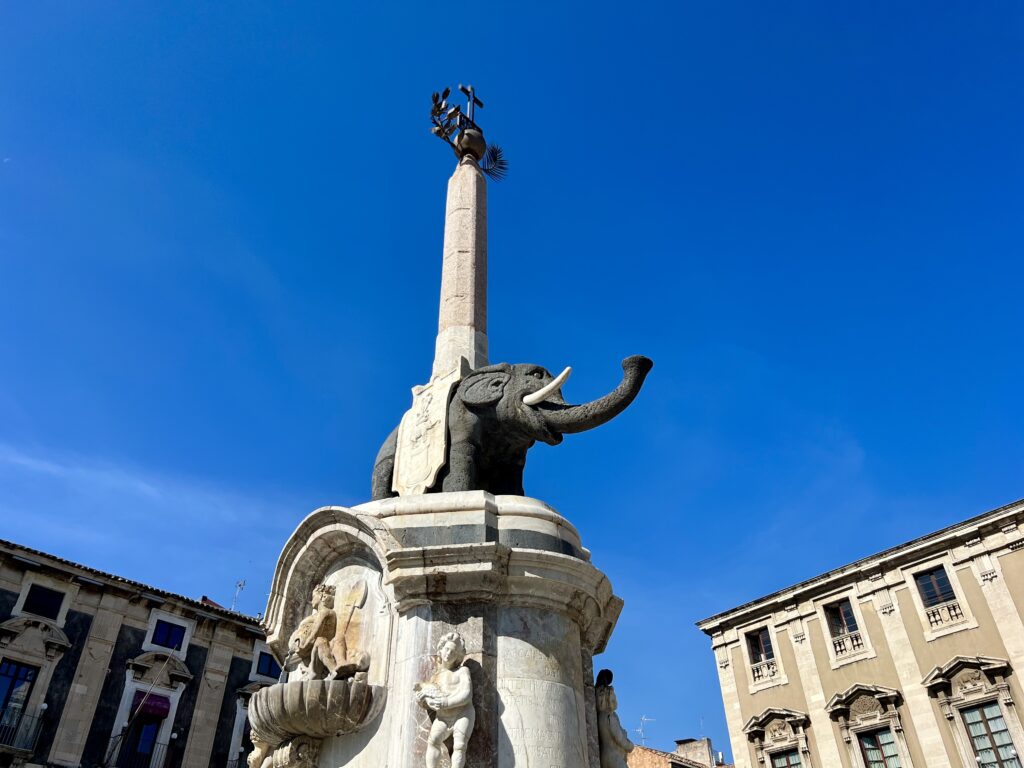 Tips For Visiting Catania
Here are some must know tips for spending one day in Catania.
1. How To Get To Catania
Catania-Fontanarossa Airport is the biggest airpot in Sicily, though it's still fairly small and manageable. It has a high volume of traffic from mainland Italy and Europe.
From the airport, you an taxi into Catania in about 20 minutes. You can also book a private transfer to the town center (which makes things so much easier). And buses run from the airport to the center.
Catania also has a train station, Catania Centrale. Trains arrive from Palermo Syracuse, and Messina. Taxis wait outside to the right.
If you are coming from mainland Italy by train, you will experience something novel. Your whole train will be loaded onto a ship and ferried over the water to Sicily. You then continue in the same train to Catania.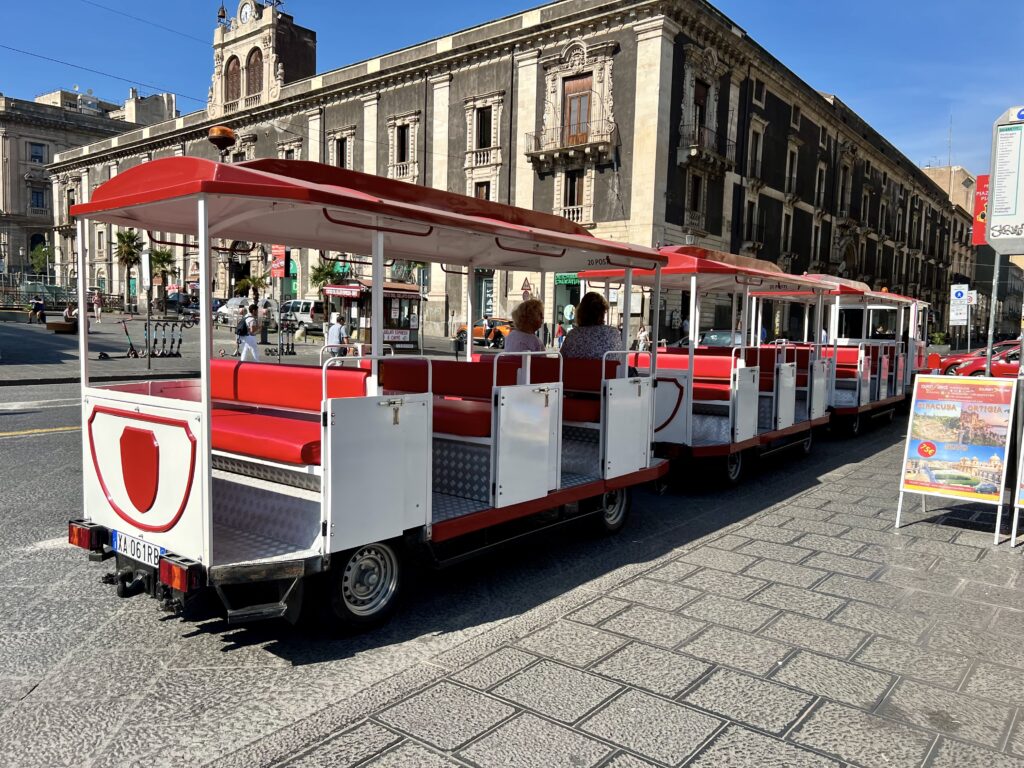 2. How To Get Around Catania
With the exception of the WWII museum, the historic center of Catania is a very walkable city and manageable on foot.
Catania has a single line metro system. But it's used by locals commuting from the suburbs, not tourists.
You can also take the tourist bus. It's a red and black hop on hop off trolley that stops at Piazza Duomo and Piazza Stesicoro.
If you're brave enough, you can join the locals and rent a Lime scooter to zip around. Or book a Segway tour.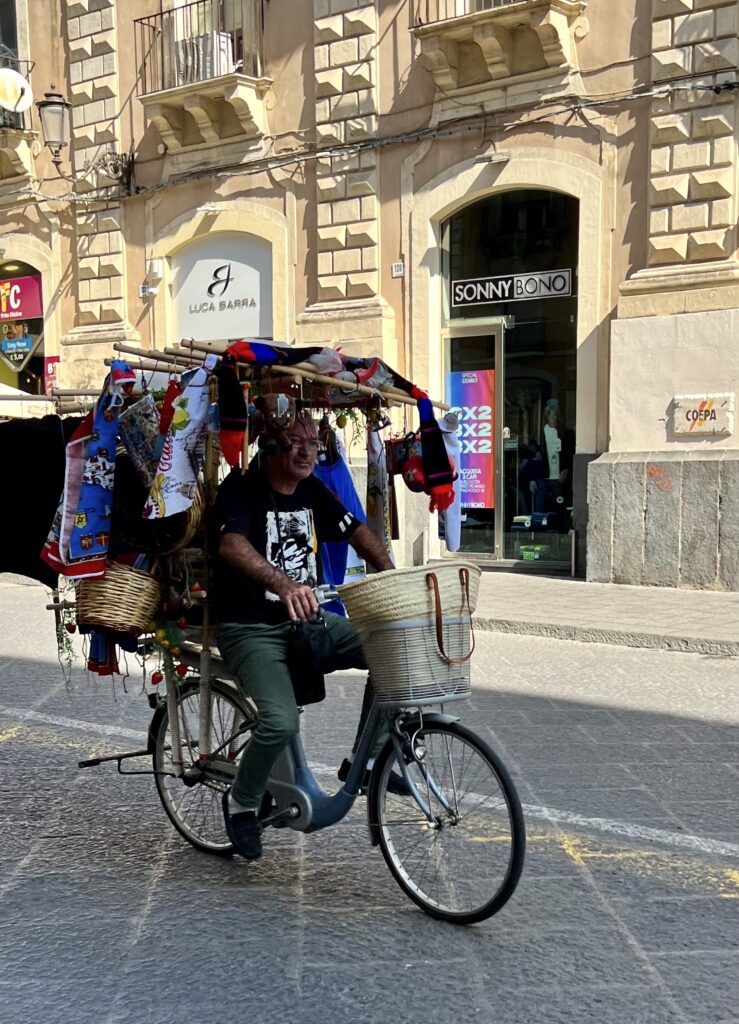 3. Where To Stay In Catania
Catania is known for it boutique hotels, and some are housed in former palaces.
Asmuno di Gisira is half bed and breakfast and half art gallery. Room have mythological themes. You can eat breakfast on a large terrace overlooking Piazza Giuseppe Mazzini.
The Duomo Suites & Spa is a boutique hotel with colorful rooms on Via Garibaldi.
I stayed in the Romano House Hotel. It's a four star hotel with a modern design and good sized rooms.
You can also check out Manganelli Palace. It boasts 20 elegant rooms with private sun terraces.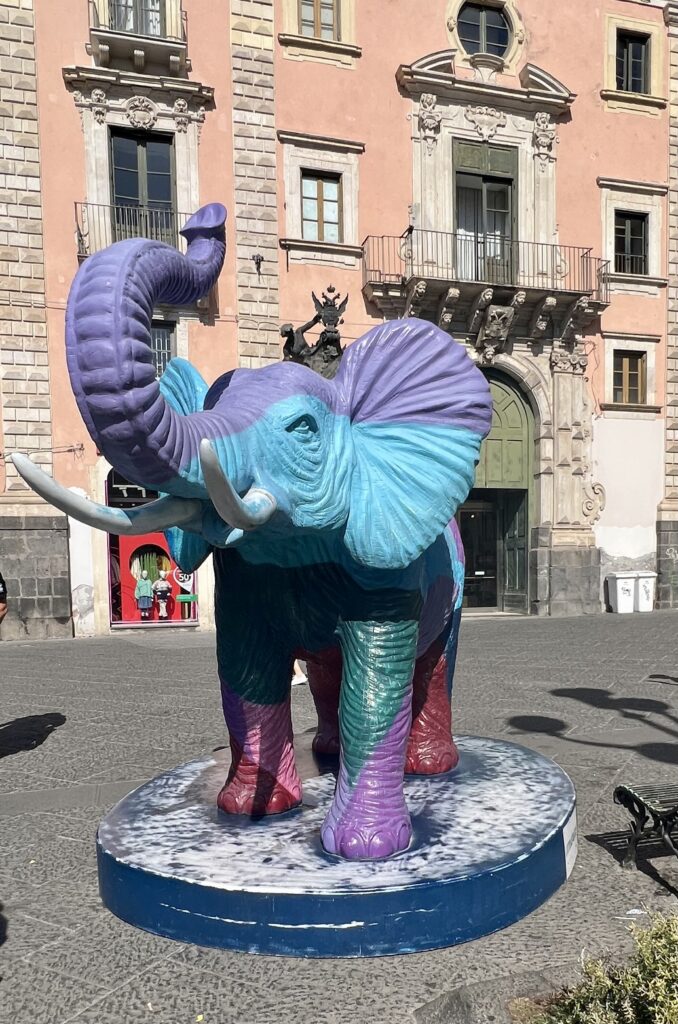 4. When To Visit Catania
Because of its temperate climate, Catania can be visited year round, with just a few cold weeks in winter.
March through June and October are ideal times to visit. You'll find temperatures in the 70s and 80s. The summer are very hot, so I would not recommend visiting then.
In February, Catania celebrates the Festival of Saint Agatha. It's the city's most important religious festival and you may find up to 1 million people in attendance. It's akin to Holy Week in Seville Spain.
5. Tours In Catanina
There are quite a few guided tour options for those visiting Catania. You can: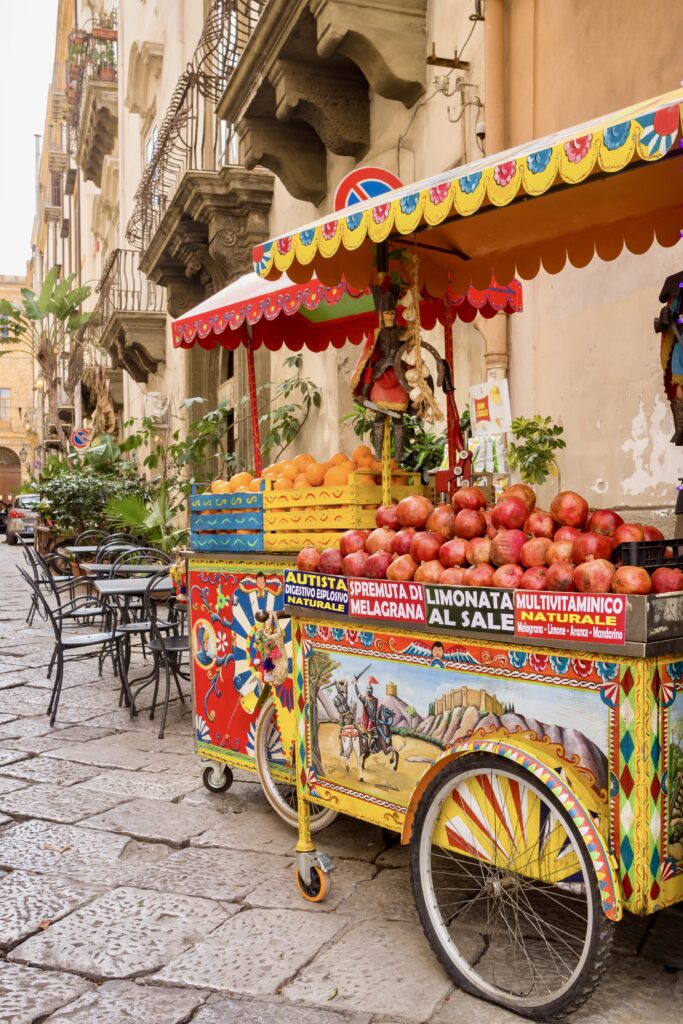 6. Is Catania Worth Visiting?
Because it's a bustling city and not as easy on the eyes as Syracuse or Taormina, Catania sometimes draws mixed reviews. It also lacks the perfect space for a passagiata or a beach to lounge on.
What it lacks in obvious good looks, however, Catania makes up for with an array of historic architecture. I'd say the city deserves a solid half day to full day of sightseeing.
If you are flying into Catania, it's absolutely worth it to spend a couple nights in town, if your Sicily itinerary allows. You can recover from jet lag, see the sights it the historic core, and enjoy the fish market.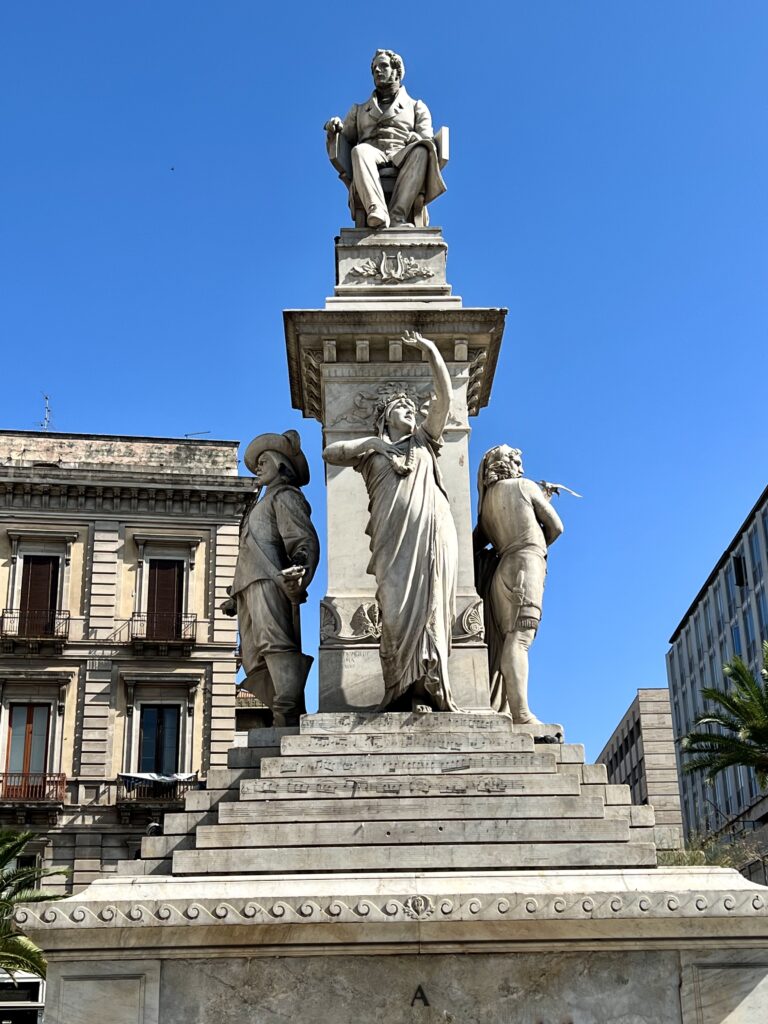 7. Places To Visit Near Catania
There are plenty of fun things to do in and around Catania if you have more than one day in Catania. In fact, Catania makes a handy base for eastern Sicily, especially for those without a car.
Plenty of guided tours depart from Catania, including:
Just need a break to chill out after a day in Catania? Had to the nearby seaside town of Aci Trezza.
It's a picturesque spot where the rocky Cyclops' islands rise out of the sea. Aci Trezza isn't home to sandy beaches. But you'll find rocky areas for perching and sunbathing.
I hope you've enjoyed my one day in Catania itinerary. You may enjoy these other Italy travel guides and resources:
If you want to spend 1 day in Catania, pin it for later.