Looking to explore the charming coastal town of Monopoli in the Puglia region of Italy? Look no further than this one day iIn Monopoli itinerary.
The town is known for its whitewashed houses and turquoise waters that crash along the coast. It has high medieval walls, a magnificent castle, and a Baroque cathedral.
With its picturesque streets, photogenic harbor, and rich historical heritage, Monopoli is a delightful gem that offers a mix of natural beauty and cultural attractions.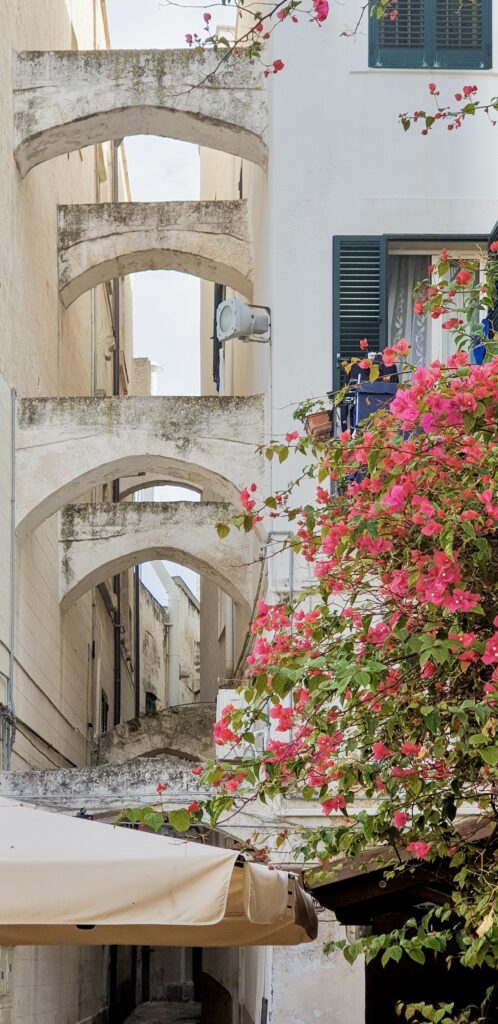 Best Tours In Monopoli
Here are some of the best tours and experience that you may want to book. Plan ahead in high season!
Overview of One Day in Monopoli Itinerary
Here's a snapshot glance of what you can see with one day in Monopoli:
Old Port
Historic center
Monopoli Cathedral
Diocesan Museum
Castle of Charles V
Church of San Salvatore
Beaches
Purgatory Church
Side trip to Polignano a Mare
One Day in Monopoli Itinerary
Here's my detailed itinerary for spending one day in Monopoli.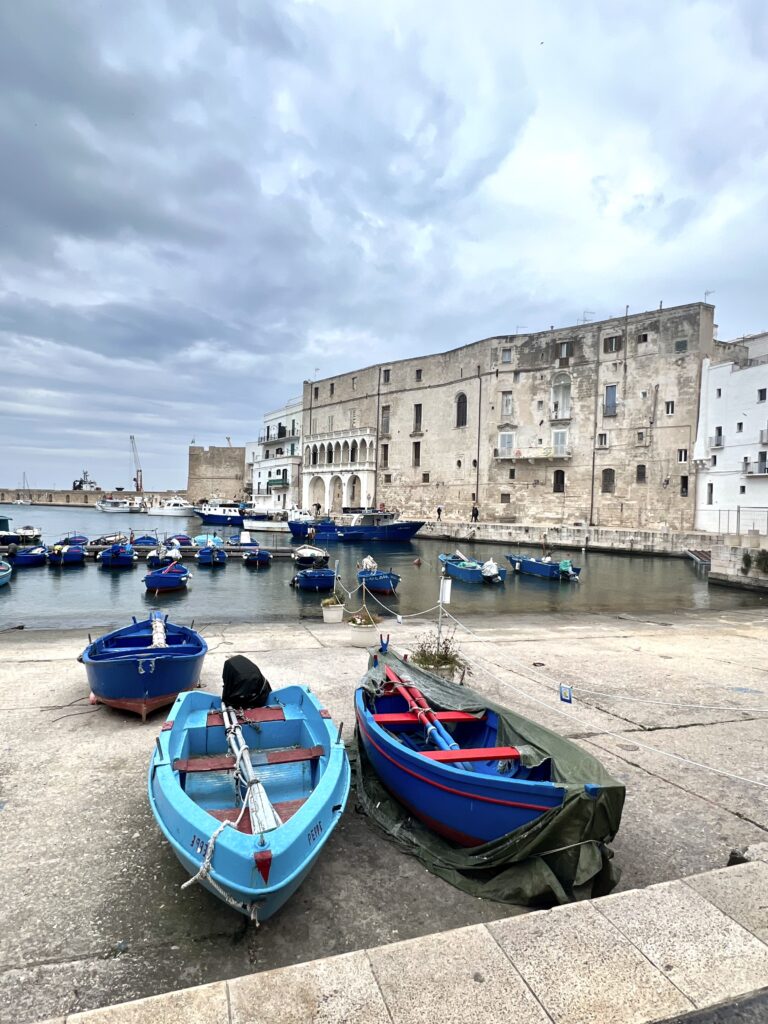 Old Port
Start your one day in Monopoli itinerary with a visit to the picturesque Old Port called Porta Antica.
You'll see picturesque blue fishing boats peacefully bobbing on the gentle waves. Against the backdrop of whitewashed buildings, this coastal scene is really a postcard-worthy sight.
From the harbor, your eyes are drawn to a graceful lighthouse. It stands tall as a beacon for the incoming boats.
Legend holds it that the Madonna Icon, crucial to the construction of the original Monopoli Cathedral, arrived here on a makeshift raft.
Historic Center
Then, explore the historic center, known as centro storico. Wander through the labyrinthian streets. They're lined with whitewashed houses, with sage green shutters, iron balconies, and trailing flowers.
Vico Gesuiti is especially picturesque. It's strung with lights and has an arcade of arches.
Piazza Giuseppe Garibaldi is an adorable square in the heart of the old town near the port. It's lined with cafes, restaurants, and bars.
This is a good place to take an espresso break or have an aperitivo in the evening. And you can grab a gelato at Bella Blu Gelateria.
Piazza Vittorio Emanuel II is another lively place in town. It's a picturesque square with a view of the harbor.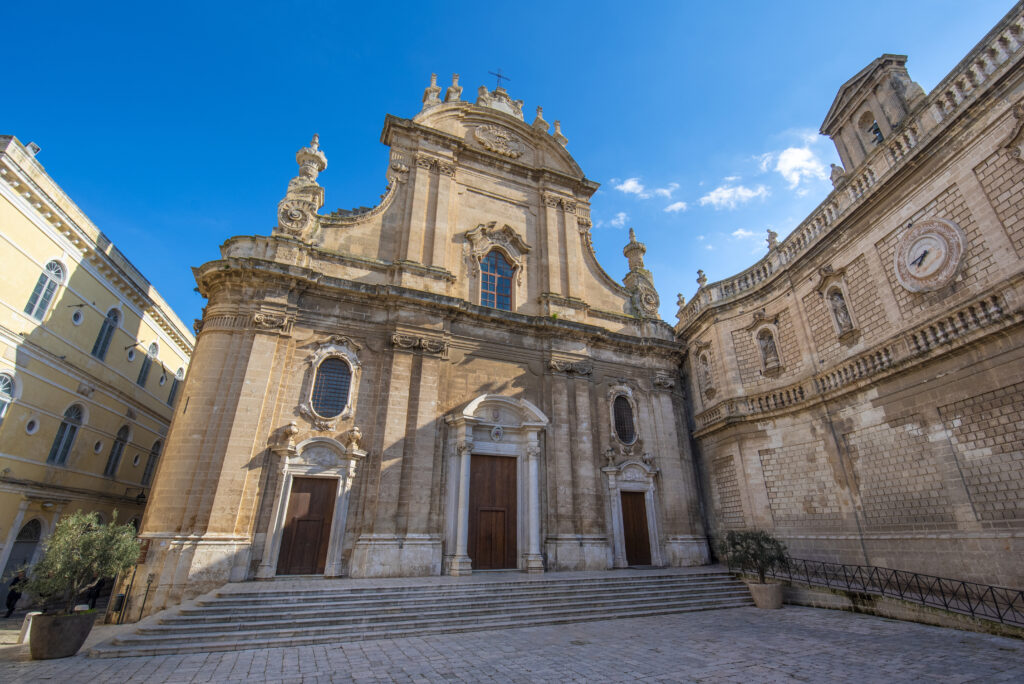 Monopoli Cathedral
While in the historic center, make your way to the stunning Cathedral of Santa Maria della Madia.
Construction dates back to the 12th century. But the cathedral has undergone several renovations over the centuries. It's an impressive cathedral for a small town in Puglia!
The cathedral's stunning facade showcases a mix of architectural styles, including Romanesque, Gothic, and Baroque elements. Admire the intricate details, decorative sculptures, and the central rose window.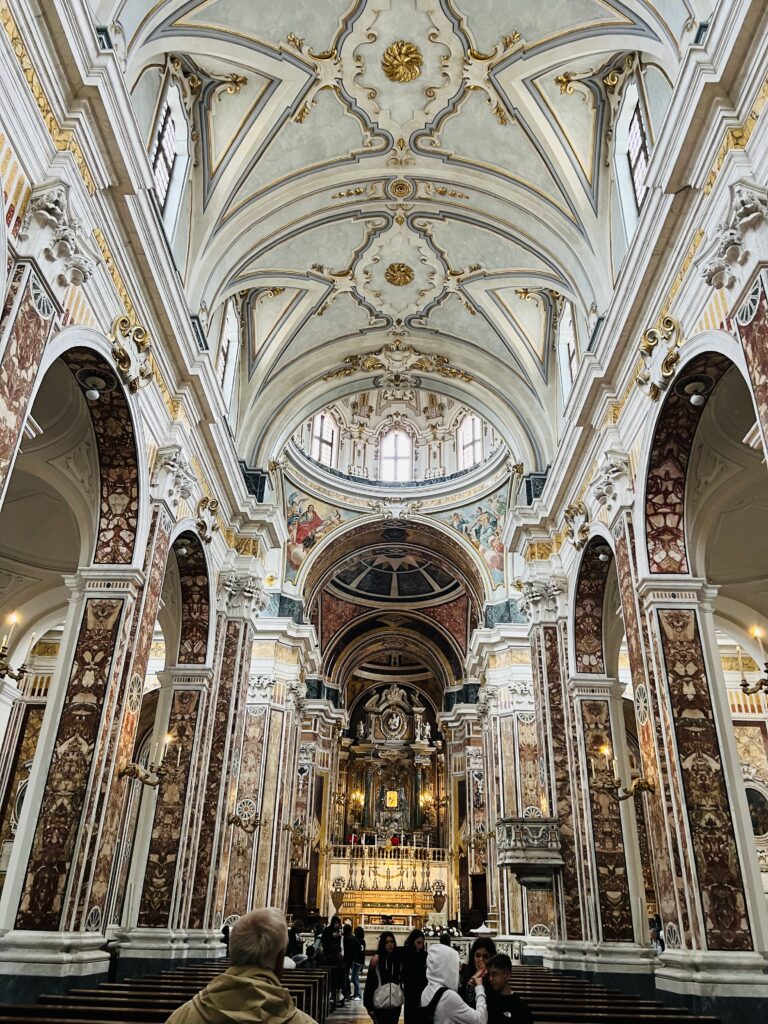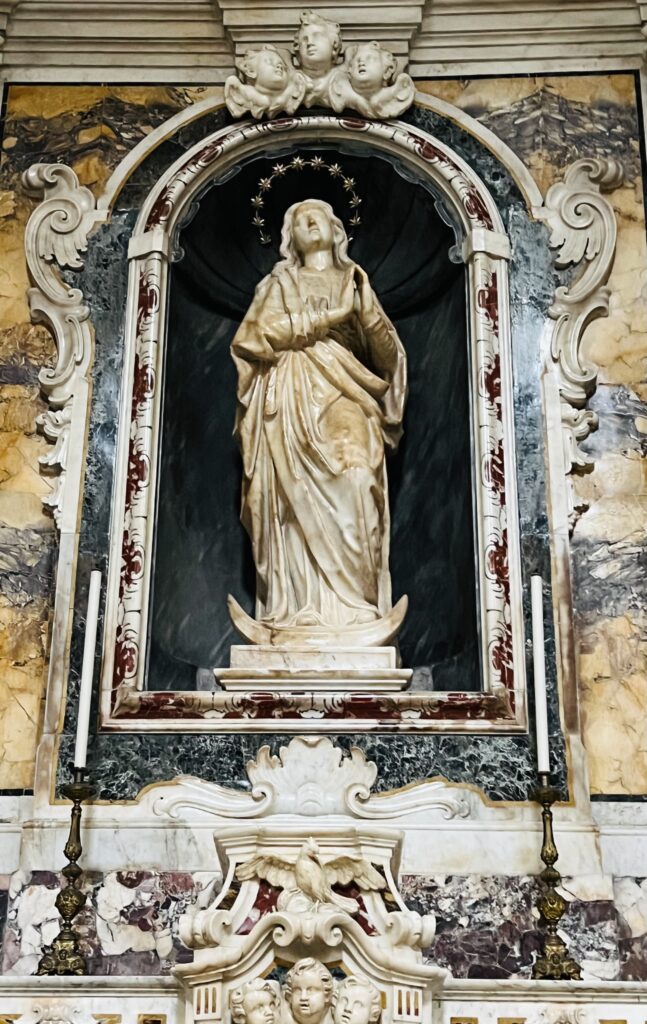 Step inside to discover the beautifully adorned interior. It's a triumph of colored marble. There are remarkable frescoes, elaborate altars, and a magnificent wooden ceiling.
The cathedral is also home to the venerated icon of the Madonna della Madia. It's in a chapel behind the high altar.
It's believed to have arrived miraculously on a wooden platform or madia with 31 beams in 1117. Those beams were used to create the cathedral's wooden ceiling.
Underneath the cathedral is the Museo e Site Archaeological Cripta Romanica. It's an underground chamber that dates back to the 12th century. You'll see artifacts and archaeological findings, including ancient pottery, coins, sculptures, and architectural fragments.
Diocesan Museum
Across the street from the cathedral is the Diocesan Museum. It houses sculptures and beautifully painted ecclesiastical artworks, mostly from Naples and Venice.
The museum also houses a diverse range of religious artifacts, such as sacred vessels, icons, liturgical vestments, and ornate reliquaries. They provide a glimpse into the devotion and faith of past generations.
Best of all? You will likely have the place to yourself!
From there, it's a short stroll to the Baroque Church of San Leonardo. It was built in 1742 and is the work of Mauro Manieri.
Attached to the church is a cloistered convent of Benedictine nuns. The bell tower dates form the 1920s. Inside is a museum of art and sacred objects.
Lunch
At this point, break for lunch. Take a break for a delicious seafood lunch at one of the many charming trattorias or osterias in the town center.
You can check out Osteria Perricci, Ristorante Al Buco, Komera Cucina Nostra, and Antico Muretto.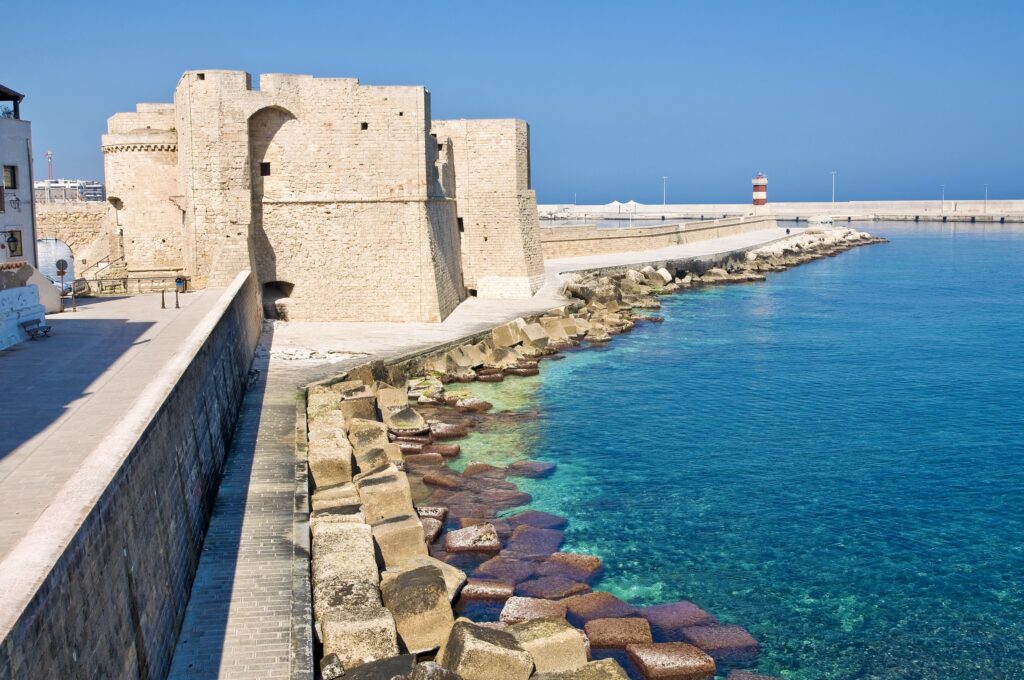 Castle of Charles V
After lunch, continue your one day in Monopoli itinerary with a visit to the Castle of Charles V. It's an imposing defensive fortress dating back to the 16th century near the seafront. You can get a good look at it by walking along the quay to the lighthouse.
Built in the 16th century by the Spanish emperor Charles V, the castle served as a defensive stronghold against invasions and pirate attacks. It features 5 pentagonal shape bastions, intact towering walls, and a moat.
As you explore the castle, you can walk along its ramparts, climb the watchtowers for panoramic views and photos, and venture into the courtyards and inner chambers.
Inside, you'll find a 10th century rock church dedicated to St. Nicholas, a weapons room, and a large Roman gate.
Today, the castle has been beautifully restored. It serves as a cultural center, hosting various events and exhibitions throughout the year.
San Salvator
From the castle, walk along the Lungomore Santa Maria to the Chiesa di San Salvatore.
It's another beautiful church, with origins from the 4th century. They say the church is facing the sea because it was built by pirates who survived a shipwreck.
It showcases a mix of architectural styles, including Romanesque and Baroque elements. The church features an impressive facade with intricate carvings and a rose window. The interior boasts ornate decorations, stunning frescoes, and a magnificent altar.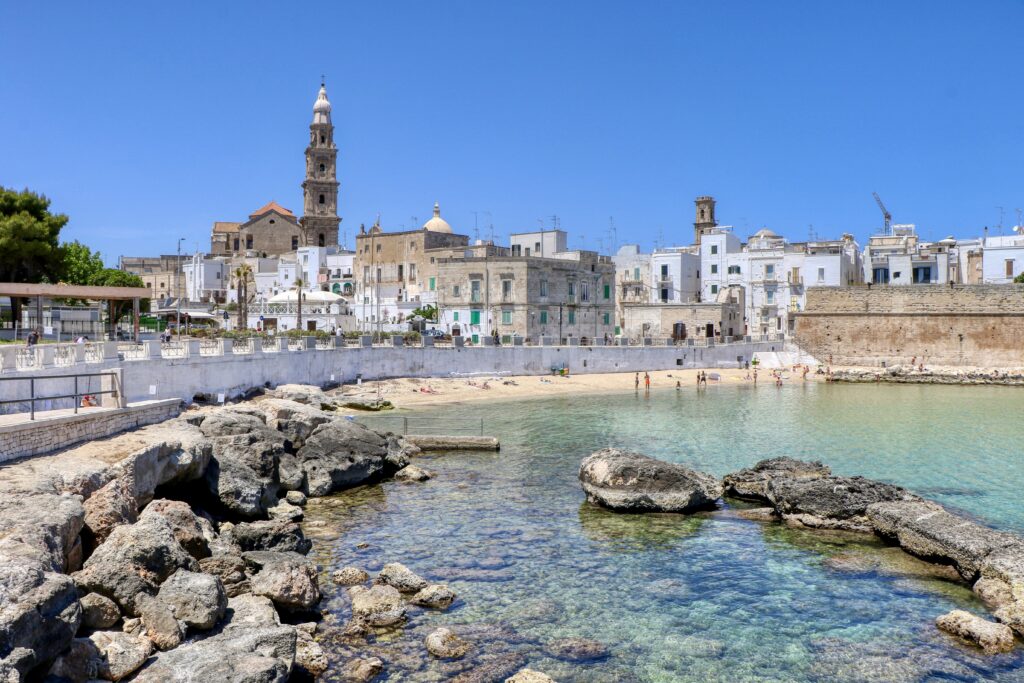 Hit The Beach
Monopoli is famous for its crystal clear water and its 9+ miles of beaches. To the north, there are succession of inlets and does. To the south, you'll find longer stretches of sandy beach.
You could opt to spend the rest of the afternoon relaxing at Cala Porta Vecchia. It's a picturesque sandy beach near the historic center.
You can enjoy the crystal-clear waters and soak up the sun. If you like sea glass, you will find plenty here too.
Another beach in Monopoli is Porto Rosso, just a 15 minute walk from the town center. This small cove is nestled between cliffs and offers a more secluded and intimate atmosphere. The beach is known for its pebbly shore, calm shallow waters, and scenic surroundings.
For those who prefer a sandy beach, Lido Bianco is a popular choice. Located slightly north of Monopoli's center, this spacious beach boasts soft white sand and shallow, clear waters. You can also rent umbrellas and sun beds.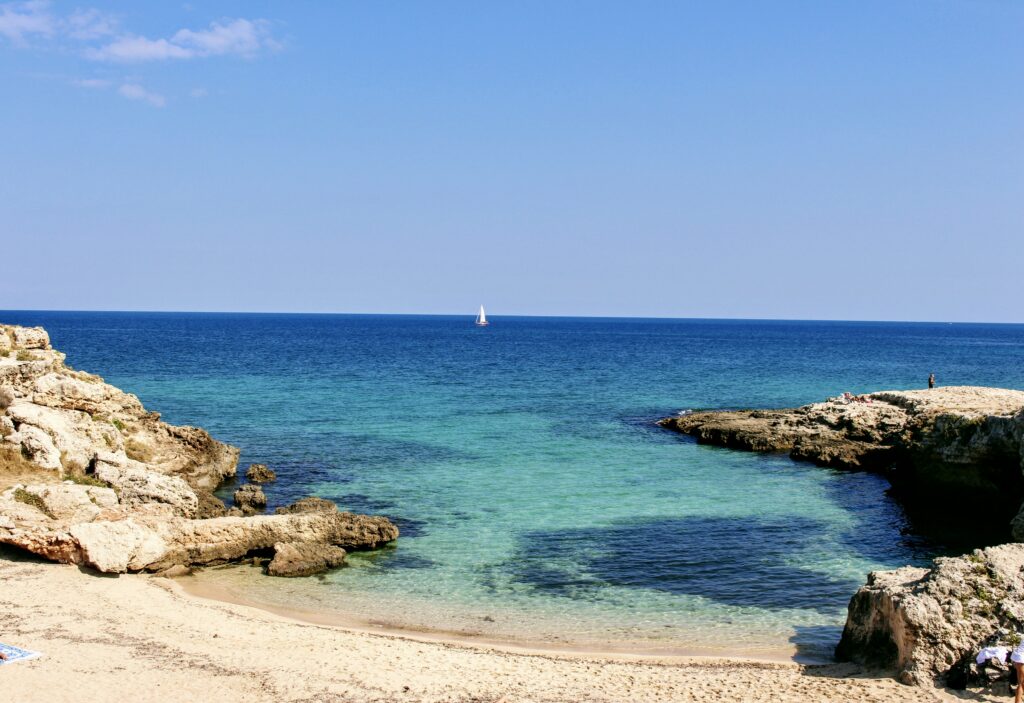 The Capitolo beach is another lovely beach with a longer stretch of sand. It's about 4 miles from Monopoli. This is a hub of nightlife with lidos and trendy clubs.
Egnazia
As an alternative to the beach, you could head to Egnazia, which is less than 4 miles south of Monopoli. Egnazia is an important archaeological site that showcases the ruins of an ancient Messapian and Roman city.
You can explore the ruins of the ancient city, including the well-preserved Roman amphitheater, the archaeological museum, and the archaeological park.
Purgatory Church
At the end of the day, visit the 17th century Church of Santa Maria del Suffragio is known as the Purgatory Church. It's next to the cathedral and is only open from 5:00 pm to 7:00 pm.
Purgatory churches were conceived to pray for those in limbo so they could go to heaven.
Admire its elegant Baroque facade. On the heavy wooden entrance door, you'll see a pair of skeletons and borders entwined with skulls.
Step inside to witness its ornate interior, including stunning frescoes, sculptures, and an over-the-top main altar. The mummified remains of eight corpses are on display — macabre but impressive.
Polignano a Mare
In the early evening, you could visit the nearby coastal town of Polignano a Mare. It's just 5 miles down the road.
It's an ultra scenic town situated on the stunning coastline of Puglia. Polignanao is known for its gorgeous historic center, iconic beach, and sea caves. The perfect time to visit is in the evening when the day trippers have left.
For ideas on what to do, you can check out my one day in Polignano a Mare itinerary.
If you go, make a dinner reservation at the Grotta Palazzese. It's a stunning sea cave restaurant located on the edge of a cliff. It's widely considered among the 10 most exclusive outdoor restaurants in the world.
If you would rather eat in Monopoli, I enjoyed my meals at La Locanda Sul Porto and Gaia Osteria Popolare.
You could also drive 12 miles to Angelo Sabatelli in Putigano. It's a one star Michelin restaurant housed in a charmnig old mansion. It has a focus on vegtables and a large wine cellar.
Tips For A One Day in Monopoli Itinerary
Here are some must know tips for spending 1 day in Monopoli.
1. How to Get To Monopoli
The nearest airports to Monopoli are Bari Airport and Brindisi-Salento Airport. From either airport, you can rent a car or take a taxi to reach Monopoli. You can also book a private transfer.
It's an approximately a 45+ minute drive from Bari and a 50+ minute drive from Brindisi.
Monopoli has its own train station, which is served by regional trains. You can take a train from Bari Centrale or Brindisi Centrale to Polignano.
Direct trains run from Bari Centrale to Monopoli fairly regularly. The journey takes between 25-55 minutes depending on the type of train you take
2. How To Get Around Monopoli
Monopoli is a flat, compact town that can easily be explored on foot. Walking will allow you to appreciate the charming streets, discover hidden corners, and take in the rustic beauty of the town's historic center.
Buses also provide convenient transportation within the town and to nearby areas. This is an efficient option if you need to reach specific destinations or explore the surrounding region.
If you're planning to venture further and explore Polignano a Mare or Egnazia, renting a car can provide you with more flexibility and freedom.
3. Where To Stay In Monopoli
Monopoli has some nice hotels, befitting a resort town.
Hotel Don Ferrante is a luxury boutique hotel. It's housed in a historic building perched on the cliffs overlooking the Adriatic Sea. It has an excellent restaurant and a rooftop terrace with panoramic views
Palazzo Indelli is a historic hotel in a 16th century building. The rooms combine classic and contemporary design elements. It also has a rooftop terrace.
Playa del Mar is an adults only boutique hotel in Monopoli on the coastal outskirts of the city. It is the higher end of a mid-range hotel.
You might also consider staying in a "masseria" near Monopoli. They are fortified farmhouses that have been transformed into luxury hotels. I love them because they combine rusticity with modern luxuries, while providing a nice escape pad after a hectic day of sightseeing.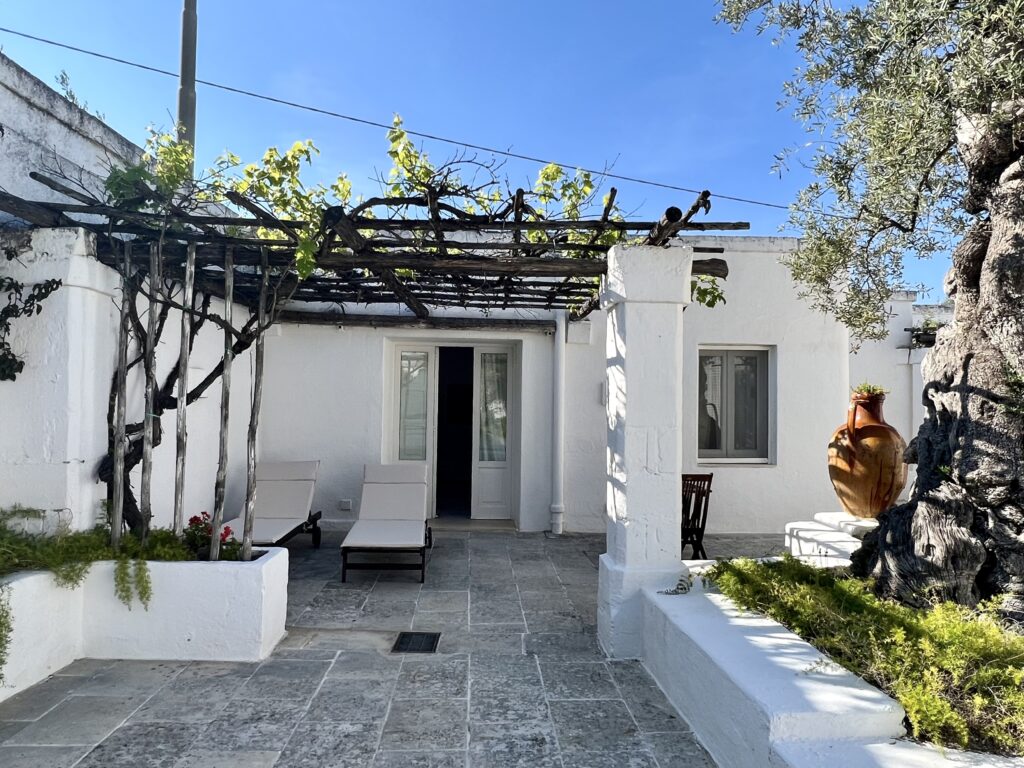 I stayed at two different masteries when I was in the area, Masseria Il Melograno and Masseria San Domenico. I also had a fantastic lunch at Masseria Brigantino.
The Melograno is a beautifully restored 17th century fortified farmhouse. It's surrounded by olive groves. It has large rooms, a spa, and a pool.
San Domenico is one of the world's best small luxury hotels and was just stunning. You'll feel like you're staying on the grounds of a castle. And, in fact, its watch tower belonged to the Knights of Malta.
Another good option is the Masseria Brigantino. It's a charming farmhouse located in countryside with lovely large rooms. It was home to some of the oldest and most massive olive trees I've ever seen.
Masseria Spina Resort is housed in an 18th century farmhouse. The rooms are large with high ceilings and rustic furnishing.
4. When To Visit Monopoli
The ideal time to spend one day in Monopoli is during the spring and early fall seasons. These months offer mild weather and a more peaceful atmosphere with fewer tourists compared to the busy summer period. Plus, it's still warm enough to lounge by the beach and swim.
Personally, I had the pleasure of experiencing Monopoli in the spring. Flowers were in full bloom. The town was alive with vibrant colors and potted plants.
During this time, you can fully enjoy exploring the charming streets of Monopoli, bask in the sunshine on the beautiful beaches, and engage in various outdoor activities.
The summer months in Monopoli bring warmer temperatures and an increase in visitor numbers. But Monopoli is known as a beach destination. So, if that is your aim on vacation, summer is an opportune time for a delightful beach getaway.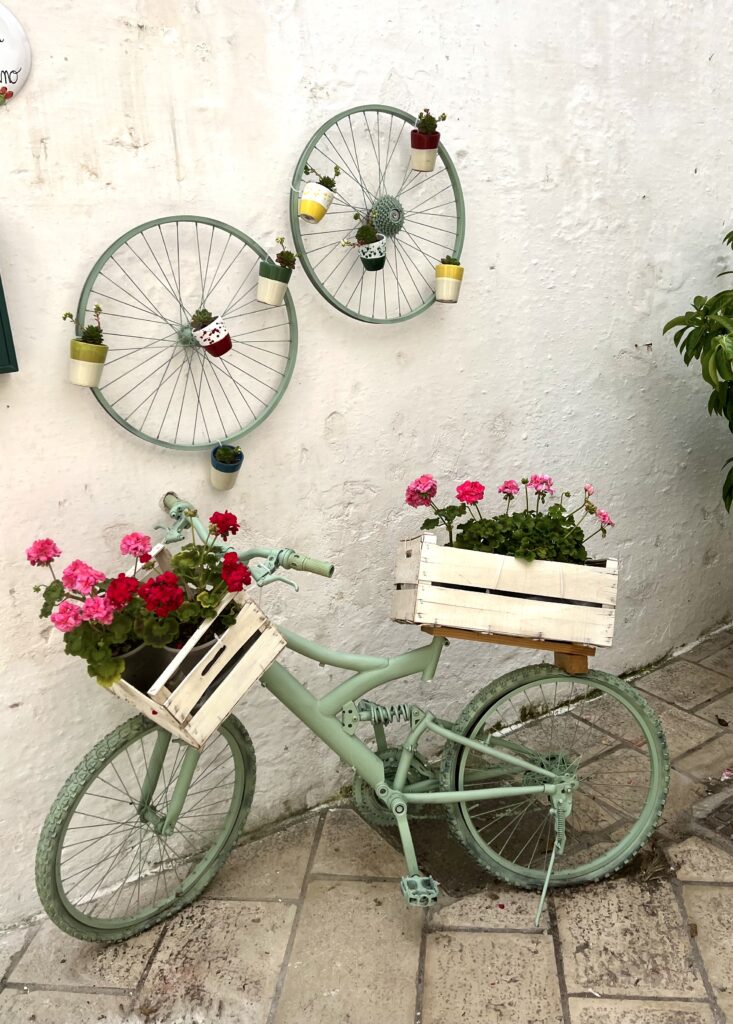 5. Is Monopoli Worth Visiting?
Monopoli is definitely worth visiting. The town is a delightful blend of history, culture, and natural beauty.
With its picturesque old town, beaches, and fascinating historical sites like Monopoli Cathedral, Monopoli has something for every traveler.
I visited Monopoli after Polignano a Mare and Monopoli seemed less touristy and more authentic to me. Regular people are going about every day life.
But then I was there in the spring, not in the peak summer season …
6. Is One Day In Monopoli Enough?
One day in Monopoli is enough to wander the old town and old port and see the main attractions. If you have more time, you could go on a boat cruise or spend more time on the beaches.
Monopoli also makes a good base for Puglia. You can easily day trip to Alberobello, Polignano a Mare, Ostuni, Cisternino, or Locorotondo.
And that's a wrap for my one day in Monopoli itinerary. You may enjoy these other southern Italy travel guides and resources:
If you like to spend one day in Monopoli, pin it for later.