Trapani is a sunwashed seaside town in western Sicily that I think is a bit underrated. If you have 2 days in Trapani, here is the best itinerary to have the perfect visit.
Trapani is an ancient town. The Elymians founded it in the 11th century B.C. Like much of Sicily, it was subsequently ruled by the Phoenicians, the Greeks, Romans, Arabs, and the Spanish.
The city is shaped like a hook with a shark fin point. Legend and myth hold that the goddess Demeter formed the city when she dropped her scythe after hearing her daughter Persephone had been kidnapped.
Today, Trapani is a little art book of a town with honey colored Baroque architecture as far as the eye can see. It has a buzzing port with a beautiful waterfront and eateries serving up fresh Mediterranean dishes and seafood.
There are no marquee sites to put on your mandatory "to do" list. You can just relax and enjoy the pretty historic center.
Trapani also makes a convenient base for exploring western Sicily, as it's close to all kinds of natural and ancient wonders.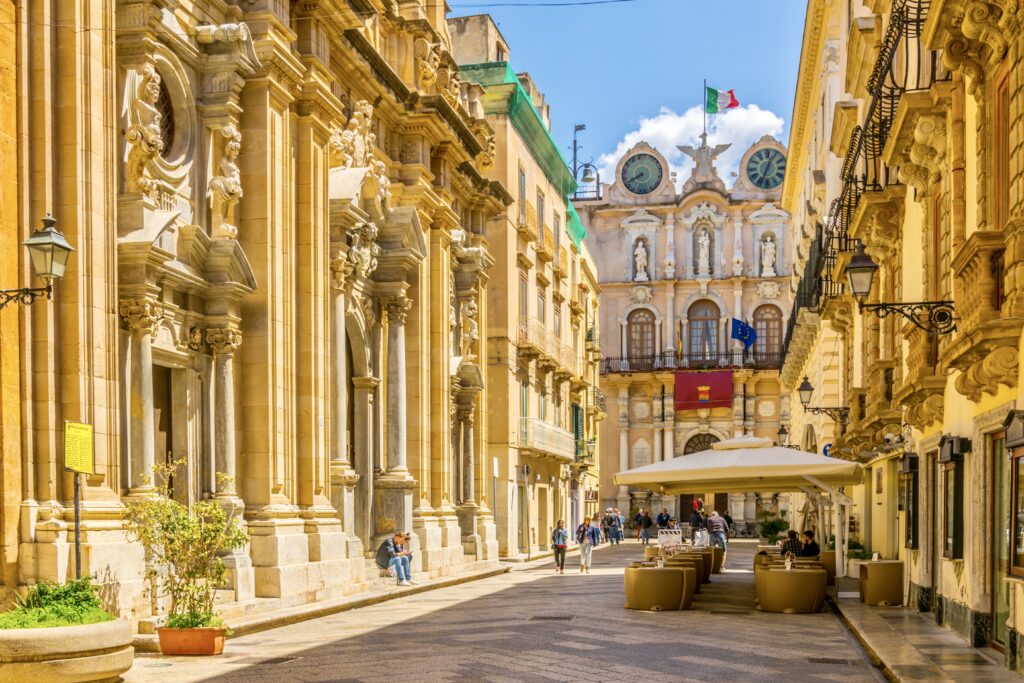 2 Days In Trapani Itinerary
Here's how I recommend spending 2 days in Trapani. As with all of my suggested itineraries, you should use this Trapani itinerary as a guide. You can tailor it to suit your individual interests, needs, and pace of travel.
You may want to book a guided walking tour to get oriented.
Day 1 Of 2 Days In Trapani
Old Town Stroll
Spend your first morning strolling through Trapani's historic old town. The prettiest streets are Corso Italia, Corso Vittorio Emanuele, and Via Garibaldi.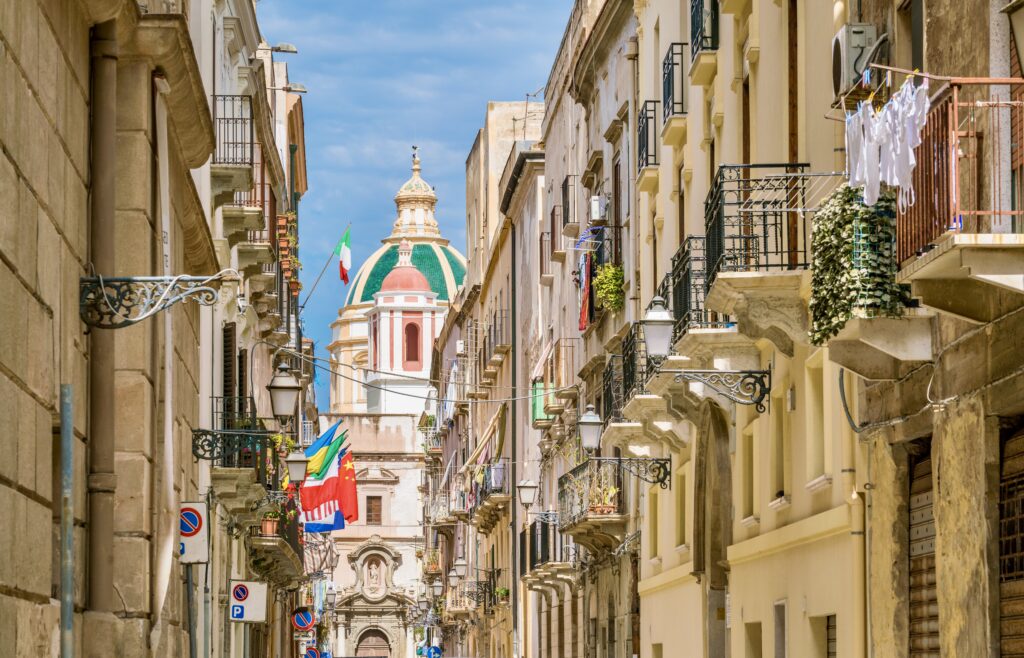 Corso Vittorio Emanuele is the pedestrianized main drag. It's home to many of Trapani's monuments and churches.
Palazzo Cavarretta is Trapani's dramatic senate building. The palace has a swishy Baroque facade, topped with the Madonna of Trapani.
Next to the palace is the Clock Tower. It's part of the Porta Oscura, the oldest city gate. The clock is one of the oldest astronomical clocks in Europe, dating from 1596.
It has two circular dials: the sundial (showing the zodiac signs, the equinoxes, the solstices and the seasons) and a moon dial (showing the moon's phases).
San Lorenzo Cathedral is worth popping into. It's on the main street rather than a piazza, so it's a bit hard to take it in.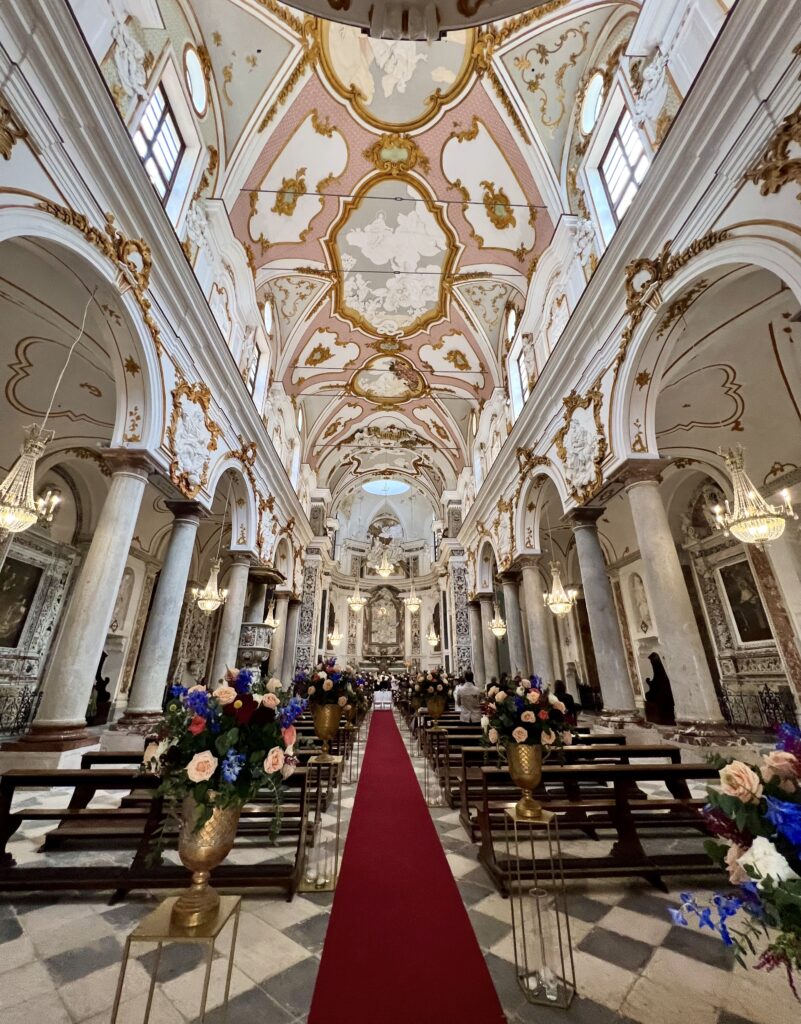 Built in the 14th century, the cathedral received a splashy Baroque facade in 1743. It had a triumvirate of arches decorated with intricate bas relief sculptures.
The interior is filled with frescos and Neo-Classical art work. In the fourth chapel on the right is a famous painting of the Crucifixion by Anthony Van Dyke.
Be sure to visit the Church of the Holy Souls of Purgatory to get a dose of genuine Trapani culture. The 17th century church itself isn't grand, but it houses Trapani's most sacred possession — the 18th century Misteri. They consist of 20 life size wooden effigies depicting the story of Christ's passion.
The figures take center stage during Trapani's 4 day elaboration of Easter Week. They are paraded around town in the Good Friday procession, with a Sicilian band to boot.
When you're inside the church, turn right to begin. There's plenty of signage in English to help interpret the narrative cycle.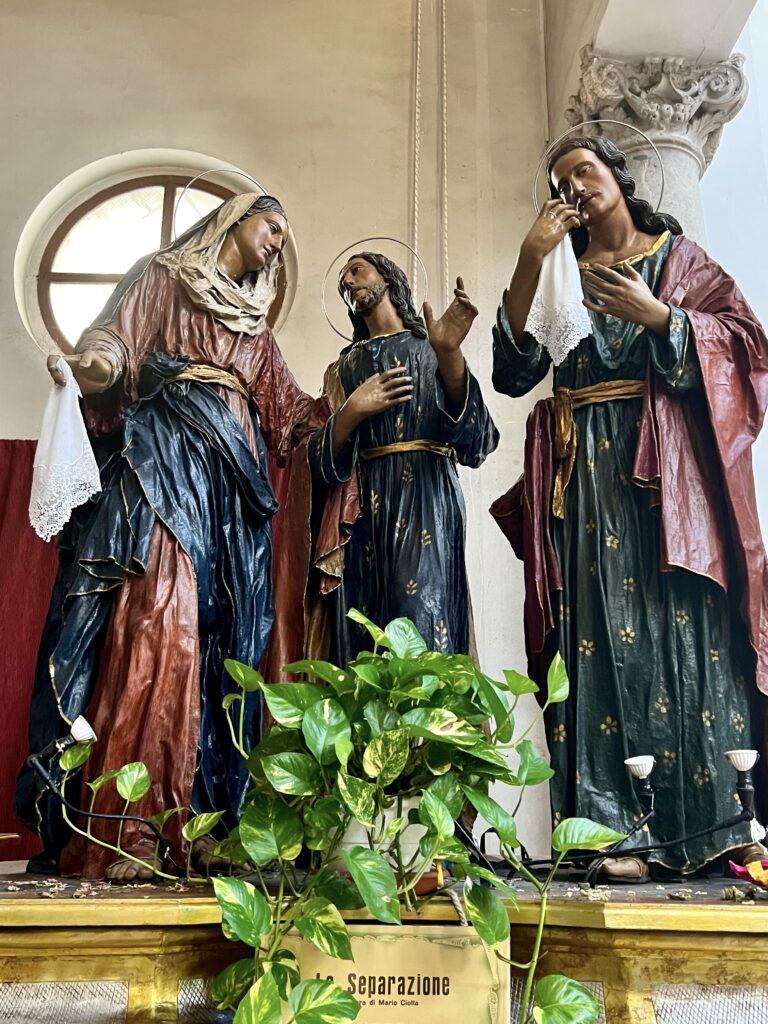 Right next door is Piazza Garibaldi. There's a statue of Giuseppe Garibaldi, Italy's most colorful revolutionary.
Don't miss the former "fish market" on the embankment. The market itself is no longer there. But you can admire the elegant seaside arcade, where special events are sometimes held.
You can also take a stroll down the seaside promenade, Lungomare Dante Alighieri. You'll wind your way to the Torre de Ligny, which is a symbol of Trapani.
It houses the headquarters of the Civic Museum, with archaeological finds from the Trapani area. It was closed when I was there, so I can't say if it's a worthwhile stop.
From the Torre, you'll have splendid views view over the Sicilian Channel and the Tyrrhenian Sea. You can see the whole city of Trapani spread out before you.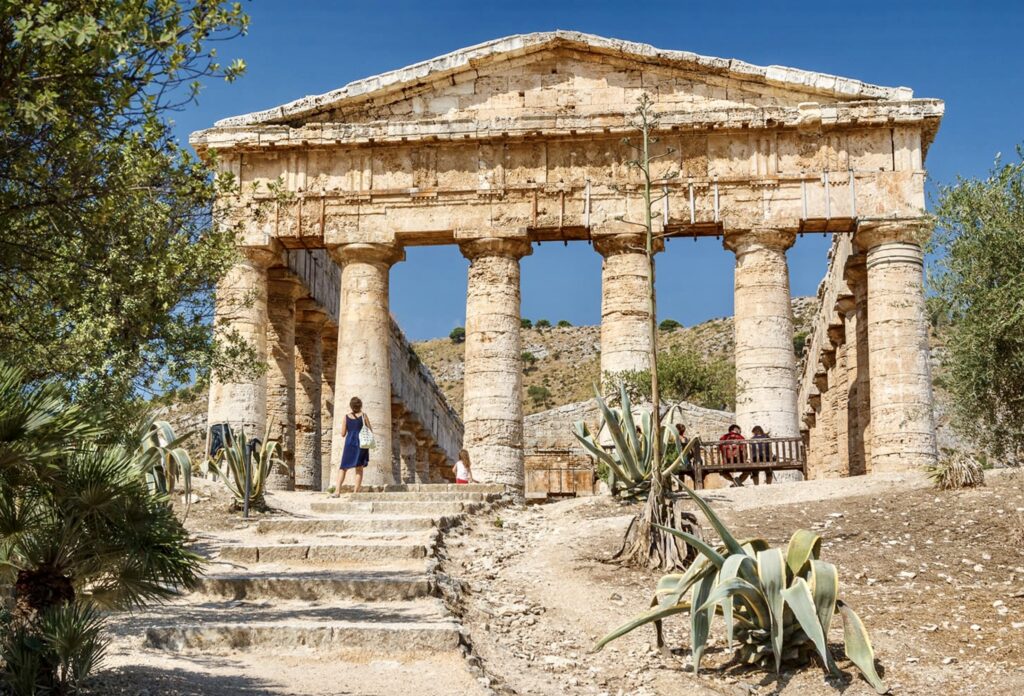 Segesta
In the afternoon, drive 30 minutes to visit the ruins of Segesta. Segesta was an ancient city built by the Elymians from Asia Minor. The Greeks never settled on Sicily's west coast, but the Elymians adopted some of their culture.
All that's left of the ancient city is a dramatic theater perched atop a hill and a 5th century B.C. temple in the valley below. There are also some scant remains of a church, agora, and castle.
The beautifully preserved temple is Doric in style, with 14 columns on the sides and 6 on the front and back. An inscription nearby suggests it may have been dedicated to Aphrodite.
The temple was never finished, as you can tell from the lack of fluting on the columns and the lack of any trace of an inner cella or roof.
Historians hypothesize that the Elymians built the temple to impress Athens and gain the city as an ally. But when Athens was defeated by Syracuse, the Elymians abandoned the temple.
The theater is small by Greek standards and parts of it have been restored. The theater had good acoustics from the sea breezes. You can test it out yourself by standing on the stage and belting out an aria.
You can drive to Segesta and park in the lot. Pay at the kiosk and keep your ticket. The ticket gives you access to the shuttle bus between the temple and theater.
The temple is a steep 10 minute walk from the parking lot. I suggest shuttling up and then hiking back down the hill. On the way, you'll have views of the temple and the countryside.
If you want to book a guided tour from Trapani, this 6 hour tour takes you to both Segesta and the archaeological site of Selinunte.
Evening
In the evening, take a passeggiata, or pre-dinner stoll, down Via Garibaldi. It's another petty street in Trapani filled with noble palazzi and restaurants.
The locals who hit the jackpot with the nearby salt pans built fancy townhouses along the street. One even has a Venetian Gothic balcony.
If you want to splurge, reserve a table at Osteria il Moro or Torre Vecchia on Via Garibaldi. Another great option is Serisso 47, an elegant Michelin star restaurant where you'll eat under brick arches.
If you want something simple, head to the famous pizza house, Pizzeria Calvino. People start lining up before it even opens. You can also get pizza to take away, which is what I did one night.
Be sure to try the couscous. Trapani is renowned for its fish couscous, called Couscous alla Trapanese. The African-influenced couscous is topped with seafood and made with a rich fish broth.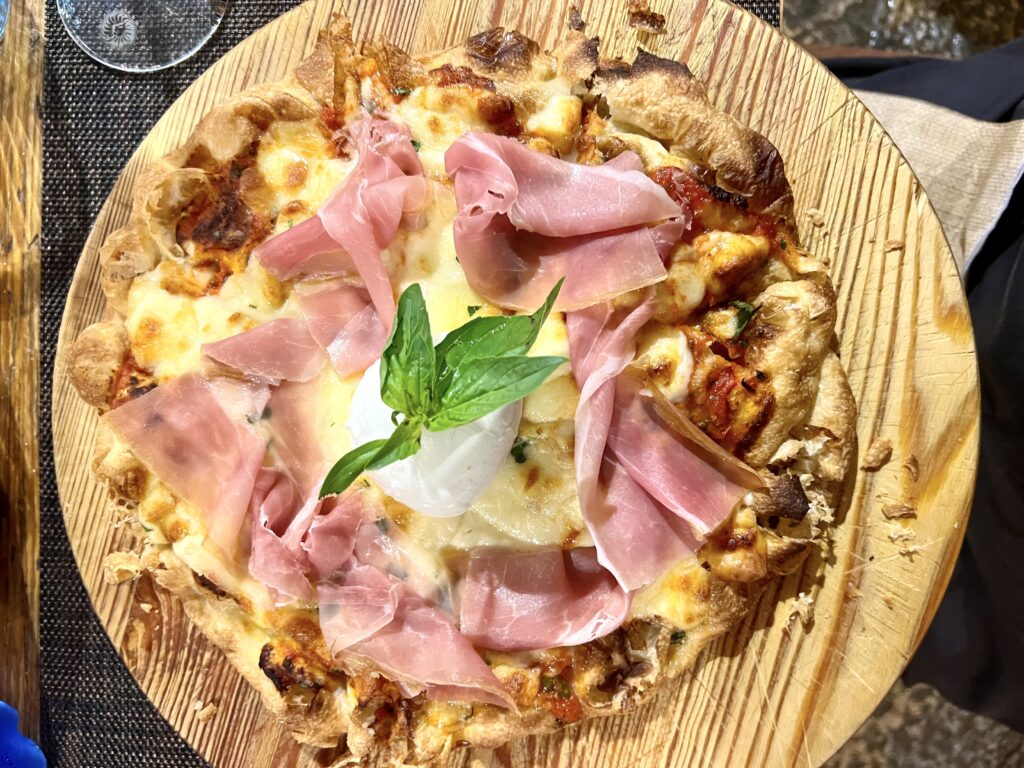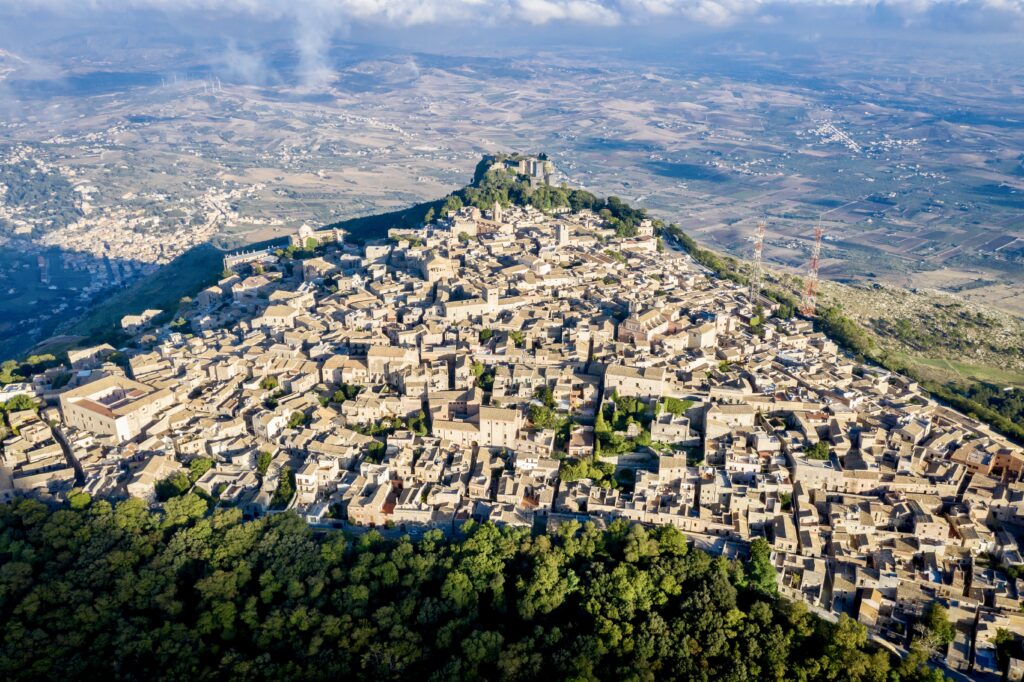 Day 2 Of 2 Days In Trapani
Erice
In the morning of your second day in Trapani, head to Erice. It's a stunning medieval village atop Monte San Giuliano. It's an irresistable maze of cobbled lanes and hydrangea bushes that's worth a few hours.
The top site in Erice is the Temple or Castle of Venus. Built in the 12th and 13th century, it was once the finest temple in the Mediterranean.
Nowadays, it lies in ruins with just a couple craggy towers. Yet, it has a breathtaking location on a sheer cliff overlooking the sea.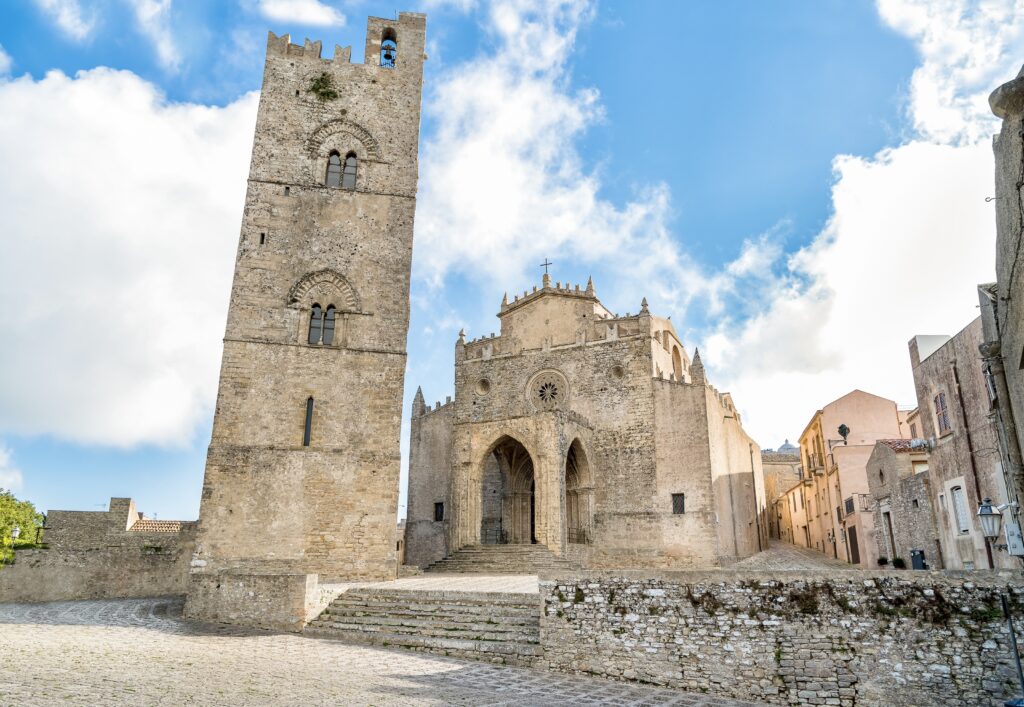 Be sure to visit Erice Cathedral, also know as "Mother Church." It's just inside the main city gate and you buy a ticket at the bell tower.
The craggy exterior dates from the 13th century. Though the interior looks old, that's deceptive. It was built in a fanciful Neo-Gothic and Neo-Arab style.
Be sure to check out the painting of the Madonna of Custonaci, a local treasure. It's displayed in a special frame, which allows it to be transported around town for special processions.
If Erice isn't covered in fog or mist, you can hike up the 100 foot bell tower for views.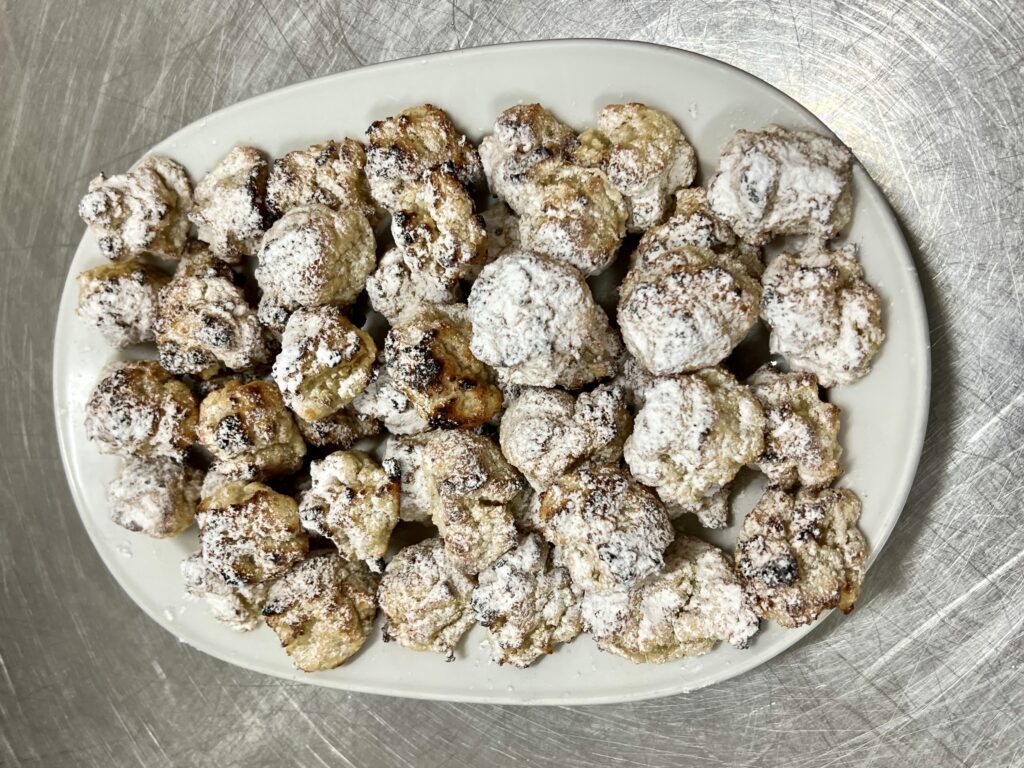 When you are hungry, head to the Paticceria Maria Grammatico, an Erice institution. Maria is a famous local pastry chef and the queen of Sicilian pastry. She was raised in the 1950s by strict cloistered nuns and taught the art of Sicilian pastries.
When she was freed from the convent at age 22, Maria launched a thriving business and published a cookbook called Bitter Almonds.
I was lucky enough to sample some of her goodies, which are made from 400 year old recipes — "nuns' boobies," "beautiful uglies," and cannoli made with fresh sheep milk ricotta.
The best (and most fun) way to reach Erice is by gondola from Trapani. I tried and failed twice to take the gondola, one day foiled by fog and another day by rain.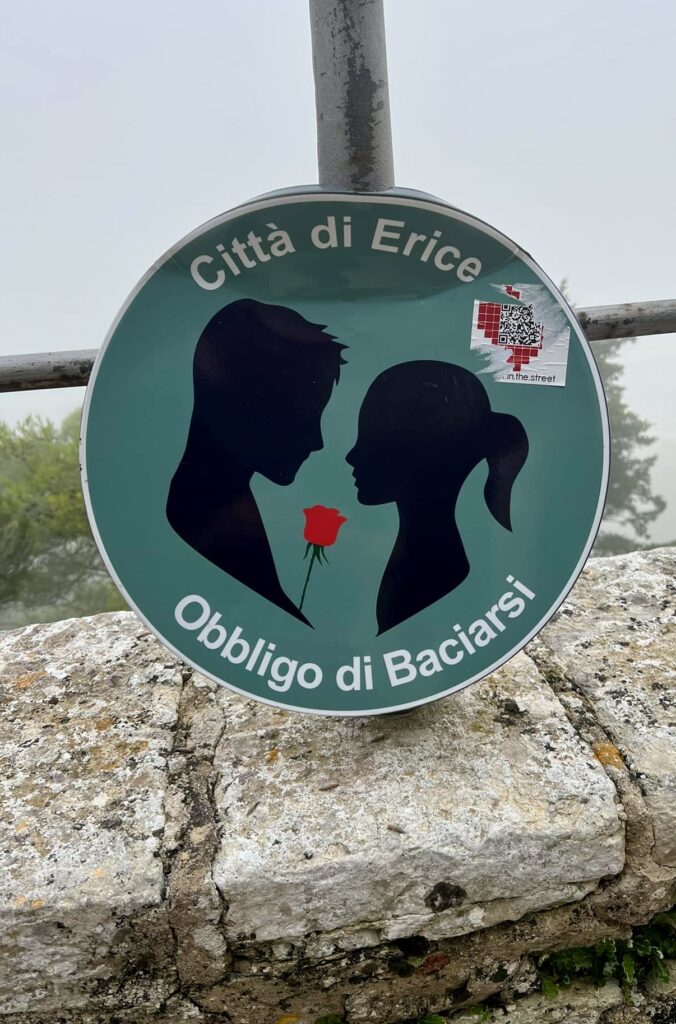 If you're visiting on a sunny day, check here for the gondola schedule and prices.
If you don't take the gondola, you'll drive up a rather frightening and curvy mountain road and park outside the city gate.
There's a parking ticket machine with English instructions. You insert your license plate details and pay in advance for the amount of time you want to be in Erice.
Once inside, it's mostly pedestrianized except for cars owned by the locals.
You can also book a 4 hour guided tour from Trapani to Erice.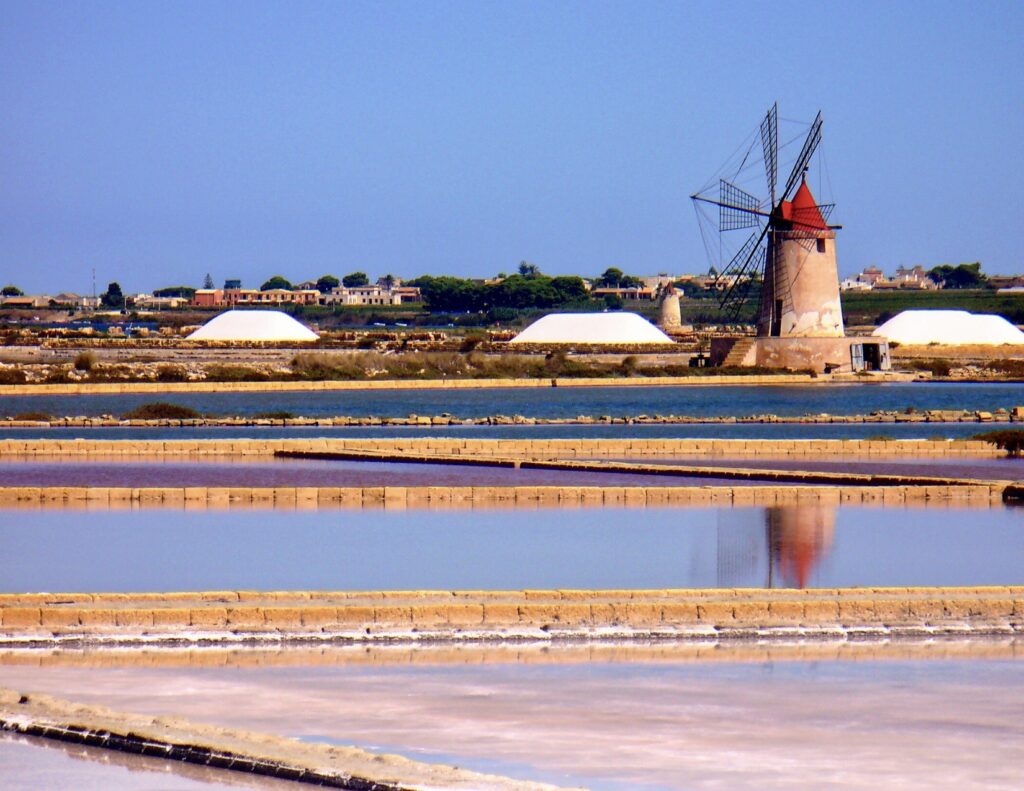 Trapani Salt Pans
In the afternoon, head to the Trapani Salt Pans. The flats are giant fields in front of the town gates.
Trapani is in a coastal wetland where sea salts have been harvested for over 3,000 years.
Sicilian sea salt is highly prized for its low sodium chloride and high magnesium content. The Trapani area is perfect for salt harvesting because of its sunny climate, breezy weather, and shallow clay-lined beds.
Summer is harvest time. In June and July, the salt forms a thick crust.
The salt is still harvested by hand, a laborious process. Strapping men with some serious biceps scrape and pile the white crystals into pyramids and cover them with red roof tiles. This lets the salts dry off, "breath," and protects them from wind and dirt.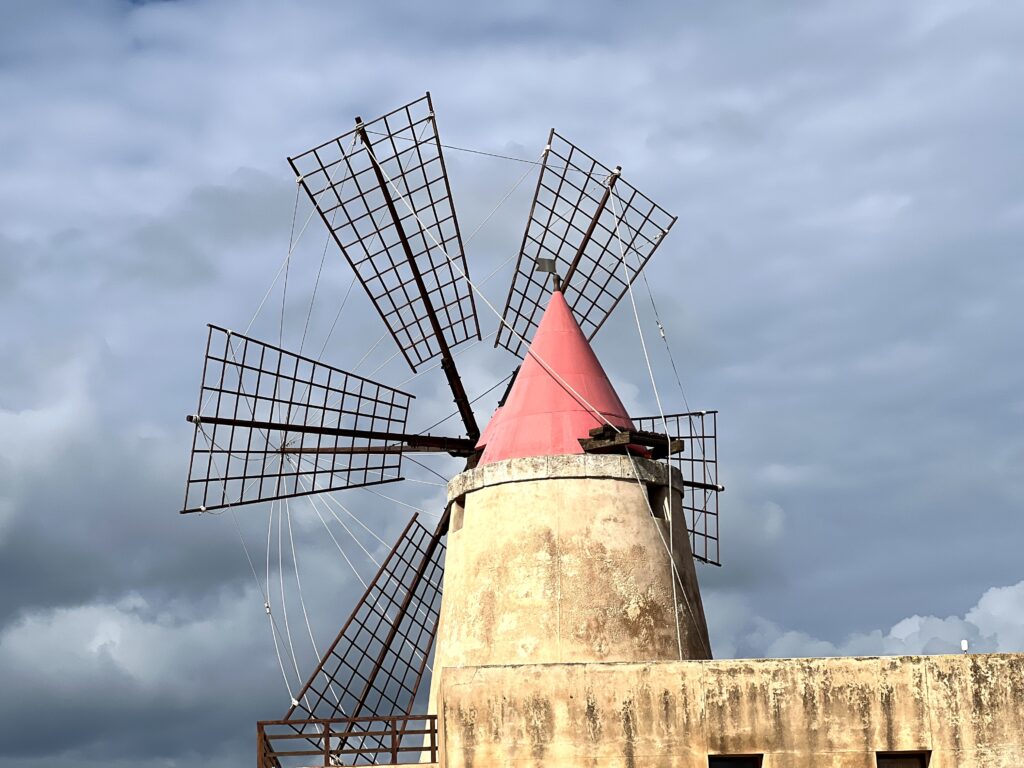 You can learn about the history of the salt pans at Salina Culcasi. It's a windmill turned into a museum with exhibits about the salt pans.
You can also purchase salt in the museum store. I would advise getting some because Trapani sea salt is much more expensive outside Sicily.
If you're lucky, you may even see some pink flamingos in the salt pans. (I didn't see any in October.)
There is no direct transportation to the salt pans. So, if you don't have a car, it's best to visit them on a guided tour from Trapani.
If you have time, take a wander in the old town of nearby Marsala. The main square is the historic Piazza della Repubblica.
You can visit the immense Chiesa di San Tommaso, the Palazzo VII Aprile, and the Chiesa del Purgatorio. Pick up some Marsala wine in the shops off the piazza. Or visit a winery to sample the goods.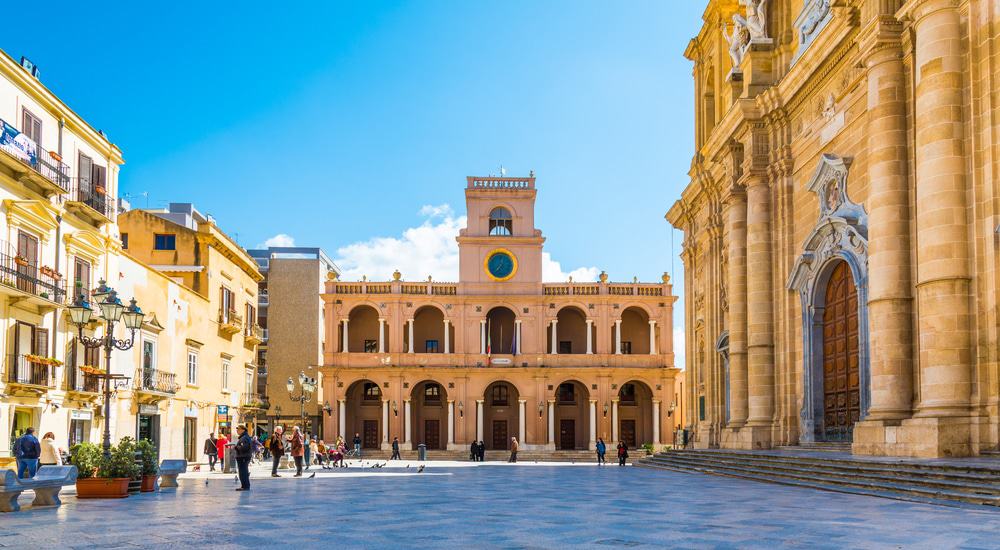 More Than 2 Days In Trapani?
Mozia
If you have more than 2 days in Trapani, another thing to add to your itinerary is the Island of Mozia. Founded in the 8th century B.C., the little island was once a trading port and Carthaginian settlement. The town prospered until the Greeks sacked it in 397 B.C.
On the island, you'll find the Whitaker Museum, some beautiful vineyards, and a smattering of ancient Carthaginian ruins. The museum is stuffed with Greek, Carthaginian, and Roman artifacts. It's a good place for history buffs to learn about this the period.
The star of the museum is a larger-than-life white marble sculpture, The Youth of Motya. The athletic youth, complete with one hand on a jutting hip, is displayed beneath a skylight in a room all by itself.
In 1979, archeologists pulled the exceedingly rare Greek statue from a pit in the industrial zone where the Phoenicians had buried it during the siege, apparently for safekeeping.
As for the ruins, they are one of the world's most important Carthaginian archaeological sites. The island was bought and excavated by ornithologist and amateur archaeologist Joseph Whitaker.
We don't know much about the Carthaginians and there's not much left of their ruins. The low lying ruins require quite a lot of imagination to make them come to life.
Two boat companies run boats to the Island of Mozia. The trip takes a quick 10 minutes. There's network of trail and informational displays.
Click here to book your ticket for the boat and island attractions. You can also take a guided tour from Trapani that includes a visit to both Mozia and the pretty city of Marsala.
There's a restaurant and cafe on Mozia. You should also consider packing some bug spray along with your sun screen. There were a lot of mosquitos there when I visited.
Boat Tour
Feel like getting out on the water? Trapani is the perfect place to do that. This well reviewed full day boat tour cruises along the coasts of the islands of Favignana and Levanzo, which are just 30 minutes from Trapani.
You'll be a able to snorkel and swim. Your guide will also fill you in on the historic battles between the Romans and Carthaginians.
You can also just explore Favignana Island on a fishing boat and food tour. Sample fresh seafood paired with wine and learn how to make a traditional Sicilian meal.
I'm not a beach person, so I don't have tips for you on that score. But I was told the best beaches are located around the village of Scopello (especially the Zingaro Reserve) about 45 minutes away.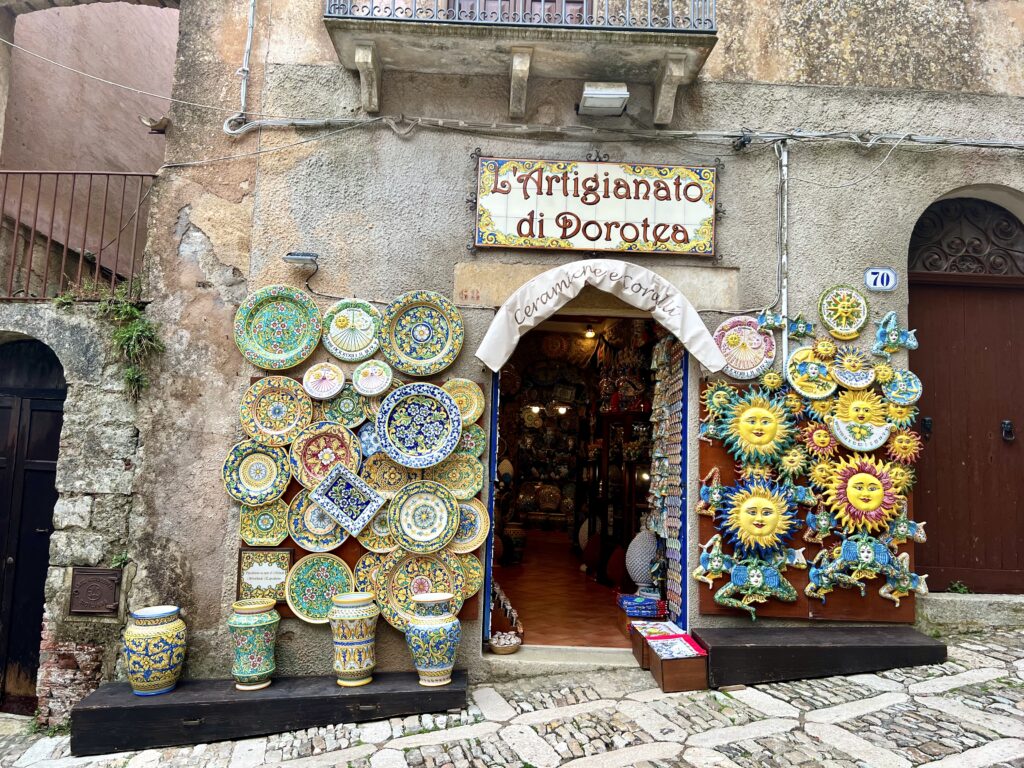 Tips For Spending 2 Days In Trapani
Here are some must know tips for visiting Trapani.
1. How To Get To Trapani
If you are driving, you'll need to park in a lot along the Lungomare Dante Alighieri. You can also get to Trapani by bus or train from Palermo.
You can also visit Trapani and the attractions I've listed above on a full day tour from Palermo.
If you're flying, Trapani Airport is the main airport in western Sicily. But it's a small airport and it's honestly more likely that you'll fly into Palermo or Catania.
The airport is about 11 miles (15 minutes) from the city. You can take a taxi for a 30 euro fixed rate or book a private transfer to your hotel.
2. How To Get Around Trapani
The historic core of Trapani is easily walkable and, with only 2 days, you won't want to spend time in the modern city.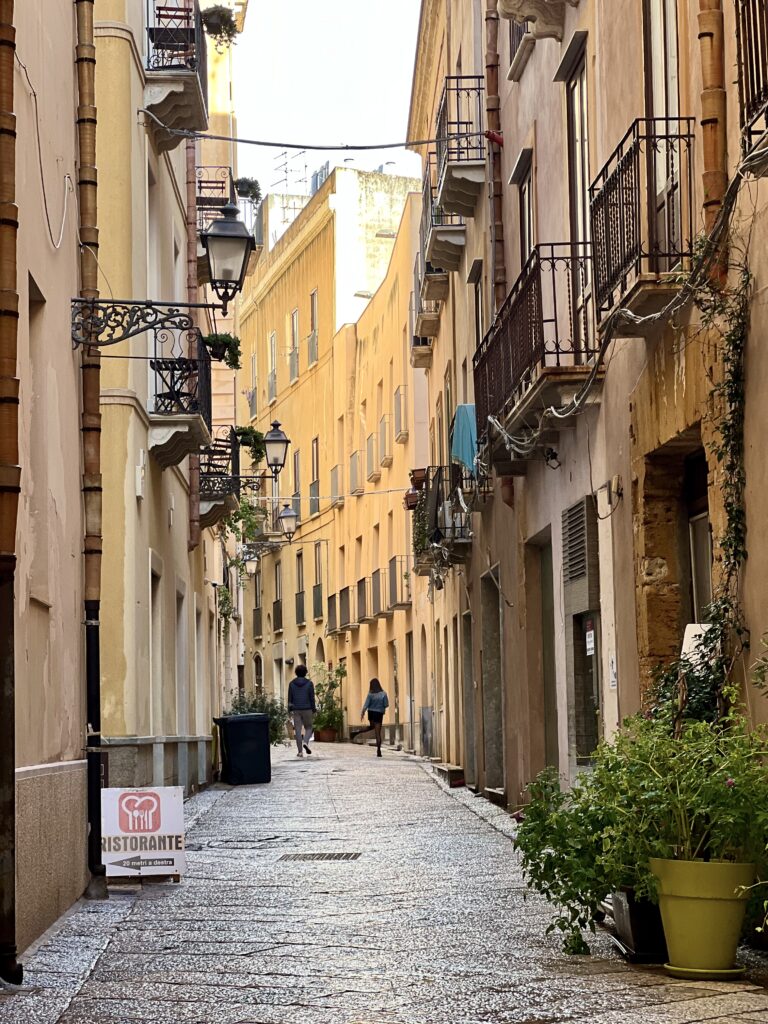 3. Where To Stay in Trapani
Trapani is not known for its luxury hotels. But there are plenty of perfectly good places to stay and it's relatively cheaper than other cities in Sicily. Trapani boasts some of the largest hotel rooms in Sicily, a place not know for large rooms.
The Residenza La Gancia is housed in an ancient monastery. The top floor roof terrace has a sunny breakfast room. It's right next to one of Trapani's beaches.
Hotel San Michele is hidden away in a maze of streets. It has large modern and well decorated rooms and an exotic inner courtyard.
I stayed in the centrally located Badia Nuova Apartment Hotel. After the suffocating small hotel rooms of Palermo, it was a breath of fresh air. The large rooms have a full kitchenette and work spaces. There's a rooftop bar and a good restaurant with al fresco dining, Gusto.
I hope you've enjoyed my 2 days in Trapani itinerary. You may enjoy these other Italy travel guides.
If you need a 2 day itinerary for Trapani, pin it for later.