Polignano a Mare is an ultra scenic town situated on the stunning coastline of Puglia. If you're planning a visit, I've got the ideal one day itinerary for you to make the most of your time.
Polignano a Mare is one of the top tourist destinations in Puglia. The limestone old town is a sight to behold, exuding charm and history at every turn. Polignano is also renowned for its breathtaking sea caves, ravines, and beaches.
Whether you're strolling through the narrow streets of the old town, discovering hidden corners, or marveling at the stunning coastal vistas, Polignano a Mare promises to leave an indelible impression.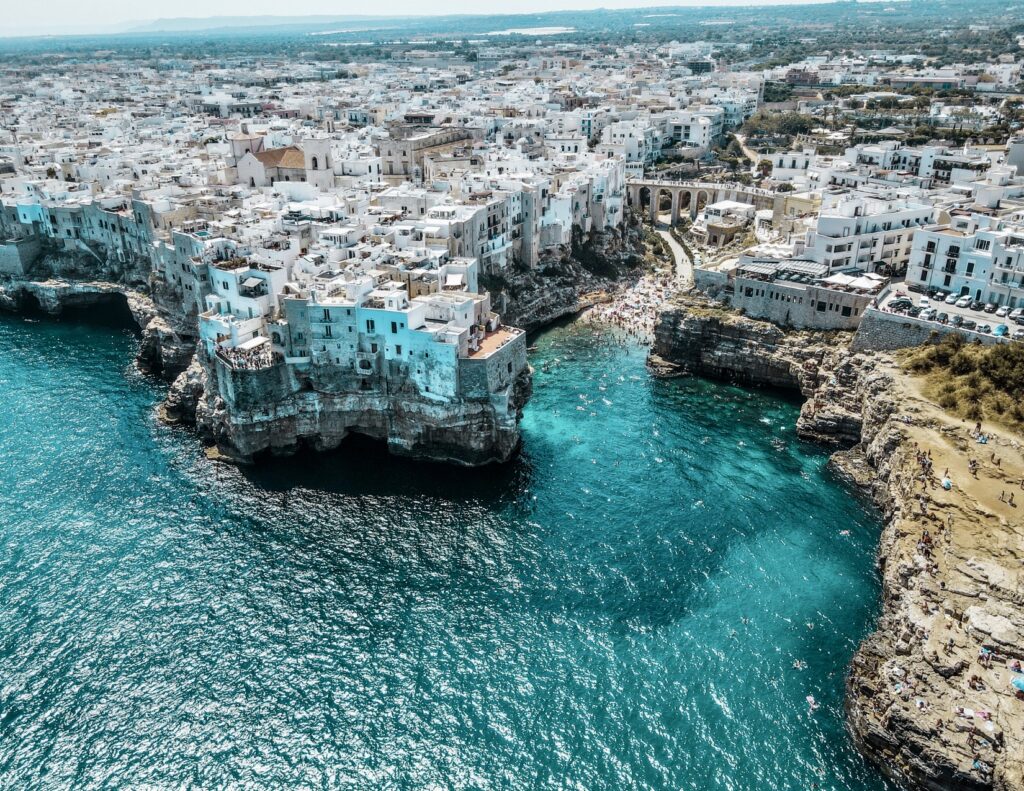 Overview of One Day In Polignano Itinerary
Here's a snapshot glance of what you can see with one day in Polignano a Mare:
Historic center
Piazza Vittorio Emanuele II
Church of Santa Maria Asssunta
Terrazzo Santo Stefano
Lama Monachile Beach
Fondazione Museo Pino Pascal
Boat Tour
Lungomare Domenico Modugno
Best Tours
Here are some of the best tours and experiences in Polignano a Mare:
One Day In Polignano a Mare Itinerary
Historic Center
Begin your one day in Polignano a Mare by exploring the eye-catching historic center. The entrance is thought the Arco Marchesale, also known as the Porta Grande.
The arch is located in Piazza Giuseppe Verdi. It used to be part of the city's 16th century walls. Today, it connects the ancient old town to the modern part of the city.
Wander through the narrow streets lined with whitewashed houses, charming cafes, and local shops. Every turn is more picturesque than the last.
As you walk, you'll see poems inscribed on the stairways and walls. They're by a man known as "Guido Il Flâneur."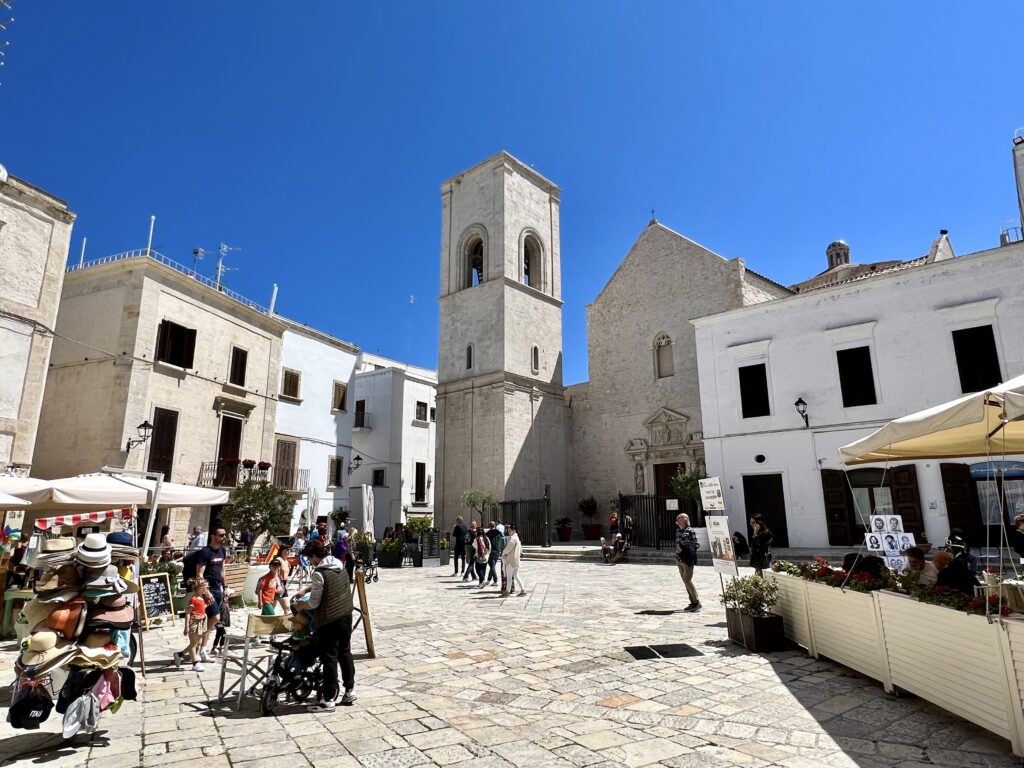 Don't miss the picturesque Piazza Vittorio Emanuele II, the main square of the town. It's a wide square filled with cafes.
The square is dominated by the Palazzo dell'Orologico. It's a cable driven clock that marks the passing hours under the faze of a statue of the town's patron saint, Saint Vitus, in the upper niche.
Church of Santa Maria Assunta
On the other side of the square is the Church of Santa Maria Assunta. It's a lovely example of Apulian Romanesque architecture.
The exterior of the church features a simple and elegant facade, with a bell tower rising on the left side. The portal is adorned with intricate carvings and sculptures.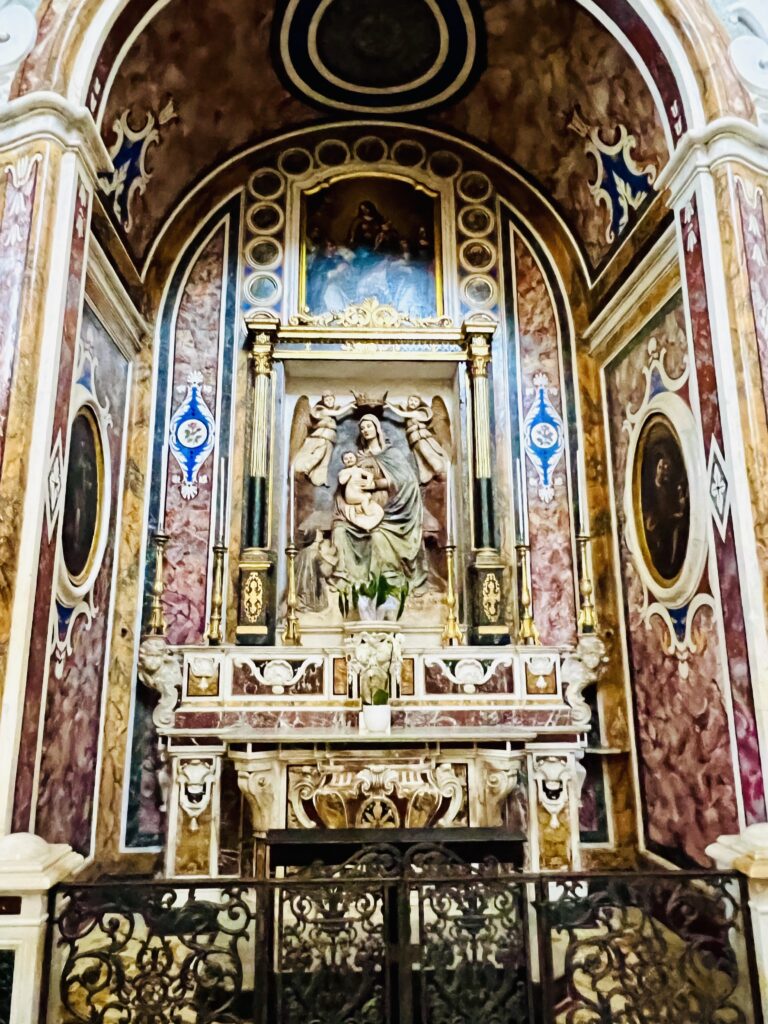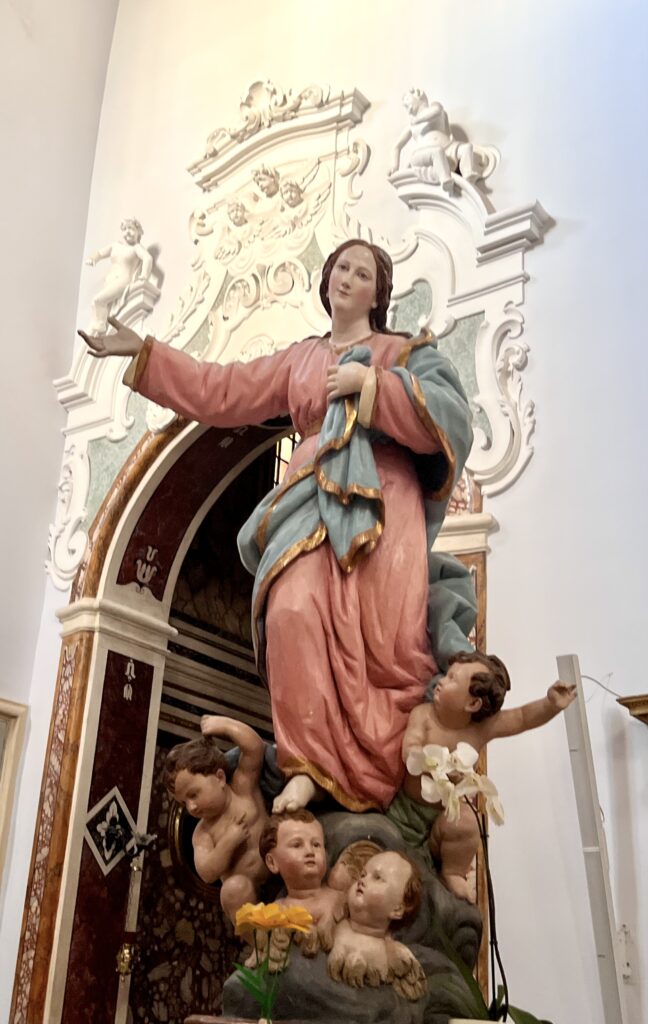 The interior is very serene. It's adorned with beautiful frescoes, intricate details, and ornate altars. The high ceilings and arches create a sense of grandeur.
The main altar is dedicated to the Assumption of Mary and is a focal point of the church. There's also a chapel holding the relics of Saint Vitus and limestone statues by Stefano da Putignano, a famous Renaissance sculptor.
Terrazzo Santo Stefano
As you continue to wander along the town's zigzagging lanes, you'll also reach the Terrazzo Santo Stefano. It's one of Polignano's iconic balcony belvederes. From it, you'll have stunning views of Lama Monachile and the Adriatic Sea.
Be sure to stroll down Via Roma, the main drag. It's filled with all sorts of quaint shops and eateries.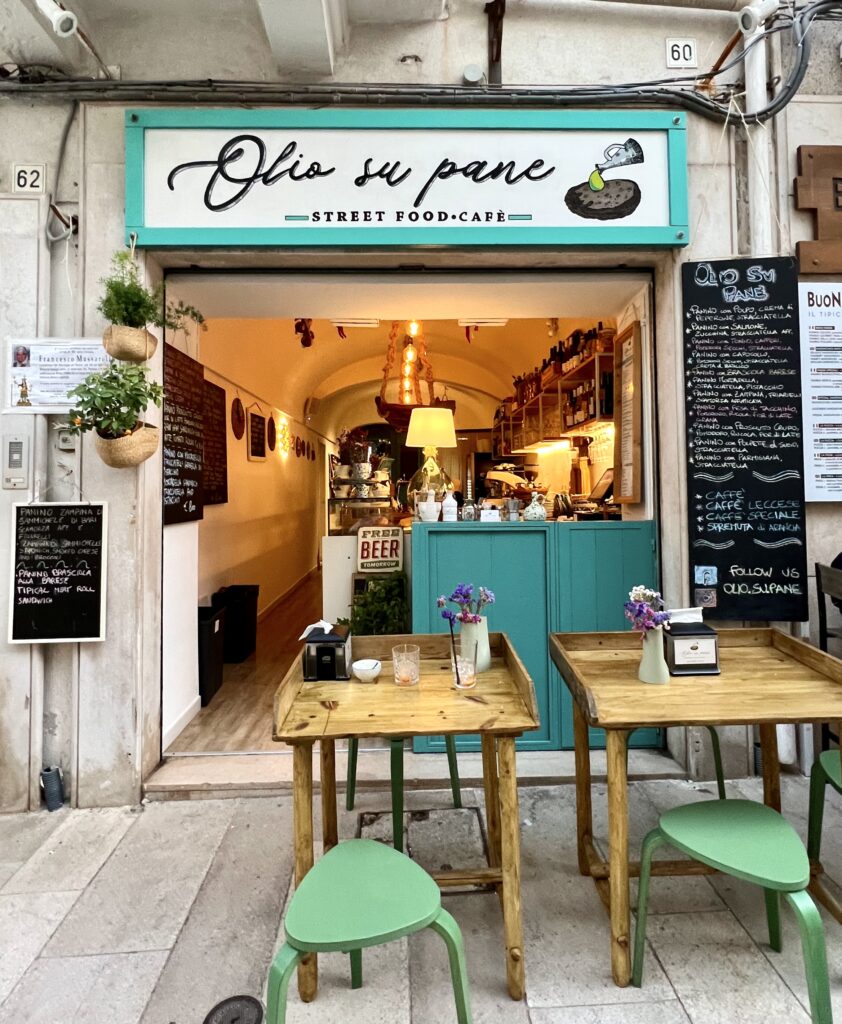 After your old town stroll, have a relaxing lunch at the Grotta Palazzese. It's a stunning sea cave restaurant located on the edge of a cliff. It's widely considered among the 10 most exclusive outdoor restaurants in the world.
You can also keep it simple and get street food to go at Olio su pane. Or grab a quick (an inventive) meal at Mint Cucina Fresca.
Lama Monachile
After lunch, take a stroll along the beautiful Lama Monachile Beach. It's a must do with one day in Polignano. Lama Monachile is one of Puglia's most famous beaches and you can see why immediately.
The best view is from the magnificent Ponte Borbonico, a monumental five-arched bridge. The bridge was once part of the historic Via Triana built by Emperor Trajan. This iconic spot is where you'll find the picture perfect views that have made Polignano famous.
You access the beach via a stone staircase. You can admire the crystal clear turquoise waters and the iconic cliffside buildings that surround the beach. Go for a swim or laze in the sunshine on "seats" built into the cliffside.
If you opt for a swim, you may want to have some water shoes or sandals. It's a bit hard to get into the water because of all the large rocks.
When I was there in May, the water was also very chilly! But there were plenty of souls still braving it.
Modern Art Museum
If you're an art lover, you can visit the Fondazione Museo Pino Pascal. It's a modern art museum just outside the historic center. The museum was founded in 1998 after Pasacali's family made a donation of his work.
The museum features artworks by regional artists including Pascal. He was an important figure in the 20th century Arte Povera movement and is considered Puglia's greatest artist.
Sea Caves Boat Tour
If you'd rather stay outside, it's a good time to explore the delightful sea caves and ravine along the coast. So consider taking a boat tour or speedboat cruise.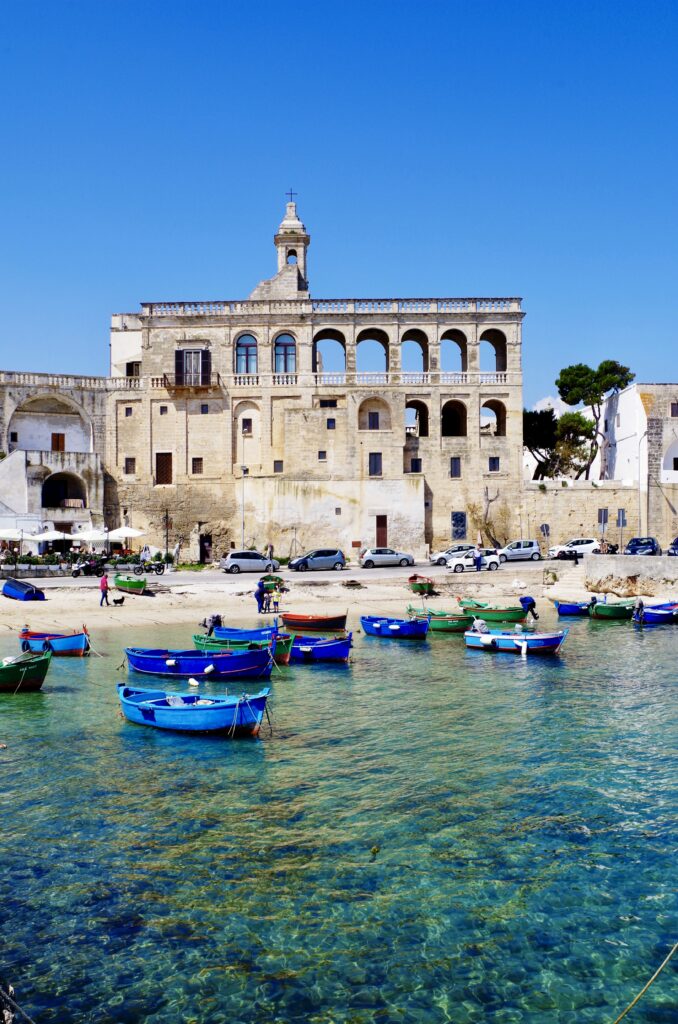 There are as many as 21 sea caves in Polignano. You will enjoy the unique stalactites and stalagmites formed over a millennia. Local guides can tell you all the stories and secrets associated with the caves.
You might even have the chance to swim in the crystal-clear waters. You can also inspect them on a scuba driving tour.
San Vito Abbey And Beach
You could also take a 40 minute walk to see the Abbazia di San Vito. It's a historic abbey that dates back to the 11th century. It still has an impressive series of arches and balconies that overlook the sea.
The abbey is on San Vito beach. You could take a seaside stroll or plop down on the sandy shores. You'll see the classic blue and red Puglian fishing boats.
Lungomare Domenico Modugno
In the early evening, take a stroll along the Lungomare Domenico Modugno. It's a must do with one day in Polignano a Mare. It's an incredibly picturesque promenade on the Adriatic Sea.
You'll see the statue of Domenico Modugno, the famous Italian singer and songwriter. He's known as Mister Volare for his song "Volare." Volare, oh oh oh!
It was once the best known Italian song in the world. You'll likely hear it playing in the square.
There's a statue of the local legend. He looks like he's in the middle of belting out the song, with arms swung wide. You can pay homage to him and enjoy the lively atmosphere of the promenade.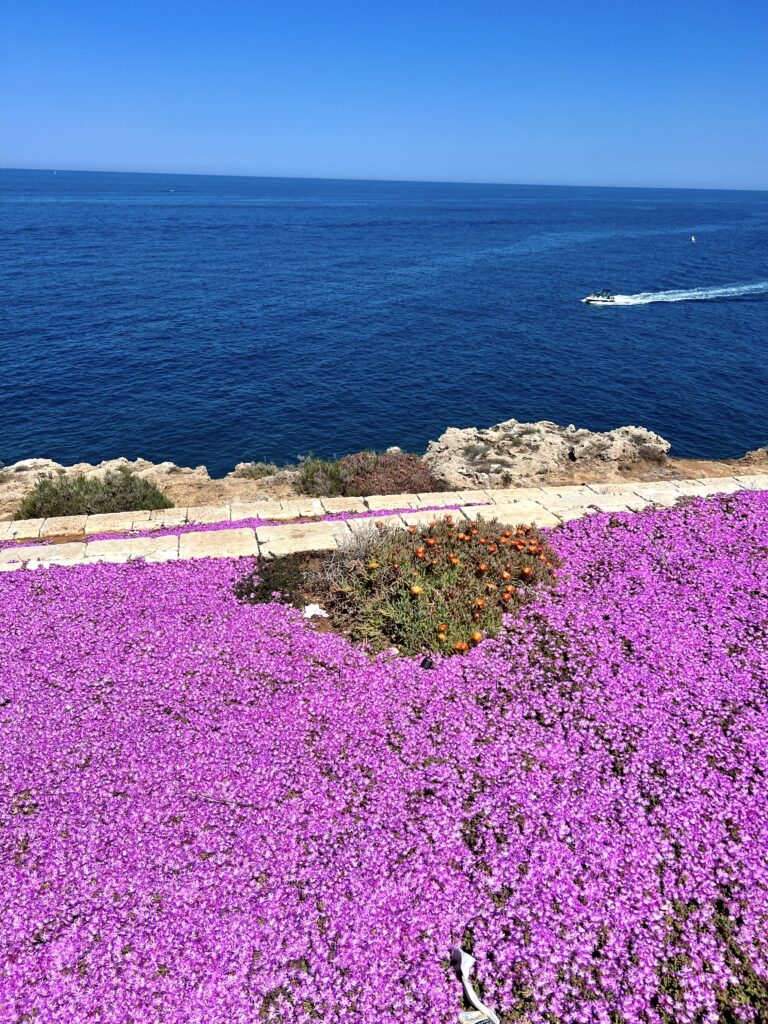 End your day with a breathtaking sunset view from the Piazza Aldo Moro. Watch as the sun dips below the horizon, casting vibrant colors over the sea and creating a magical atmosphere.
Dinner
For dinner, indulge in the local cuisine of Polignano a Mare. Try the famous polpette (meatballs), panzdrotti fritti (fried mozzarella and tomato) or the fresh seafood dishes at one of the many charming restaurants in town.
I'd also recommend the Focaccia Barese. It's a fluffy and savory bread topped with cherry tomatoes, olives, oregano, and sometimes even onions.
You can wash it all down with an Arletta red wine (dry and full bodied) or a Moscato di Trani (yellow and sweet).
I was in Polignano for a few days so I was able to sample some of its fabulous eateries. I had fine meals at Osteria dei Mulini, Restaurant Antiche Mura, and La Locanda Porta Pico. Even the street food cafe, at Olio su Pane, was delicious.
Tips For A One Day In Polignano a Mare Itinerary
Here are some must know tips for spending 1 day in Polignano a Mare.
How To Get To Polignano a Mare
The nearest airports to Polignano a Mare are Bari Airport and Brindisi-Salento Airport. From either airport, you can rent a car or take a taxi to reach Polignano a Mare. You can also book a private transfer.
It's an approximately a 30 minute drive from Bari and a 1:15 hour drive from Brindisi.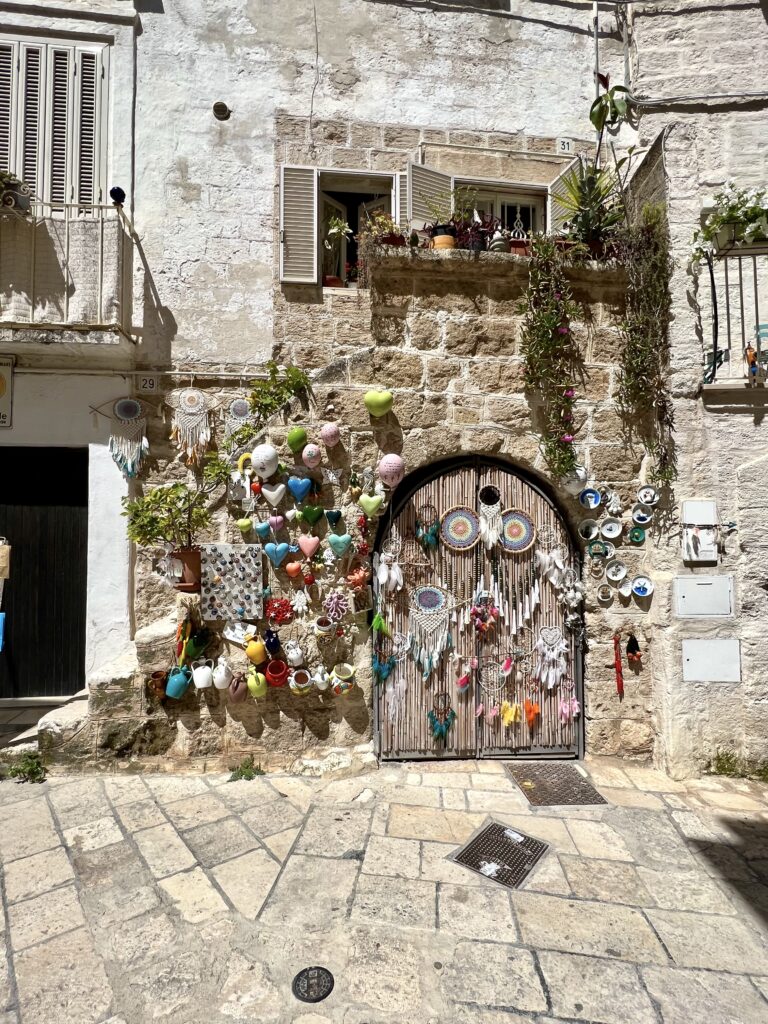 Polignano a Mare also has its own train station, which is served by regional trains. You can take a train from Bari Centrale or Brindisi Centrale to Polignano.
If you're driving, Polignano a Mare is well-connected by roads. The main access route is the SS16 Adriatica coastal. You can park you car in Parcheggio Scalo di Masaniello near the train station or Parcheggio Santo Stefano near the historic center.
You can also get to Polignano on a guided day tour of the Valley d'Itria or on a guided tour from Bari that also includes Alberobello and Monopoli.
How To Get Around Polignano a Mare
Polignano is a compact, flat, and easily walkable town. You can also get around by taking tuk tuks or renting bikes.
Where To Stay In Polignano a Mare
Being a resort town, there are plenty of places to stay in Polignano a Mare.
Hotel Grotta Palazzese is the cream of the crop. It's a 5 star luxury hotel. What makes this hotel truly special is its remarkable setting within a natural limestone cave overlooking the Adriatic Sea.
If staying there breaks your budget, you can have lunch or dinner at its renowned restaurant. It's situated on a panoramic terrace inside the cave, with beautiful views of Lama Monachile.
Giovi Relais is a 4 star hotel on Via Roma. I stayed there and really liked it. The rooms are large and comfy and feature medieval vaulted ceilings.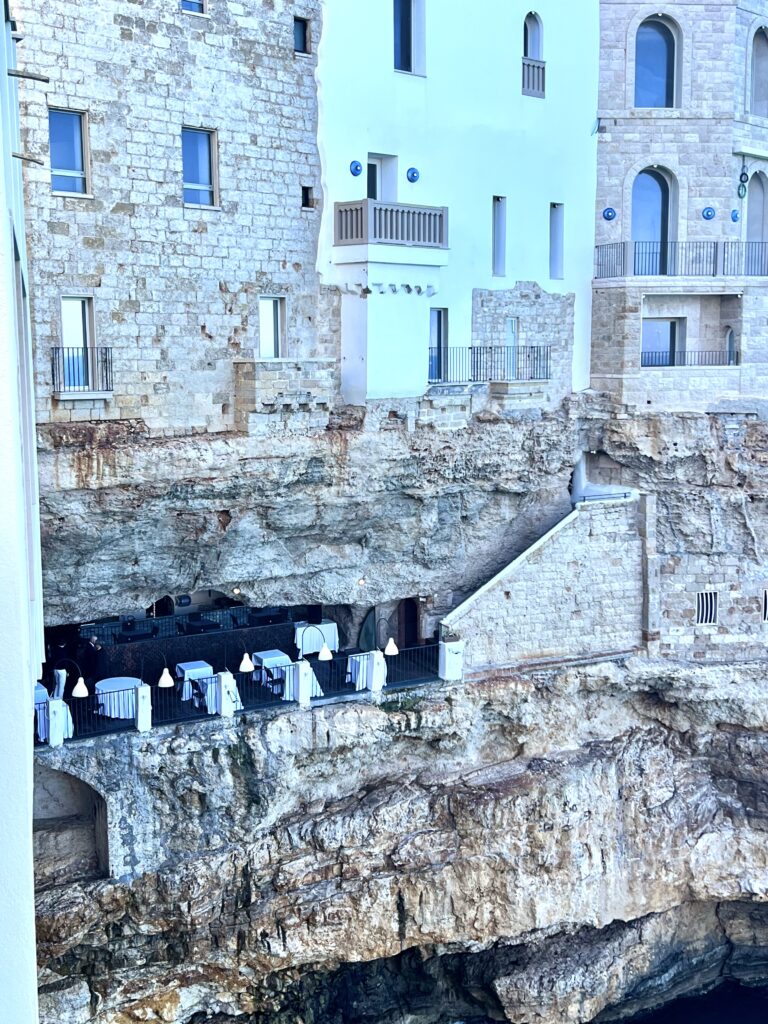 San Michele Suite is a boutique hotel offering stylish and comfortable rooms with a blend of modern and traditional decor. The rooftop terrace provides panoramic views of the Adriatic Sea.
Covo dei Sararenti Hotel is a 4 star hotel. It has a terrific location on the water's edge near all the attractions.
If you'd like a more rural setting, I highly recommend the Masseria Il Melograno. I stayed there a couple nights.
It's a historic farmhouse located in the countryside near Polignano and surrounded by olive groves and vineyards. It's been renovated in the traditional architectural style of Puglia, with whitewashed walls, stone courtyards, and rustic furnishings.
When To Visit Polignano a Mare
The best time to visit Polignano a Mare is during the spring and fall. During these months, the weather is mild and the tourist crowds are also relatively smaller compared to the peak summer months.
I visited in the spring. There were blooming flowers, lush green landscapes, and a vibrant atmosphere.
It's an ideal time to explore the town's charming streets, relax on the beaches, and enjoy outdoor activities. The weather is perfect for strolling along the lungomare and admiring the coastal views.
In summer, you'll get toasty temperatures and more tourists. But, if you want a relaxing beach break, this is the time to come. The water doesn't warm up until June.
Winter in Puglia can be quite chilly. Still, the tourists will be gone and prices will drop. There are festivals and ceremonies year round. At Christmas, the historic center is completely decked out.
Is One Day Enough In Polignano a Mare?
One day is plenty of time to explore the town in a leisurely way. But you may want to stay longer just because the town is so pleasant.
I stayed there for a few days to rest up between a trip to the Amalfi Coast and the rest of Puglia.
Polignano actually makes the perfect base for exploring Puglia. From the town, you can easily day trip to Monopoli, Ostuni, Conversano, or Alberobello.
And that's a wrap for my one day in Polignano a Mare itinerary. You may enjoy these other southern Italy travel guides and resources:
If you'd like to spend one day in Polignano a Mare, pin it for later.