Capri is one of the most dazzling and seductive islands in the Mediterranean. And with this 2 days in Capri itinerary you can see it all.
You'll be delighted with Capri's soaring cliffs, shimmering emerald water, whitewashed towns, and historic landmarks.
For centuries, Capri has charmed everyone from Roman emperors to celebrities. It's easy to be star struck.
Overview of 2 Days In Capri Itinerary
Here's a snapshot glance at what you can see with two days in Capri. I think you really need 2 days to see all the sites and enjoy the island properly.
Visiting the island on a day trip is not ideal. There will be hordes of day trippers (up to 20,000 per day). So a real stopover is the key to having a satisfying experience in my opinion.
Day 1:
Capri Town
Villa Jovis
Certosa di San Giacomo
Gardens of Augustus
Belvedere di Tragara
Grotto di Matermania
Arco Natural
Day 2:
Villa San Michele
Anacapri town
Monte Salaro
Belvedere hike
Blue Grotto
Before You Go: Here's How To Plan Your Visit To Capri
If you're in a hurry, below are some of the top tours, hotels, and experiences for Capri. Don't forget to plan ahead when visiting, especially in high season.
Best Tours & Experiences:
Best Hotels:
You'll want to stay either in or around Capri Town or Anacapri. The top hotels are:
I stayed at the Hotel Caesar Augustus near Anacapri and couldn't have been happier. Anacapri is less crowded than Capri Town. I could easily have spent a week gazing at the sea and eating seafood.
A Short History of Capri
Capri has been inhabited since the Neolithic period. In ancient Greek and Roman times, Capri was known as Caprae, which means "island of goats."
Capria popular resort destination, known for its natural beauty and mild climate. Emperors Augustus and Tiberius were particularly drawn to Capri.
In 29 A.D., Augustus visited. He was so stuck by the island's loveliness that he nicknamed it Apragopolis, which means "land of sweet idleness."
Tiberius moved to Capri in 27 and remained there until his death in 37. From the clifftop Villa Jovis, the notorious emperor ruled the Roman Empire. If you believe the salacious legends, he held wild and lavish parties.
In the Middle Ages, Capri fell under the control of various rulers, including the Byzantine Empire, the Kingdom of Naples, and the Saracens.
In the 16th century, the island fell under Spanish rule and became part of the Kingdom of Naples. During the 18th and 19th centuries, Capri became an international glamor girl. Artists, intellectuals, and literati from around the world flocked to the glamorous retreat.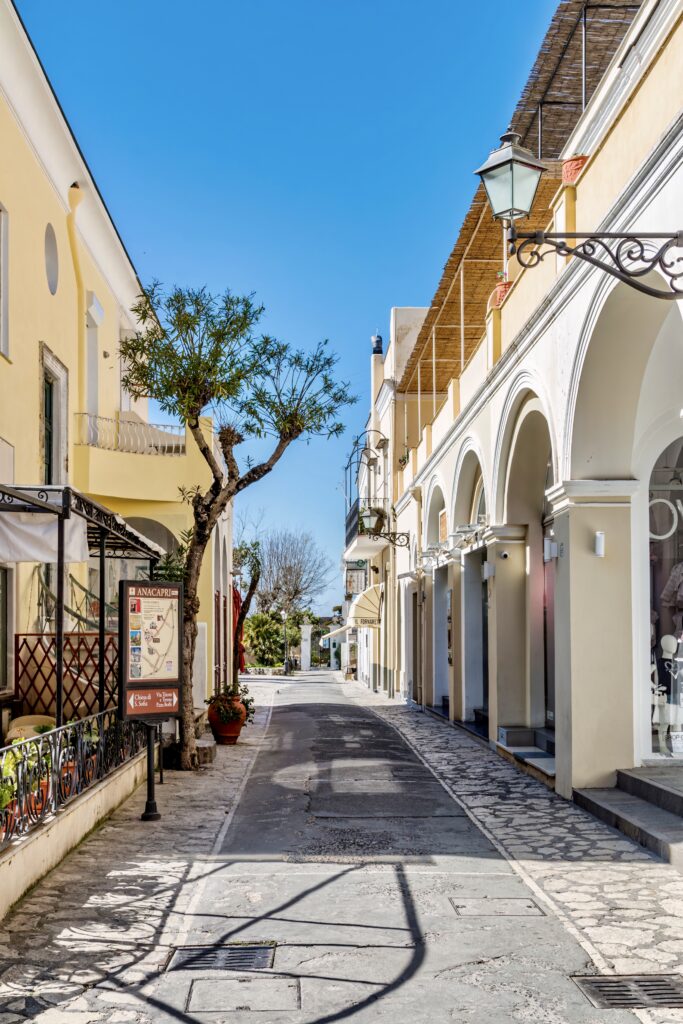 In the 20th century, Capri became a popular playground for for film stars and fashion icons. Today, it's one of the hottest tourist destinations in Europe.
2 Days In Capri Itinerary
With this 2 day Capri itinerary, you can take in the island's two towns, walk the beautiful coastline, and visit the main attractions. You'll be mesmerized by one gorgeous view after another.
You can do this Capri itinerary on your own or hire a driver. You can reverse the order of day 1 and day 2 if you want to start off near where you're staying. You can also add or subtract things based on your pace of travel.
So, let's get down to it.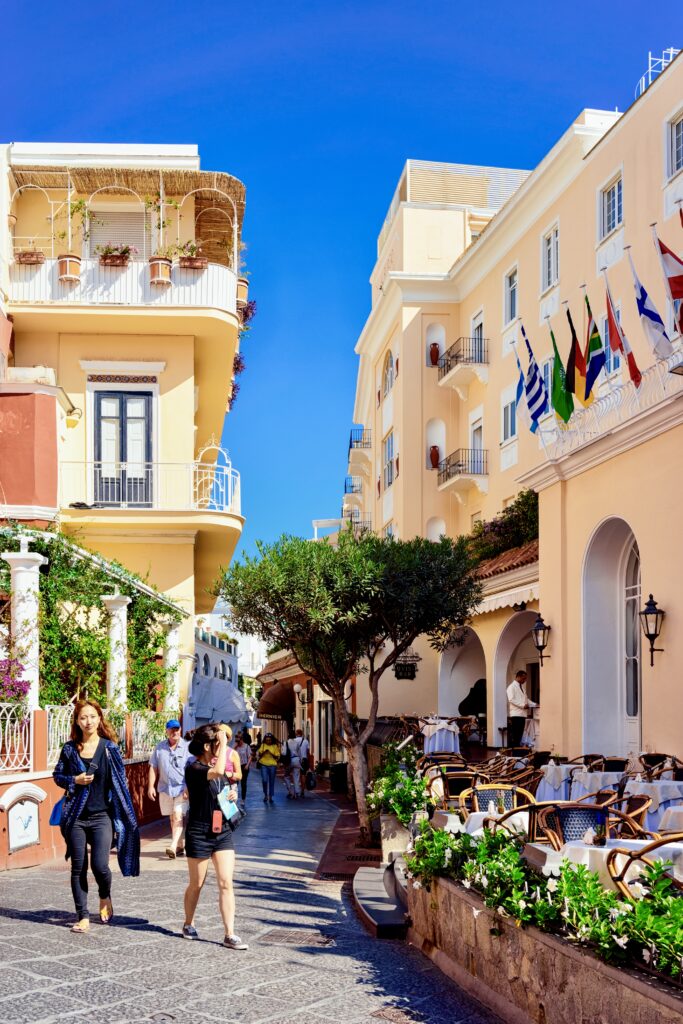 Capri Town
Begin your day with a stroll through the immaculate streets of Capri Town, Capri's main village. As you might imagine, it's chic in the extreme. And the crowds are pretty insane.
The main square is Piazza Umberto I. But it is known affectionately to all as the Piazzetta.
The diminutive square is overlooked by the Byzantine-Baroque Church of Santo Stefano. The Torre dell'Orologio or the Clock Tower is another landmark.
Capri's elegant shopping street is Via Camerelle. Some boutiques are actually built into an old Roman wall. They are chock full of designer duds from Gucci, Ferragamo, Prada, etc. There's a famous perfume shop as well, Carthusian.
I would shop for lemon-infused perfume, soap, hand made leather sandals, or limoncello.
Villa Jovis
After a stroll through town, make the 45 minute walk to the once colossal Villa Jovis on the eastern side of the island. You'll have to do a bit of climbing to get there.
But it's worth the effort. I mean, who doesn't love a tramp around authentic Roman ruins? Graham Greene described the views from Villa Jovis, named after the Roman god Jupiter, as "some of the loveliest scenery on earth."
Unfortunately, on my visit, we encountered some fog. But, in a way, that made the place more atmospheric. Plus, the ruins come complete with goats.
Villa Jovis was the grandest of 12 villas that Emperor Tiberius built on the island (one for each god in the Roman pantheon).The main entrance leads to a large courtyard.
The ruins include the foundations of Tiberius's living quarters, archways, reception halls, dining rooms, and private apartments.
If you're with a guide, they will revel in pointing out Tiberius' Leap. This is the highest point of the villa. It's where Tiberius reputedly hurled off his enemies and unsatisfactory lovers.
From Villa Jovis, head back down. When you reach the bottom of Via Tiberio, turn left into Via Matermania and follow signs to Arco Natural.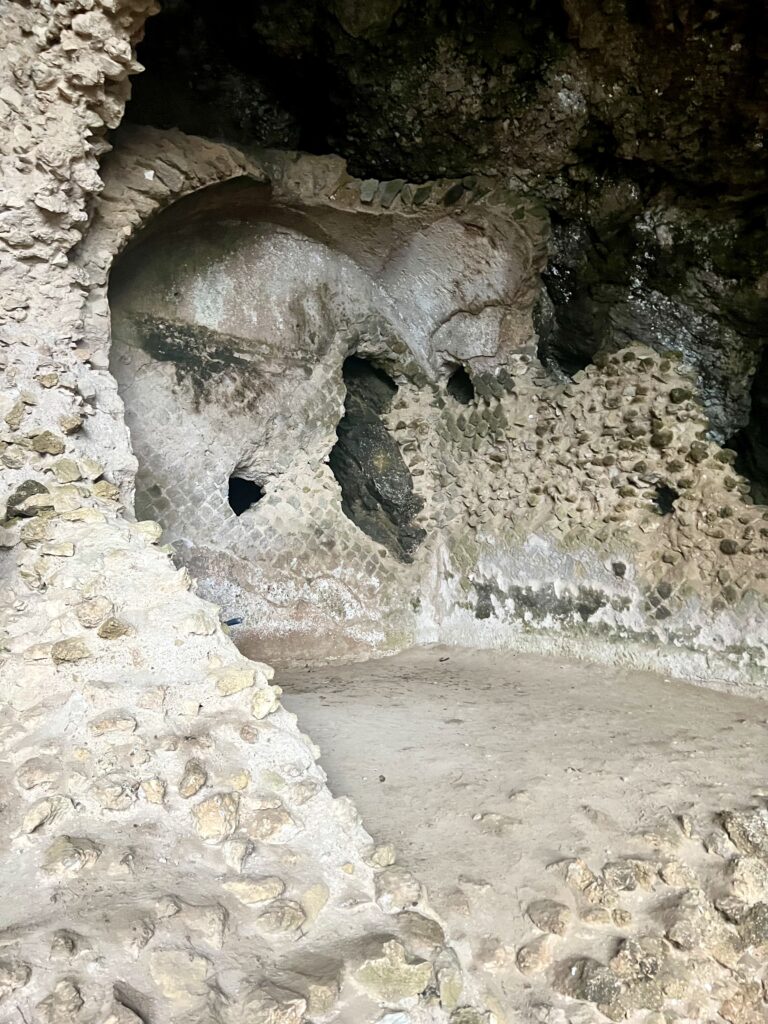 Coastal Trail
This will take you to a stretch of Capri's Coastal Trail. You'll see Arco Natural, it's a huge outcrop of limestone rock that's been eroded by the sea into a natural arch.
Then, the coastal path leads to a grotto called Matromania. It's an ancient sacred site dedicated to the Great Mother.
The Romans converted it into a nymphaeum, a fountain dedicated to water nymphs. You can take ramble through the caves.
The trail winds through woods. There are occasional peeks at the sea. And you'll spy ithe Villa Malaparte. It's a strikingly red Modernist house built on a rugged point that reminded me of a Bond villain's lair.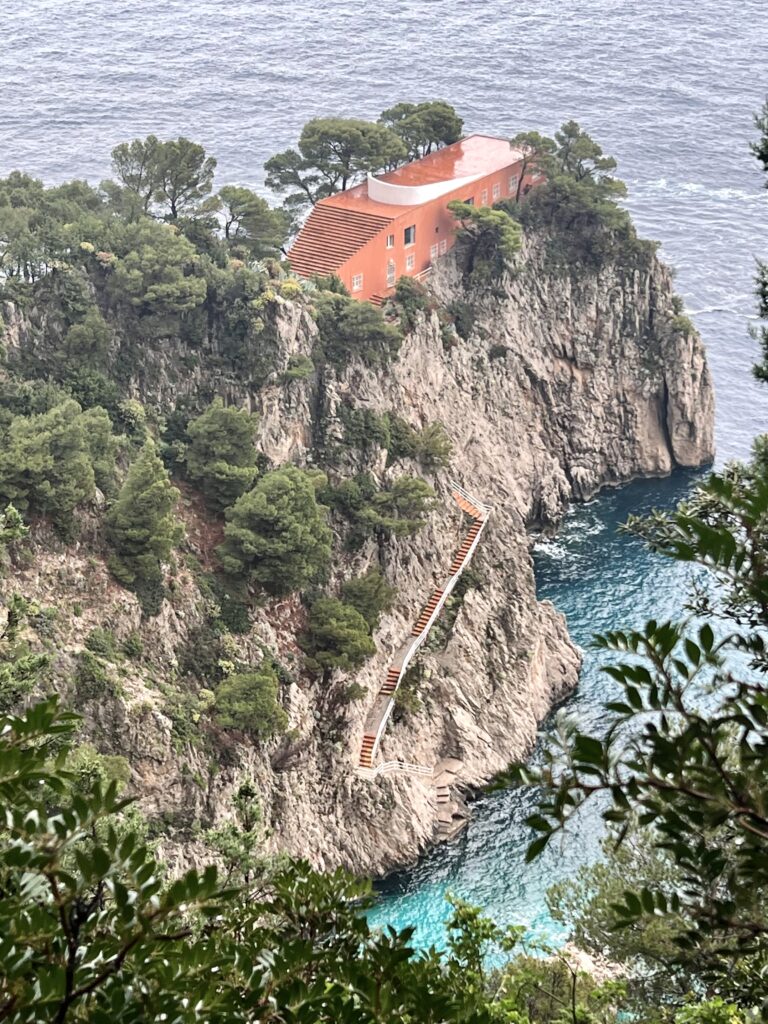 The path ends at the Tragara Belvedere, a lovely lookout point.
From there, you'll have full-on views of the Faraglioni, the three jagged limestone stacks that soar from the sea off the southeastern tip of the island. They are the habitat of the rare blue lizard.
Certosa di San Giacomo
As you walk back to Capri Town, stop at the Certosa di San Giacomo. Founded in 1371, it's a charming medieval monastery. It was once home to Carthusian monks who lived a secluded and contemplative life.
Today, you can inspect the church and tranquil cloister. It's also home to a small museum housing statues found in the Blue Grotto and other artworks.
Gardens of Augustus
From the monastery, head to the Gardens of Augustus. It's a lovely flower-filled terraced park on a hill. The main reason to visit is the superb views.
You'll have the classic vistas of the Faraglioni rock formations. And you can also see the famous Via Krup, with its scenic hairpin twists and turns. Via Krupp links the Marina Piccolo (small marina) with the gardens.
Dinner In Capri Town
Once you're back in Capri Town, you can spend some time shopping or have an apertivo. The piazzetta will be more appealing now as the day trippers will have left.
There are plenty of options for dinner. The food in Capri is delicious. It's simple and all farm to table. Naturally, you will have to try some fresh seafood caprese salad, caprese ravioli, and the lemon desserts.
If you want a Michelin restaurant, there are three to choose from at Capri Palace. L'Olivo has delicious seafood along with spectacular views.
Terazza Brunella also gives you dinner with a view. It's a romantic place near the belvedere.
Da Paolino is a delightful restaurant nestled in a garden teeming with lemon trees. You'll be seated beneath a canopy of citrus, with nets catching any falling fruits. While some may deem it touristy, I found that it in no way detracted from the enchantment of the meal.
Villa San Michele
Begin day 2 of your 2 days in Ravello with a visit to the famed Villa San Michele. It opens at 9:00 am.
It was built by the Swedish doctor Axel Munthe on the ruins of one of Tiberius' villas. The doctor wrote an international best seller about the building of the villa called The Story of San Michele.
Munthe believed his house was "like a Greek temple, with light light light everywhere." This may be a slight exaggeration. But, still, it's hard to resist the charms of the villa's garden rooms and gardens.
Today, the villa is a museum with a romantic display of ancient artifacts, statuary, and eclectic furnishings. You can explore the atrium, living spaces, mosaic and marble floors, a loggia, and a chapel.
You'll see a Beware of Dog floor mosaic that's a copy of the famous one found at the House of the Tragic Poet in Pompeii.
There are also later versions of famous ancient and Renaissance sculptures, including Spinario (in Rome's Capitoline Museum) and Verrocchio's Putto with Dolphin (in Florence's Palazzo Vecchio).
A highlight is the garden and its colonnaded vine-swathed wisteria pergola. From the pergola, you have some jaw dropping views.
The villa also hosts musical concerts once a week from June to mid-August. They take place in the 200 seat terrace or in the chapel.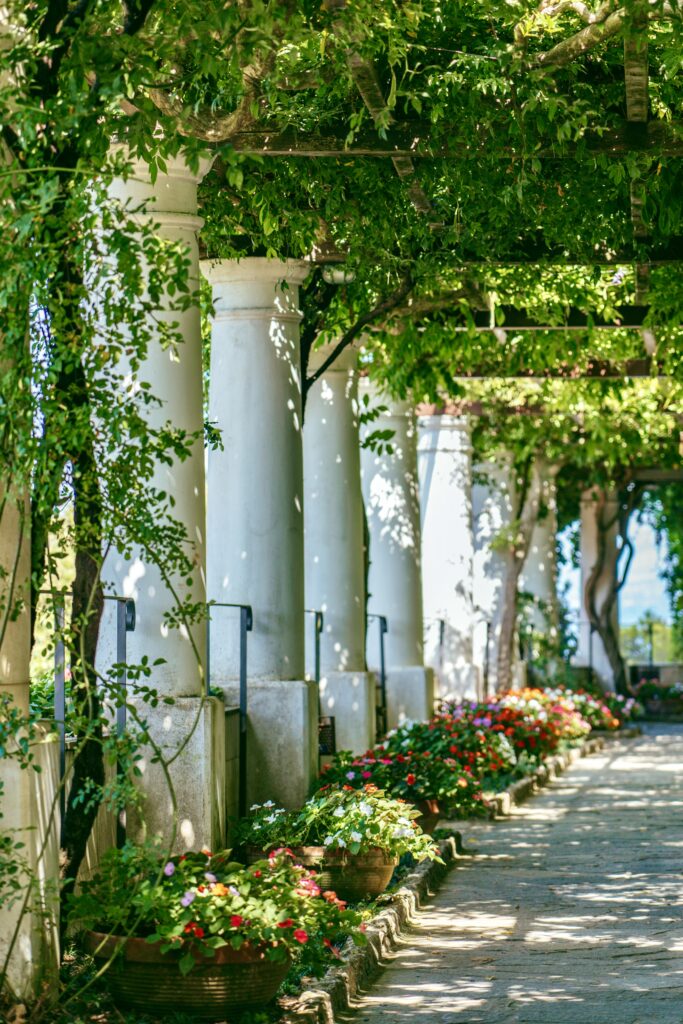 Anacapri Town
When you arrive back in Anacapri, take a stroll and admire the cubic whitewashed houses. The main square is Piazza Vittoria and it's crammed with shops.
Just off the piazza, you'll find the Pompeiian red Casa Rossa. It's a small quirky museum housed in a bright red house.
The house was built by by an eccentric American colonel in the late 19th century. It's an eye catching place with Moorish windows, crenellations, and medieval details. In the courtyard, you'll see a statue of a priestess from the 1st century.
The museum houses a range of artifacts, which will let you tramp through the history of Capri. Highlights are four Roman nymph statues found in the Blue Grotto and some beautiful paintings of the island.
You should also check out the Church of San Michele, Anacapri's Baroque parish church.
The church's must see is its majolica-tiled floor, which is a true masterpiece. The floor depicts the Creation of Adam and Eve and other biblical scenes.
It almost looks like a mosaic. A small balcony allows you to take it all in.
Then, grab a quick lunch and head to Monte Solaro. It's best to visit in the afternoon because you may have cloud cover in the morning.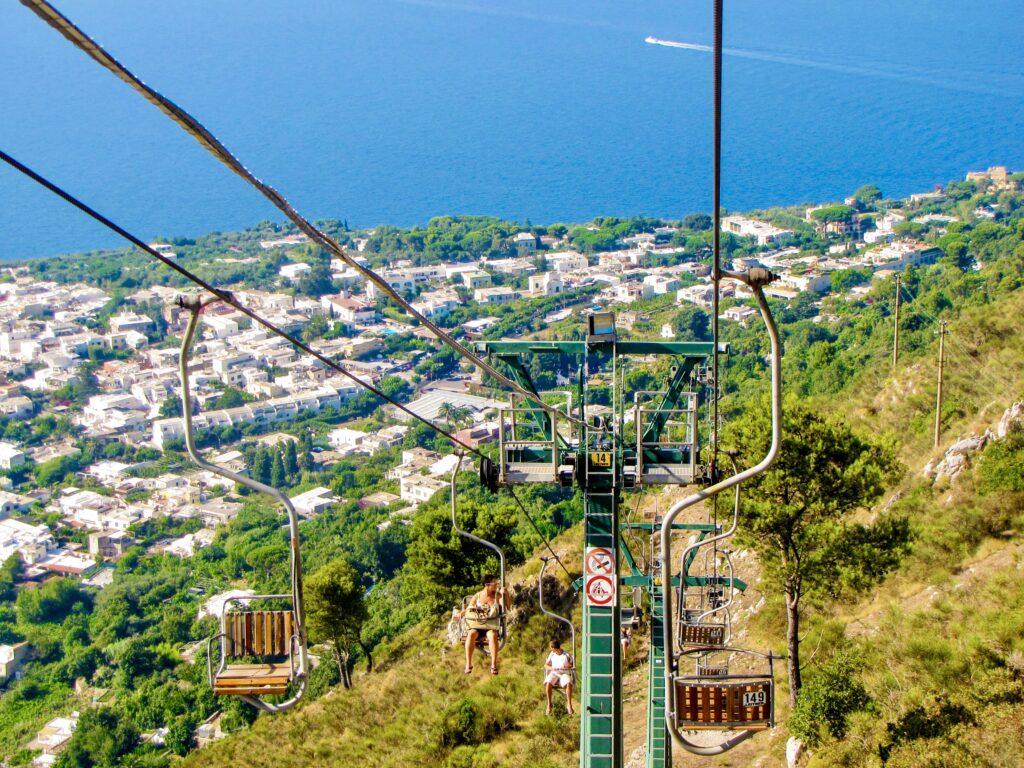 Monte Solaro
To get to Monte Solaro, you can either hike up or take the chairlift. To check them out both options, my husband hiked and I took the chairlift. I think the best way to visit is to take the chairlift up and then walk down.
The hike will take approximately 45-60 minutes depending on how fast you go. It's mostly on well marked dirt pathways. It's a relatively easy hike, but there are some steep parts.
Called the Seggiovia, the chair lift leaves from Piazza Vittoria in Anacapri. The lift gives you a peaceful ride over gardens, woods, and vineyards. It takes about 15 minutes.
The ride isn't for the faint of heart or someone scared of heights. It's a rather rudimentary lift that only fits one person.
Once you reach the summit, you'll find a lookout terrace. You'll be greeted by panoramic vistas of Capri, the Bay of Naples, and the surrounding islands. There's a small cafe at the summit where you can grab a drink or snack while taking in the views.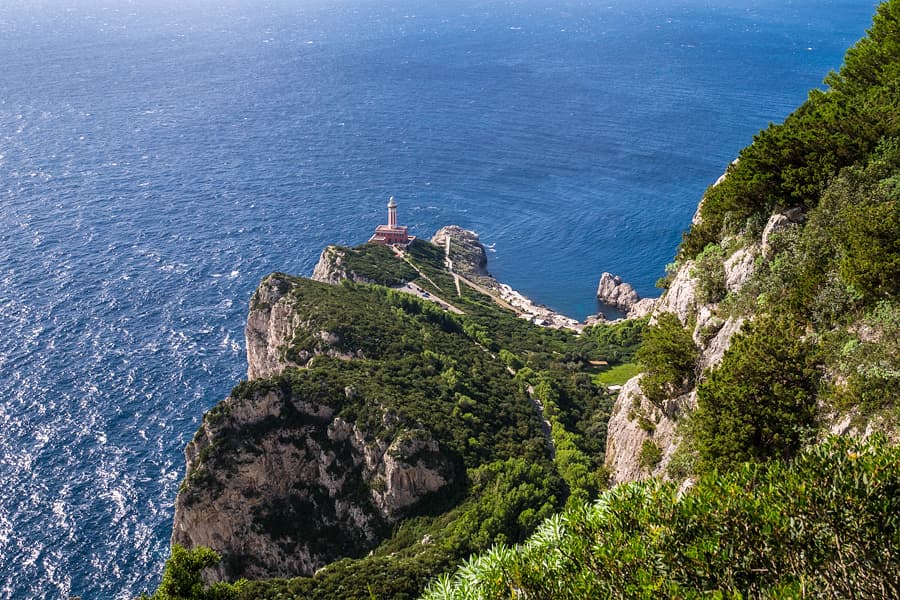 Belvederes
Alternatively, you could hike to the Belvedere della Migliara or the Belvedere dei Filosofi lookout points.
The Migliara is on the western side of the island. It's a 2.2 mile out and back hike from Anacapri.
You'll be rewarded with an expansive vista showcasing the azure sea, rugged cliffs, and the picturesque towns dotting the coastline. It's especially lovely at sunset.
Another scenic out and back hike takes you to the spiritual Belvedere dei Filosofi or "Philosopher's Viewpoint." It's just above Belvedere Migliara. It offers the same non-stop beautiful panoramic views.
Legend holds that, in ancient times, philosophers gathered here to contemplate and discuss life's mysteries while admiring the awe-inspiring scenery.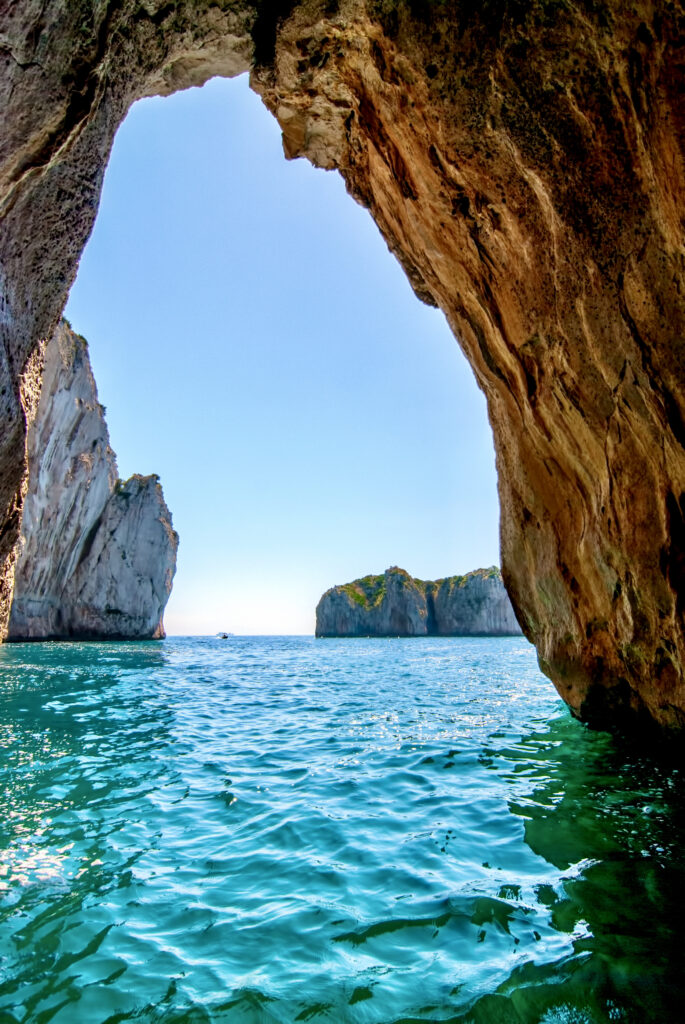 Blue Grotto or Boat Tour
Capri is also gorgeous seen from the water. So to wrap up your afternoon (time permitting), take a guided boat tour or head to the Blue Grotto. Late afternoon is a good time to visit.
The Blue Grotto is a famous natural sea cave that's Capri's #1 attraction. The cave's interior is bathed in a brilliant blue glow. It's created by sunlight filtering through an underwater cavity and reflecting off the limestone walls. It's beautiful, truly an otherworldly effect.
To my mind, it's debatable whether the blue grotto is worth visiting given the rigamarole involved. While undeniably beautiful, there are several factors to consider.
To get to the grotto, you will have to taxi from Anacapri to Marina Grande for a boat departure. Alternatively, you can get there by bus or by walking down Via Pagliaro then Via Grotta Azzurra. Descend the steps to the cave entrance and join the queue for boatmen.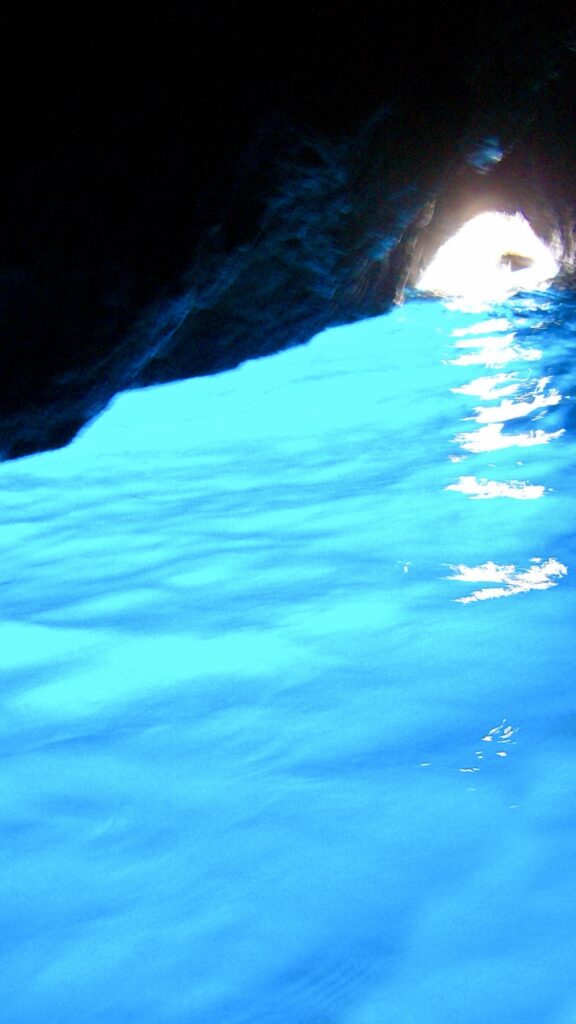 You can't buy grotto tickets in advance. You have to buy them at the marina or onsite. You can, however, book a guided tour in advance to ensure a spot.
The process can involve long waits at each stage — waiting for a bus to the marina, paying the fees, and queuing for boat entry. If you've already experienced another blue grotto, such as in Malta or Bisevo in Croatia, it may be skippable.
Keep in mind that the grotto itself is quite small. Numerous boats will be waiting their turn to enter. This can result in waits of an hour or more. And this is for a mere five minutes inside!
Moreover, visiting the grotto is highly dependent on favorable sea conditions. If the weather is poor or there are high swells, the grotto may abruptly close without any prior notice.
I've done the blue grotto before. But, for all these reasons, I skipped it this time around.
Dinner in Anacapri
One of my most delicious meals in Capri, complete with a beautiful sunset, was at Da Gelsomina. It's outside Anacapri, but the restaurant has a shuttle that will take you to and from your hotel to the restaurant.
Gelsomina is the oldest restaurant on the island and still family run. They have their owns gardens. We had what they recommended as the specialities — grilled vegetables, caprese ravioli, and pasta with rabbit stew.
Lido del Faro is another place with sunset views, perched at the on the tip of the Punta Carena bay. You'll need to take a taxi or bus to get there.
Tips For A 2 Days In Capri Itinerary
Now, for the practicalities. Here are some must know tips for spending two days in Capri.
1. How To Get To Capri
The easiest way to get to Capri is by ferry or hydrofoil You can catch a ferry from Naples, Sorrento, Amalfi, or Positano. None of them takes more than about 50 minutes.
I've linked the ferry schedules above. You can also book a private transfer by speedboat from Naples or a private transfer from Rome.
You can also get to Capri on a guided tour from Sorrento or a guided tour from Naples.
Once there, you will disembark in Marina Grande, Capri's main port. Try not to be disheartened. It's a bit tacky and tourist, but you can quickly leave it behind.
The Funicolare di Capri, a funicular railway, connects the marina with Capri Town. It's on the west side of the port.
You can also get around by taxis and SPICC buses. There are taxi stands at the marina. But you may want to reserve one with your hotel in advance.
If you're coming without luggage, you can also hike (10-15 minutes) up the steep Via San Francesco to Capri Town.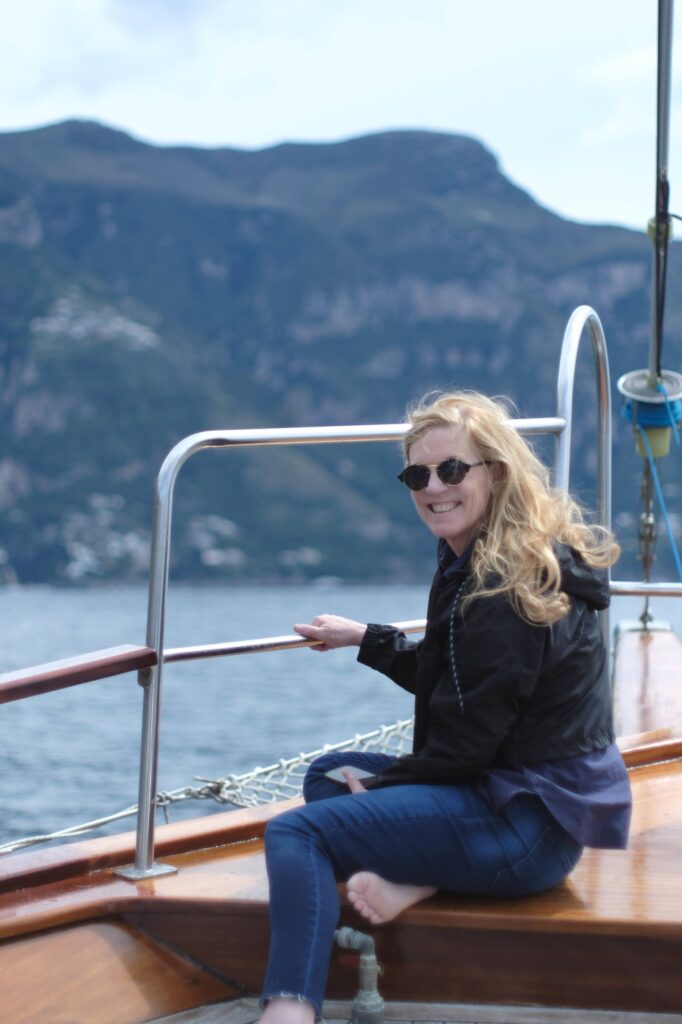 2. How To Get Around Capri
Capri is actually a fairly large island and its attractions are spread out. So, you won't be able to walk to everything unless you're an avid hiker.
And, in fact, hiking is one of the best ways to experience Capri's pleasures. You'll find trails scented with wildflowers and sweeping sea views. All the trails are easy to navigate.
There is a pretty extensive bus network that can take you to the towns and the main attractions. There are bus terminals in the Marina Grande and near the Piazzetta in Capri Town.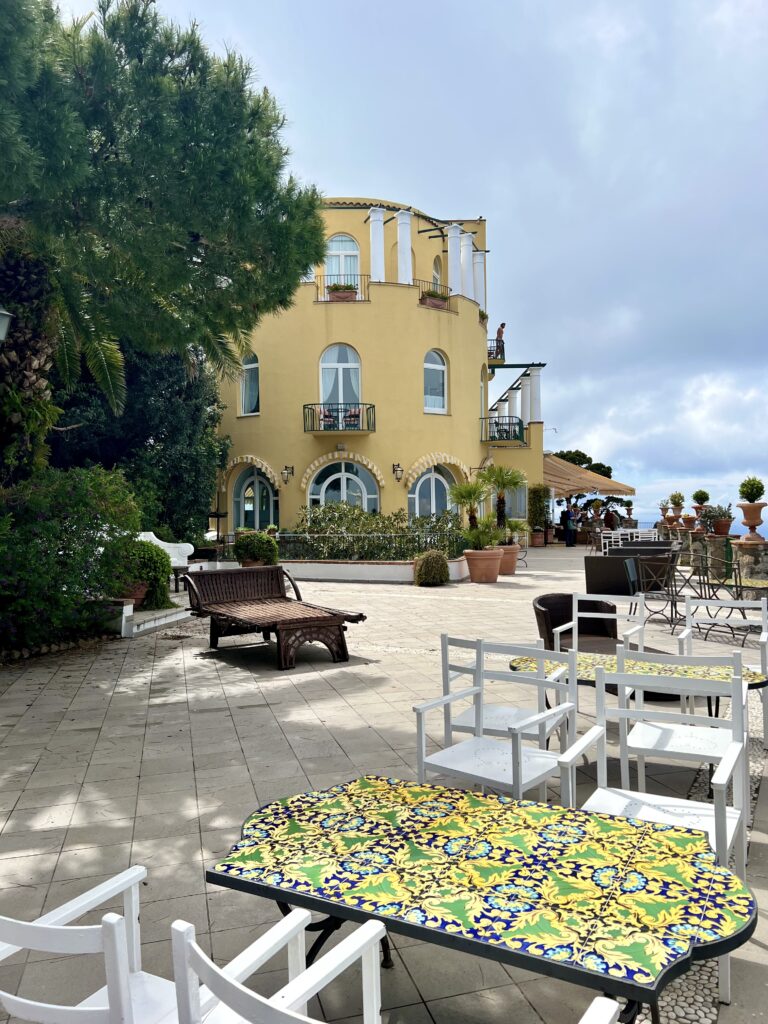 3. Where To Stay in Capri
Capri is known for its luxury hotels and they are stunners, albeit expensive.
I stayed at the Hotel Caesar Augustus, and it's about as good as it gets. Aside from the luxe digs, the main attraction of the pale yellow hotel is that it's perched on a cliff.
You'll have the sensation of hovering over the sea. Plus, the food and service were fantastic.
Capri Palace is the best known luxury hotel one the island. It's also in Anacapri.The hotel has opulent rooms, sophisticated ambiance, Michelin restaurants, and gorgeous sea views.
J.K. Place Capri is a chic boutique hotel near Marina Grande. Hotel Punta Tragara is a historic hotel near the Faraglioini rocks with lush gardens and an infinity pool.
Grand Hotel Quisisana is situated in the heart of Capri Town. It's a 5 star hotel with old world charm, a lavish spa, Michelin restaurants, and a rooftop pool. Because of its location, it can be a bit noisy at night.
La Minerva is also in Capri Town. It's a boutique hotel with a rooftop terrace offering up panoramic views. The price also includes a complimentary boat tour of the island.
The Capri Tiberio Palace is located just a few steps away from the legendary Piazzetta. This exclusive hotel is a blend of contemporary and retro design.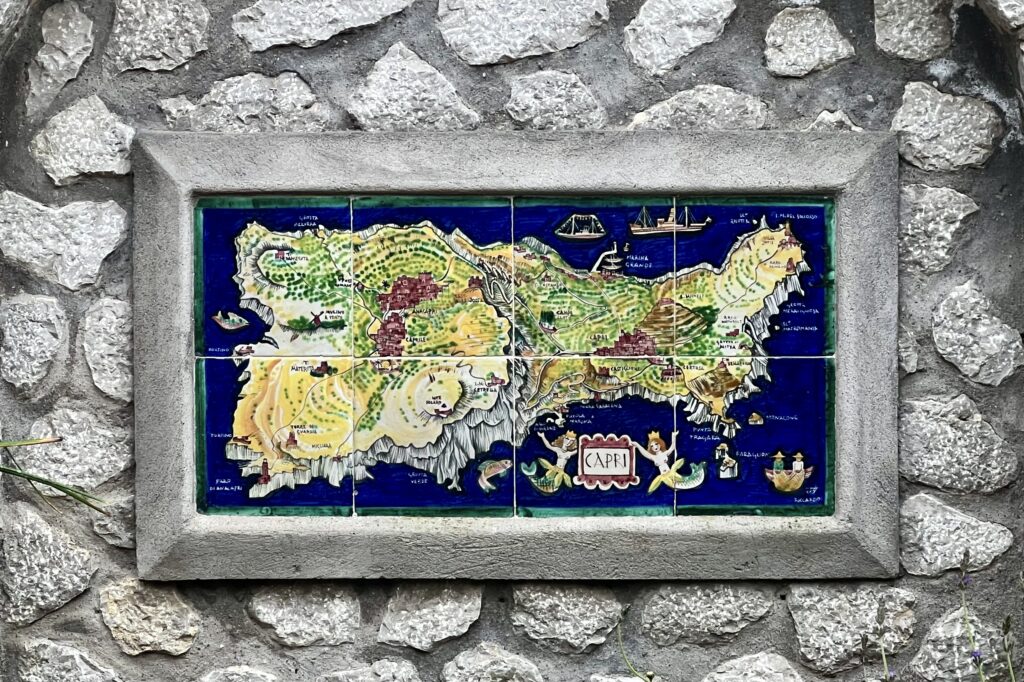 4. When To Visit Capri
Capri is one of the most spectacular places on earth … if the weather cooperates. You won't want to visit Capri if it's rainy or foggy. The island is at its most beautiful with sunshine.
I last visited in early May and had somewhat iffy weather. One guide said that spring seems to be arriving somewhat later every year.
Thus, I would aim to visit in late May or September/early October. In the summer months, the crowds will be fairly oppressive. In the winter, it will be cool and there will some closures.
5. Is Capri Worth Visiting?
You may be wondering if it's worth visiting Capri. Especially given its fame, glamour, and the sheer number of people who come to sample its delights.
If you don't plan your trip right, Capri may seem a bit tinselly and disappointing. If you arrive in high season and simply make for the Blue Grotto, you might just feel huffy and frustrated.
There are two solutions. Visit outside high season. Or stay overnight. Spending 2 days in Capri ensures that you sample the island's evening strolls, alfresco meals, and sunsets.
Not that Capri is spoiled or a tourist trap. It's definitely not. The rough rugged island is incredibly picturesque with plenty of places to experience its dreaminess.
The sea shimmers, lemon groves scent the air, and cliffs plunge. It's an intoxicating place well worth visiting.
6. Tourist Office
The main tourist office is at Piazzetta I Cerio, 11 in Capri Town.
I hope you've enjoyed my 2 days in Capri itinerary. You may enjoy these other Italy travel guides and resources:
If you need a 2 day Capri itinerary, pin it for later.