If you're planning a trip to Naples Italy, get ready for an authentic Italian experience unlike any other. This ultimate 3 days in Naples itinerary will help you make the most of your visit to this vibrant city.
Naples is an unpretentious place that embraces its Italian identity with gusto. It's a city that defies conventional tourist expectations, lacking any semblance of a polished veneer. Instead, Naples exudes a raw charm.
Beneath the urban grit lies a city bursting with energy and charisma. Its UNESCO-listed historic center is filled with chaotic streets, bustling markets, and mouth watering cookeries.
Naples is nestled in an unrivaled azure bay and lorded over by Mt. Vesuvius. The city boasts stunning Baroque churches and world class museums.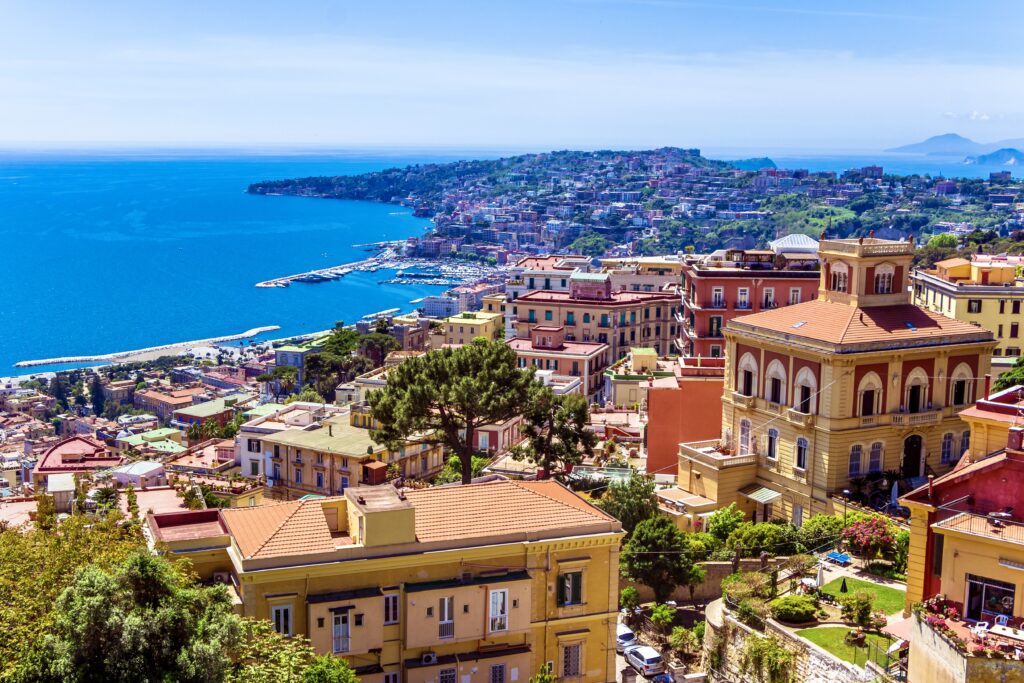 But what really sets Naples apart is its gastronomic delights — coffee, pizza, pasta, seafood, and desserts. It's a foodie city like no other, serving up fantastic flavors at prices that are hard to beat.
Sure, Naples won't suit everyone's taste. Its edgy, sometimes ramshackle, character is undeniable.
There's graffiti, unruly traffic, and some areas could use a fresh coat of paint. Yet, the city's long list of treasures makes it an undeniable destination worth exploring.
A mere bite of their famed pizza, and you may find yourself falling head over heels in love. It's no wonder there's an Italian proverb that says "See Naples and die." Come ready to eat everything in sight in the birthplace of pizza!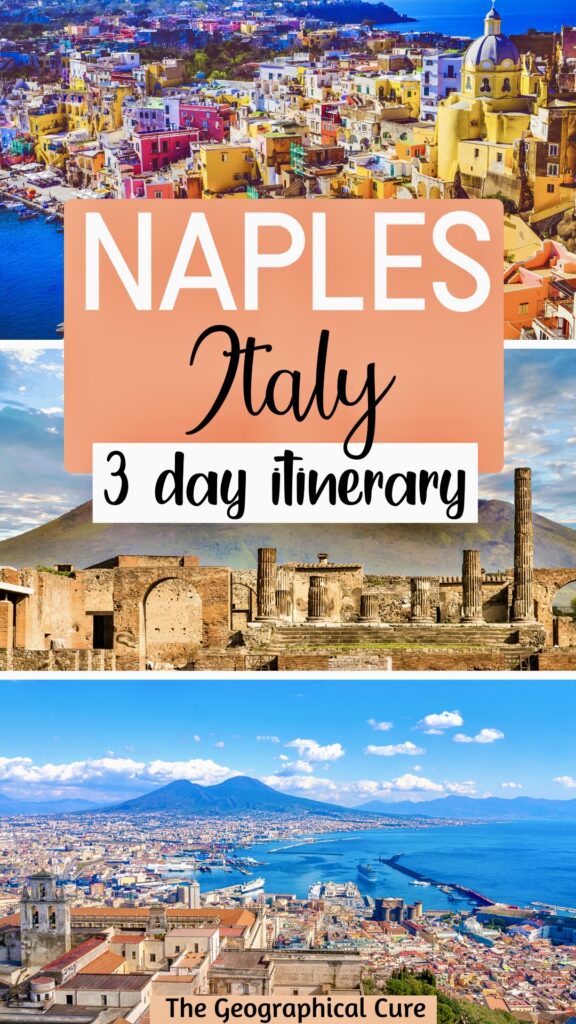 Overview Of 3 Days In Naples Itinerary
Here's a snapshot glance of what you can see with 3 days in Naples:
Day 1: Piazza Plebiscito, Church of San Francesco di Paolo, Royal Palace, Castle Nuovo, Naples Archaeological Museum, Castle Sant'Elmo, Certosa di San Martino, Spaccanapoli
Day 2: Mount Vesuvius, Gesu Nuovo, Sansevero Chapel, the Cloister of Santa Chiara, the Duomo di Napoli, MADRE Museum or Naples Sotterranea, Piazza Bellini
Day 3: Half day in Pompeii or Procida, Capodimonte Museum, Catacombs of San Gennaro, Chiaia
Before You Go: Here's How To Plan Your Visit To Naples
If you're in a hurry, below are some of the top tours, hotels, and experiences for Naples. Don't forget to plan ahead when visiting, especially in high season.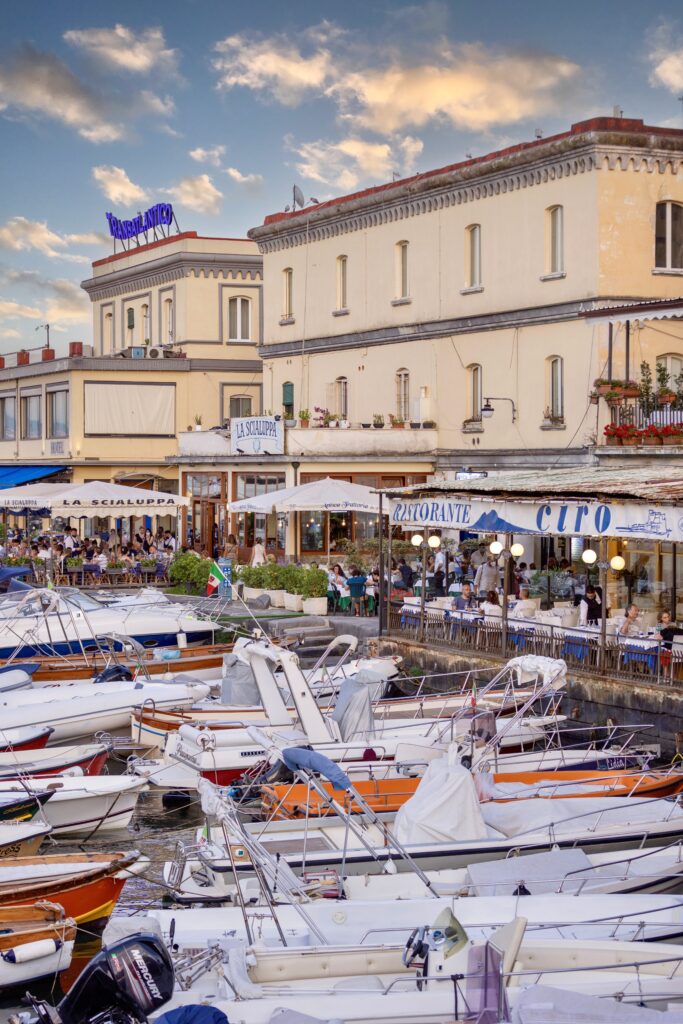 Best Tours & Experiences:
Best Hotels: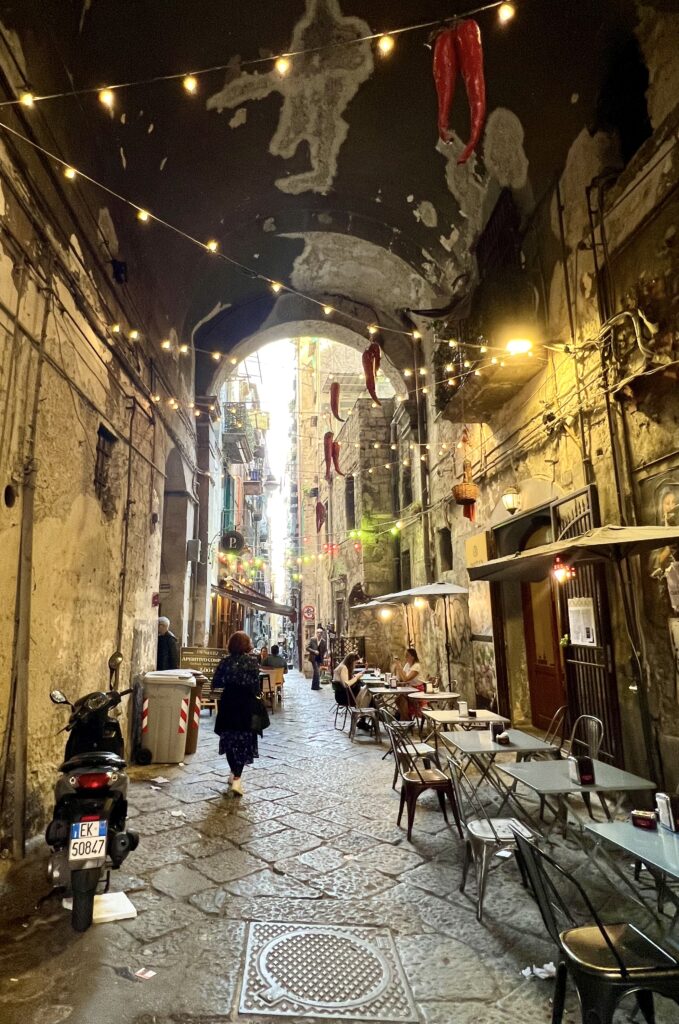 Passes:
You may also want to book a 3 day Naples Pass. You'll have skip the line access to all the main attractions and you can add on a public transportation option for a small fee.
You can also check out the Naples City Card. This pass gives you access to three major attractions and an entrance to Pompeii. Plus, you'll have a 10% discount on other attractions.
You can also purchase the Campania Artecard (3 to 7 days). This card allows you to visit tourist attractions in Naples and the Campania region. And it includes transport on the local Circumvesuviana train.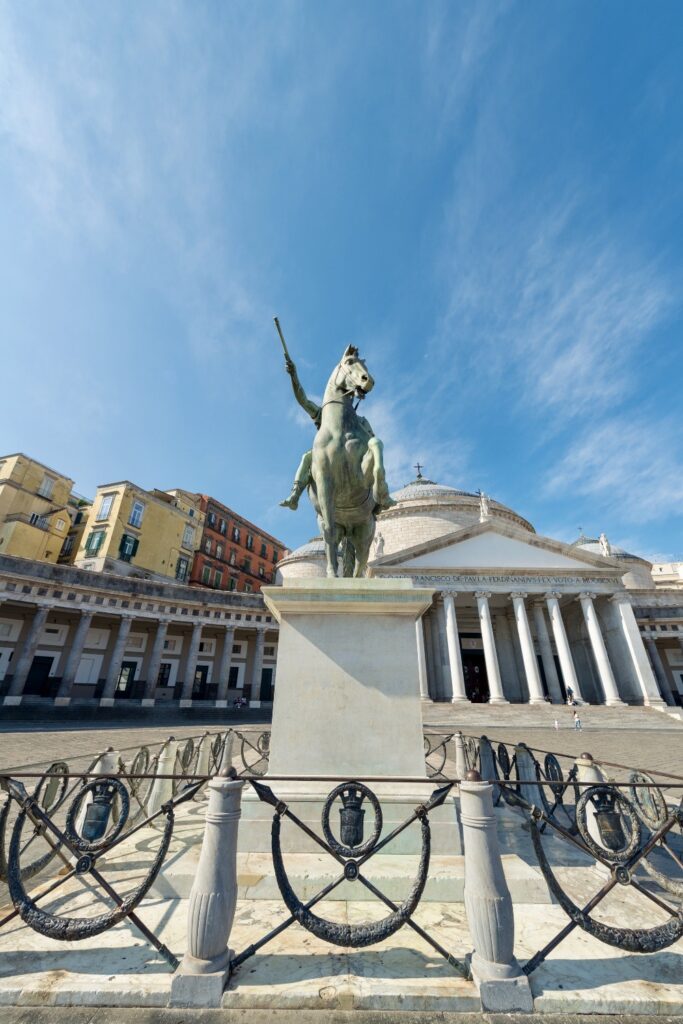 Best 3 Days In Naples Itinerary
This itinerary assumes you've arrived in Naples, checked into your accommodation, and are ready to go first thing in the morning.
Begin by visiting Royal Naples.
Piazza Plebiscito
Royal Naples gathers around Piazza Plebiscito, the city's grand main square. It has a prime location on the waterfront. It's a wide open space at odds with most other areas of the city.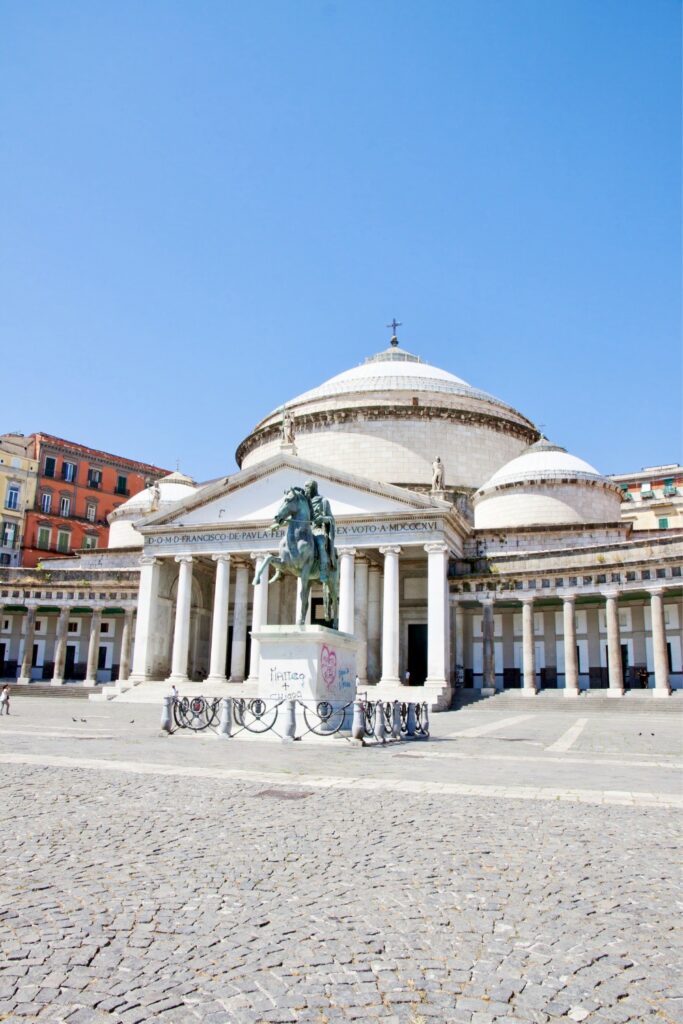 The square is home to the Royal Palace, the Church of San Francesco di Paola, and the two statuesque equestrian monuments by Antonio Canova.
Basilica of San Francesco di Paola
The church is Neo-Classical in style, though the proportions are a bit off. It combines elements of Rome's Pantheon (the dome) and Bernini's colonnade at St. Peters' Basilica (Doric columned arcades).
When I was there, the church was closed. But my guide told me it was rather beautiful inside with frescos, polychrome marble floors, and statuary.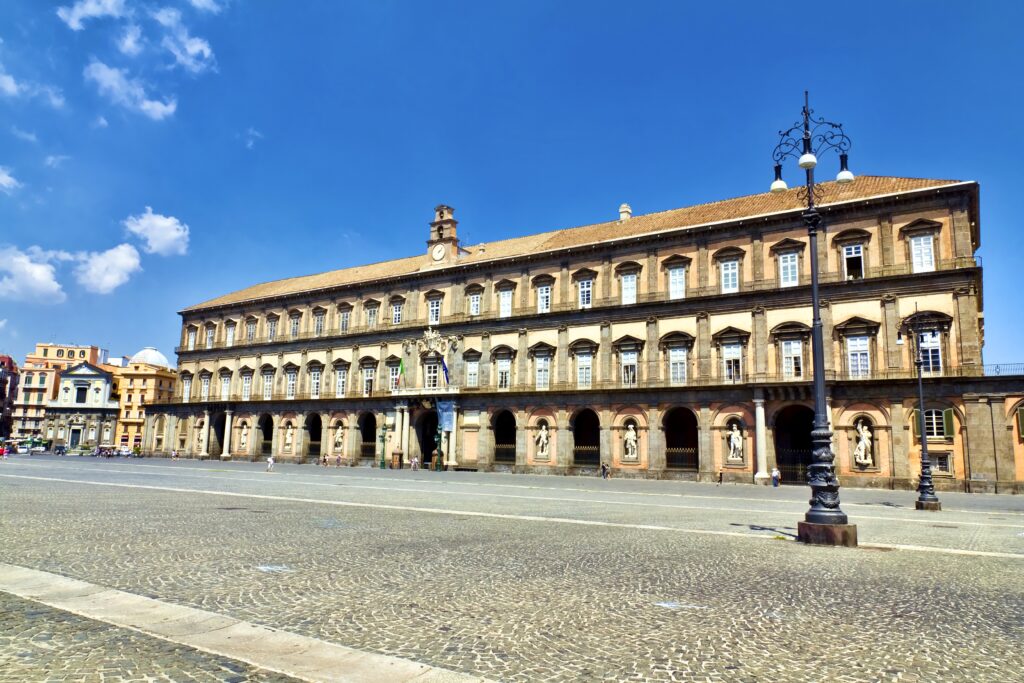 Royal Palace
The Royal Palace was once the home of the Bourbon monarchs. There are 30 decorated rooms with splendid frescoed ceilings.
Highlights include the Grand Staircase, the Royal Court Theater, the Royal Chapel, and the National Library (tours in Italian only at designated times).
You probably won't need to book tickets in advance. Just walk in and spend 45-60 minutes. But if you are there in high season, you may want to pre-book a skip the line ticket.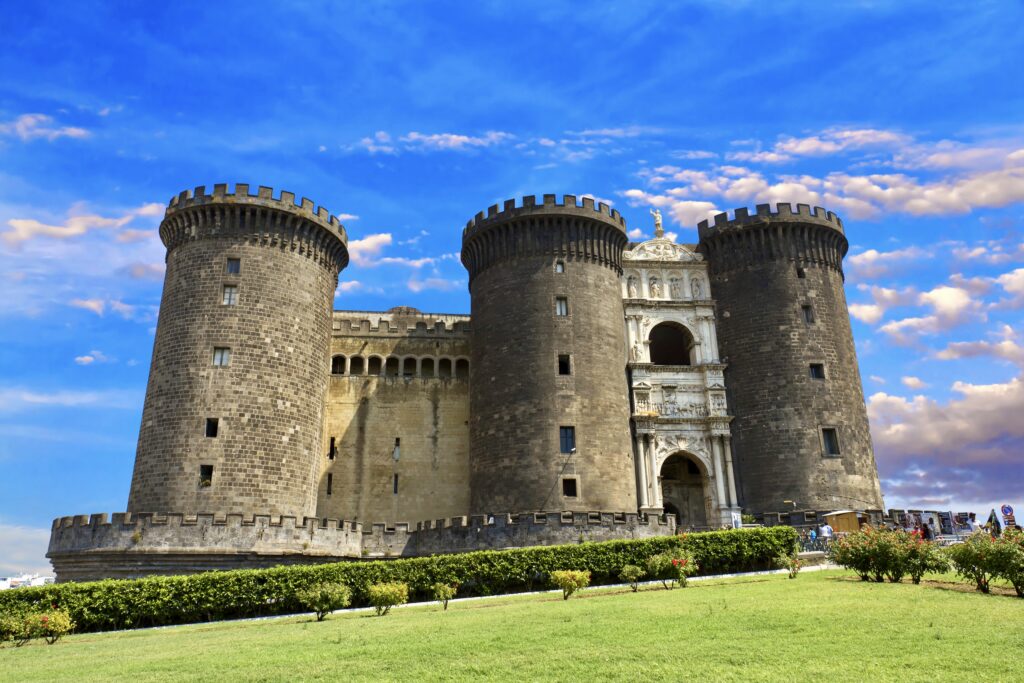 Castel Nuovo
Castel Nuovo is a craggy medieval castle with five massive towers. It was built in the 13th century by the Angevin dynasty and later expanded upon by the Aragonese rulers.
It's worth a stroll by it just to see the fortress-like structure. But I wouldn't bother going inside.
There's not that much to see. However, there is a viewing platform inside offering up panoramic vistas and a civic museum. The museum's Palatine Chapel has some beautiful historic frescos.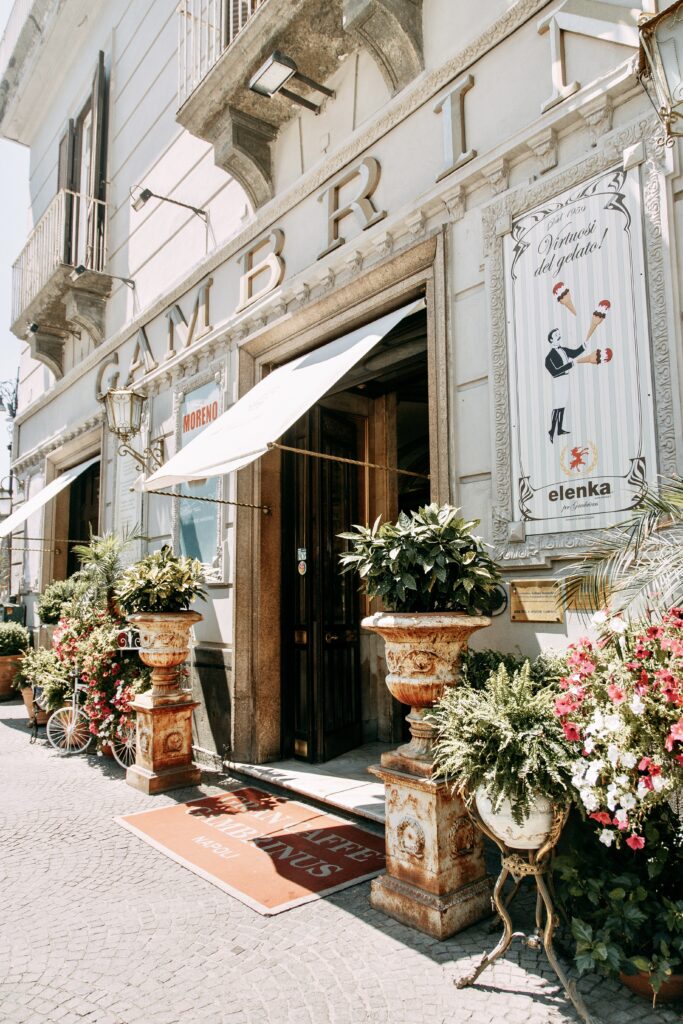 Lunch
While you're in the area, you might have lunch at the Gran Caffe Gambrinus. It's just a few minutes from Piazza Plebiscito on Via Chiaia.
Established in 1860, the elegant cafe has a rich history. It's been a gathering place for intellectuals, artists, and locals for over a century.
The cafe's interior is beautifully decorated, with exquisite Art Nouveau touches. The ornate chandeliers, marble tables, and intricate details create a sense of old-world charm and sophistication.
Alternatively, strike out for some traditional Neapolitan pizza for lunch. The two go to pizzerias are Gino Sorbillo and Antica Pizzeria de Michele.
Antica was featured in the film Eat, Pray, Love. But it's easy to get a great pizza anywhere in Naples. And you can always get pizza to go folded up like a handkerchief.
After lunch, spend a couple hours exploring the famous Naples National Archaeological Museum.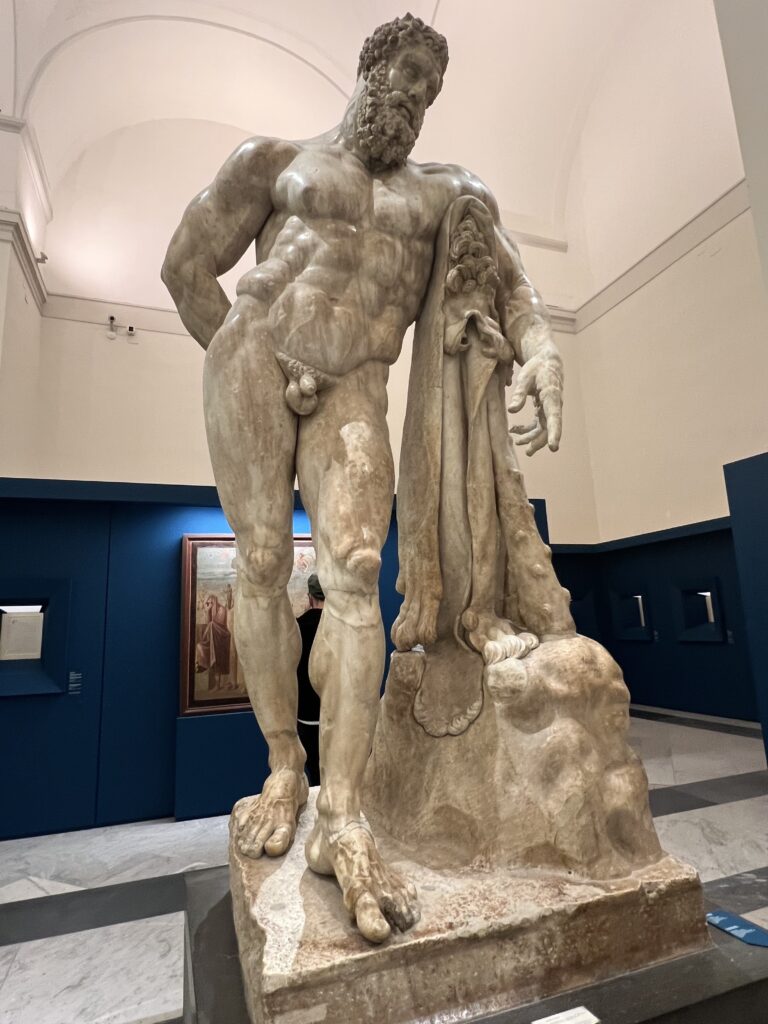 Naples National Archaeological Museum
The Museo Archeologico Nazionale is one of the world's great museums. It's home to Greco-Roman sculptures that rival the collections in Rome. It has a wealth of mosaics, wall paintings, and artifacts from Pompeii and Herculaneum.
As with many great museums, there is almost too much to see on one visit. There are countless rooms spread over four floors.
With limited time, here are some of the highlights you can't miss:
Farnese Hercules
Farnese Bull
Farnese Cup
Secret Cabinet (erotic art)
Alexander Mosaic
Mosaics from the House of the Faun
Frescos from Pompeii
In high season (May to September), I advise booking a skip the line ticket. This is an extremely popular museum.
I took this private tour of the museum with an archaeologist and loved it! My guide was incredibly knowledgable about everything in the museum. You can also book a small group tour.
For more information and tips, here's my complete guide to the Naples Archaeological Museum.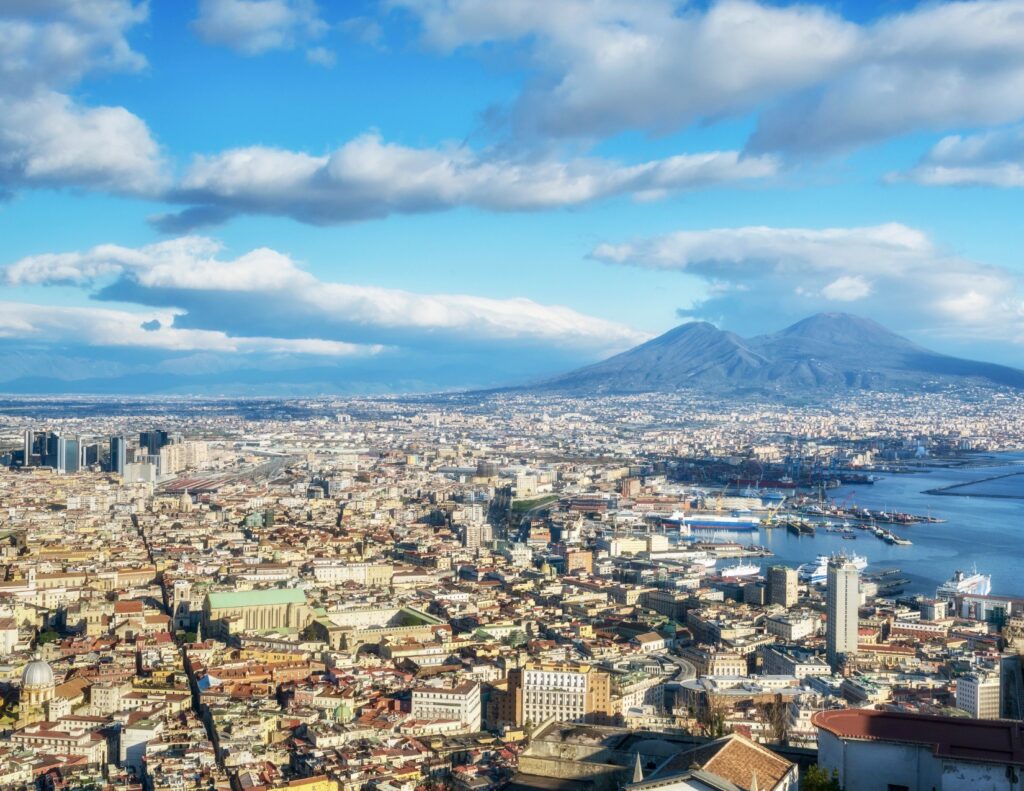 Castel Sant'Elmo
In the late afternoon, make your way to the wonderfully renovated Castle Sant'Elmo. Hop on the Montesanto funicular or hail a taxi to reach this formidable fortress perched atop Vomero Hill. Sunset is an especially magical time to visit.
From the castle's elevated position, you'll be treated to sweeping vistas. Naples' vibrant cityscape is adorned with its charming rooftops and framed by the majestic Mount Vesuvius on the horizon. This is the perfect chance to nab your classic Naples photo.
Open until 6:30 pm, the castle has a fascinating museum that delves into its rich history throughout the ages. You can discover the castle's storied past and the pivotal role it played in shaping the city's identity.
Click here to book a skip the line ticket for the castle.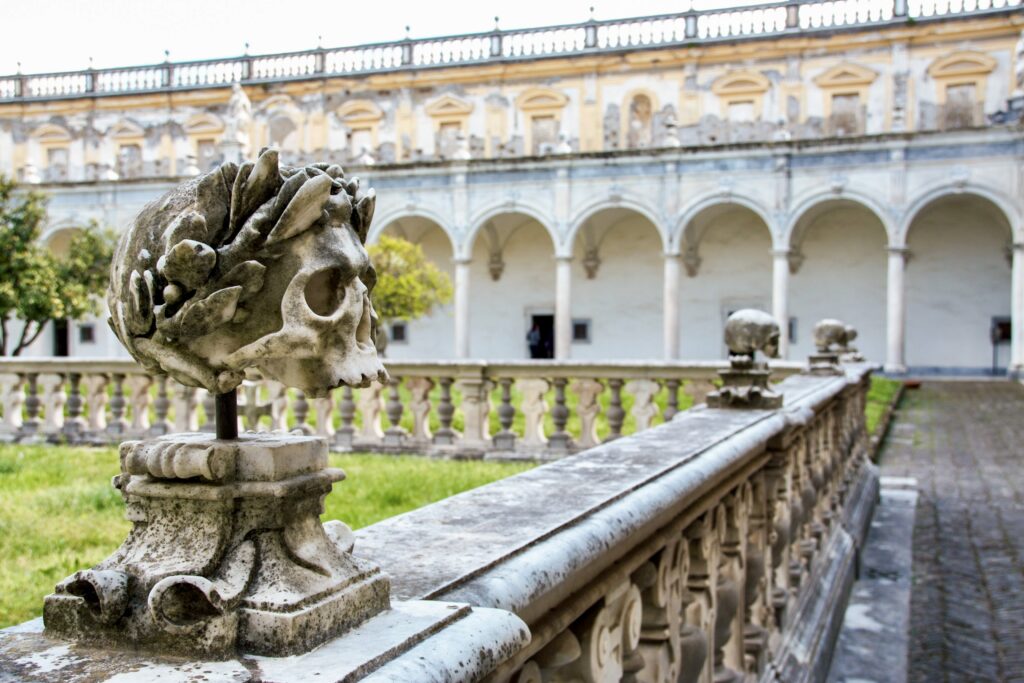 Certosa di San Martino
If you have time, visit the Certosa di San Martino while you are in Vomero. It's right next to the castle.
The certosa is a massive monastery whose magnificent church has a cache of Baroque artistic treasures. There are paintings by Giovanni Lanfranco, Massimo Stanzione, and Giuseppe Ribera.
The Great Cloister is a sight to behold. It's a sublime assemblage of 64 Tuscan-Doric columns, marble statues, and a monks' graveyard guarded by a balustrade of skulls.
The certosa's museum has even more paintings and a famous collection of presipi (Christmas creches). Plus, there's a belvedere with splendid views. When you're done oohing and aahing, walk back down the stairway called the Pedamentina San Martino.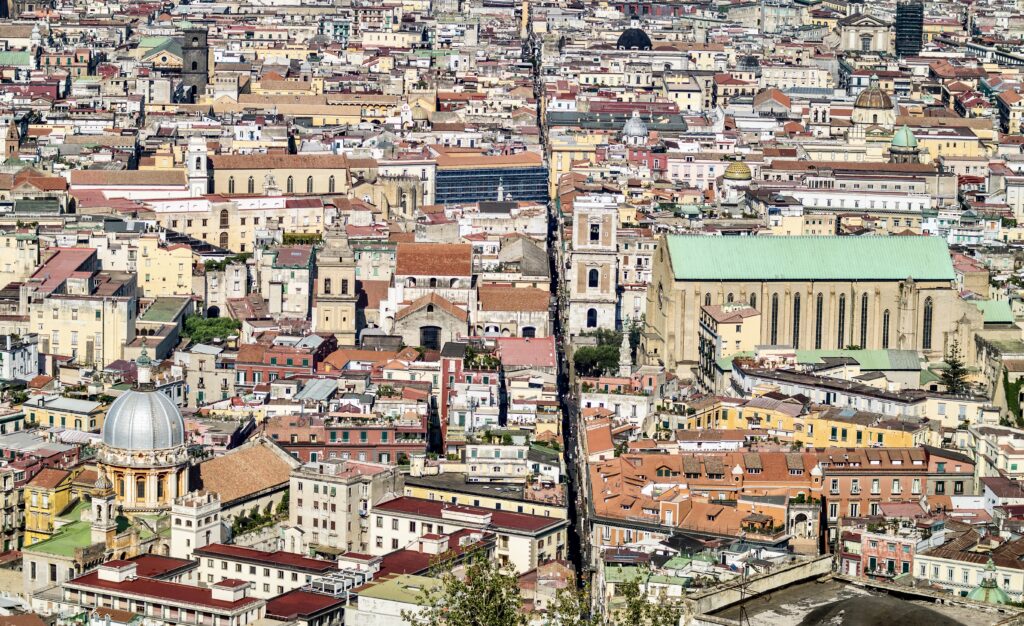 Evening
In the early evening, head to the lively Spaccanapoli area to take in the local chaos and have a drink. The street is lined with historic buildings, colorful facades, traditional shops, churches, and lively piazzas.
Have dinner on Via Tribunali. There are scads of choices. I had a delicious meal at La Locanda Gesu Vecchia.
Alternatively, head to the Spanish Quarter. It's a buzzy colorful neighborhood to the west of Via Toledo, which is one of Naples' main streets.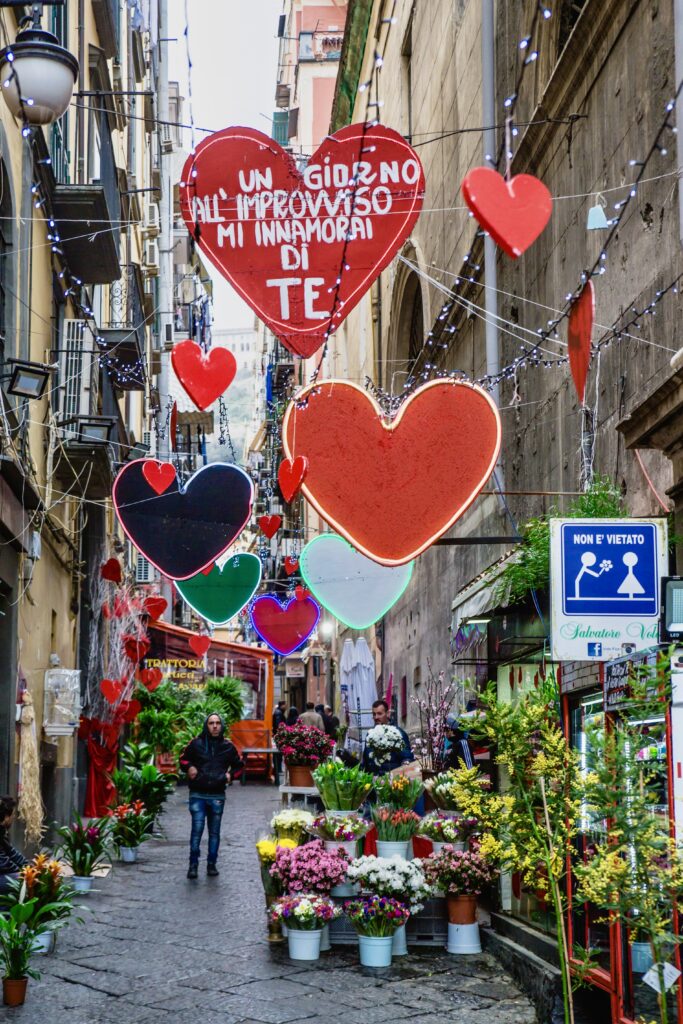 You'll find a dense labyrinth of steep narrow streets, bustling shops, and locals going about their business. It's also home to Pignasecca Market.
When I was there, the streets were all decorated to the nines with blue and white banners for the soccer team.
The Spanish Quarter also has a diverse culinary scene, making it a haven for foodies. You'll find a variety of trattorias, pizzerias, and local eateries where you can savor authentic Neapolitan cuisine.
Vesuvius
On the morning of day 2 on your 2 days in Naples itinerary, take a day trip to Mount Vesuvius.
It's the volcano that catastrophically erupted in 79 A.D. and destroyed the cities of Pompeii and Herculaneum. Today, the volcano is dormant and can be admired by visitors.
Hike to the summit of the volcano and take in the stunning views of the surrounding landscape. The crater offers a surreal landscape, with steam rising from vents and remnants of past volcanic activity visible.
After your hike, visit a local winery (Cantina del Vesuvio, Casa Setaro) to sample some of the region's famous wines and have lunch.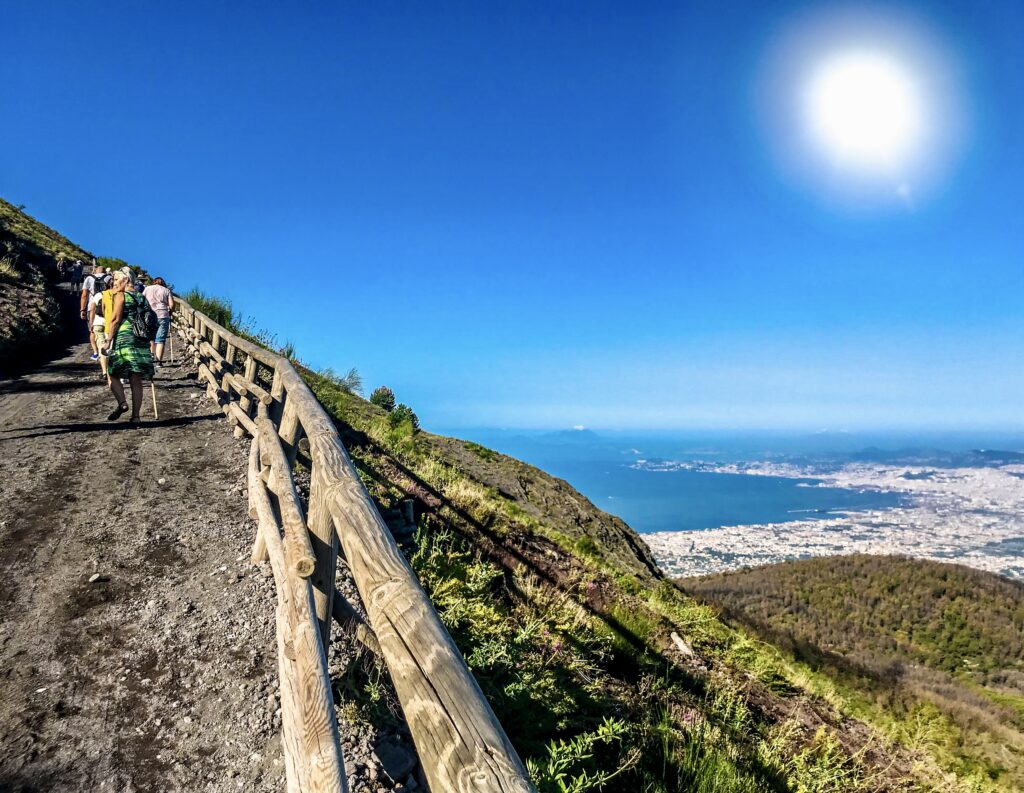 The fertile soil of the volcano creates some distinctive wines with a mineral flavor and amazing food. I had one of the best lunches of my life on Vesuvius!
You can visit Vesuvius on your own with a skip the line ticket to the park. Take a train from Naples to Ercolano station and then a shuttle bus.
You can also pre-book a private transfer from Ercolano. From the entrance, it's a one mile hike to the crater.
But it's much easier to visit on a guided tour from Naples. You can also visit both Pompeii and Vesuvius on an 8 hour guided tour.
When you return from Vesuvius, head to the historic center to see some of Naples' greatest hits.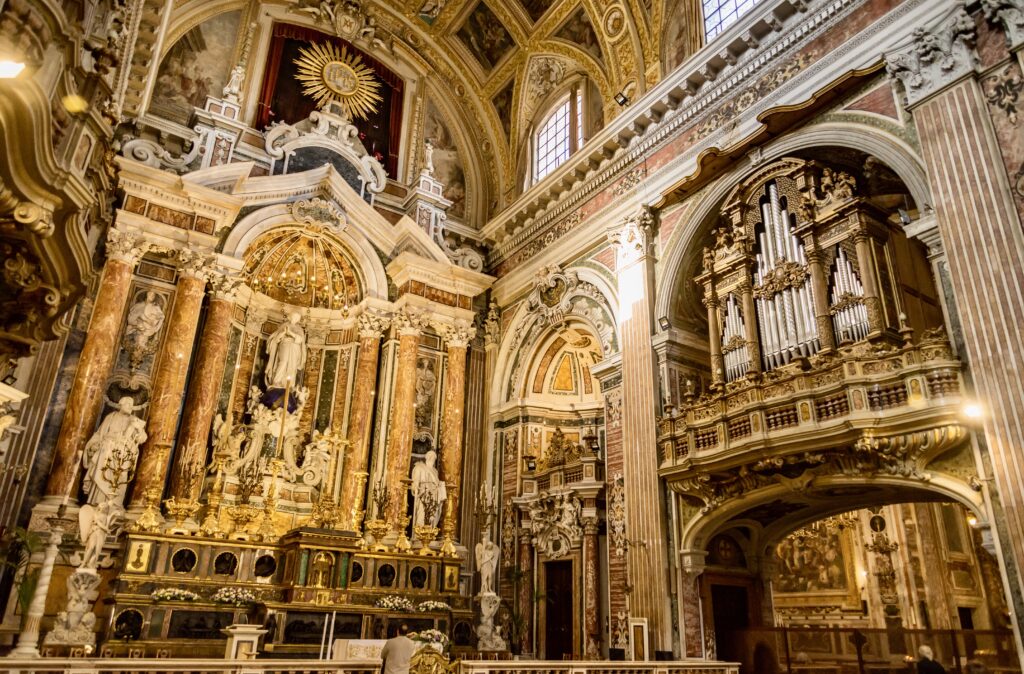 Gesu Nuovo
Begin at the Church of Gesu Nuovo. Beyond its craggy facade lies an overwrought Baroque interior that will leave you in awe.
Magnificent marble columns soar towards the heavens. Intricate stucco work dances across the walls. Lovely frescoes depict stories of the Franciscan tradition.
Make sure not to miss the captivating chapel of San Giuseppe Moscati, a revered figure in Naples. This sacred space houses his precious relics, drawing devotees who seek solace and inspiration within its hallowed walls.
You should also make sure to see the Adoration of the Shepherds, a remarkable masterpiece painted by the renowned Italian artist Luca Giordano.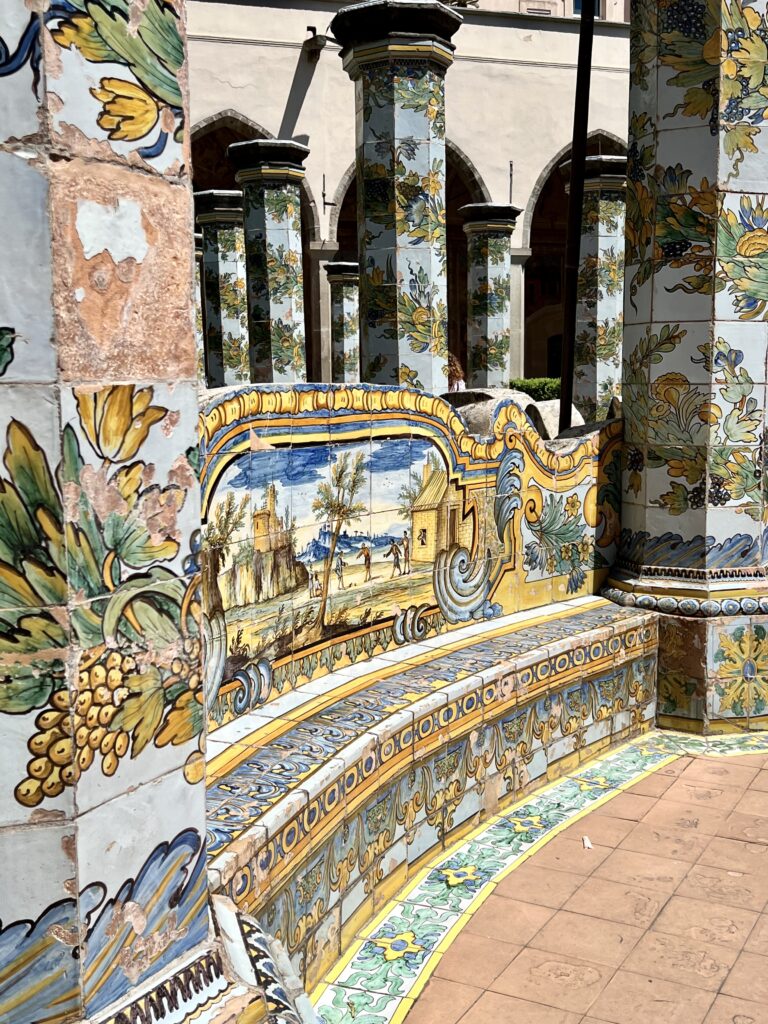 Cloister of Santa Chiara
Next, visit the Chiostro di Santa Chiara. It's a quiet haven of peace and beauty amidst the chaotic streets.
You can meander along the covered arcades. The walls are filled with vibrant frescoes depicting Franciscan stories.
At the center is the Majolica Cloister, a true spectacle set within the gardens. Vivid blue and yellow majolica tiled panels depict intricate floral and country motifs.
For more information, here's my complete guide to visiting the Cloister of Santa Chiara.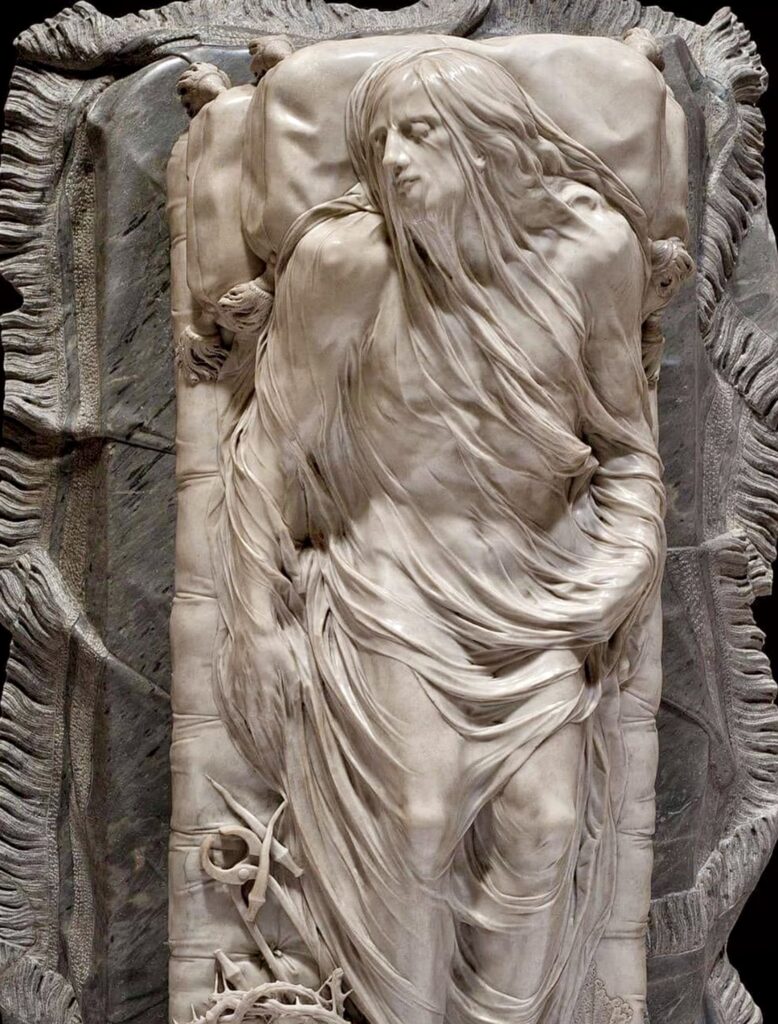 Sansevero Chapel
Sansevero Chapel is an absolute must see in Naples. It's a Baroque treasure trove of artistic wonders.
As you step into the chapel, you'll be captivated by its opulent and ornate decor. The space is filled to the brim with sculptural monuments, each one more exquisite than the last.
At the heart of the chapel, you'll see the Veiled Christ. It's a masterful sculpture created by Giuseppe Sammartino in 1753.
Crafted from delicate alabaster, the sculpture portrays Christ in a profoundly realistic manner. Gentle folds of fabric gracefully drape over his prone form. Legend holds that the statue was created by draping a veil over the figure and using alchemy to transform it to stone.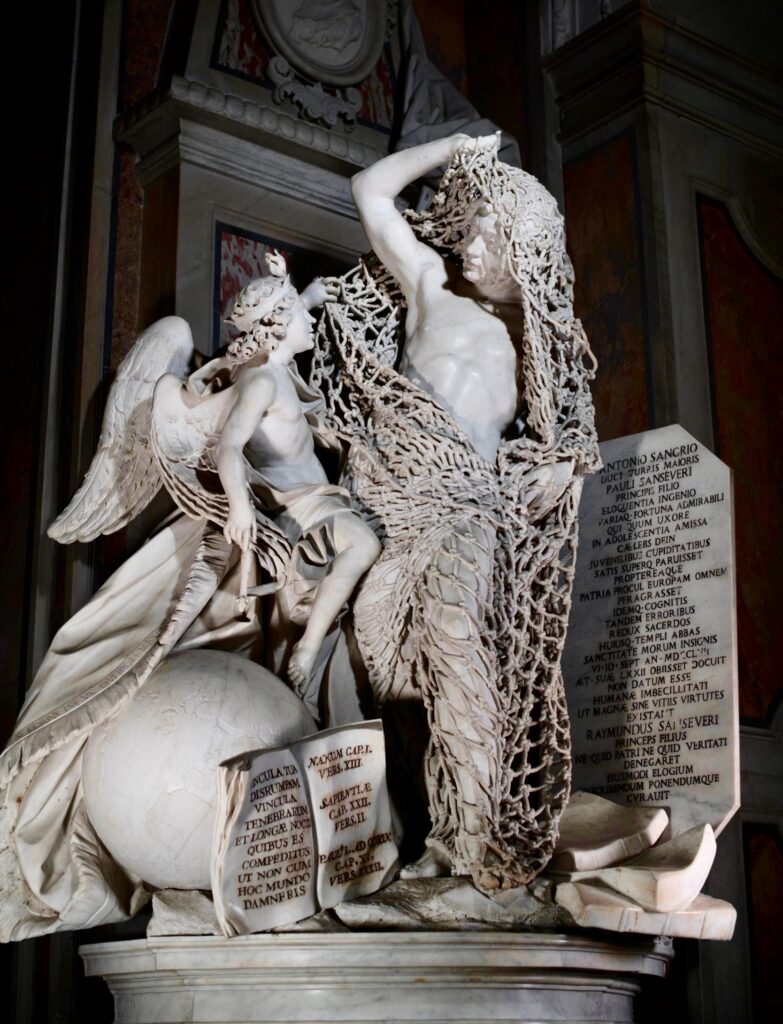 Two other captivating sculptures deserve your attention. Antonio Corradini's Pudicizia (Modesty) depicts a veiled woman gracefully leaning on a sarcophagus, exuding an air of mystery and elegance.
Francesco Queirolo's Disinganno (Disillusion) portrays a man liberating himself from an intricate net. Again, it's hard to believe it's actually made of marble.
The chapel is almost always sold out (probably by cruise ships). It's a short visit. You won't need more than 30 minutes.
Be sure to book a timed entry ticket online well in advance. This is a very popular attraction.
Alternatively, if tickets are sold out, you can book a walking tour that includes a visit to the chapel. There's also a walking tour that includes the chapel and Naples underground.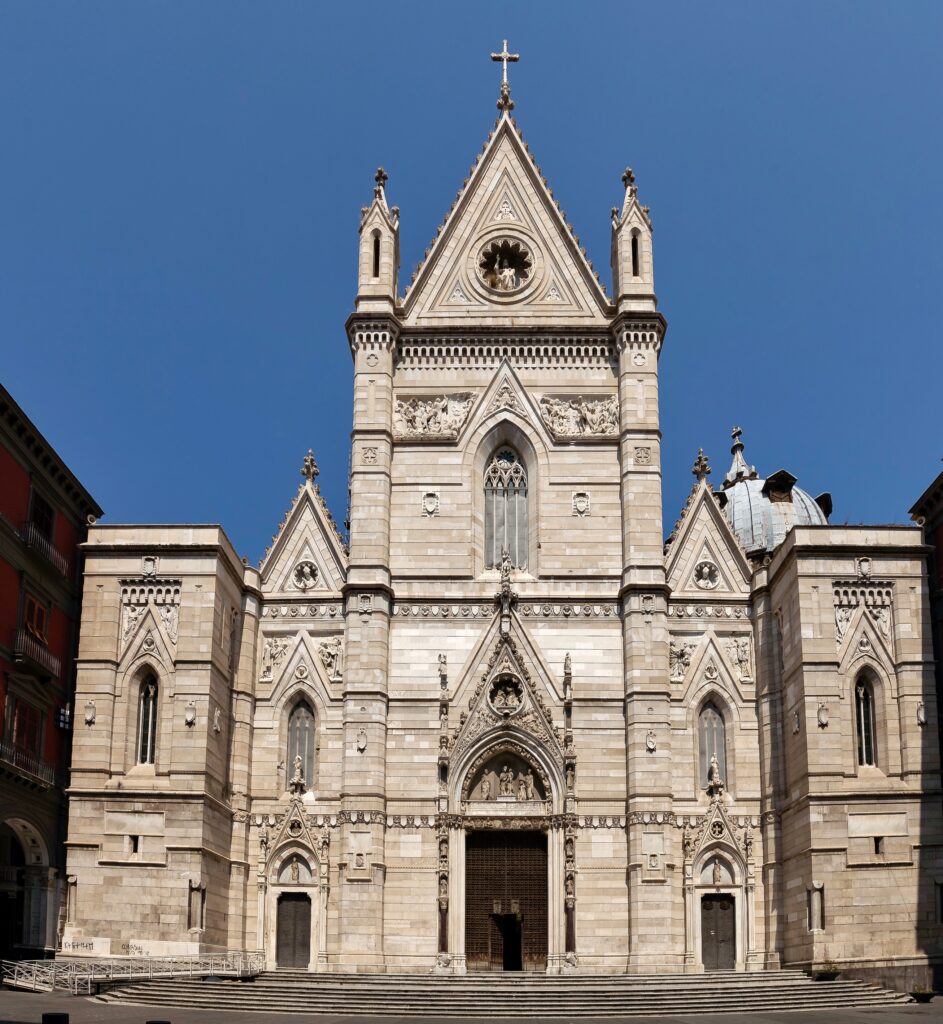 Duomo di Napoli
Despite its rather ungainly Neo-Gothic facade, Naples Cathedral reflects the city's many-layered history.
Inside lies a fine medieval building that's now a temple to Baroque excess. Its main attractions are the Chapel of San Gennaro, the Crypt of San Gennaro, a Baptistery with ancient mosaics, and the Treasury Museum.
The chapel is an over-the-top shrine with Naples' most exuberant Baroque decorations. The Treasury Museum contains even more bling, with sacred artifacts, silver statuary, vestments, and religious artworks.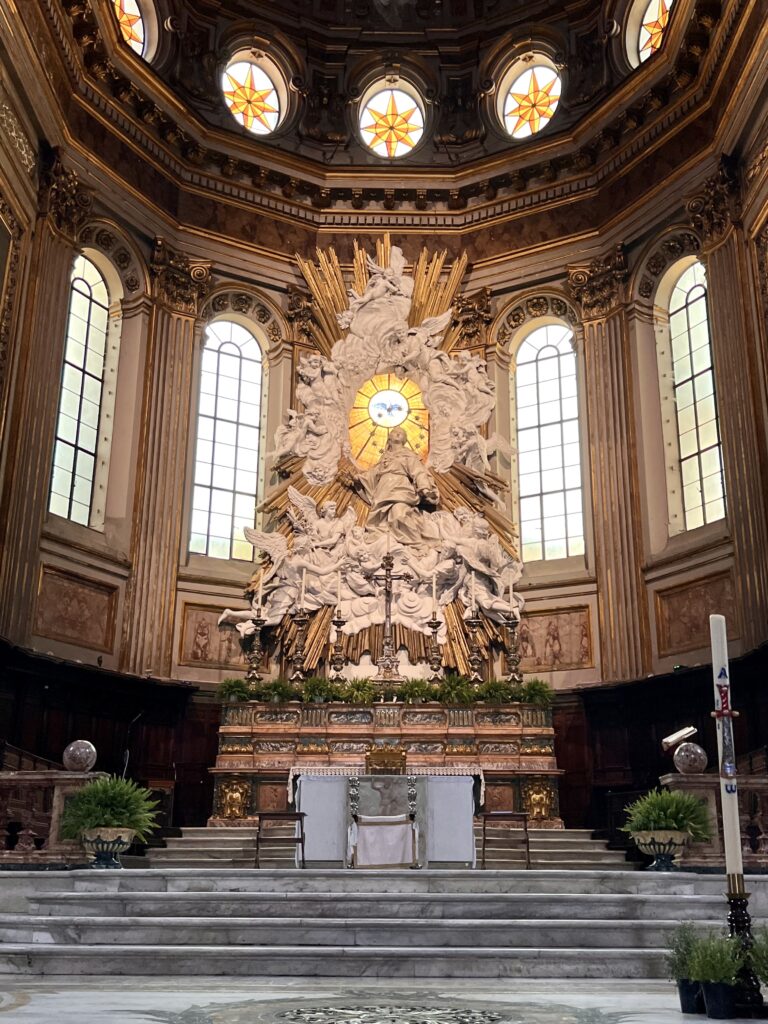 The cathedral is free to visit. The audio guide for the Chapel of San Gennaro is 4 euros. Entry to the baptistery is 2 euros.
You'll also need a ticket for the Treasury Museum. Click here to pre-book a ticket. You can also book a combination ticket for both the Treasury Museum and the Catacombs of San Gennaro.
Right next to the Duomo is the Pio Monte della Misericordia. It's a church and small picture gallery. You should pop in just to see Caravaggio's massive painting Seven Acts of Mercy above the high altar.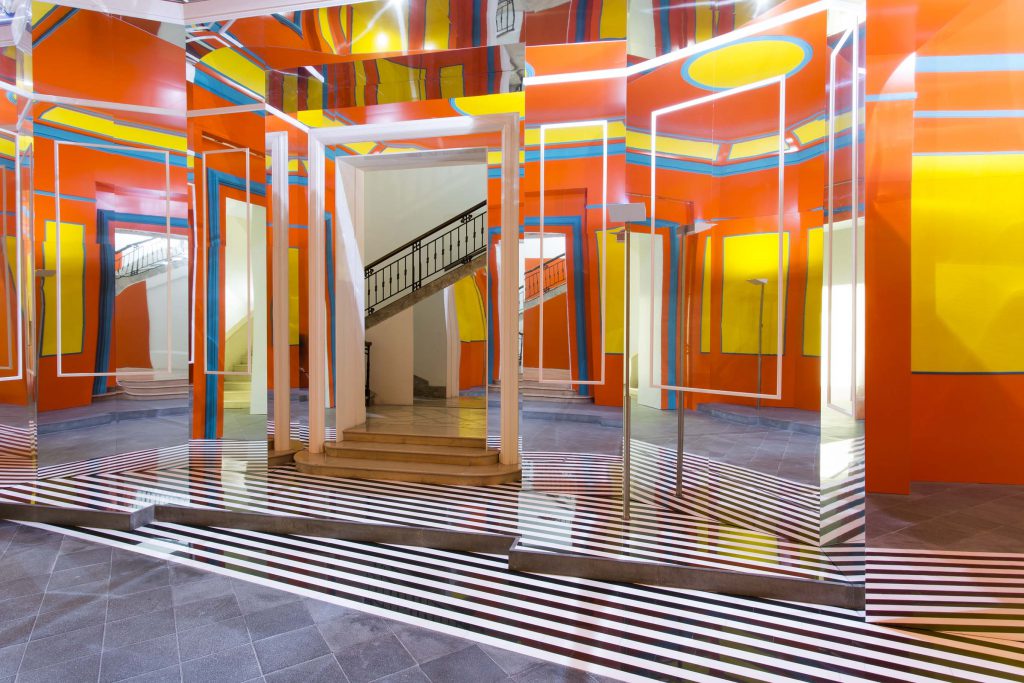 MADRE Museum
Less than a mile north of the Duomo is the MADRE (Museo d'Arte Contemporanea Donnaregina) Museum.
The museum is housed in the 19th century Palazzo Donnaregina, a restored former monastery. The museum is Naples' premiere modern and contemporary art museum. If you're a modern art enthusiast, it's well wroth a visit.
Over three floors, you'll find artworks by big names such as Anish Kapoor, Andy Warhol, Daniel Hirst, Jeff Koons, and Jasper Johns. The museum hosts temporary exhibitions. It also has a library, bookshop, and auditorium.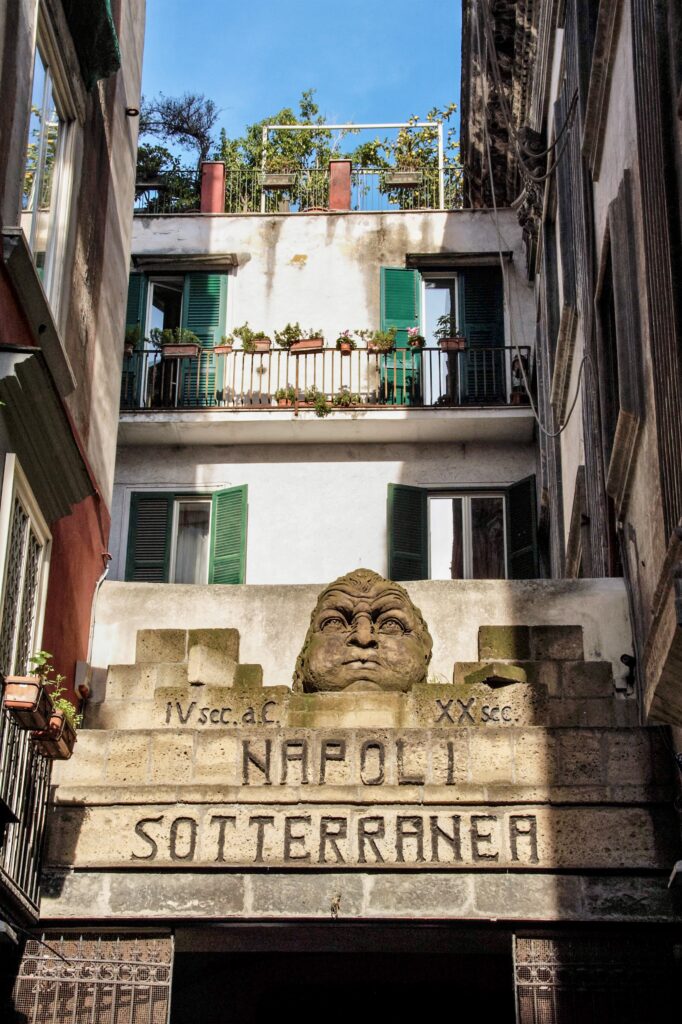 Naples Sotterranea
If you don't fancy a museum, you could check out Naples Sotterranea. It's a fascinating underground network of tunnels, caves, and passages that lies beneath the city.
Steps lead you over 130 feet underground down into an ancient Greco-Roman aqueduct. The site reflects the different layers of Naples' history, including Greek, Roman, and medieval periods. On a tour, you'll learn about how the city has been built on and changed over a 2,400 year history.
One of the highlights of the tour is the Roman Theater, a well-preserved underground theater. You'll also see cisterns, tunnels, pagan burial chambers, Christian catacombs, and archaeological artifacts.
You'll want to pre-book a skip the line timed entry ticket and 90 minute guided tour. It's a rather pricey activity, but it's super interesting.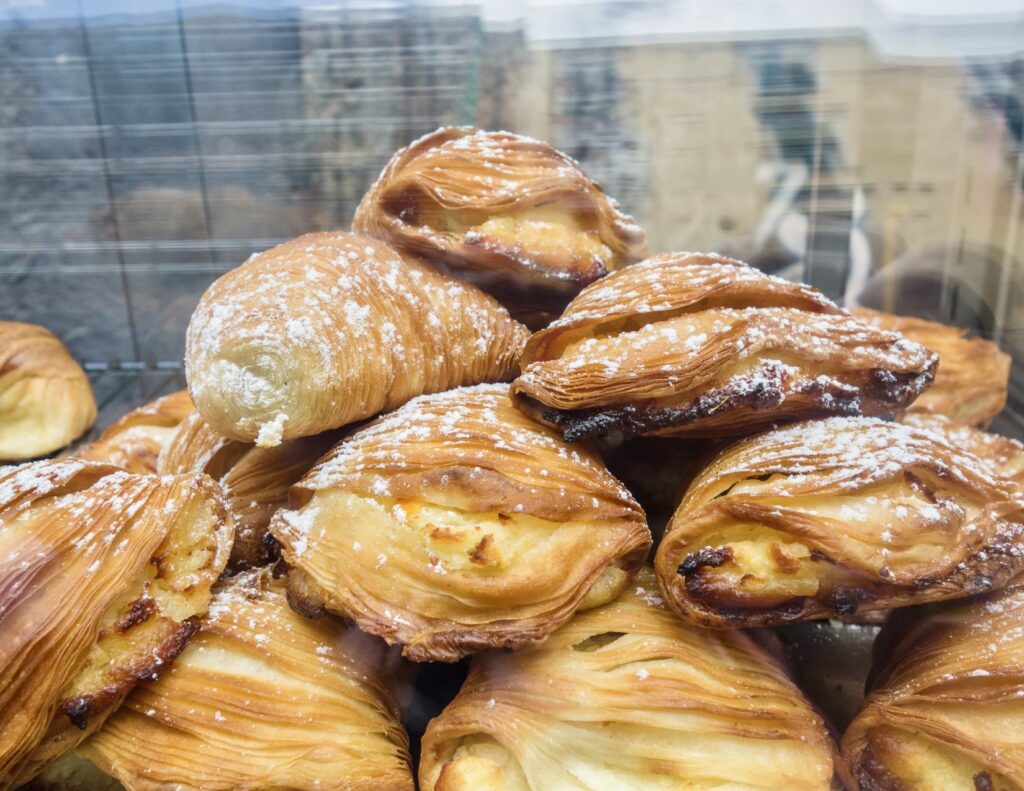 Piazza Bellini
Then, make your way to the lively Piazza Bellini for an apertivo. It's a vibrant square lined with cafes, bars, and shops.
There are some great places to eat in this area, including at A casa r'a' Signora.
You could also go on a pizza and wine evening tour starting from Piazza Dante at 5:45 pm. Or try a street food tour and sample Neapolitan goodies liked fried pizza, Sfogliatella, arancini, and Cuoppo di Mare.
You can even learn to make your own pizza.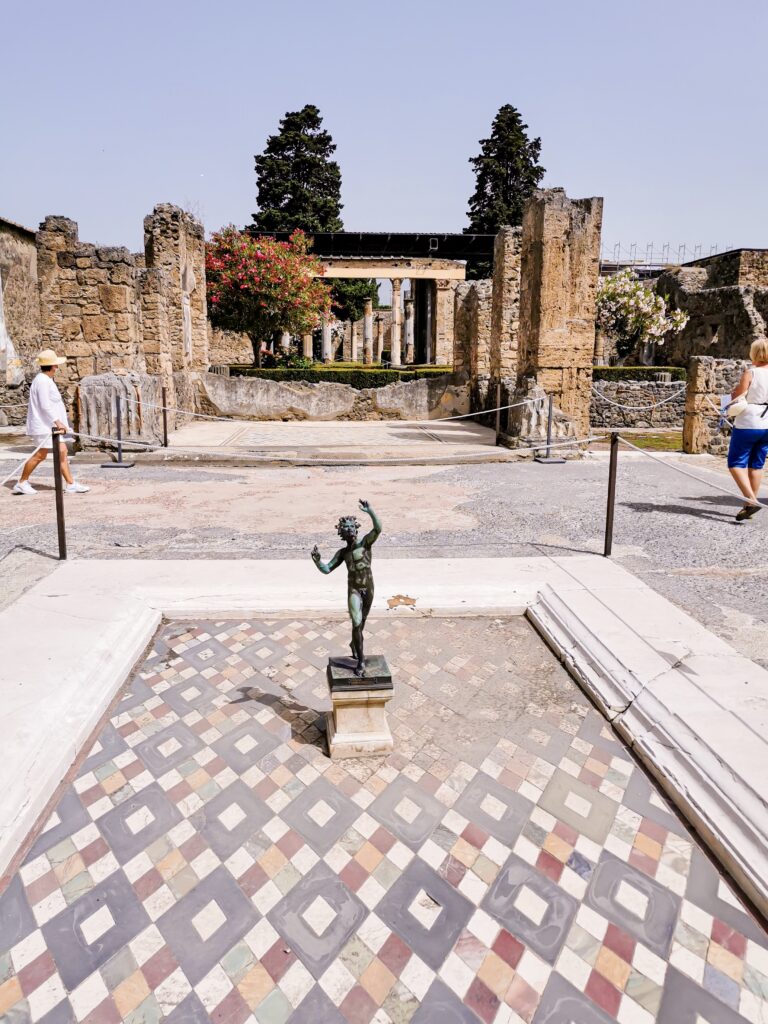 Pompeii
No 3 days in Naples itinerary would be complete without a visit to the ancient city of Pompeii. It's a UNESCO-listed archaeological site located just 30 minutes from Naples.
Pompeii was once a thriving ancient Roman city. But in 79 A.D., it was tragically buried under layers of volcanic ash and debris when Mount Vesuvius suddenly erupted.
Rediscovered centuries later, Pompeii offers a unique glimpse into the daily life, art, and architecture of ancient Roman civilization.
You can explore the forum, theaters, brothels, temples, baths, opulent villas, shops, fast food joints, and an amphitheater.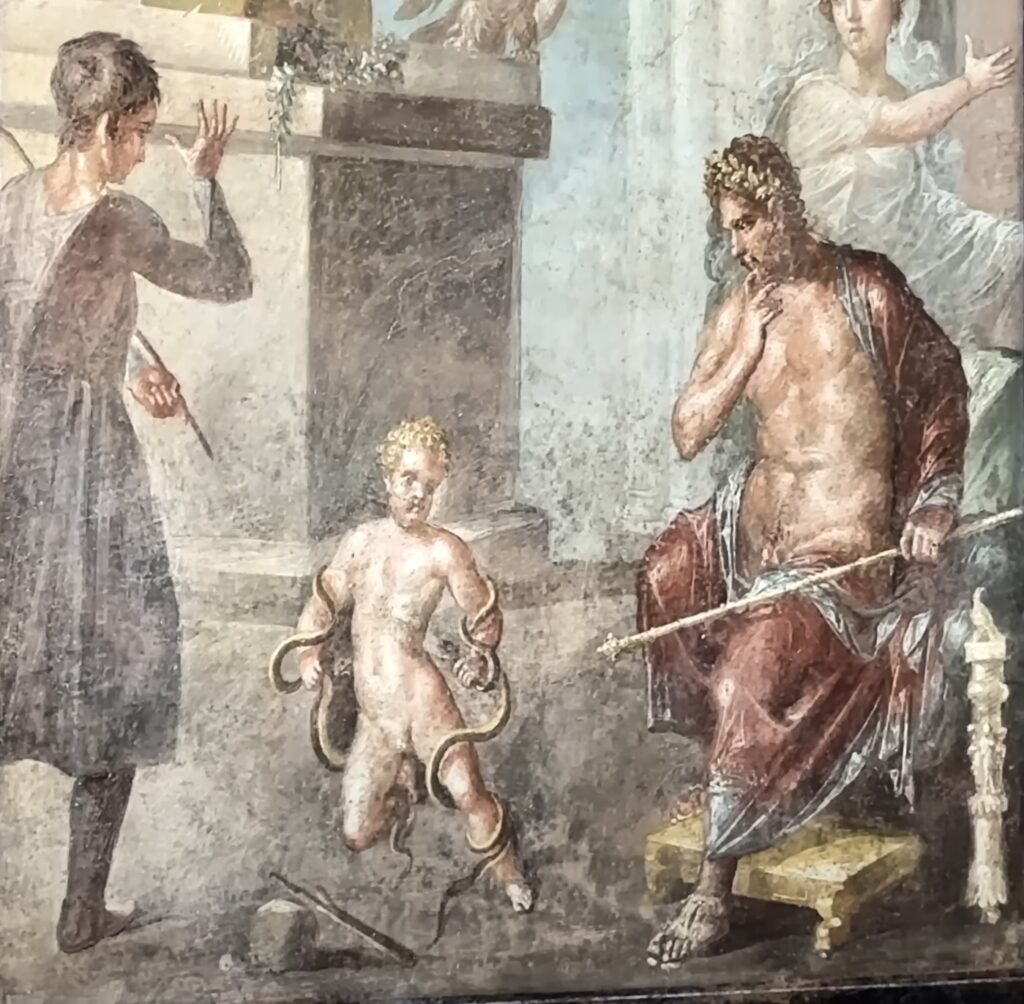 Most of the frescos and mosaics from Pompeii are in the Archaeological Museum. But you can still see some beautifully restored frescos in the House of Menander, the House of the Vetii, and the Villa of Mysteries.
Unless you're visiting in the winter, be sure to book a skip the line ticket in advance. Even then, you will have to wait in line for awhile just to get through. Be sure to grab a map when you enter.
I booked this 3 hour private tour with an archaeologist. I loved it.
With a private tour, you have the advantage of being able to pick what you want to see. You can also book a small group tour from Naples.
For more details on what to see, you can check out my guide to visiting Pompeii. It includes videos of some of the frescos you can see.
Procida Alternative
If you've already been to Pompeii or would just prefer to visit a scenic island, head to Procida. To get there, you can take a ferry (50-60 minutes) or hydrofoil (30-40) minutes.
They depart frequently throughout the day from the Port of Naples or Molo Beverello. You can check the timetables here. You can also book a guided day trip to Procida from Naples.
With its recent designation as Italy's capital of culture in 2022, beautiful Procida has garnered some well-deserved recognition.
Procida is a mesmerizing jumble of sherbet-colored, weathered houses. They are densely stacked together, and look like a mosaic or tapestry from afar.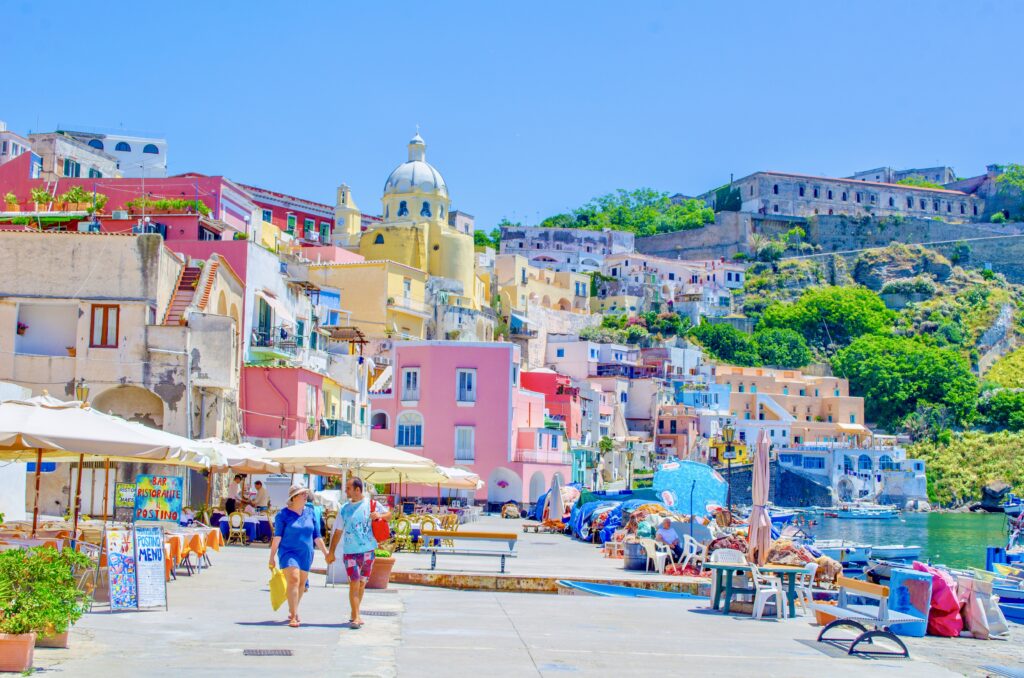 Procida has a captivating old town with winding maze-like streets, vibrant piazzas, local shops, and belvederes with stunning views. Massive lemons hang from fragrant trees lining the streets. It's the perfect place for an aimless wander.
One of the main attractions on Procida is the walled town of Terra Murata. It's perched majestically atop a craggy rock. Here, you'll discover an abbey and a castle and have some oh-my-god views.
You could also just hit one of the beautiful volcanic beaches and relax.
On your return to Naples, head north to visit the Capidomonte Museum and the Catacombs of San Gennaro.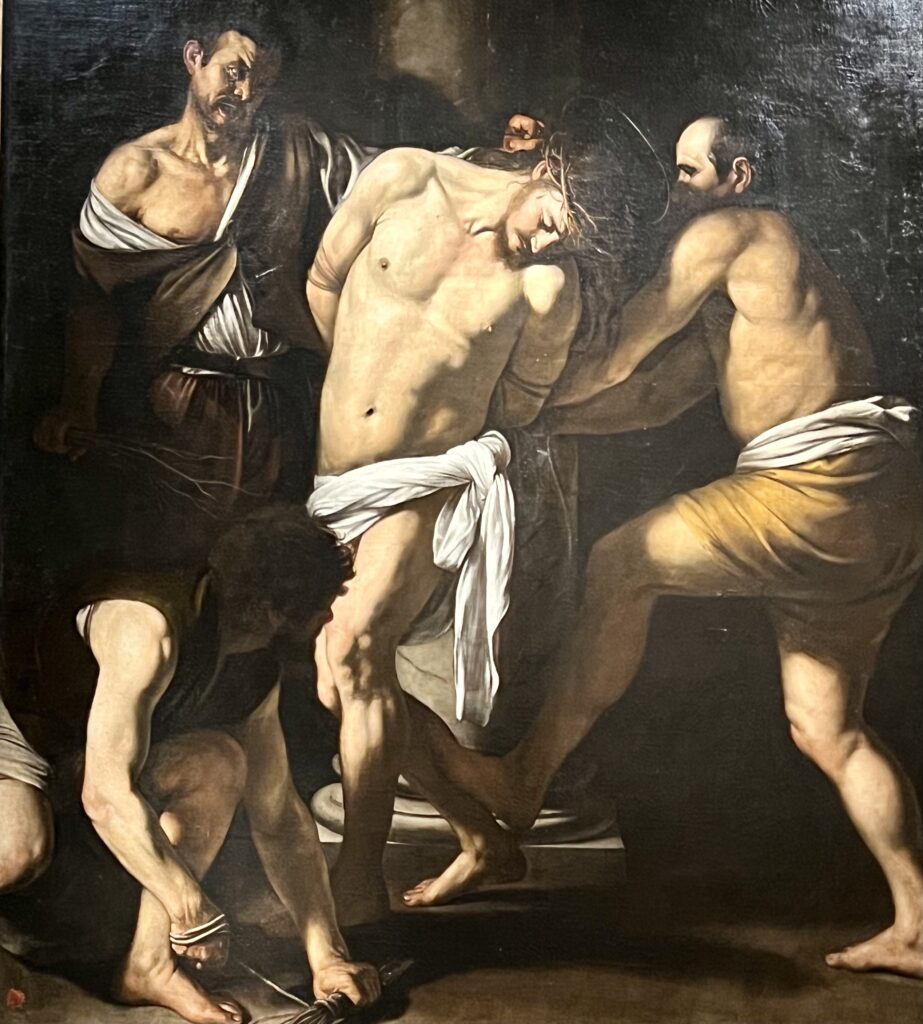 Capidomonte Museum
The Capodimonte Museum is a treasure trove of art and history that no art lover should miss. You can taxi there or take the museum's shuttle bus from Piazza Trieste e Trento.
Housed in the magnificent salmon-pink Palazzo Reale di Capodimonte, this museum houses an impressive array of artworks from renowned Italian and European artists.
You can feast your eyes on exquisite paintings, sculptures, and decorative arts spanning various periods, including the Renaissance, Baroque, and Neoclassical eras.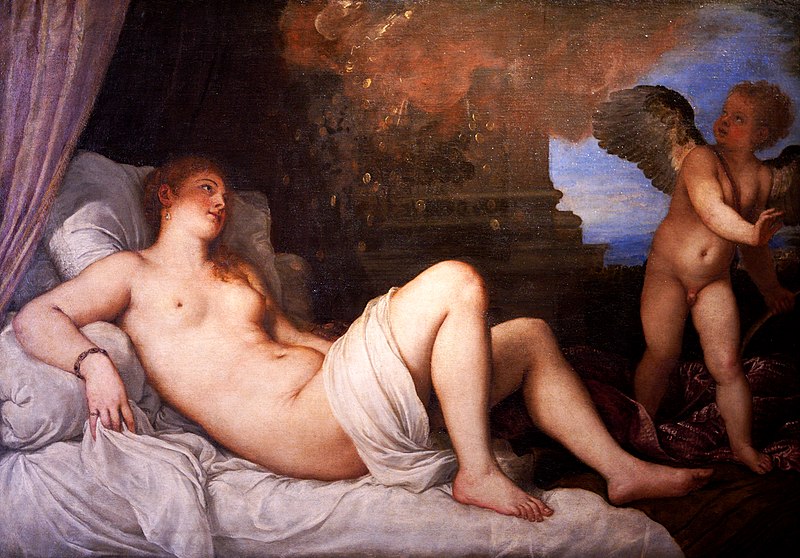 Among the highlights are works by art titans such as Caravaggio, Raphael, Titian, Masaccio, and Botticelli. The must see masterpiece is Caravaggio's Flagellation of Christ on the second floor.
Beyond the exceptional art, the Capodimonte Museum is situated within a stunning park that boasts breathtaking views of Naples. The vast parkland surrounding the museum provides a tranquil escape from the city's hustle and bustle.
Here's my complete guide to the Capodimonte. Click here to book a skip the line ticket. Click here to book a guided tour of the museum.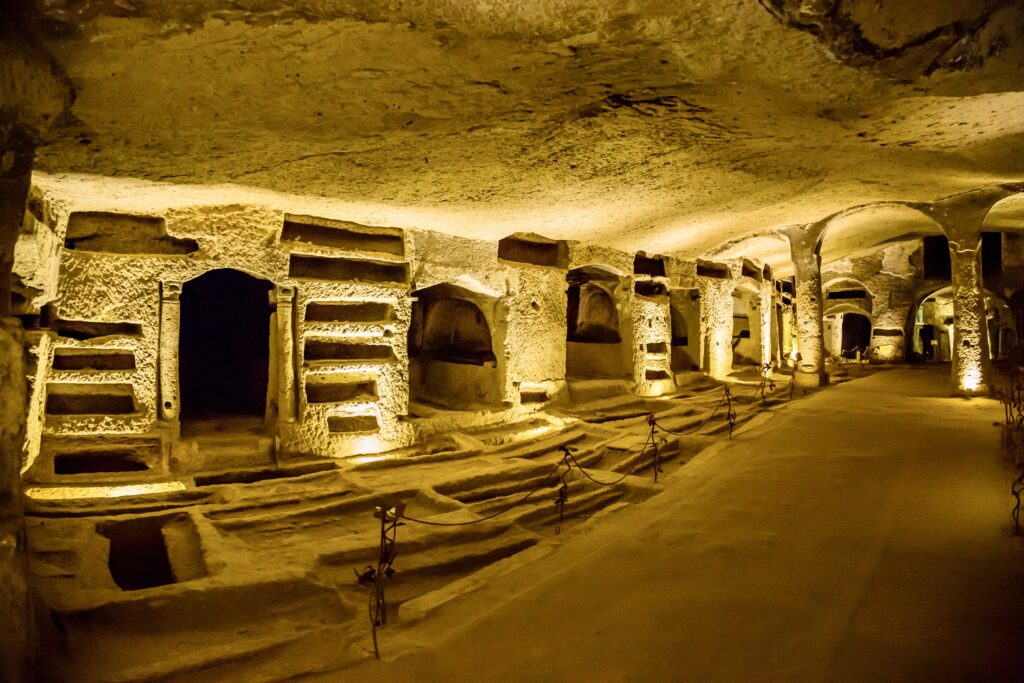 Catacombs of San Gennaro
The Catacombe di San Gennaro is an intriguing underground burial site just a few minutes from the Capodimonte. They are the most important catacombs in southern Italy and hold immense historical and cultural value.
The catacombs were used during the early Christian era, spanning from the 2nd to the 5th century A.D.
They are an intricate network of underground tunnels, chambers, and tombs that were meticulously carved out of soft volcanic tuff rock.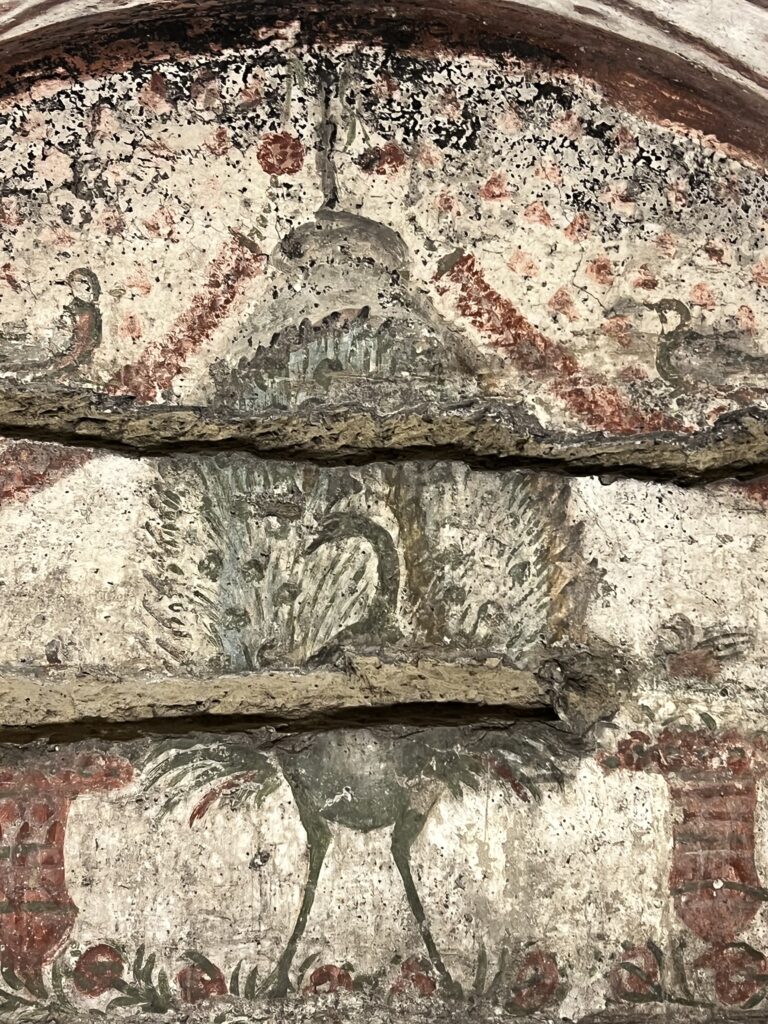 As you explore, you'll encounter tombs adorned with ancient frescoes, sculptures, and inscriptions. These well-preserved artworks depict biblical scenes, Christian symbols, and striking portraits of revered saints.
The catacombs derive their name from Saint Gennaro, the revered patron saint of Naples. In the 5th century, his remains were laid to rest in the catacombs (before being moved to the Duomo later).
Here's my complete guide to the Catacombs of San Gennaro. The catacombs are a popular attraction in Naples.
It's best to pre-book a timed entry ticket in advance. You'll be on a guided tour that last about one hour. You can also book a combined ticket for the catacombs and Naples Sotterranea.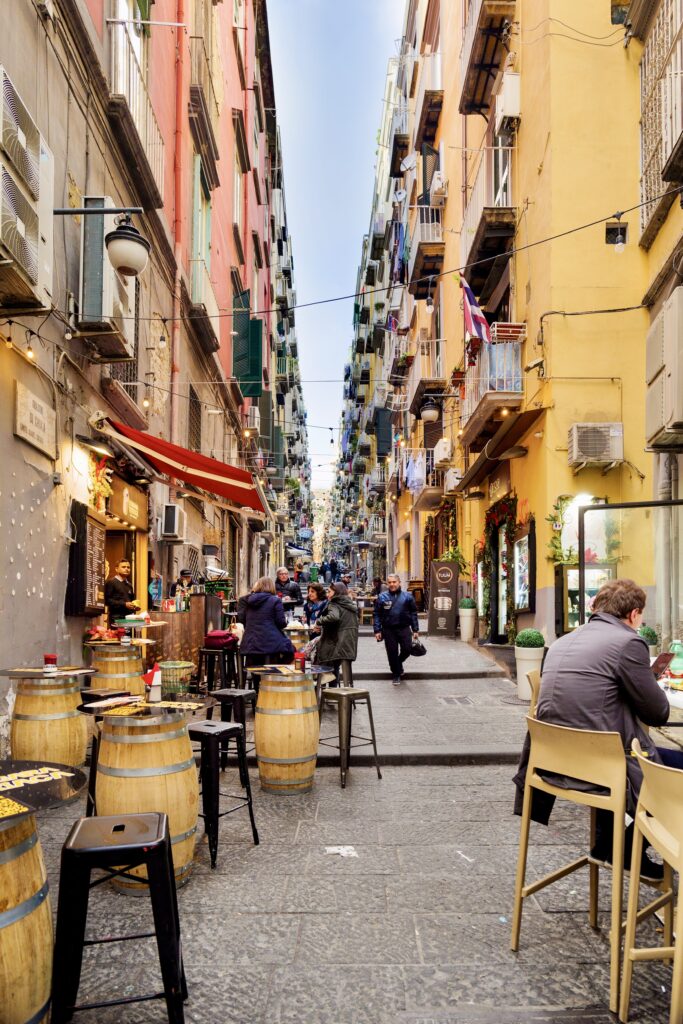 Chiaia
In the evening, end your 3 days in Naples itinerary with a visit to the tony Chiaia district. It's a captivating neighborhood located in the western part of Naples
Chiaia has adorable side streets and pedestrianized areas. They create a charming atmosphere that sets it apart from the bustling historic center. In many ways, Chiaia resembles the chic neighborhoods found in other Western European cities.
As you wander through Chiaia, you'll encounter vibrant streets like Via Chiaia, Via dei Filangeri, and Via dei Mille.
They are brimming with designer boutiques, art galleries, and grand palaces. These streets offer a shopper's paradise, where you can browse for fashionable clothing, exquisite shoes, fine leather goods, and jewelry.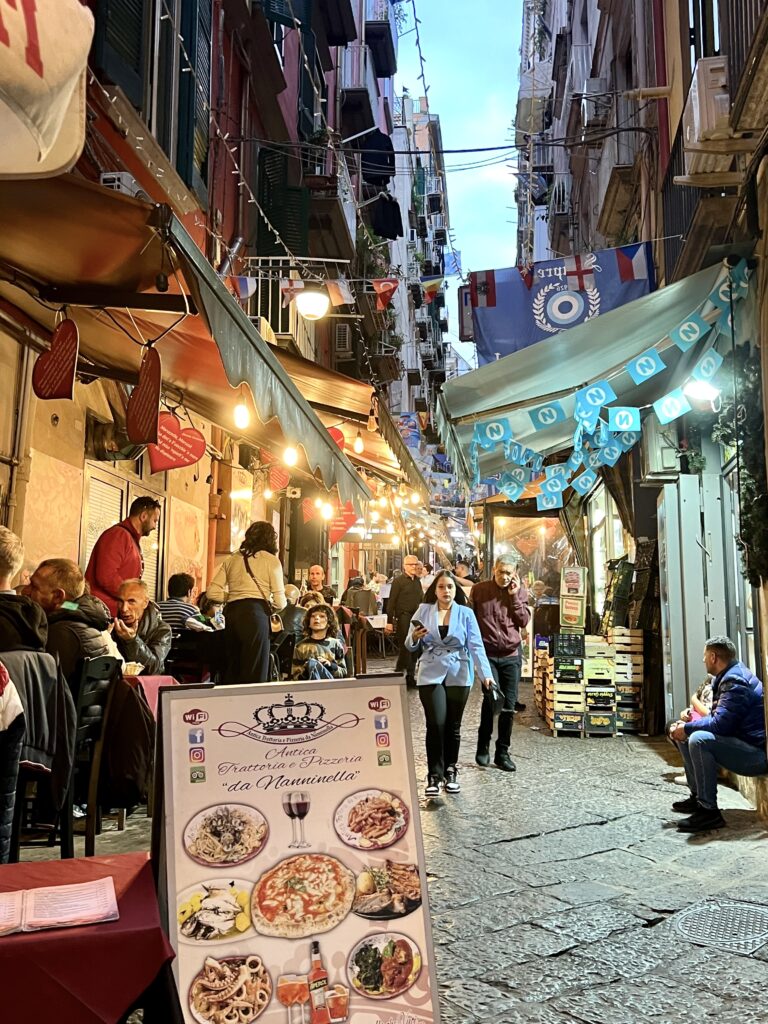 Don't miss the opportunity to visit the 17th century Santa Teresa a Chiaia church located on Via dei Mille. It's a fine example of Baroque architecture, with an ornate facade and intricate details. The interior is adorned with exquisite marble decorations, elaborate frescoes, and delicate stucco work.
Chiaia is not only a cultural haven, but also a vibrant hub of Napoli's nightlife. As the sun sets, the neighborhood comes alive with numerous options for an aperitivo and dinner.
One highly recommended spot is Enoteca Belledonne. It's a popular wine bar where you can indulge in an excellent selection of wines. I also had a good meal at Antica Trattoria a Chiaia. Be sure to make a reservation in this popular area.
You might also consider polishing off your 3 days in Naples itinerary with a sunset cruise around the bay.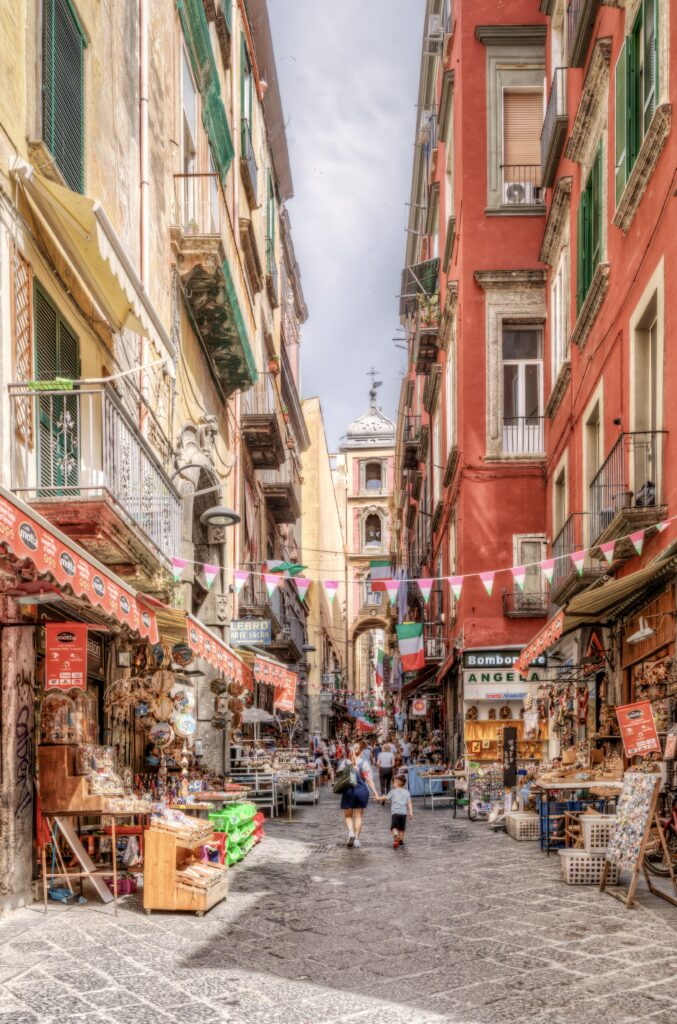 Tips For A 3 Days In Naples Itinerary
Here are some must know tips for spending 3 days in Naples.
1. How To Get To Naples
Naples has its own international airport, NAP. It's also known as Capodichino Airport.
From the airport, you can take a taxi or book a private transfer to your hotel. You can also book a private transfer from Rome.
I advise booking a private transfer. Though taxis in Naples are better regulated these days, there are still renegade drivers. If you do opt for a taxi, makes sure it's an officially licensed one. Negotiate the fare or ask them to switch on the meter before leaving.
Naples also has a major train station that's well connected to other cities, Napoli Centrale. You can also book a private transfer from the train station.
I wouldn't advice driving to Naples. The traffic is heavy and chaotic. Traffic laws and lights are rarely obeyed.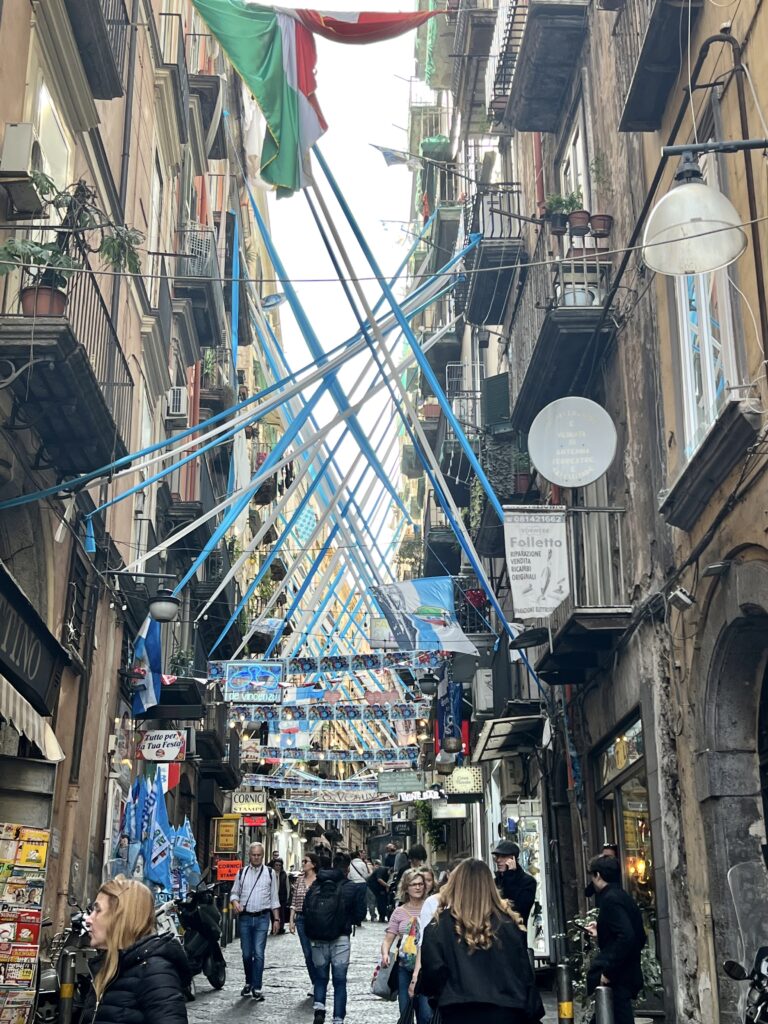 2. How To Get Around Naples
I walked everywhere in Naples, except for taxiing up to the Capodimonte Museum and taking the funicular to Vomero.
But you can also use the metro system and the four funiculars. They run from 7:00 am to 10:00 pm.
You could also get around Naples on a guided bike tour, an e-bike tour, a scooter tour, or the hop on hop off bus.
3. Where To Stay in Naples
In terms of where to stay in Naples, I've listed my recommendations above. I also described them in my one day in Naples itinerary, so won't repeat myself here.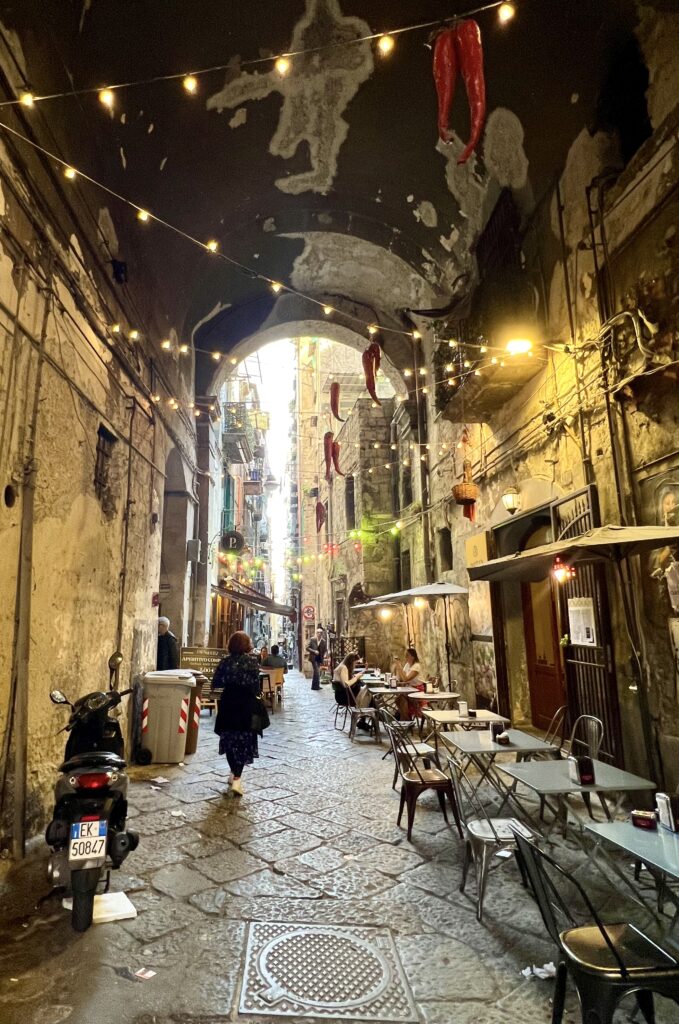 4. When To Visit Naples
Shoulder season (spring and fall) is the best time to visit Naples. Try to avoid summer if possible. It's peak tourism time in Naples, and very hot and crowded.
But because of its mild climate, Naples is really a year round destination. So winter is a good time to visit.
You'll avoid crowds and have the attractions to yourself. It's almost never really chilly, though you may get some rain.
More Than 3 Days In Naples?
If you have more than 3 days in Naples, there are plenty of other things to do and nearby places to visit.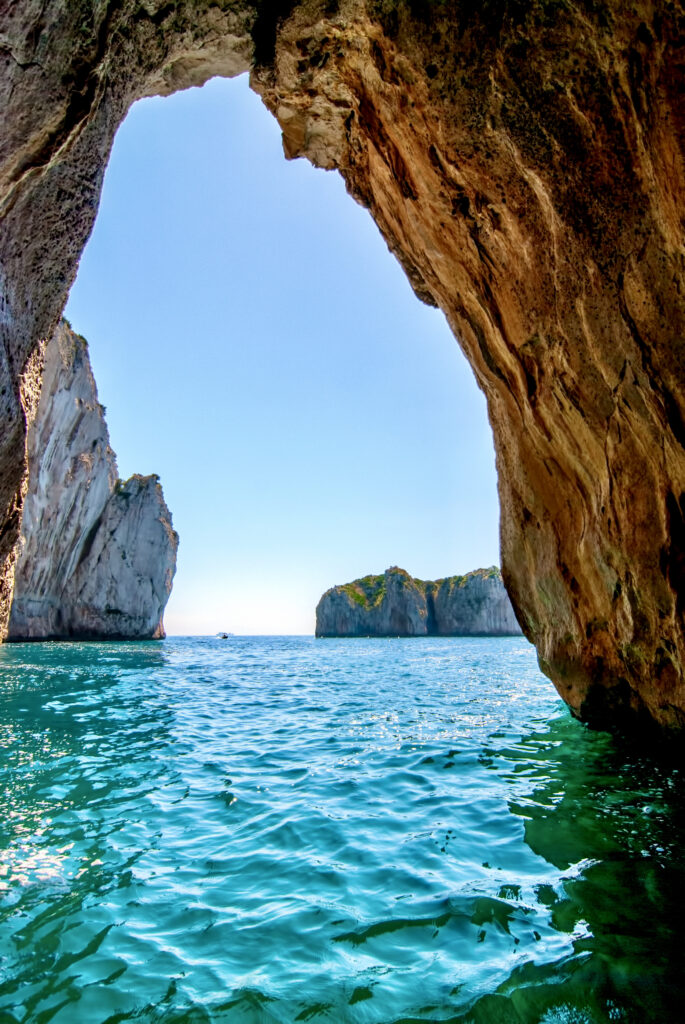 You could take a day trip to the beautiful island of Capri. With its dramatic cliffs, crystal-clear turquoise waters, and charming villages, Capri offers a captivating blend of natural wonders and sophisticated elegance.
I recommend booking a guided day tour from Naples to Capri. You can also read my detailed itinerary for visiting Capri.
You could also take a guided day trip to the Amalfi Coast. You can book a 10 hour boat tour that goes to the pretty towns of Amalfi, Positano, and Ravello.
Another idea is to visit Caserta Palace outside Naples. Designed by Luigi Vanvitelli, the palace is a UNESCO World Heritage site and one of the largest royal residences in the world. It's much grander than the Royal Palace in Naples.
You can pre-book an entrance ticket for Caserta Palace. Or visit on a guided day tour from Naples.
Ruin lusters may want to venture to the ancient city of Paestum. It's an absolute stand out archaeological site. You'll find well-preserved Greek temples from the 4th and 5th centuries B.C., including the iconic Temple of Hera, the Temple of Athena, and the Temple of Neptune.
You can book a full day tour from Naples, which includes a buffalo mozzarella tasting.
That's a wrap on my 3 days in Naples itinerary. You may enjoy these other Italy travel guides and resources:
If you need a Naples itinerary, pin it for later.